Are you ready to be transported to the sparkling shores of Lake Como for today's beautiful summer wedding? Settle in and read on to enjoy this elegant and intimate black tie affair at a grand and gracious Italian villa, where the waters of the lake lap gently up its steps.
Emma, a solicitor, and financial consultant Adam celebrated their marriage on the 12 August 2017 at the Villa Regina Teodolinda in the town of Laglio, Lake Como, Italy. Although the couple didn't originally set out to have a destination wedding, they were keen for it to be during the summer and outdoors. After visiting venues close to London that didn't feel quite right, they began to seriously consider a Lake Como celebration instead.
Let's begin with a lovely short film to set the scene, by videographer Alessandro Pardi before sharing these truly beautiful images captured by photographer Dominique Bader.
"We absolutely love our wedding photos from the amazingly talented Dominique Bader. Photography was one of our top priorities and we both had an endless list of criteria and we thought it would be impossible for one person to meet that. I saw Dominique's work on another Love My Dress wedding and loved her style instantly. We got in touch with her before we even had a date or a venue booked and made sure she was free and knew straight away that we didn't need to speak to anyone else."
Videography by Alessandro Pardi
"We don't have enough positive words for our experience with her as our photographer. She managed to capture all of the magic of the day and the emotion we felt in such a beautiful way. Every photo is like a thoughtful piece of art. As well as being a lovely, calming person to have around on the day (together with her husband Samuel, who assisted her on the day) she somehow managed to be everywhere at the right time. The key thing we loved, which comes through in her photos is the emotion in our photos, which was for us, the best part of the day that we wanted to remember. She managed to catch split second expressions and the photos really do show all of the joy of the day. We feel incredibly grateful to Dominique for these photos and will treasure them for years to come."
Images by Dominique Bader Photography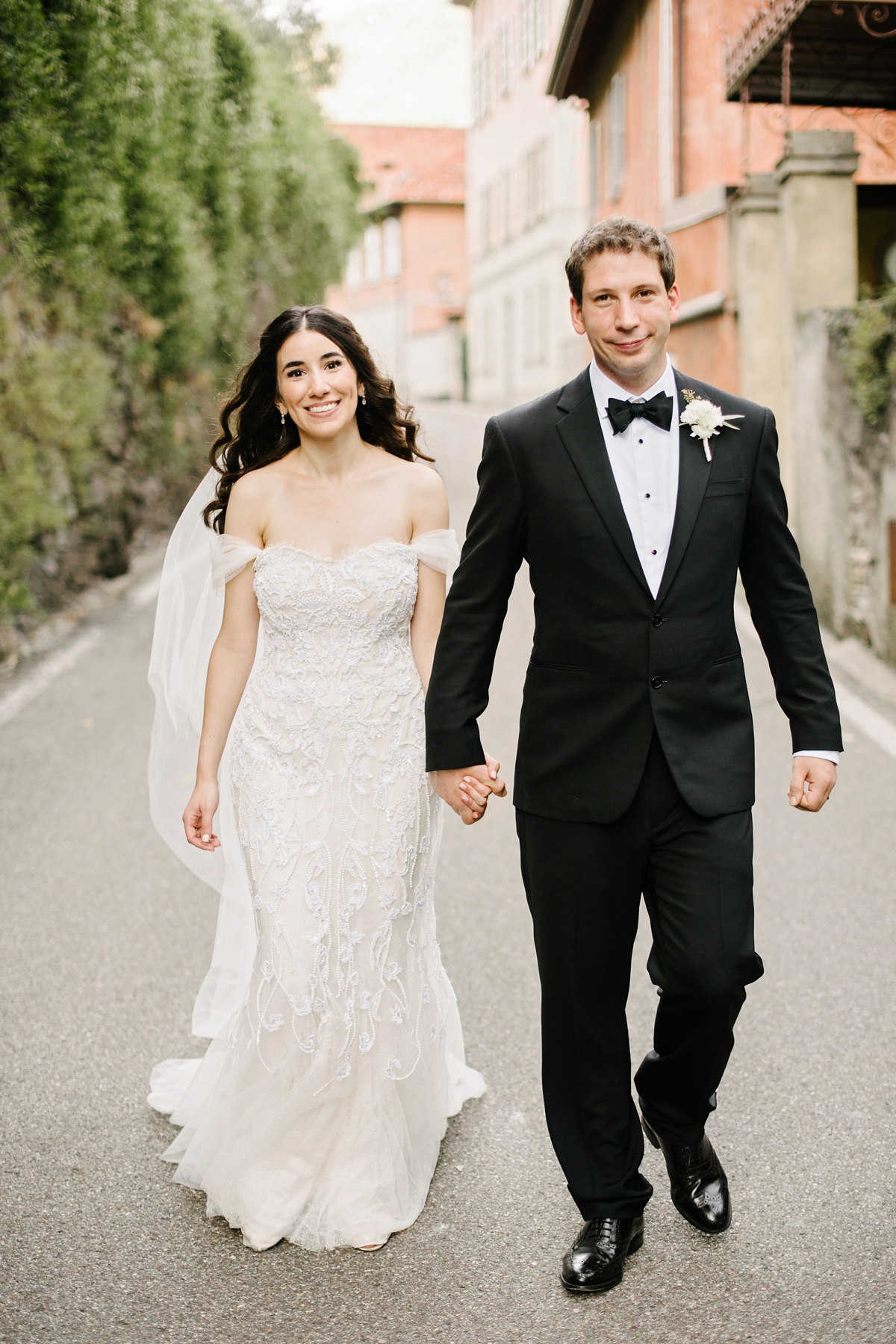 "It took us so long to find the right videographer but we are so glad we went with Alessandro Pardi. He created such a lovely film for us which brings together all of the big and small moments of the day. The key thing we wanted from our videographer was someone who really understood the feeling of our day and who could bring it all together in a film with stable camerawork without being intrusive, and Alessandro definitely did this."
"He and his assistant were so nice to have around on the day- lovely people who even adjusted my dress when it needed it but at the same time were very discreet. They pretty much managed to catch all of the small moments which we weren't expecting at all and it's been such a pleasure to relive everything. We would definitely recommend Alessandro to anyone getting married in Italy or Europe."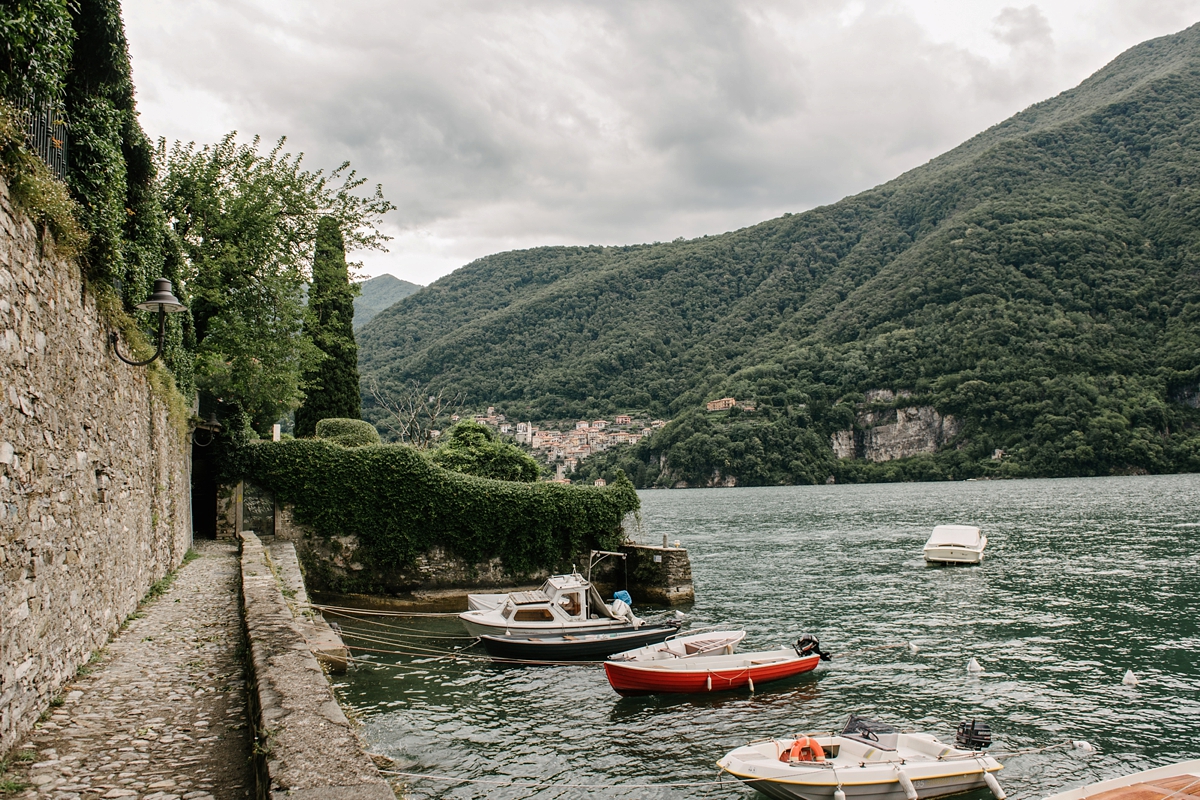 Emma and Adam first met seven years ago at a bar in Wimbledon, and were together for 5 years before Adam proposed whilst the couple were on holiday in New York.
"I had a feeling it was going to happen as he told me he had planned one day of activities during the holiday (which never happens). It turned out he had booked us a private photography tour around the city, which was very exciting as I love photography. The final place we ended up at was Central Park and as we were taking shots of the skyline our teacher offered to take our picture and at that point Adam got down on one knee and proposed. It was lovely. There was a band playing nearby and they started cheering for us. Adam planned a bunch of other things that day too and it was just an amazing and surreal day."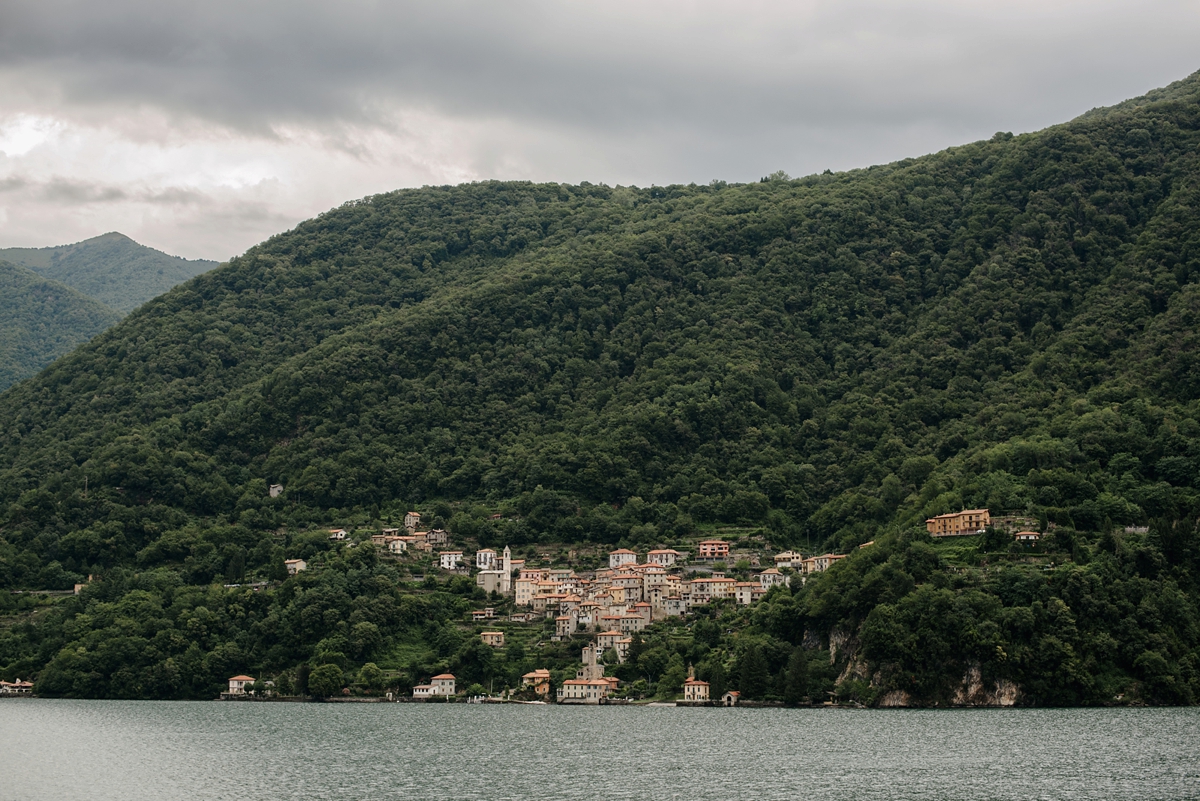 Gemma Aurelius from My Lake Como Wedding worked with Emma and Adam to create the perfect day, guiding them through everything, including legal requirements and sourcing the very best suppliers, and Emma is full of praise for Gemma's talent.
"We knew we needed someone who could speak the language and connect us with the best local suppliers. From the get go, before we had even signed up with her, Gemma was amazing at finding venue options for us and seeing what we could do with our budget… Gemma… actually listened to our ideas and came up with complementary suggestions straight away…Gemma has a fantastic eye for detail and understood the simple, understated wedding we were aiming for exactly."
"On the day, her and her assistant, Isabella, worked tirelessly to make sure everything ran smoothly. They didn't stop until we were happily sat with the rest of our cake with our last few guests. She was quite simply worth her weight in gold and we doubt we would have had such a smooth planning process if we didn't have her expertise."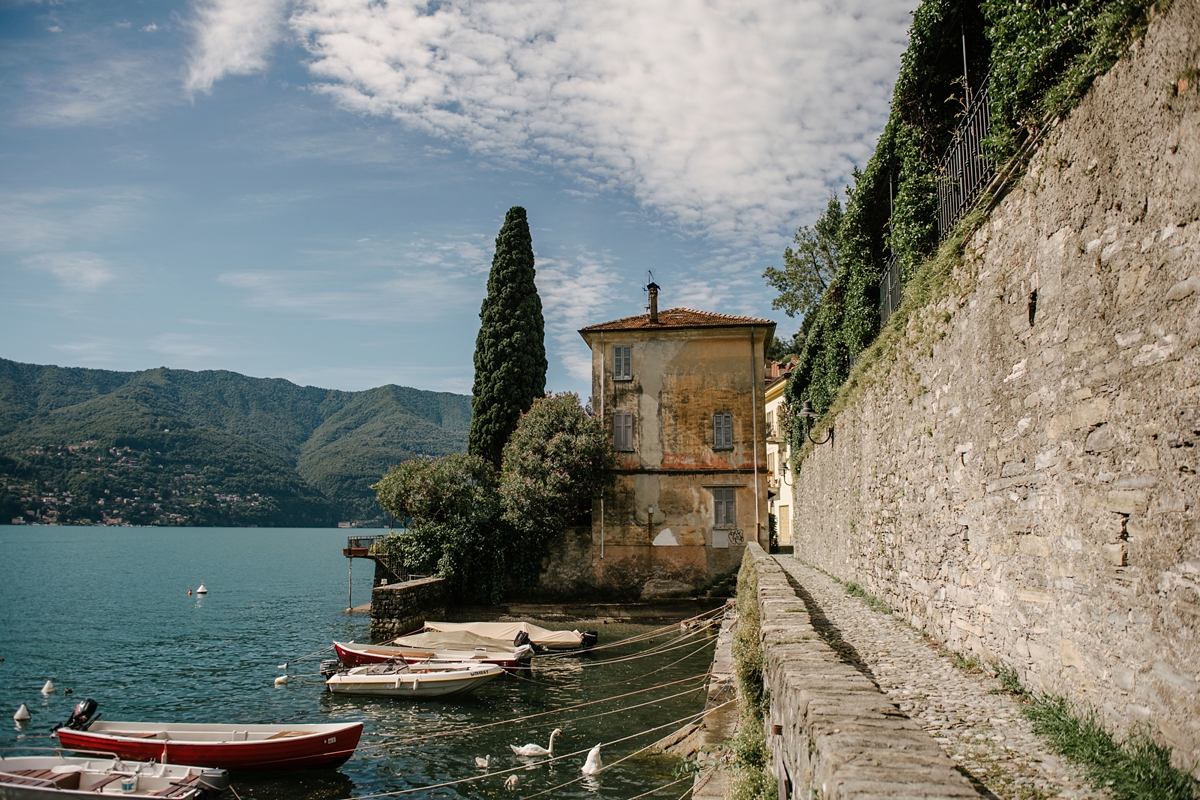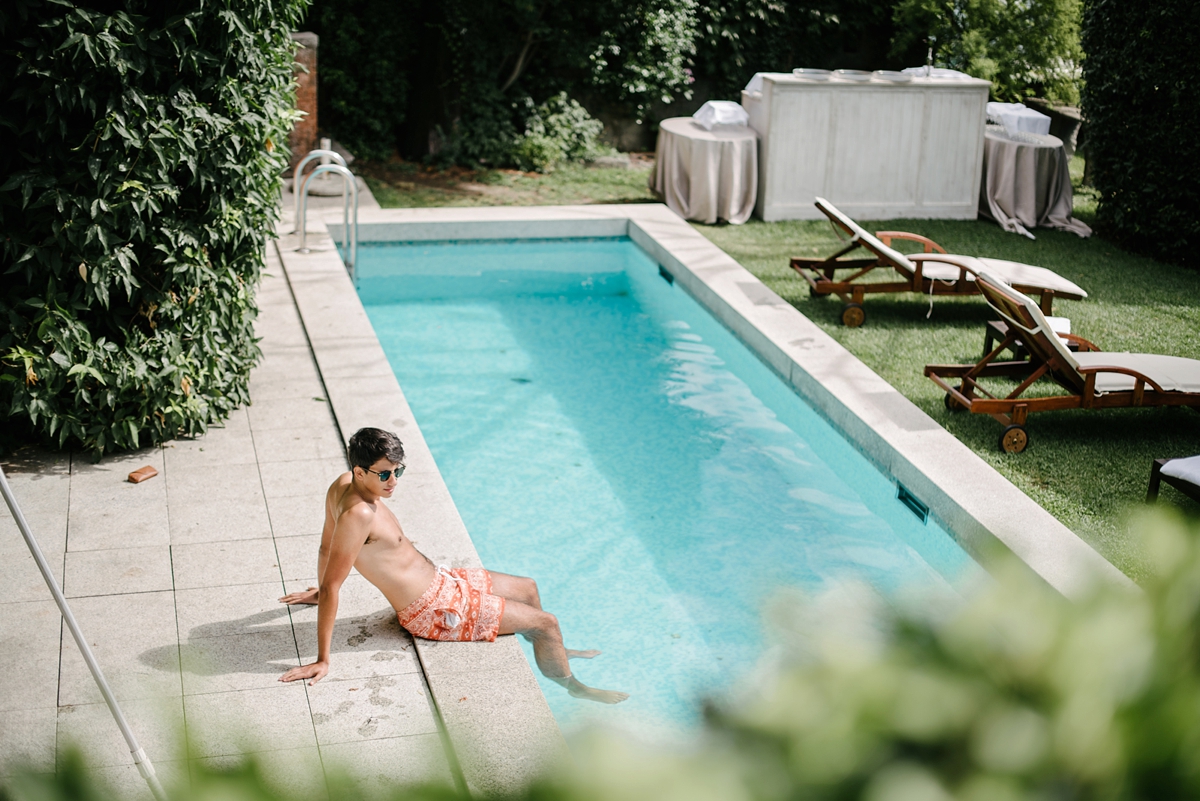 "Just as we were about to put a deposit down on a venue near London that we couldn't really afford (and that we didn't even feel super excited about), we stumbled on a video of a beautiful and simple, intimate wedding at Villa Regina Teodolinda that captured everything we were looking for in our own wedding. We completely changed our plans, cut our guest list down from 140 to 50 and finally felt completely certain about what we wanted! The venue had one date left for the following summer, so we had just under a year to plan, which was perfect."
[JP-VIDEO]
"We saw our venue very early on online and we loved the intimate feel and the two big trees with fairy lights outside. We left it for a year and carried on looking in the UK as we were worried about putting people out to go to a wedding abroad, as we were originally planning to have a fairly big wedding."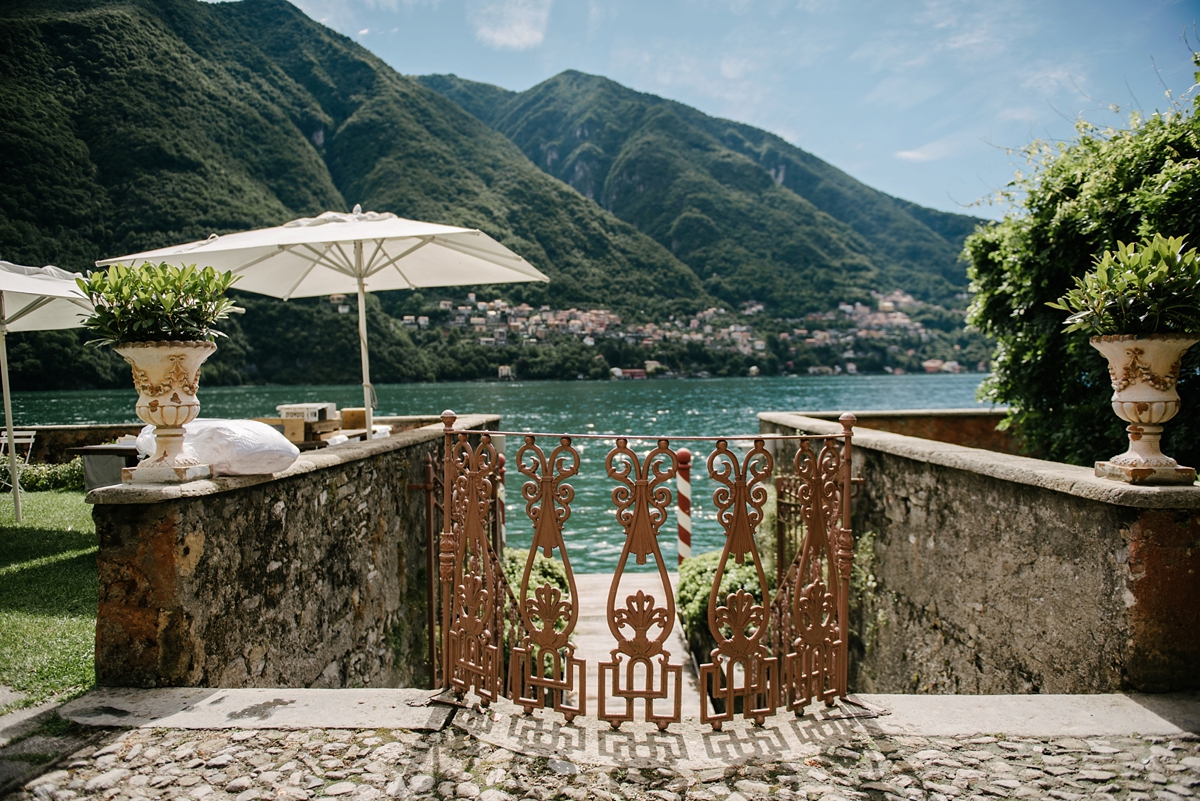 All of the on-the-day stationery (as well as invitations) came courtesy of Kathy from Paper Pleasures Wedding Stationery, with a lovely botanical motif running through, perfectly in keeping with the stylish decor and surroundings.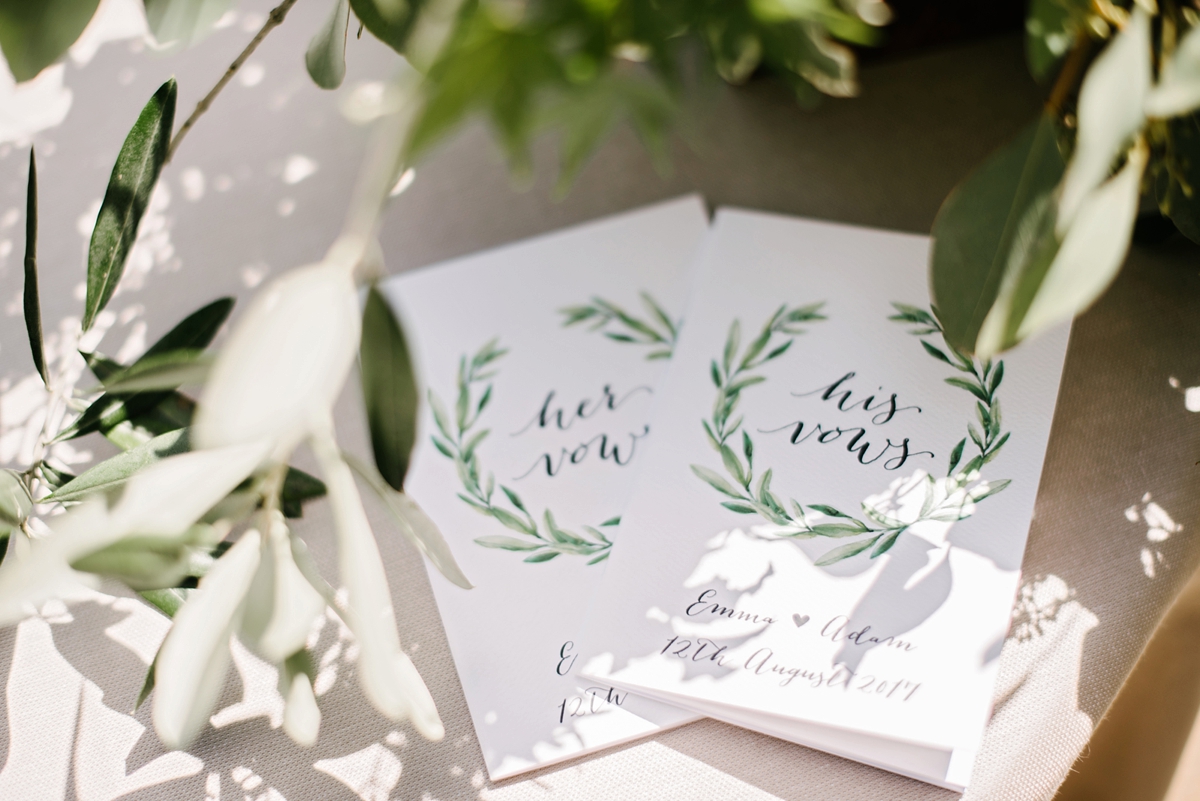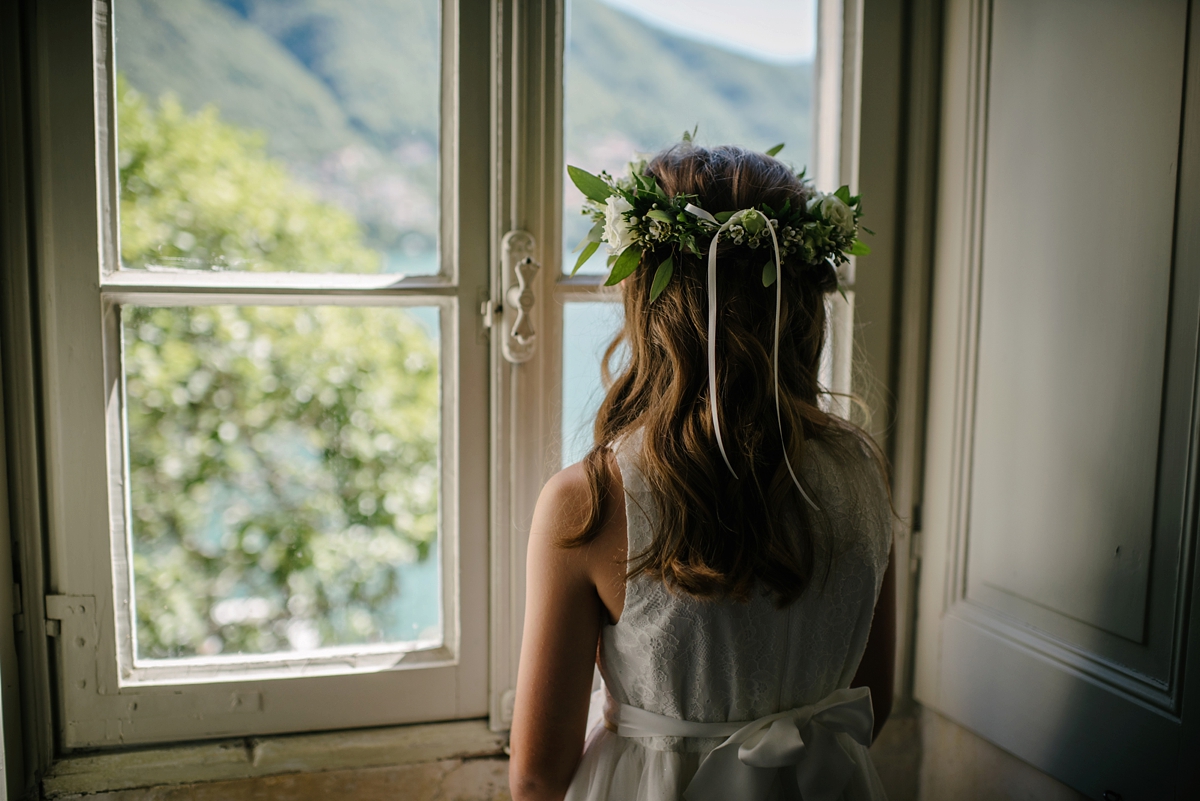 The bridesmaids wore complementary gowns in pale dove grey from ASOS, each with lovely, subtle sparkle to catch the magical light by the lake. Emma's niece Hannah was the youngest bridesmaid, and she wore a pretty lace dress with appliqué flowers from Monsoon, together with a fresh flower crown.
"As gifts I bought each of the bridesmaids a pair of drop moonstone earrings and I bought my niece a little heart necklace. I also gave them matching robes to get ready in the morning which were from Homebodii."
Emma's romantic dream of a gown was purchased from Browns Bride in London – the 'Charmaine' in the softest shade of blush by Monique Lhuillier. I adore the tulle straps falling gently off the shoulders, and the beautifully detailed beading with its botanical design.
"I bought my dress about six months after we got engaged and way before we had a venue booked. I had a casual Google for dresses shortly after we got engaged and my dress came up within the first 5 minutes. I didn't think I would end up wearing that exact dress but I saved the image for inspiration just in case. Six months later I had a proper look and found out only one shop in the UK stocked that dress and they were having a sample sale the following week."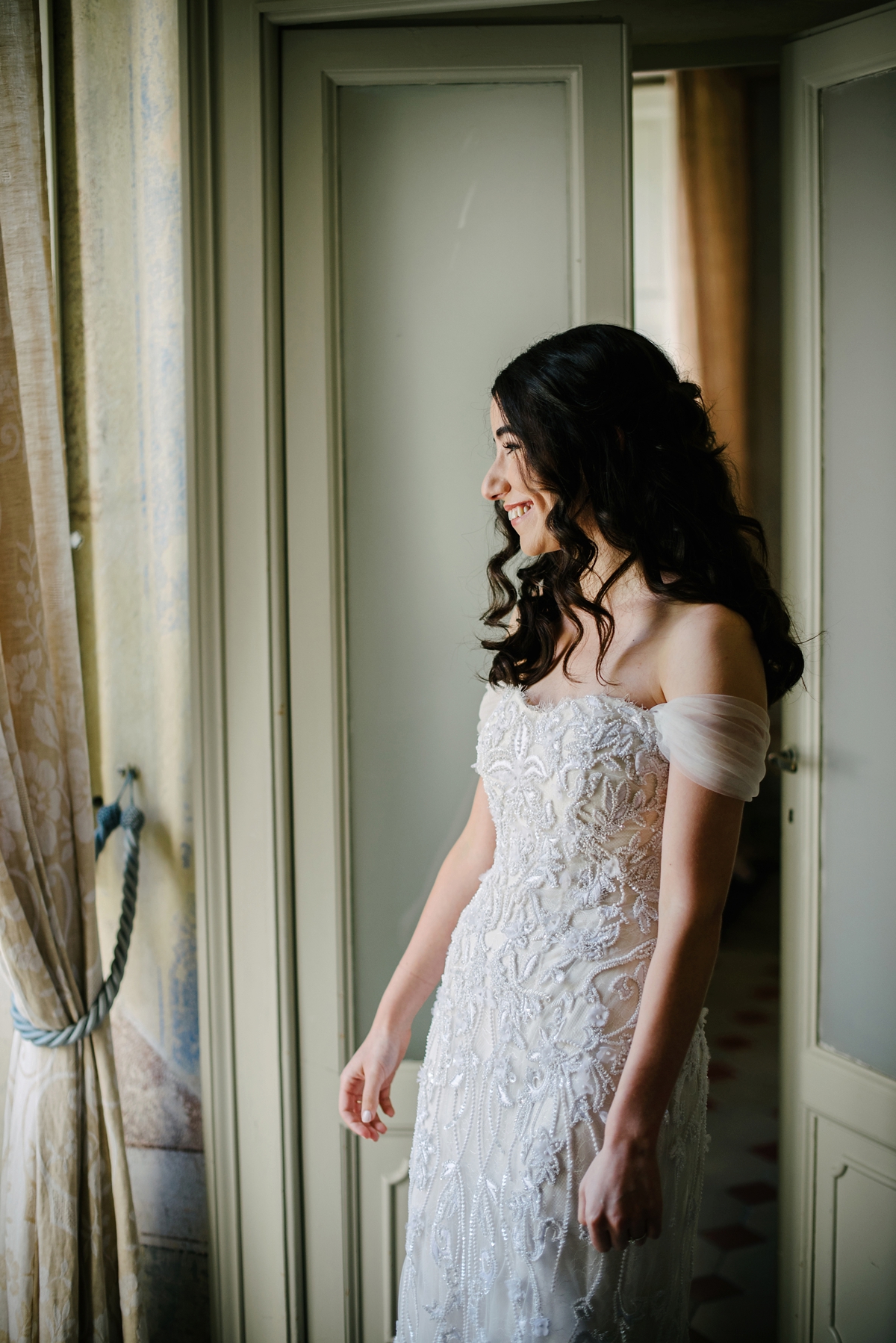 "I went to try it on and fell completely in love with it. I tried on other dresses but just they didn't quite compare. I loved the level of detail in the dress and how interesting the vines and flowers were. The shape was very simple and classic but the detail made it special to me. I also loved the fact it was the most gorgeous shade of blush – so subtle but just the right level of different."
"Browns were truly amazing… Lauren who helped me find the right dress was especially patient and was able to second guess what I needed – we had a lot of laughs during my appointments! Like a lot of brides do, I had a major wobbles eight weeks before the wedding and I worried I should have chosen something plain. Lauren really helped me during my panic and made me remember what I had originally loved about the dress."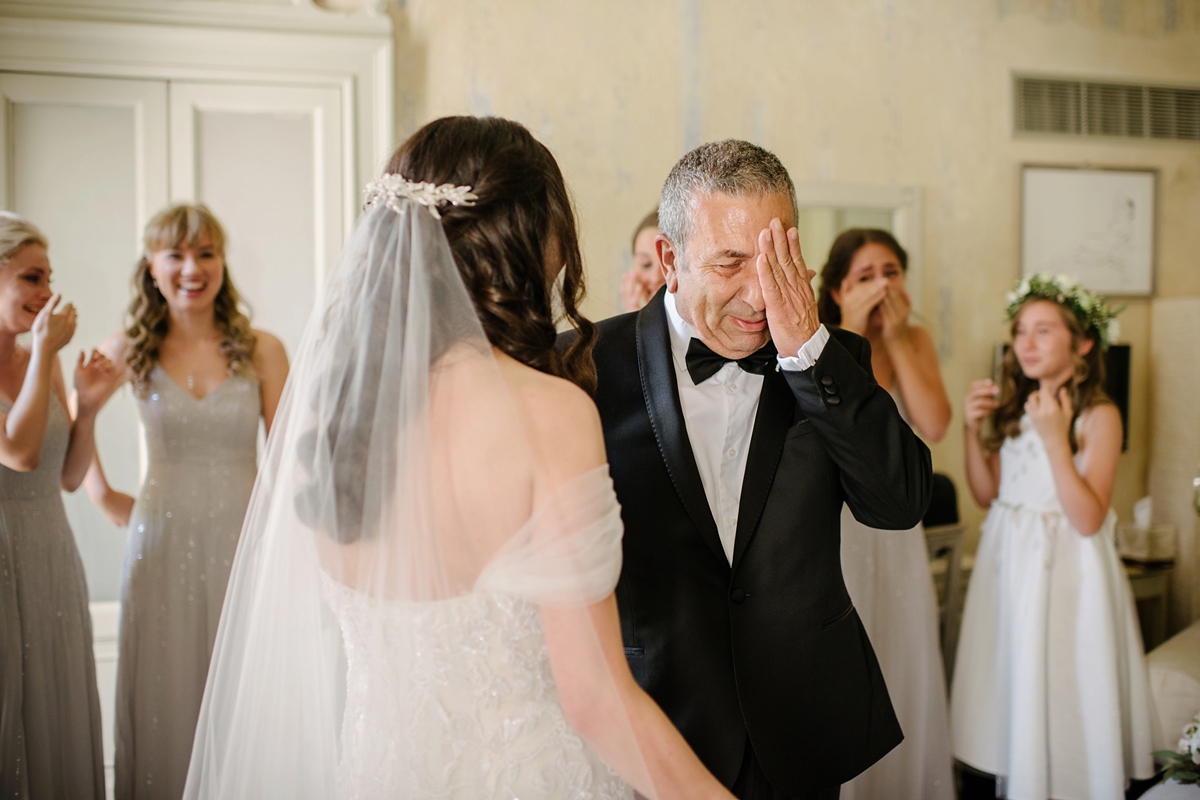 "Maria was my seamstress and she did an amazing job of listening to what I wanted and making my fitting appointments so calm and enjoyable. She pretty much rebuilt the dress to fit my body and she was a complete perfectionist. At the last-minute, she even added some off the shoulder sleeves on my mum's suggestion and cleverly made them detachable so I could throw my arms about when dancing in the evening. Nothing was ever too much trouble and I will never forget the happy experience I had with Browns."
Planner Gemma recommended the talented florist Figli dei Fiori, and the results were truly stunning, reflecting the subtle colour palette for the day with an array of summer blooms in shades of ivory and blush pink with bright green foliage.
"I especially love flowers… so having the right flowers was quite important to me. I struggled with the infinite choice of colours and styles we could have, but we both decided that a simple classic palette of white and blush with a lot of greenery would look fresh and match our rustic, simple theme. We wanted the flowers to look unstructured, natural and imperfect."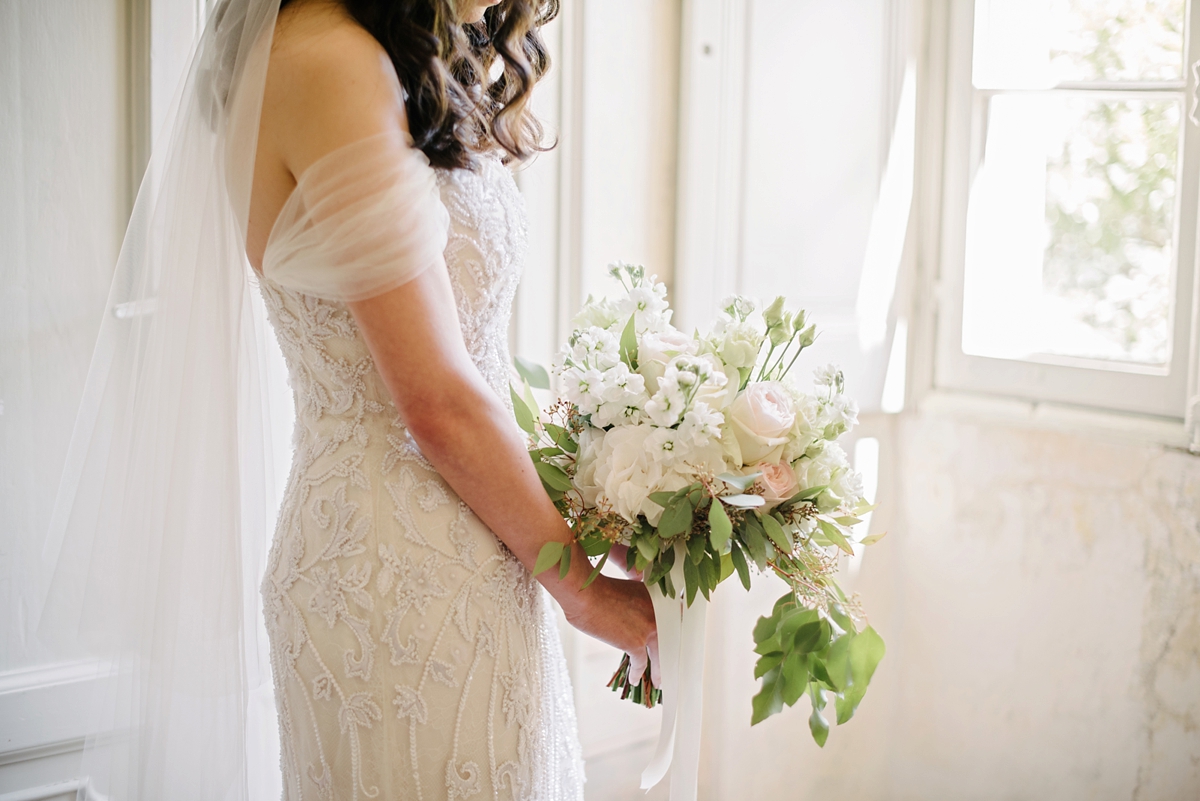 On her feet, Emma wore wedges from Badgley Mischka, bagging them at a bargain price via Amazon. To match the vine motif on her gown, she wore a pair of pretty, vine inspired earrings from The Stow Jewellers, and a chapel length tulle veil with blusher by Monique Lhullier.
"I wasn't thinking of wearing any accessories in my hair as my dress had a lot of detail already but I came across Tania Maras's intricate designs on Instagram and couldn't resist. I got in touch with Tania who is all the way over in Australia and she gave me so many options and ideas based on the pictures of my dress and the type of look I was going for. Her attention to detail and enthusiasm was amazing and she was one of the nicest people to work with! I chose a hair piece which complemented the pattern on my dress and was ever so subtle. I was over the moon when it arrived as it was so ridiculously pretty and delicate."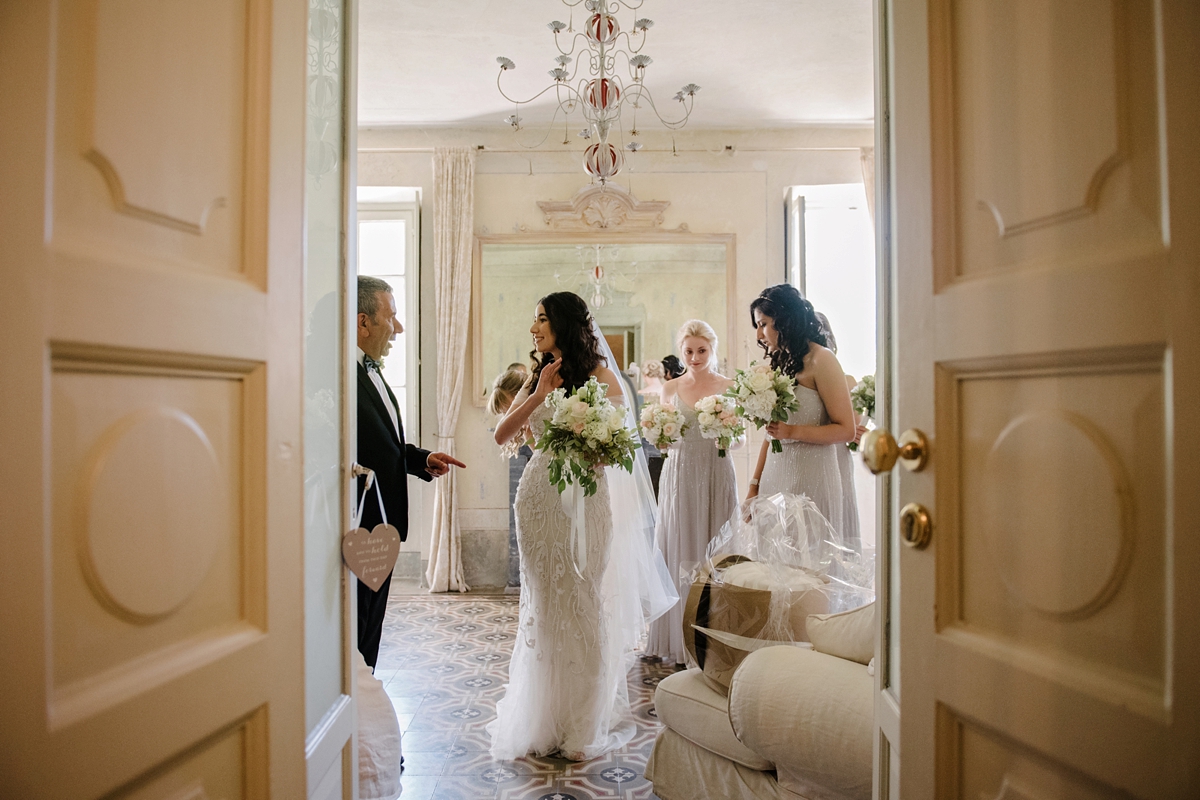 Adam wore classic black tie by Ralph Lauren, which he purchased from Selfridges, and the team there ensured the suit fit to perfection.
"He had a custom bow tie made from a tailor shop…called Yardsmen, as he couldn't find the right material to match his lapel and he wanted it to look perfect. He looked so handsome on the day (as he always does!)."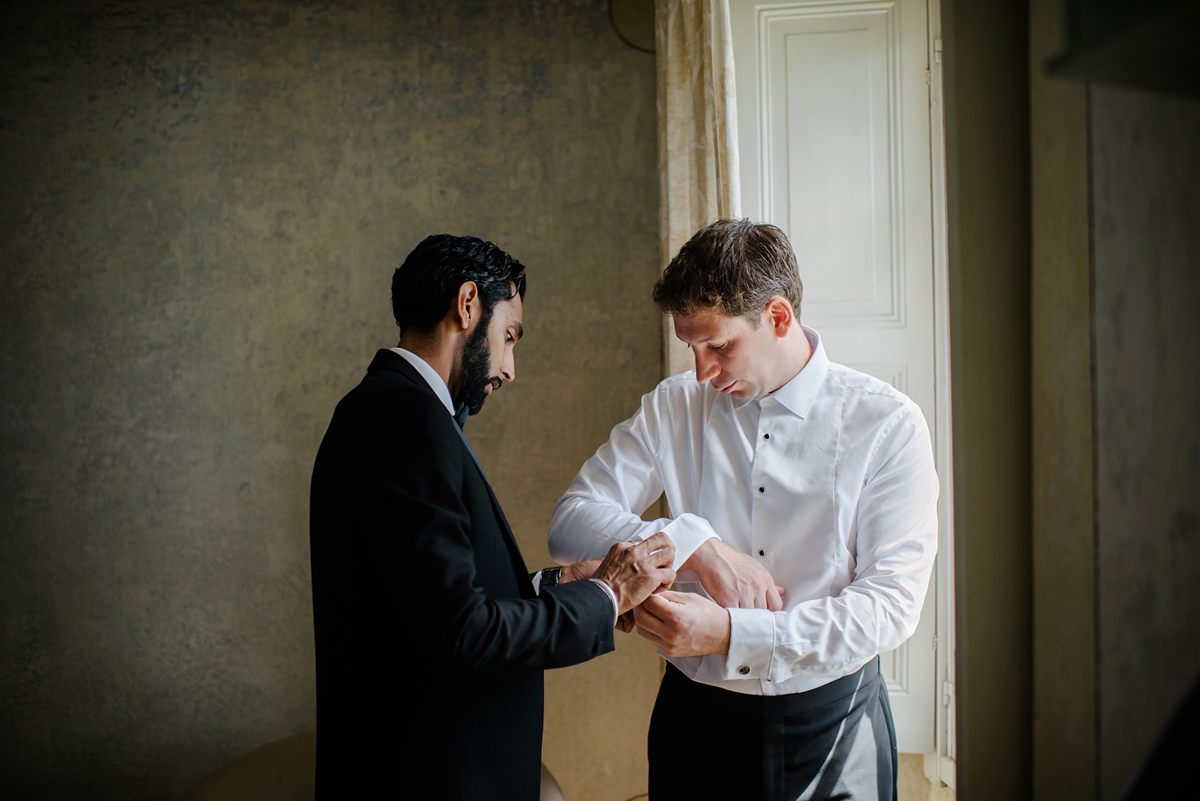 "Black tie seemed to go with the style of weddings in Lake Como and we saw a number of wedding videos in black tie. We were worried it might be too hot but it was fine on the day and was the right choice. We asked for groomsmen to be in black tie but gave guests the option given the heat. We gave monogrammed cufflinks to the groomsmen as a gift. It was hard to find cufflinks that suited black tie and were of good quality… but we eventually found cufflinks on Amazon from Gemony."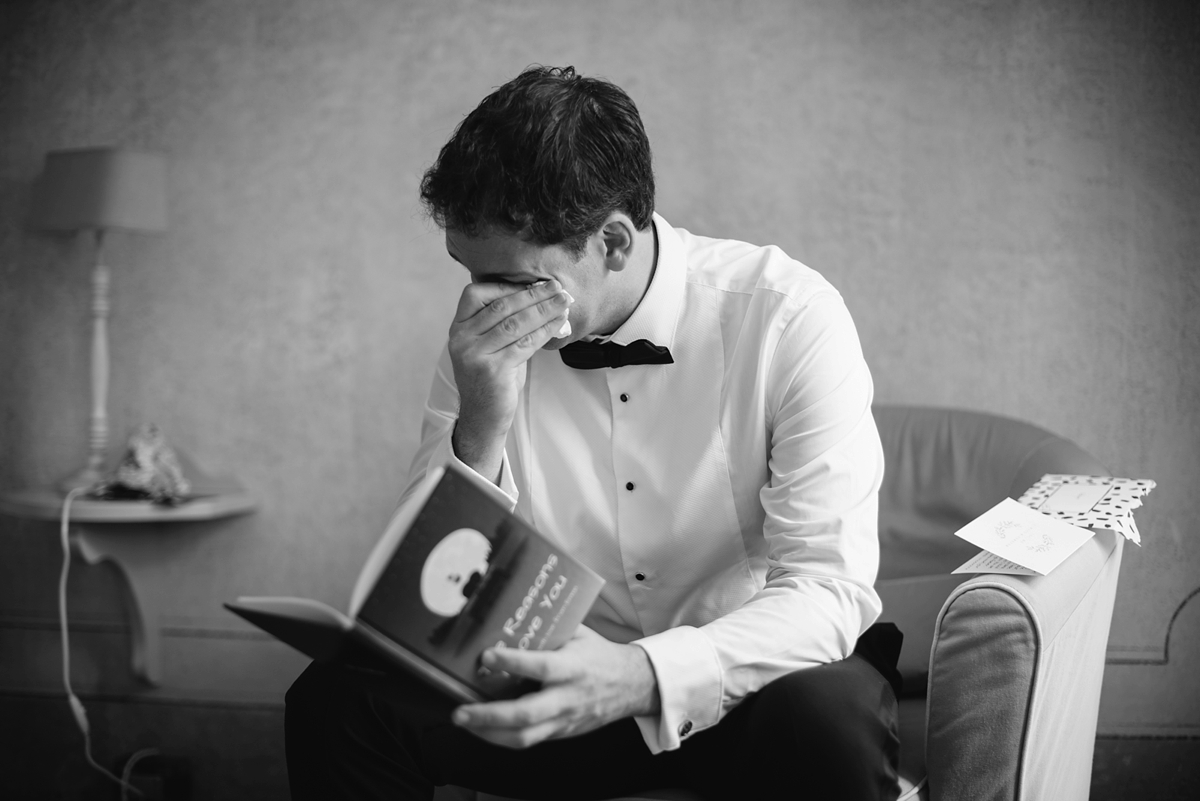 Adam had two groomsmen and three joint best men, with one giving a reading during the wedding ceremony, one giving a speech and the other taking on ring bearing responsibilities, which worked perfectly on the day.
"All five were excellent and I am so happy to have them as friends."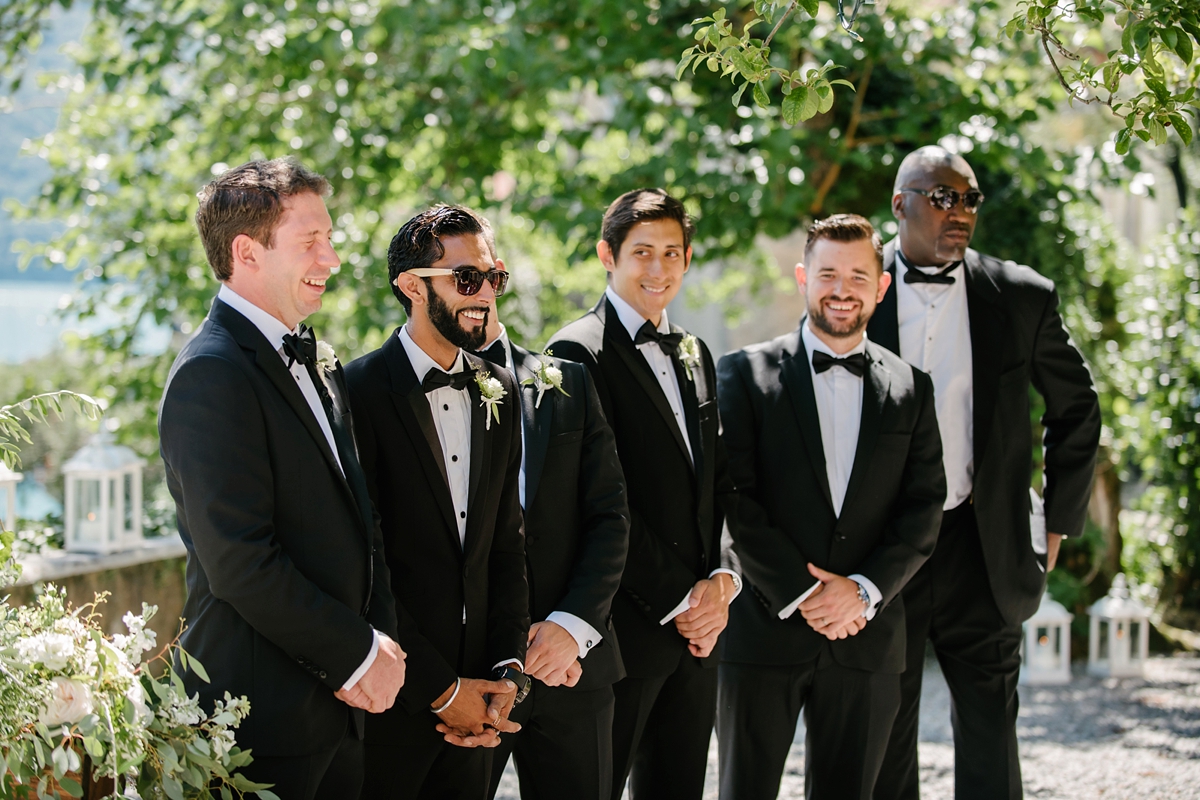 As the couple were both getting ready, they could hear music from the string quartet serenading guests outside. To the sound of Pachelbel's Canon in D, Emma and her father walked down the aisle to meet Adam.
"My father walked me down the aisle. We are very close and there was no question that I would displace that tradition. It was an amazing moment I will never forget."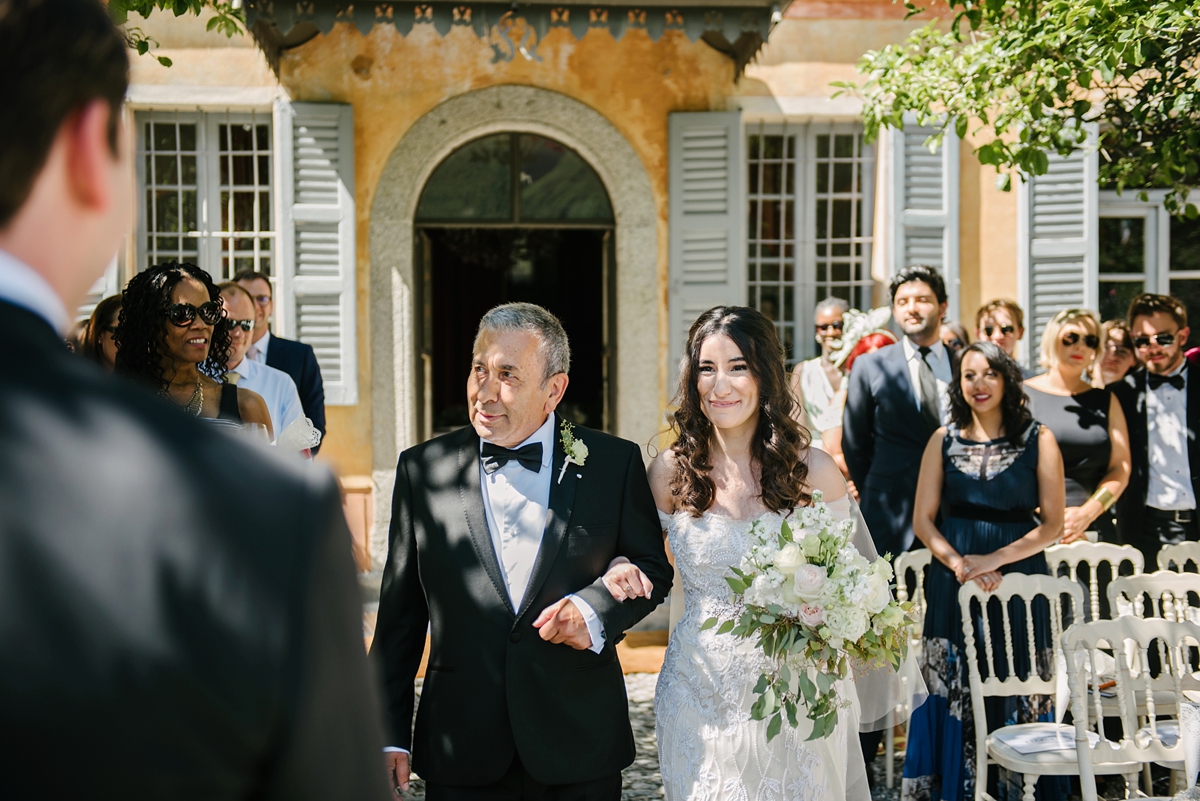 Both Emma and Adam wrote their own vows to one another, making their promises to one another based on what they each valued in their relationship. They said these vows against the breathtaking backdrop of Lake Como, and exchanged rings they had bought from The Stow Jewellers.
"We bought our wedding rings from the Stow Jewellers, which is an independent shop in Stow on the Wold in the Cotswolds. It's our favourite bolthole away from London and while we were there for a walking weekend Adam spotted the perfect and unique ring for himself and had it made in Titanium, to minimise scratches, and I also bought mine from the same shop. Joanna who owns the shop was so sweet and made it a fun experience. So much so that we ended up buying a few other bits from her, including the earrings I wore on the day."
One of Adam's best men read the poem Love by Roy Croft, as well as the beautiful Union by Robert Fulghum.
"This was read by Adam's father, which had us all in tears. He practised it a bunch of times beforehand but still couldn't get through reading it without crying. Both of our readings were special to us as the words really resonated with us and our feelings about marriage, our relationship and building a life together."
"We loved our ceremony. Seeing each other for the first time that day felt pretty amazing and, as with the rest of the day, it was overwhelming to be surrounded by so much love."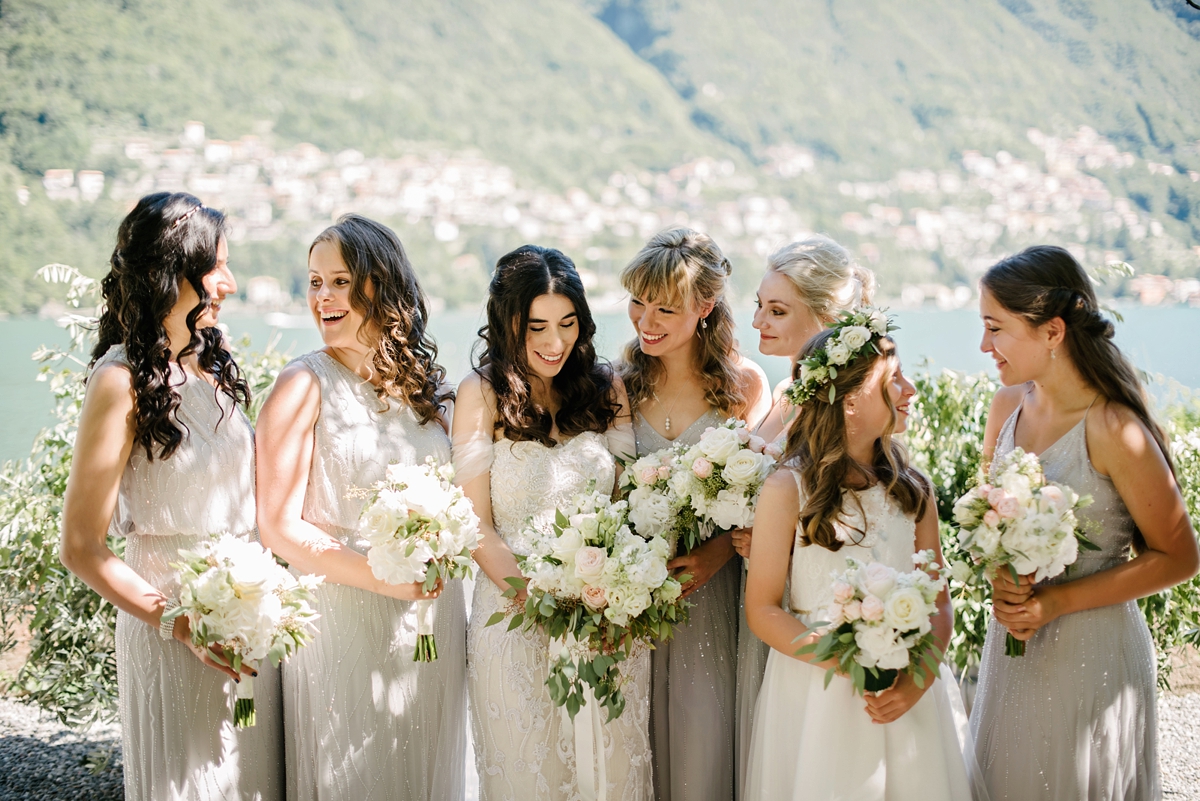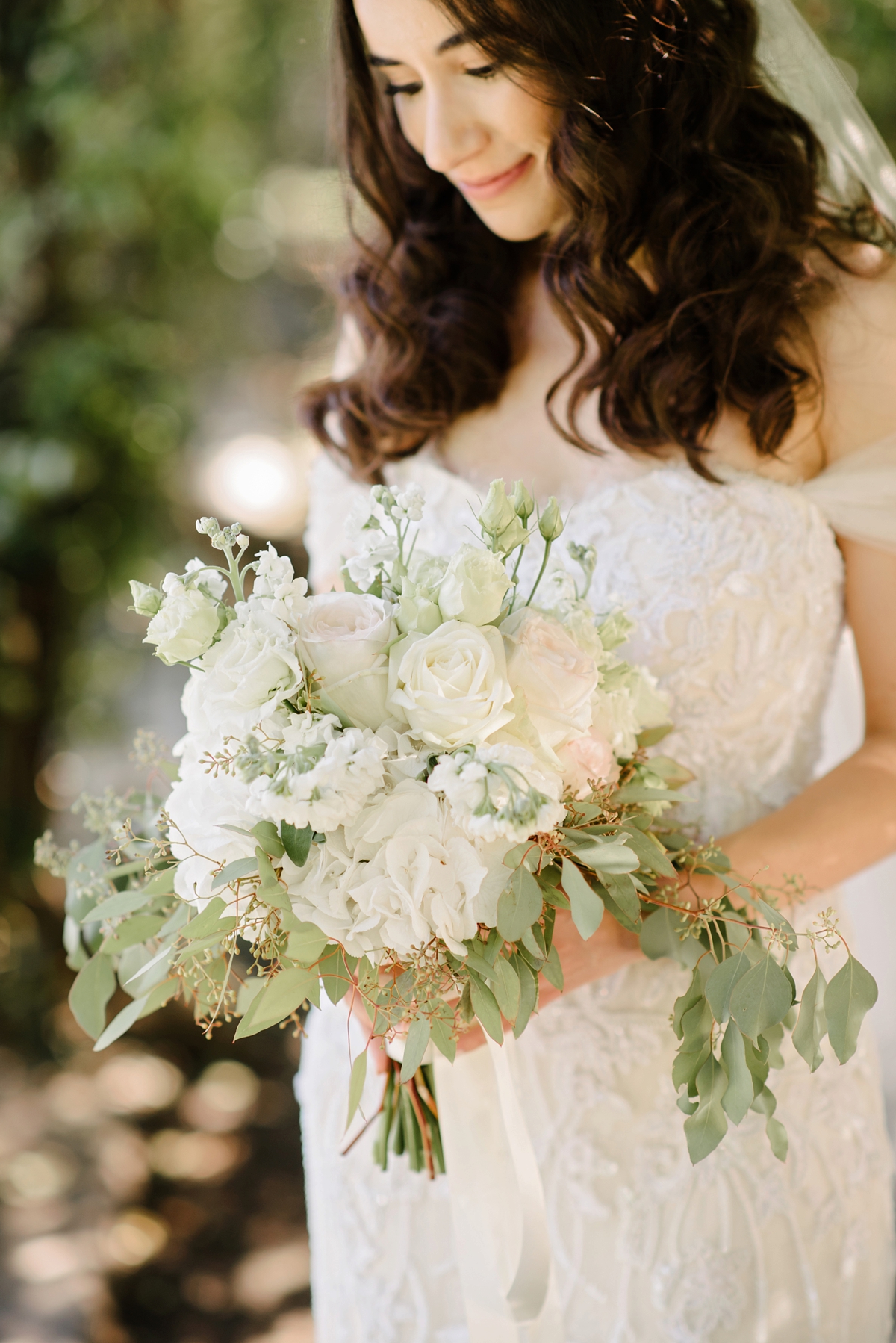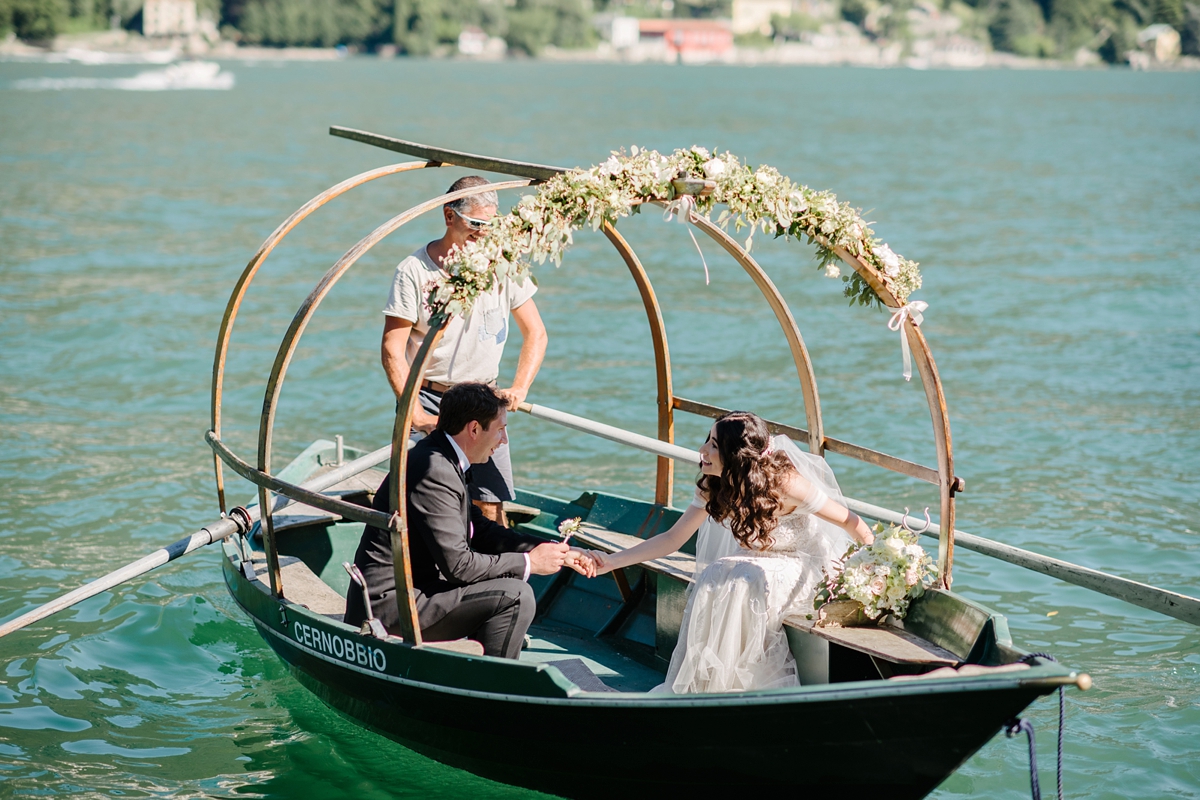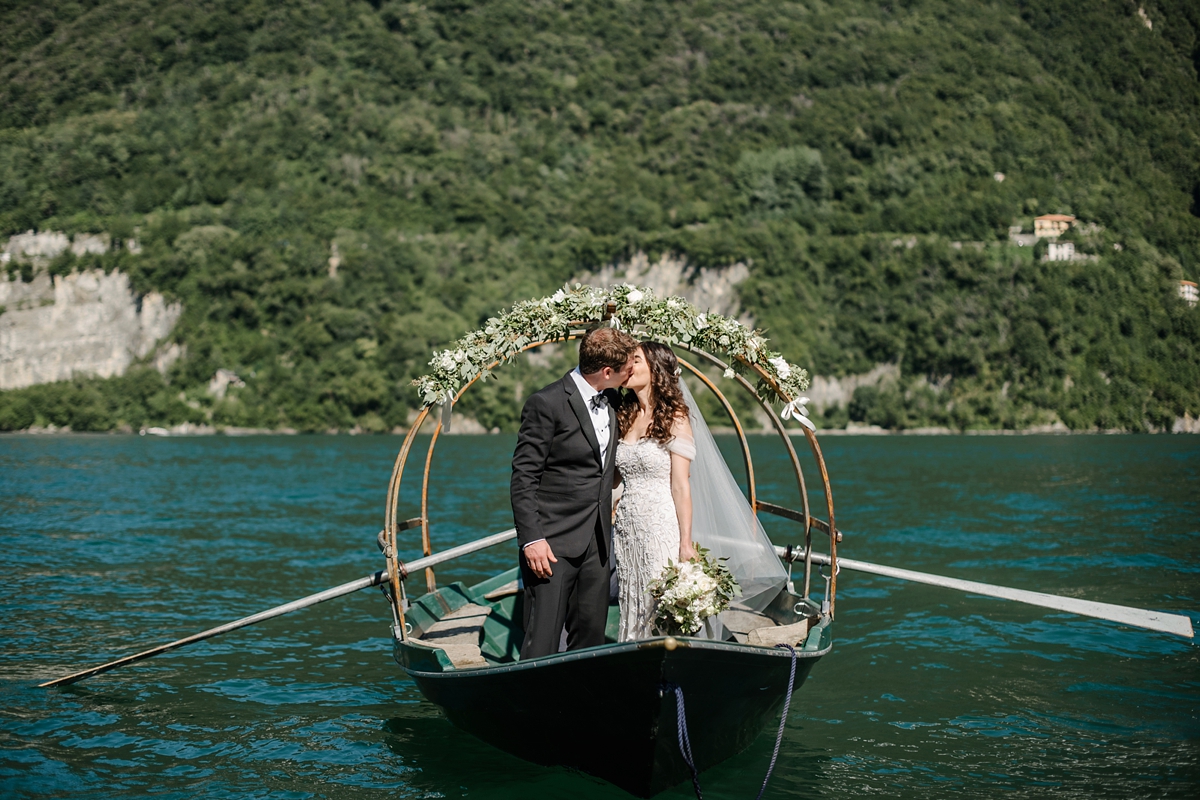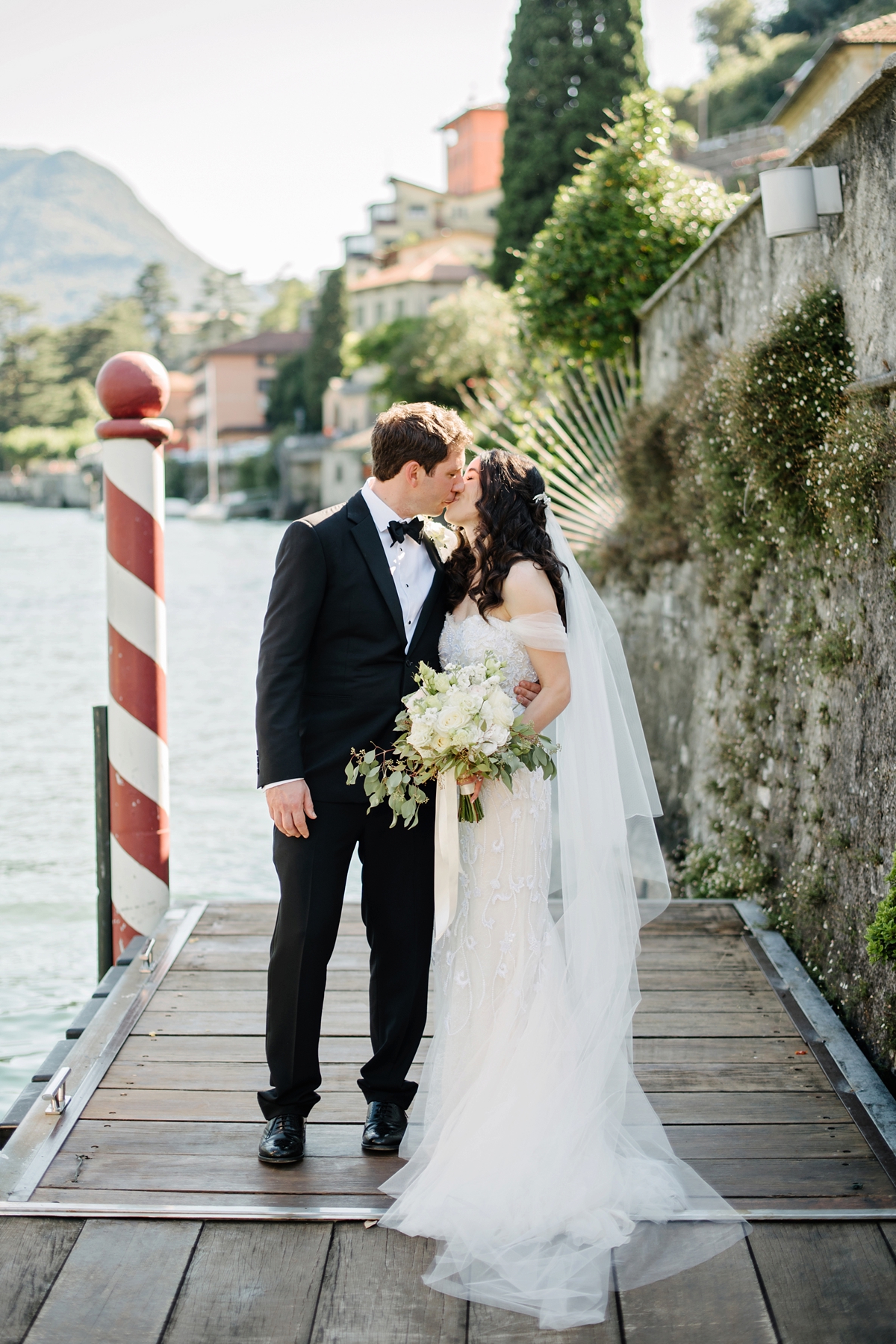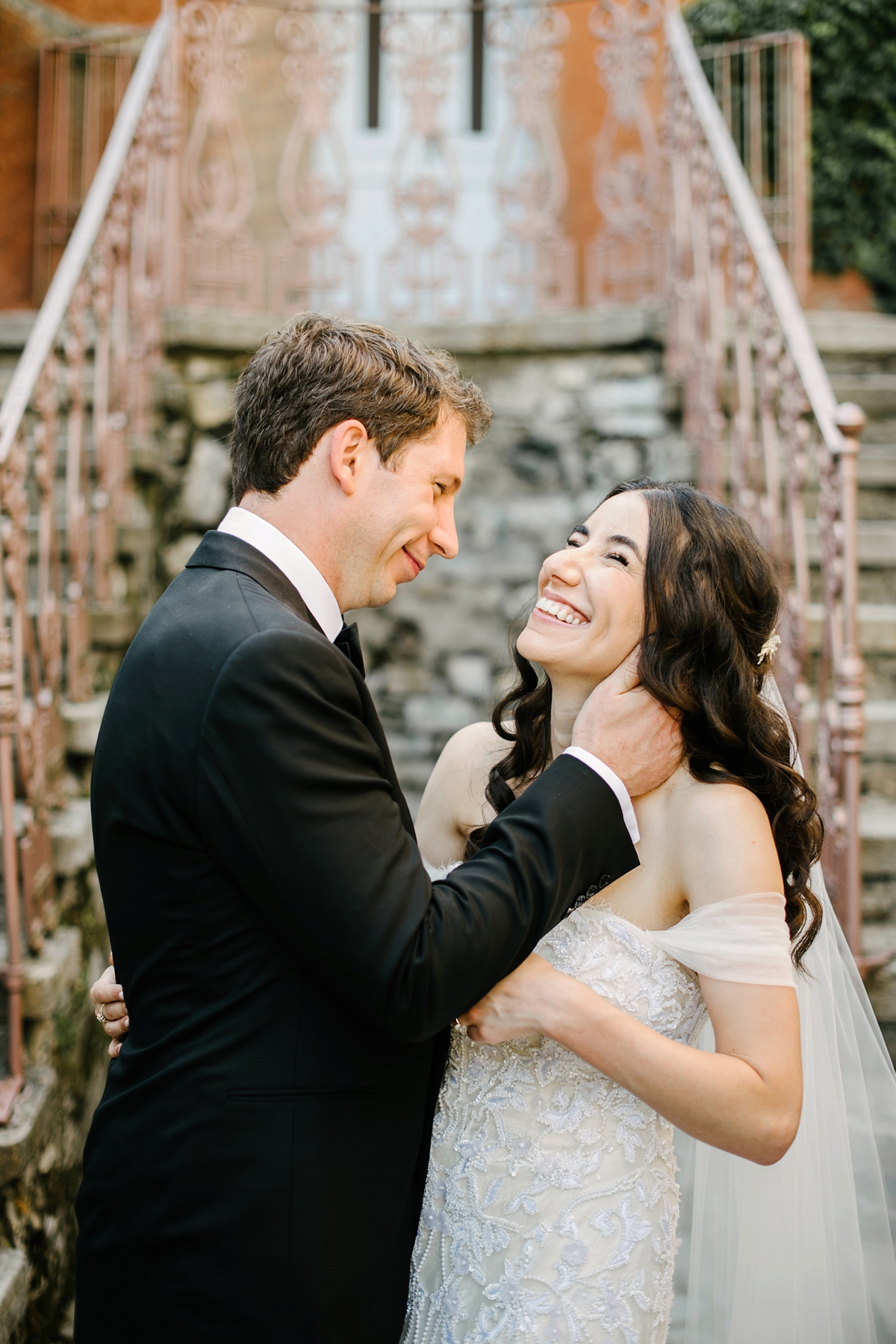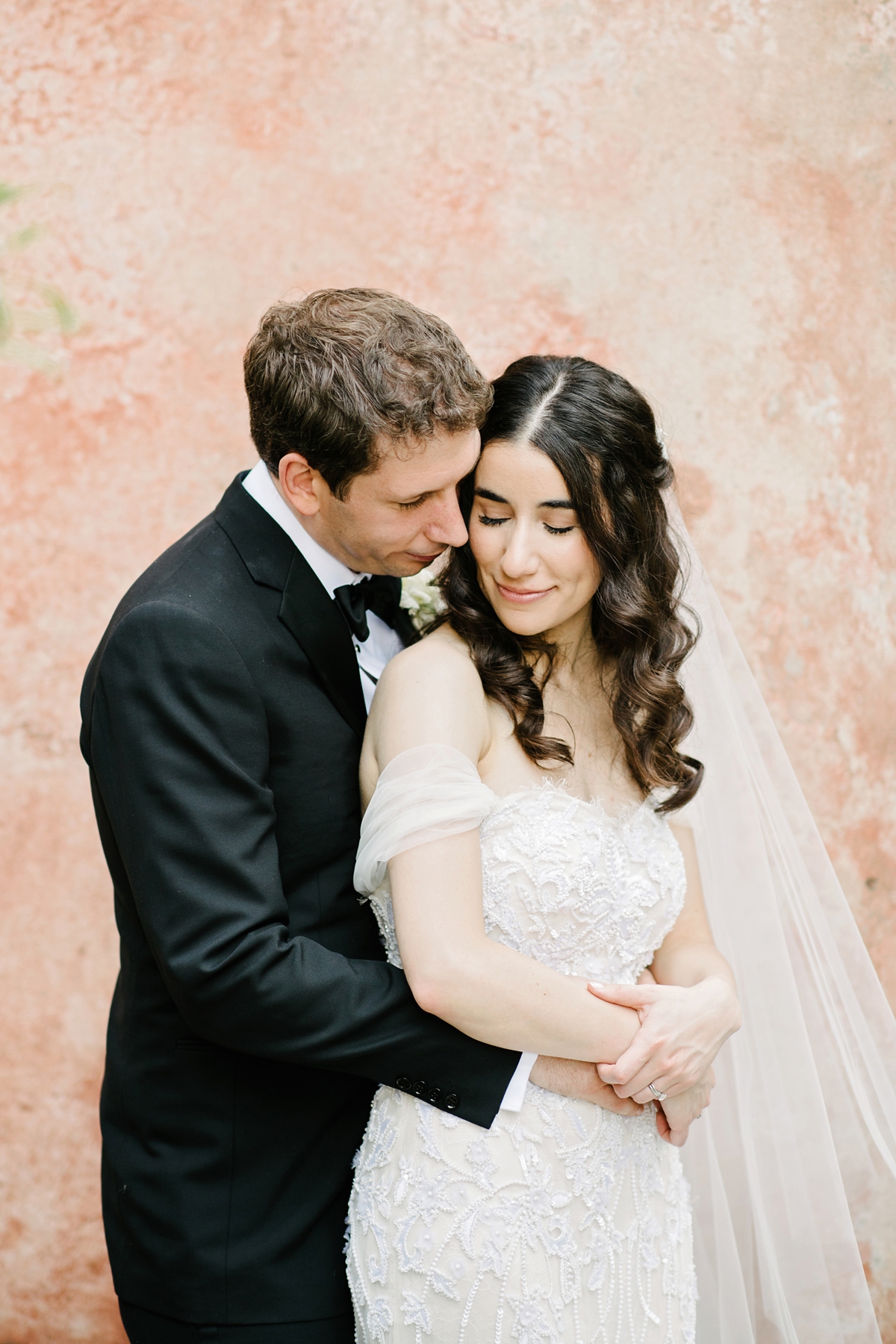 Following the ceremony, a jazz trio entertained guests, and when Emma and Adam returned from having their photos taken, two of the bridesmaids had arranged a sweet surprise for them.
"Two of our lovely friends (and bridesmaids) surprised us with performing a song when we came back from taking our photos. That was a very special moment for us and a wonderful gift from them. We feel so lucky to have such amazing friends."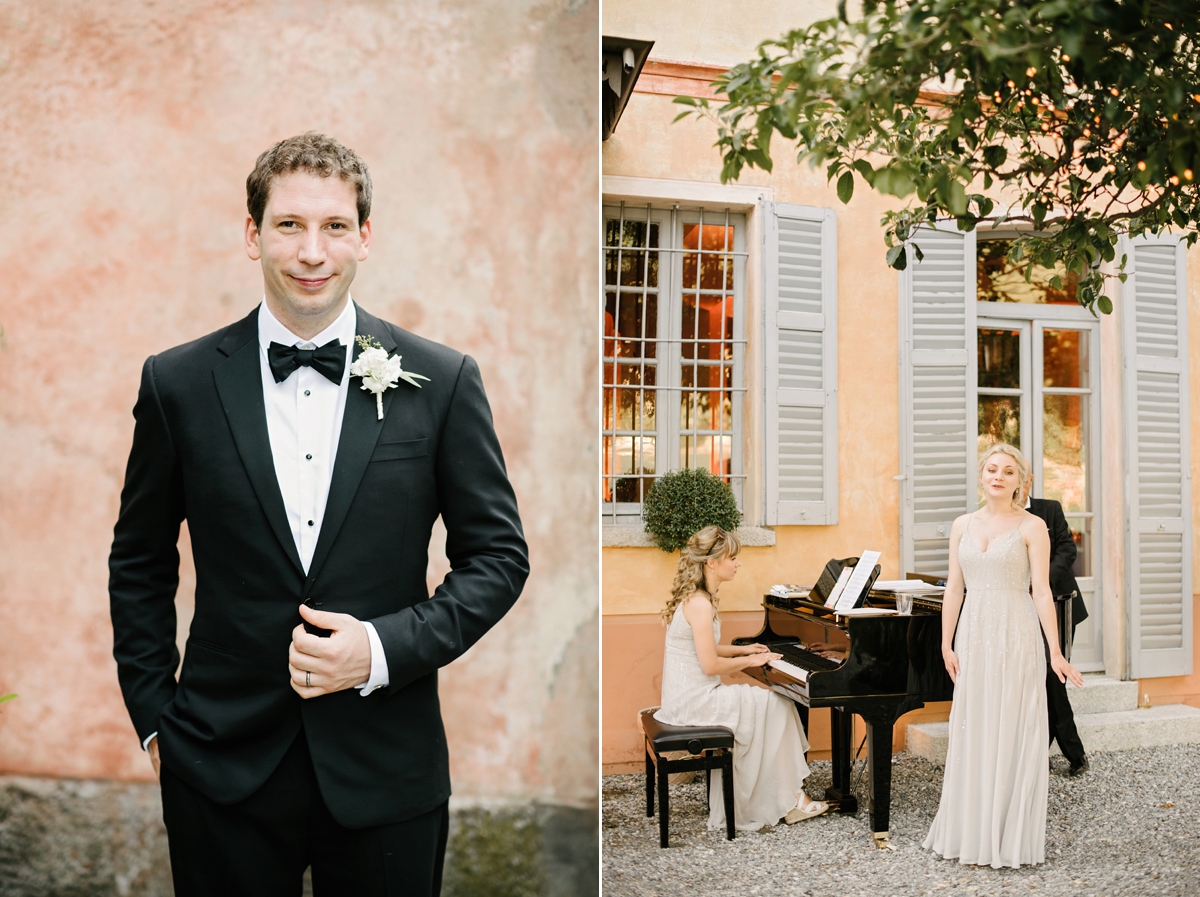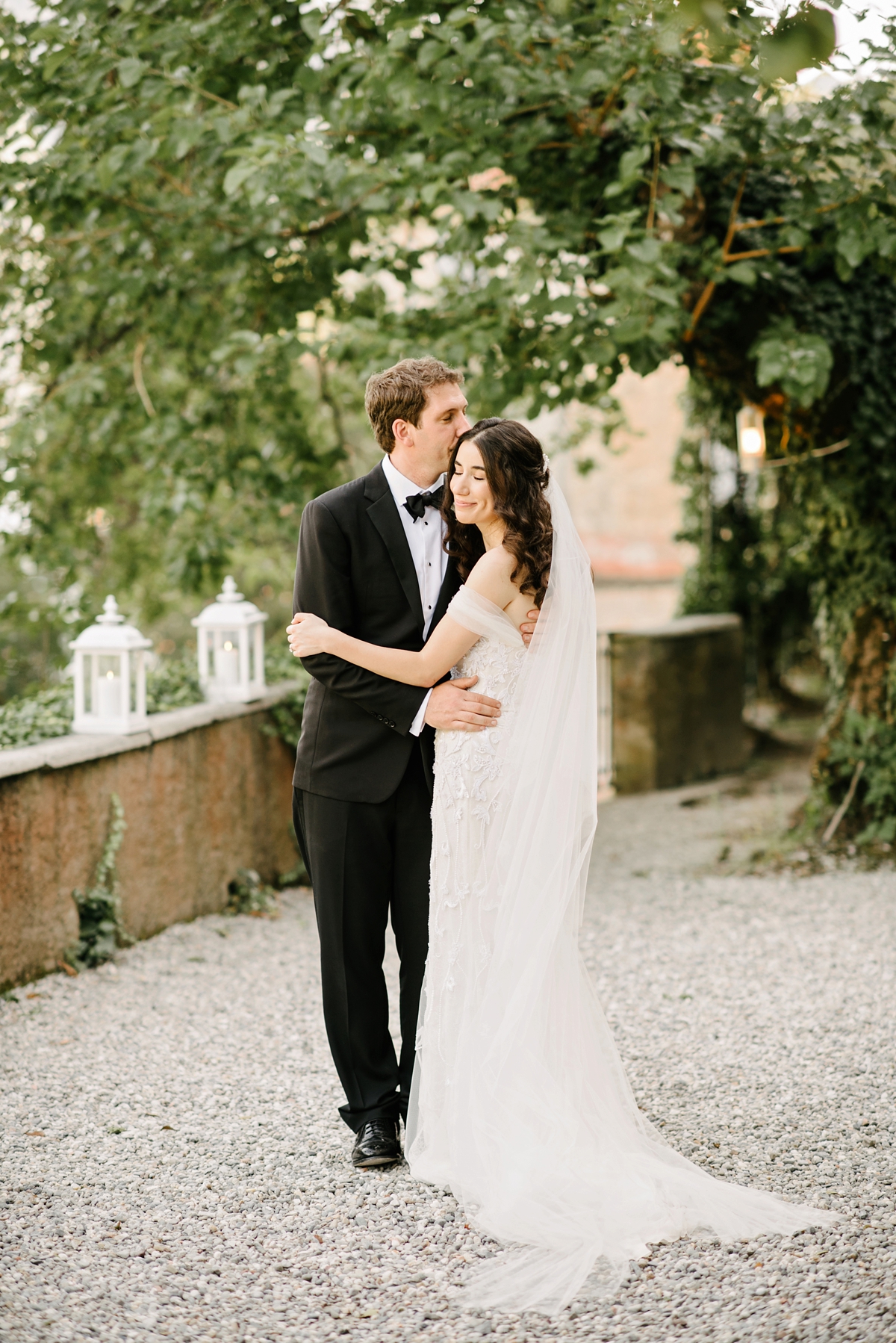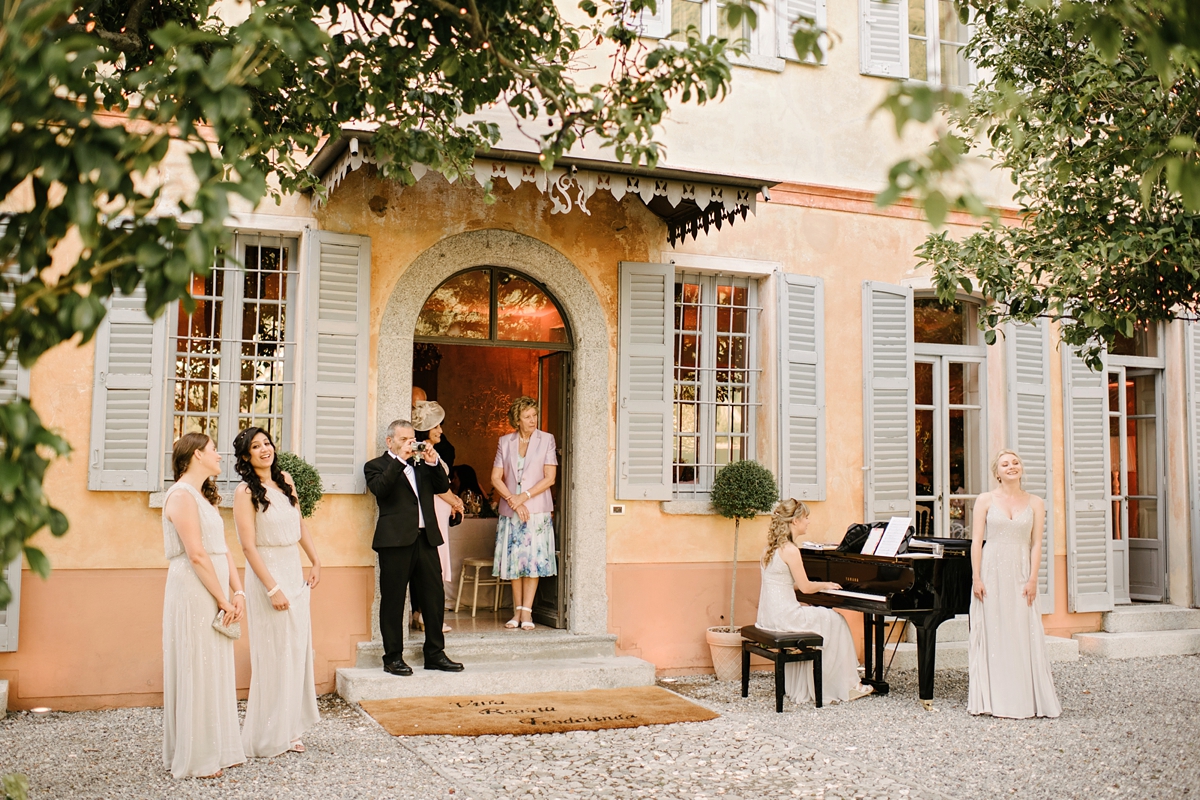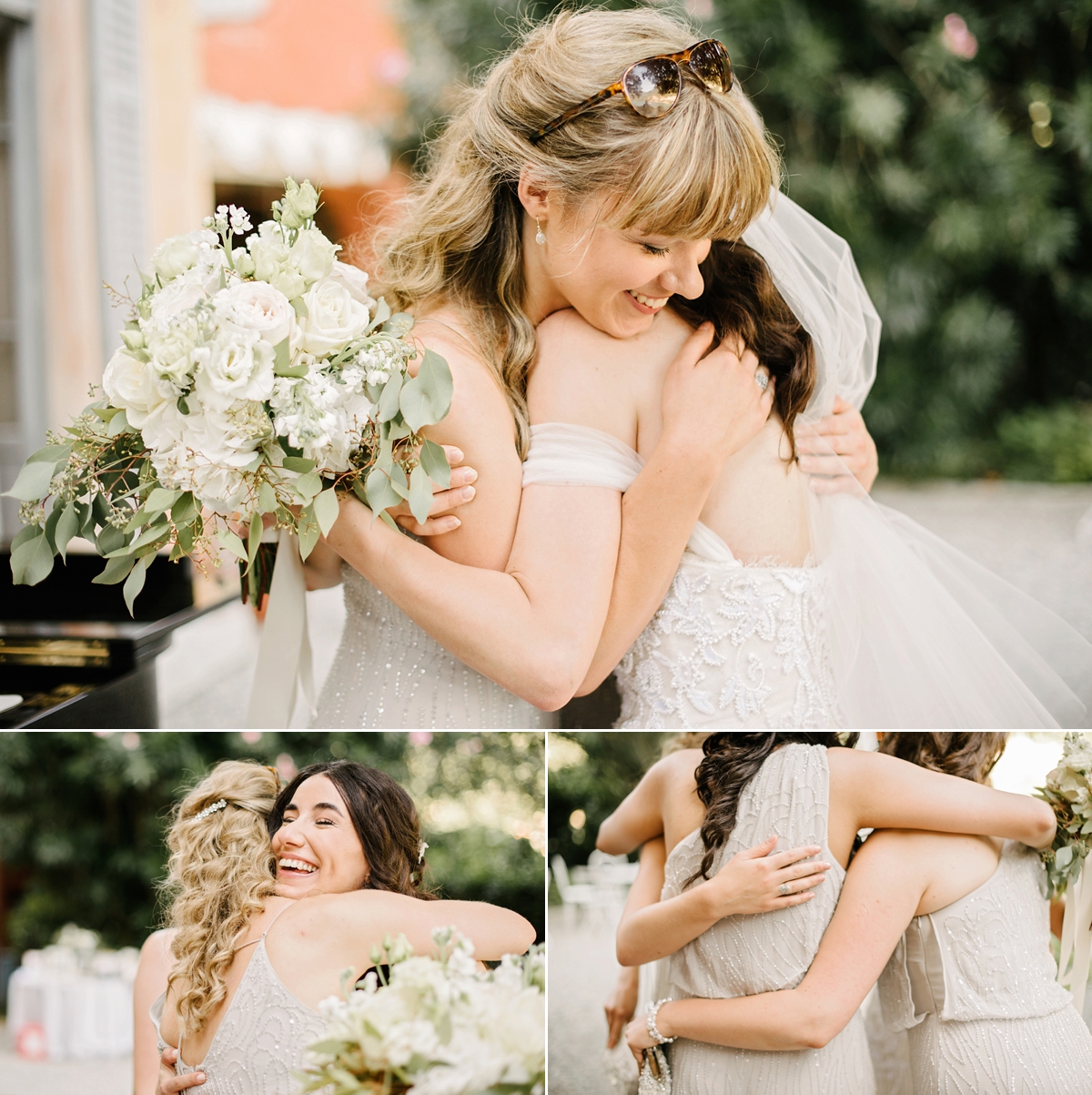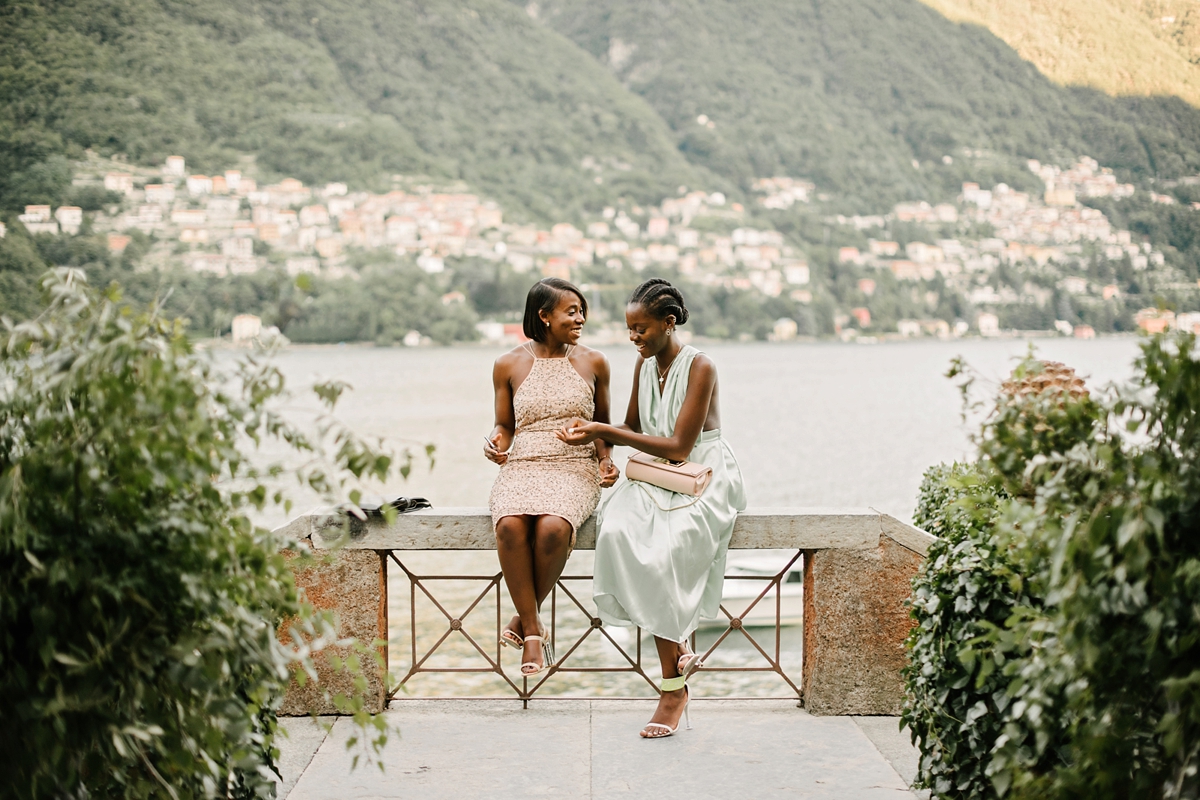 "For our wedding dinner we wanted the room to feel classic and cosy. We had an elaborate floral runner on our top table made up of olive branches, eucalyptus, lisianthus and hydrangea. We added lots of tea lights to make it feel warm as we wanted to create the atmosphere of a family feast."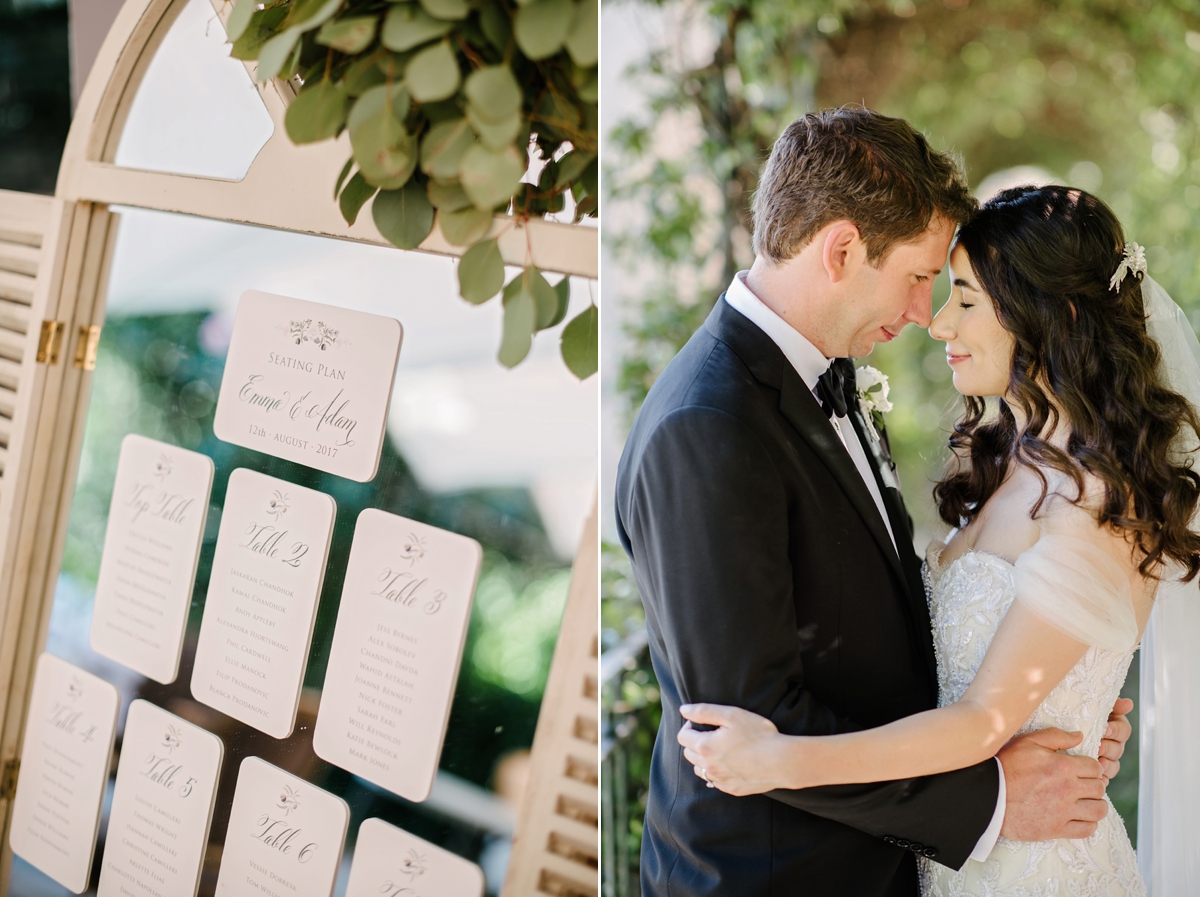 "The catering was all provided by Sun Lake Catering, who are joined with our venue. The food was exceptional! Our aim for the wedding was to stuff people with a sea of never ending food and I think we were successful at that. We had a traditional Italian aperitivo with cocktails and a huge spread of Italian finger food after the ceremony, followed by a three course dinner, followed by a dessert table and our wedding cake."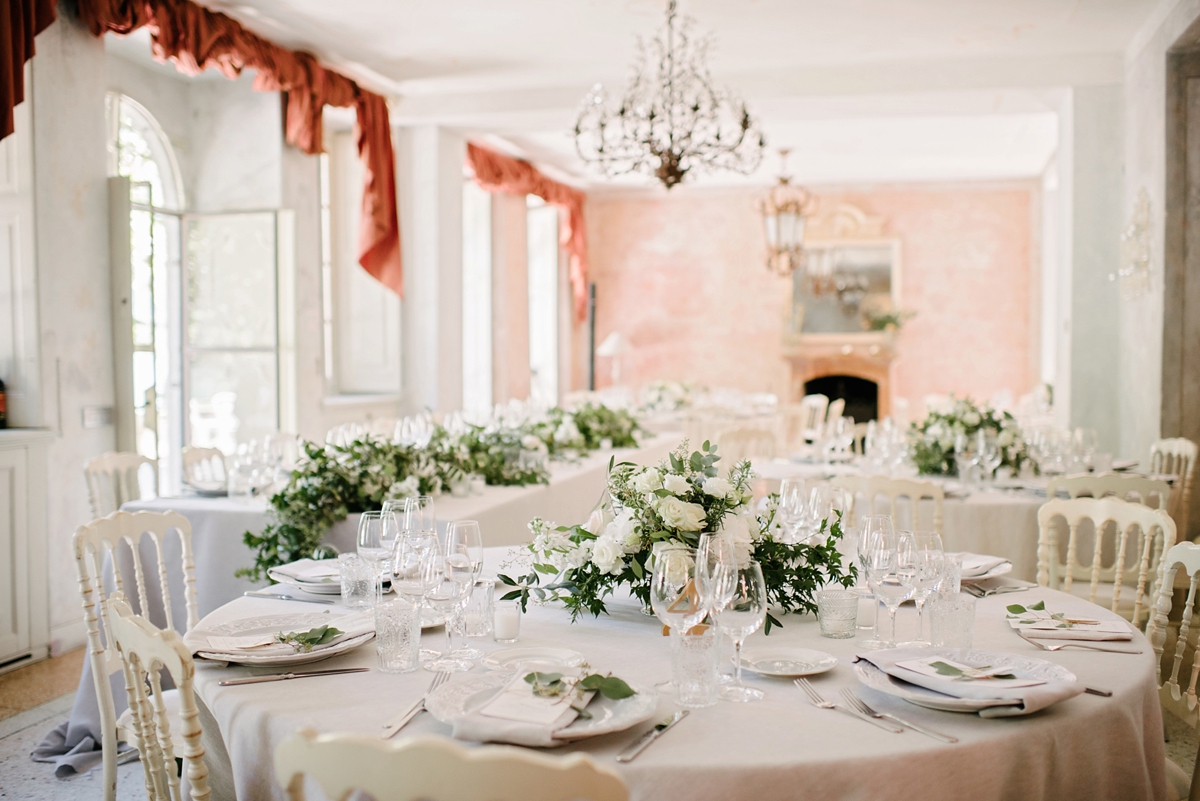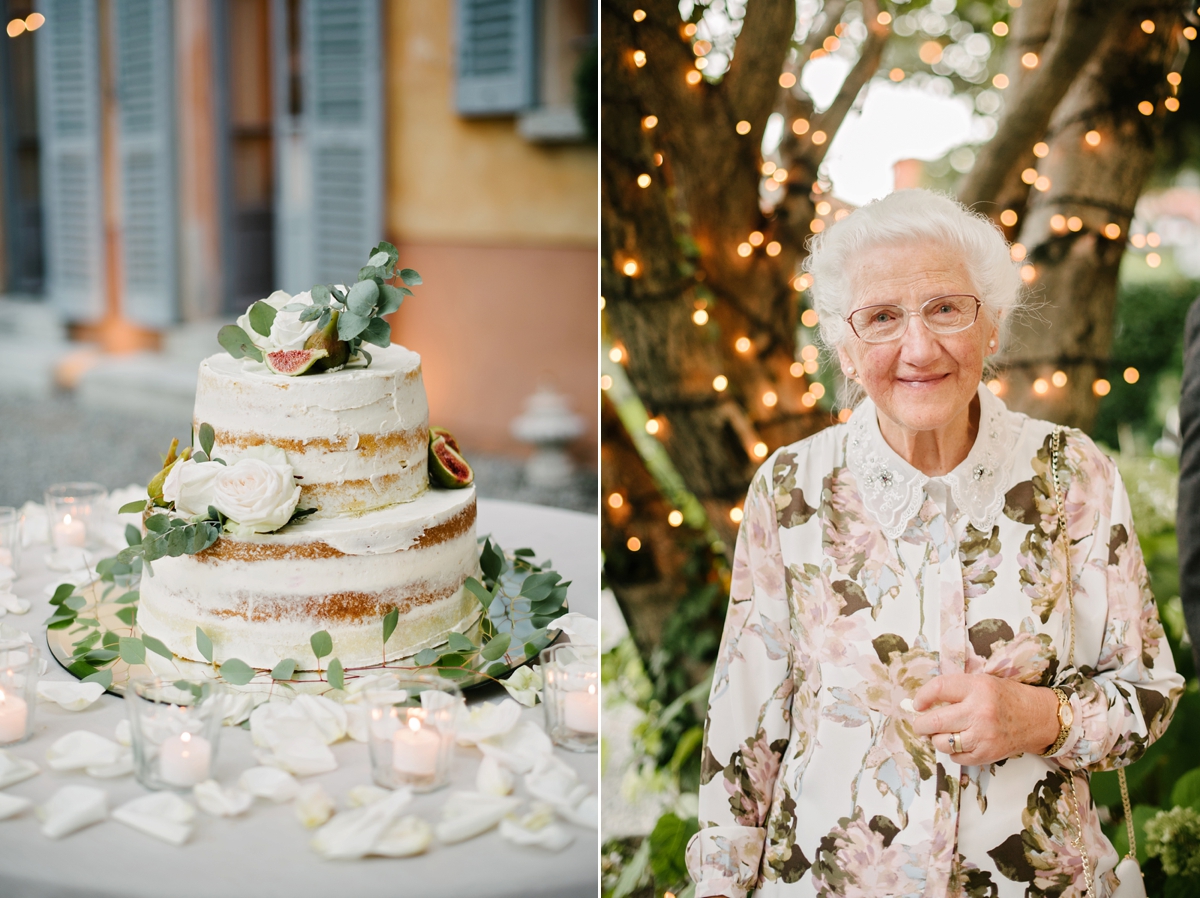 "The catering company executed everything to the highest standards, and then some. We had a menu tasting and chose our linen, cutlery and plates about three months before the wedding and we were super impressed with how organised and how delicious all of the food was. We really couldn't fault them at all and all the guests commented on numerous occasions just how good the food was."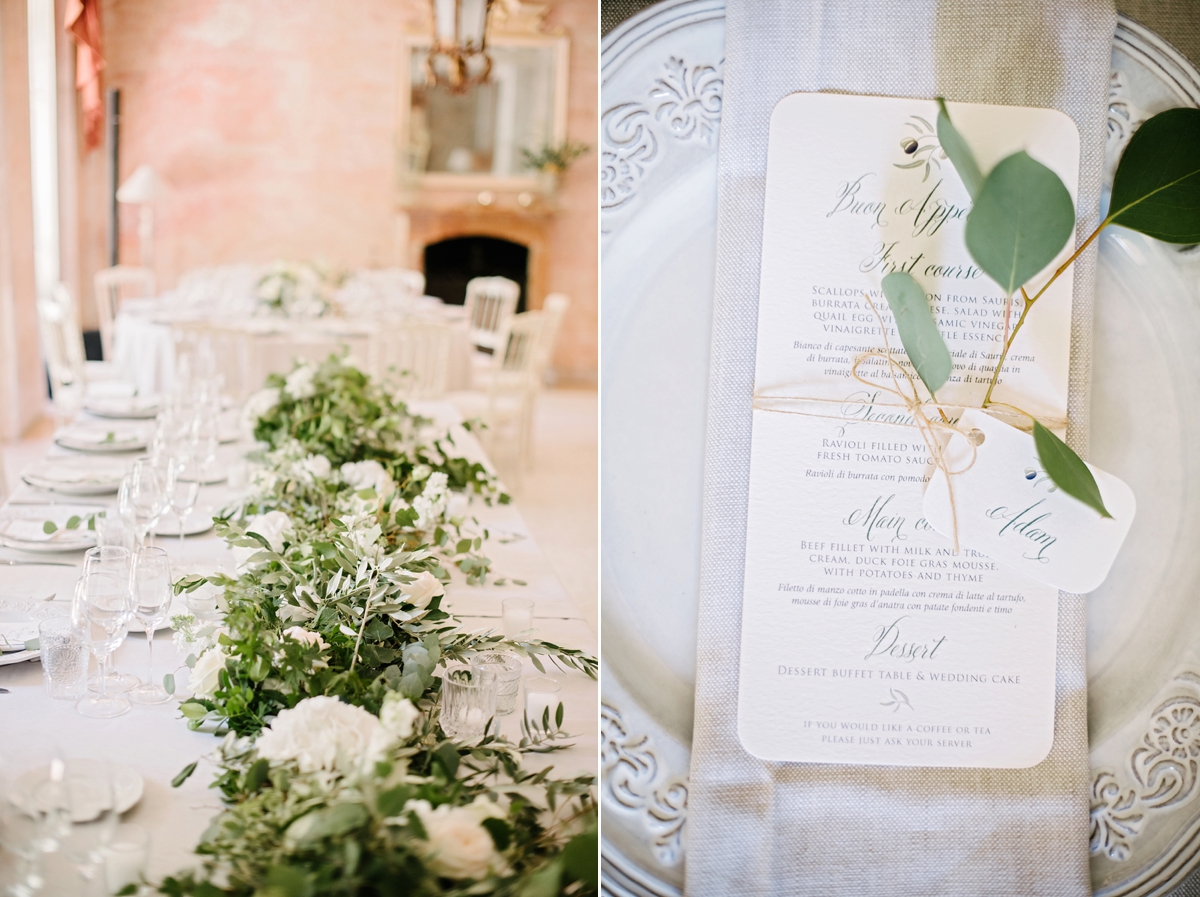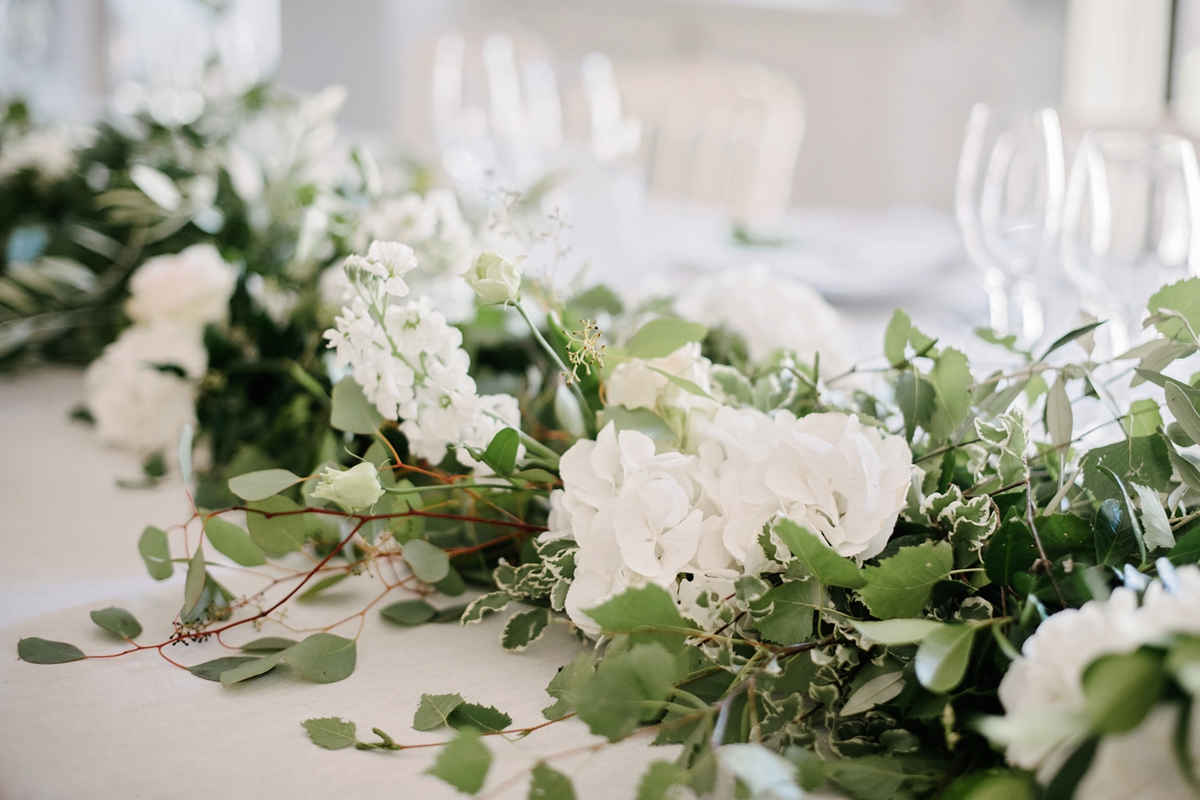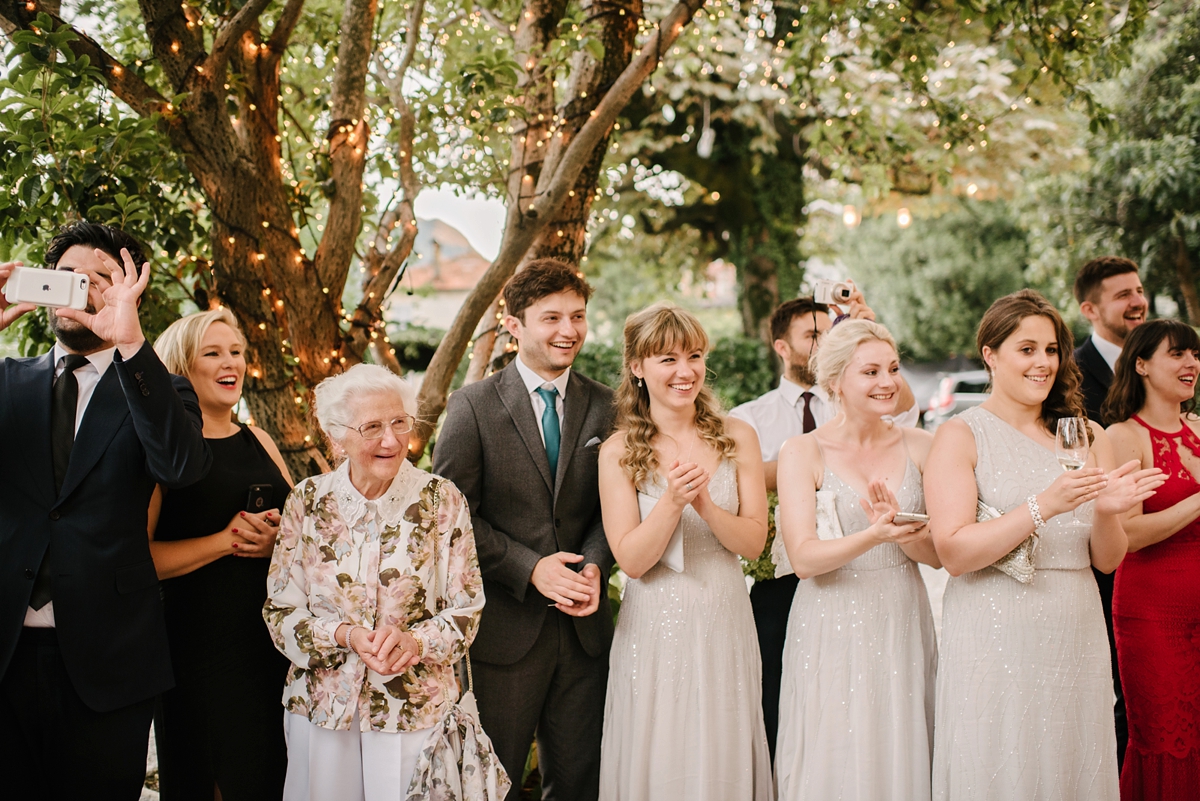 The couple's wedding cake was a semi-naked confection filled with strawberries and cream, and decorated with roses, eucalyptus and fruit.
"Our one surprise to our guests was that we had live tenors to sing while we were cutting our cake. Our wedding planner Gemma suggested this when we said we wanted to do something fun to surprise everyone. The tenors had amazing voices and got the whole group involved in the singing and even started dancing with our guests (including my mother and Adam's granny!). This was one of our favourite parts of the day. It made everyone smile and it was lovely for us to be surrounded by everyone enjoying the performance!There was a magical point when everyone just went with the moment and started dancing together which we will never forget."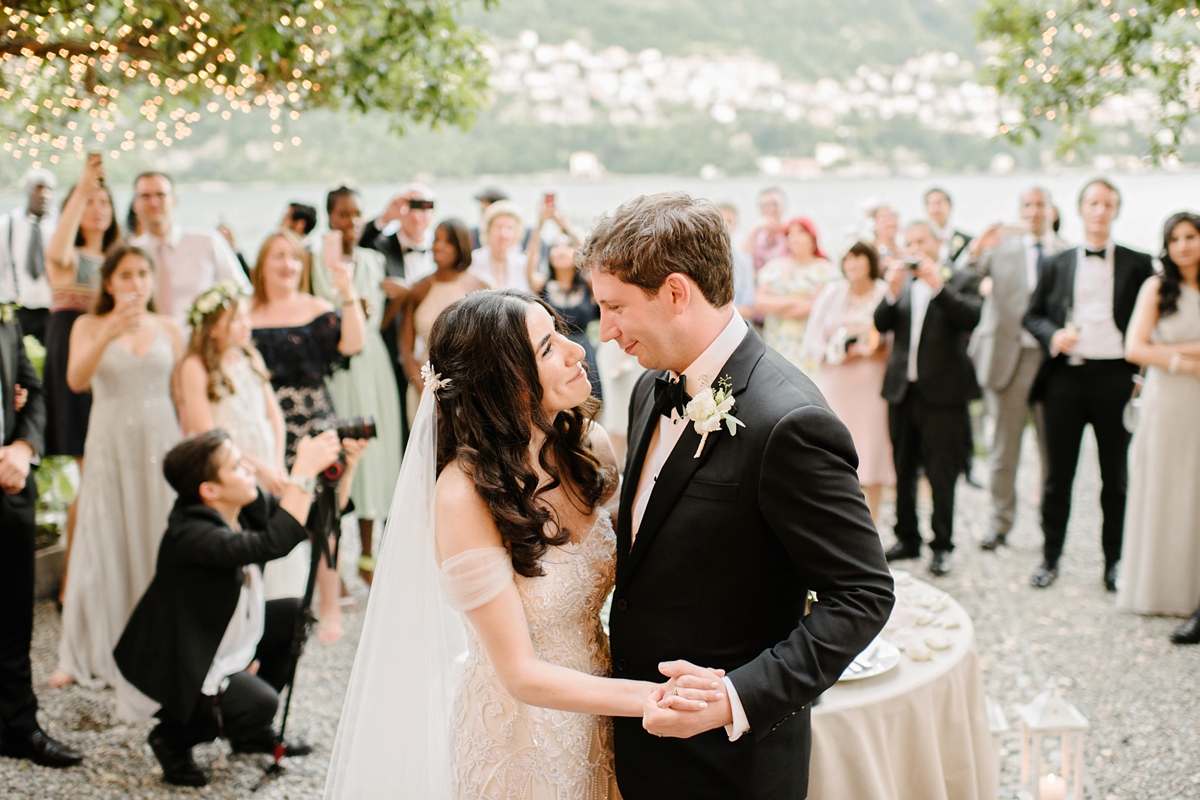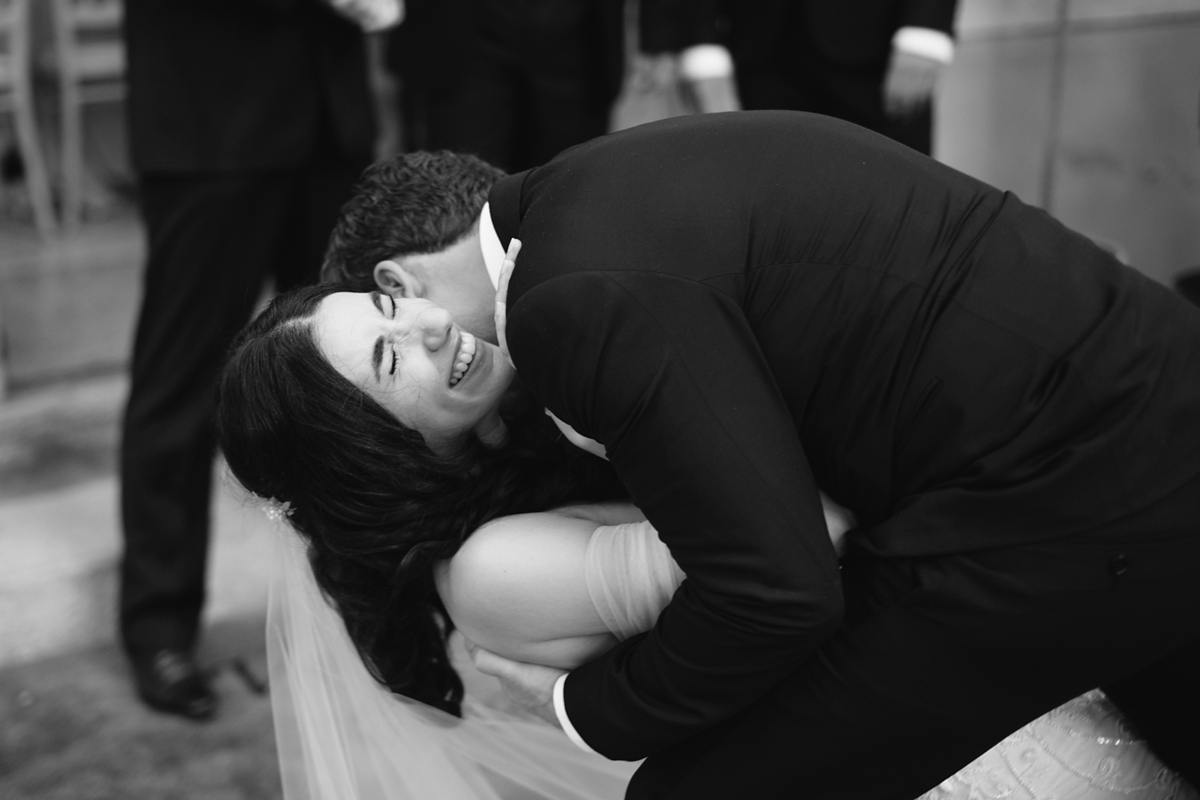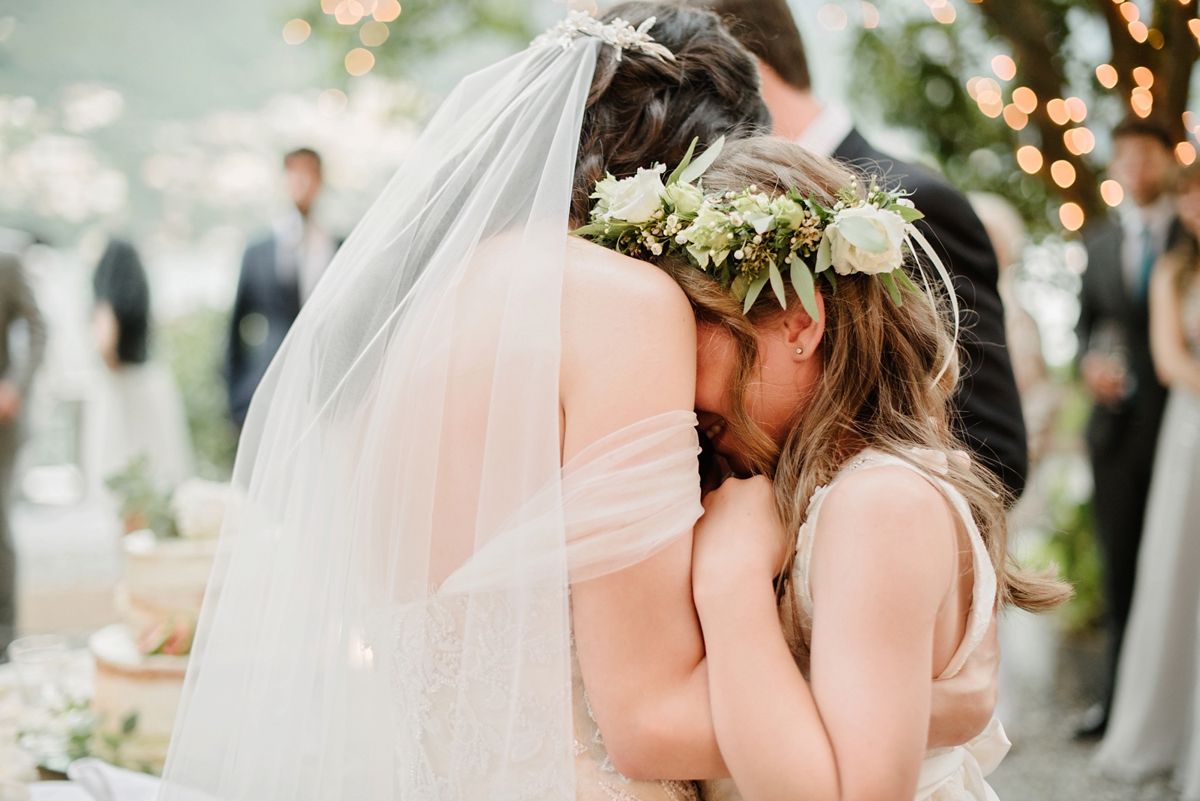 All of the entertainment for the day was provided by Blunotte Eventi, including the string quartet and jazz trio, as well as a pianist playing during dinner, and a DJ later in the evening, too.
"Our first dance was to an acoustic version of 'No one's gonna love you' by Band of Horses. It brings back a lot of happy memories for us and we also loved the fact that it was unconventional and not too cheesy. We chose the acoustic version so we could have a slow dance and take in the moment before the party got started."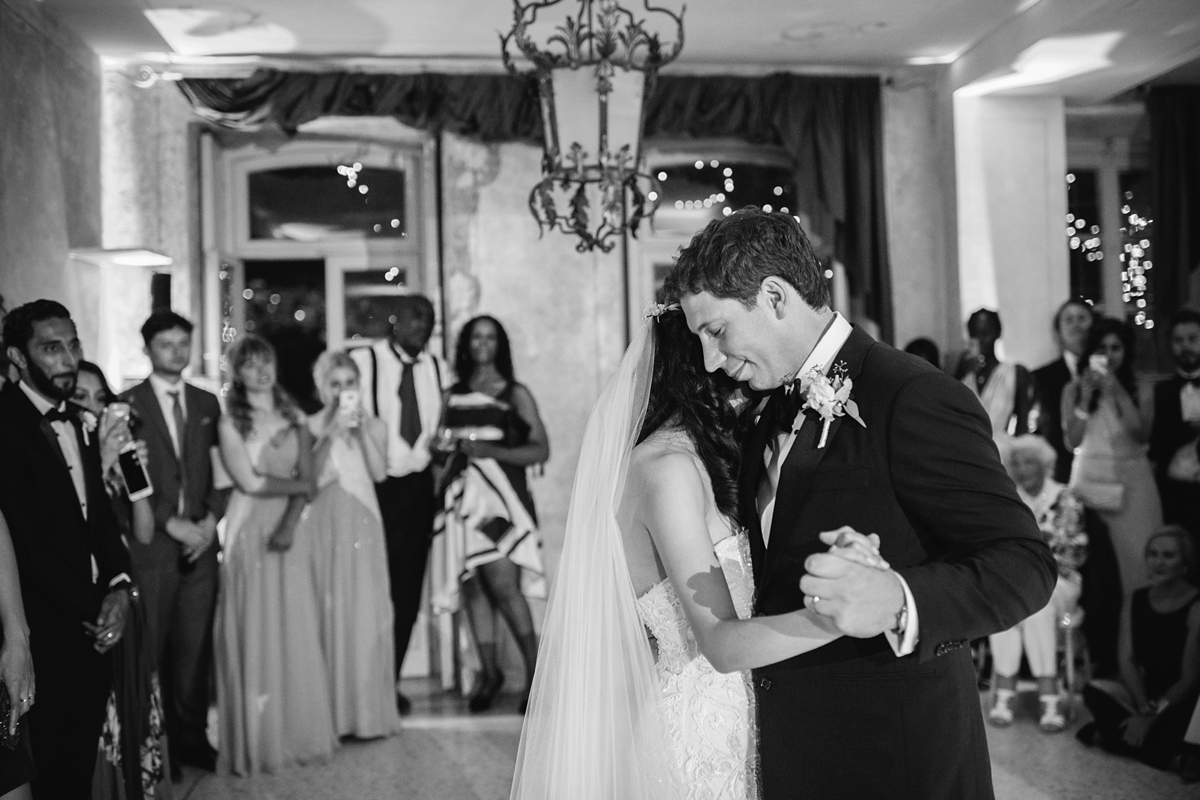 Words of Wedded Wisdom
"Stick to your guns. If you want to get married abroad and find a place that feels perfect just go for it. For us, the setting created an atmosphere that made our wedding really, really fun. We wasted a whole year looking for alternatives in England because we were worried about asking people to come abroad. In the end, everyone came and they all agreed we made the right decision. We'll also never forget the week we had in Italy before the wedding spending time together feeling so happy and completely relaxed – we 100% made the right decision for us. The same rule applies to pretty much every other decision in your wedding!"
"Get a videographer. Even if you're feeling camera-shy, on the fence or have to cut out something else. There were so many special moments on the day and even if you have perfect photographs it's totally different to be able to replay your memories. We both were unsure of whether to get one but we are so glad we did. We would also recommend paying extra to receive all of the raw footage. This means you get to see everything and not just the parts that make it into the final edit. Being able to relive all of the tiny moments is priceless."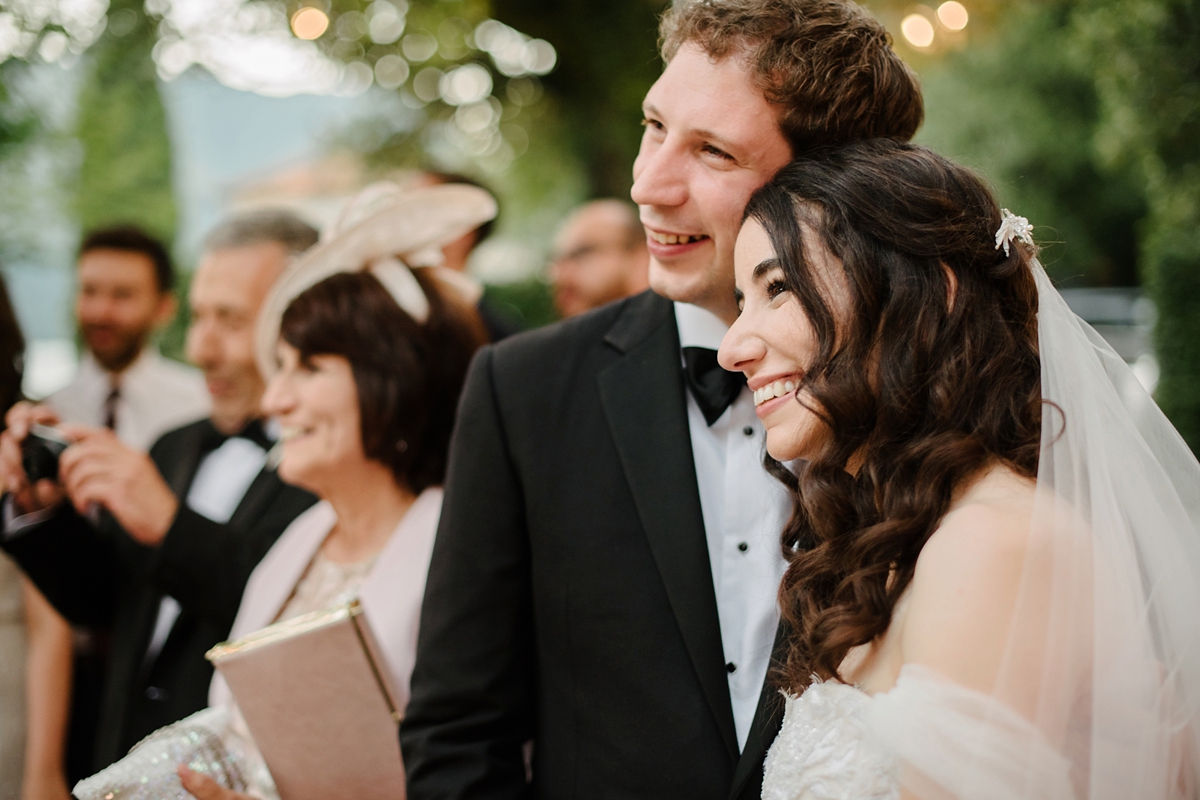 "Be organised and very specific with your suppliers and give them as much detail as you can as it minimises the risk of not getting exactly what you want and also means you can relax and enjoy the day when it arrives."
"Do NOT think it's a good idea to get into a boat which is a metre below the deck of your venue. Especially with all of your guests watching! I had to jump into the boat in my dress and heels and ended up banging my eye on a wooden beam which really hurt and then we couldn't stand up comfortably because the boat kept wobbling around. Adam came and sat on the same side as me at one point and the whole boat tipped sideways. My sister has a video of the whole thing and it's hilarious in hindsight but it wouldn't have been funny if I had fallen in!"
"If at all possible, set a date by when you will have everything done by and aim for that. Once that date passes, stop trying to do more and just enjoy the build up to the day and have some time to reflect on the fact you are going to get married to each other."
"Don't aim to impress people, it will look pretentious and misses the point of what the day is all about. Aim for a great atmosphere that both you and your guests will enjoy. If you are having a wedding abroad, try and make it easy for your guests where you can (but draw a line somewhere). For us, we appreciated that people had gone to a lot of expense travelling abroad to attend, so we decided to organise transport from the airport for groups, transport at the end of the wedding, and have an open bar. We also organised a few other events around the weekend, including a post wedding brunch the following day. This all helped to create a lovely relaxed atmosphere and allowed our guests more of a chance to mix."
"Throw yourself into it on the day. Let yourself be fully present in the moment and forget about all of the details. As soon as the morning arrived we felt calm and relieved and all of the small bits we spent ages fretting about seemed laughably unimportant. If you get to marry the love of your life in the end, you've done it right."
Many congratulations, Emma and Adam. Thank you for this peek into your unbelievably beautiful day, it's been a complete treat! Thank you also to photographer Dominique Bader, and videographer Alessandro Pardi for their stunning captures. You can view more of Dominique's lovely work here, and more gorgeous Italian weddings here.
With love,
Laura