I love summer weddings, I really do, but there's always something refreshing about an Autumnal wedding and a change-up of florals and themes.
Today's wedding took place in October of last year and was a tale of two halves; a light, bright an airy ceremony, followed by an evening do in a cellar with a 1920s Speakeasy vibe. Sound like your kind of thing? Then let's introduce you to today's bride and groom. Lab technician Emily and sales engineer Ben were wed on 14th October 2017 at 19th-Century country house venue Kilworth House Hotel in North Kilworth, Leicestershire.
"We knew we wanted to get married at Kilworth as soon as we walked in! There are a number of grand and elegant features, particularly the staircase, that we loved. The Orangery is beautifully bright and airy with an amazing character we could just enhance. We wanted a completely different party vibe for the evening so we loved the Cellar Bar for that reason too."
Photography by Sue Ann Simon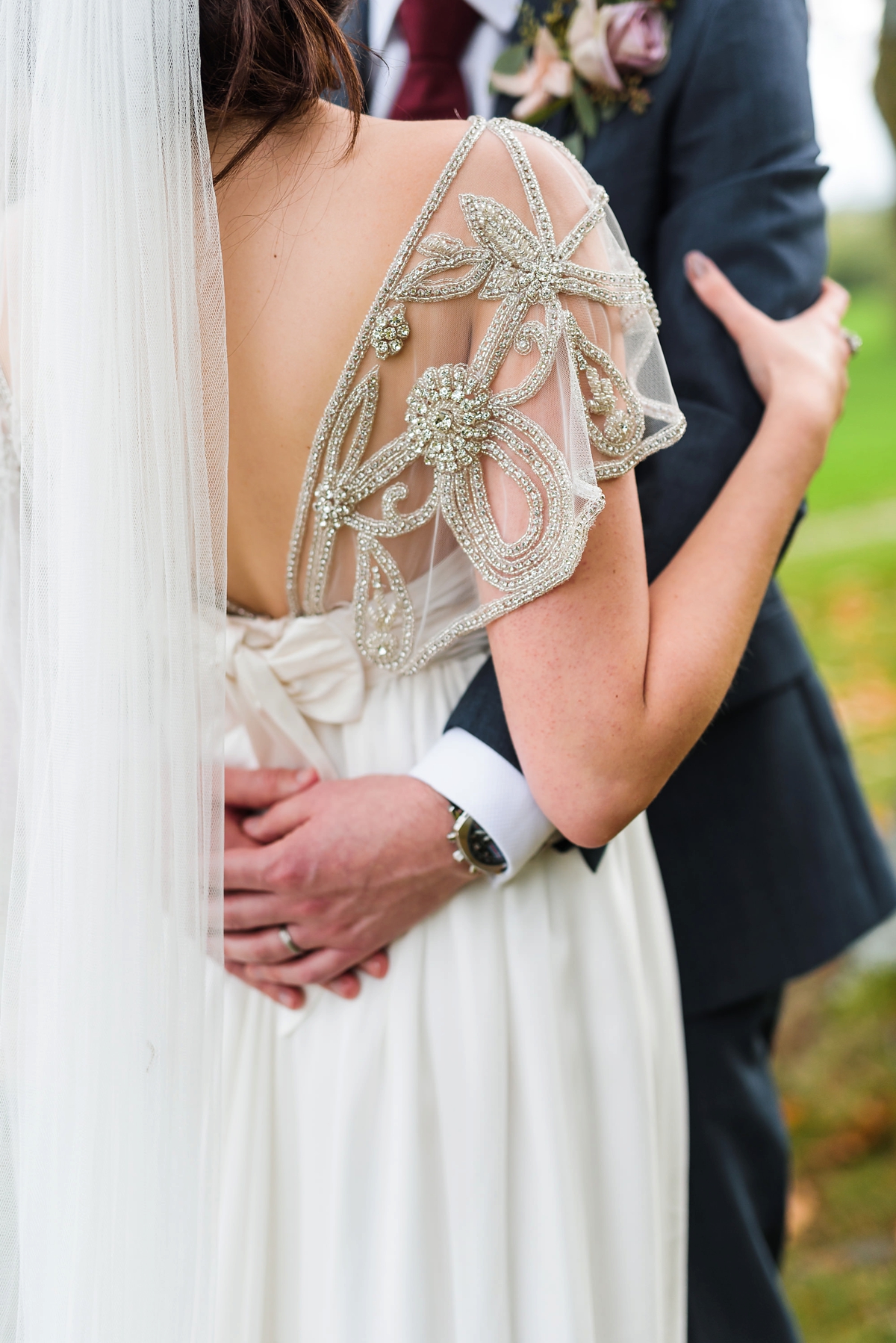 Emily's choice of wedding gown suited her gorgeous surroundings perfectly and was a low back beauty with embellishment by Adelaide by Australian designer Anna Campbell via bridal boutique Coco and Kate in Warwickshire.
"I first came across Anna Campbell back in 2013. I knew I had to have one of her dresses as they're elegant and flow in a really lovely way when you walk. There are only 3 stockists in the UK and thankfully Coco and Kate was one of them, which was also conveniently located in Warwickshire! I was very particular about having a dress which looked amazing from both the front and the back. I love the embellishment and the low open back. The dress has a sneaky split at the front too so I bought blue shoes to match Ben's suit as they peeked out when I walked."
Meeting photographer Sue Ann Simon who captured the couple's day on camera beautifully, felt like fate for Emily and who she thought went above and beyond for them on the day.
"Meeting Sue felt like fate. We went to our first wedding fayre and Sue and her fiance/assistant Mark went as their first fayre since moving to the UK from Spain. I was immediately drawn to Sue's use of colour and to the both of them. We stalked her booth twice! I knew we had to use her for our wedding. We hadn't really seen any other photographers before and we didn't look at any others."
"It was the best decision we made as we love Sue and Mark. Sue had a great pool of second shooters as well and Beth shared all of the passion and dedication of our day with us. We got so many beautiful photos, both natural and posed, and they all went above and beyond."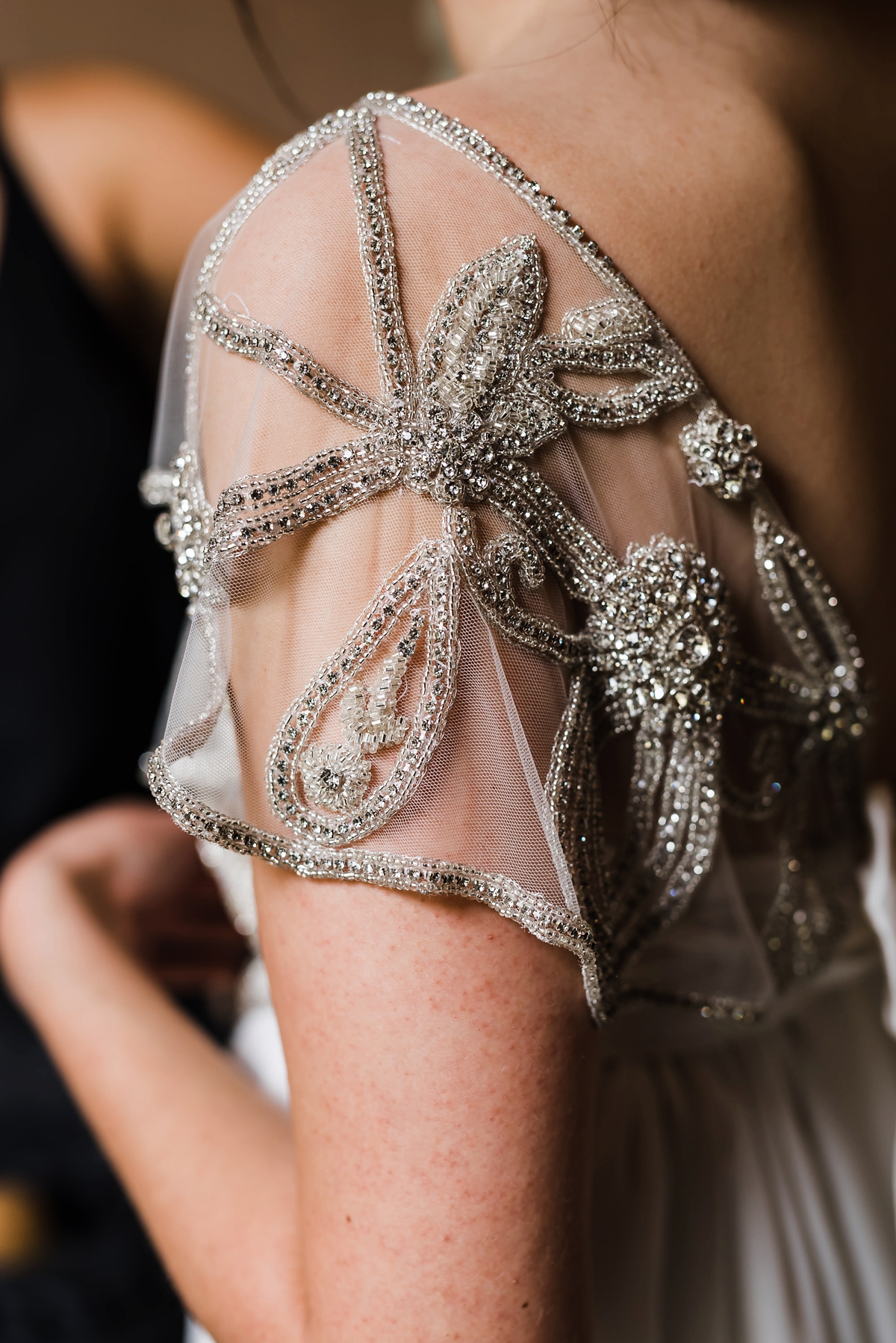 "Joanna Ace did my hair and make up on the day. I saw her work on Facebook via a school friend. She does amazing intricate vintage style hair and make up."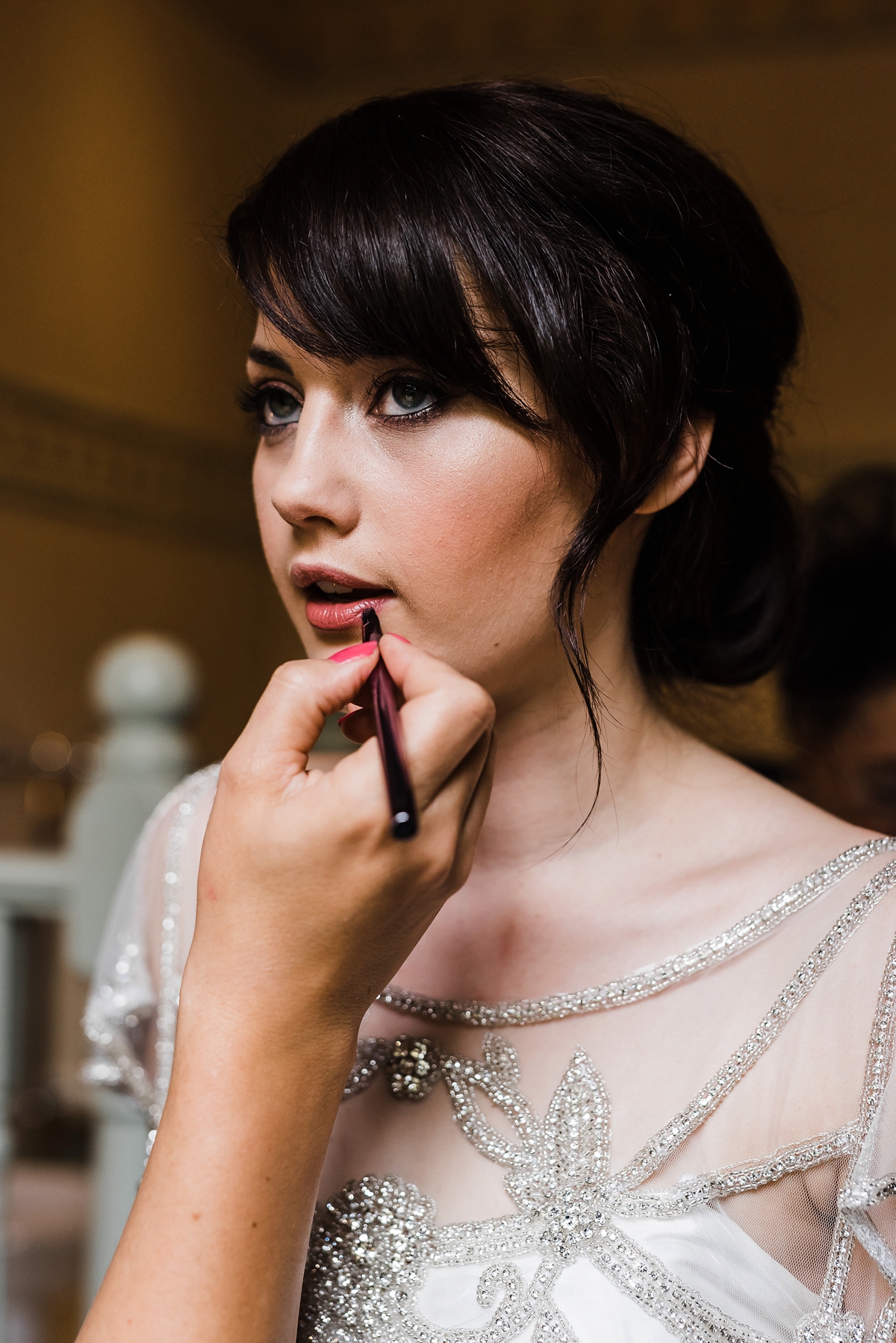 "My veil was a chapel length veil in soft tulle from Soar Valley Brides in Leicestershire and my shoes were a bargain £10 in the sale at Dorothy Perkins. My mum and I had been hunting all day without any success when we were on our way back to the train station and found them!"
[JP-VIDEO]
"We'd almost given up hope of finding them that day. My hairpiece was the Anna by Halo and Co. which I bought from Liberty In Love, and I wore Gucci Flora Gorgeous Gardenia as my scent as it's been one of my two scents for a while now."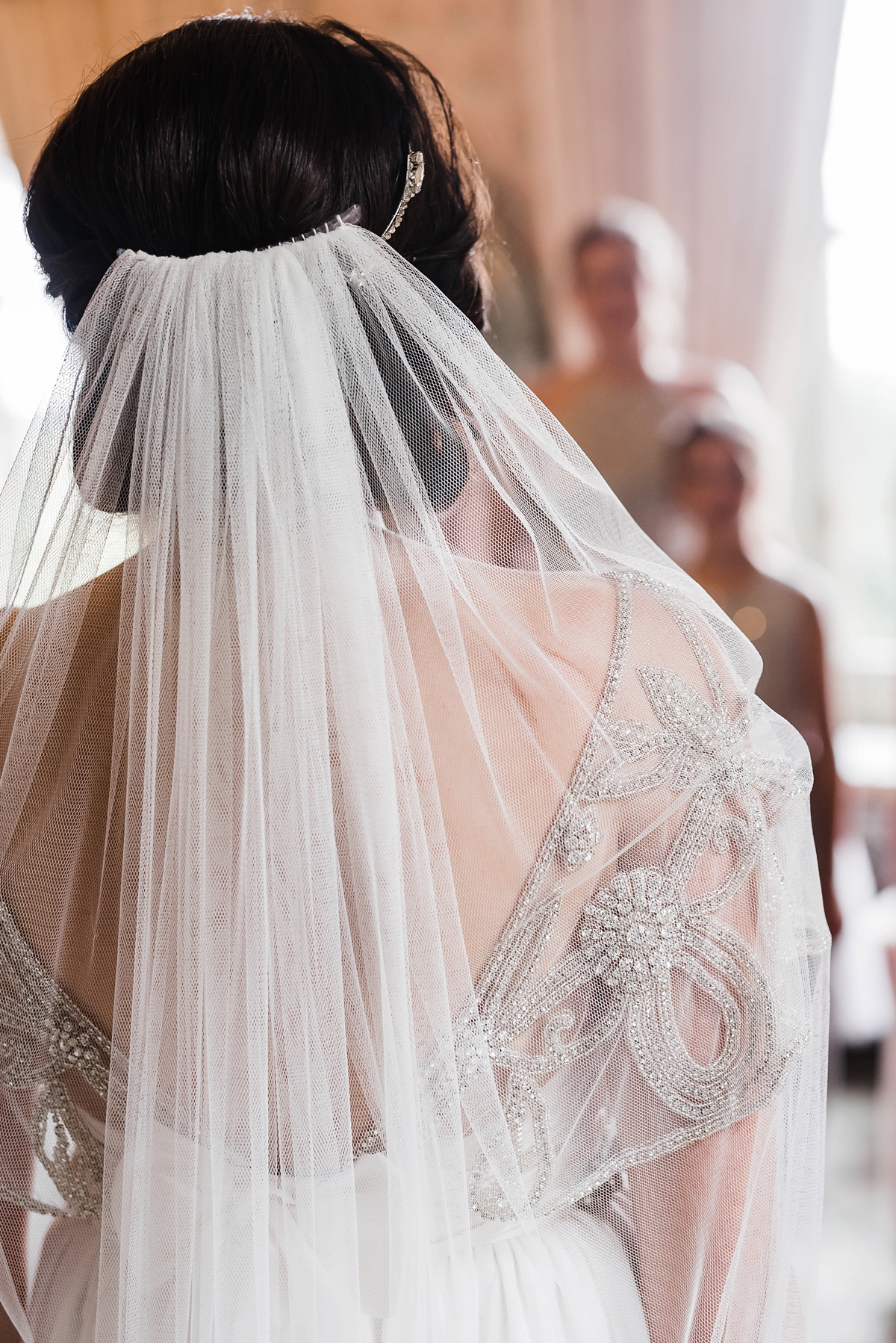 "I gifted all my bridesmaids a delicate bracelet either in silver or gold to match their dresses as a thank you. Each bracelet had a chevron of marble or blue lapis rock (I trained as a geologist!) and were from Lisa Angel."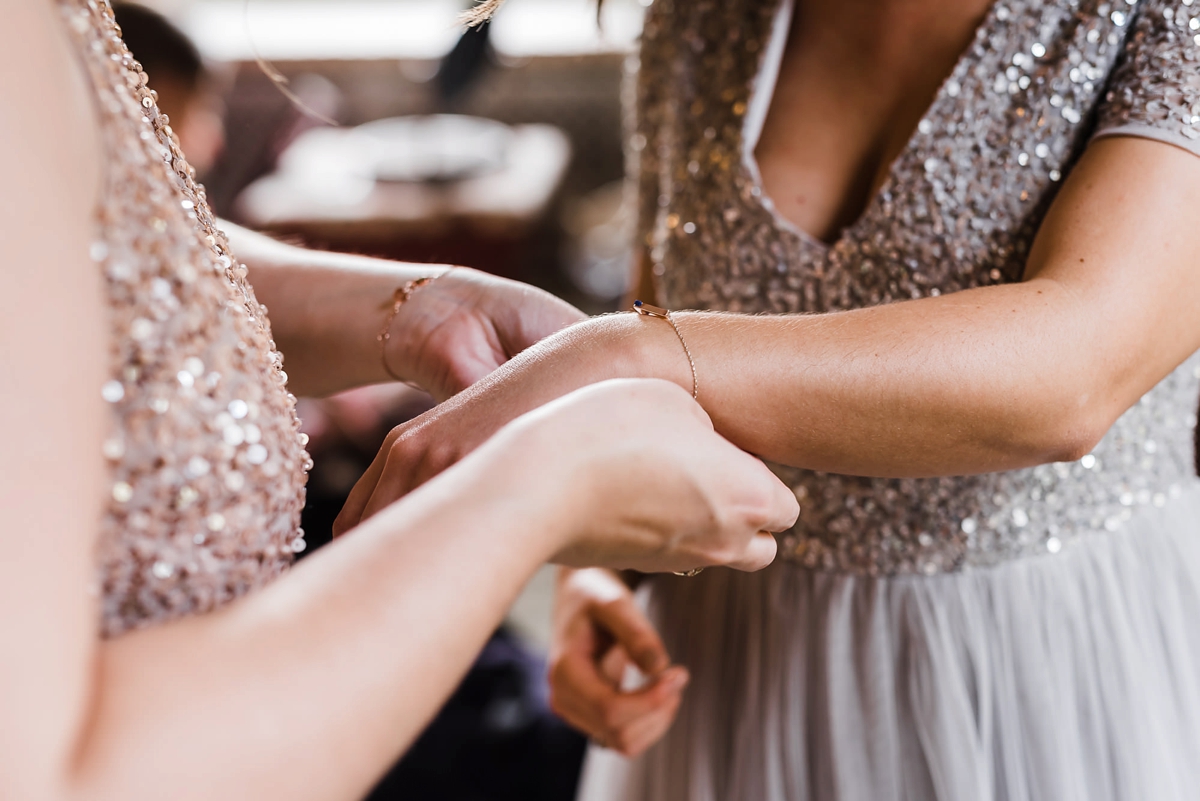 The pair met at high school and after being good friends for a number of years, they eventually got together as they each went to university in 2009.
"We had terrible timing as when we went to university we realised we wanted to be more than friends. We made it through 4 years at uni doing the long distance thing. We got engaged in December 2015, giving us nearly two years to plan the wedding. Ben proposed to me in Cologne at the Old Square Christmas Market."
"Going to the European Christmas markets had become a tradition we started together. This particular market is famous for its large ice rink which was really romantic, apart from the fact I was really rubbish at ice skating! Ben, on thebother hand, was smooth enough to easily get down on one knee on the ice! We got lost in the moment but after I said yes, we were surrounded by applause which was a nice touch."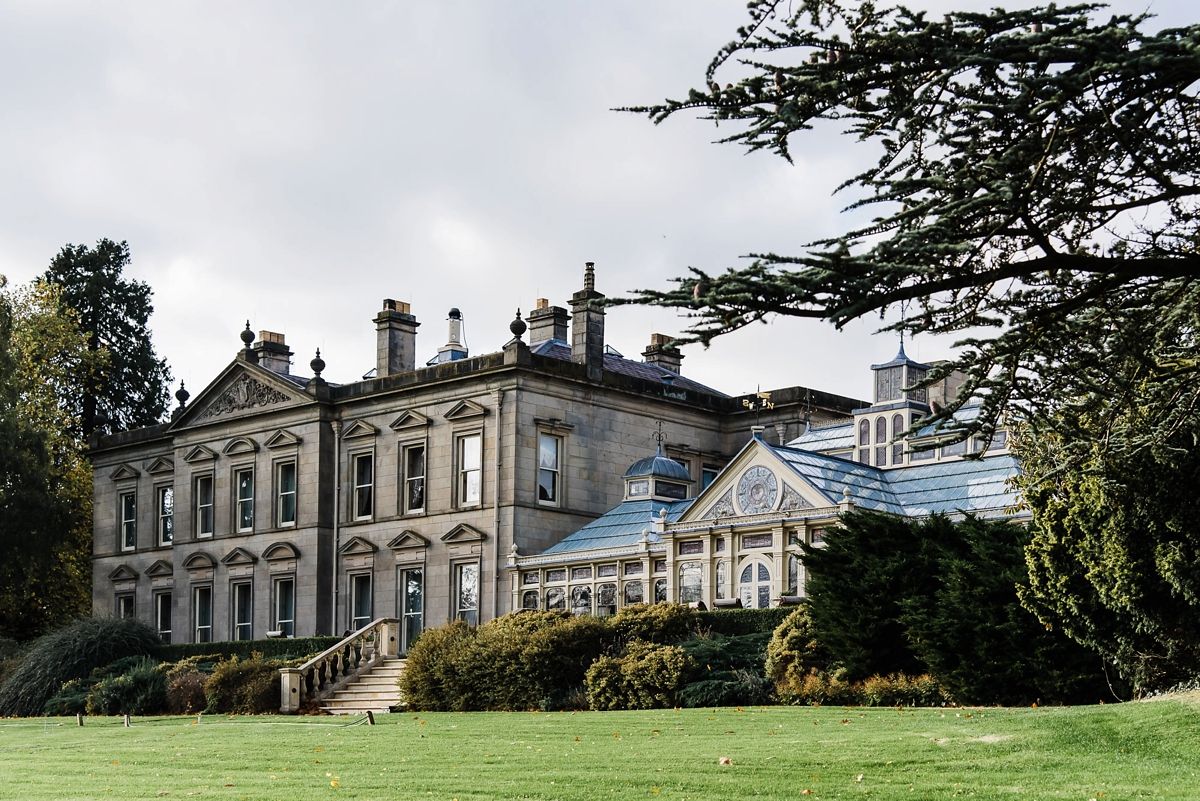 "The character and appearance of The Orangery really spoke for itself and we enhanced it with flowers, though it didn't really need anything else."
"We loosely turned the Cellar Bar for our evening reception into a 1920s style Speakeasy as the low ceilings and alcoves with comfy leather sofas had that sort of vibe. We wanted the evening to be a real party."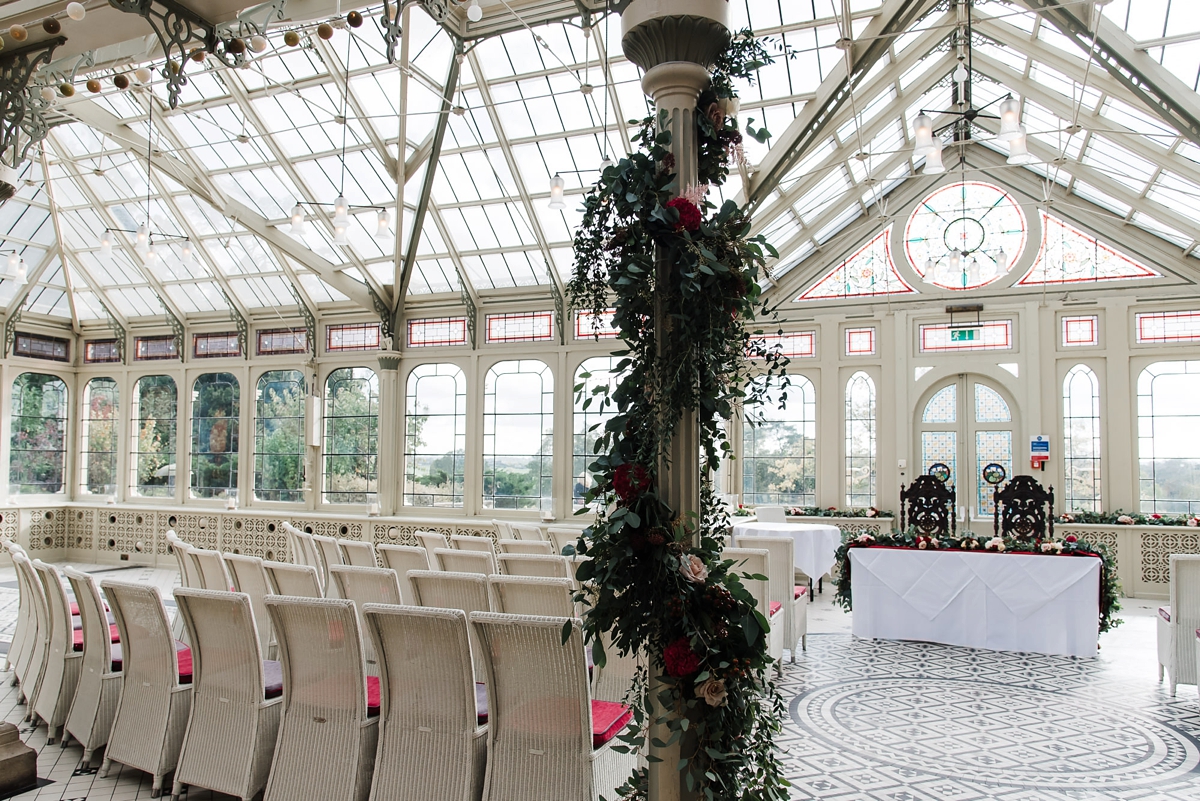 The gorgeous blooms which adorned The Orangery where the ceremony took place and the wedding breakfast tables, as well as the bridal and bridesmaids bouquets were all expertly created by talented florist Michele Gledhill.
"We loved Michele's natural style and eye for detail and blooms (all from the UK). We opted for mostly neutral flowers, pale pinks and beige accented with larger deep red blooms for a splash of colour. The colour scheme was more elaborate but was perfect for the vintage feel and hopefully elegant!"
The couple's flower girl and page-boy walked down the aisle first with Emily's bridesquad following close behind in beautifully sparkly full-length dresses from Mya via ASOS.
Emily's father walked with her down the aisle to Pachelbel's Canon in D to meet her groom dressed in a 3-piece Ted Baker suit with complimenting wine coloured tie.
"We didn't write our own vows because neither of us wanted the embarrassment of it being rubbish. Thank goodness for Google! Our vows were kept very simple. We did have two readings during the ceremony too though. The first was given by Ben's dad called Union by Robert Fulghum. We had been together for 7 years and had been best friends for a couple of years before that and this reflected that more than most."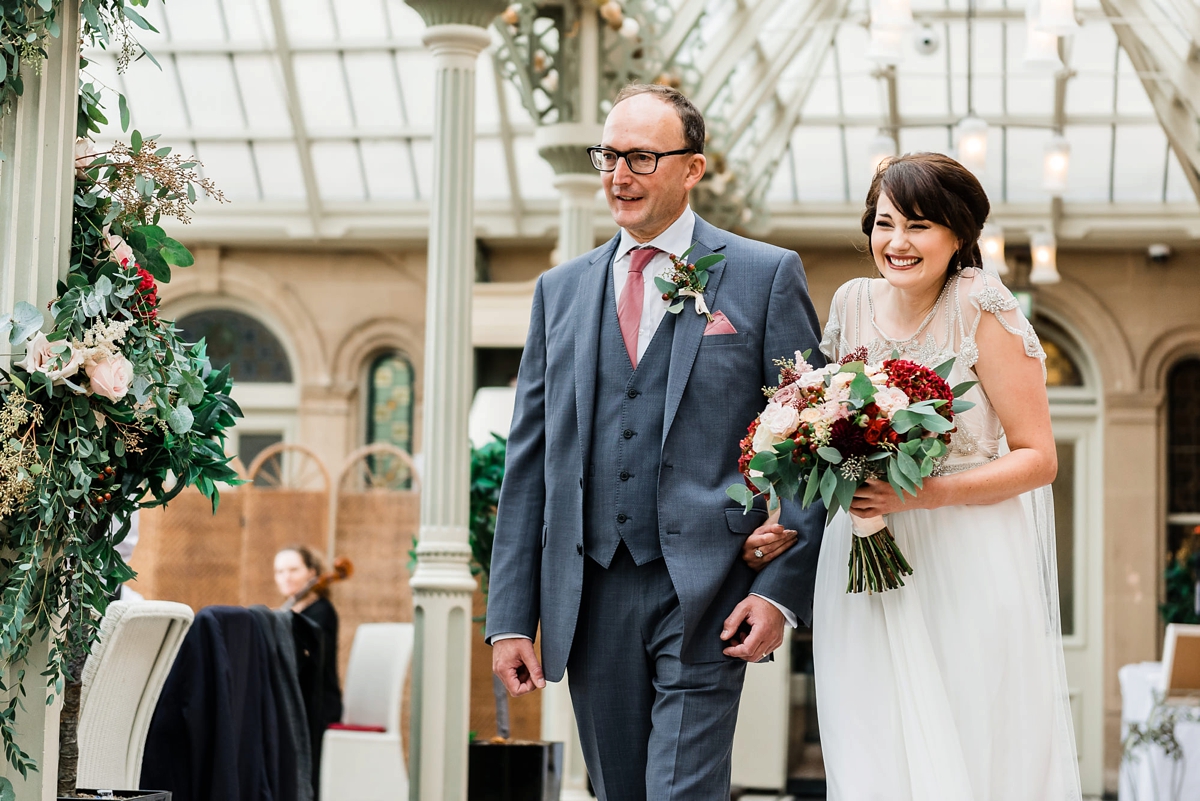 "Our favourite part of the reading was 'the symbolic vows that you are about to make are a way of saying to one another, you know all those things that we've promised, and hoped, and dreamed – well, I meant it all, every word' because it really sums up what marriage means."
"Our second reading was given by Ben's 8-year-old nephew who did amazingly, and was an edited extract from the children's book The Velveteen Rabbit where the rabbit is talking about being real. It was one of my favourite books as a child."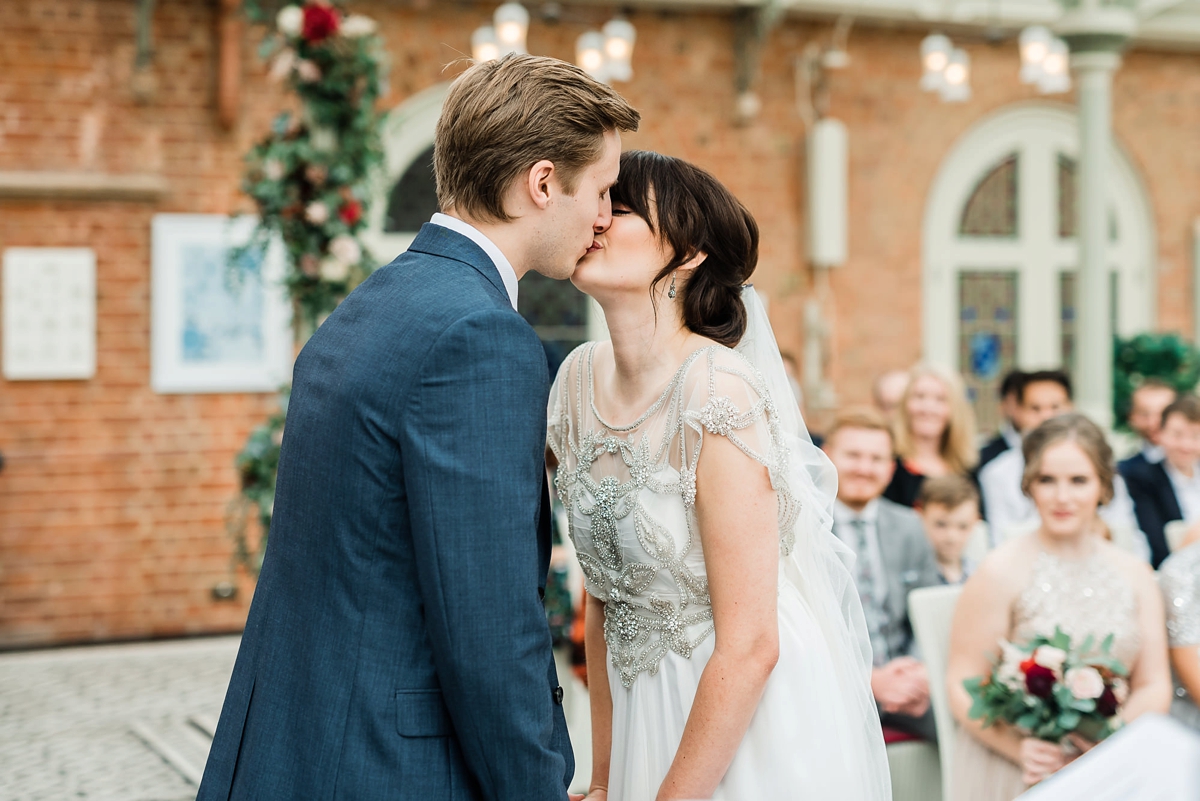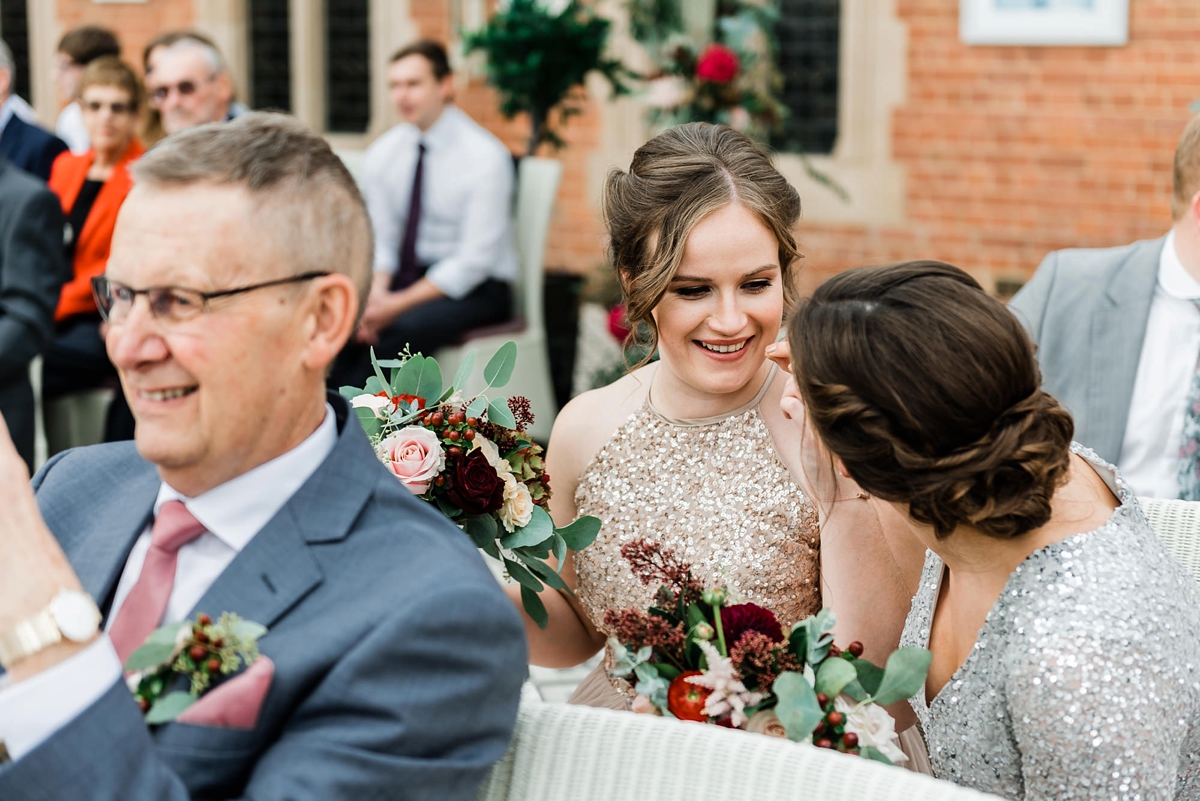 "For our wedding rings Ben wanted a simple thin palladium band and I chose a platinum band with a twist through it to tie it together with the setting of the engagement ring. Ben's ring is from Alba Rose and I found mine through a seller on Etsy."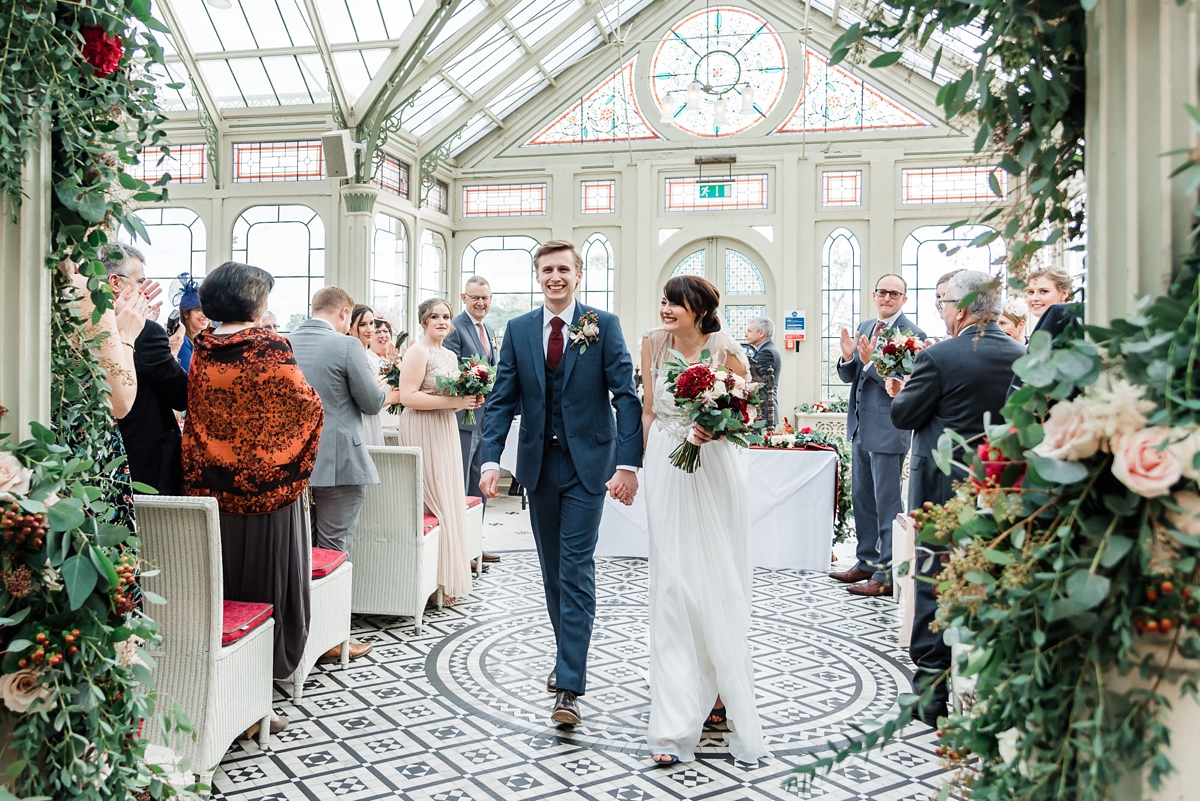 Once the wedding breakfast had been devoured and wedding cake cut, the wedding party and guests headed down into the Cellar Bar to begin the evening's entertainment in the form of London-based Cuban Jazz band Sarabanda.
"My favourite part of the day was the ceremony. I know everyone is supposed to say that but we had been together for a long time and all our cards had been long on the table. There were no nerves, in fact I practically ran down the aisle. Our evening reception was incredible too, between the Cuban jazz band and the DJ we had such a party atmosphere our guests literally ran the bar dry! There was no wine, beer or most spirits left by the end of the night!"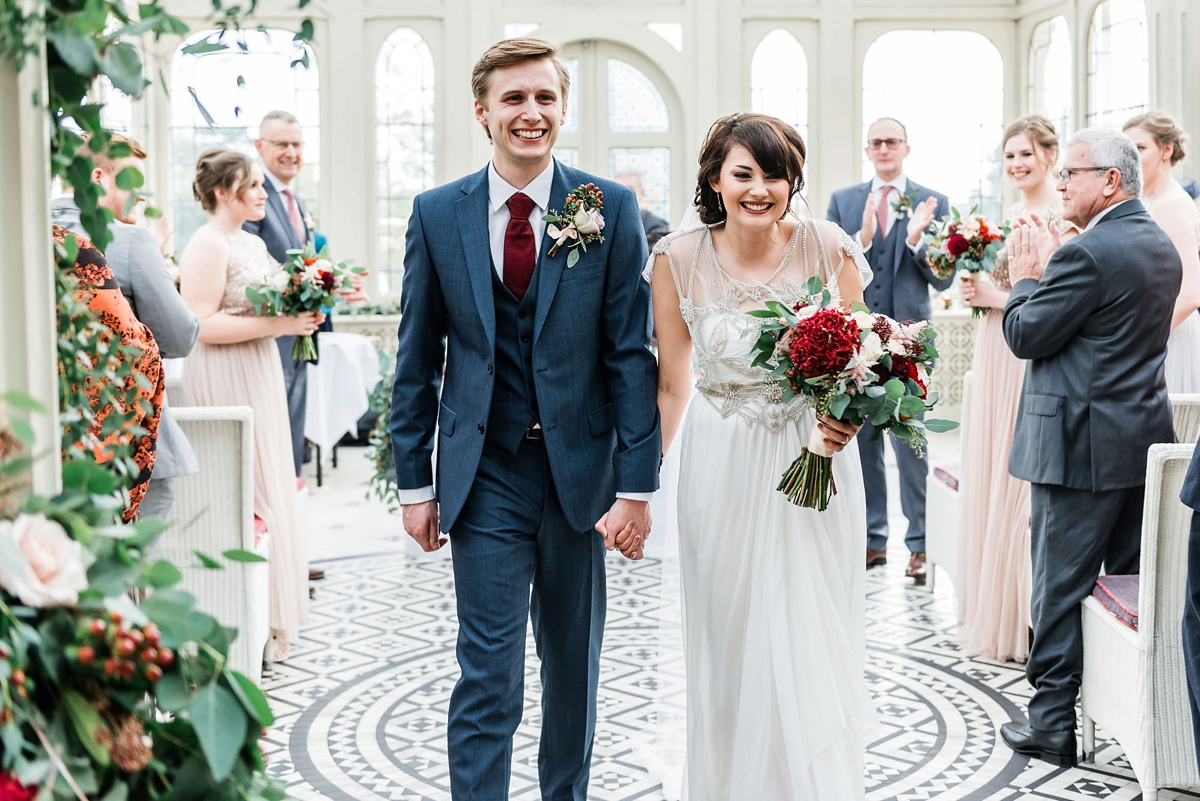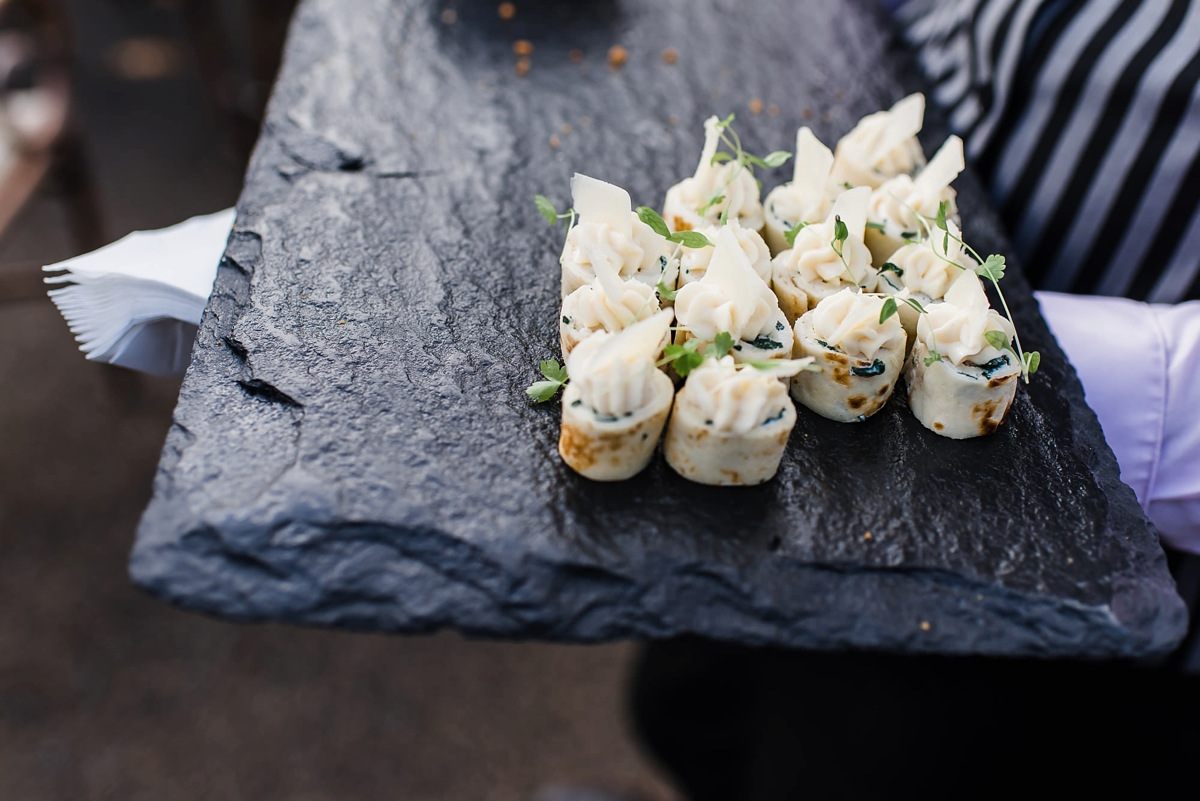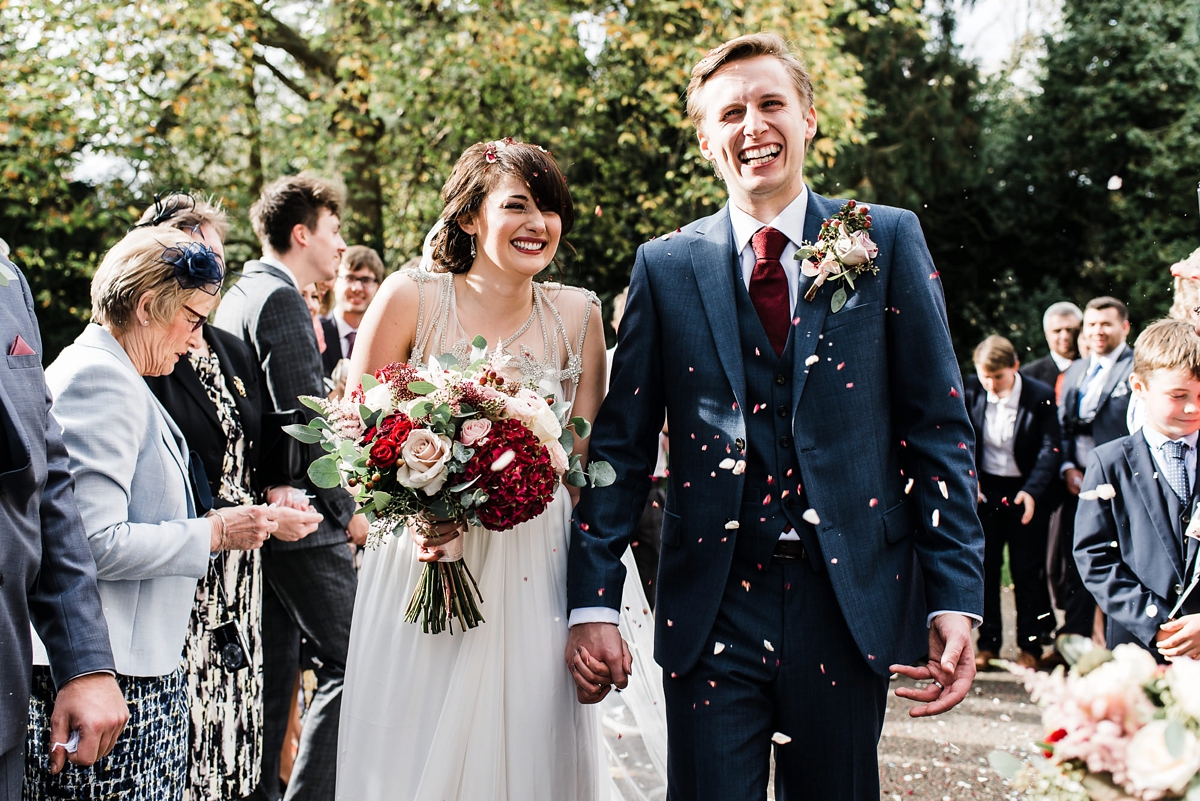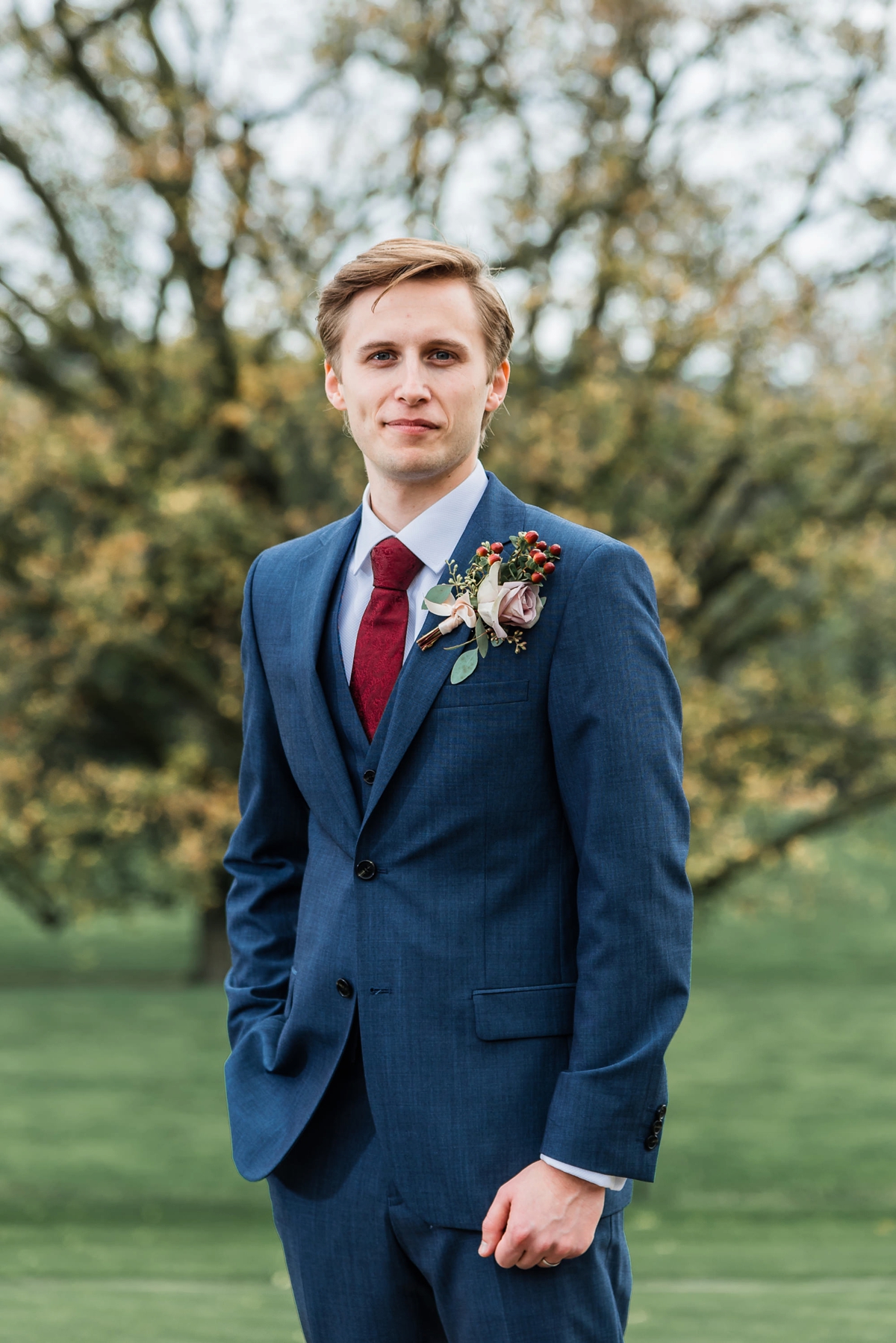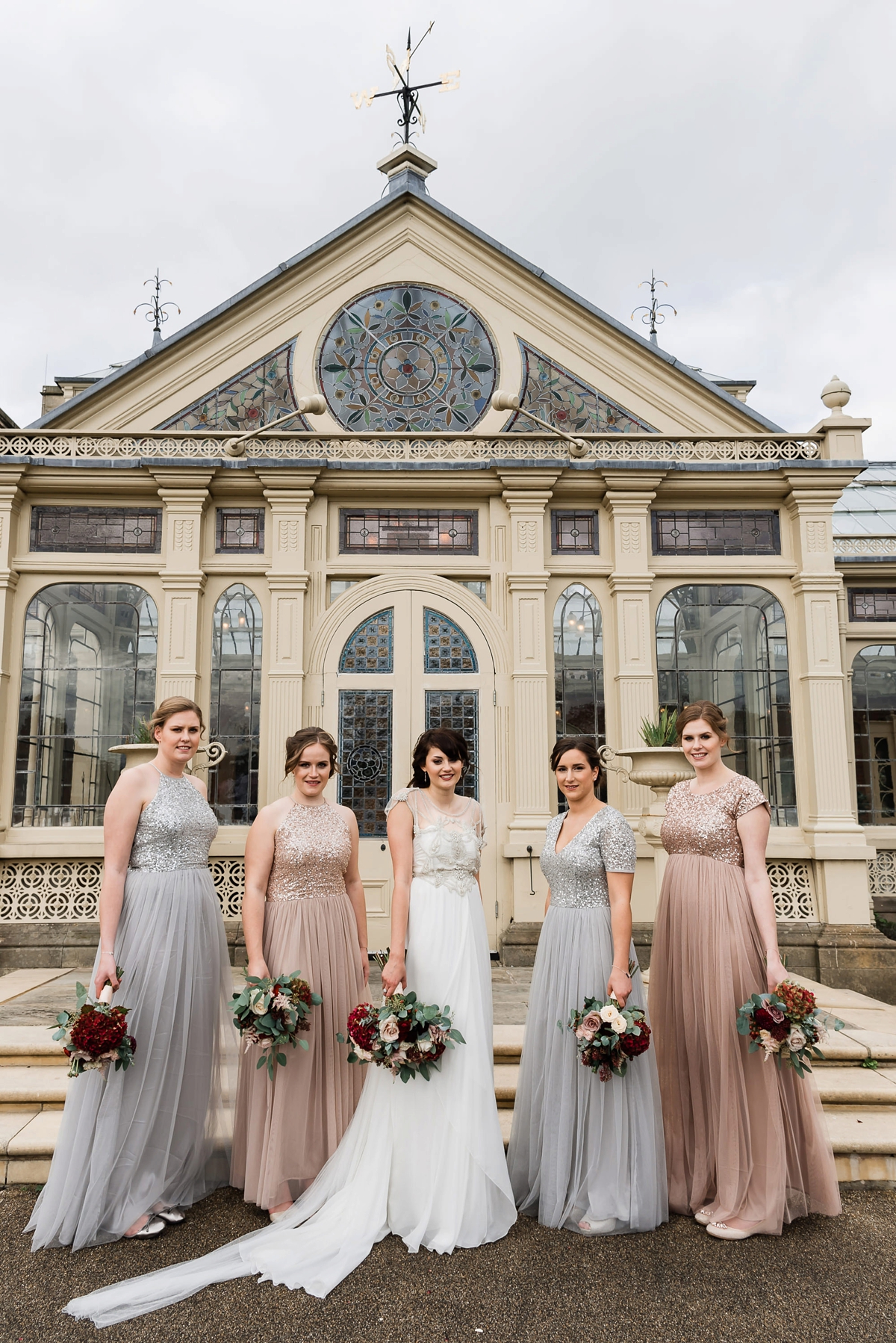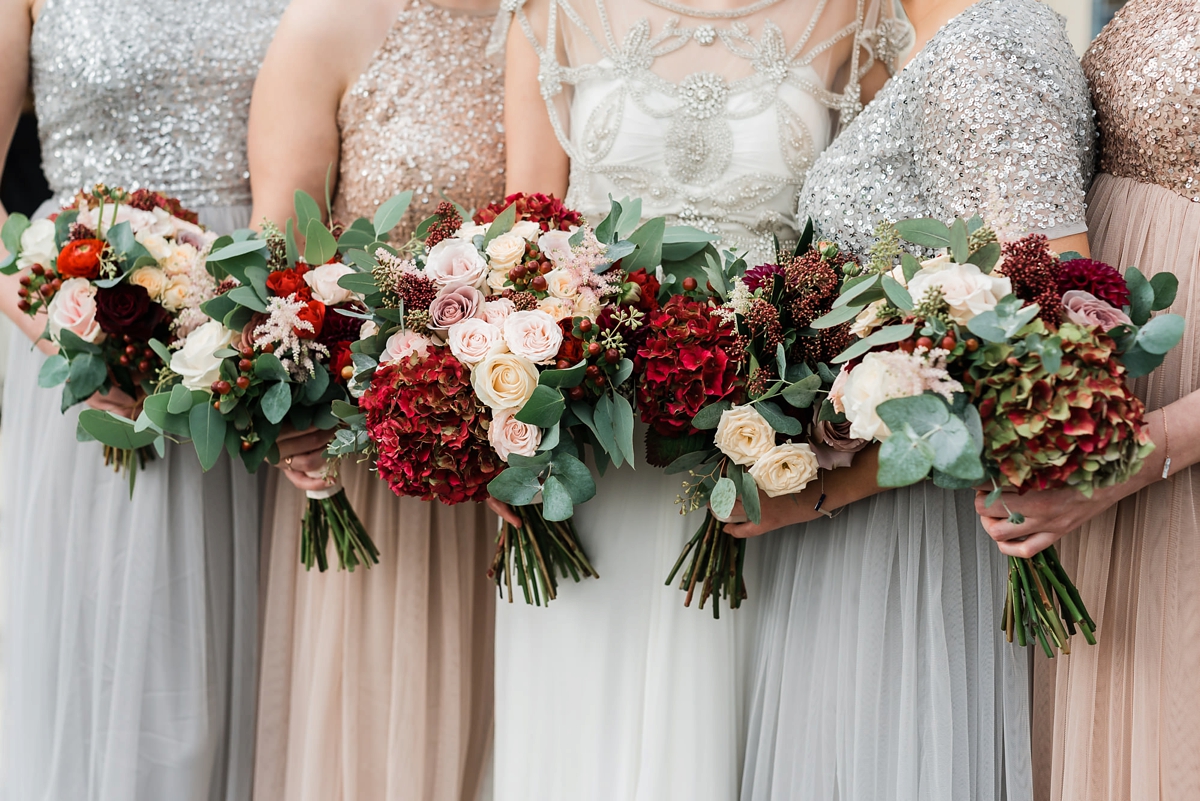 After the ceremony, the newlyweds and their wedding party took off with Sue for the wedding portraits whilst guests enjoyed a drinks reception before moving on to the wedding breakfast provided by the venue.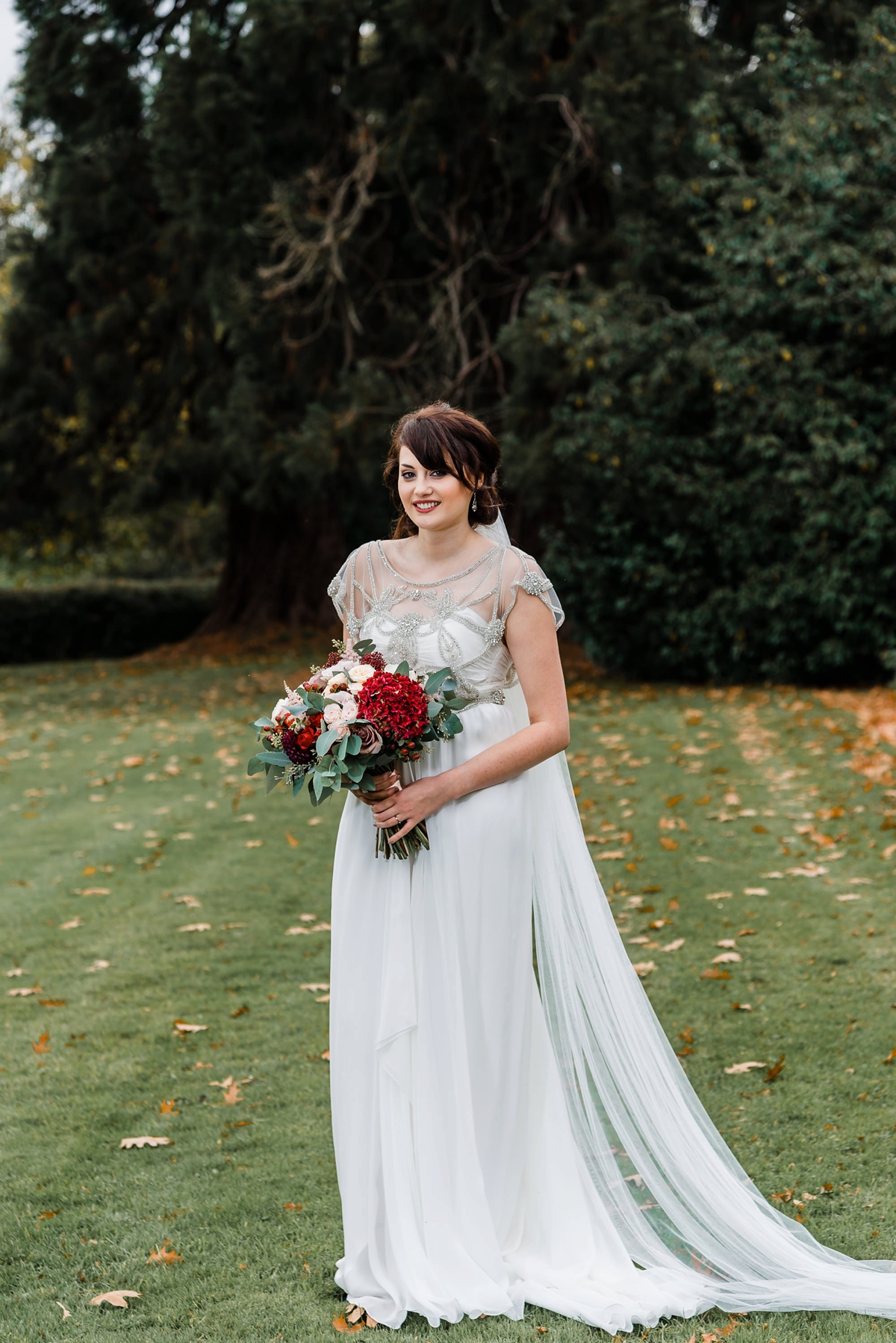 "Between Ben and myself, we designed and created all of the stationery ourselves using a stock image and free image manipulation software. We got everything printed on lovely textured paper at Printed.com."
"The only part we didn't design ourselves were our silver wooden place names which doubled up as favours from VM Bespoke. We also treated guests to tea, coffee and hot chocolate in paper bags which our dutiful wedding party helped us to put together."
"My earrings became my 'something borrowed'. They were my great great aunts and are vintage 1920s. My mum inherited them. I also wore an amazing vintage, again 1920s, cluster ring which my grandpa gave my grandma and she gifted to me when she died."
"She requested I didn't wear it until I married. It was my 'something old' and a lovely way to remember my grandparents and have them there with me on the day."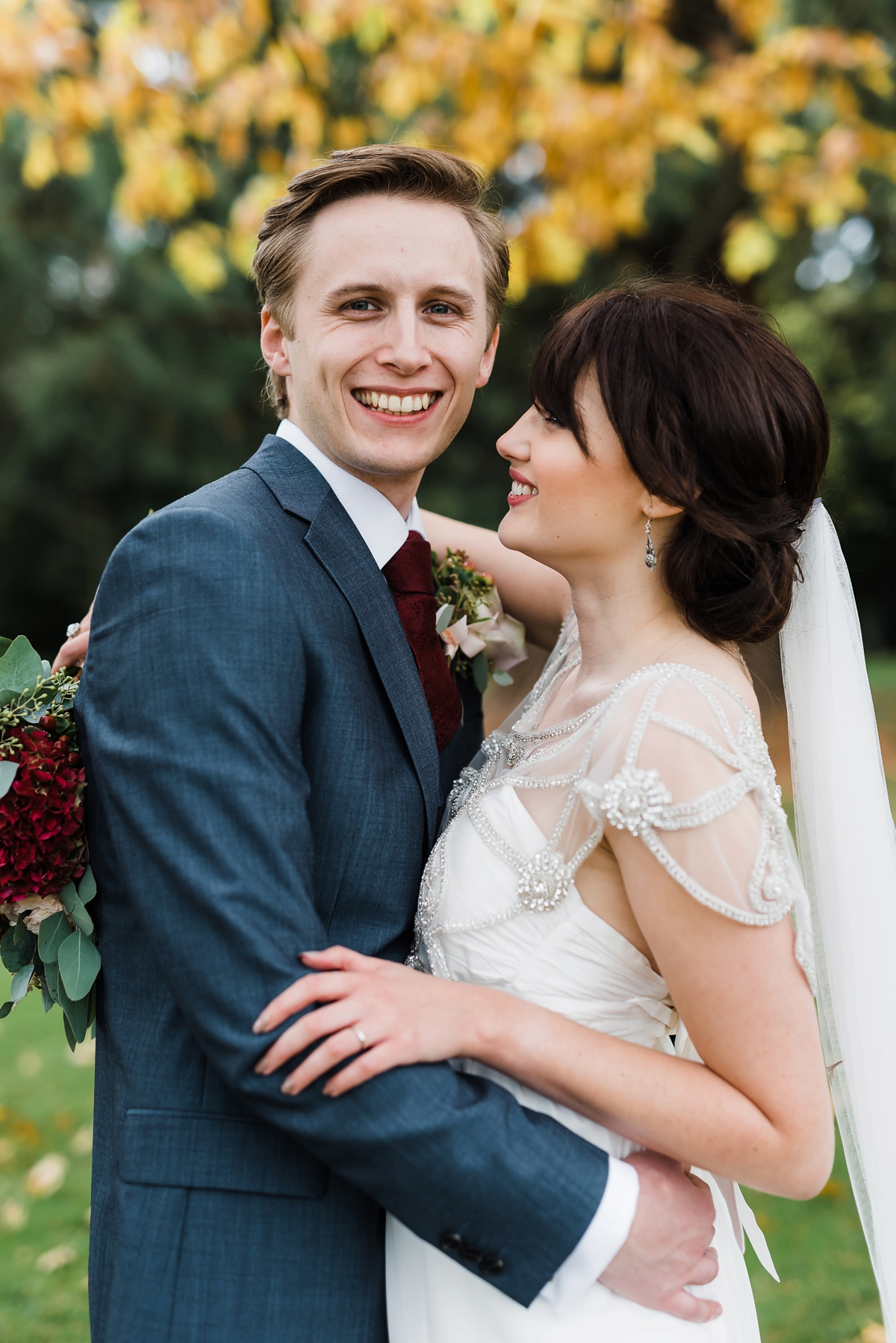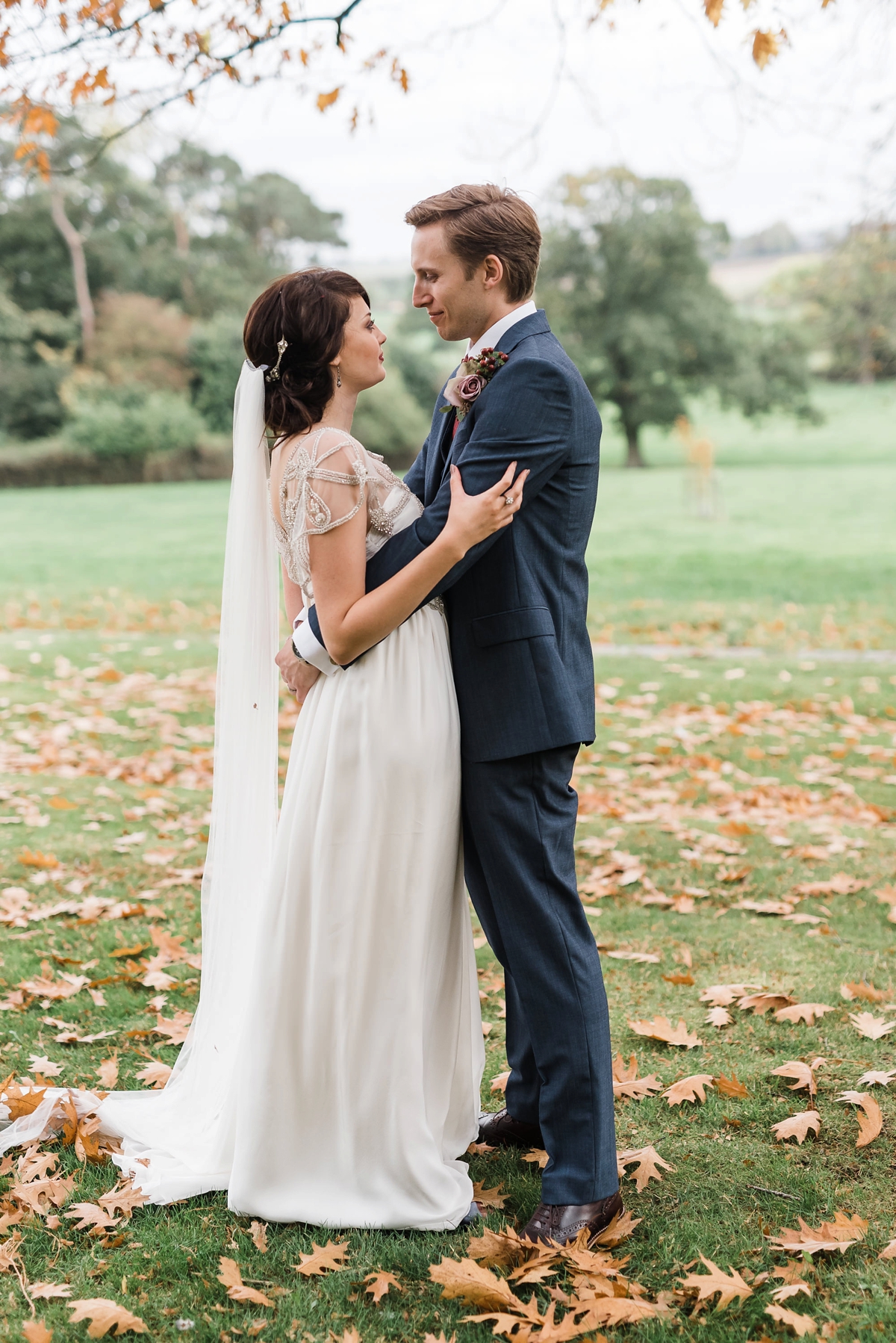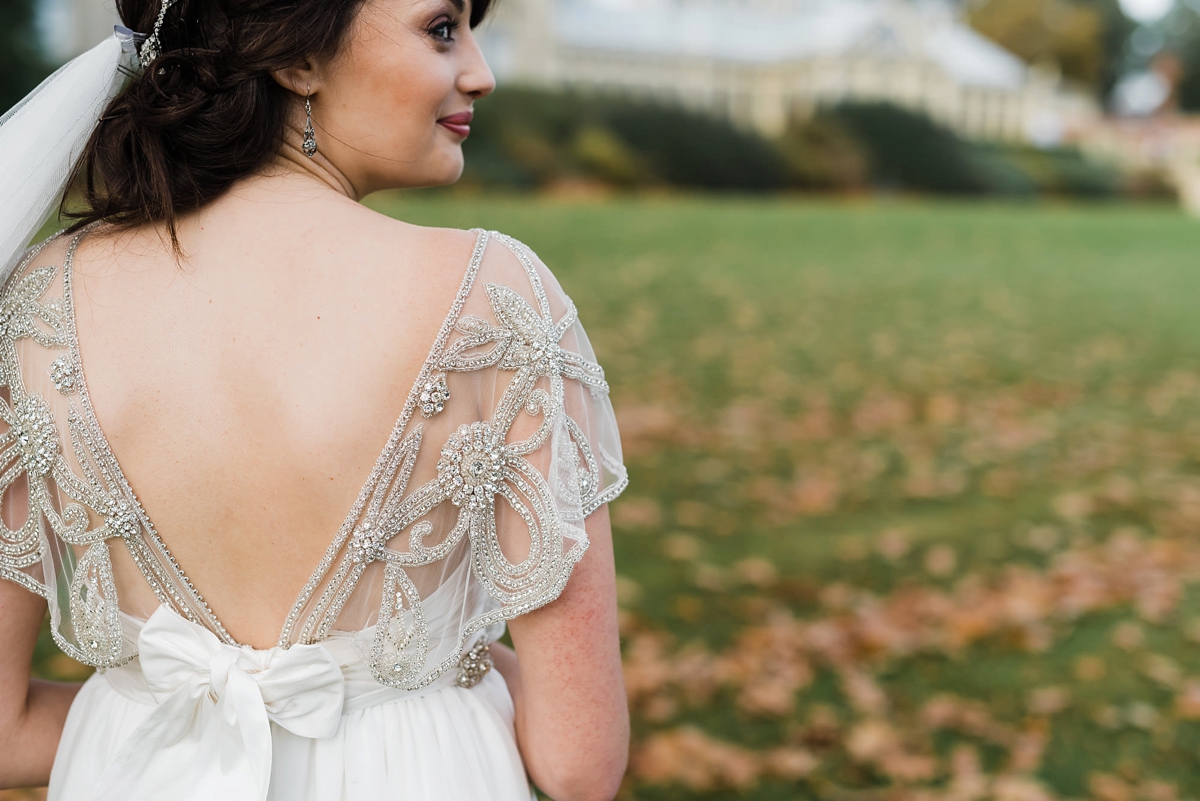 "We styled The Orangery quite sparingly as the space was so beautiful as it was. Our florist created some amazing garlands using our flower colour scheme and eucalyptus leaves which wrapped around two of the pillars to make an archway for the aisle. Kilworth even kept the garlands up the next day!"
"We also had vine type arrangements on the Registrar's table and window sills which doubled up as the table arrangements. The other tables had candles of 3 sizes and some flowers and vines on them."
"We had more decor in the Cellar Bar using paper fans which again our friends gave up loads of time to make and pin in place. We also filled a large set of shelves already at the venue with interesting bottles and fairy lights to achieve the Speakeasy feel."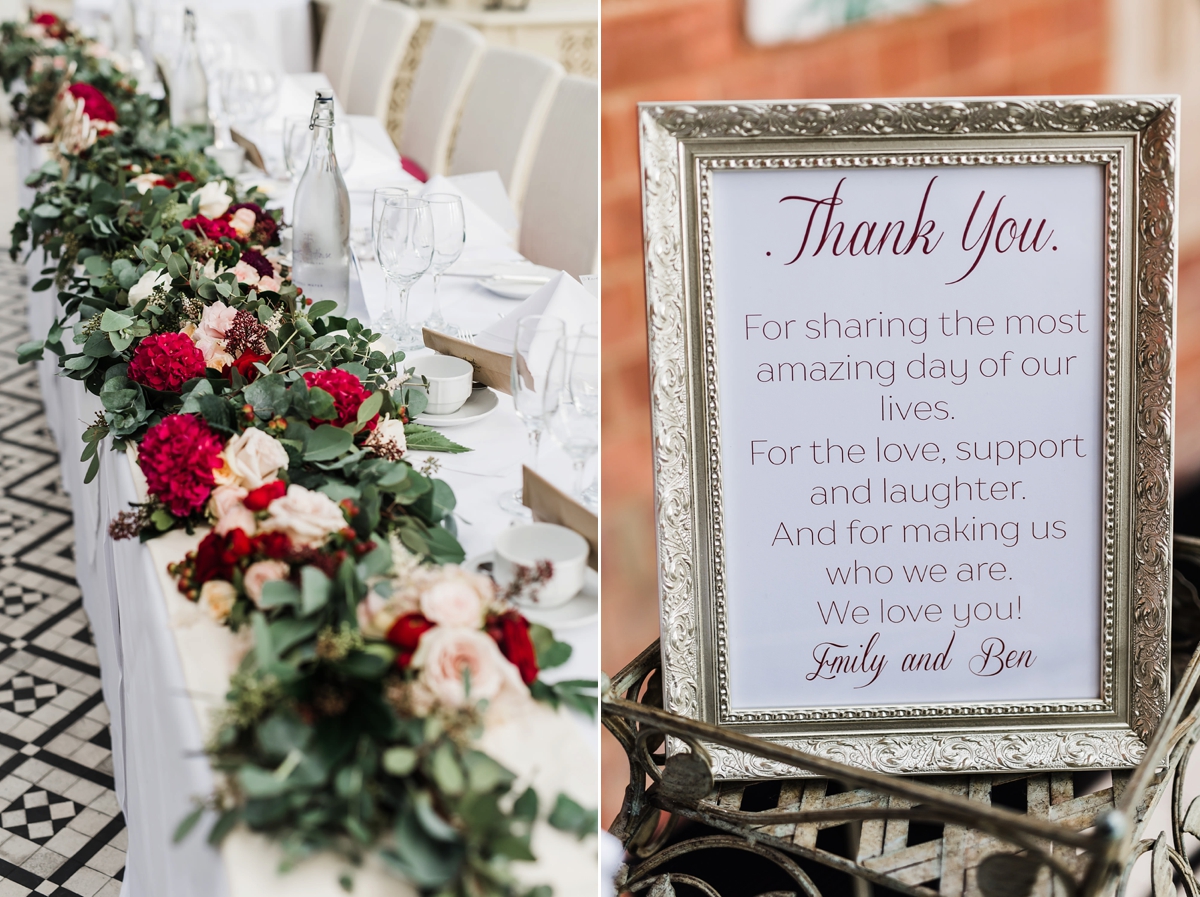 "We intended on having our guest book passed around during the speeches which, at the time, we forgot about and it was left to a poor bridesmaid to run around before it got too late at night. And lastly, I wouldn't do a dress reveal again, it just all felt a bit awkward!"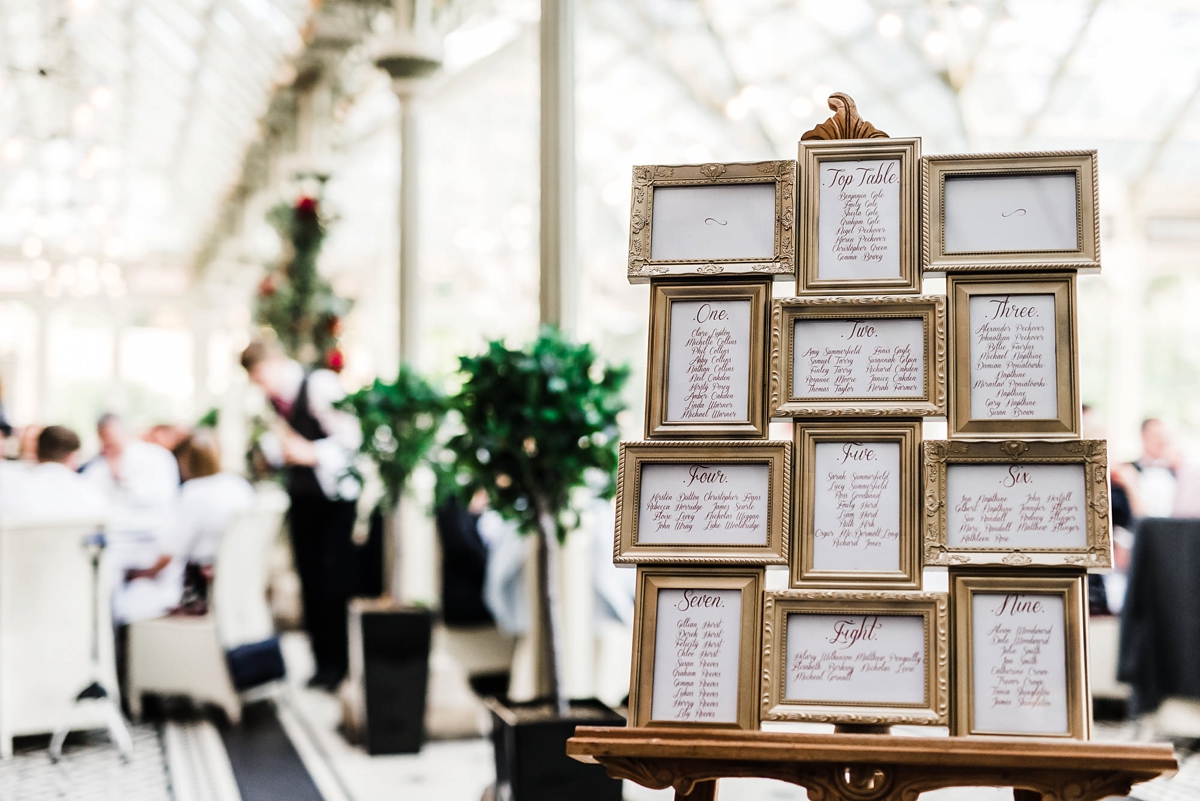 The wedding cake added to the decor and was a stunning 3-tier white and marble design by Melody from Melody Cakes.
"We had a 3-tier cake including one plain tier, one with a marbled effect and one ruffled one which was all really me spending hours on Pinterest! The flavours were red velvet, lemon and Victoria sponge, all of which we tasted with Melody beforehand and were extremely tasty."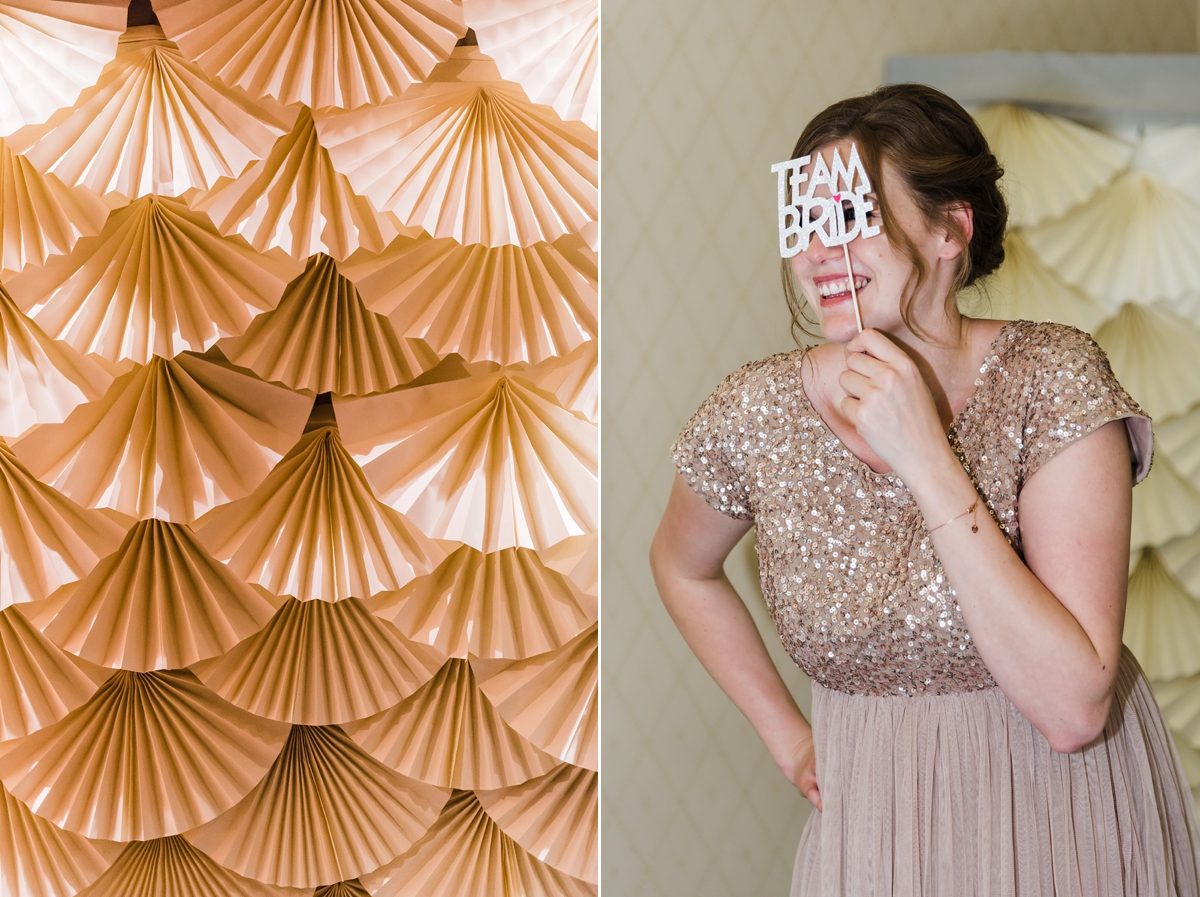 "We saw Sarabanda play live at a jazz festival in Norwich before we were even engaged and said we have to have them at our wedding! We were lucky they were happy to play. The happy, upbeat music style was perfect for the day and many people commented on how fantastic it was. We also had a DJ (Bliss DJs) later on in the evening."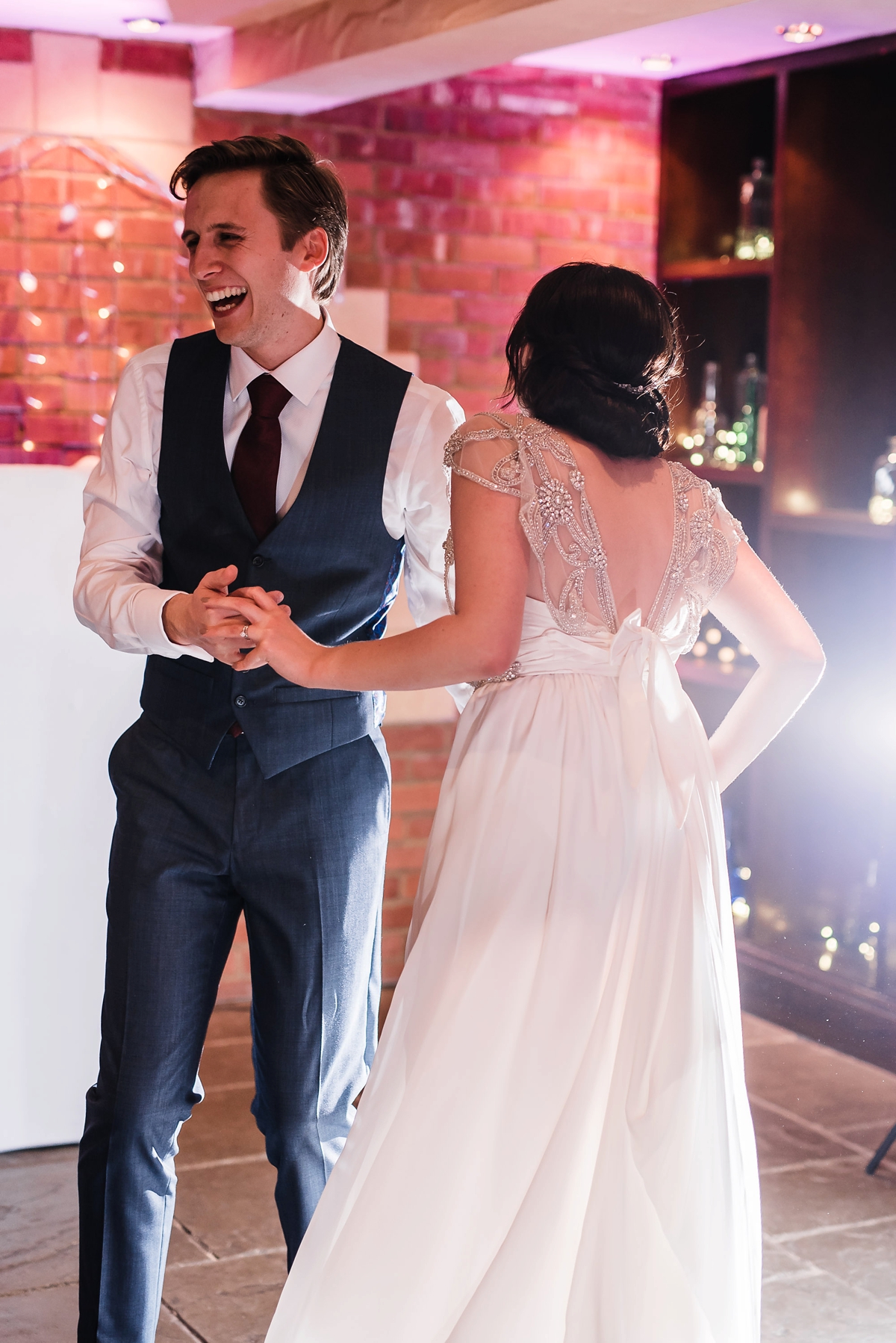 "We chose Songbird by Eva Cassidy as our first dance track. It's a simple song with a lovely message and it's been our song for a long time. Although we had an unofficial first dance to our Cuban jazz band which involved some quickly forgotten salsa lessons!"
Words Of Wedded Wisdom
"Planning wise, shop around for all your suppliers. They must understand what you want. Ben didn't understand what I was trying to go for with our flowers but thankfully Michele did and I didn't have to think about flowers again after we'd booked her. Most importantly, get a photographer whose style you like and who you feel super comfortable with. You will look at those pictures forever and you will have fun on the day even when you are away from your guests for portraits."
"Make the getting ready with your bridesmaids and other important family members into a big thing. Having time with important women was a big highlight on the day. I got ready at Kilworth House which meant Ben's family could pop in too."
"Walk slowly down the aisle! And hold a first kiss a bit longer to give your photographer a chance (thanks Sue!) to capture it. Remember your guests won't remember the small things like what your cake tasted like, but they will remember if the speeches were funny or powerful and if they had fun dancing the night away. It's obviously very important that your day reflects you and is what you want but your guests are also what make it, they need to have an amazing time too."
"In hindsight, if we were to have done anything differently, we spent a lot of time in the run up to the wedding worrying about small decorative details which were quickly forgotten about on the day, so I wouldn't have spent as much time deliberating over them. If you'd have asked me before the day it would have been a problem, but it didn't matter when it came to it!"
Congratulations Emily and Ben! What a truly gorgeous day – I'm in love with all of your stunning blooms! A big thank you also to Sue Ann Simon for capturing it all so beautifully on camera and documenting memories to last a lifetime.
Until next time…
Much love,
Holly x