I was chatting with a friend just last week about how much weddings have evolved in the past nine years since my career entered the wedding world.
It's thrilling to see, for a creative at heart like me – so many couples are doing their thing their way, defying tradition and critics, embracing a new relaxed and wholly personal way of celebrating the union of two people in our modern world. It brings me so much pleasure to observe this change from my vantage point as a wedding editor and know that those in love are being 100% authentic to who they truly are, their tastes, preferences and what the celebration of marriage means to them, not what someone says it should be.
The images I'm about to share with you were not only sent in but styled and conceived by Ellie Kime, aka, The Wedding Enthusiast. Ellie is like a big ball of creative energy, whose passion is so honest it leaps from her Instagram feed – and she LOVES all things wedding. I first discovered her through our partnership with the Most Curious Wedding Fair and am thrilled today to be sharing work that Ellie created in her own right as Stylist.
These images represent exactly the kind of modern style I was referencing in my opening to this article, a brave and fearless approach to honest, authentic, real, gritty, damn beautiful wedding style. And I freaking love the tender moments depicted between the models. The very best kind of wedding photography to me are those wonderful human connections captured on a wedding day. I'm going to hand you over to darling Ellie to tell you more about these images…
"This shoot was inspired by Romeo and Juliet – but not the tempestuous love story; rather, the Baz Luhrmann film set in modern America. I've always loved the styling and theme of the film and all the rich and luscious imagery, so I thought it was about time I set it to my passions: weddings! Mixing 80s Americana and curios with heavy religious influences and deep, rich colours to match the deep, passionate romance they have that transcends all else resulted in a shoot I'm absolutely in love with."
Images by Tim Dunk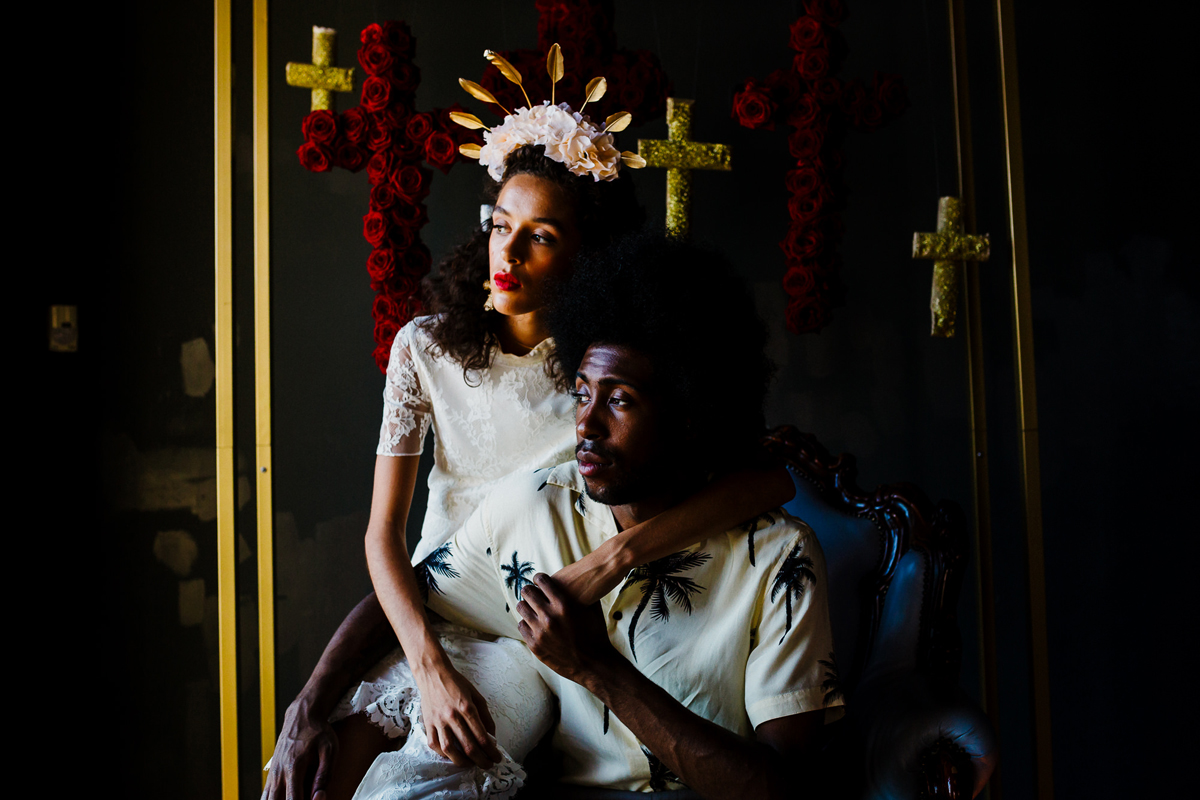 "Kindling Bridal's beautiful 'Delphinus' dress gave us the perfect elegant, sartorial look, bridging the gap perfectly between conservative and contemporary. It's all over lace with a high standing collar neck and sheer capped sleeves provide an effortlessly cool silhouette, whilst the front-slit train can be removed to transform it into a chic midi dress when things get a little wilder.""We paired this with a beautiful headpiece from Flora and the Fox featuring blush pink hydrangea and gold feathers giving it a tall, crown-like appearance; a nod both to the Virgin Mary-inspired look we saw dominate the Met Gala carpet this year and also the infamous feathered wings Juliet wears at the fancy dress party."
"We then swapped this for a celestial glitter specked AM Faulkner veil (perfect for a star-crossed lover) for some softer shots in the diffused church window light. As I love a bold statement earring on a bride, I went for chunky gold cross earrings. Amy George Makeup Artist was responsible for a beautifully soft and romantic, dewy and youthful look with a dramatic, rebellious lip, and Alice Lindsay worked with our model's gorgeous curls to create something slick and then something a little wilder too."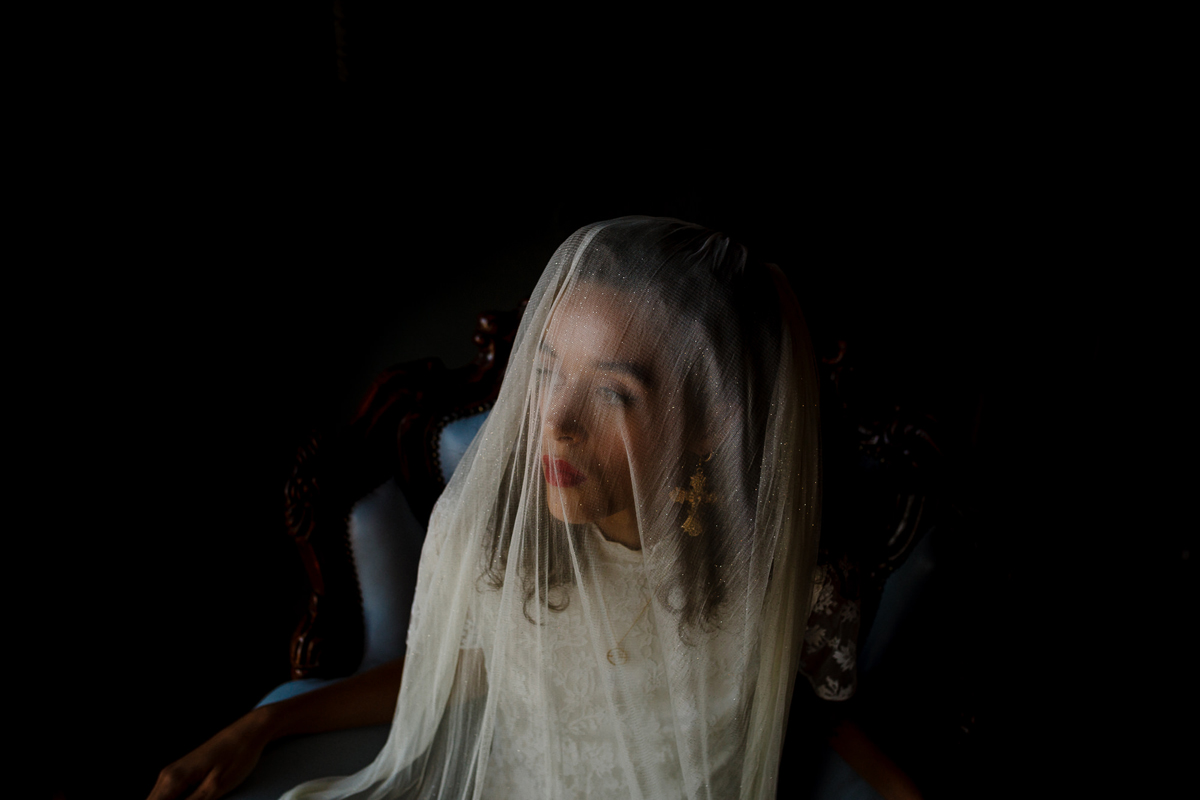 "To capture the 80s Americana vibe of the film, our groom wore a Hawaiian shirt adorned with palm trees. Both wore matching lovers' pendants with each other's initials, handmade by the incredible Crux London."
[JP-VIDEO]
"This was all shot inside Church, Leeds, a venue that used to be a church but has been transformed into a nightclub. It was absolute perfection for the shoot, giving us both high, vaulted ceilings and stained glass windows as well as graphic neon lights – a total dream! It's an amazing space with so many opportunities, giving us chance for multiple scenes. With a gold frame from Emily K weddings, we set up a floral backdrop with a twist. Kirsty from River and Rose supplied 3 and 4ft crosses made from red roses, whilst I had made some smaller crosses in varying shades and textures of gold, which we hung from the backdrop for an ornate and luxurious effect."
"Instead of a bouquet, our bride carried one single red rose – by any other name, it would still smell as sweet – which was a theme Keady Row took inspiration from for the stationery, which was super luxurious and beautifully designed."
"I've been a huge fan of Tim Dunk's work for a while and was thrilled when he agreed to it with little more to go on than a nice email and a preliminary moodboard; I was even more thrilled when the photos came through. He thrives in that middle ground where light and darkness meet and so the vibe of this shoot was perfect with his alternative shooting style."
"It also seemed like the ideal time to do this shoot as despite the film being two decades old, the style is very much current; Secret Cinema are showing Romeo and Juliet as its film this year, and it was a very similar style to the Met Gala theme, which I was absolutely obsessed with (although we wanted to ensure we were still respectful to all religions without commodifying or grossly misinterpreting it)."