Well lovelies, how is your week going? I hope that you have something wonderful planned for the weekend. There is just one month to go until an old school friend of mine gets married up in Edinburgh, so my weekend is going to be busy with making tweed capes for myself and another bridesmaid, as well as beginning to plan the cake and its sugarflower decorations.
Speaking of which, did you know that we have a beautiful selection of Love My Dress boards on Pinterest to inspire you, including one dedicated to the most beautiful, delicious-looking wedding cakes? With the onset of September and its nuances of Autumn it's the perfect time to share the wedding of Rachel and Alex. They married on 18 November 2017,  a crisp and clear day, at the Tithe Barn at Meols Hall, Churchtown, Southport. They created a laid-back celebration inspired by the autumn and winter, using shades of gold, burnt umber and deep green to create a beautiful, pared-back, rustic feel that looks incredible in these images shot by Jessica Reeve Photography.
Photography Jessica Reeve Photography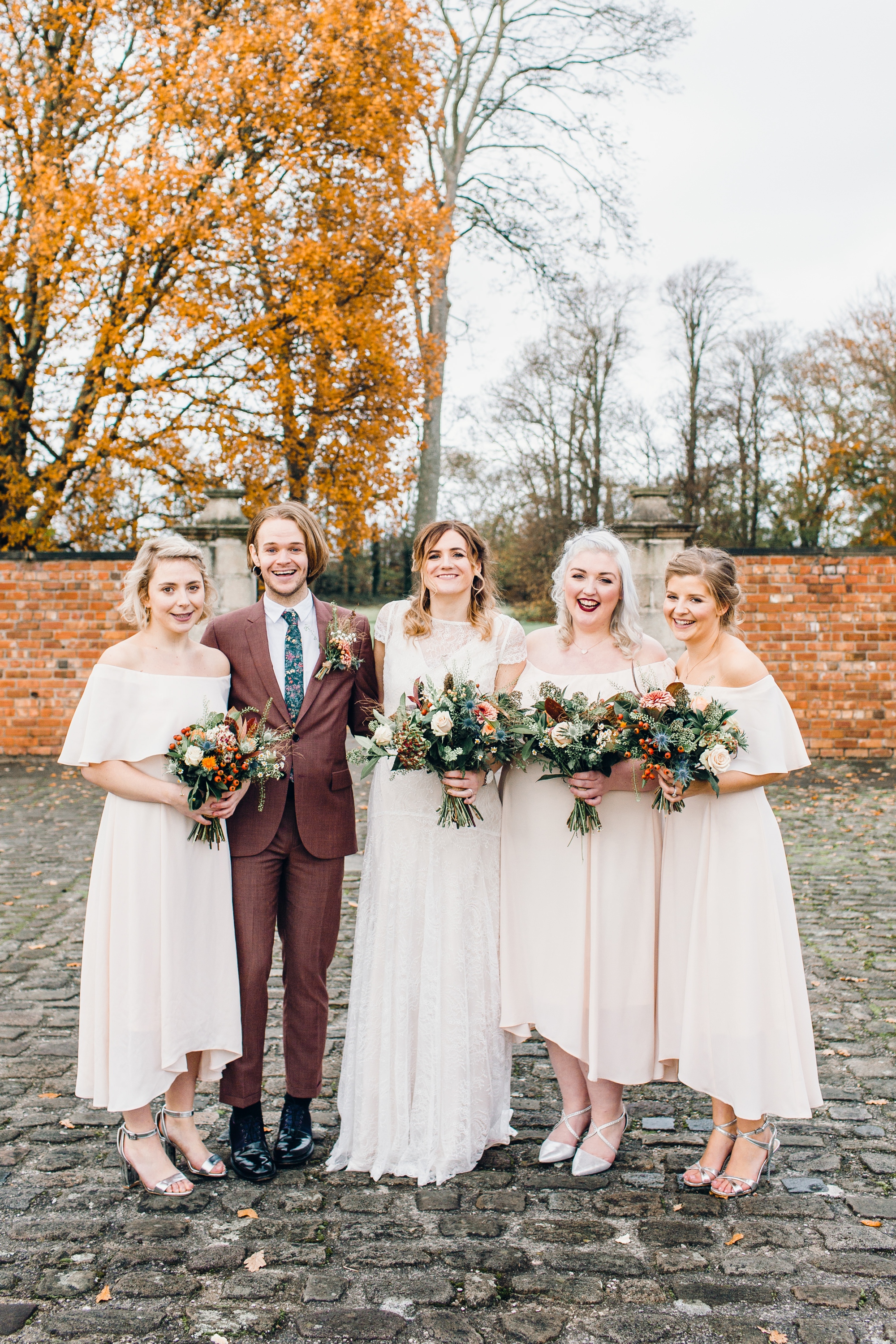 I love the choice of bridesmaids' blush dresses which pick up on the warm tone of Rachel's own gown. They look effortlessly elegant in the midi Coast 'Brooke' dress, worn with their own silver shoes.
"We wanted a rustic autumn/winter wedding and this venue was perfect for that. The old features of the barn and the cobbled courtyard and coach house made the perfect setting. A lot of ideas just fell in to place from what went with the venue. We used gold cutlery and gold candlesticks and picked orange autumnal wild-looking flowers. I chose the groom's tie very early on and is was a big inspiration for all the colours."
The couple are both from the area, but didn't meet until mutual friends introduced them, aged eighteen.
"We are both from the same town, Maghull, but went to separate schools. We got engaged in August 2016 on our tenth anniversary. For our anniversary Alex had booked a trip to stay in Oddfellows Chester for an early trip to Chester Zoo the next day but his actual plan was to propose that night too with the most perfect ring from 77 Diamonds that he had picked himself."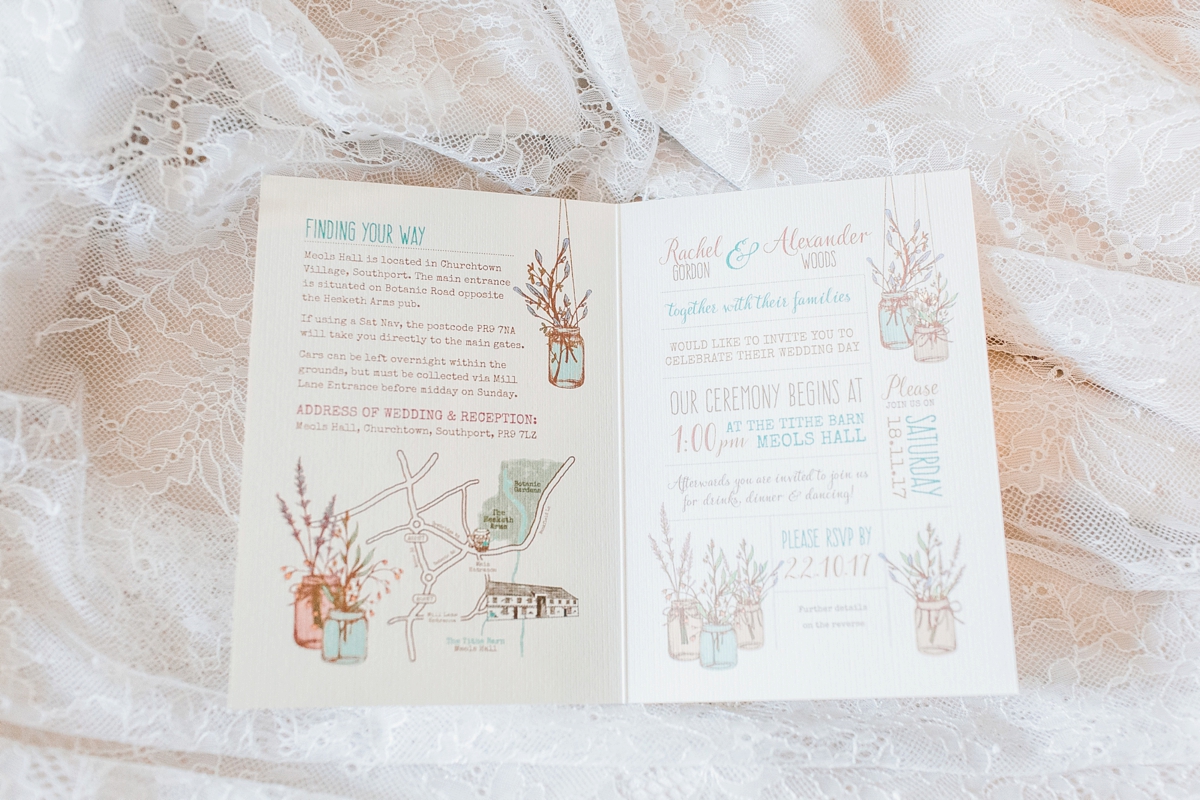 The bespoke stationery was commissioned from Paper Willow Design on Etsy, and completely personalised with details of maps and complete details of the day's festivities.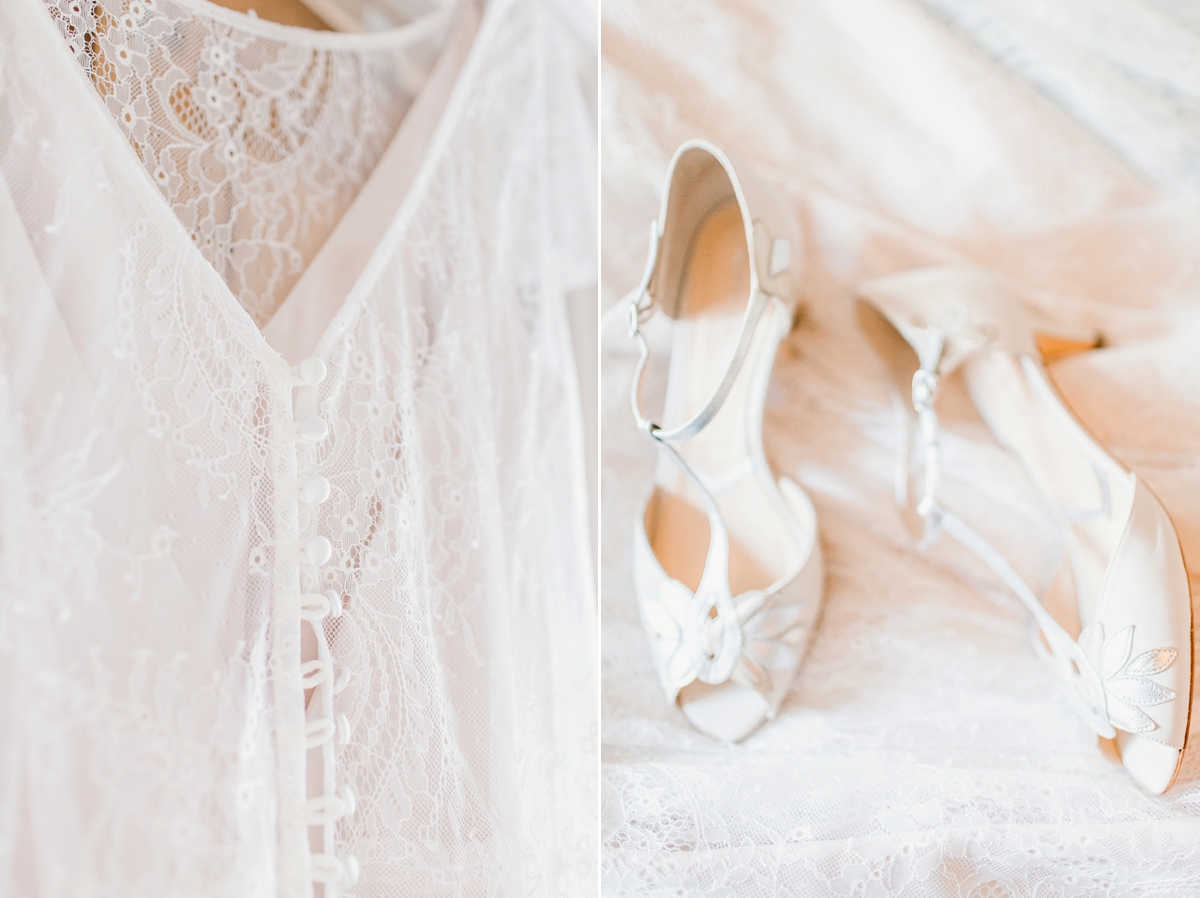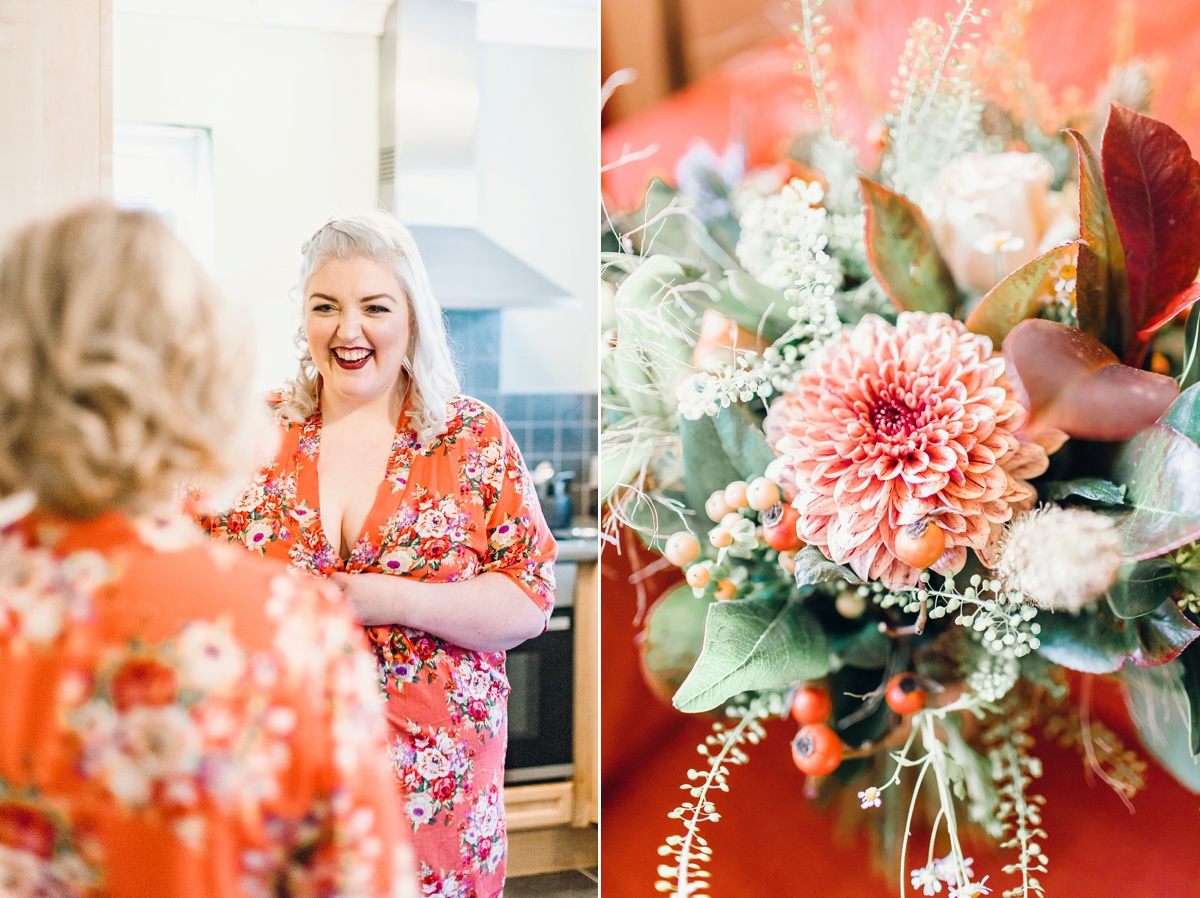 I'm in love with Rachel's exquisite bridal separates, which combine elegance with a relaxed feel. Look carefully at the ivory overdress and you'll see such dainty embroidery and sequin detail on its cap-sleeved bodice.
A Charlie Brear design, Rachel found it at The White Closet. Rachel opted for a slip and lacy overdress for the daytime, switching the top layer for a flirty cover-up for the evening party. She added warmth with a faux fur cape, which looks so cosy.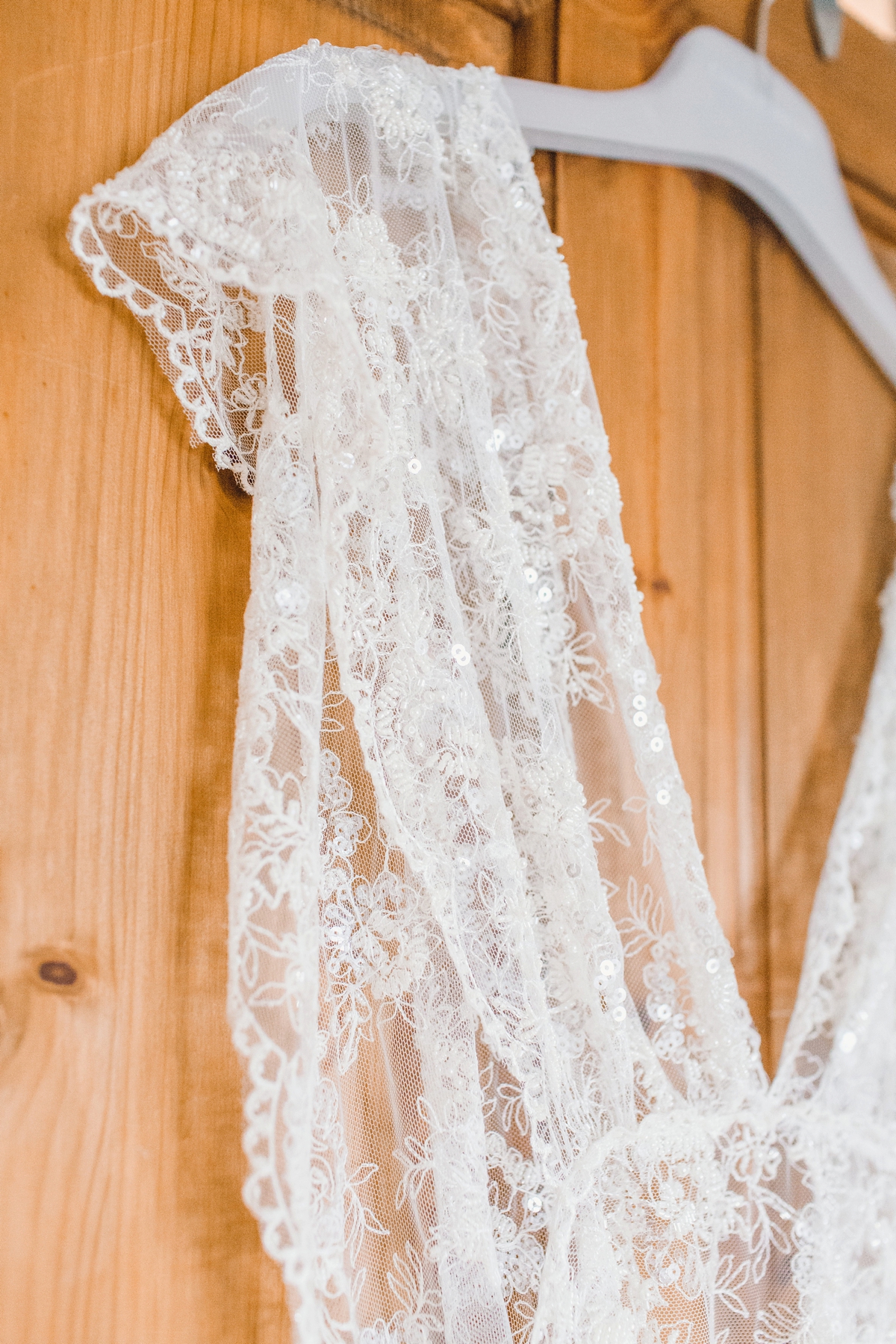 "I loved Charlie Brear dresses as there were lots of separates that could be put together to make my choice more unique. I chose the Payton slip in blush which was a warm rose gold colour rather than ivory but with an ivory full lace slip over it so the blush came through subtly. The lace went perfectly with the rustic feel to the day."
[JP-VIDEO]
"I chose the Foustine overdress with matching cap sleeves added. Finished with an ivory sash that contrasted perfectly with the blush slip. I also chose Charlie Brear as it meant I could easily swap the lace separate to a different choice for the evening. I chose the Sabine top for the evening which had that extra sparkle for the evening and showed off the blush slip more."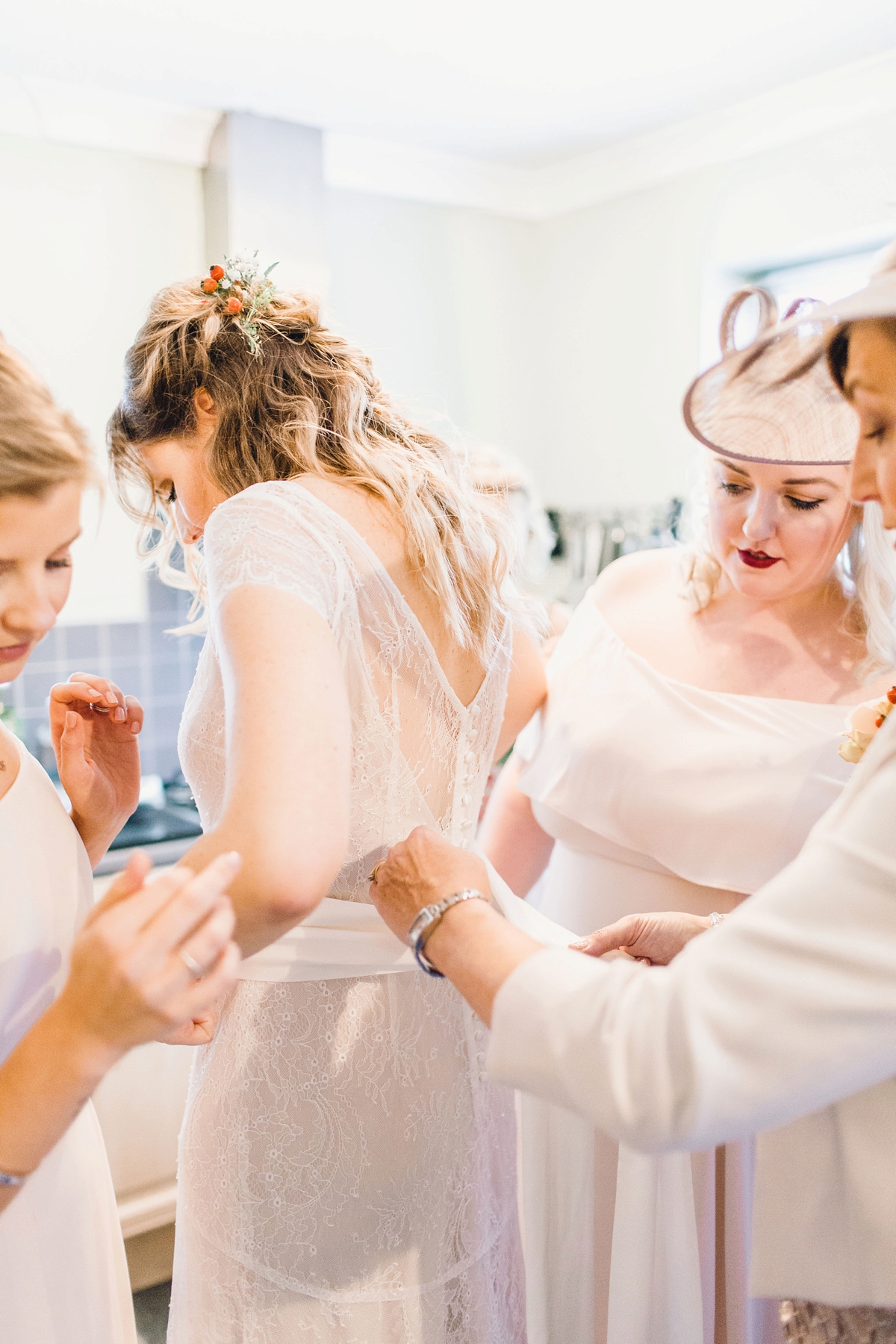 Her ivory shoes were Rachel Simpson's vintage-inspired Isla design and she wore simple earrings and a necklace from Links of London.
"I chose not to have a veil as I had a fishtail plait with flowers to match my bouquet. I used Rebecca Wilson who I found through Jodie A. Smith hair and makeup. Rebecca did everything just as I had asked and added flowers perfectly into my plait to finish the look."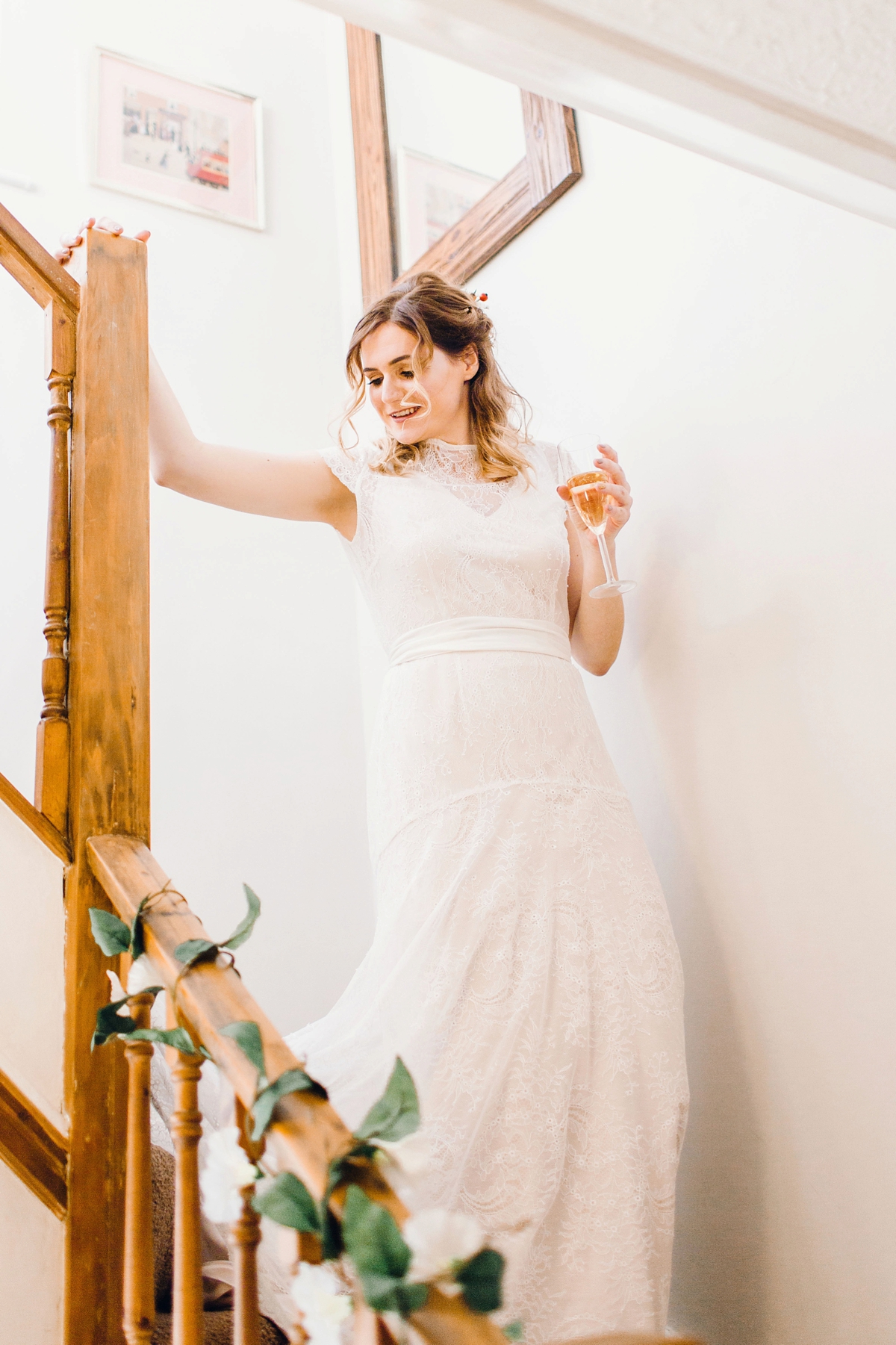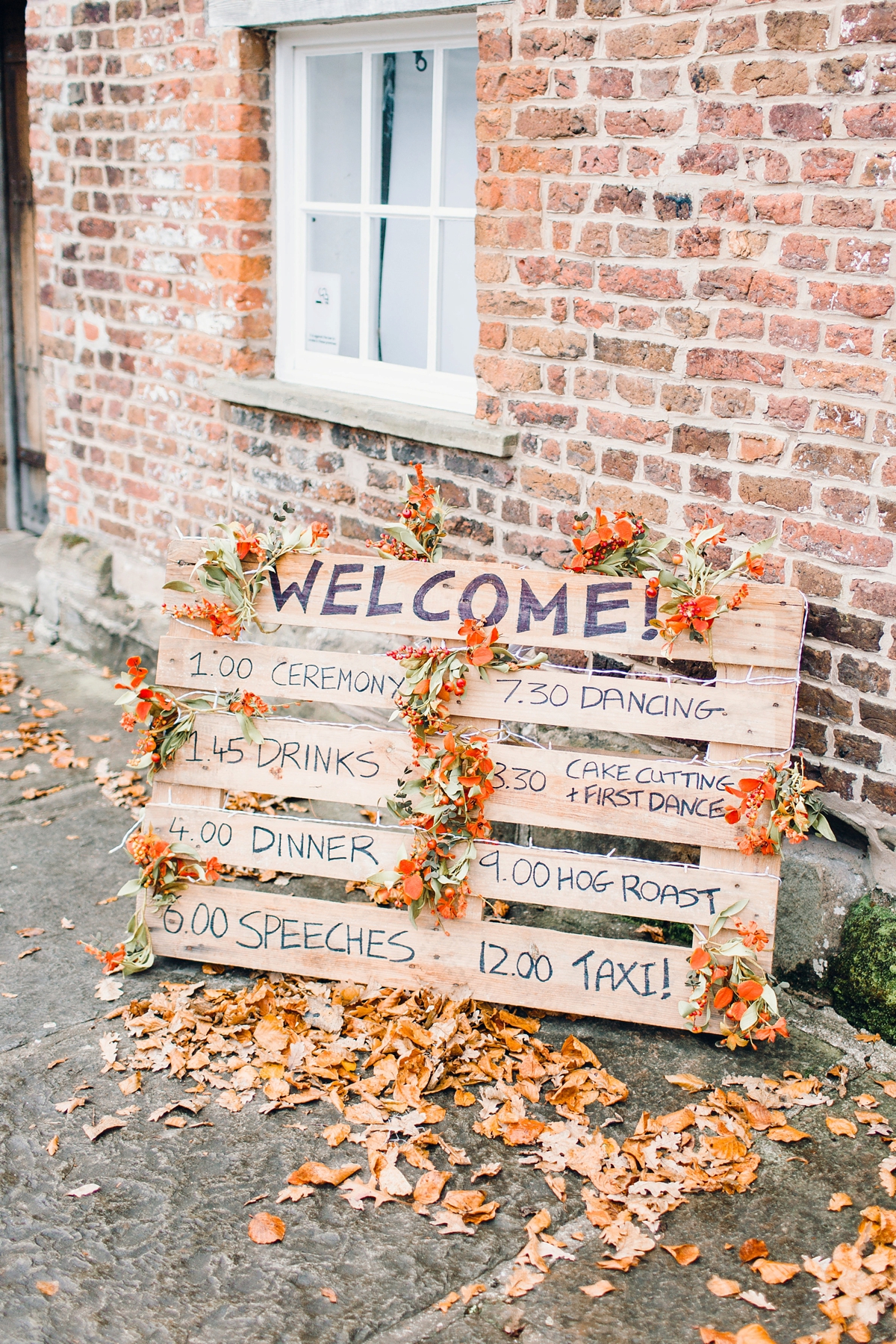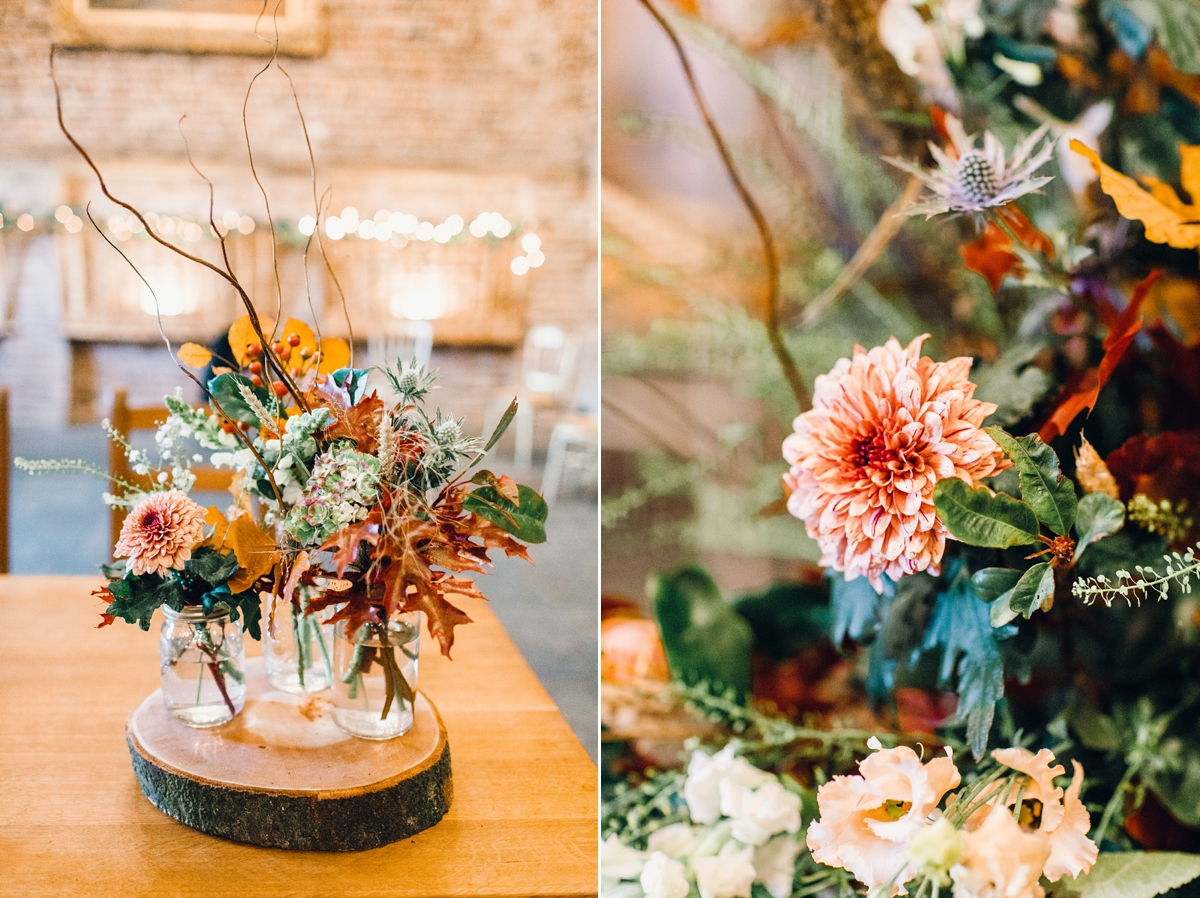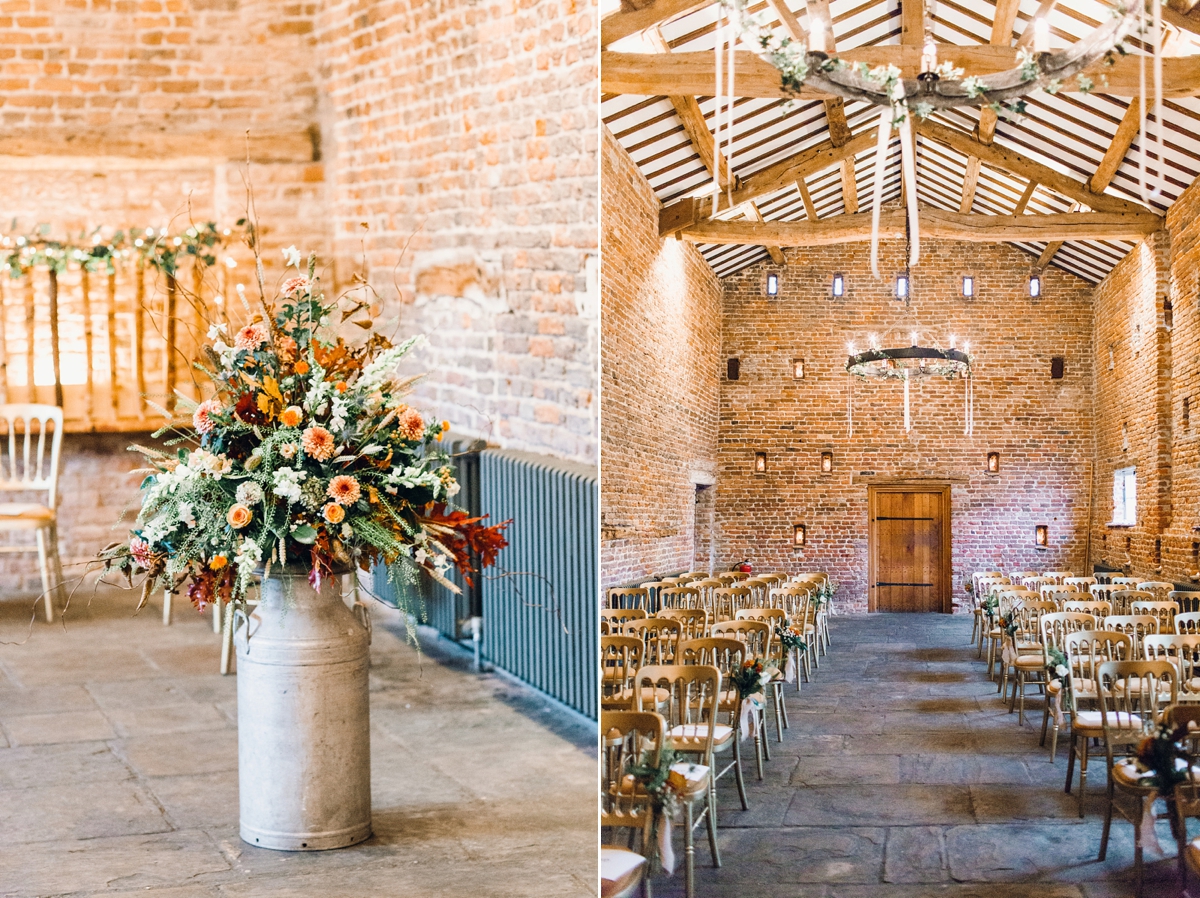 The warm autumnal vibe continued in the groom's and groomsmen's outfits which look comfortable, warm and ever so slightly quirky too with the addition of a beautiful William Morris-print tie, made-to-order on Etsy by Kaye Hannabuss Textiles.
"The groom's and groomsmen's suits were all made-to-order tweed suits from Jennis & Warmann. Alex wore the blue herringbone plaid tweed suit with brown herringbone waist coat and the groomsmen and fathers wore a three-piece brown herringbone suit that matched Alex's waistcoat."
"I chose the Liberty London William Morris strawberry thief print in navy, blue, tan and mustard combo; this was perfect for the style of the day. Alex also chose a mustard pocket square with blue trim from Moss Bros to add another pop of colour to his outfit. He wore a crisp white DKNY shirt. As a wedding gift I left him a gold pocket watch and chain and gold tie pin with his initials engraved to open in the morning. Alex's shoes are tan 'Stanley' brogues by Grenson."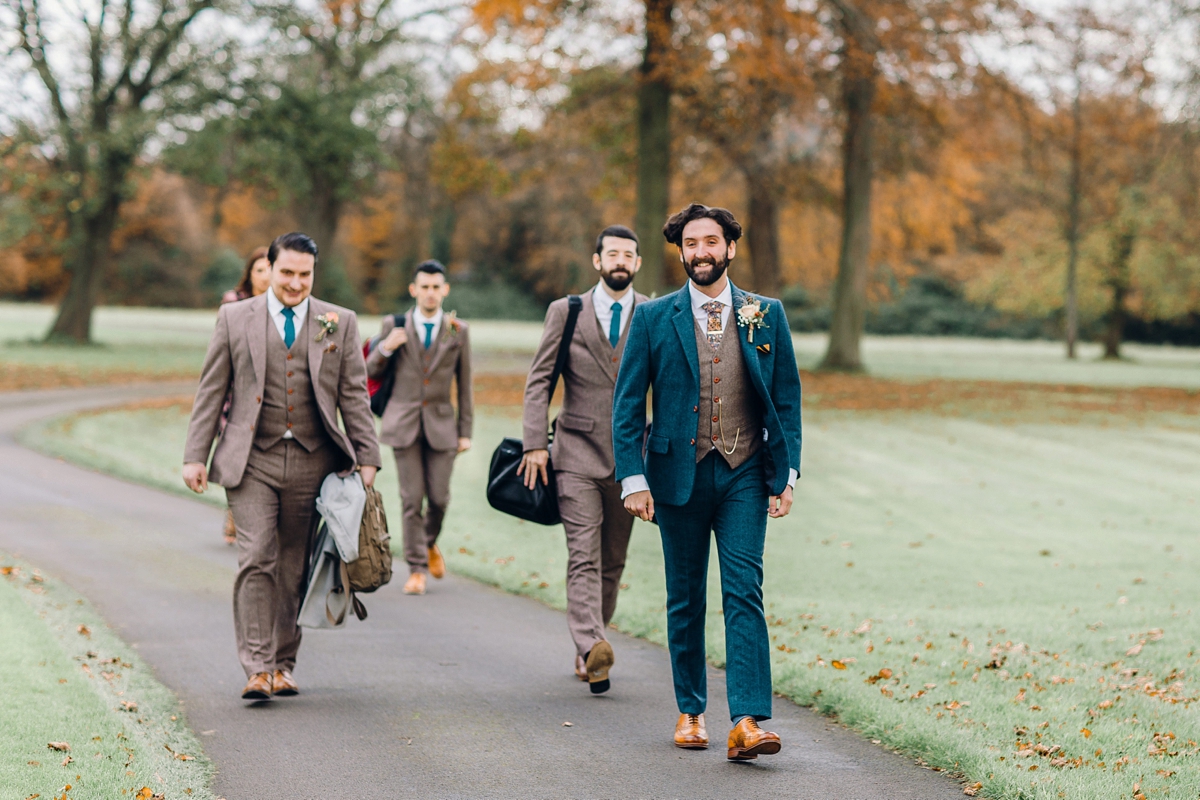 The bride and her father headed to Meols Hall in style, in a Porsche Speedster.
"For the groomsmen and bridesmaid we had a vintage VW Campervan which transformed to a photo booth in the evening from Chase The Sun."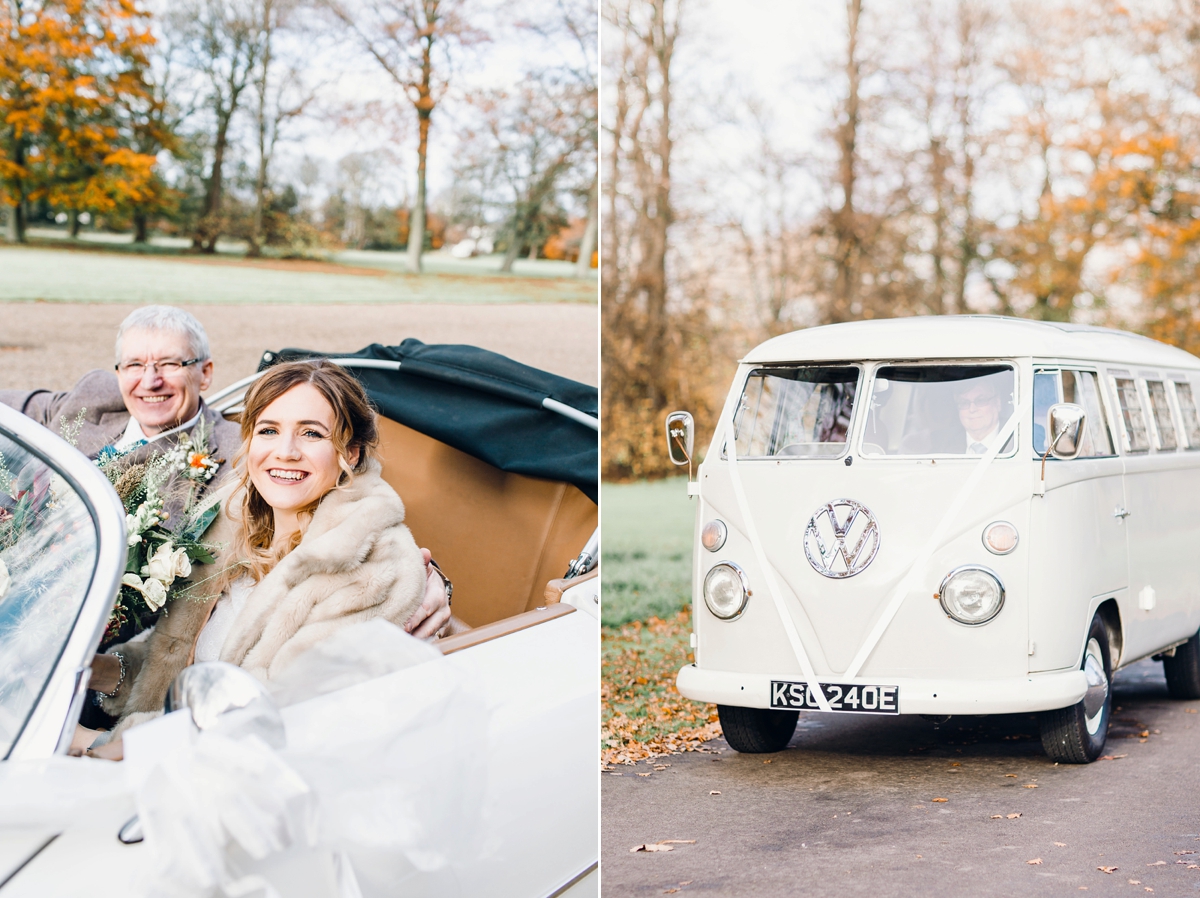 These bouquets really are works of art, a true celebration of autumnal flowers and foliage.
"Flowers were from The Flower Farm, Burscough who I couldn't recommend enough. They grow all their own flowers and did an amazing job supplying exactly what I had asked. I provided all the jars and logs and they arranged the flowers."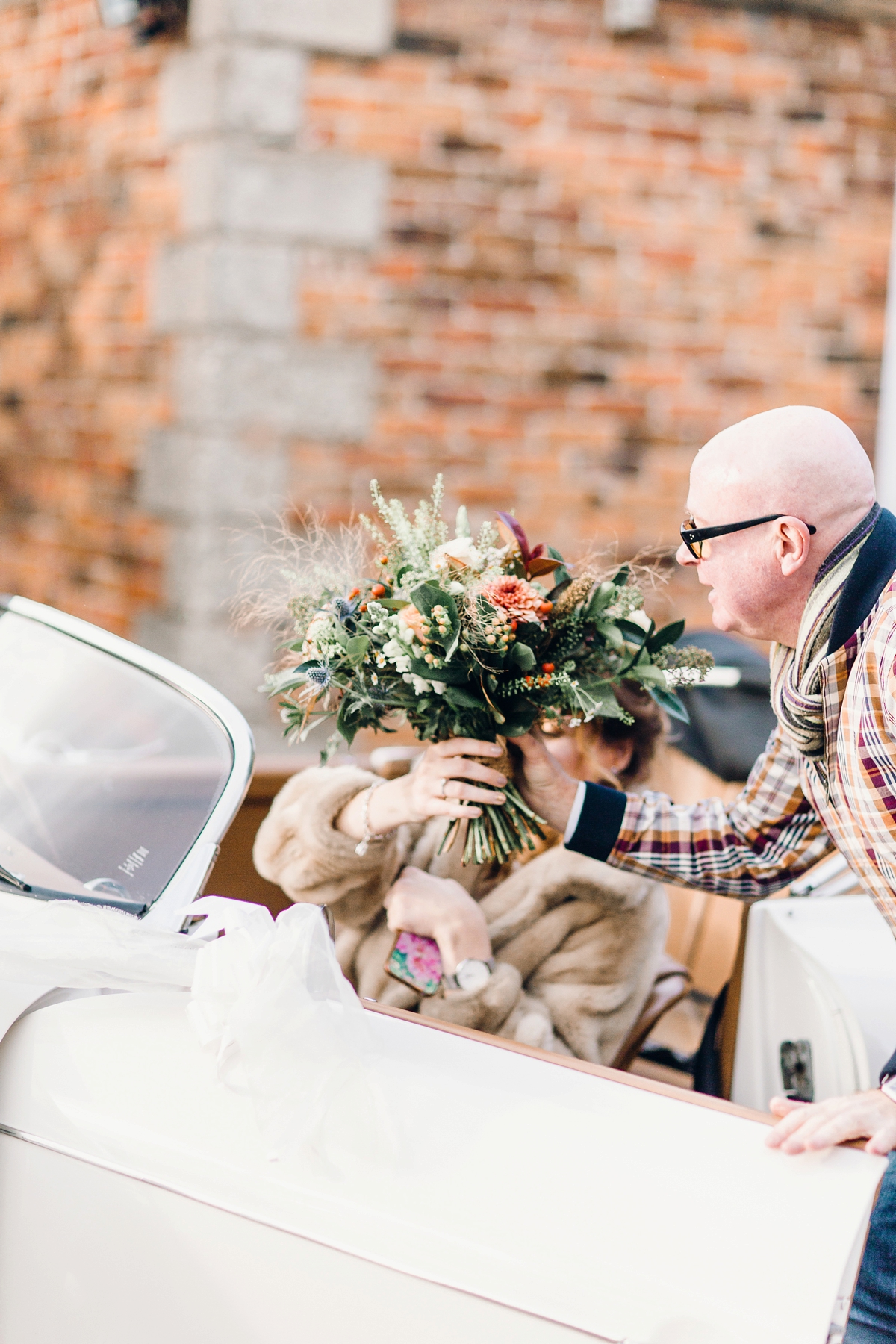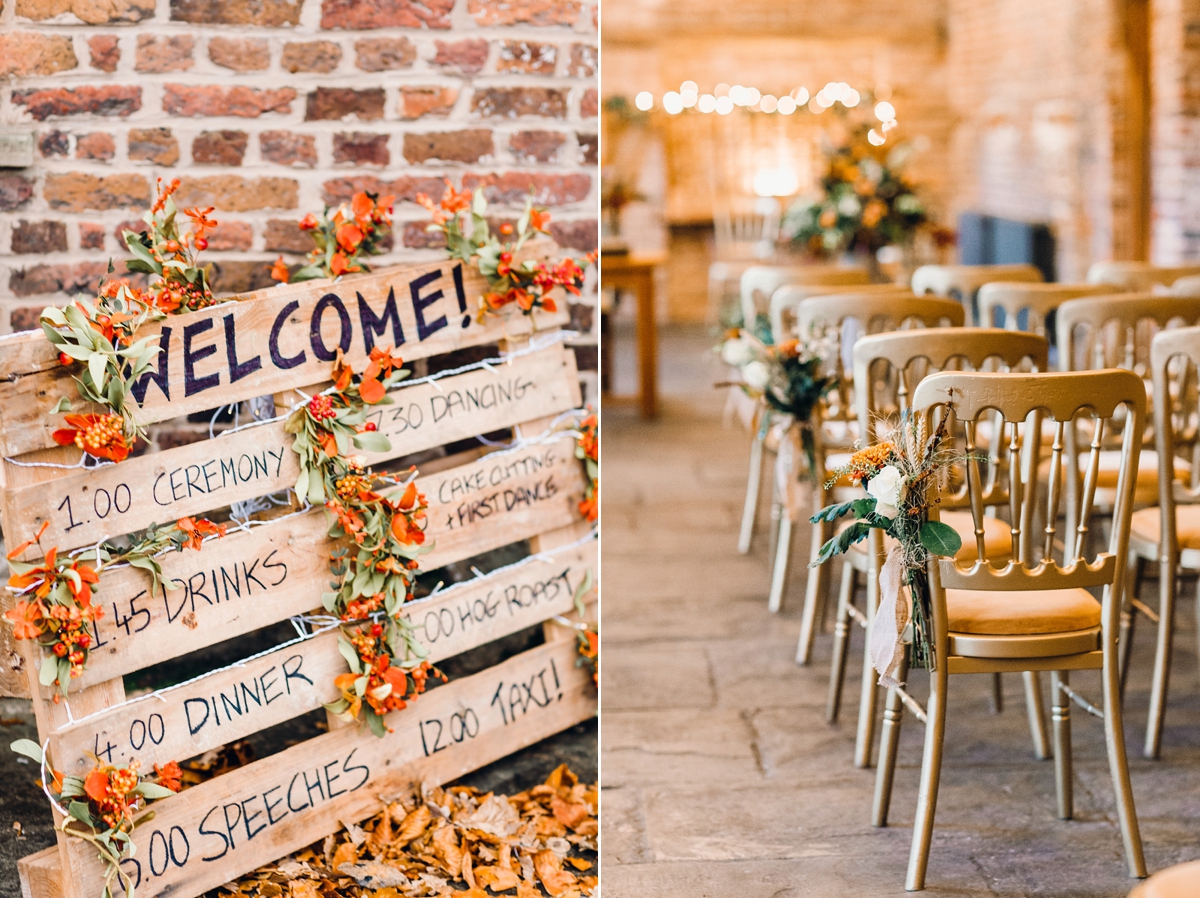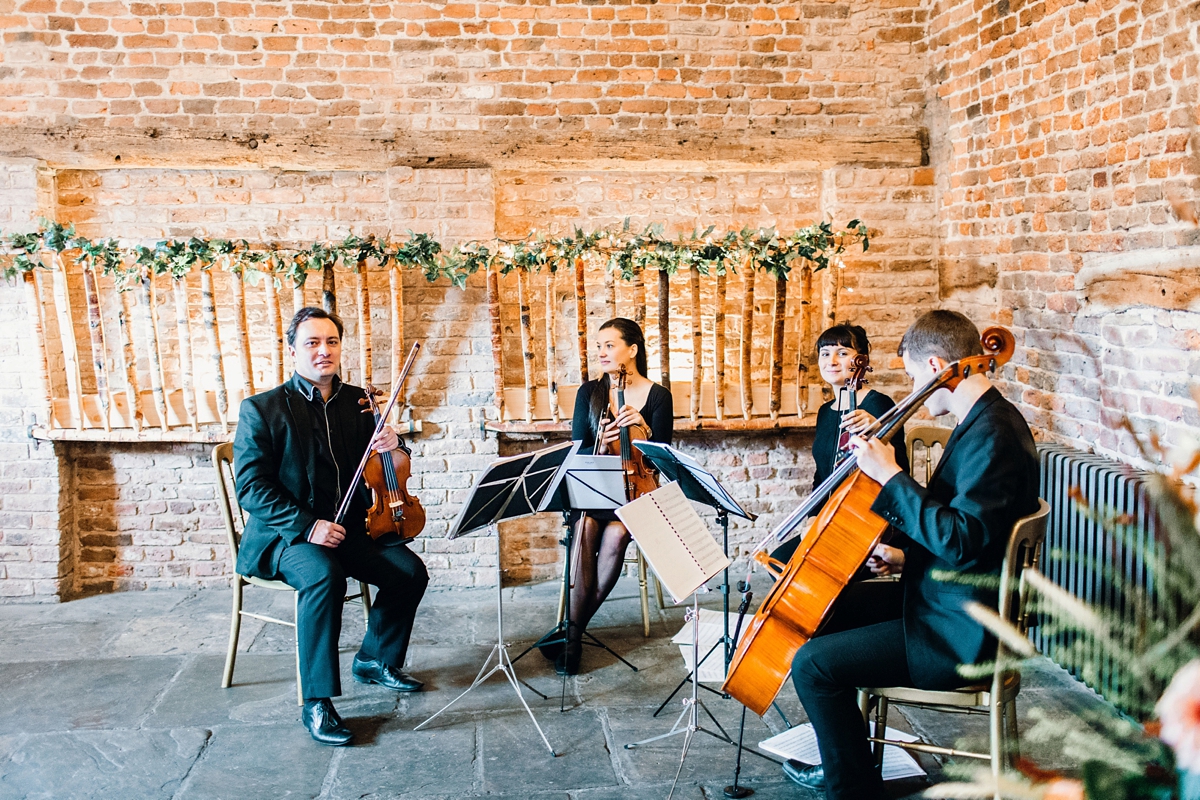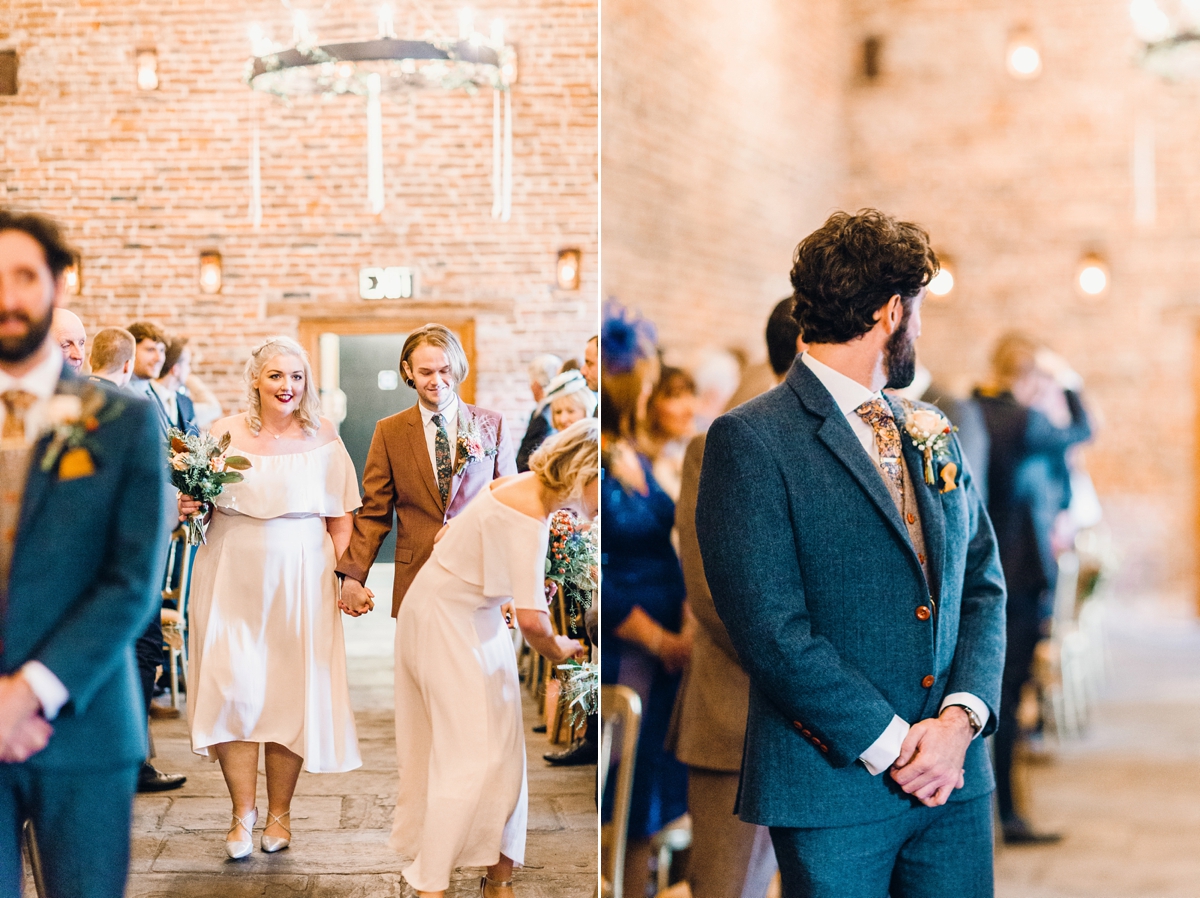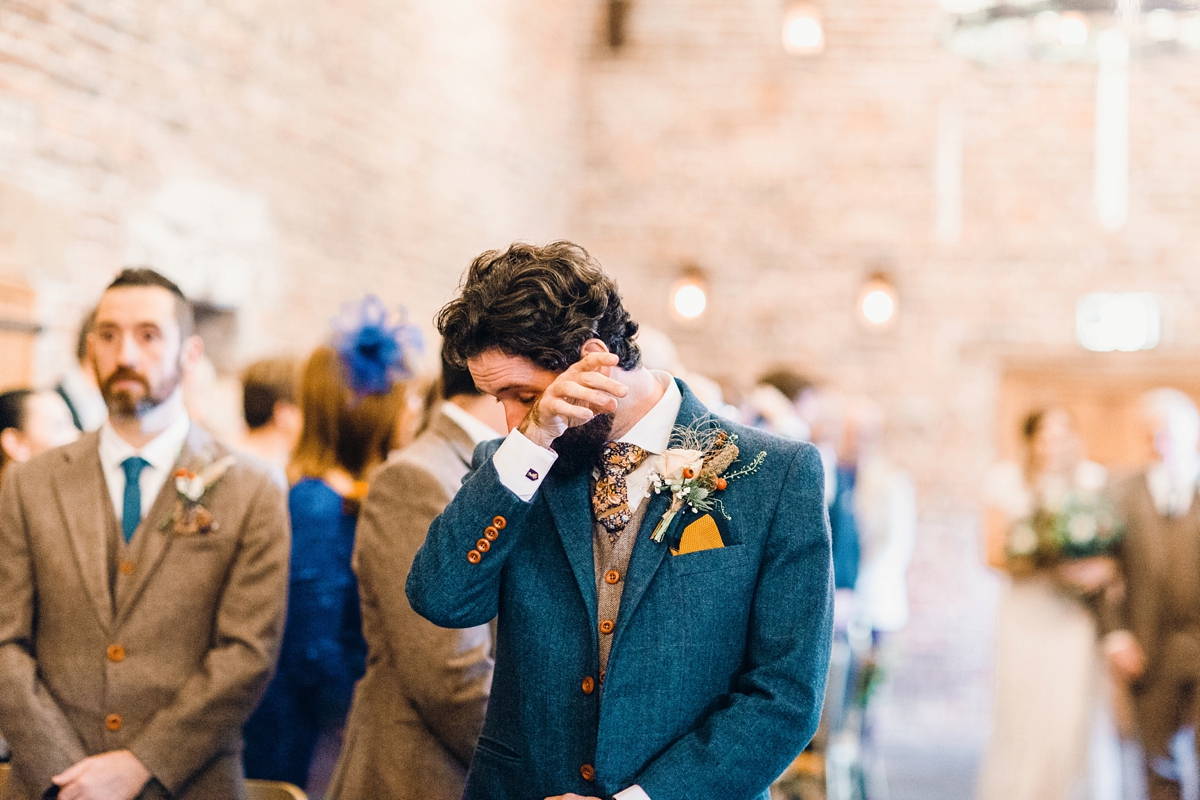 These images of Rachel walking down the centre of the beautiful, light and airy barn are so wonderful. She was accompanied by the sounds of Desree's 'Kissing You', played by Northern String Quartet.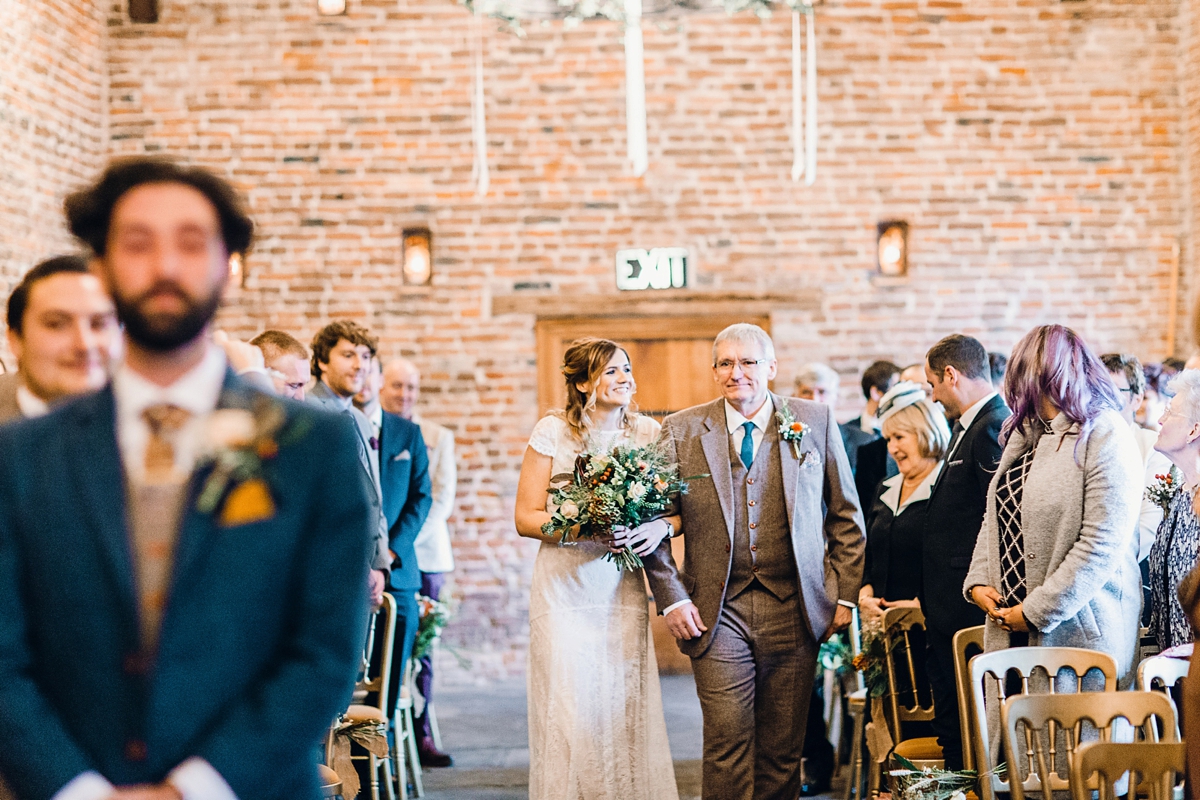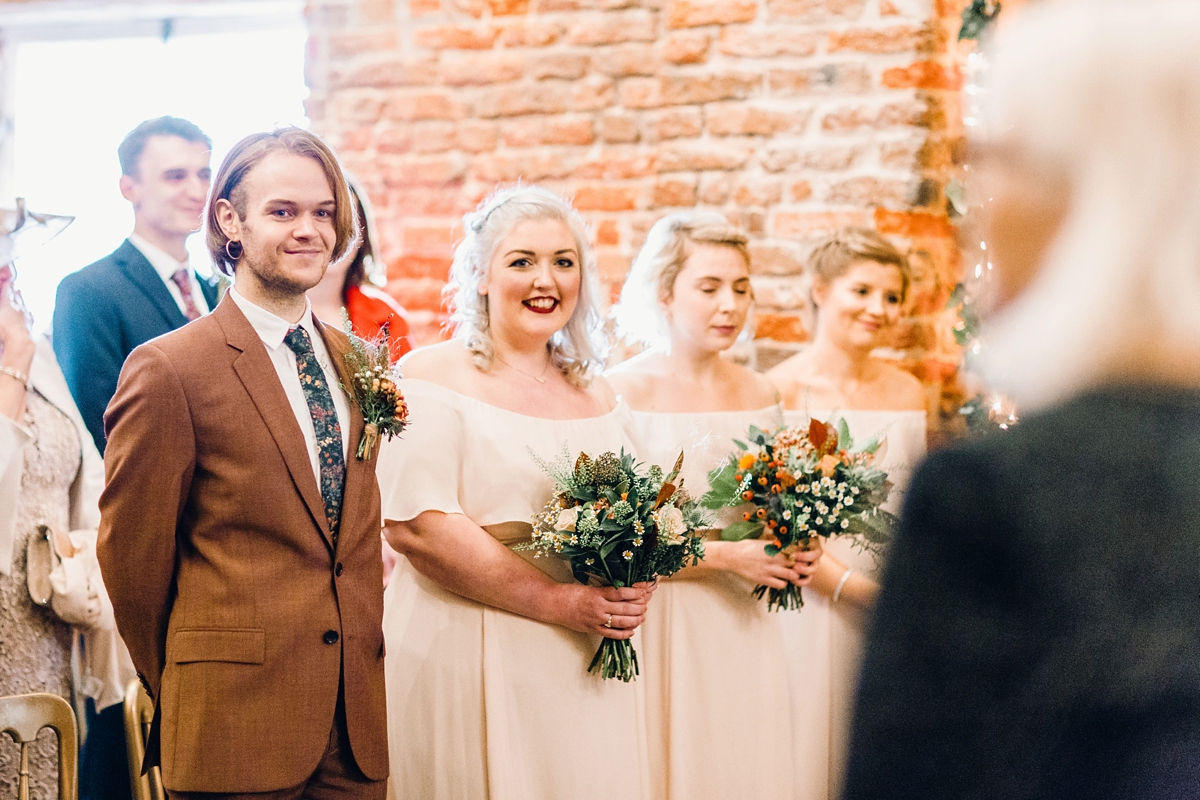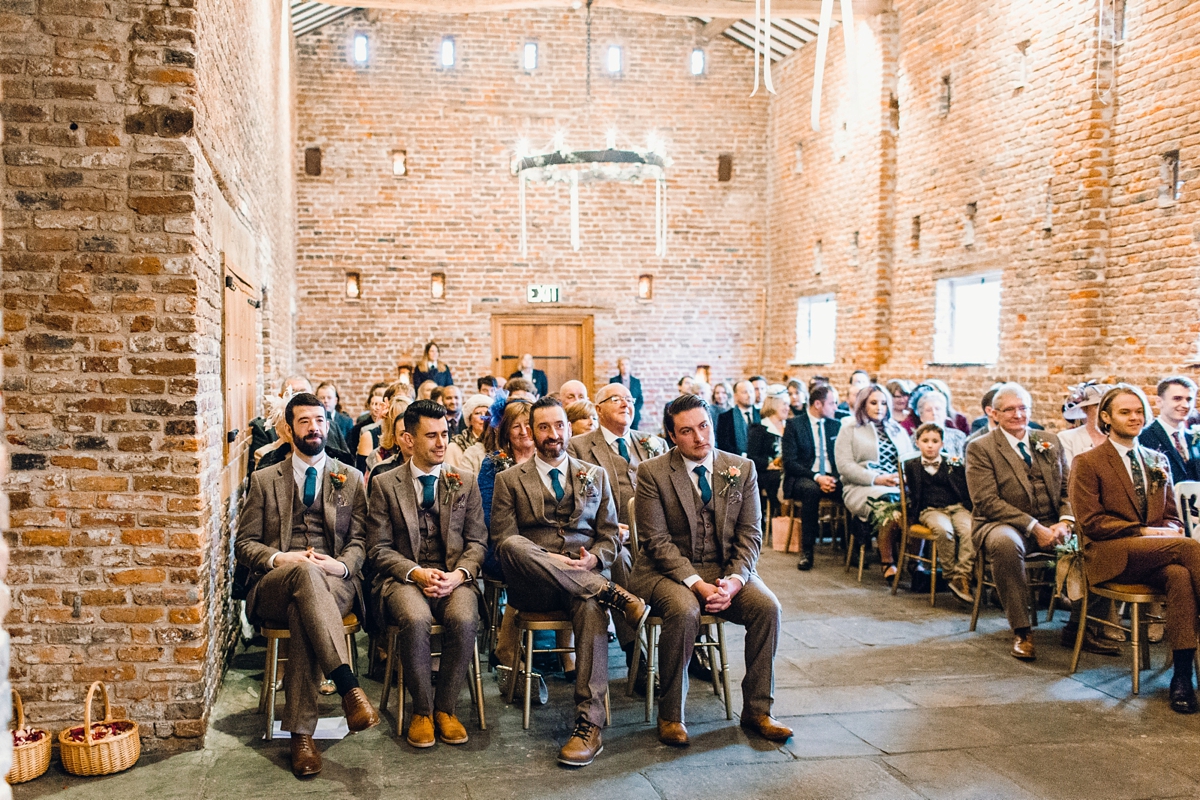 "We had three friends do readings. We used an Edward Monkton poem, 'In that still and settled place', Lydia Davis' 'Happiest Moment' and Lang Leav's 'Soul Mates'.
Readers – we've just launched a new wedding readings resource here on Love My Dress, you'll find it here. We've designed it so that each reading prints out easily for you to pop into your wedding planning file or send along to the person reading who will be reading it at your ceremony.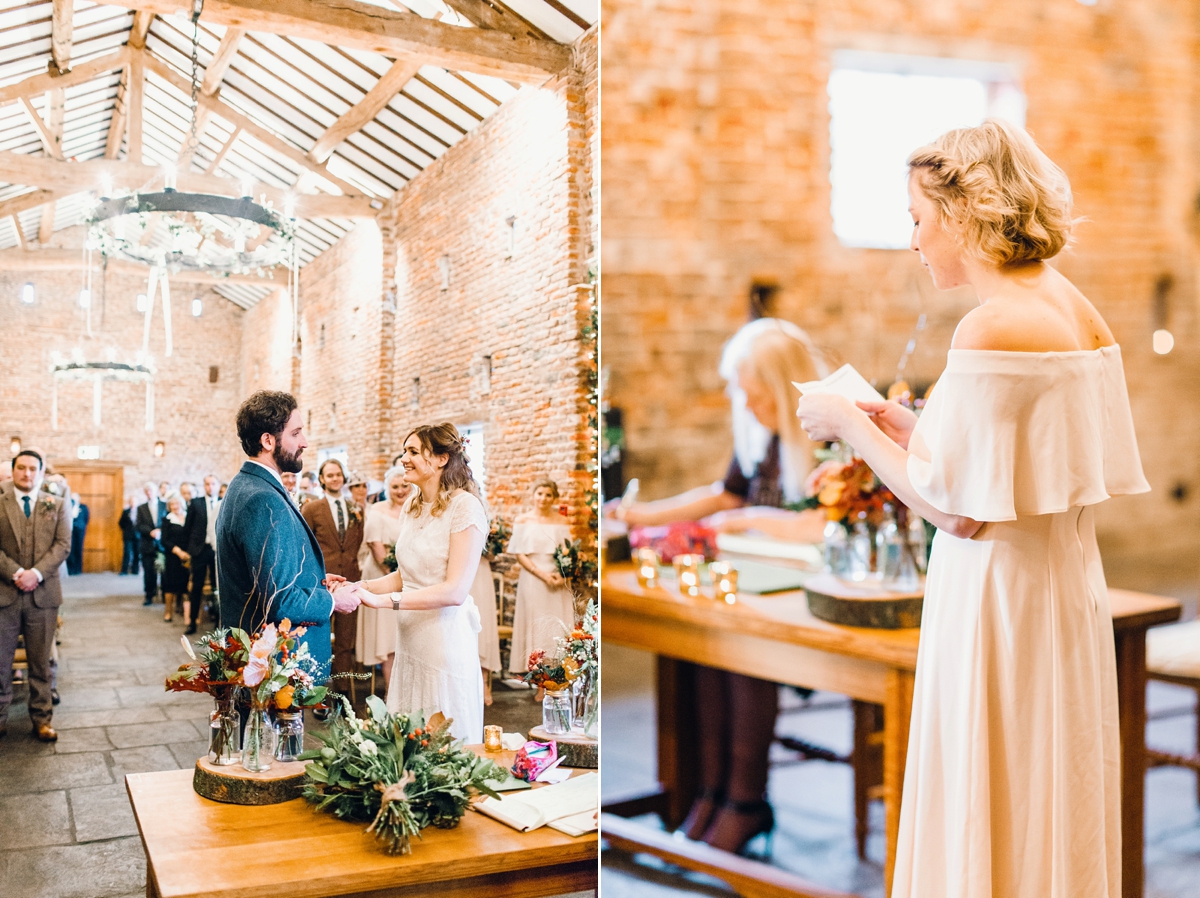 The couple returned to 77 Diamonds, where Rachel's engagement ring was found, to choose their wedding bands.
"I chose a knife-edge ring with diamonds all round which matched my vintage-style engagement ring and Alex chose a traditional band."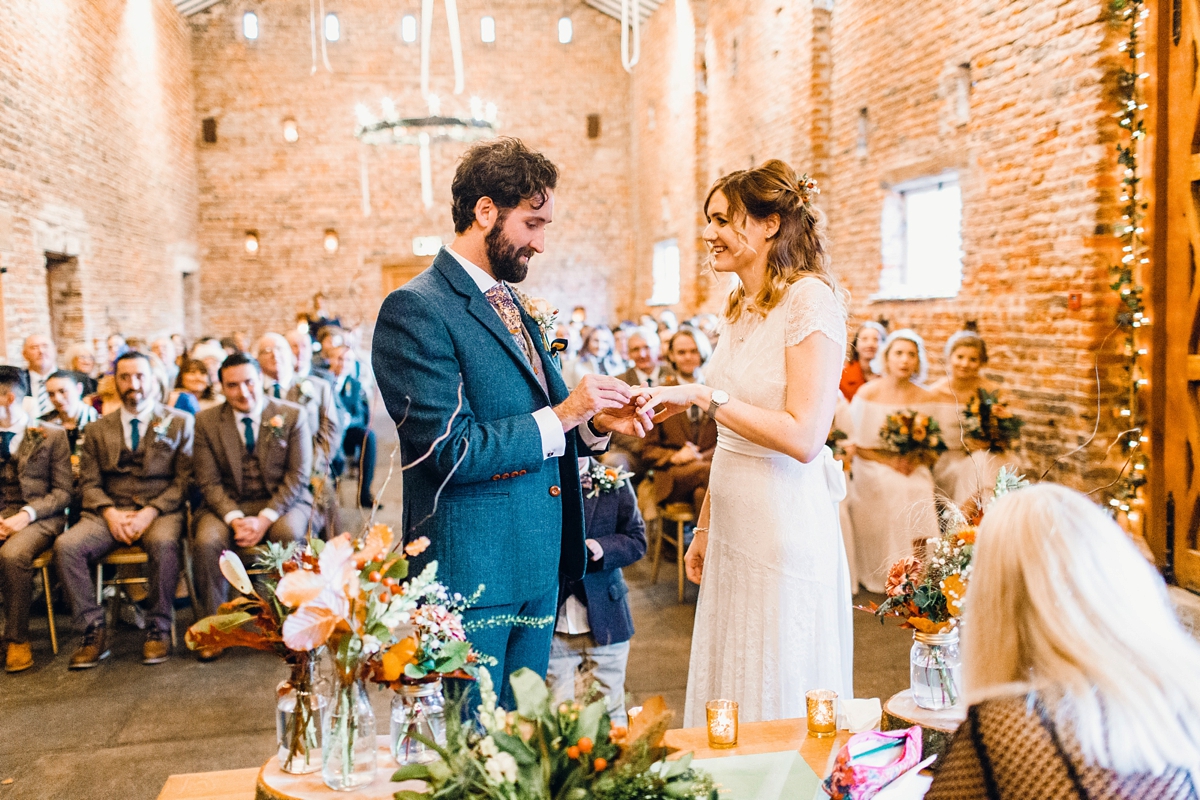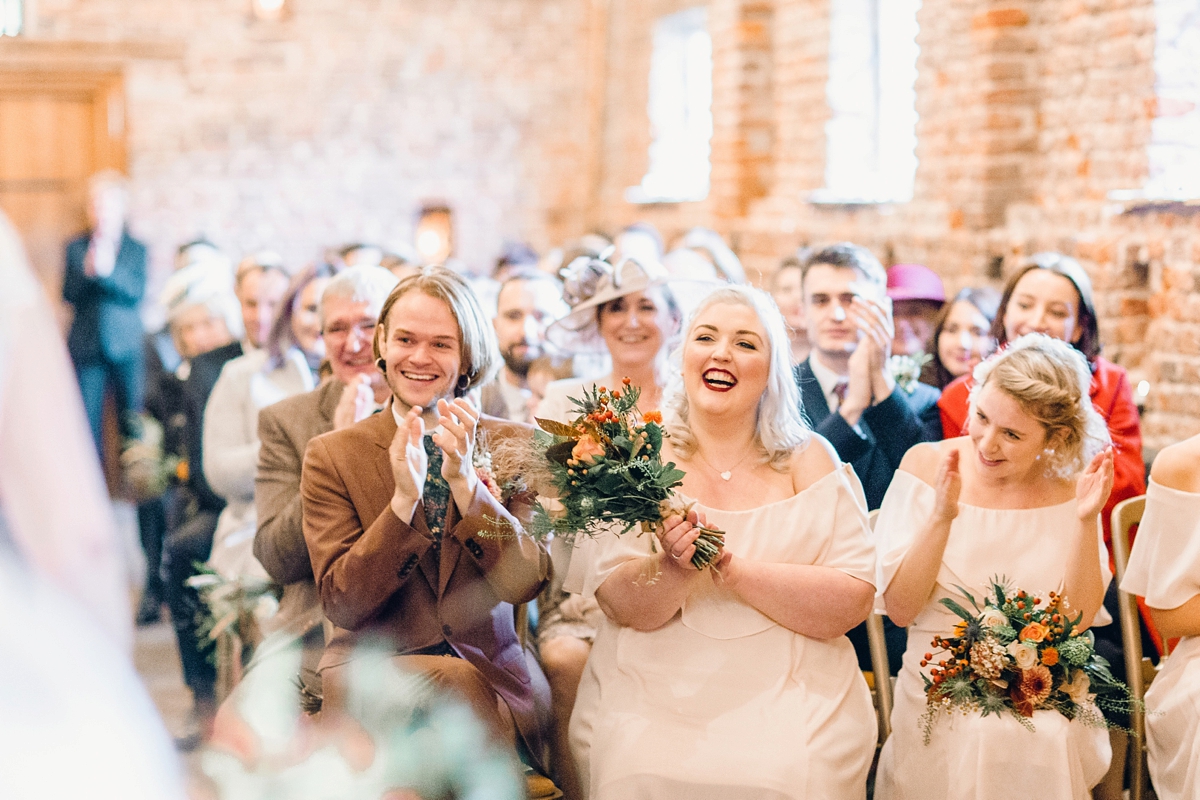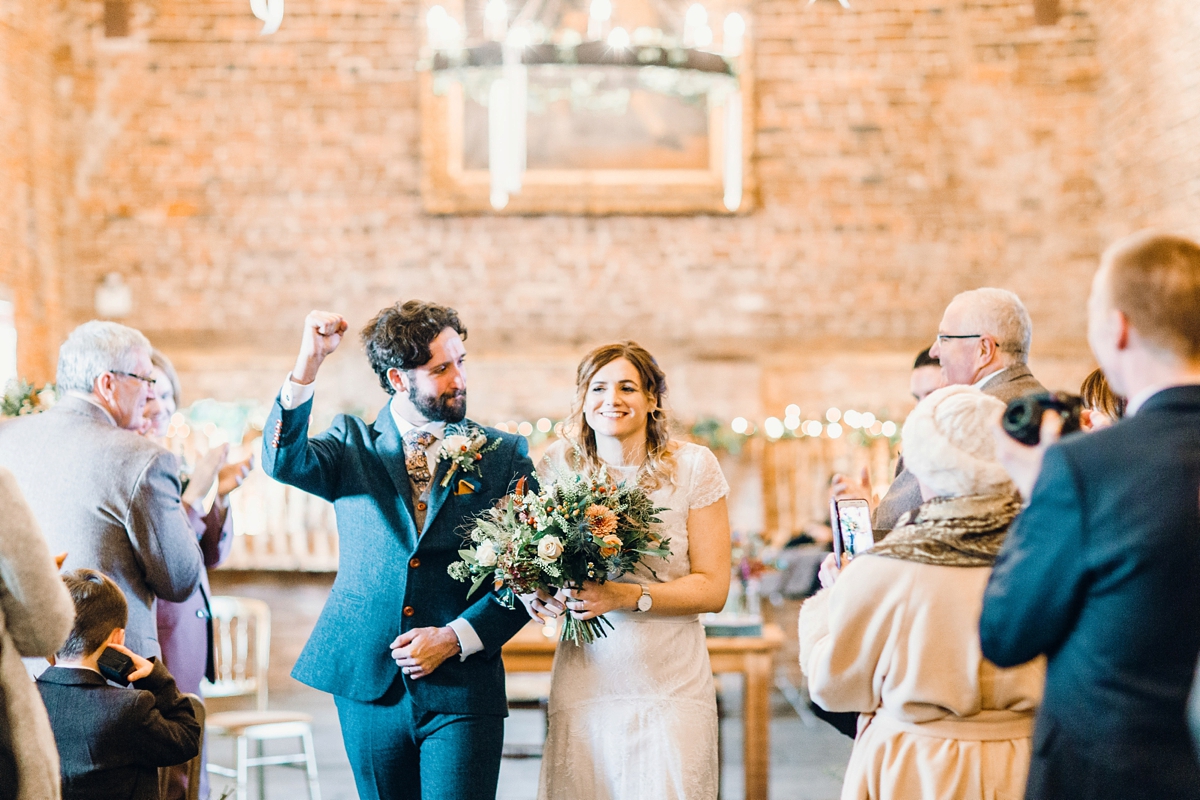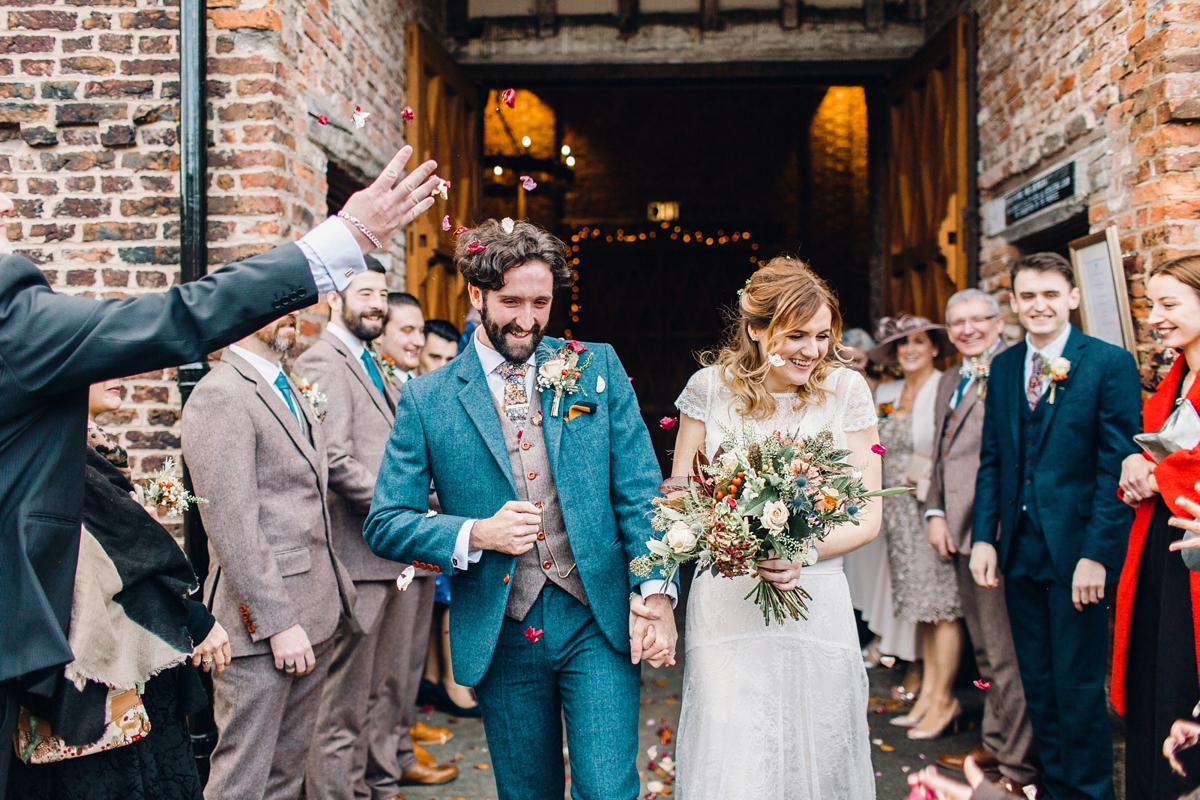 Like the groomsmen, the page boys wore outfits to tone in with the groom, and don't they look gorgeous?
"The page boys wore Monsoon jackets and waistcoats with bow ties that matched Al's tie."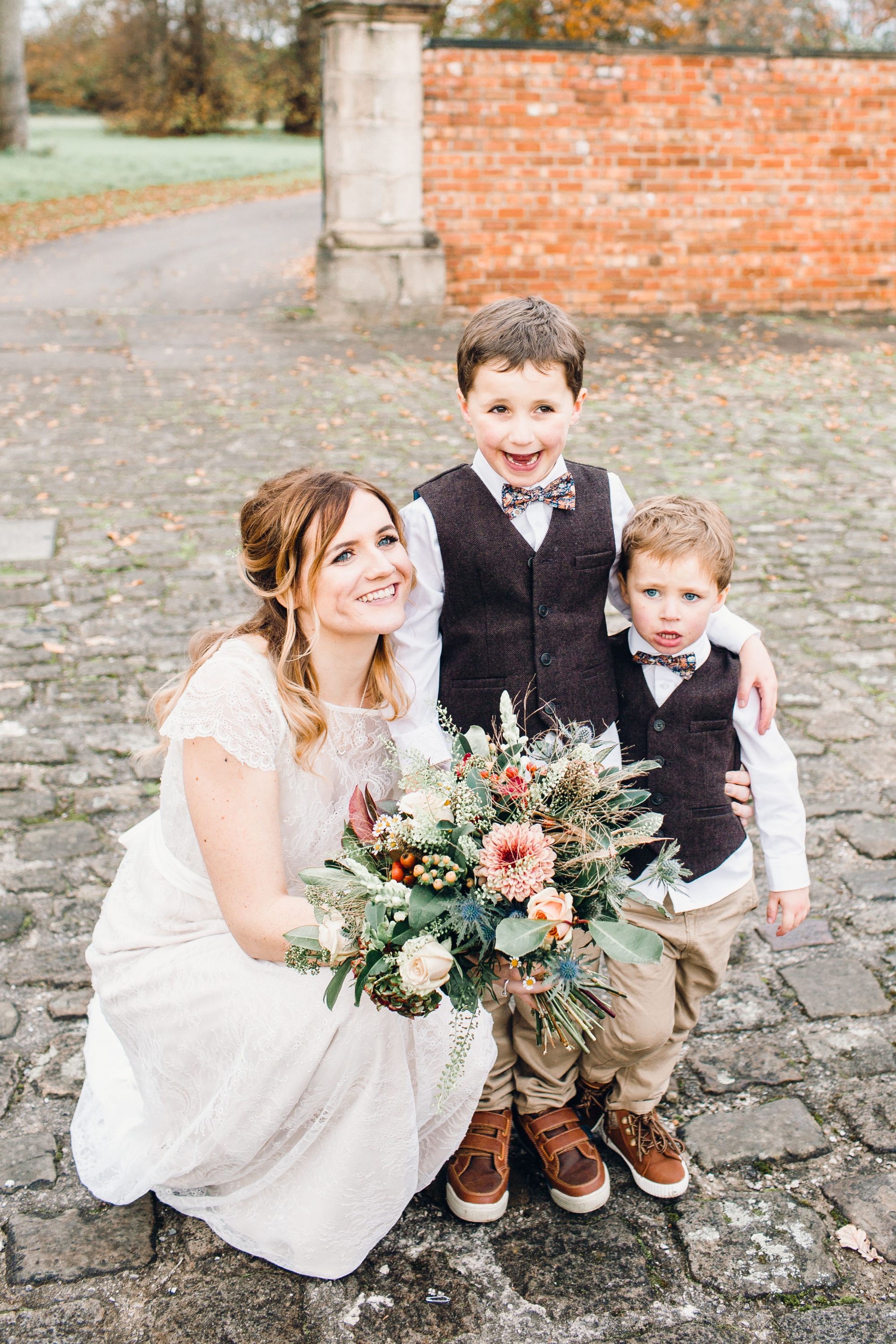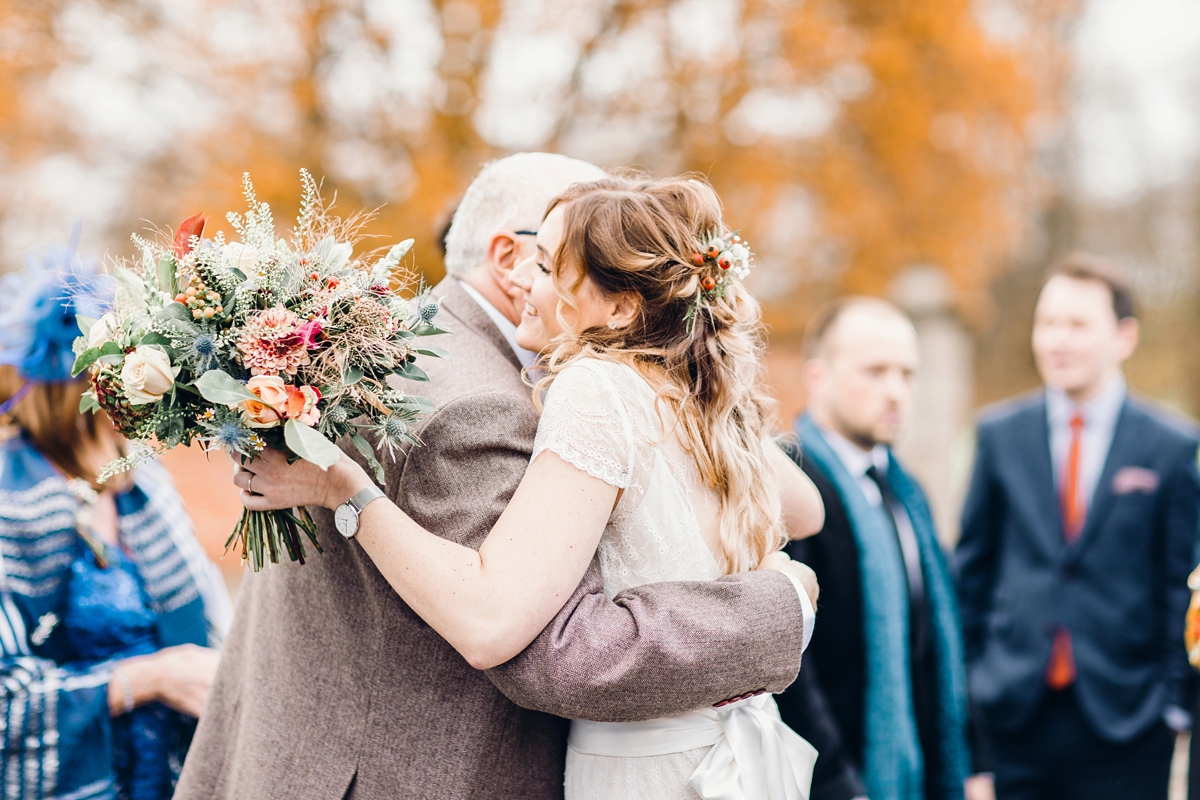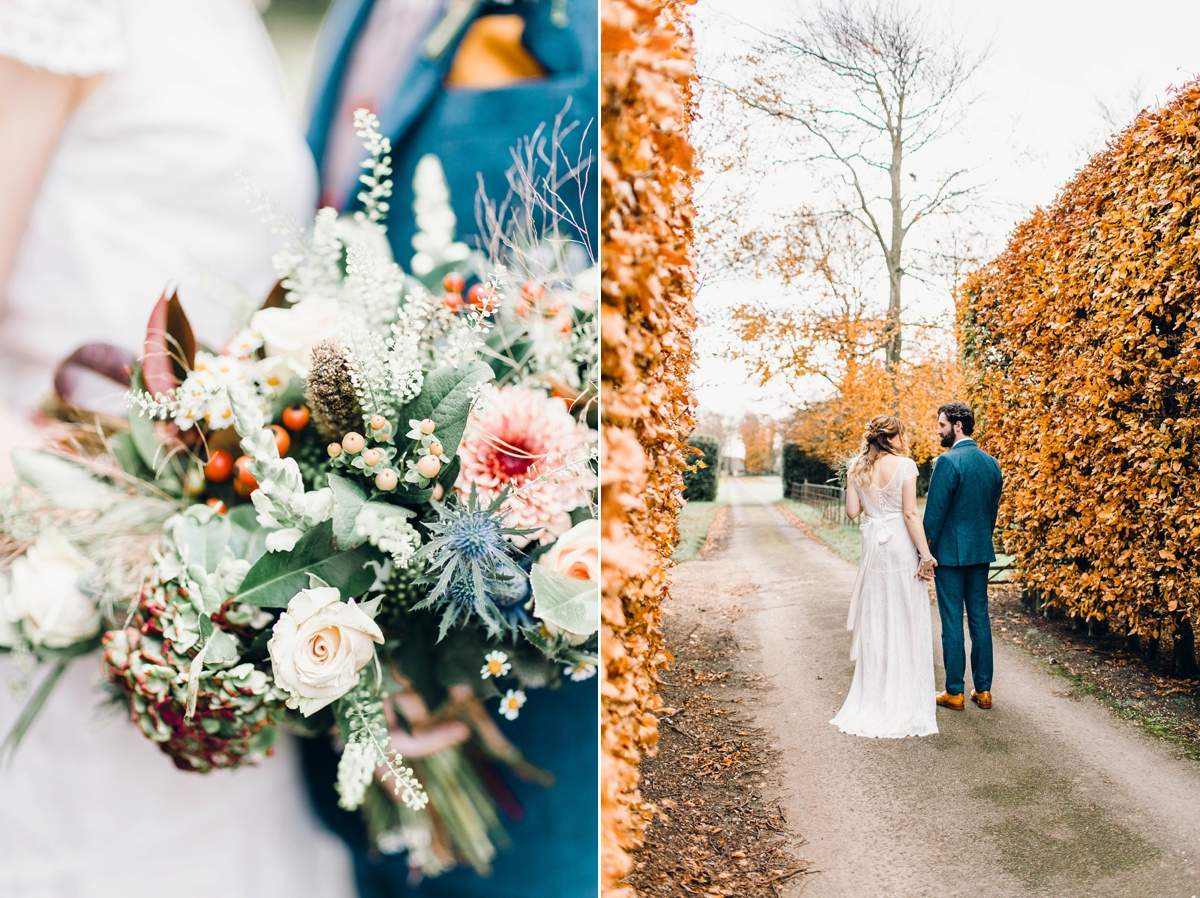 These romantic, light-filled images are the work of Jessica Reeve Photography. I love how she's captured the vibrancy of the orange wildflowers and the crisp November leaves with such clarity. She managed to find the perfect backdrop for the newly-weds portrait shots too, against a 'wall' of autumn leaves. So beautiful. We've been honoured to share her work previously on our pages, so please do have a peek here.
"Jess was the perfect choice. Neither of us like photos and we were not looking forward to that part but Jess was amazing. She made us feel so relaxed and took the most beautiful photos of the whole day capturing it perfectly. She was more than I could have hoped for."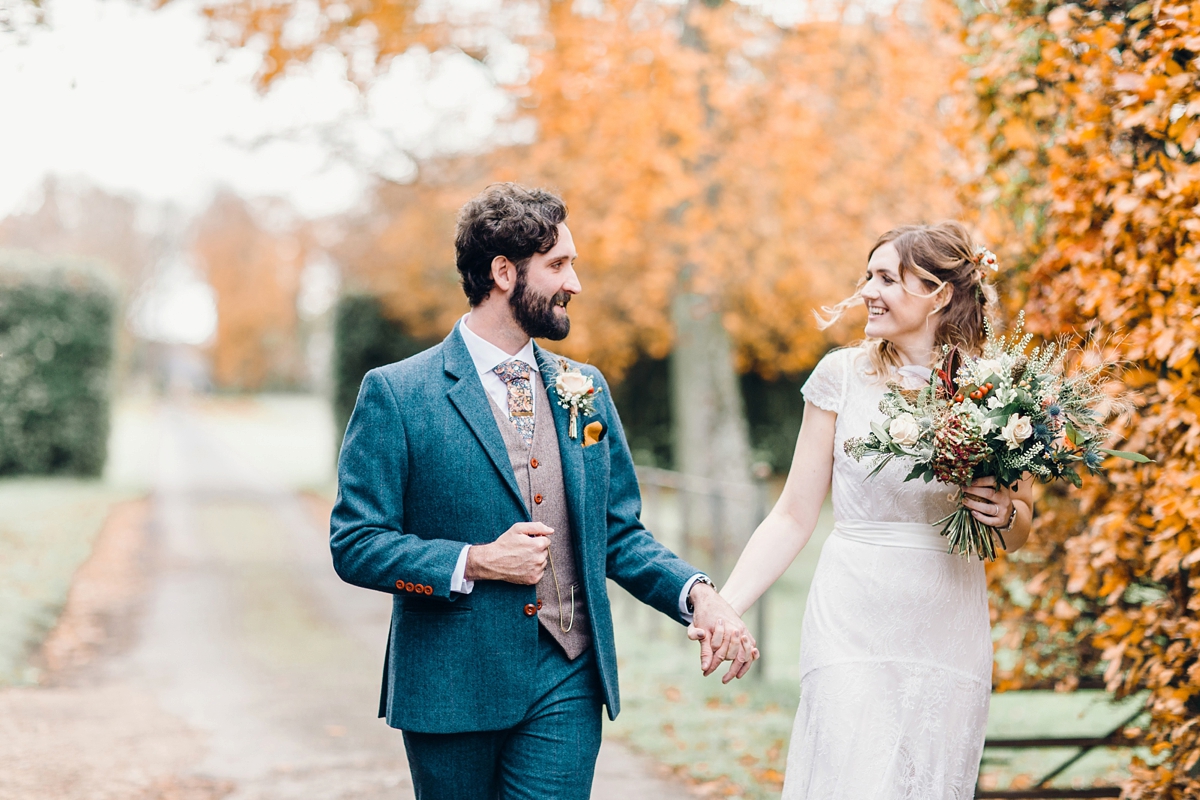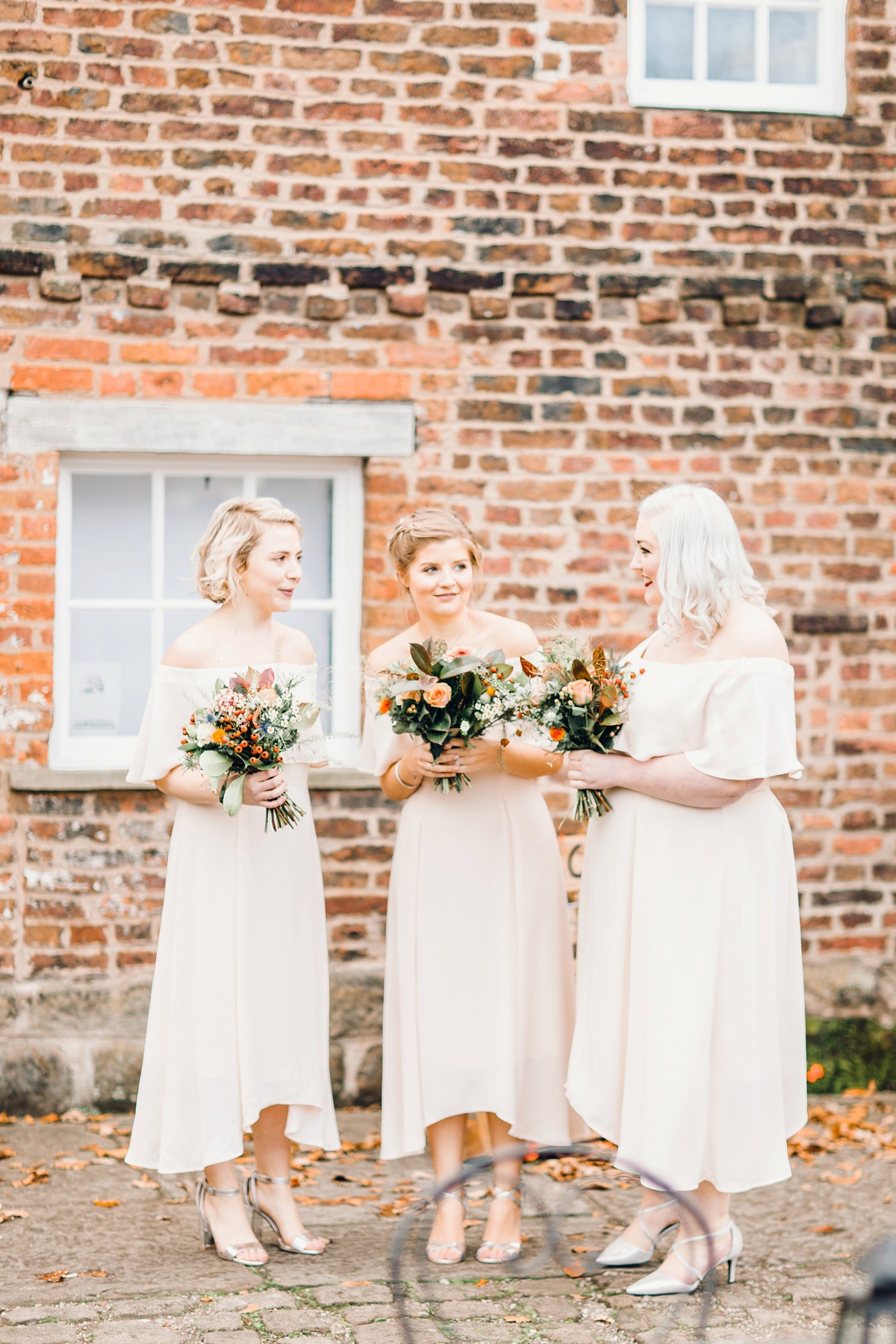 Thankfully the weather was wonderfully clear for the guests to enjoy time outside, and for the couple to share some precious moments together as husband and wife. For the wedding breakfast, the Tithe Barn looks beautiful with its simple rustic styling with touches of gold and lots of vibrant wildflowers.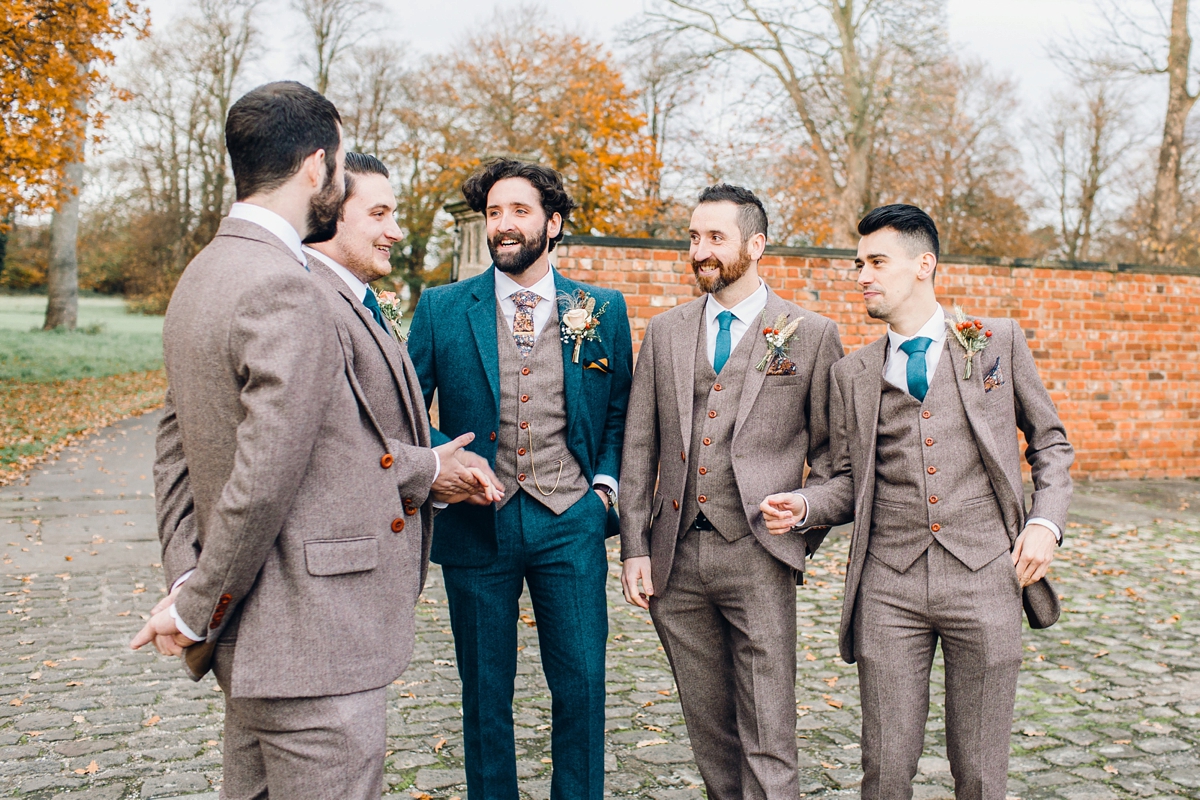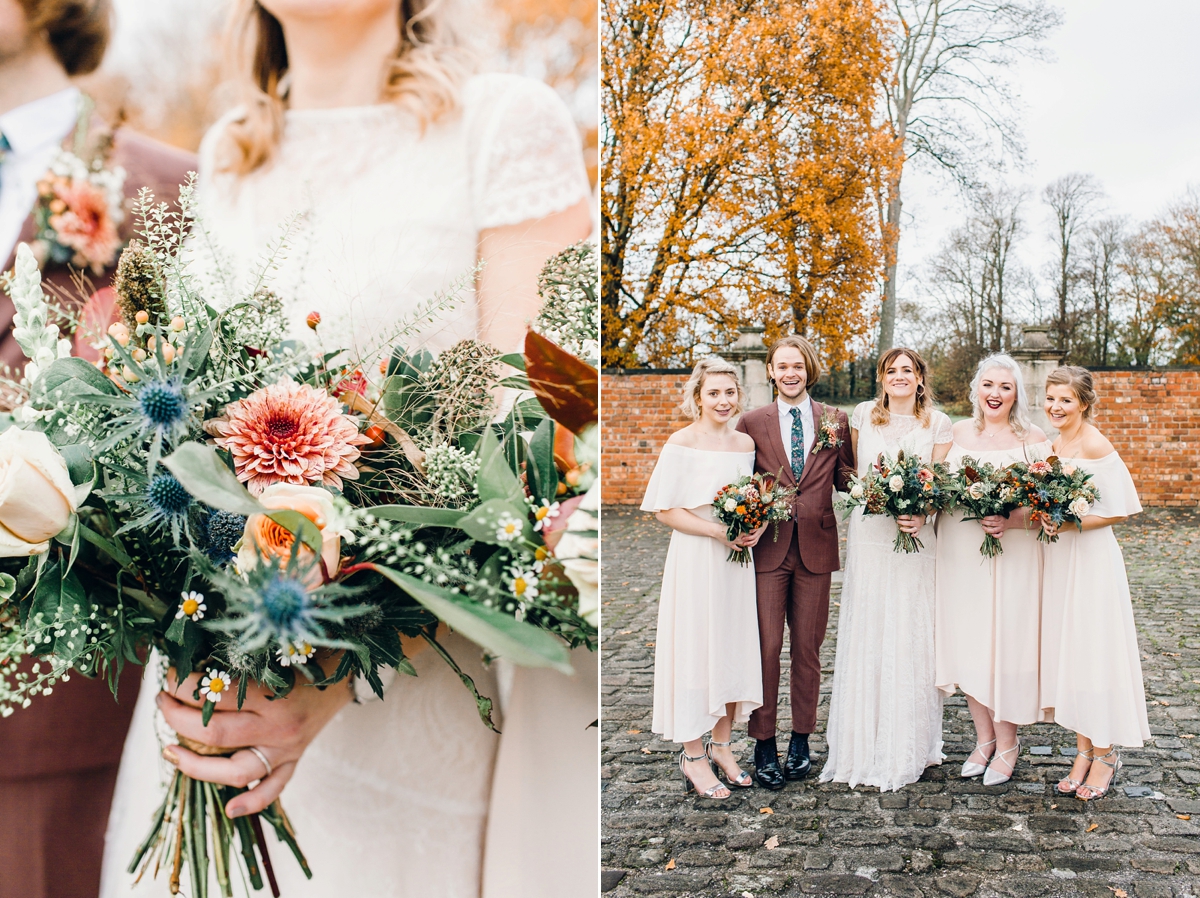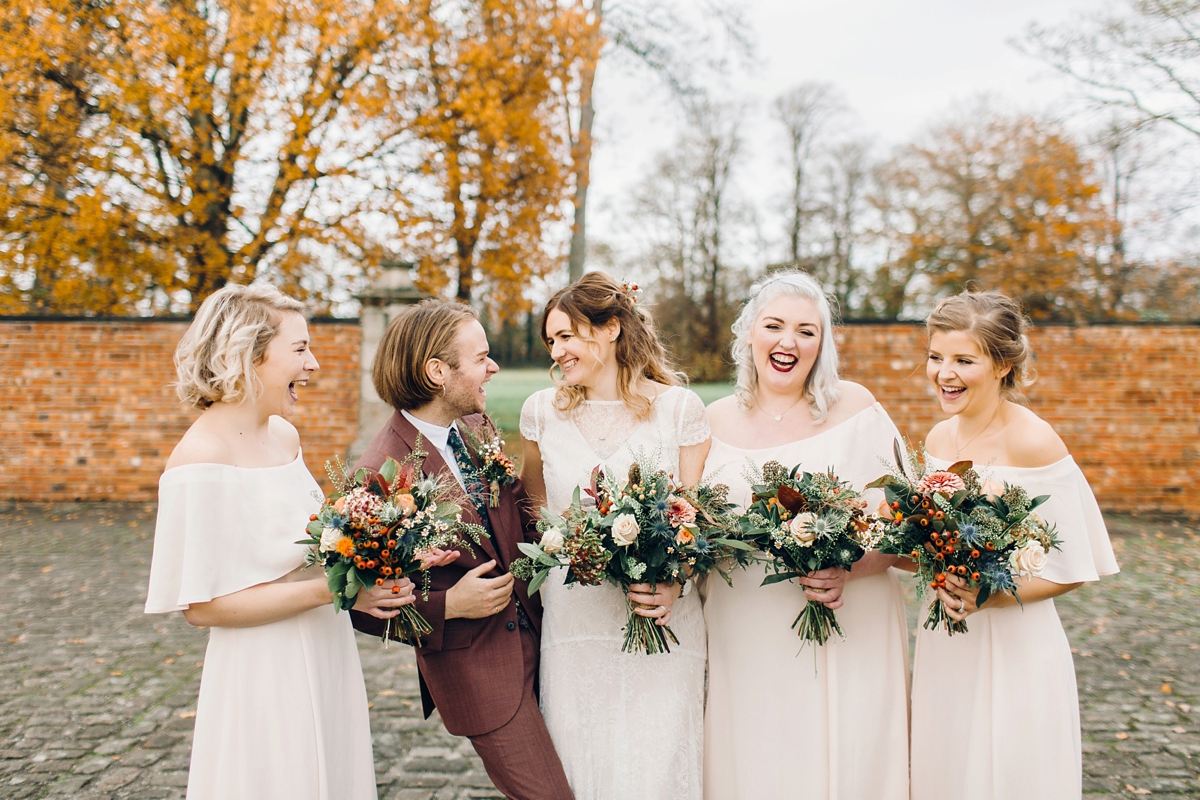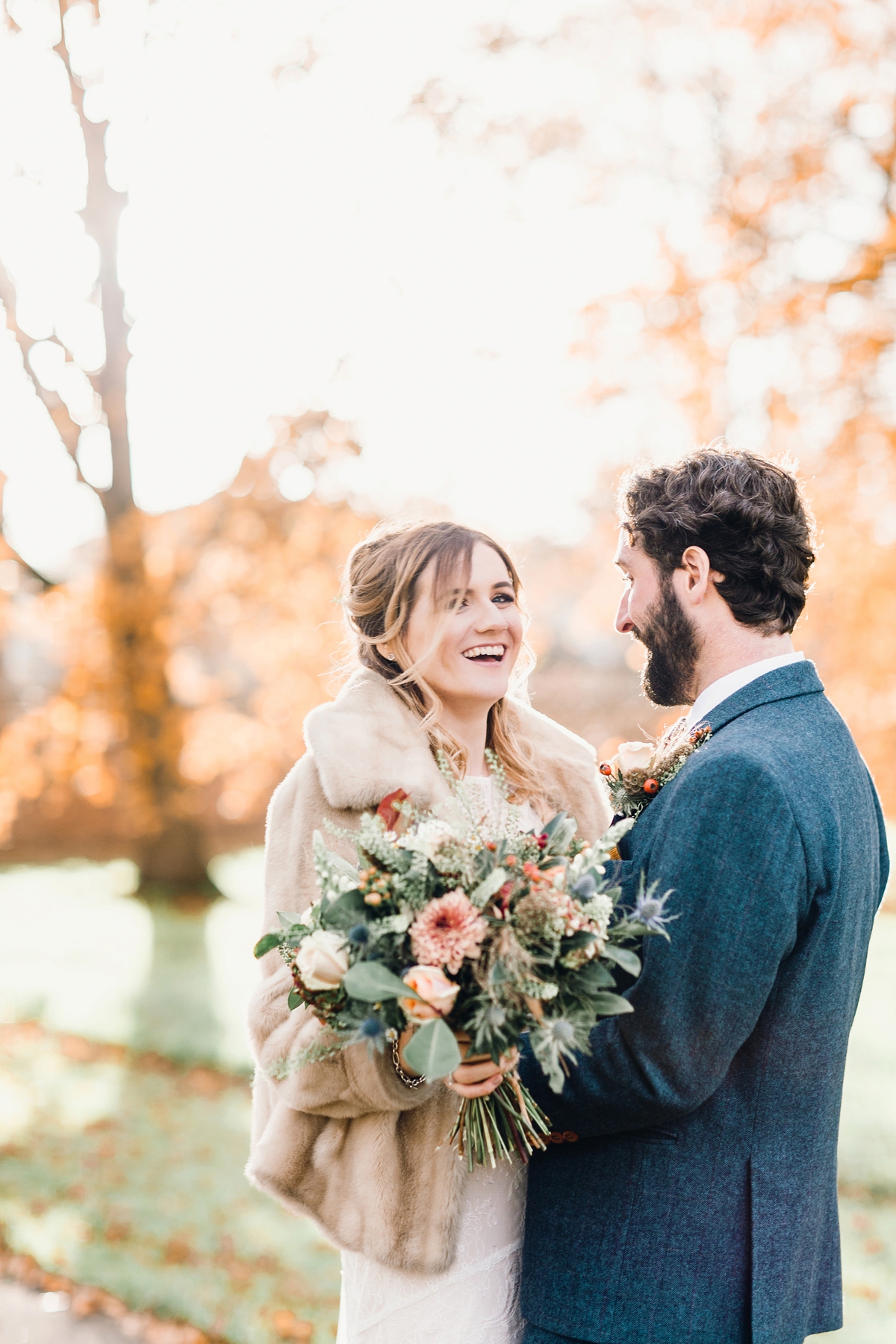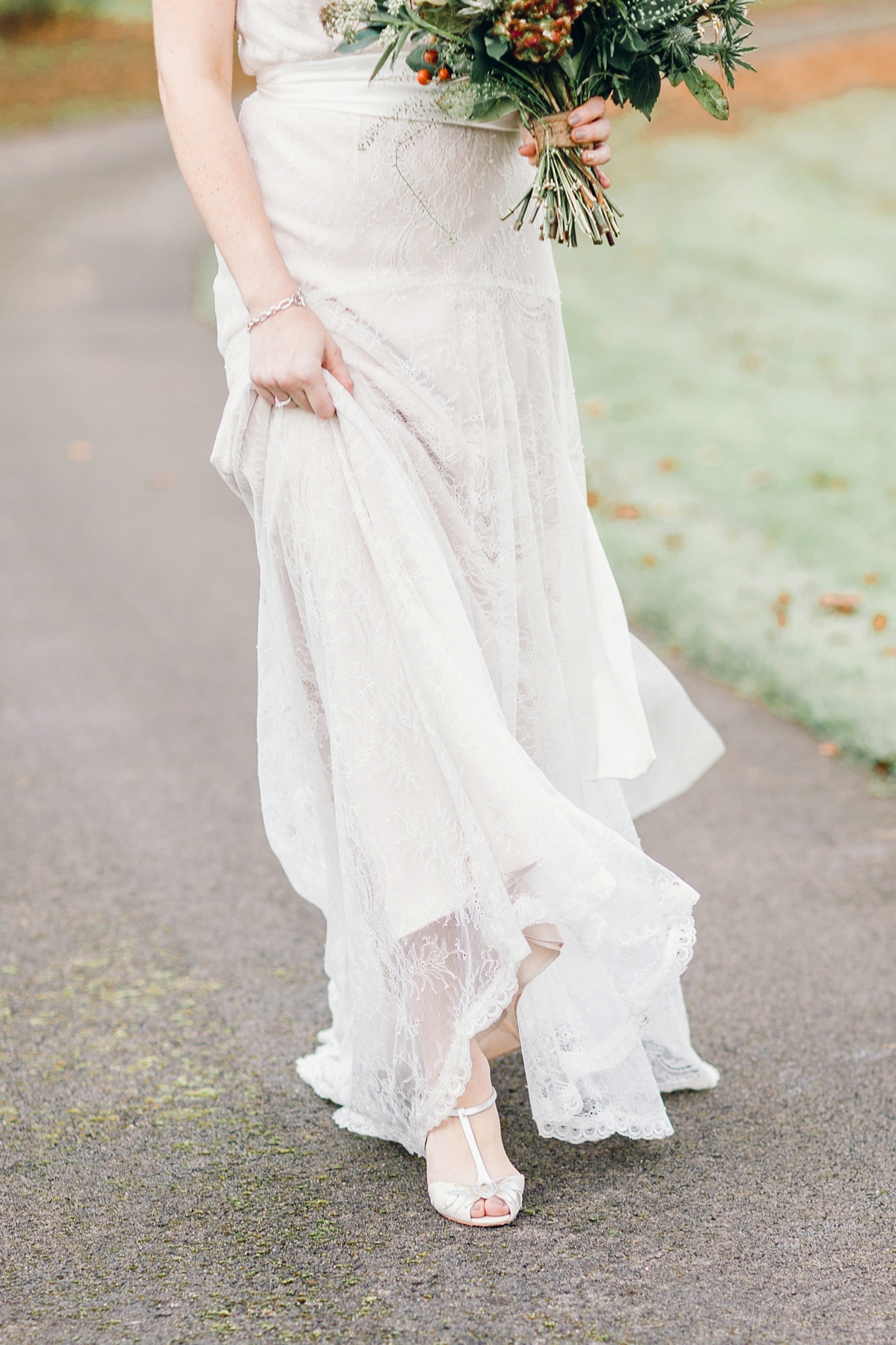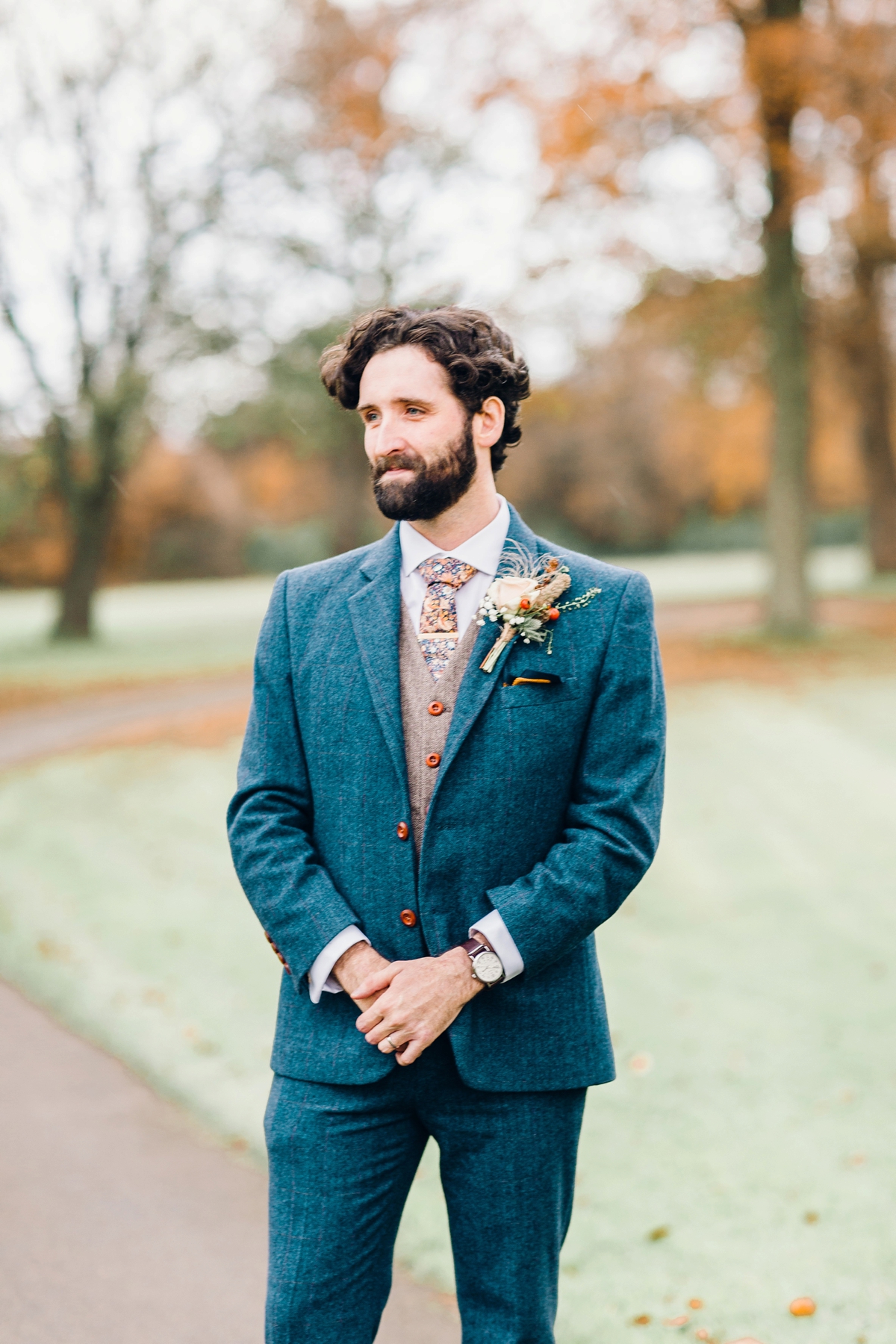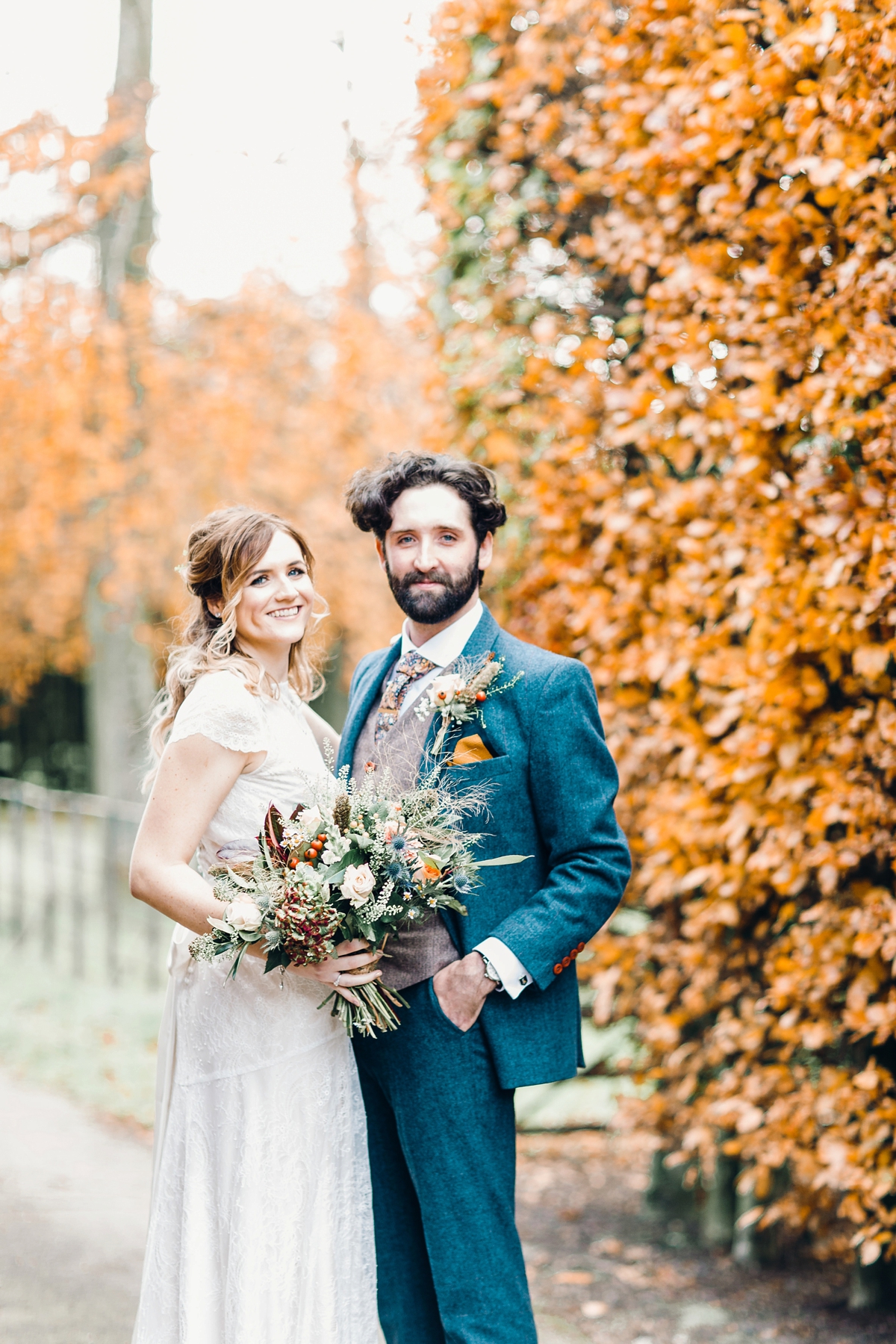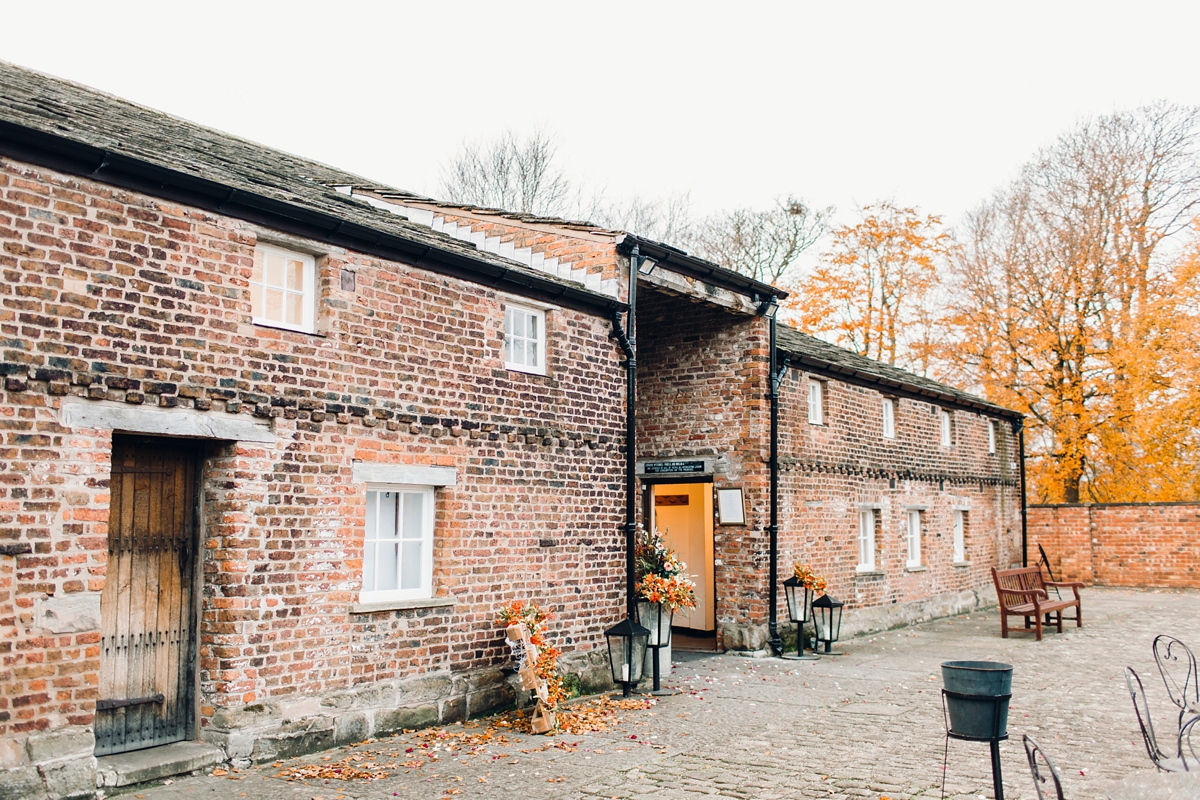 "The venue, due to its existing features, didn't need much styling. We kept it simple with lots of tea lights, gold candle sticks with big pillar candles for the top table and gold votives for each table."
"We scattered across acorns and pine cones on the tables and window sills. We had fresh logs cut to use as a centre piece for each table that a jar with flowers was placed on and also used one as a cake stand."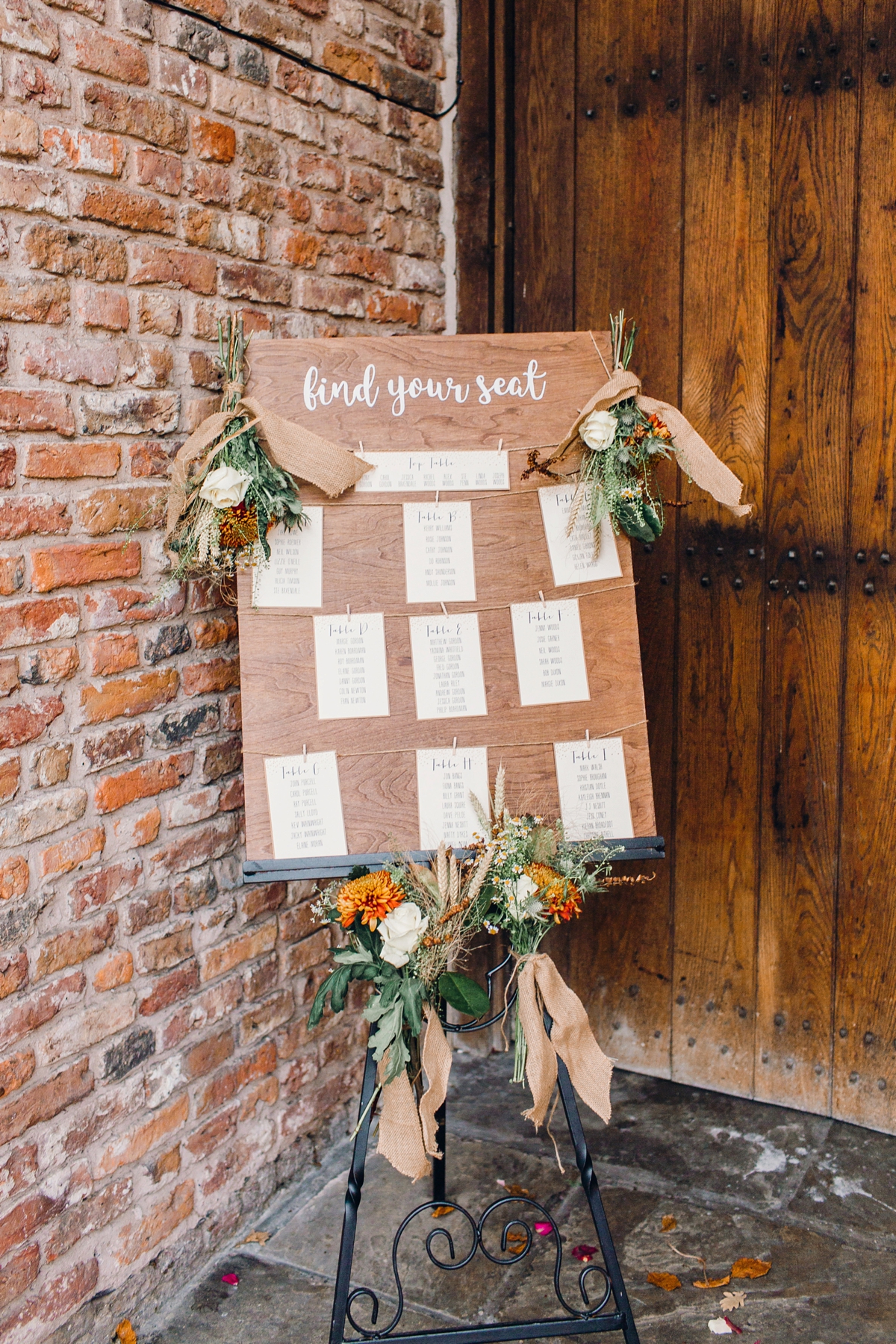 I love the sound of the food from Carringtons, a great way to break the ice and get everyone warm. There was also music from acoustic guitar player John Witherspoon, who sings in the couple's local restaurant.
"Our menu suited our rustic vibe as we had three large pies served to the centre of each table. We chose a guest from each table to wear a chef hat and serve up for their table which added a fun element. In the evening we had a hog roast from the local butchers Graham Eyes who also made us a fabulous four-tier cheese cake."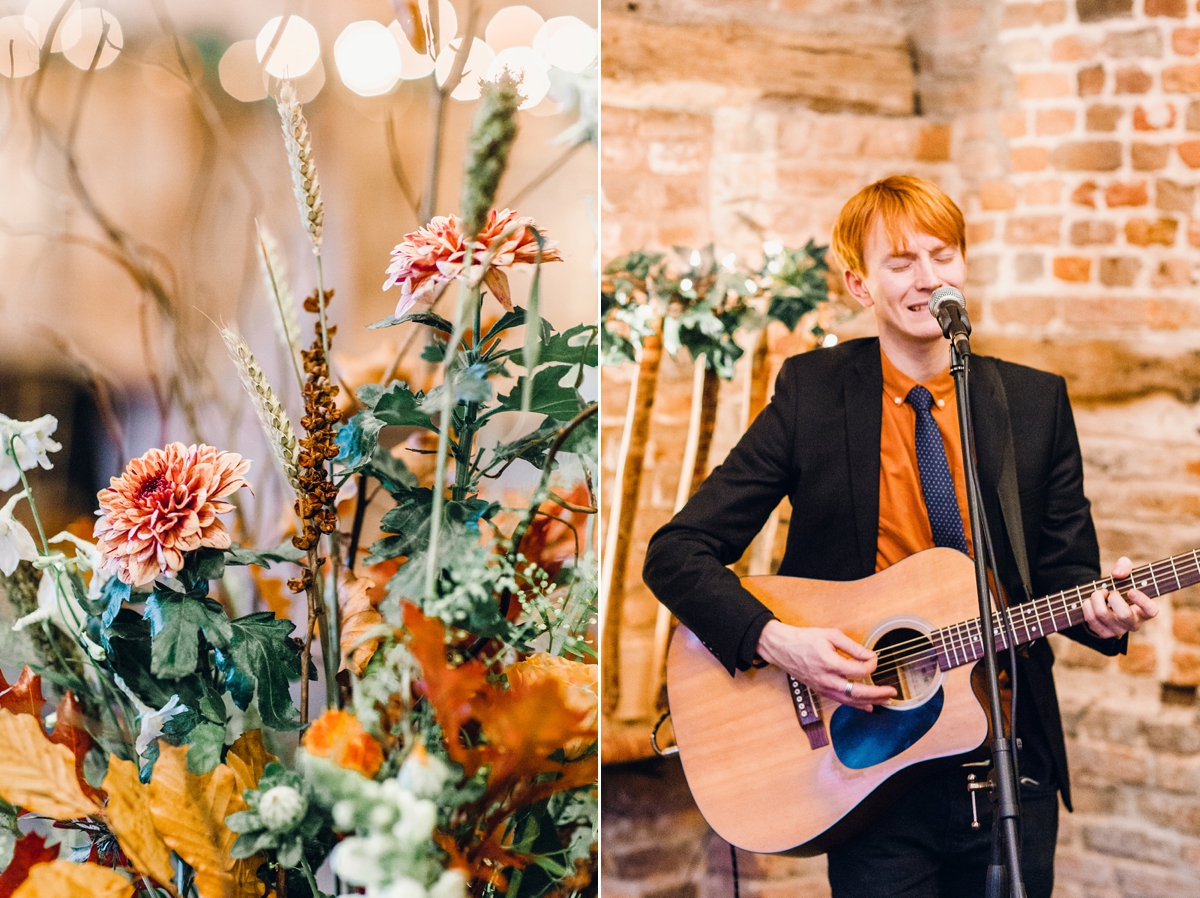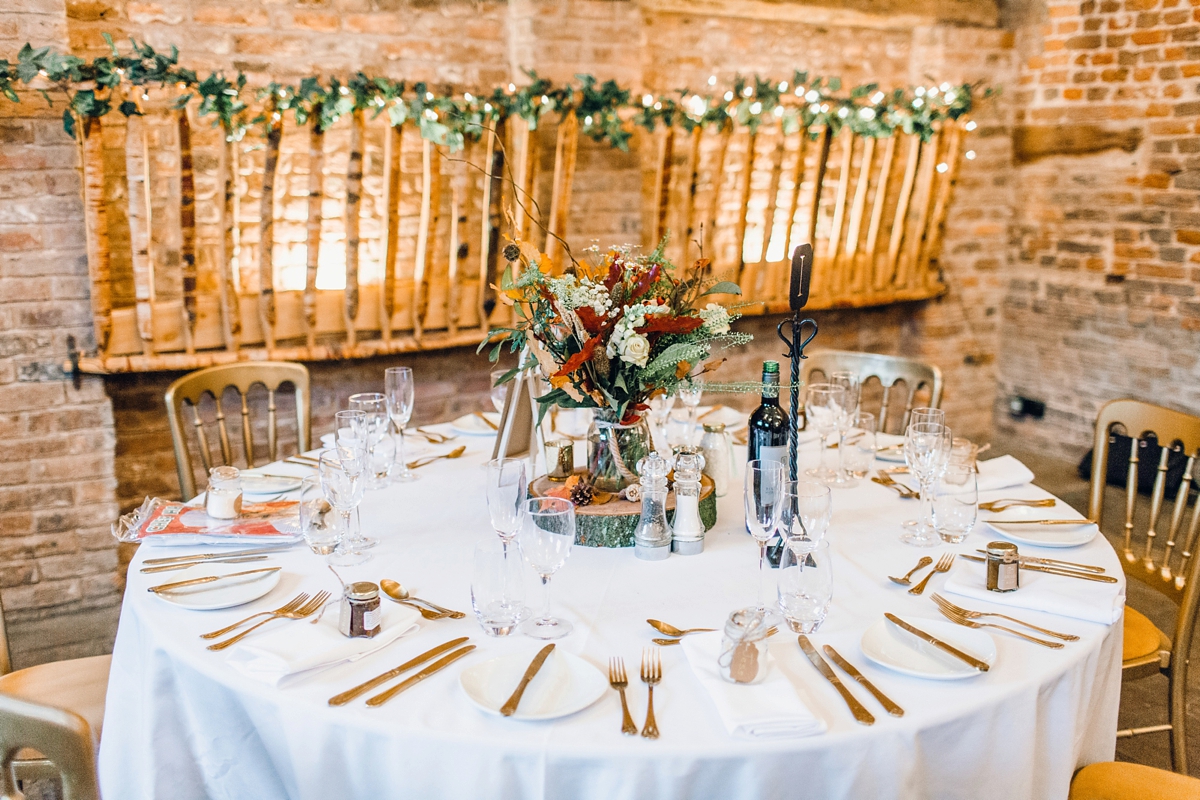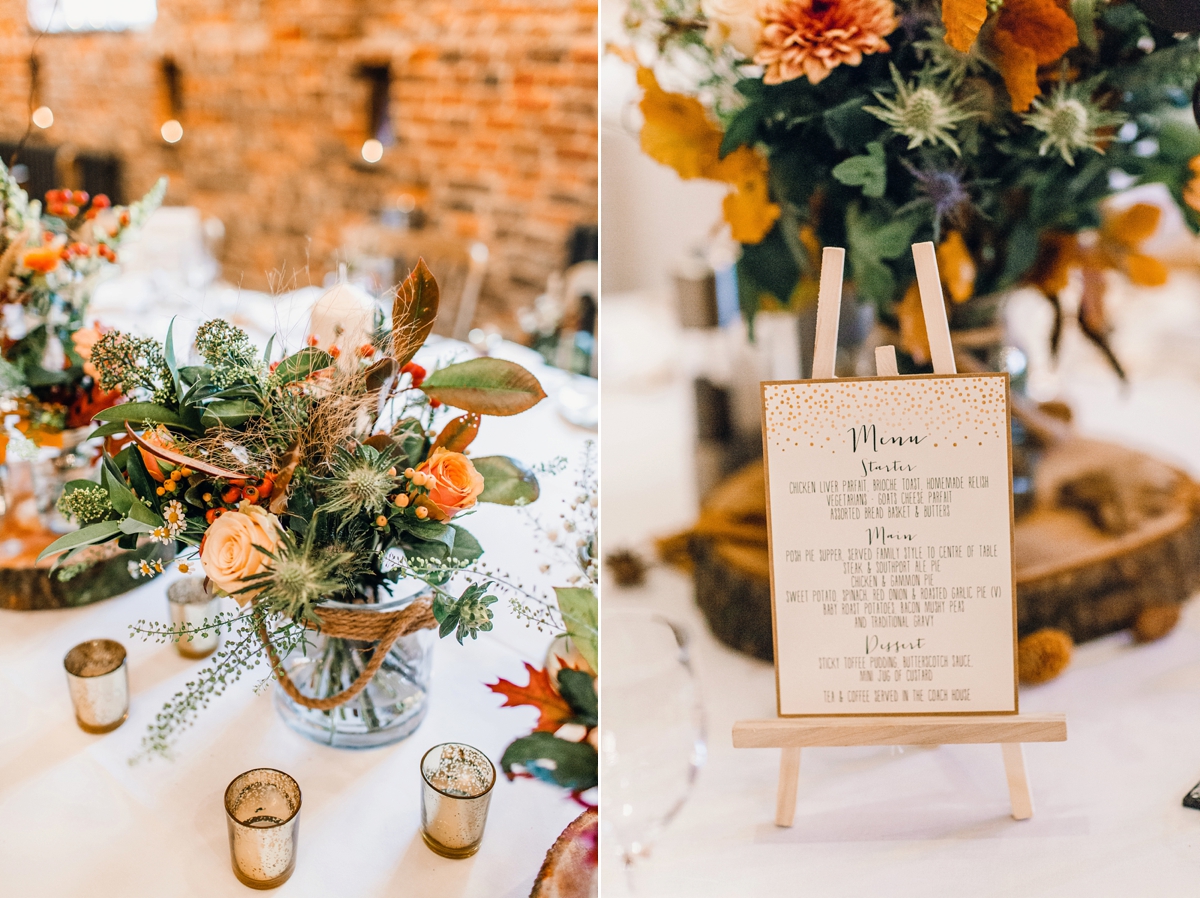 The wedding favours continued the rustic vibe; mini chutneys from Sarah's Feisty Flavours and mini jar candles.
"I added twine and kraft tags to them all and used them as name places and added a personalised sticker with our names and date."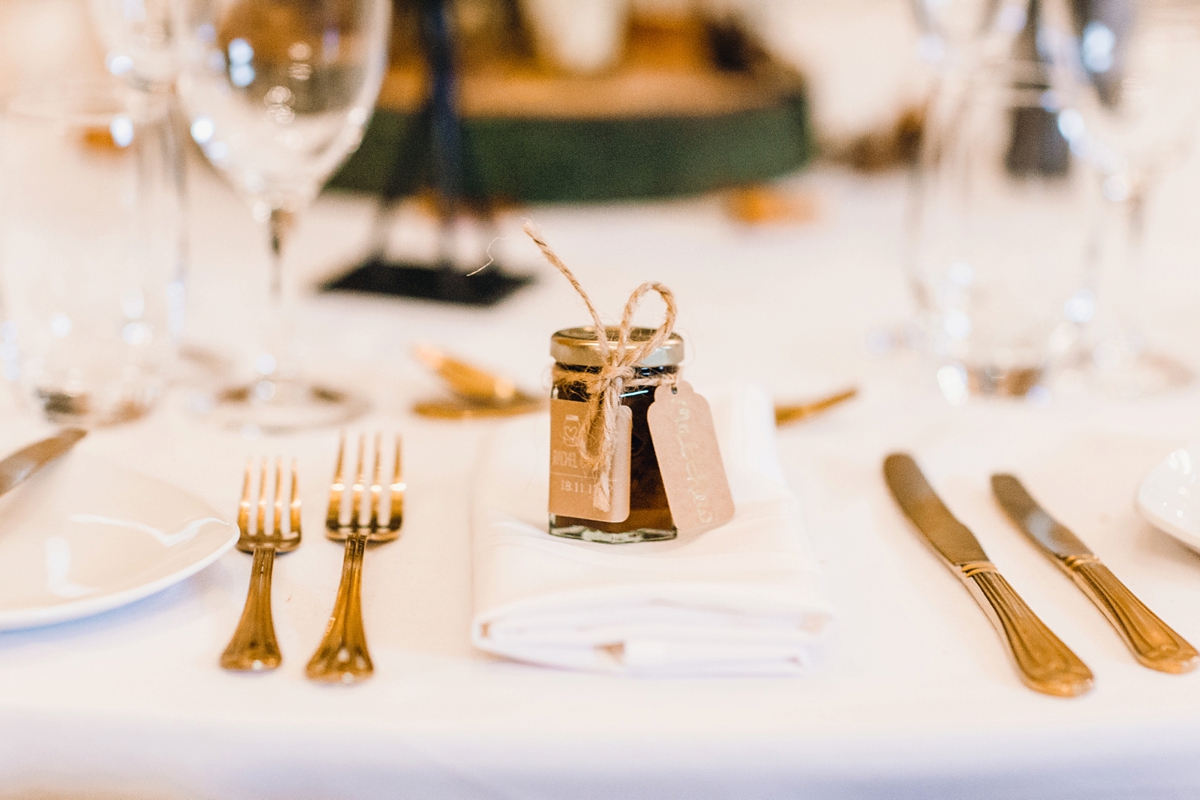 Sometimes less really is more, and that's definitely the case for Rachel and Al's wedding cake. Decorated simply with raffia ribbon and dainty orange flowers and foliage, it sounds absolutely divine.
"The cake was a three-tier cake with a plasterwork effect buttercream which I chose to add to the rustic theme. The tiers were coconut sponge with lime curd and coconut buttercream, toffee sponge with dulce de leche buttercream and coffee sponge with chocolate fudge filling."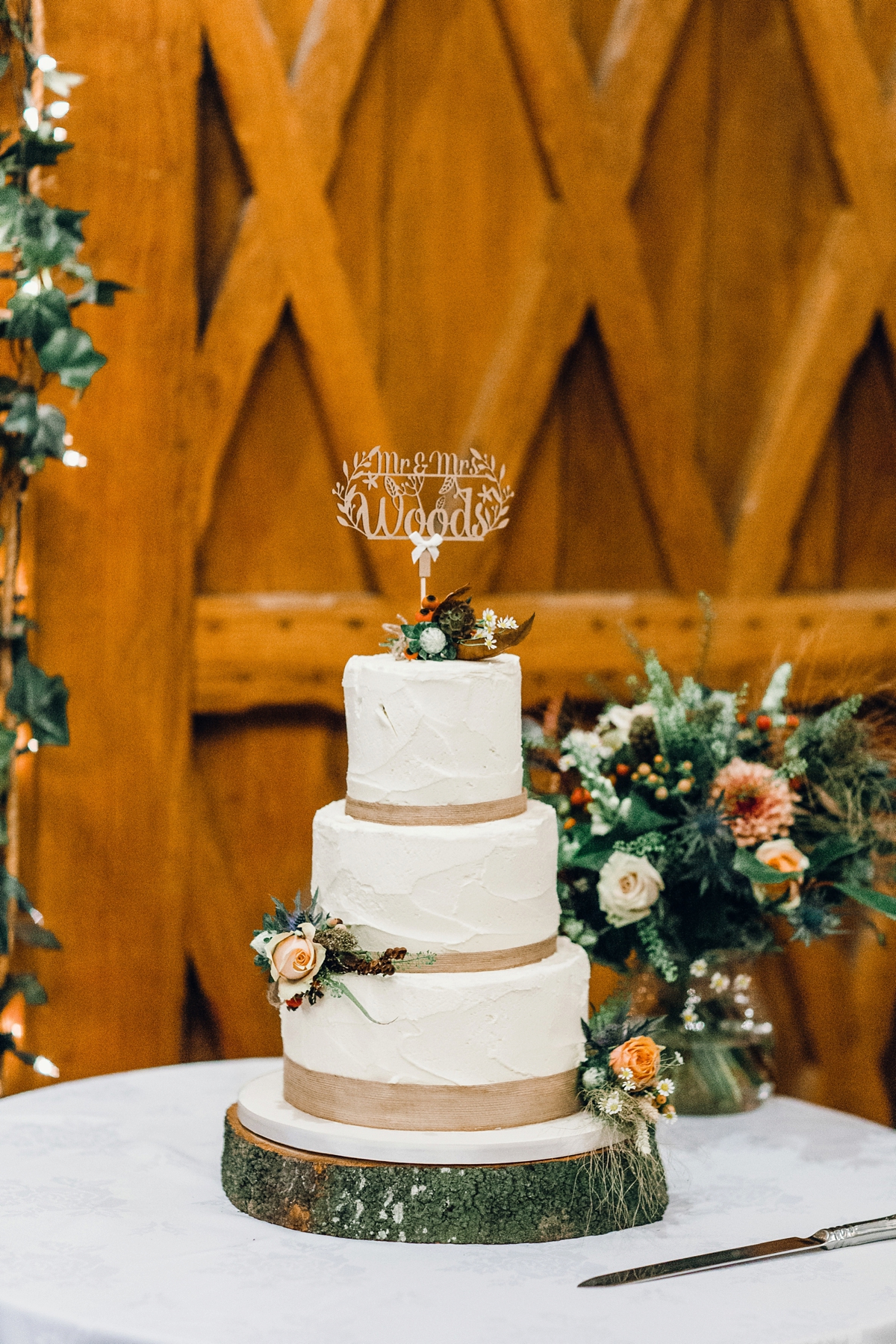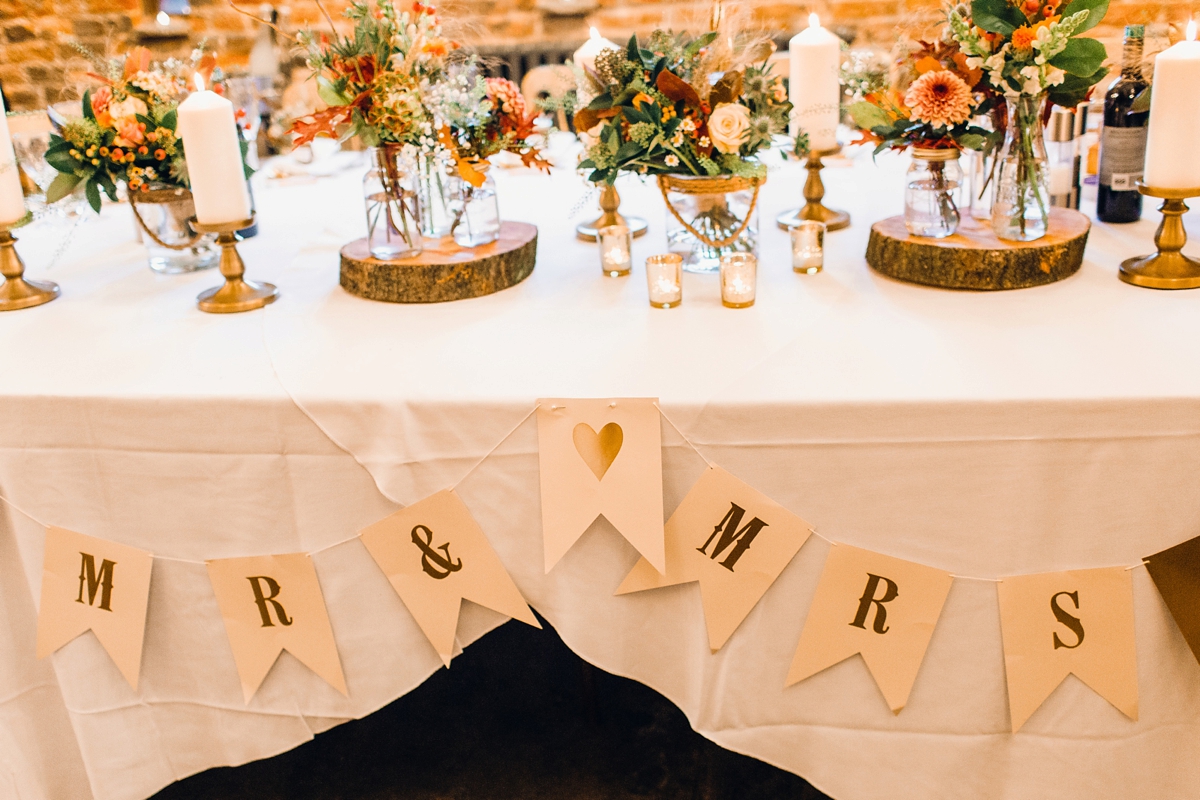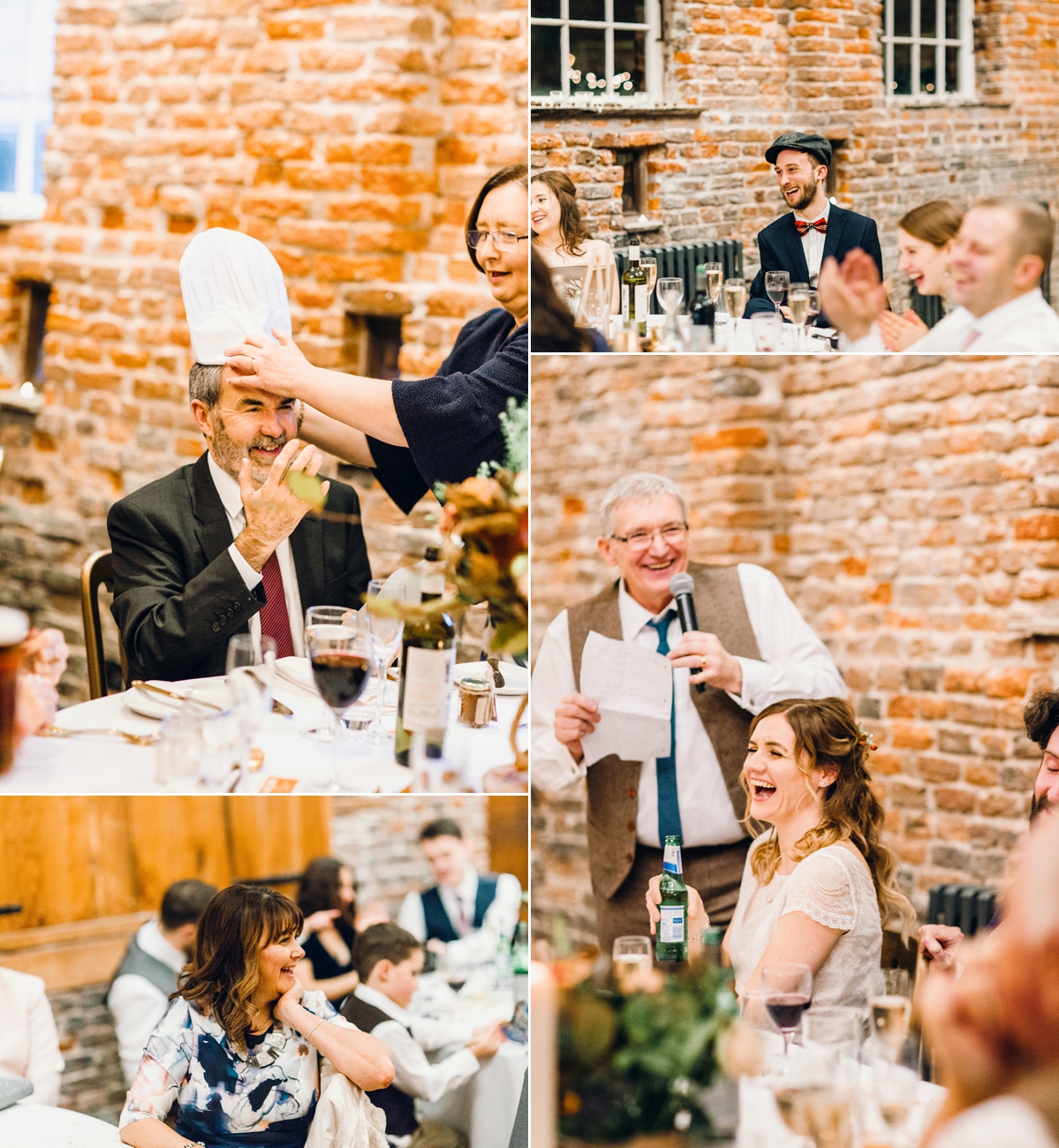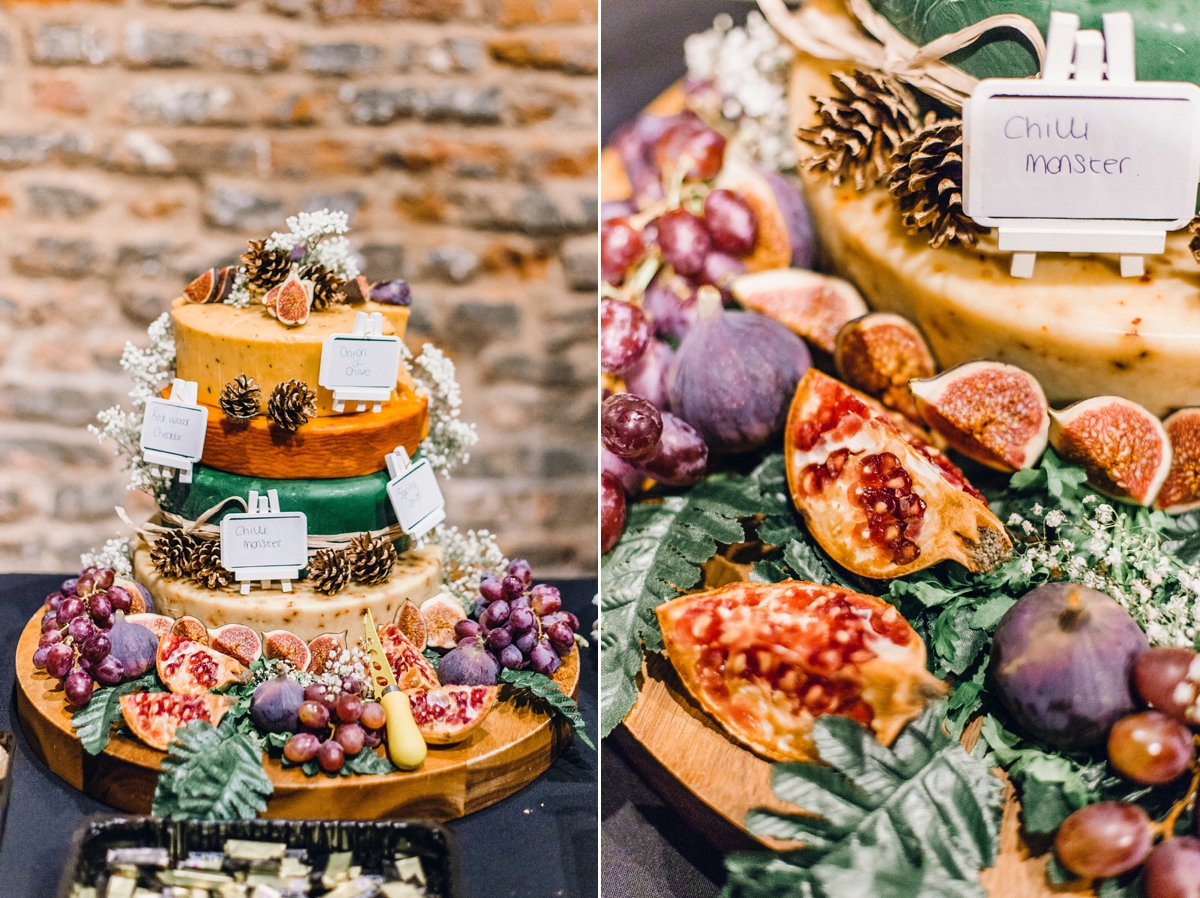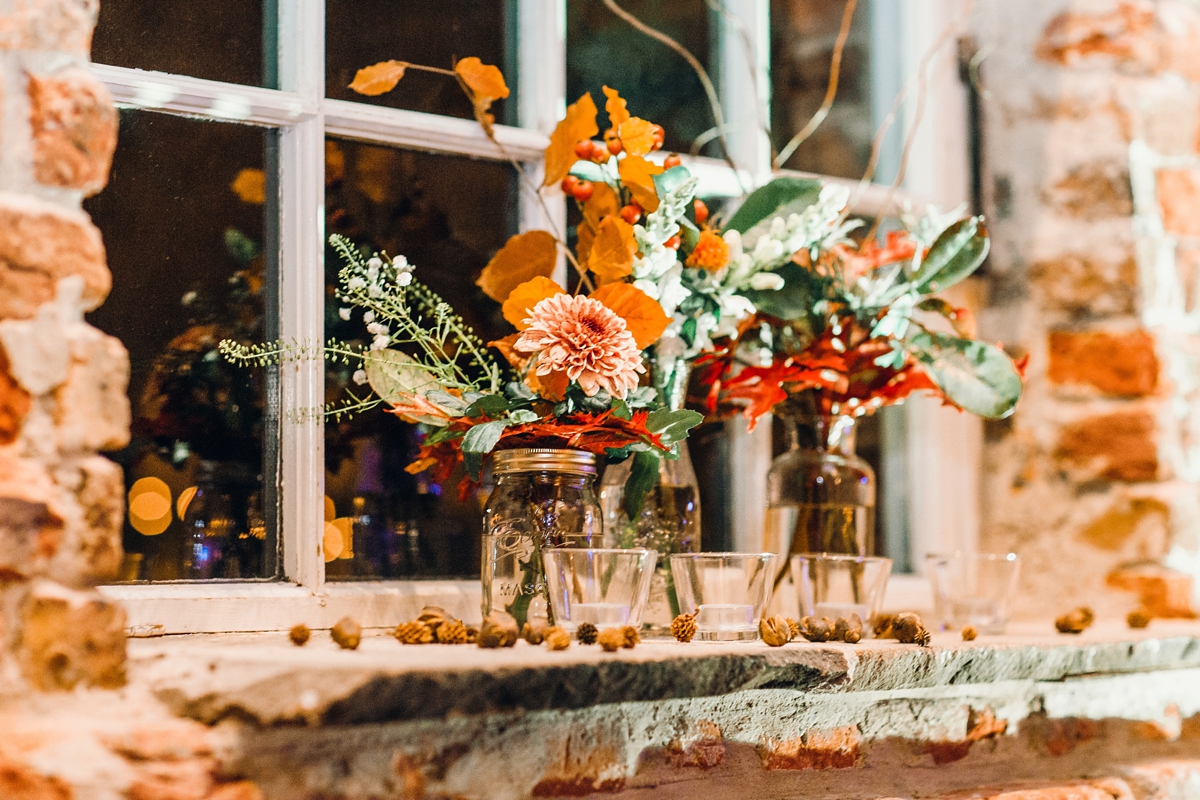 As dusk fell, the party got started with lots of entertainment for the couple's friends and family.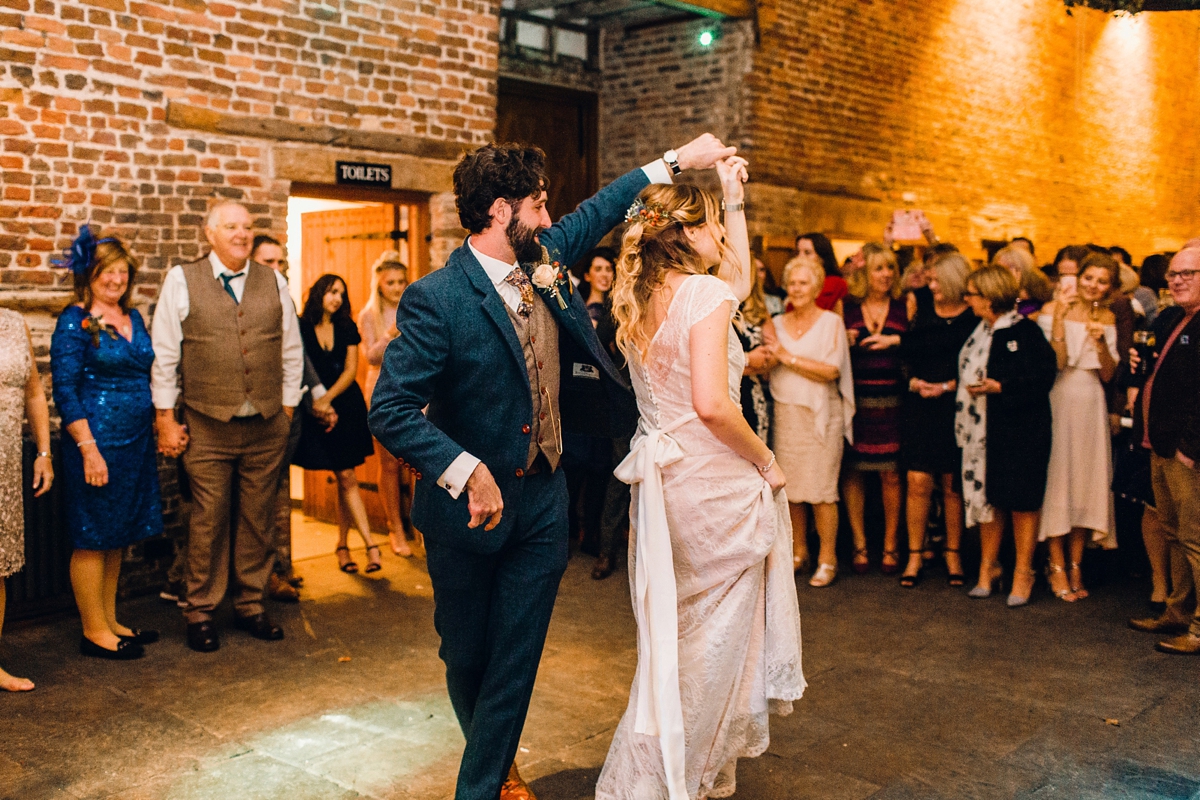 As well as the Campervan photo booth, there was a DJ from Bear Hug Events who provided a vintage white picket fence DJ booth, and got everyone on to the dance floor after the newly-weds' first dance to 'There She Goes' by The La's.
"We honestly couldn't choose one favourite part or would have changed a thing. Everything went perfectly and coordinated so well."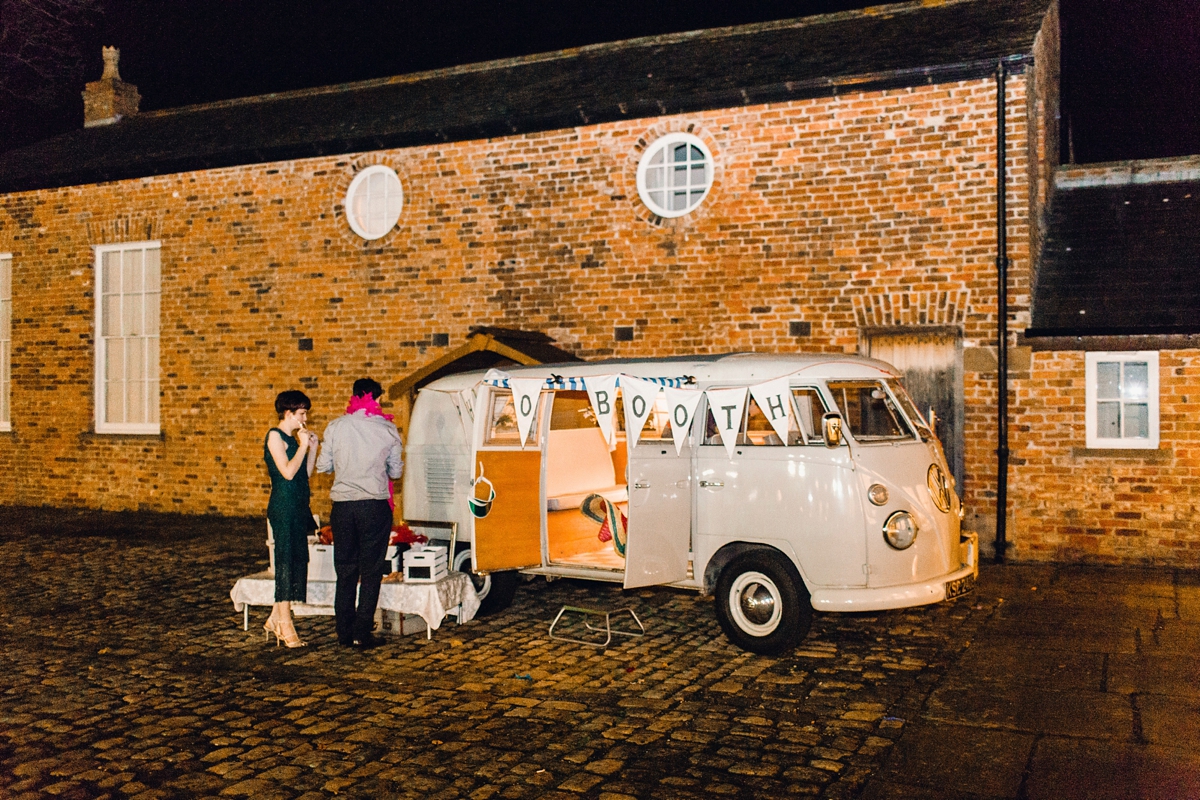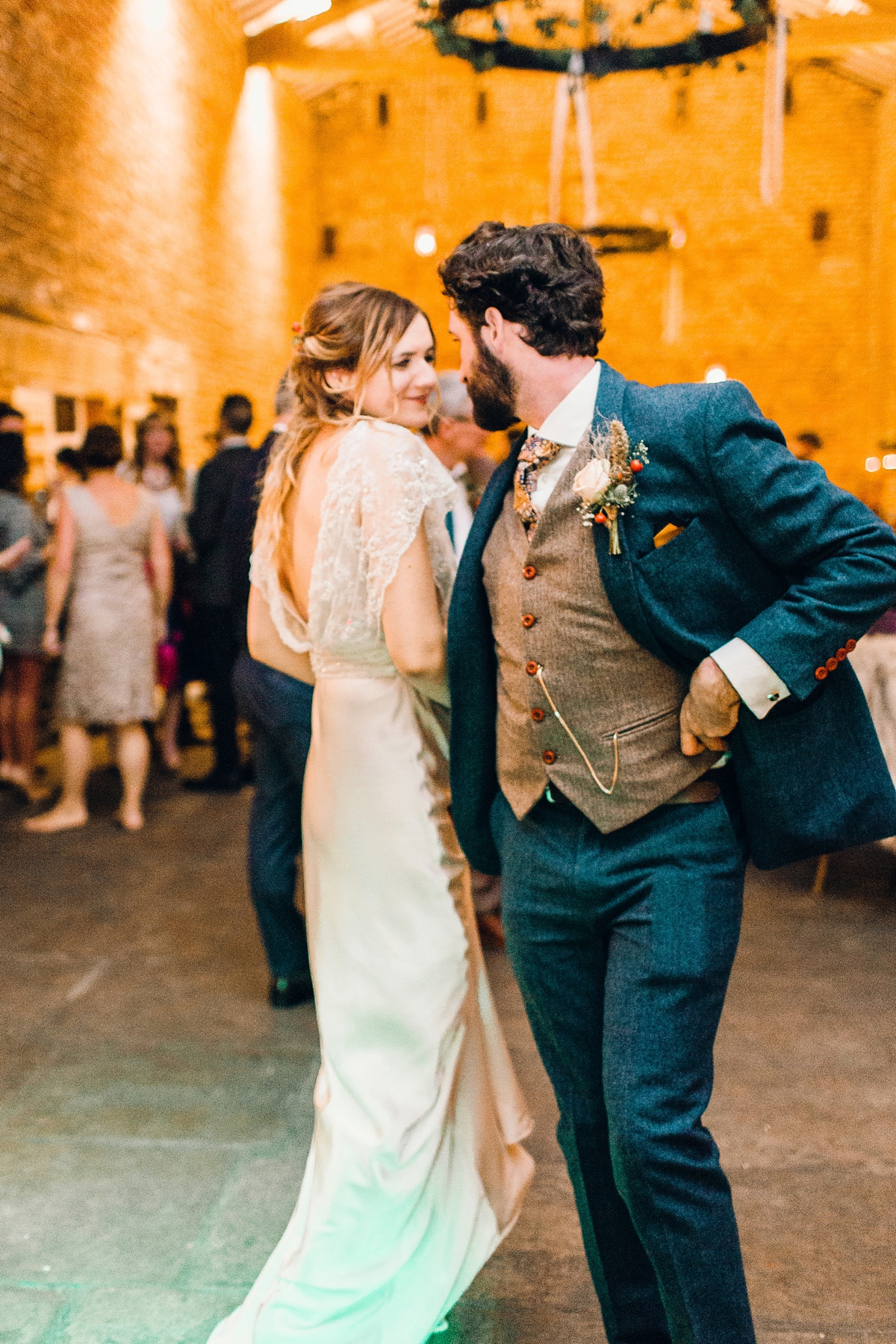 I do hope that this beautiful celebration has put you in the mood for autumn, as well as giving you some ideas and inspiration for styling your own seasonal day. I love the rustic touches and how Rachel chose bridal separates so she could alter her look for the evening party. Thank you so much, and many congratulations, Rachel and Al. Thank you of course to Jessica Reeve Photography for these breathtaking photographs. If you're planning a October or November wedding and want even more autumnal inspiration, there are lots of weddings for you to enjoy on Love My Dress here.
Ele xx