Good afternoon lovely ones! We're treating you to a proper fest of wedding inspiration today with three articles including this wedding we shared this morning featuring a bride in a deco-inspired Badgley Miscka gown, and this bridal fashion editorial sent in by the wonderful Jean Jackson Couture of Manchester, featuring Rue de Seine gowns.
This afternoon however lovely ones, we're escorting you over to the Coos Cathedral in Aboyne Castle Estate, Aboyne, Scotland, where Rebecca and Liam tied the know on 2nd June this year.  Rebecca works at a tech start-up and Laim, a Dr, wanted an informal and unfussy day that would incorporate some Norwegian traditions. Rebecca shares their reasons why…
"We got engaged in Norway on the 17th May 2016, which is the Norwegian Constitution Day. I am half Norwegian and lived in Norway for 5 years when I was younger. My grandparents have a wonderful big house on the water outside of Oslo, and we visit most summers."
Film – Forever Visuals
"I had invited a bunch of my friends from University to come to Norway with us to celebrate, as it's a huge national holiday and is really fun to celebrate in Oslo in particular – all the schoolchildren walk up the streets in their classes, dressed in National costume, waving flags and singing songs, and you can walk up to the palace where the Royal Family stand and wave at the crowd for hours! Everyone is dressed up, there's lots of food and drinking and partying, and it's just a great day."
Photographer – Colin Ross Photography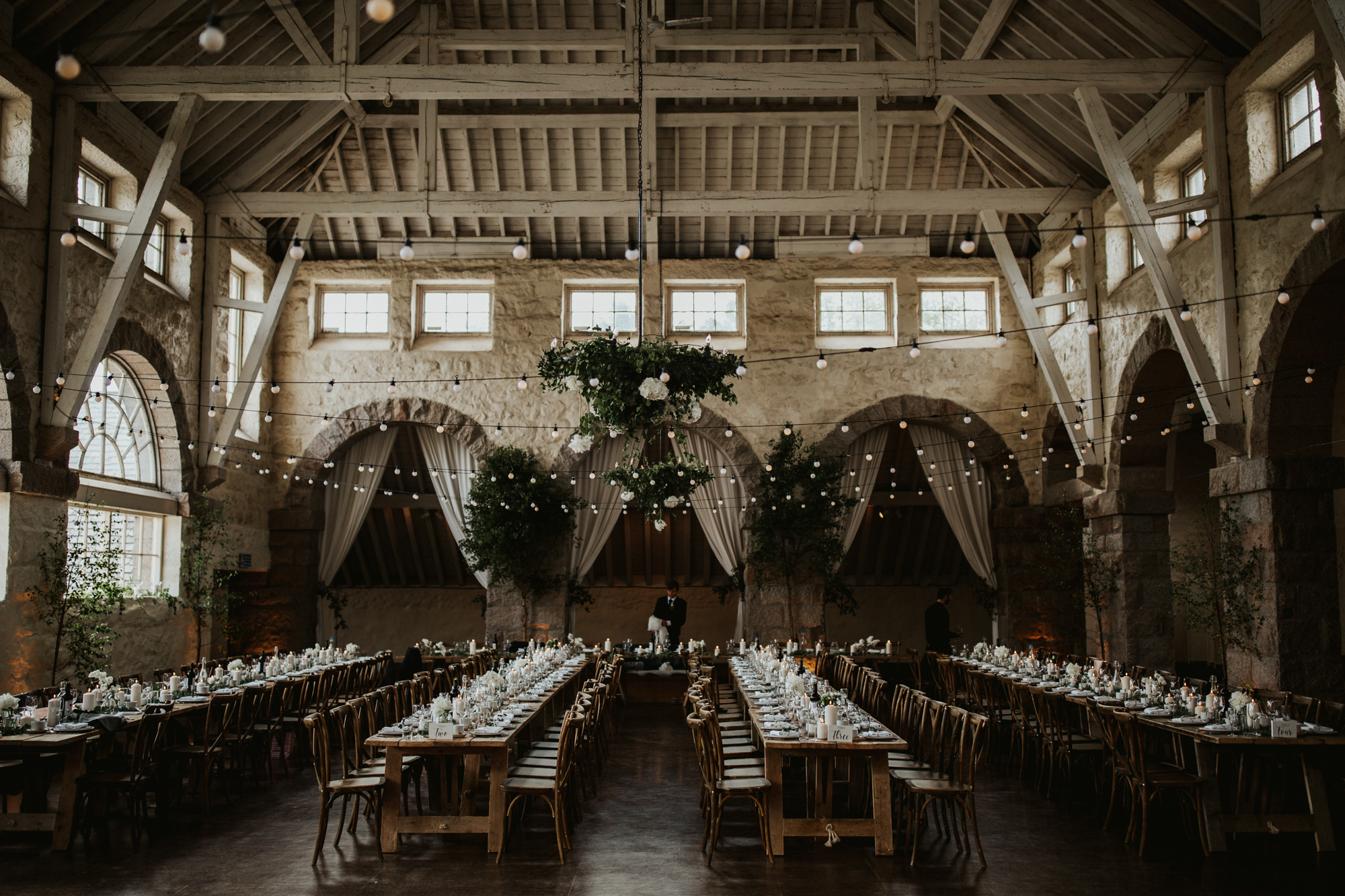 "Unbeknownst to me, Liam had planned to propose on the special day, so I had ruined his plans of a low-key proposal with inviting everyone (oops!) – but, actually, it was so amazing having our friends, my brother and my grandparents there with us to celebrate."
"We bought all our stationery from FeelGood Invites who I found on Etsy and are based in Wales. They were amazing to work with and helped us create something completely bespoke for us. We chose thick white card, with black calligraphy and a simple grey wreath design. They created our save the dates, invites, menus, table plans and orders of service. My cousin and I picked up an old gold frame from a local charity shop the day before the wedding, removed the glass and painting inside, pinned a couple of lines on string to the back of the frame, and then used mini pegs to clip on the table plans. Super simple and it looks great!"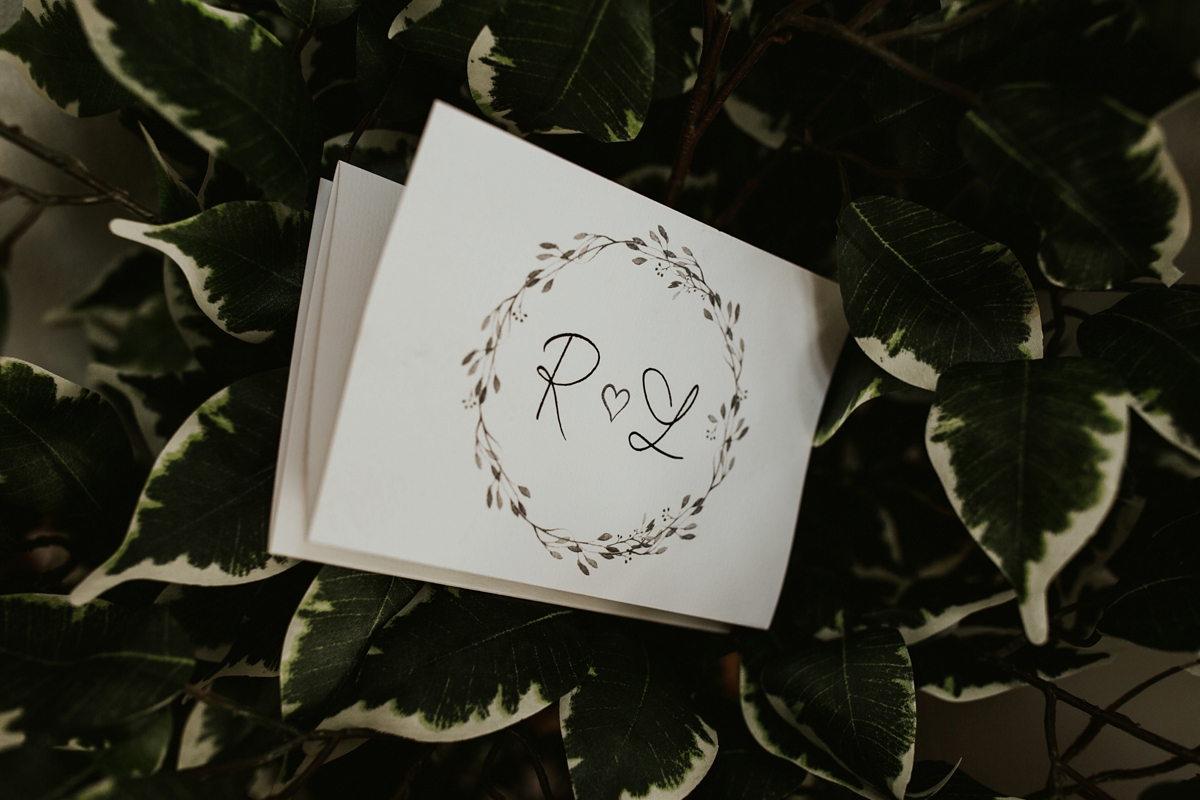 "I don't wear a lot of makeup so Natalie Fearnely was great at creating a natural look I was comfortable with. Aimee created relaxed curls and pinned half my hair up to pin my veil and flower clip into. They were both so relaxed and it was great getting ready with them. We watched wedding movies on Netflix while we were getting ready!"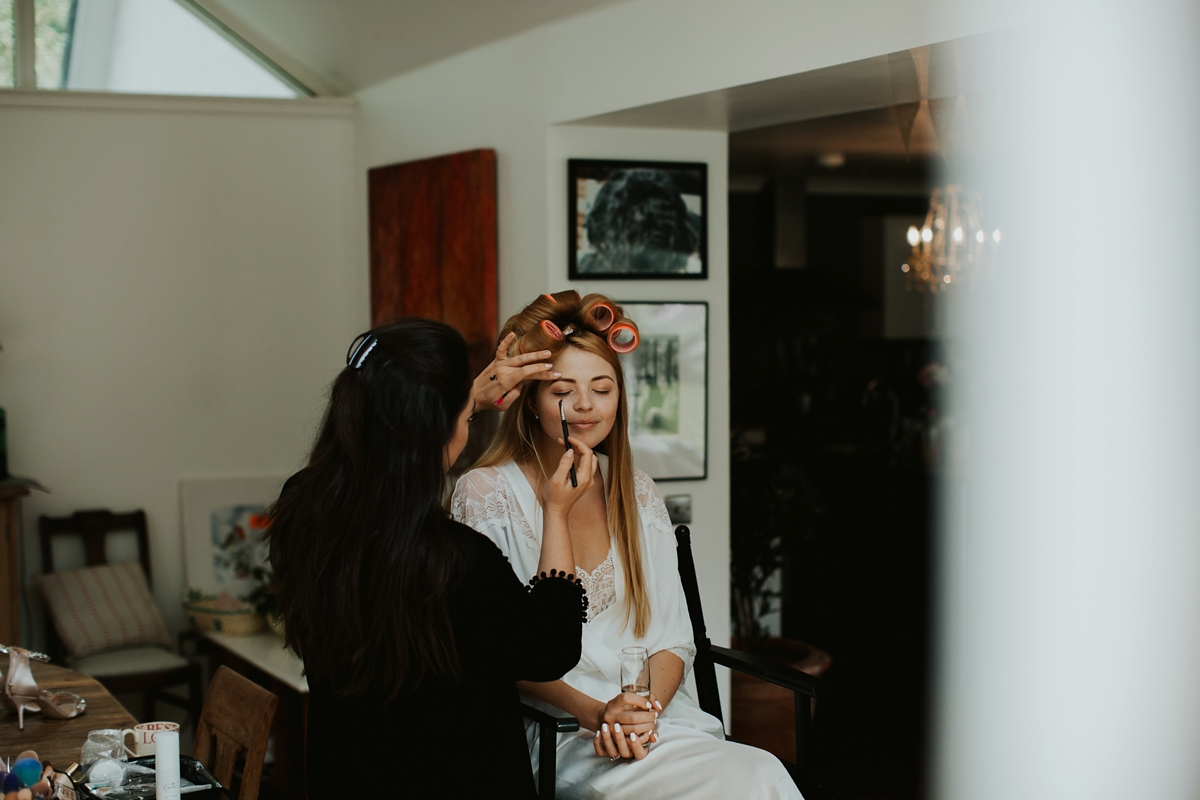 "I'm not keen on white or typically 'bridal' shoes, so I was looking in the nude and silver category. I ended up ordering a pair from Badgley Mishka which were nude and had embellishment on the straps. They were perfect. I also bought a matching pair of embellished sandals to change into later for ceilidh dancing."
"I didn't think I wanted a veil and toyed with the idea of a flower crown for a long time (my florist made one for me to wear in the evening, but I completely forgot about it on the night and found it the next morning when we were clearing up – oops!). I was speaking to my friend Nicole and said I only wanted to wear a veil for the ceremony so it seemed like a big expense for an hour – so she offered me her veil as my something borrowed. It is a beautifully simple cathedral length veil. I'm so glad I wore it, because there really is something special about putting on a veil that makes you feel like a bride. I actually ended up wearing it most of the day until just before our first dance."
"My florist made me a beautiful fresh flower clip, with eucalyptus and white flowers to match my bouquet. It was clipped in above my veil."
"Jill of Hays Flowers knows my mother-in-law, but I had also followed her Instagram page for a long time and loved her work. I knew I wanted only white flowers, and I asked Jill to create big, relaxed bouquets with hydrangeas, peonies and roses, with lots of eucalyptus, tied with long silk ribbon. Jill made beautiful button holes and corsages for the groomsmen, our parents and grandparents. She also created amazing floral arrangements to hang from the chandeliers."
[JP-VIDEO]
"I wanted to keep the tables simple with more eucalyptus branches and glass vases filled with white peonies, hydrangeas, and also my favourite white lilac which Jill came and cut from my mum's tree in the garden. She also put some in my wedding bouquet. Jill provided the large birch trees for on the stage and behind the top table. The other 10 smaller potted birch trees against the walls were bought by my parents and have now been planted in their garden, and in Liam's parents garden. We may try and dig one up for our garden once we have one!"
"Liam and I got together in school when we were both 16, we're high school sweethearts. Liam was the year above me and friends with my older brother which is how I got to know him. I asked Liam to help tutor me in Biology, and here we are, almost 10 years later! Liam moved down to Glasgow for University while I finished my last year at school, and then I moved to Glasgow for University too. We moved into our first flat together in 2013."
"Before we got engaged, we had decided we wanted an adventure, having both gone straight to University after school, and then straight into full-time work. We decided on Australia, Liam was offered a job, and we were set to move in August."
Once engaged, we knew it would be difficult to plan a wedding from the other side of the world, so we decided to quickly book some of the main things before we left and would do everything else by email. The first thing was obviously booking the venue."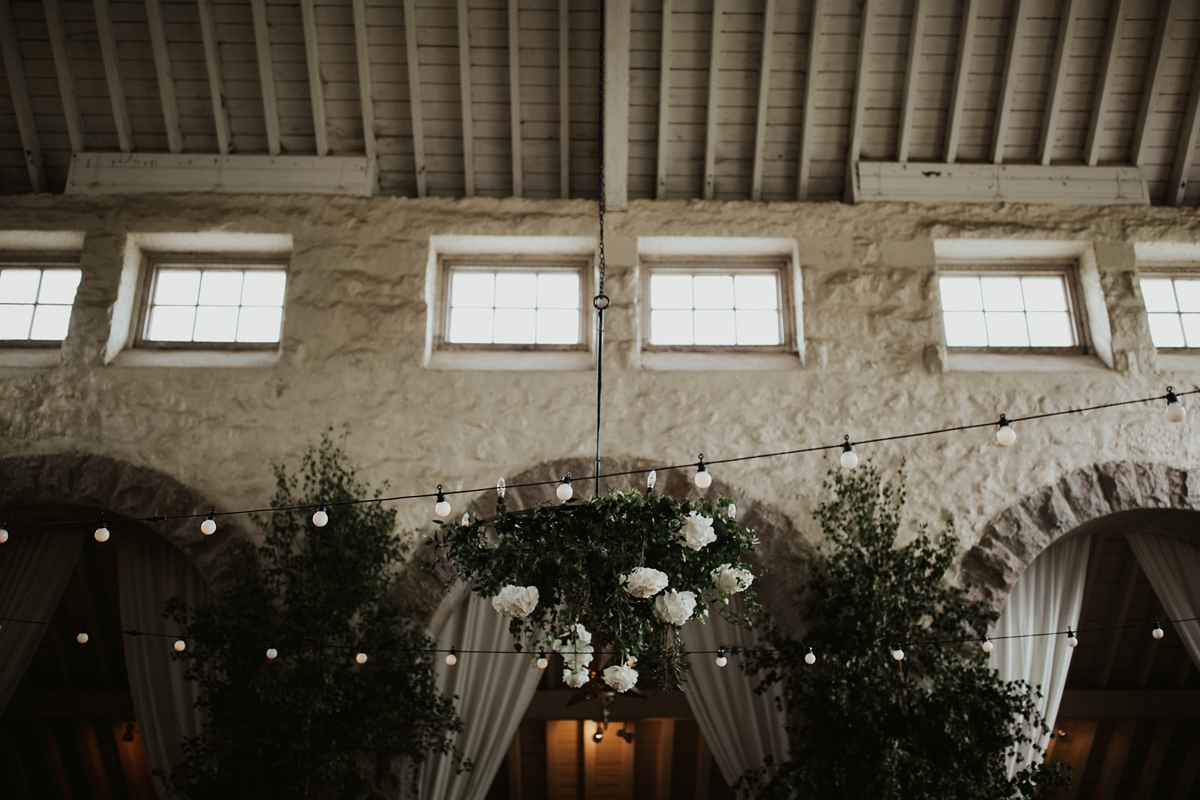 "We decided to get married in Aberdeenshire as that is where we both grew up, met, and our parents still live there. I had seen photographs of the Coos' Cathedral from the wedding of a friend-of-a-friend, and loved that it was set in the grounds of beautiful Aboyne Castle and surrounded by hills."
"Inside, I loved the high ceilings and wooden beams, and, crucially, that you rented the empty space and had to bring in everything yourself; so our wedding could be exactly as we wanted. We went to see Coos with our mums the week before we left for Australia and all agreed it was perfect. I had booked to see another couple of venues but cancelled our appointments after seeing Coos."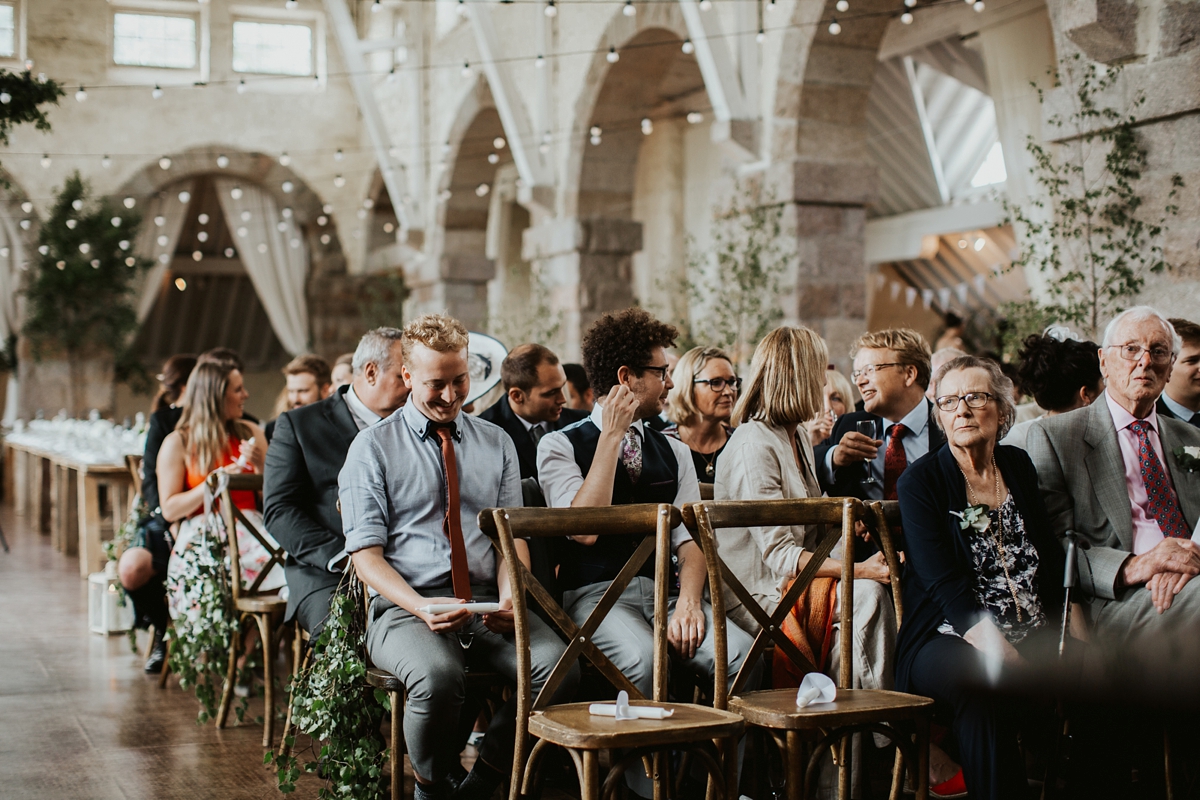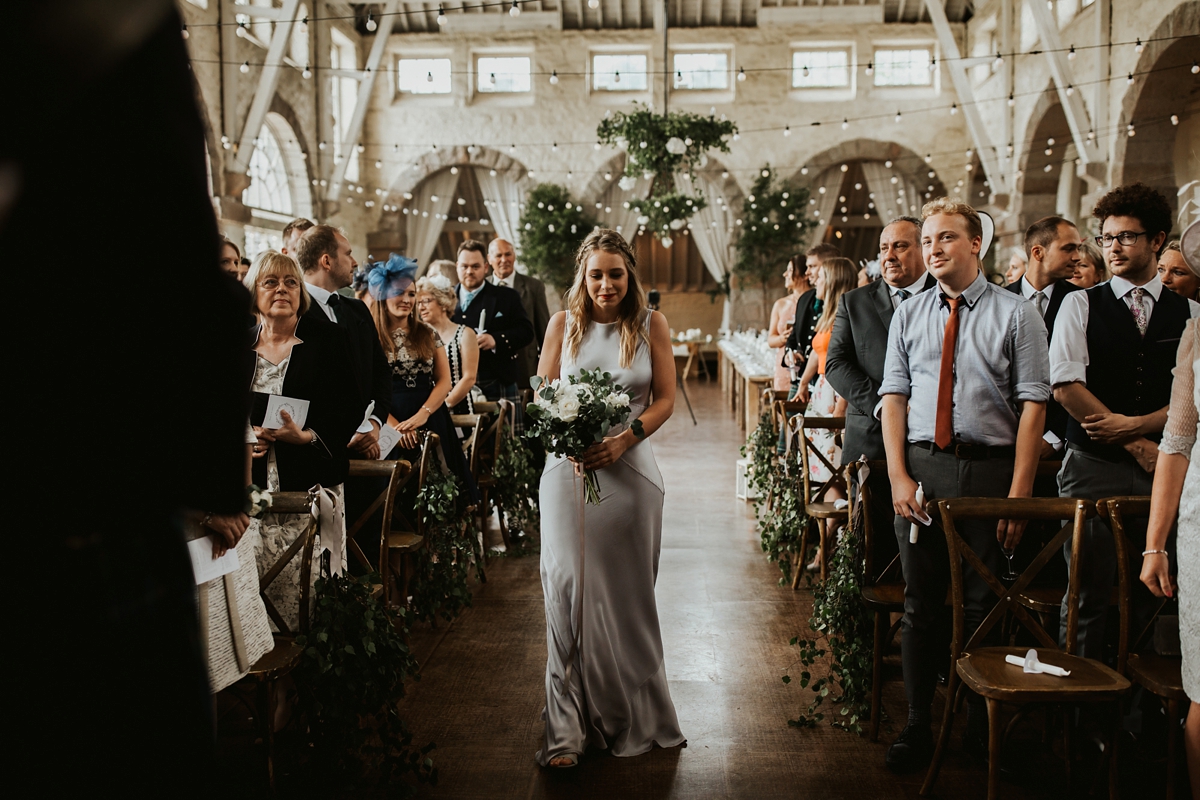 " My dad walked me down the aisle to the sound of 'How Long Will I Love You' by Jon Boden, Sam Sweeney and Ben Coleman (not the Ellie Goulding version!)"
"Liam and I wrote our own vows in secret the week before the wedding. Neither of us are religious, which meant we could have more fun with our ceremony. Guests arrived and had some drinks prior to the ceremony starting. My brother Daniel then kicked things off talking a bit about me and Liam. We had initially planned for him to conduct the entire ceremony, but weren't organised enough to sort out the legal side of that."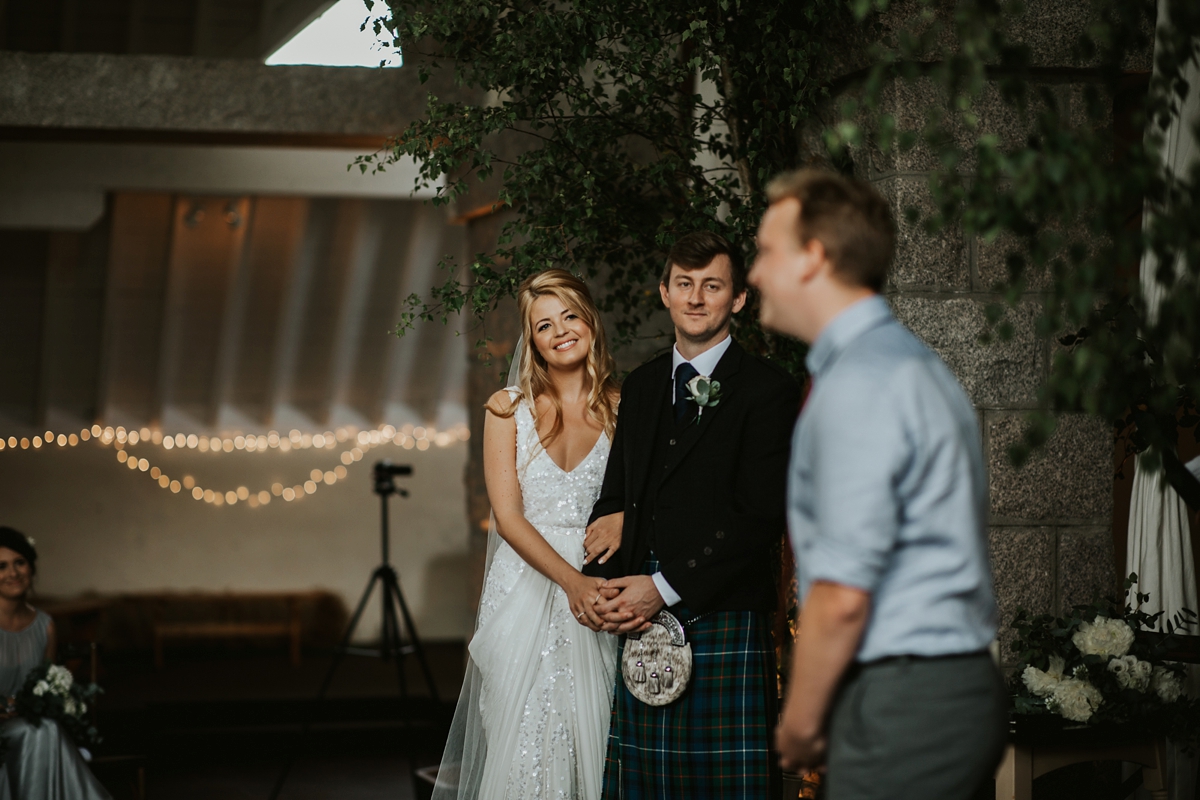 "Our friends Brian and Colin read the poem 'Oh, the Places You'll Go' by Dr Seuss. We shortened it, and they took it in turn to read a few lines at a time. It is about entering a new chapter in your life and it was fun and different. My cousin Joe sang a beautiful acoustic version of Snow Patrol's 'Just Say Yes' with the band which brought a lot of us to tears! Our friend Ashlee then read 'Union' by Robert Fulghum just before we said our vows. I came across this poem when searching for wedding registrars, and found it really moving, and really connected with the words, and Liam agreed. This section, in particular, resonated with us;
All of those conversations that were held in a car, or over a meal, or during long walks – all those conversations that began with, "When we're married", and continued with "I will" and "you will" and "we will" – all those late night talks that included "someday" and "somehow" and "maybe" – and all those promises that are unspoken matters of the heart. All these common things, and more, are the real process of a wedding. The symbolic vows that you are about to make are a way of saying to one another, "You know all those things that we've promised, and hoped, and dreamed – well, I meant it all, every word.
Readers, you will find both readings chosen by Rebecca and Liam in our Wedding Readings resource.
"Liam and I wrote our own vows in secret the week before the wedding. We also repeated ring vows when exchanging our rings."
"Liam wore his own kilt and rented a charcoal grey jacket from Slaters in Aberdeen. The boys rented kilts in the same tartan to match – none of the boys live in the same city, but were able to go into any Slaters branch and have their measurements done and put on Liam's order. My brother Daniel prefers wearing a suit to a kilt, so he wore a navy suit and I had a tartan tie and handkerchief made for him to wear. Our dad's both wore grey morning suits and had tartan waistcoats made to match Liam's kilt too."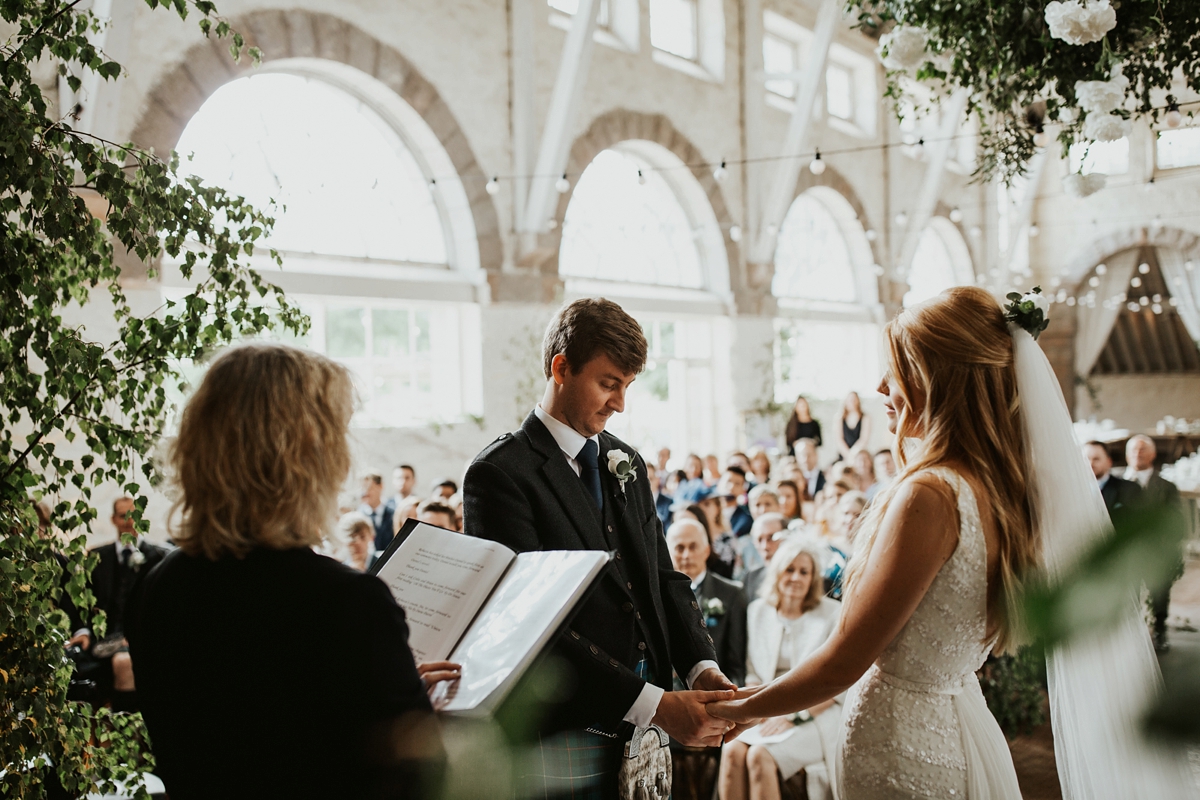 "We visited Argyle Arcade in Glasgow to buy our rings, which is where Liam bought my engagement ring. It is a cobbled indoor avenue with jewellers on both sides. I wanted a delicate, antique design – something that would be pretty on its own if I wasn't wearing my engagement ring – and had been coveting an art deco 'bead and eye' design ring. I ended up choosing a platinum and diamond half-eternity ring, with just the marquise 'eye' shaped design, as I preferred the simpler pattern."
"Liam picked a palladium ring which has a brushed look, so isn't too shiny (which he didn't like!), with two shinier rings cut into it. I ordered an ivory velvet double ring box from The Mrs Box, with our new initials, CS, engraved in silver, to carry the rings. This matches the box I bought for my engagement ring the year before."
"All of the guests had been given candlesticks before the ceremony and, while we were signing the register, our friends Helen and Nicole lit the candles of the guests sat at the ends of the aisles, who passed on the flame until everyone's candle was lit. Our mums then joined us on the stage and lit the outer candles on the table. Liam and I then lit our unity candle from those two flames. It was beautiful with all the candles lit and we let the unity candle burn all night."
"Our Registrar ended the ceremony by saying a sweet Celtic blessing; 'May you have walls for the wind, 
And a roof for the rain,
And drinks beside the fire -
Laughter to cheer you
And those you love near you,
And all that your heart may desire.' We then ran back up the aisle to Little Talks – Of Monsters and Men!"
"The only thing you can't do by email is choose your dress, so I needed to get my wedding dress in Australia. One of my friends sent me a link to a new bridal shop which had opened near our place in Maroochydore, called Sphere Collective, so I made an appointment to try on some dresses. The shop was a dream – white walls, marble floors, gold rails, sheepskin rugs, with candles lit and chilled music playing."
"Sarah only had about 15 dresses in the shop, all from Australian designers. I knew I wanted something simple and modern, and I ended up buying the second dress I tried on, Aster from the KWH range by Australian designer Karen Willis Holmess. It was form fitting, simple, sleeveless with a deep V in the front and back – but covered in delicate sequins, and it kicked out at the back to reveal a georgette silk train."
"I ordered the confetti cones from Biodegradable Confetti, which had dried flower petals, and came printed with our initials and wedding date on them."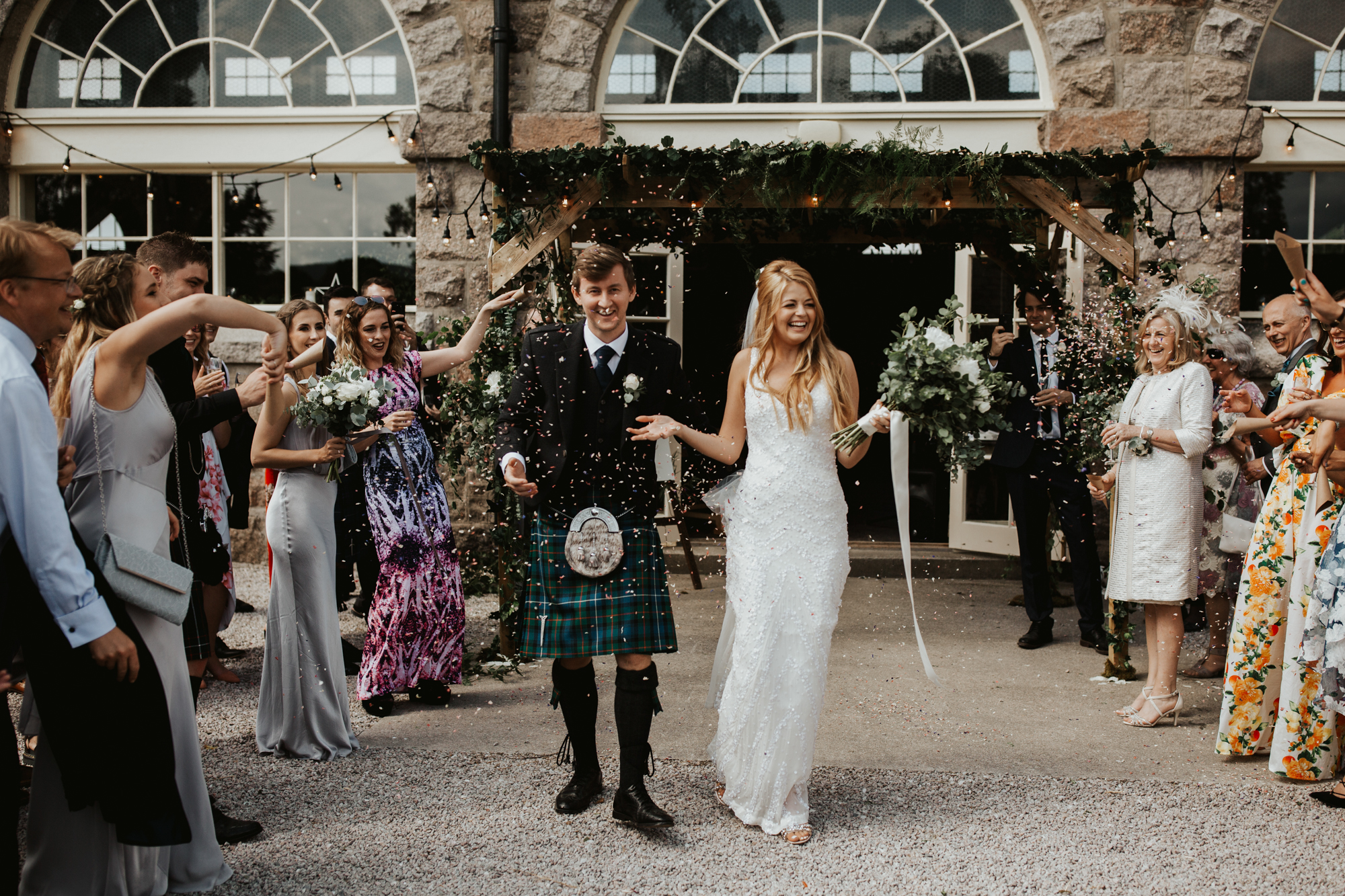 "After the ceremony, before dinner, there was a drinks reception outside. We had laid out picnic blankets so that everyone could relax in the *sun* which we hadn't dared hope for looking at the weather forecast! There were smørbrød (Scandinavian open sandwiches) going around and lawn games laid out, including Kubbe spill, which is a great Viking game where you basically throw sticks of wood at the other team's bits of wood and try and knock them over, and then go for the middle 'king'."
"Liam and I disappeared off in our VW campervan wedding car to take photographs at the nearby Aboyne Castle and grounds during this, and then came back to a confetti line afterwards."
"There were also several overskirts to try with the dress, which could be removed later to have a second look. Although tempted by the full princess skirt, I went for an elegant and simple skirt in the same silk as the train on the back of the dress to wear during the ceremony. I didn't have the 'this is the dress' moment when I tried on the dress – I liked all the dresses I tried on – but I kept thinking about it after I left, and comparing other dresses to it."
"When I called to order it and they said there was only one left and it would need to be sent from Sydney, I knew from the feeling of relief that I could get it that I had picked the right one! My best woman, Hazel, came to visit me in Australia and saw me in it before I bought the dress! I brought the dress back in my hand luggage case!"
"As my dress was so embellished I wanted to keep everything else simple. I didn't wear a necklace or bracelet. I borrowed my mum's diamond eternity band which I wore on my right hand, as my something old. I don't like dangly earrings but wanted to wear something different than my usual pearl studs, so I bought a pair of antique looking marquise diamond studs from notonthehighstreet which matches my engagement and wedding rings."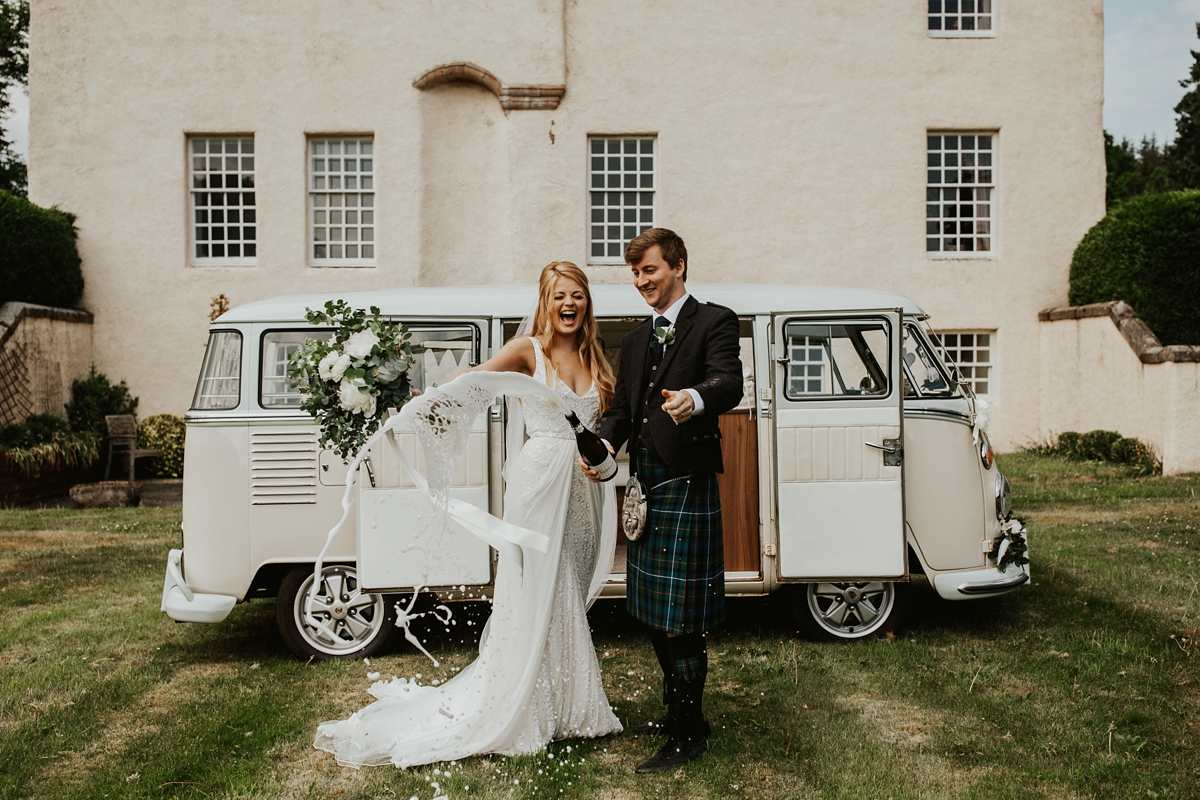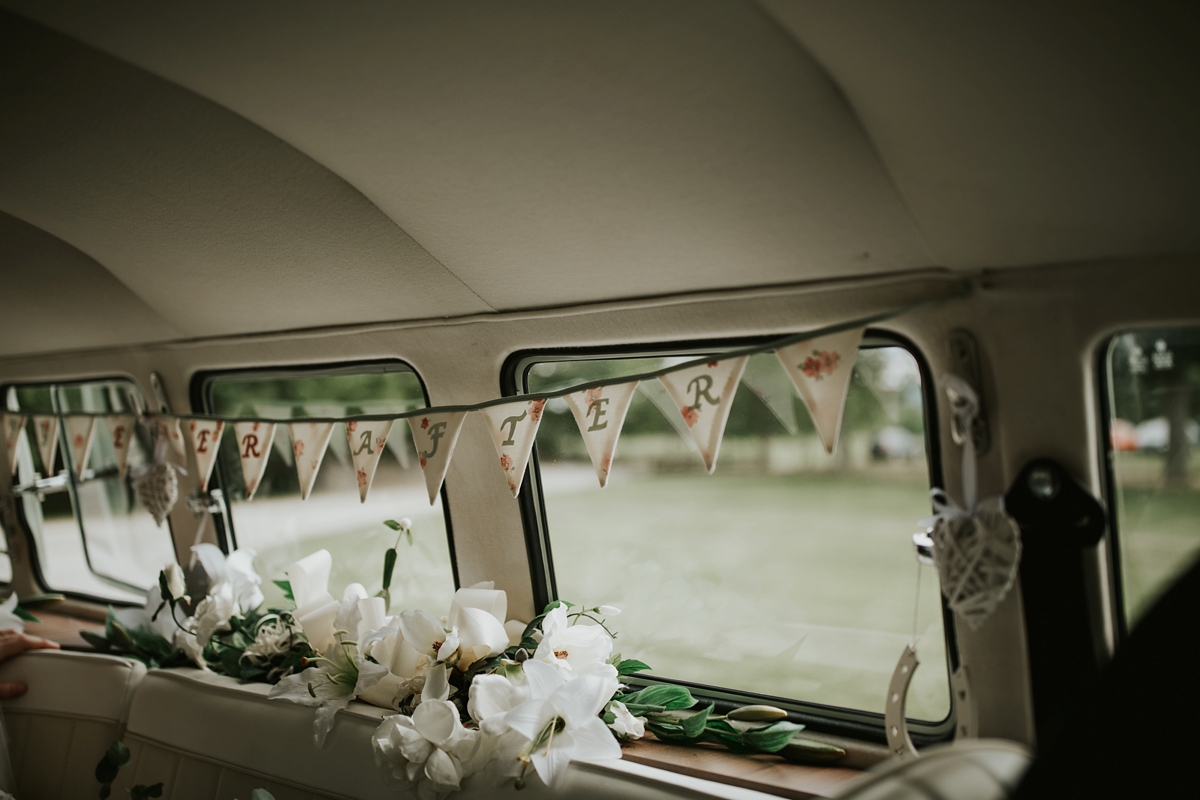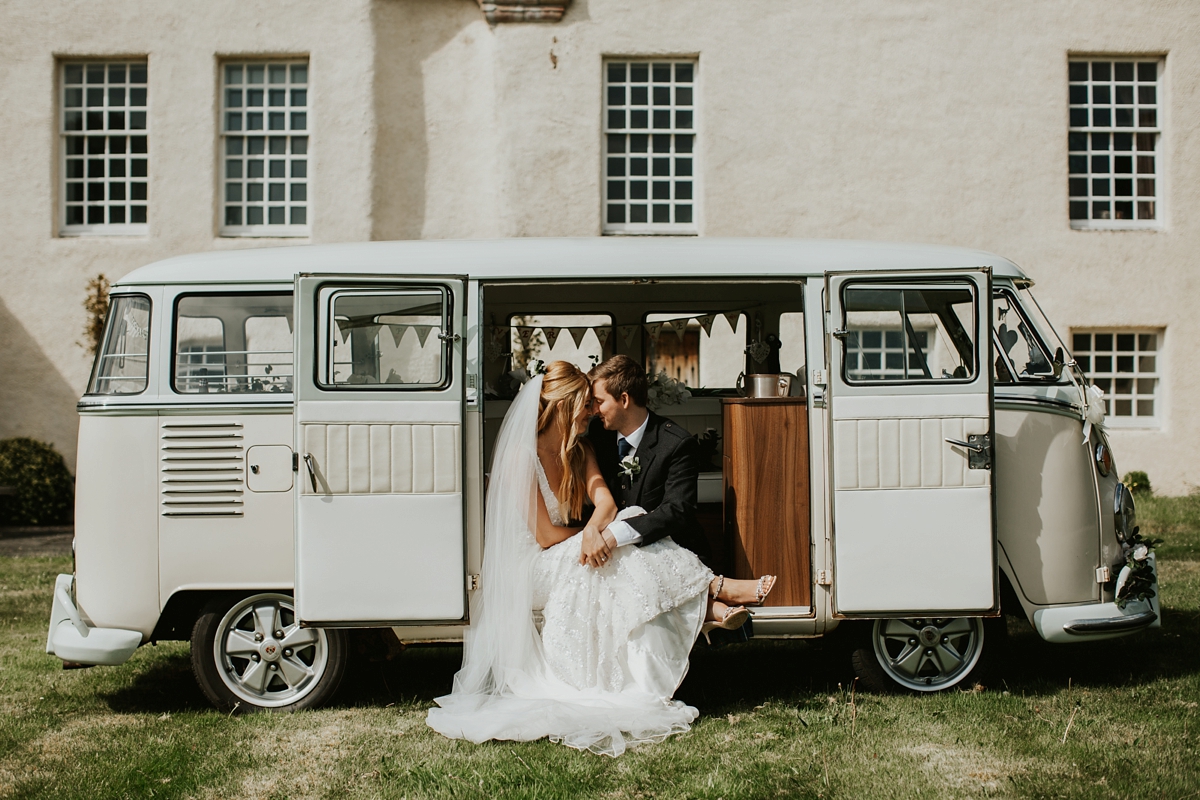 "I had read in previous wedding blogs about the value of choosing a new 'wedding scent', which would remind you of the day whenever you wore it. I loved this idea, so booked us in for a 'Wedding scent experience' at Jo Malone, which I would highly recommend. We were treated to champagne and hand massages while we smelt the gorgeous scents, and it was a lovely break from all the wedmin we had to do in the lead up to our big day."
"We actually went on the day of the royal wedding, so I had the ceremony playing on my phone while we were there so we could all watch! I chose Red Roses and Liam chose Sea Salt and Wood Sage, and we got the bottle tops engraved with our new initials."
The couple hired photographer Colin Ross to document their day so beautifully….
"We wanted relaxed and natural wedding photographs, and on the day we wanted to just run away for twenty minutes to take photos, explore the castle grounds, drink a glass of prosecco together and then get back to the party! We couldn't have chosen a better photographer."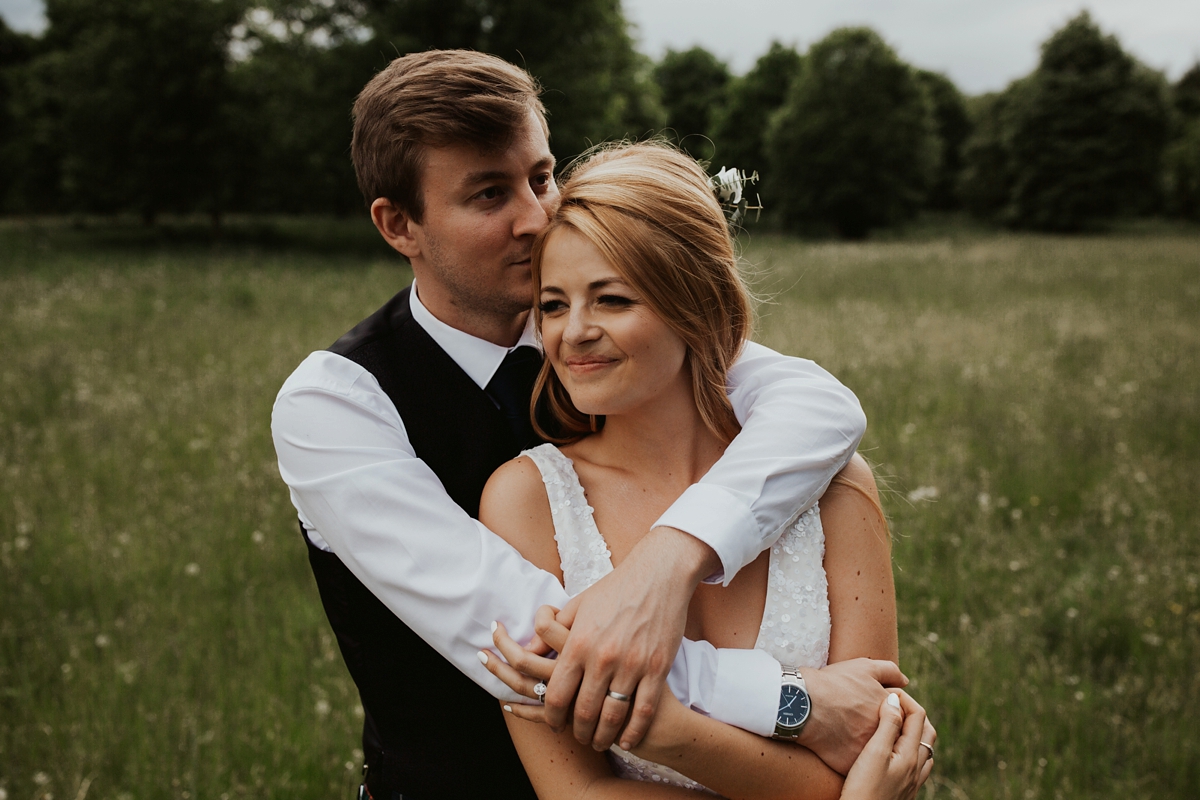 "Colin was super chilled and fun on the day; he's a total pro, he captured so many amazing and genuine moments you'd think we had two photographers; and, in the best way, I didn't even notice he was there a lot of the time, which means we have so many great candid photos. We couldn't be happier with our photos."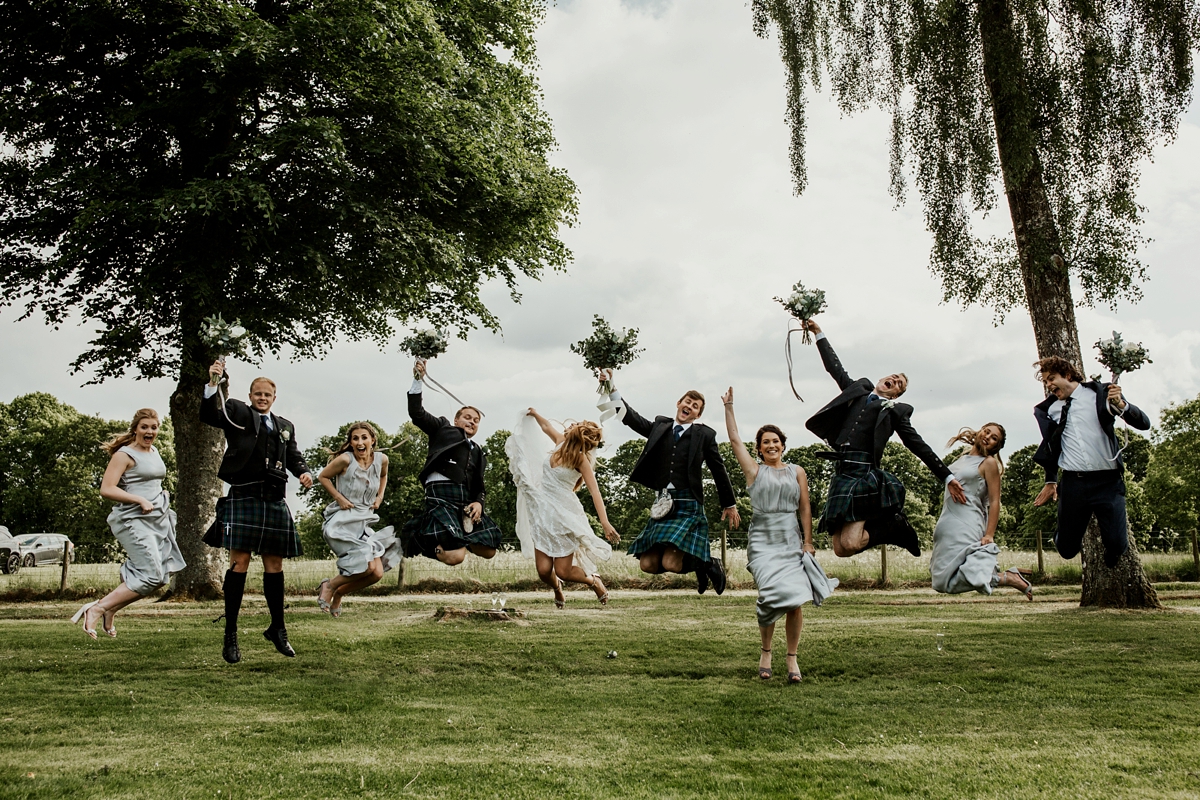 "I searched for ages for the right bridesmaid dresses. I don't wear much colour, so I couldn't imagine my bridesmaids in a bright colour. I liked the idea of the girls wearing mismatched dresses for a more relaxed look. The dye-to-order dress selection at Ghost was perfect. They are simple, sophisticated and elegant dresses in a mix of silk and georgette, which matched the train on my dress."
"I liked the idea of the bridesmaids in white but they weren't into it, so we decided on dove grey, and I asked the girls to pick the one they each liked best – they wore Claudia, Salma and Taylor, all in the colour Silver Lake. They all looked amazing – and Bond girl Lea Seydoux wore the Salma dress in Spectre, so I feel they really could wear these again!"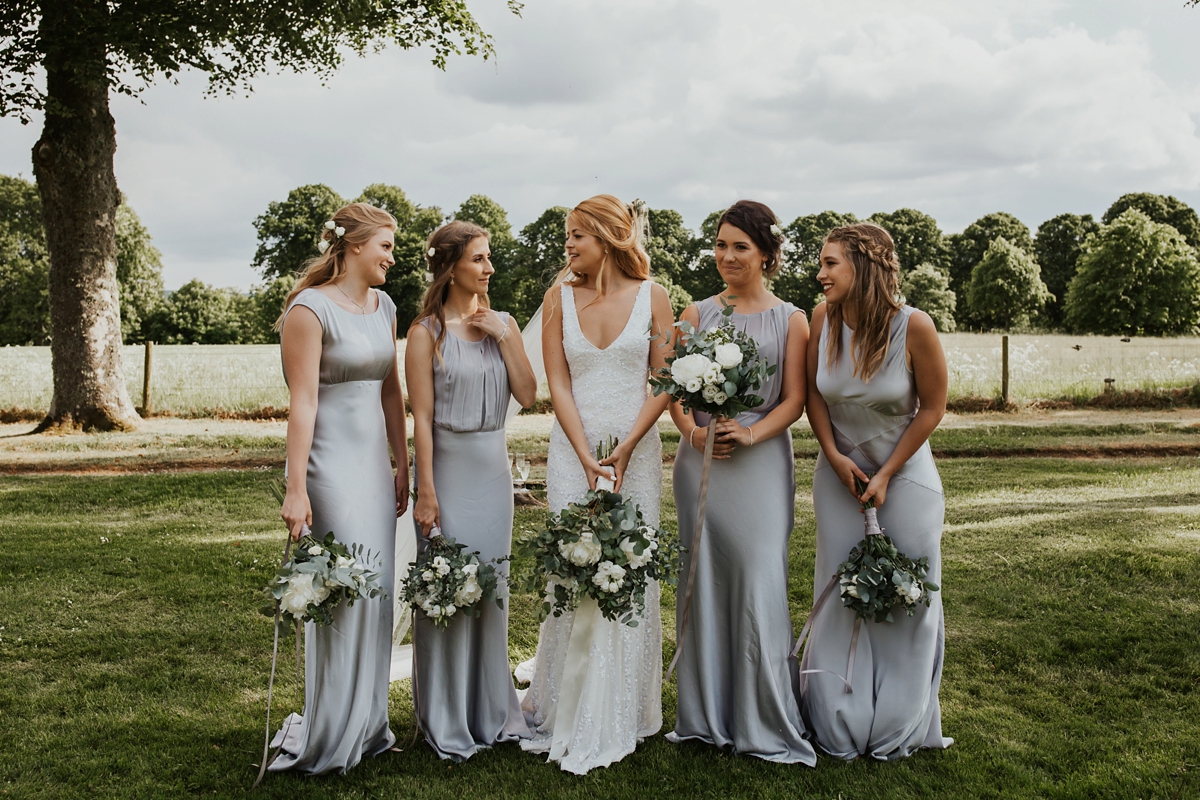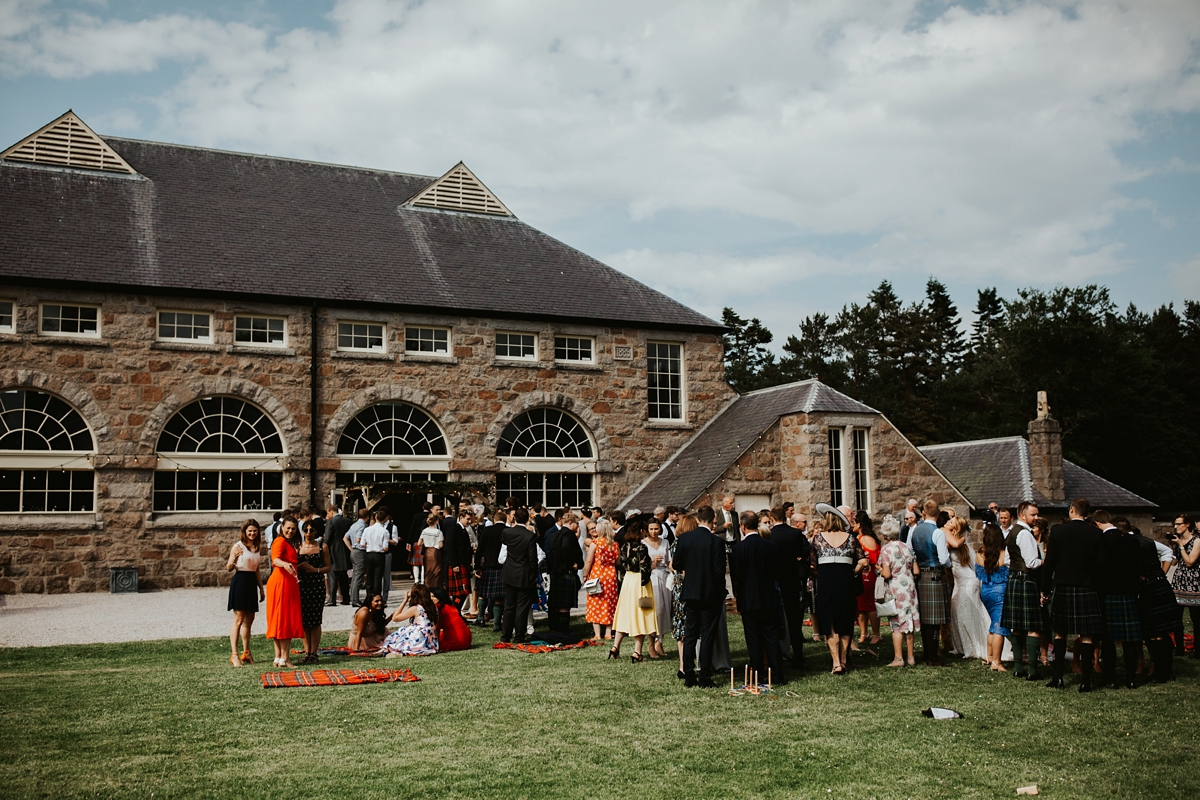 "I bought our wooden wedding sign from a market stall at a local market in Australia and brought it back in my suitcase – https://www.spokenshop.com.au/ – we didn't have a lot of luggage space but I had never seen anything quite like it in the UK so it was worth it."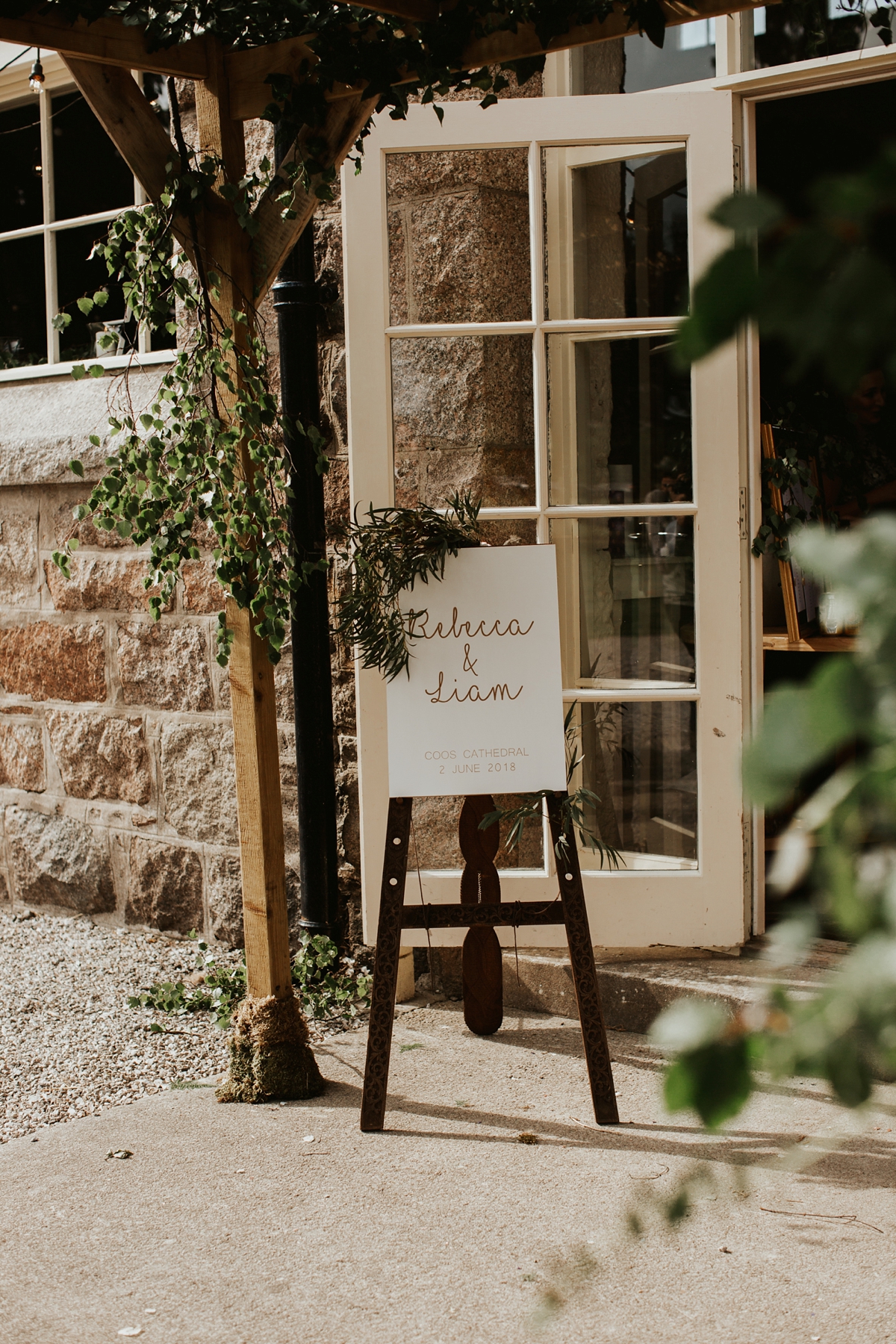 "The Coos' Cathedral is beautiful by itself, so we decorated it very simply, with birch trees up against the walls, a festoon light canopy in the ceiling, and eucalyptus branches in the window sills and draped in the chandeliers. There was a storm forecast for the day, so we asked our decorators, 3 Tiers, last minute if they could set up a pergola outside the front door to provide some shelter for guests arriving, and asked our florist to cover it with branches and flowers."
"There was some rain on the day when guests arrived, but it moved on before the bridesmaids got there. We were so lucky as there was terrible flooding later in Ballater, the next town over."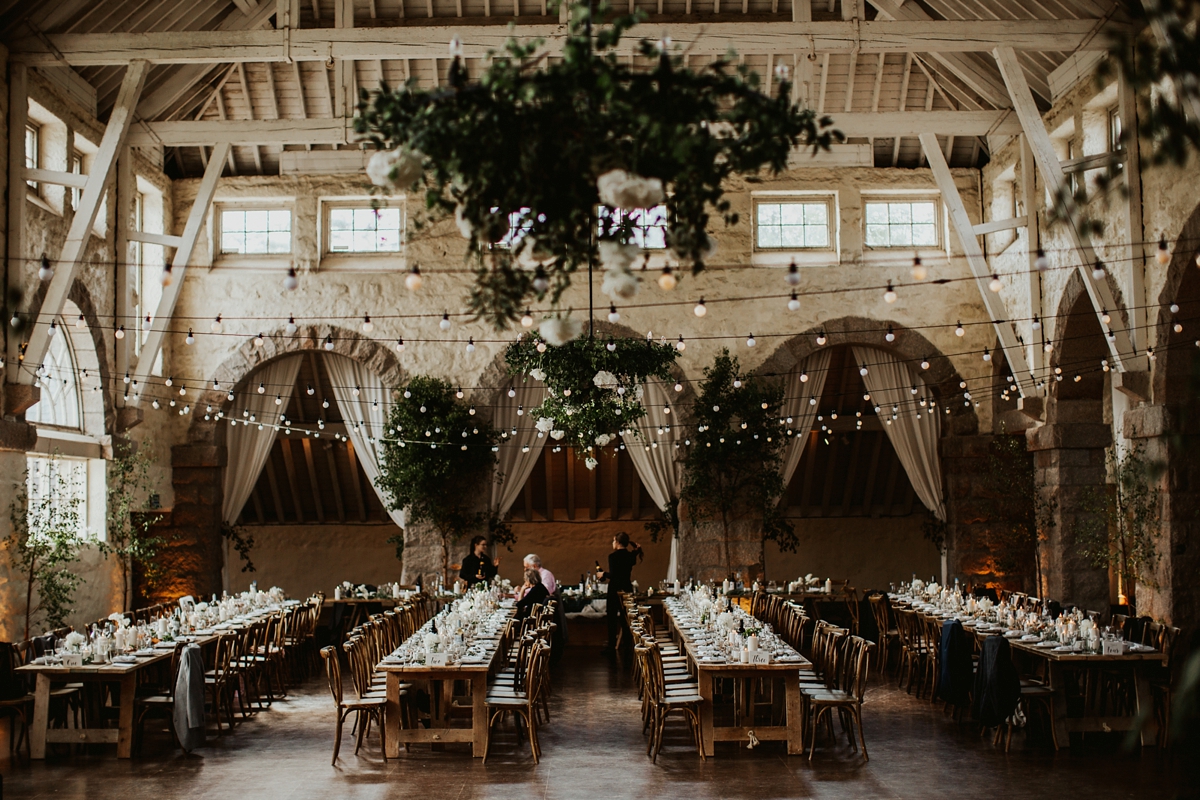 "We rented beautiful vintage trestle tables and chairs, as well the rustic bar which we used as our gin bar, from Virginia's Vintage hire. We wanted the meal to be casual and fun, so chose long tables, partly because of the Viking in me, but also because I think it is more sociable and easier for people to talk together than round tables; even being able to turn around in their seat and speak with people on the table behind them. I didn't want any table cloths or anything fussy, so we just had (so many) pillar candles which we bought in Ikea, more eucalyptus and birch branches, and simple glass vases filled with white peonies, hydrangeas, and white lilac from my mum's tree in the garden."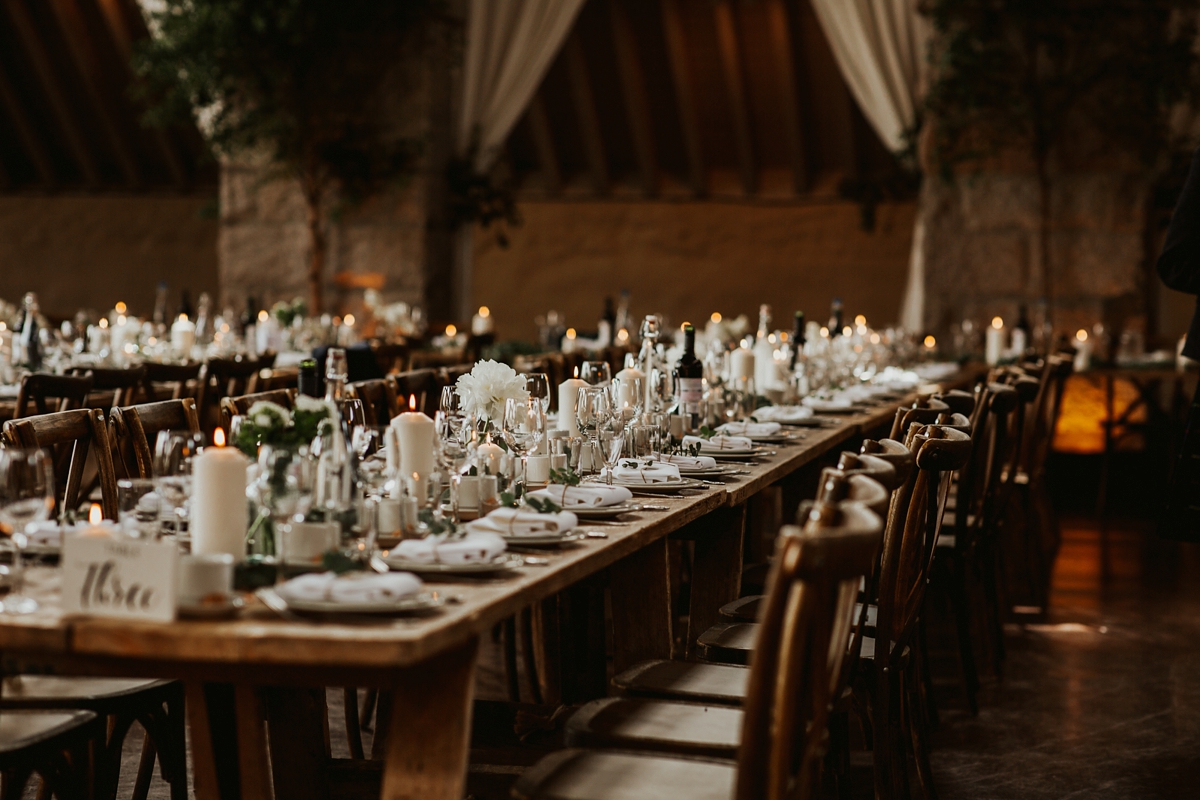 "We doubled up on favours and place names with personalised white clay hearts, which were tied around the napkins. They were a big hit, and everyone tied them around their wrists and wore them after the meal! We bought them from an Etsy shop I would highly recommend Nicola – she was great to work with, and didn't mind me panic adding extra names last minute."
"We also had a very loose star 'theme' to match our first dance: I bought two huge glass star hanging lanterns which we hung in the stage alcove and also above the top table; had some star shaped stencil fairy lights hung around various alcoves in the venue; had smaller hanging glass star tealight holders from Nkuku in the windows; and white wooden stars from East of India hung around nails we found in the stone walls."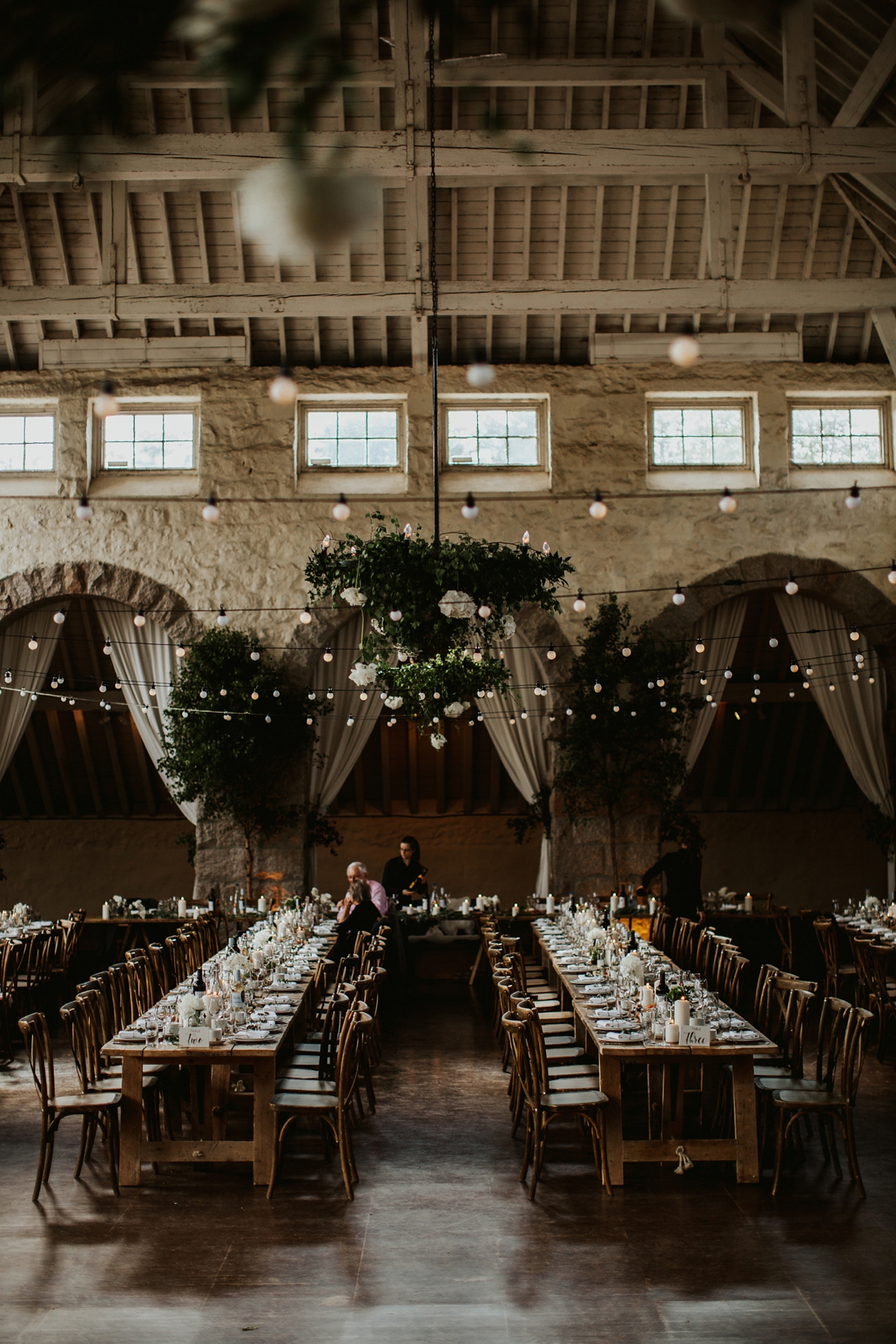 Regis Banqueting arose to the challenge to provide a tapas style sharing meal with lots of mediterranean inspired platters, artisan breads and Italian meats to start, followed by mink Yorkshire puddings with roast bee and horseraddish sauce, goats cheese and beetroot tarts, scallops with black pudding, wild mushroom arancini, and haggis, neeps and tatties filo parcels. This worked really well with all the speeches going on.
"We bought all the booze ourselves and four of my sister's friends were our waitresses for the day. I asked them to have fun and be informal, not to pour drinks, just replace the empties on the table. They staffed the gin bar later on in the evening as well. They were a great laugh and worked so hard! We massively overestimated how much wine and prosecco we would need, so have leftover cases at our house and at our parents, which is great."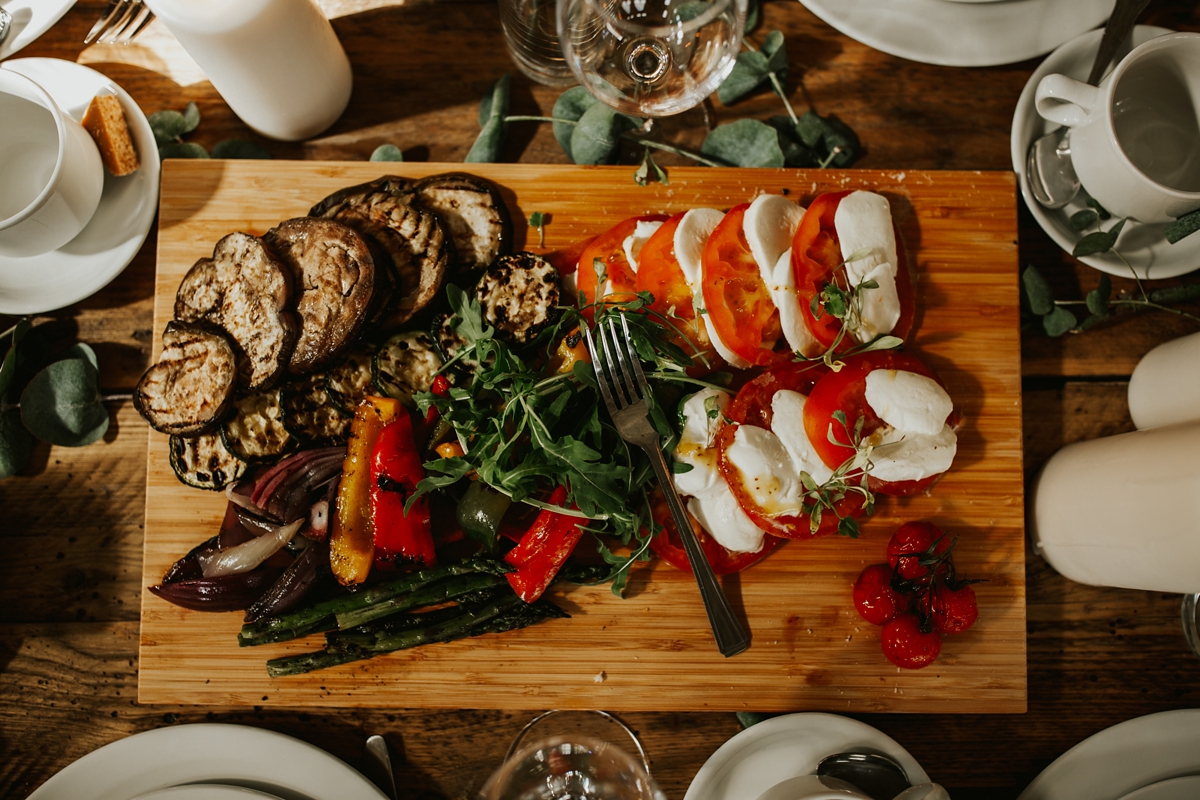 "In Norwegian weddings, there are many, many more speeches (and songs) than the standard FOB, groom and best men speeches (and why should only the men get all the fun?!) – in fact, anyone at the wedding can make a speech; so I recruited my brother Daniel to act as Master of Ceremonies, and wrote on our wedding invitations that guests should contact him if they wished to make a toast. For the speeches to flow nicely, we asked everyone to keep eating and drinking throughout the speeches and toasts."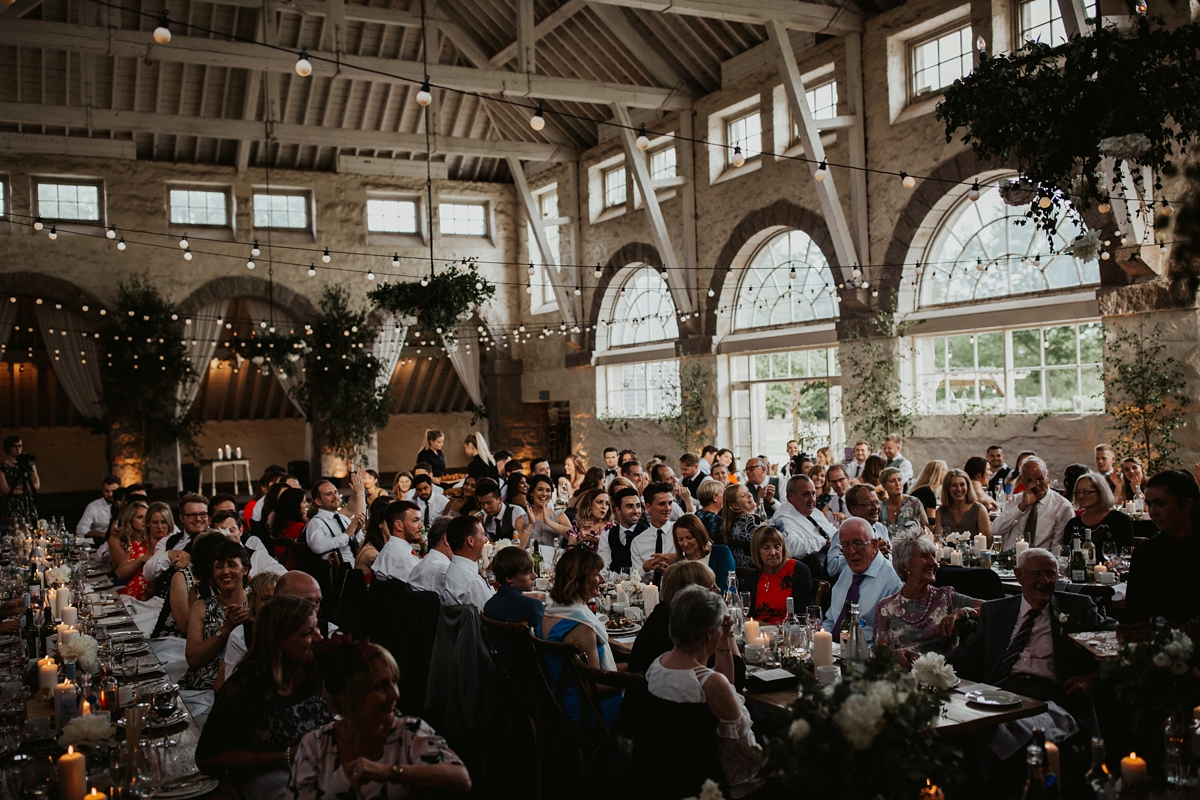 "Both our dad's did a speech, then Liam, then me (which included everyone doing a shot of Aquavit!), my Best Woman Hazel, the Best Men Stu and Bertie; then my mum had written a song to Abba's Summer Nights, which everyone sang along to; then some of our school friends spoke; and then my Bestefar (grandad) had written a song to Pomp and Circumstance – all the guests were given trumpets and other noisemakers to use – it was pure chaos and hilarious."
"Then my sister spoke, and then my brother Thomas concluded things with the 'Takk for Maten' (thanks for the food) speech. It sounds like a lot, but with the food and drinks flowing, it truly was so much fun for everyone! A lot of people have told me they want to have songs at their own wedding now."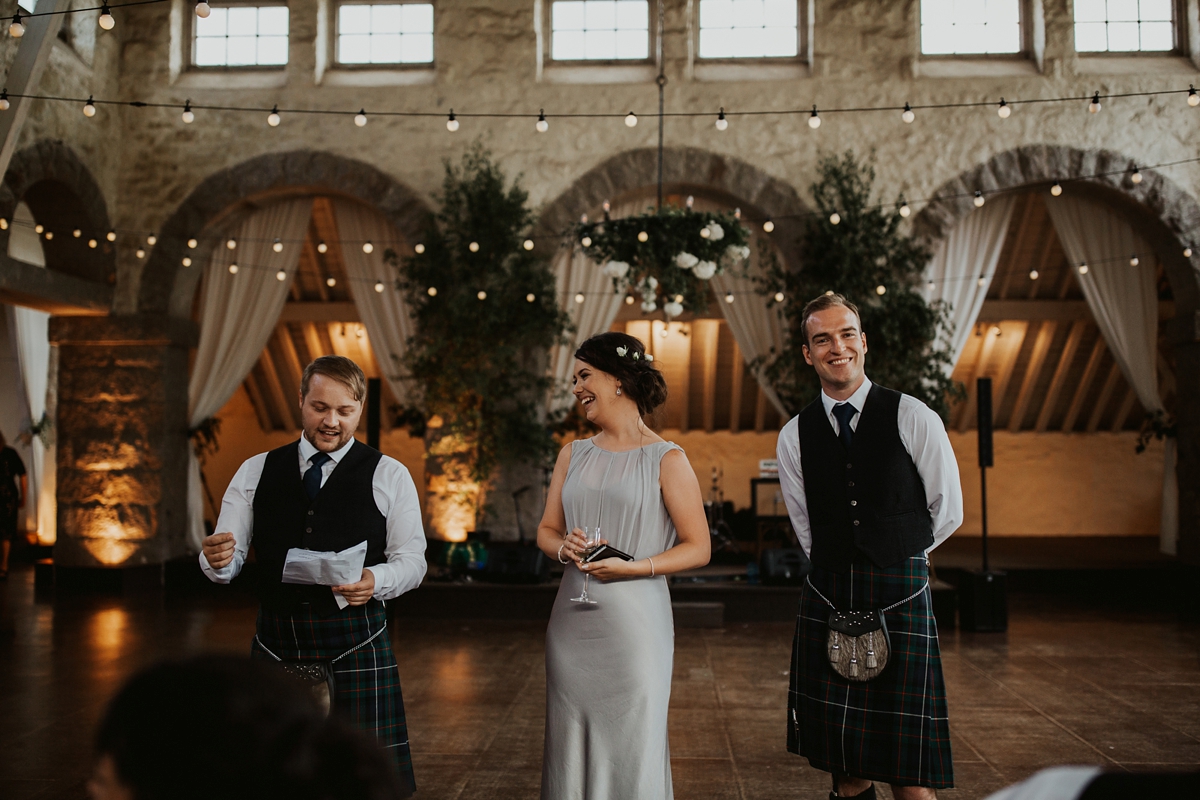 "This was my favourite part of the wedding. It was special for Liam and I to hear from so many people who we love and who love us, and I felt like I had the time to look around the room and take everything in.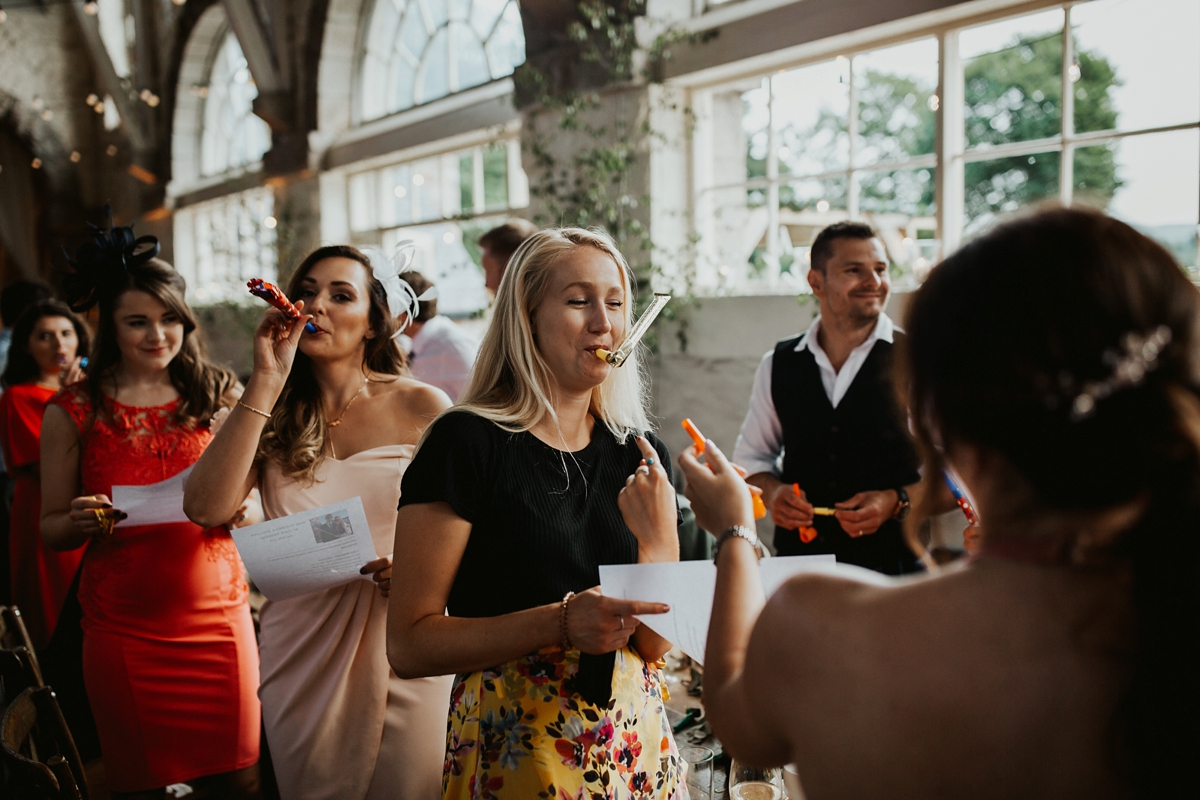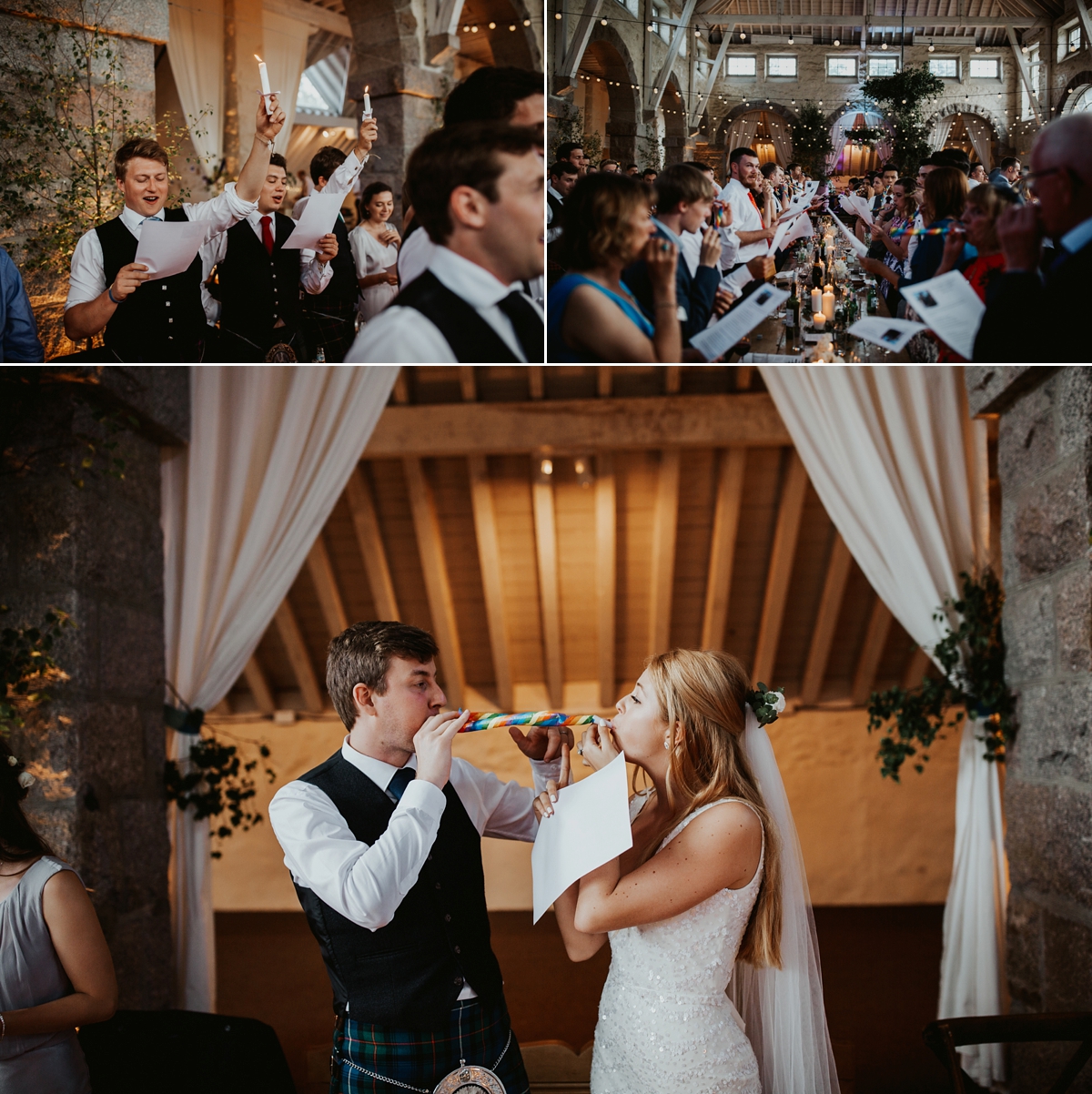 "Rather than having a dessert course , we had a 'kakebord' (cake table) and asked our friends and family who lived locally to bring a cake or traybake. So many of them did – and we had the most incredible selection! Guests simply helped themselves after dinner, and we continued eating the cakes into the early hours to keep our energy up for dancing. We asked the mum of one of Liam's best friends if she could make our wedding cake for us – the Norwegian Kransekake, which is a showstopping tower of rings of delicious almond chewy biscuits, piled high, and covered with icing and Norwegian flags."
"She had lived in Norway and knew how to make them. She made us three, and they were so beautiful on the kakebord! She even matched the initials in the icing to the calligraphy font on our wedding invitations. We still have some rings in our freezer!"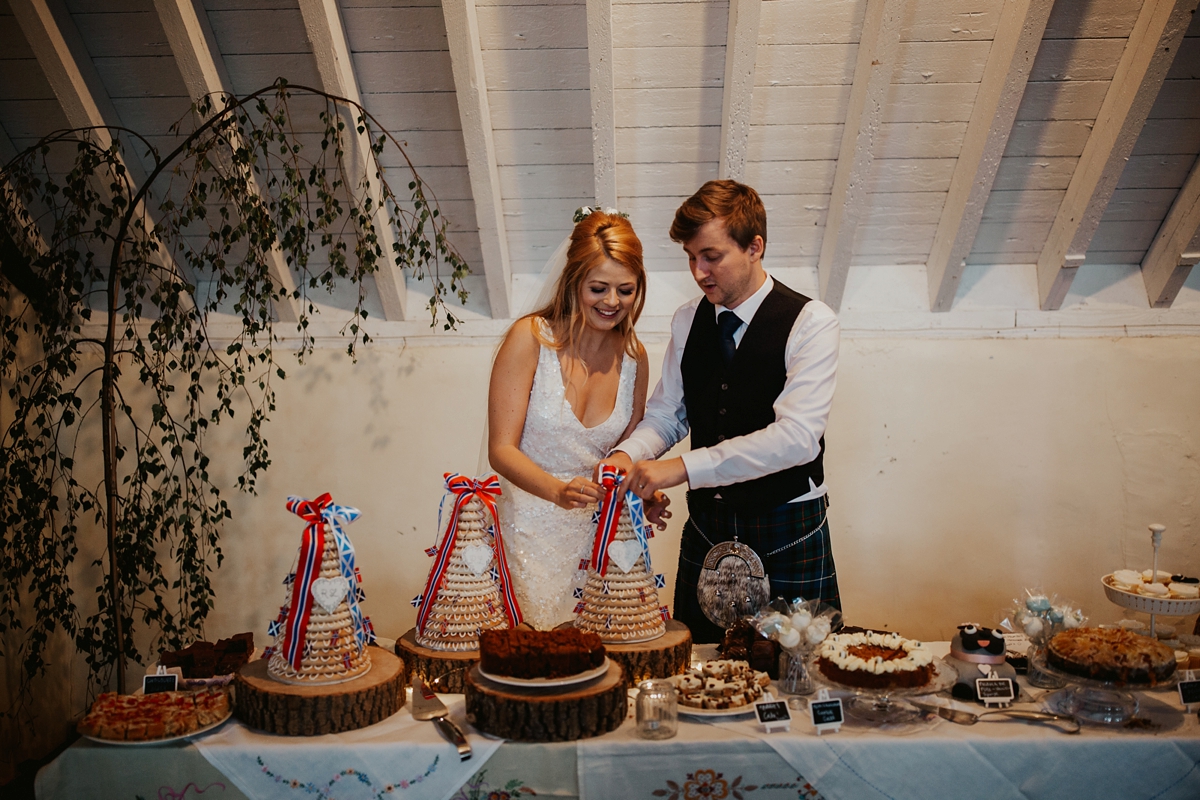 "After dinner, the Gin Bar opened, which we stocked with Scottish gins, and the ceilidh dancing started! At midnight we all went outside and lit sparklers."
"We danced to an acoustic version of Coldplay's Sky Full of Stars. We wanted Sky Full of Stars as our song as we both love the words; after searching, we found the perfect version by Mother's Daughter on Spotify which our band learnt for us."
"The Jets played an acoustic set during the ceremony and drinks reception; and then played a full live ceilidh set after the meal."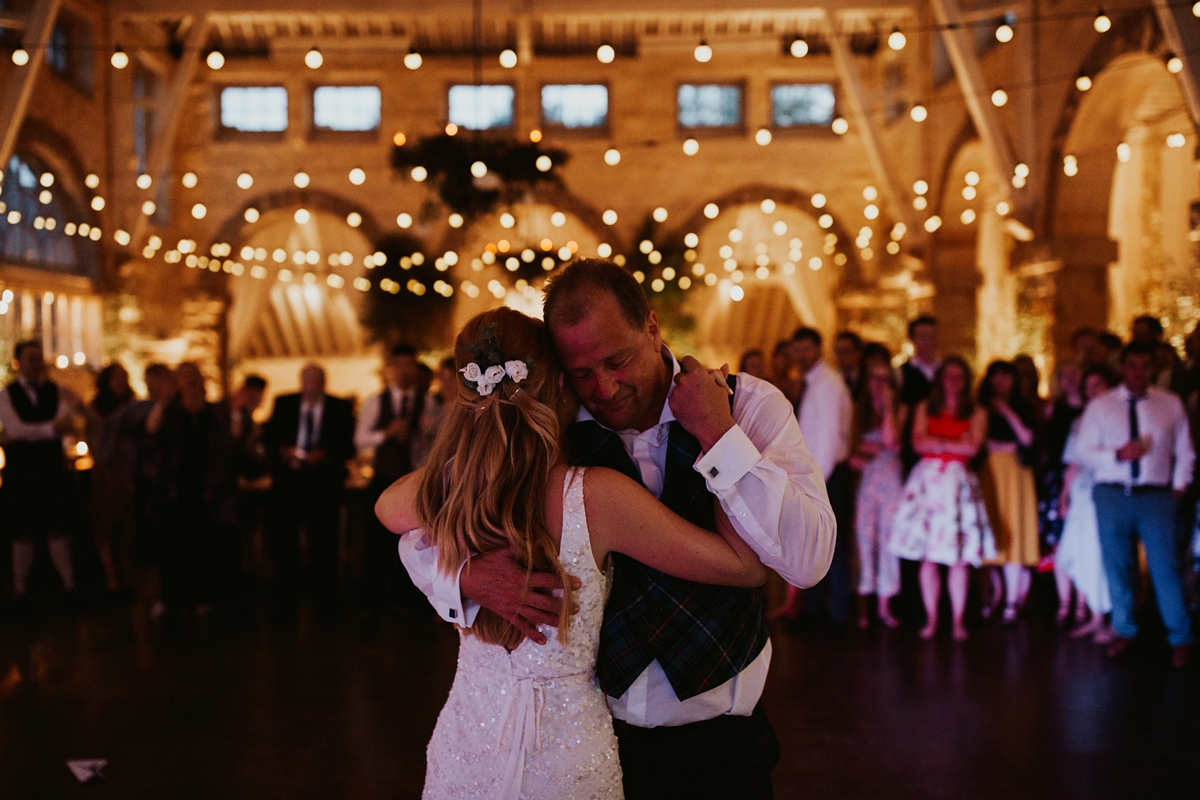 "Later on, our friend Tom took over and DJ'd for us; an eclectic mix of requests which our guests had RSVP'd with – including Toto's Africa and Darude's Sandstorm. Liam and I were the last to leave, shepherding the remaining party animals out, blowing out all the candles and locking up."
"After the wedding, we had a lovely mini-moon driving around the North Coast of Scotland, the NC500, which was made even better by the incredible weather. Liam is a doctor so wasn't able to get enough time off to set up for the wedding and have our honeymoon all at once; so we decided to postpone our honeymoon to the Amalfi Coast until this October, which will coincide with our 10 year anniversary."
"Luckily I had bought a silk 'party dress' from the H&M Bridal collection to change into later, because my dress became un-bustled during Orcadian Strip The Willow!  Liam got caught up in my train, and we both ended up flat on the ground, ripping the back of my dress! I wore the slip dress with a feather stole when we all went outside and lit sparklers at midnight."
Words of Wedded Wisdom
"I have very few things I would change – I know a lot of people say this, but on the day, I literally didn't care about anything! – but I wish at around 10pm, I had asked one of my friends to come up to me and ask me if there was anyone I hadn't taken a photograph with, as I missed photographs with a few people.
Expectations on the bride to look perfect can be quite overwhelming. When we first got engaged I searched for 'what to do when you get engaged', expecting some practical to-do lists – but I found so much was centred around the bride's physical appearance. I had my dress taken in while we were still in Australia, more than 6 months before our wedding day; and had a near stranger ask me if that was a good idea because wasn't I planning to lose weight before then?!"
"My advice to newly engaged brides: you don't need to go on a crazy diet, start an intense fitness regime, whiten your teeth, dye your hair, have a spray tan, or do anything else you don't want to for your wedding day. It is totally great if that is what you want to do – of course everyone wants to look good on their wedding day – but just know, it is in no way a requirement to getting married. Remember you're marrying the person you love; with the people you love around you. If you are happy, everyone will be happy, so ignore any pressure to change things you don't want to change. Relax, and enjoy your planning and your day <3
"We went over our original budget. It's hard to pluck a number from the air and stick to it when you've never planned such a big event before. We were so happy with everything and proud of what we did, so we don't mind that we didn't stick to the budget."