If you're in need of a little rustic pick-me-up today you're in the right place. Today's wedding between Mark and Roisin is an utter beauty of a stone barn wedding, full of rustic charm, wildflowers and wheat, and valuable time with friends and family.
The venue for Mark, an art director, and dietitian Roisin's wedding on 8 April 2018 was The Ashes Barns in Endon, Staffordshire. Set in glorious countryside, and with onsite accommodation, the couple fell in love with its beautifully restored barn buildings. They used a pretty colour scheme of sage green and peach, along with whimsical posies of dried wildflowers, oats and wheat, for decoration.
Photography Mike Plunkett Photography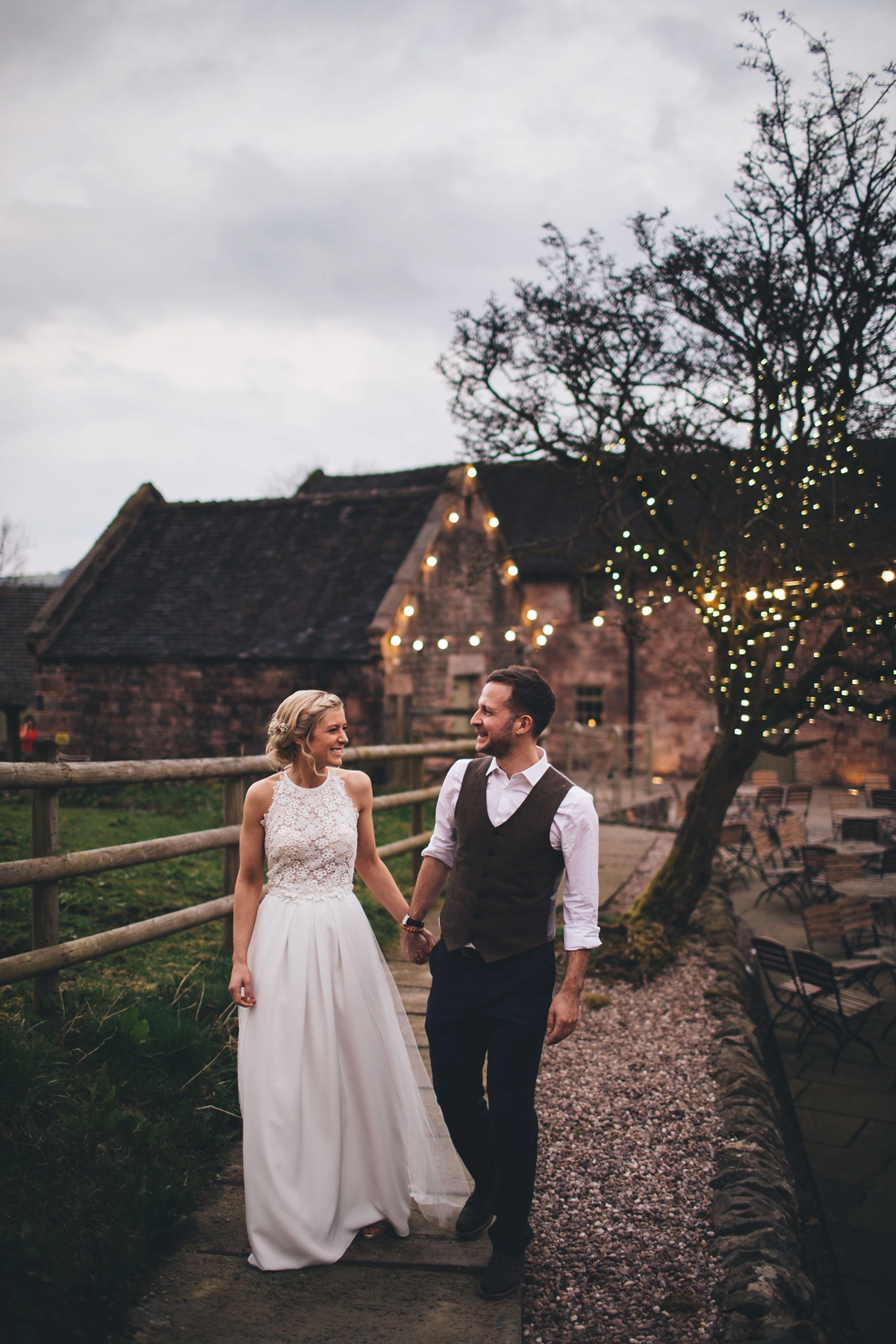 I love that Roisin used our Love My Dress pages and social media feeds to inspire her day, and give her confidence to do her own thing.
"I just love the real weddings featured on your Instagram. Love My Dress shows that there are so many ways to make your wedding day beautiful and unique."
Roisin's hair was styled into a laidback up-do with a statement Dutch plait by a stylist from Francesco Group in Hanley, and her natural, pretty makeup was applied by Make up by Claire Owen. The final touch was a spritz of Tom Ford's White Patchouli fragrance.
"I try it on every single time I go to the airport so I put it on my Christmas wishlist as a wedding day scent and my brother-in-law kindly obliged."
A modern edge was added with show-stopping silver Jimmy Choo sandals and to match the wildflower theme, she wore a Boho Candyfloss half-crown by The Artisan Dried Flower Company.
"I wore my mum's diamond and sapphire engagement ring as my something old, borrowed and blue!"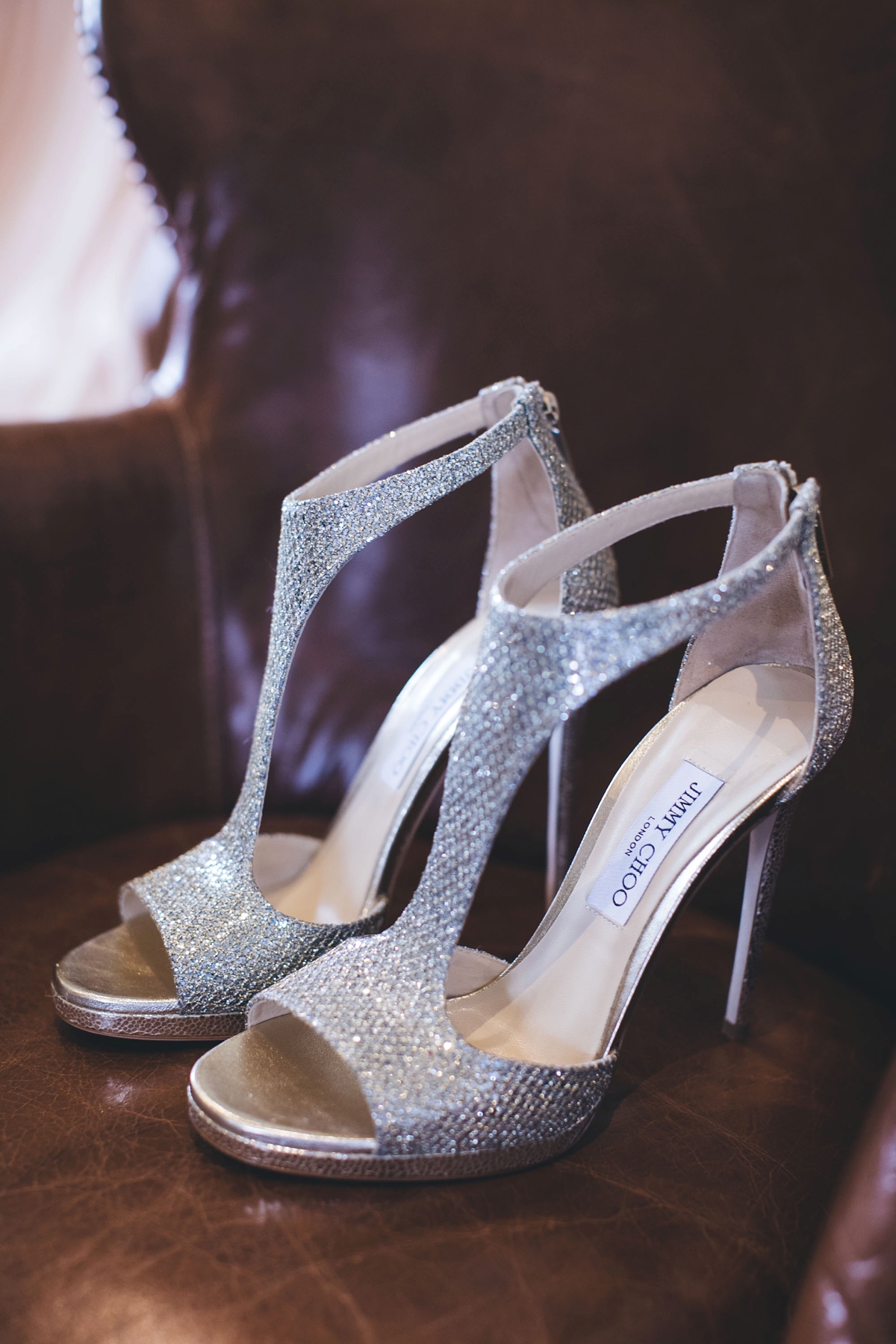 Roisin opted to use dried flowers from The Artisan Dried Flower Company rather than fresh, and they look so pretty in the rustic barn.
"We just loved their huge range of different colour schemes and styles, and loved the rustic look of the dried flowers."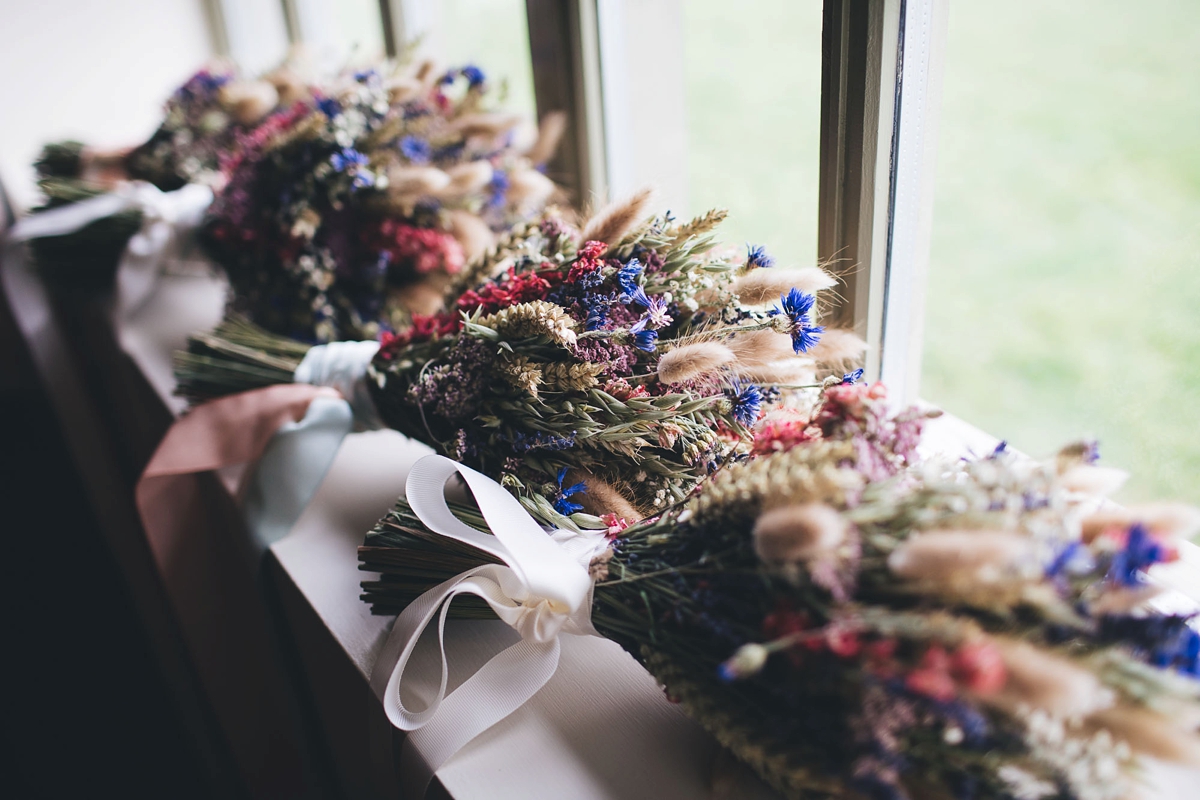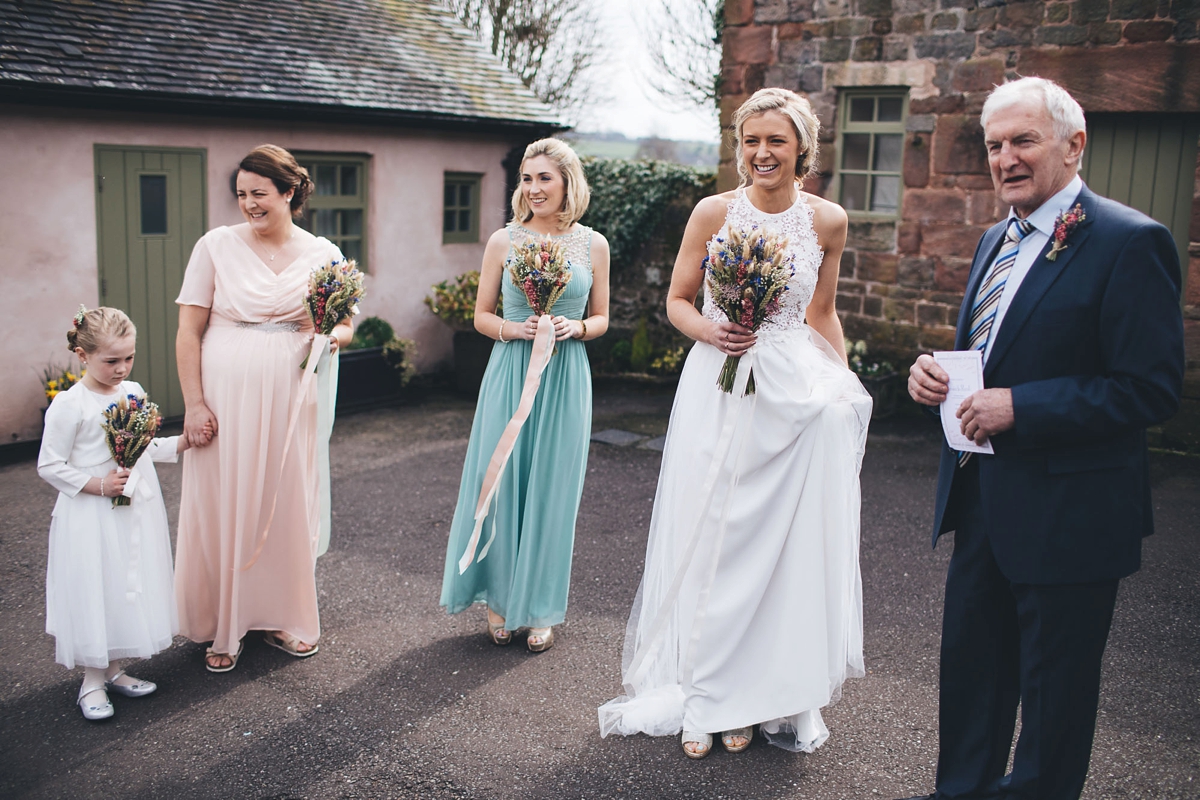 The combination of colours for the bridesmaids' gown was a last-minute choice, due to the bride's sister's pregnancy. However, I love the contrast between the two.
"The original sage green dresses were Little Mistress from Debenhams, which we bought second-hand online.  My sister bought her peach dress in TK Maxx. My sister wore Birkenstocks – a practical option for someone who is seven months pregnant. My best friend wore her own gold Kurt Geiger sandals (with a six-inch heel for fear I'd dwarf her in my Jimmy Choos)."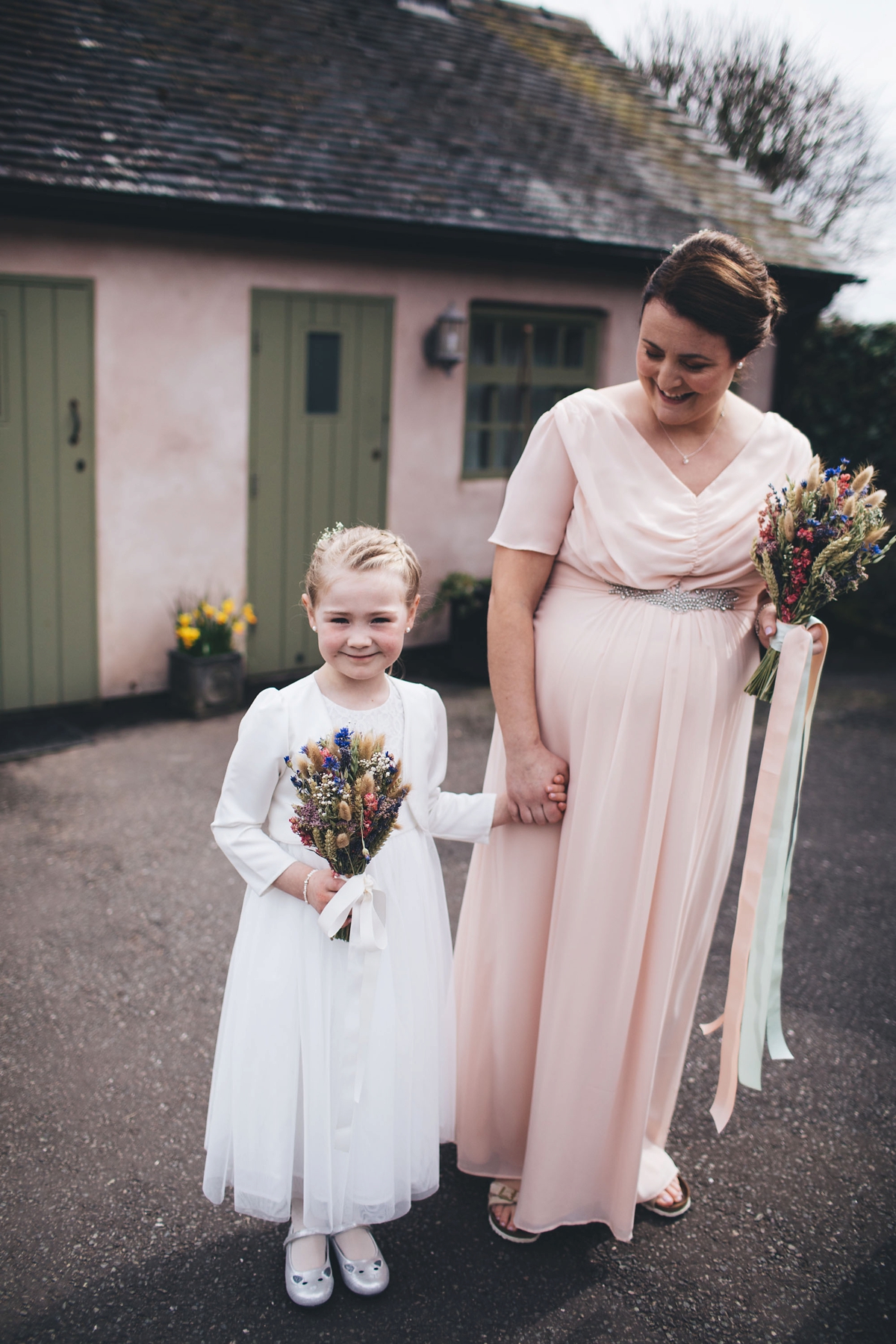 Roisin's halterneck gown featured a warm nudey-pink underdress with a lacy overlayer. Super-sexy and relaxed with its open back, it really suits her blonde colouring. It's a Lambert Créations gown, bought at Manchester boutique The Case of the Curious Bride and altered to fit by Jeanette Ellis Couture.
"I visited only one shop and tried on thirteen dresses. I knew I would probably have to get a sample dress because of our tight timeline and The Case of the Curious Bride has a huge range of sample dresses and vintage dresses that can be taken home on the day. I thought about it overnight and woke up thinking only of the Lambert Créations dress. I love the high neck and open back and mostly, the simplicity of it."
"My delicate tulle veil was handmade for me by Jeanette Ellis Couture. She made a delicate tulle half over-skirt which was fully removable from my dress (though I didn't remove it on the day) and hand-sewed the lace flowers onto my belt."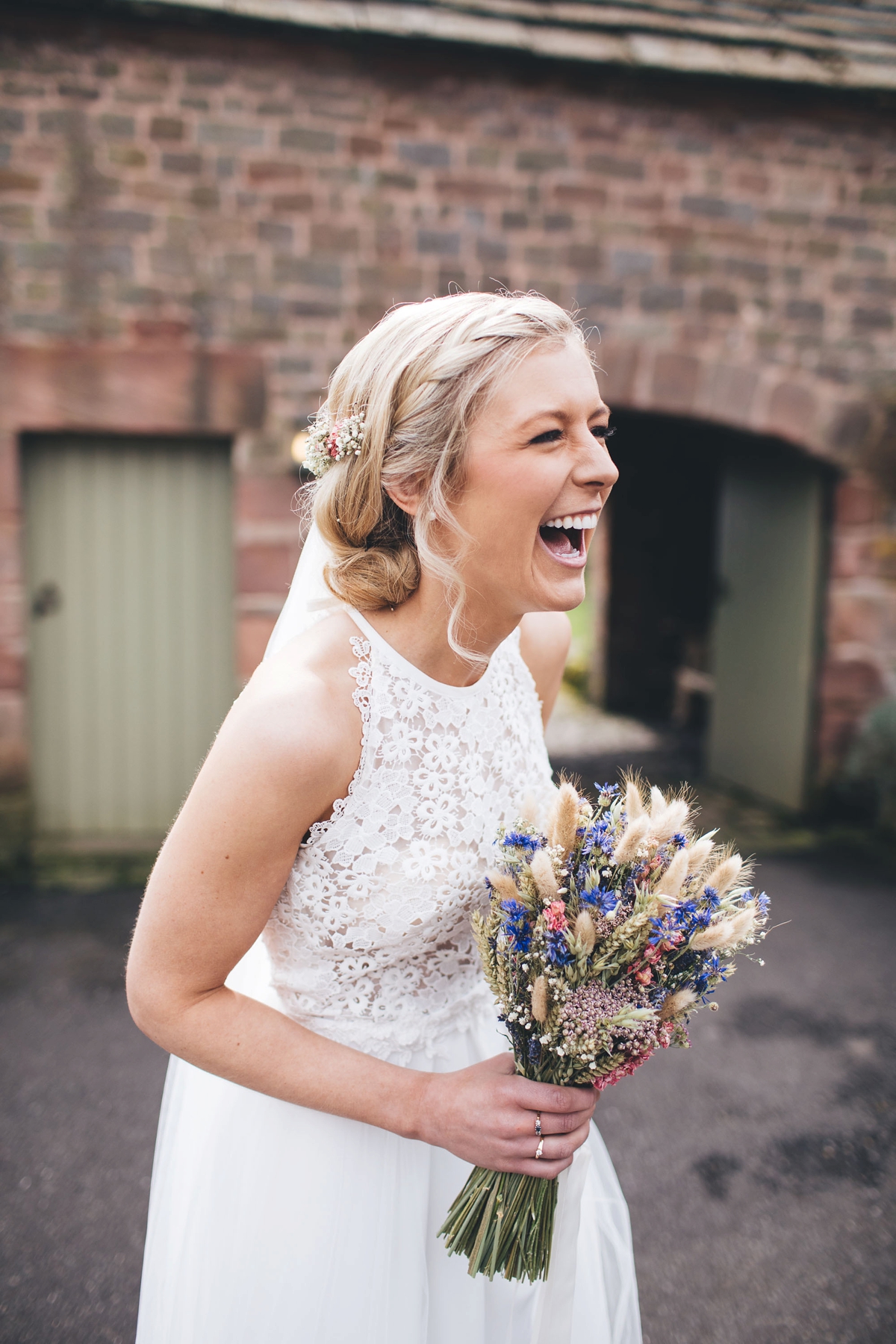 The couple met on match.com, and were engaged for just five months before their wedding.
"We met online on match.com and I think both knew from very early on that what we had was pretty special. We got engaged in October 2017, around two and a half years after our first date. Mark took me to National Trust's Dunham Massey Park in Cheshire early one beautiful misty Sunday morning for a walk. He got down on one knee, much to my delight. When he'd said he had a question for me I had assumed it was related to car insurance for some reason!"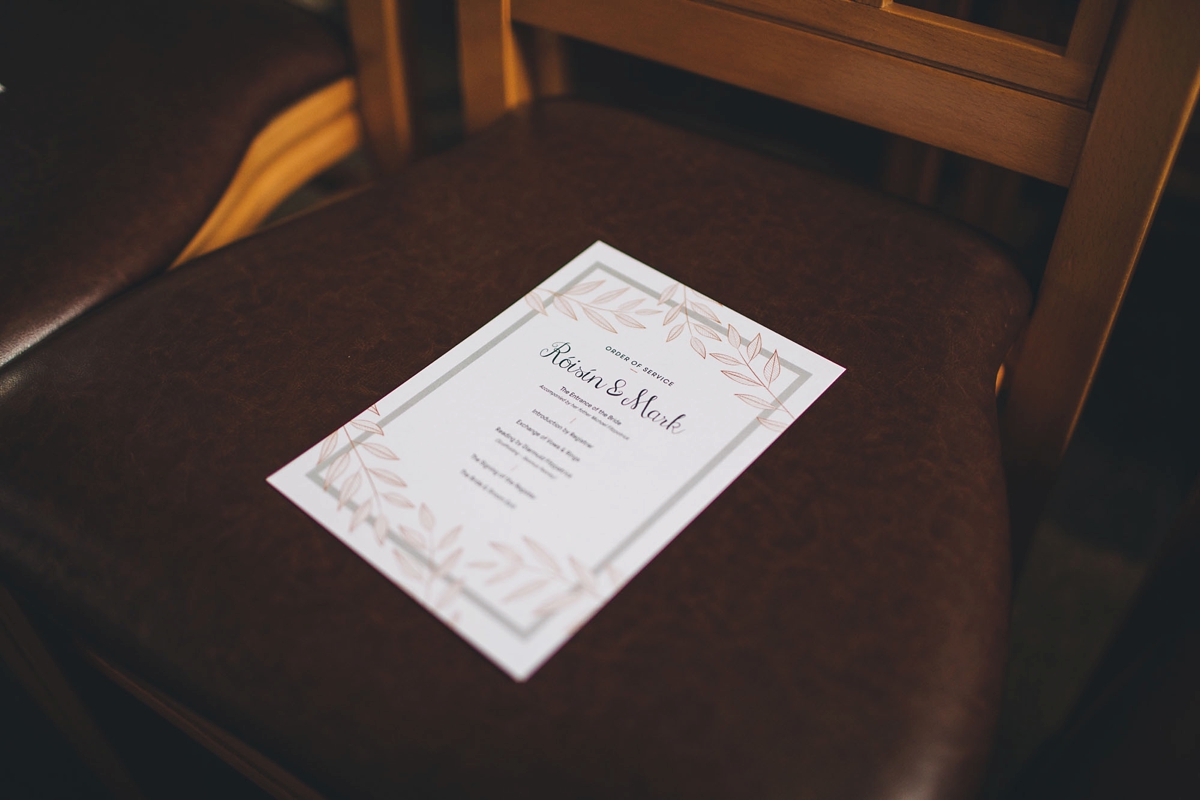 "The rutting deer around us made the scene extra special, though Mark's choice of engagement spot was maybe a little too close for comfort and at one stage he did have to quickly jump up off his knee to check there was still a safe distance between us and the deer. We had intended getting married a year or two from then but once we'd visited The Ashes Barns we decided there was no good reason not to do it sooner and we planned our wedding in exactly five months (to the day from visiting the venue)."
[JP-VIDEO]
"The Ashes Barns was the first venue we went to see. We knew we'd like the rustic style of a barn wedding and we just fell completely in love with The Ashes Barns from the moment we arrived. It's such a beautiful rural setting, so lovingly restored. The wedding coordinators there are incredibly helpful – we had complete confidence in them to help us get the details just right."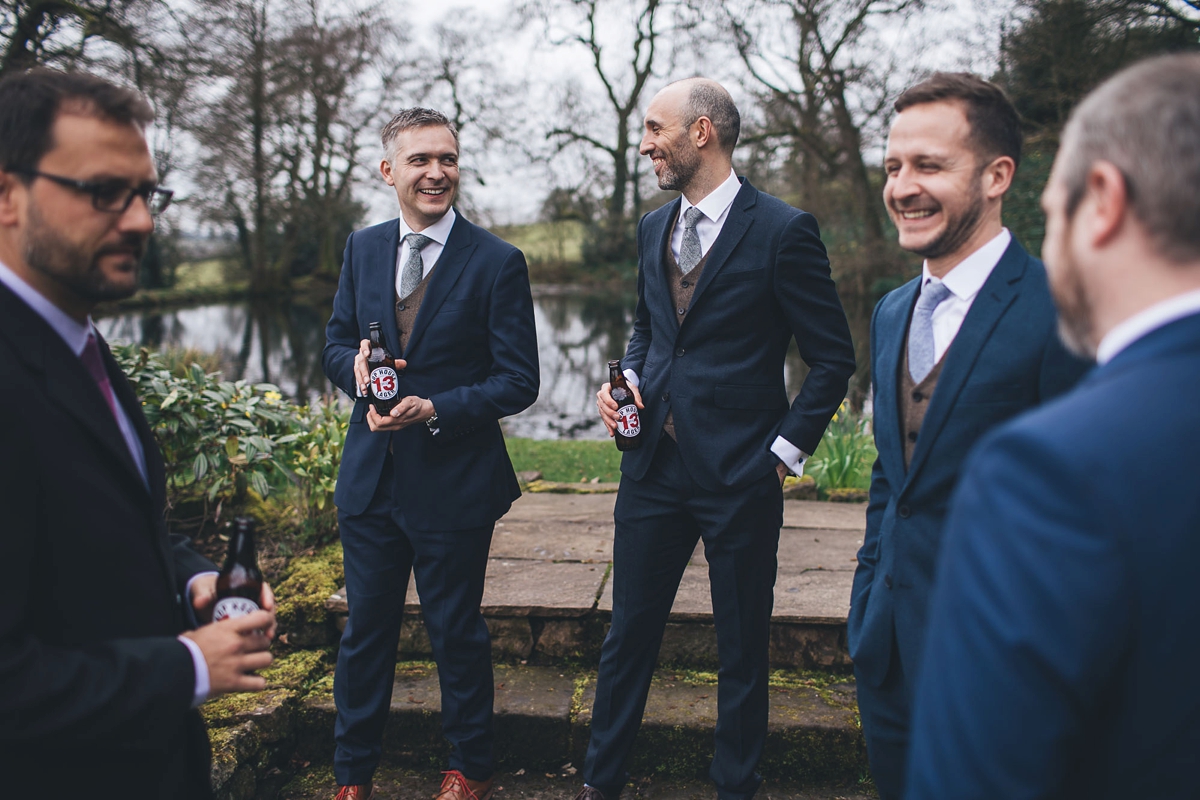 Mark looked super-smart in his slim-fit blue Ben Sherman suit, worn with a waistcoat from Heart & Dagger at ASOS and a trim buttonhole. His groomsmen wore the same waistcoat for a sophisticated look.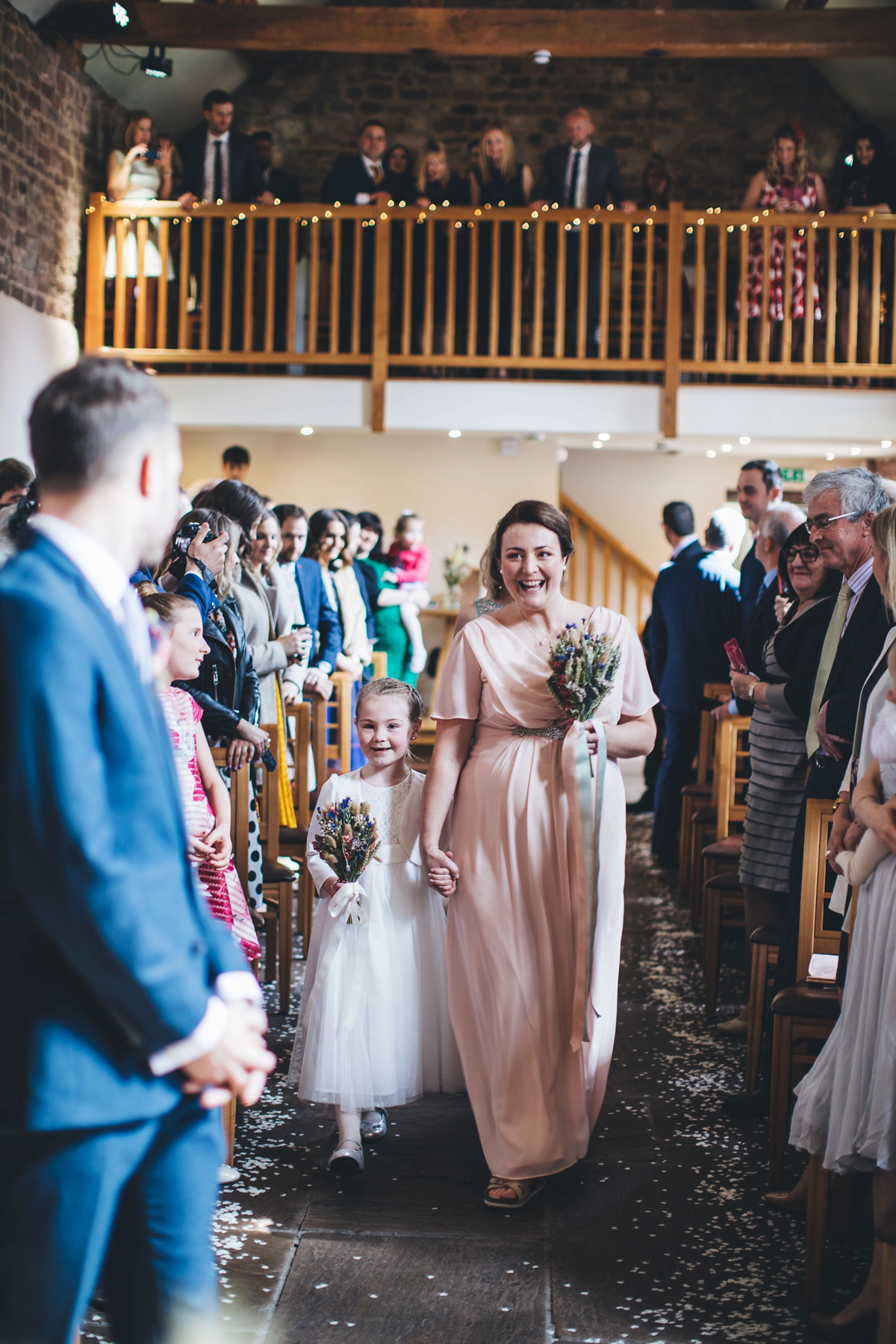 The bride entered the ceremony barn to José González's 'Heartbeats' before a registrar from Staffordshire Council performed the ceremony. This was a favourite moment for both Roisin and Mark.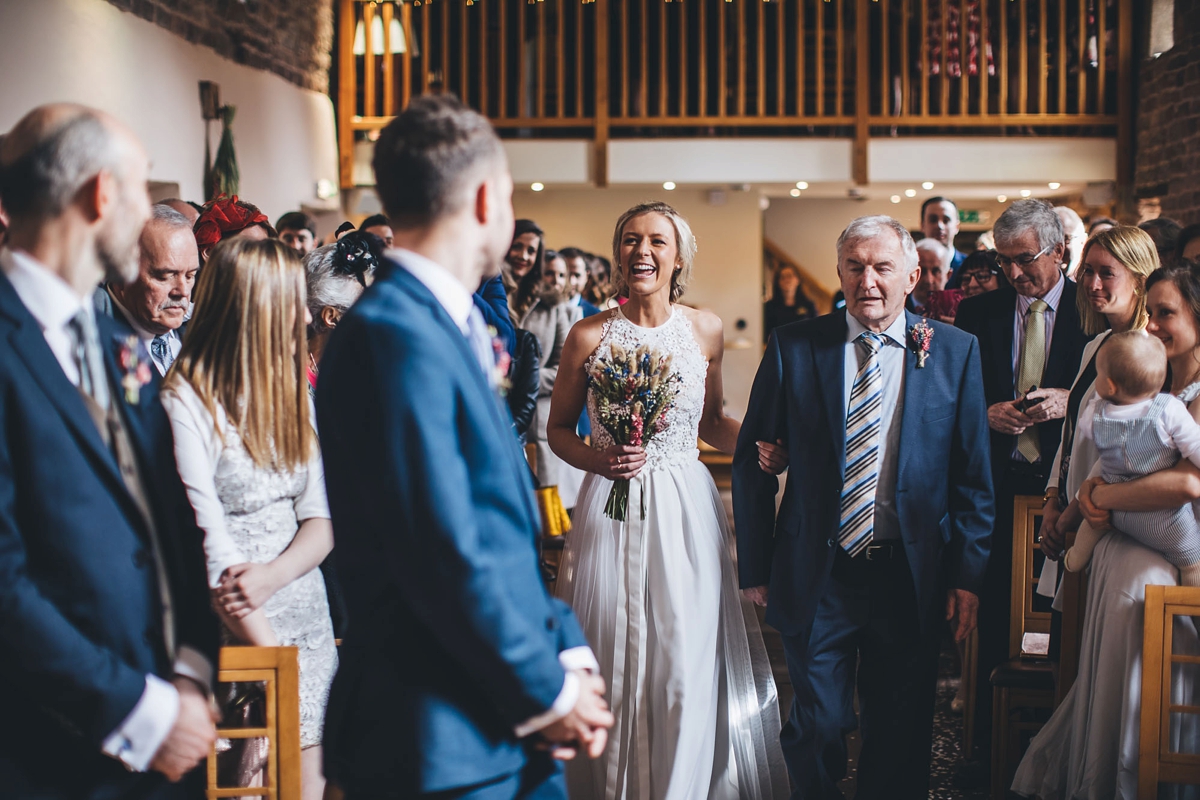 "For both of us it was me walking down the aisle with my dad and seeing each other for the first time on our wedding day. That for me was also the first time I had seen all our guests – there was just such an amazing feeling of being loved at that moment! I was grinning from ear to ear. I wouldn't change a thing about that moment."
The couple chose vows from a selection suggested by Staffordshire Council, going for a short and sweet version that felt genuine and free from cliché.
"My brother read a poem by Seamus Heaney, a Nobel Prize-winning Irish poet. We loved the poem's message that together, our bond and strong foundations mean we can withstand whatever comes our way in life, good times and bad, sickness and health."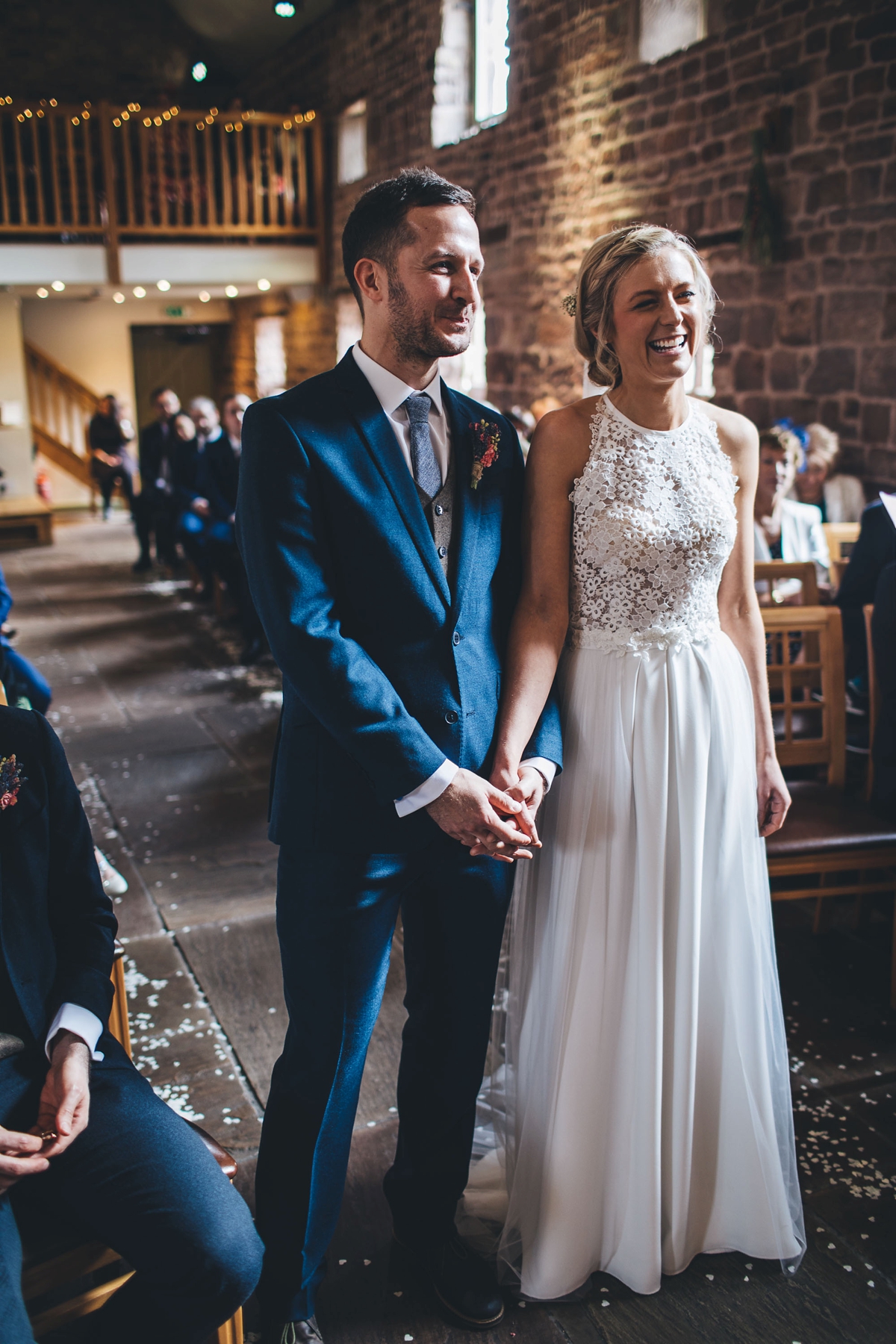 'Masons, when they start upon a building, 
Are careful to test out the scaffolding;
 
Make sure that planks won't slip at busy points, 
Secure all ladders, tighten bolted joints.
 
And yet all this comes down when the job's done 
Showing off walls of sure and solid stone.
 
So if, my dear, there sometimes seem to be 
Old bridges breaking between you and me 
 
Never fear. We may let the scaffolds fall 
Confident that we have built our wall.'
"We chose plain gold wedding bands from DJ Jewellery in Manchester. We chose them because they are a small, independent jewellers and provided a really personal service."
Mike Plunkett Photography captured all of these details beautifully in these images. I love the twilight photographs of the newly-weds, looking so happy and content with The Ashes Barns looking magical lit by fairylights.
"Mike was recommended to us by our mutual friends. We had seen their wedding pictures and the ones on Mike's website and Instagram page and we just loved their natural, relaxed, unposed, unpretentious look."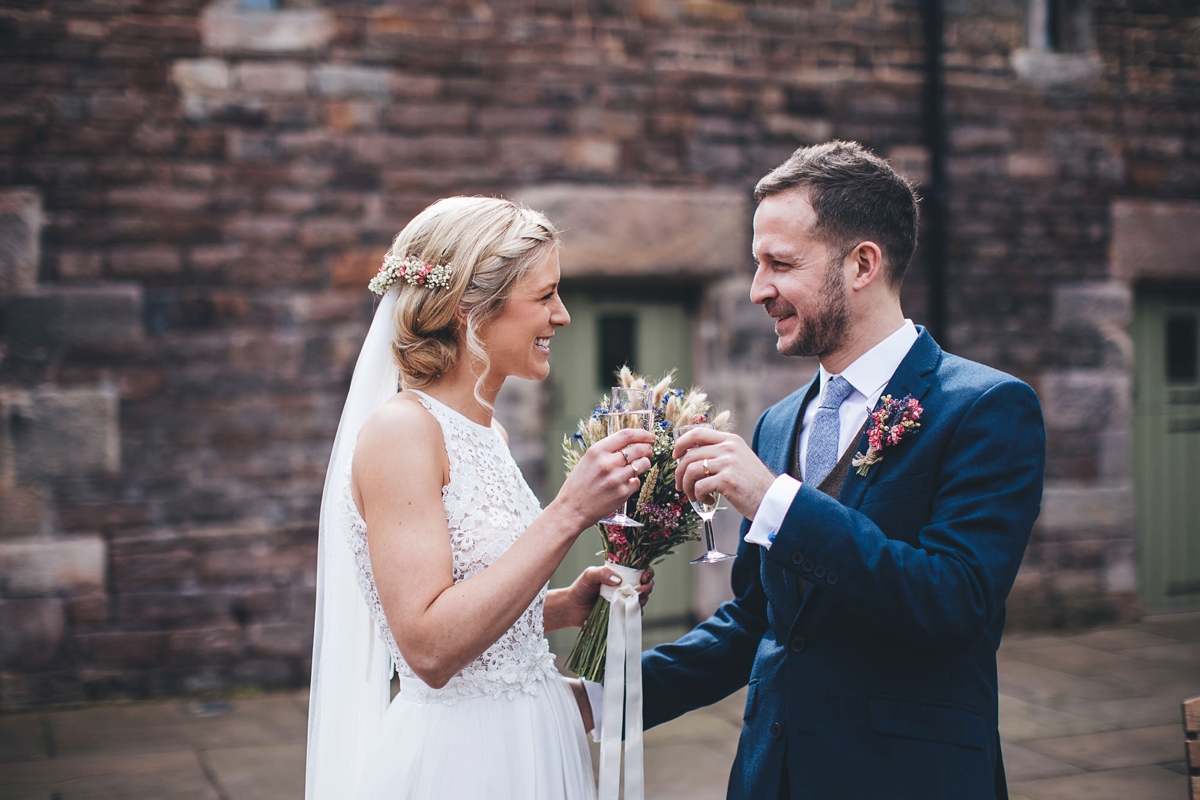 "Neither of us would have a clue how to act in front of a camera if we'd had to pose all day long. With Mike we didn't need to. We just enjoyed our day while he snapped away in the background. We couldn't be happier with the results. Mike's photos have captured all the love and warmth and happiness of the day perfectly."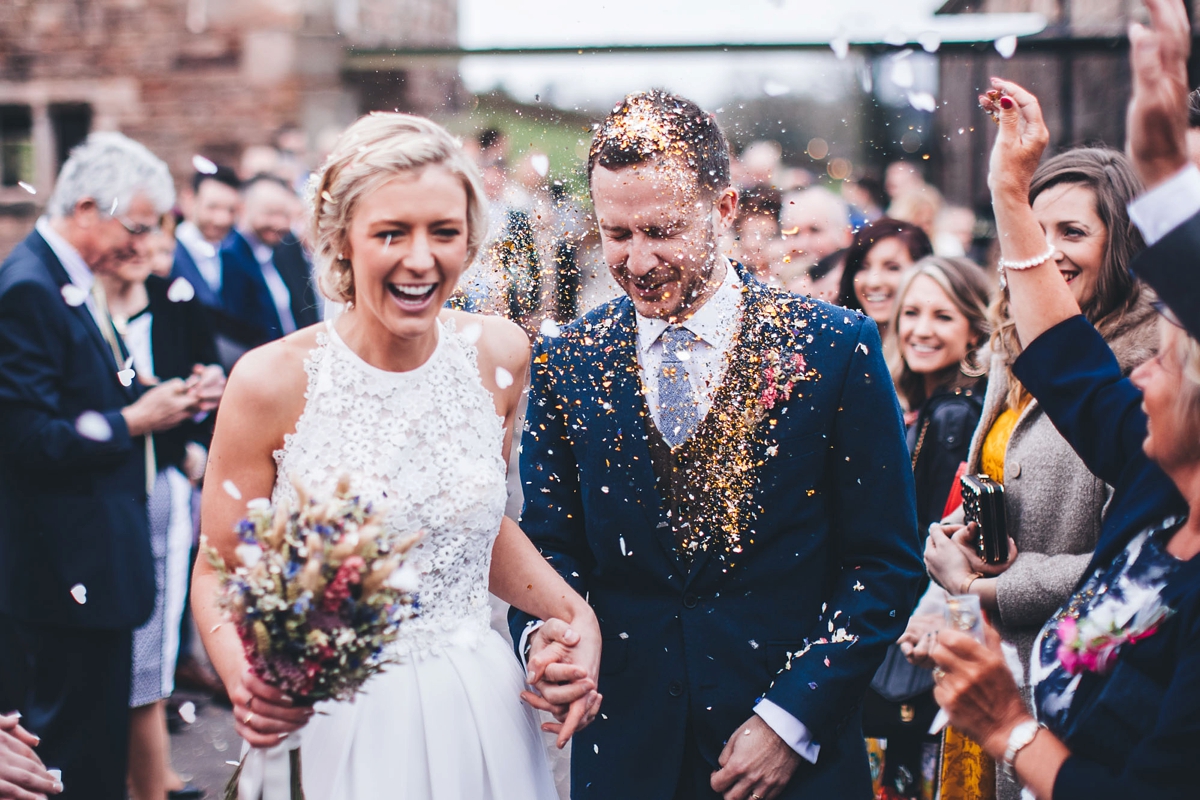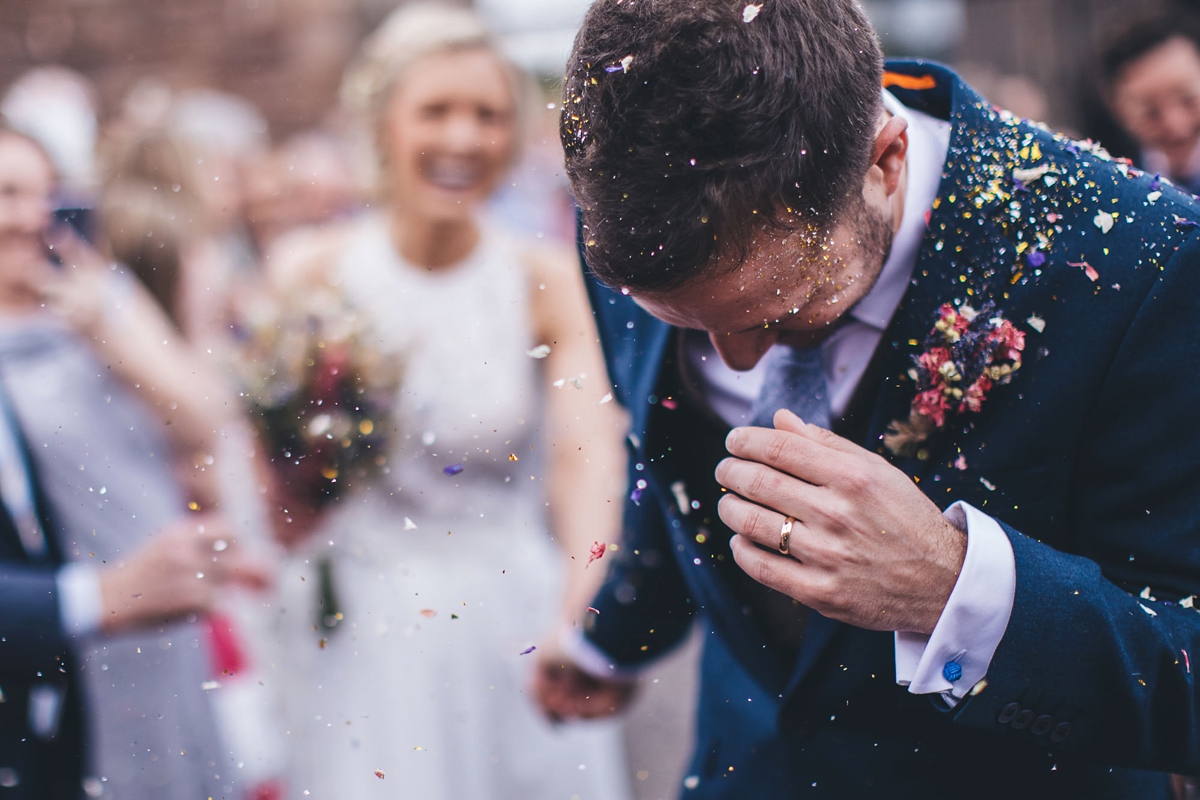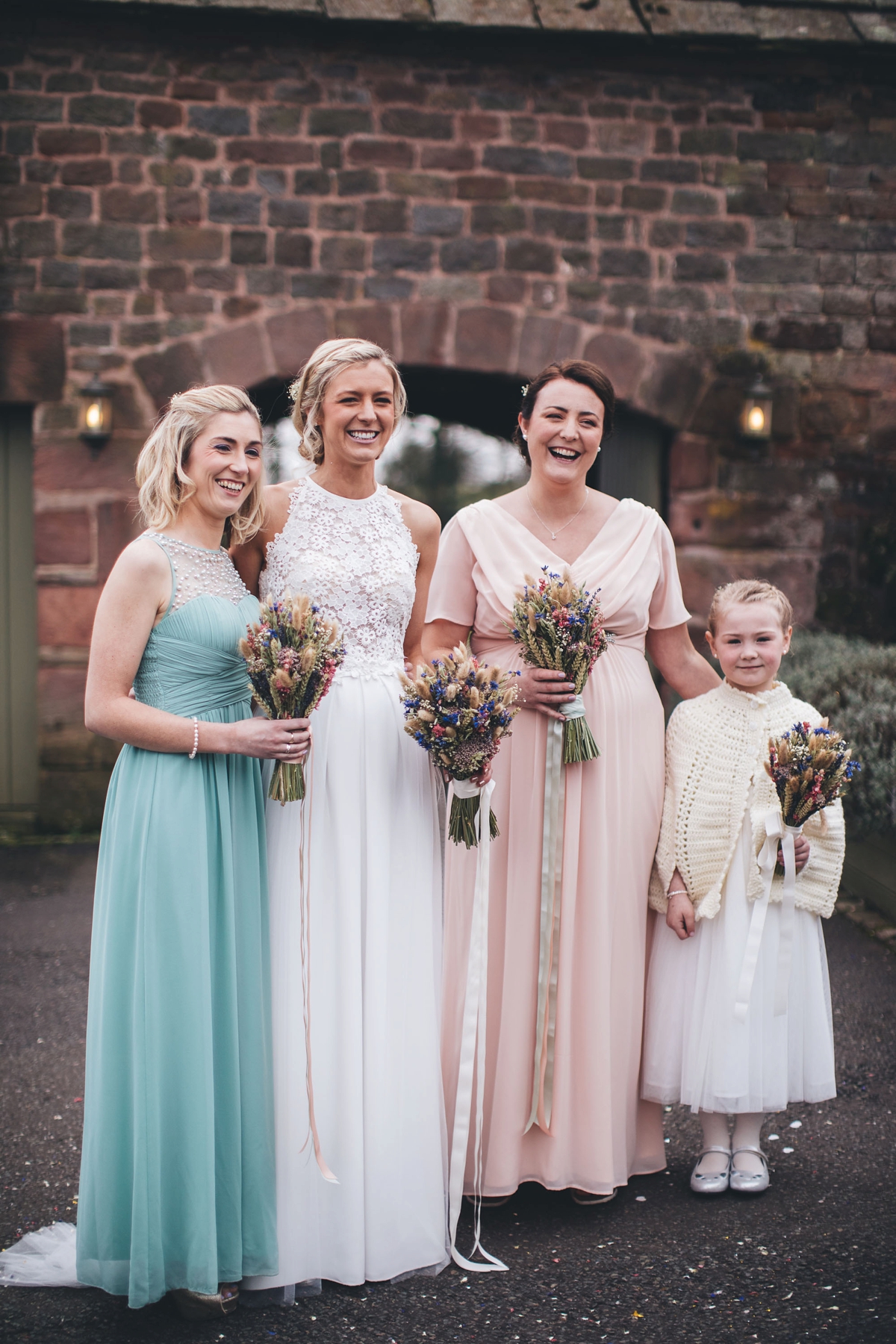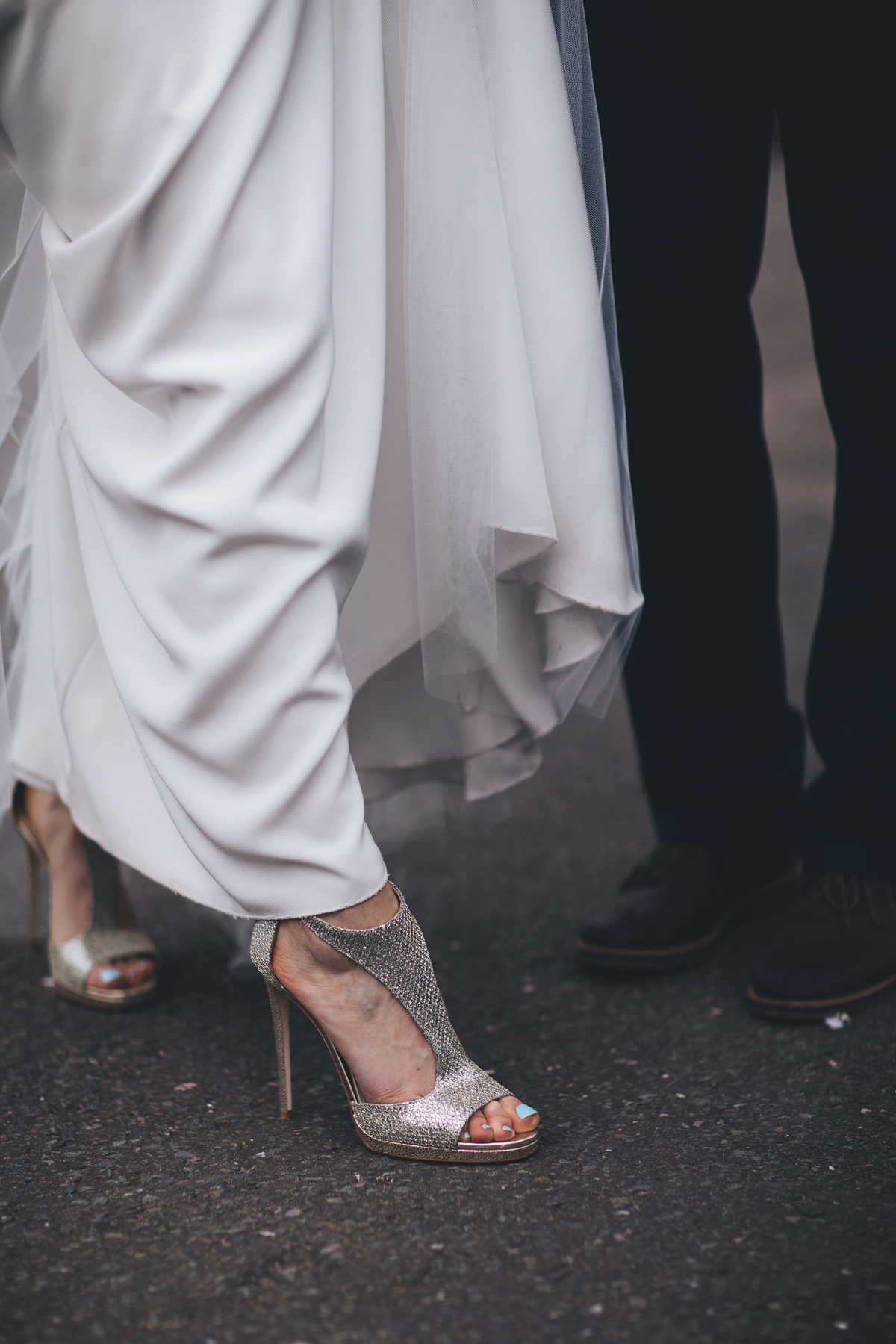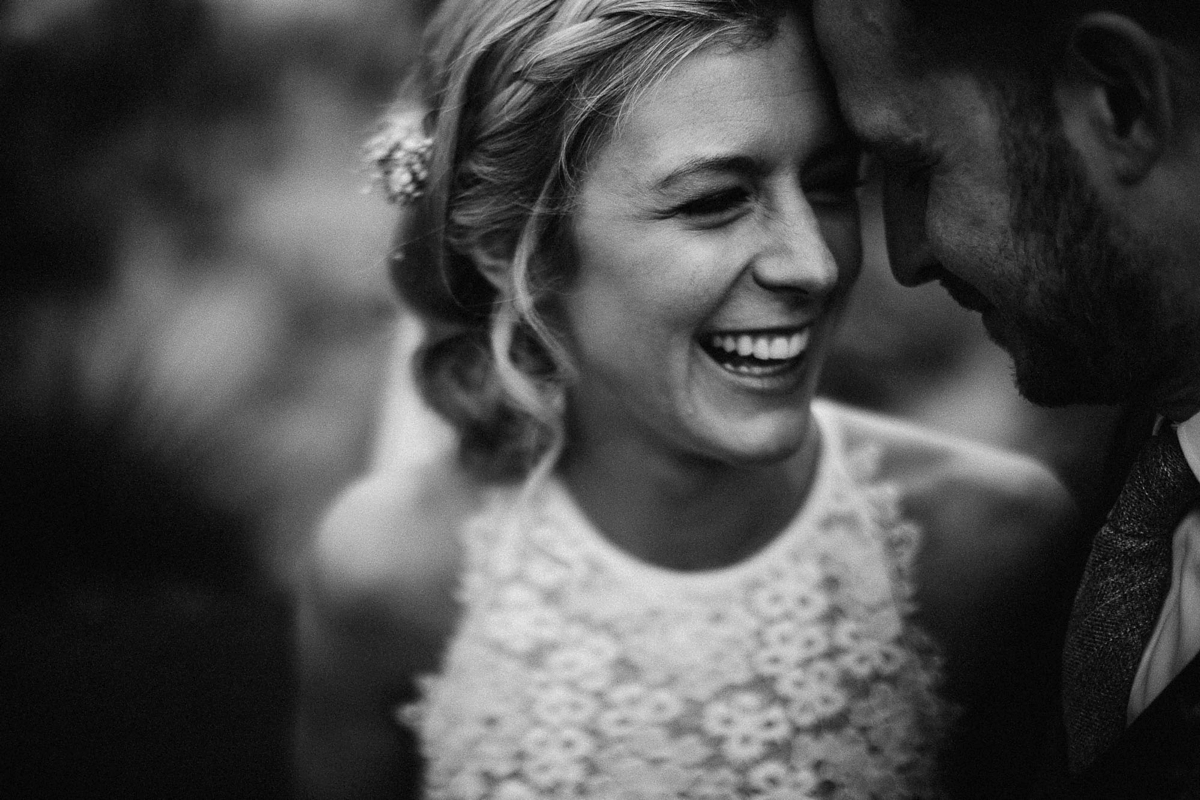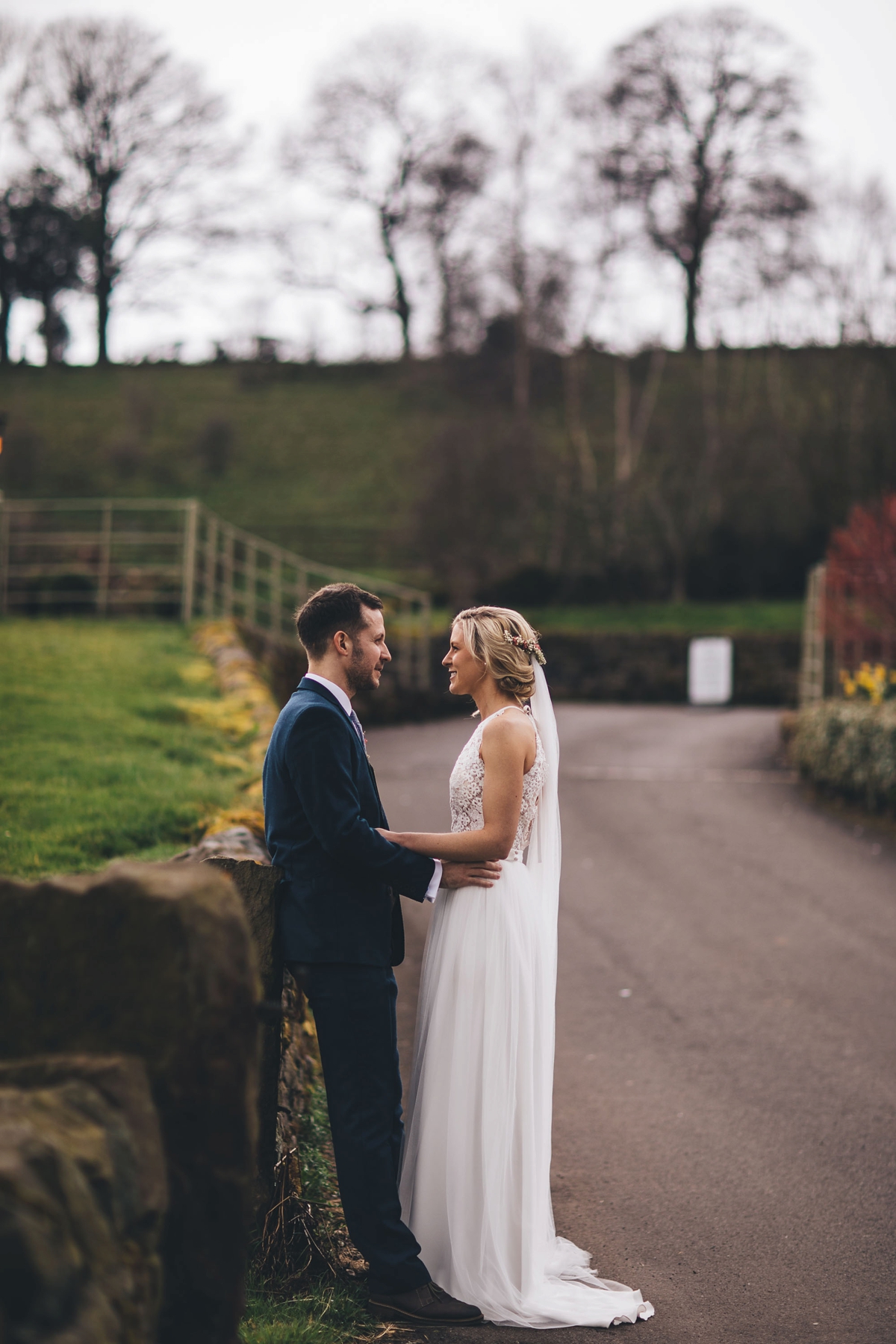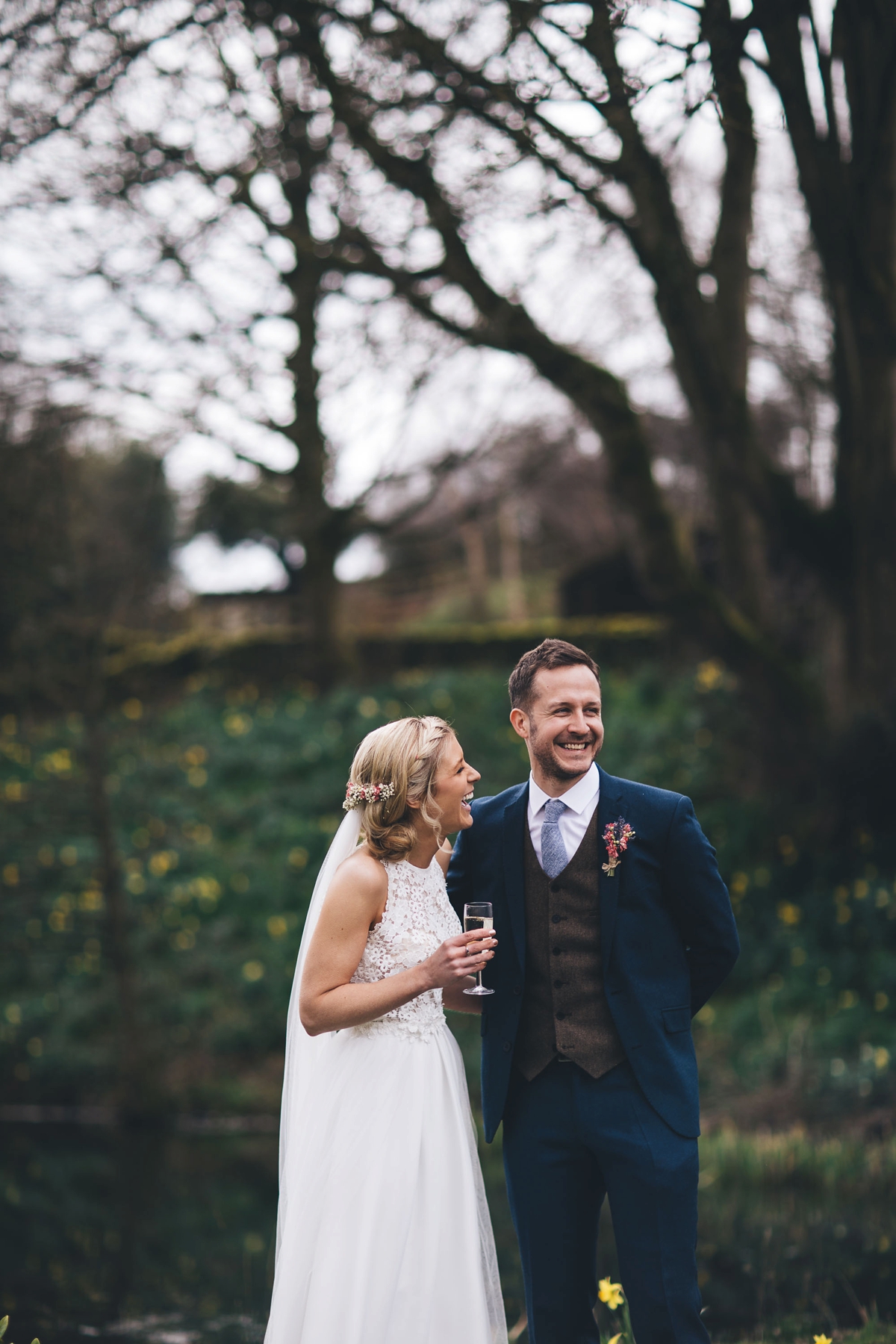 The newly-weds and their guests spilled out in to the Staffordshire countryside to enjoy the April day, and celebrate with vibrant confetti. Musician Michael Mulholland was there to provide an acoustic soundtrack to the celebrations.
"Michael was absolutely amazing! He played all day long, from pre-ceremony to lights out. All our guests loved him."
The barn needed little dressing but Roisin opted to use wildflowers to enhance its stone-built features, working closely with the venue's events manager Lisa to style the day.
"Having decided on our rustic country setting we then decided on a colour scheme for the bridesmaids (sage green – though this became sage green and peach two weeks before the wedding as my sister's baby bump didn't cooperate with our plans). We chose dried flowers for the bouquets and décor as we felt it fit perfectly with the barn setting. Most of the design work, from the stationery to the rustic dried flower wall hangings and centrepieces, was done by my fantastically talented husband, given his creative background."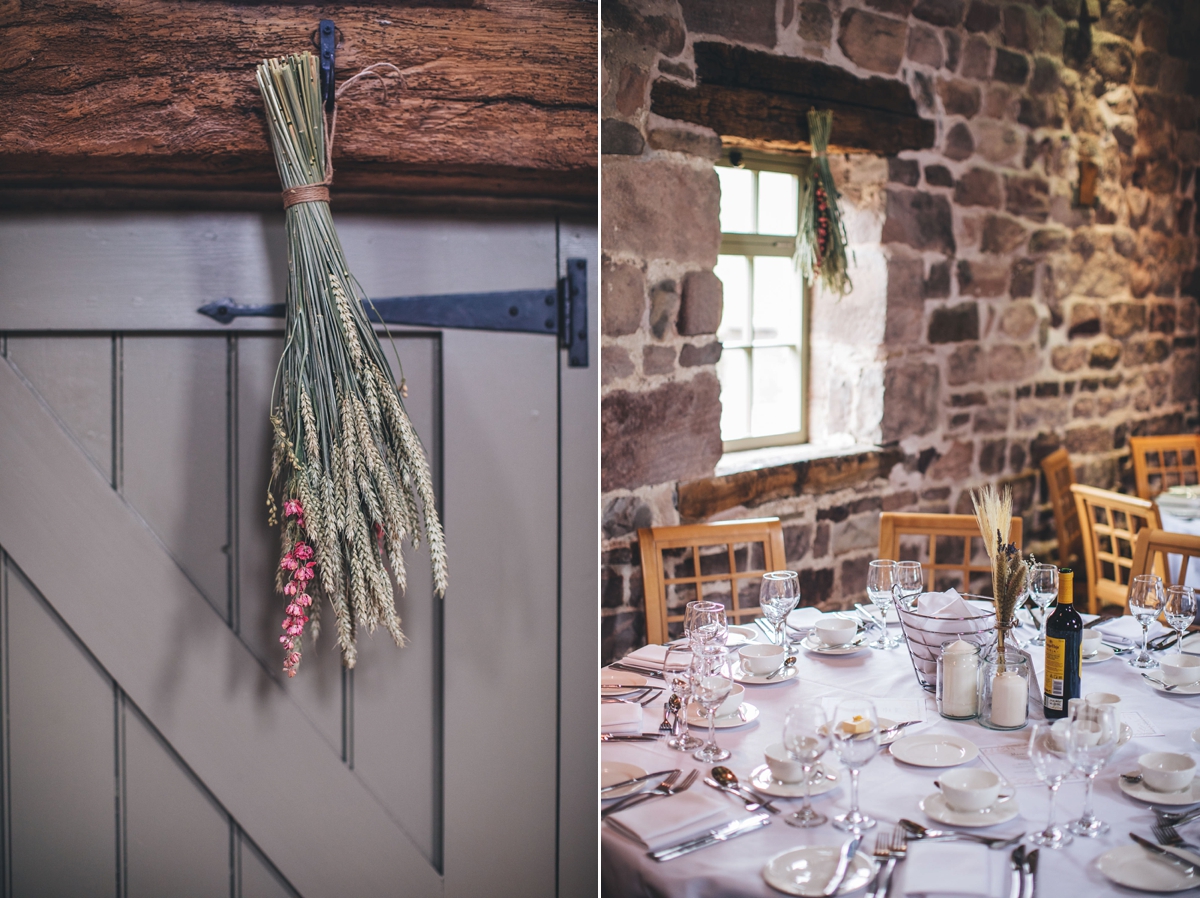 "Mark made wall-hanging bunches of dried wheat and oats, as well as pink larkspur from the The Artisan Dried Flower Company."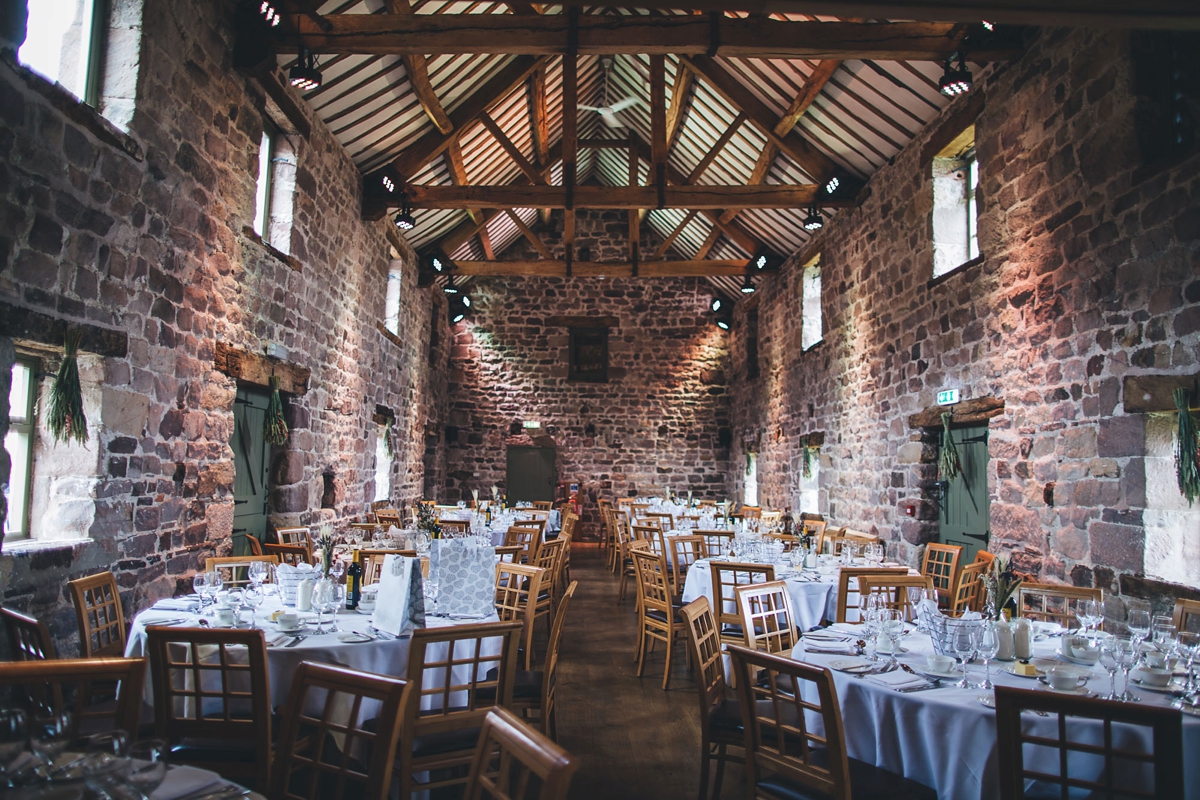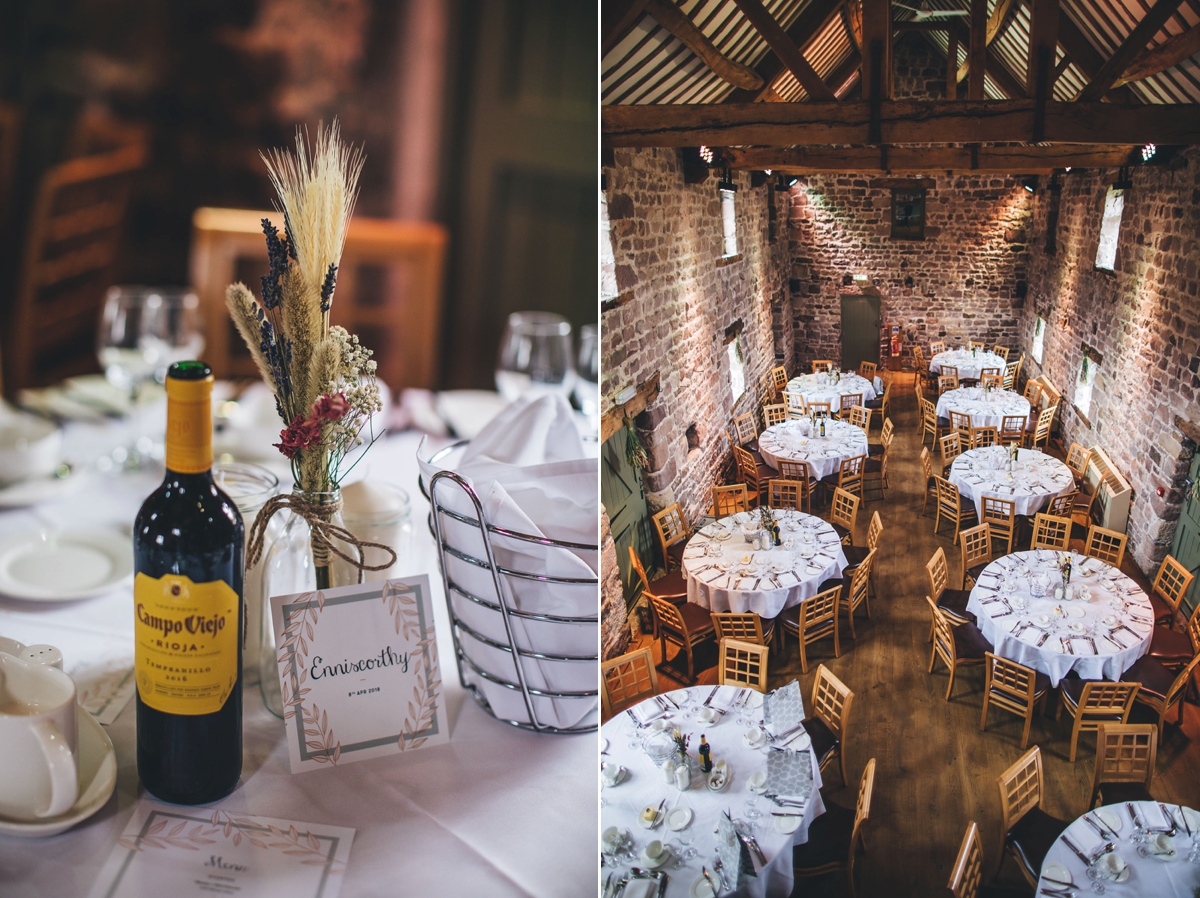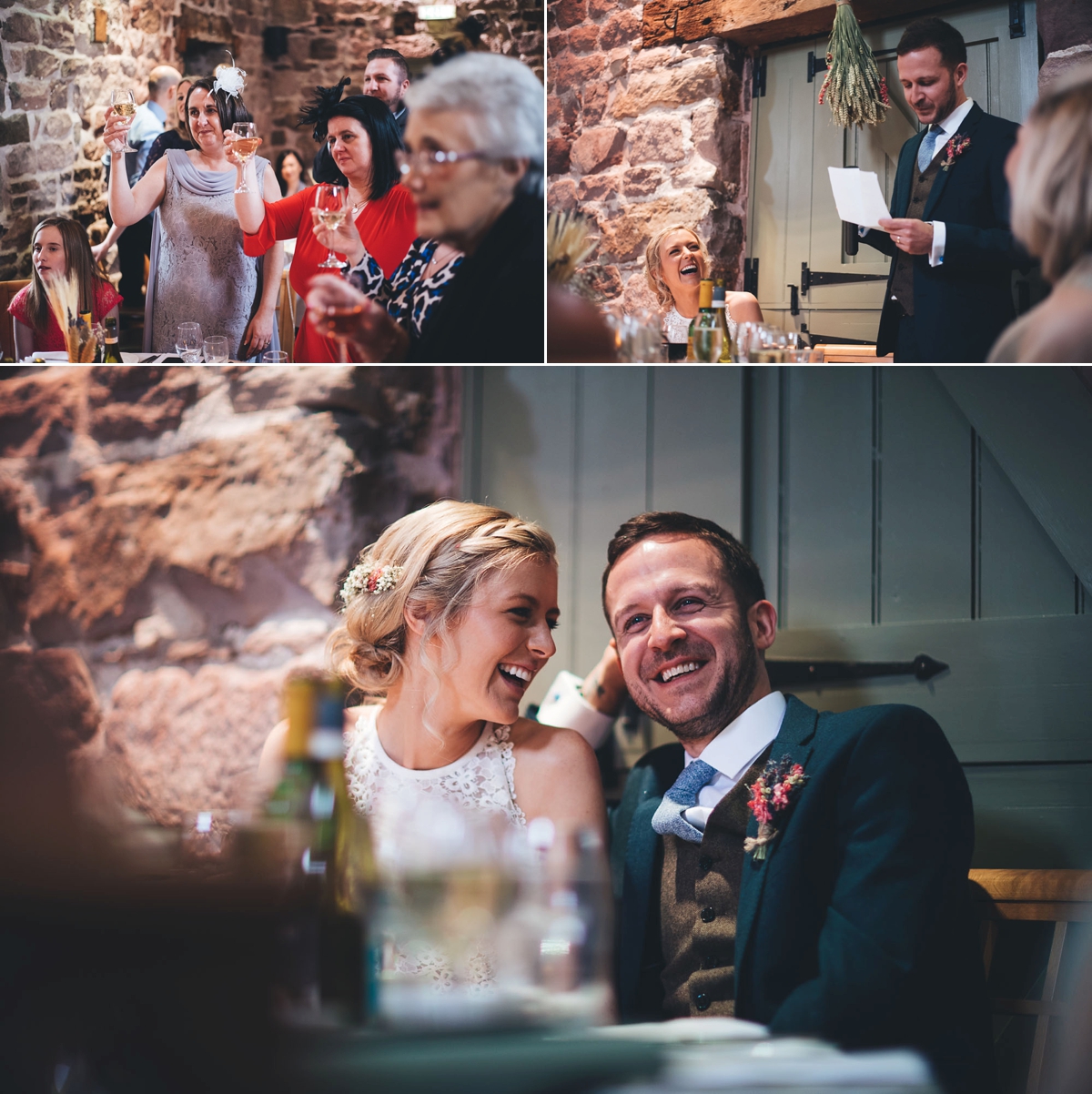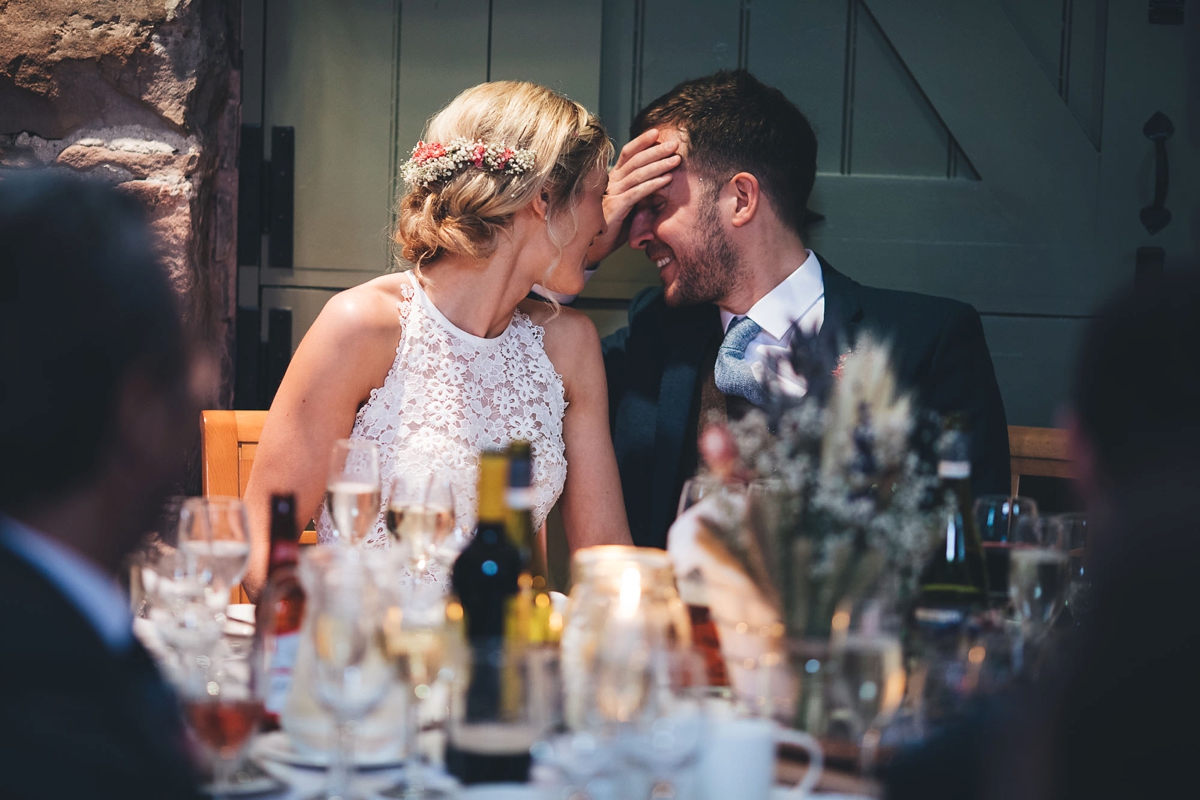 The traditional wedding cake was a family affair, brought all the way over from Ireland.
"My aunties made the two top tiers. One baked the traditional fruitcake, one did the almond icing and one did the white icing. They carried these over from Ireland in their hand-luggage. Superstars! My friend Fiona made the bottom tier – a delicious chocolate biscuit cake."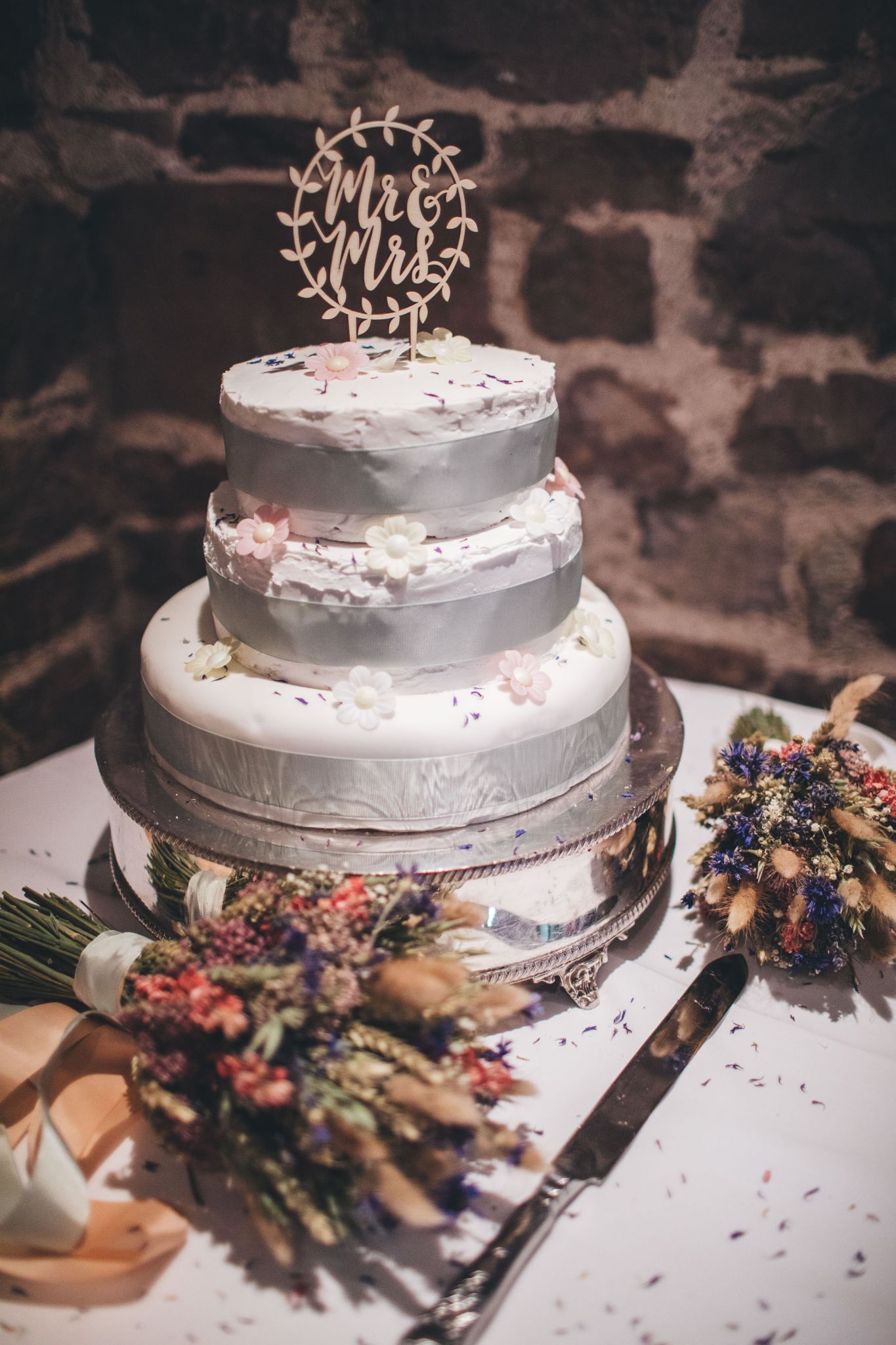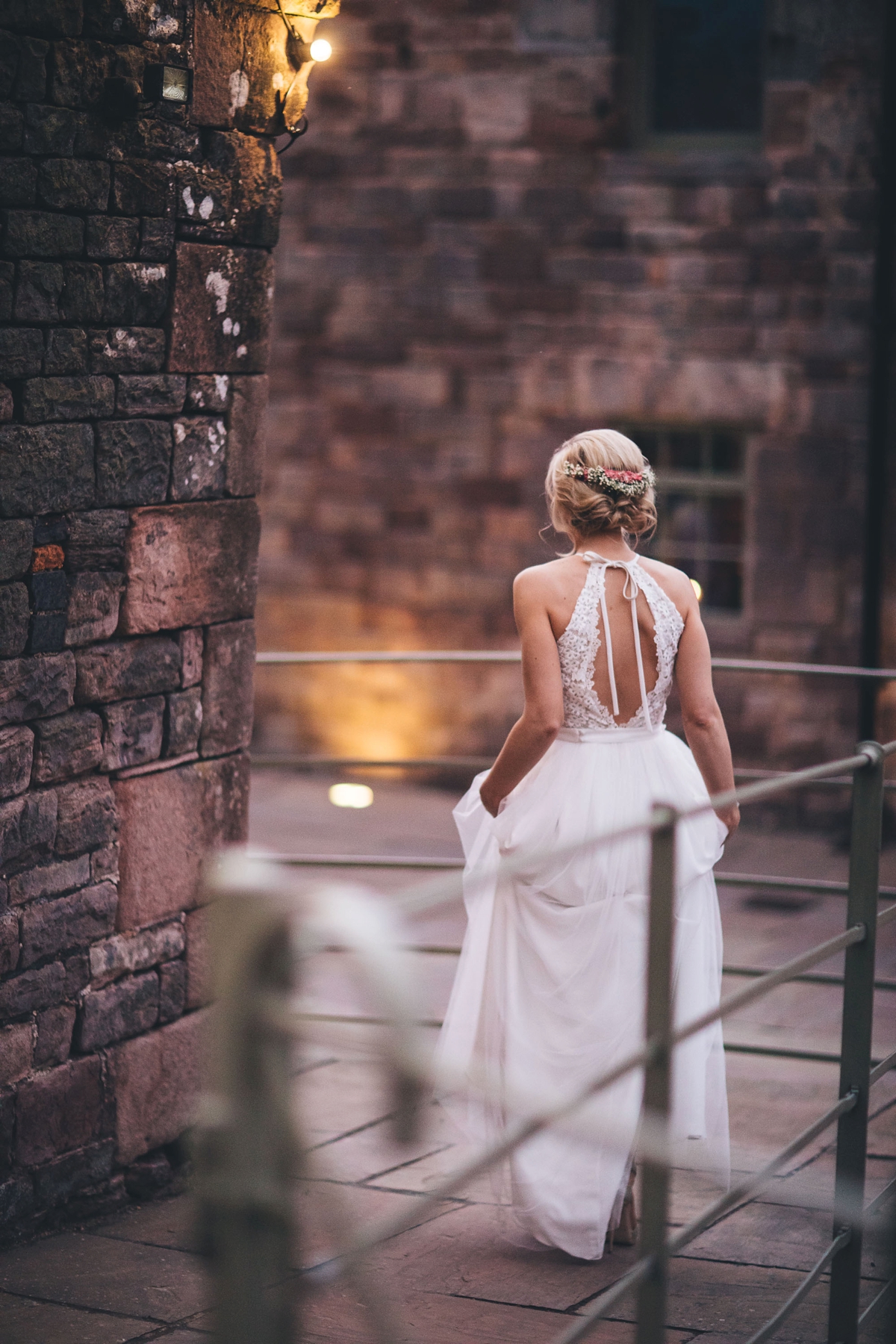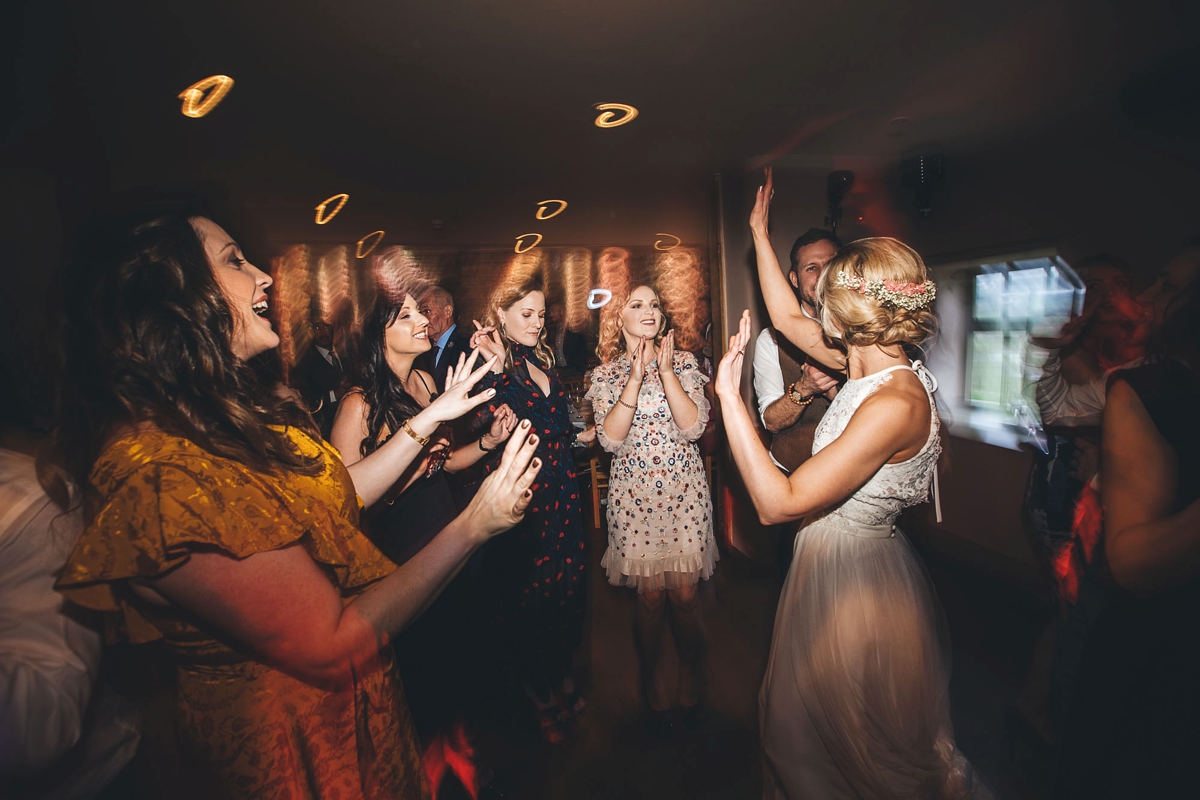 In the evening, dancing was the order of the day, after a fun and very personal acoustic first dance.
"We chose a mashup of Bob Marley's 'Three Little Birds' and 'One Love'. We chose it from Michael's repertoire because it had the perfect balance of a slow romantic start and a lively finish to get everyone up with us on the dance floor. We were keen not to spend too long on the dance floor as just us two… neither of us is a particularly gifted or limelight-loving dancers."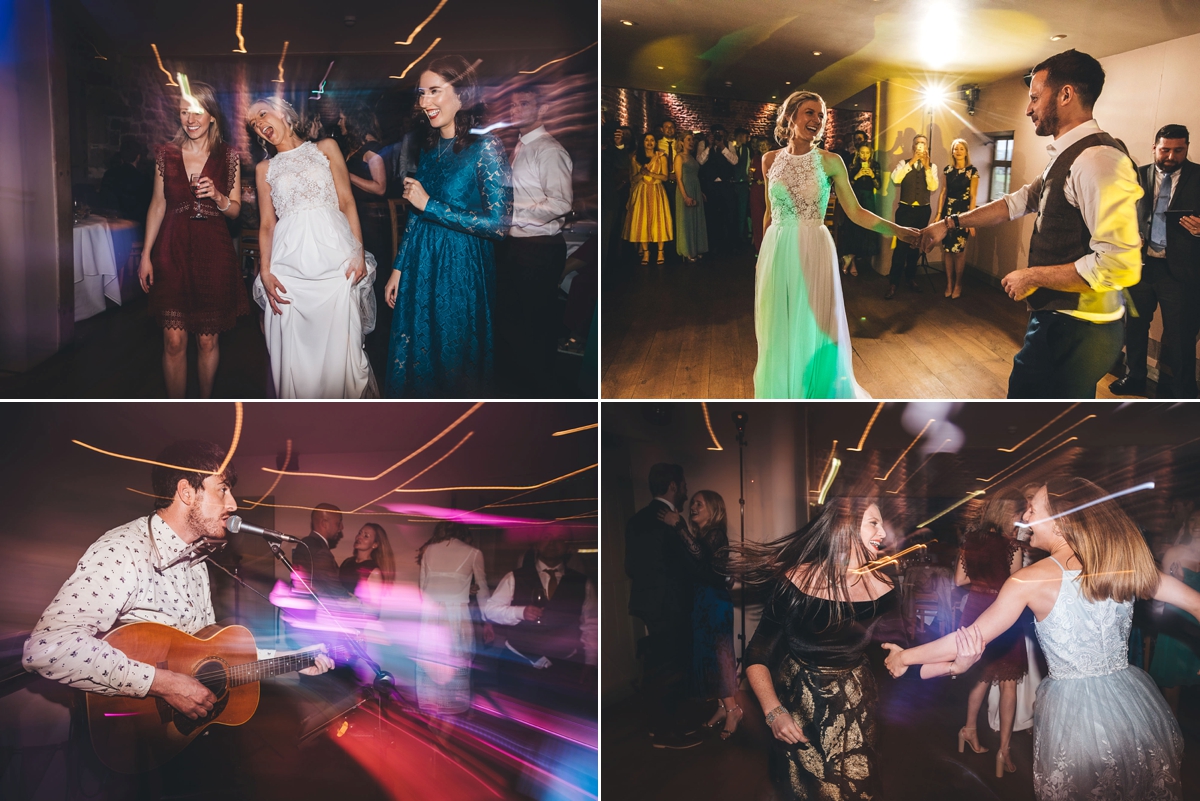 Words of Wedded Wisdom
"It's so important to remember what and who the day is really about and not feel that there is a set formula that you need to conform to. It's easy to fall into the trap of prioritising other people's expectations of the day over your own."
"Of course we wanted all our guests to enjoy the day but we wanted to make sure that it was our unique day that they were enjoying. First and foremost we planned a day that we would love and cherish."
Thank you so much you two for sharing your day with us today, and please join me in thanking Mike Plunkett too for his lovely work. Lovelies, I really hope that Roisin and Mark's simple and laid-back approach has inspired you to do exactly what you want for your own celebrations, and that it's also shown you that a beautiful day can be created in just a few short months. There is even more rustic wedding joy to inspire you here.
Ele xx