It's my birthday today! And I'm heading on out soon for a little pampering and time with my husband, ahead of a really busy few days of work, travel, shooting and creating. This morning's wedding though, I'm going to slow down for a few moments over a coffee and soak it all in before I head out anywhere, because it's a total cracker.
Project Manager Ruth married her beau Thom on 28th October 2017 with a beautiful, modern celebration that stripped away gender convention. I adore them for this – it was actually through talking about diversity in weddings through our Instagram account that this wedding came to my attention. Ruth reached out to tell me how she and Thom had approached things differently..
"In an overly gendered society, a key consideration for us was to strip this away as much as possible. We had a joint HAG (hen + stag) party where we all went camping together. Also, rather than appointing bridesmaids and groomsmen we nominated a 'Team Wedding' who wore their own choice of clothes and each had the option of a button hole or crown. Thom had a Best Man and I had a Best Dan. Practically, it was as simple as making our own signage for the hall that simply said 'Toilet' to stick over the icon of a woman in dress."
Photography by Georgina Piper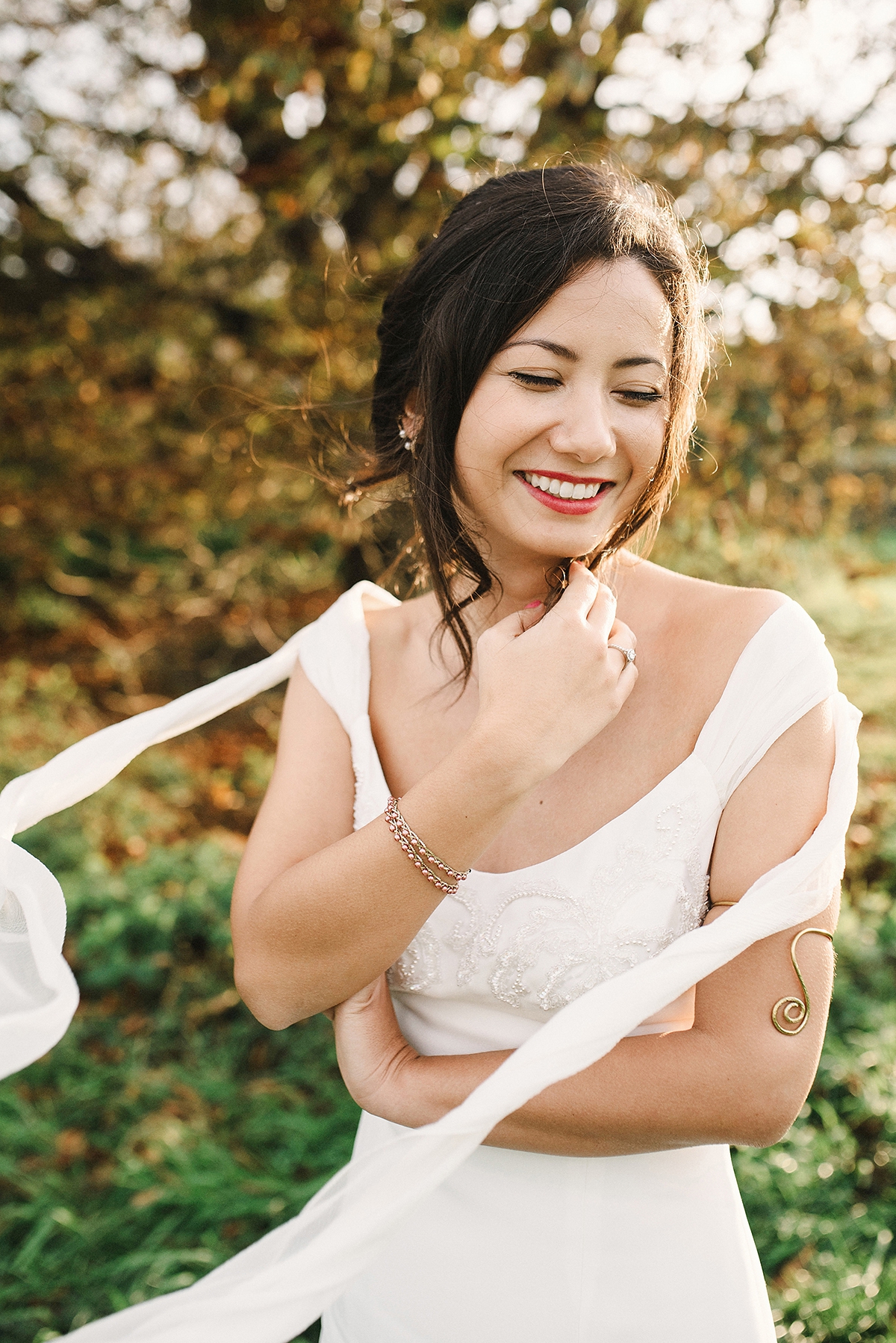 "My dress is a 1990's David Fielden which was passed down from my auntie. I was having real difficulty finding 'the dress' whilst still sticking with our mantra that we did not want to spend a lot on our day. Whilst at my auntie's house, sorting through her clothes for hand-me-downs (she has a fabulous clothes collection!) ahead of her moving house, I joked 'you don't have a wedding dress in here do you?'. And, of course, she did!"
"An elegant 1990's slip dress with beading across the breast (to make it that bit more bridal) and the best feature… pieces of light, trailing fabric that I can only describe as 'wings' coming from each shoulder. I fell in love with it immediately. The 90's was my era and I love the casual nature of the straight up-and-down slip dress that hangs off the body."There's a birthday connection with their wedding too…
"We got married the day after my birthday because it was the only weekend we had free in the three months following our engagement (having saved it for a birthday celebration!)."
"We chose Rye Town Hall for our civil ceremony, for the beautiful cobbled backdrop of historic Rye, the larger capacity of the room but, honestly, mainly for the fabulous, befeathered town crier who announces your marriage to the good people of Rye with a ring of his bell and a healthy swig from his hip flask (he must get a sore throat doing all that shouting!)."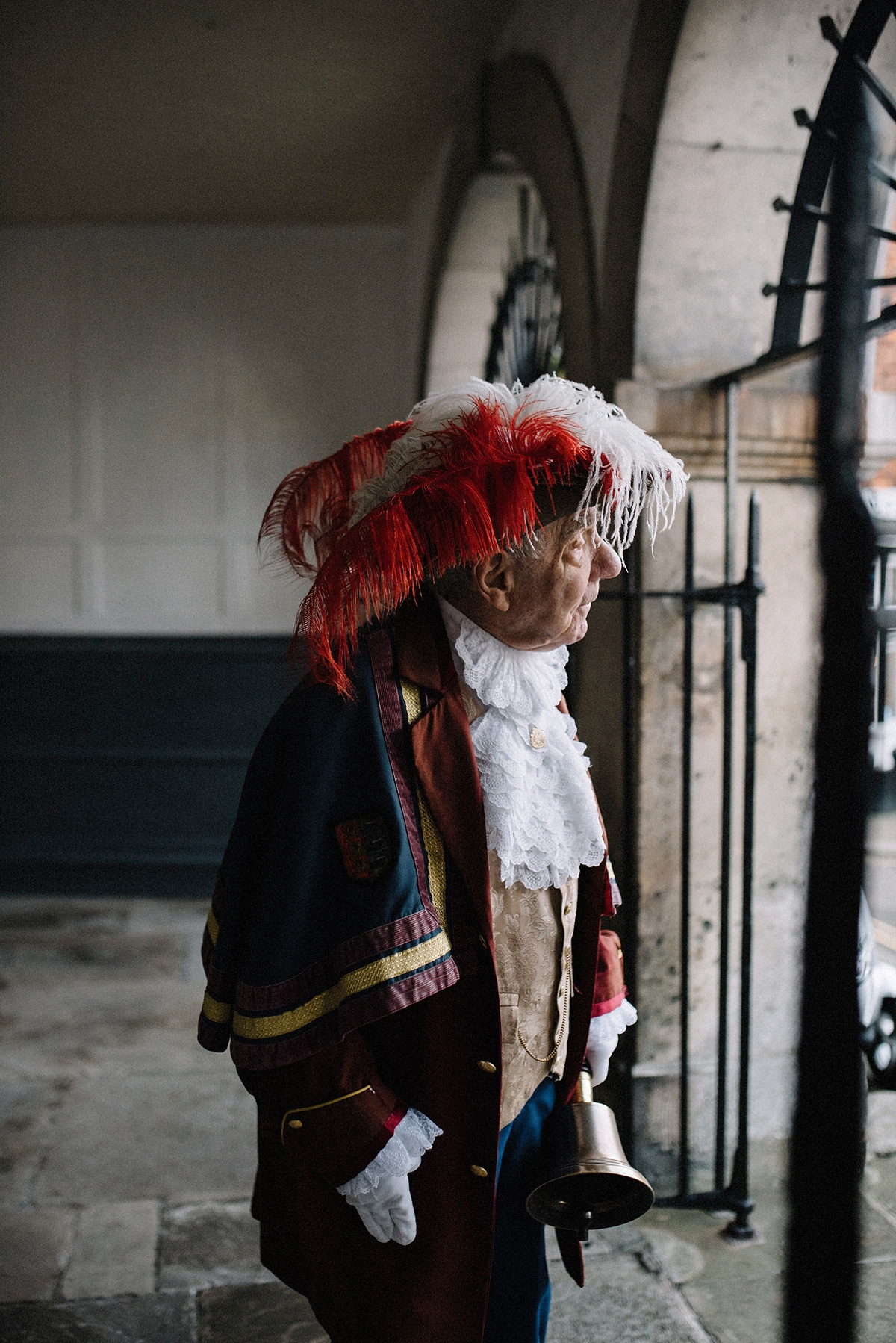 "I'm a ring-admirer, usually adorning each finger with a ring for every-day but chose to take them off for my wedding day and just wore my engagement ring so as not to detract."
"My wedding ring is a sapphire and yellow gold confetti ring by Polly Wales. Polly is by far my favourite jewellery designer; her materials are ethically sourced and, rather unusually, she casts rather than sets the stones into her pieces. Despite adoring her work, I resigned myself to the fact that I would never own one of her rings – they are far too expensive for me to ever spend that amount of money on myself."
"In a twist of fate, just one month before our wedding the Auction for Aid charity jewellery auction popped up on my Facebook news feed via Help Refugees, a charity we personally support anyway. I fell in love with one of the lots and upon further research learned that it was in fact a Polly Wales ring! I won the ring for less than than the RRP but, more significantly, 100% of the proceeds of the ring went directly into supporting people in refugee camps."
"Thom's ring is a silver, sand cast Justin Duance thick band (pictured below). If we'd have had more time/sentimentality we could have sent in a small box of sand from our favourite beach for the ring to be cast in. Thom is a very active person so his main consideration was choosing a ring that wouldn't get caught whilst he's doing sports – I believe the D shape is good for this."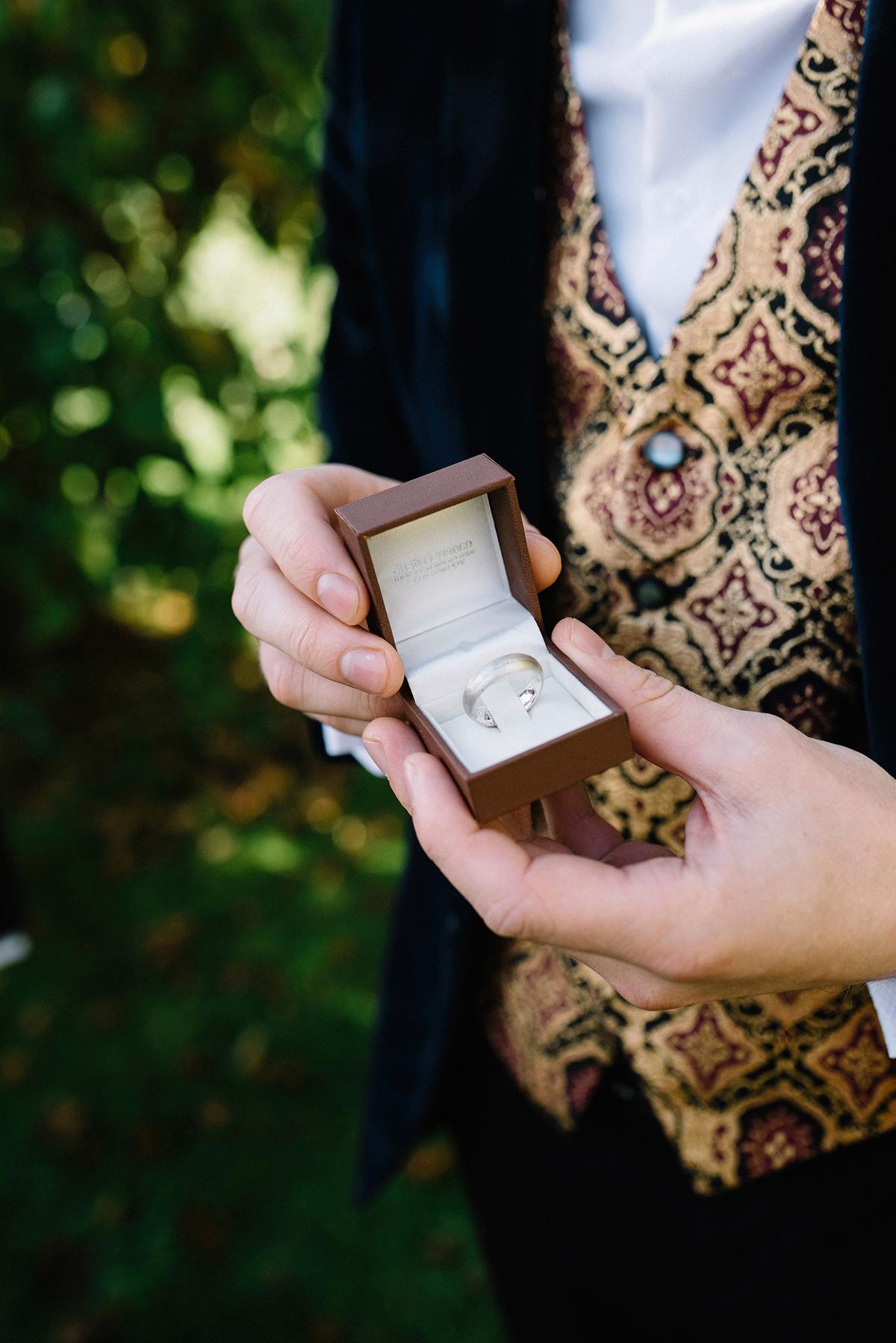 "Thom and I met in a deli in Englefield Green, Surrey in 2013. Being a couple of years older, I had worked there a couple of years earlier as a student and Thom worked there currently. I was seeking raffle prizes for a local charity auction and got talking to Thom because I used to have his job. The following week, when I came to collect the prize that the deli had donated, he asked me out."
[JP-VIDEO]
"That same summer we watched the Perseid's Meteor Shower together laying on the Englefield Green & it was the most romantic and extraordinary night because we literally saw hundreds of shooting stars. The Perseid's Meteor Shower happens every July/August and we made it an annual tradition to watch it together."
"In the Summer of 2017, whilst watching the shower from our London garden, I asked Thom 'is it true that diamonds can be made out of star dust?'. He took a torch out of his pocket and shone it on the raspberry bush above our heads saying 'Is that a star that has landed in that bush?' The beam of the torch was glistening on a diamond; he'd hung the ring around a raspberry fruit. From the proposal to the wedding day was 10 weeks exactly."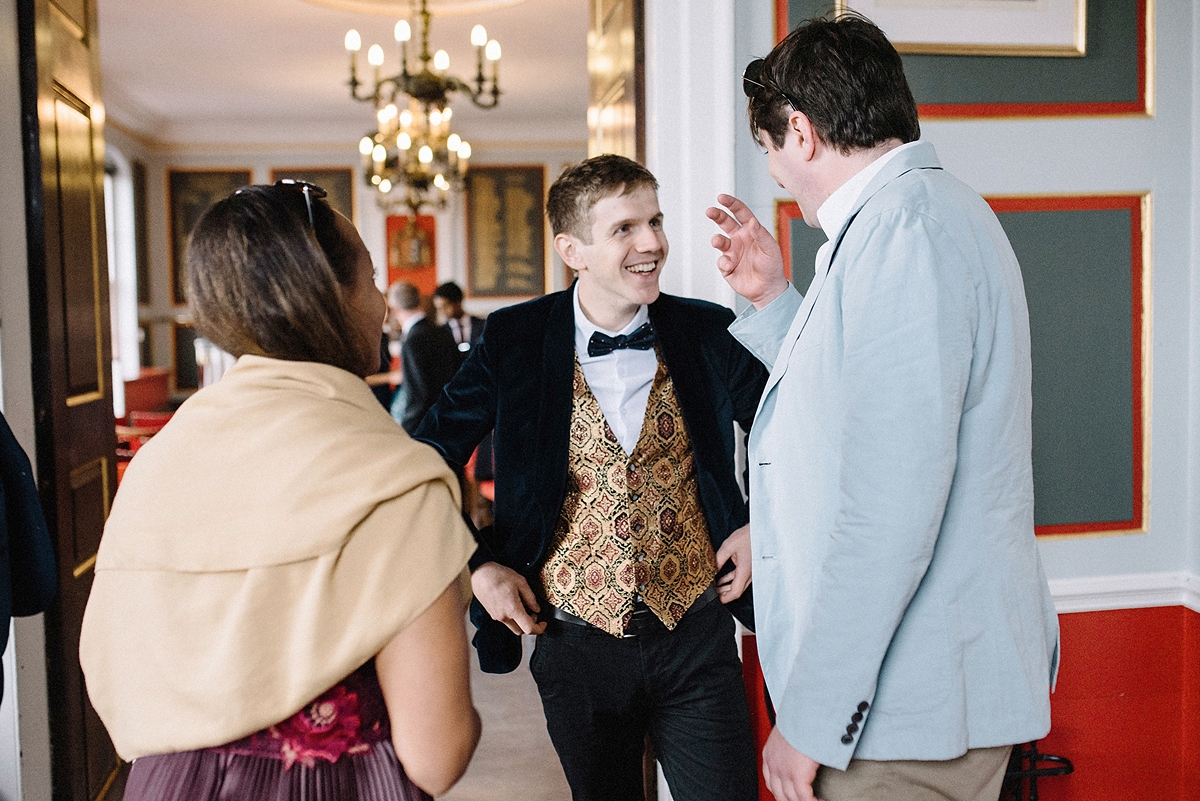 "We identified the flowers as an easy way we could save some dollar by doing them ourselves. At 3am on my birthday (the day before the wedding) myself and my self-sacrificing mother bought the wedding flowers and greenery from the New Covent Garden Flower Market in Vauxhall, London. We spent £300 on a huge amount of gypsophilia, lisianthus, fern and eucalyptus – much more than we needed but we didn't know that then."
"All we knew was that we needed enough to make the bouquet, the crowns, the buttonholes, the table flowers and four extra large wreaths that were suspended from the ceiling beams, over the stage – proper Pinterest style! In hindsight we could have spent 2/3 of that… we had far too many flowers to know what to do with."
"Our Team Wedding each had the choice of wearing a gypsophilia crown or a white lisianthus button hole, both affectionately created by my sister-in-law, Alice, who had the mammoth job of the flowers – with a little help. We definitely owe her one!"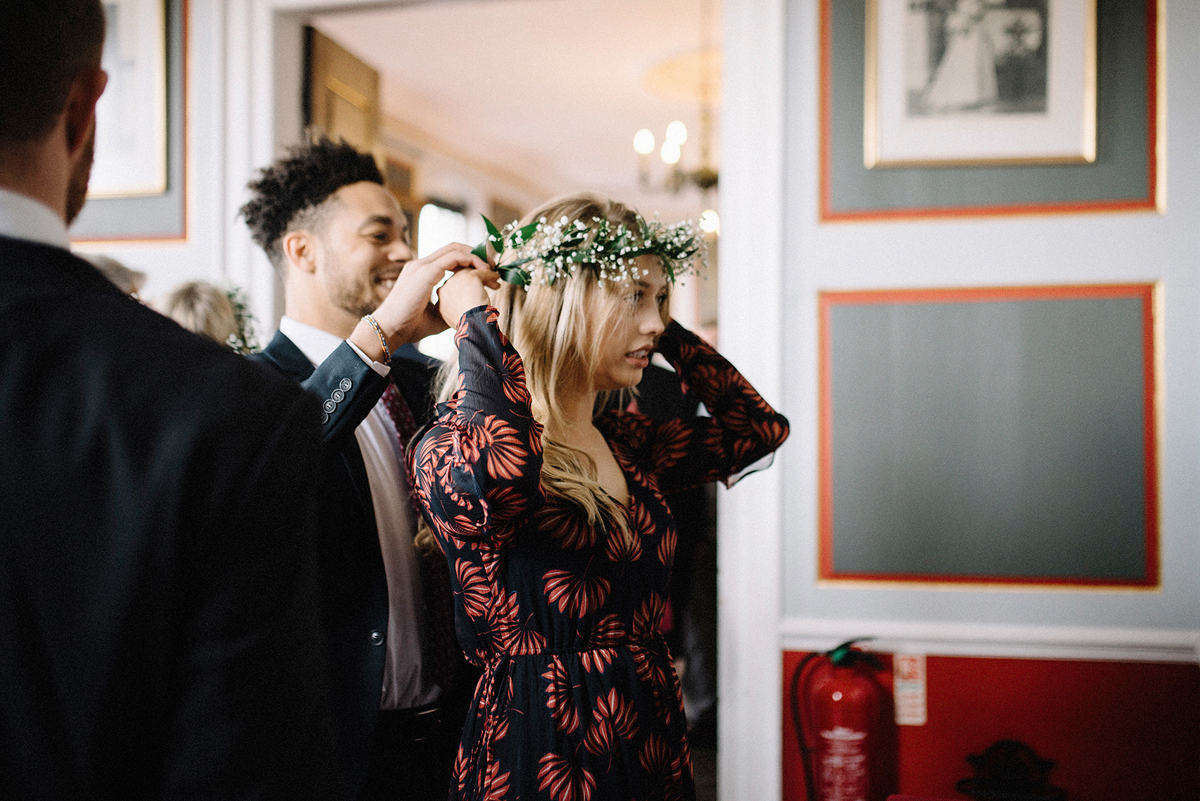 "We simply wanted a day to bring our family and friends together for a good dance. We didn't want it to cost the world as we like to save our pennies for actually seeing the world. And, we're not the kind of people that can spend a long time thinking and planning."
Hair and Makeup styling was provided by Lauren Newell; "Lauren did a wonderful, very efficient, job with little direction."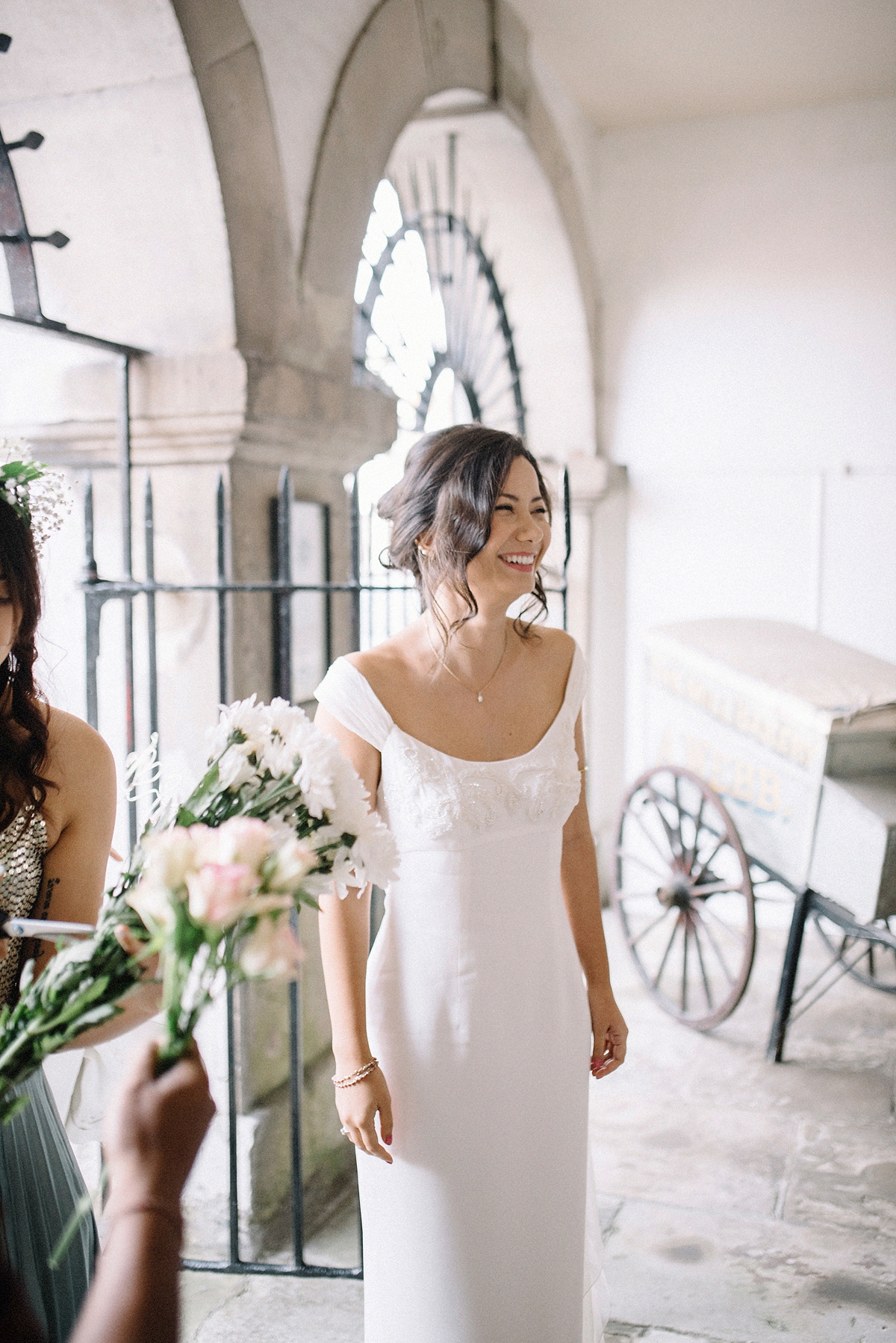 "I wore 'Red Door' by Elizabeth Arden because it's the only perfume that I own and I originally bought it because it looks a bit like the Tardis!"
"My necklace acted as my 'something borrowed' from my colleague, Kate. I was terrified (as was she!) about losing it because it had belonged to her Mum. It's a gold chain with a white opal (my birth stone). My earrings were the same gold hoops I wear every day, a gift from Thom. With the addition of gold and artificial-pearl ear cuffs. I also wore a gold and pink pearlescent necklace that my Mum gave me as a baby, in Bali, as a bracelet because it no longer fit around my neck."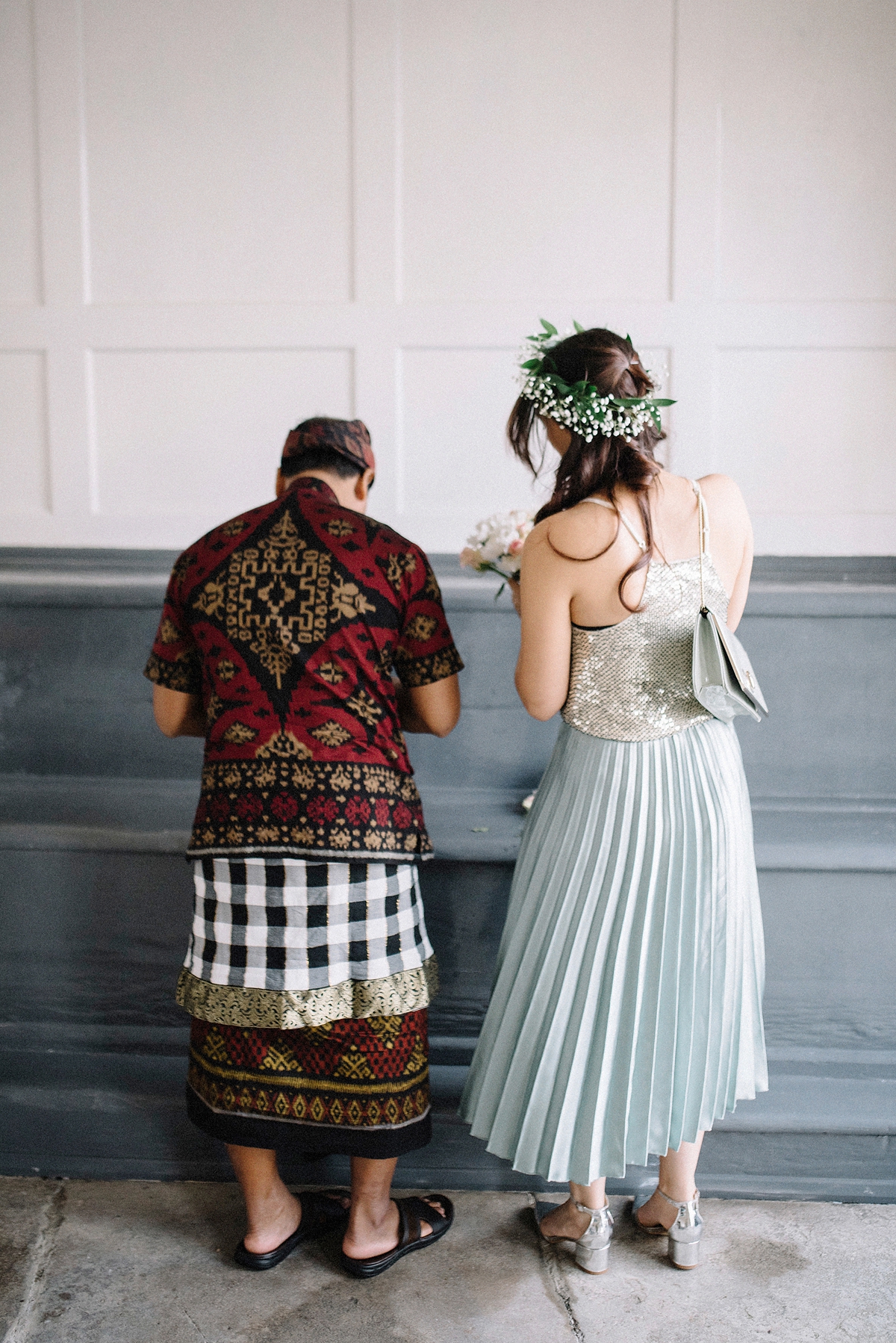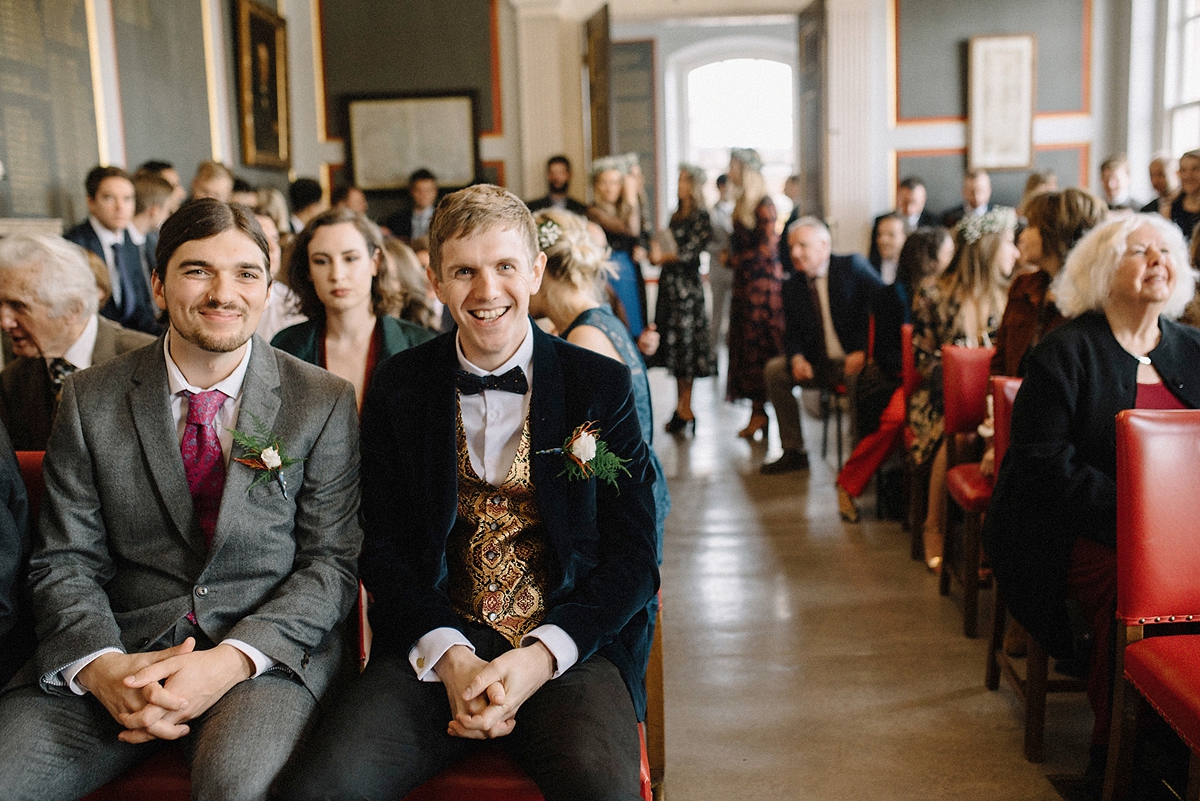 "My sister as my person of honour, my Best Dan and my father in full, rather splendid, formal Balinese regalia each accompanied me down the aisle to the sound of 'Kiss Me' by Sixpence None the Richer. In hindsight the day was a proper (yet unintentional) celebration of the 90s!"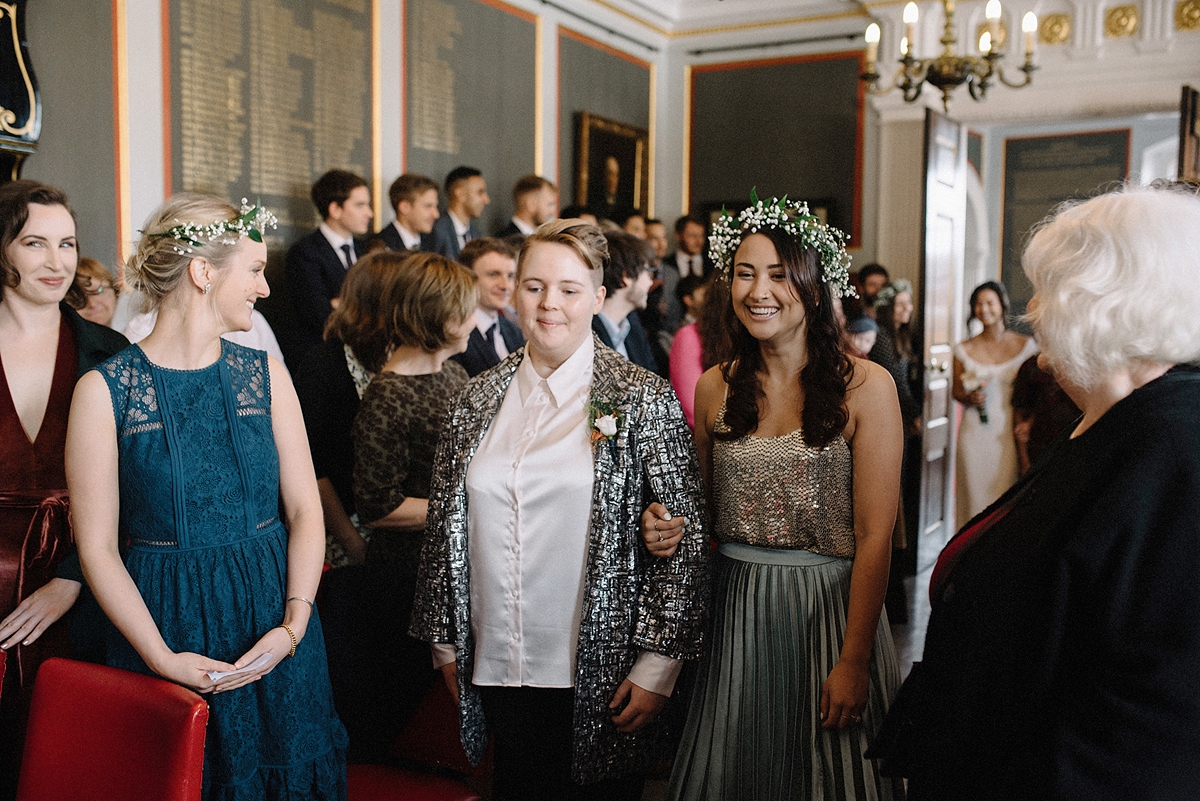 "We appointed our friend, Rory, to be the Master of Ceremonies. He was born with a voice and personality that is perfect for that job and he was truly wonderful at it, despite being given very little direction from us."
"In Bali, the ceremonial dress for a bride includes a tower of gold hair pieces and flowers pinned on top of the head, at least 30cm tall. I asked my father to bring some of these accessories over with him when he flew over for the wedding. On the day, I chose to only wear a slide of four gold coloured roses to compliment my up do, out of the array of accessories my father had brought over. I wanted a nod to that part of my heritage but had to find a balance with the rest of my outfit."
"I fancied something a bit different so also wore a gold colored, Grecian style arm cuff that I picked up from Etsy."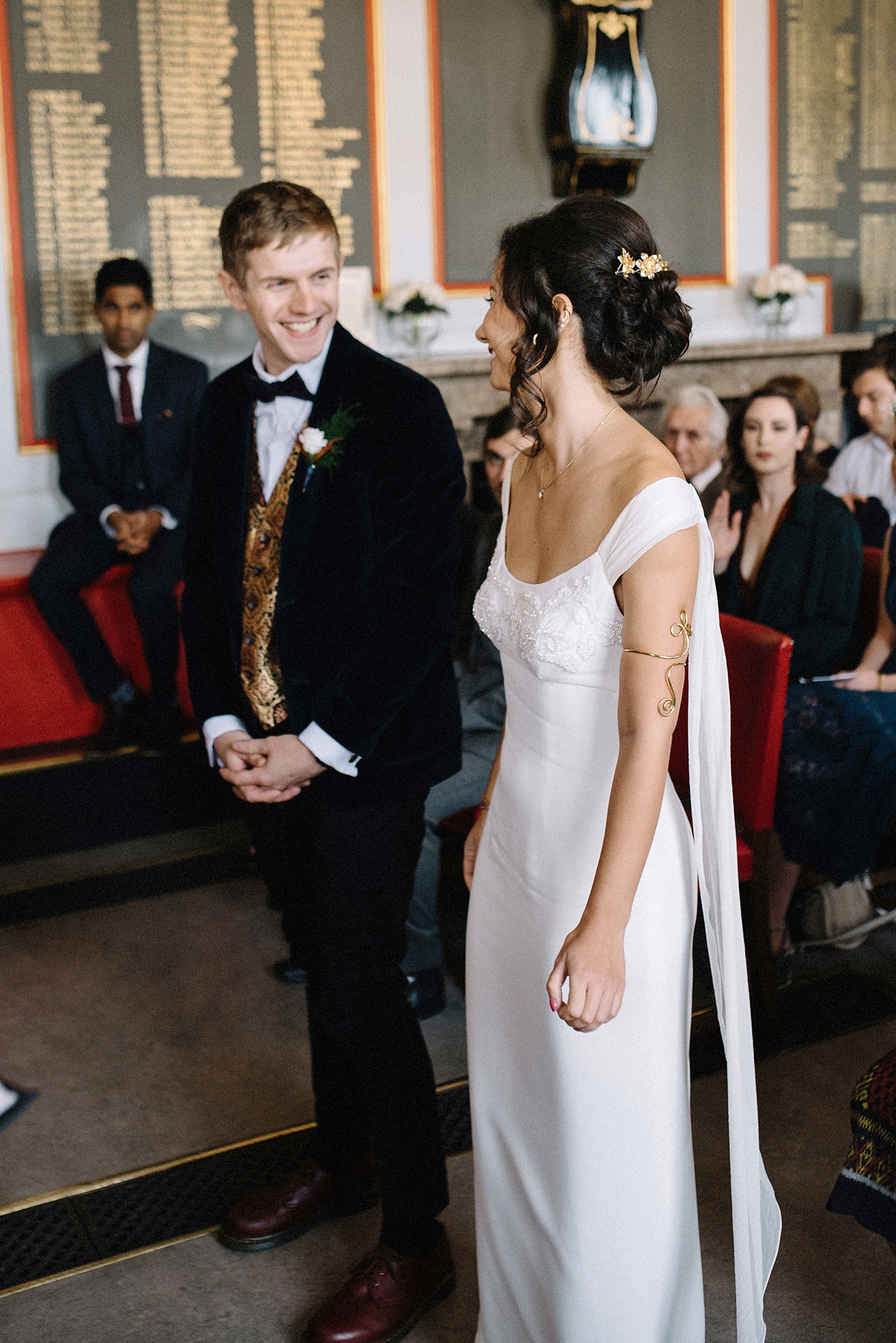 "We didn't know what our vows were even going to be until we were in the moment, repeating them! We were, however, incredibly lucky because our Registrar had such a lovely way about her – it made all the difference."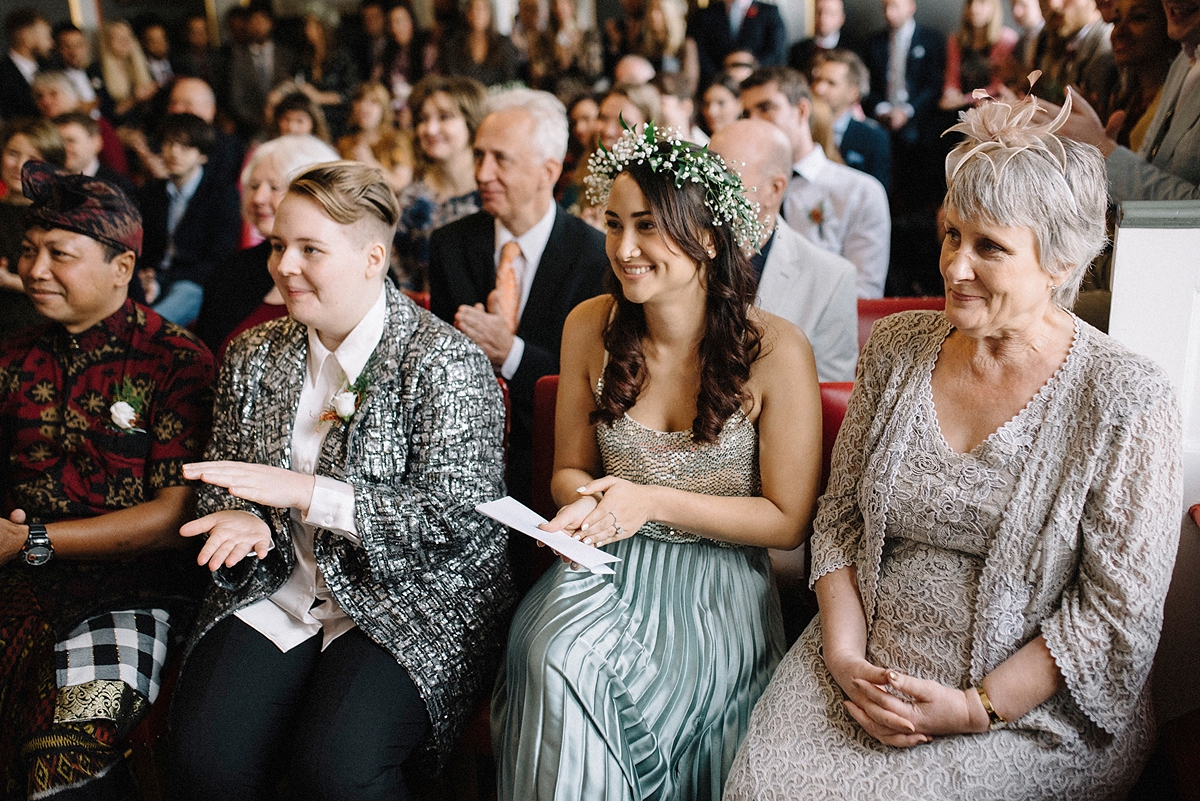 The couple's readings included 'Love' by Roy Croft (read this and more in our new 'wedding readings' resource).
"The whole poem is beautiful and spoke to us both, but specifically. Thom's sister then read a poem I chose called 'The Invitation' by Oriah Mountain Dreamer which is less conventional and a bit more dark and twisty. The two lines that I particularly related to were, 'I want to know if you can sit with pain, mine or your own, without moving to hide it, or fade it, or fix it'. 'I want to know if you can be with joy, mine or your own; if you can dance with wildness and let the ecstasy fill you to the tips of your fingers and toes without cautioning us to be careful, be realistic, remember the limitations of being human'. This was acknowledging that, the marriage aside, 2017 was an impossibly difficult year for me as I was realing from the suicide of my step-father, which will forever change me, but Thom was also there to weather the storm."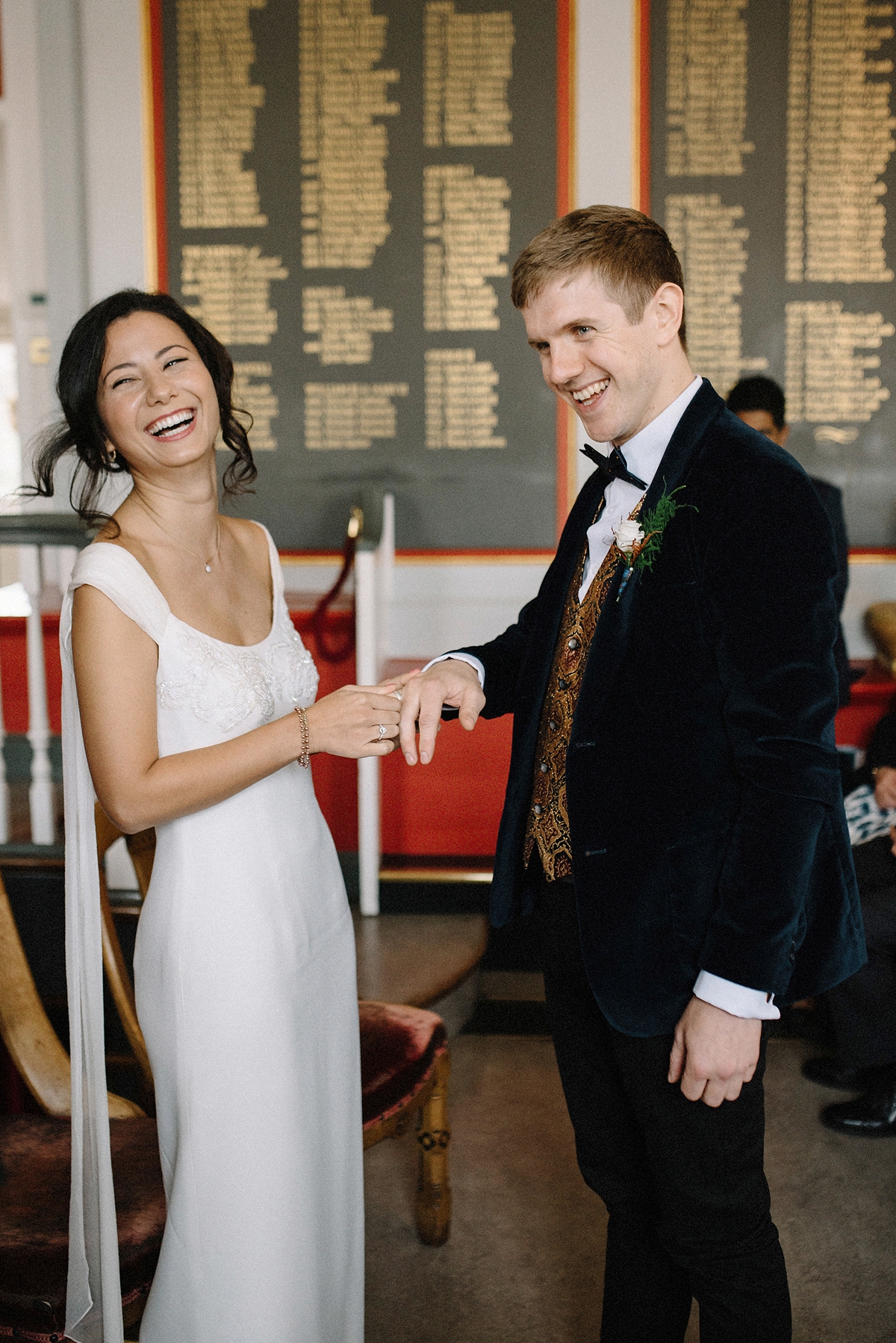 "I personally closed the ceremony by reading a short exert of the Cloud Atlas screenplay adaption. Cloud Atlas is one of my favourite books and I knew I wanted to incorporate its words into our day, but the screenplay was a better fit. Also, as the bride, I wanted my voice to be a part of the proceedings without having the stress of delivering a full blown speech…"
'Our lives and our choices, each encounter, suggest a new potential direction. Yesterday my life was headed in one direction. Today, it is headed in another. Fear, belief, love phenomena that determine the course of our lives. These forces begin long before we are born and continue long after we perish. Yesterday, I believe I would never have done what I did today. I feel like something important has happened to me. Is this possible?'. 
"It also provided a bit of comic relief!"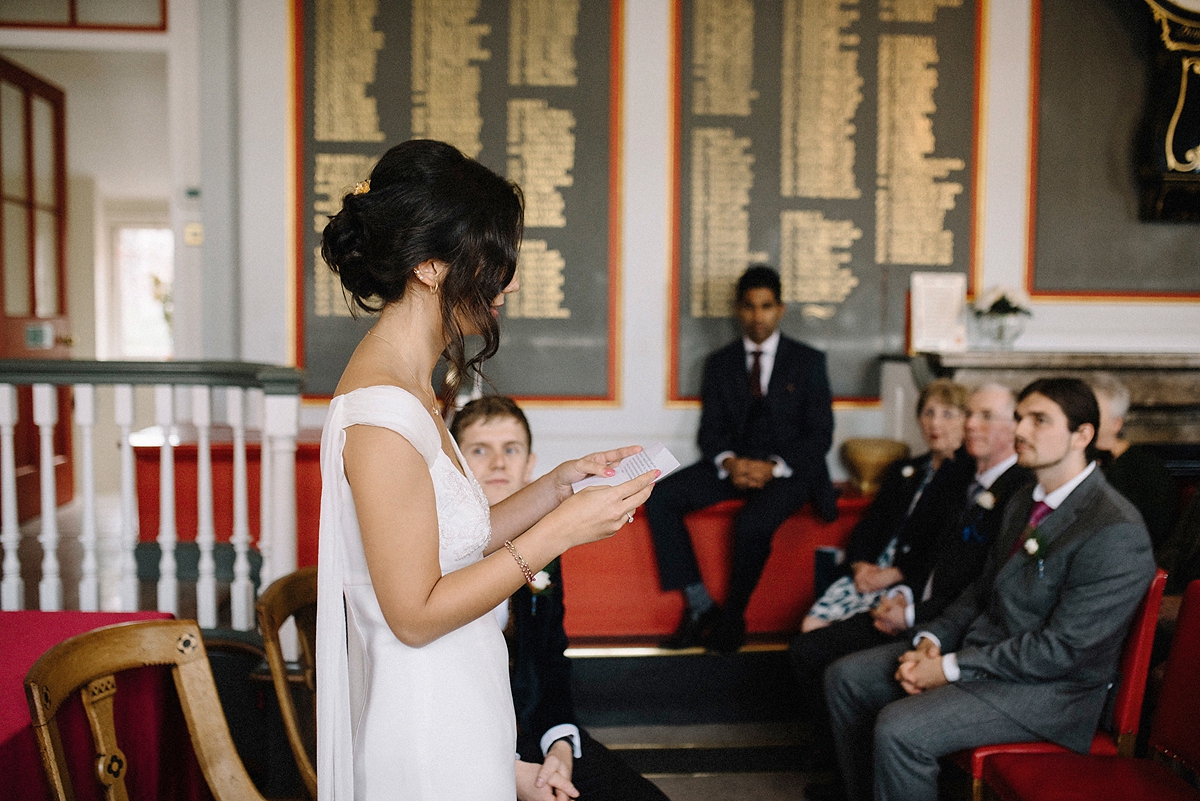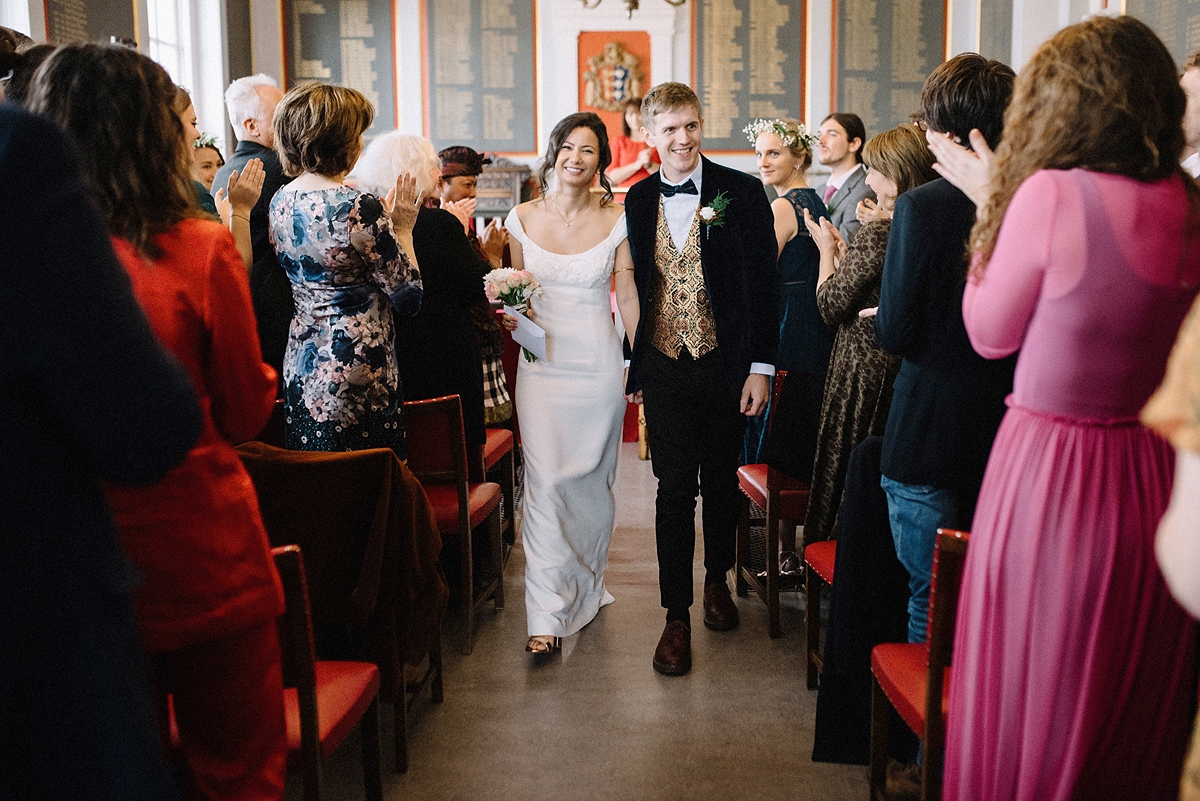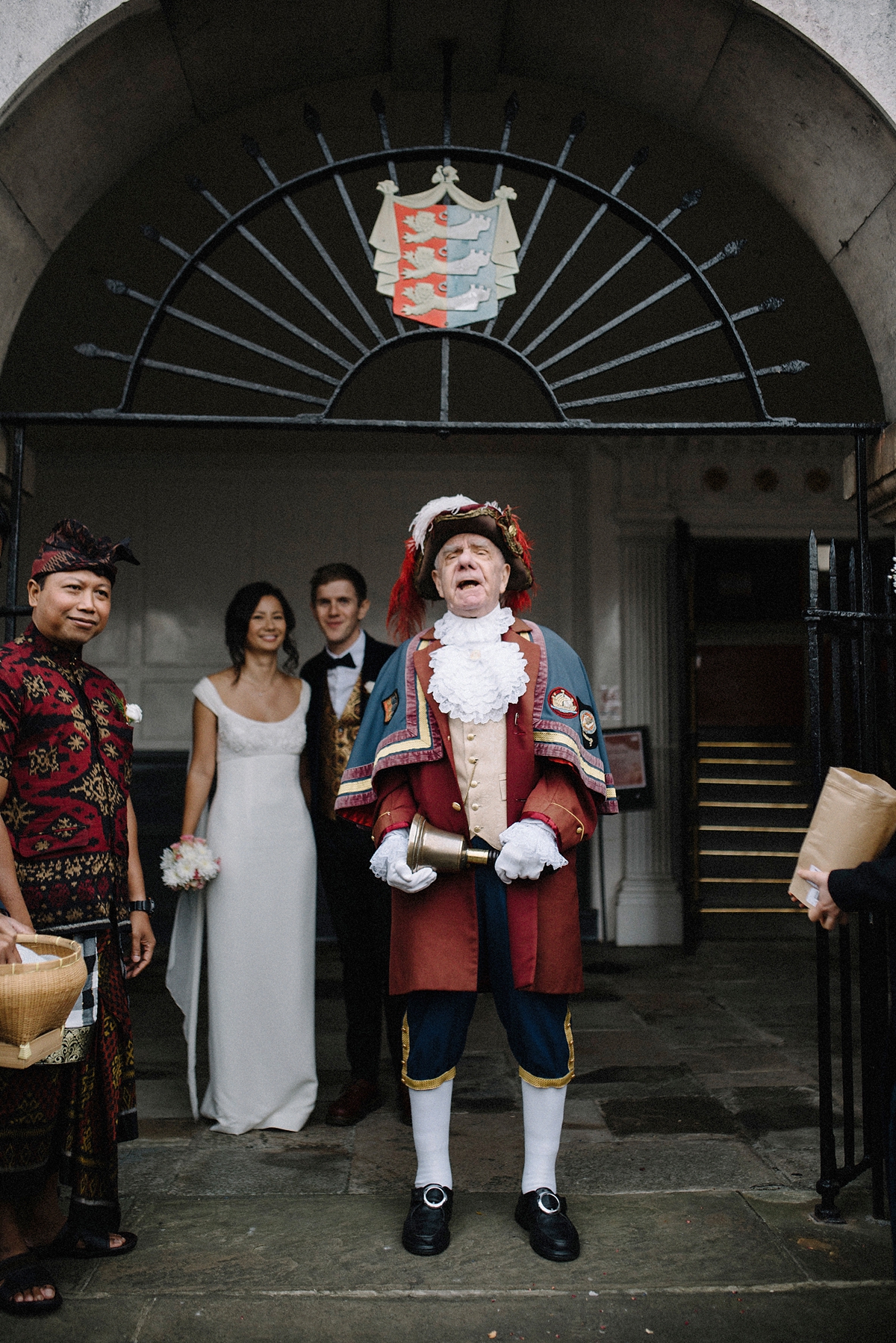 "Thom wore the same outfit that he wears to every wedding we attend as guests: a blue velvet blazer, black chinos, a white shirt and red Doc Martins. For our wedding, we also sourced a waistcoat from eBay to jazz it up a bit! Thom's button hole and my bouquet (if I had remembered to bring it, which I didn't!) incorporated Manx tartan as Thom's family are from the Isle of Man."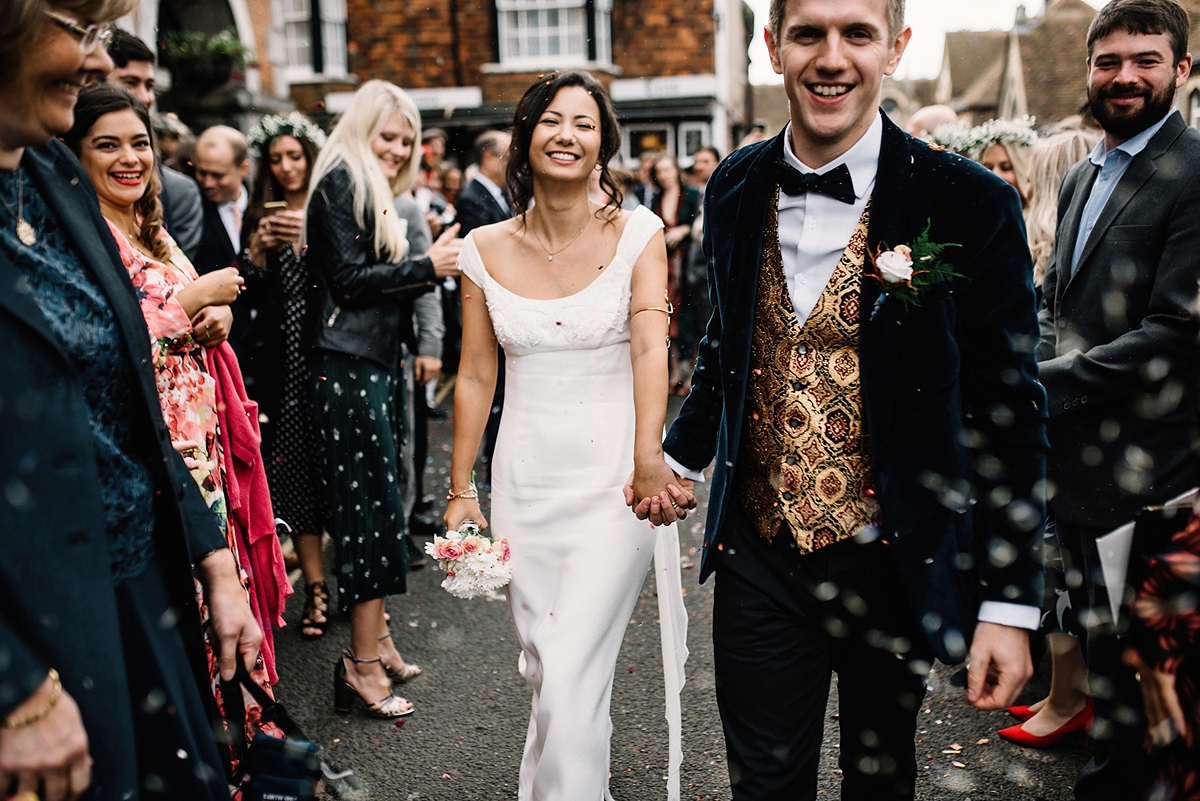 The bride wore a pair of rose gold sandals with a chunky heel from ASOS.
"For me, it has to be comfort over style on my wedding day, and any day for that matter!"
"I didn't wear a veil, but my auntie described the wings of the dress as 'giving a hint of a veil without actually wearing one'. Perfect!"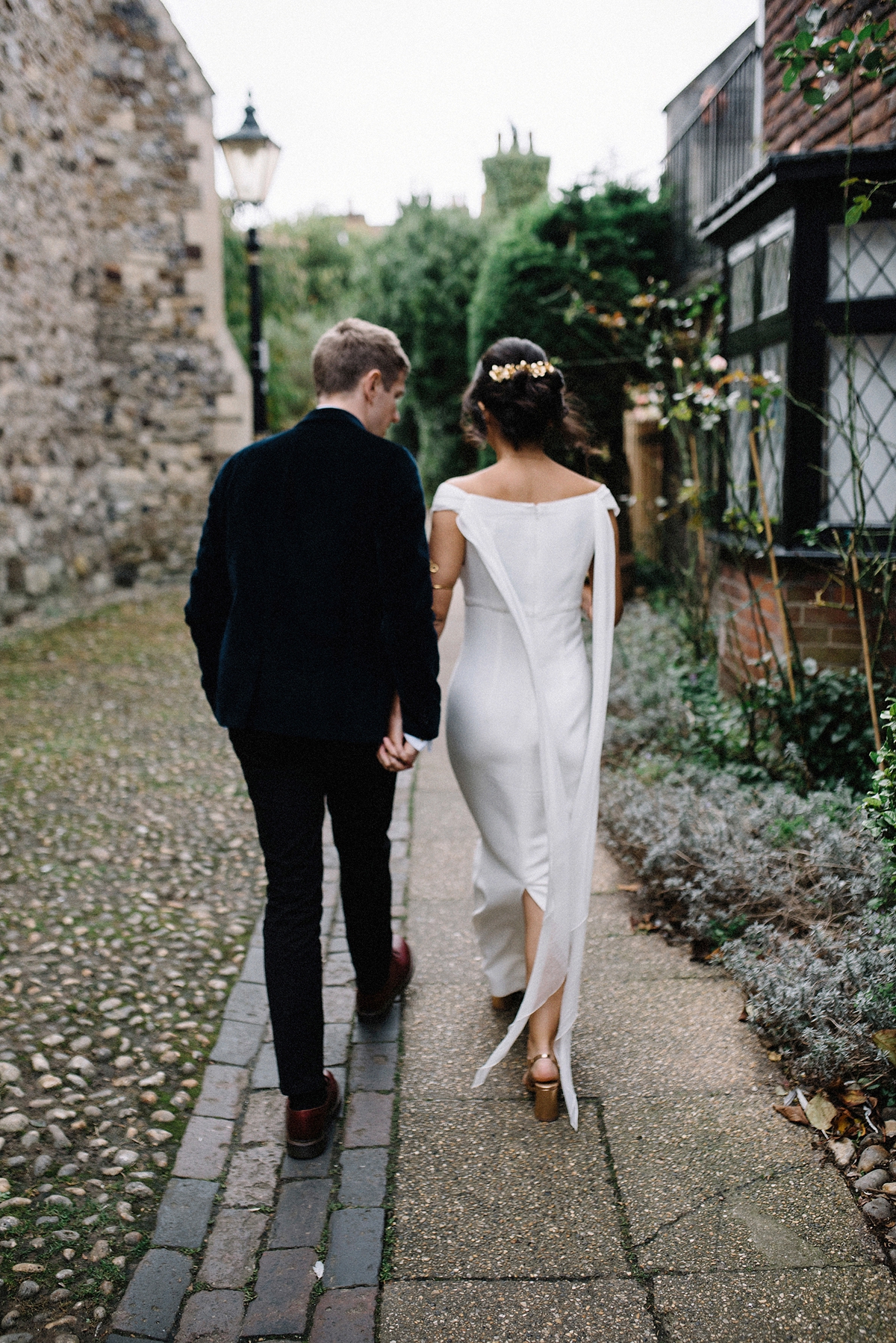 "I found our photographer, Georgina Piper, on Instagram and instantly fell for her aesthetic. She has an art with dusk-time photography and works with a rich color palette that is reminiscent of some of my favorite Pre Raphaelite oil paintings. Georgina's website describes her as a 'Photographer for the Romantics' and having been a Literature Undergrad and Victorian Art Postgrad, that capital 'R' spoke to me!"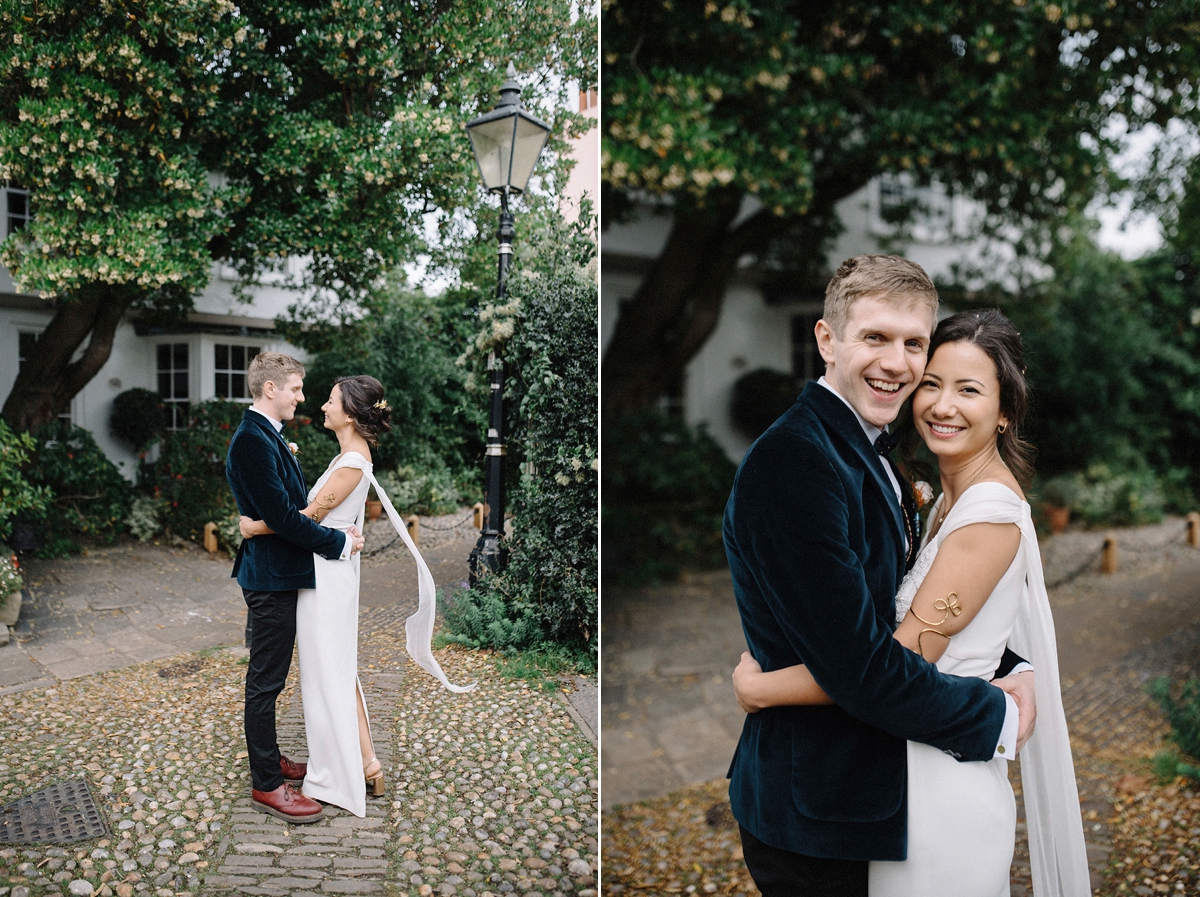 "Thom and I were so grateful that her style enabled two very (perhaps inwardly) awkward people to feel more comfortable in front of the camera. We asked for a light-touch, hardly staged, means of capturing our day and that's what we got. We were over the moon with the photos."
"My sister even printed around 300 of them the day Georgina sent them to us! (What on earth is she going to do with them all?!) Georgina is also both local and a woman; both attributes I like to support in a business when presented with the opportunity."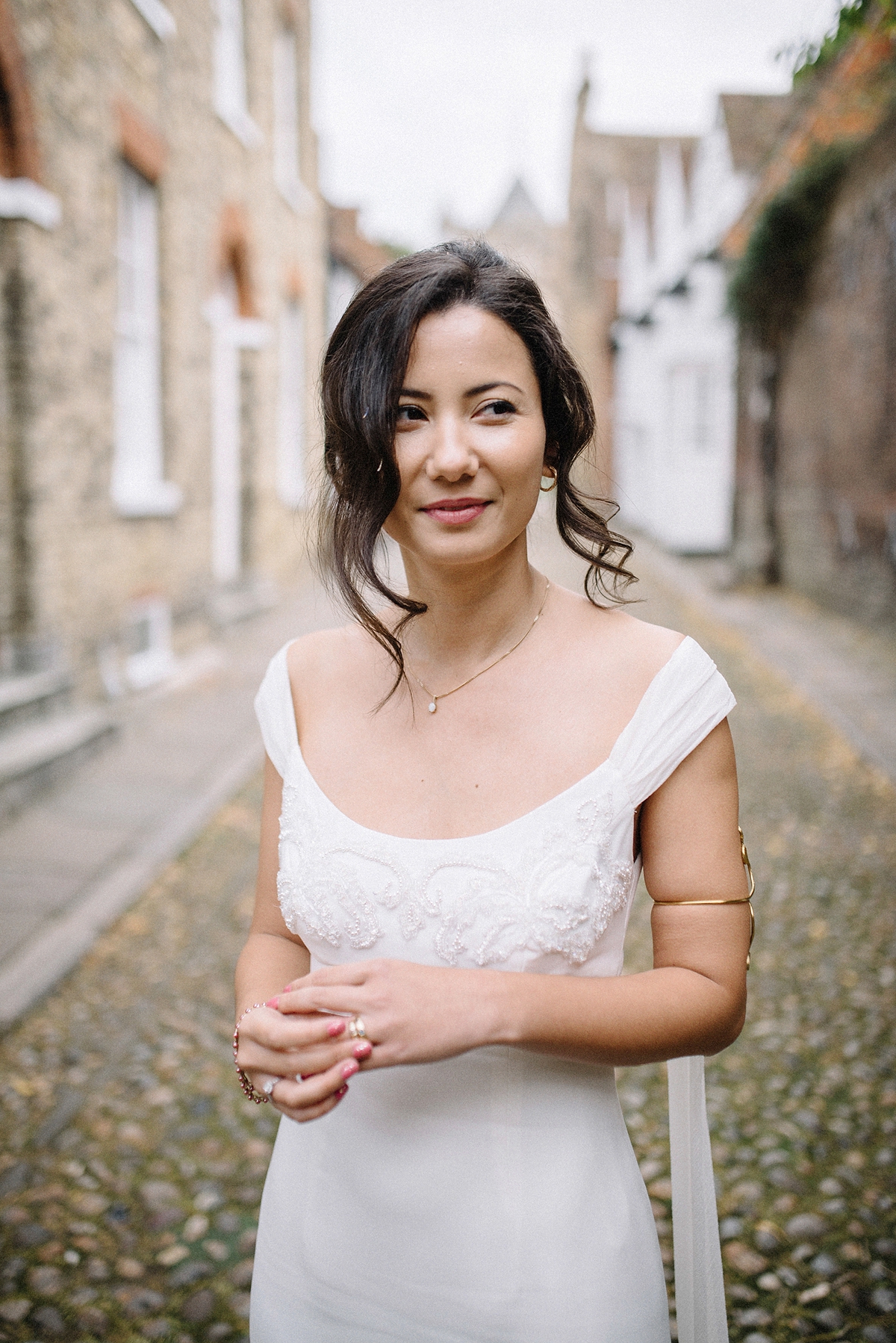 "Thom's uncle, Phil (a photography and gadget enthusiast) very kindly filmed the day and light-touch-edited the footage into something we could show those that couldn't make it, namely Thom's nan and uncle."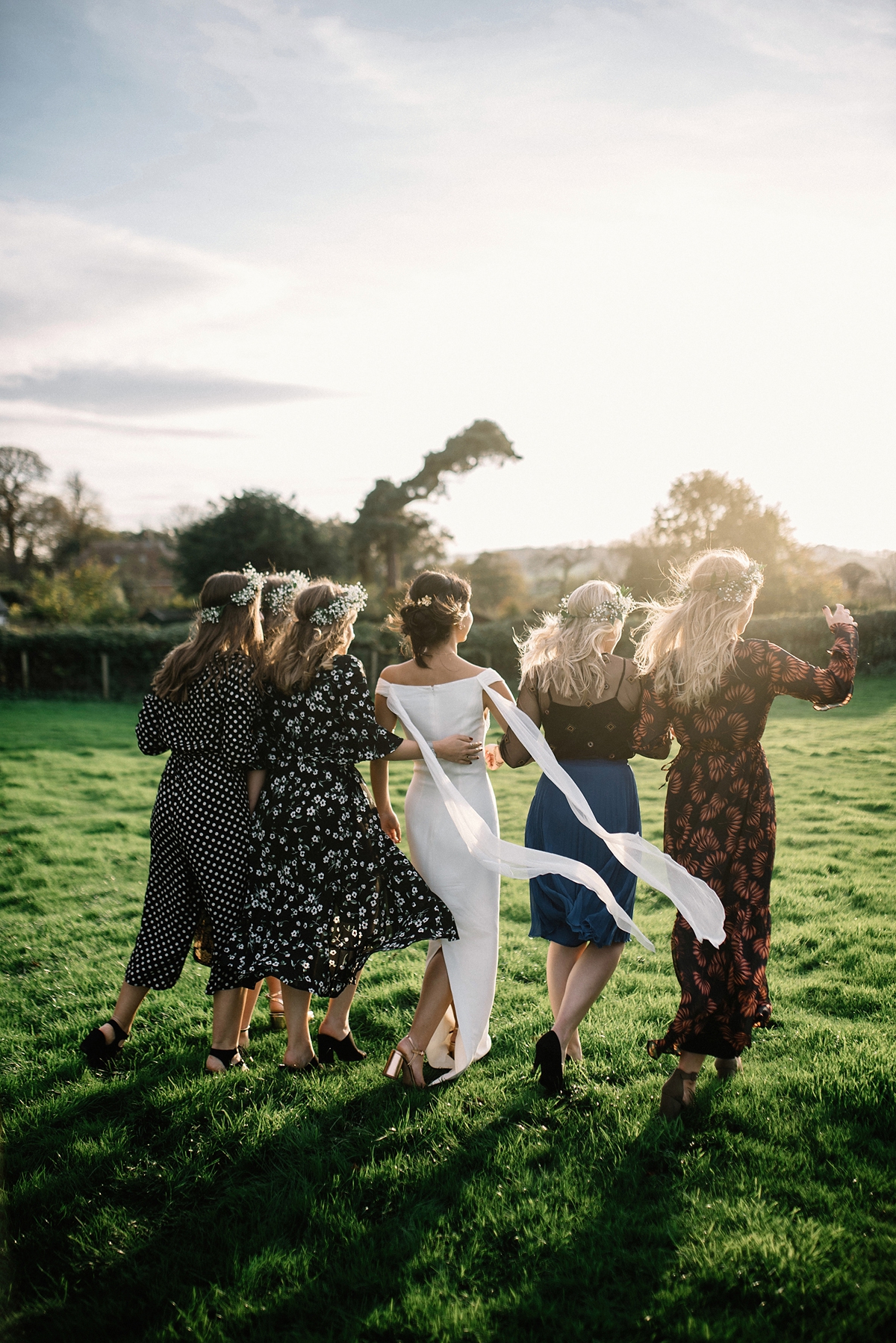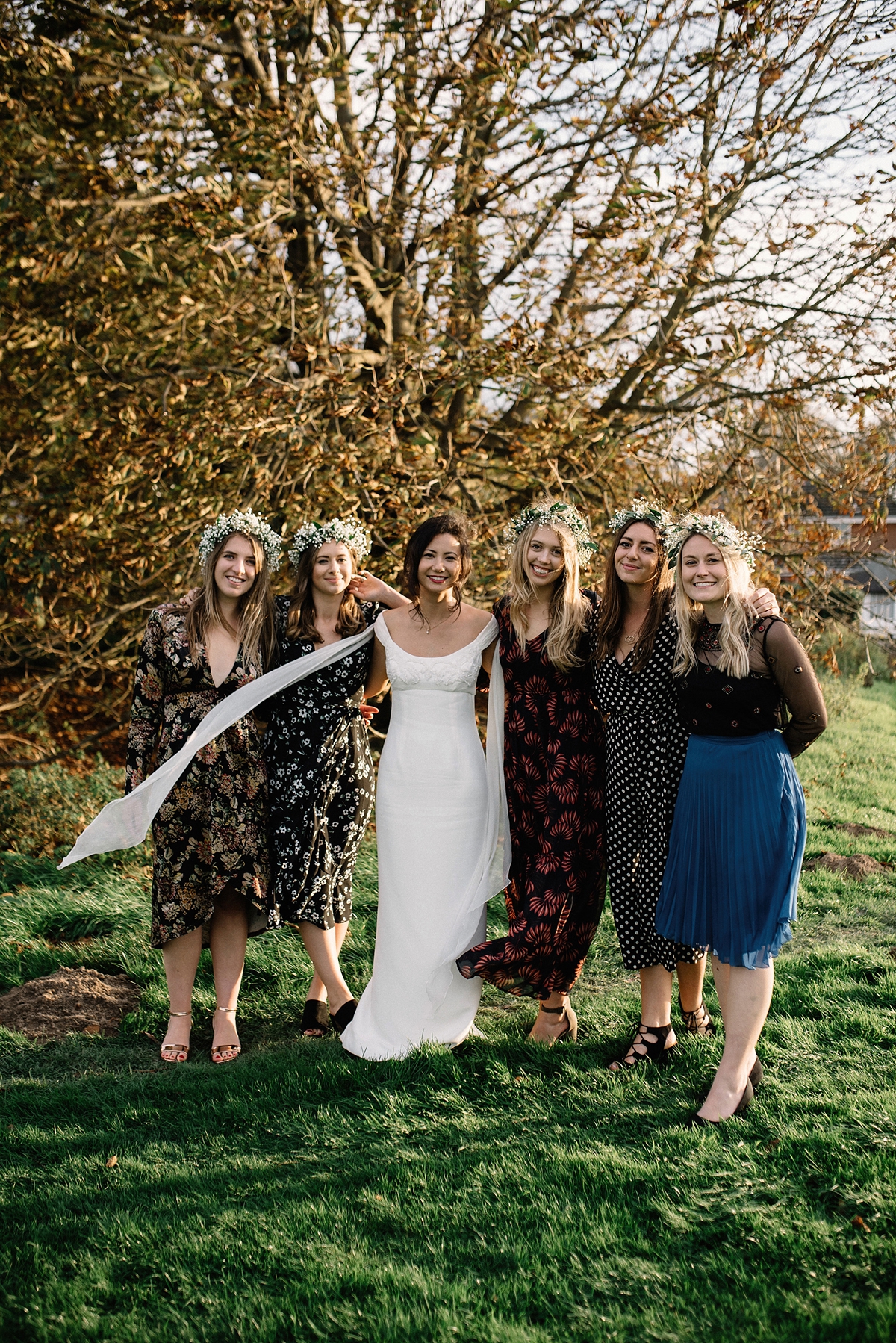 "We moved on to the little known venue, the New Hall in Winchelsea village for our reception. We were drawn by the beautiful setting (it is nestled in picturesque countryside) and the relaxed nature of the venue – it was a dry hire which meant we could do pretty much whatever we liked with it in terms of catering, decorations entertainment etc."
"No pesky corkage charges for us, our wine cost €2 a bottle; bounty of a Calais booze-cruise! Also, of course, the price was right. The hall cost just £360, to include setting up on the Friday and getting-out on the Sunday."
"Upon entering the hall, you walked through a dreamy copper archway decorated with ribbon and greenery which was had made for and loaned to us by the same wonderful couple who had got married a couple of months before us and also donated the cake recipe."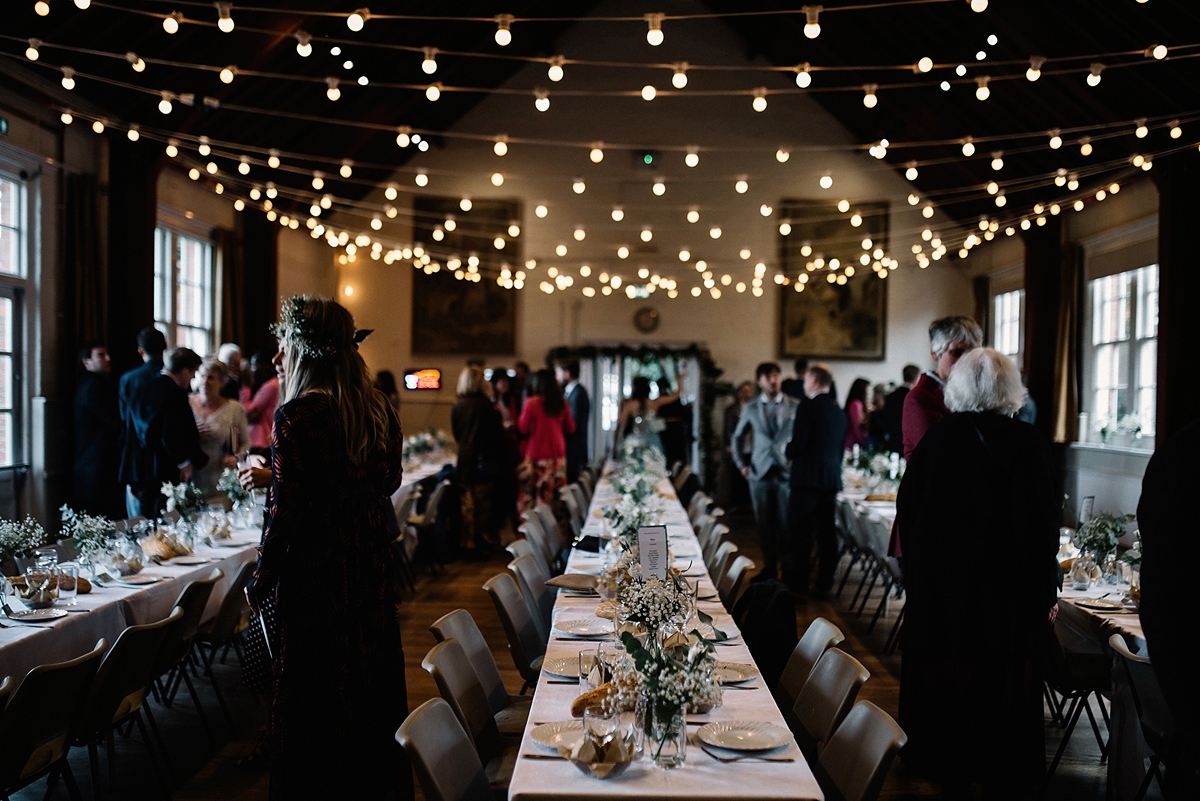 "We had booked everything within the first week of getting engaged.  We are both keen gardeners and chose to have 'plants and greenery' as our only theme."
"The wonderful Ros of Soul Food Fusion, a Caribbean restaurant and catering company based in Hastings, served us a delectable meal of jerk chicken, curry mutton, soul fried chicken, rice&peas, plantain, curry vegetables & coleslaw. We borrowed some gas BBQs from family of friends so that Ros could do the jerk chicken the 'proper way' although Winchelsea New Hall does have a full kitchen. Living in South East London, jerk chicken had become a favourite dish of ours and weddings are all about having all of your favourite things in one place, right? Our main meal cost £9 a head, you can't argue with that!"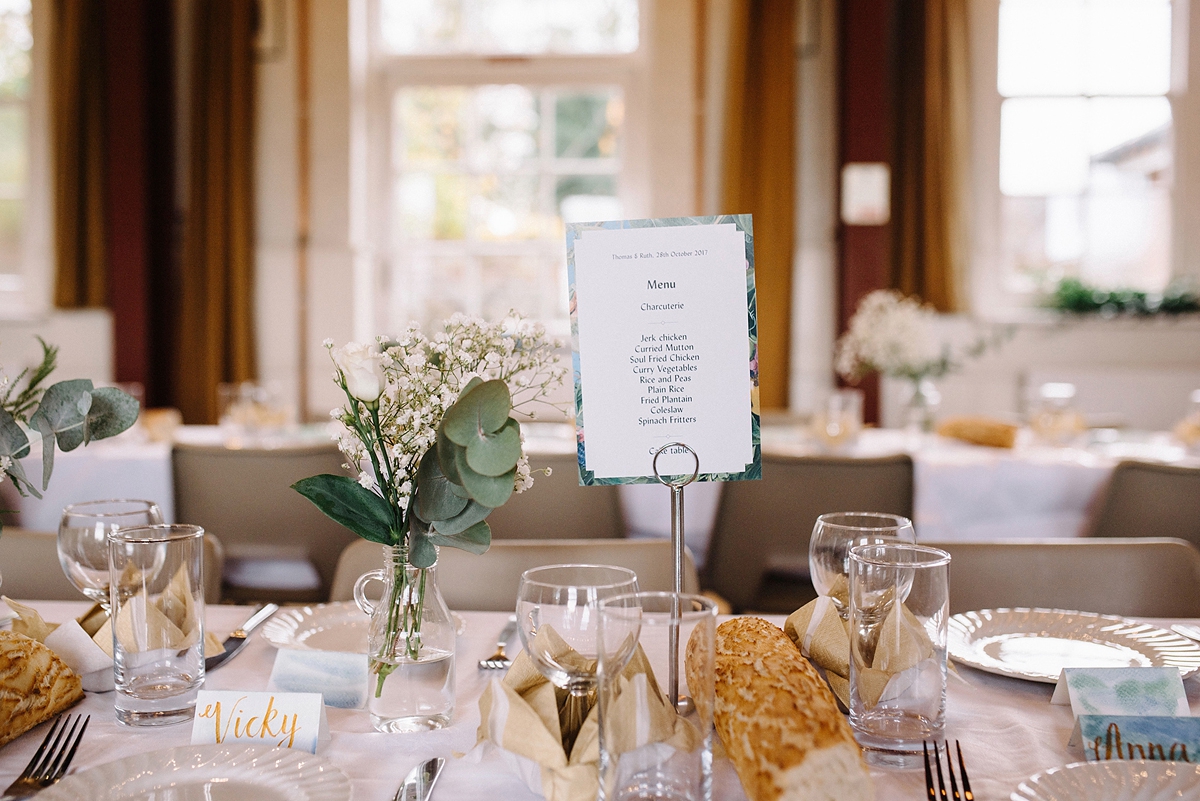 "The rest of the catering we did ourselves. Many of the tireless Team Wedding took the Friday off work and together we prepared sandwich platters for the evening buffet (our deli skills coming in handy!), the starters which consisted of a charcuterie board per table (nice and easy, the boards we borrowed from friends and family) and a selection of canapés which my father led on, being a chef and all. It all went down a storm… except for the sandwiches which I forgot to tell people about (d'oh), so they were taken to a local homeless shelter the following day."
"For the evening meal, we simply had a buffet that consisted of a Sainsbury's delivery of finger food that arrived half way through the evening and was put straight out onto a trestle table along with our millions of cakes. We even used our four year's worth of accrued Sainsbury's points to buy it, all in the spirit of keeping the price down!"
"We even bought a job-lot of 20 large, lightly used, quality linen table clothes for eBay for as little as £15! You couldn't even buy one new for that price. The evening before we realized we were one table cloth short so we popped to the local Asda and bought a single, white, non-fitted bed sheet et voila, problem solved."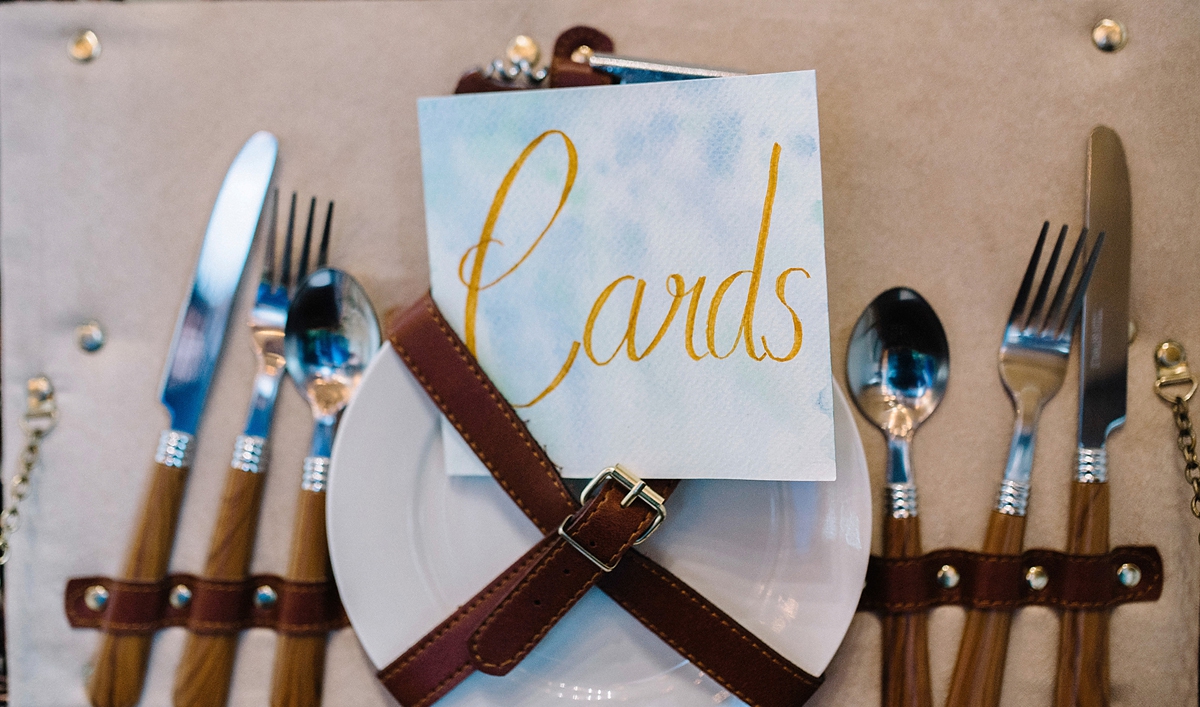 "We also strung up yellow-bulked festoon lights, a staple of most weddings. We found I A Sound and Light were the cheapest supplier, in our part of the country, by a mile.
"The former owner of the deli in which Thom and I met, and now good friend (Jen), gave us a cheese wheel cake as a wedding present to remind us of the good old days. It looked and tasted incredible!"
"I made the place names and signage, in what I can only describe as the 'watercolor smudge style' that I found on Pinterest. Upon discovering that my sister is pretty skilful with a calligraphy pen, she was given the job of doing all of the writing."
"Our ever talented friend, Dan, made the menus and table plan for us as he is a graphic designer by trade, whilst Thom's lovely cousin, Dom, chipped in my designing and printing our 'order of the day' board."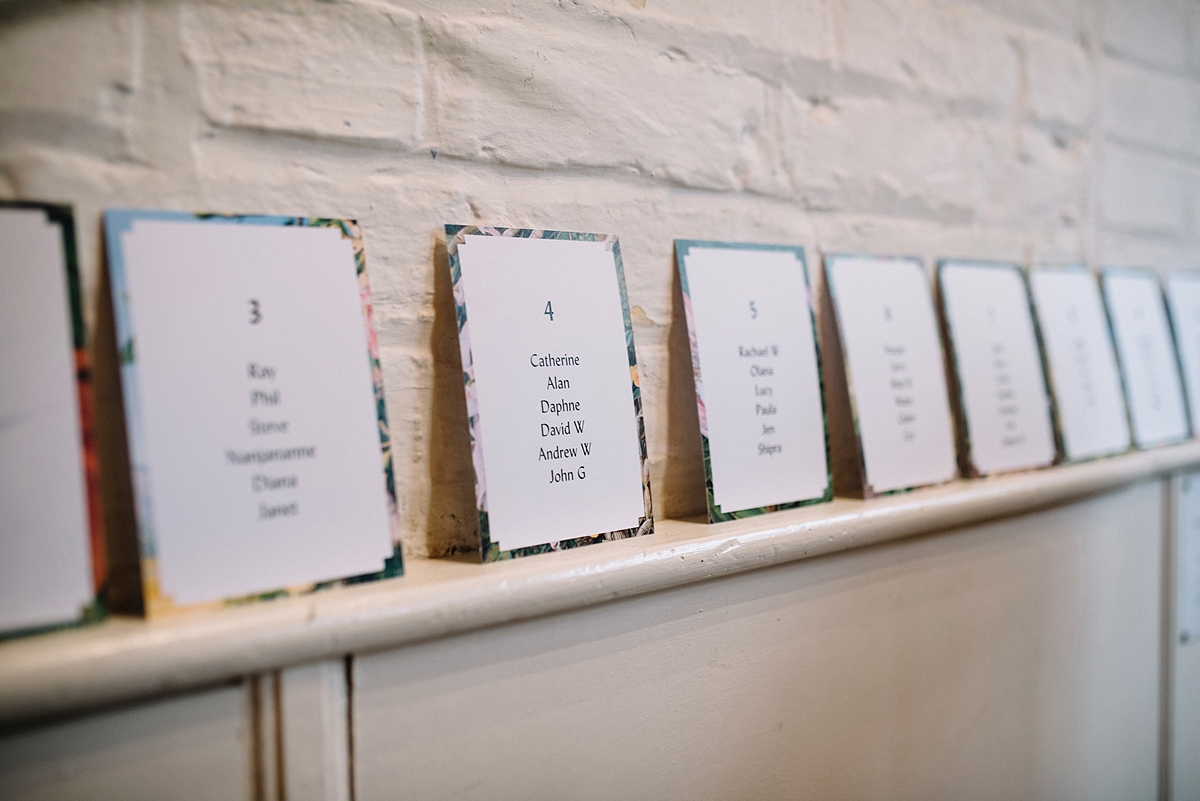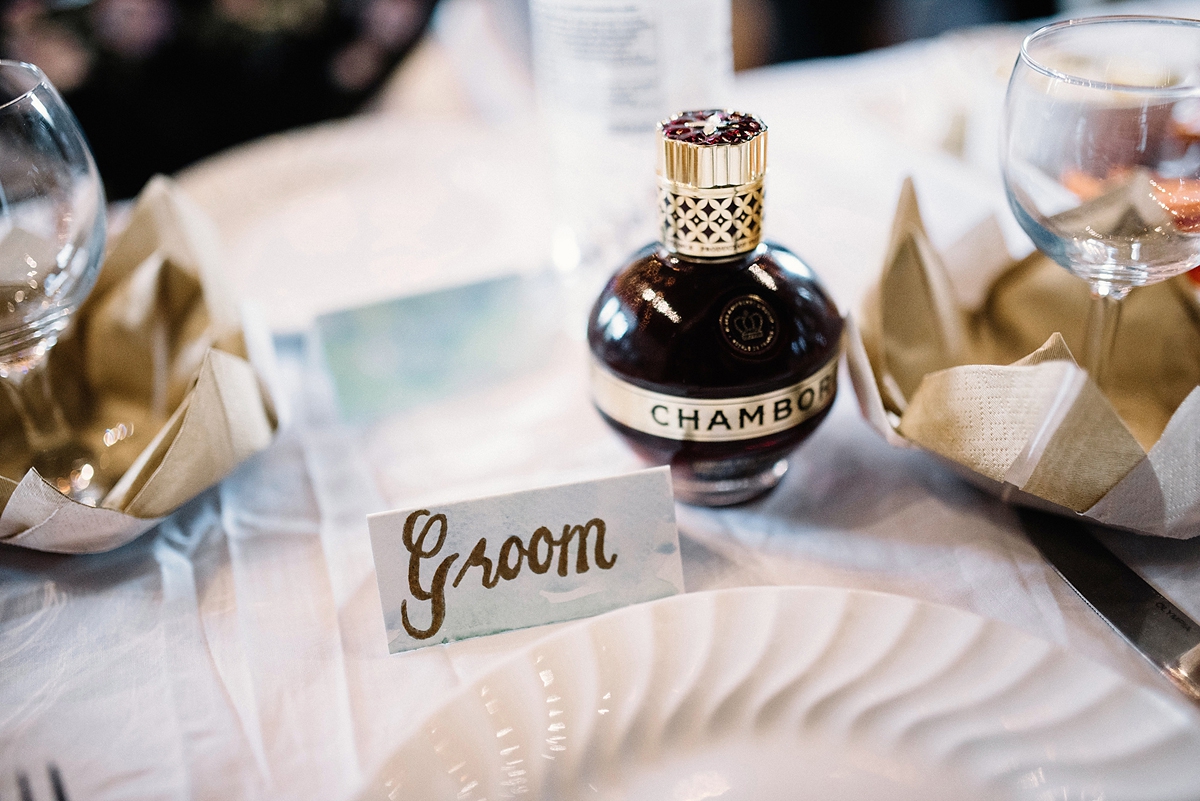 "Other than the floral wreaths and greenery for decoration we really only had these bizarre resin pineapples that I'd bought as a job lot from eBay many years ago, sprayed gold, then left them to clutter up our flat. Finally, a use for them!"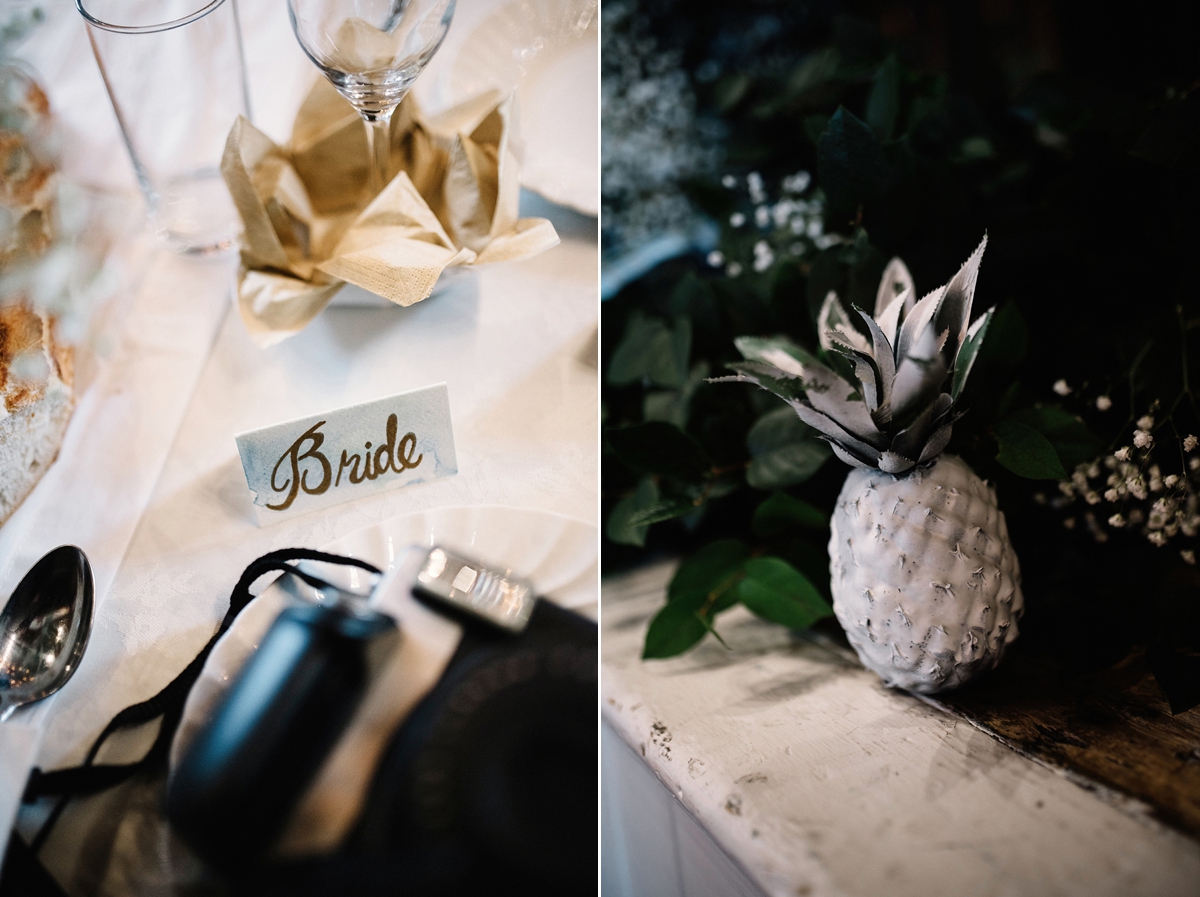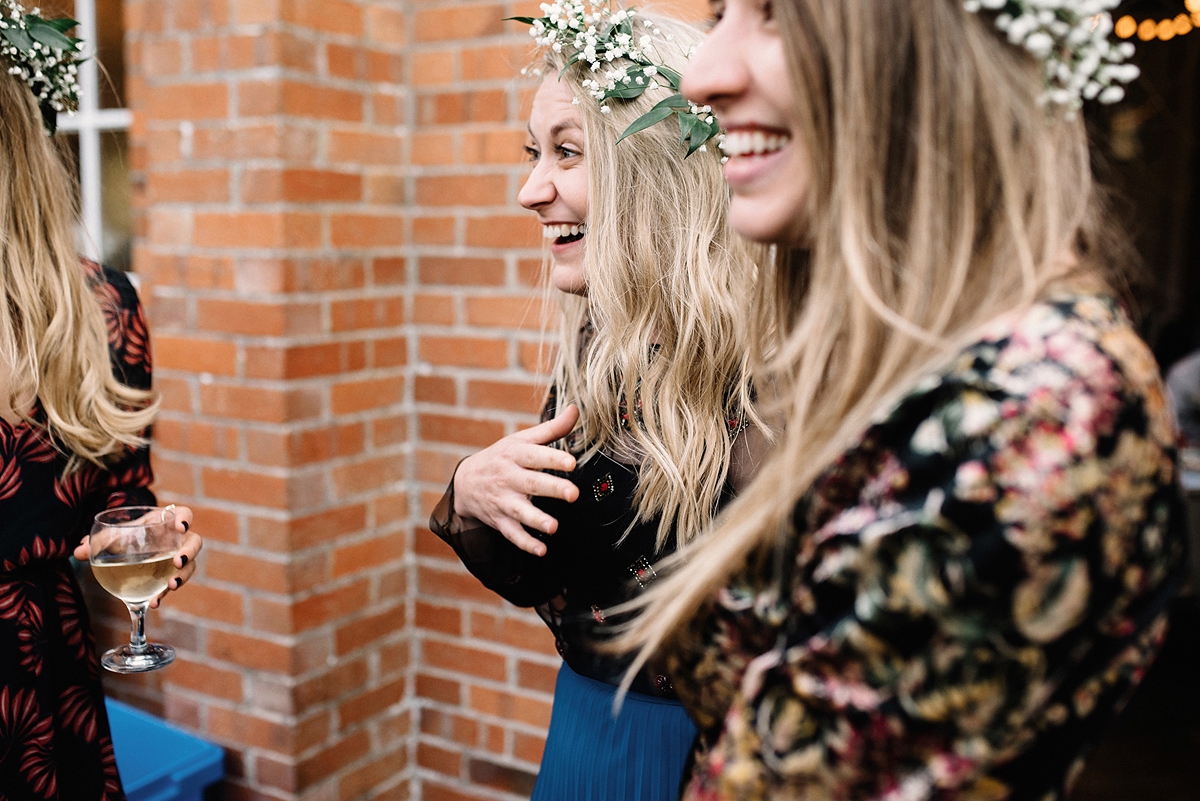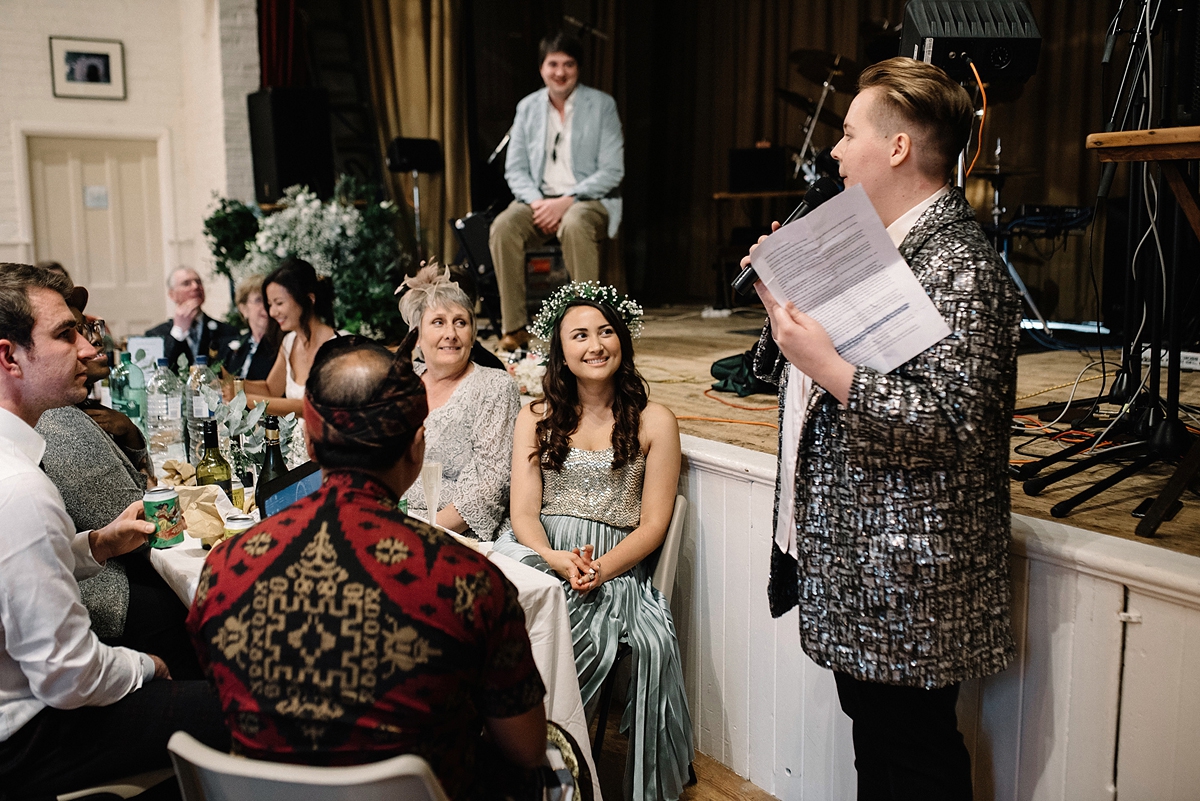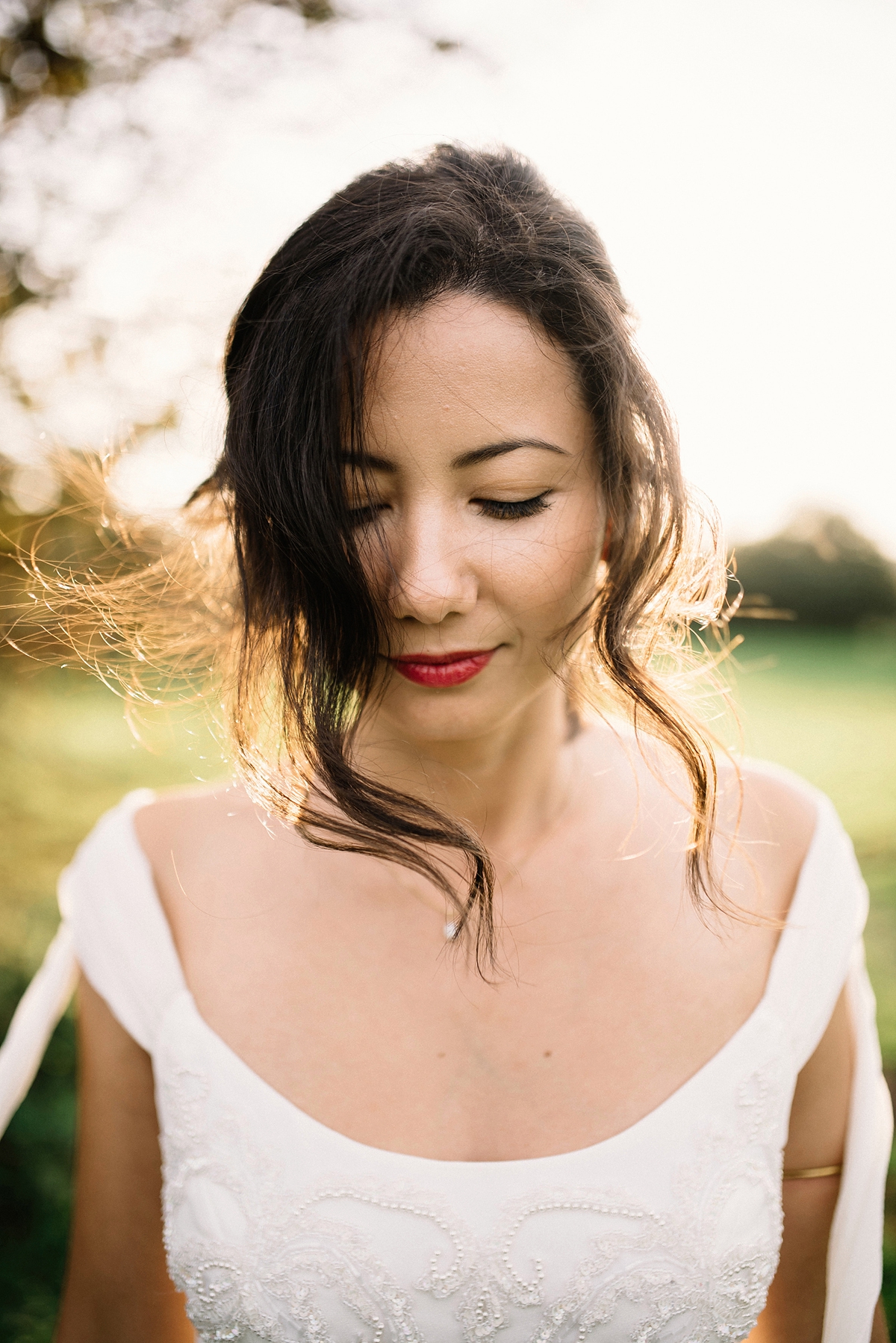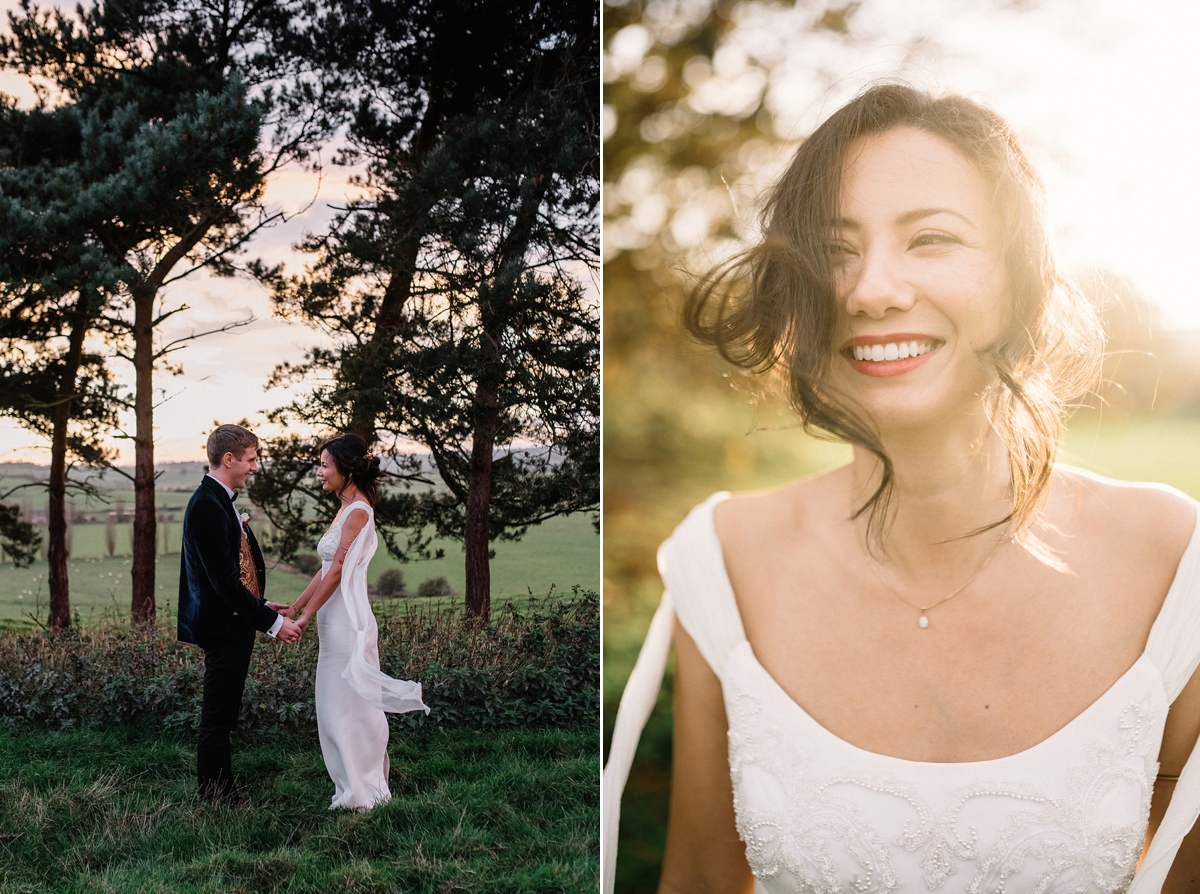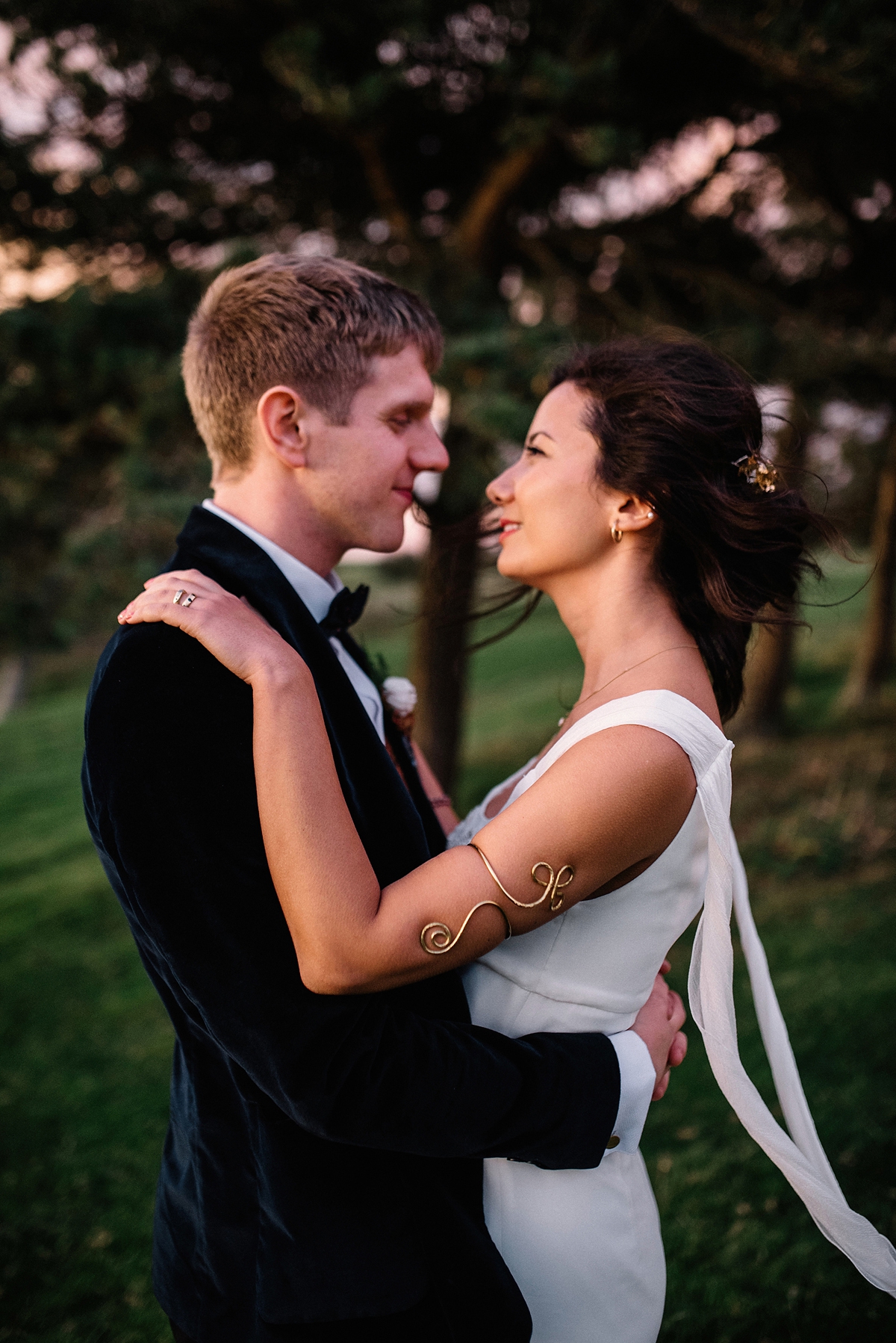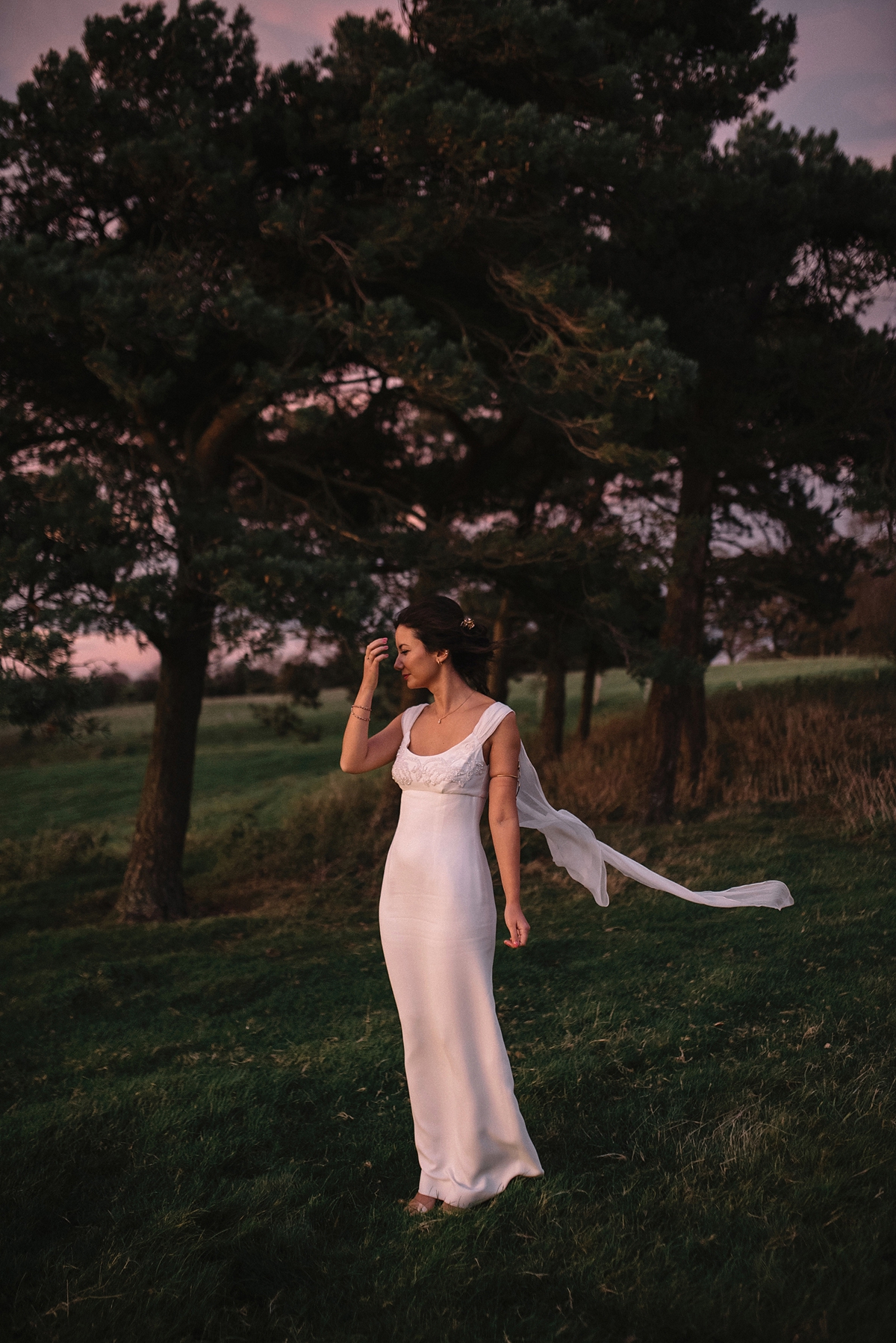 "Our first dance was to 'There is a Light that Never Goes Out' by the Smiths. We first listened to it together, on my phone, whilst watching the Perseid's Meteor Shower for the first time and it became 'our song' – not easy to dance to mind!"
"We began the dancing nice and early (6pm!) in order to squeeze in as much as humanly possible. After the first dance we launched straight into a ceilidh, with live music and calling by the Sugar Loaf Band. We'd been to a few barn dances before with friends whose parents are part of a dancing society and just had the best time stripping that willow! It was such a hysterical way to get everyone on their feet. The band only played a half set (1.5 hours) as we were mindful that it could be a bit too boisterous for some – it's an excellent work out!"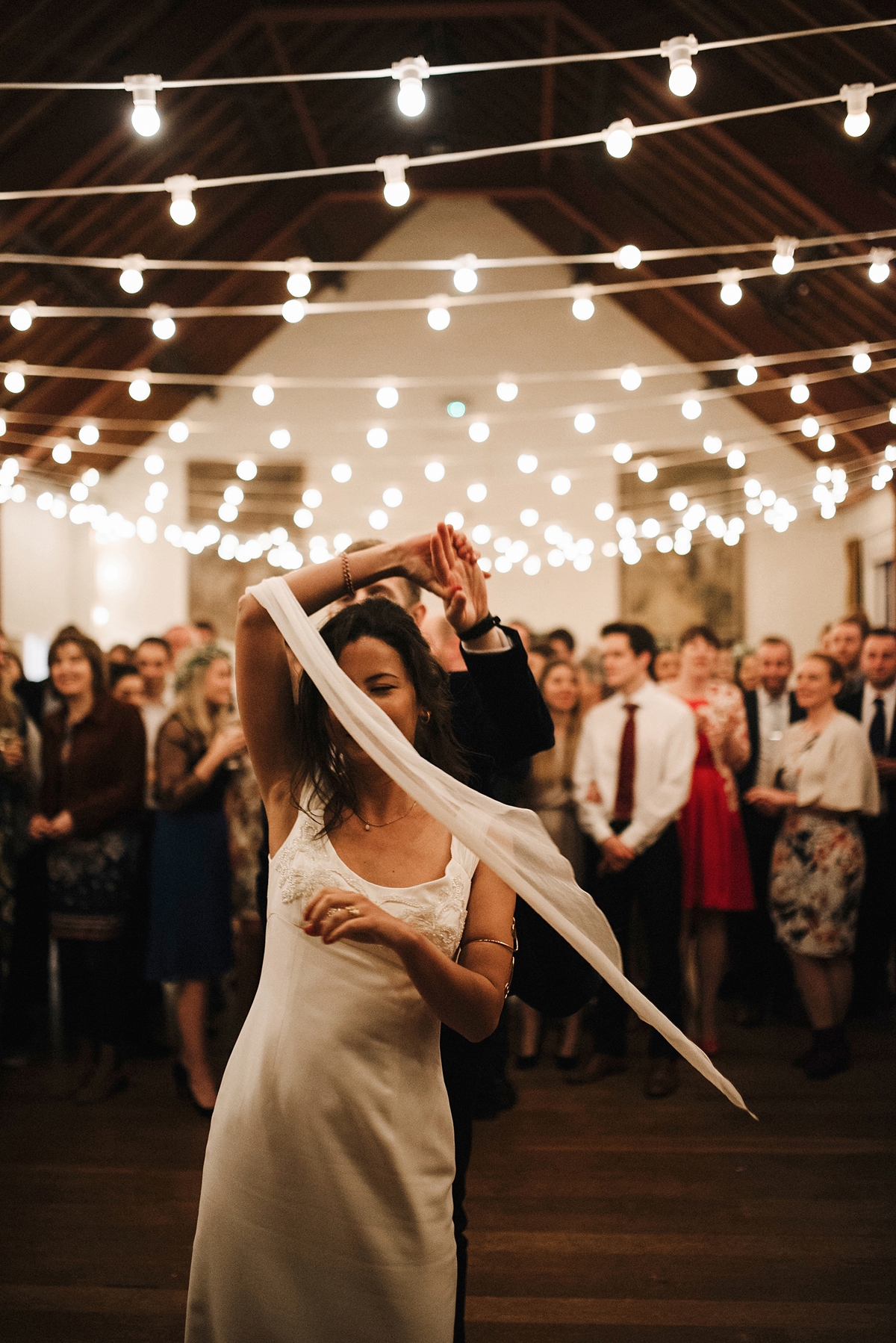 "Thom also took the opportunity to right a wrong that he has regretted for many years. At his sixth form leaver's assembly Thom had the opportunity to perform a song with his father (the then-deputy headmaster of the school, no less) but rather (un)gratefully declined and lived to regretted it ever since. As such, Thom invited his father to perform a song with him at our wedding with the help of the Sugar Loaf Band."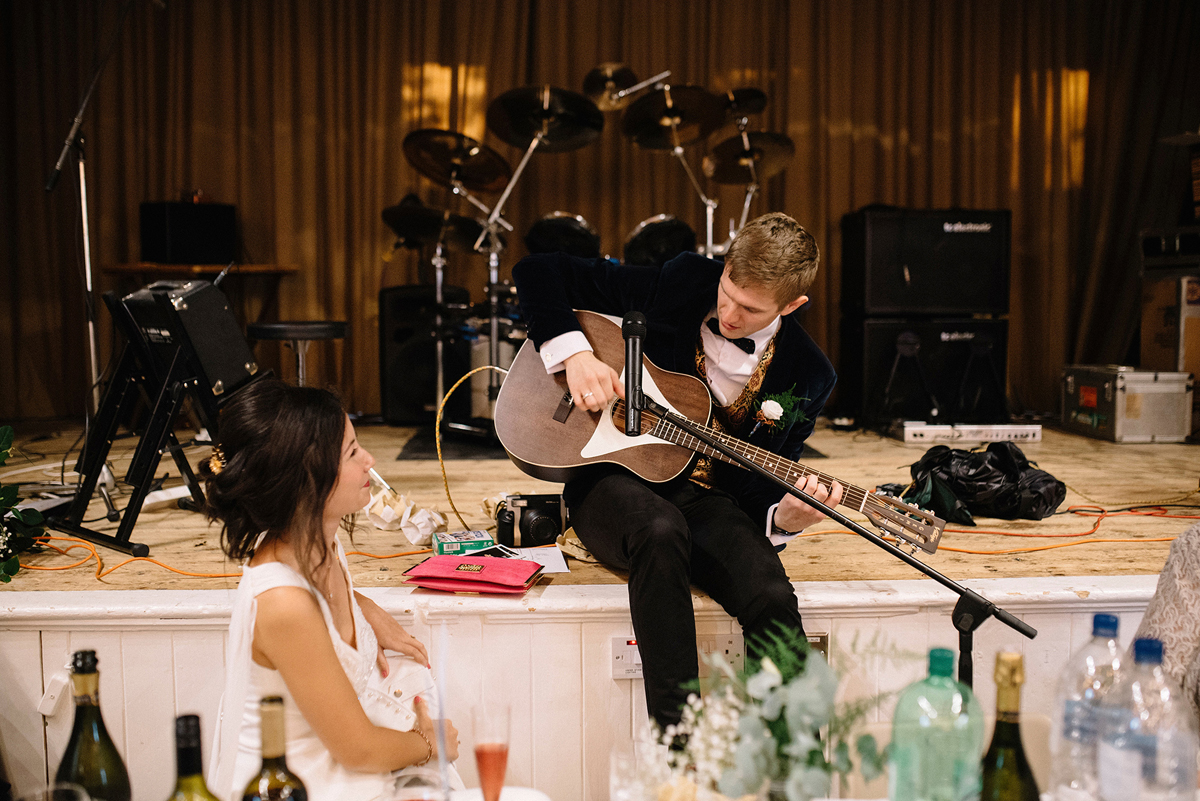 "In a bizarre twist of fate, the song that Andrew (Thom's dad) chose for the two of them to perform turned out to be written by the best mate of someone in the band! It's a small world when you're into folk music, is all I can say! The writer of the song, upon hearing that his music was going to be played at our wedding, tweaked the lyics ever-so-slightly."
"Thom also wrote me a song which he performed part of his speech which went down a treat to a standing ovation. I'm just waiting for him to record it now!"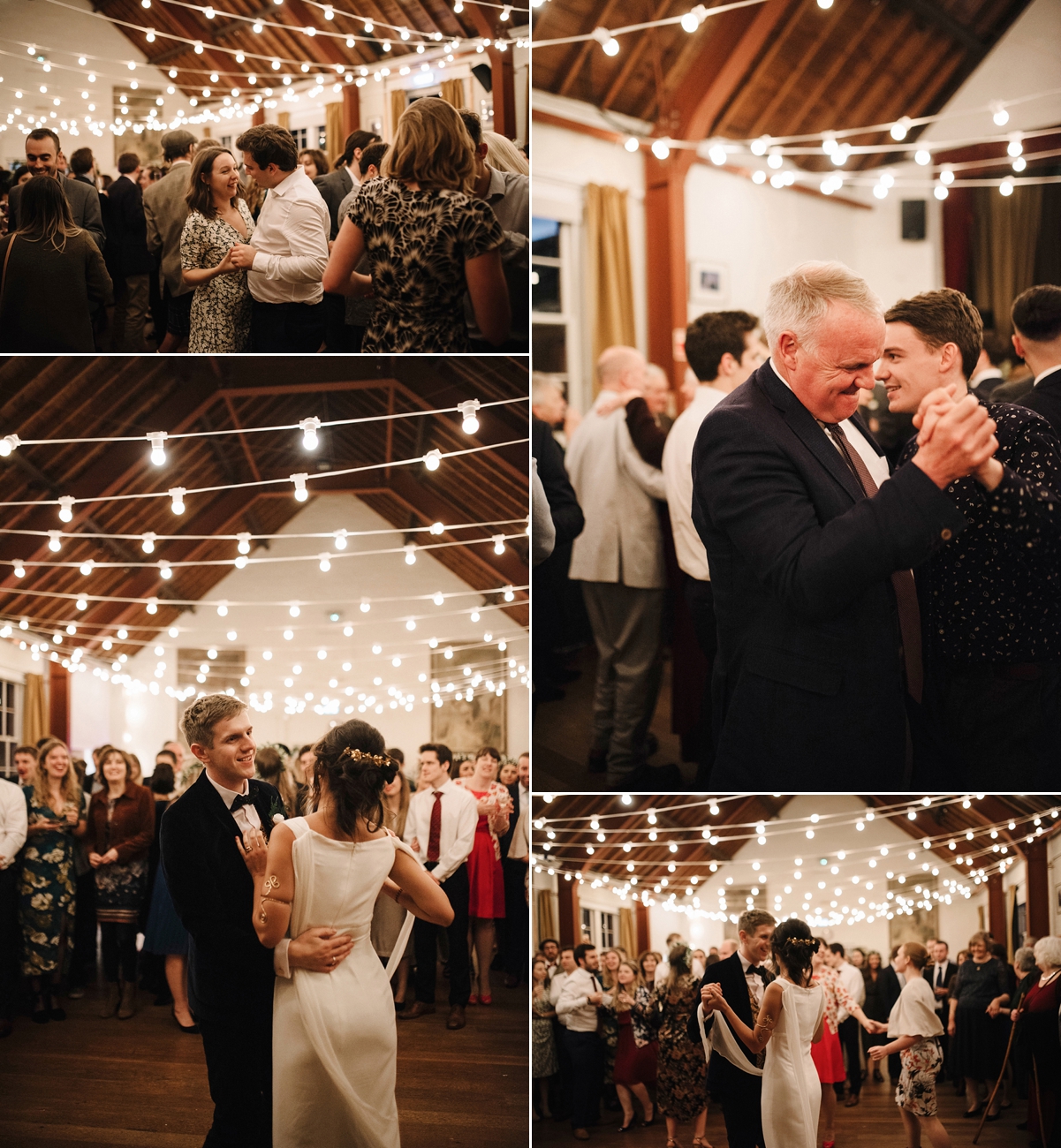 "For the rest of the day, we appointed our very talented and musically inclined friend, Josh, to curate a couple of playlists for us… one for the meal and one for the dancing. As simple as linking a laptop up to the music system. To get a read of what we were after, he simply asked us for the one perfect song for each playlist, to which we replied 'Bambro Kyoto Ganda' by Bonobo and 'Doo Wop' by Lauryn Hill. He totally nailed it. We had the family-friendly tunes and guilty pleasures (Rocky Horror) until around 9pm until it switched to predominantly 90s r'n'b for our friends to get low to."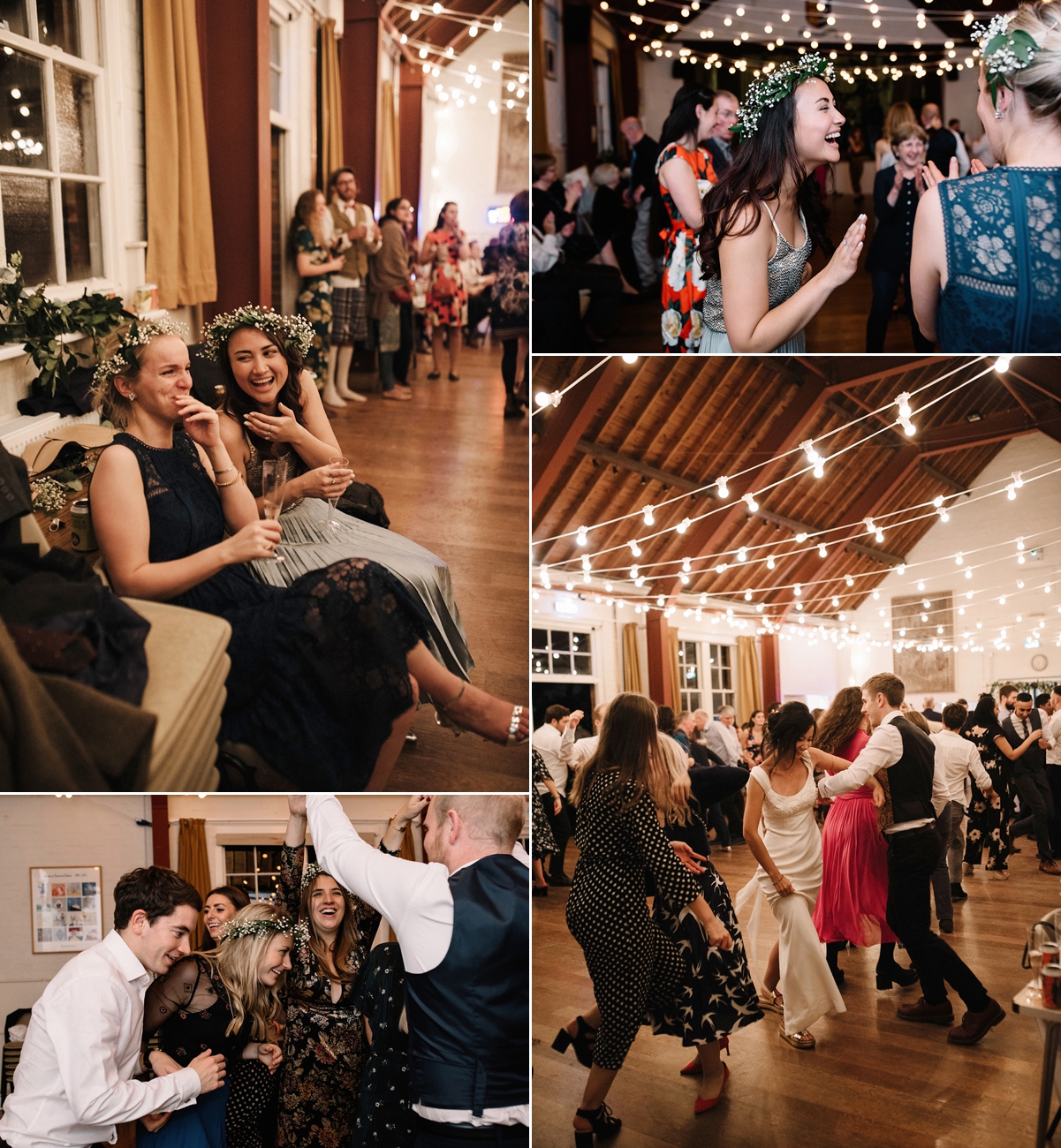 "It was all fantastic but if I had to choose, my favourite part of the day was probably the ceremony itself. I was unexpectedly, incredibly nervous on the morning of the wedding but those nerves dissipated as soon as I stepped into the chamber full to the brim of everyone who I've loved over the years."
"Being quite the skeptic (to say the least) I wasn't expecting the exchanging of vows to feel as powerful as it did. It was a welcome surprise!"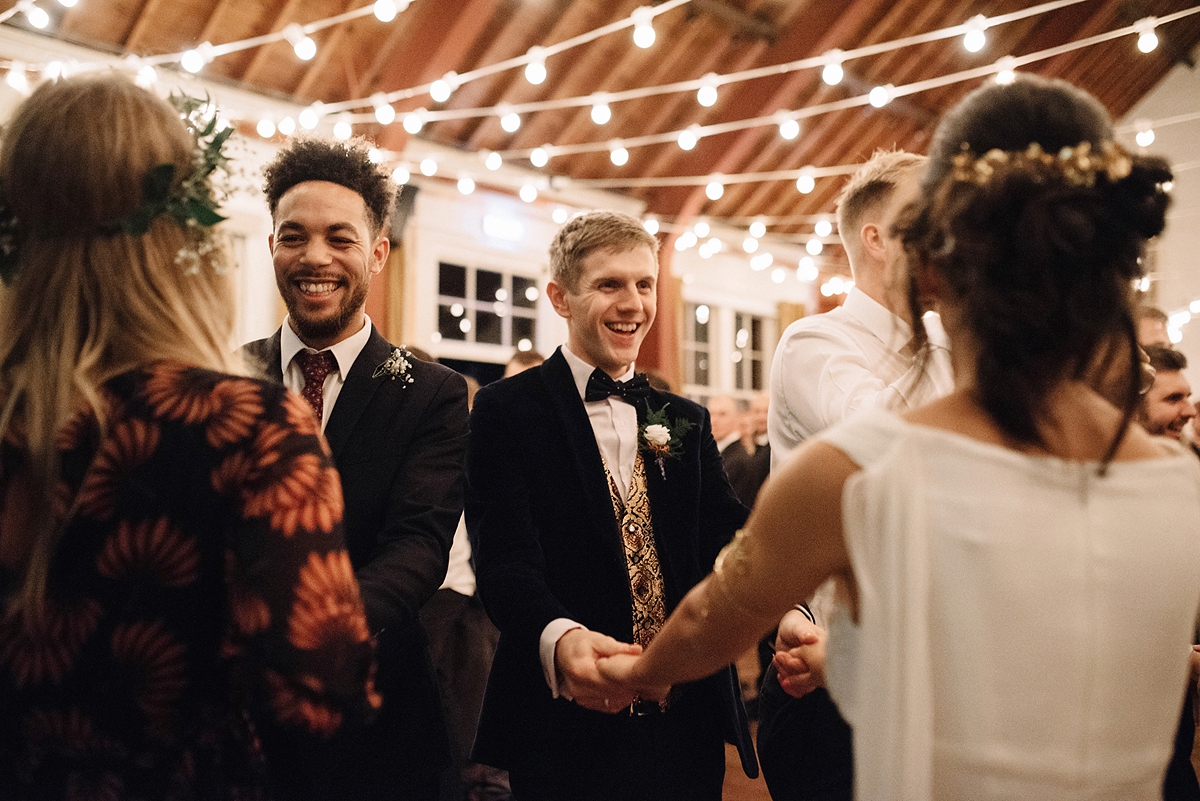 Words of Wedded Wisdom
"We didn't have a 'budget' per se but considering we had such a short engagement, practically speaking, our budget was what we could spare over the two months that we were engaged plus some help from Thom's parents who paid for the wedding breakfast (if you can call jerk chicken that!) The wedding cost around £5,000.00 (not including jewellery)."
"It really doesn't have to cost the world, nor take a great deal of time plan if you don't want it to. It is such a cliche, but we both genuinely had the best day of our lives despite the comparatively short lead-in time and modest budget. It was made all the more special by all of our friends and family rolling their sleeves up and practically getting involved at every step. We genuinely couldn't have pulled it off without them but it also meant that we had a huge tribe of family and friends that could take pleasure by being personally invested in our day."
"We got the opportunity to bond as two families and friendship groups collided for the first time en masse during the 'get-in' and that was immeasurably valuable, if not a little stressful… especially when it was 12:00am on the morning of the wedding and we were still at the hall setting up!"
"On reflection, I was so busy meeting, greeting and catching up with friends and family that had come from afar that, in hindsight, I actually neglected my immediate family a little. If I could have my time again, I'd spend more time chatting to my mum and dancing with my dad!"
"Also, allow yourself to question the age-old (and sometimes defunct) traditions of marriage and navigate what feels right for you."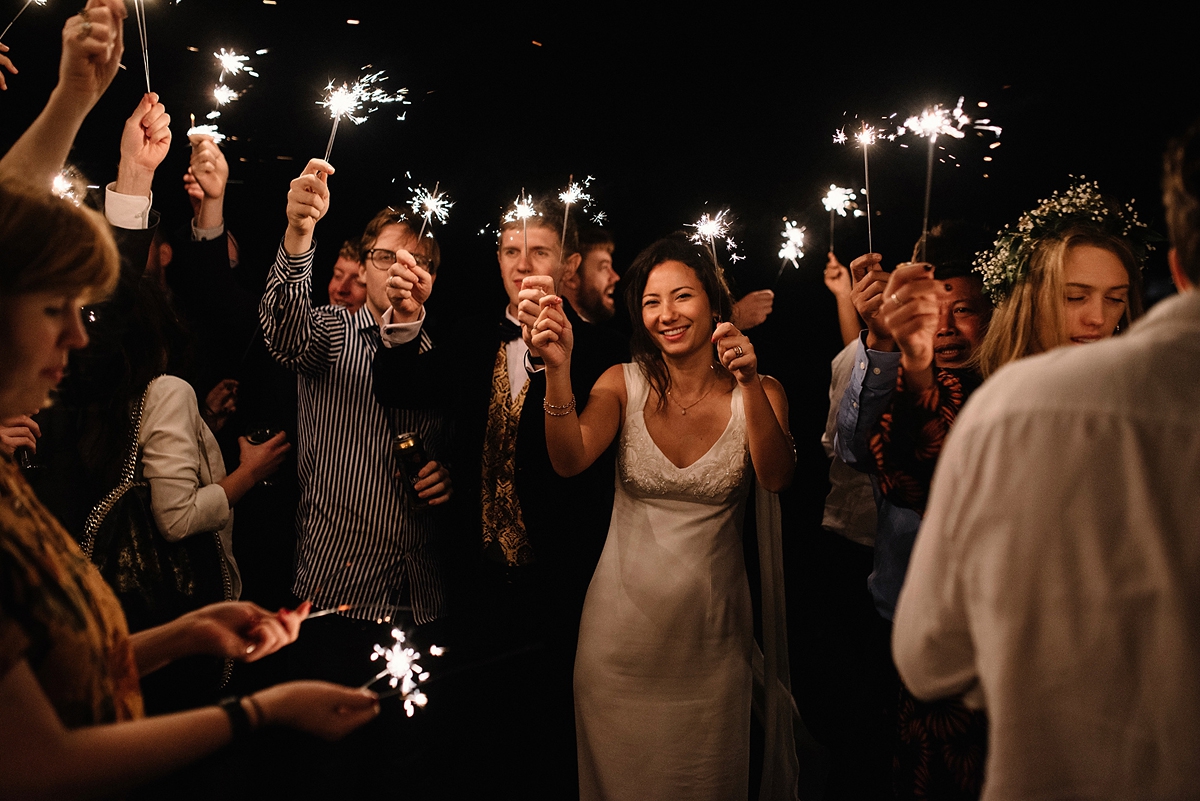 Utterly beautiful and so inspiring. I hope this wedding will inspire others to consider a similarly less traditional and non-gender stereotyping wedding celebration. Let us know this this beautiful day has given you some ideas.
My love and thanks to Ruth and Thom for sharing their beautiful day and to the wonderfully talented Georgina Piper for once again sharing her work on Love My Dress – you can find more of Georgina's wedding photography here.
Annabel x