Hello lovely ones – thank you for allowing us to have a more flexible publishing schedule over the summer, we return to normality on 5th and from then on, we'll have our usual 6am post out on a daily basis so that all our commuters can enjoy their early morning fix.
This afternoon's wedding is so charming and features a divine Jenny Packham gown. Architect Elizabeth married University of Liverpool Timetable Manager Chris on 8th June 2018, with a registry office civil ceremony at Liverpool town hall, followed by a celebrant ceremony and reception at Spring Cottage Rivington the following day. We're delighted to discover the couple discovered both their photographer, Kate McCarthy, as well as The White Closet bridal boutique, where the bride discovered her Jenny Packham gown, through Love My Dress.
"Our weddings included city and nature, traditional town hall & relaxed outdoor setting, Liverpool and Bolton, intimate and party – all-encompassing and basically the best of both. There probably wasn't really a theme in the end. The glitz and glam of my wedding dress, inspired a gold geometric style as well as a colourful, natural feel with flowers and paper gems."
Photography by Kate McCarthy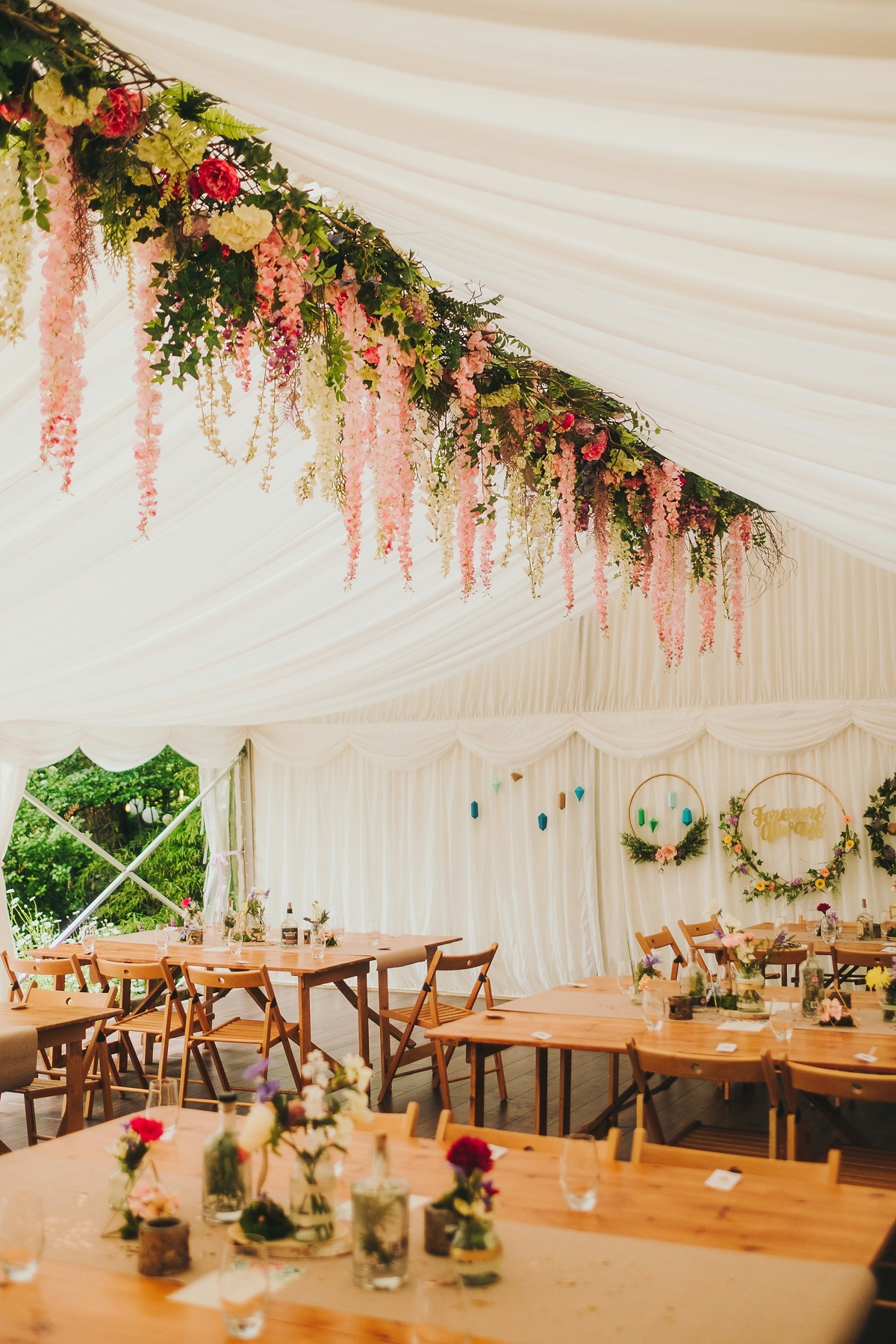 "We basically combined everything we loved gin / food / nature / colour together but in a considered way in order to have an English country garden party. We're quite creative and enjoy DIY around the house so we wanted to do it ourselves."
The couple chose photographer Kate McCarthy to document their day through these beautiful images.
"We came across Kate's work online and loved her natural style and the colours of her photos. We had an initial skype chat and both instantly knew that she would make us feel at ease on our big day. She was instrumental in keeping the day running on time and sorting out several of the issues we had. We love her, and everyone commented on how great she was at the wedding. We have recommended her to friends since."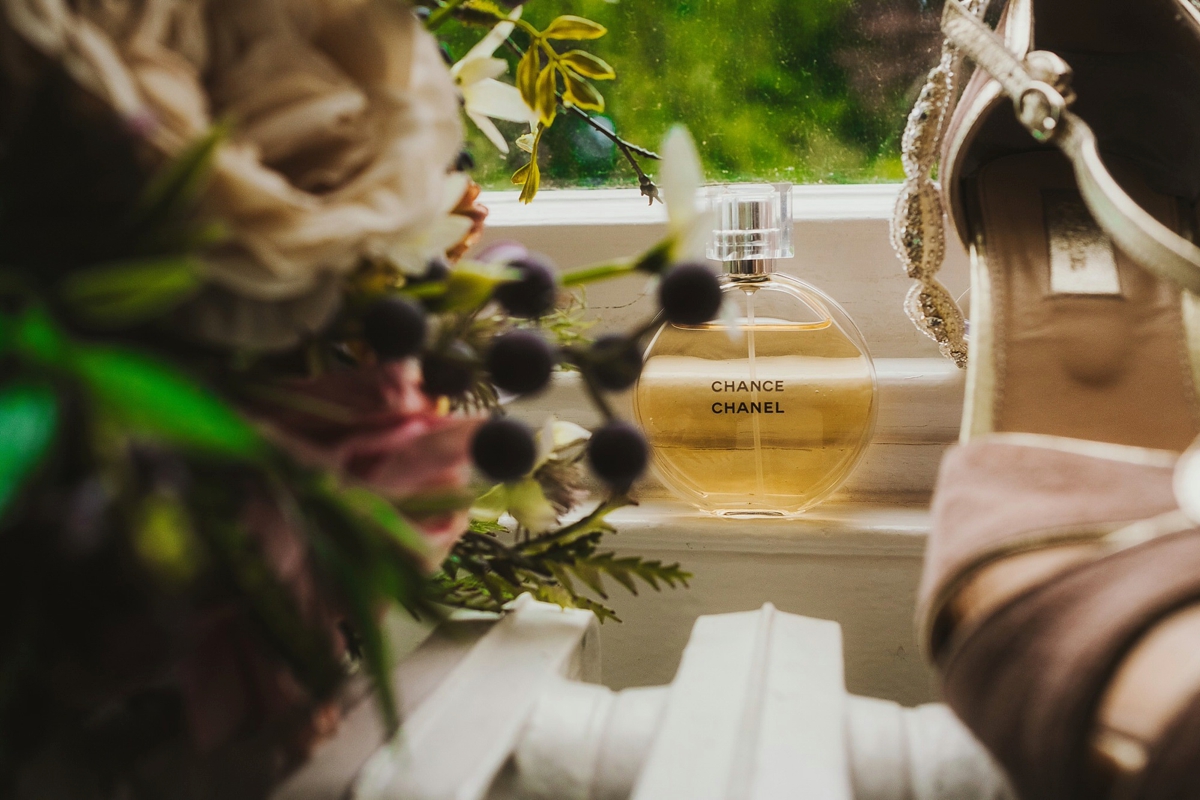 "Chris's mum, Pam, kindly offered to take on the flowers and considering she has no floristry background did a really professional job. Pam has a passion for flowers with a gorgeous garden herself so I knew whatever she did would be beautiful. We went for artificial flowers in end as we didn't want to leave it all to the last minute getting flowers from a market and our budget wasn't stretching to florist costs, plus Pam wanted to be creative herself. Artificial also meant we could use all the flowers on both days without them looking dishevelled."
[JP-VIDEO]
"We went to wholesalers and bought flowers for the tables, bouquets, buttonholes and tent hoops. We liked the idea of texture so looked at using thistles, eucalyptus, ferns, berries, succulents as well as spring flowers such as blossom, roses and hydrangea. We were limited to what was available and getting colours which toned in with the pink/purple/grey tones of the bridal party, but we kept an open mind and went with the flow. Pam was good at having the vision and reigning us back, suggesting smaller bouquets and buttonholes which wouldn't be overwhelming or cumbersome to carry around and she was right. We all have lovely flower arrangements around our houses now!"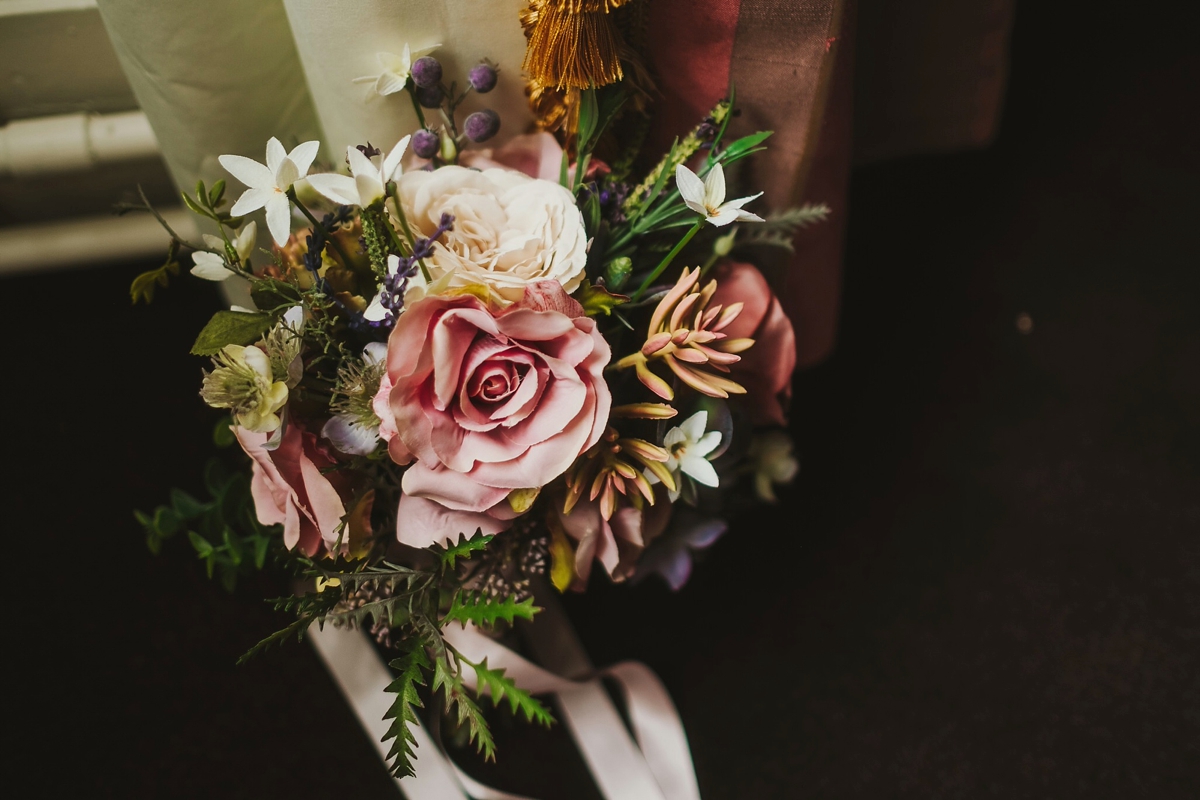 "I hired Louise of Louise Hall Hair and Makeup – she was fab. I contacted her really late around April as I had seen her natural make-up style online. We had a trial and got on so well that I asked her to do my make up on the Friday as well in order to eliminate any extra stress. We chatted so much that she put my mind at ease and kept my nerves at bay both days."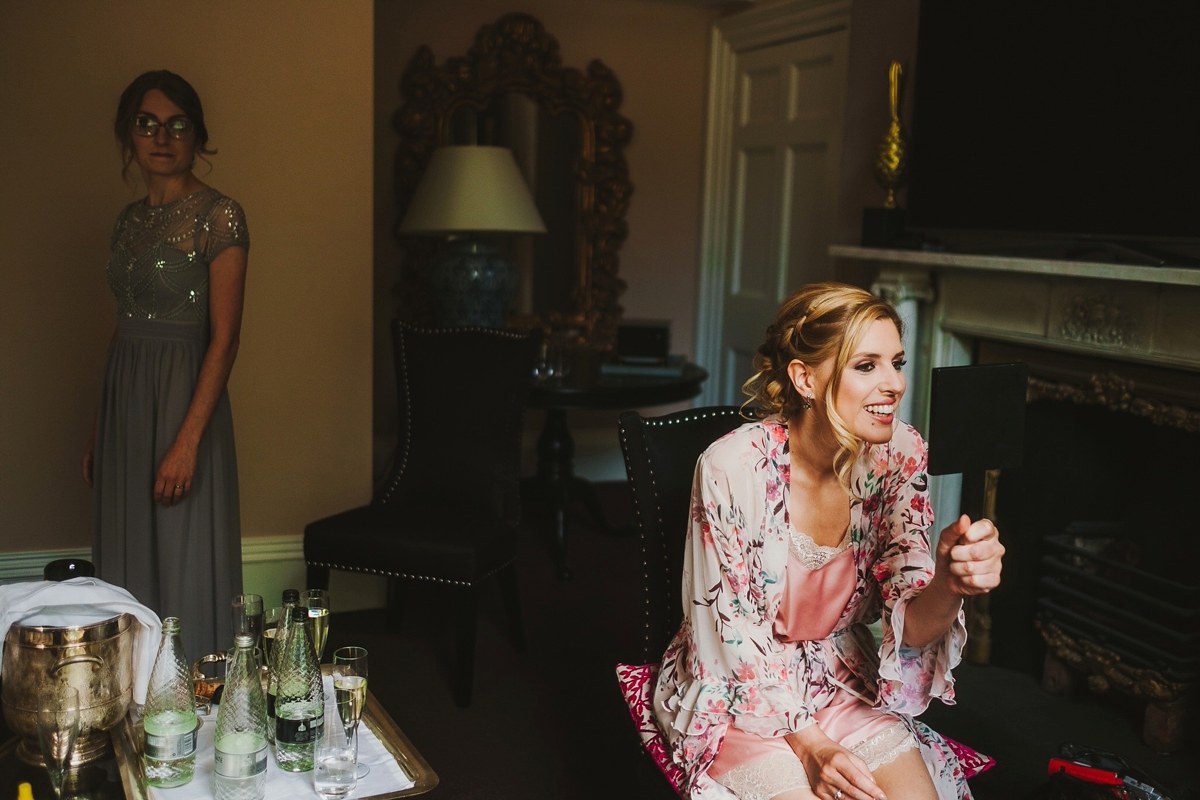 Elizabeth wore the beautiful Betsy gown by Jenny Packham, which she purchased from The White Closet in Liverpool, and which was a very apt choice given her nickname is Lillybet.
"The White Closet was always a haven of calm that was a pleasure to visit. Eve was incredibly helpful, I couldn't recommend her enough. I only went to two dress shops, my gut knew I would fall for a Jenny Packham style of dress. I loved how I could immediately see how I would look on the day."
"With other bigger dresses, I had to imagine less fabric. It was easier to walk in although still really heavy. When looking for dresses I was always drawn to this style and loved the intricate detailing of the beads. The style was very flattering on me – I knew I wasn't going to magically go the gym and get rid of wobbly bits so the blouson top and cap sleeves made me feel really confident."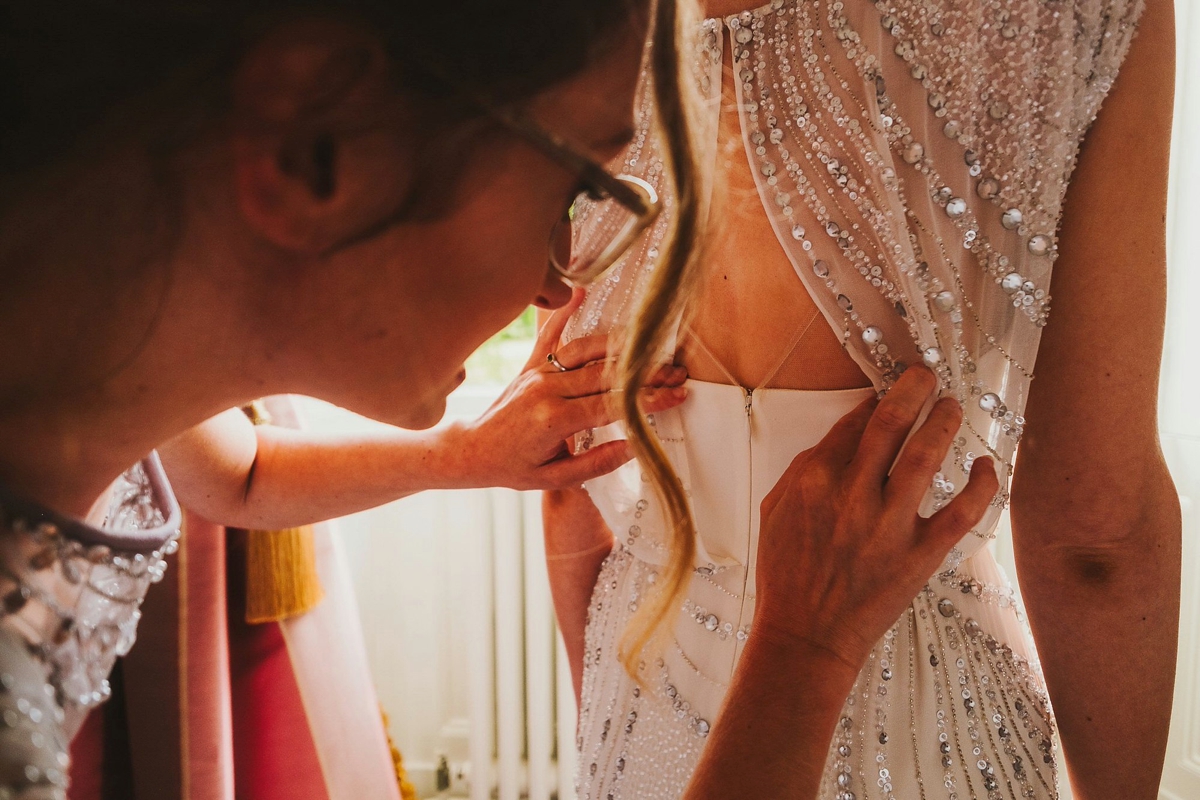 "Instead, I found finding a dress for the Friday ceremony really hard. The Jenny Packham dress was exactly what I was after but I didn't want to replicate it and spoil the surprise for Saturday. I was also unsure if I should wear a wedding dress at all with it being a small, city ceremony. I looked for lacy white summer dresses as this was the opposite to the beading on the JP dress but they were few and far between as I had to look in March, April and then when I didn't find anything, May."
"Our family were putting a lot of emphasis on the Friday ceremony as to them it was the official ceremony and as we had booked Kate to photograph it we felt the pressure for it to be and feel as special. In the end I went for the Phase Eight dress which was above my budget but it made me feel comfortable and incorporated all the aspects that I wanted – sleeves, lace and buttons whilst remaining quite fitted and light."
In terms of accessories, Elizabeth wore a beaded scalloped belt from Sash and Co, which she found at The White Closet, along with my dress. She also wore a pair of earrings by Sorrelli from TKMAX.
"I didn't wear much jewellery as the dress was so ornate it didn't feel necessary."
"We hired the Highhgate String Quartet after a recommendation for the ceremony music and drinks reception. The music was themed on contemporary classics. The bridal party walked down the aisle to Pachelbel's Canon in D by Bach (featured in many films such as Father of the Bride), we signed the register to Married Life from Up and walked out to Happy by Pharrell Williams (which they sourced the music for and learned in a very short space of time). The quartet's repertoire was really diverse – they played a lot of well-known themes and popular songs ranging from Game of Thrones to the Beatles and Bruno Mars so we felt it provided entertainment for everyone."
"We hired the Loose Moose String Band – we heard them at our friend's wedding and knew it was the vibe we wanted – they take popular songs and put their own folky twist on it. We have different music tastes from most people and even each other. We dislike cheesy wedding bands and DJs so wanted something a bit different. They did a special rendition of 'Are you going to be my girl?' by Jet in their style which is a song that means a lot to us and brought back a lot of memories so was definitely a highlight."
"I designed all the invites, programmes and menu's herself being a whizz on photoshop. This saved us a bit of money but was very time consuming as we spent more time over-analysing every detail and word! We included tickets with the program to encourage guests to use all the facilities we had on offer – such as welcome drink, ice cream, drink with the meal, photobooth and evening burrito!"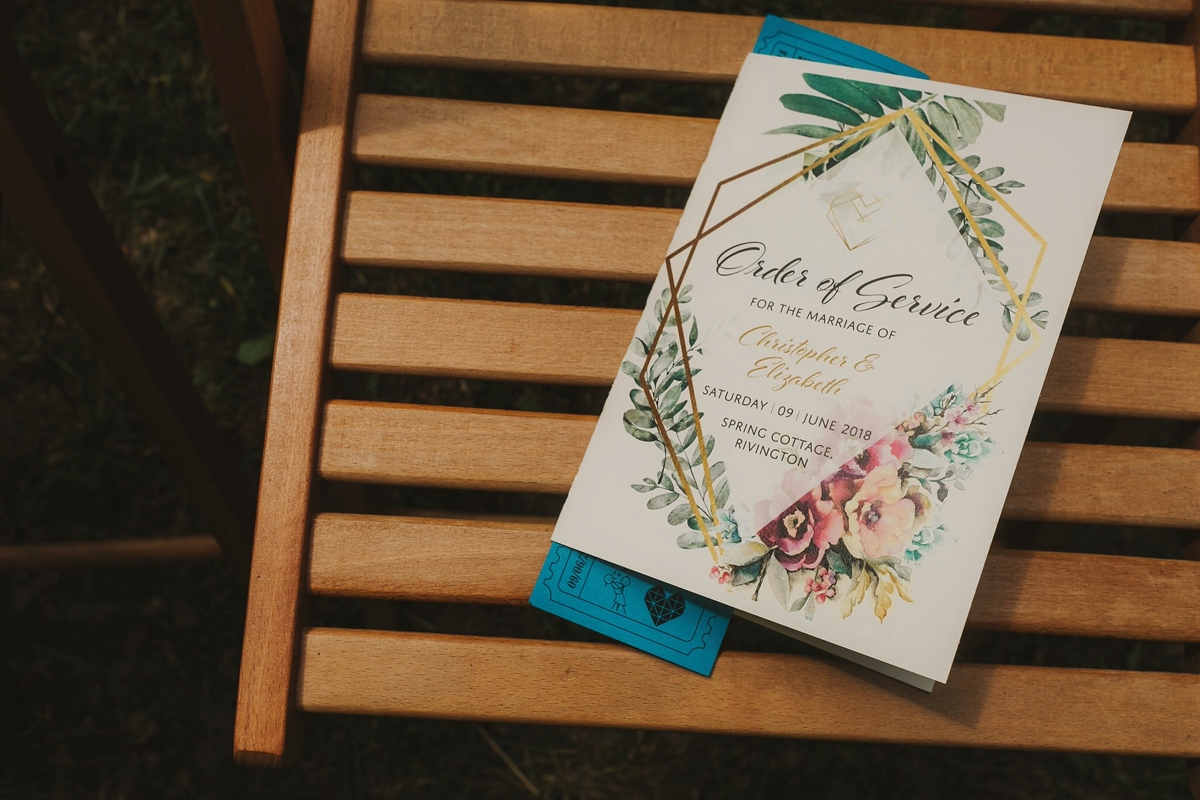 "Chris and I met at Liverpool University but only got together once we'd finished third year and Chris had moved back to Bolton in late 2008. We then spent 5 and a half years between Liverpool and Bolton before buying a home near Crosby Beach in 2014. Chris proposed in our home on Christmas Day 2016. We had originally wanted to get married in Autumn the previous year had been dry and warm, but we didn't get our act together quick enough so booked in for the following June so in the end we were engaged 18 months. As it happened Autumn 2017 was a wash out and June 2018 was glorious – everything happens for a reason!"
"Chris's sister Sarah created all the signs around the venue as a surprise to us including the welcome sign, pick a seat not a side sign, and many more. It was nice to have some surprises on the day for us and not just the guests. 
"We specifically wanted a more laid-back natural feel to our wedding. We were struggling to find a venue that fit in the North West and even searched up in the Lake District. In the end we stumbled upon and chose Spring Cottage as it was local to Chris's family who had offered to help with the decorating, included all that we needed but were also really open so that we could create a wedding that was unique to us. It was also located in a place that Chris and I had spent time as a couple – the Rivington area is beautiful for walks. We couldn't legally get married there so we looked to do this in Liverpool, Elizabeth's home town."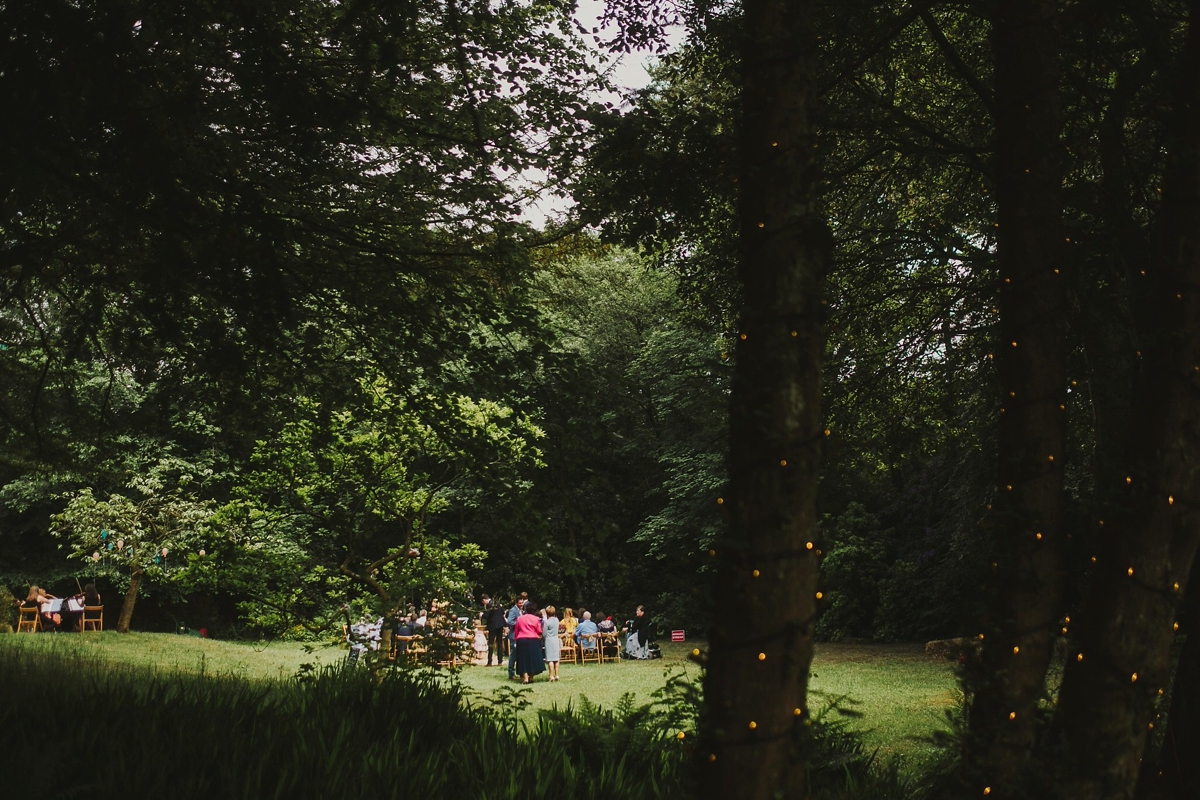 "Chris wore a DKNY light blue suit from Moss Bros, with a grey waistcoat (Moss Bro's own), a TM Lewin Shirt and John Rocha brown brogues from Debenhams. He chose his outfit himself once the wedding colours had fully evolved. He knew what the bridesmaids had chosen and the flower colours and picked a suit which toned in well. Chris wore a light pink-grey tie from The Tie Room online that matched the silver tie the rest of the bridal party wore."
"We let the groomsmen pick their own suits. A lot of our friends are getting married at the moment and it's an expensive time. We wanted to be as flexible as possible. We bought silver-grey ties from The Tie Room to bring the bridal party together including with the grey bridesmaid dresses."
Elizabeth's bridesmaids wore grey beaded gowns from Quiz in Debenhams.
"We let the bridesmaids choose their dresses and accessories. Even though they both liked the same dress, the original aim wasn't for them to match but the beading on the dress they chose complimented mine, so it worked really well. No one knew what my dress looked like except my mum, so I just gave them a hint of no lace and a bit of sparkle and they picked well!"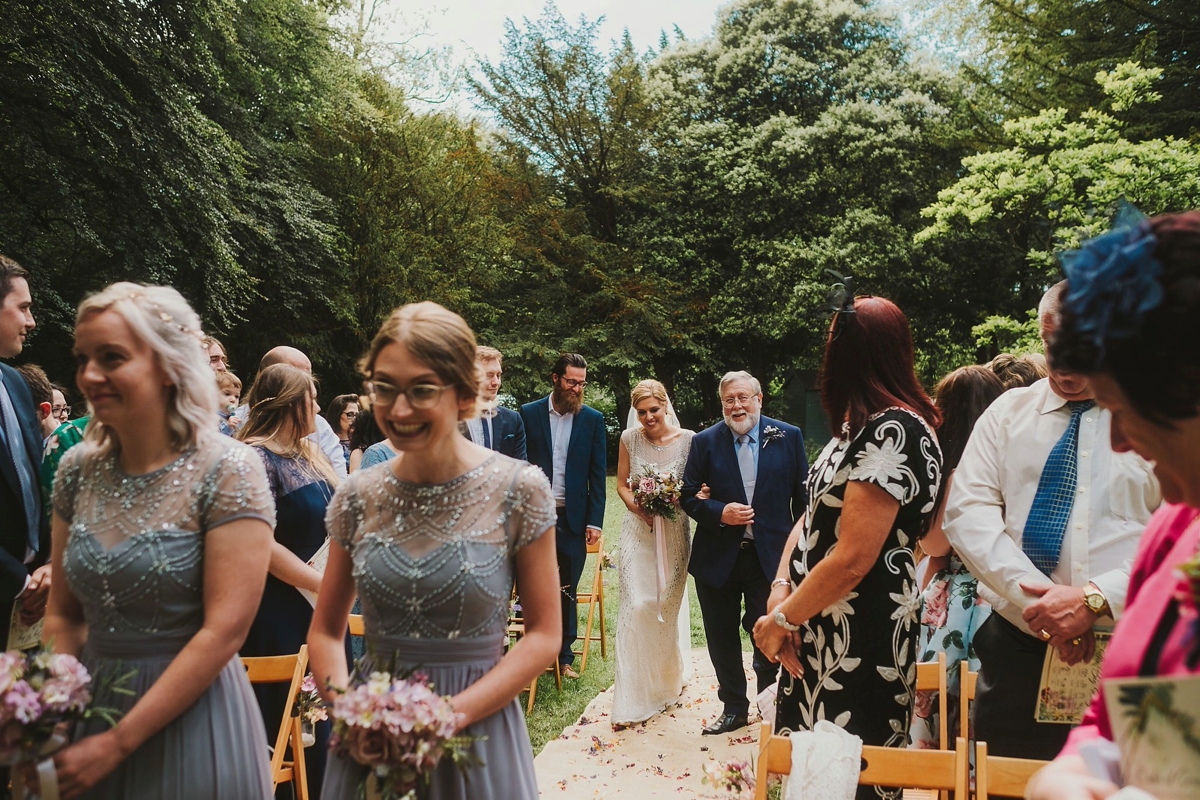 "My dad accompanied me down the aisle – we had a string quartet play Pachelbel's Canon in D."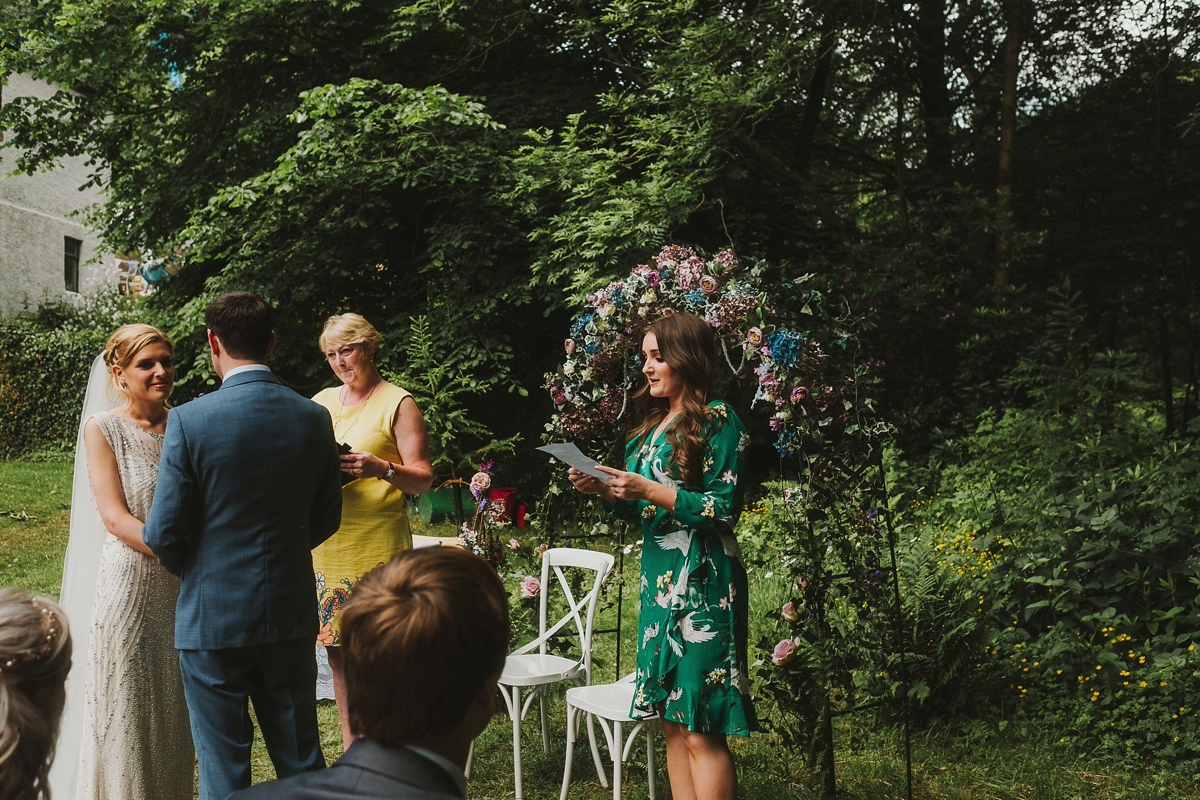 "The venue recommended our celebrant, Annie Richardson, as she has been a celebrant at many events there being local and a regular to the cafe. She was great, listened to what we wanted and provided us with a unique, bespoke ceremony which all our guests commented on afterwards."
"As our ceremony was outside there was little we needed to do. Chris's mum Pam made us a flower arch from her collection of artificial flowers and dried ones from her garden. The final product was a surprise and lovely to see in all its glory at the end of the aisle. This was later moved to the entrance of the tent so had a dual purpose. We had some jars with flowers on the end of the rows and burlap bows."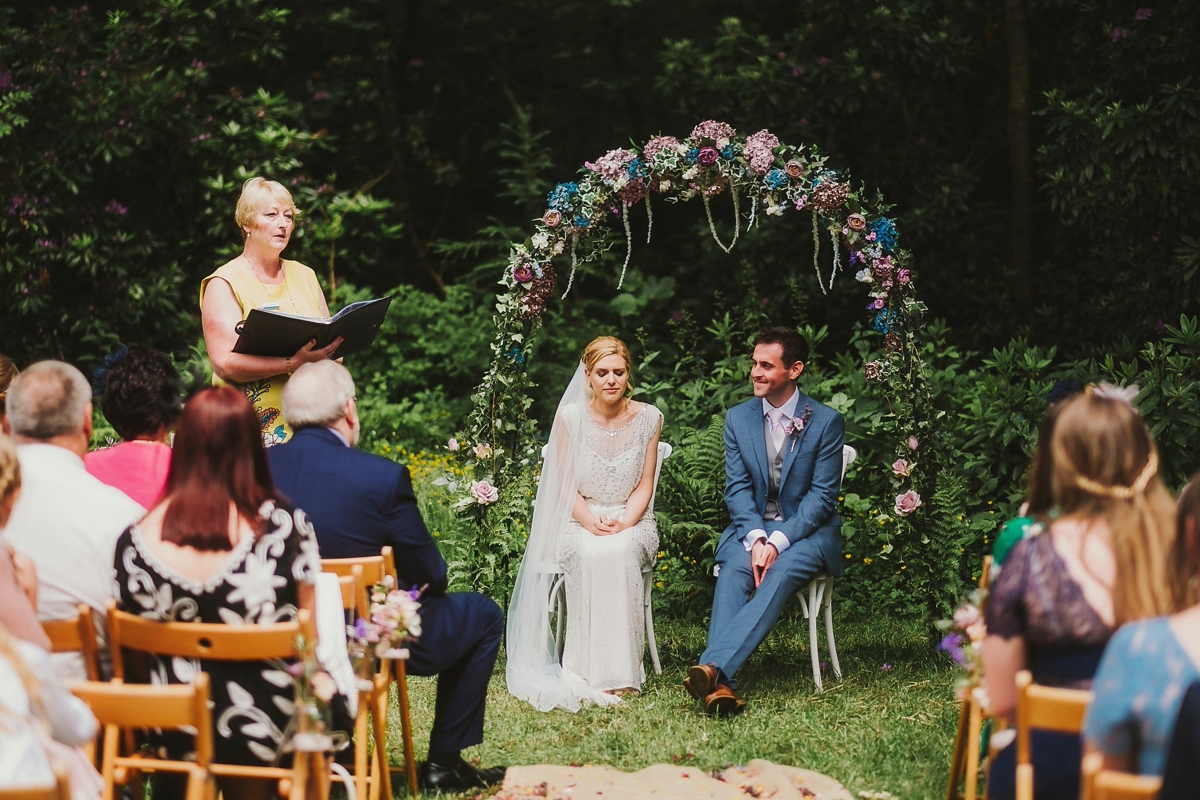 "Our wedding ceremony was immensely personal to us. It went through our journey together as we realised that probably not all our guests would know it from beginning to end as many had met us along the way.  Our vows were a mix of statements that we believed in taken from other vow examples across the internet. We wanted them to be modern and again represent ourselves and make promises that we would want to keep." 
"Chris was determined to have three readings in order to tell our story through the ceremony. The first two were letter extracts from a compilation of letters he gave me one year for my birthday. Chris had amended some of the letters to be more personal to us and some he wrote himself. Elizabeth's two friends from high school read these as requested by Chris. The third was an abridged version of Blessing for a Marriage by James Dillet Freeman read by Chris's Uncle, Howard, who has been likened to the poet in the past. We picked these readings as they meant something to us and every line represented us and said what we wanted to get across about ourselves and our relationship."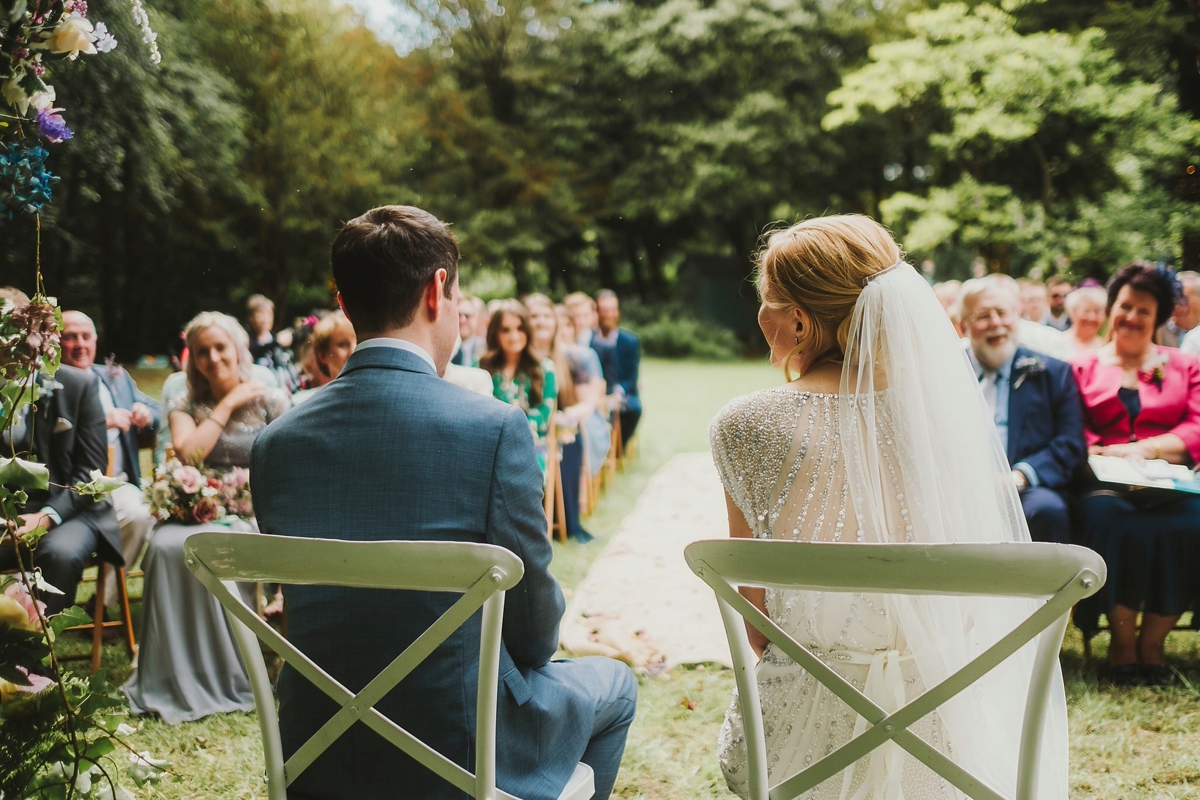 "We used Two Become One jewellery who we met at a wedding fair. They were great. Elizabeth was actually the easy one as she knew she wanted a wishbone style which fitted around her engagement ring. Chris had no idea what he wanted just that he wanted something a little different. Wade worked ideas through with us and created a bespoke ring which Chris loves."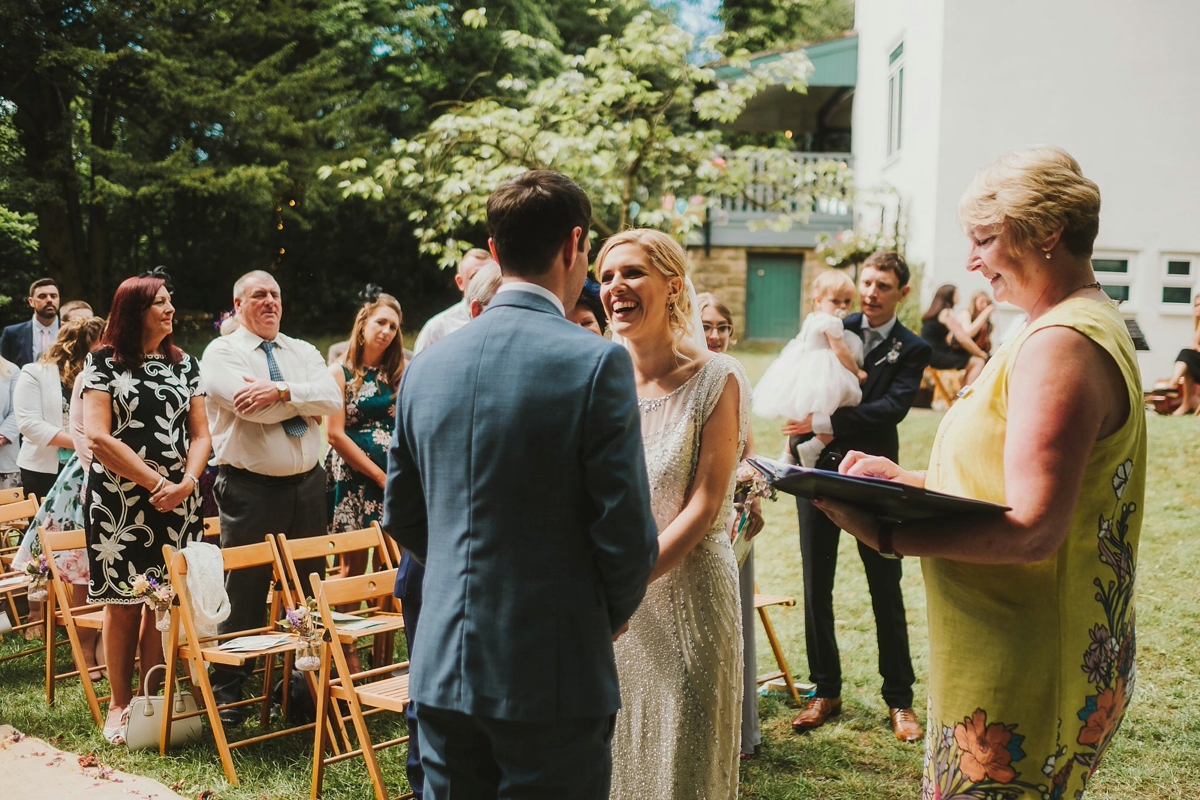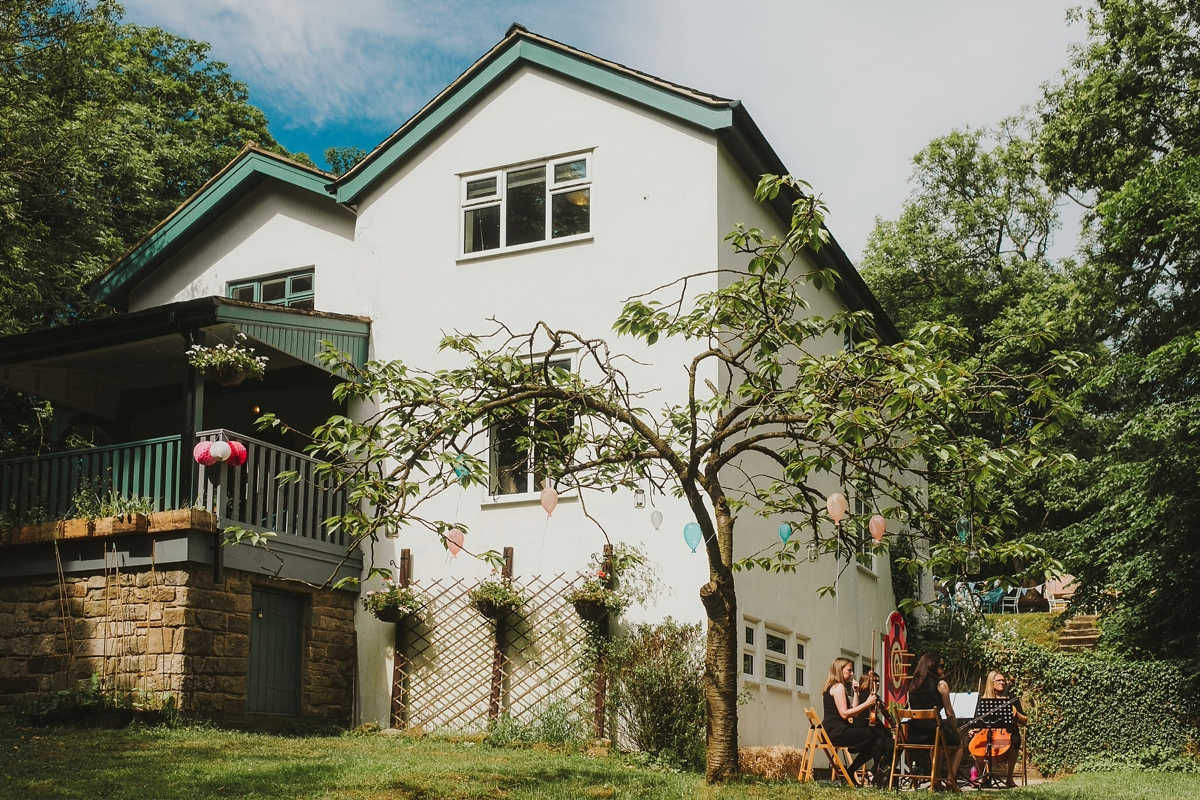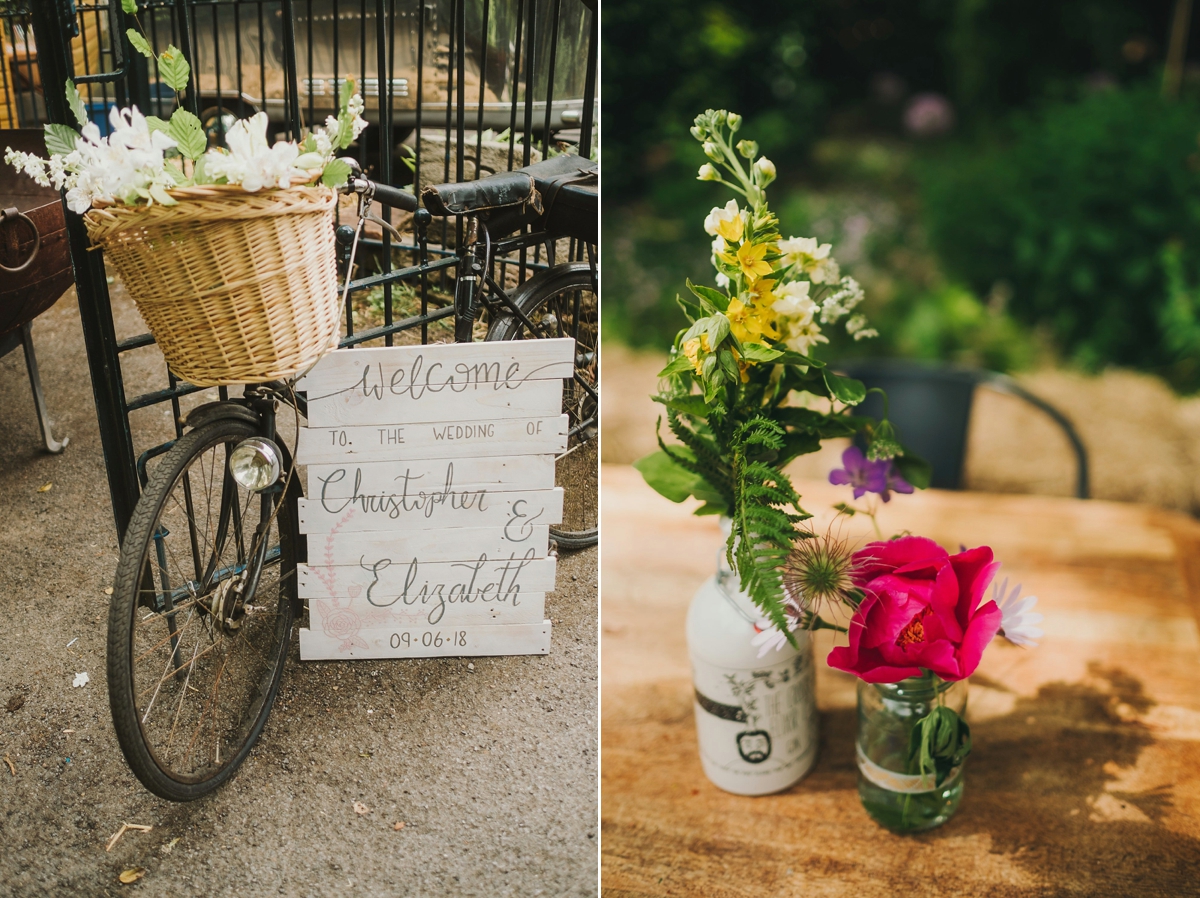 "We had a table plan in the form of Lavender pots with guests' names on flags which told them which table they were sat on, but they could pick their own seat. We tried to find a balance between keeping it laid back without sending guests into chaos with no one knowing what was happening. We think we managed it, just."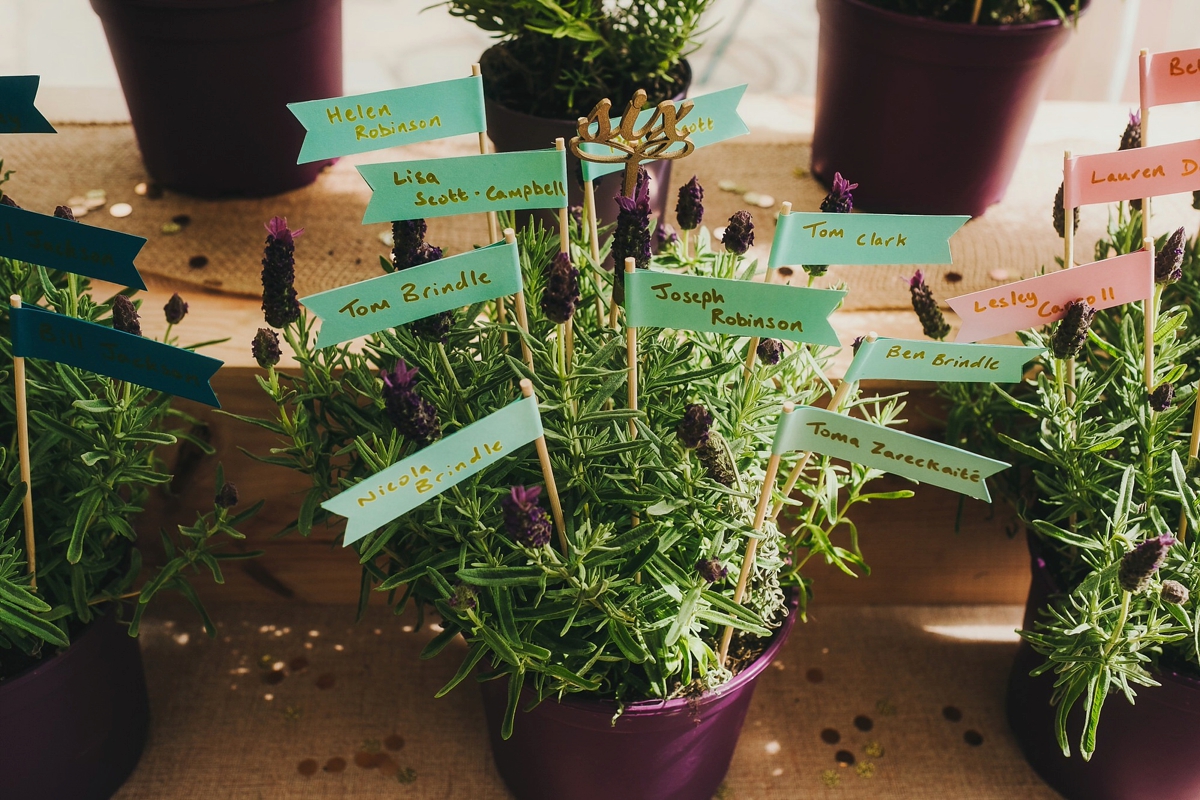 "We weren't going to have wedding favours but then we saw the wedding badges you can get with Macmillan. We ordered a mixture of different coloured hearts, champagne glasses and bow ties so that there was something for everyone and we could hear guests doing swaps all evening!"
"Liz wear's her heart pin on her coat which is a nice daily reminder of the wedding but also of a good cause. We were glad to put some of the wedding cost towards charity whilst also providing our guests with something to remember the day."
"We decorated the tent walls with gold sprayed floral hula-hoops which we had seen on Pinterest. They came in different sizes and we covered them in random arrangements of fake flowers and garlands. The hoops were arranged in clusters of 3 with the largest ones containing glittery laser cut text saying: 'Always and Forever,' 'Mr & Mrs Mason' and 'Best day ever' which we commissioned from Always Lovely in Liverpool who have now ceased trading."
"We wanted to do a take on the gold geometric theme which is popular and went with the 1920's feel of my dress, although we didn't want to go for an Art Deco theme as we thought this would be difficult to follow through completely. We made many coloured diamond gem shapes which we hung with clear string around the tent instead of bunting. The tent came with a central ceiling floral garland which we used as the starting inspiration for the wedding colours and floral theme."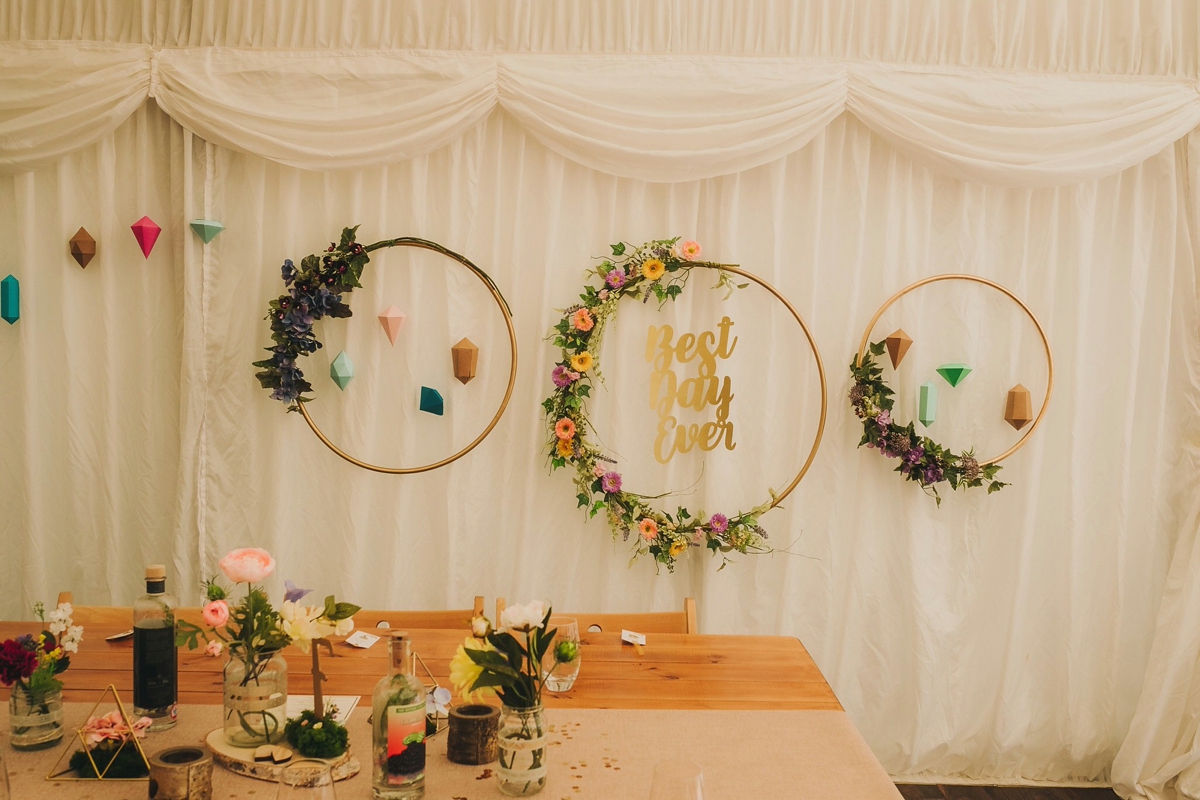 "Our cake was homemade as a favour by Steve who runs a local restaurant and his mum Flo. It had 3 tiers with 3 different flavours: Traditional Victoria Sponge, Chocolate, raspberry and rose and finally lemon and elderflower. As it was so hot it did start to melt unfortunately so it had to be cut into pieces early before the guests even saw it. It didn't matter as it went down well anyway, however we were so busy that we didn't get to have any which was a shame." 
"Food was a big part of the wedding. We love food so this was an important element to us. We didn't want a formal sit down 3 course dinner as we knew with nerves we wouldn't eat or enjoy it. This actually drove the style of the wedding. We quickly realised that we didn't want the wedding to be too formal and part of a generic package. Spring Cottage were really laid back about catering and you could essentially do whatever you wanted."
"Instead of canapes – again too formal for us – we had homemade scones made by Chris's gran, Trudy. This ended up with all of Chris's family chipping in as a couple of weeks before the wedding Trudy caught shingles! Trudy always makes scones for the family and Elizabeth and Trudy sometimes have baking sessions making them, so they seemed perfect for our English Garden party theme served with clotted cream, jam and fresh strawberries."
"As it was World Gin day (coincidently) we sourced for free form local bars unusual gin bottles and filled them with flowers and lights on each table, along with gold sprayed geometric shapes decorated with flowers and greenery and bark candle holders. We used wallpaper to line the table which covered the join as we pushed two tables together to create a square. We were originally going to have long rows but the large sharing boards leant themselves to the square table set up."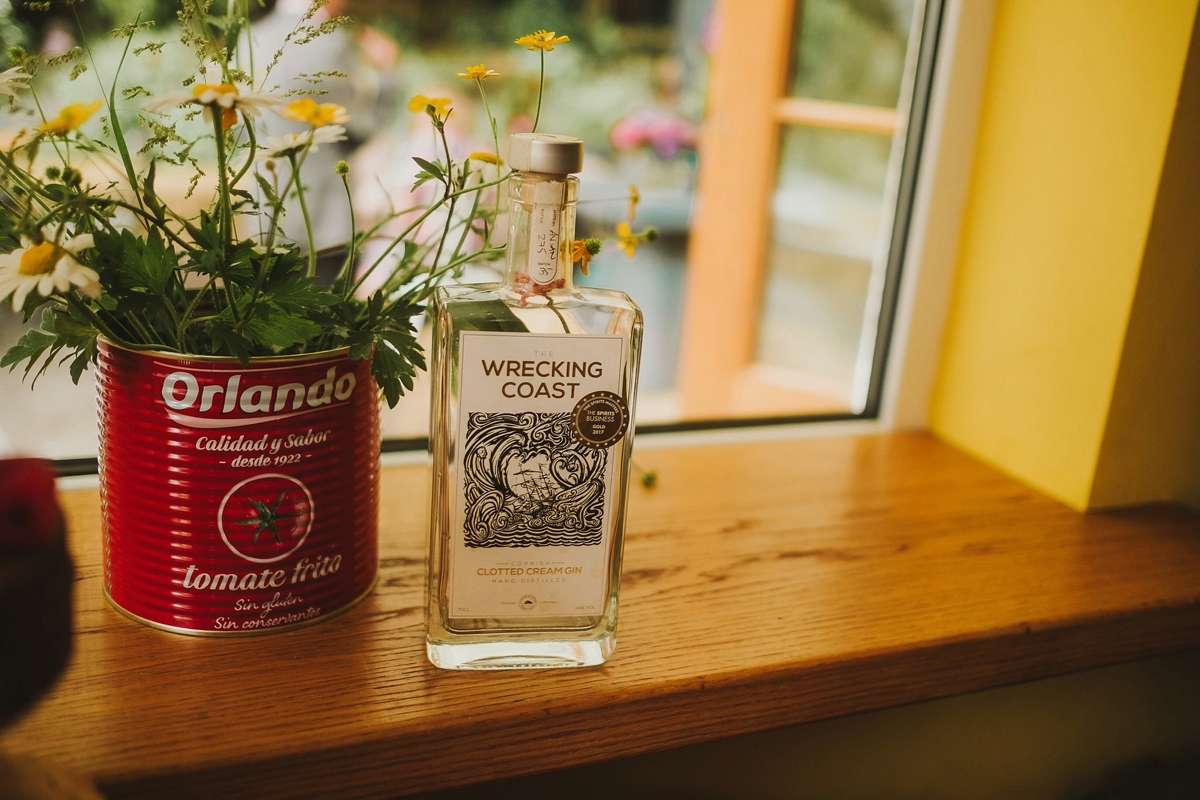 "For the main meal we looked at sourcing food trucks but found that because we were in quite a remote location on a prime summer Saturday with a small wedding a lot were turning us down. We love BBQ food, we once ate in Phil's BBQ famed from the Diners, Drive-Ins and Dives TV Show in California and still rave about it now. We found Smokin' Blues online and were really excited about their wedding menu with sharing boards. It was something different, that the guests could interact over. We went to a brewery event in Huddersfield where they were catering to try some of the food menu before we picked ours."
"We also love ice-cream and there is a locally famous ice cream shop in Egerton that we would always go to. Initially we were going to hire them but then we came across Milkmaids, a really good local company from the wedding fair who make so many flavours of good quality fresh ice-cream from their farm. They included more extras including more flavour choice, wafers, and 45mins of unlimited scoops. We could request any 4 flavours which was so tricky! We had a tasting which did not alleviate the problem but only added more flavours to the list! In the end we decided upon Cream Tea (to go with the Scones), Lemon Drizzle, Turkish Delight (which was the favourite and went in seconds!) and a Strawberry Prosecco sorbet to cover all options. We also went with personalised wafers which read Mr and Mrs Mason.
Fiona at Milkmaids is amazing, she works so hard and we would highly recommend booking them."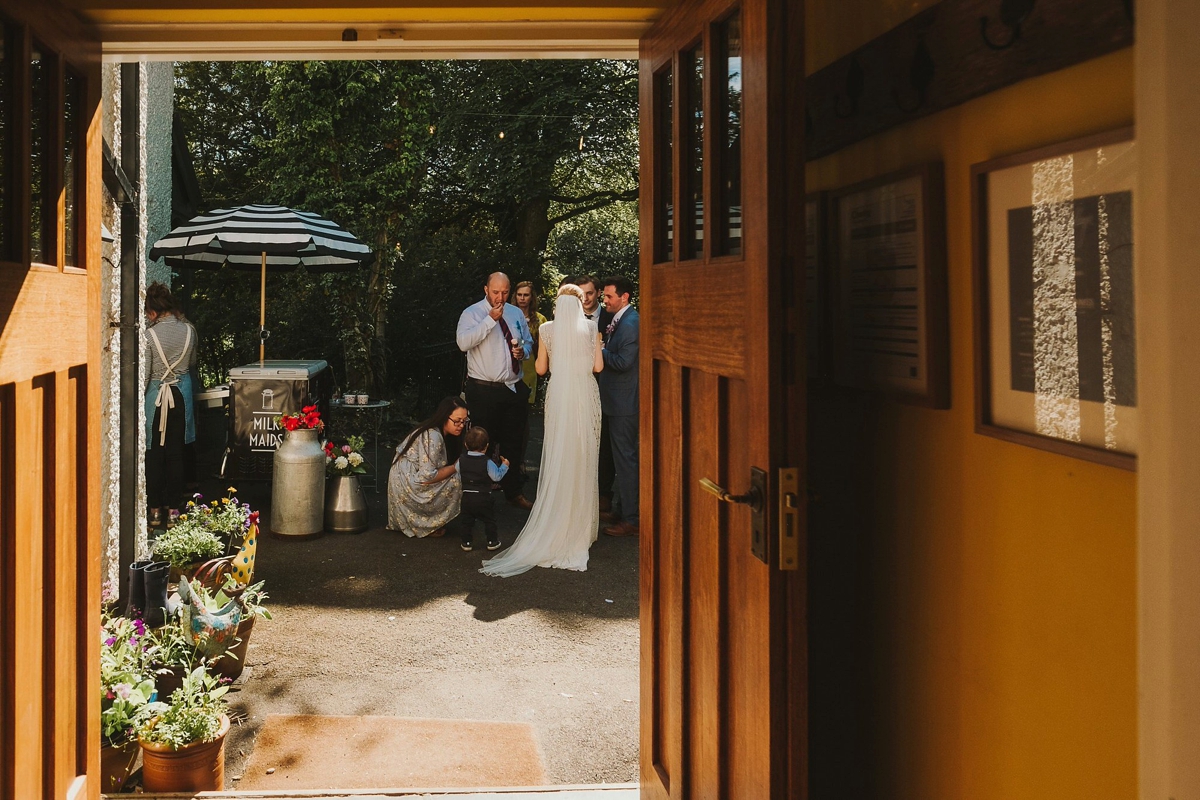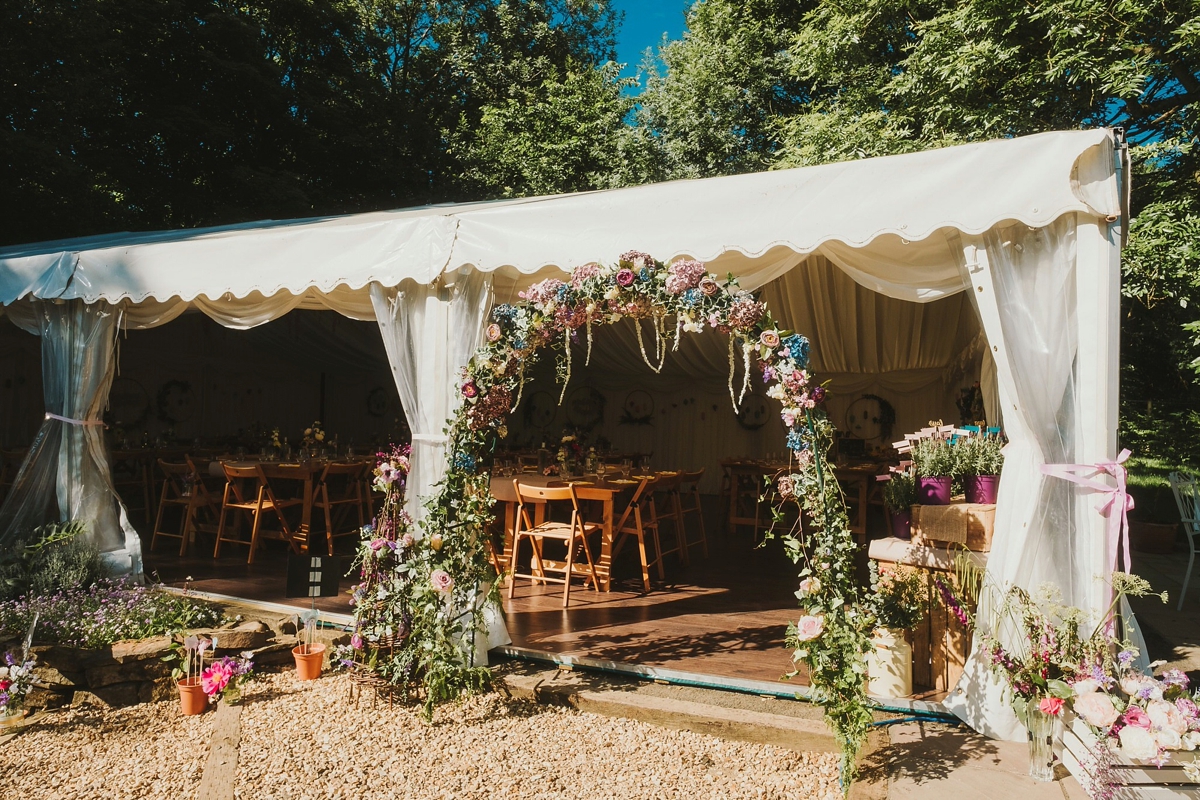 "We both agreed on a song for our first dance, but didn't want to play the original version as it is a bit heavy with guitars and hard to dance to but the band were nervous to put their spin on the first dance as not every song obviously works in their style."
"We were stuck for ages and couldn't agree. We eventually agreed the night before on Sway by Dean Martin as we both felt we could dance to it. Really though, perhaps we shouldn't have had one but felt compelled to as it is expected by guests and in the end we were both really embarrassed, had technical issues with the iPod and Elizabeth got crippling foot cramp half way through so it wasn't a great success!"
"Seeing it all come together and being with our nearest and dearest was lovely. We had had opinions during the planning process flying at us from all angles but in the end, everyone finally understood and enjoyed the day which was the biggest relief."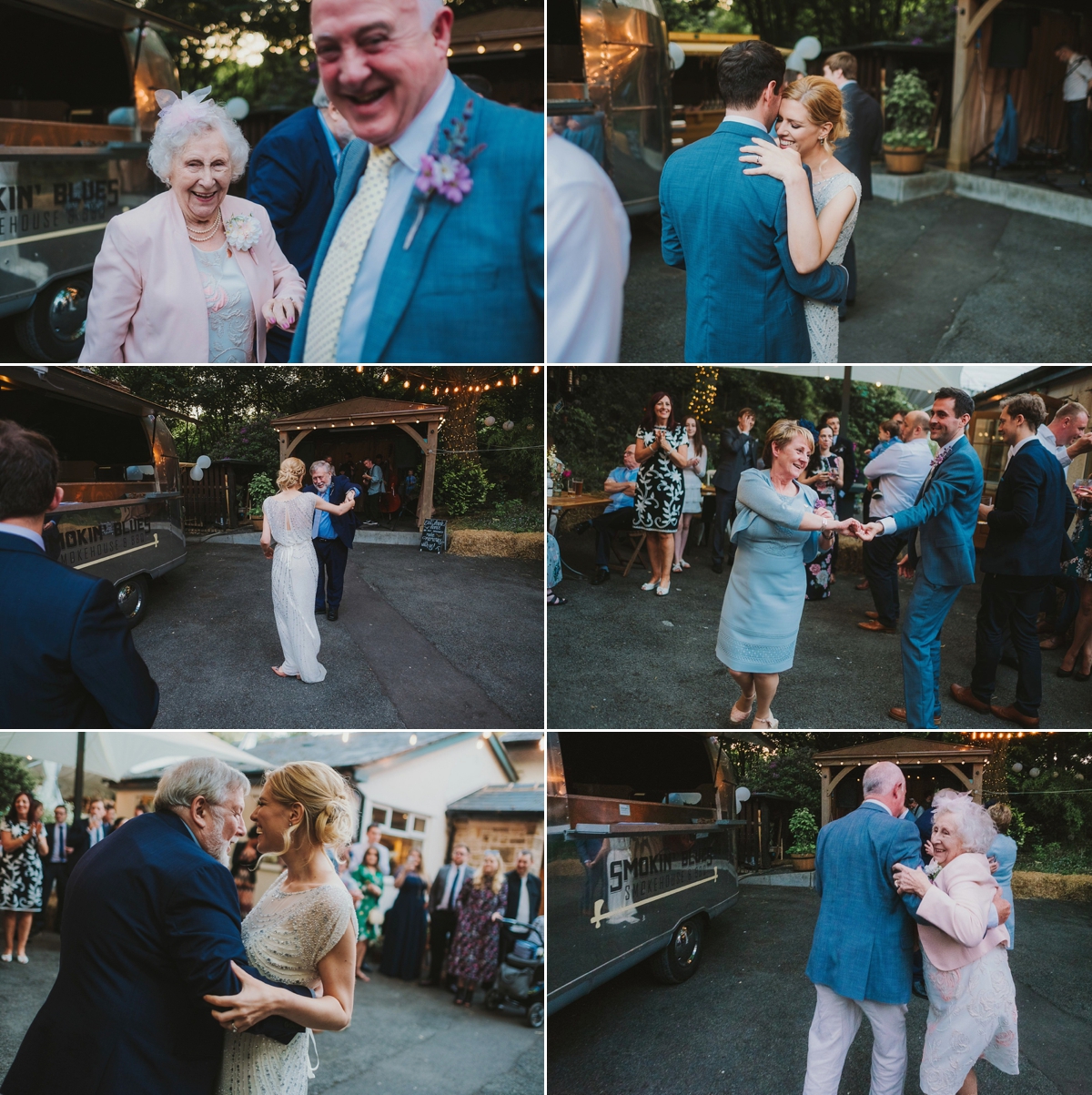 Words of Wedded Wisdom
"Make it all about you and it won't matter if it goes out of fashion. We chose a lot of our suppliers and decorations because we liked them and they represented memories or things that we love. When we look back in years to come this is what we will remember. It was a good way to reign ourselves in so as well as asking ourselves do we really need it we also asked does it represent us? Would someone say that's so Chris and Liz if we had it?"
"That was also the feedback we got, a lot of our guests said how personal it felt and how they could see us in every aspect – so we got it right! It's hard to have a wedding that's different and stands out from everyone else's but if you truly represent yourselves you will do that as you are different to everyone else and it will differ from the standard generic package."
"Budget wise, we originally gasped at the thought of spending any more than £8,000 on one day. Then we started getting prices back for things and had to readjust our mindset and thought we'd be doing well if we could do it for £12,000. We spent a lot of time weighing up whether we should just have a small and really intimate almost elopement and save the money or have a wedding day. In the end we seemed to have both, which didn't help with costs but worked well for us. It wouldn't have felt special enough having just the Friday ceremony but instead felt extra special having both." 
"On reflection we would have given the bridal party specific jobs. We wanted everyone to enjoy the day and relax but didn't think enough about how guests would know about timings. Despite there being a programme we relied a lot on Kate and we ourselves spent time on the day organising people, guests and music which added a bit of stress."
How absolutely gorgeous! Thank you so much Elizabeth and Chris for sharing your gorgeous day.
You can see more Jenny Packham brides here lovely readers,
Annabel x
The formal bit/Registry Office wedding the day before
Elizabeth wore a Phase Eight dress for her formal ceremony the day before. I thought you'd like to see some of the images.