One of the best things about writing for Love My Dress is the outpouring of love and romance that we share here on a daily basis. It give me so much hope when I hear about couples whose love has, despite location, circumstances and background, brought them together in marriage.
So, please meet Izabela and Stefano who embarked on a long distance relationship beginning in Egypt, continuing separately in Poland and France, then finally bringing them to live together in Germany before a wedding in the groom's homeland of Sardinia. Izabela, a commercial specialist, and Stefano, an engineer, married on 22 July 2017 in a civil ceremony at Palazzo Civico di Cagliari and a reception at Villa San Lorenzo, Cagliari, Sardinia. The overall vibe was relaxed and intimate but completely chic and beautiful. The couple chose an elegant, rustic style inspired by the Sardinian countryside, searching out great local food for their intimate outdoor banquet held beneath the trees, and using rustic, wooden furniture with lots of summery flowers and ribbons alongside a few vintage-inspired details.
These utterly beautiful photographs are by Joasis Photography, who we are so proud to number as one of our Little Book suppliers. Not only acting as a wonderful wedding photographer, Jo was instrumental in helping Izabela create the overall look of the day – especially important as the wedding was planned at a distance. I personally love the timeless feel of her modern-style photography, especially how she's captured the sun-bleached architecture and countryside of Sardinia. If you want to get more details and see more of her work, please head to Jo's Little Book listing here.
Photography Joasis Photography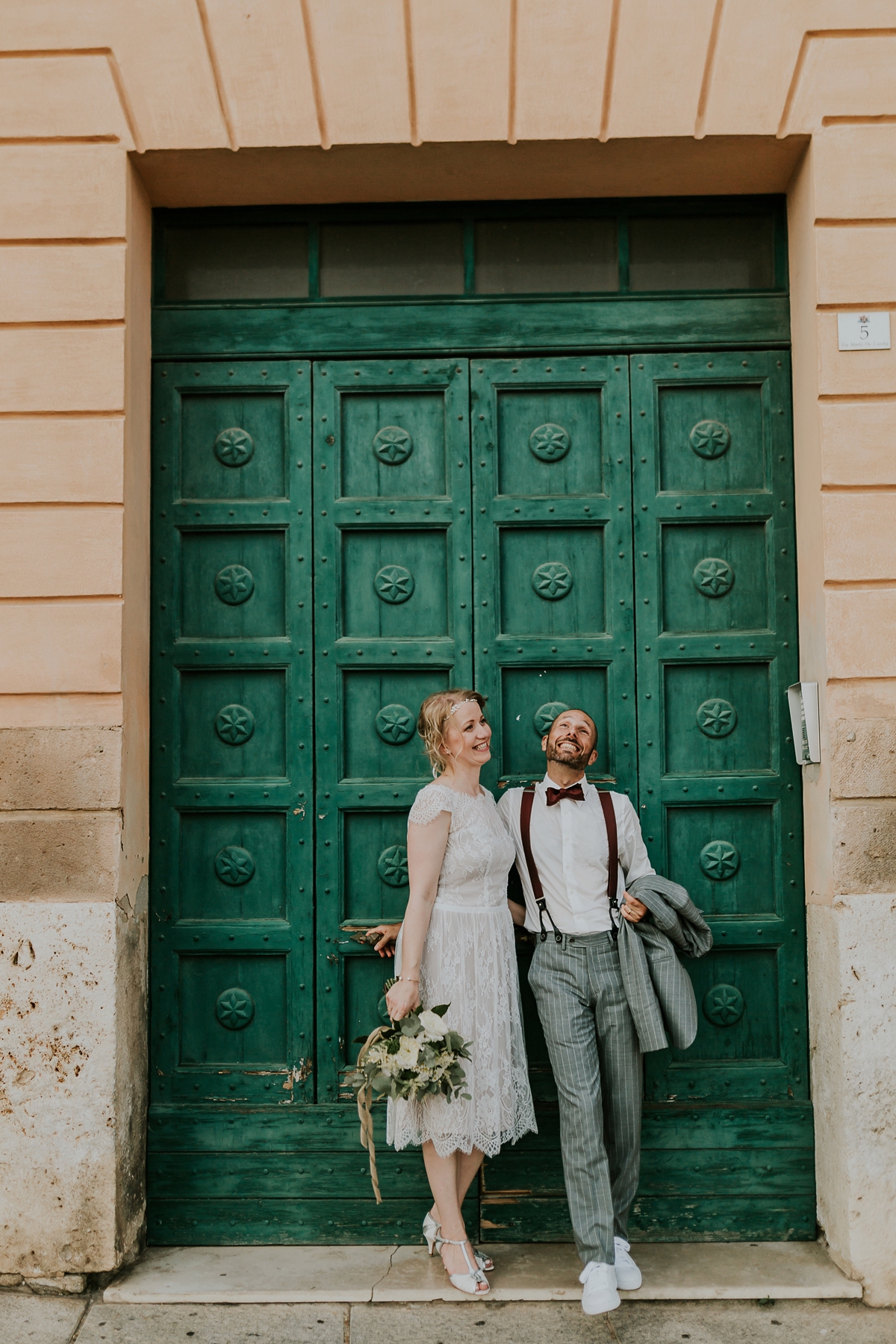 "From the beginning of the wedding planning we had a vision how we wanted everything to look, what decorations we wanted and what flowers picked. We did not know how to put it all together, but we had consultations with Jo at Joasis Photography and with a help of Pinterest put it all together. Jo's help was invaluable- she pointed me in direction of inspiration and resources, introduced me to Pinterest and shared ideas on where to look for my accessories. As we live in Germany, coordination and the collection of relevant items was challenging at times, but we managed to get everything and I then decorated the venue the day before the wedding. I picked my flowers three days before the wedding too."

Izabela has a very special 'thank-you' for Jo, which is so lovely to read.
"We could not choose anyone else, it had to be YOU. We love your style; it's the beauty and the moments you get. Professionals with whom it was nice to work! After receiving the pictures and watching the slideshow multiple times they took our breath away. All the memories came back, as if it was yesterday. You were the best choice."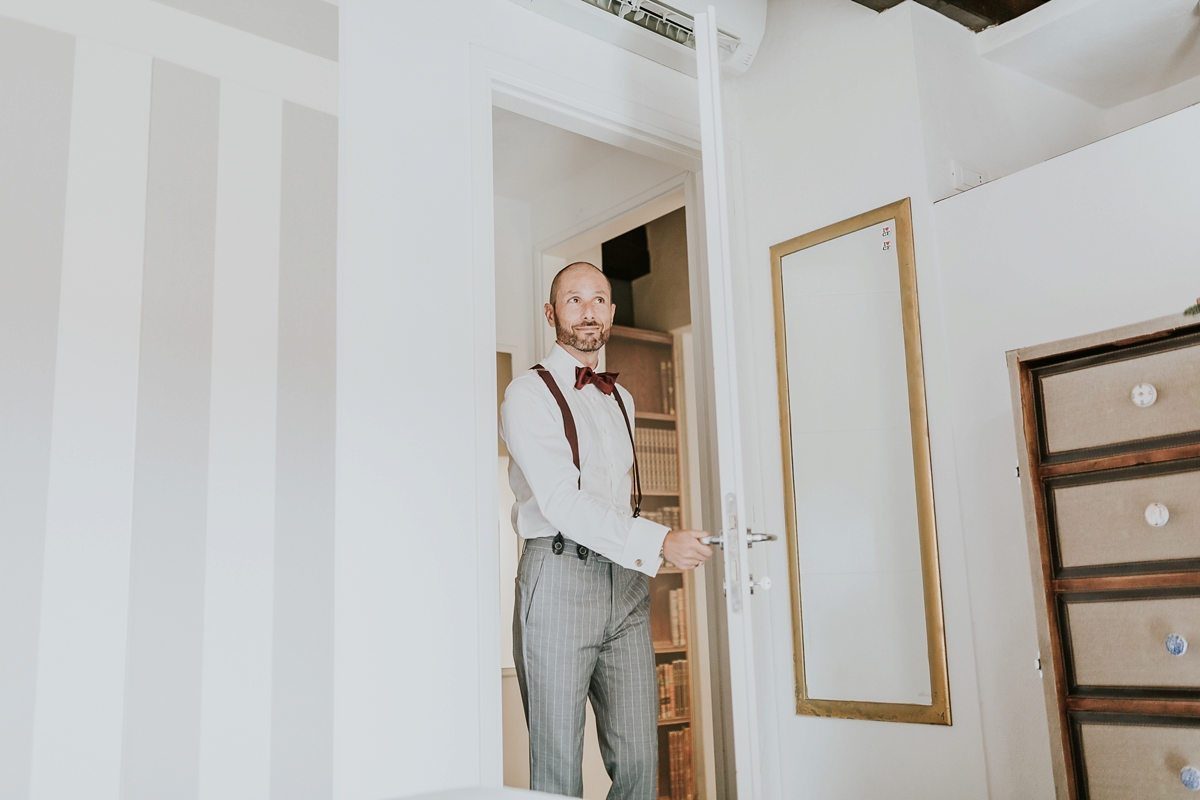 The couple chose to return to Stefano's native island of Sardina, which Izabela had completely fallen in love with during their relationship.
"We met while holidaying in Egypt nine years ago. For two years we did not have any contact with each other – I lived in Poland and Stefano was in France. However destiny, called Facebook, helped us a little bit there and we found each other. We spent hours conversing on Skype and messenger, but we really wanted to meet in person."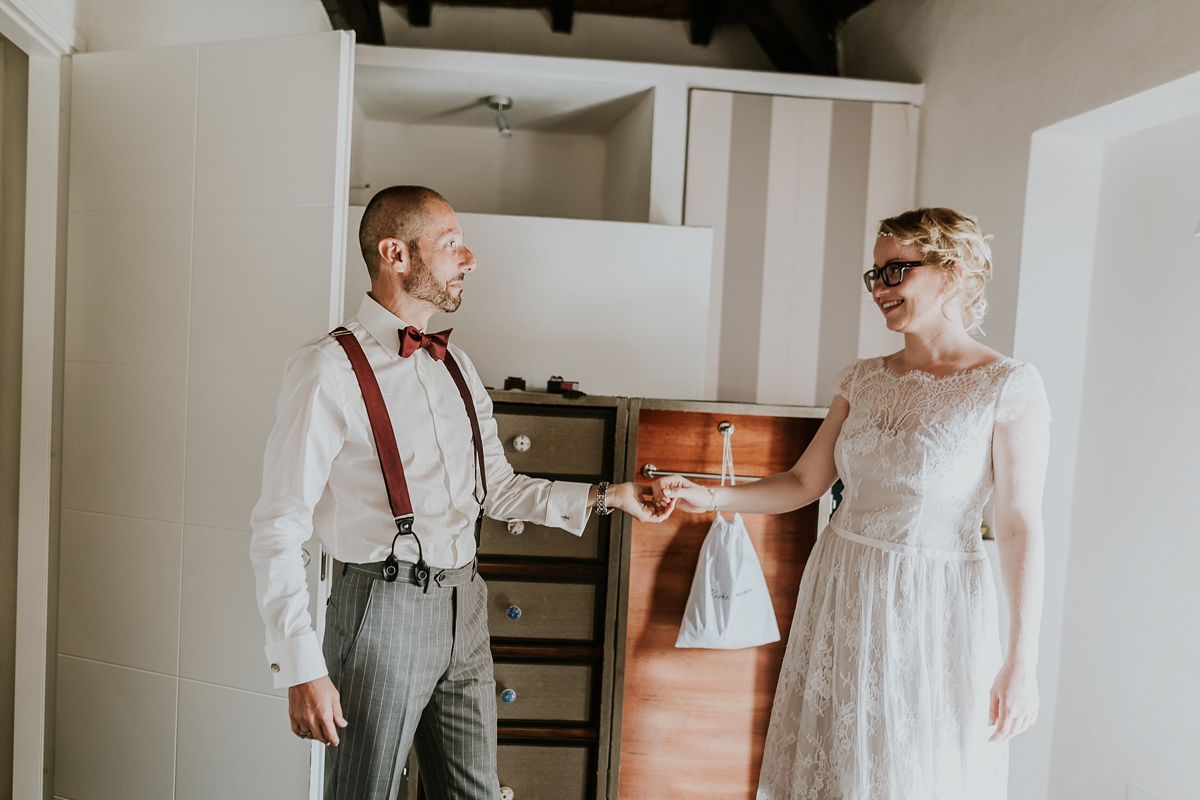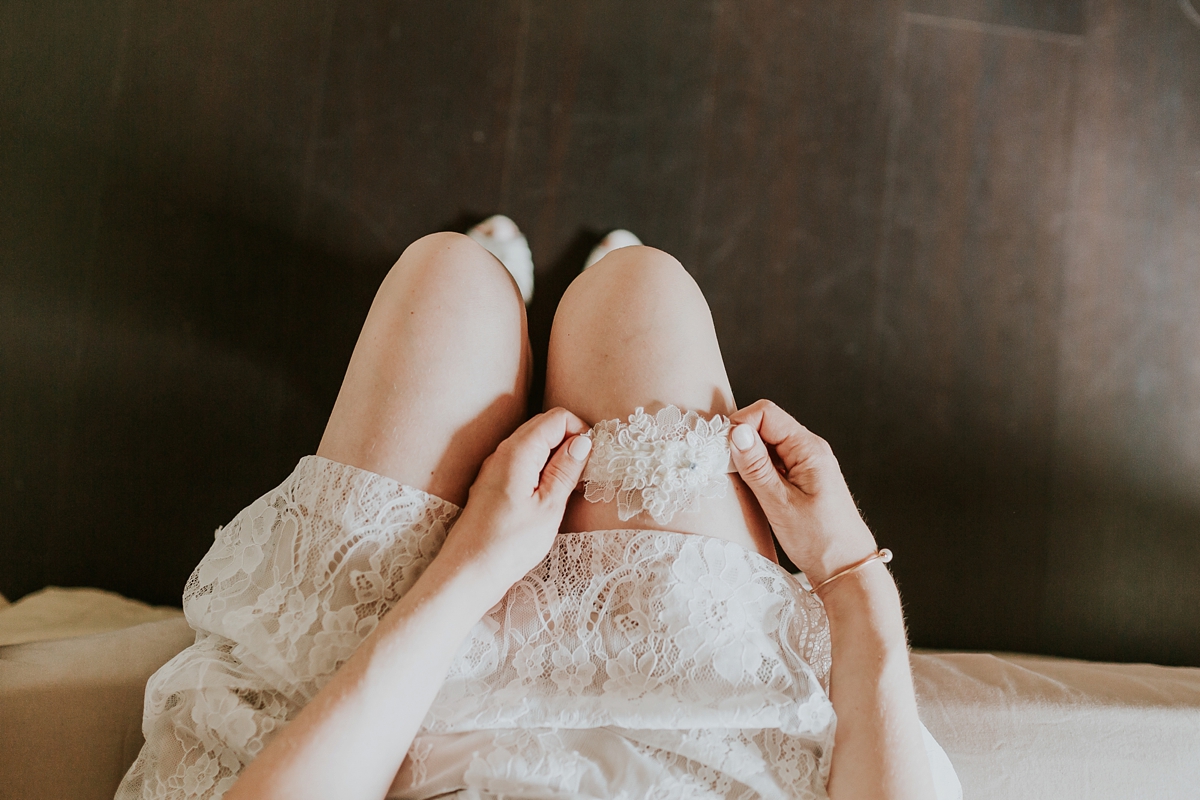 "Finally, at the beginning of 2011 I went to visit Stefano in France, and then he came to see me in Poland. And so we continued a long distance relationship for another year. After I was made redundant from my job in Poland, I felt this was a good time to make big changes in my life. I jumped on a plane and this time I landed in Bremen, Germany where Stefano had moved for his job… and that's how it has stayed until today."
[JP-VIDEO]
"In 2015, we bought partner bands (equivalent to wedding bands), but without setting a wedding date. All in all, everything was spontaneous with no big plans and dates. At the end of last year (2016) we were in Sardinia to visit Stefano's family. Since I remember I had dreamt of a wedding in Italy but I had never expected to meet an Italian and get married in Sardinia!"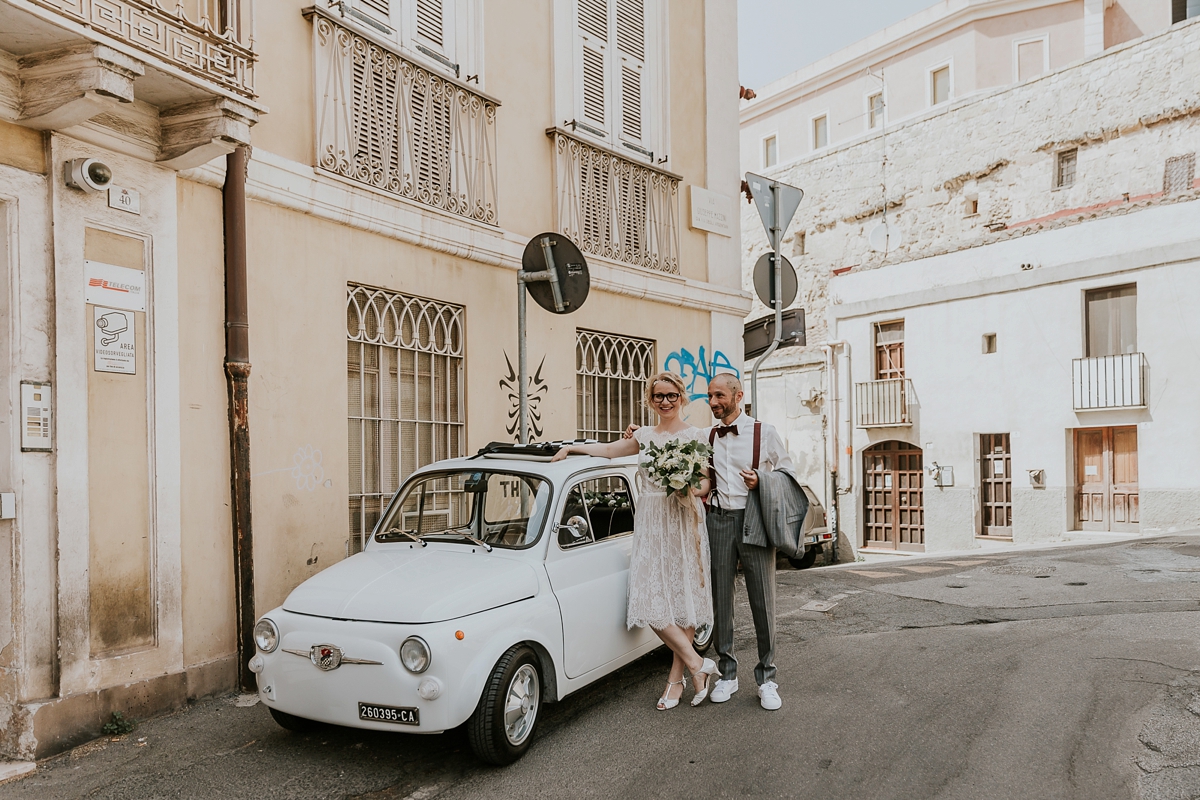 "I have fallen in love with this island; that' s why I wanted so much to say 'yes' there. The ceremony took place in the registry office of Palazzo Civico. Villa San Lorenzo was an accidental choice, but how perfect for our intimate wedding with family and close friends."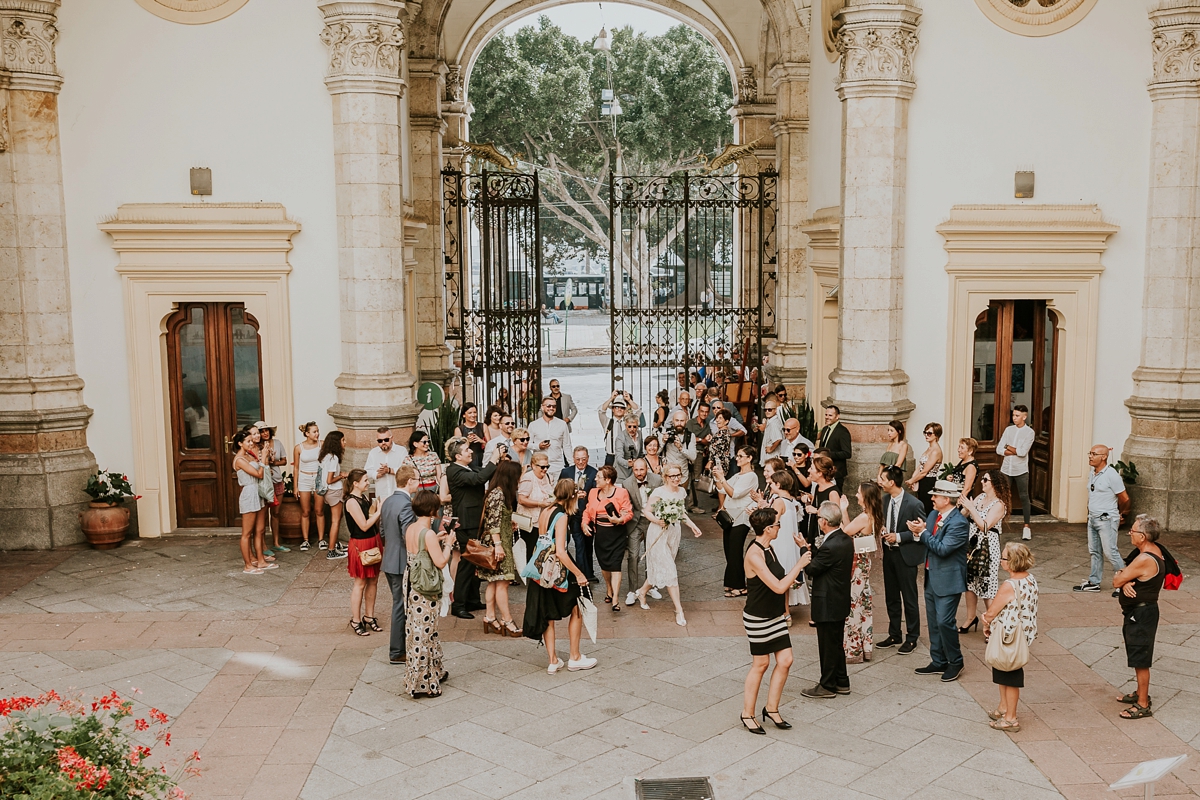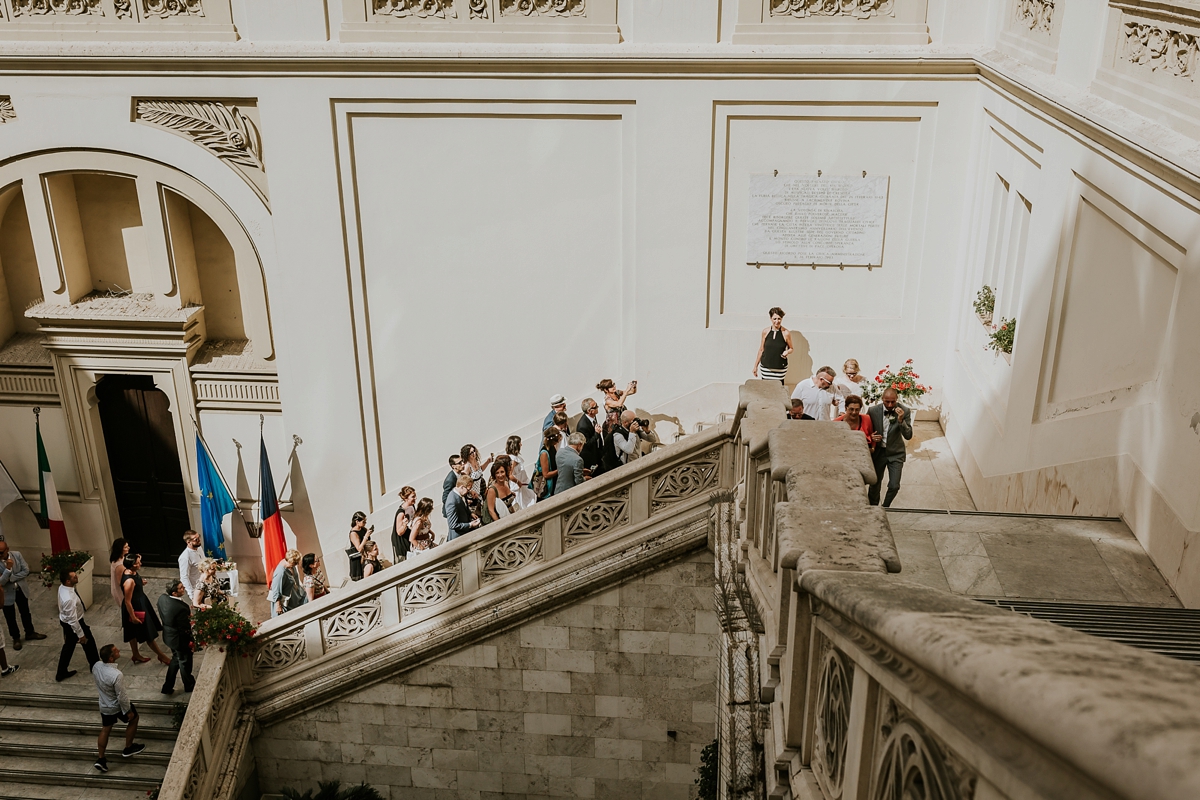 The wedding ceremony itself was held at the Palazzo Civico Registry Office.
"It was a bit of spontaneous decision but Stefano decided to walk to the registry office with his mother so I was walked my brother-in-law and we entered the registry office all together."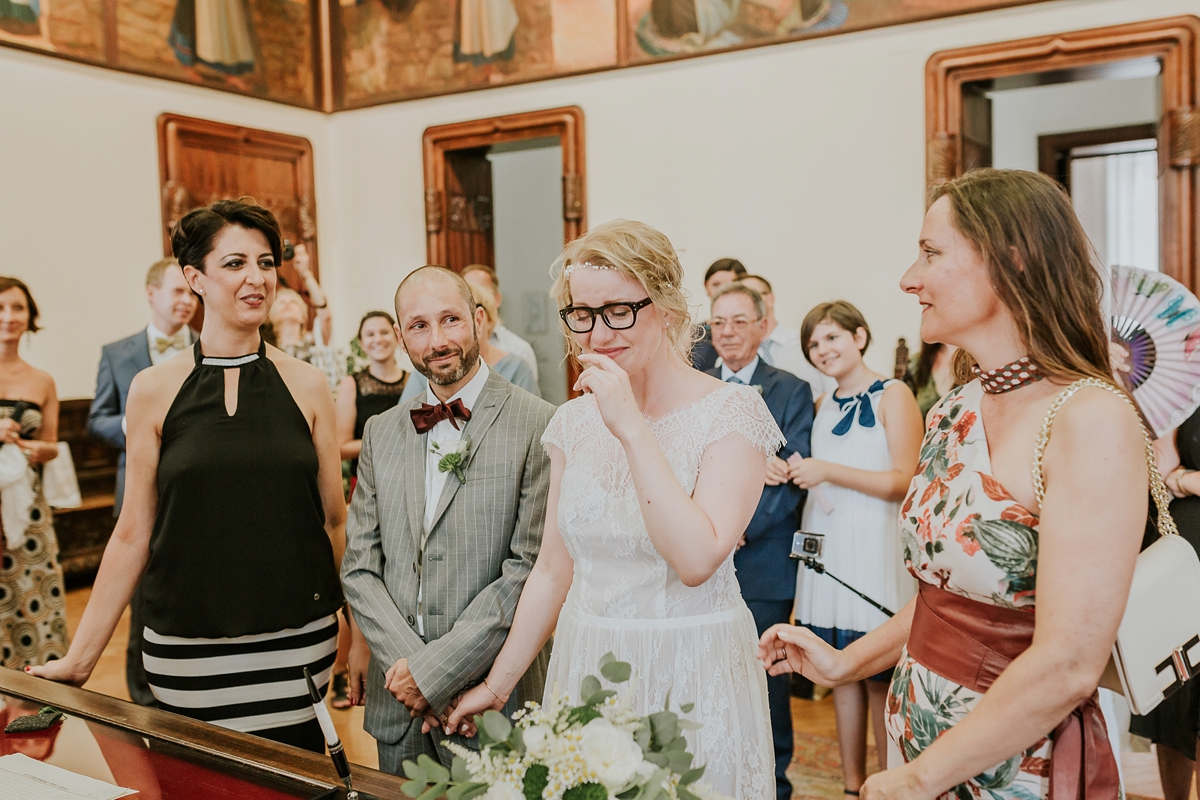 The ceremony was a traditional registry marriage, and Izabela and Stefano exchanged rings from German jeweller Ol Schmidt.
"It was love at first sight."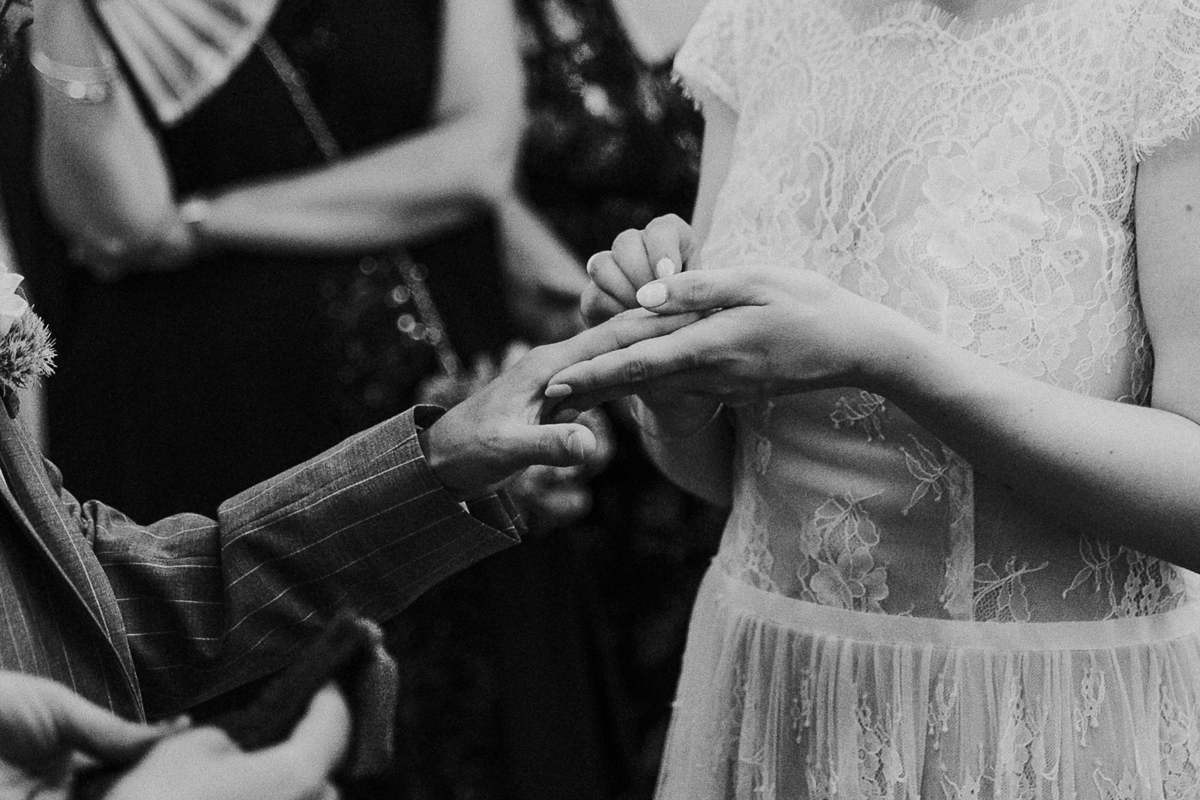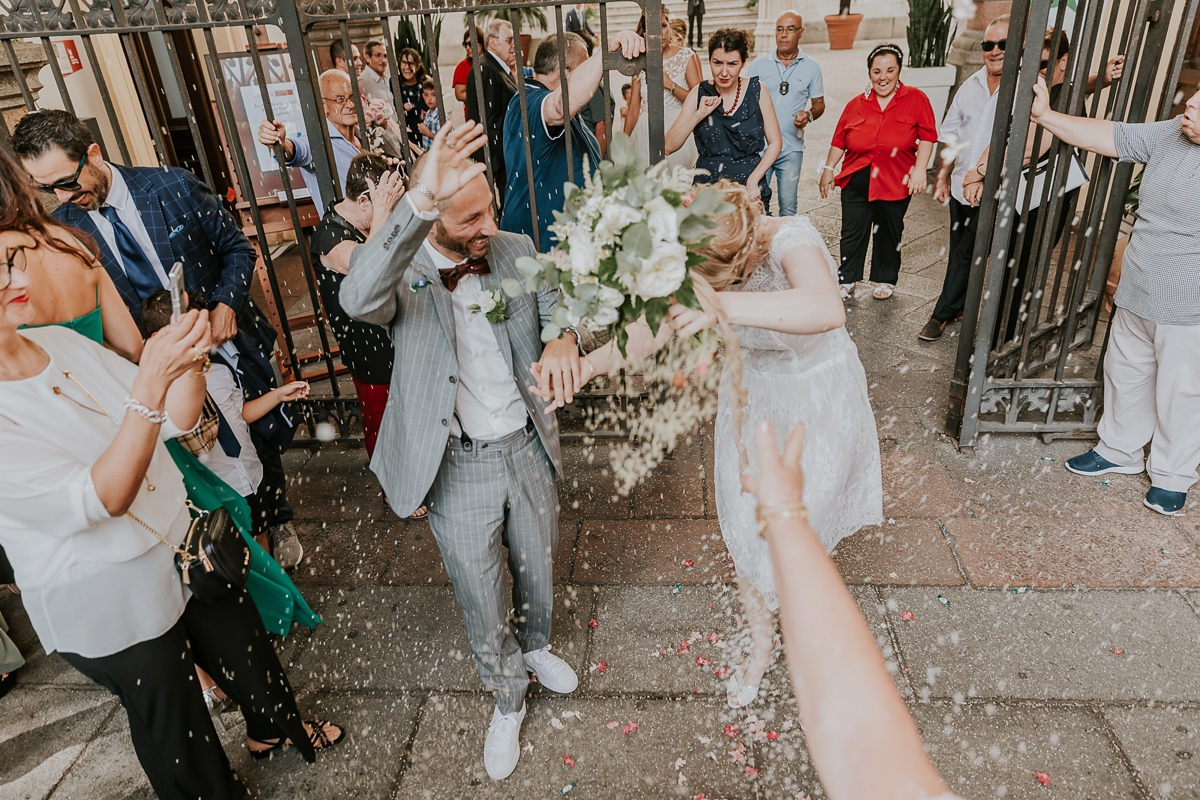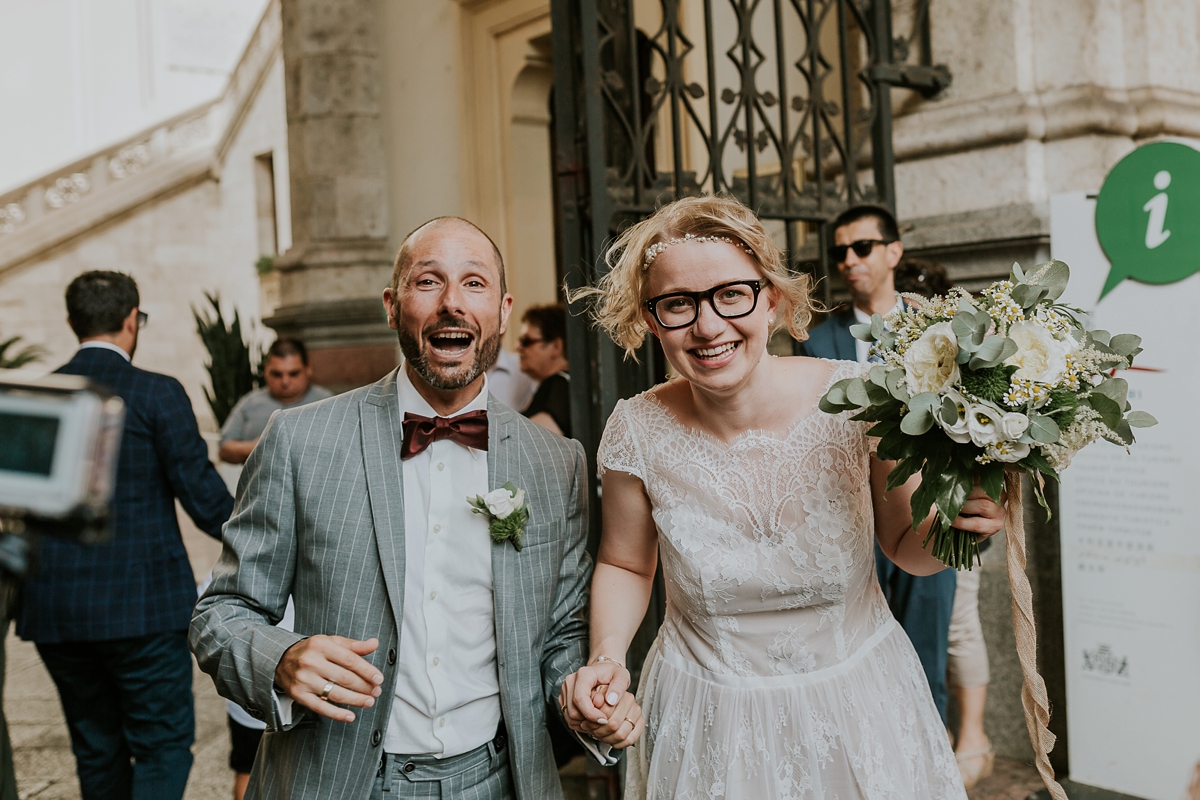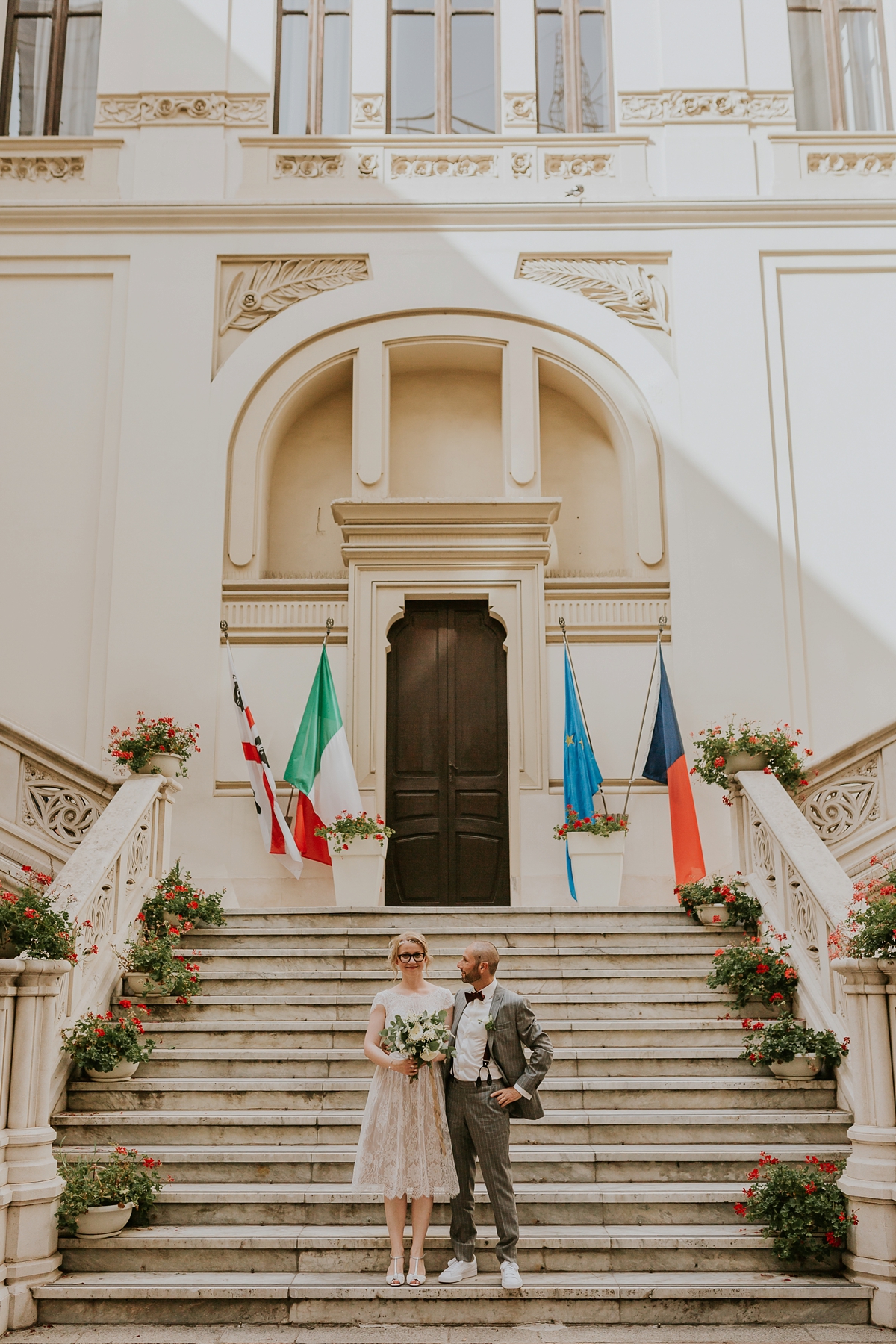 Before we look at the beautiful, rustic styling of the Villa, I have to talk about Izabela's chic and simple gown. She chose a short, cap-sleeved dress by Polish designer Juda & Pietkiewicz, featuring an exquisite lacy overlay layered on a nude underdress. It looks so cool and comfortable to wear, and I love the delicate scalloped edging of the skirt.
"We both like vintage stuff, simplicity and convenience. I did not like traditional wedding dresses I saw in local bridal shops. I finally found one I liked online. My dress is a project by Juda & Pietkiewicz, Warsaw designers. The most important thing for me was that the dress was short and modest. I only had one fitting as I had to travel to Poland to do so, so I had to trust the designer to make it perfect without my presence. It was perfect!"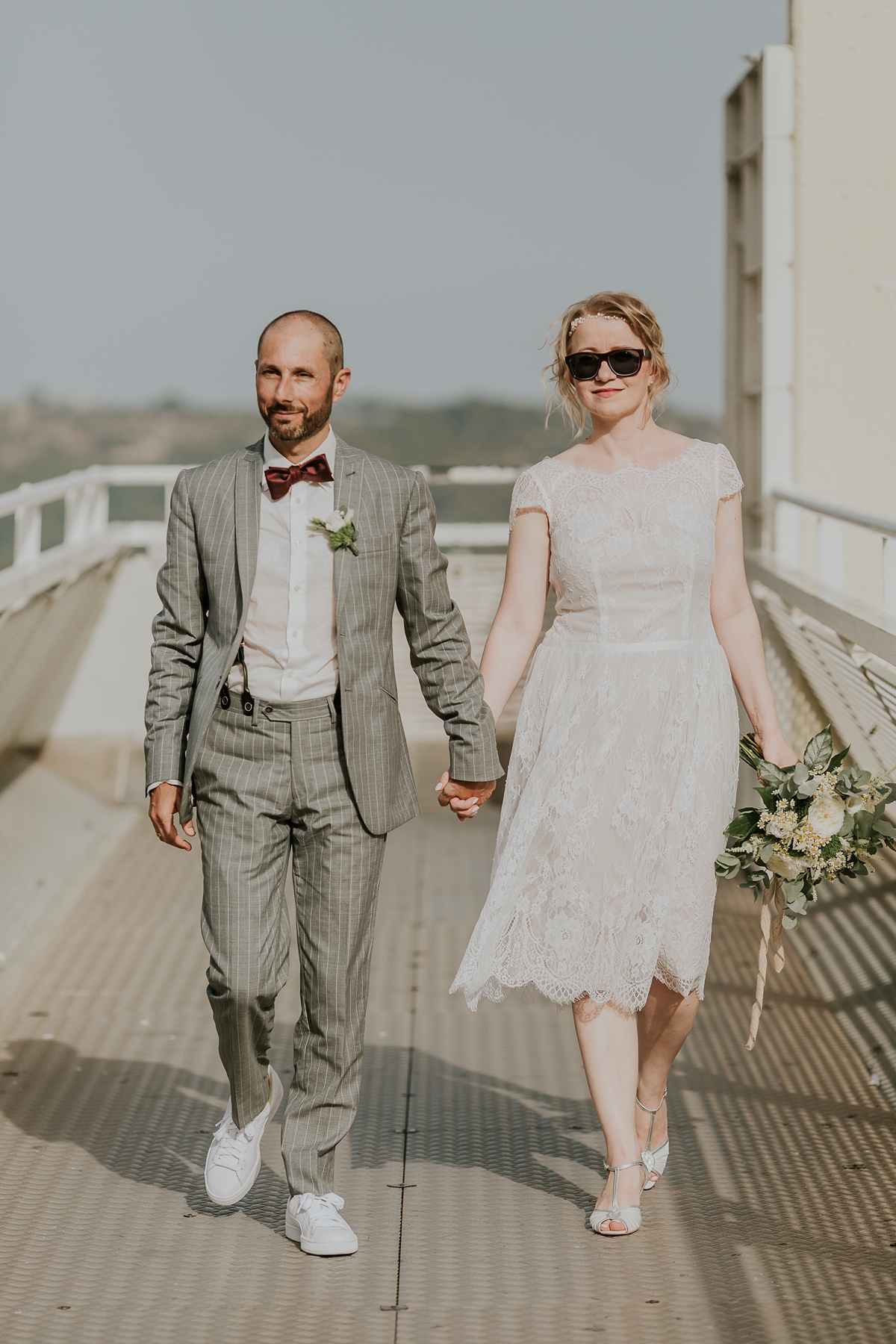 As well as being perfect for a hot Italian summer's day, it showed off her era-inspired 'Matilda' shoes from Rachel Simpson Shoes. She wore her chunky modern glasses, and finished off with a delicate pearl headband from Anelis Atelier, worn right on the hairline. The lacy garter was also an Anelis piece and the final touch was a pair of timeless pearl and gold studs from Apart. Just so pretty.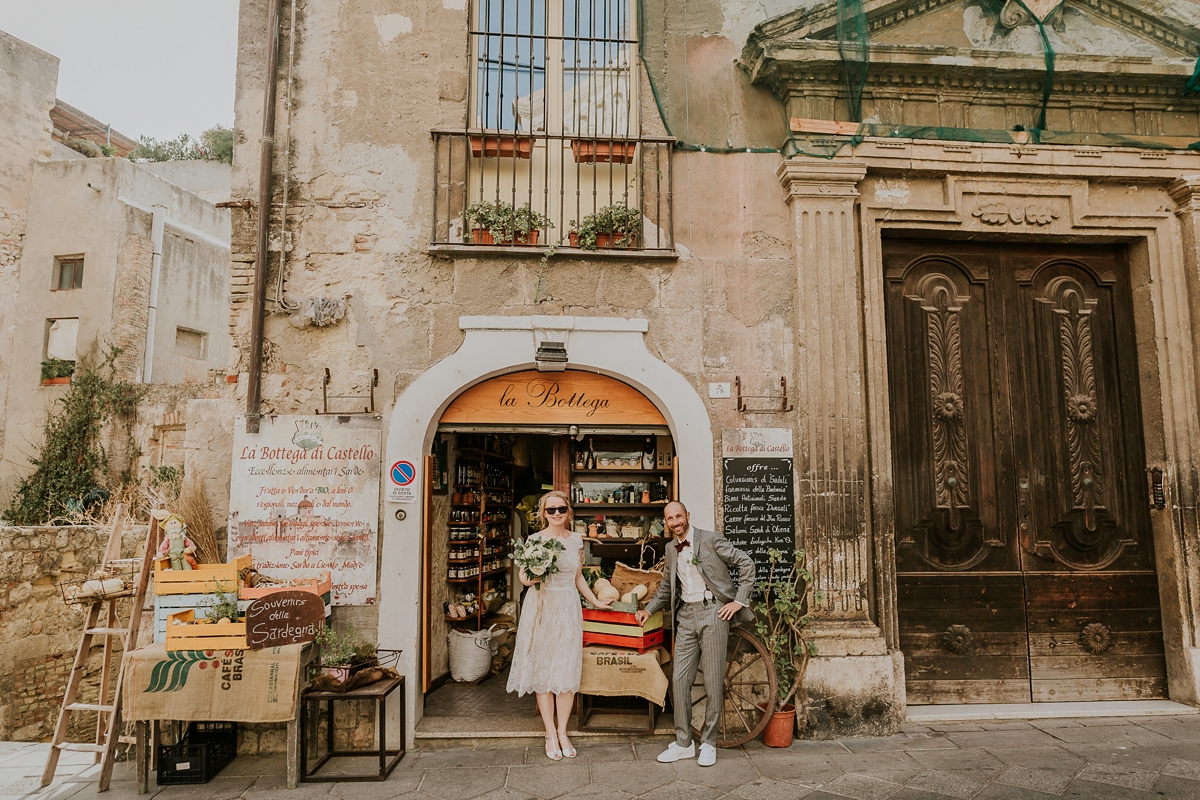 Stefano is such a dapper groom in his modern, sartorial suit from Sartoria Olimpic. He added his own style with Puma trainers, Von Floerke bow tie and braces. The unique pair of cufflinks were handmade from old pre-war watches and bought at a craft market in Krakow, Poland.
"Stefano had a suit tailored at a distance; we ordered it in Cagliari in one of the traditional tailor's workshops, Sartoria Olimpic. The initial idea was for a linen suit but ultimately he chose a beautiful thin wool. The only fitting happened a week before the wedding."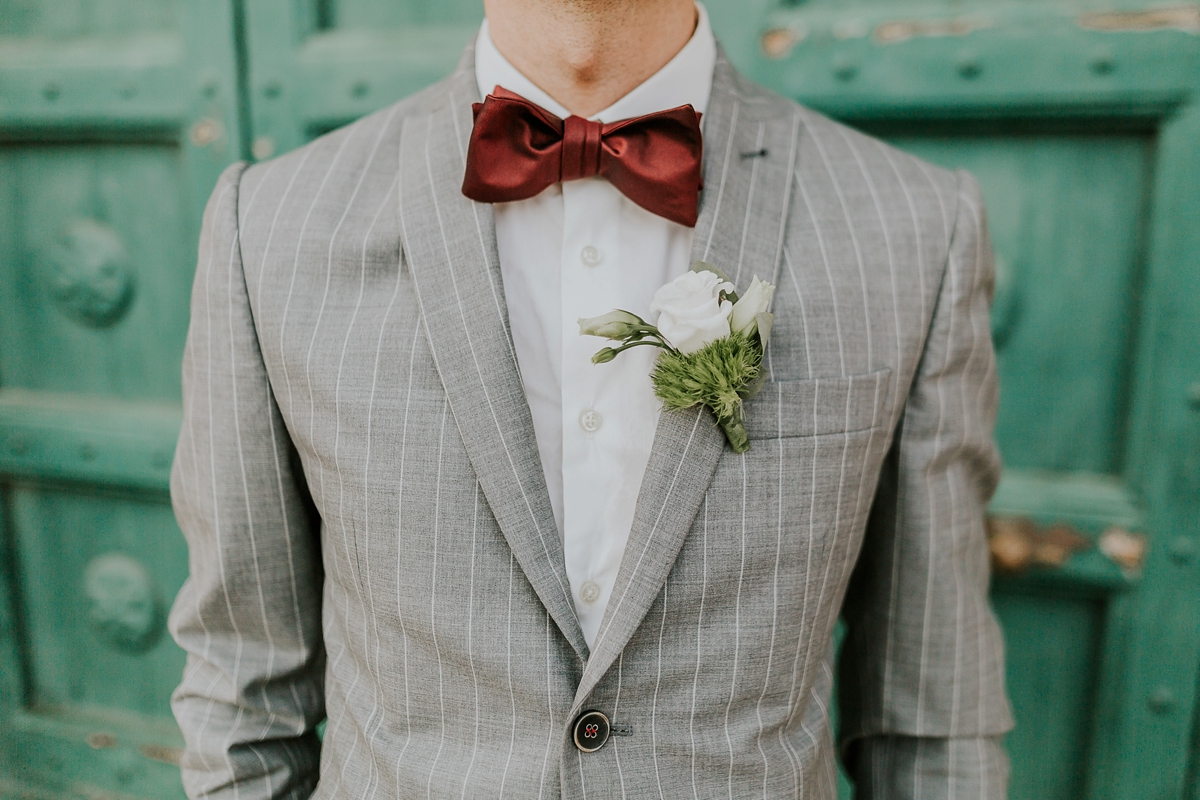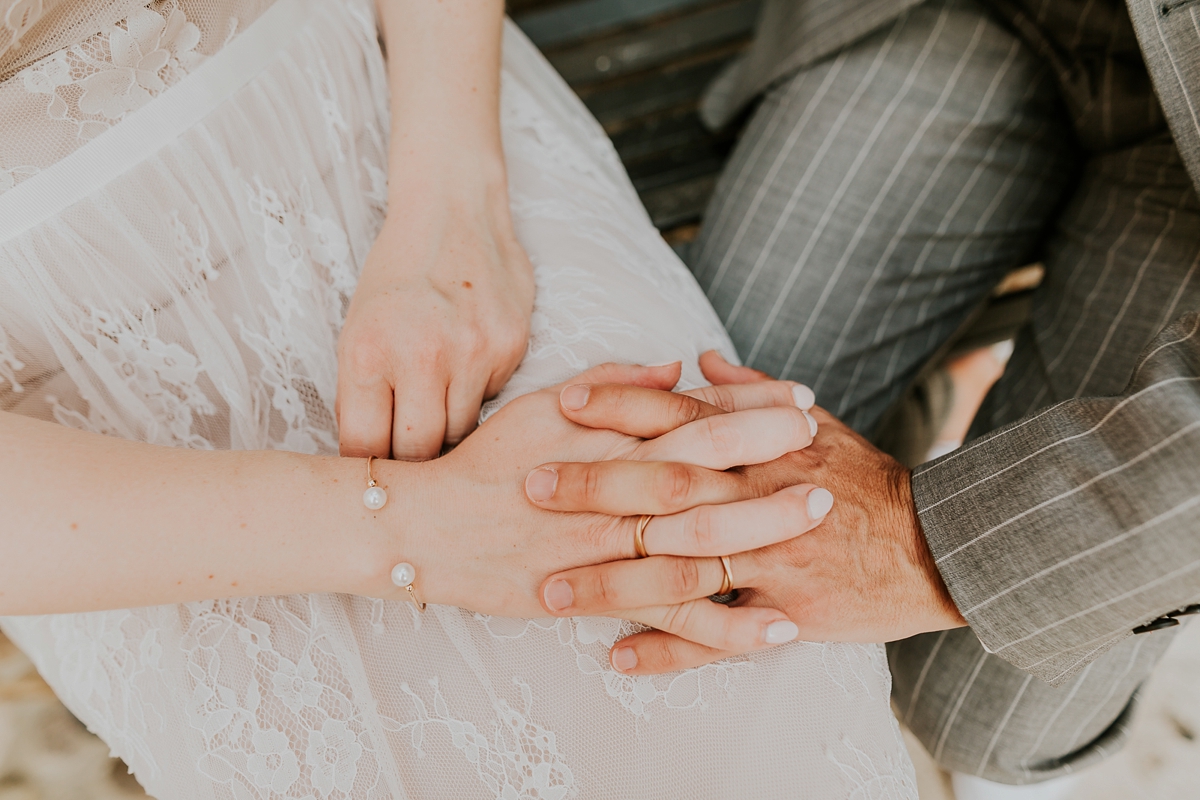 After the ceremony the newly-weds enjoyed time together in the deserted streets of Cagliari. I love, love, love the subdued, scorched oranges and stone of the local architecture, as well as the adorable powder blue Fiat 500 which the couple found via Matrimonio.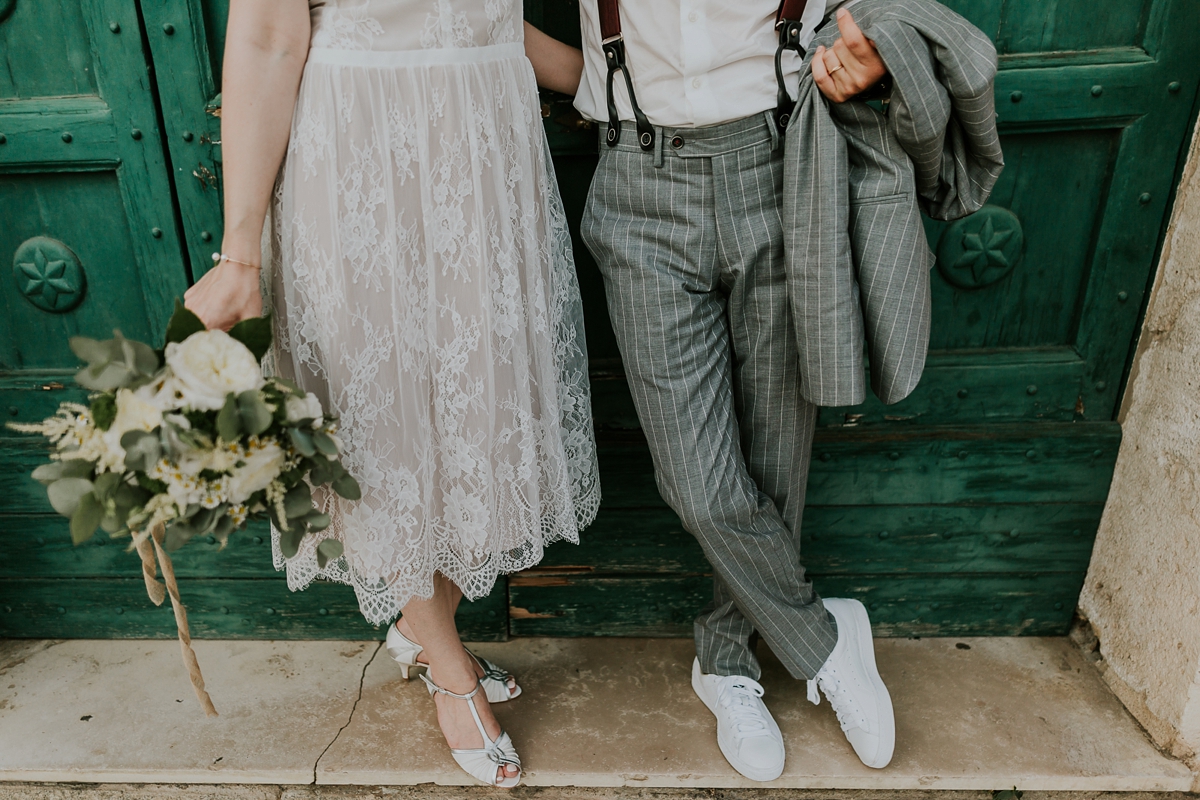 "We loved to incorporate this vintage car into our vintage inspired wedding. It is Italian but Fiat was also produced in Poland so it was one more nod towards our Polish – Italian roots."
The afternoon stretched into evening in the beautiful gardens of Villa San Lorenzo, the most gorgeous location for a completely outdoors reception. Izabela has let us share details about how she created this charming look. I love the elegance and simplicity, particularly the sprigs of rosemary and hand-written name labels. Oh, and the exquisite floral decorations were created by Fioricoltura La Gardenia.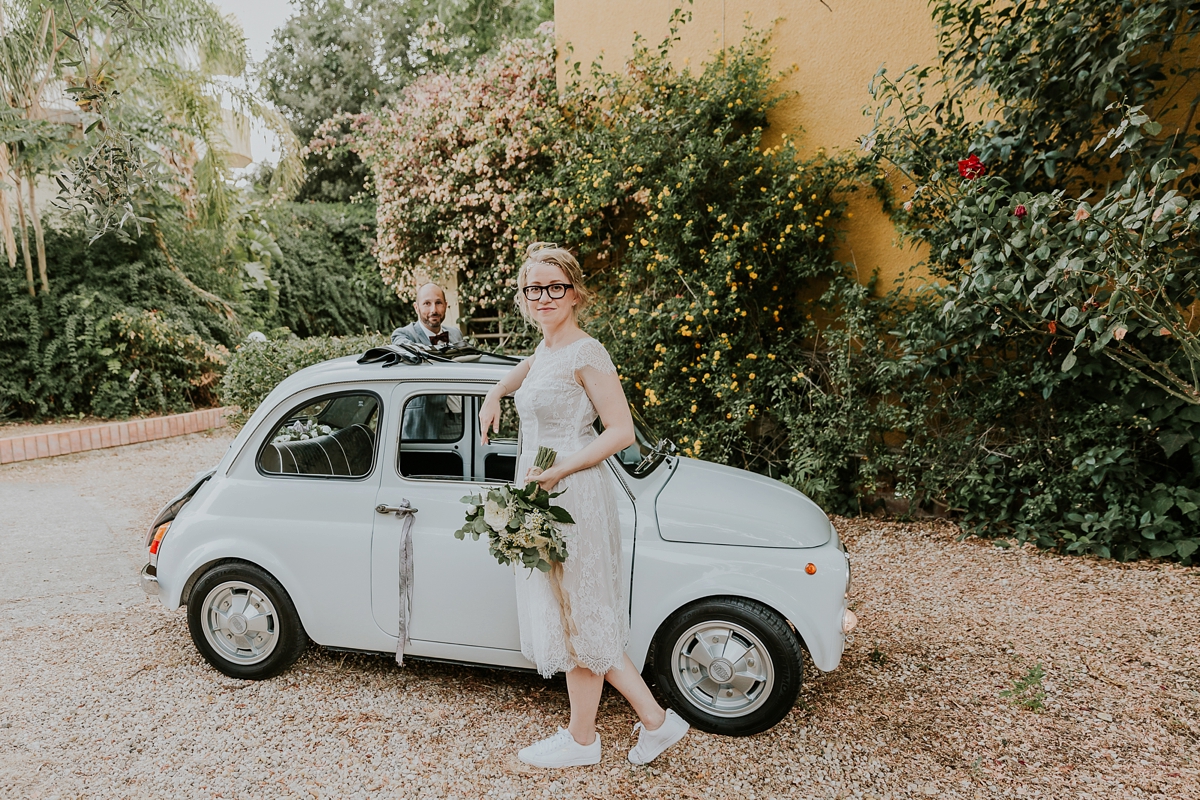 Additional, much-needed, help in planning was provided by a friend of Stefano. If you're planning a destination wedding, it's worth remembering that 'help on the ground' in advance can be very useful.
"As we organised the wedding from abroad we really needed local help. Maria, a long-term friend of Stefano, helped us to find our wedding venue, catering and florist. Without her help it would have been quite impossible for us to do it all ourselves. We'd definitely need a wedding planner instead."
"I planned the wedding to be about us spending time with our friends and family. I planned the decoration with an outdoor theme in mind. In the end our theme was elegant rustic. I sourced bare wood trestle tables, rattan place mats locally and Stefano made place cards."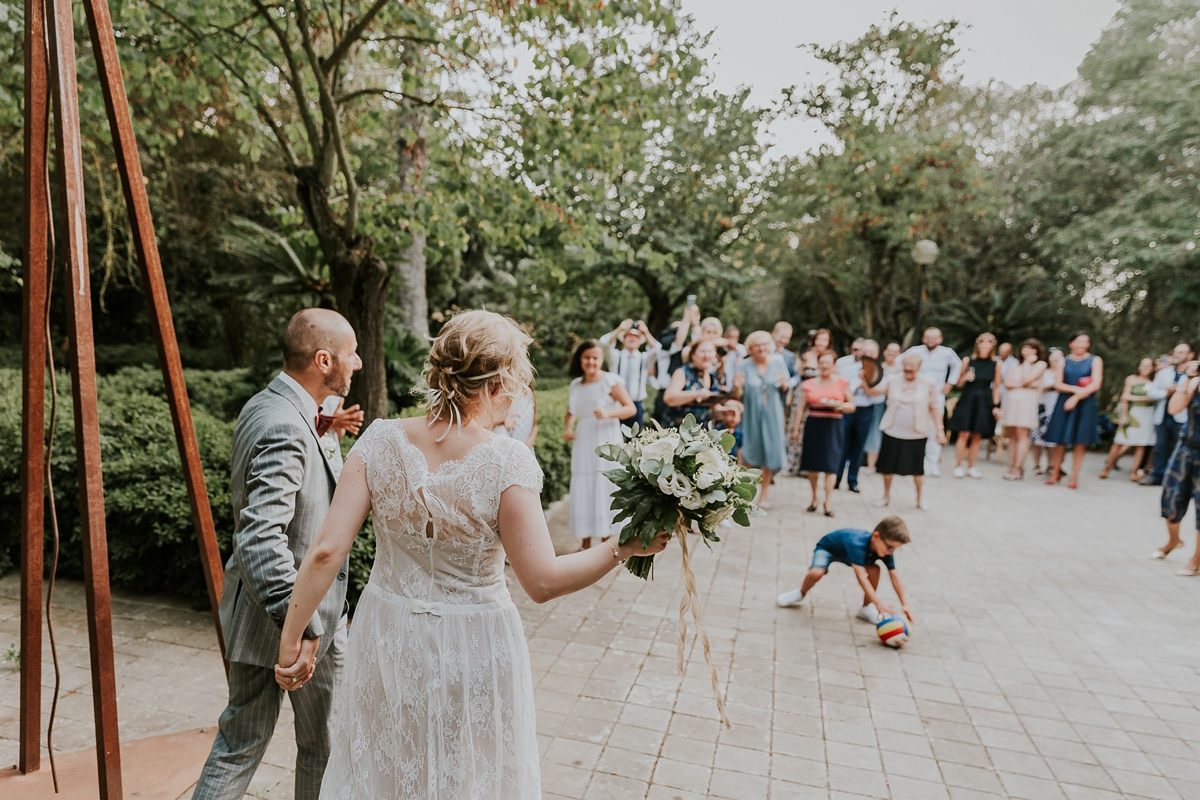 "He spent some time handwriting names on white pegs and stamping tags with our names and wedding date. On each place we put traditional Sardinian bread. I loved how it all looked together and I thought it was quite original."
"Tables were decorated with white palettes of fresh flowers and it all worked really well against lush gardens of Villa San Lorenzo. In other parts of the garden we set up standing up tables for an antipasti buffet with most produce made locally."
"Our catering company did an amazing job of combining vegetarian and cold meat platters with an abundance of pecorino and parmesan cheeses – everybody's favourite. Stefano is a foodie and loves quality food so we wanted to share local cuisine and delicacies with our guests who travelled from three countries to see us. Most of them had never been to Sardinia before and we were on a mission to present them with the best the island has to offer."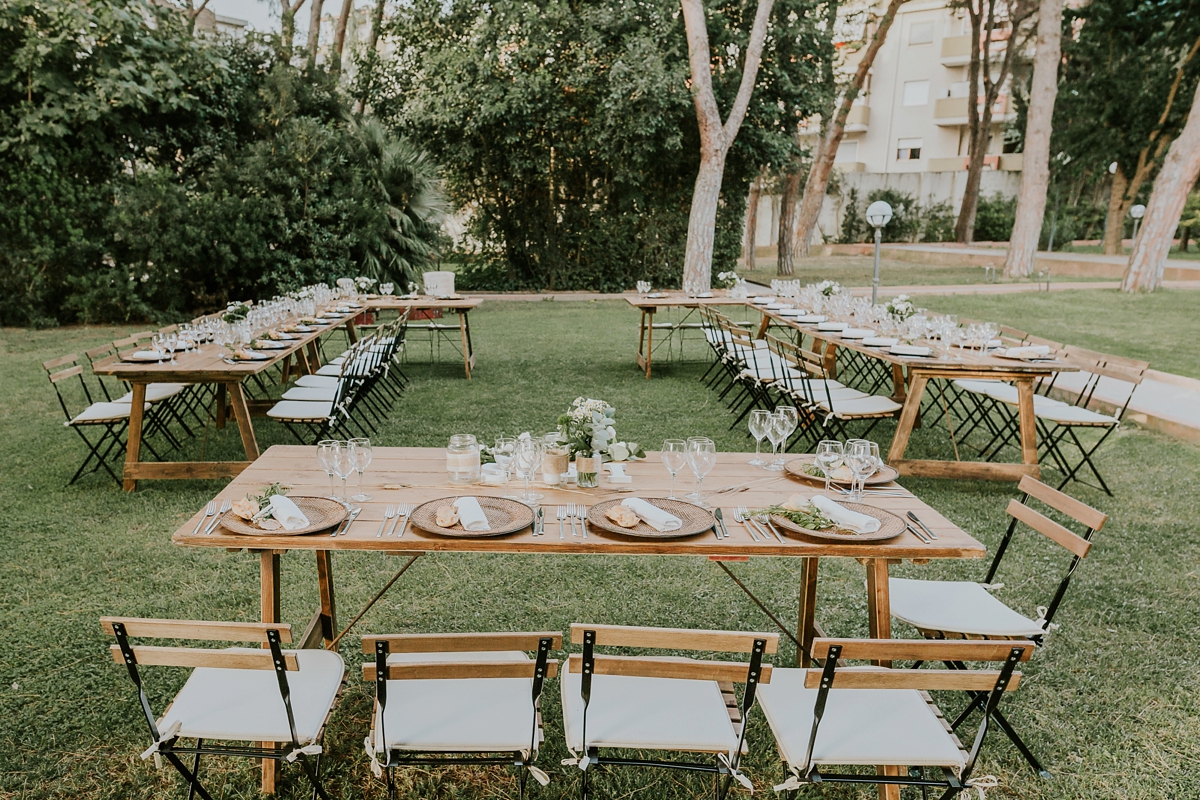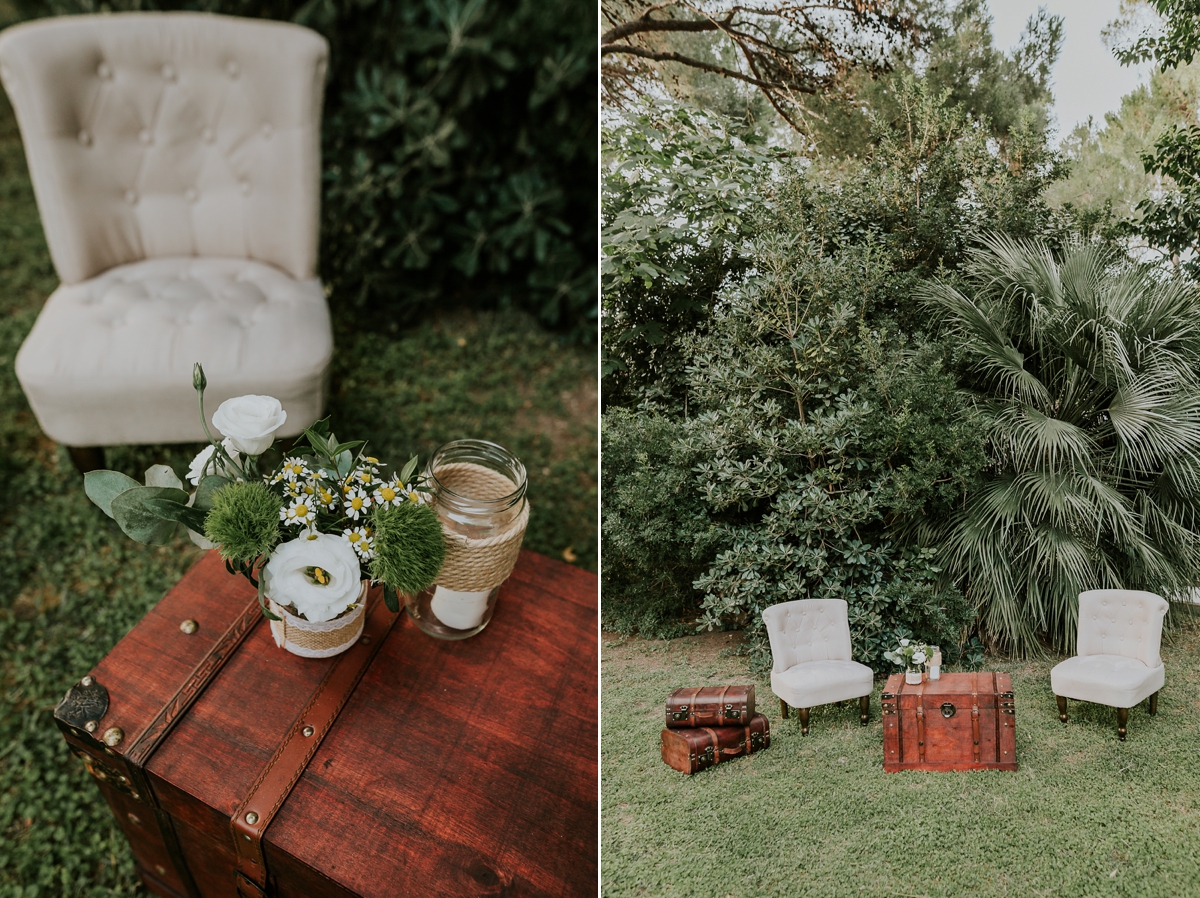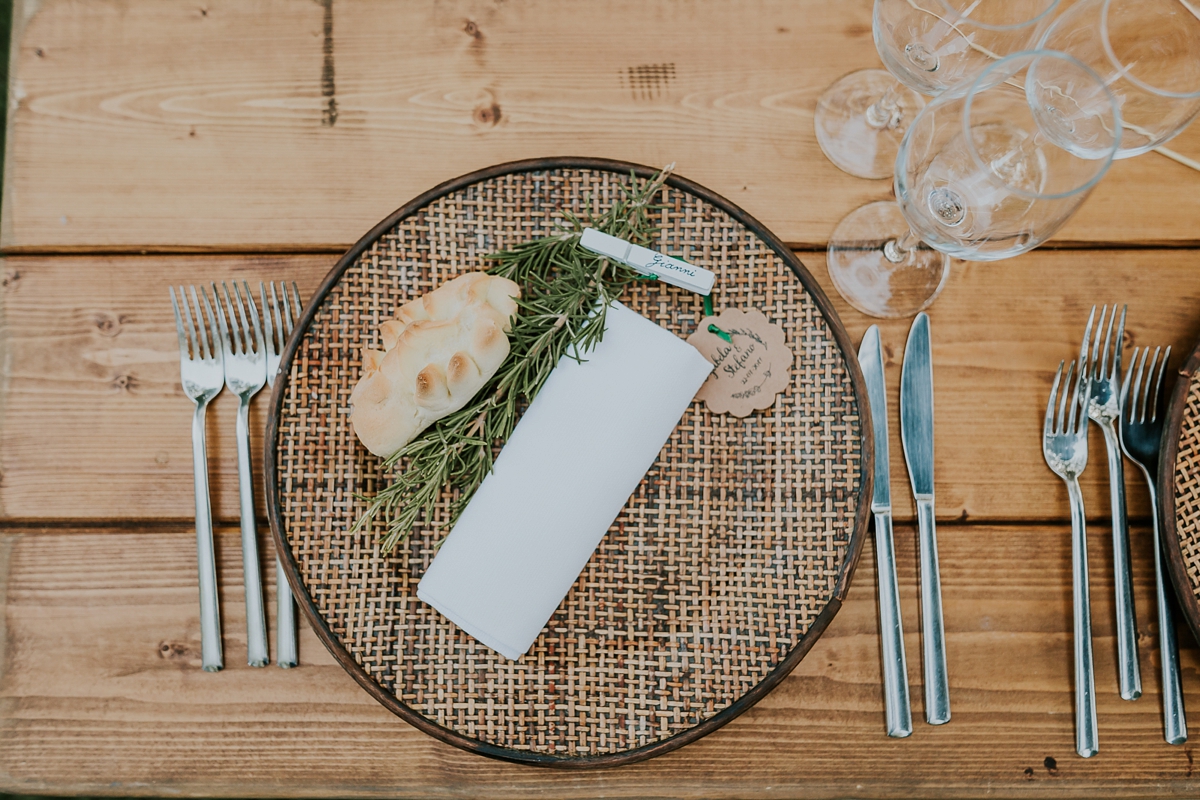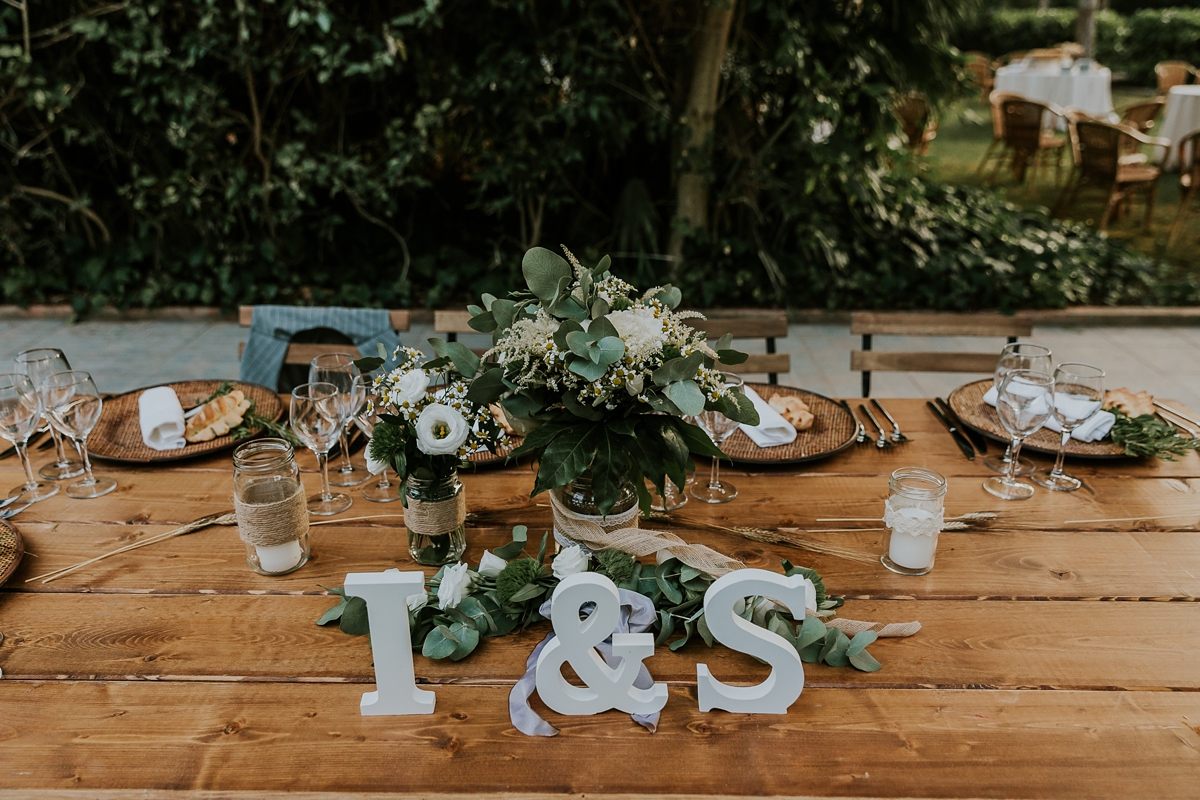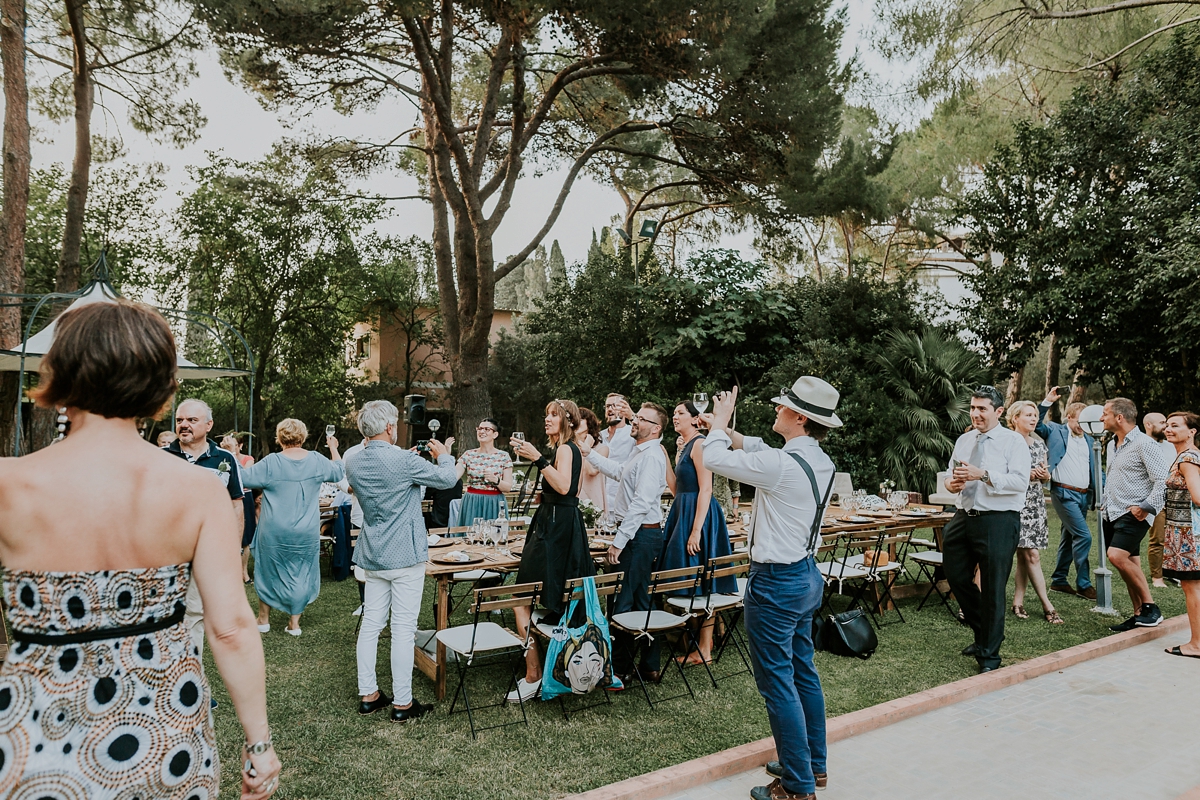 The food was provided by Leonildo Contis, who also created the spectacular cake, which looks beautiful with the fresh figs tumbling down.
"We love simplicity – we chose our cake to be a simple naked cake covered with chocolate and figs."
Magma Acoustic, a hip, relaxed band, played throughout the evening…
"We actually did not plan for a first dance. We had a superb band entertaining us in the evening and we danced all together. At some point I wanted to surprise Stefano so I asked for Adele's 'Love Song' to be played as it reminds of me our first date."
"I loved every second of the day! I wish these moments lasted forever!"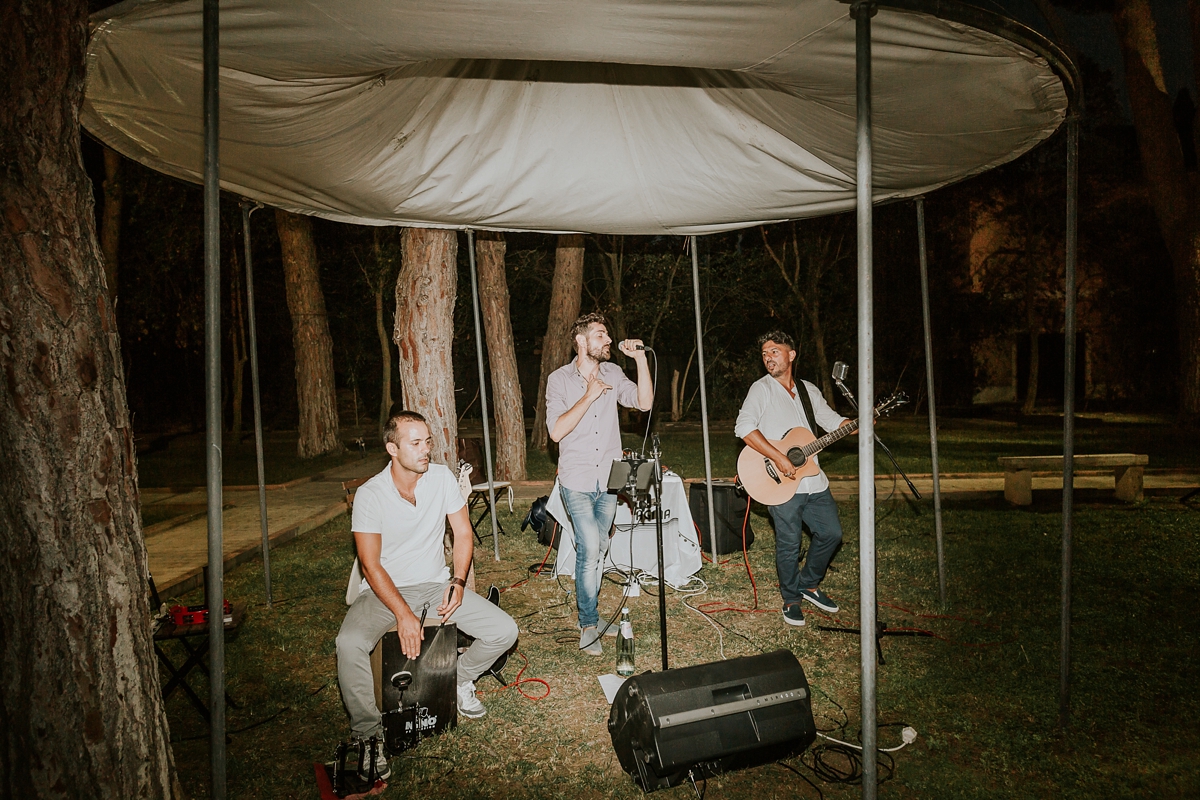 Words of Wedded Wisdom
"The most important thing is to follow your heart and choose things you had dreamt of for your wedding. No pressure and no stress. I had so much fun planning the wedding and we managed to pull it off in months!"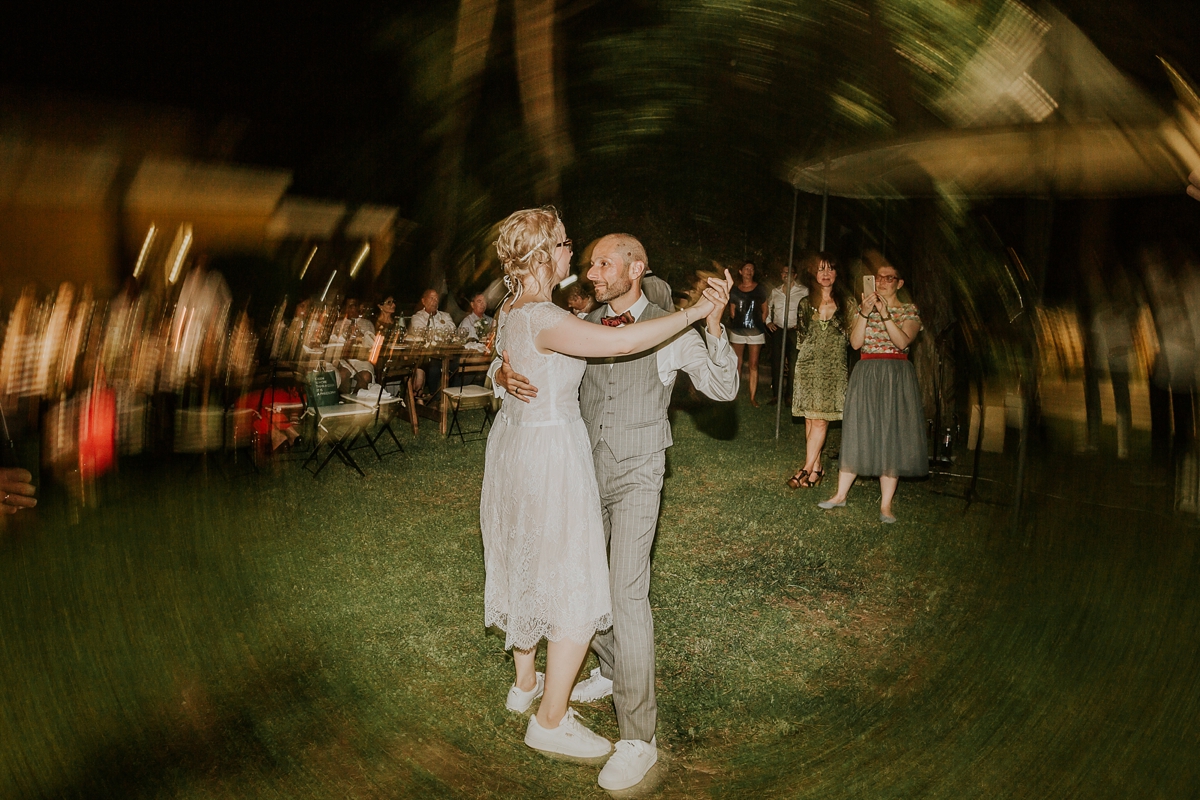 Lovelies, I hope that this Sardinian wedding has inspired your own vision for a destination wedding with its informal vibe and chic styling. Thank you Joasis Photography for your beautifully atmospheric images, and thank you also to Izabela and Stefano. I hope that you had the best day.
Ele xx