I holidayed in Scotland for years as a child, so a Scottish wedding is always guaranteed to make me smile.  Today's lovely affair, full of homemade touches, a gin bar (I'm there) and a beautiful Eliza Jane Howell gown most certainly makes me feel happy, and I hope it'll do the same for you.
Katie, Buying and Merchandising Manager at The Postal Museum and Ciaran, who works in Sustainability, married on the 11th November 2017 at Bo'ness Town Hall, Bo'ness, Scotland.  The couple wanted a Humanist ceremony (which is currently only legal in Scotland) and spent many weekends searching for the perfect venue to fit their large guest list.  They finally found Bo'ness Town Hall, which is near to where Ciaran grew up. Katie looked fabulous in a beautiful gown by our own Little Book member, Eliza Jane Howell, which she bought second hand from Still White.  The beading (as always with EJH dresses), is just divine.
"The dress moved beautifully and despite being intricately beaded was easy to slip on and dance in which was really important to me.  My mum was previously a seamstress so when we got the dress home we decided on some adjustments to make the dress more 'me' including altering the sleeves and adding a green velvet belt."
Images by  Rachel McNeil Photography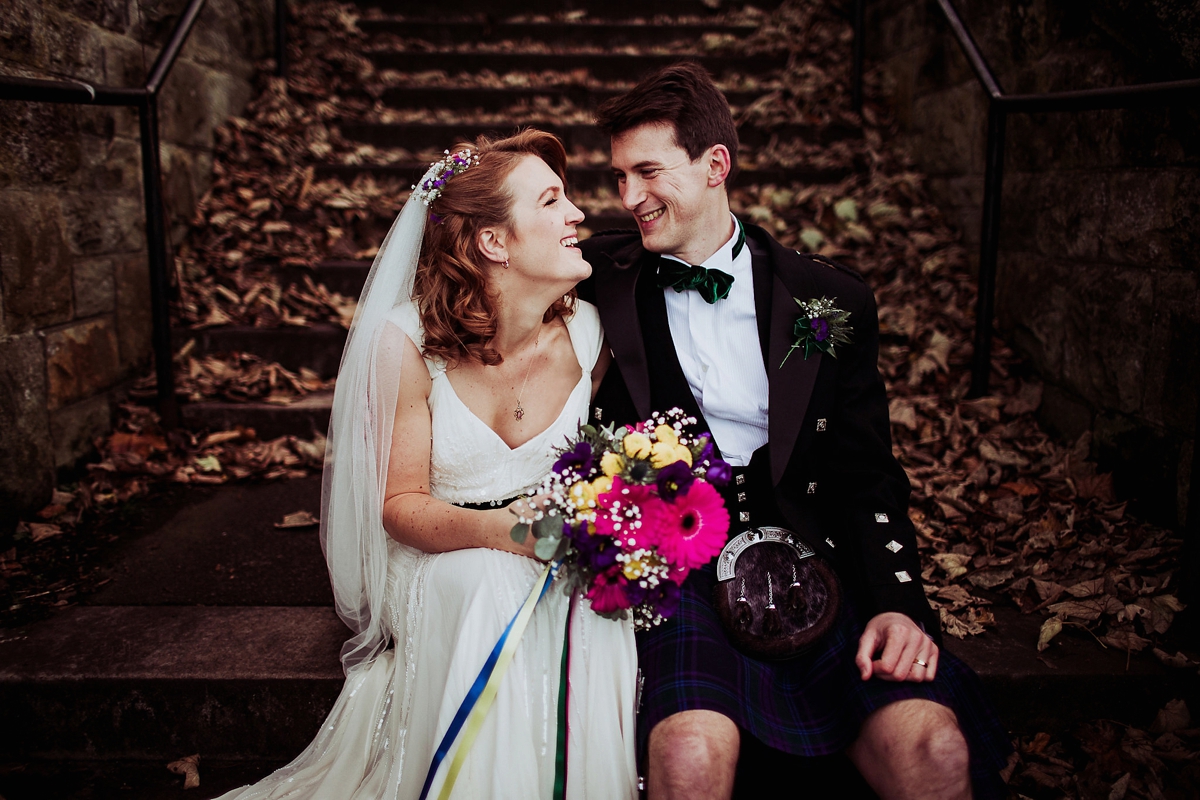 "Ciaran is known for his love of bright colours so rather than keep rigidly to a colour scheme, we made everything as bright as possible. We added some winter touches but we wanted to recreate a summer fete atmosphere, full of fun and joy."
Hair and make-up was the work of Lesley at Pamper and Polish, who gave Katie the natural make up look she wanted, as well as the most gorgeous relaxed curls.
"Lesley was a really calming presence the morning of the wedding and managed to do hair and makeup for me, three bridesmaids and my mum all in good time. The only direction I really gave was that I wanted it all to look natural and she did a great job taking into account everyone's preferences."
Ciaran wore a full kilt ensemble hired from Klassic Kilts in Dalkeith in Spirit of Scotland tartan with a Prince Charlie jacket and waistcoat, paired with a bow tie from Mrs Bow Tie.
[JP-VIDEO]
The groomsmen wore their own suits and were gifted a Spirit of Scotland wool tie from The Kilt Store, to complete their look.
The vibrant flowers were the work of Flowers by Carolyn, who put together a fabulously colourful bouquet for Katie, thistle buttonholes for the men and armfuls of flowers for the venue, which Katie's cousin arranged.
Katie's beautiful veil was the work of her own mum, who painstakingly added beads around the whole length to match the dress.  On her feet, Katie chose purple beaded velvet boots from Office, while for jewellery she chose a Victorian amethyst and seed pearl lavalier pendant (a 30th birthday gift from her parents) and earrings from Accessorize.  To finish everything off and keep herself warm, she opted for a shimmery purple leather jacket from Topshop.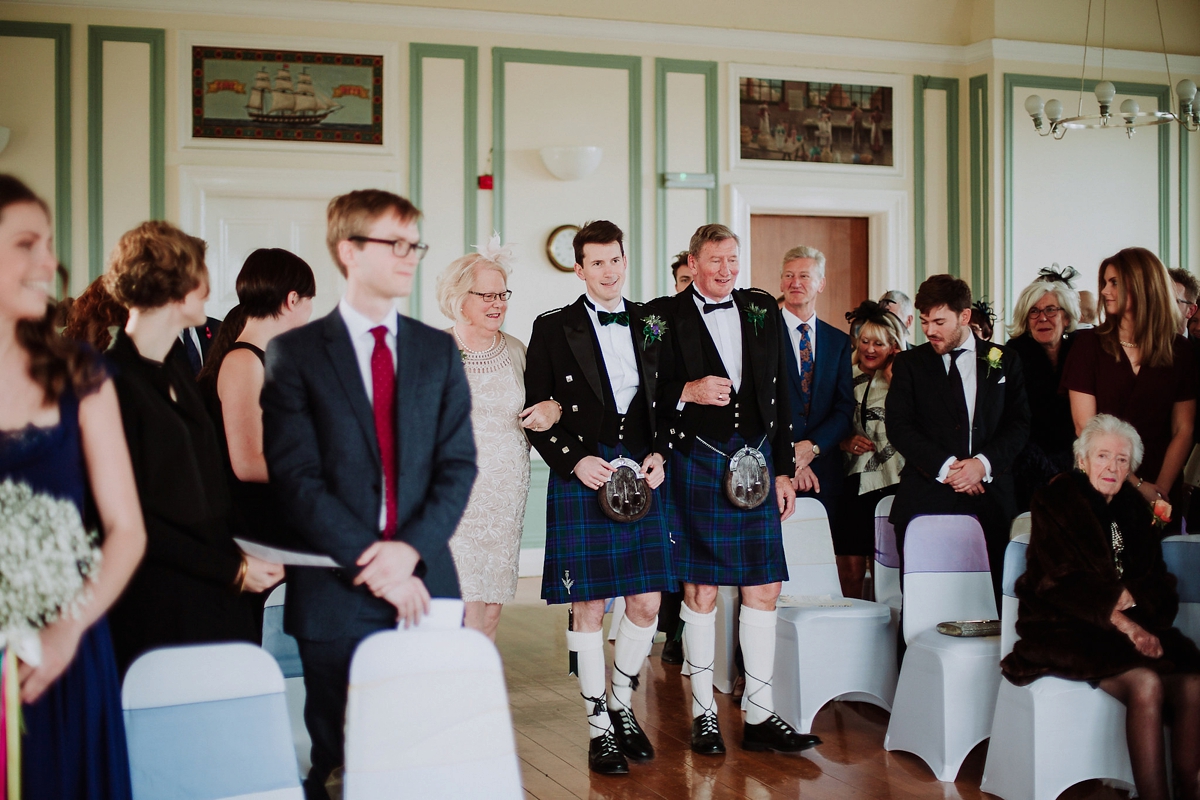 "We chose a Humanist wedding as we wanted to have a more personal ceremony and we were keen that we could stress that we are equals in the partnership.  We talked a lot about what to do about walking down the aisle and in the end we decided that we would both be given away by both of our parents."
"This made for a crowded aisle but it felt great to involve all of our parents to symbolise them bringing us this far on our journey.  We all came in to 'Lovely Day' by Bill Withers."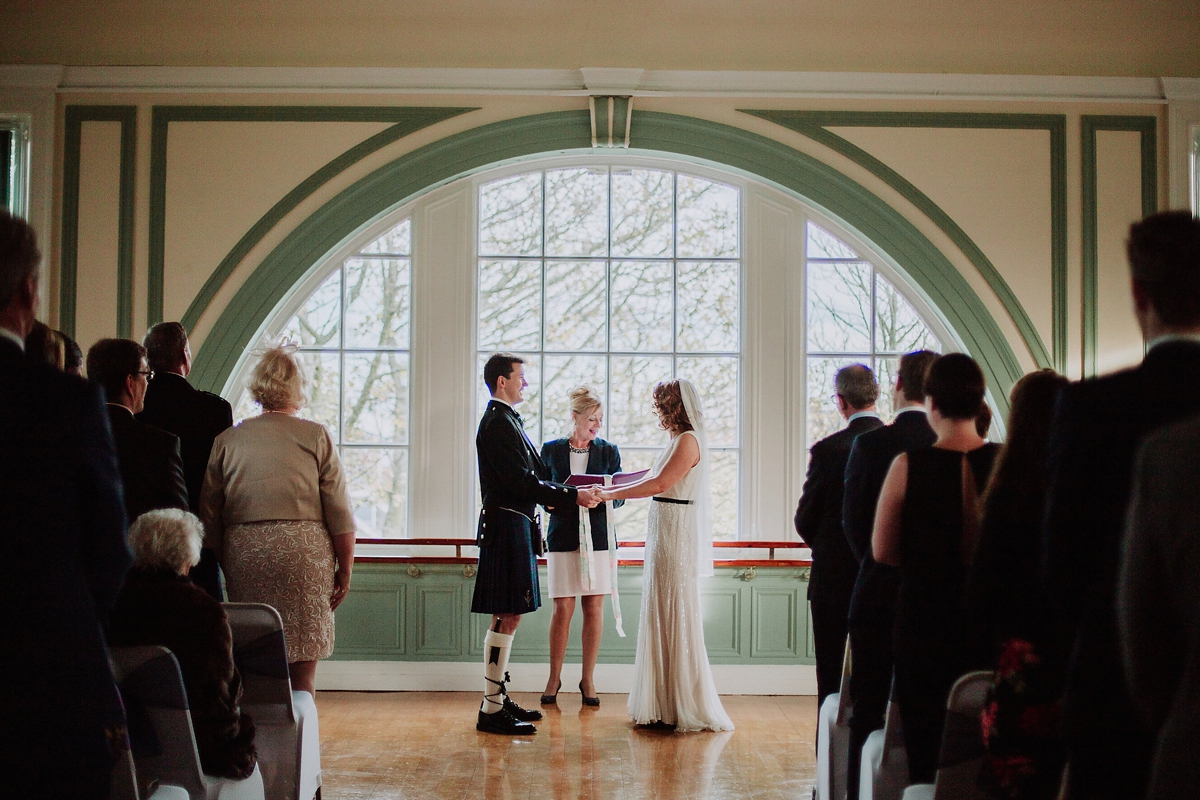 The ceremony was led by Constance Bartley from Fuze Ceremonies and Katie and Ciaran wrote their own vows, mirroring the rhythm of the traditional vows but with their own words.
I promise to encourage and support you; to cherish you; to comfort you; to respect you; to stand beside you through every challenge and adventure; to love you in the big ways and the small; from this day forward. I offer this ring as a symbol of my love and with it I join my life to yours."
"We had three readings, 'Let's Get Married' by the Proclaimers; 'Scaffolding' by Seamus Heaney and an extract from 'The Whole Story and Other Stories' by Ali Smith.  The first was because we both love the Proclaimers and the song's lyrics summed up our feelings towards marriage so well. The Seamus Heaney poem appealed because of its practical approach to building a solid base for love. We wanted to include a reading by a woman and both of us really enjoy Ali Smith and reading together – this extract felt like it said exactly how we felt."
"The ceremony was really emotional.  We wanted to involve everyone and both enjoy a sing-along but a hymn seemed inappropriate. We settled on 'I Can See Clearly Now' as a cheery song that most people would know. It was a risk but the feeling of joy as we looked out and saw the people we love most singing along was fantastic."
Rings were custom made by Charlotte at Ivy Nixon.  Katie decided on an orange blossom ring with four small diamonds on the curve to symbolise their four years together before marriage and Charlotte also suggested that Ciaran's outwardly plain ring have orange blossom engraving on the inside, so they secretly match, which is such a lovely idea.
"With my three bridesmaids in Manchester, Kent and Norwich I knew getting them all to try on the same dress would be difficult. After a few shopping trips I ended up telling them to choose any navy dress from the occasion section of ASOS – they all chose the same!  They also all had fur jackets in different colours but similar styles, sourced from eBay."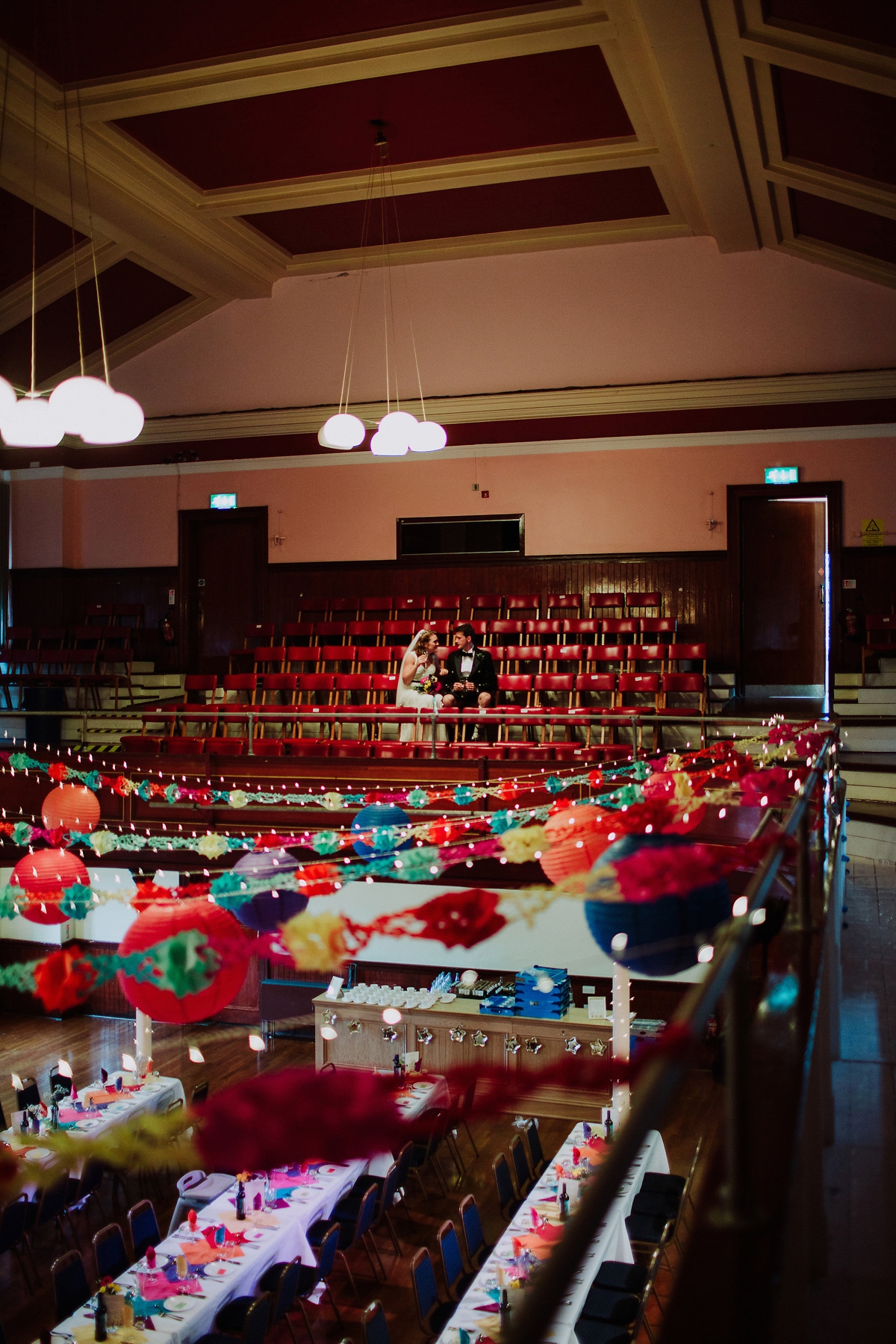 Today's wonderfully atmospheric photos come to us courtesy of Rachel and Tonie for Rachel McNeil Photography.
"We cannot recommend Rachel and Tonie enough and loved their relaxed natural style.  Posing for photos together in the morning and after the ceremony was a lovely part of the day to spend some time together and they were both really unobtrusive but managed to get great shots.  Capturing such a big crowd is challenging but they got photos of everyone. They also managed a photo booth in the evening which was a great way to get some extra silly pictures."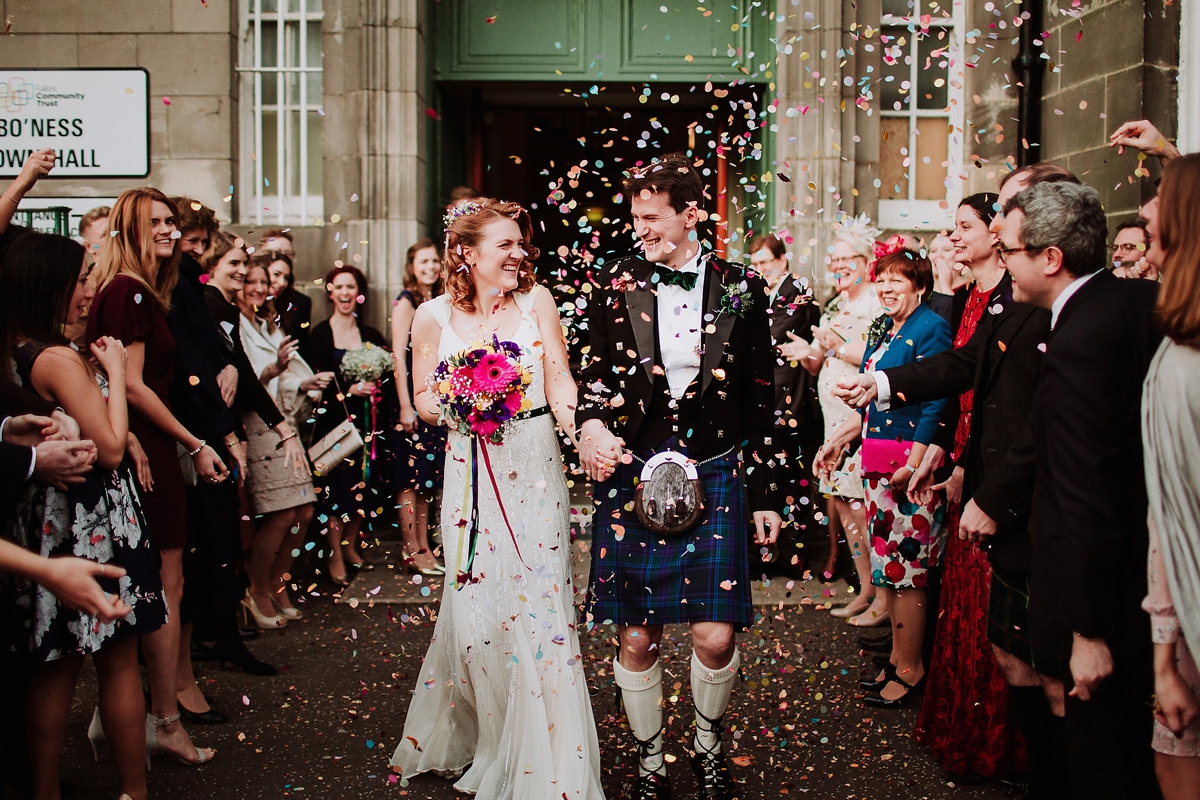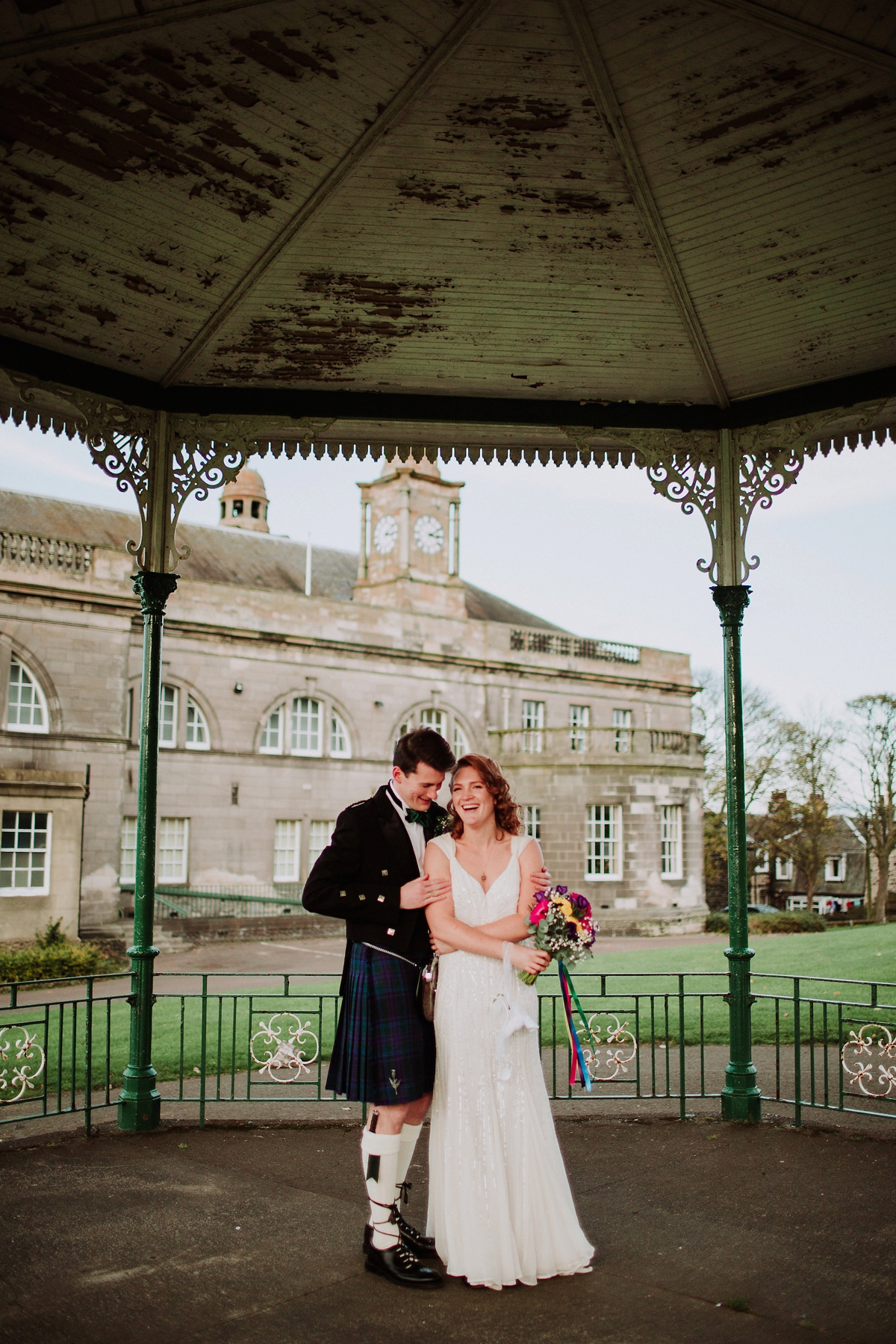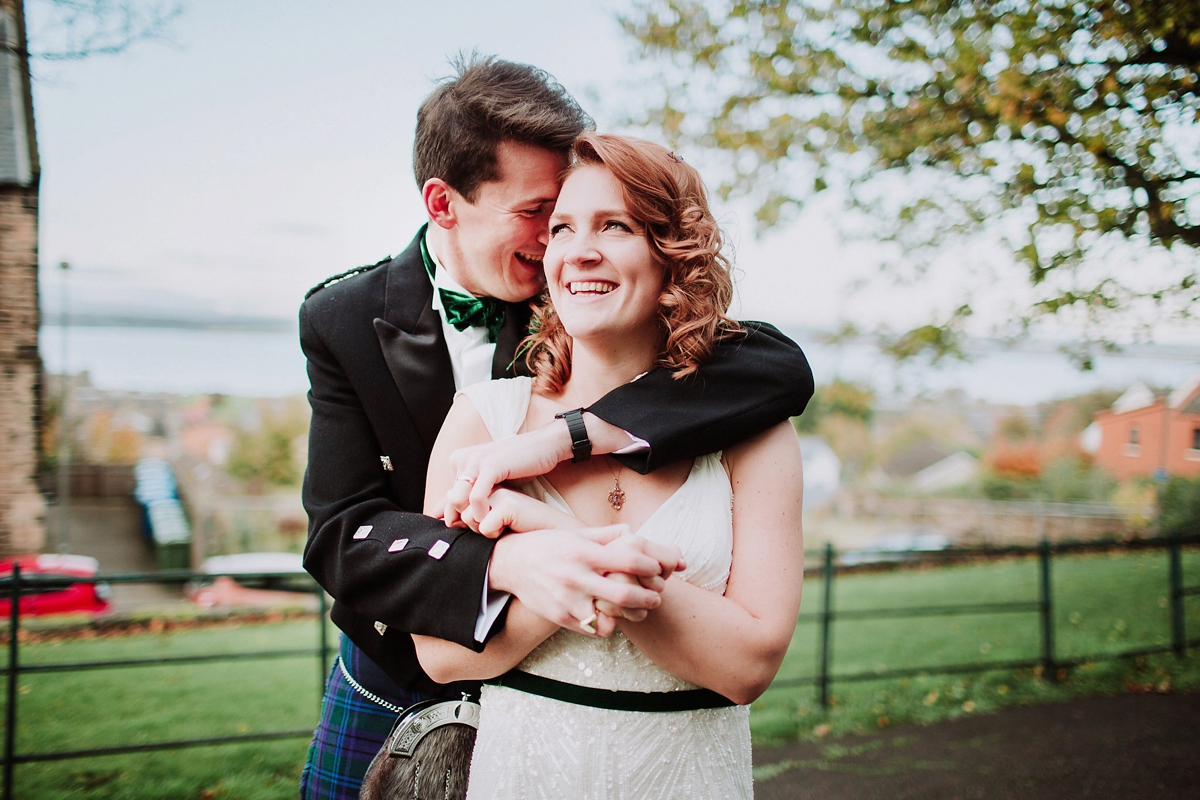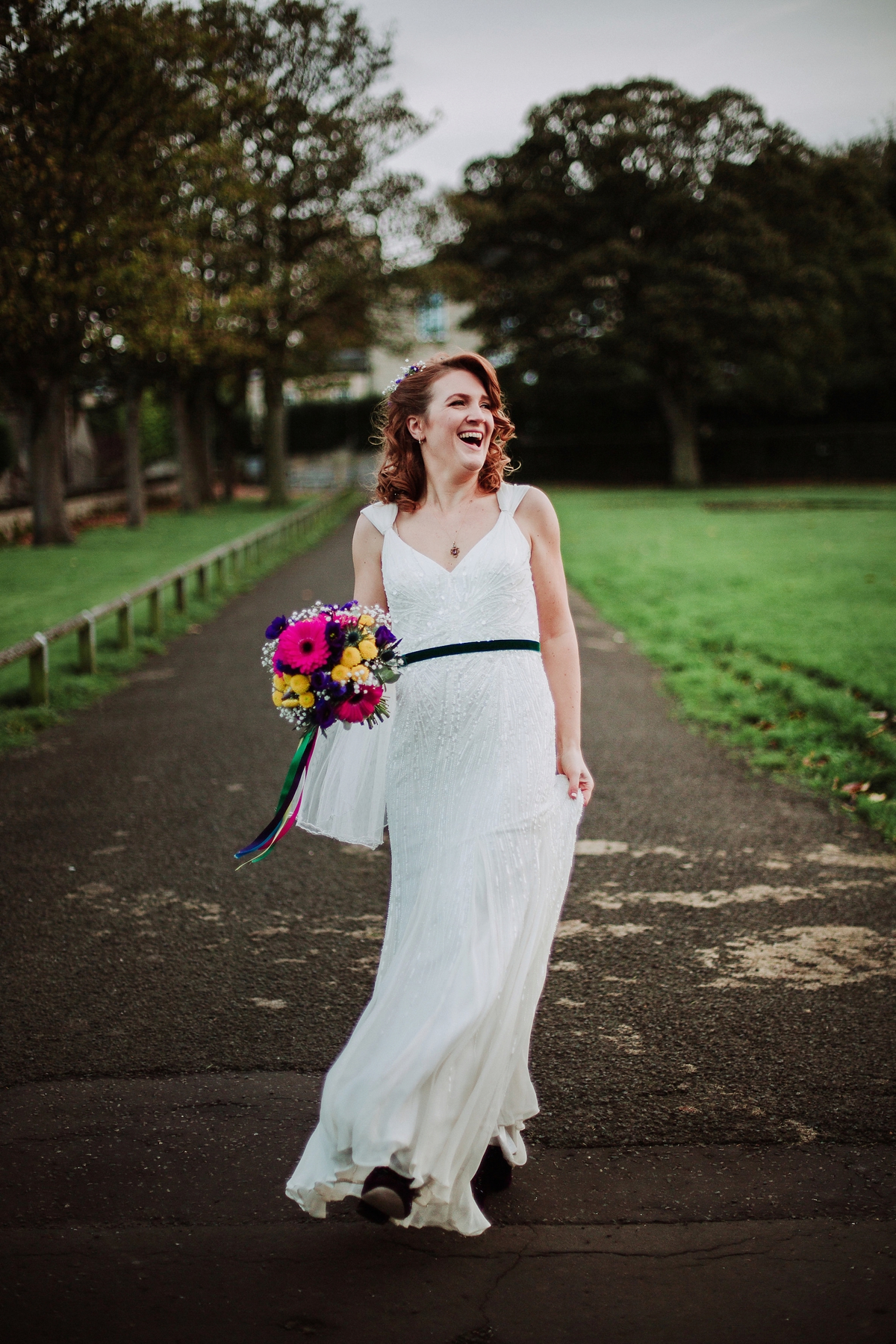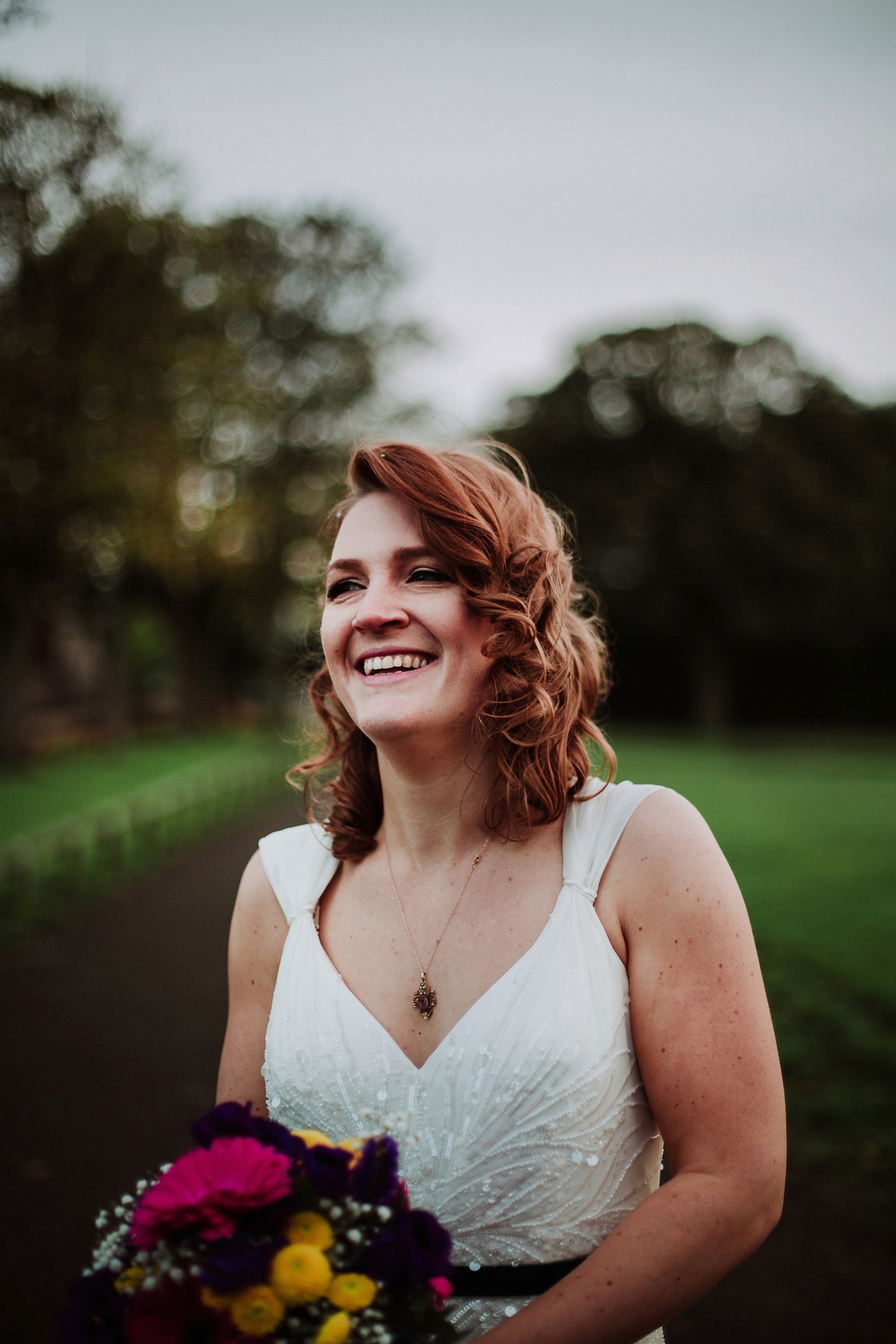 "Both of us love gin so after the ceremony we set up a gin tasting in the reception room. We'd handpicked different gins that we love. Lots of people commented how much fun they had."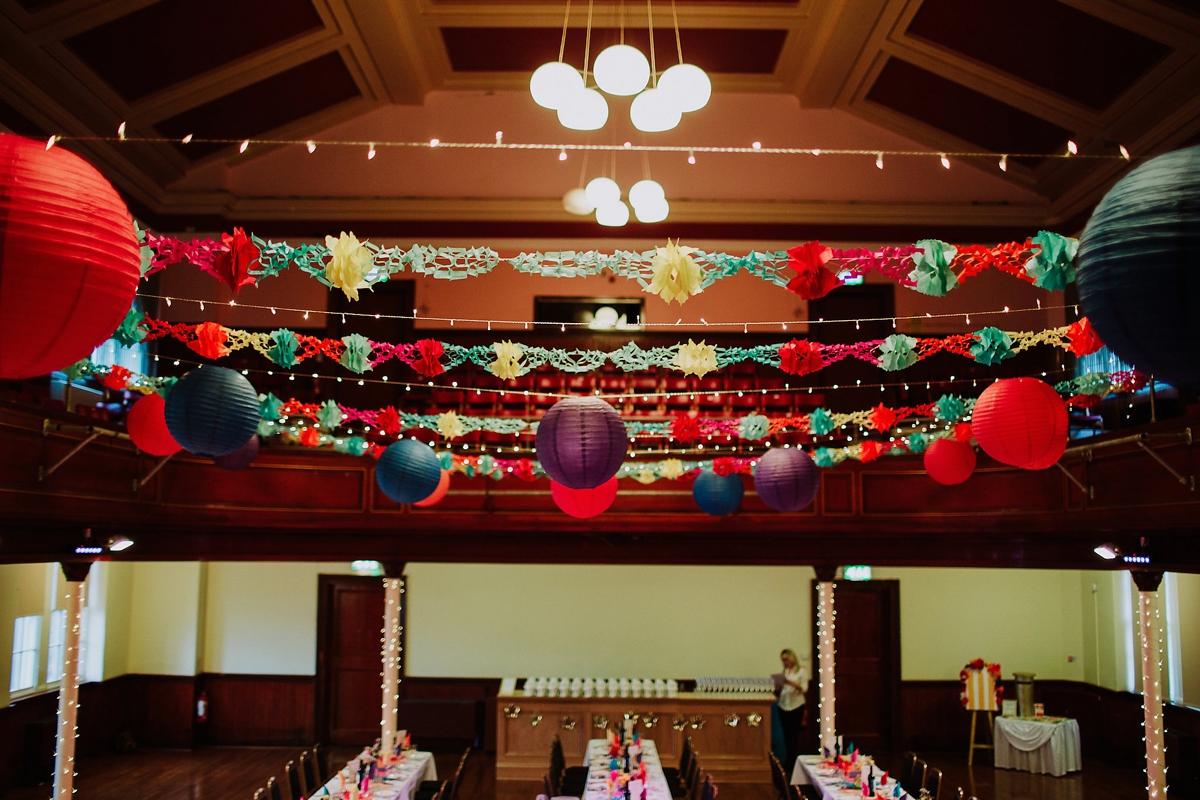 Katie's  sister designed the invitations, creating a paper cut of the Bo'Ness Town Hall bandstand, while for the order of ceremony and menus, they used a vintage telegram, copied from one at Katie's work at the Postal Museum.
Katie and Ciaran asked their mums to each contribute a cake and Katie's sister made matching 'Hooray' and 'Hoorah' cake toppers.  In the evening guests also enjoyed a three tier cheese cake from Marks & Spencer.
Catering was by Beetroot & Chocolate and after the food had gone down, guests were treated to a ceilidh and disco by The Jiggers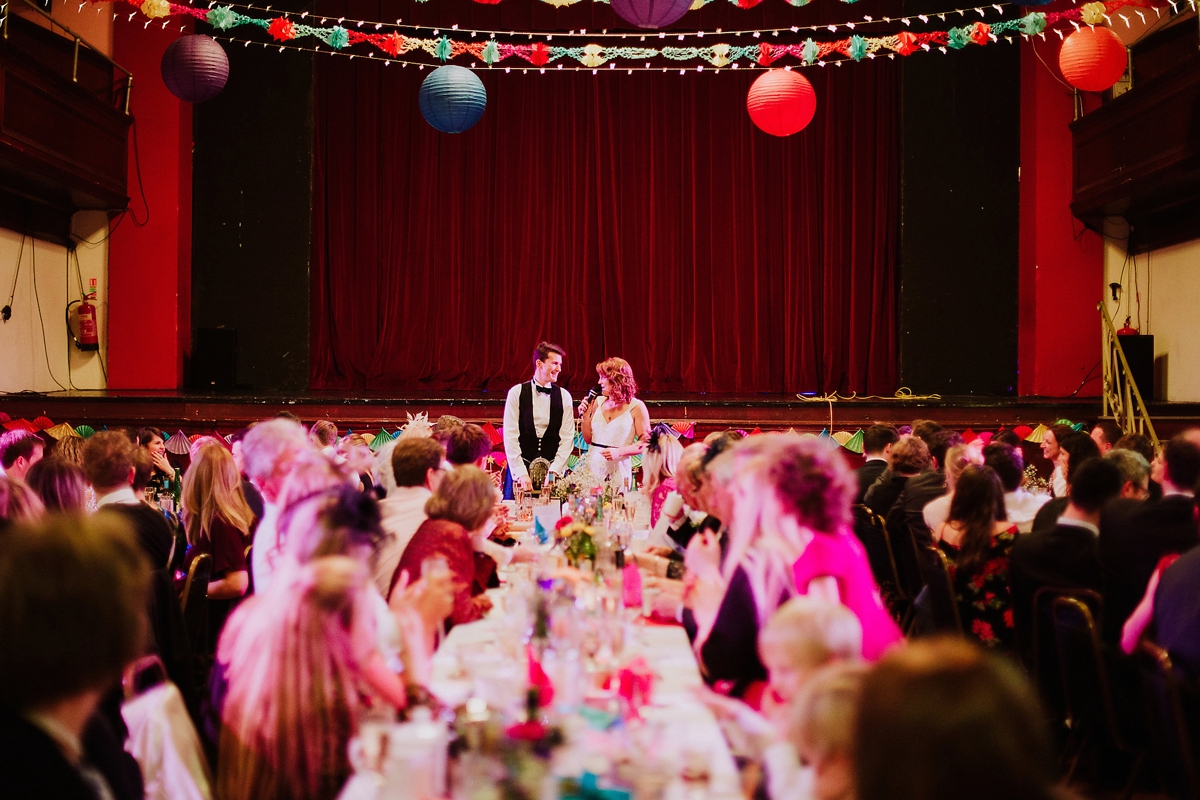 Words of Wedded Wisdom
"Think about other weddings you've attended, remember what you've enjoyed and focus your efforts and money on those areas. We knew we wanted a big guestlist with all of our friends and family, a joyful ceremony, lots of food and drinks and a live band."
"We decided to spend the morning of the wedding together, going to the play park by the cottages we were staying in to get some time alone.  It was a really relaxed way to start the day.  We had a First Look, and post ceremony we escaped to the balcony of the ballroom for a glass of champagne while everyone got ready for confetti throwing. Having lots of time scheduled in when we'd be alone was really special, especially as we had so many guests."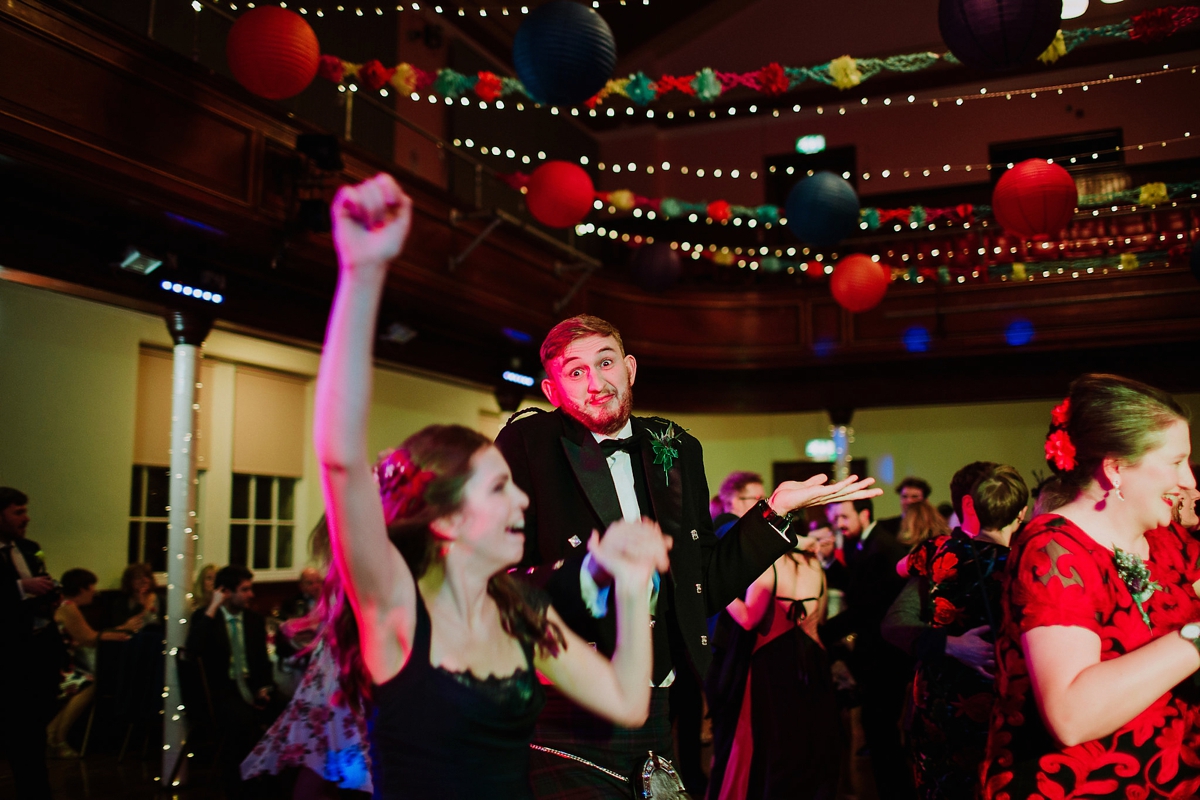 Huge thanks to Katie and Ciaran for sharing their wonderfully colourful winter wedding today.  If you love Katie's dress as much as I do (I'll confess that Eliza Jane Howell is one of my favourite designers), take a look here for lots more beautiful dresses and if winter weddings are your thing- take a look here for more inspiration.
Much love,
Shona x