Here's what I think is a Love My Dress first today – a wedding reception at a bowling alley (and with karaoke, too!).
As if that wasn't cool enough, we've also got a stylish monochromatic colour scheme, donuts, pizzas, prosecco and a brilliant couple clearly having the very best time in a day filled with quirky, London touches. Meet fashion buyer Sam and partner account manager Lewis, who celebrated their marriage on the 5 May 2018, with an intimate, candle-filled ceremony in the atmospheric Asylum Chapel, London, followed by a fun-filled reception at All Star Lanes, Brick Lane. The couple knew they wanted a London wedding, to keep things chilled out but also memorable and unique.
"I'm not a traditional person and working in fashion meant I had the vision to create something unique and true to us. I'm a lover of all things mono – from my clothes to our house interior, so we knew the colour palette from the start. Even the mother of the bride was in black and white. Our aim was to have close friends and family around us, have a wedding that was true to us as people and nothing lavish."
Images by Claudia Rose Carter
The wonderfully talented Claudia Rose Carter was on hand to capture the day, and she's a highly valued member of our wedding directory, Little Book. I love Claudia's creative use of magical light and shade.
"We met up with Claudia a few months before the wedding and we explained to her we didn't want any traditional pictures, we wanted everything natural. We knew we wanted to feature Brick Lane… and have pictures where we were all walking together. We just wanted to capture the day as it was without a lot of posing. She captured the day beautifully and was just what we wanted."On her feet, Sam wore black, block-heel sandals by Gucci, complete with the classic gold interlocking 'G' logo.
"I wanted something I could easily walk in and I love all things Gucci. The best thing is, I can wear these over and over again."
Sam chose the exquisitely clean lines of the sequin 'Brooklyn' gown by & For Love, which she bought from boutique Ghost Orchid Bride. I love the sense of movement captured in the fringing on the dress, too – just lovely.
"I chose the dress as I wanted something cool and different. It took me a year to find this dress as everything I was trying on was too traditional for me. The fact that it was all sequins was just up my street. I had long tassels added to the back, which just made it even more cool and unique and I loved this about it. I felt a bit rock 'n' roll in it, and it was just me."
On the morning of the wedding, Lewis' best man presented Sam with a thoughtful gift from the groom – a Tiffany Infinity bracelet to wear. In her hair, Sam wore a delicate and dreamy headpiece of wax orange blossoms by Olivia The Wolf and arranged the bouquets herself.
The bridesmaids wore chic black dresses by a variety of High Street favourites – Lipsy, River Island, Topshop and Mango, together with strappy black sandals from Topshop. Continuing the cool monochromatic theme, the flower girls wore floral lace dresses from Zara with funky white Converse hi-tops.
Lewis chose black trousers from Topman, which he paired with a soft velvet jacket from Marks & Spencer, and as a lovely nod to the sequins on Sam's gown, a black sequin tie from ASOS. Lewis' Best Men was his dad and two best friends from childhood, who all wore suits from Topman.
"A mutual friend invited us to us to a barbecue 8 years ago in April for the Grand National and our eyes met across a burger – the rest is history! After 6 years of dating, Lewis finally found the courage and proposed on our first night in our first home together. It was just the way we both imagined, intimate and relaxed."
Sam was accompanied down the aisle by her father, and chose the song Paradise by Jeremih, which holds incredibly special meaning for her and Lewis, and even more so in light of some joyous news they shared with their guests following the ceremony.
"I absolutely love the song, and we had a friend edit the song by taking the verses out as it wasn't appropriate and used the beginning and chorus… The words were so fitting to our journey and life…We knew it was going to get better, as we were 3 months pregnant on our wedding day after 2.5 years of trying."
The beautiful chapel space glowed with candles as Sam and Lewis exchanged vows – they chose to keep these simple and opted for a quick ceremony. As newlyweds they danced back down the aisle together to the song Call Me Al, by Paul Simon.
"Cool and quirky for the ceremony – that was just us. We fell in love with the place instantly. Then, for the reception we just wanted to have something very relaxed, informal and where everyone could just have fun. The idea of bowling and karaoke meant we didn't have to rely on keeping our guests entertained – they mingled and entertained themselves!"
Outside the chapel in the sunshine, guests enjoyed prosecco from Prosecco Trucks and delicious Neapolitan style pizzas from Monte Forte. This post-ceremony feasting was a favourite part of the day for the couple.
"Our favourite part was eating pizza and drinking prosecco in the gardens of the chapel with all our friends and family. Along with announcing we were pregnant in our speeches!"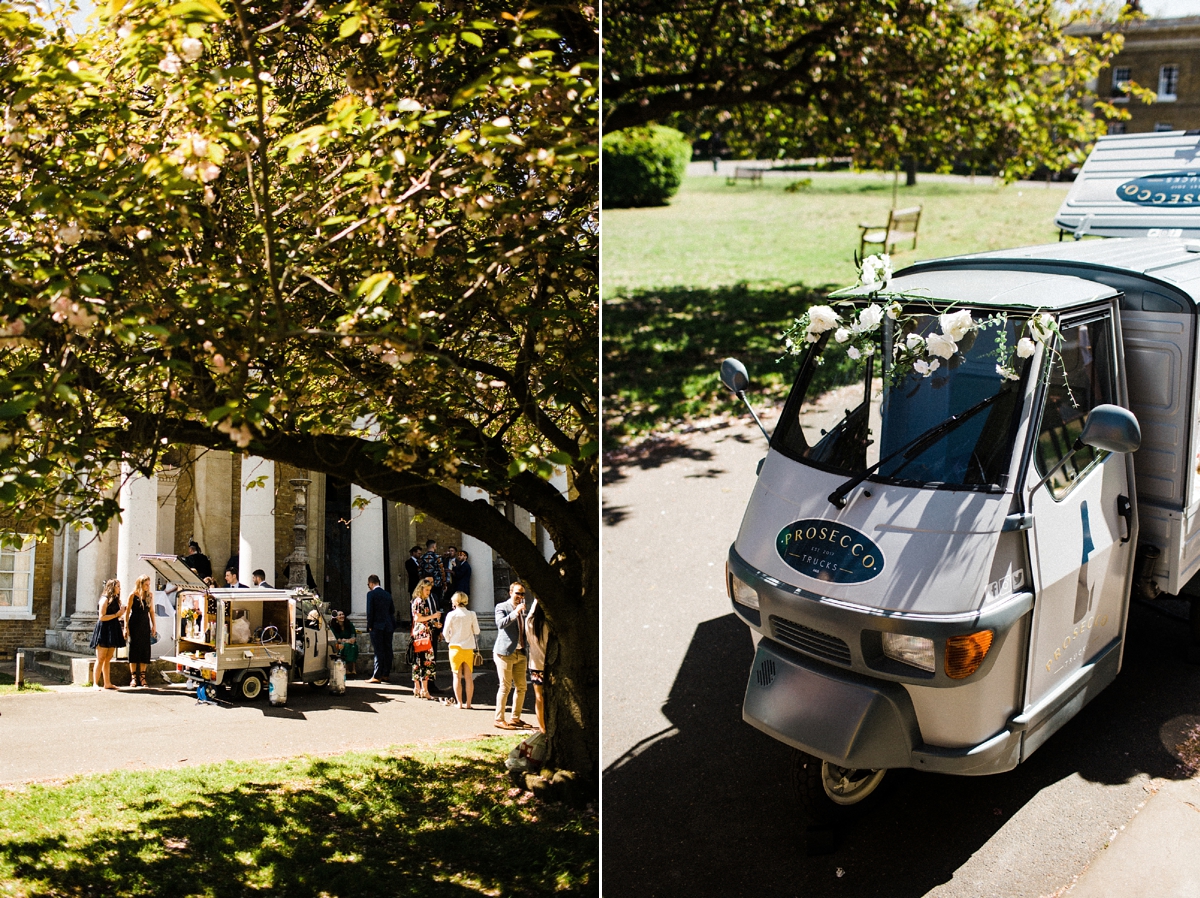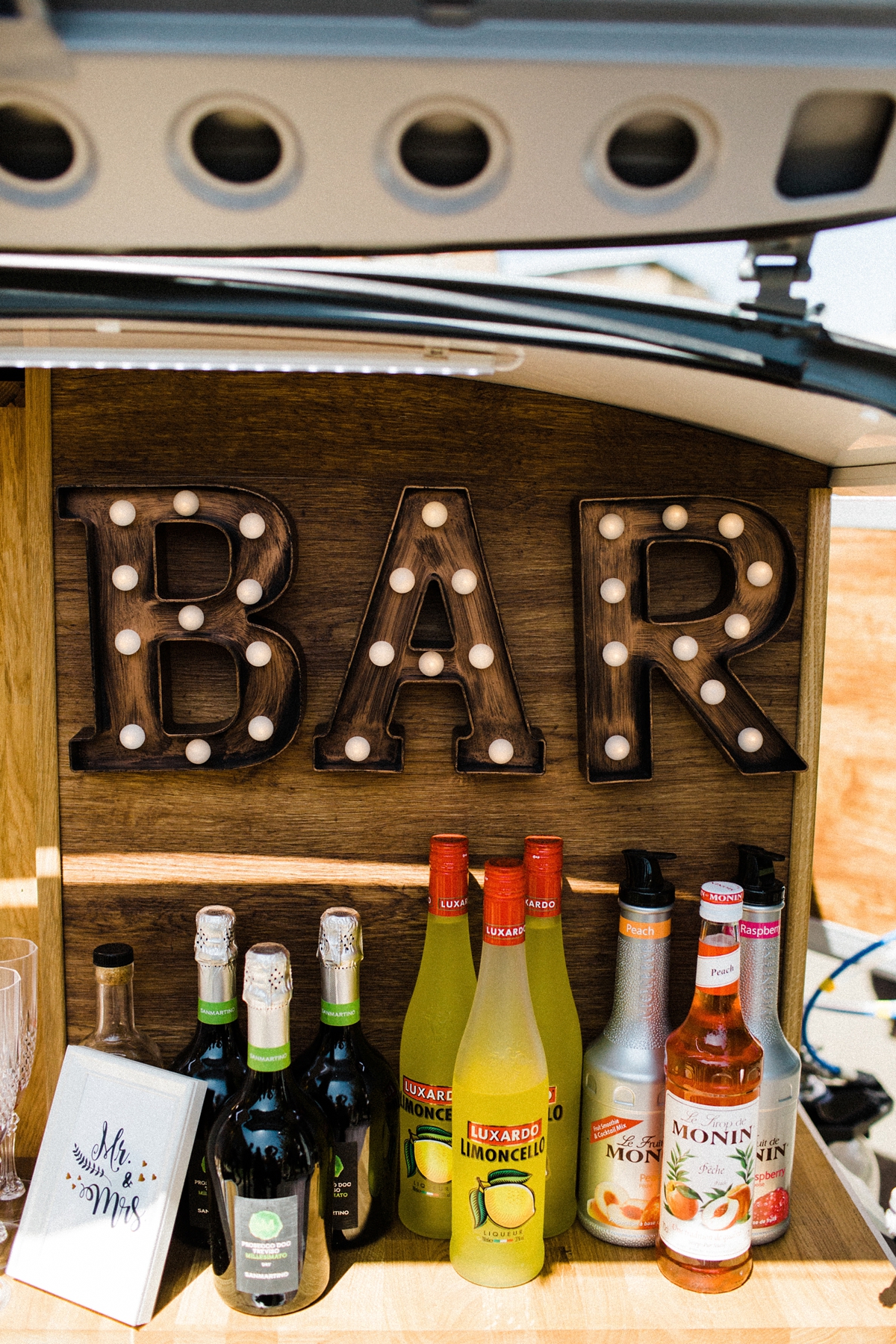 "Alpha Bus Co, which are a vintage London bus company took ourselves and our guests from Peckham to Brick Lane. We wanted to get dropped off 10 minutes from the venue so we could capture everyone walking through the streets of Shoreditch – these were some great images and the public loved seeing the wedding party!"
At All Star Lanes, the bowling and karaoke kicked off, and Sam and Lewis gave their guests retro sweets in personalised paper bags as favours, which they had bought from eBay, and instead of cake, there were donuts from Krispy Kreme and Sainsbury's.
Sam and Lewis asked their guests to each choose a favourite song to add to their evening playlist, and the couple danced to Marvin Gaye and Tammi Terrell singing the beautiful You're All I Need To Get By for their first dance.
"We chose this as we we've been trying to conceive for the past 2.5 years. Lewis once assured me if we didn't have children, I was all he needed, and I felt this song just summed us both up on how we felt for each other."
"We wouldn't have done anything differently  – it was a perfect day."
Words of Wedded Wisdom
"I would say – invite who you want… I didn't want to spend my special day making small talk with a family member I hadn't seen in years. I wanted everyone there to know our story, and who loved us and we loved them."
Thank you so much Sam and Lewis, and many congratulations, on your marriage and your pregnancy – we wish you all the very best. Huge thanks go to Claudia Rose Carter, too, for these wonderfully evocative images of a super-cool London day. You can see more gorgeous Asylum Chapel weddings on Love My Dress right here.
Until next time!
With love,
Laura