Happy Sunday lovelies! I'm feeling all autumnal this weekend with the start of October having arrived. I can't wait for the season  of open fires, red wine and pumpkins!
And on a completely different but equally exciting note, today's wedding is a gorgeous blend of fun, food, friends and family at a seriously beautiful London waterside venue. So, fancy meeting our couple? Let's go. Risk and control analyst Kirsten and data scientist Henry were wed on 1st June 2018 at the beautiful grade II listed Chainstore venue at London's Trinity Buoy Wharf.
"We always knew we wanted to get married in London. I grew up in London and Henry is from Lincolnshire, but this is where our home is together, so it felt only right for us to marry here. The main thing we looked for in a venue was that we could have both the ceremony and reception in one place, and that it had a late license (we both love a party!)."
Images by Claudia Rose Carter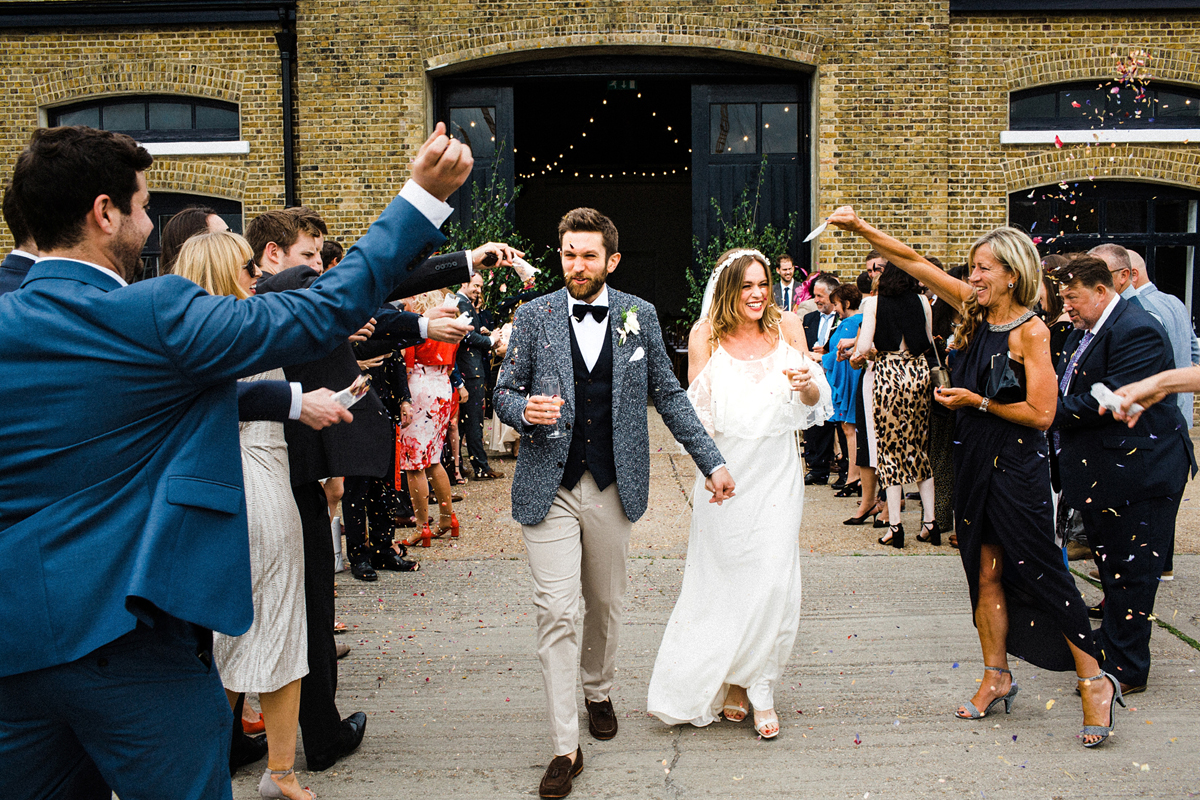 "Henry actually found Trinity Buoy Wharf online after downloading a list of all the wedding venues in London. When we first visited the venue we instantly fell in love with it! It's honestly one of the most special venues in London. Not only did it have everything we were looking for, it also had so much more. It was a complete blank canvas (there's no frills or fuss), and it's the only lighthouse in London. It also has the most amazing views, being right on the Thames!"On hand to capture all of the beautiful memories of the day was wedding photographer and Love My Dress Little Book member Claudia Rose Carter.
"We literally could not be happier with every single photo from our wedding day. They were beyond our expectations! We were fortunate enough to know Claudia before we were engaged and we knew immediately that she had to be the photographer for our wedding. On a professional level, Claudia is the best."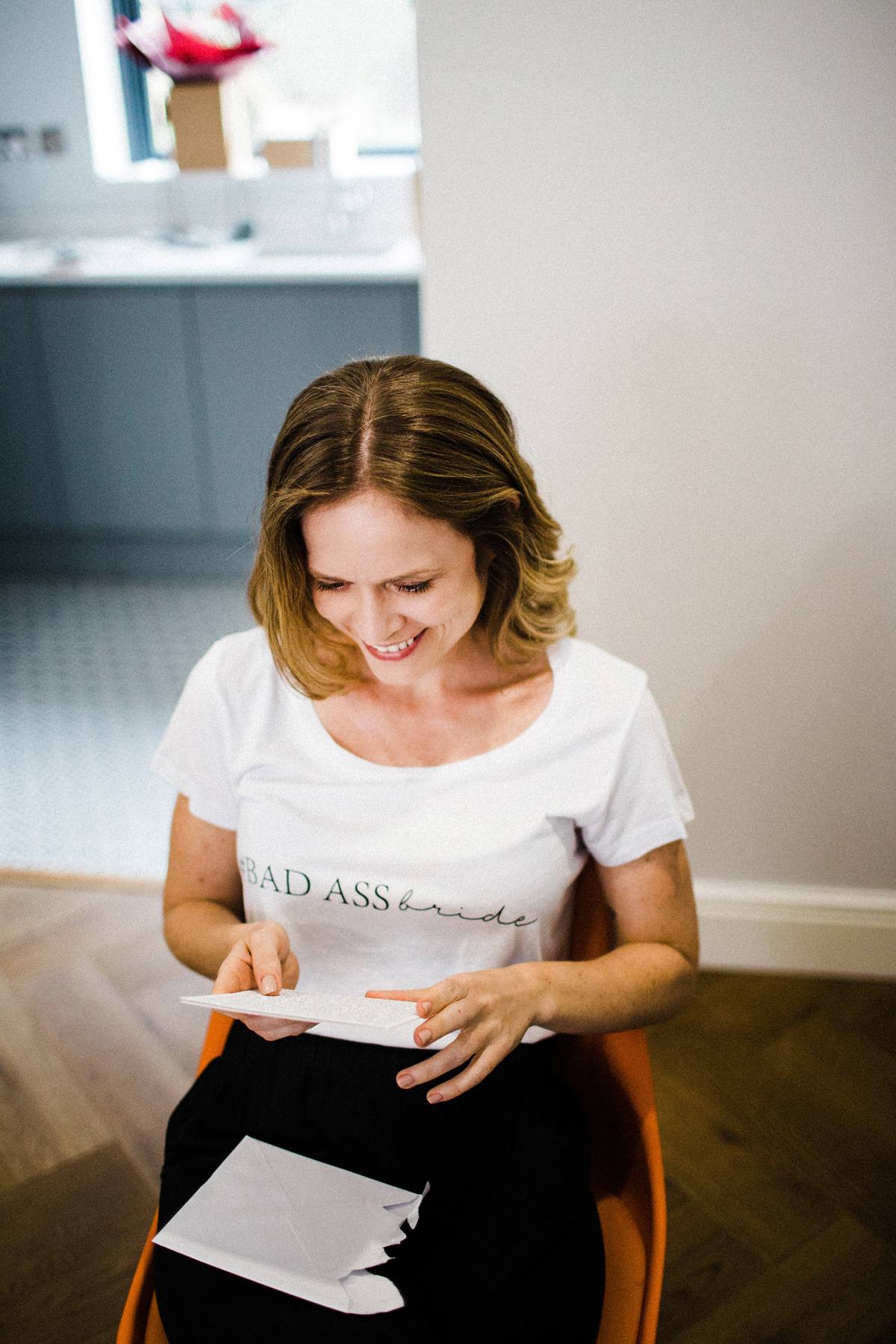 "She managed to capture all the special moments of the day and these are what we will treasure the most for the rest of our lives. On a personal level, she is one of the nicest people we have met. She wasn't just our wedding photographer, she became a friend and that is what makes her really special."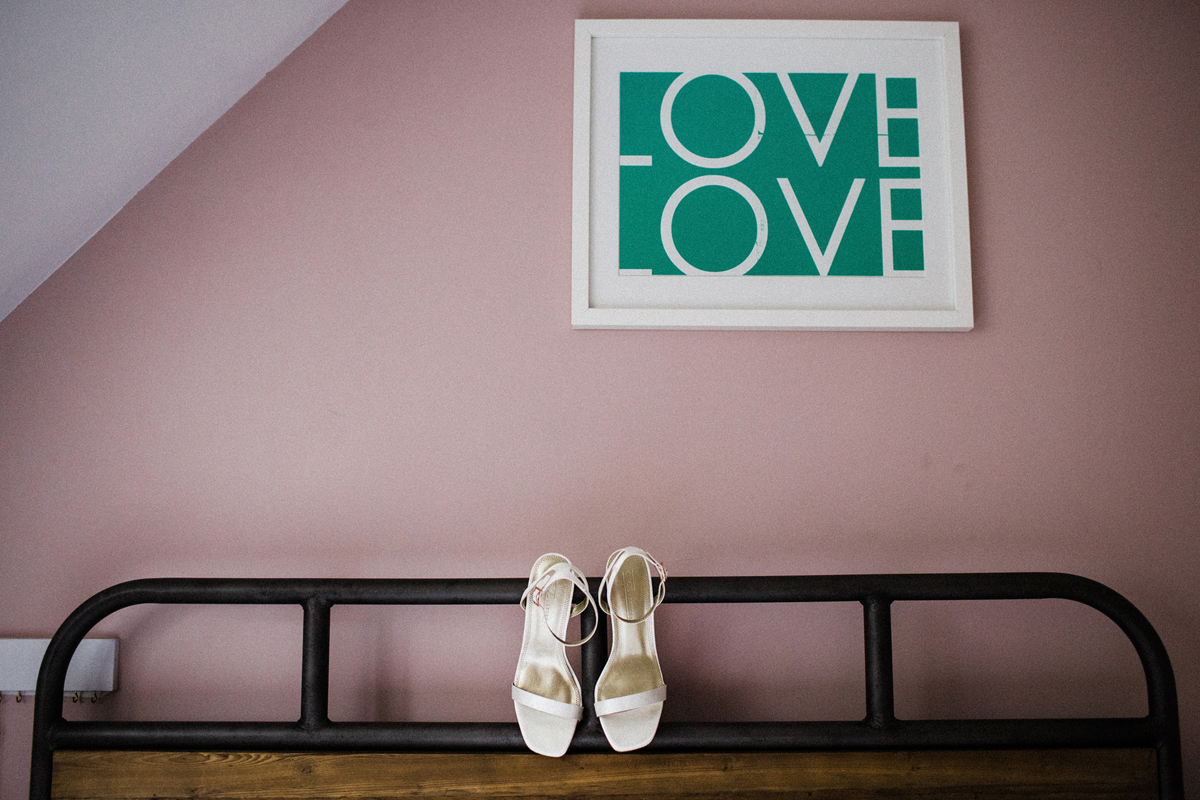 "My crown headpiece was a Flo porcelain piece from Luna Bea and I wore Jo Malone's Pomegranate Noir as my scent on the day."
[JP-VIDEO]
"I love and wear this perfume every day. I didn't want to change my scent for my wedding day but I did get a special bridal lace edition bottle. All the jewellery I wore on my wedding day was from what I already owned and I also wore my nan's Rotary watch as another 'something borrowed'."
The bride recruited her dad to walk with her down the aisle, to the sounds of Riptide (Two Guitars) by Pierluigi Colangelo. She wore a head-to-toe stunning gown from Charlie Brear and accessorised with a lace trim veil and minimal jewellery.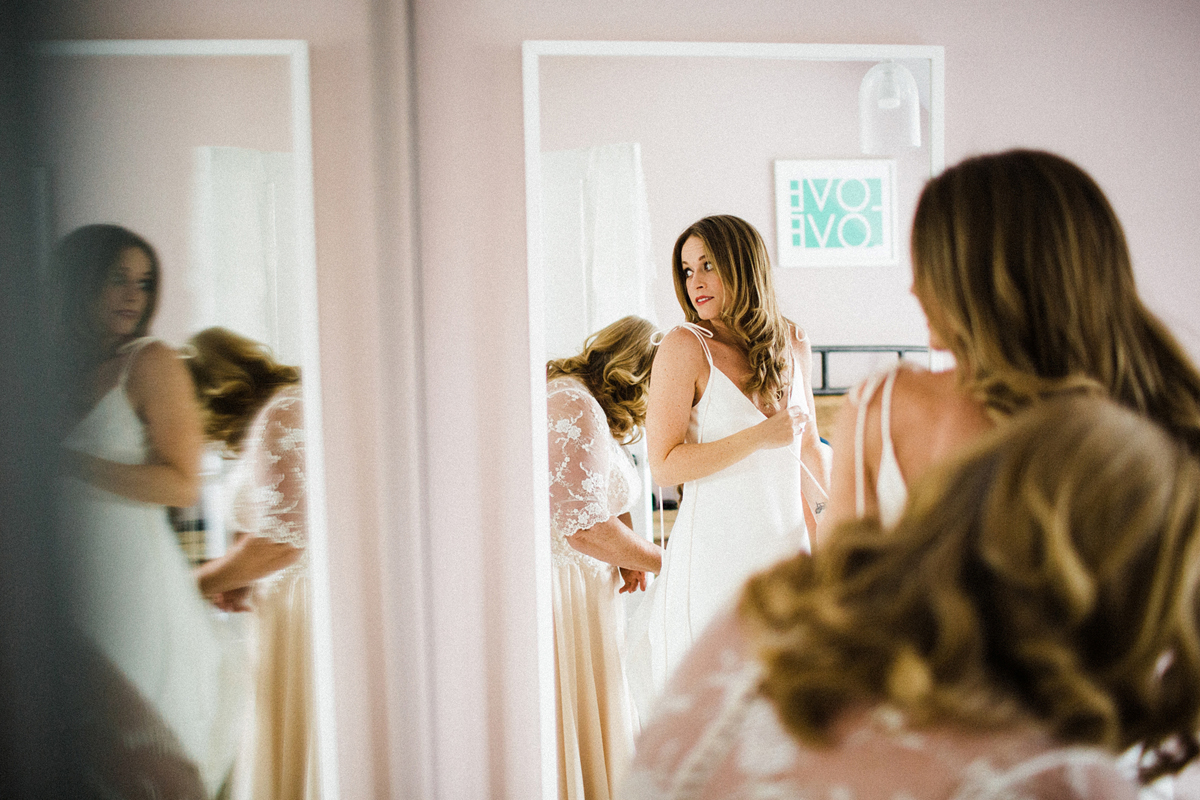 "My dress was by designer Charlie Brear from her flagship showroom in London. I also wore a lovely lace overlay which was also purchased from the same designer. I'd always wanted something very simple for my wedding dress and something that I could wear again, given how much wedding dresses cost."
"I honestly thought I would try on a dress that I would like and didn't necessarily think I would experience 'the one' moment, however when I tried on the Beaumont dress I fell instantly in love and knew it was exactly what I was looking for. The most fun thing about it was the tie straps which moved around when I was dancing! I was also excited that there was the option to accessorise the dress and I added a lace overlay which I wore for the ceremony and reception, then removed it for the party in the evening."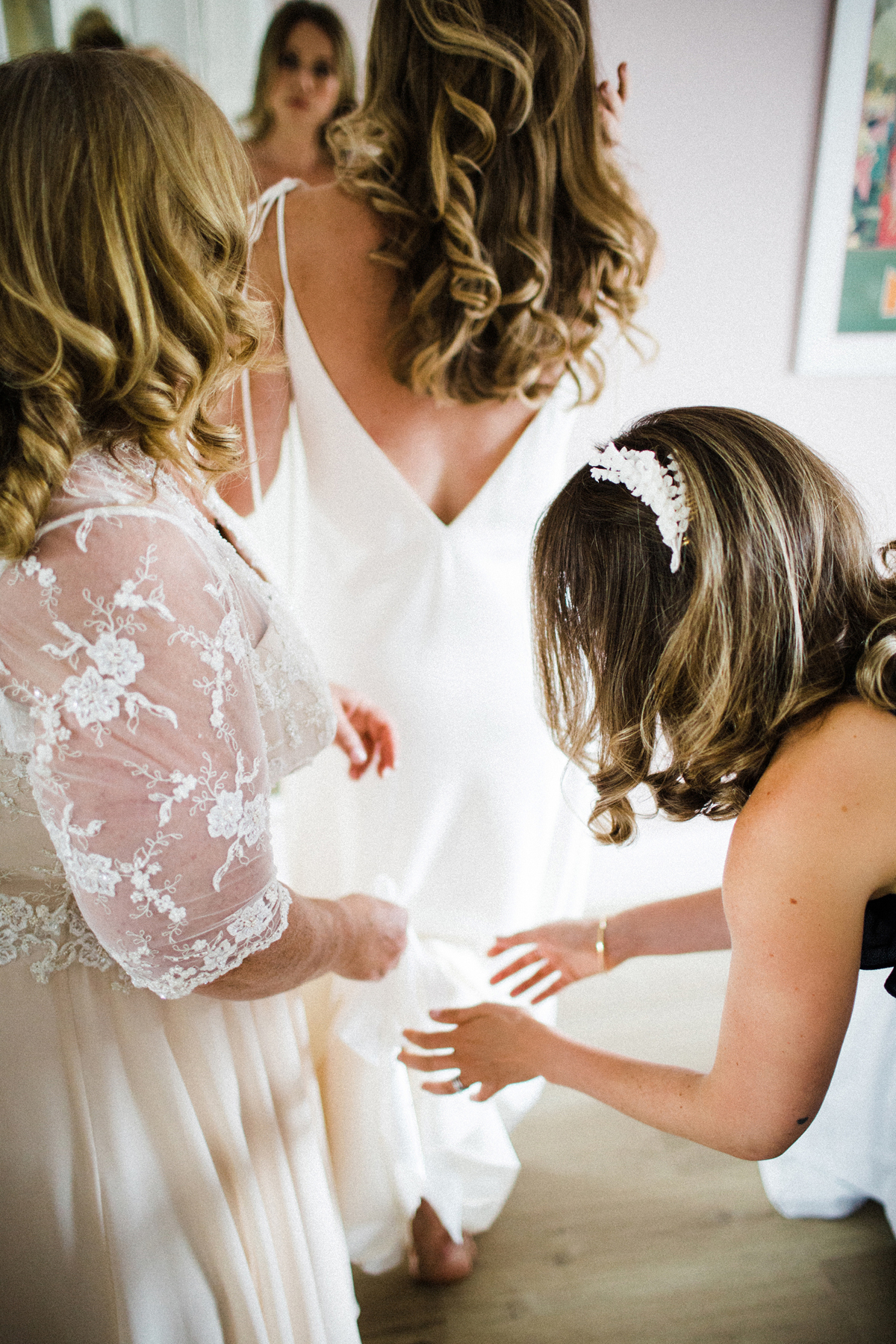 "My veil was my 'something borrowed', from the one my sister wore at her wedding and I opted for a pair of plain ivory strappy sandals from ASOS for the daytime and gold LK Bennett sandals for the evening."
After meeting at work almost six years ago, Henry proposed during one November date night, with the pair then giving themselves an 18-month long engagement in order to plan the big day.
"Henry and I met at a work challenge day nearly 6 years ago! We spent one day running around London making ourselves look like fools and the rest is, as they say, history! I had some  indication Henry would propose soon. We had a big holiday planned which is where I thought it would happen but little did I know that Henry had other plans."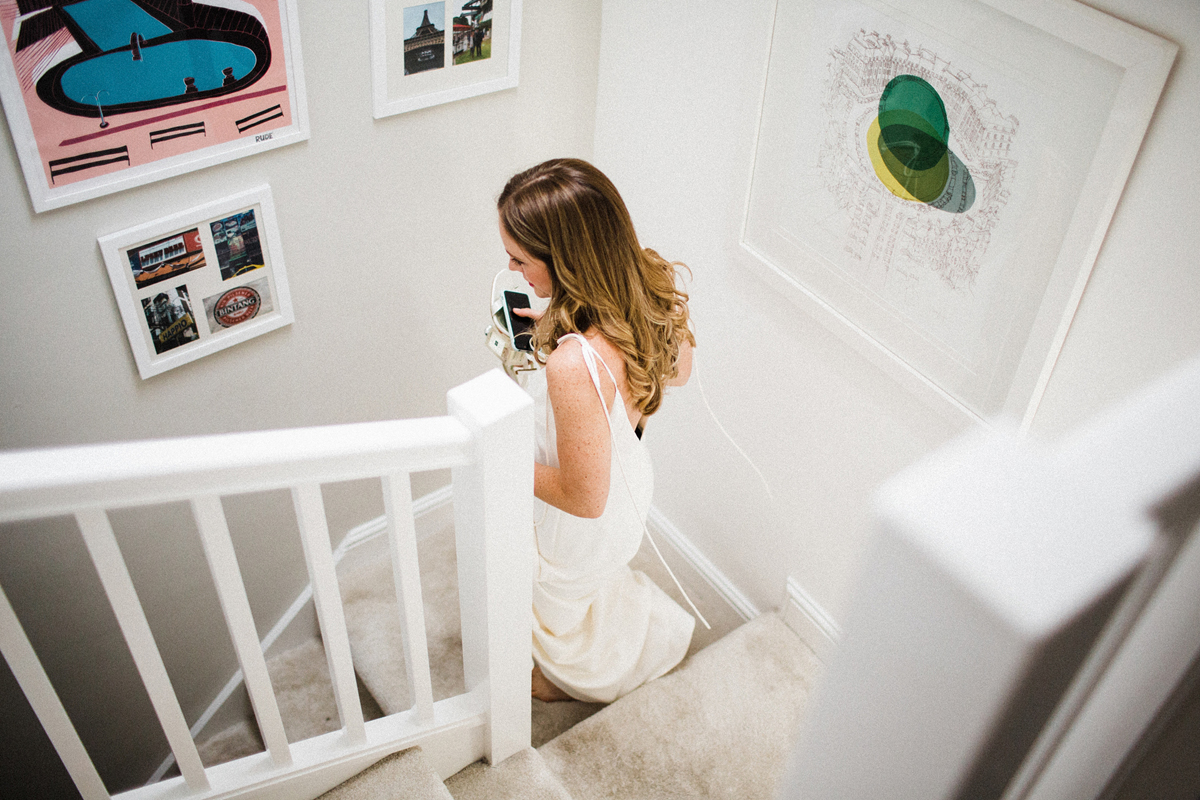 "We have date night Wednesday's each week; nothing too fancy, just one night a week where we both make no plans so that we get to spend some quality time together. I came home on the last Wednesday in November to a 'date night treasure hunt' sign on our front door. As I walked into our house, Henry had made arrows out of all of my favourite things along the floor and up our stairs."
"Even at this point (and stupidly) I didn't realise what was happening. I went upstairs into our bedroom and Henry was down on one knee asking me to marry him. I think I was still in shock so answered something along the lines of 'what are you doing?!'. He then asked again and I said YES. Needless to say it was the BEST date night we have ever had!"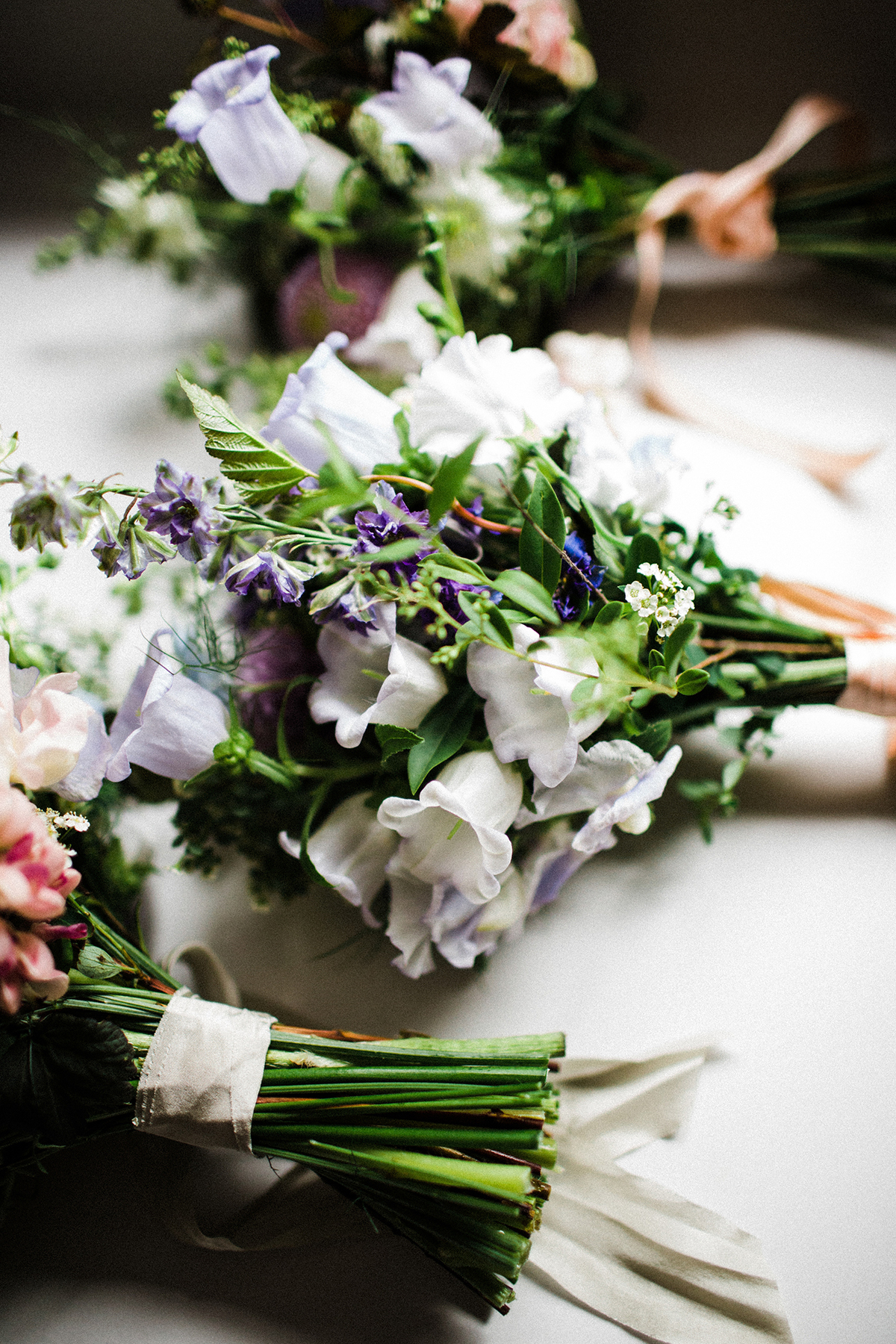 "We went with London-based florists One Flew Over for our flowers on the day. We had absolutely no idea what flowers to opt for beforehand and we didn't have a colour theme for our wedding in mind."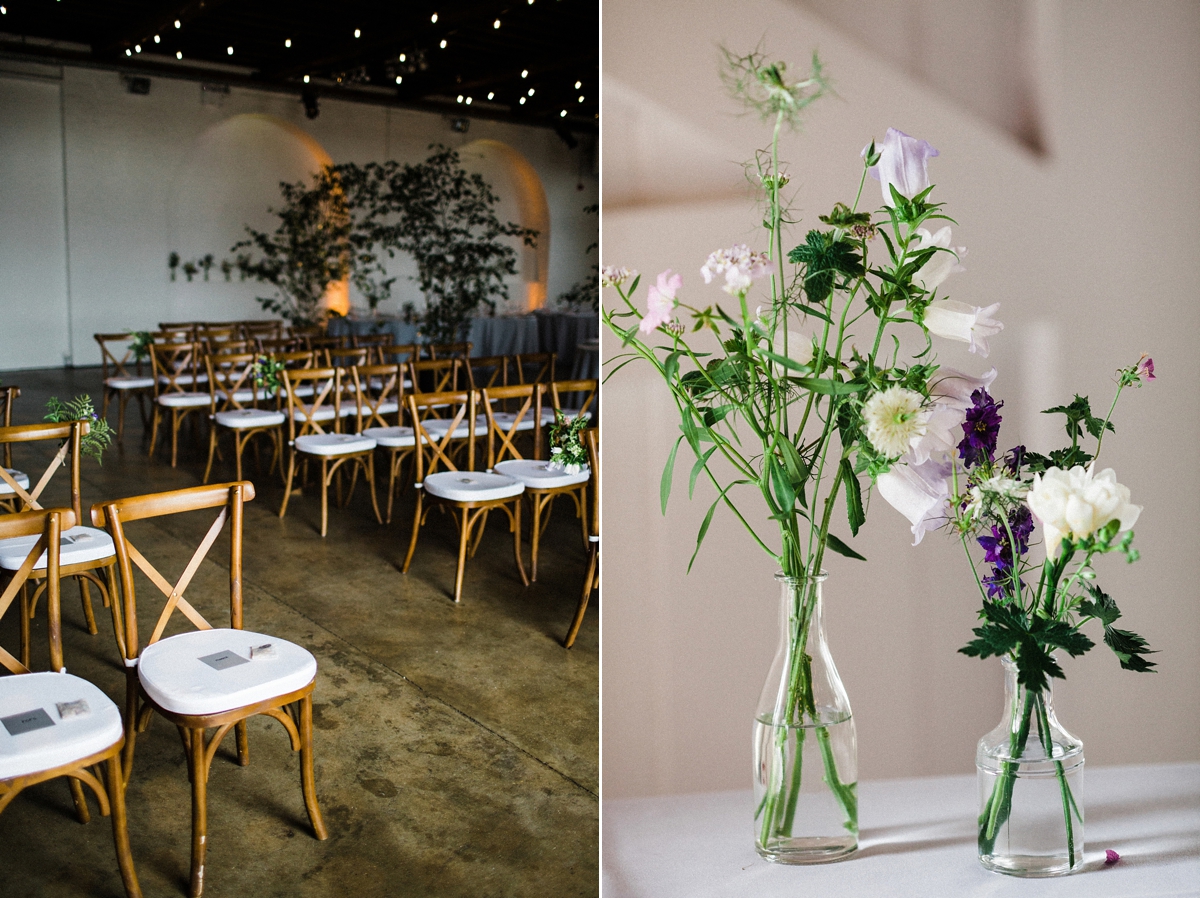 "Having said that, we managed to gather some pictures of flowers we liked using Pinterest and with the help of Charlie, we ended up going for mainly wildflowers, with some added pops of colour. The best surprise on our wedding morning was that our florist managed to source a single red poppy which was added to my bridal bouquet."
"This was in memory of my granddad whose nickname was Poppy and this was very special for me and my family."
"As the venue itself already had plenty of special features, we wanted to keep the decoration simple and minimalistic. All we really wanted for our wedding day was a great party and to celebrate with all our friends and family in one place."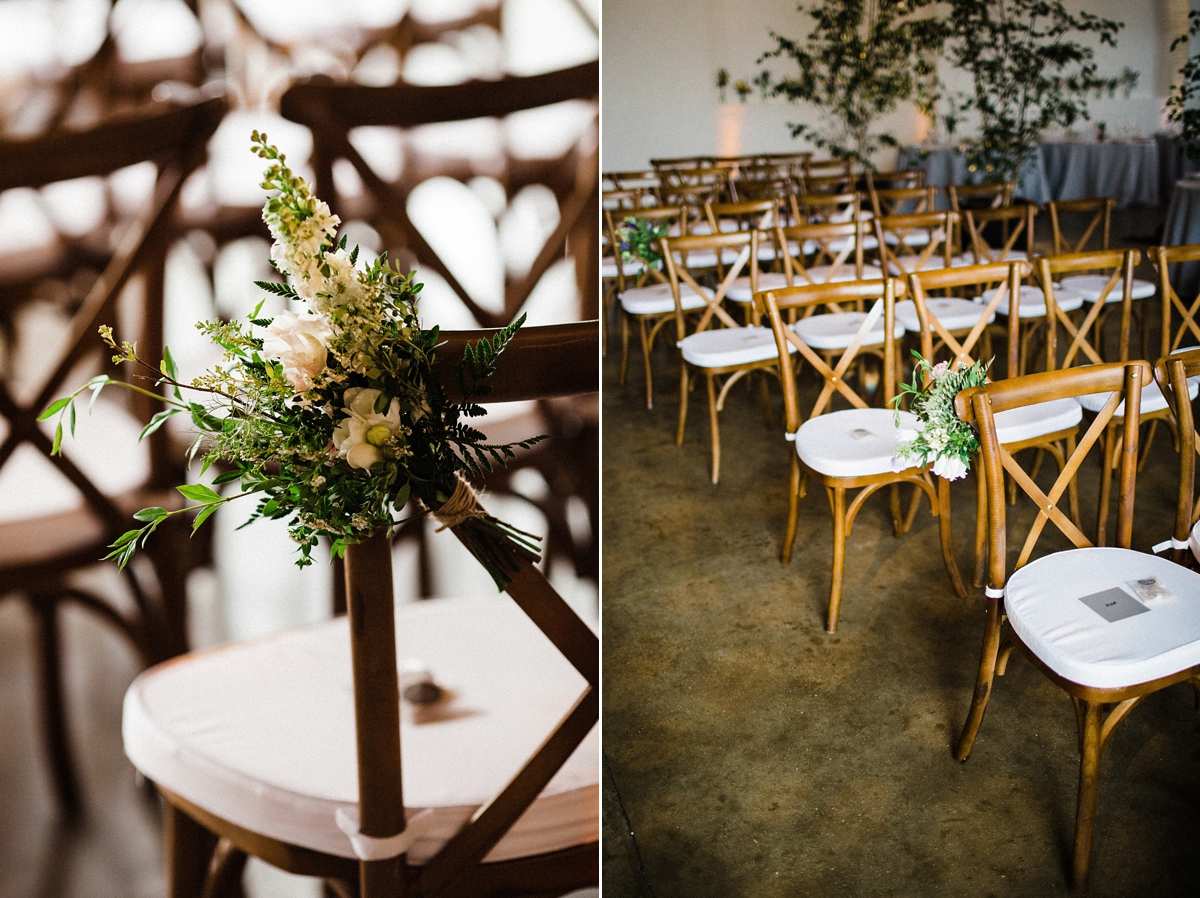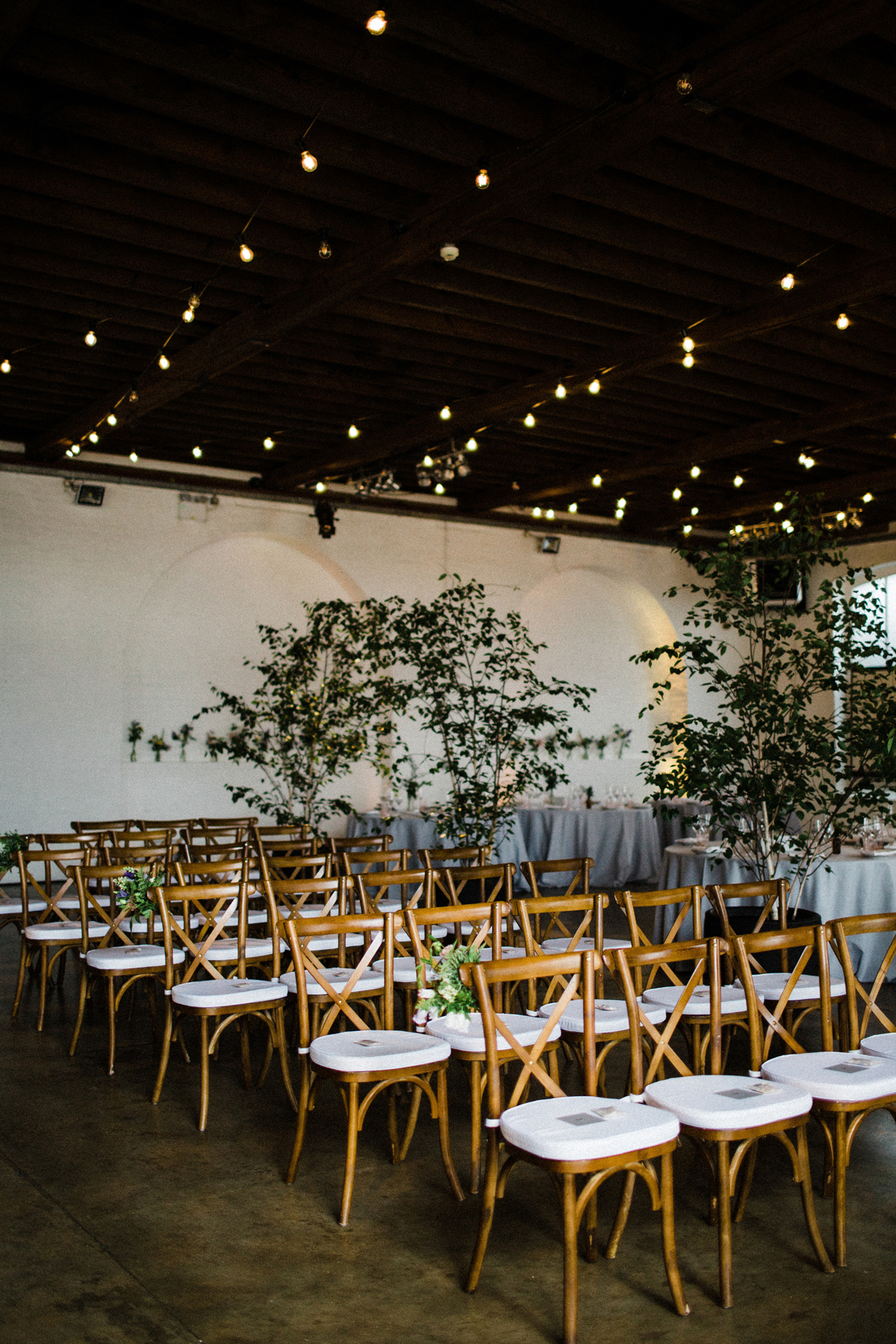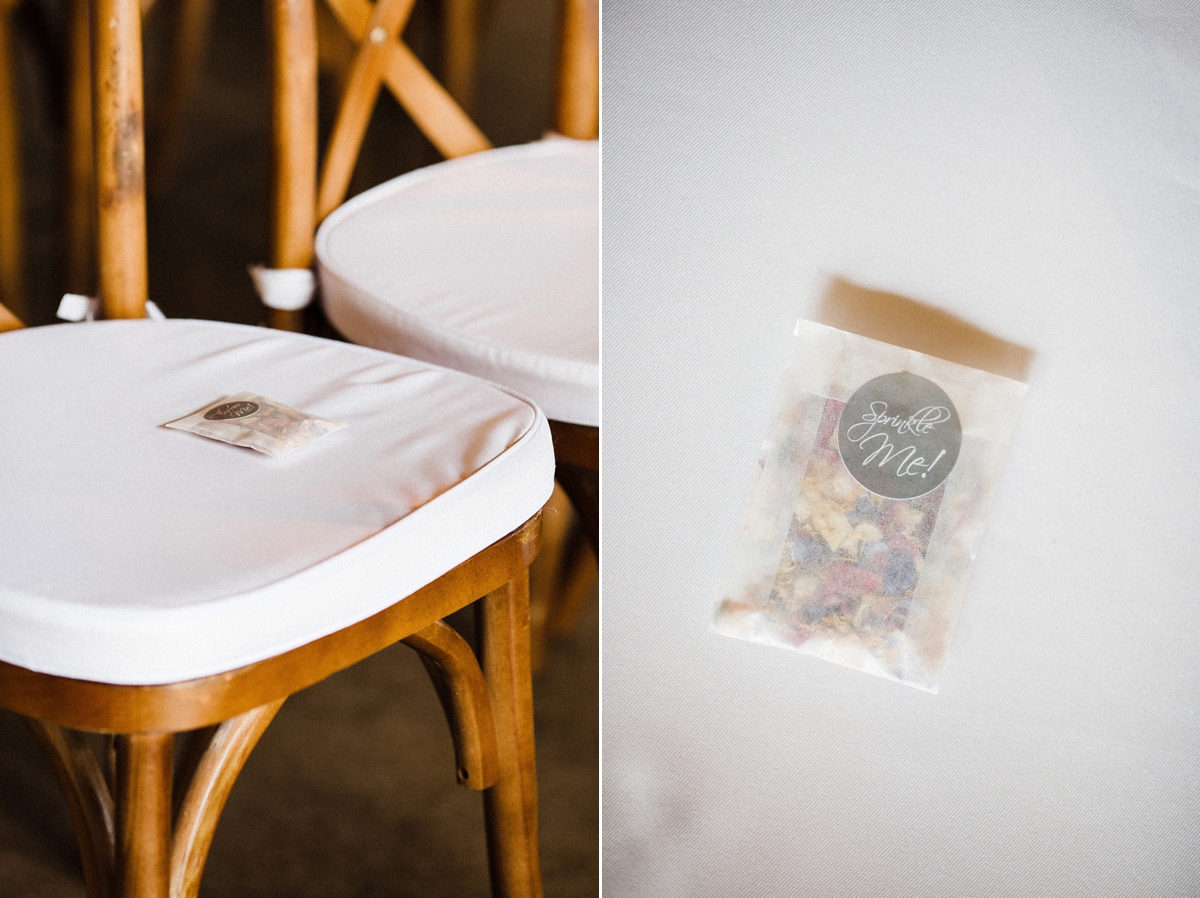 "The groom's suit was made to measure from his usher's store in Manchester, Doherty Evans and Stott Tailoring (the usher was Thomas Stott of the trio), and he accessorised with an Eton shirt, a pair of Ted Baker shoes and a black Reiss bow tie. The best man and groomsmen's jackets were from ASOS, their ties from Marks and Spencer and they each wore their own trousers and shirts."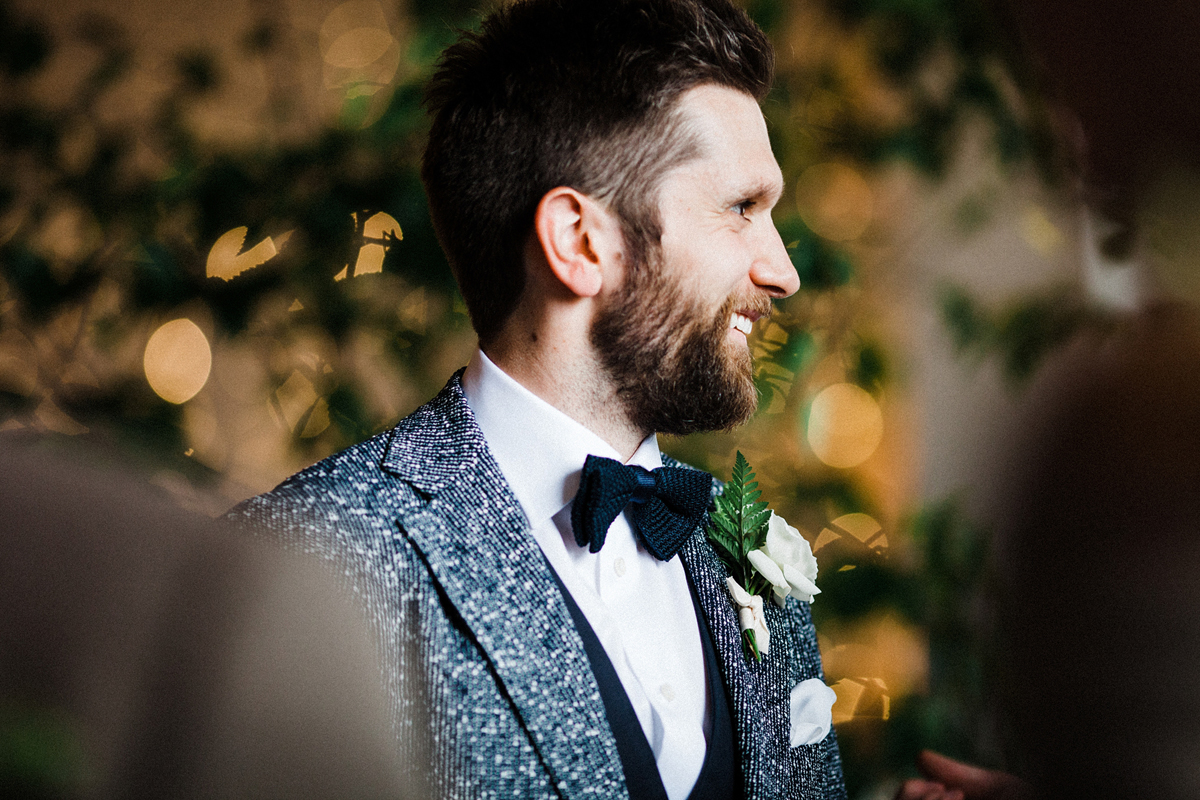 "We decided on two readings for the ceremony. The first was a quote by Robert Fulghum; 'We are all a little weird and life's a little weird, and when we find someone whose weirdness is compatible with ours, we join up with them and fall in mutual weirdness and call it love'."
"The second was a reading titled What is Love, written by one of our close friends for our wedding day. I loved this reading – it talks about how we define what love is and how there is no right or wrong answer, it's simply a matter of opinion."
"It continues to include examples of everyday life that are signs of love and these were tailored to specific things we do as a couple."
"The reading ended with a quote from Roosevelt: 'Nothing worth having comes easy. And love is always worth having. When you find it, the only thing that matters is making sure you hold on tight and enjoy where it takes you."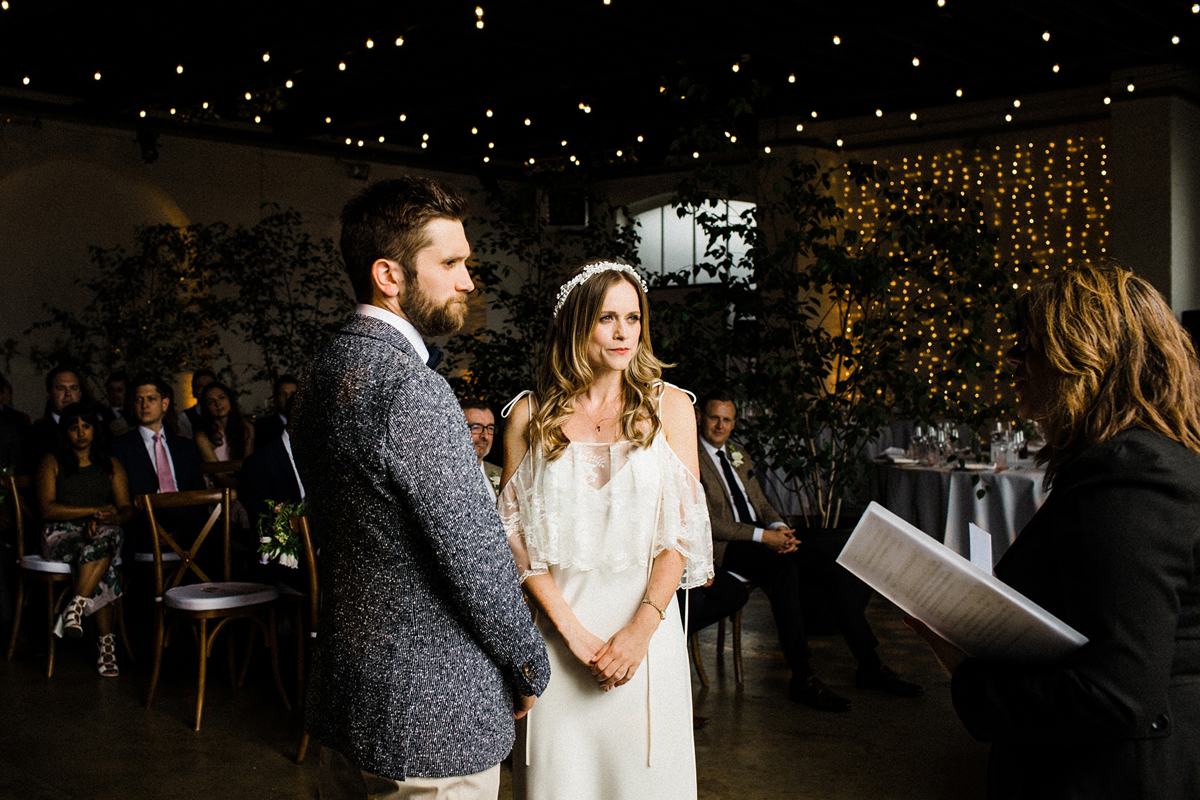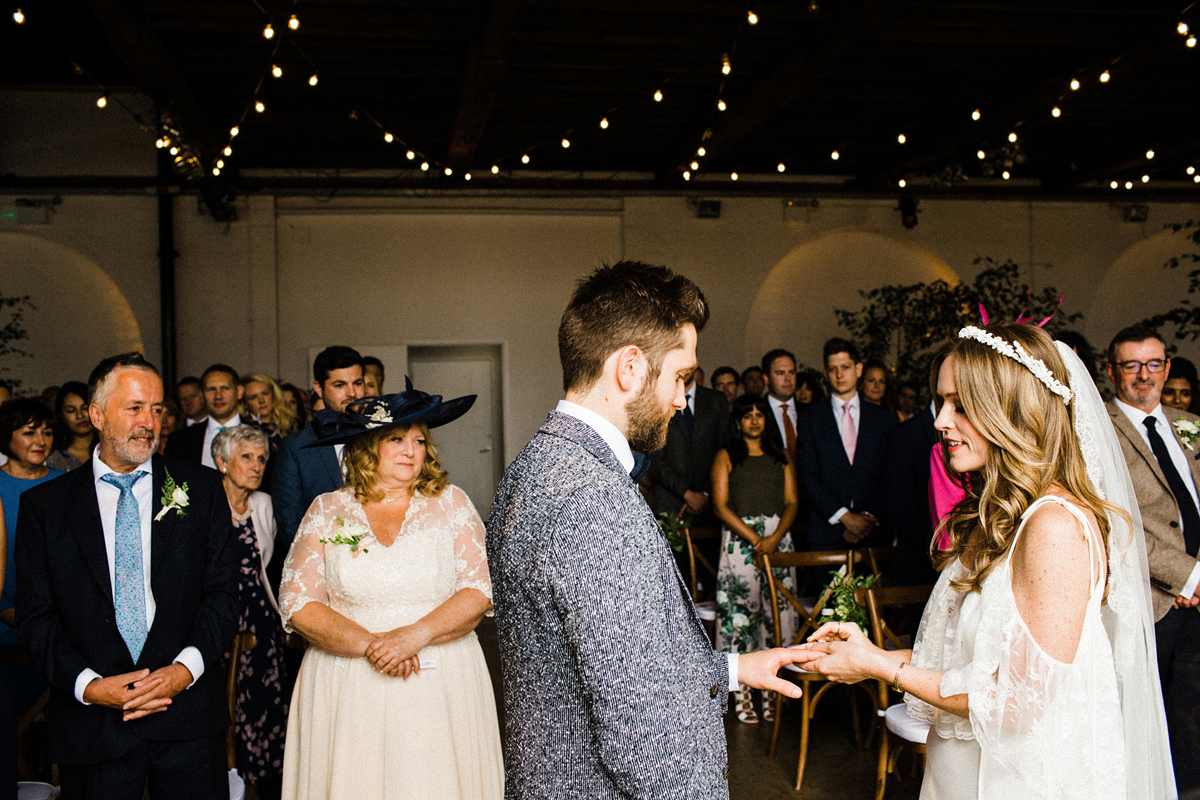 After making it official, the couple swapped wedding rings; Kirsten's made by the amazing Karl from London Rocks, and Henry's a family heirloom originally belonging to his great grandma.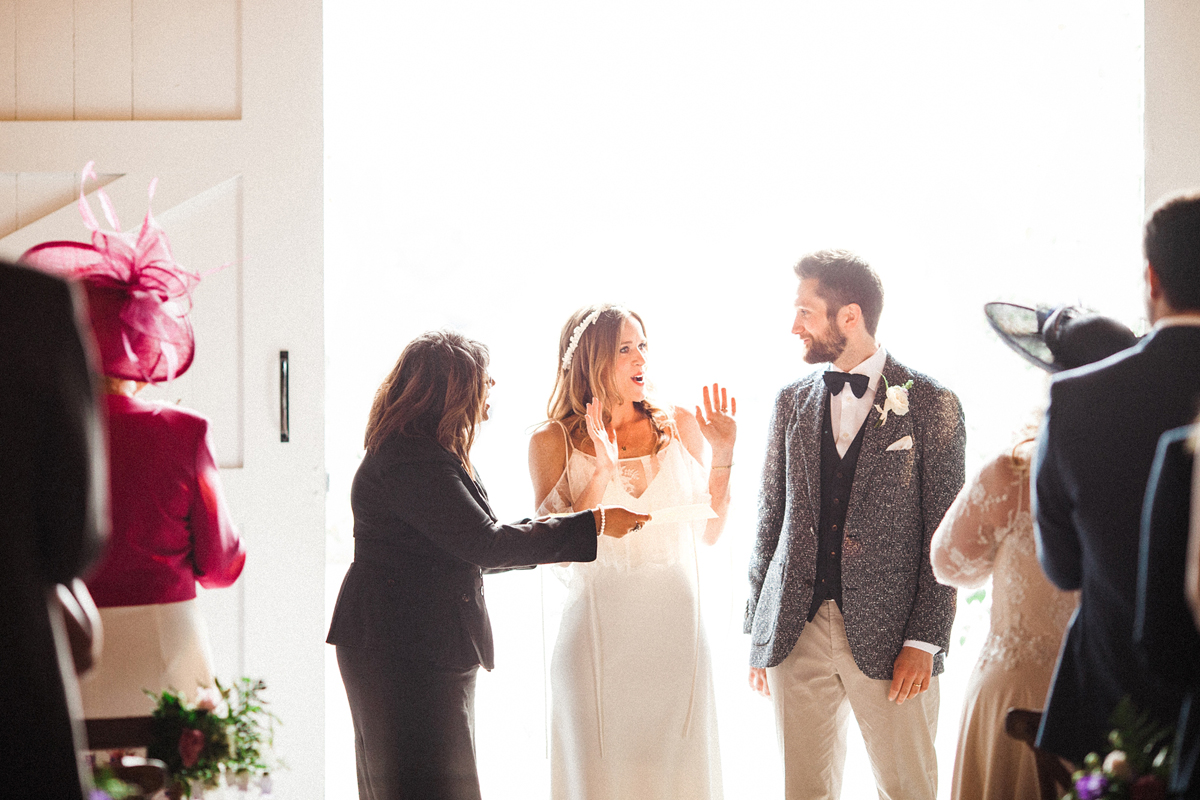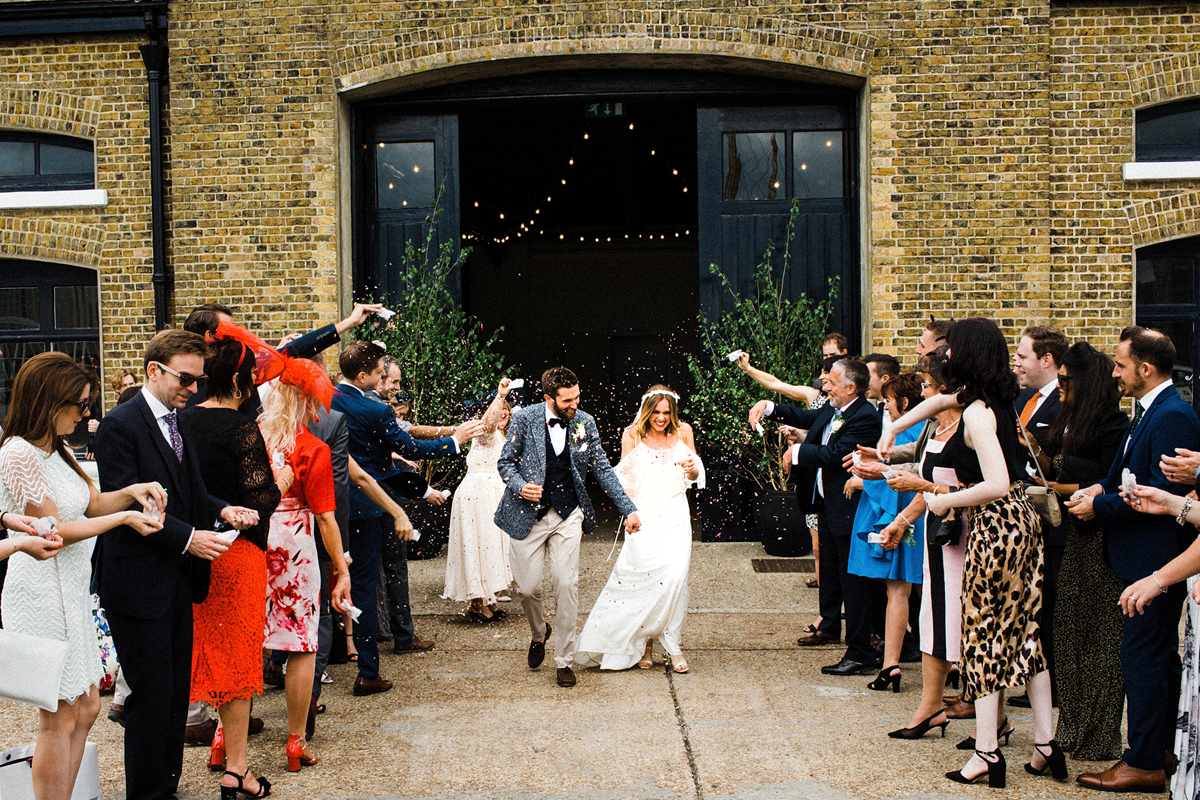 Kirsten's best babes each wore a navy jumpsuit from Whistles and a little mini Flo comb from Luna Bea to match her own, whilst her bridesman wore an ASOS jacket to match the best man's.
The bride's nephew was given the important role of page-boy and honoured the occasion in a page-boy outfit from Monsoon, accessorised with a pair of shoes from Jojo Maman Bebe.
"As our favours we provided shots in mini capped jars which also doubled up as seat names. All individual parts were ordered separately and then we made them ourselves at home and we also designed all our own wedding stationery, using Vistaprint to print it all."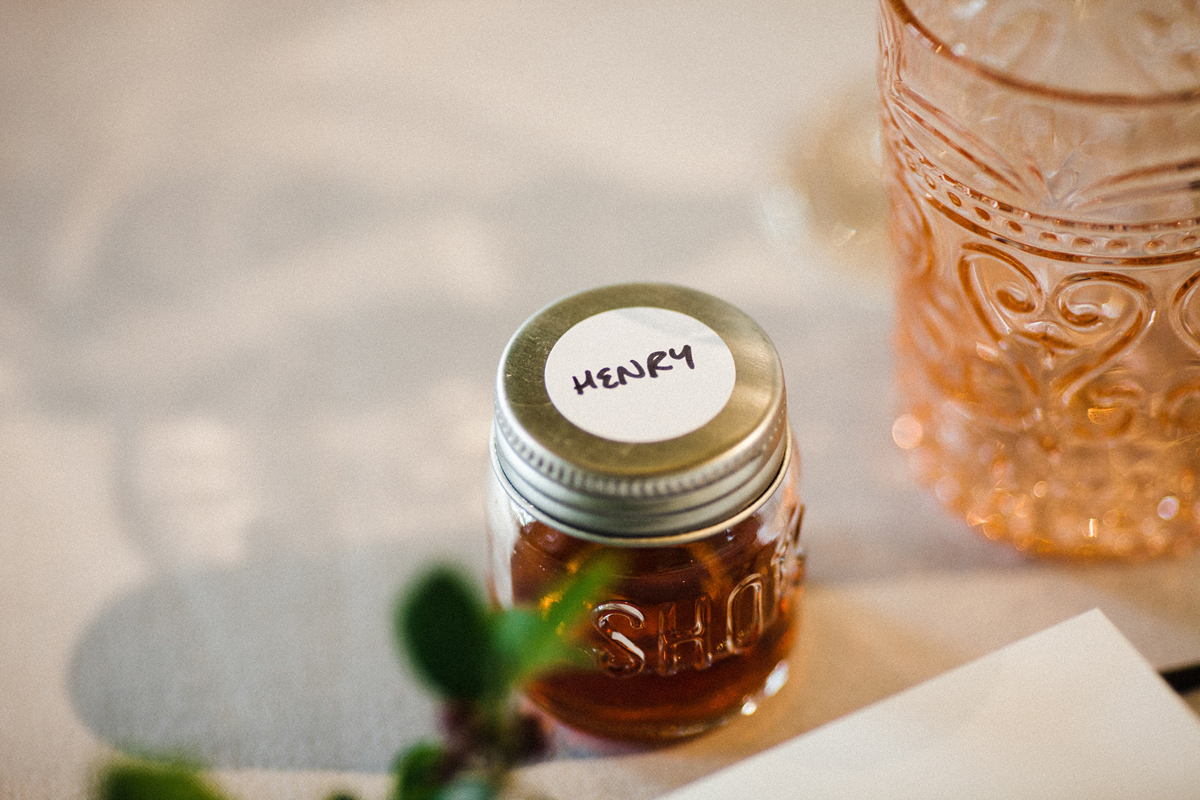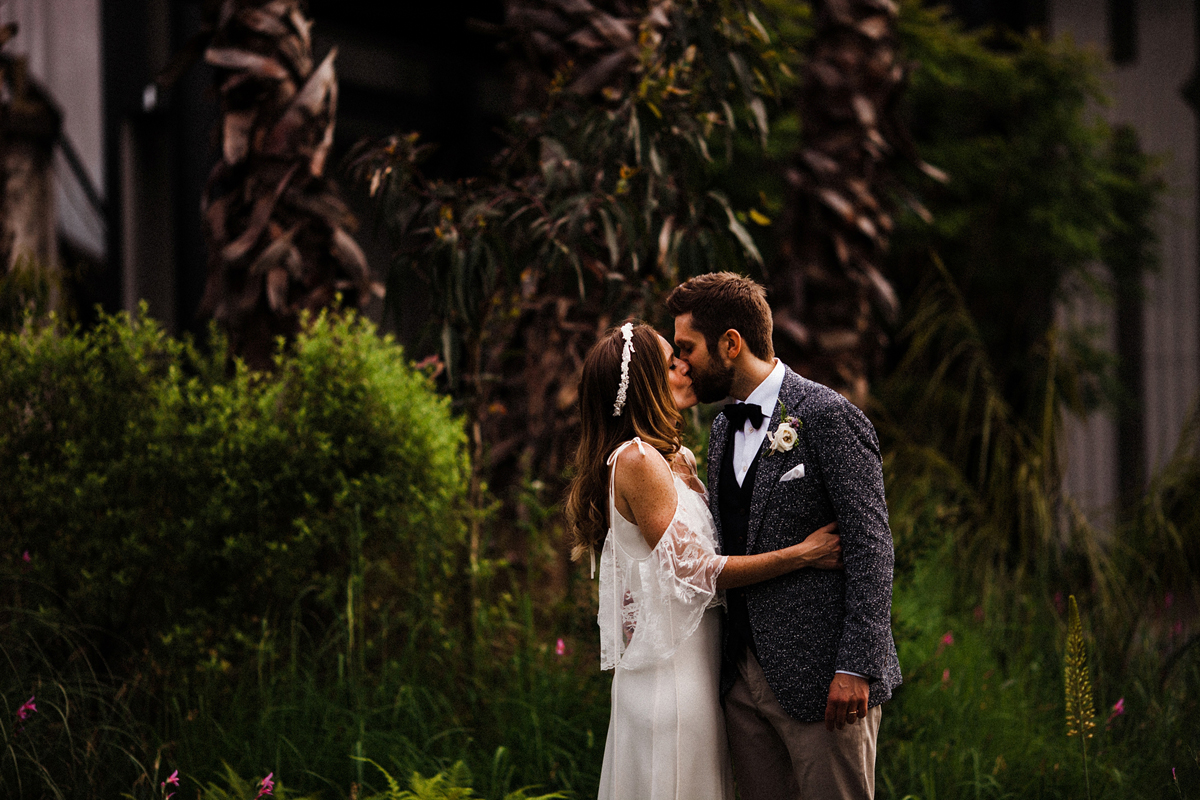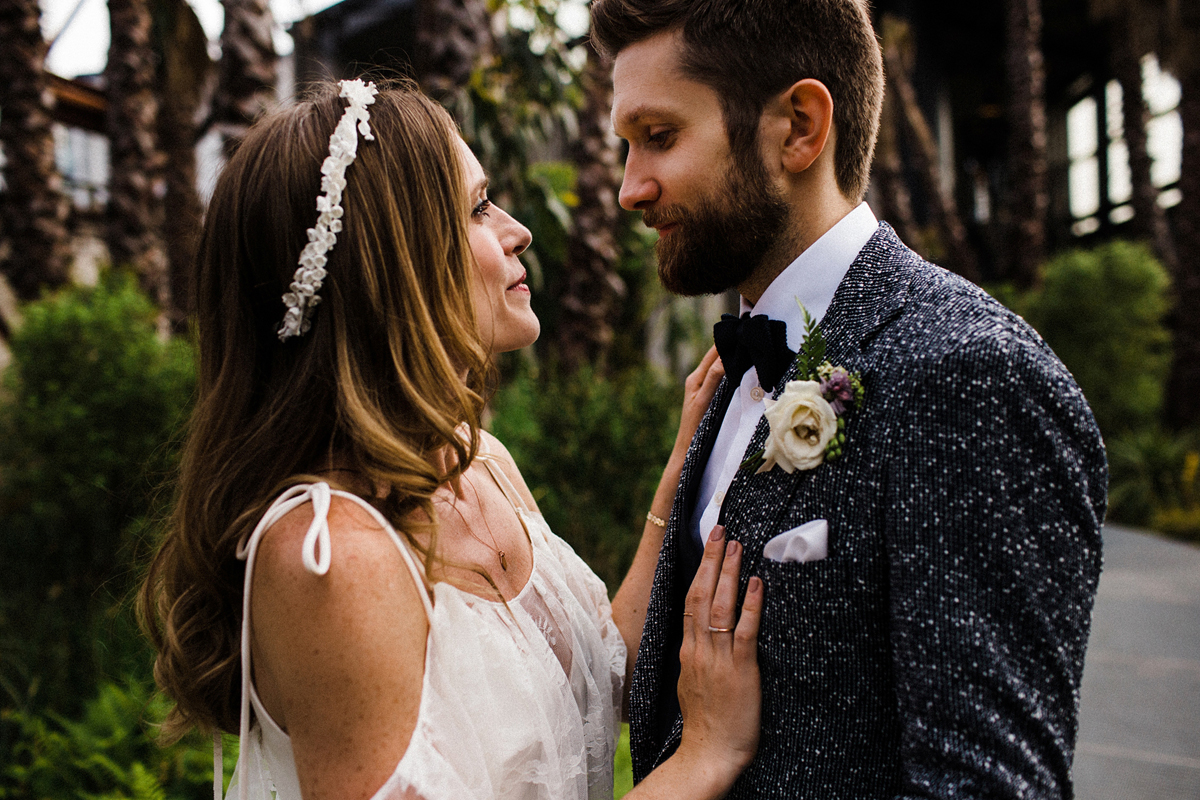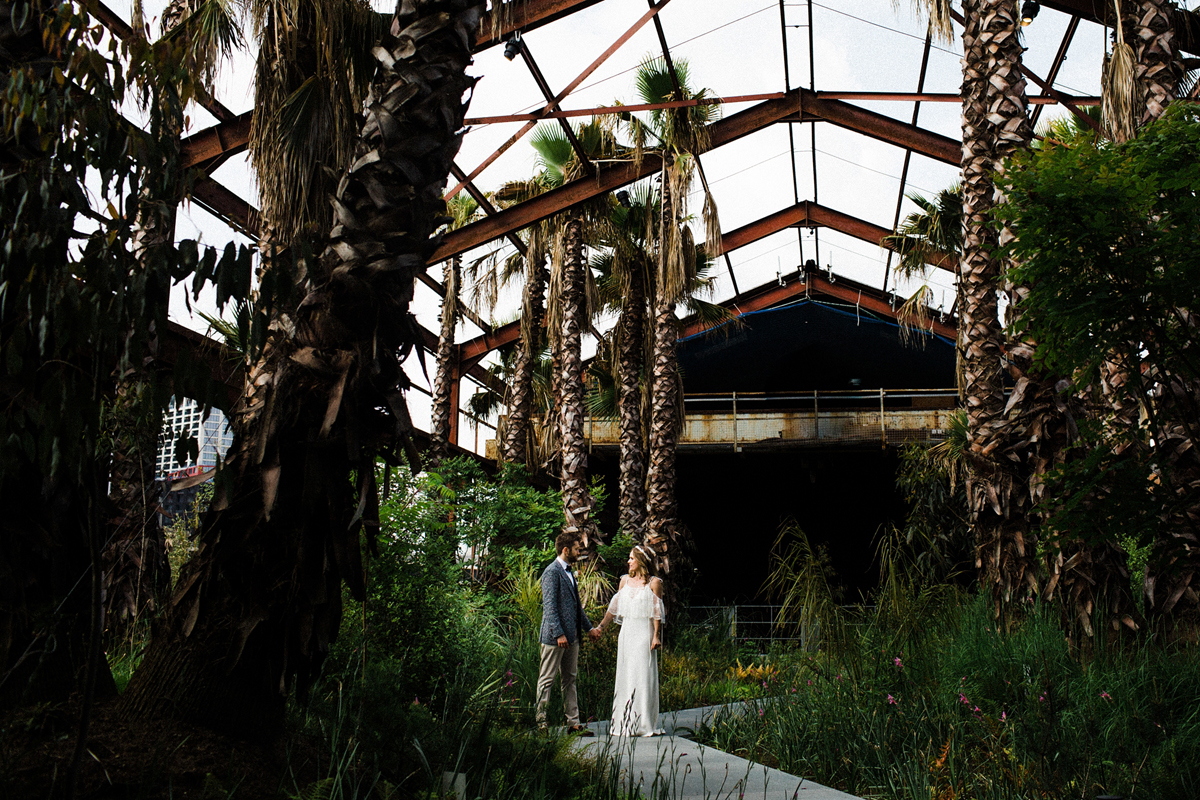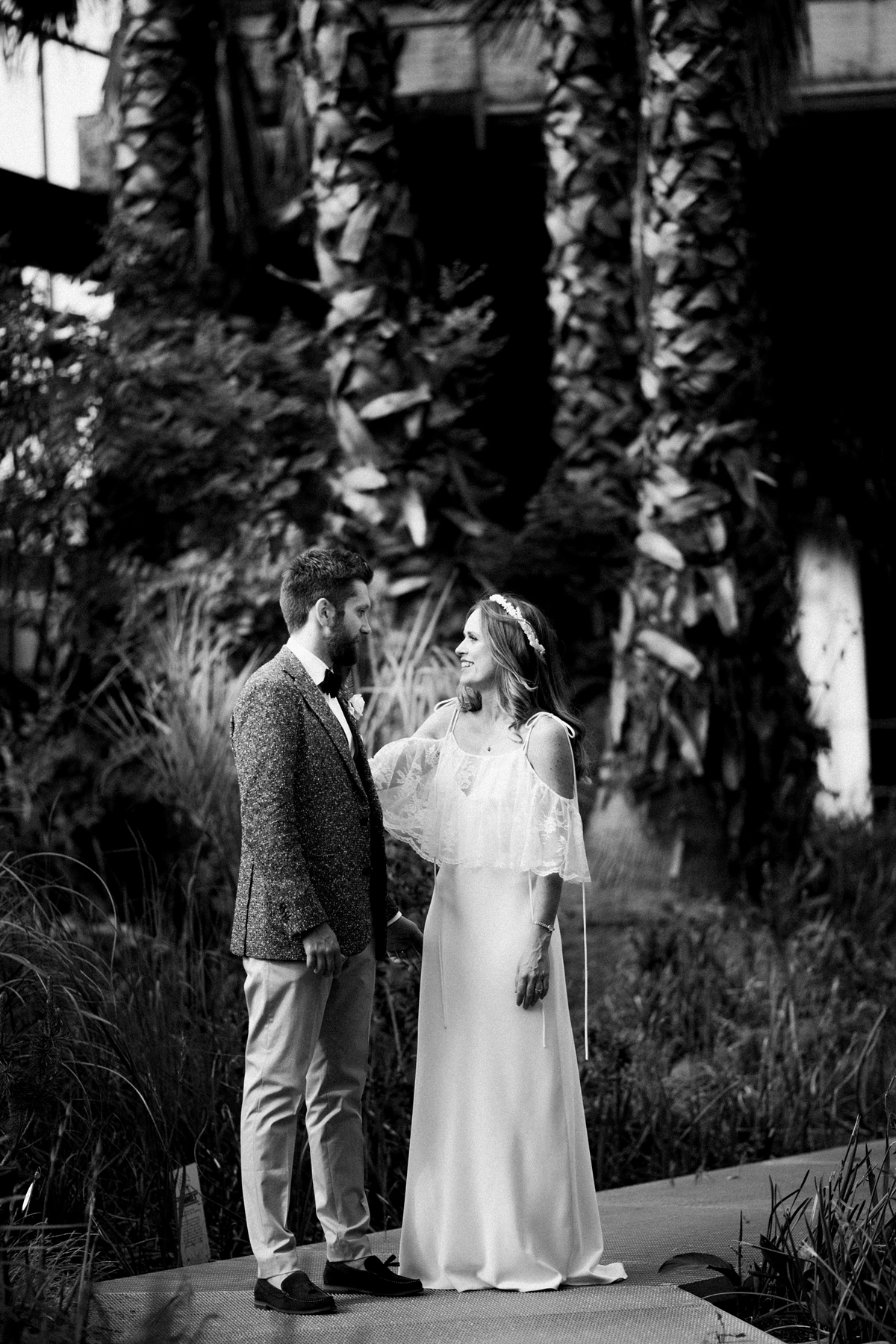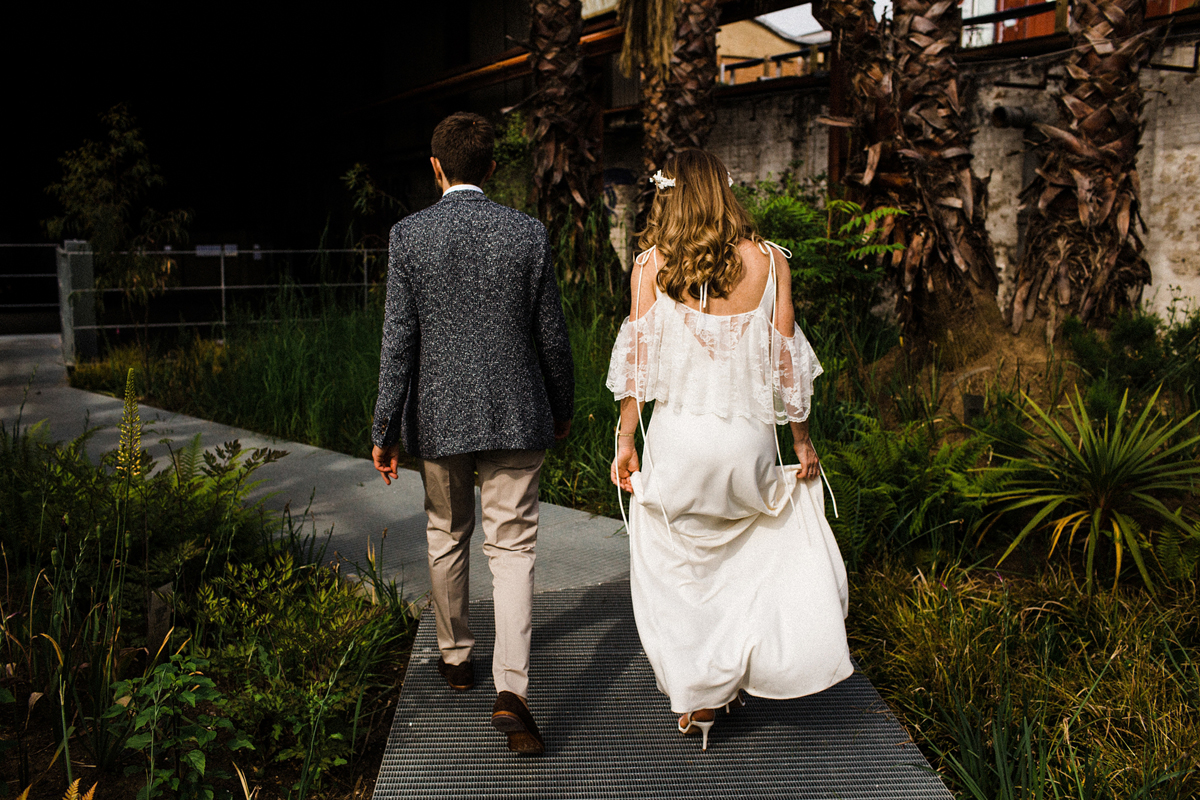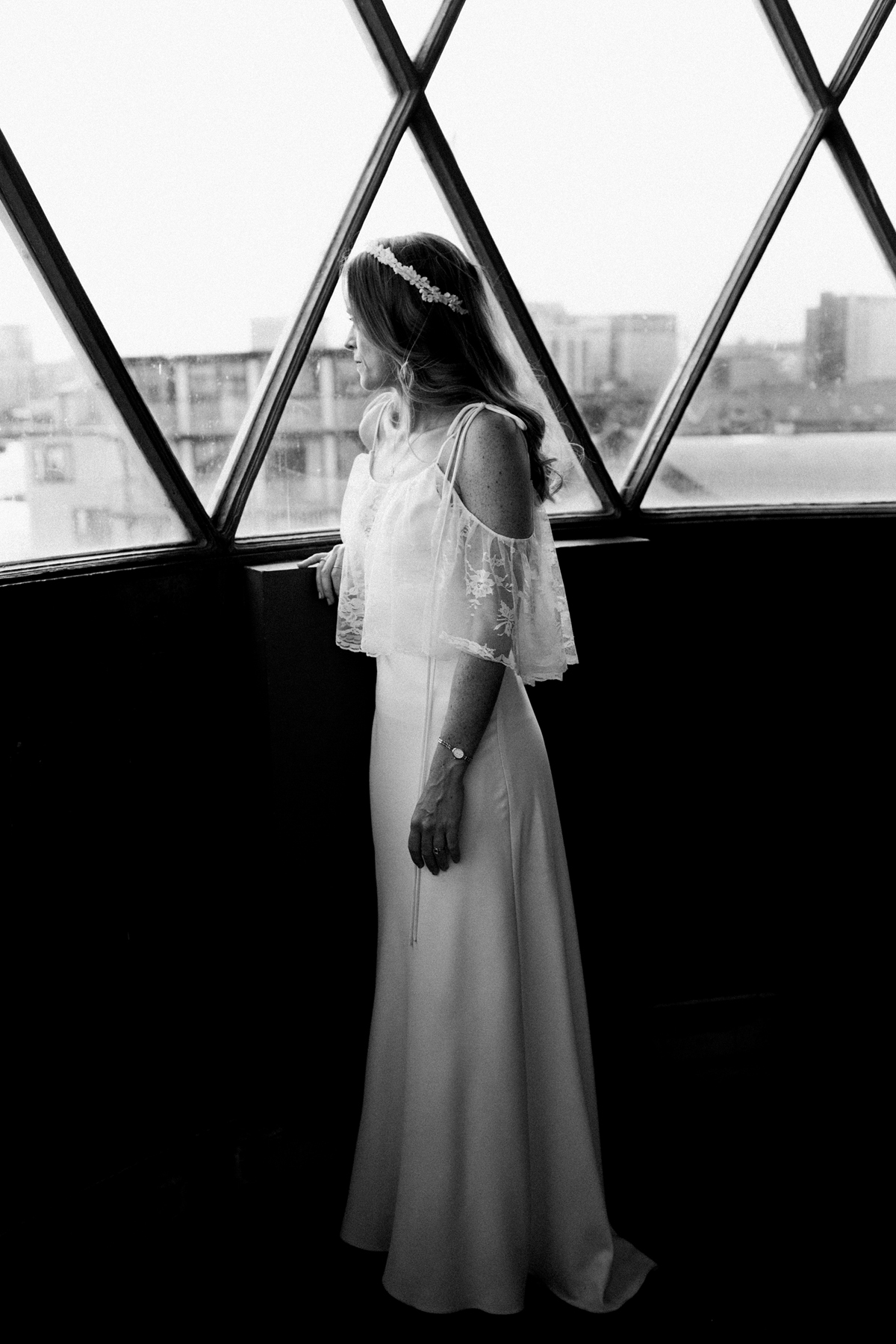 Following the ceremony came the party, kicked off with a magnificent wedding feast provided by Jimmy Garcia Catering.
"We are both massive foodies so picking a caterer for our wedding day was one of the biggest decisions we made. We decided on Jimmy Garcia Catering, based on the type of food they provide. Every option we discussed with them was exactly the type of food we enjoy eating and some even had the added bonus of a creative and fun element!"
"We could not have been happier with the food on the day. It was amazing and something that all our guests raved about. One other thing to note is that due to the venue being a blank canvas we also had to arrange suppliers for furniture, set up of the tables, decorations etc."
"This is something that Hannah, Jimmy's own wedding planner, did for us. This really helped in the run up to our wedding and on the day. Hannah is a wonder woman! She was manoeuvring 10 foot bay trees single handily as it they were nothing. She really did everything to make our day special and we both cannot thank her enough."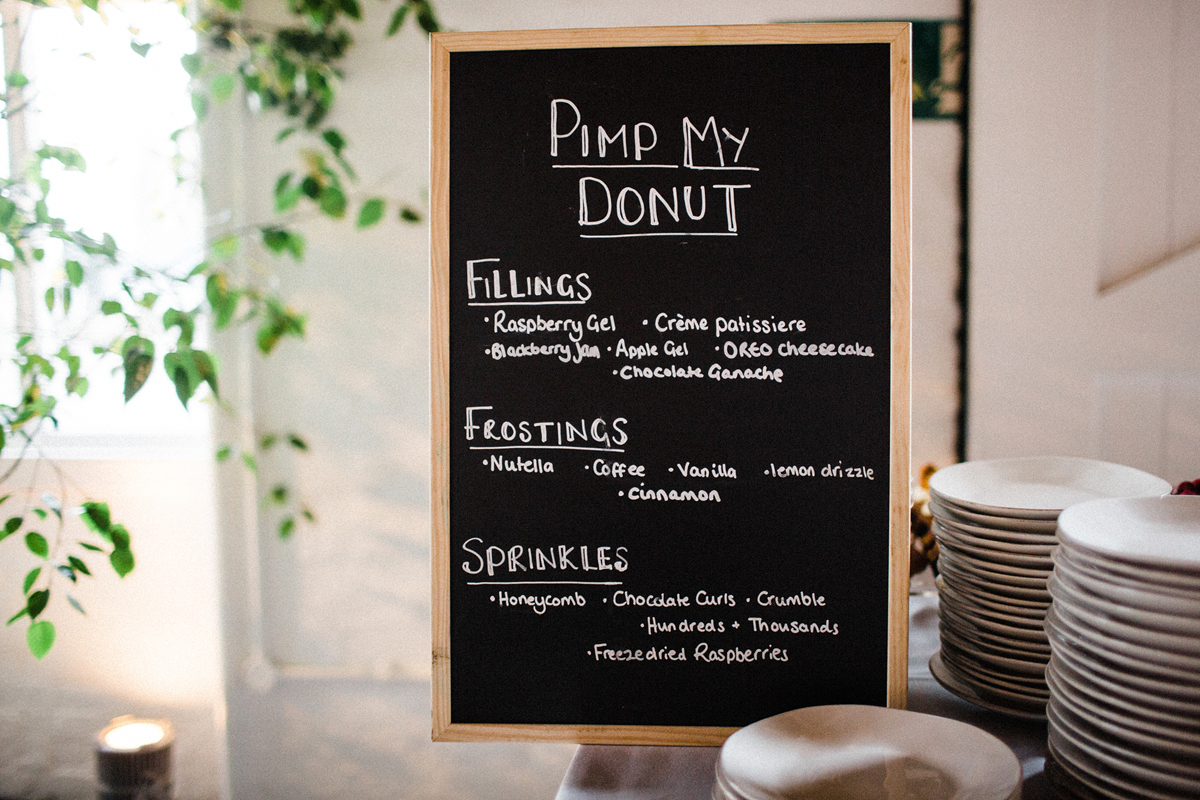 "We decided against having a traditional wedding cake, but as an alternative we had a self-serve ice cream station with toppings, to go alongside the evening food."
"As some entertainment for our guests, we added a 'Glow Bar' station for the evening which included lots of inflatables, wigs, accessories and glow sticks that they could have fun with in the evening. As soon as the glow bar was open everything was gone! We are both also lovers of gin so had our own gin bar station! London-based band The Wedding Smashers then played and our DJ, Josh, then took over and played out the rest of the night."
"Our first dance was a mash-up created by Josh our DJ. The start was an acoustic version of Sigala's Came Here for Love, which was mashed in with the original dance version and encouraged our guests to join us on the dance floor for the rest of the song!"
"I just really loved every part of our wedding day. Surprisingly, as it was the part I was most nervous about, I would have to say that our ceremony was my favourite part of the day. I absolutely loved getting married to Henry surrounded by all of our friends and family. Henry would say the most epic and memorable part was definitely the ceremony, then it was amazing to see all our friends having a great time partying away."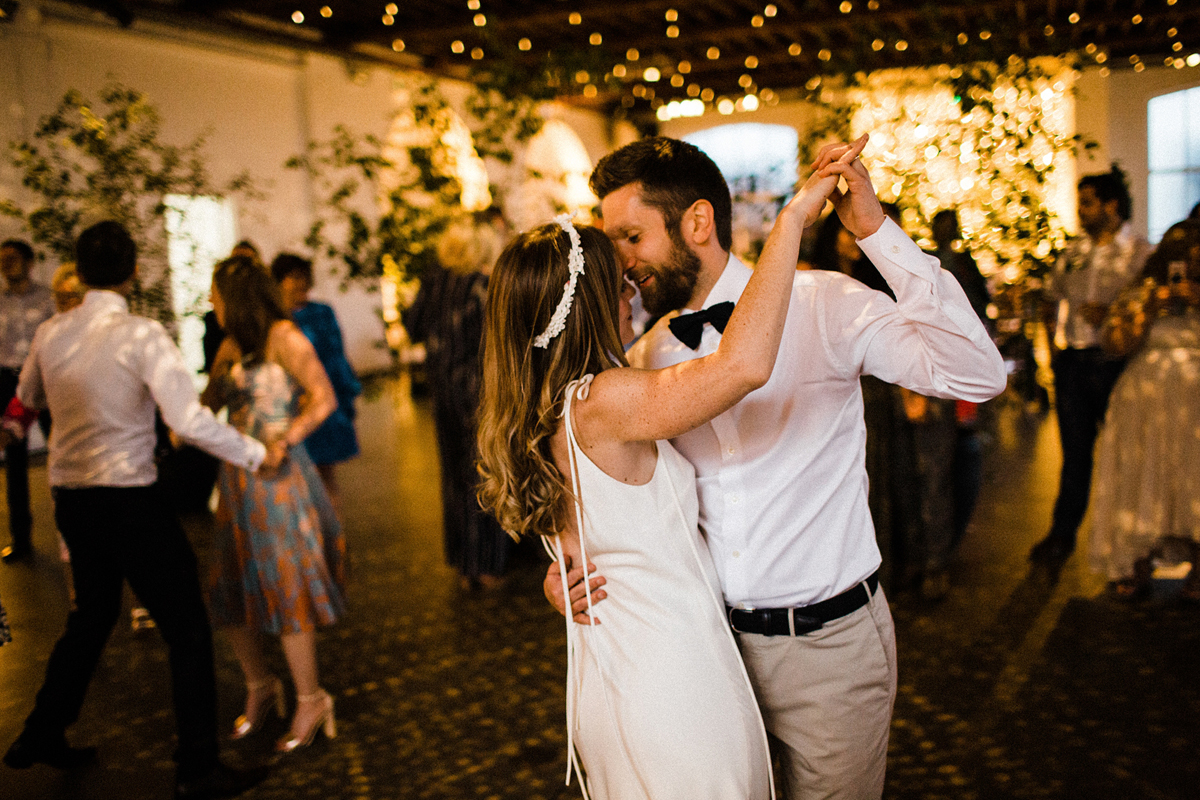 Words Of Wedded Wisdom
"It sounds like such a cliché but enjoy every single moment of your wedding day. As everyone says, the day does go really quick so make sure you take several moments throughout the day to stop and take it all in."
"I loved being able to look at weddings on Love My Dress, especially weddings that had taken place at our venue. It was so interesting to see how each one was individual and how the space was transformed differently through each one. I also used the blog to do some research in our planning phase so would definitely recommend!"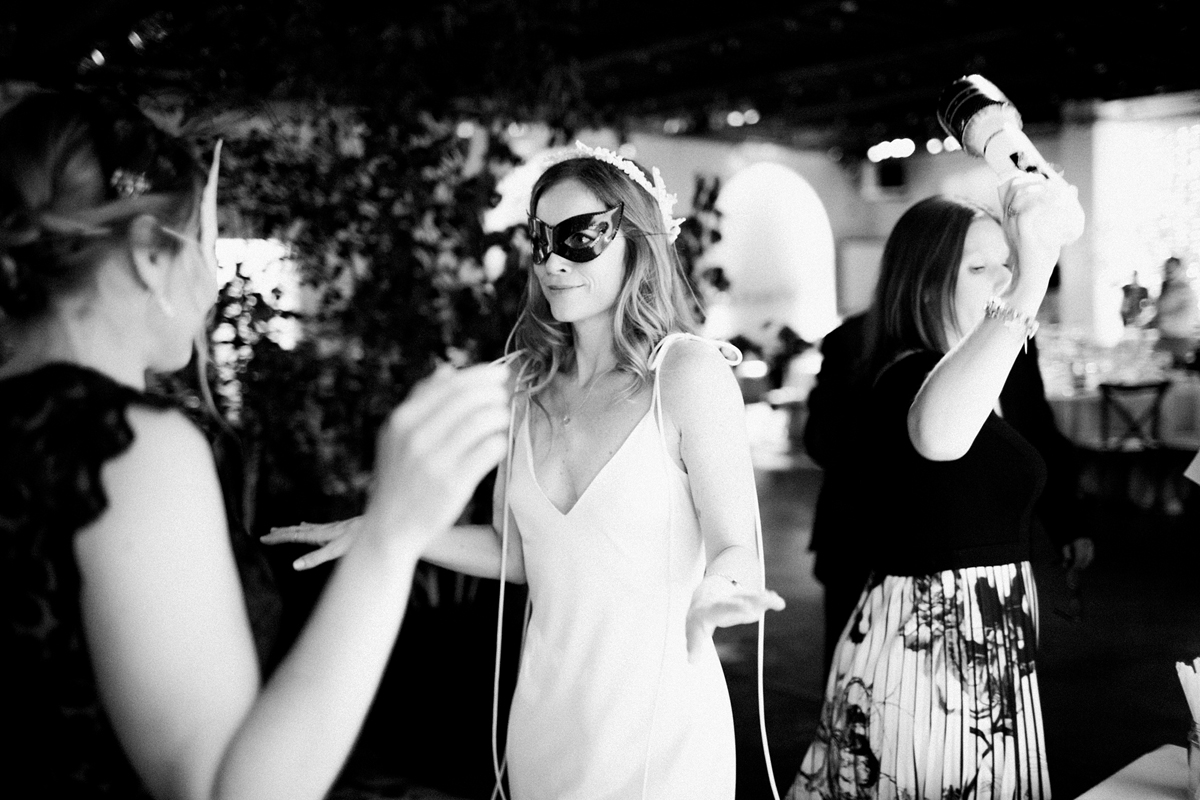 Thank you so much to the happy couple! And to Claudia Rose Carter who I think really captured the essence of the day on camera.
Until next time…
Much love,
Holly x