Happy Wednesday dear ones! It's hump day and what could be better than a superb castle wedding to get you through the rest of the week? Today's bride and groom really did pull off a stunning wedding day, complete with the 'wow factor'. It was every little girls fairytale dream, from the venue to the dress and they really did do themselves proud.
Teacher Natalie and lawyer Christopher were wed on 7th April 2018 at St Mary's Metropolitan Cathedral in Edinburgh, followed by a reception at Dundas Castle in South Queensferry.
"The most important aspect for us for the day was enjoyment! We wanted everyone to have the best day ever. From the music in the church, the most incredible jazz trio during the drinks reception, surprise singing waiters during our meal and then our fantastic band in the evening, we just wanted to be entertained and have fun. Our musical director (Des McLean) said to us, 'music isn't reserved for royalty!' A 20-strong choir, trumpets, bagpipes and a drummer later and we definitely felt like royalty!"
Photography by Craig & Eva Sanders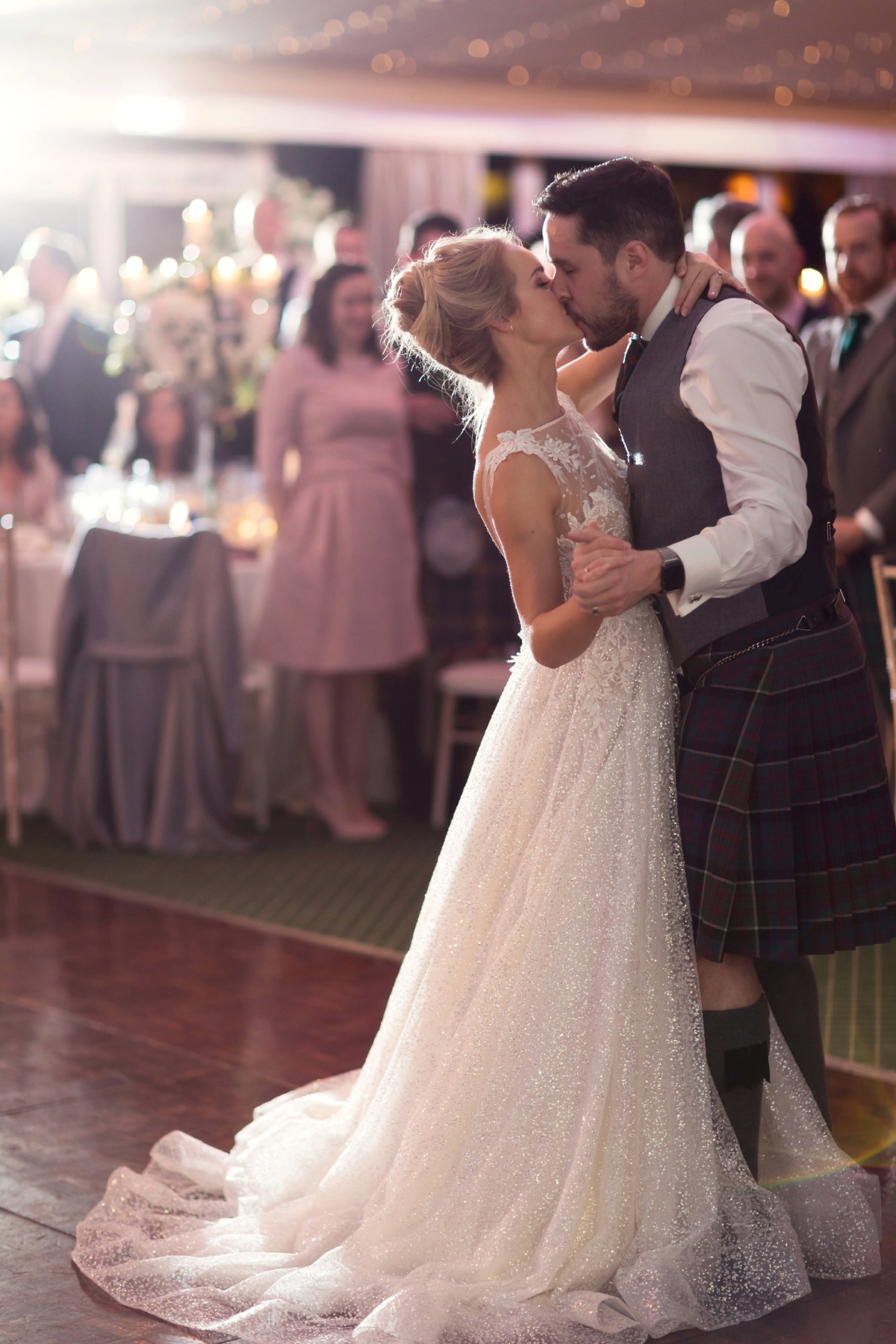 Having first come across photographers and our Little Book members Craig & Eva Sanders at her uncle's wedding, Natalie then asked them to photograph her own wedding…before she was even engaged!
"I'd always loved Craig and Eva's work, they were like celebrities to me! I first approached them at my uncle's wedding and when they asked me when my wedding was, I sheepishly replied that I wasn't even engaged yet. After a few giggles and a few years, I kept to my word and they were one of the first suppliers I excitedly emailed shortly after getting engaged."
"They put us at ease throughout the whole day and did a great job of making us look like we knew what we were doing. They have an impeccable eye for detail and captured everything from the tiny moments to the big ones with such beauty. I'm still trying to pick my favourites for our album!"
"I had seen some of EYI Love's stationery work on Instagram and was left in awe of their creations. I loved the timeless and elegant look of the Emma set, and thought I could put my own spin on it. Meeting with Jack was great and I could have spent all day rummaging through all of the luxurious stationery."
"He knew exactly what I was trying to achieve and I trusted his judgement every step of the way. Jack was so patient with me and worked like a pro to get everything produced on time and to the highest quality. It was so much fun looking at potential designs for our own crest and playing around with different styles of calligraphy. We were delighted with the final outcome."
[JP-VIDEO]
"We received so many compliments about the stationery. Invites really do set the tone for the day so it was a big part of our planning. I remember the feeling of excitement after posting the invites as it meant the countdown was on!"
"Dundas Castle was the very first venue we visited! To be honest, we were going on a fantasy wedding trip then ended up falling in love with it. As we drove up the driveway, it was a bright crisp January morning and it was just spectacular. I knew at that moment it was where I wanted to get married and that it would be a hard one to beat."
"When we arrived we met the team and they walked us through every moment of the day and it was just so clear that they knew their stuff. After spotting a photograph of my late grandfather with Frank Sinatra in the pavilion, we knew we had tingles and shivers for all the right reasons!"
"However we did feel like we had to see other venues too (research!) but nothing even came close. The main attraction was being able to have exclusive use of the venue for the whole weekend. We had a fantastic, very emotional rehearsal dinner the night before the wedding day with our families and wedding party in the Auld Keep, then onto a pre-wedding party in nearby South Queensferry."
"It was a great chance to see so many of our guests who had travelled across the world to be with us. We're so glad we did that as on the wedding day, we couldn't get around the 200 guests. The whole team at Dundas are quite simply the best in the business and I can't praise or thank them enough."
"We also knew we wanted a wedding video and there was no one else in the running to capture the elements of the day than Cherry Tree Films. It's so easy to see why Yvonne and Steve are so highly sought after once you watch any of their wedding trailers. I would highly recommend investing in a good videographer as these are the memories of your special day and you don't want to risk ending up with something of poor quality."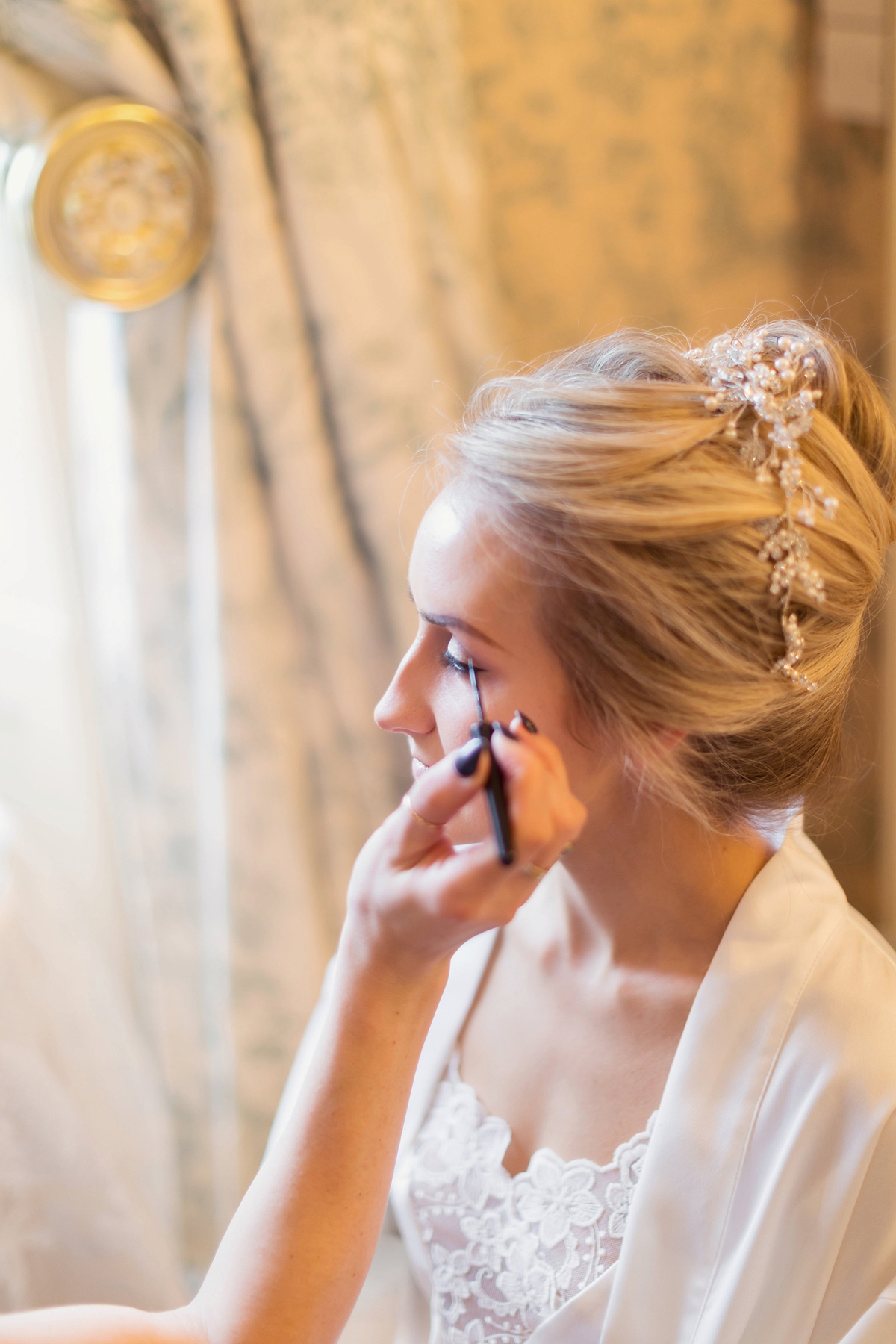 Natalie's bridesmaids looked picture perfect in powder blue sleeveless dresses from Dessy via Christie Couture, accessorised with rainbow shoes and shoe clips from Pretty Pink Toes. The bride designed the princess style flower girl dresses herself and enlisted the incredibly talented Elspeth Ker to make them. The page boys were dressed in MacGregor MacDuff kilts and the hair and make up was provided by Karen and Louise from Alan Edwards Glasgow, and Lauren Gollan.
"My hair vine and veil were both from Richard Designs and my shoes by Jimmy Choo. I chose Jo Malone's peony and blush as my perfume as it was the first gift Christopher ever got me for Valentine's day one year and I've worn it ever since. Whenever I wear it, it reminds me of the honeymoon period in our relationship."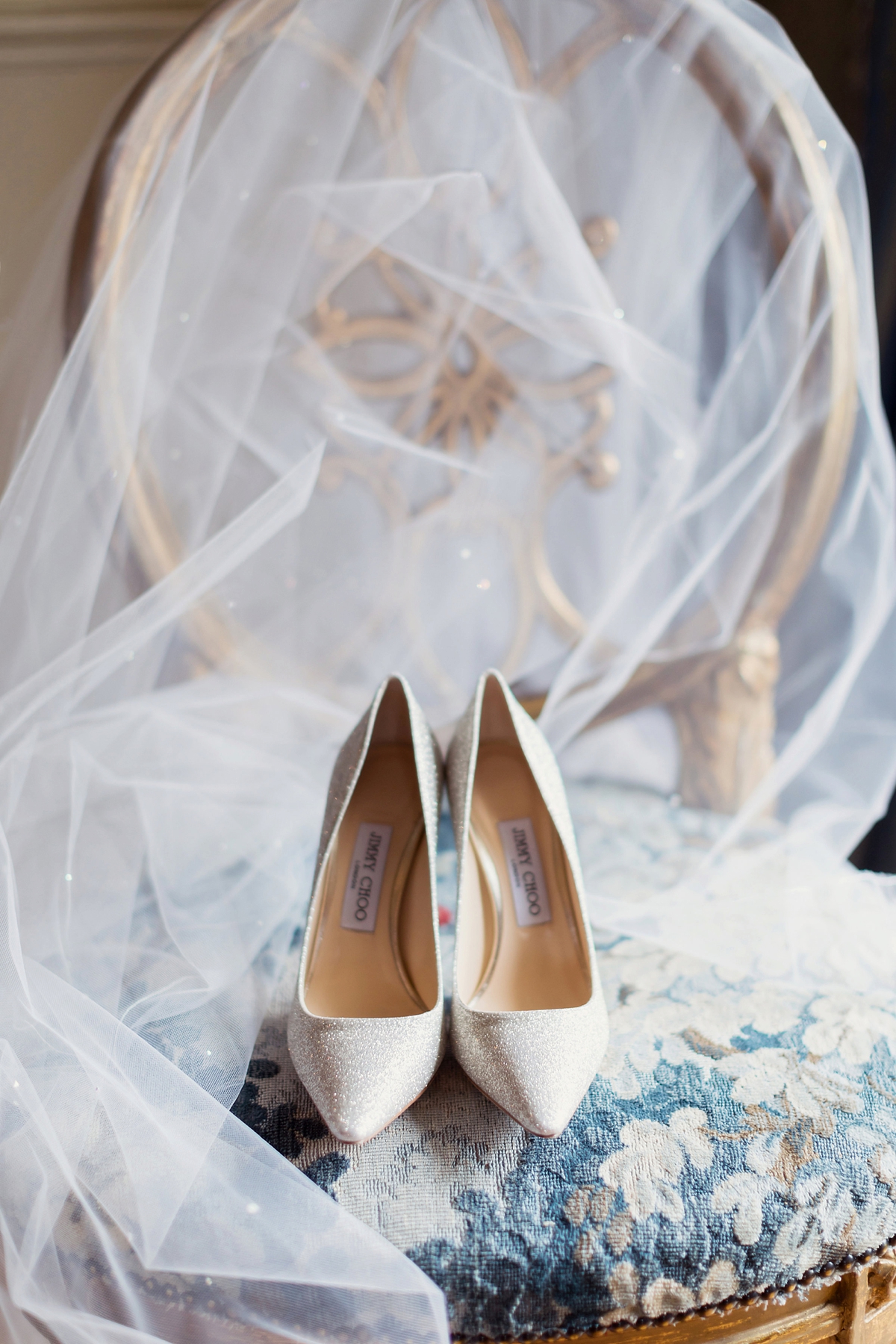 "For the flowers, I just knew that being in Edinburgh called for the incredibly talented Planet Flowers. Dundas has so many beautiful spots around the grounds that speak for themselves, plus Lady Lydia has impeccable taste so we were merely adding small details to make it our own. Suz and her team are so creative and their attention to detail is second to none."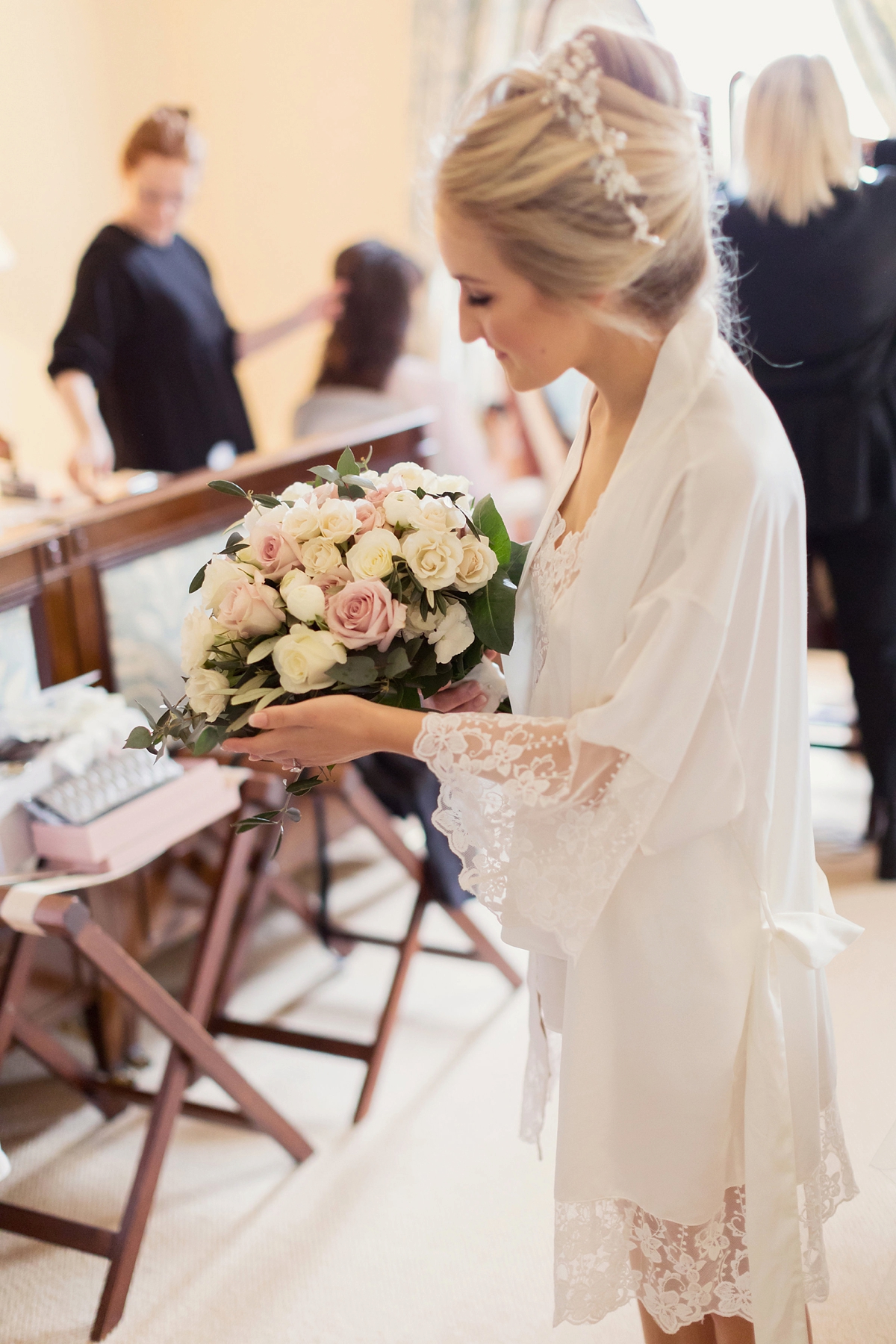 The bride chose an incredibly stunning sleeveless sheer dress with floral applique detail by designer Berta via Opus Atelier in West Kilbride for the special occasion.
"The dress! I began my dress shopping experience with an open mind then very quickly had a mental checklist of what I didn't want, but couldn't quite put my finger on what I did want. After a long search, both my mum and I had taken a screenshot of my dress and tracked down the wonderful Sharon at Opus Atelier who was expecting it in a trunk show one weekend. As soon as the back was fastened I got that feeling. I'd never seen anything like it before. I loved the way the skirt sparkled and it definitely had the 'wow factor' for me."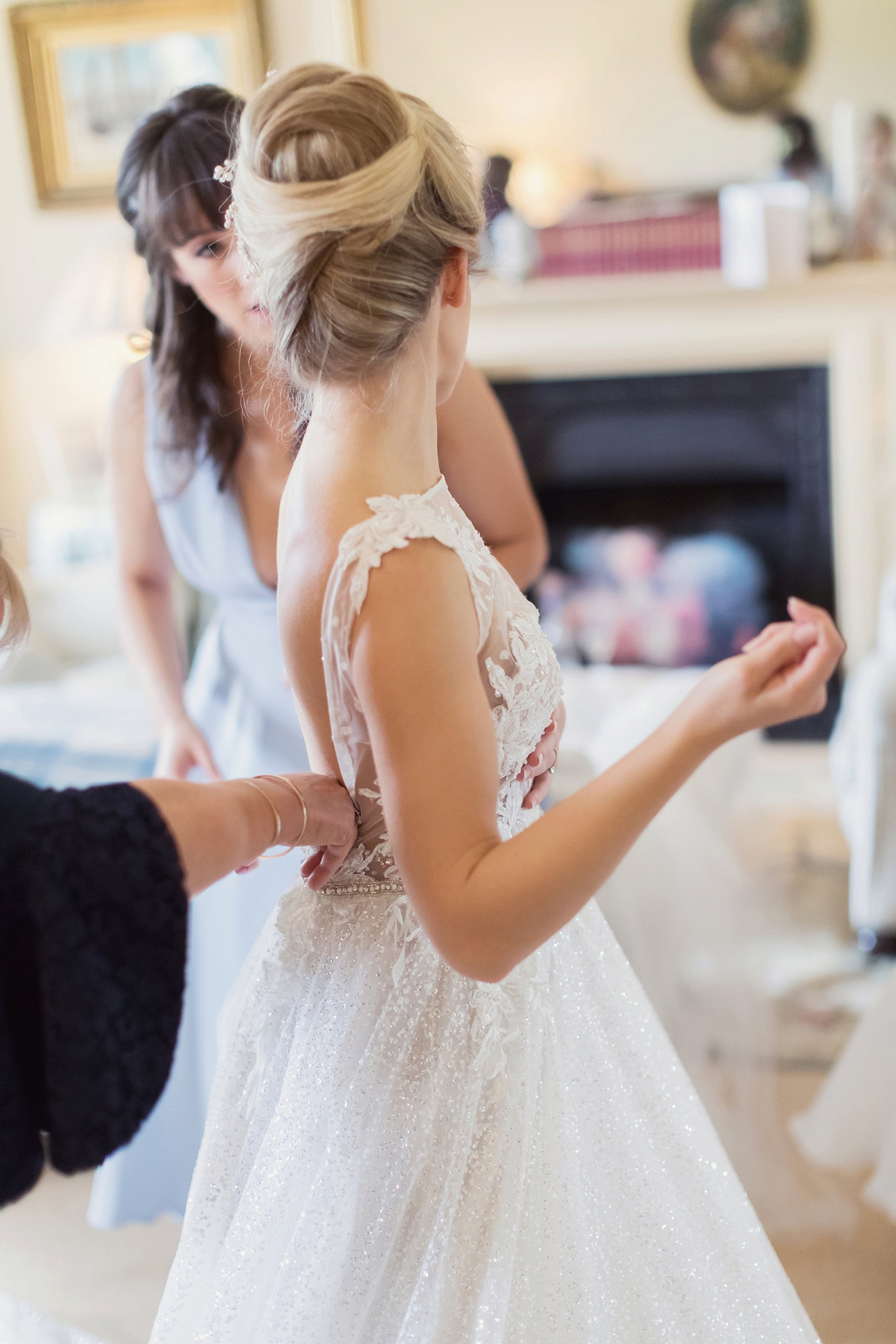 "I also wore a pair of diamond studded earrings, a diamond tennis bracelet, a Miu Miu evening bag and pinned my papa's rosary beads to my bouquet. My mum hand stitched my nana's wedding band into my garter too. They are no longer with us and they were a huge part of my life, so to have them with me in some form on the day was special."
"Christopher did an excellent job in choosing my engagement ring from Love for Diamonds so we went back there to choose our wedding rings. Anne Love made my platinum band to sit snug underneath my engagement ring and made an understated brushed palladium ring for Christopher."
"Christopher and I first met at school, though he was a few years above me. We didn't properly get chatting until years later when we bumped into each other with a mutual friend one Christmas Eve in Glasgow, and the rest as they say, is history! Christopher lived in London for 11 years and soon moved home after that fateful Christmas kiss."
"I have always been a 'list person' so I knew I had to make the ultimate to-do list for the wedding day. My wedding list was categorised, split month by month, included tasks, who was responsible, and a cell for traffic light colours to indicate their progress! Can you tell I'm a teacher?! My parents were also heavily involved in the planning process so it was a real team effort. On the first day of every month I would email a fresh wedmin agenda for the month. No one misses those pinging into their inbox!"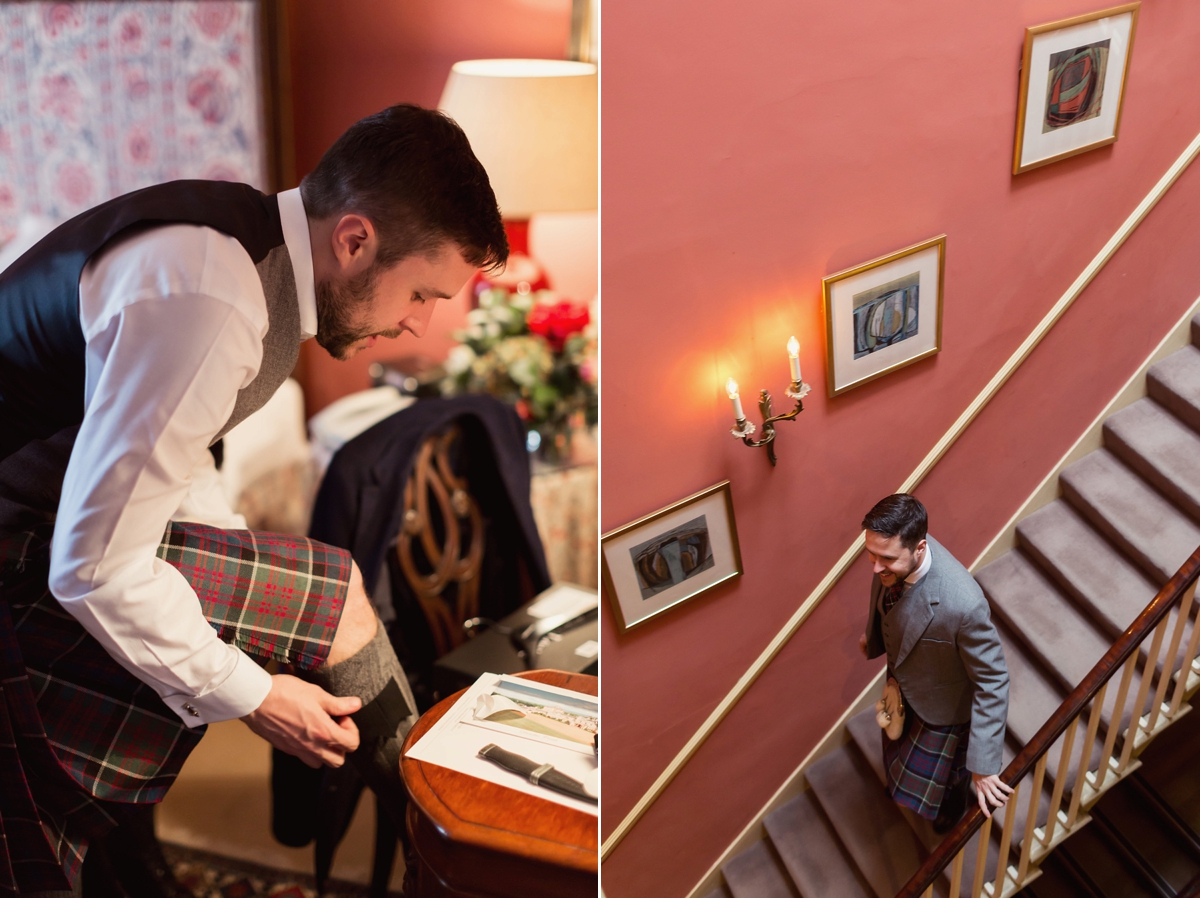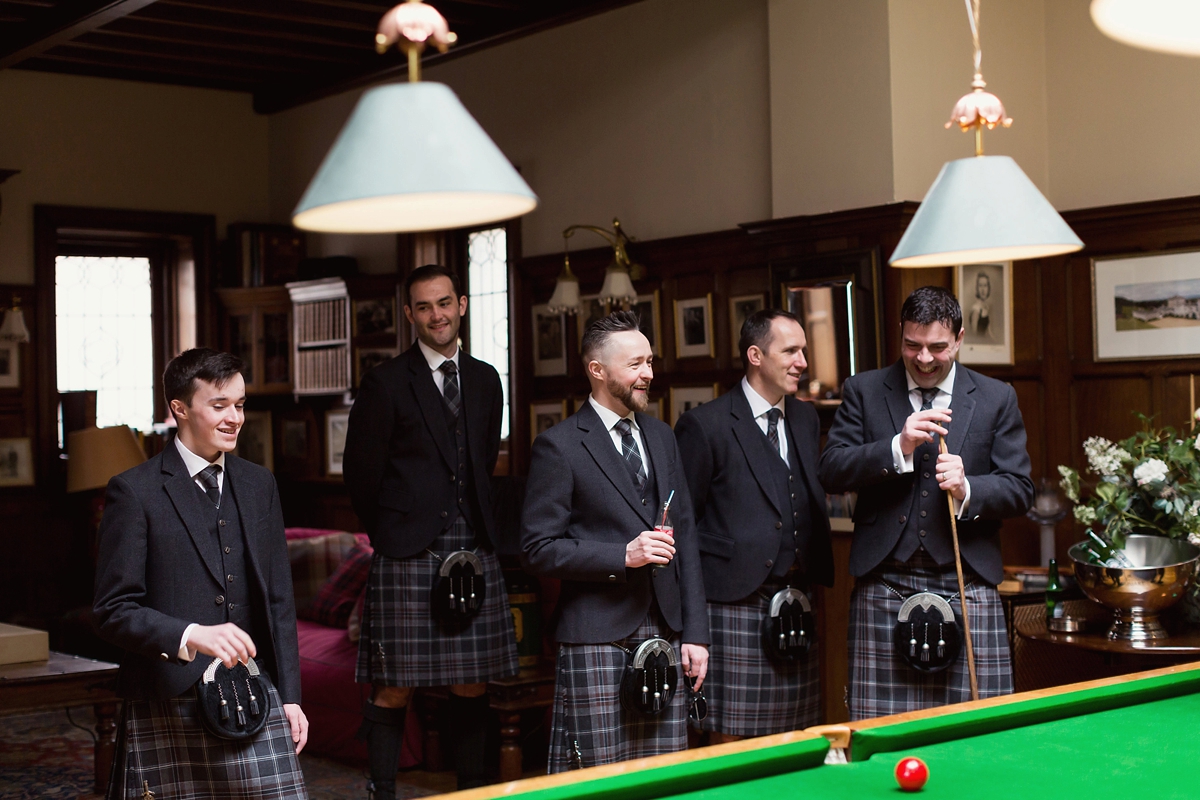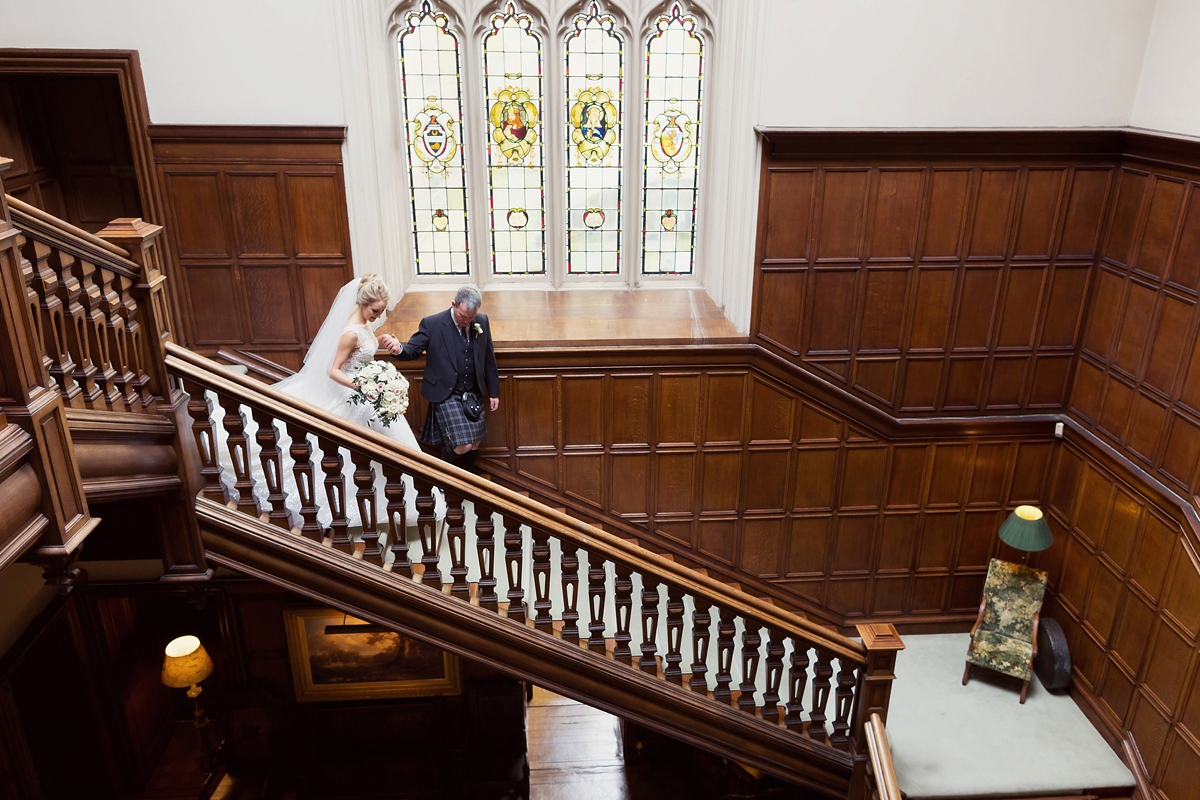 "The walk, or in my case, the slight jog, down the aisle was also a moment I'll never forget. We entered the cathedral via the side door so I couldn't see Christopher at first. My bridesmaids, flower girls and page boys walked down to the first verse of Highland Cathedral played beautifully by the brass quartet and organ."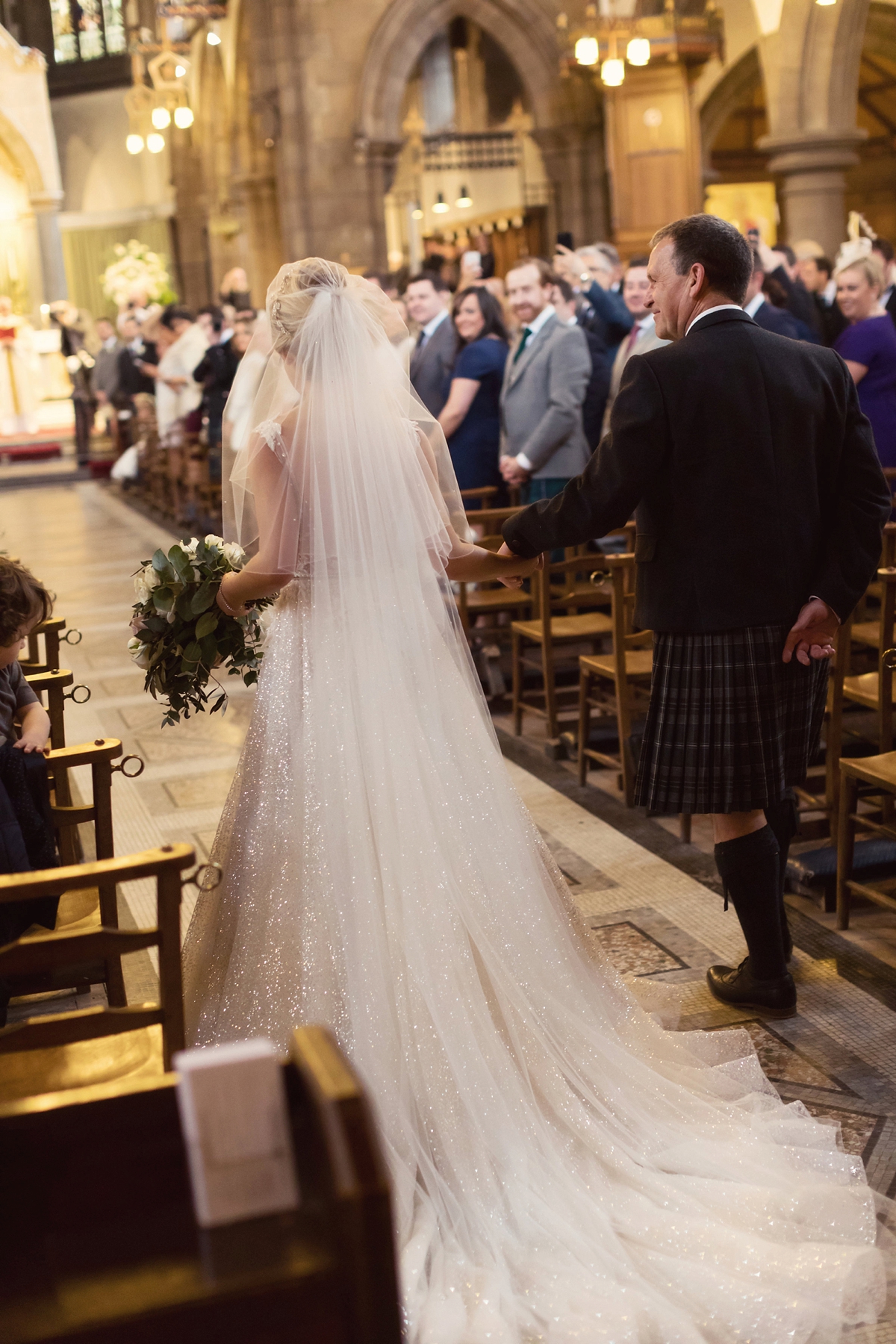 "When the drummer started his beat and the piper began, that was my que and I was trembling! I've never squeezed my dads hand so hard."
"As I turned the corner at the top of the aisle and saw Christopher, my nerves just melted away. He jokes now about how quickly I made my way down the aisle towards him. He said his lip began quivering as the drummer started but thankfully I got to him before the tears came."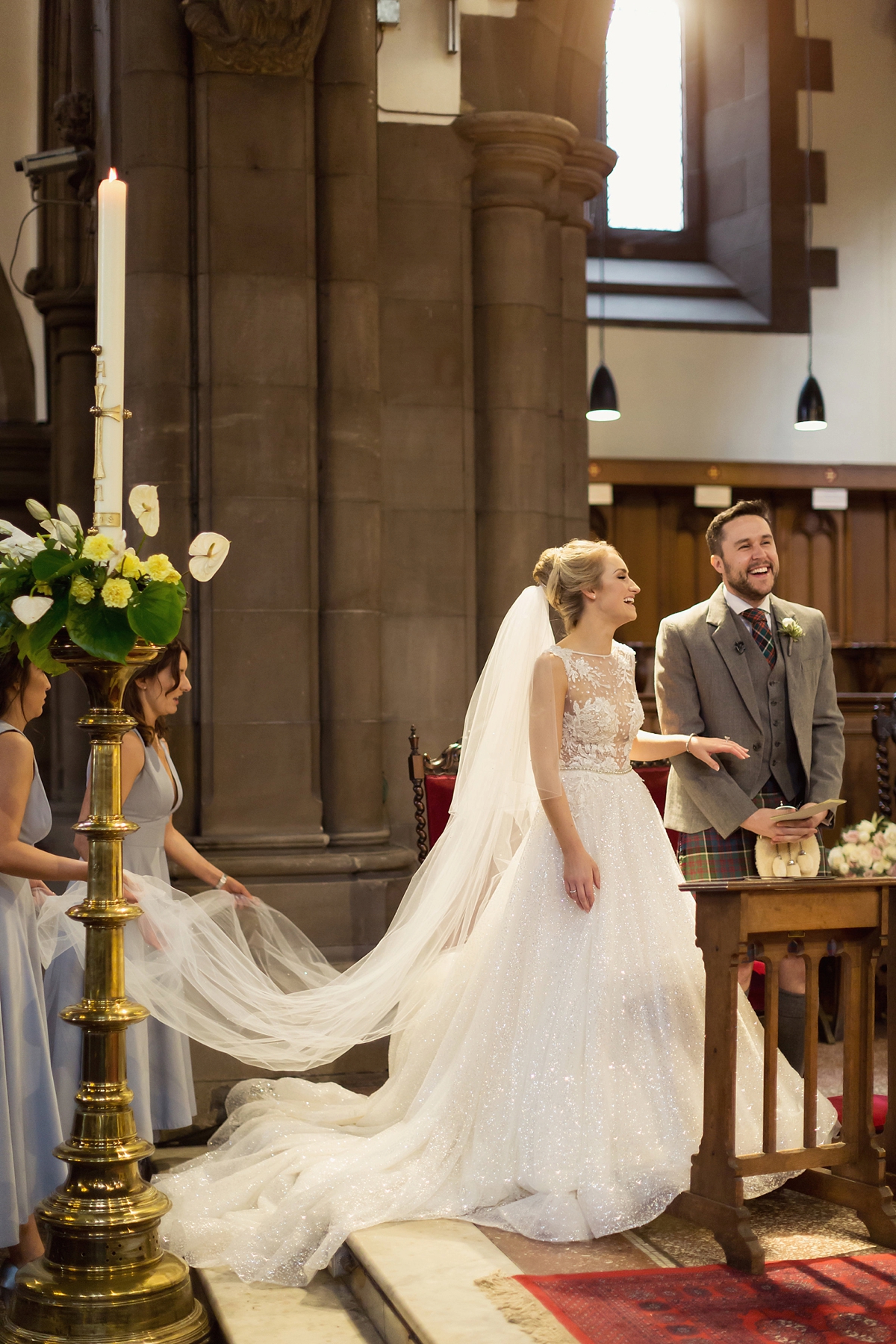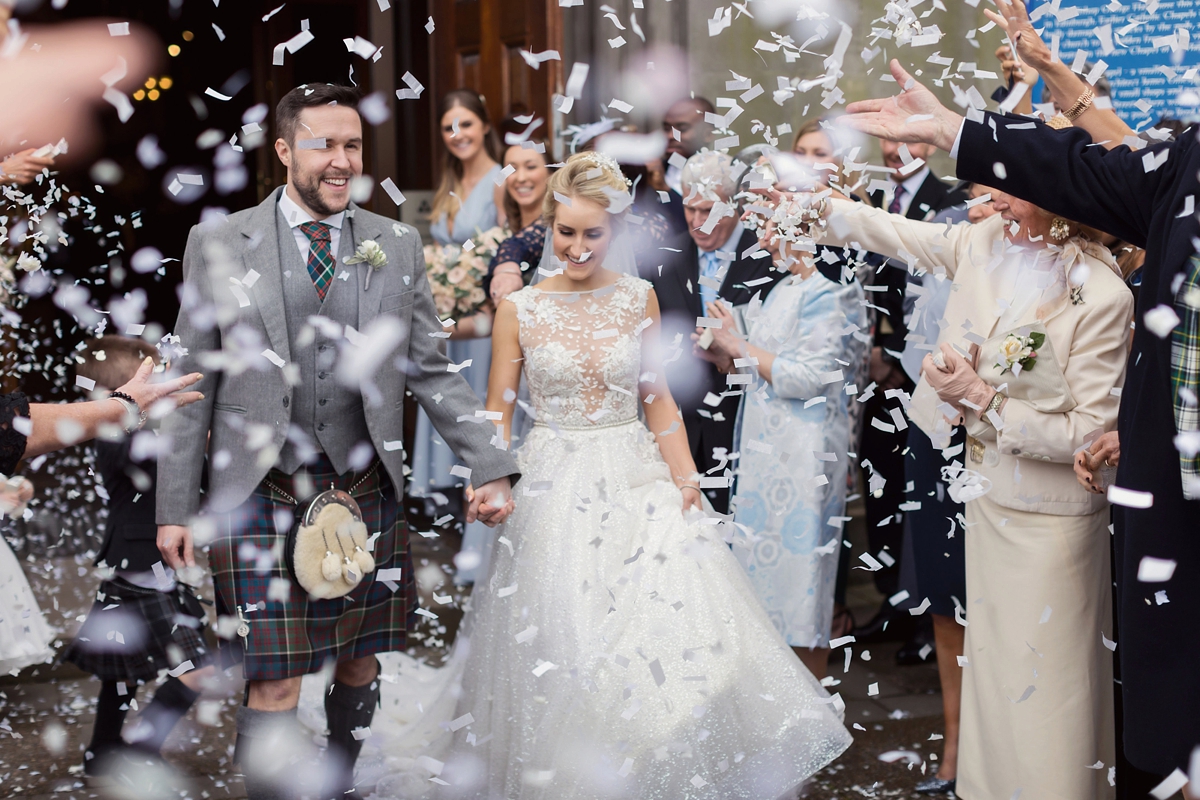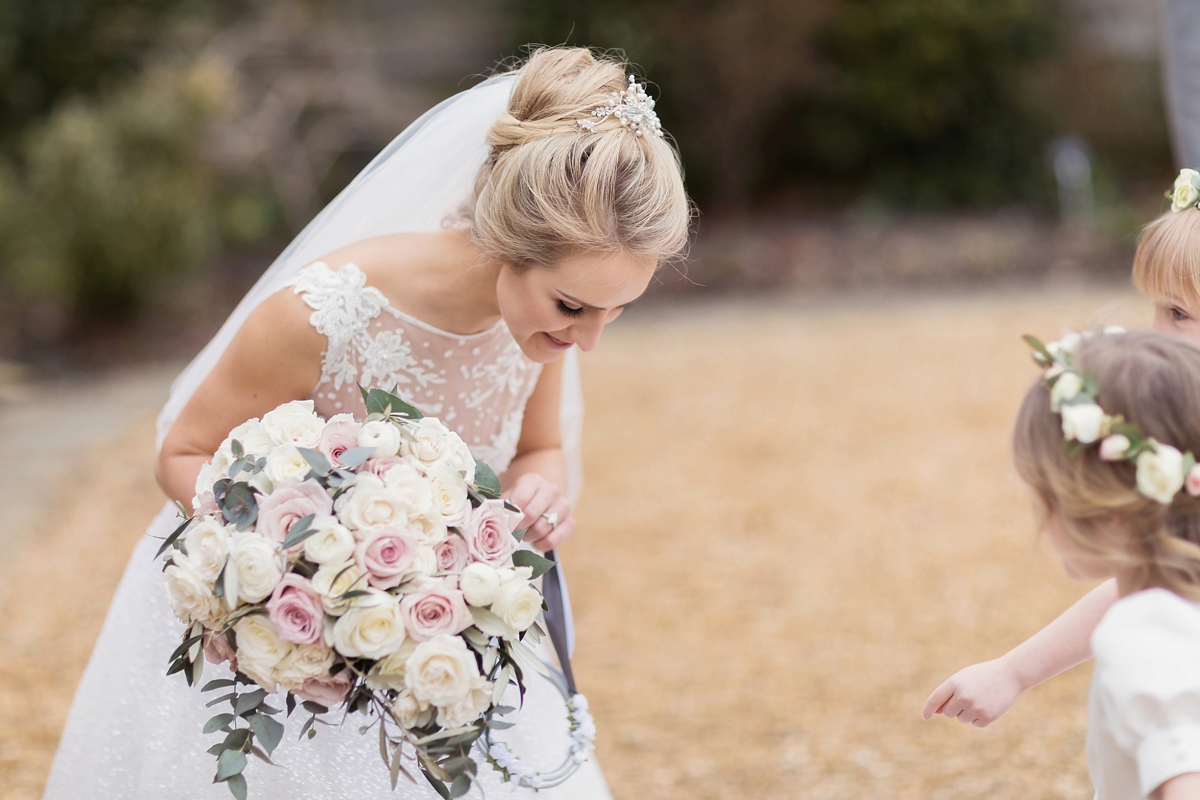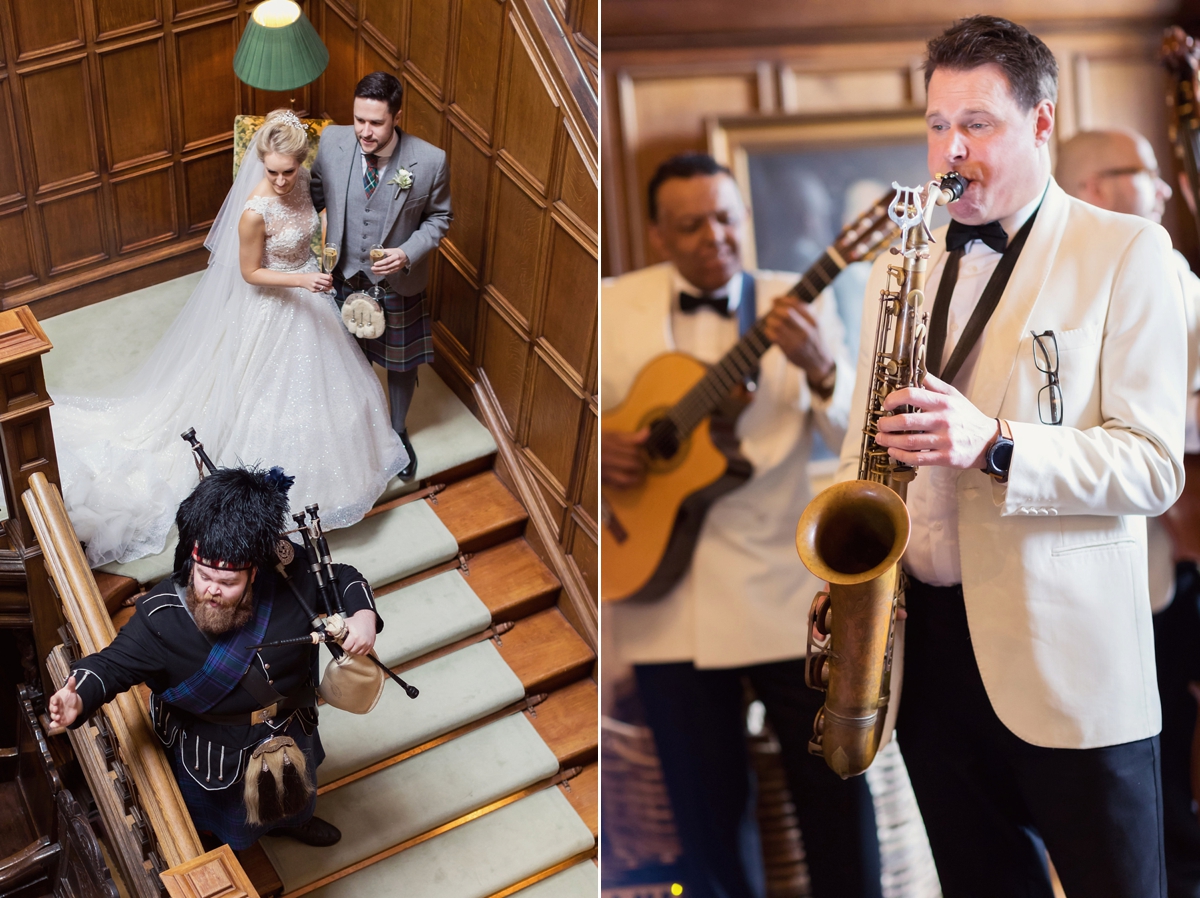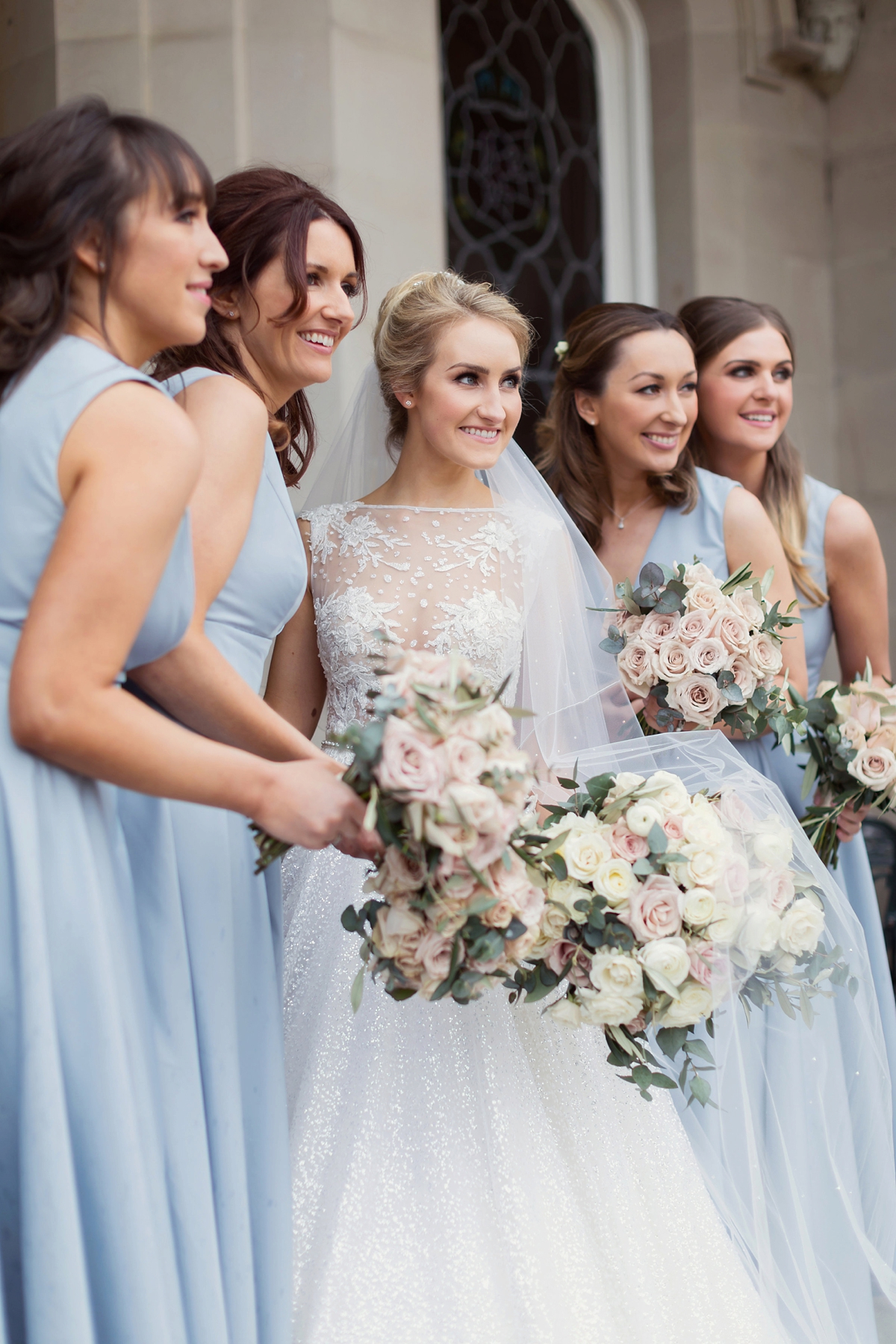 "Our cake was made by Liggy's Cakes and was solely chosen bu Christopher. He has the sweet tooth and when the day came to choose the flavours and fillings, it was like Christmas for him! We had 5 tiers; vanilla, chocolate, Red Velvet, chocolate orange and the traditional fruitcake on top. We asked Planet Flowers to add tiers of flowers to the cake too to tie it all together."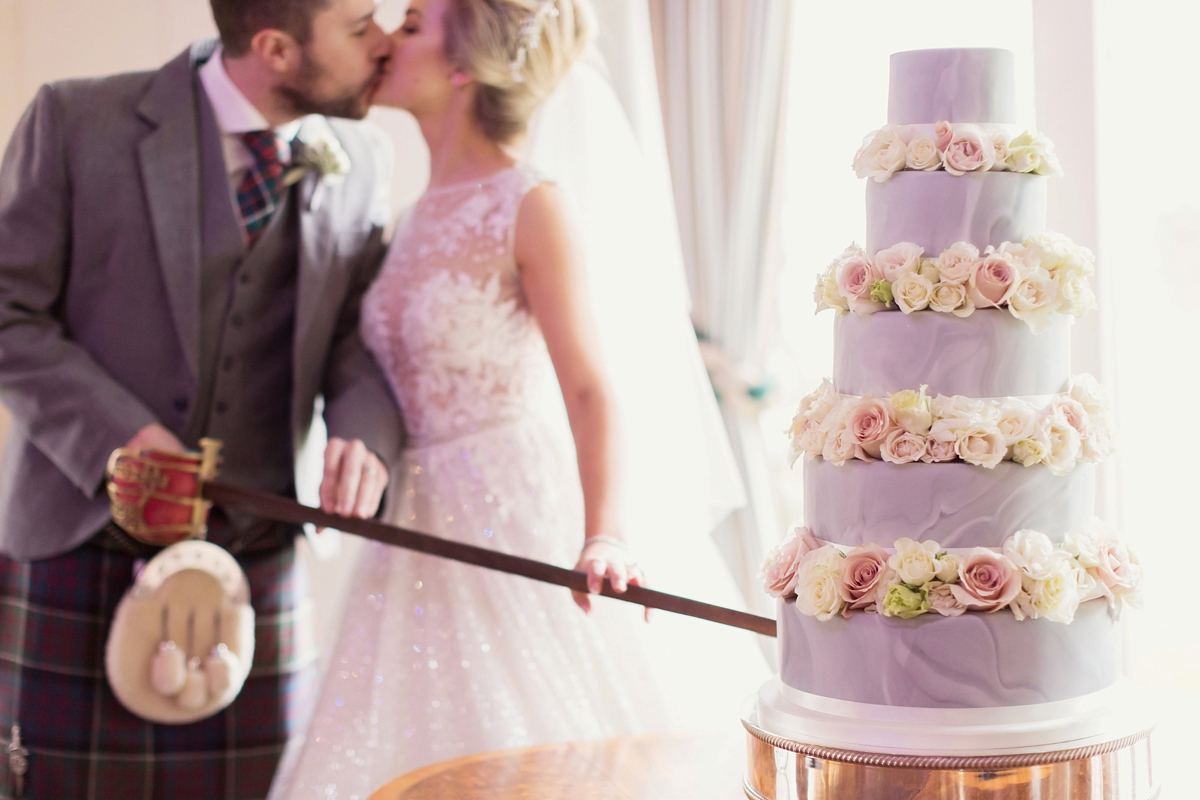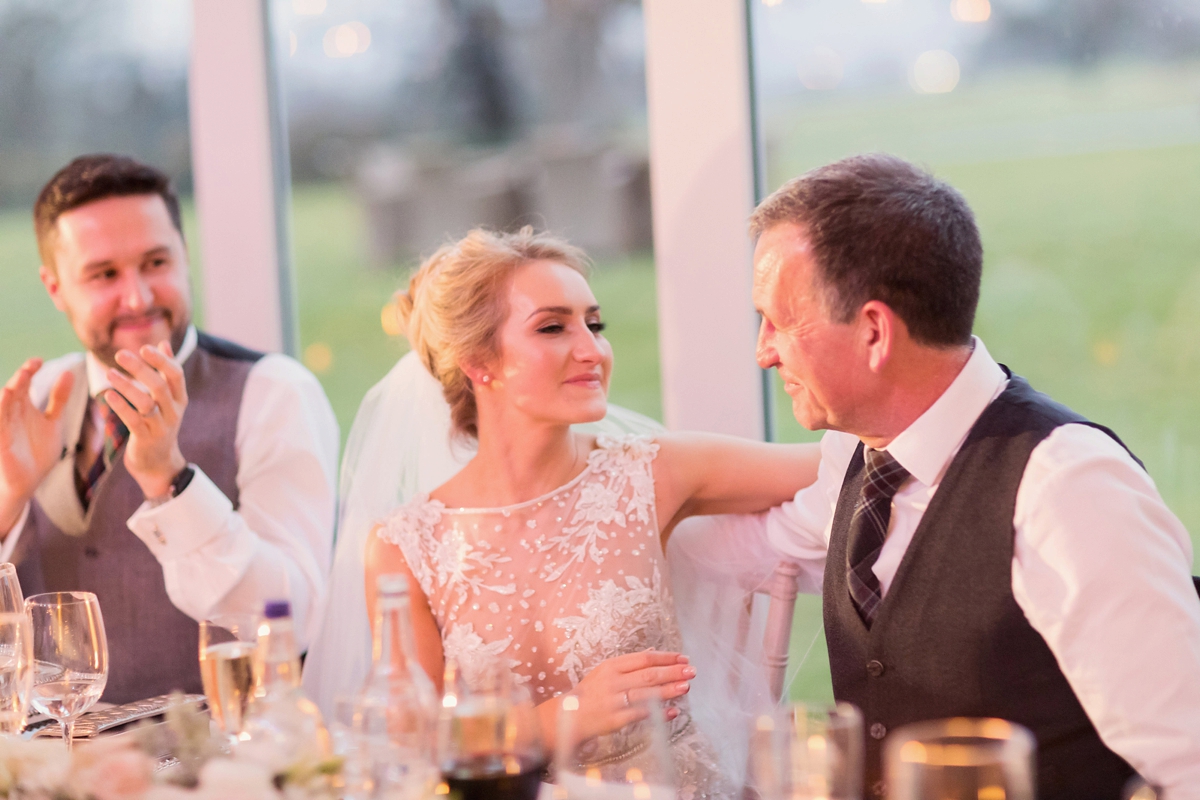 "I would love to give a special thank you to Morven and Fleur (and the rest of the staff at Dundas Castle), or wedding coordinators at the castle, who made the entire process from start to finish an absolute joy!"
"Fleur was amazing on the day; being on hand with my spare shoes, lipstick and glass of champagne during the photographs. She kept everything to time and made our whole family feel right at home for the whole weekend."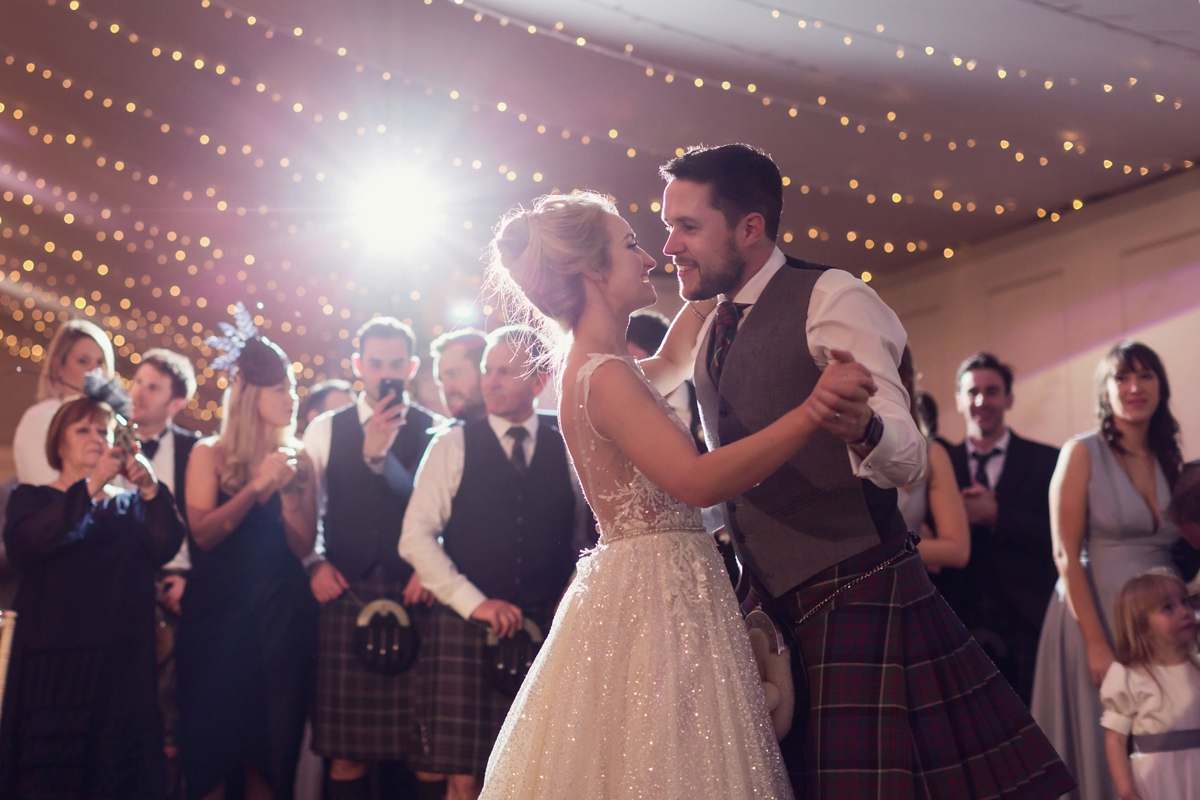 Words Of Wedded Wisdom
"My advice for future brides would be to try to share the planning with your husband to be; some men are happy to take a step back but I really liked that we could both take a moment sitting at the top table and look around to see what we had achieved together."
"Christopher was amazing all throughout the planning process. He came to visit venues, suppliers, made spreadsheets, kept me calm, gave me his opinion and then didn't mind when I made all the decisions! Although, he was really just interested in all the food and drink and cake decisions, which I was more than happy for him to take control of."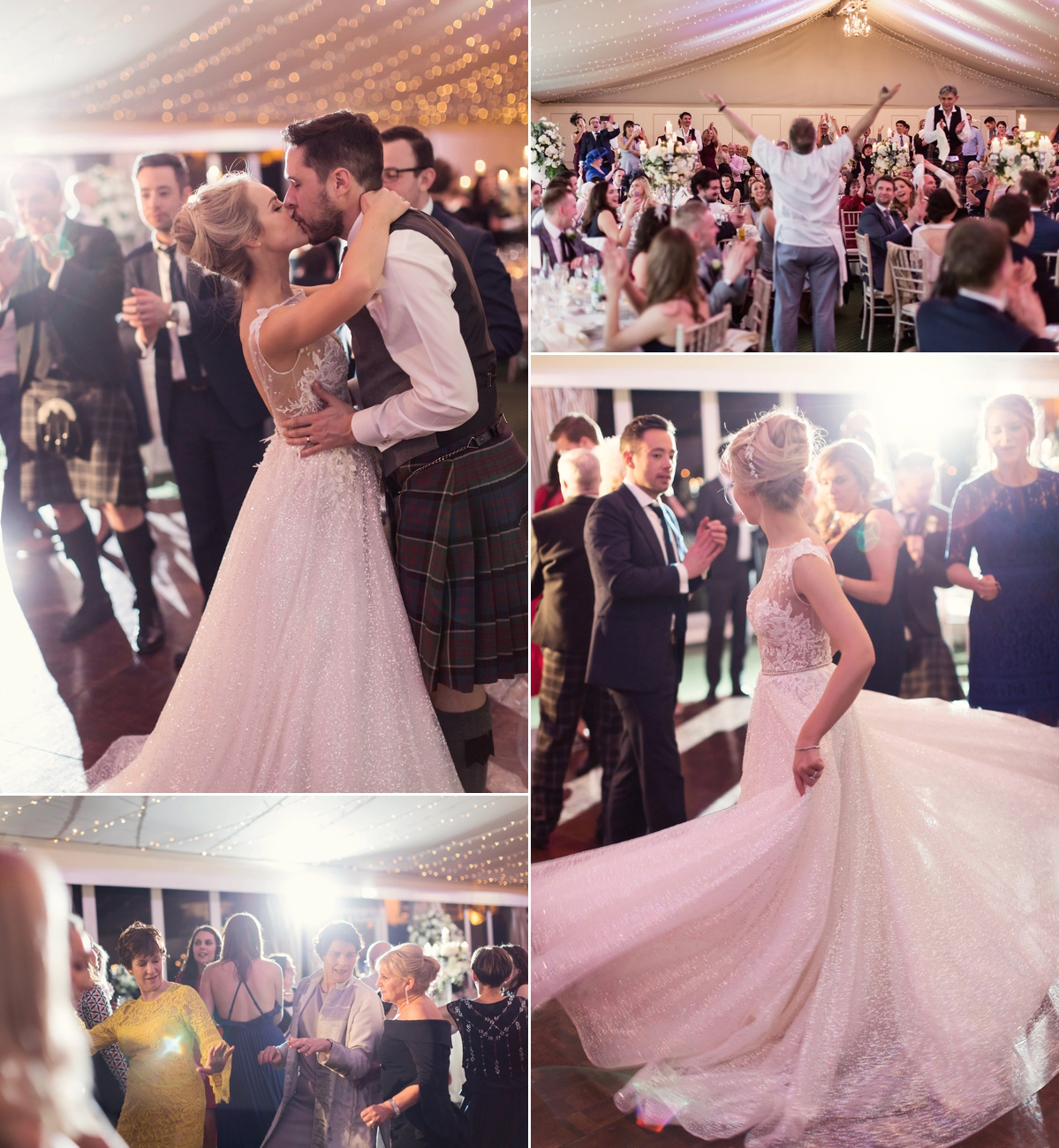 Wow, what a remarkably beautiful day! Well done to the happy couple for pulling off such a magnificent wedding and a big thank you to photographers Craig & Eva Sanders for capturing all the beauty on camera.
Until next time…
Much love,
Holly x