It's 5th November already… how did that even happen? We've been so lucky to have enjoyed such a fine, clear Autumn, but the chilly evenings are drawing in and it's the perfect time to snuggle up with a cup of tea and a roaring fire.
We're harking back to the longer days of late May today on Love My Dress. If a relaxed, outdoor, elegant vibe is your thing then I'm pretty sure you're going to fall in love with Sarah and Lyndon's celebrations, held in the beautiful Somerset countryside near Bath. Oh, and I'm sold on her idea of a 'Zen-Do' and the herbal touches throughout. Academic Lyndon and Sarah, a writer in the fashion and interiors industries, wed on 31 May 2018 in a foliage-filled day that was classic and elegant with eclectic, boho touches.
If you think Sarah's gown is familiar, then you'll be right in thinking it's a Halfpenny London design. Flowing, elegant, romantic with a cool edge, it's the perfect choice for the spring-time celebration. Sarah found her bridal separates of simple floor-length slip and fine, lacy cape at the designer's flagship boutique in London. If you'd like to see more of Kate Halfpenny's gowns then you can visit her Little Book listing here, as well as see a full gallery on our Style Files.
"I knew I wanted something elegant, less-is-more, and a little bit different but not in a way that felt forced, but just natural for me. And I knew I wanted something with a low back. My mum thought I'd love Halfpenny so we went with her and my bridesmaids and Rufus the dog and adored the studio. I could have moved in!"
Photography John Barwood Photography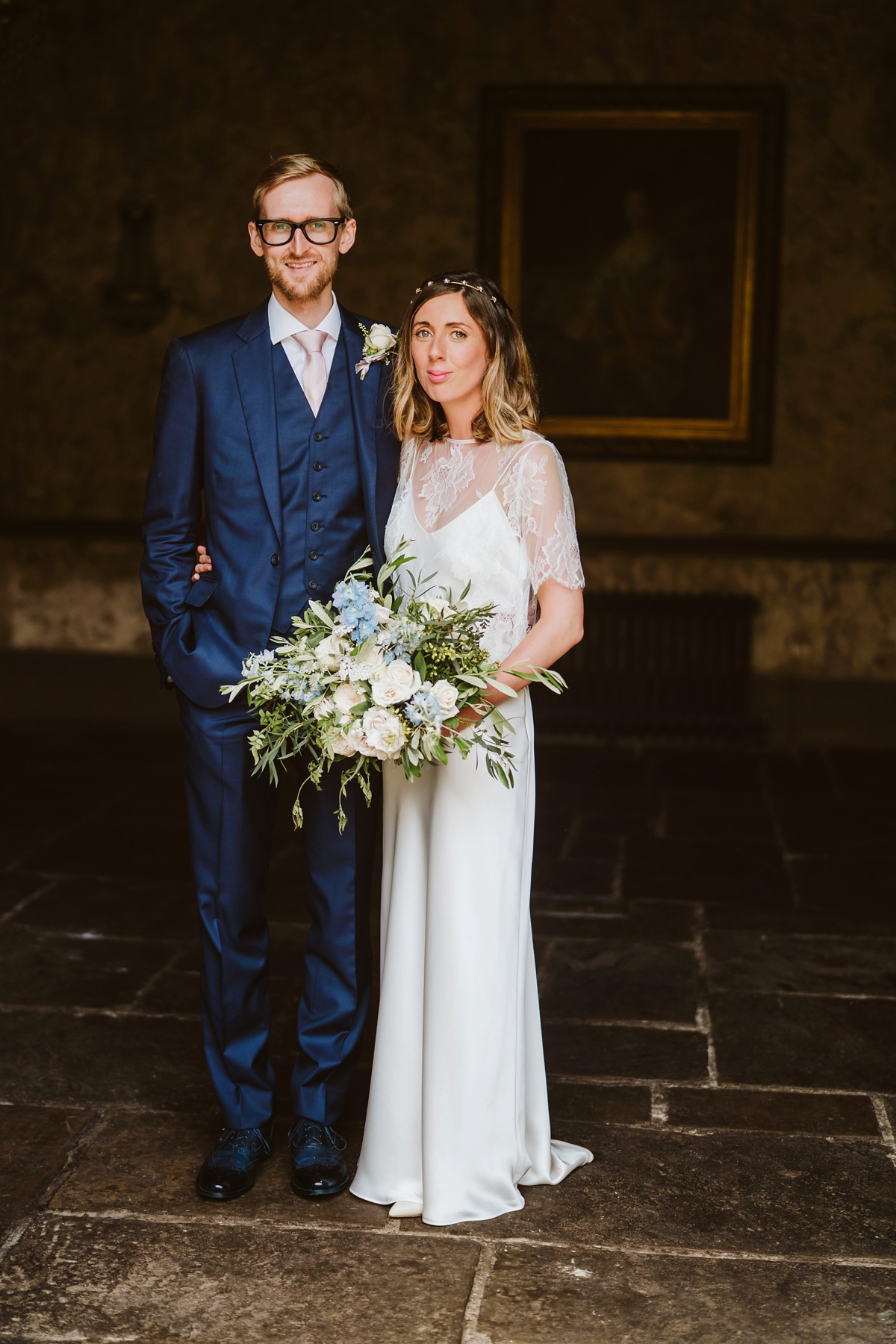 "We loved all the dresses I tried on too and were about to leave when they suggested I just at least try on a slip (I was adamant I didn't want a slip as I was worried it would show too much chest), but when I came out in the Iris slip in ivory with the lace cape, we all knew we'd found the one. It was perfect. The fit, the gorgeous silk and delicate French lace cape, everything about it was as though it was made for me."
Their style was perfectly suited to their venue, The Pig, Hunstrete, near Bath, and the fine weather held long enough for them to marry outside in its green grounds. Sarah was keen to have a personal, meaningful day and has some lovely memories with Lyndon, including their engagement, at The Pig.
Hair and make-up had a soft, romantic, laid-back feel which enhanced the girls' natural beauty. It was done by Evie Smith.
"My bridesmaid Pip found her and she was fab. She came and did a trial for me on my birthday as we had another wedding then too. My makeup was perfect. I'm not somebody who wears much and so I just wanted to look natural, sun-kissed and dewy! My hair is naturally a tousled, beach-style wave and I wanted to keep that and to just have a simple waterfall plait. My hair, beachy-glam makeup and piercings were what made my beautiful Halfpenny dress feel more a relaxed kind of elegance."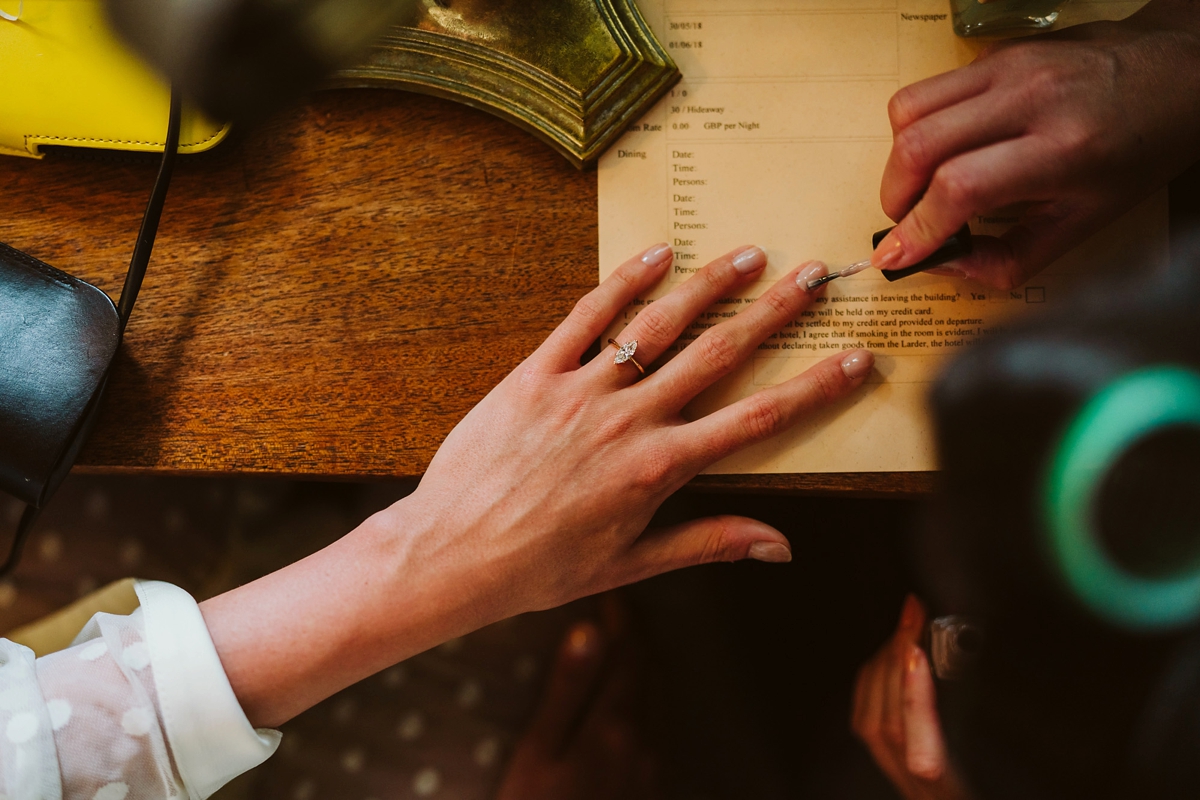 "My maid of honour Ruth painted my nails for me on the morning of the wedding as I'm not such a fan of gels. I chose my favourite Bobbi Brown Roza which Ruth and Pip had got me for my birthday a few years back and I've loved it since. For my birthday this year, our dear friends Tom and Jen bought me a pedicure to have at Lime Wood (where we went for my 'Zen do' two days before the wedding) and so I chose to have pretty gold toes which looked lovely against the nude/pink of my fingernails.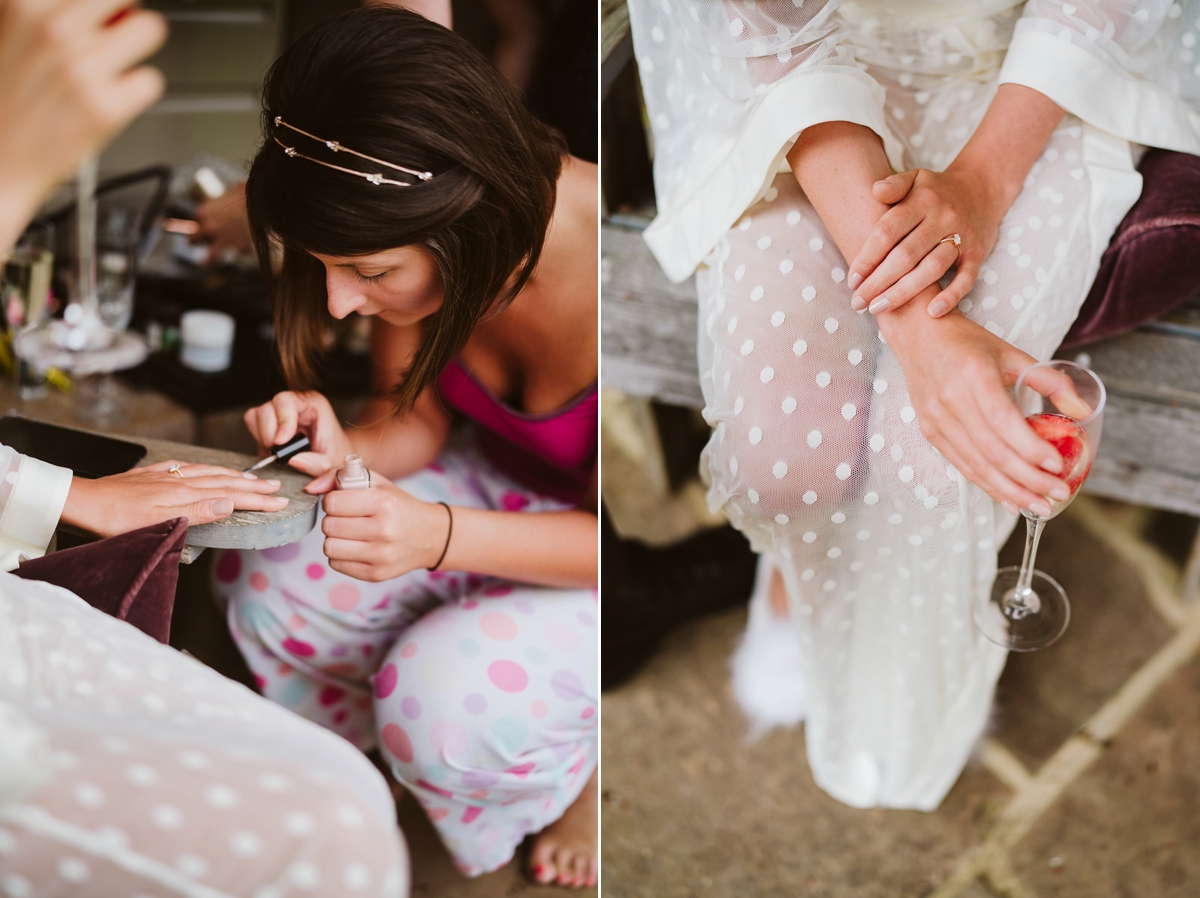 The dress is so perfect, she chose not to wear a veil and adorned her hair with a delicate starred band from Tilly Thomas Lux.
"I chose a star headband from Tilly Thomas Lux that I saw in the Halfpenny Studio. I loved it straight away. I tried on flower crowns which were really nice too but I feel like they've become a bit obvious. The hairband was the touch of boho that I wanted. I wore it slightly tilting forwards rather than as a proper headband because I wanted the stars to be a real focus."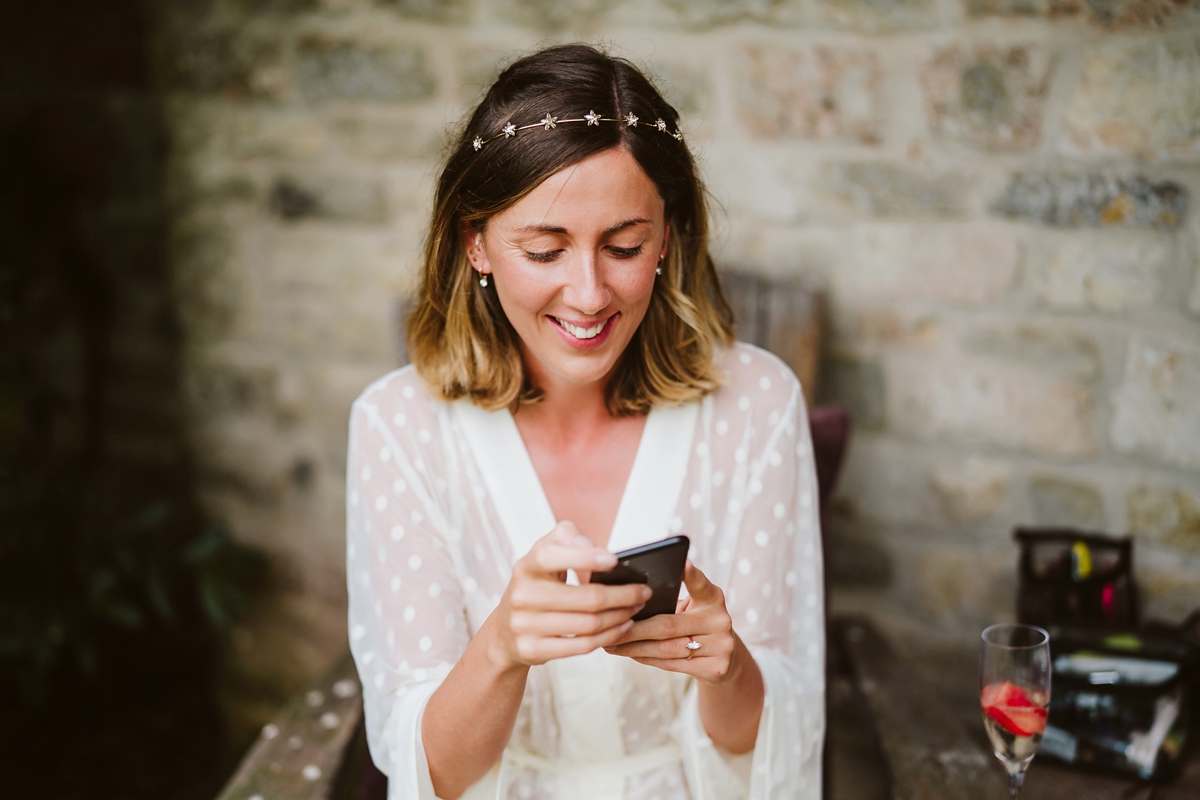 Sarah chose to wed barefoot, but slipped on elegant Everlane slides later on in the day, brought back from New York by one of her bridesmaids, Annie.
[JP-VIDEO]
"I'm not a heels person. That's why, for the ceremony I was barefoot – I love being barefoot and feeling the grass between my toes. I wore my Everlane slides for the day and meal but then went up to Annie and Ruth's room (bridesmaid and maid of honour) with my other two bridesmaids after to kick them off, have a glass of Champagne together and hit the dancefloor."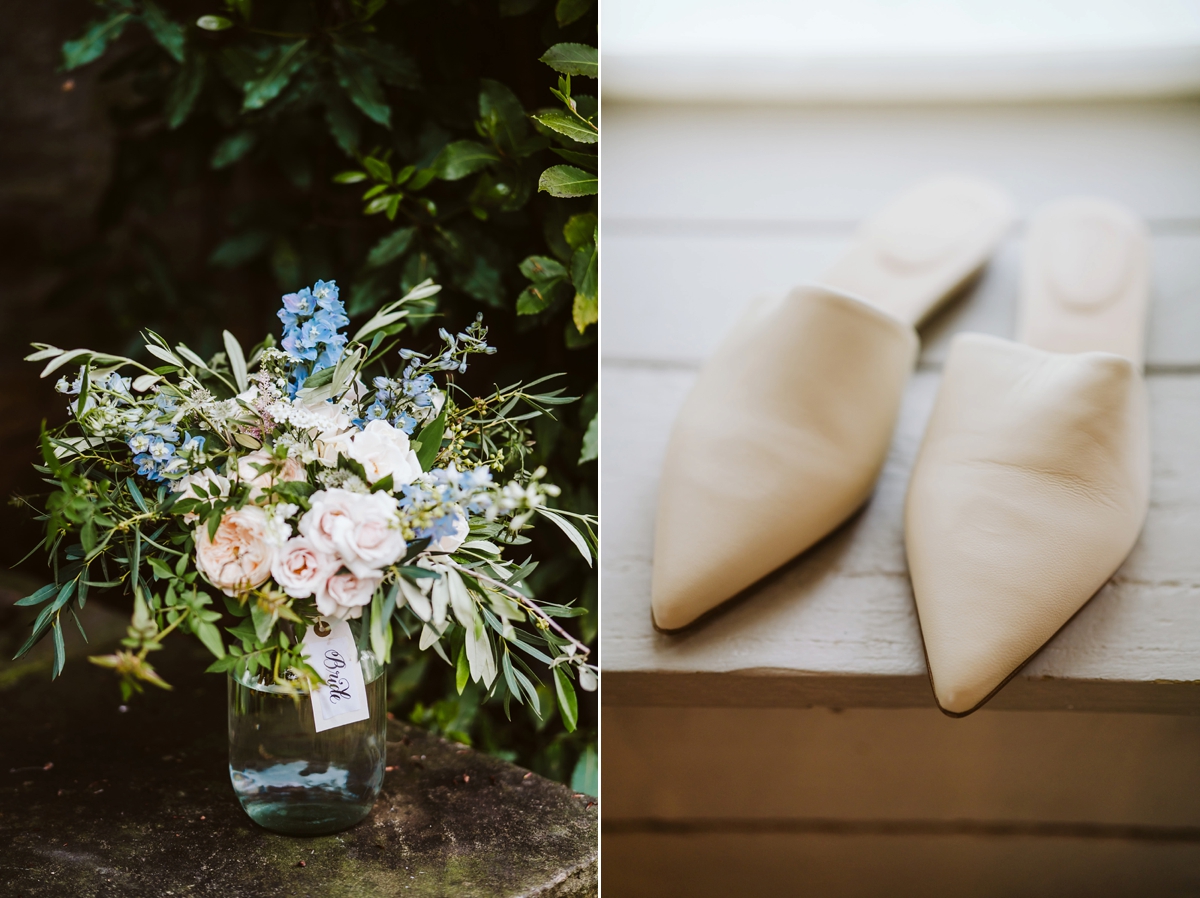 "My 'something new' was some bespoke diamond earrings from the same jeweller as my engagement ring and our wedding bands – Jessica McCormack. They were my surprise gift on the morning of the wedding from Lyndon. My single bracelet was a diamond one from my mum (my 'something borrowed'; she has an incredible jewellery collection so we went through it all trying things on to decide what looked best). My other jewellery was my usual – I have a number of piercings so I kept in all of my piercings and fine rose gold toe ring – so that I still felt very much like me, but an elegant version."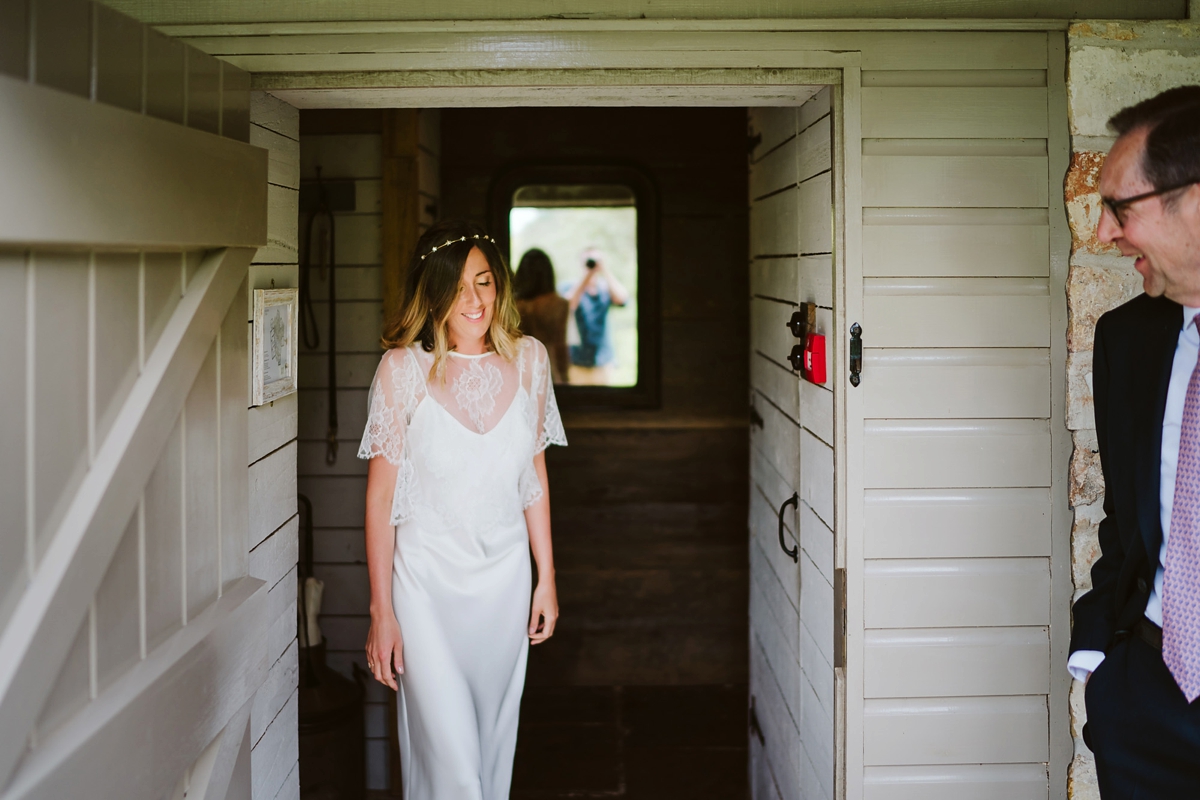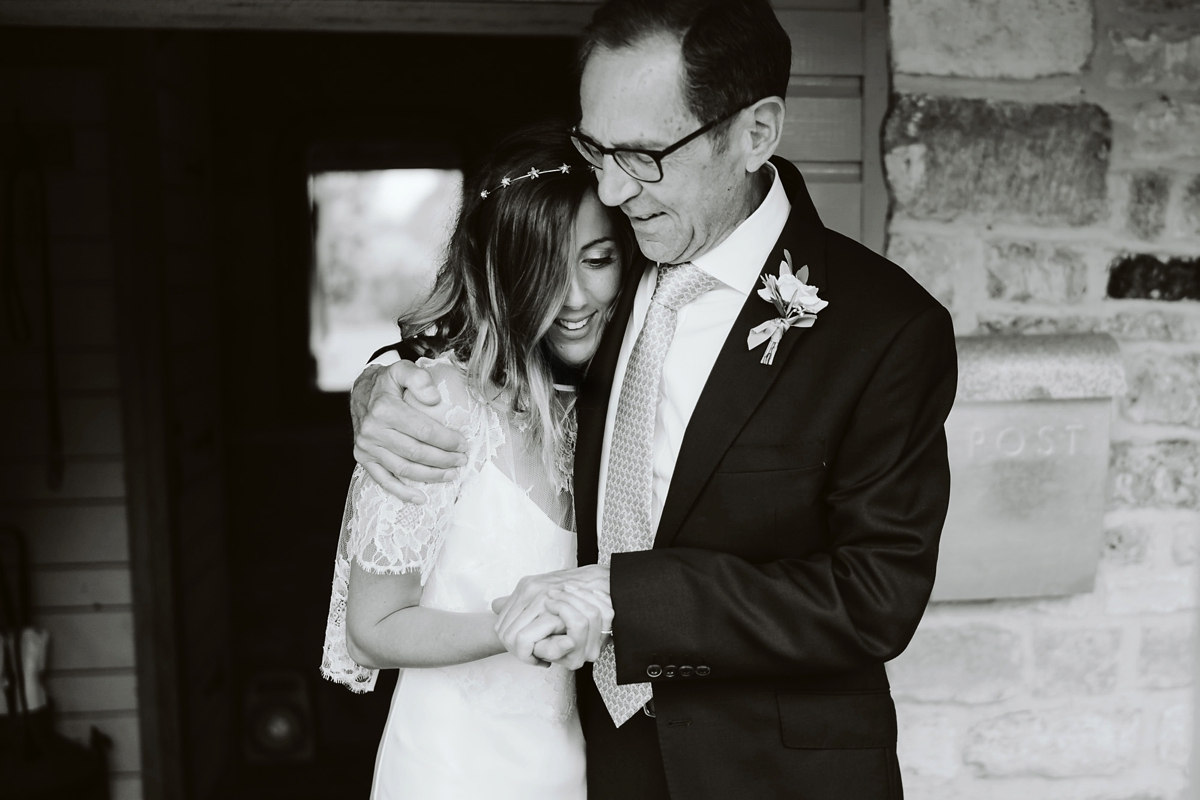 The Pig's gorgeous grounds were laid out for their outdoor ceremony, which was performed by a dear friend of the couple, just before the rain set in.
"We aren't religious and chose to have our dear friend conduct the ceremony (again, all part of the personal aspect that mattered so much to us). Instead of a traditional ceremony, we preferred to have Gavin tell the story of Lyndon and I, as even though we were surrounded by close friends and family, only my mum and oldest friend (who was one of my bridesmaids) really knew everything. We thought what better way to remind us of everything we've been through before we say our vows, and wouldn't everyone there prefer to hear our story?"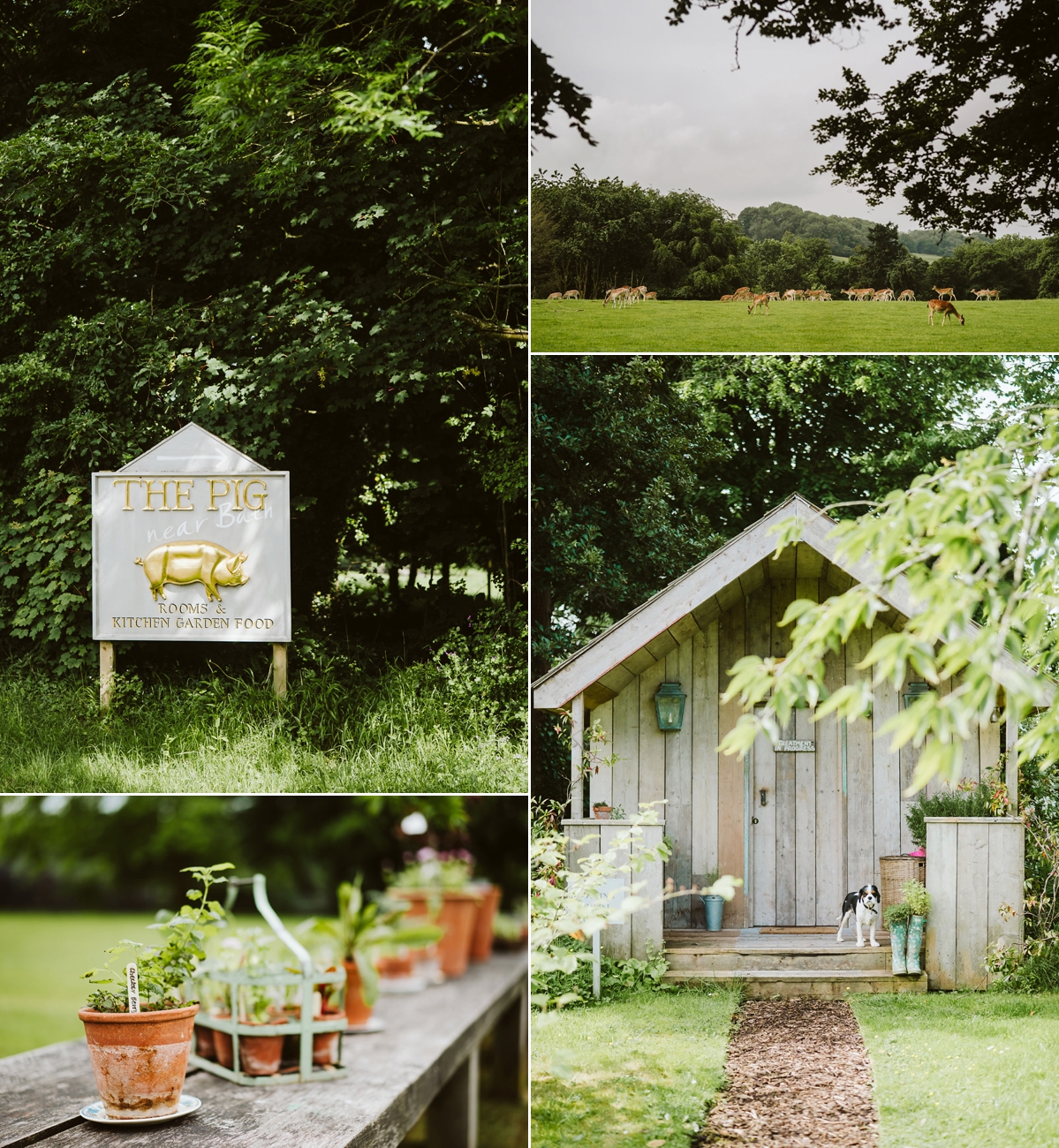 In place of page boys, Sarah and Lyndon included their very special dogs in the day.
"Rufus is mine, Lyndon has a five year old Cavalier King Charles Spaniel and Hughie is my family dog who's an old chap and had a lovely day! They each wore a linen bow tie with a ticking stripe from Mutts & Hounds and sat at the front in the ceremony. The Pig had a number of staff who have since left but who we knew from the start come back to work for our wedding, which was so lovely. They even had one guy (Chris who used to be breakfast manager) come back just to be on dog duty!"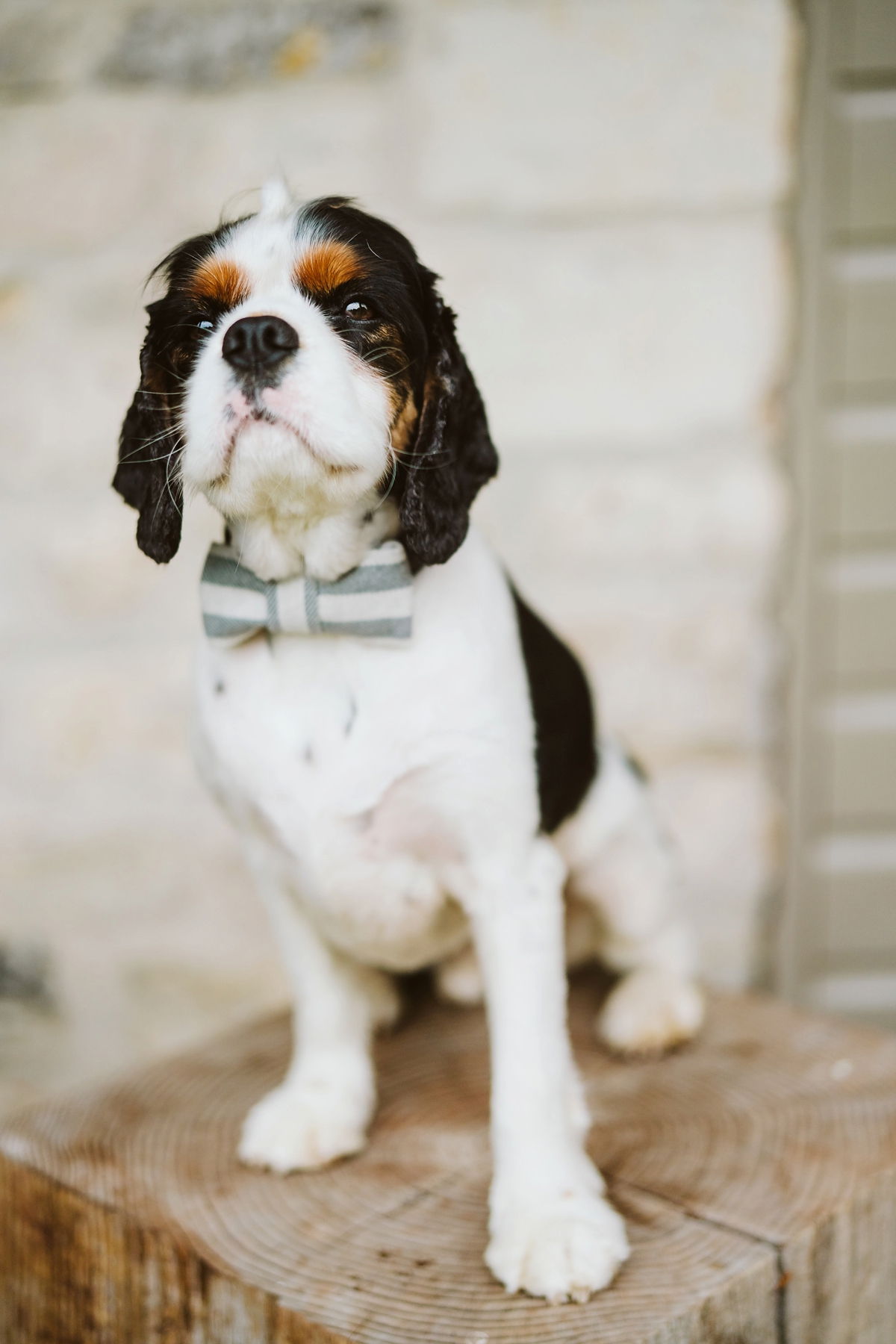 This couple's story, by the way, stretches back to Sarah and Lyndon's time together at school.
"We met at our town's athletics club when we were at secondary school. Lyndon was in the year above which I found very cool. I had a boyfriend but there was chemistry from the second we met and we ended up together in no time at all. We were together for just less than a year and then broke up. We were apart for six years but never lost touch at all and the plan was to always get back together but I wanted to be sure it was the right time as we both thought that would be it."
"We got back together when I was 20 and had just moved to Paris in my third year at university while Lyndon had graduated and just moved to London. Not ideal timing in the end, but thank God for the Eurostar! After university, two years later, we moved in together in London and then bought our first flat two years later. Then along came our little Rufus the Cavalier King Charles Spaniel. Nine and a half years after getting back together, we finally got married."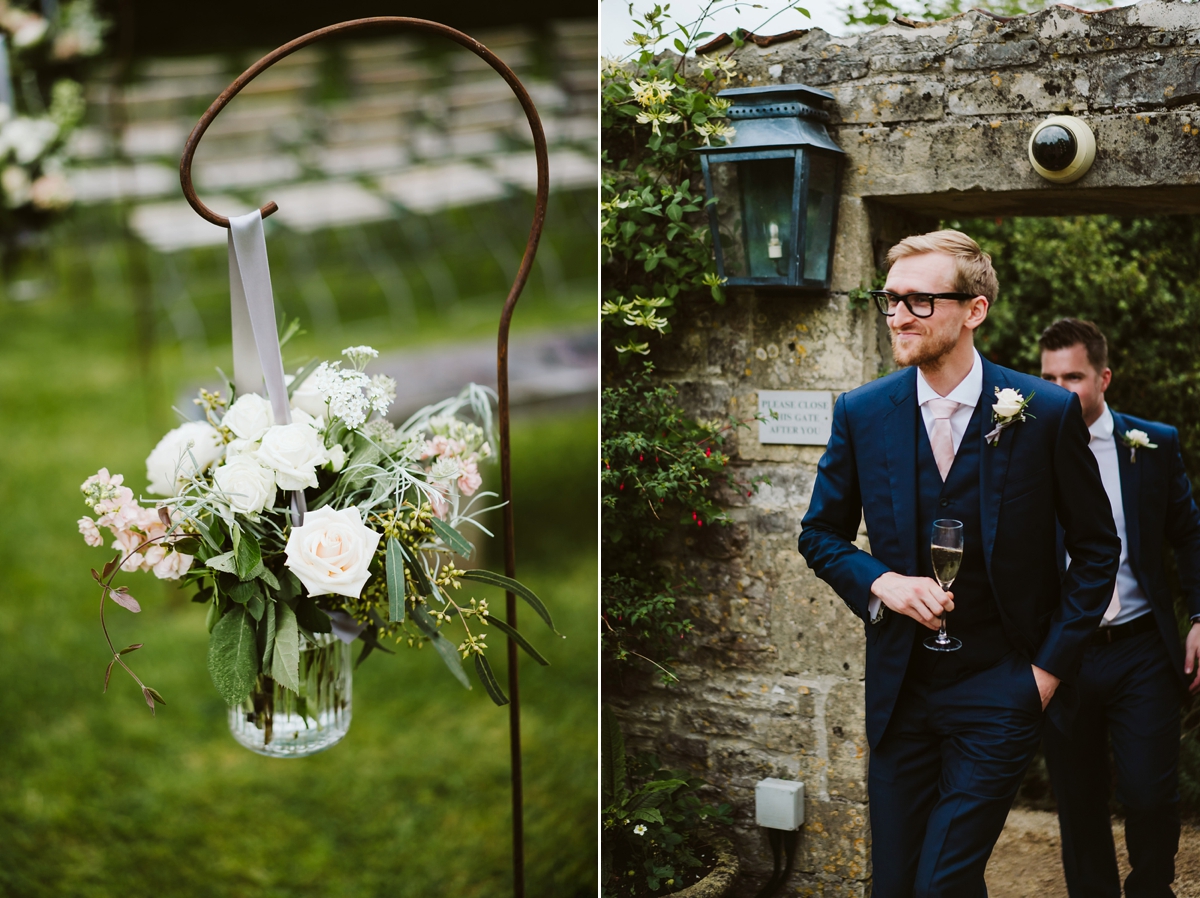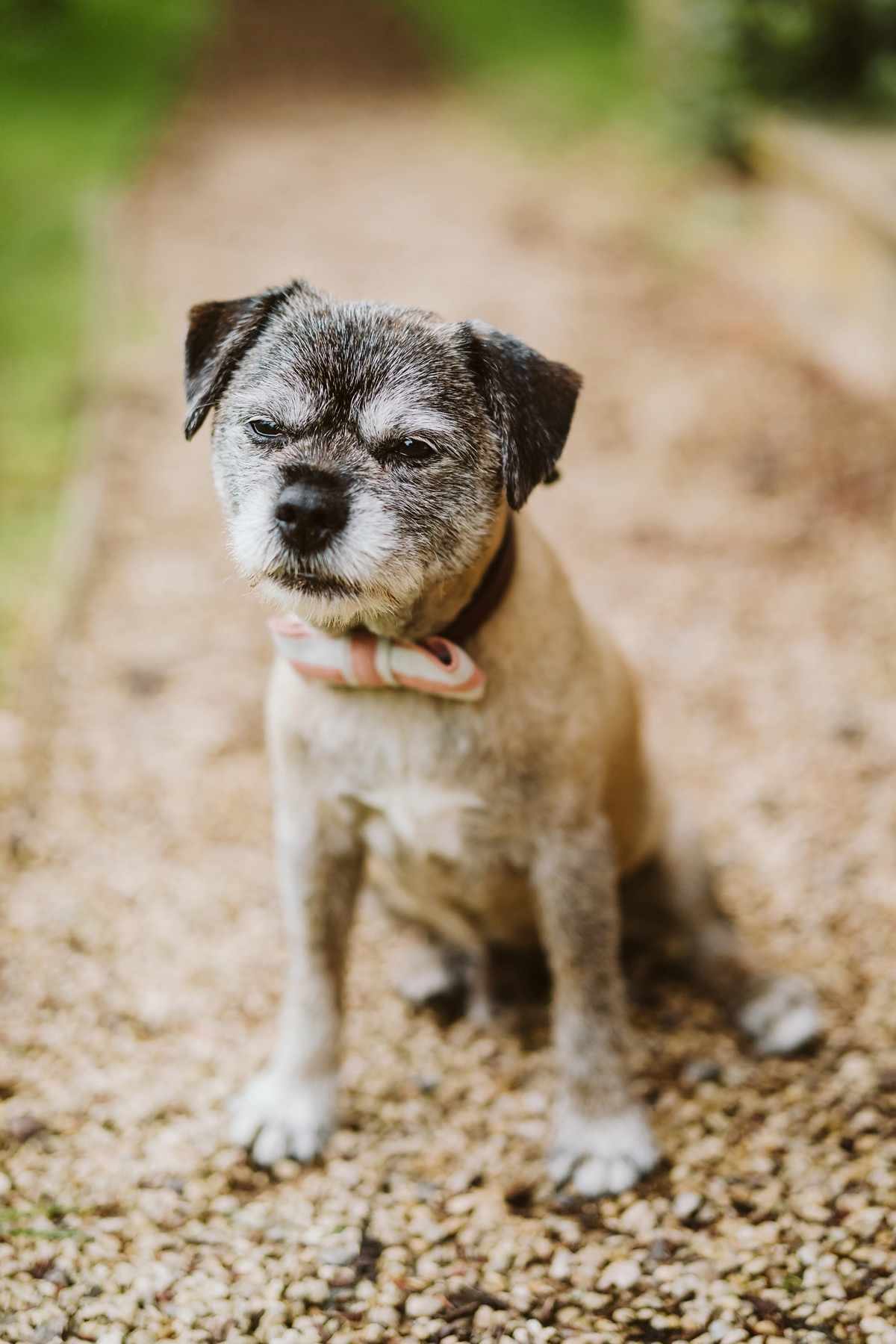 "The girls' dresses were a breeze! I wanted either navy or white and the dresses to be the same collection but all slightly different. There was lots that we liked but I sent one dress around from ASOS Bridal and they all loved it. It came in a full length version (which I knew Nickie would love), a knee-length version (which I knew Ruth and Pip would love) and one that ended a few inches above the knee (which I knew Annie would love with her killer legs!)."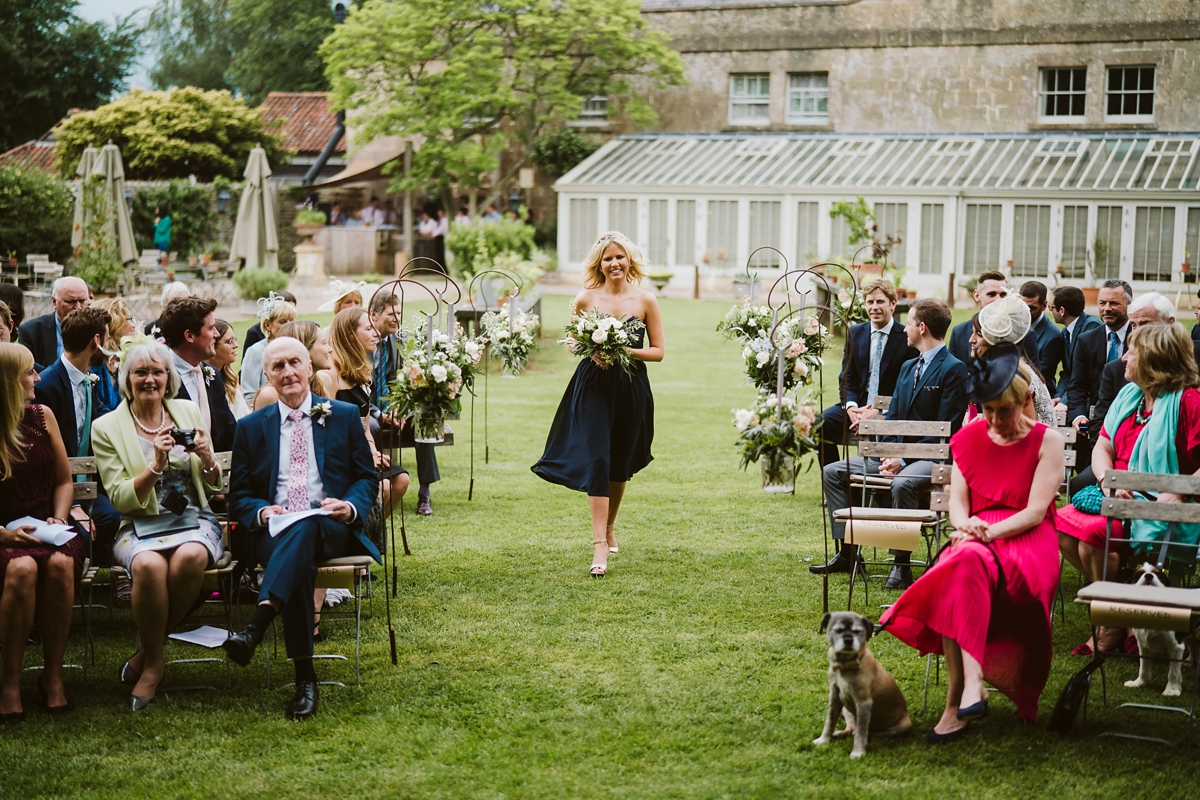 Matching the bridesmaids' dresses, Lyndon and his groomsmen wore matching navy suits from British designer Paul Smith. For a point of difference, Lyndon, best man Phil and MC Tom wore soft pink ties whilst the other men wore blue.
"Lyndon adores Paul Smith. It's his go-to. We uhmmed and ahhed about whether to go down the bespoke route. Our general philosophy is why spend money on something that your heart doesn't truly want? The plan was to do slightly less freelance work in the run-up to the wedding but that went out the window so I could work my socks off and get him his bespoke suit. His shoes were navy Paul Smith brogues and his tie was a pale pink Paul Smith one too. He'd had his eye on some Mont Blanc cufflinks so I got him those in rose gold as his surprise wedding morning gift."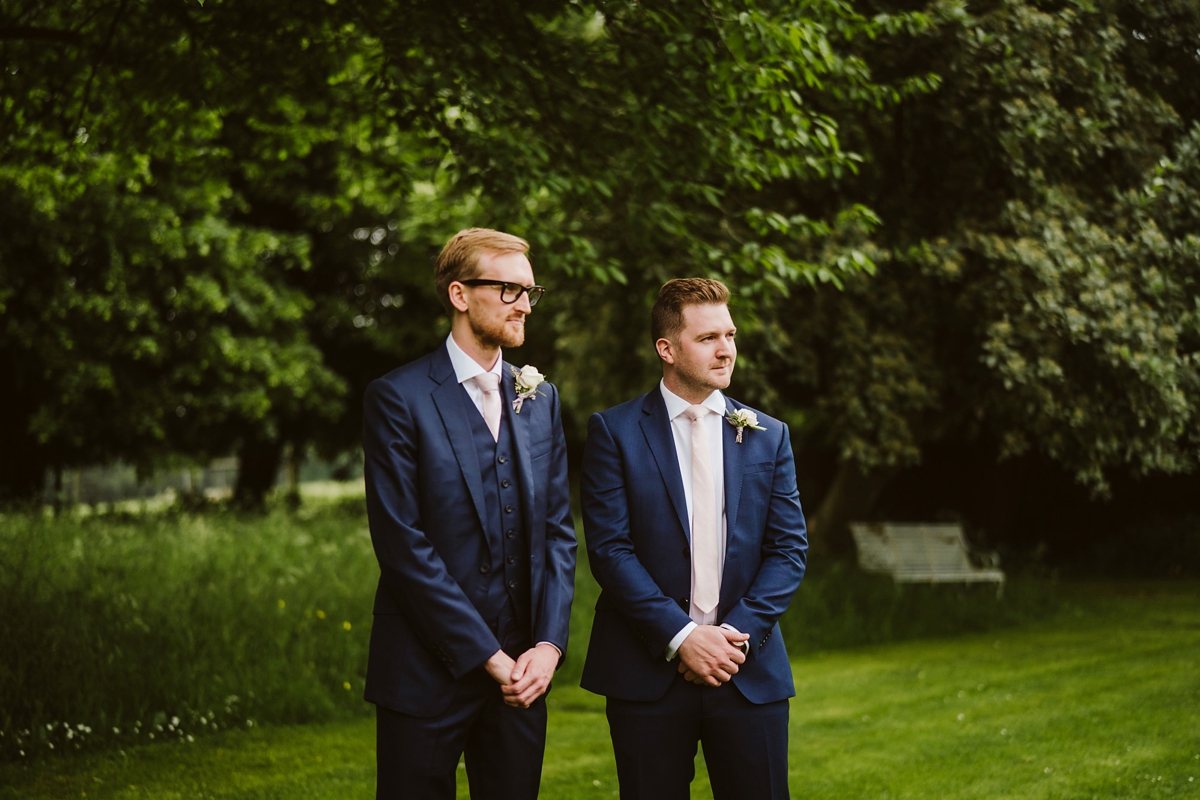 Sarah was accompanied down the aisle on the arm of her father, and she chose a song that unexpectedly felt 'right'.
"We're incredibly close. Incredibly. Sadly he was diagnosed with cancer a few years ago and we never thought he'd be well for the wedding. I'll be forever thankful that he was totally well. He'd had the all-clear for another eight weeks, had a full head of hair and his usual energy levels. Walking down the aisle together was perfect and the picture John and Sophie got of us together when he saw me in my dress for the first time is one of my favourites of the entire wedding."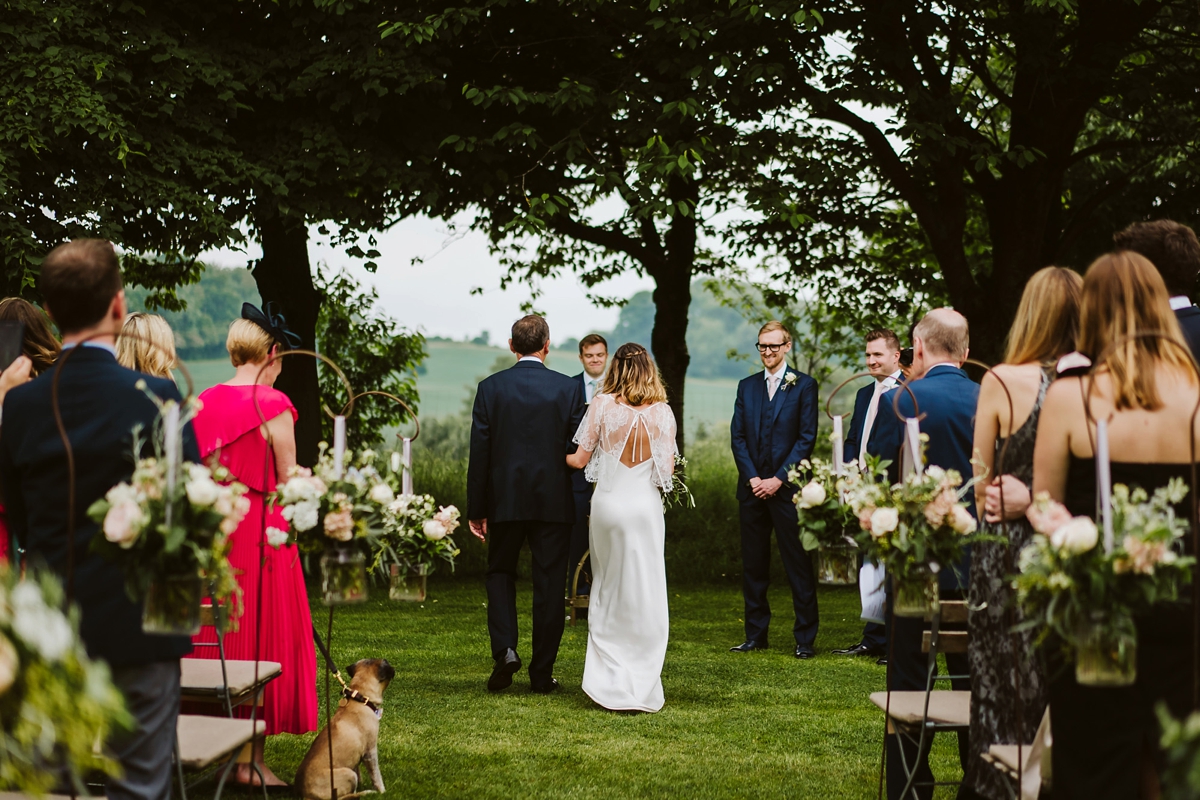 "I wanted everything to have meaning and so I had thought about walking down to a song from the 'Love Actually' soundtrack (it was our first date when I was 15!) but none of them felt quite right. I didn't want anything soppy or slow. I'm not that kind of girl and I knew I wanted it to be upbeat to make me feel less nervous. The thought of walking down the aisle with everyone looking was something I wasn't feeling too sure about especially as it is a very long aisle! Ellie Goulding's 'Love Me Like You Do' came on the radio one day and I just got butterflies and my eyes filled up imagining walking down to it."
"It was all quite unexpected as neither of us are huge Ellie Goulding people. I really wasn't sure as we had no connection to the song but in the end just thought I had to go with what made me feel good and I'm really glad we did. My bridesmaids walked down individually, spaced quite far apart so that I walked down at the crescendo so it was all quite atmospheric and had a really lovely build-up. I'm really glad I went for it. It just felt right."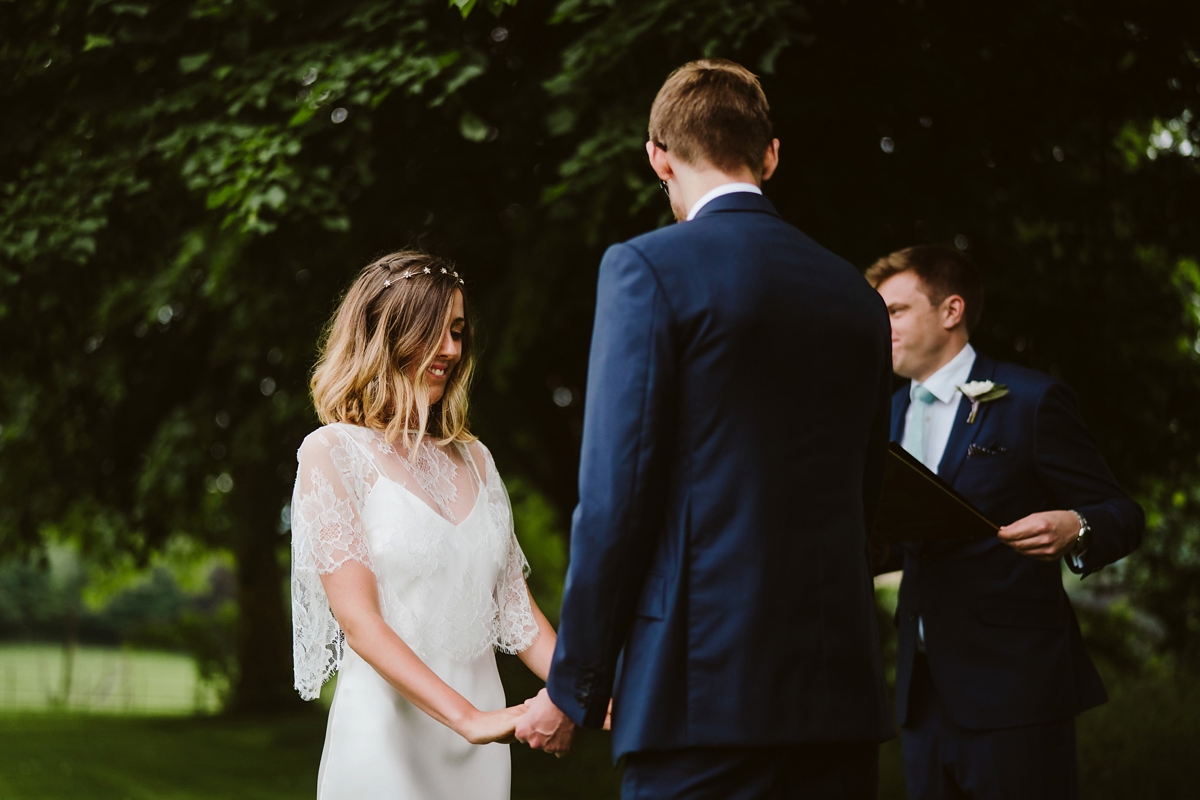 "We chose to have a friend do our ceremony and both suggested the same person for it – one of Lyndon's best friends, Gavin. We knew he'd be very good at it and that it would mean a lot to him too. Gavin had a few calls with each of us to find out everything he could which was so lovely to do with him. The whole experience was so touching and so fun. He did an absolutely spectacular job. Faultless. It meant the world to us."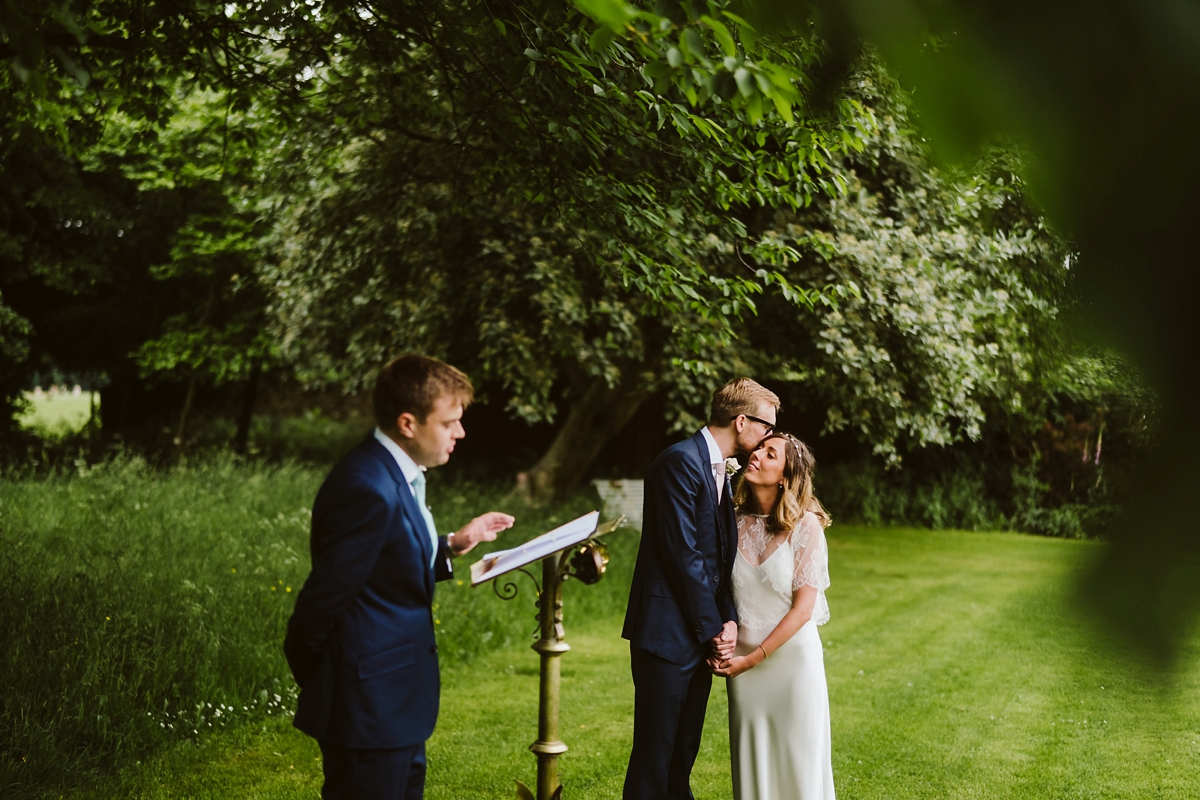 Sarah and Lyndon made a last-minute decision to tailor their vows, and exchanged rings from Jessica McCormack who also designed the bride's engagement ring.
"We weren't going to, but about a month before the wedding, Lyndon suggested we did which I think was definitely the right decision. I was always unsure about it until then. I never like the idea of being cheesy or saying very private things in a public space, but you really do only see one another. Everything and everyone else just melts away and you just focus on one another so I'm really happy we did."
"Lyndon got my beautiful engagement ring from Jessica McCormack (a rose gold band with a one carat marquise diamond). The ring was absolutely perfect and so was the jeweller – exactly what I would have wanted. We both chose rose gold wedding bands. Mine is a diamond eternity and Lyndon's has a polished finish rather than matt."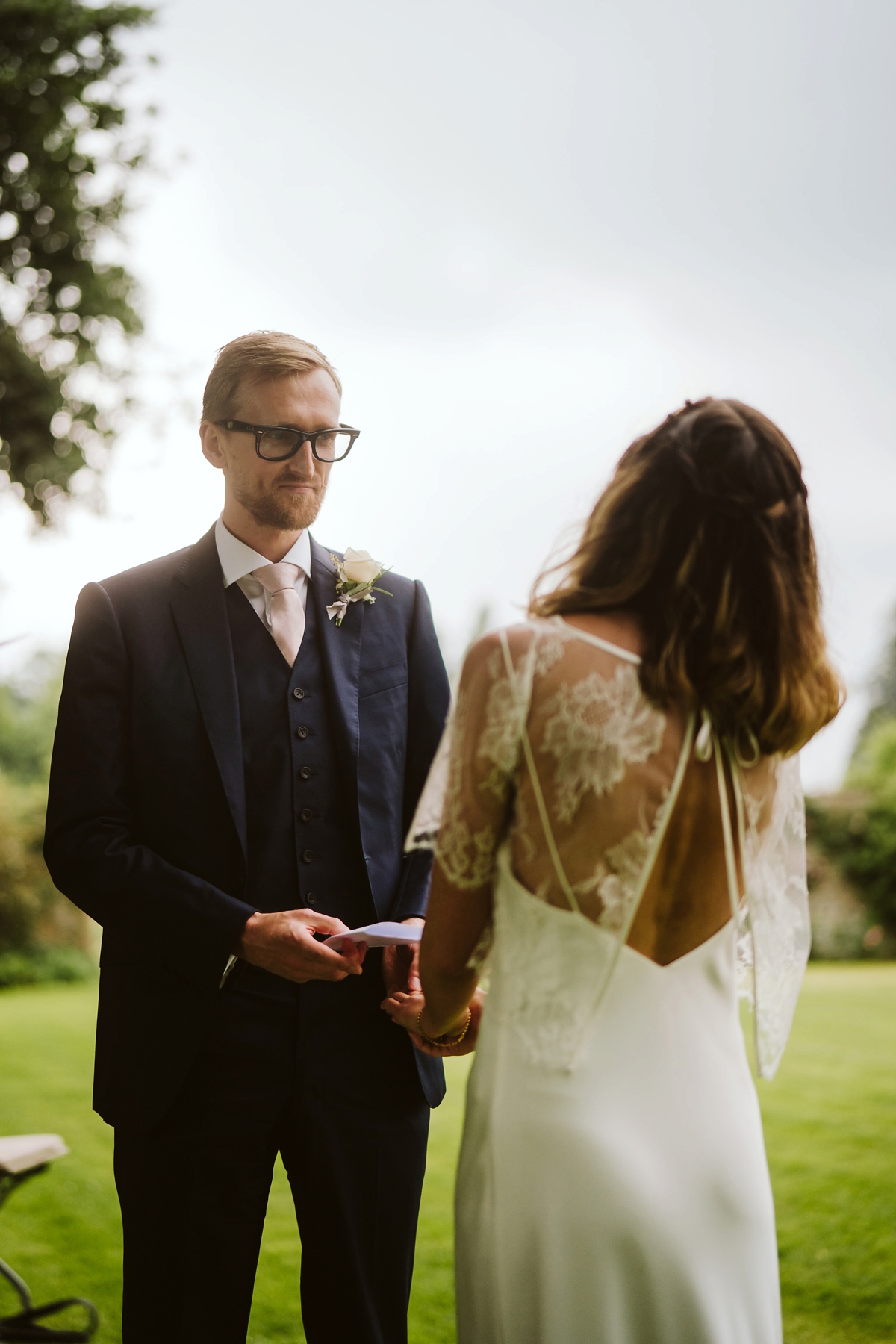 More personal touches came via the three readings which the guests and couple enjoyed.
"We liked the idea of joint readings so we had my mum and Lyndon's dad do one together and then my brother and Lyndon's sister (as a symbol of the families coming together). We then had our dear friends Tom and Jen. It's hard finding readings that aren't the same as everyone else, that aren't too pretentious and that genuinely do move you or make you smile. We wanted ones that were more lighthearted so had the very sweet A.A. Milne poem 'Us Two'. Our parents read parts of it in unison, at the tops of their voices, which was a… surprise."
"It was hilarious though. Like a pantomime. Our siblings did a poem called 'The Lovely Other Dinosaur' which made us smile so much because it really was like the poem was written for us. Then, I really wanted one reading to be in French (I studied French for my degree and lived in Paris for a year). Jen is French so she read a Simone de Beauvoir poem called 'Vive Les Mariés' and Tom then read the English translation. It was everybody's favourite one because the French sounded so beautiful."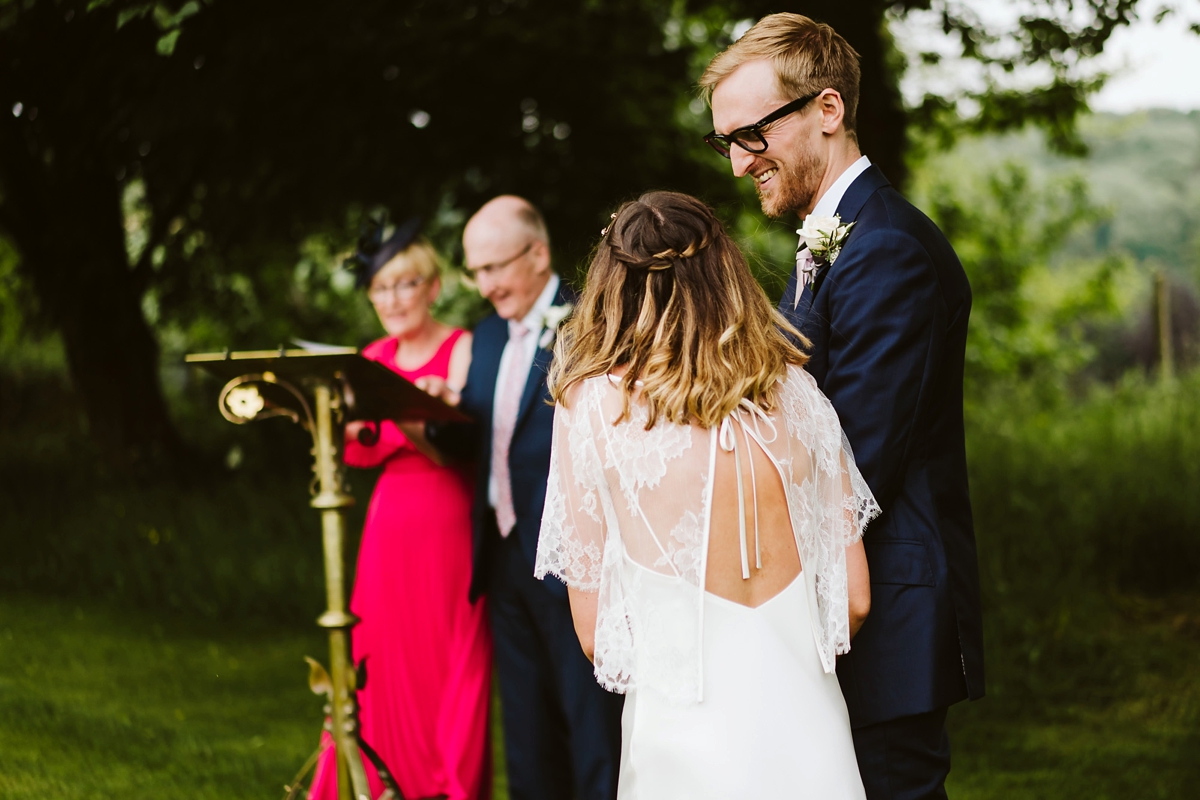 The entire ceremony sounds so meaningful and beautiful, and I love the green, green setting which looked out over the countryside. The day was styled by The Pig's events team, with all of these beautiful flowers and foliage designed by Flowers by Passion.
"Our florist decision was easy. Two of our best friends (Tom and Jen) had used them for their wedding in May, The Pig recommended them and we know they do the flowers for Soho House too. I've seen lots of the gorgeous arrangements they've done for weddings at nearby Babington House. My mum and I went to the barn in the Bath countryside to meet Jo and discuss initial ideas. I wanted a palette that was like the colours you see in the sky at dusk. Lots of pale blues, soft pinks and a touch of peach."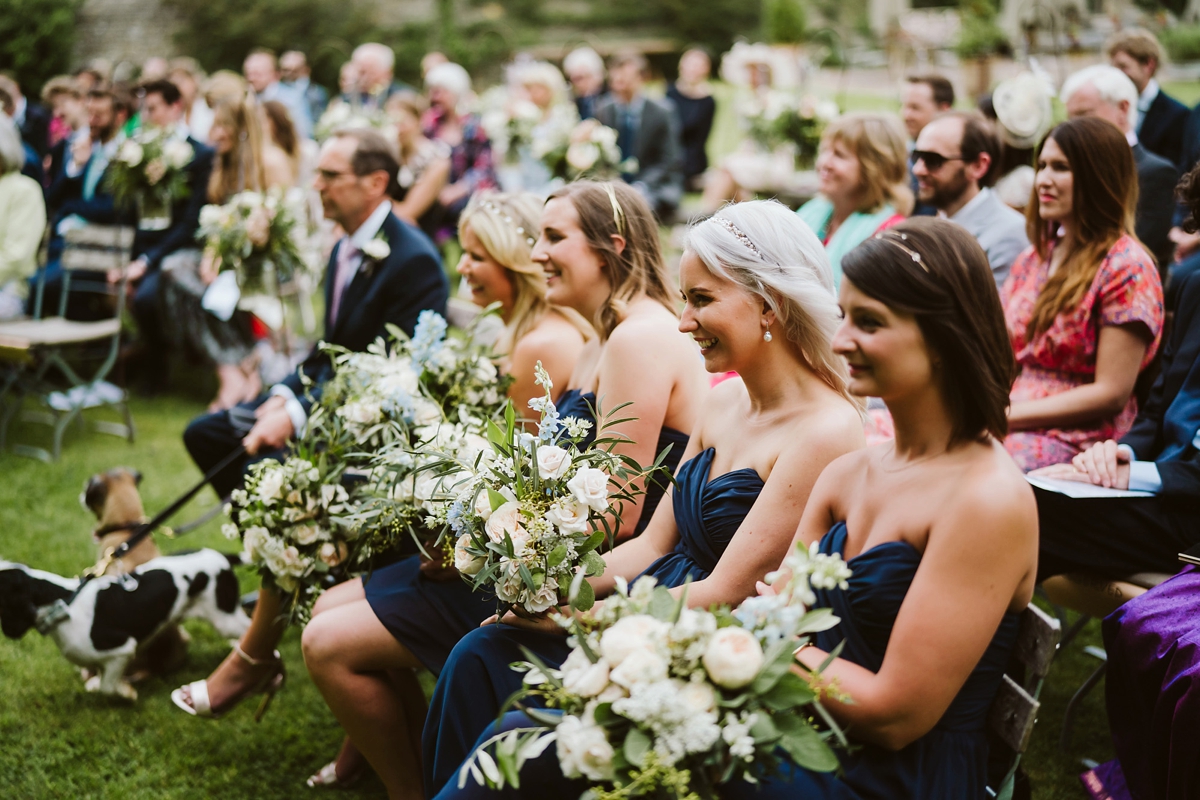 "I also love the idea of using herbs in wedding flowers, especially as herbs are such a big thing for The Pig. So we had a mixture of garden herbs and the addition of delicate lily of the valley in my bouquet too. I had so many ideas for the flowers but the wedding budget was getting out of hand so I had to reign it in a lot! Jo was brilliant at making things work. We had shepherd's hooks down the aisle with little vases of our flowers hanging from them."
"It meant we could bring them in after the ceremony to dress the tables too. The boys all had roses and herbs in their button holes and Lyndon had one of my favourite roses – the Vendela which is shaped almost like a closed tulip. We had a selection of our flowers for the top of the cake too and over the order of the day board and seating plan. I couldn't recommend them highly enough as a florist. They were superb the whole way through."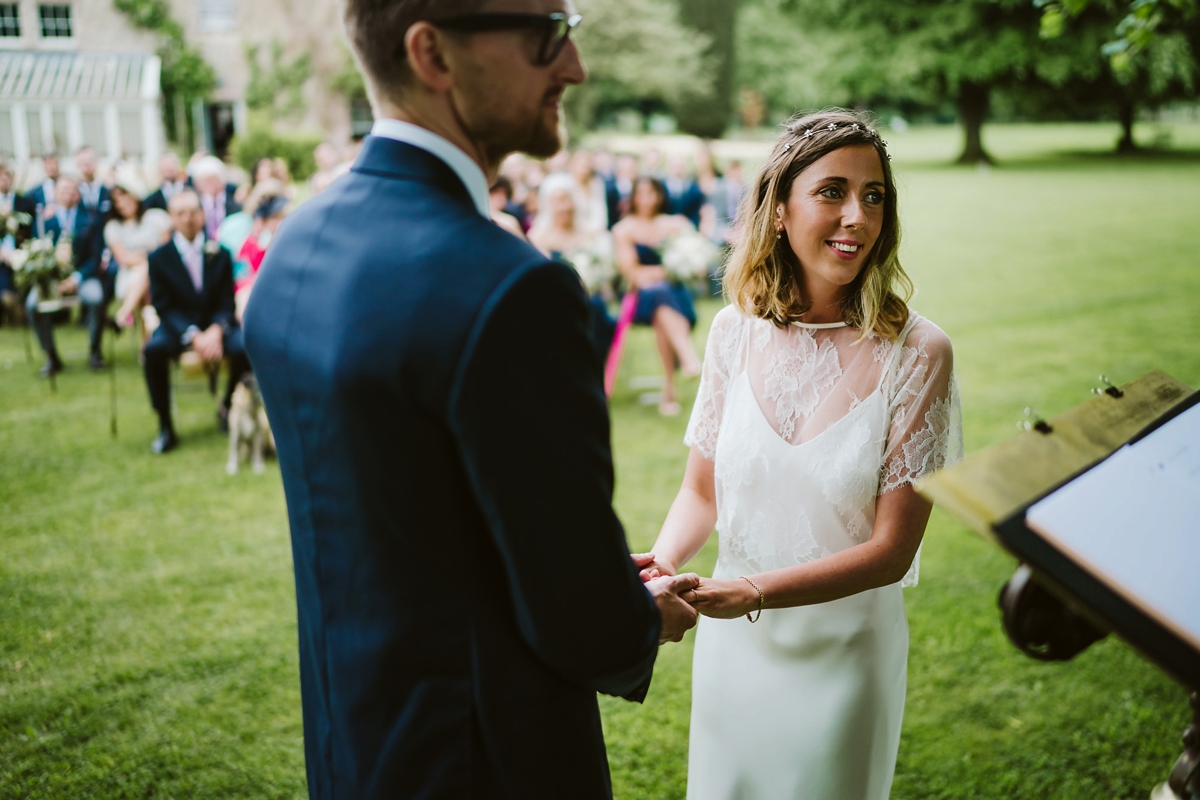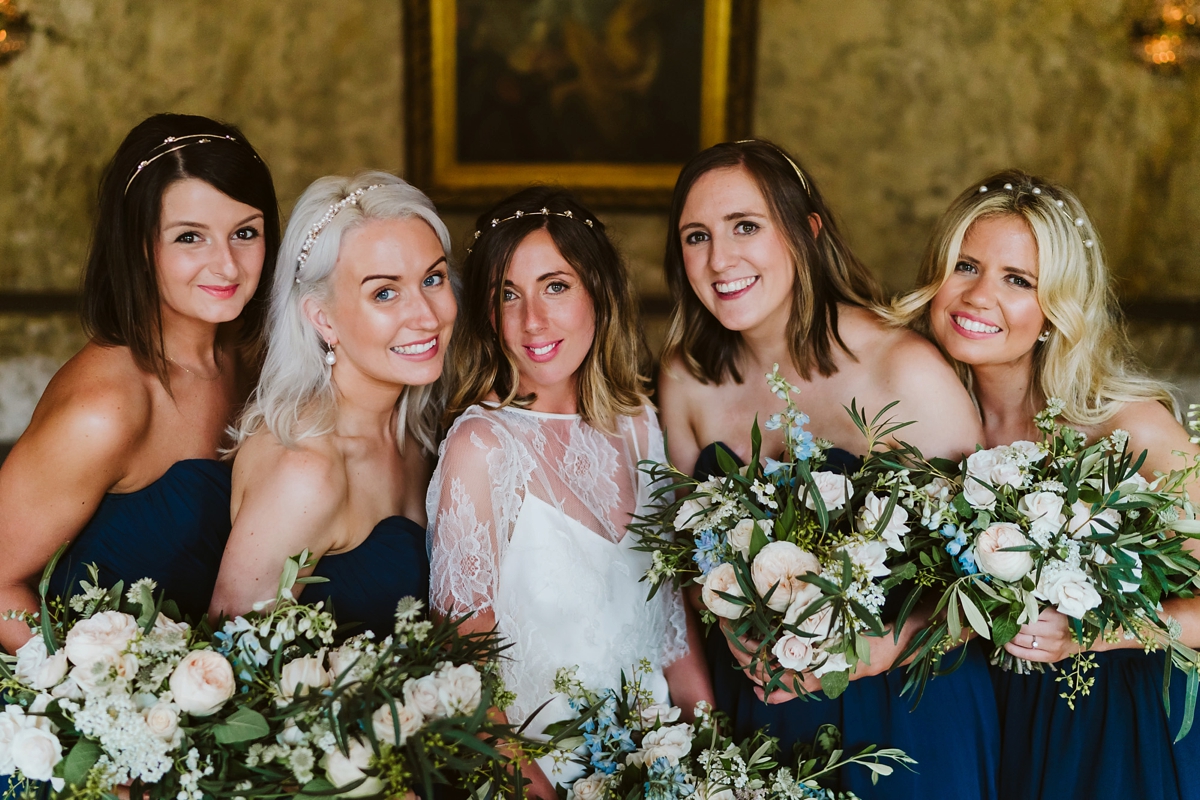 Kate Halfpenny was also the inspiration for Sarah and Lyndon's photographer – duo John and Sophie Barwood. Their elegant, fine art style has picked up on all the elegant details and the overall sense of love and intimacy that the couple created.
"Fine art photography was what I wanted; I love the softness, the light, the attention to subtle details but I didn't want it to lose all sense of dynamism and personality. I came across John's work on the Halfpenny blog and loved it. One Skype call with the two of them and we were sold and immediately wanted them to not just be our photographers but to be friends!"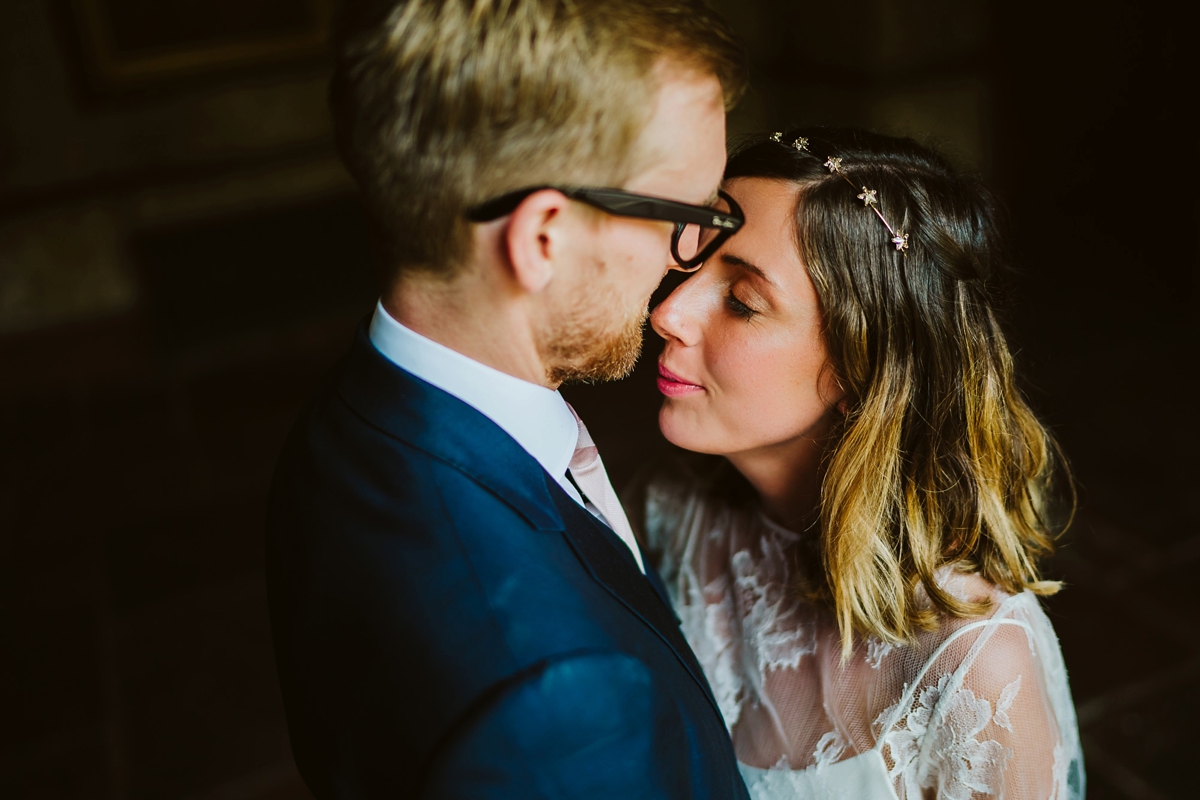 "I cannot sing their praises loudly enough. They're the very definition of professional and brilliant. We felt completely at ease with them from the word go, and we had comment after comment about how lovely our photographers were. They were so quick and confident and a joy to be around. And, needless to say, we're over the moon with our photos."
"They're better than I could have ever imagined. I've had so many people asking who our photographers were and friends, and friends of friends, have booked them for their weddings too. We're going for a drink in a few months with them back at The Pig which will be so lovely."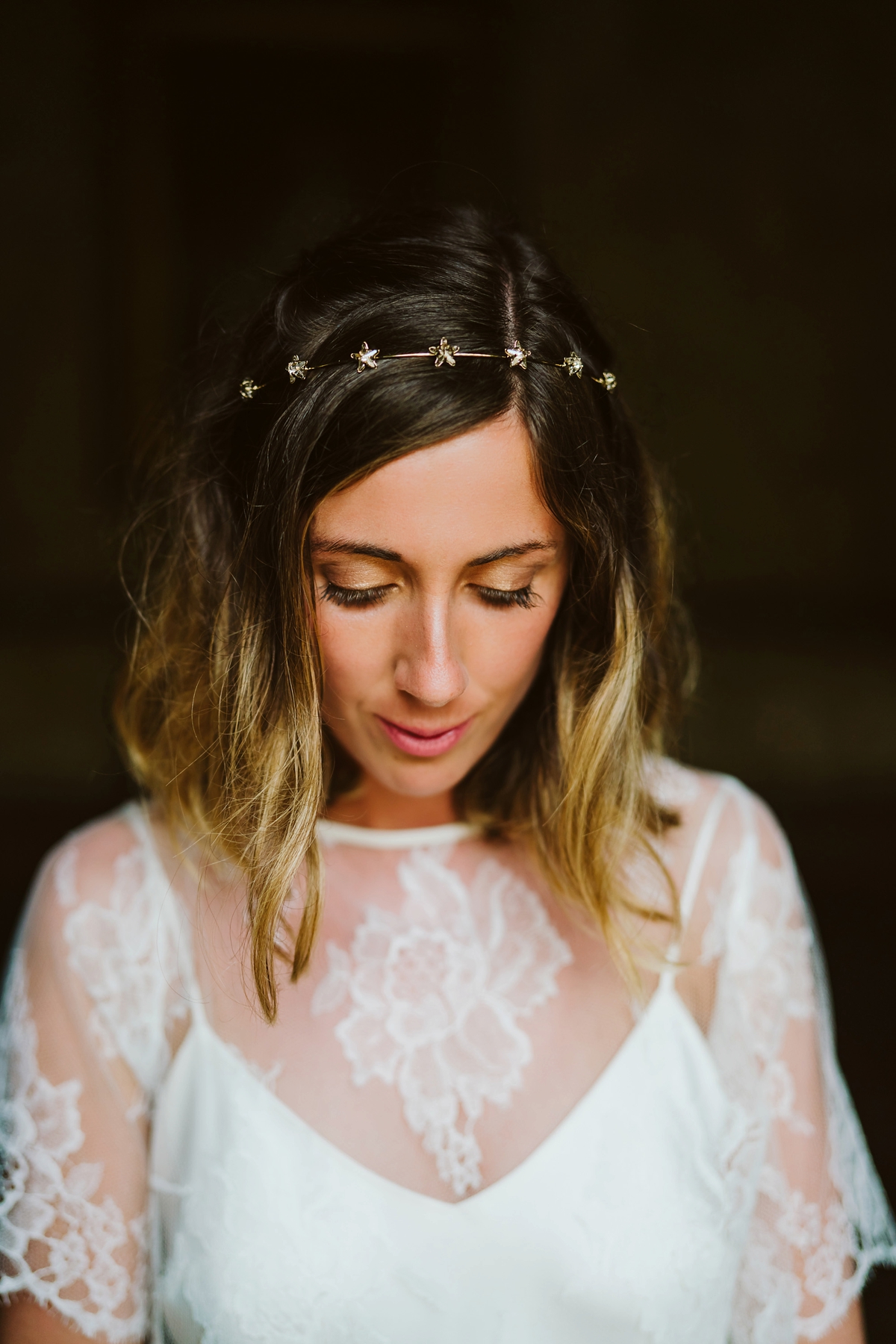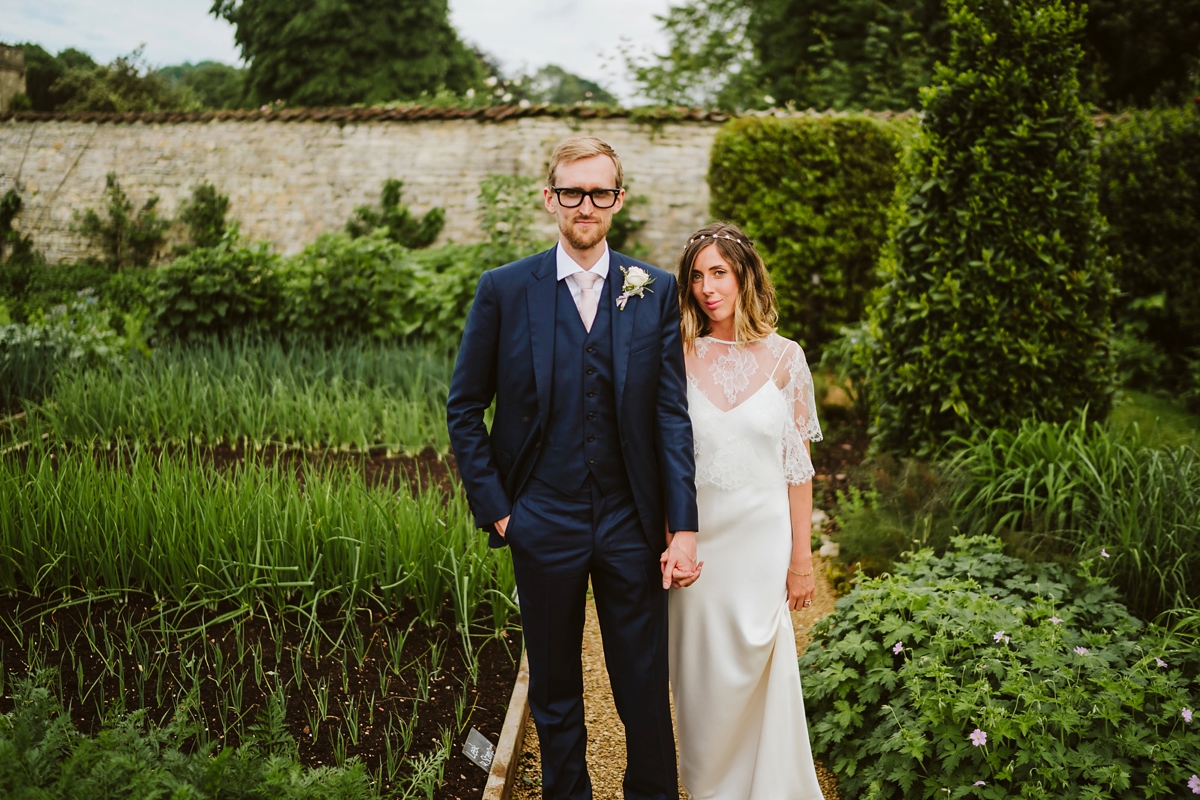 The elegant, relaxed tone for the day was set through their stationery – a herbal design by Meticulous Ink, a small, independent fine stationers in Bath.
"They do beautiful calligraphy and traditional letter pressing. We wanted something very simple and contemporary, choosing navy ink to match the suits and bridesmaid dresses and letter pressing on the invites followed by an origami fold information sheet with all the details, complete with herb motif illustrations and a white wax seal. Our day stationery followed the very same design of calligraphy and then modern block capital text. I loved the contrast. We actually did the place cards ourselves though."
"We bought them from Papier and chose a design that suited our other stationery. We did this because we wanted to hand-write inside a personal message to everybody we'd invited to tell them why they mattered to us so much and why it was important to us that they were a part of our day."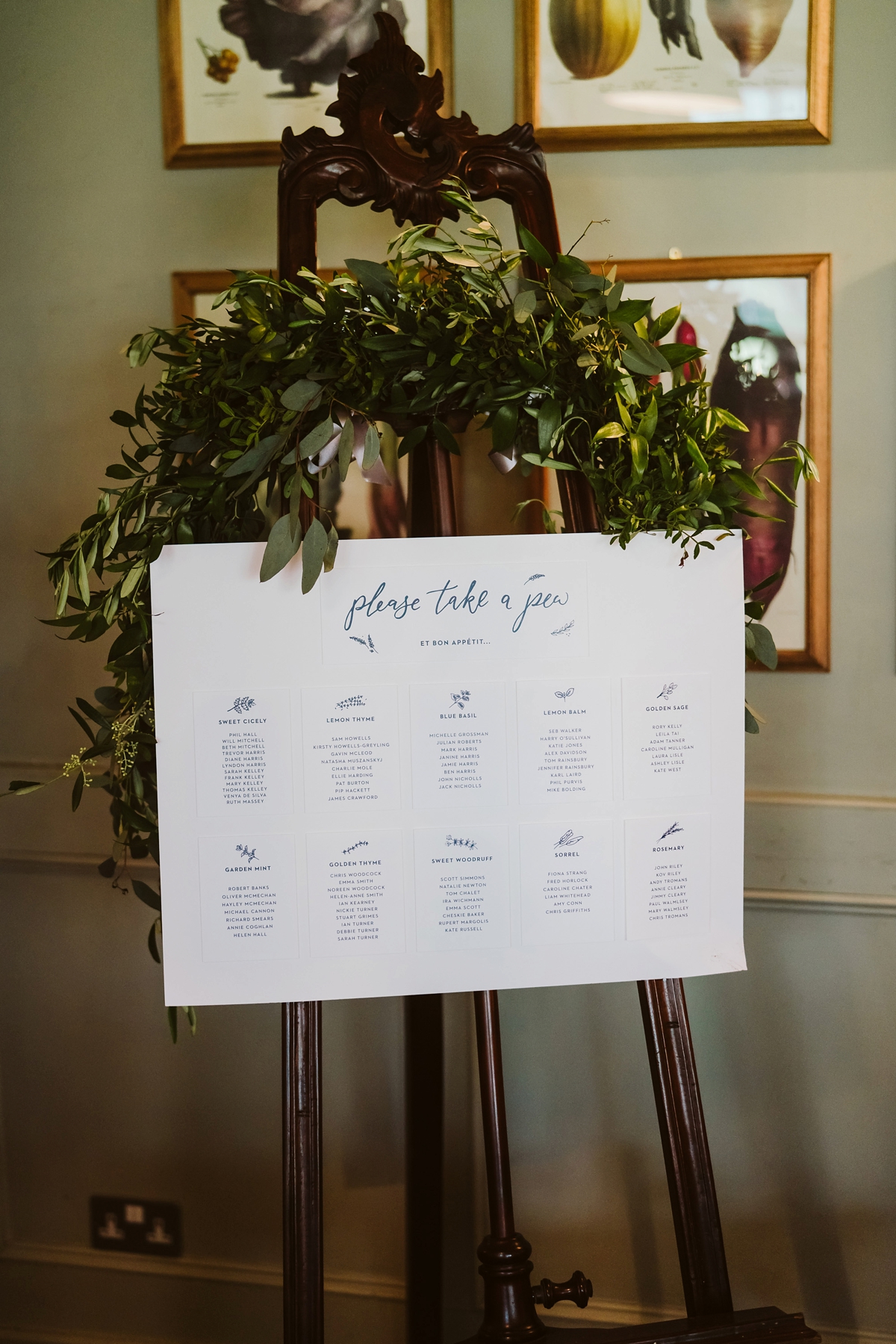 Sarah had a clear vision for the vibe and feel of her wedding day, which she put together with the help of The Pig's Jess and its hotel director Sarah.
"I'm not the sort of girl to have daydreamed about my wedding day since I was a little girl, but the two things I had always known was that I wanted it to be outside and I wanted it to be as personal as possible with meaning attached to everything."
"There was nowhere else that we had such a connection with, so many lovely memories and knew the staff so well too. I knew exactly what I wanted and that the incredible Jess from The Pig and Sarah the hotel director would make our dreams come true, which they did.  The overall style really suited our tastes; a lovely mix of classic and elegant but a bit bohemian and eclectic too, and very British!"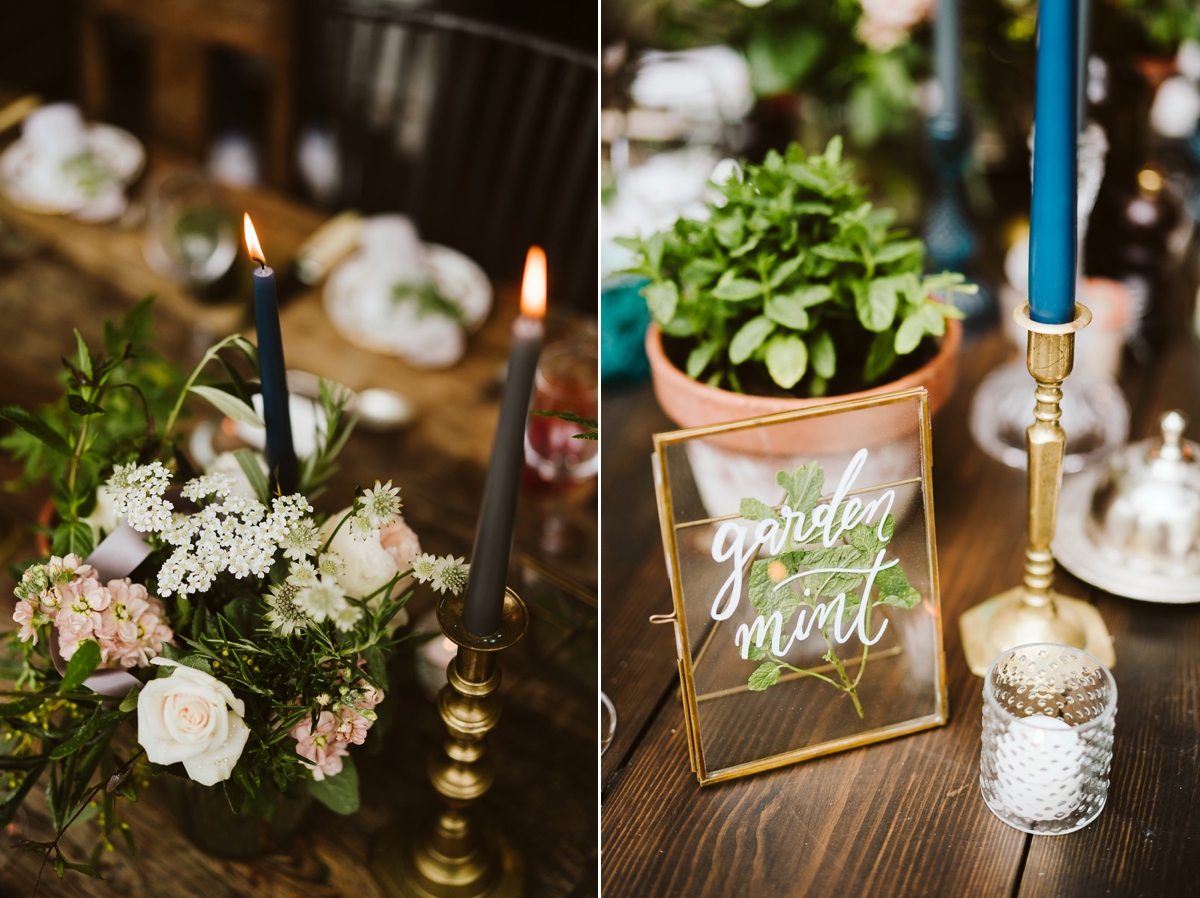 "The Pig is our special place. I took Lyndon when it first opened with my first proper pay cheque. We fell in love with it and vowed to go back for some 'us time' three to four times a year. That' s exactly what we did and came to know the staff so well. It was the only place I wanted Lyndon to propose, which he did on 6 December 2016 on a long walk surrounded by the deer that I love in The Pig's grounds."
"It was the only place we wanted to get married too. The next day, before we checked out, I said to Jess (The Pig's event manager who we'd known from day one) 'So… can we talk weddings?' It was just perfect."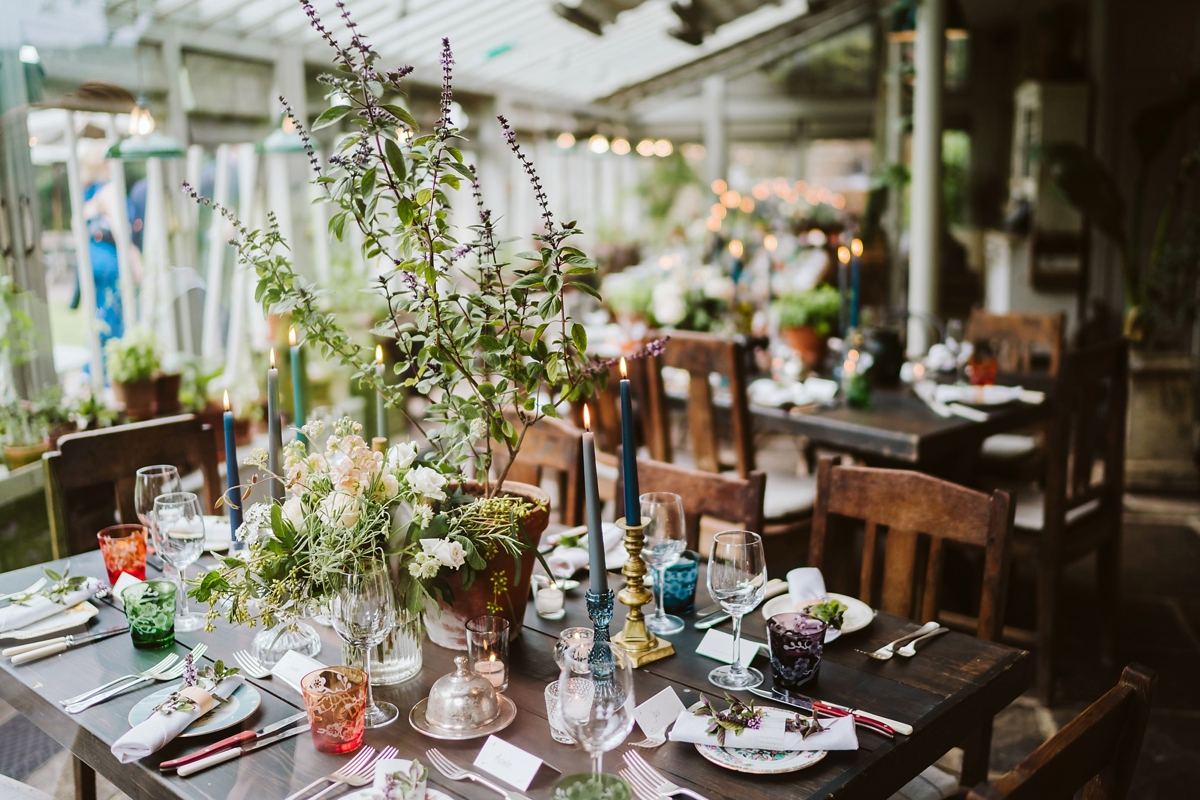 I love the use of English herbs throughout the styling, and adore the elegant, modern table names that were English herbs written beautifully on glass plates.
"We didn't want to take away from The Pig's gorgeous character as the interior is so beautiful there. We used the flowers mentioned and then our main styling was around herbs and candlelight. The Pig had a section of one of their kitchen garden greenhouses dedicated to our wedding herbs that they'd been growing for a good while. They filled the outdoor tables that helped to denote the aisle with terracotta pots filled with our herbs. They then came inside too and we named all of our tables after herbs that were in season at the time, from Blue Basil to Lemon Balm."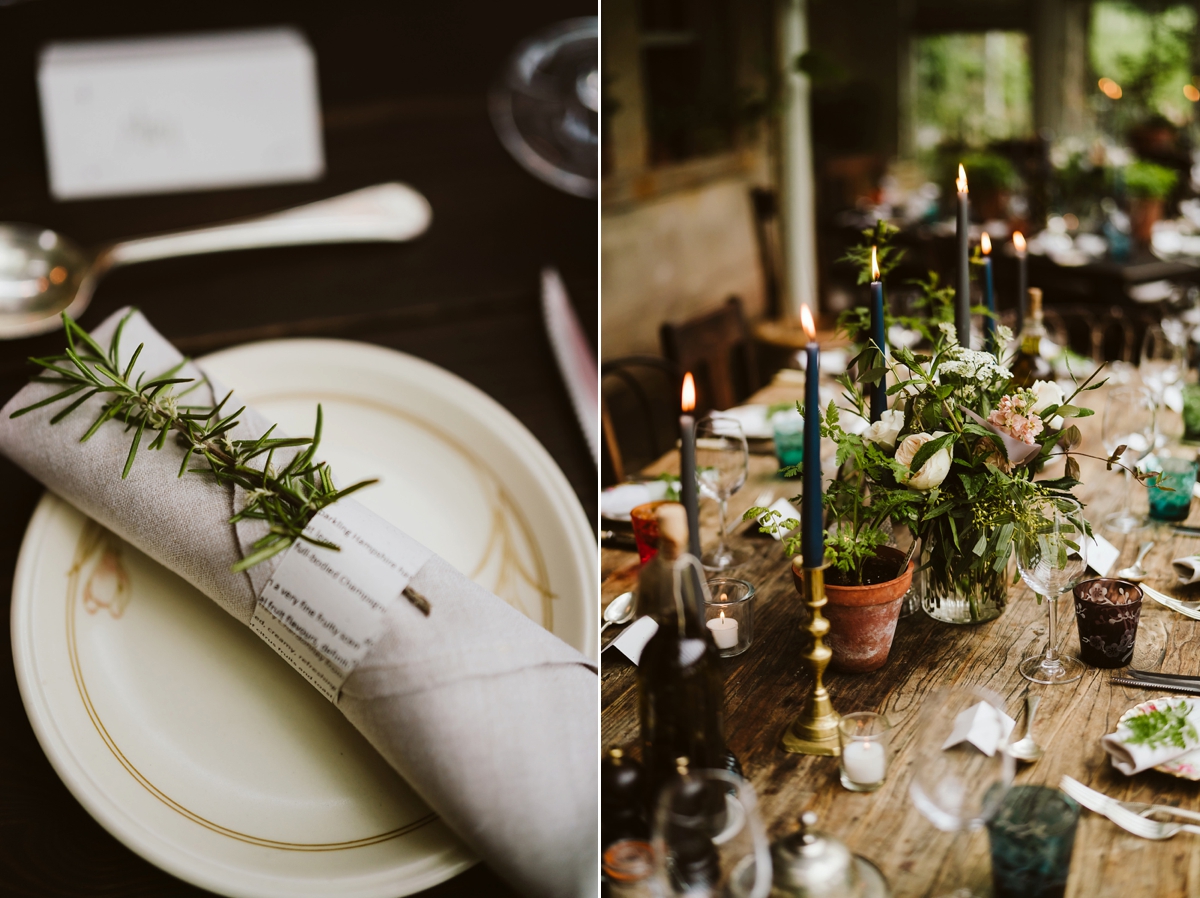 "I chose antique brass and glass picture frames for our table names with the herb written onto the glass in the beautiful calligraphy of Jo from Passion and then we had a clasp of each fresh herb in their respective frame and a sprig tucked into each napkin too. So the Lemon Balm table all had lemon balm, Sweet Cicely all had sweet cicely and so on. Then we had a mix of the same antique brass and glass antique candlesticks and dark blue and dark grey tapered candlesticks and tea lights everywhere. We just wanted it to be very pretty and soft but with a real mix of green tones and botanical scents."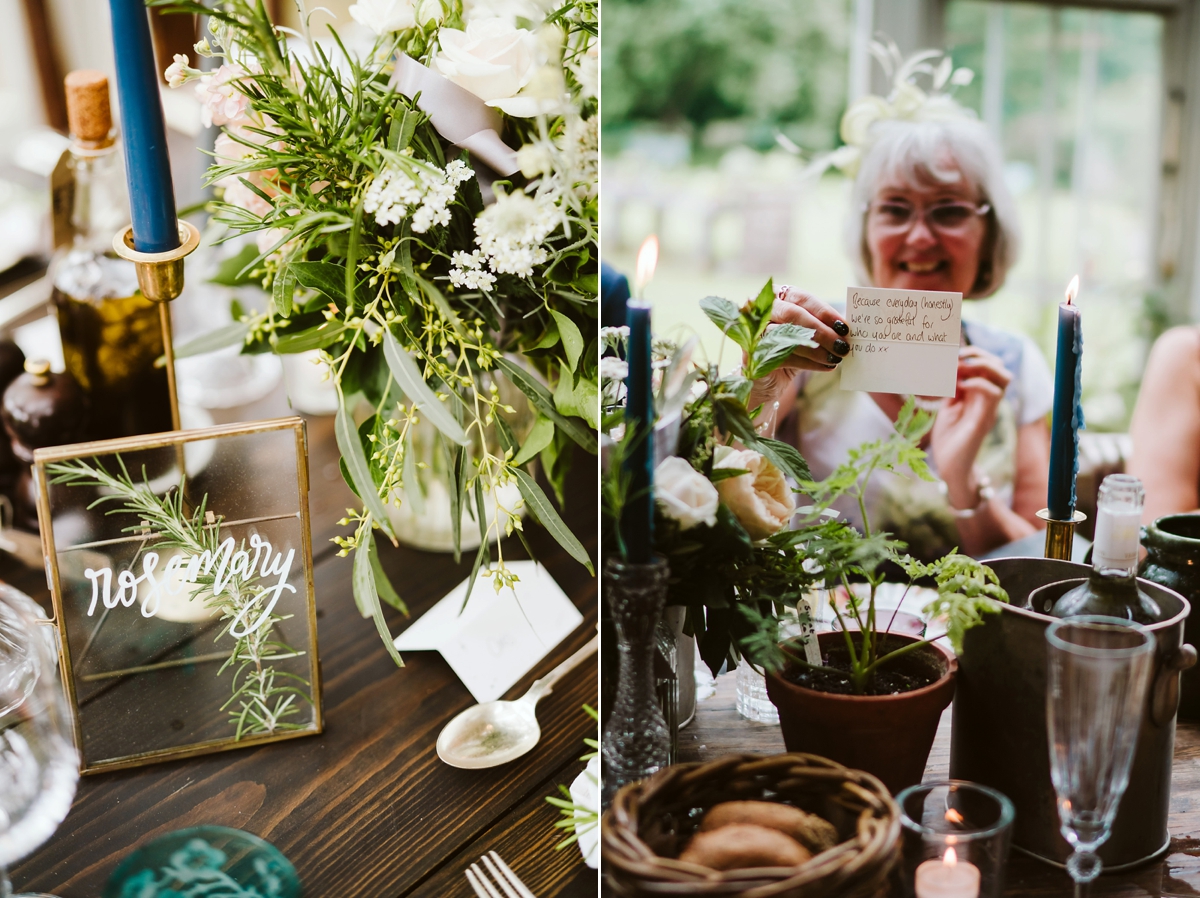 The Pig is renowned for the quality and provenance of its food, growing much of its fruit and vegetables in the kitchen garden and sourcing other produce as locally as possible.
"The Pig made every single thing so needless to say, it was amazing. From the canapés (truffle & wild garlic arancini was a particular hit) to the three-course supper to the midnight munchies of their legendary bacon sandwiches and veggie toasties (my fave!) with lots of meats and cheeses for good measure too."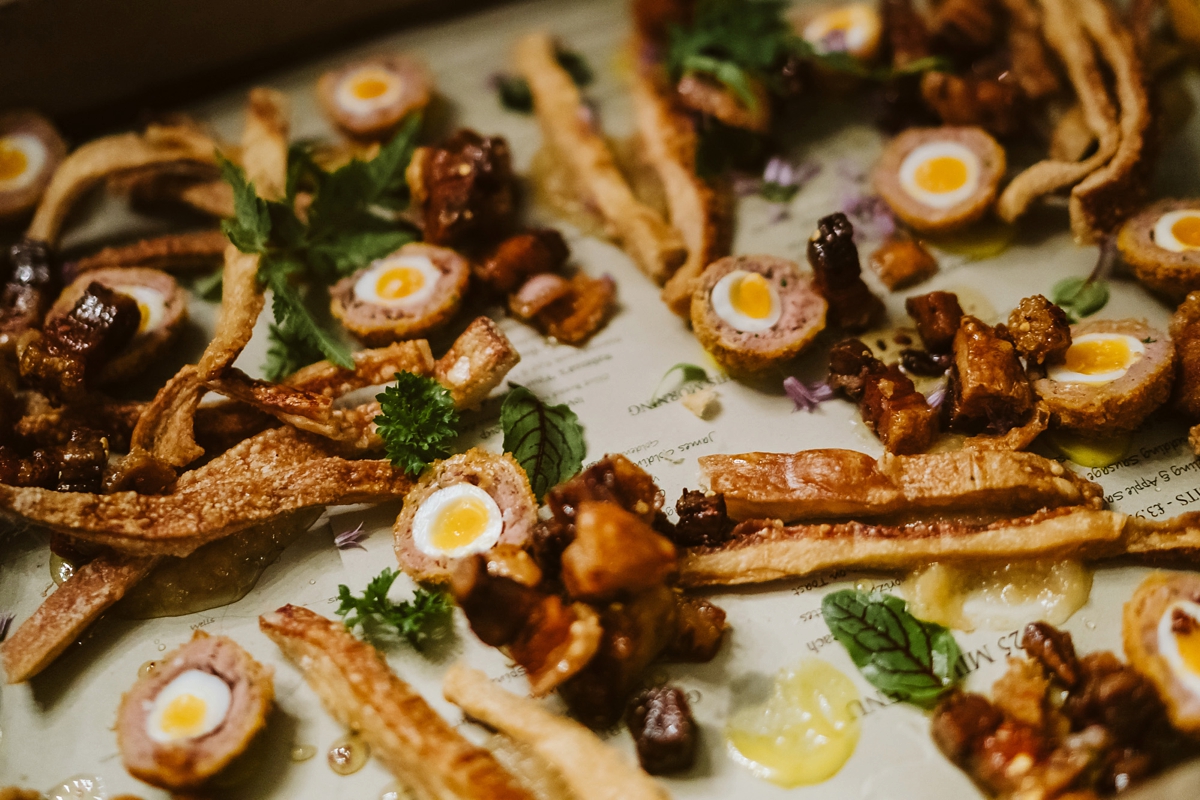 Sarah and Lyndon chose to serve their wedding cake – a tall, one-tier naked cake decorated with fresh flowers – before their wedding breakfast, during a piano session.
"I had fallen in love with a cake I'd seen on Pinterest years ago. It was multiple layers but one tall tower rather than lots of tiers. The proportions were tall and slim with a very pale, slightly marbled peach icing. It was quite Italian, very romantic and very simple and contemporary, dressed with fresh flowers."
"The Pig's head patissier made it for us. On the day before they called me into the kitchen to pick the perfect shade of peach with them. The flavours we picked were orange blossom (my favourite) and vanilla bean (Lyndon's favourite). We served the cake early in the day, after the ceremony, after the cocktails and canapés, but before the wedding breakfast. Lyndon's grandad loves a slice of cake and cup of tea in the afternoon so that part was for him and because we knew he'd want to leave early and would miss the first dance so we wanted him to enjoy one of the traditional elements too – cutting the cake."
"We all shared it during the piano session where three of my dearest friends played several of our favourite piano pieces on the grand piano. It was incredible.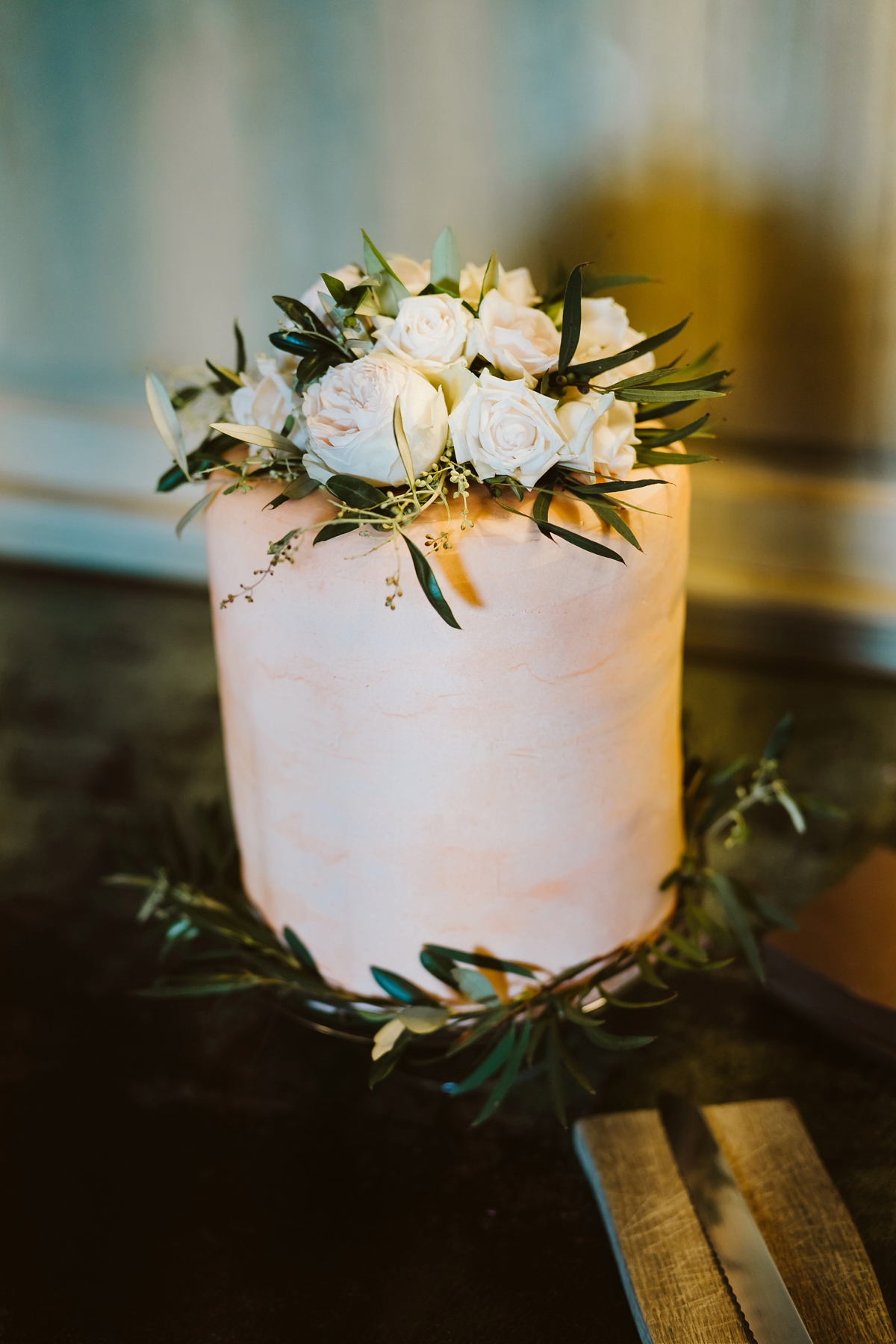 "I did a speech, the last one. The idea of everyone looking at me isn't something I like at all, but I wanted to push myself to do it so I could say thank you to everyone from me and to say a few things like, raise a glass to a few people there like my friend Michael whose birthday it was, and Nickie's parents whose 31st wedding anniversary it was. And to say something else meaningful to Lyndon in front of everyone. It's as much about the groom as it is the bride."
Later on, DJ Jevanni Letford got the party started after an outdoor first dance to Coldplay's 'Something Just Like This'.
"He played at some of our best friends' wedding in autumn and the dance floor was heaving. It was such a great wedding! It was like going back in time to a night out when we were all at college. Perfect."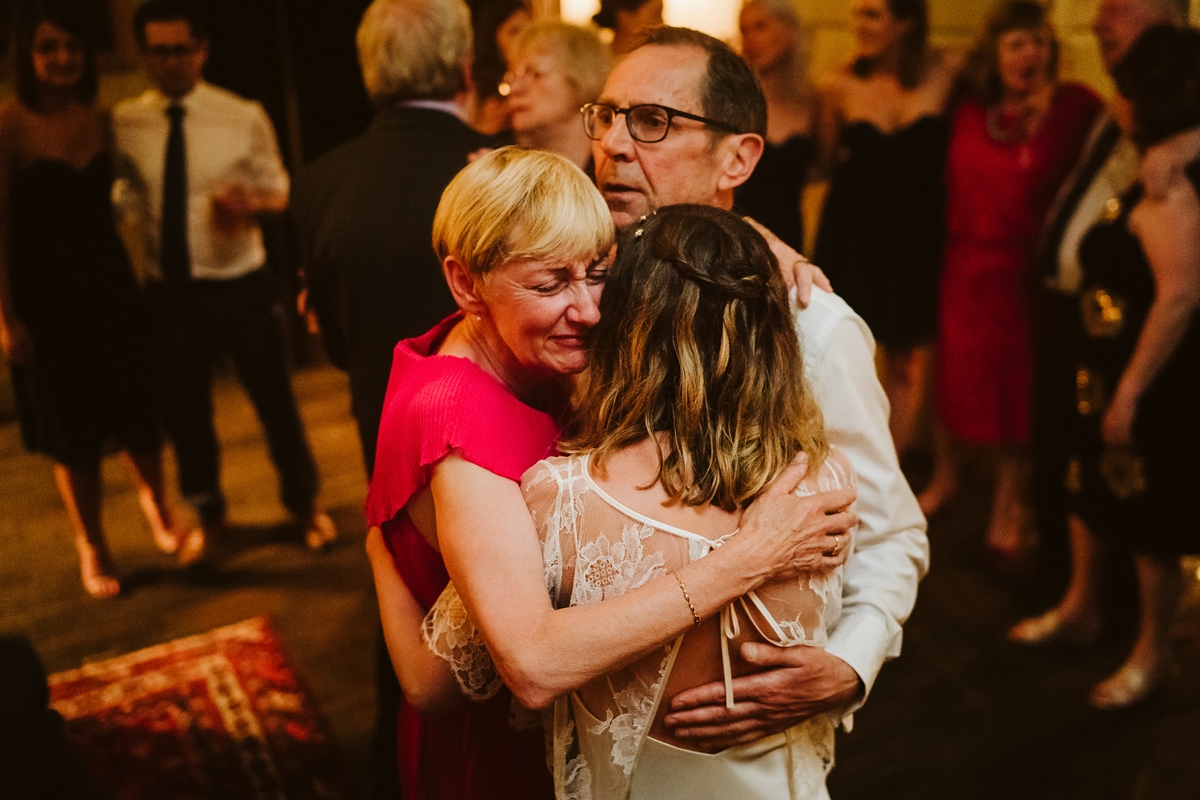 "It was always going to be Coldplay. They were the band playing in Lyndon's teenage bedroom, constantly. The album 'A Rush of Blood to the Head' always makes us think of when we had just got together. We've seen them live together so many times too. We wanted a romantic song but an upbeat one."
"Just like with the ceremony, I really had wanted the first dance to be outside and for us to have sparklers in our first dance with everyone. We waited in the hope the rain would stop and it did. We all went outside and nobody cared that the grass was wet. We danced under the stars with the windows down so the music could travel out and The Pig's team handed out sparklers to everybody. It was so magical."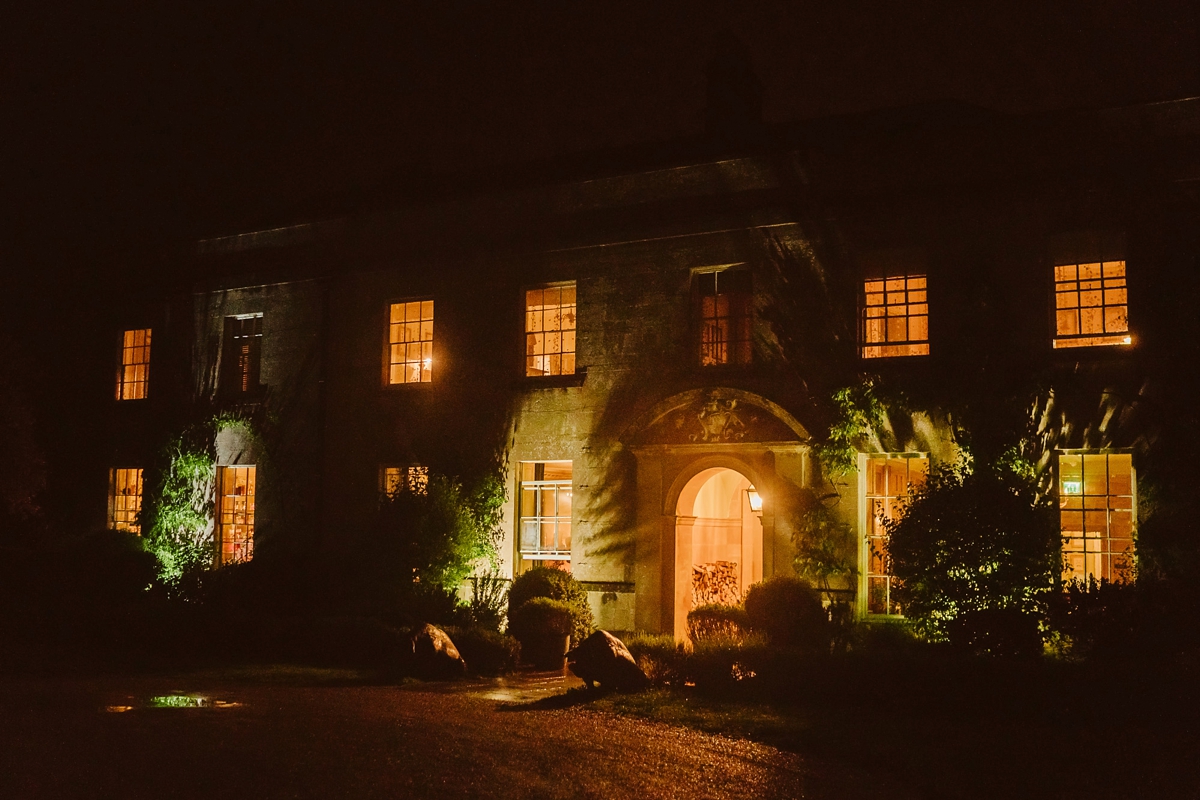 The beauty of the venue is shown off marvellously in these fine art photographs, and the newly-weds were able to spend some time together before the evening celebrations began.
"Every single moment was just magical. That's the best word I can use to sum it up. If I had to say which bit I enjoyed best, I'd probably say the ceremony, purely because that really did feel like someone was looking down on us. I have only ever wanted it to be outdoors and while the day was beautiful initially, the clouds had begun to set in. We'd practised the indoor version but it just wasn't what I wanted. I love nature, that's where I'm happiest, and having it with the grass between my toes and with the gorgeous grounds and deer around us were what I had dreamt of."
"The fact I had my dad walk me down the aisle, that everything looked so pretty, that the ceremony was as heartfelt as we'd hoped and that it stayed dry to the second (it literally started to pour the moment we walked back down the aisle) was so special. I'm so grateful. We ran through the garden gate and jumped over some herbs into the first greenhouse we saw. It was called the Berry House. And we had a little kiss which John and Soph caught without us knowing which is so lovely."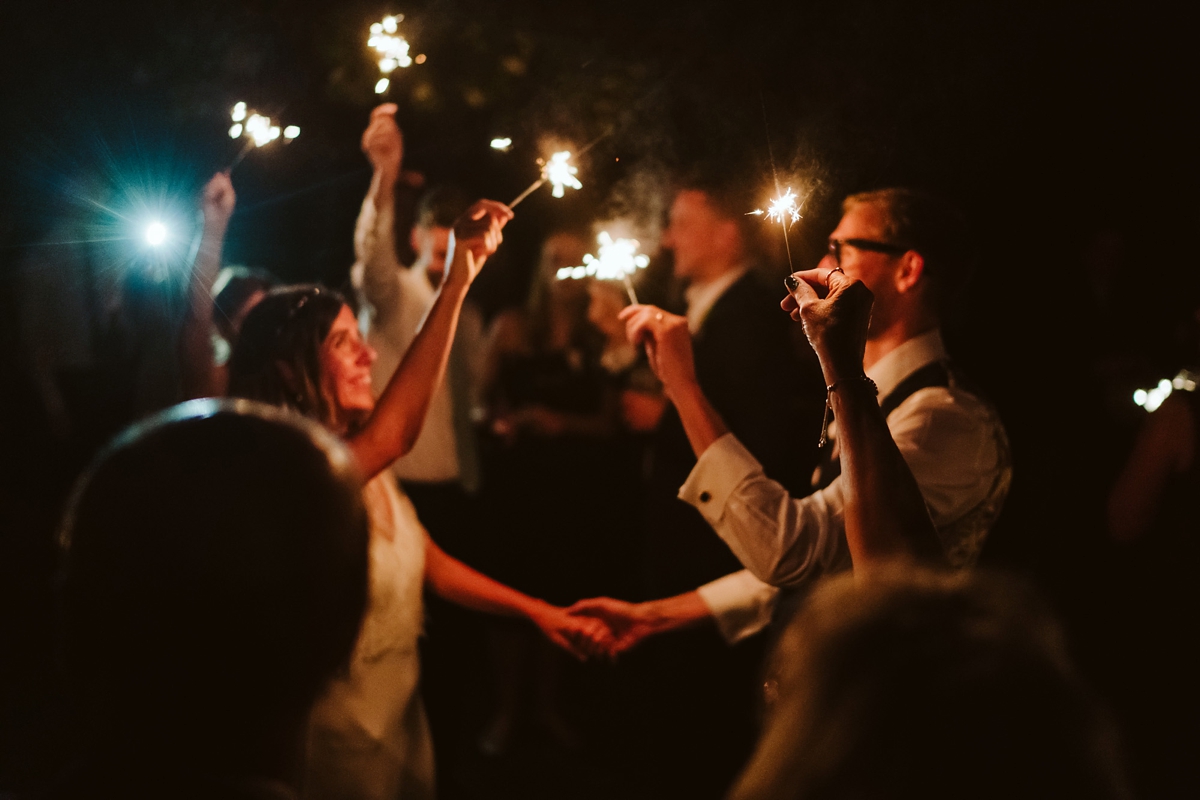 Words of Wedded Wisdom
"Everybody's different but I would really advise thinking about doing a slightly later ceremony. Ours was at 3pm and it just meant that we had time on our sides on the day of the wedding. It was so lovely to not feel rushed and it all felt so relaxed. We had our walk, a slow breakfast, I had a massage with my favourite therapist at The Pig in the Potting Shed, then we got ready at a really nice pace."
"I'd suggest thinking about whether you want to spend lots of time with fewer people or a little bit of time with everyone. We didn't think about that and on the day, I decided to make sure I spoke to every single person, but it meant I didn't have quality time with anybody. Whereas Lyndon didn't speak to every person but did have more time with those that he did. I'm still not sure which approach was right for me but I think it would've been useful to have thought about it beforehand."
"Just know that, whatever the weather does, you'll love it anyway. I was so, so desperate for it to be lovely because I wanted my outdoor ceremony, I wanted croquet and kitchen garden tours and the dogs running about with their balls. Everyone said, it doesn't matter what the weather does and it'd drive me mad because I was like, OF COURSE IT DOES! Truth is, it doesn't matter. If I couldn't have had my outdoor ceremony, I'd have been sad but it chucked it down for pretty much the whole day from 4-10pm and I really didn't care and I'd have never believed that. I wish I could've really known that before. It really is as magical as people say. Nobody can prepare you for just how amazing it is and the weather really melts away."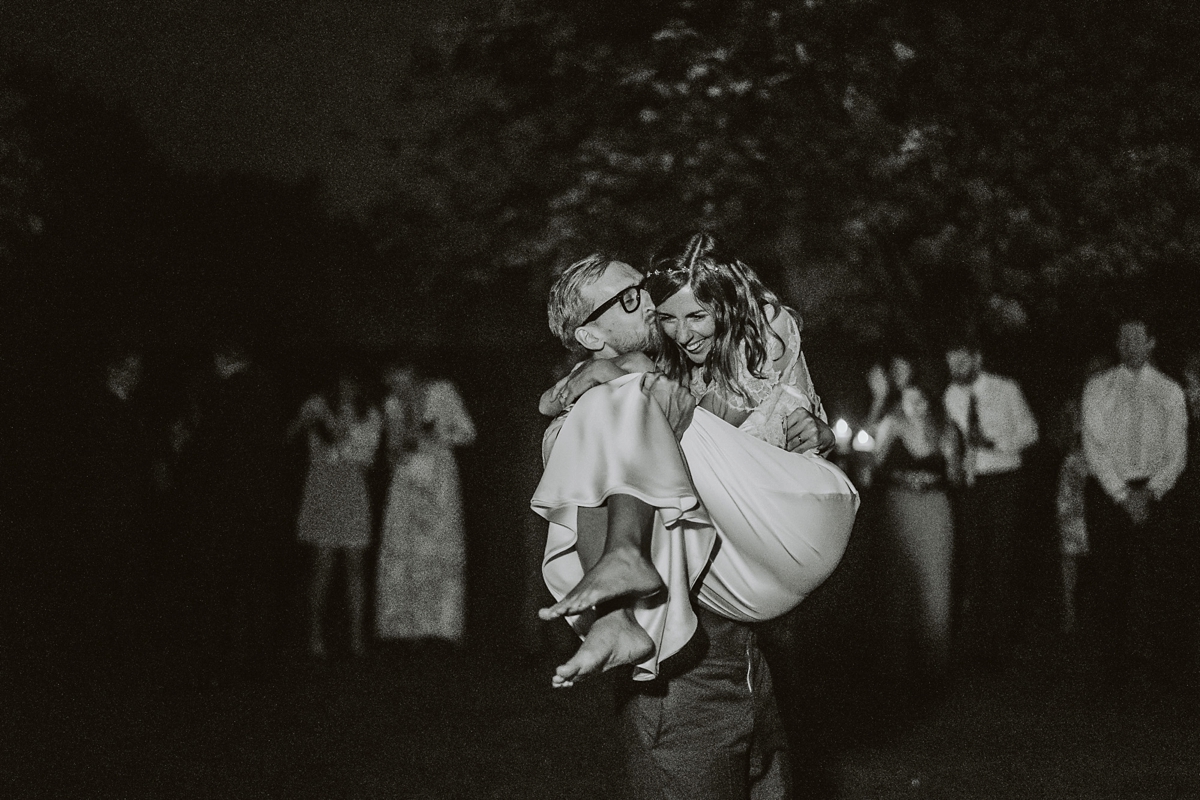 Wow, there are no words for this beautiful, personal day. Thank you so much Sarah and Lyndon for this incredible insight. Can I guess where you might go for your anniversary? Thank you also to John Barwood Photography for your fine work; so beautiful.
Ele xx