Just a few weeks ago, I had the huge pleasure of introducing you to the spectacular wedding venues in the Historic Royal Palaces collection.
In that feature, I mentioned that the team are currently preparing for their annual wedding showcase and today, I'm taking you behind the scenes with the fabulous suppliers who'll be demonstrating the elements of a perfect palace wedding at the event. As you might expect, these wonderful wedding professionals are some of the best in the business so, for plenty of inspiration, step this way…
Historic Royal Palaces work to the ethos of 'our canvas, your creation' and at their incredible palace venues, the possibilities really are endless. From stunning concepts to memorable backdrops and the most delightful details around, a wedding with Historic Royal Palaces is something that you'll never forget. The suppliers who are dressing the upcoming Wedding Showcase are most definitely enjoying the prospect of transforming the space into something magical.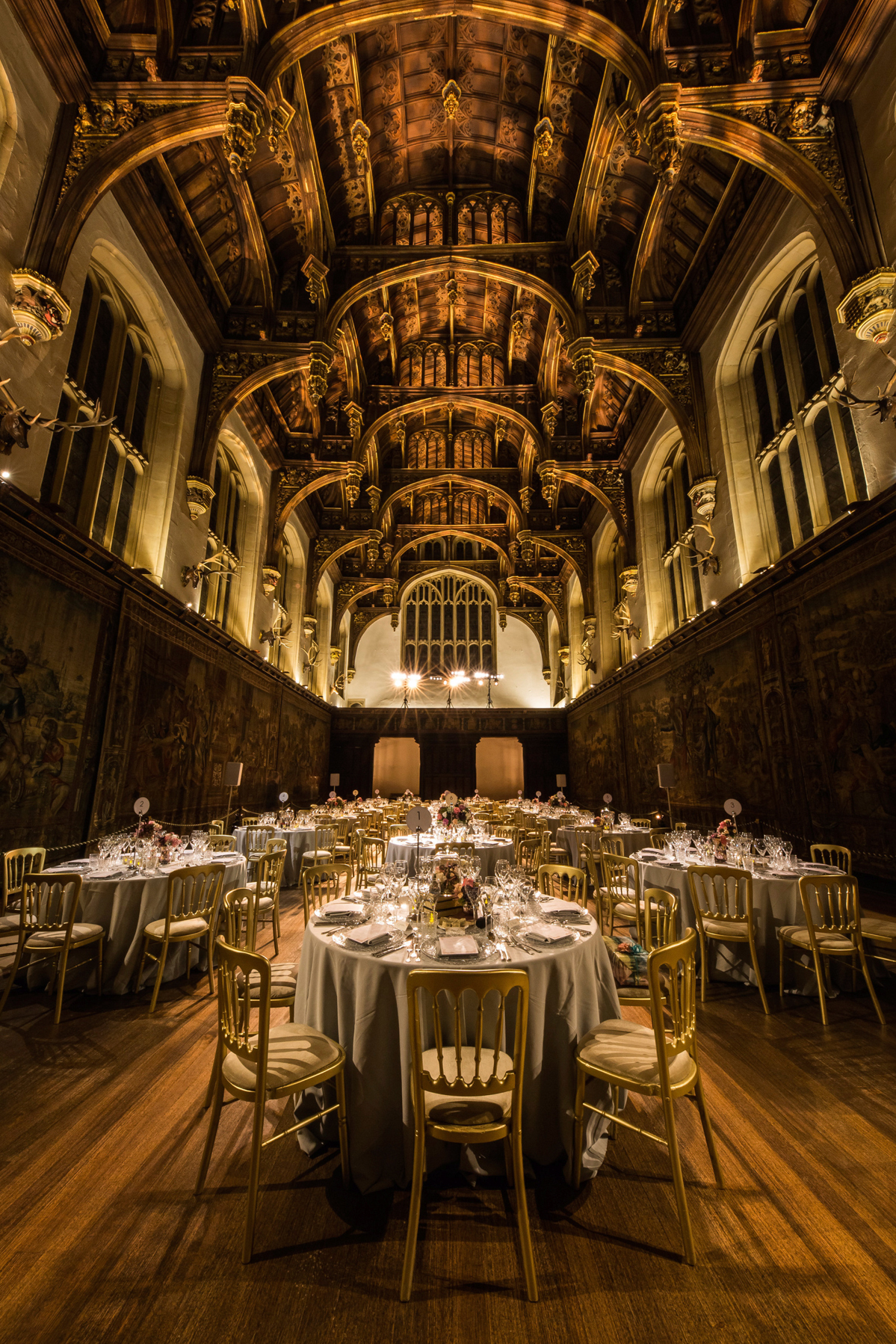 Hampton Court
Hayford & Rhodes are one of London's leading luxury florists and they'll be using foliage, grasses and traditional white meadow flowers such as anemone, dill and white hellebores. Wild and undone, it will cast an ethereal, enchanted and dream-like spell; captivating, inspiring and utterly unique to Kensington Palace.
"Our vision is to utilise the space in an unstructured, free-form, design. Bringing a quintessentially English countryside feel, our strong floral backdrop will consist of three centrepieces of rolling hills of flowers. The peaks rise softly from the black carpeted space, as the bridal models walk a winding, soft gold runway between the hills. Think of that soft, golden moment just before the sun sets, whilst taking a walk in The Lake District."
Image by Bloomsbury Films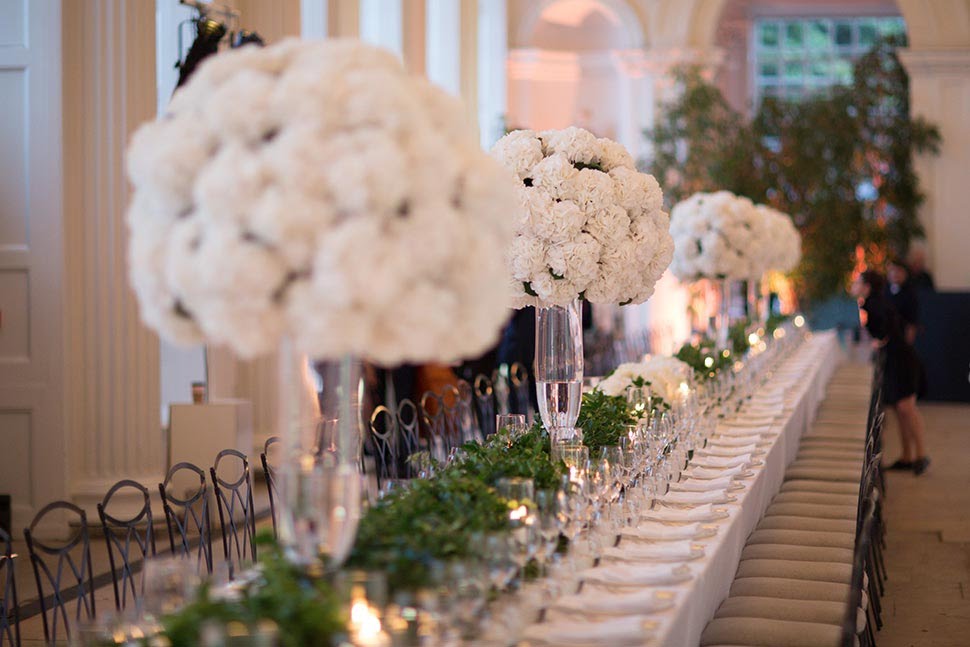 With a reputation for wowing guests with show-stopping weddings and world-class gastronomy, Blue Strawberry and Table Talk Catering are no strangers to Michelin stars. Their highly creative Development Chef, Euan Peach, learnt his craft through working in a series of esteemed establishments such as Restaurant Sat Bains, The Fat Duck, Heston's Laboratory, Hind's Head, The Ledbury and Tom Aitkins.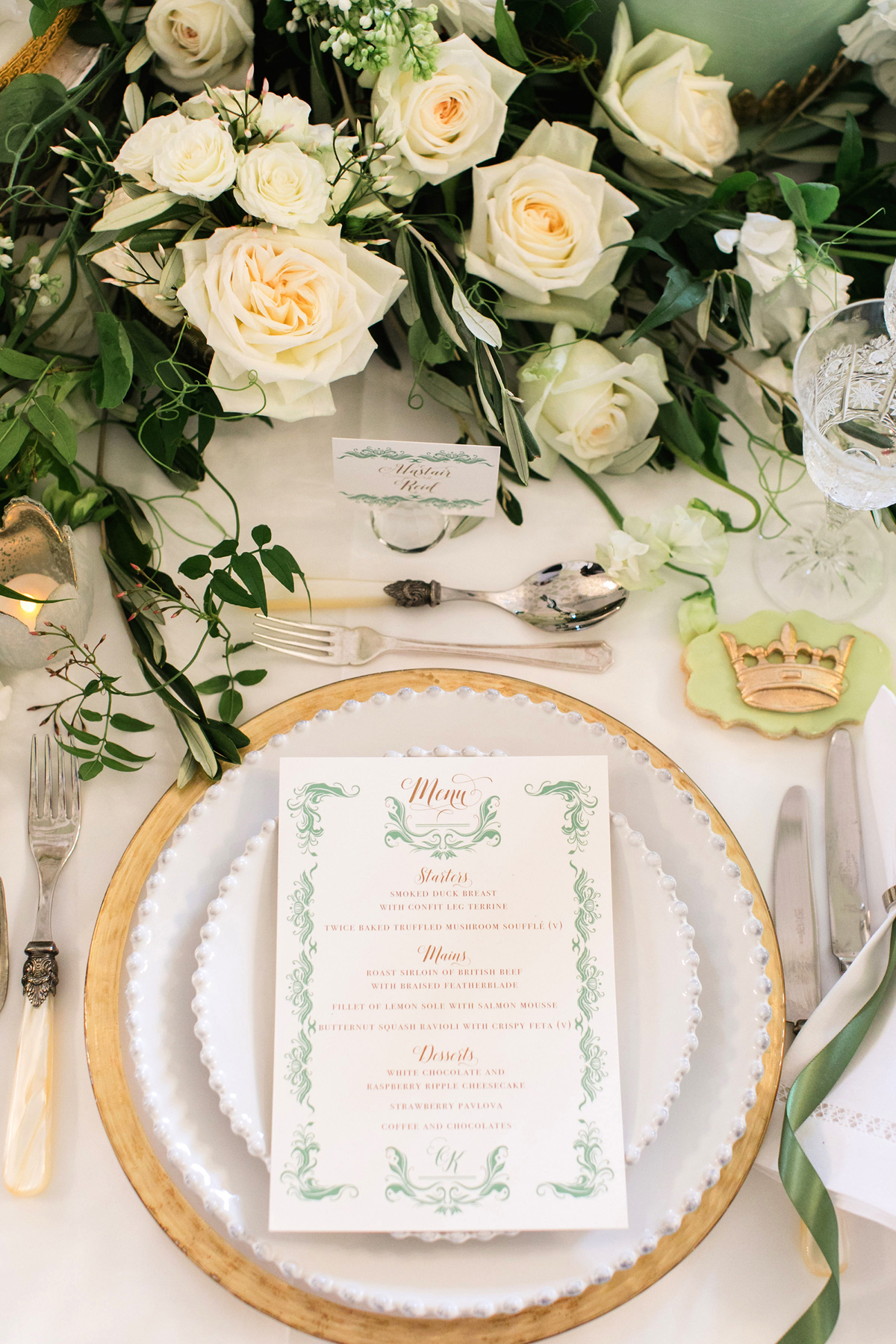 Hengrave Hall wedding, Roberta Facchini Photography
At the Showcase, Blue Strawberry and Table Talk will take guests on an exciting culinary journey, exploring key food trends for 2019. From welcome drinks and canapés, through to thought-provoking mini-meals and the jewel in the edible crown – their pop-up Chef's Table experiences. The signature dishes, which will be created in front of guests will be paired by wine carefully selected from their Head Sommelier. The evening will conclude with a magnificent golden dessert station built into the floristry installation, enabling guests to become part of the set and forage for a range of delicate puddings and guilty pleasure treats.
"I love the challenge of designing exciting dishes that showcase the very best produce from each season," says Euan. "I'm continually creating bespoke menus for individual weddings and events and it's such fun to work on unusual client briefs. From putting together a menu celebrating the best of 'hip-hop' or an authentic Tuscan dessert station, to recreating dishes from a high-profile bride's favourite restaurants. One of my all-time favourites was a 'past, present, future' menu for a gala dinner, which combined medieval recipes with current food trends and cutting-edge techniques. I find food history fascinating and so it was brilliant to indulge my passion whilst experimenting with innovative cooking."
And, whilst guests wander among the beautiful flowers and sample the culinary delights on offer, they'll also be entertained across the venue by fabulous acts from Sternberg Clarke. Echo, the world's first vocal pop string trio will be playing as will Jack Pack who'll be combining the style of the Rat Pack, the grace of Sinatra and the panache of Michael Buble and then combining it with raw chemistry and a little cheeky-chappy swagger!
Frobacks, the world's first flash mob-style comedy dance troupe will also be wowing guests as will Wandering Hands who provide unamplified, impromptu performances to small groups of guests who'll even be able to choose the songs they want to hear!
Continuing the trend for the unexpected the world's first wedding department store, The Wedding Gallery, will also be bringing their story to life at the Showcase and I think we can be sure that Kensington Palace won't have ever seen anything like this! Presenting what's sure to be an utterly amazing catwalk show featuring the latest bridal trends and the finest designs from a selection of their luxury bridal fashion and menswear brands.
Photography/videography team byLumiere will be on hand to capture the event and this is sure to be absolutely superb. Kate and Brent Kirkman at byLumiere offer a rare combination of shooting all three disciplines of photographic stills, cinematic films and aerial footage for the complete package. This is fine art storytelling that captures the natural emotion and human connections that fill weddings in a stylish and creative way. I can't wait to see what they produce!
And that's not all! Wise Productions will be transforming the Pavilion with an immersive light design to create a stunning backdrop for the event and you can also be sure that the catwalk is going to be beyond brilliant. I love Wise Productions – their tech and creativity gives you the best in discreet and elegant productions and their work includes everything from lighting, sound systems and stages to bespoke dance floors, bars, furniture and video.
Lastly, I have to mention Ananya Cards, the award-winning luxury wedding and event stationery company who'll be showcasing their collections, including the brand-new Colour Infusion range, at the event too. Founder Vaishali had the great pleasure of designing the save the date and invitation for the event and I adore her designs.
The fusion of cultures, the modern Western twist on traditional Asian design and the fashion-forward collections are just wonderful. I also love the fact that with Ananya Cards, nothing is forgotten and every tiny detail is just perfect.
So, I think we can all agree that The Historic Royal Palaces Wedding Showcase is set to be something very special indeed.
To find out more about weddings at Historic Royal Palaces and to find your perfect palace, do visit the website or contact the team on [email protected]
Love,
Tamryn x
Main/header image by Ross Harvey