Are you considering holding  your wedding reception celebrations under canvas? If so, stop whatever you are doing now and read this. It will change your wedding planning life, I promise you.
PapaKåta are the original wedding tent and tipi suppliers – their divine canvas tents and tipis are beautifully produced and have created some of the most Pinterest worthy images (for over 2,500 weddings to date!), that we have frankly ever ever seen. Once styled inside (think persian rugs, festoon lights, candles, hanging greenery and community dining inspired trestle tables), their wedding tents and tipis are an Instagrammers dream (let alone a wedding bloggers).
Better still, the team behind PapaKåta are wonderful, personable, friendly and approachable – and they really, really care about their clients and providing the best possible customer experience. Recently, the wondeful PapaKåta team hosted an open weekend in the idyllic setting and natural surroundings of Escrick Park Estate, just south of York, to showcase their gorgeous Sperry tents to couples planning their weddings.
Images by Natasha Cadman Photography
PapaKåta are, by the way, the UK's exclusive provider of Sperry Tents (Sperry tents being the world's highest quality sailcloth tents for weddings and events). We are so delighted today to be able to share some of the images from their recent open day event with you. As the PapaKåta team are now busy organising their April 2019 open day event, we wanted to invite you to step inside PapaKåta's world for a few moments to see what you can expect to see if you make plans to attend. And to provide a slice of colourful wedding tent and tipi planning heaven to fill your Pinterest boards with #yourewelcome.
"Our bi-annual PapaKåta Open Weekends are not only a great opportunity to meet with our Brides and Grooms, to show you our Sperry Tents and Teepees in all their glory, but, they're also the perfect time for us to explore and embrace new décor trends and ideas for the wedding and event season ahead."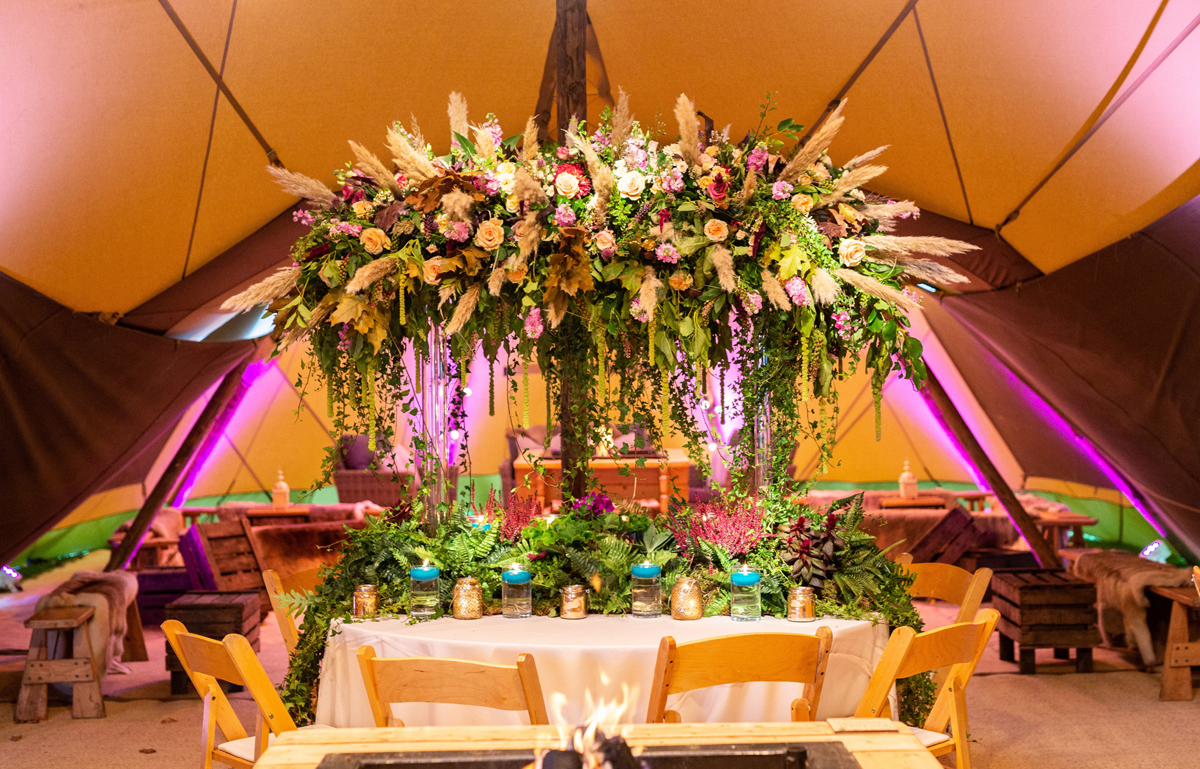 "This October was no different when working with Wedding and Event Planner Lucy Wright, we chose 'A Touch of Tuscany' as our starting point, drawing inspiration from the rich and decadent Italian heritage. The fabulous Mat from Red Floral Architecture inspired visitors to the Open Weekend with the use of dramatic florals in bright bold colours. Whilst, beautifully designed  stationery by Wonderland Invites paired with Whitehouse Event Crockery's classic tableware and luxurious linens by Just 4 Linen gave a timeless elegance to the overall look of the Teepees and Sperry Tents. To give the tents extra warmth and add additional interest, Lightech used warm up-lighters in pink and purple hues, beautifully captured here by Natasha Cadman Photography."
[JP-VIDEO]
Here Lucy Wright gives a little background on the inspiration behind this bright and vibrant look:
"I was inspired to create this 'A Touch of Tuscany' look for the PapaKåta Autumn Open Weekend after visiting Italy for a site visit for one of my brides last year. I've added teal to give the look depth and decadence. Teal seems to be a colour used in many ways, from being subtly paired with greys and crisp whites to contrasting with vibrant pinks and coppers."
"I planned a stunning wedding in May of this year in a PapaKåta Sperry® Tent where I worked with the Bride and Groom to create an elegant yet bold theme. We used the teal in the stationery colours, coppers in the tableware and paired it with tonal greys in the candles. The overall look was fresh and modern yet warm and inviting."
"I wanted to expand on the Tuscan theme using the colour teal, looking forward to SS19 inspiration from fashion, textiles and European influences… Jewel-like teal gives a timeless elegance to the overall look of the Teepees and Sperry Tents."
You can join PapaKåta in their Teepees and Sperry Tents for the PapaKåta Spring Open Weekend on the 6th & 7th April 2019 at Escrick Park.
I'd get the appointment into your new year diaries now if I were you peeps!