Lovelies, I've got such a treat in store for you today. Have any of you been to Austria? When I was younger I was obsessed with a series of books called 'The Chalet School' by Elinor M. Brent-Dyer, set in the beautiful mountains of the Austrian Tyrol.
My love of these books was so great that I persuaded my family to take a summer holiday in the lakeside hamlet where it was set. So imagine my delight when I discovered that today's wedding between Marianne and Christian took place on the shores of the Achensee, a place full of happy memories for me. I can't wait to share this beautiful celebration with you so come with me to Pertisau, Austria.
Photography Wild Connections Photography
Marianne's choice of gown was a simple sheath gown from Pronovias, the epitome of sophistication and elegance. What do you think of the draped neck and figure-hugging silhouette, not to mention the sumptuous train?
"It is classic and elegant. I tried on many different styles of dresses, some very ornate. but in the end I wanted my dress to reflect my style. I wanted something timeless that wouldn't look strange in 20 years because it was on trend."Marianne's wavy auburn locks were styled into a tumbling down-do to fall over one shoulder by local hair stylist Alicia Schopf. Her make-up, applied by Aline Egg, was elegant and pared-back to complement her fair skin. Oh, and I can't get over these shoes; divine gold, strappy sandals from Sophia Webster.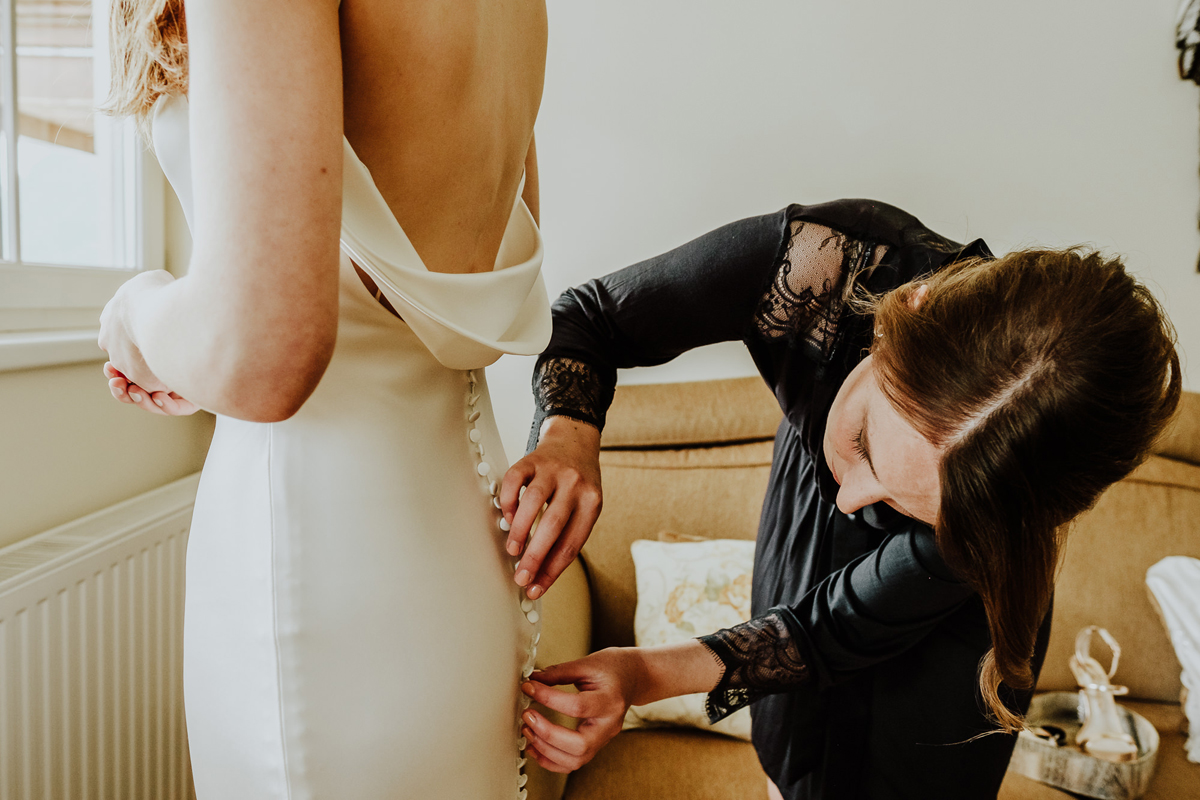 The finishing touch was a spritz of Bottega Veneta Knot Eau Absolue, gifted to her by Christian on her birthday, and a delicate Swarovski bracelet.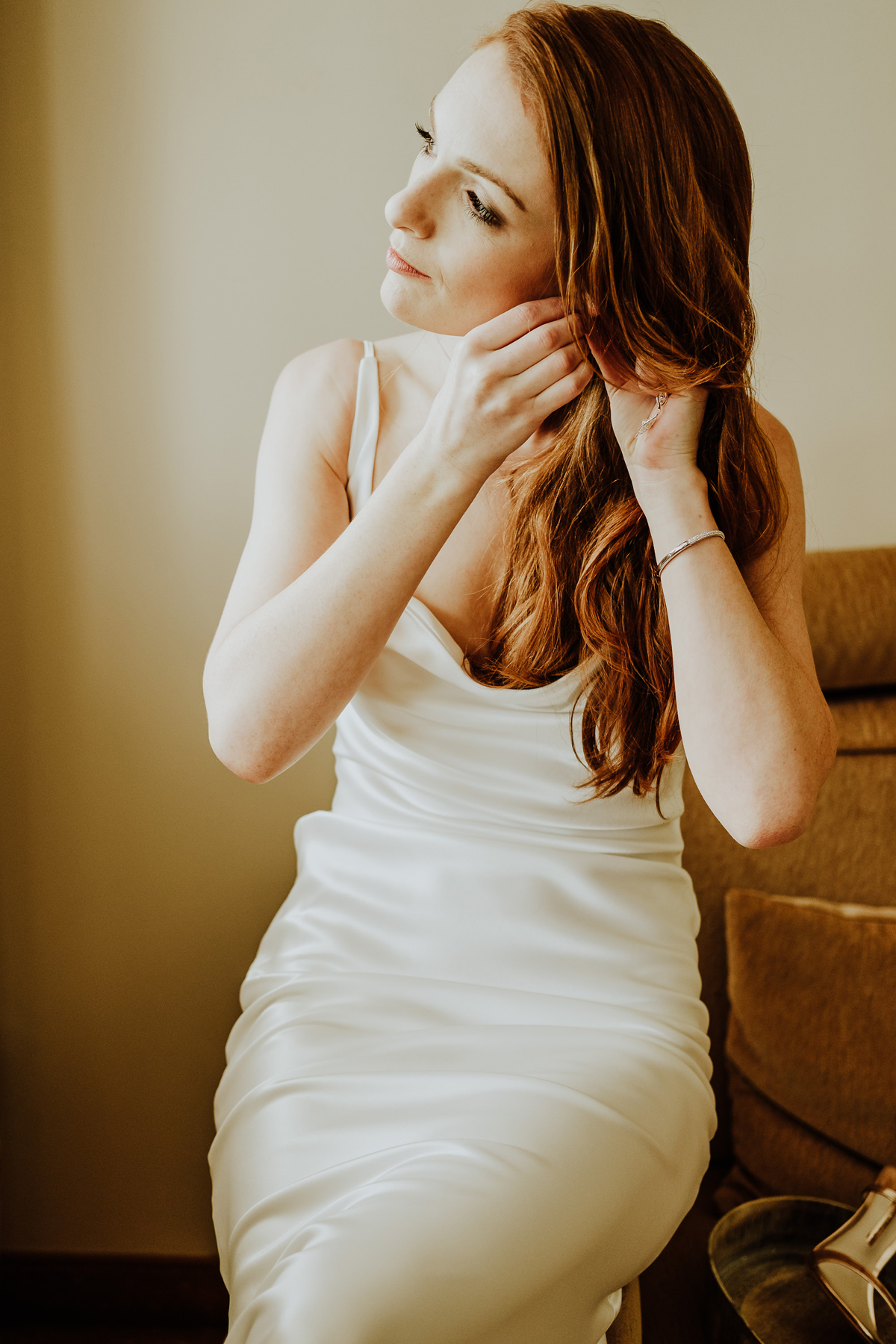 Marianne, who works in asset management, married Christian, a software engineer, on 23 June 2018. Their ceremony was held on an outdoor deck overlooking Lake Achensee in Pertisau, Austria, with a reception at Hotel Entners Am See.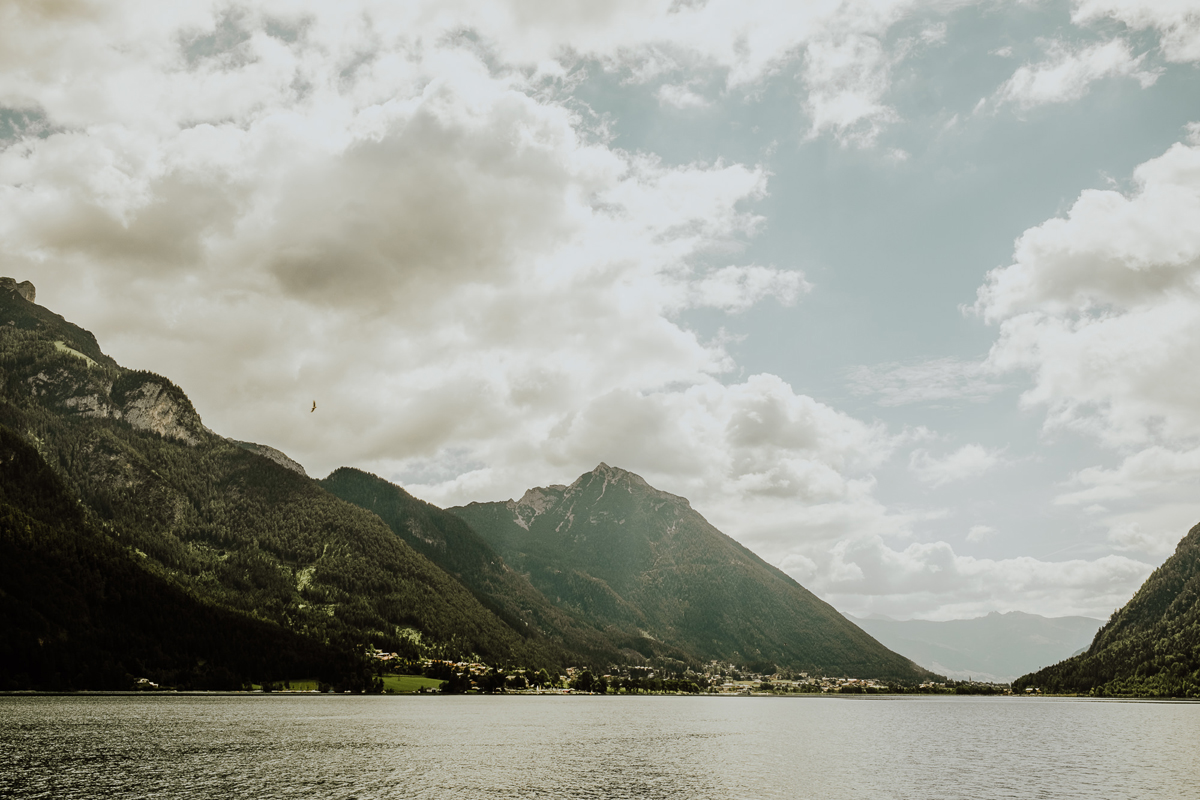 Christian is half-Austrian and the couple were engaged over there, so it was natural that they wanted to share their love of this country with their family and friends.
The couple celebrated the spectacular mountain and lake landscape with simple, natural décor of greenery and pure white flowers which complemented the bride's chic, elegant Pronovias gown.
Marianne and Christian opted for a 'first look', resulting in photographs which are full of quiet joy. Christian had chosen a deep grey Beggars Run suit, with a soft green tie from Ties R Us and smart Ted Baker shoes.
[JP-VIDEO]
A burst of freshness came via his buttonhole of eucalyptus and tiny white flowers, created by Blumen Calovini who also styled the rest of the wedding flowers. The simplicity of the bride's gown was offset with her wild, organic-feel bouquet of white and green.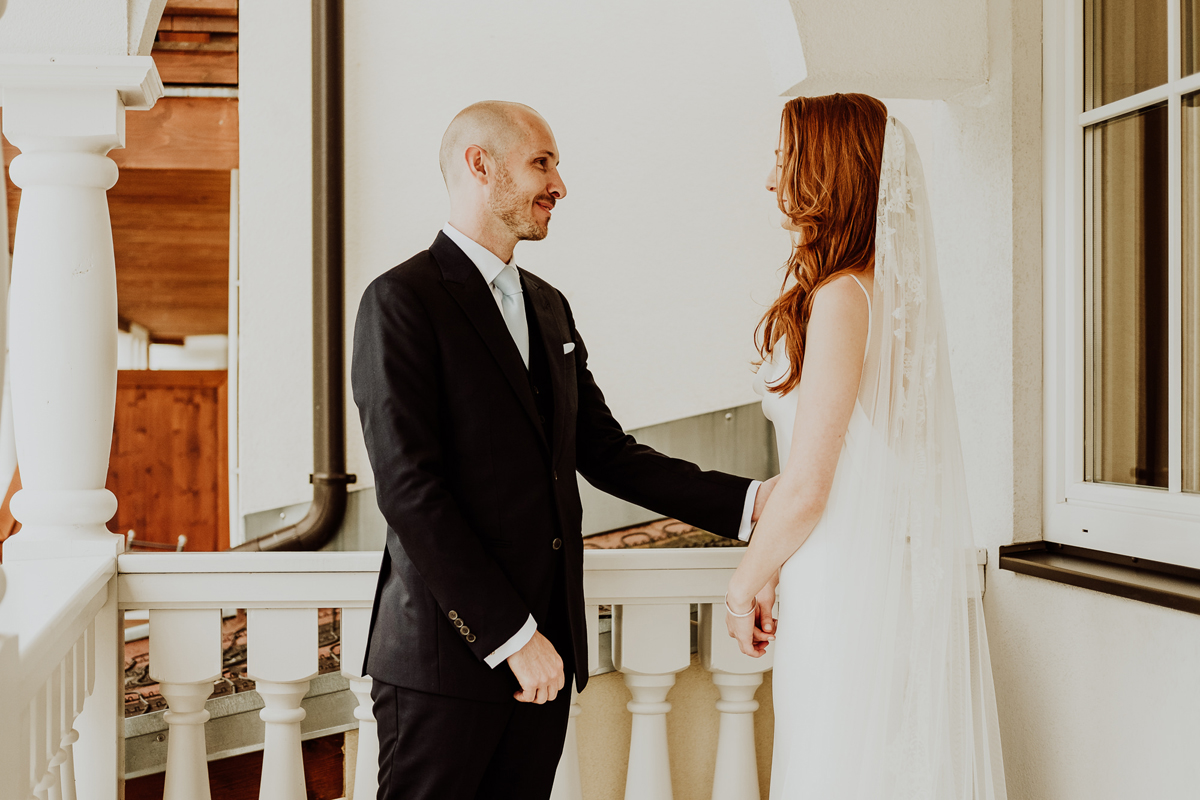 I'm in love with these crisp, clean photographs which convey the happiness of the newly-weds and the natural beauty of the landscape. They're by Cat Ekkelboom-White of Wild Connections Photography, a photographer who specialises in outdoor weddings.
"Cat was fantastic. She spent time with us before the wedding scouting out locations and getting a sense of what we wanted for our day.  It was very cold on our wedding day, 14 degrees and quite windy, and she was very good at working with that and finding inside locations when it became apparent I was going to lose it if I had to stand outside in the cold any longer!"
Her sheer lace-tipped veil was also from Pronovias. She fastened it to the back of her head with a classic diamanté hair slide from Debenhams and I adore the sheer look against the rippling waters of the lake.
"We met through friends of friends in Sydney. However Christian was living in London and I in Sydney. Our romance first started as a holiday romance when we spent a week sailing around Corsica with a group of six friends. When I moved to London six or so years later we reconnected and the rest is history."
"Christian took me to meet his relatives in Austria but in actual fact we were not meeting his relatives; he had organised a surprise weekend to Zell Am See in Austria. He proposed on top of Maurerkogel – a mountain in Austria. He made me work for the proposal!"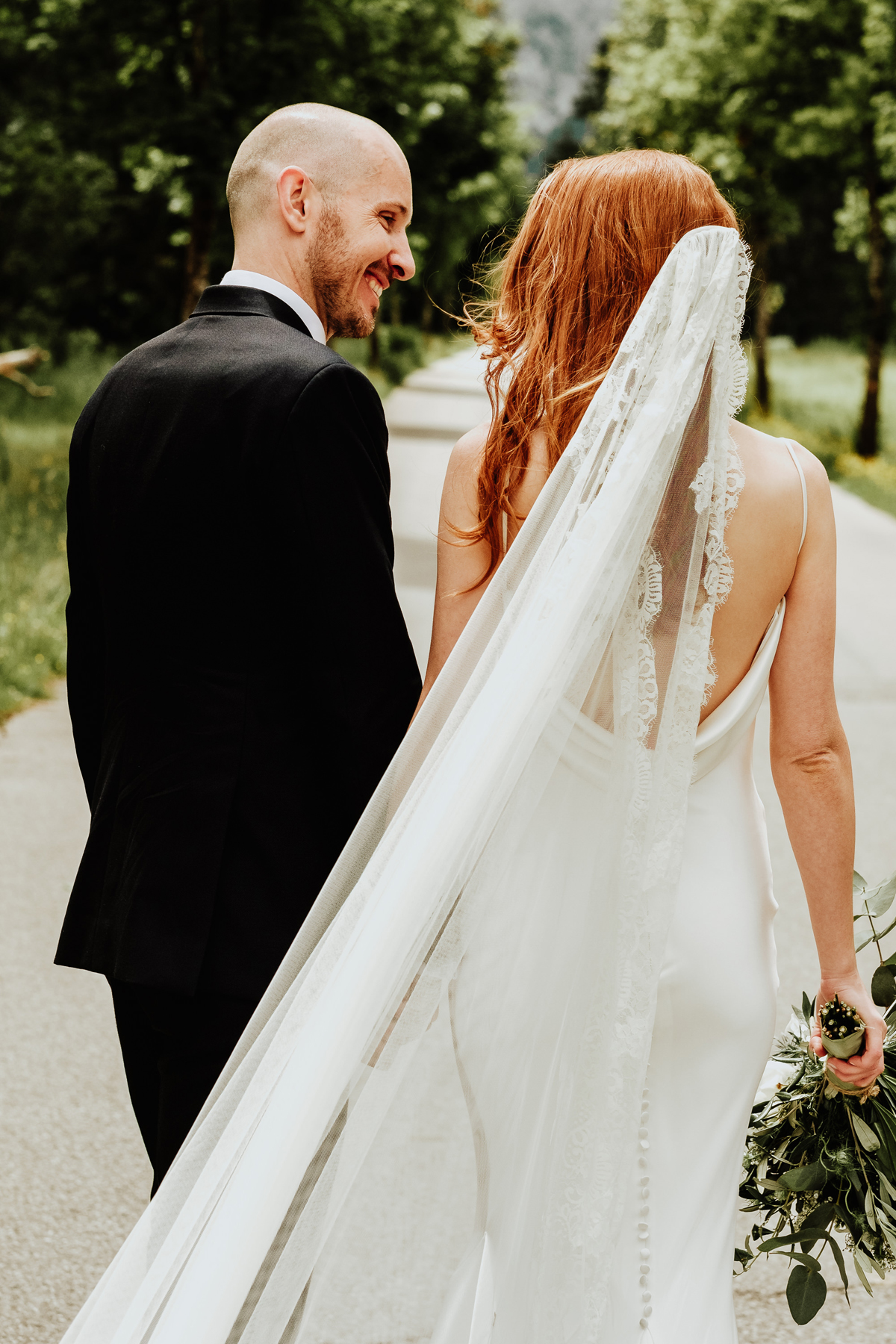 "For my bouquet I loved the large-style bouquets with lots of greenery like eucalyptus and olive branches. The bridesmaid bouquets were similar and included blue thistle to match the blue in their dresses. I loved everything about the flowers and they did an amazing job."
The bridesmaids' off-the shoulder gowns toned in with Christian's tie and also mirror the shimmering green of the Achensee. The simple, fitted gowns were bought at Jarlo London and look so sophisticated with their deep side slit and puddle train.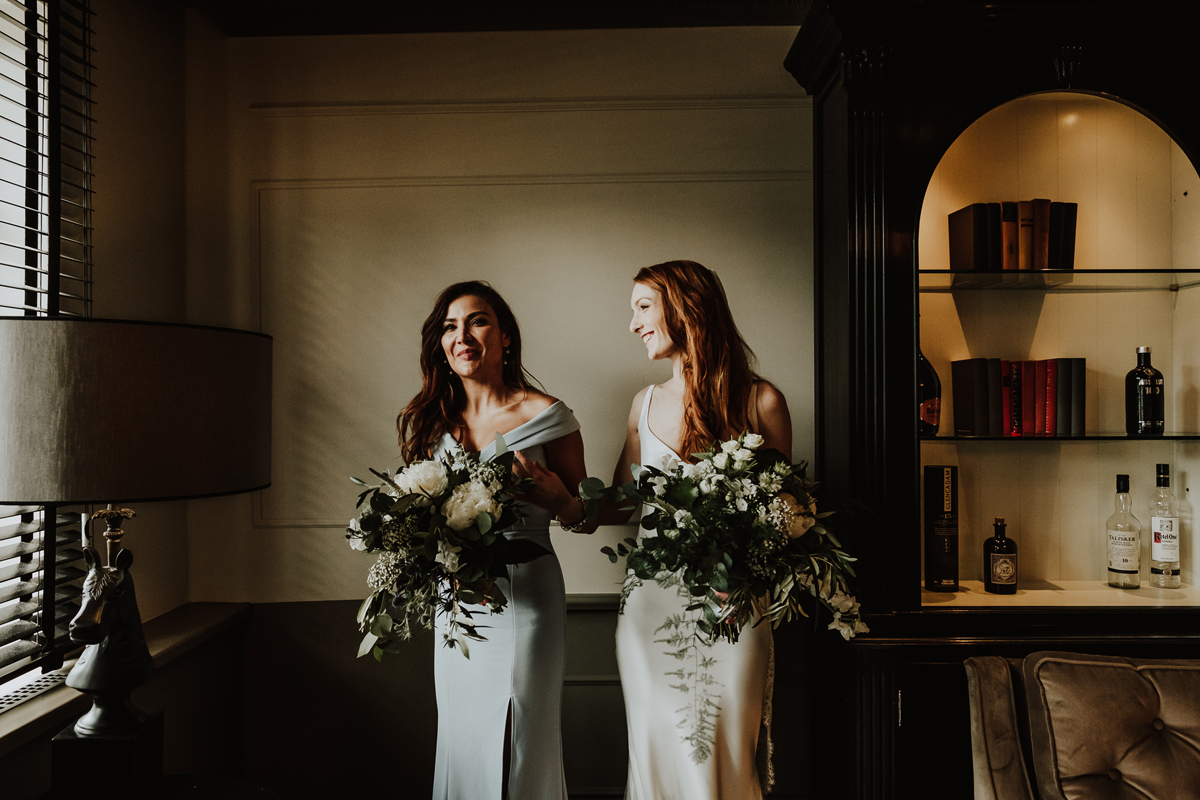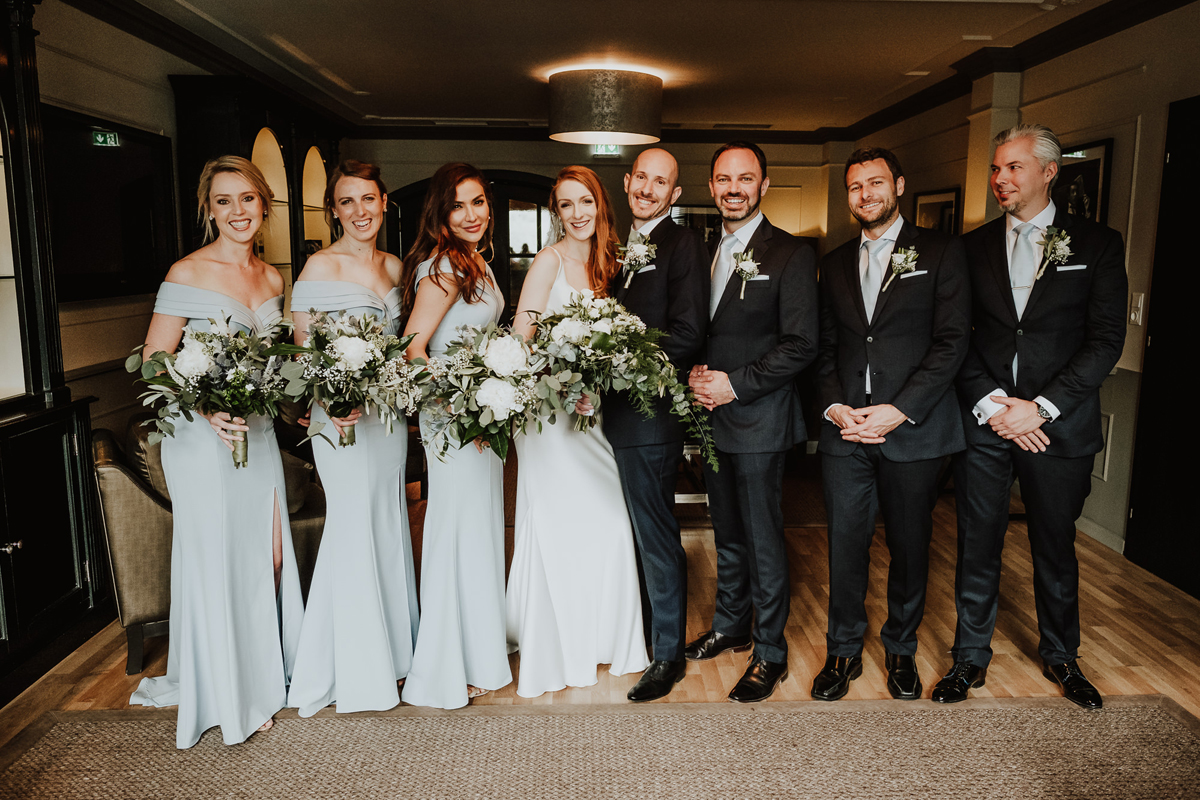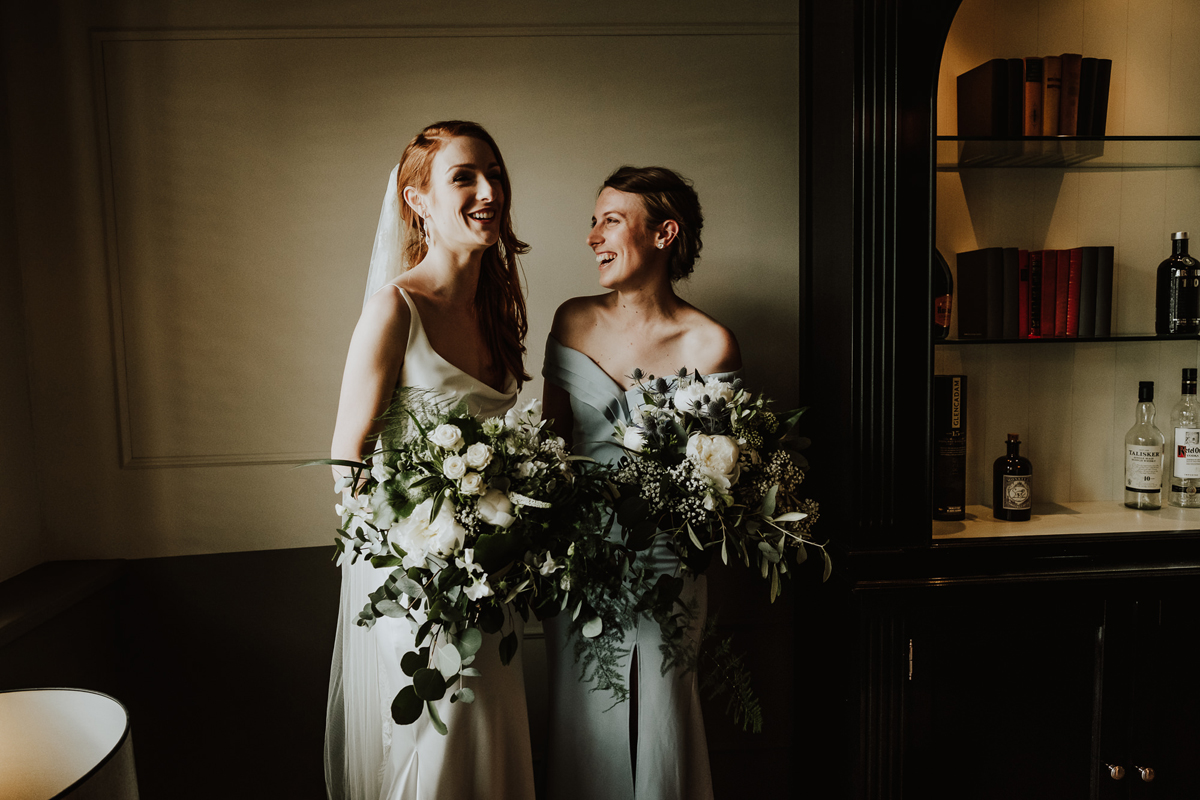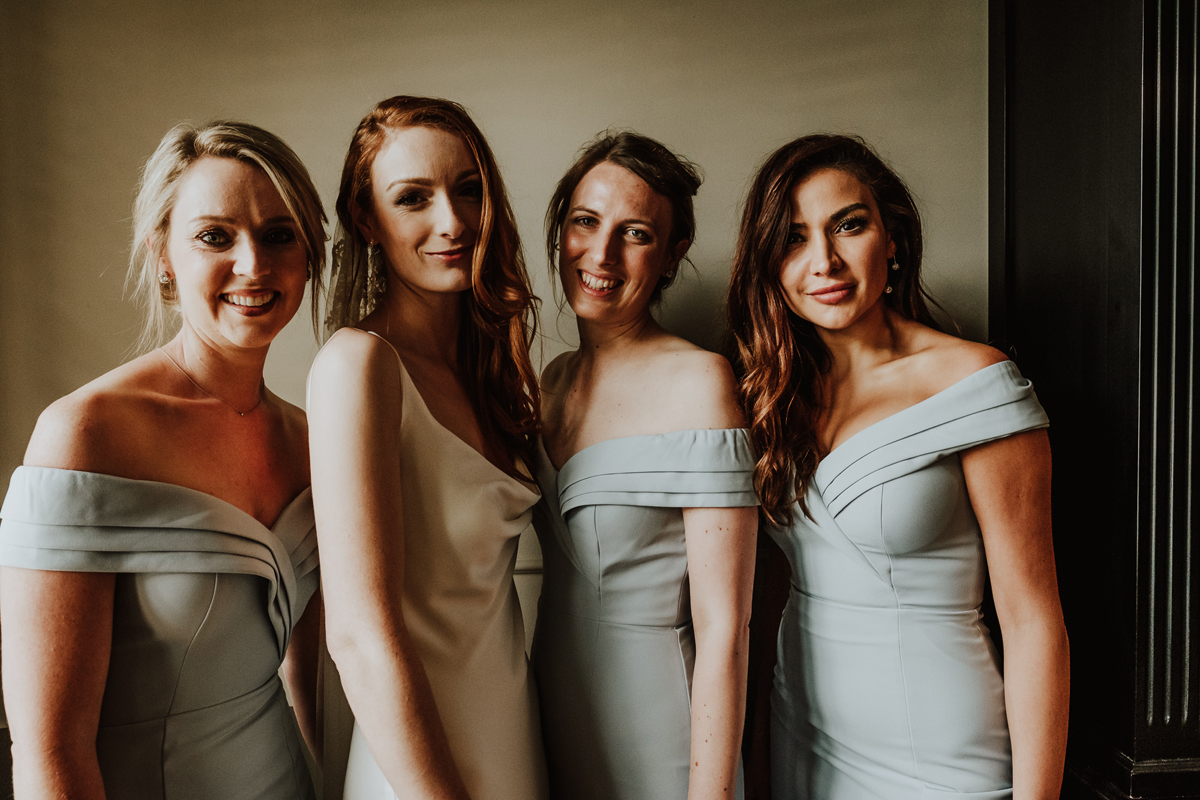 After the first look and group photographs on the shores of the lake, it was time for the beautiful ceremony on the deck. A string quartet set the scene, playing Pachelbel's 'Canon in D Major', as the bride walked up the decking aisle with her father Ian.
"We were married legally in London three days before at Old Marylebone Town Hall. In Austria we had my family friend Ian and Christian's cousin Erwin act as celebrants. Ian read the English and Erwin, the German."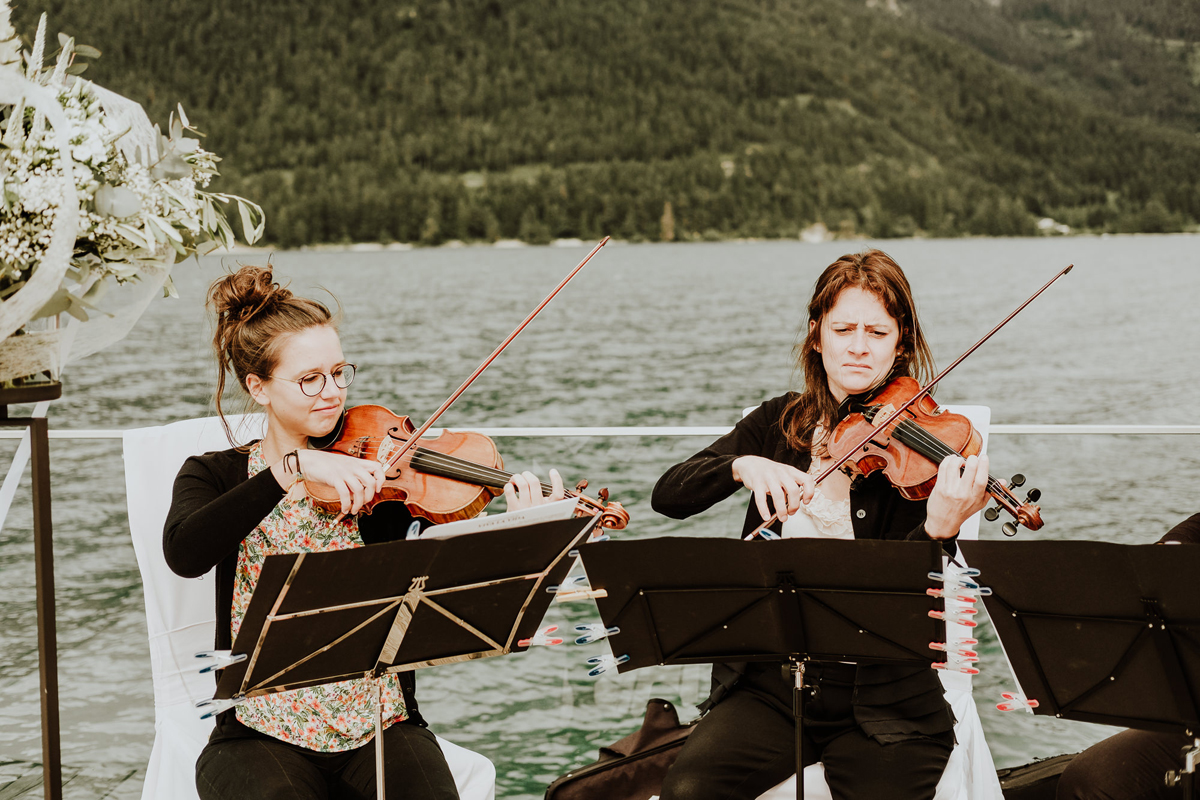 "We wrote our own vows and we said them in both English and German. I don't speak German so I made sure to practise these so that I was prepared. Christian can speak German so didn't practise and on the day he stumbled slightly over his so I announced to the crowd that my German pronunciation was slightly better. That got us a few laughs!"
Christian and Marianne's choice of reading was 'Blessing For A Marriage' by James Dillet Freeman. If you're looking for inspiration for your own wedding readings at the moment have you visited our special Wedding Readings pages? We're delighted to share them with you and hope that they help you find the perfect reading for you as a couple.
Marianne's wedding band was a bespoke design from David Marshall, chosen to complement her engagement ring.
"My diamond is an Ashoka cut and Boodles are the only stockists in the UK. I always wanted an emerald cut but the Ashoka is cut in such a way that it gives it a bit more sparkle. I fell in love with it the minute I saw it."
"David Marshall was recommended by a friend. He makes a lot of jewellery for the bigger stores so was able to match the wedding band to the engagement ring. Also, Christian wanted a titanium ring and he was able to create one for us. They are both engraved on the inside with the date of our wedding."
After the ceremony, the newly-weds and their guests celebrated with drinks and wedding cake outside. They commissioned a tiered naked wedding cake decorated with fresh fruits from Astrid at Torten Nascherei. Oh my, doesn't it look delicious?
"In keeping with the natural, classic theme we went for a naked cake. Each layer was a new layer of deliciousness! The bottom layer was chocolate hazelnut with a hazelnut cream filling, the third layer was vanilla with passion fruit and cream cheese filling, the second was Sacher torte as we wanted our guests to have an authentic layer and the top layer was chocolate brownie with chocolate cream (because chocolate brownie is my favourite)."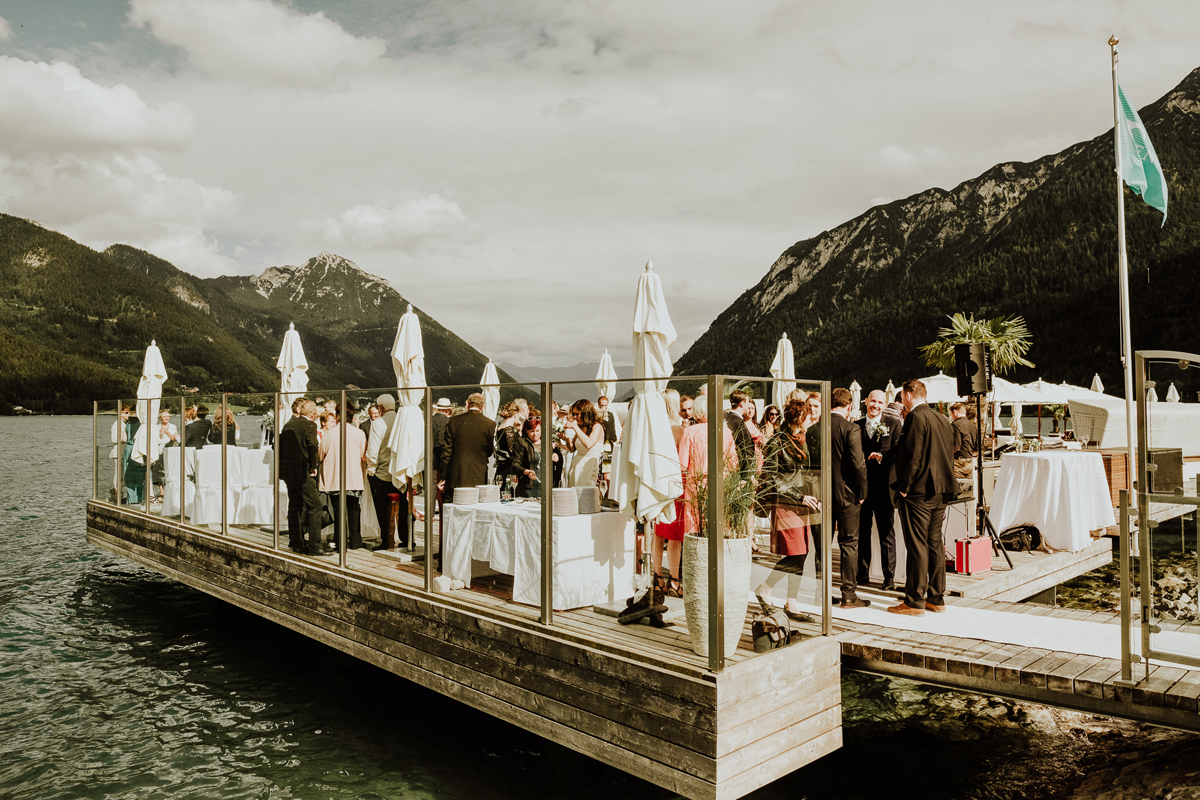 The couple worked with event planner Theresa Mayr of Creativ Hochzeit to style their day. The ceremony was held on an open air deck overlooking the lake, surrounded by the majestic mountains.
"Given the backdrop was so stunning we wanted very simple decorations – lots of greenery and white flowers, so that the scenery could speak for itself."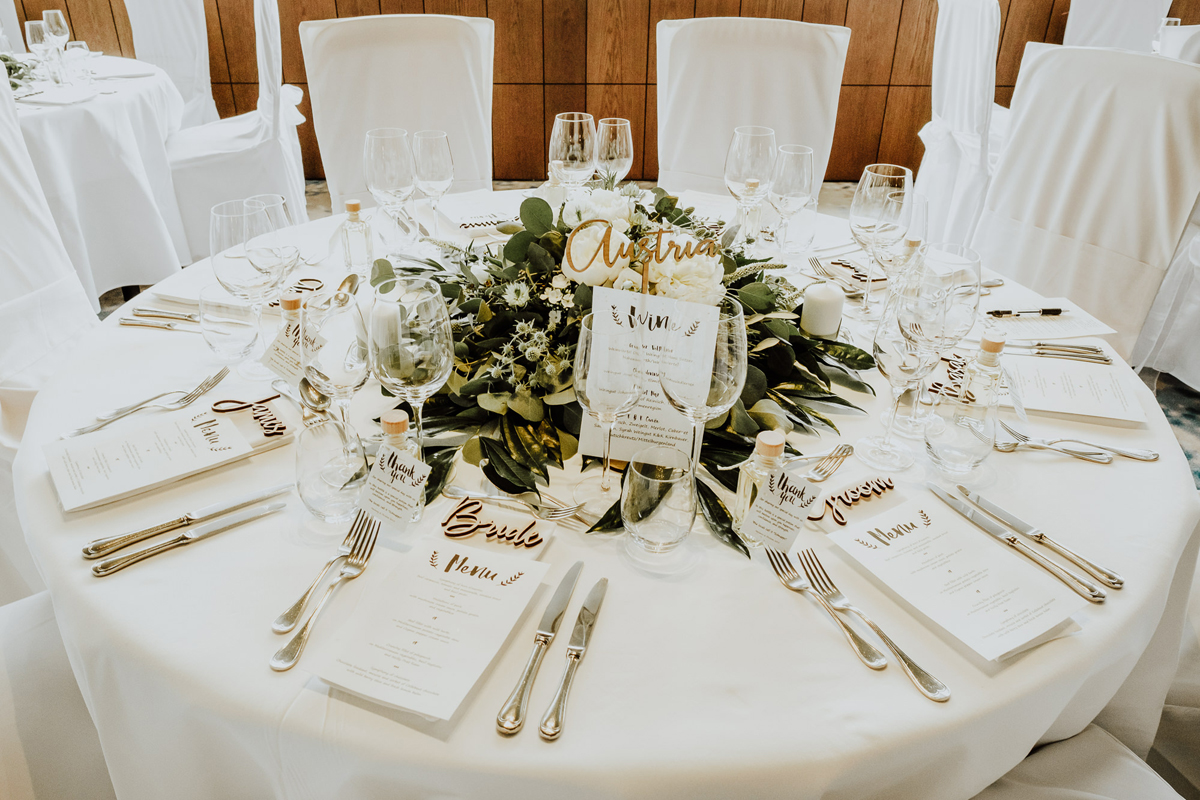 "The food was all done by the amazing team at Entners Am See hotel. It was truly fantastic – I had numerous comments about it being the best wedding food guests had ever had."
Afterwards, the party made their way in to Hotel Entners Am See to continue celebrating with a delicious Austrian wedding breakfast. The banqueting rooms look simply wonderful decorated with yet more greenery and flowers.
"We wanted lots of green and only white flowers but we wanted a lot of green so the table decorations took up most of the middle of the table. Given the natural beauty of the setting we wanted the theme to continue indoors where the reception was held. We also had everyone's names printed in wood by Design Fusion Studio to go with the very natural theme."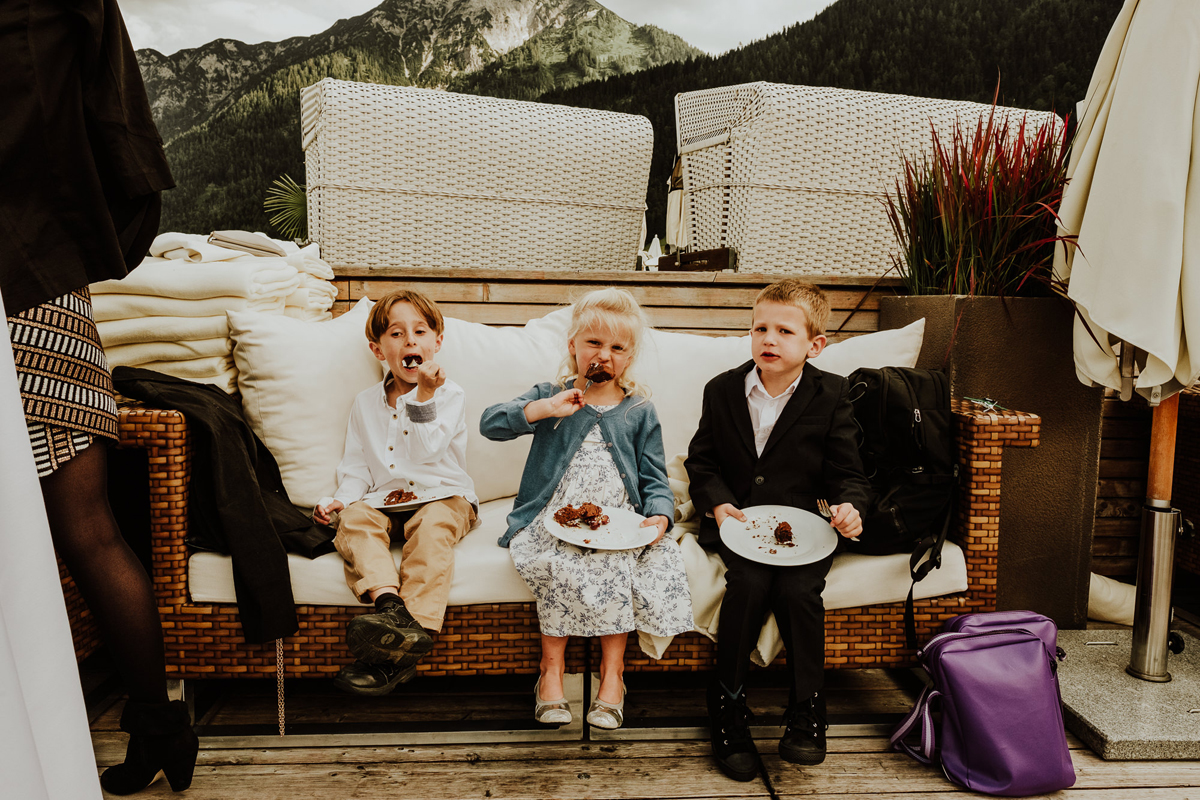 I love that the newly-weds changed into a traditional Austrian dress for their fun, energetic entrance as a married couple. They look simply wonderful. Intrigued about the dance? You can see a version on Youtube here.
"We changed into traditional Austrian outfits and danced in to 'Zillertaler Hochzeitsmarsch' which is a very Austrian wedding song. We kept it a secret from all of our guests, even our bridal party, and it was great fun. The dance itself is very high energy."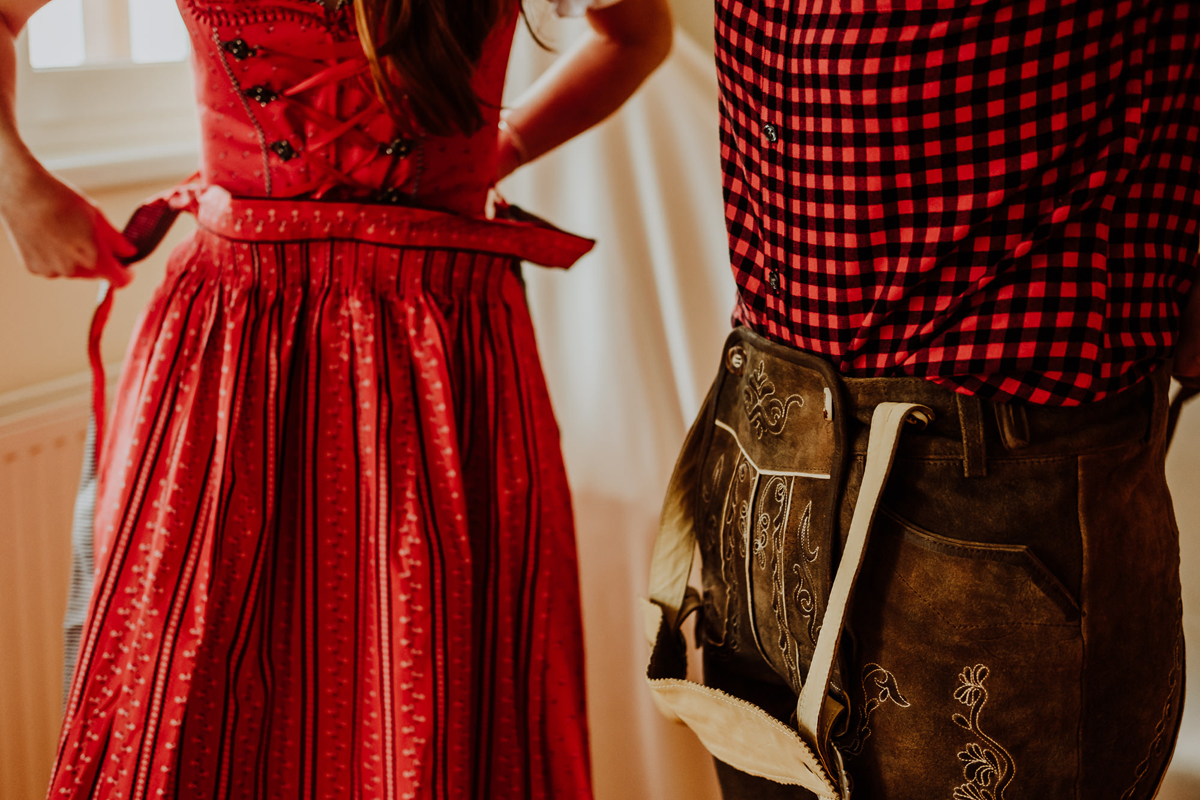 "We had bottles of schnapps for all the guests. The Schnapps was made locally in Tirol."
After a first dance to 'Angels' by The XX, the guests danced the night away with music from DJ Endy.
Words of Wedded Wisdom
"Having a wedding planner may seem like a lot of money but having someone there on the day and knowing that they are on top of everything makes the day so much more enjoyable. If you can't afford one then appoint a good friend or family member who isn't involved in the bridal party and ask them to be that person. The last thing you want to be worrying about is whether the suppliers have turned up, if the table plan is in the right place, etc."
"Everyone gave me advice and I said I would do it but somehow on the day you forget to relax. I was quite stressed about timings and if everyone was having a good time. I wish I'd just tried to not think about it because everyone was having a great time!"
"Also there is absolutely nothing you can do about the weather – so have a glass of champagne and pretend it's perfect!"
Marianne and Christian, sending so much love and congratulations to you on your wedding. I hope you had a wonderful time in Pertisau, and are enjoying reliving your memories with these beautiful photographs. Thank you so much for sharing them with us today, and thank you also Wild Connections Photography. I've loved having a glimpse in to your day and being inspired to visit this special place once again.
Ele xx