Have you bookmarked our Little Book Wedding Directory yet? Little Book is full of wonderful, talented, creative wedding suppliers that will work hard to make your wedding day memorable and wonderful.
One of our newest members to our beautiful Little Book is Civic House, a cool, creative space in the heart of Glasgow's city centre that offers a 'blank canvass' style setting over two levels for modern city wedding.  It's stripped back simplicity, textures and muted colours combine to create a cool industrial feel with a stylish and elegant vibe.
These gorgeous images were created to showcase how Civic House could be styled for a wedding, and I'm so in love with them. The floral decor and photography is divine – be sure to take a moment to check the supplier list at the end of this article – these people should all be making their way into your very own little black book of wedding contacts!
Photography by Claire Fleck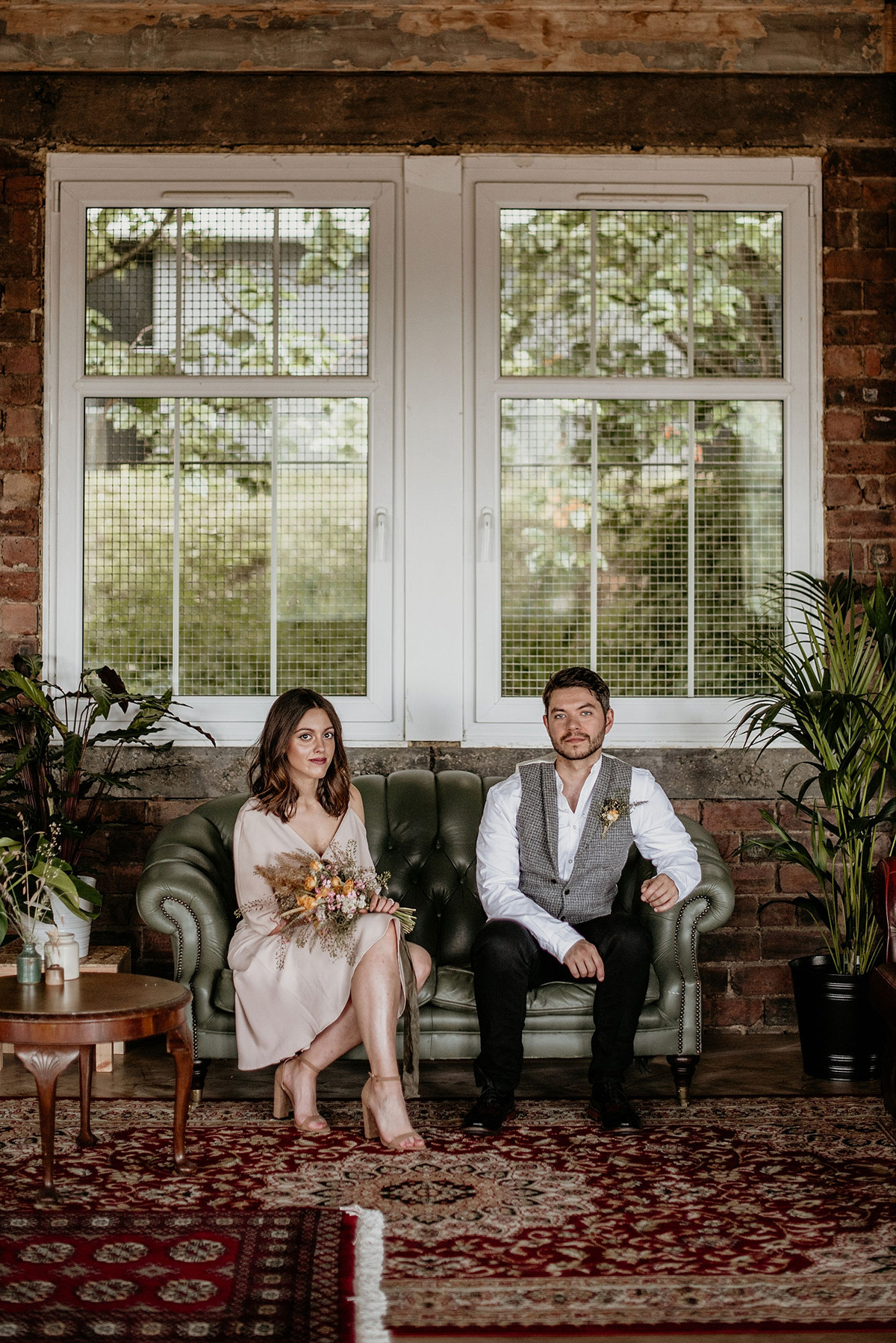 Rachael from Civic House (Eventful Spaces) tell us more…
"The ground floor has concrete floors and a styled kitchen and bar area set against exposed brick, clean white walls and original features. The first floor features a distinctive herringbone parquet floor, exposed roof beams and is more chic offer."
"Civic House's beauty is grounded in its stripped-back grandeur: the vaulted ceiling of the upstairs space; the exposed beams; the bold rust red brickwork. The venue speaks for itself and for this styled shoot we wanted to emphasise those features and bring them out using natural textures and a colour palette that highlighted the colours present in the building's interior."
"At the heart of the shoot were real life couple Elvira and Adam. For Elvira's look we wanted to achieve a contemporary elegance with a non-traditional bridal look. We opted for a simple yet interestingly cut, Lavish Alice dress complimented with casual hair and a flawless yet natural make-up look."
[JP-VIDEO]
"For the tablescape, we opted for washed linen tablecloths in a stone beige colour, which contrasted beautifully with the exposed brickwork of the main wall in the upstairs gallery. Cotton cloth was hand-dyed with avocado skins to achieve a soft peach colour for the napkins, leaving the edges frayed to prevent them from looking too polished."
"To add some contrast to the lightness of the textiles, we added sage-coloured plates, and ceramics with earthy tones for the table floristry."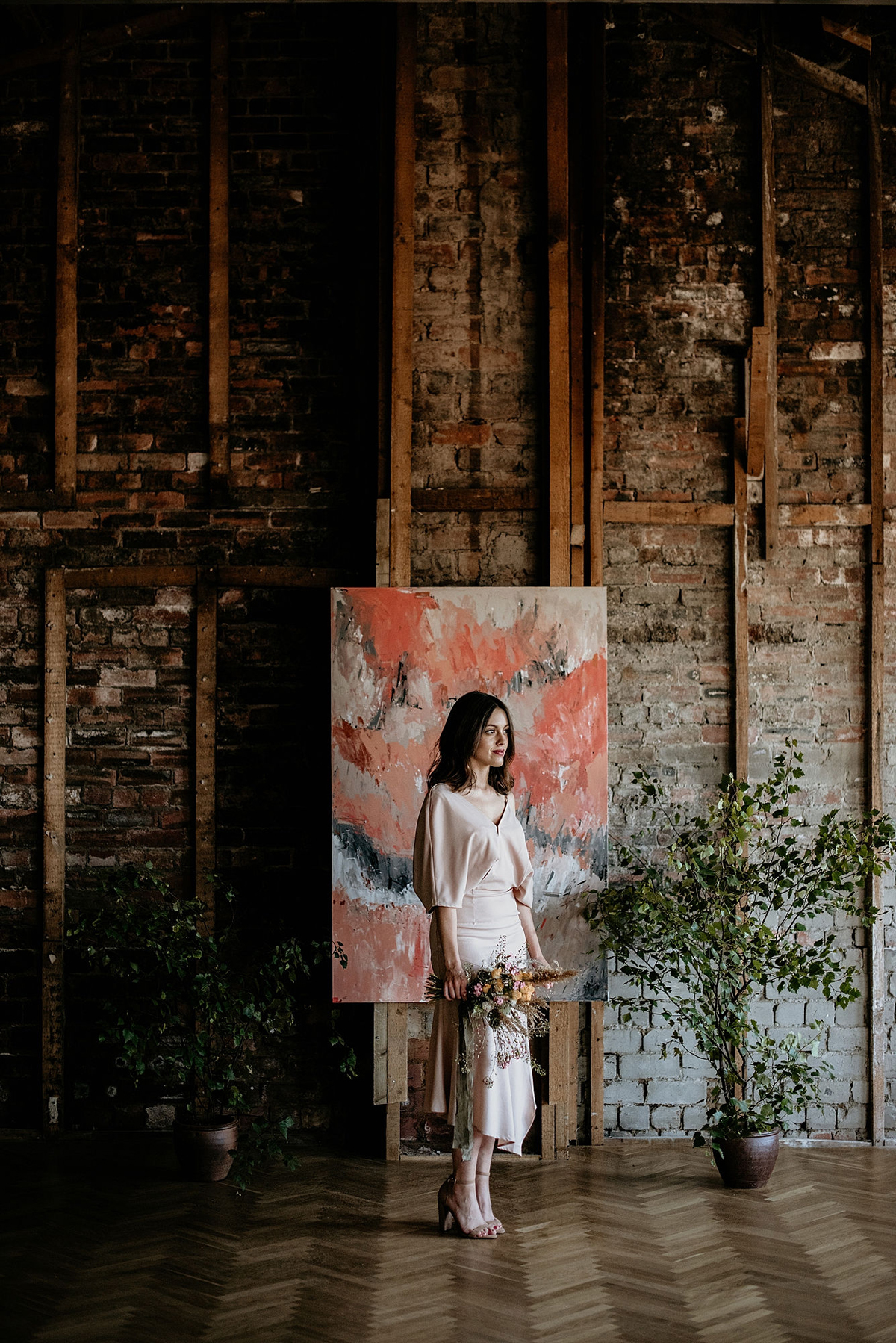 "For the remainder of the foliage, we wanted an installation that would complement the brickwork and emphasise the height and scale of the space. It was important we used locally-foraged foliage to work alongside the natural materials present in the tablescape, which meant Aoife of Feather Grass Florals was the perfect fit. We even managed to use pampas grass from my garden to add some soft light tones amongst the greenery, which tied in beautifully with the table linens."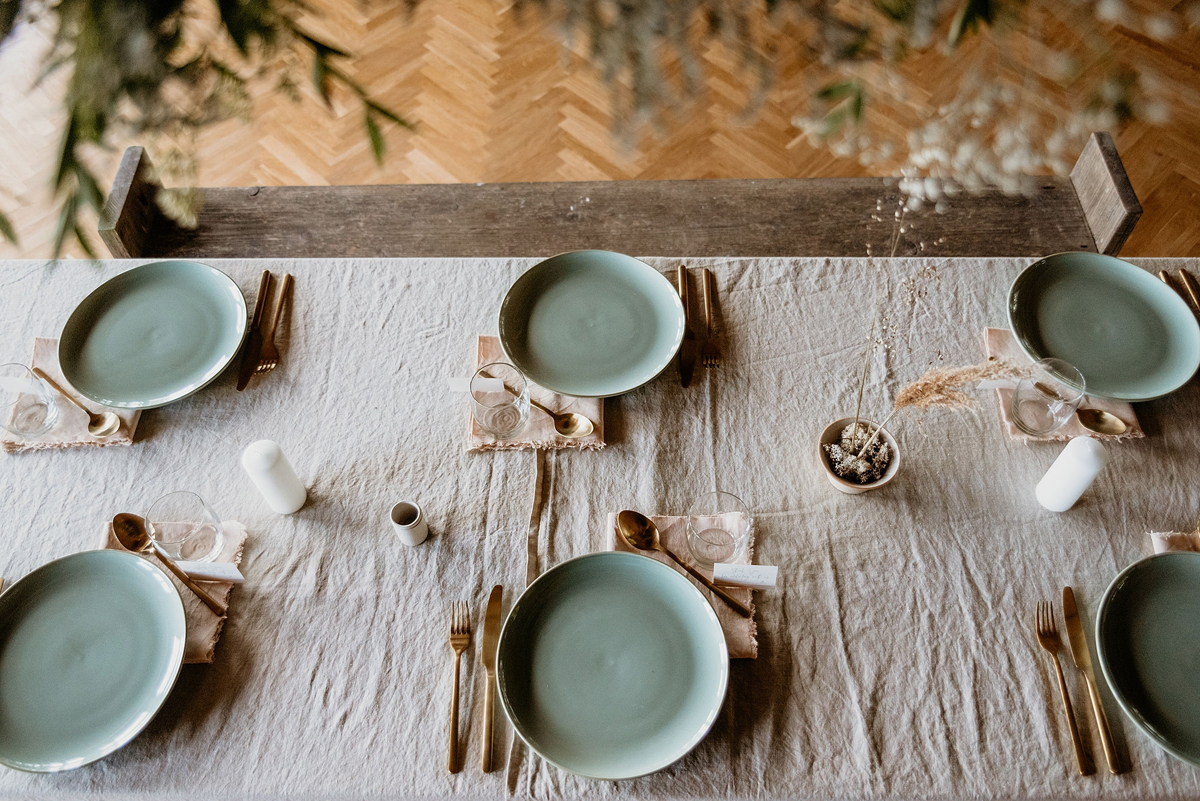 "The stationery and the canvas used for the ceremony shots injected colour that worked alongside the striking colours of the interior walls, whilst the heavy reclaimed wood furniture grounded the setup and tied the look together. The use of the venue's vintage chesterfields, Persian rugs and eclectic collection of furniture was a great way to showcase how much space there is in the venue, and worked well to highlight the age and heritage of the building."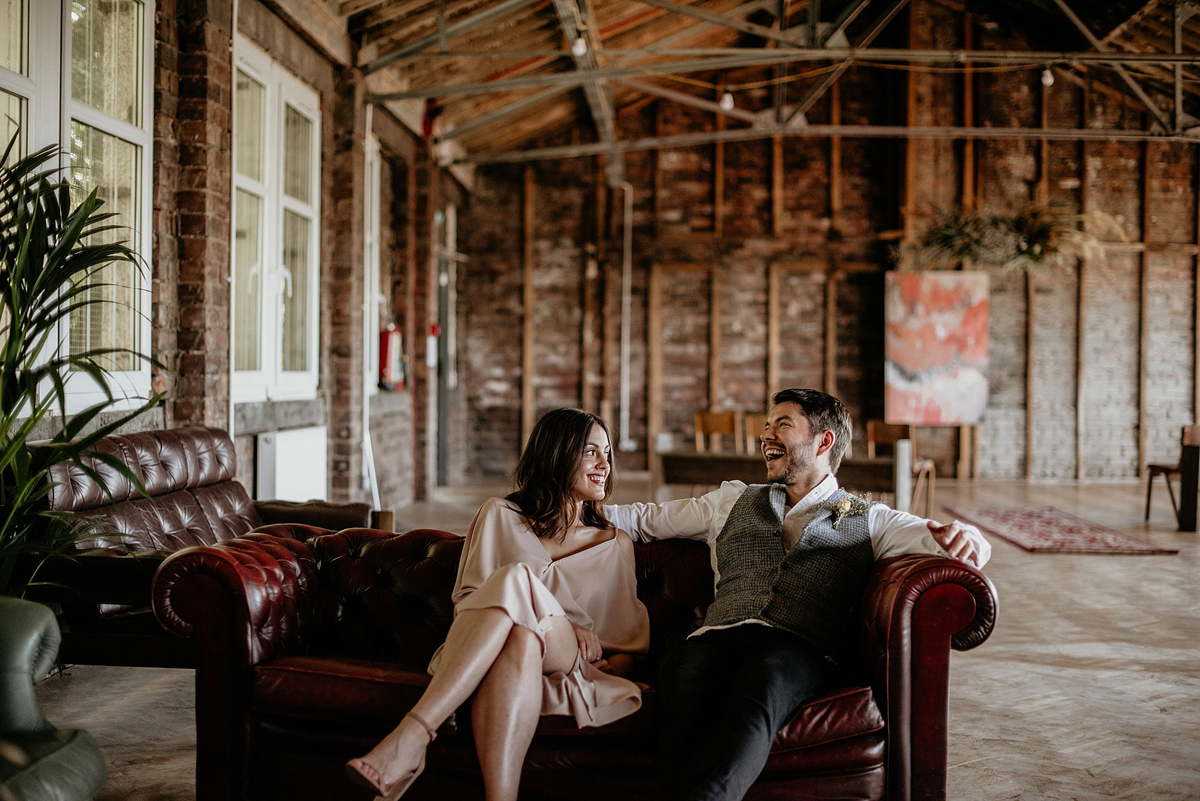 "Civic House is part of Eventful Spaces, the team also behind Weddings at The Glue Factory. They offer unique and unusual venues combined with well structured hire packages and industry experience to help you curate your own template for an awesome celebration."