My very favourite kind of wedding is when it's obvious the couple have done exactly what is right for them and made the day absolutely representative of their personalities and lives.
Today's simple and elegant (yet undeniably cool) day is exactly that sort and I love every moment. Meet Natalie, who owns The Haven Cafe in Newhaven, Edinburgh, and Mark, a financial analyst for Standard Life, who married on the 10th of June 2017 at Earthy Foods & Goods in Edinburgh.  The couple chose to keep their day intimate and fun and married outdoors, despite the mixed weather on the run up to the day!
Photography by Lauren McGlynn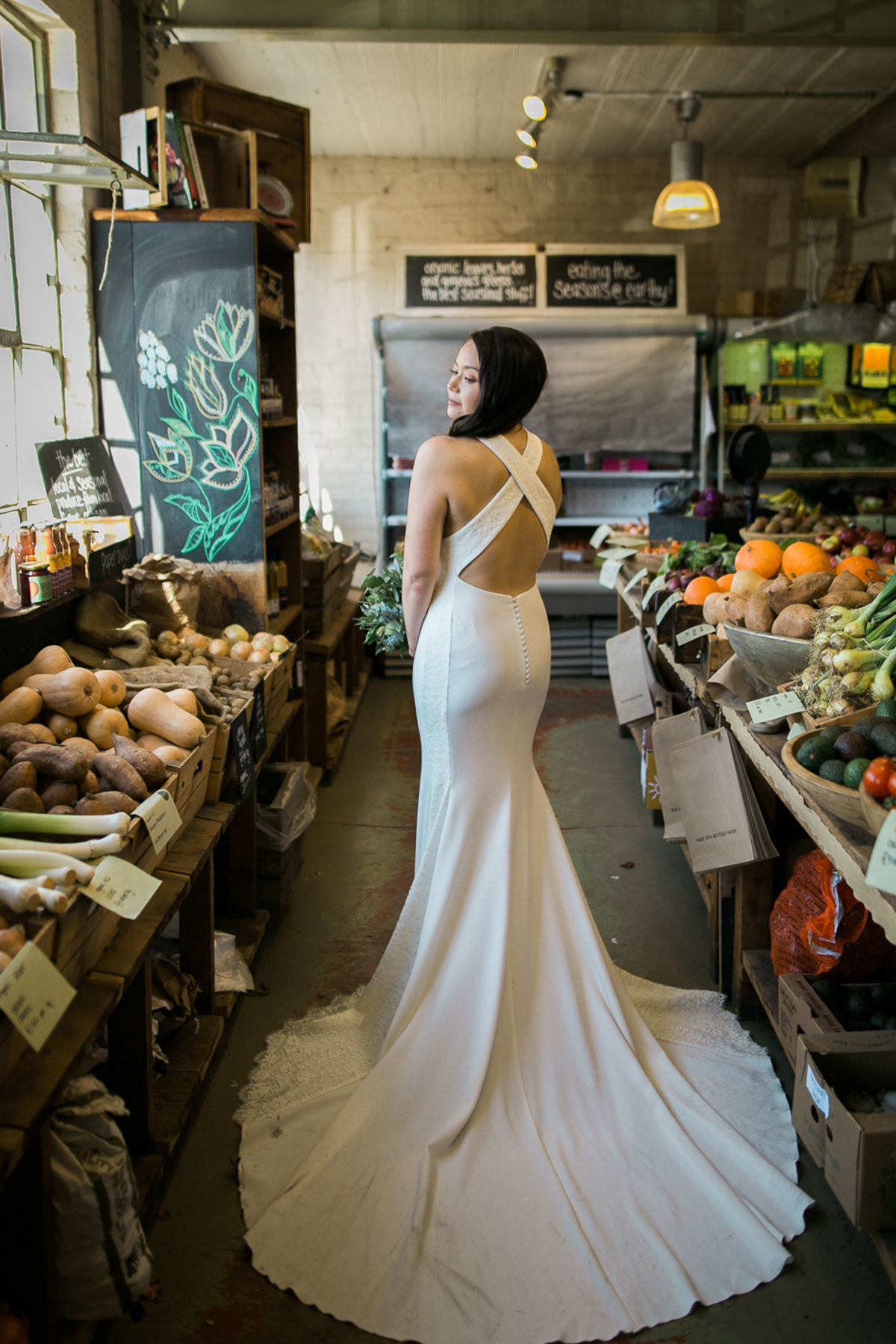 Natalie wore a fabulous gown from Pronovias, purchased from Kavelle Couture, with a wonderful cut out back and swirling long train.
"I was looking for something quite simple and modern and I loved it as soon as I tried it on.  I had actually unknowingly pinned the dress on Pinterest and it wasn't until after that I realised.  Originally I wanted to shorten the train but it was too pretty to chop off."
On her feet Natalie wore pewter sandals from Nine West, while for scent she opted for her favourite Flowerbomb by Viktor & Rolf, as she wanted to smell like her usual self.  For jewellery she borrowed her sister's gold and jade earrings, paired with an anklet with a blue gemstone.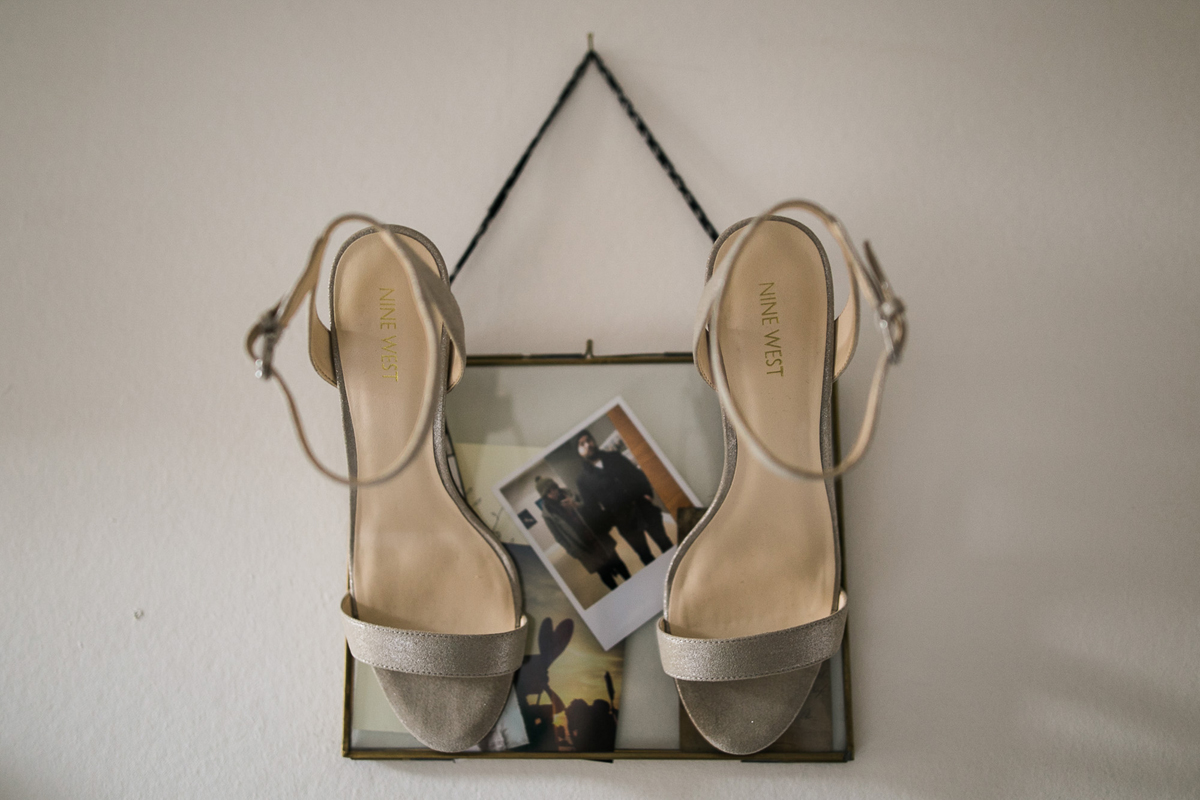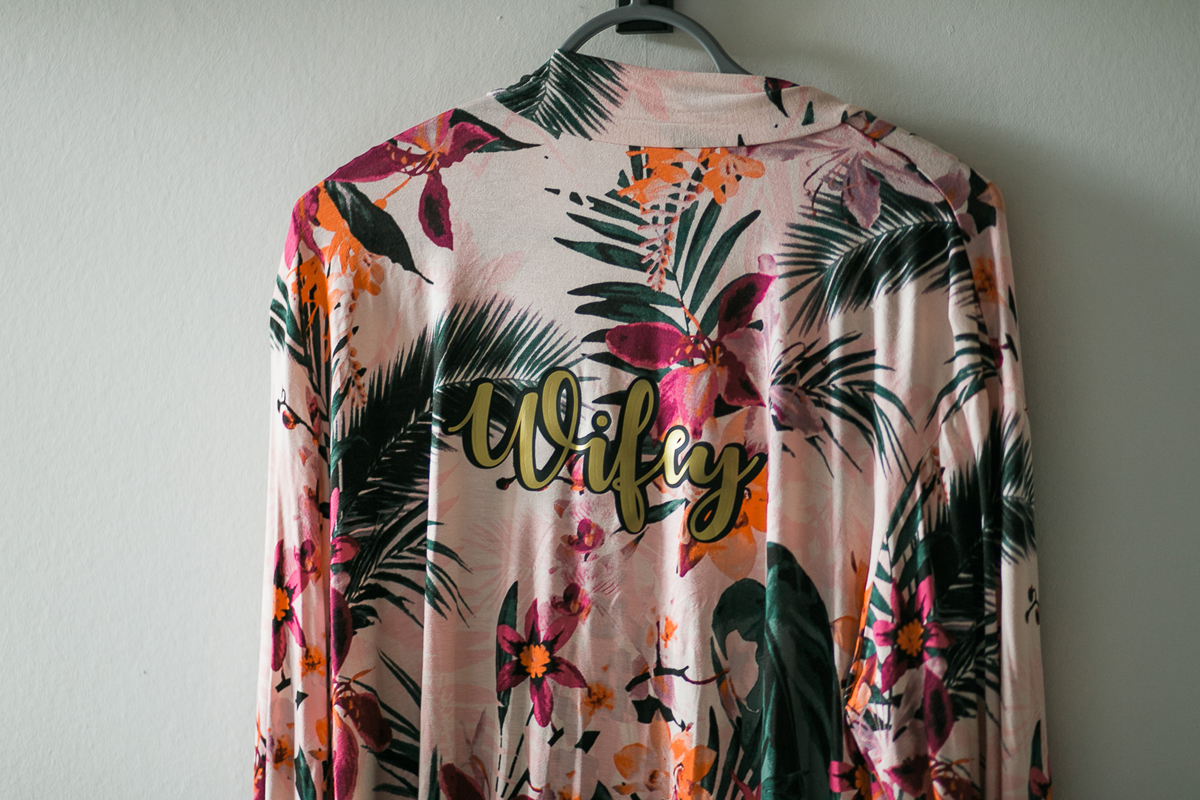 The bridesmaids wore gowns from Adriana Papell at John Lewis, worn with shoes from Debenhams, while the cute little flowergirl wore a pretty little dress from our Little Book members, Monsoon.
[JP-VIDEO]
Talking of bridesmaids – completely random comment, but have you seen this? It is India Sellars, one half of the sisterly duo behind bridesmaids brand, Maids to Measure – she got married at the weekend and she looks OUT OF THIS WORLD AMAZING! We can't wait to share India's wedding early next year!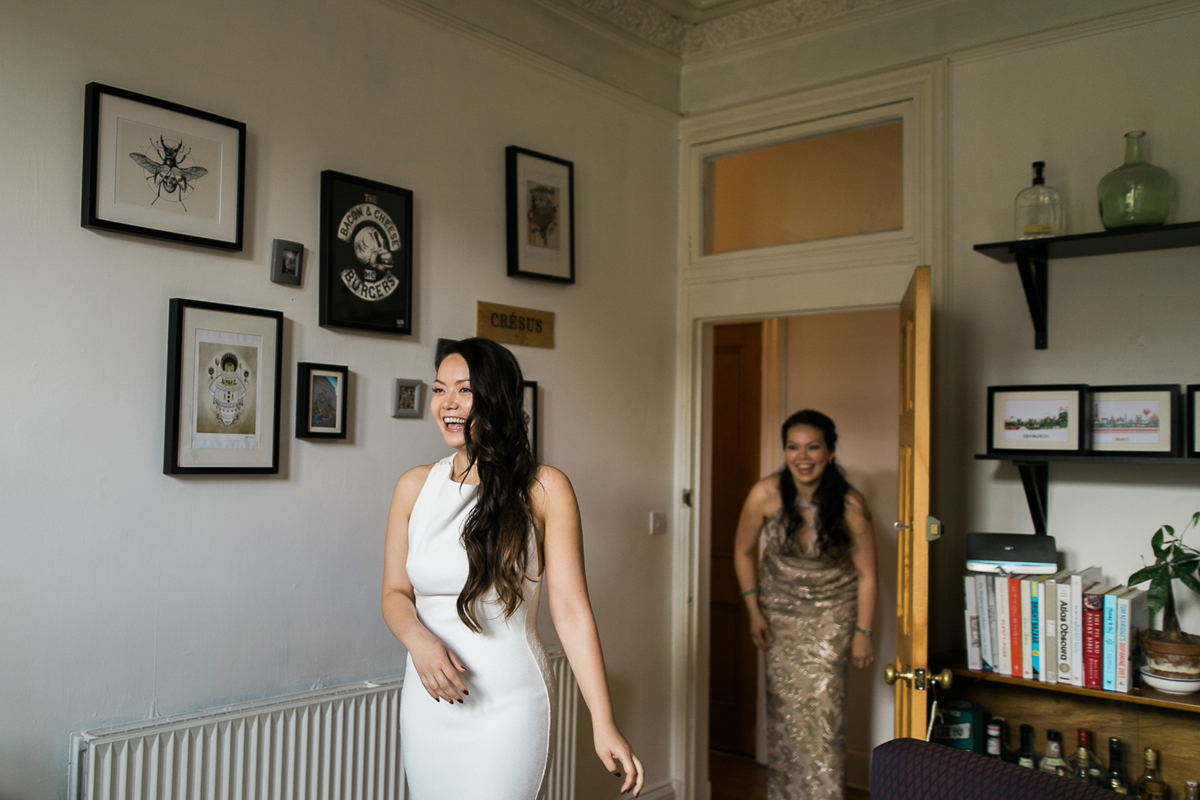 Natalie chose to wear her hair down and loosely waved, by Dean Jones Hairdressing, while her make up was the work of Senay Taormina.  I love the pretty pink lip and cheek.
"Mark was a customer in my cafe and we bonded over his love of cake.  He became known as Cake Boy and used to give me cake challenges every week for him to come and try."
"We moved in together only a couple of months later and bought a flat together two years after that.  It was fitting that Mark proposed where we met- in my cafe!"
After enjoying their 'first look' (an idea I just adore) together and travelling to the venue in the same cab, Mark waited at the end of the aisle in a checked suit from ASOS, worn with fabulous Pascal di Paulo Doc Martens and a bowtie from Etsy.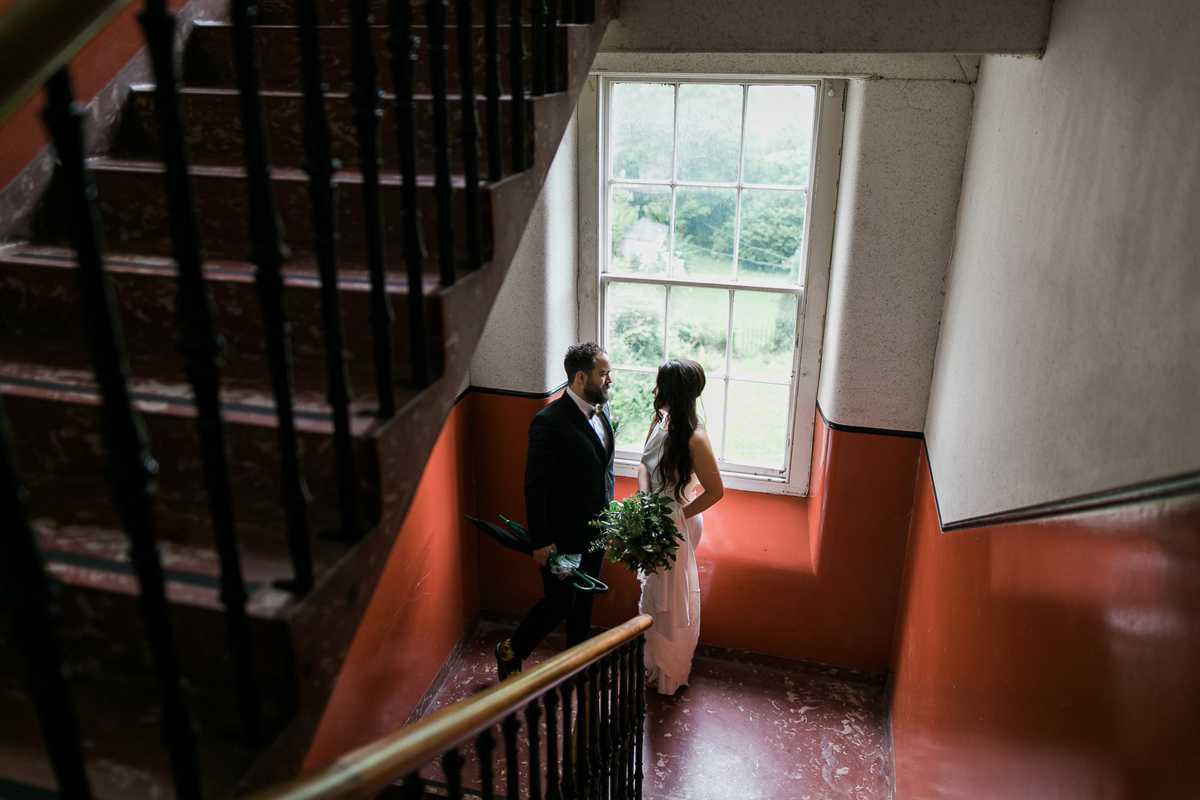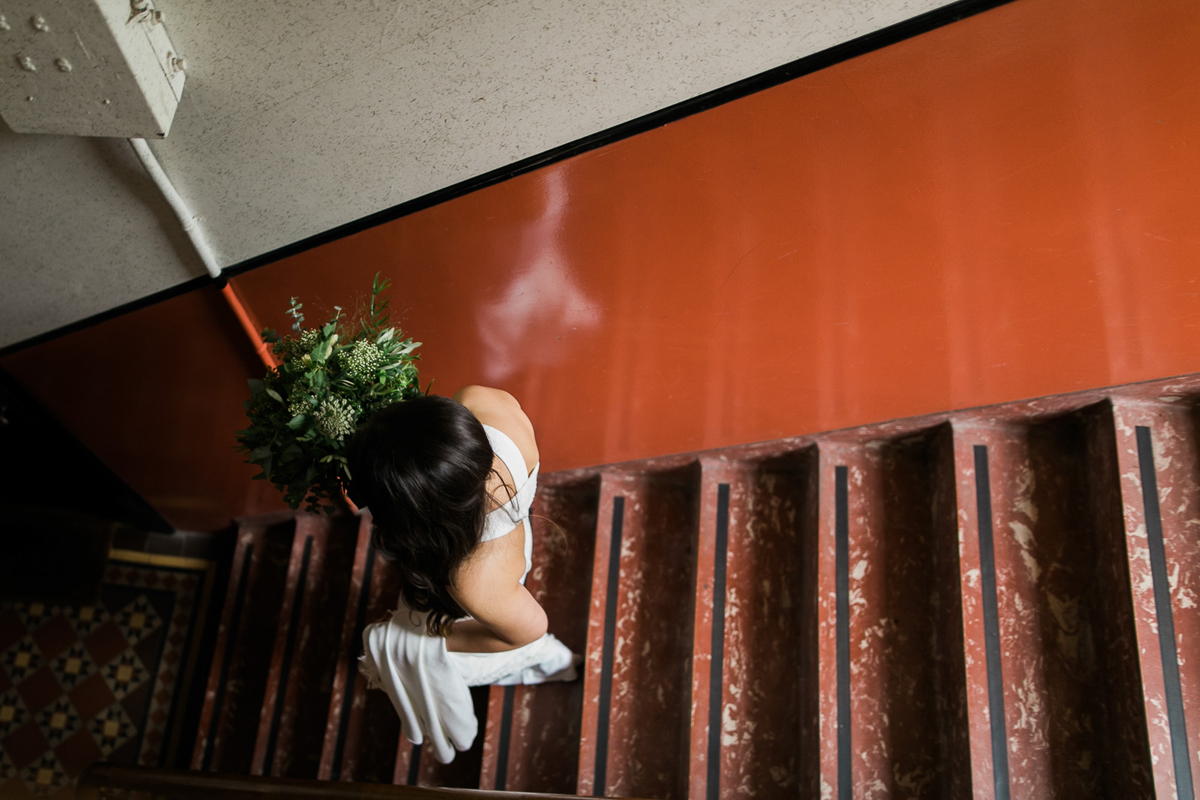 "We wanted an outdoor, informal and fun wedding with a BBQ and Earthy was perfect as it had an enclosed back garden.  It was a cafe, farm shop and venue space but has unfortunately now closed although another business has since taken it over."
"We knew we wanted something quite small and low-key with our closest family and friends.  I had been to Earthy a few times and always thought it would be a great setting for a wedding."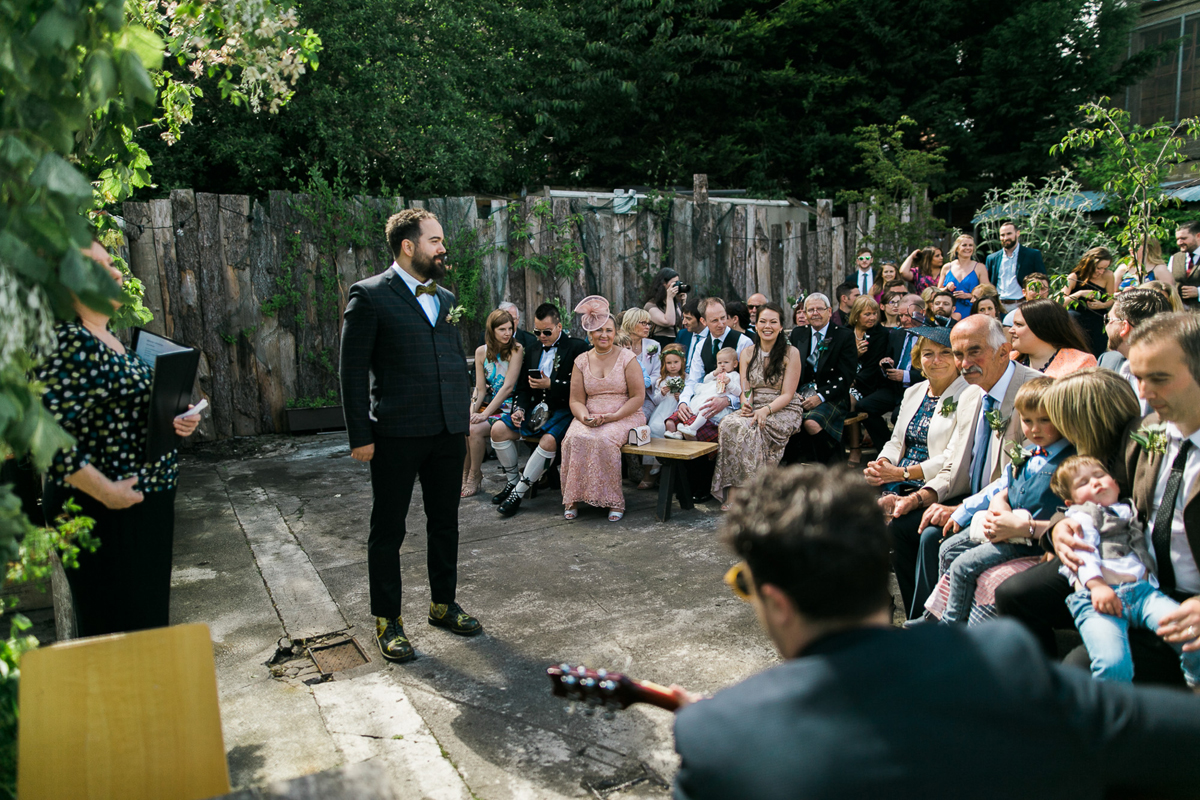 Natalie was accompanied down the aisle by her dad, to 'Is this Love' by Bob Marley, played by friend Andy on guitar.
The couple said their vows under a beautiful greenery covered bower and exchanged rings to cement their words, Mark's from Etsy and Natalie's inherited from her mother, who passed away when she was twelve.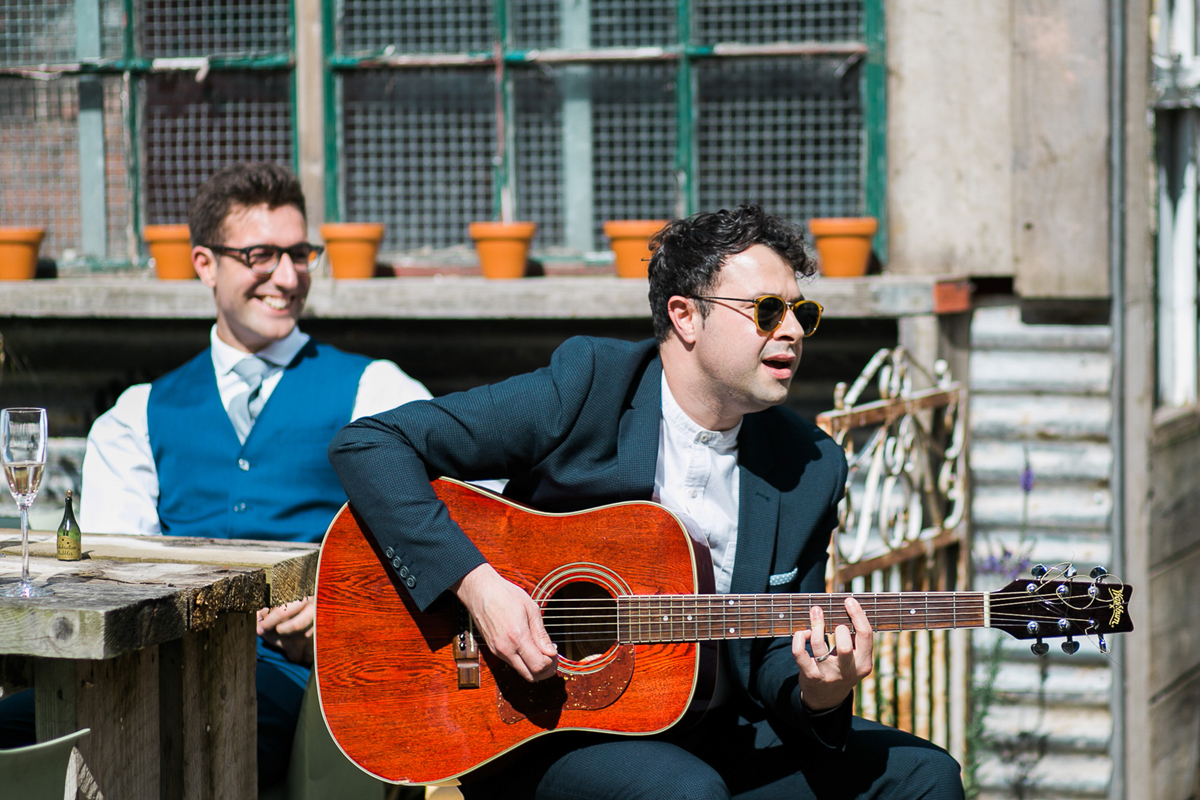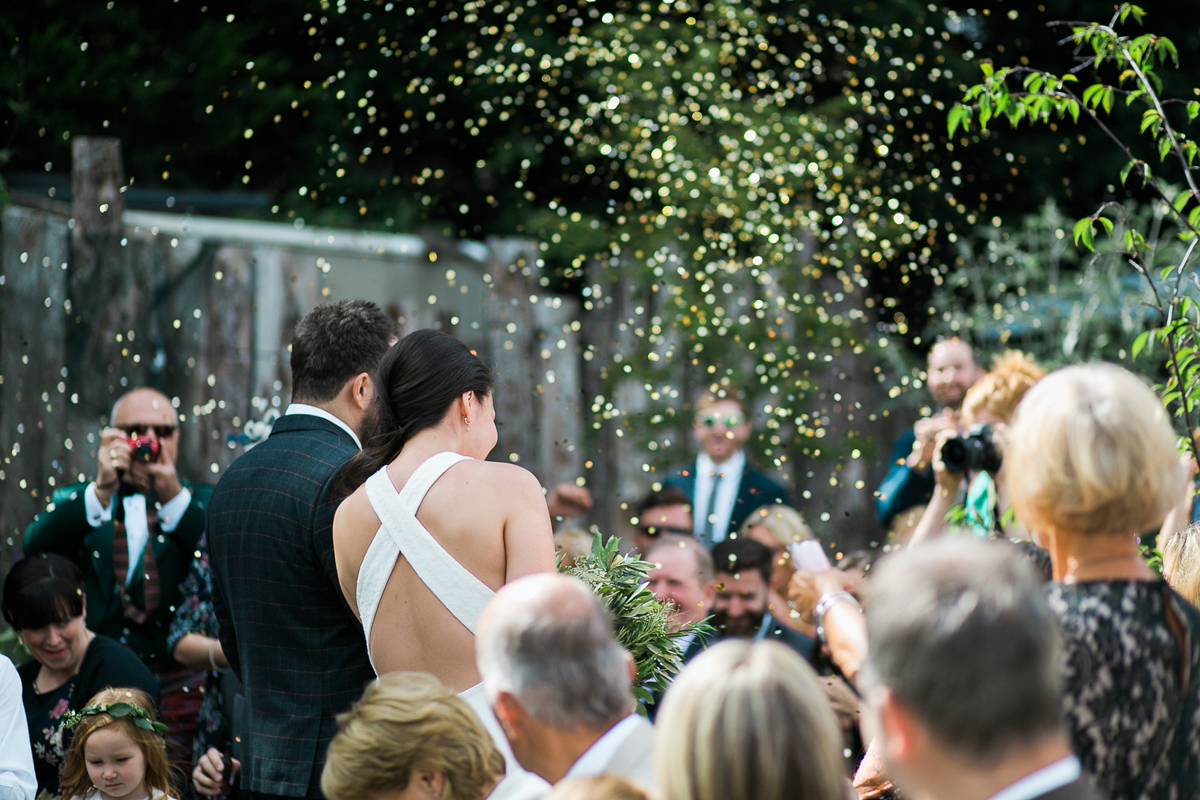 "We opted for lots of greenery rather than flowers, which we sourced from Narcissus and Harvest Garden and I made the buttonholes and flowergirl hairbands myself with help from friends."
"We spent most of the day in the garden of the venue so were surrounded by plants and herbs.  That week was the rainiest week of the summer so far and I had bought emergency gazebos for the garden."
"We were so worried about the rain but the morning of the wedding the clouds parted and it was glorious sunshine all day."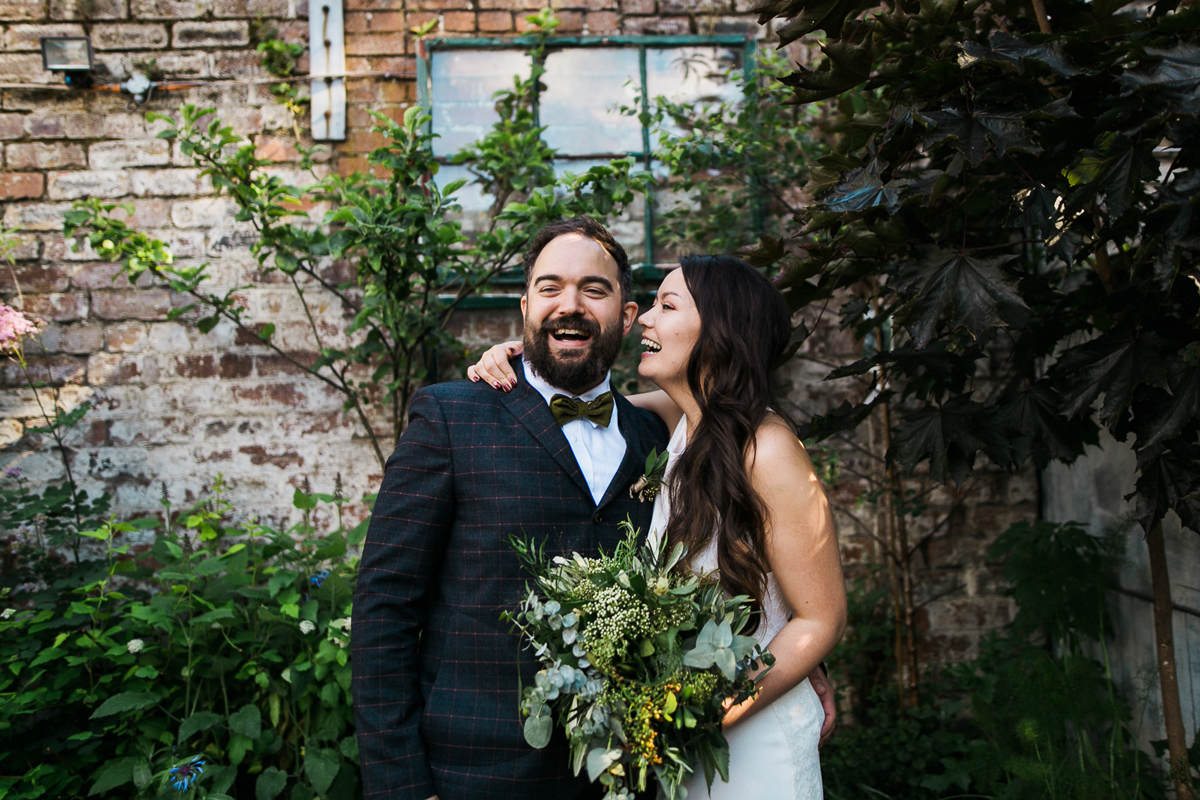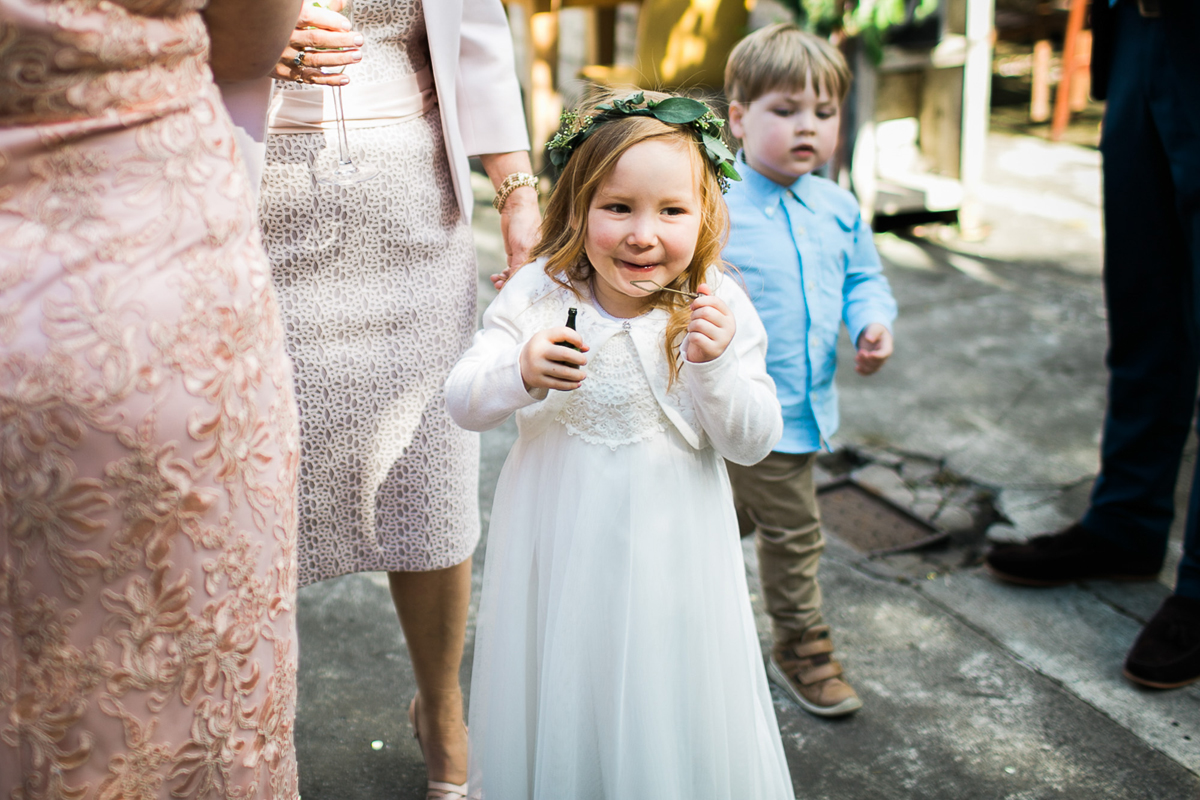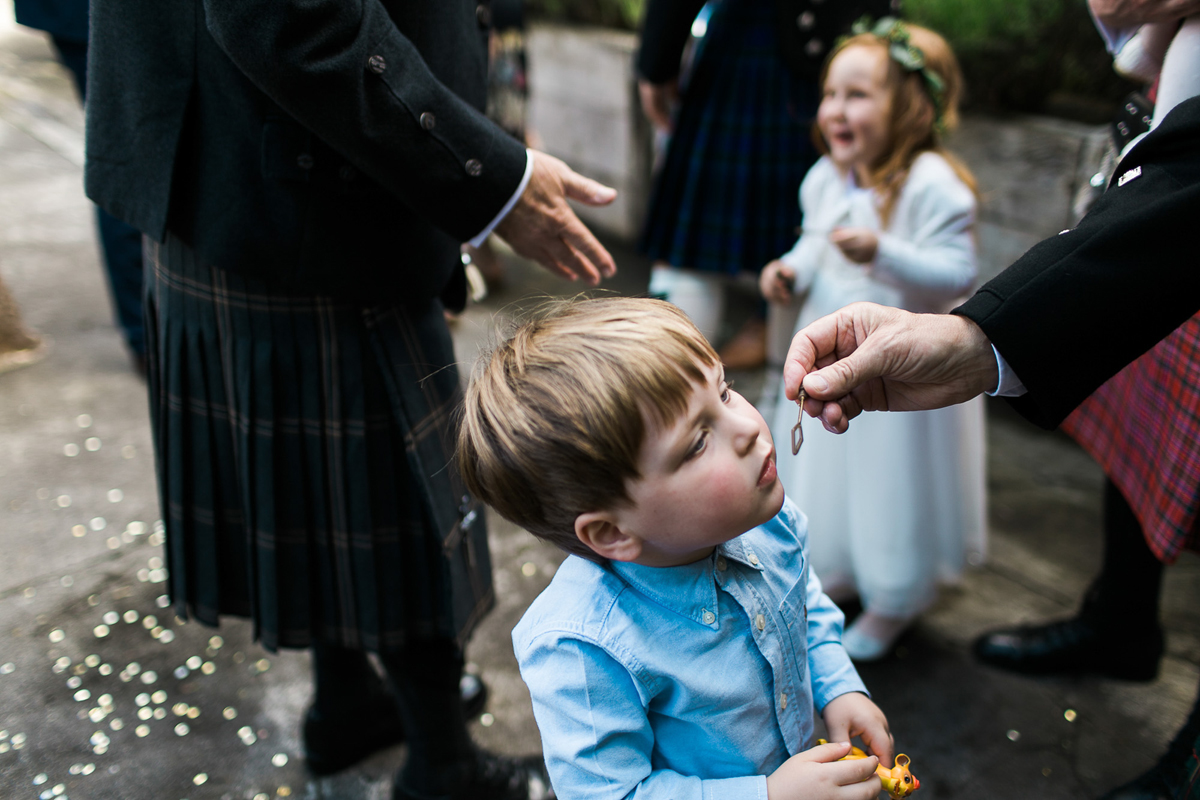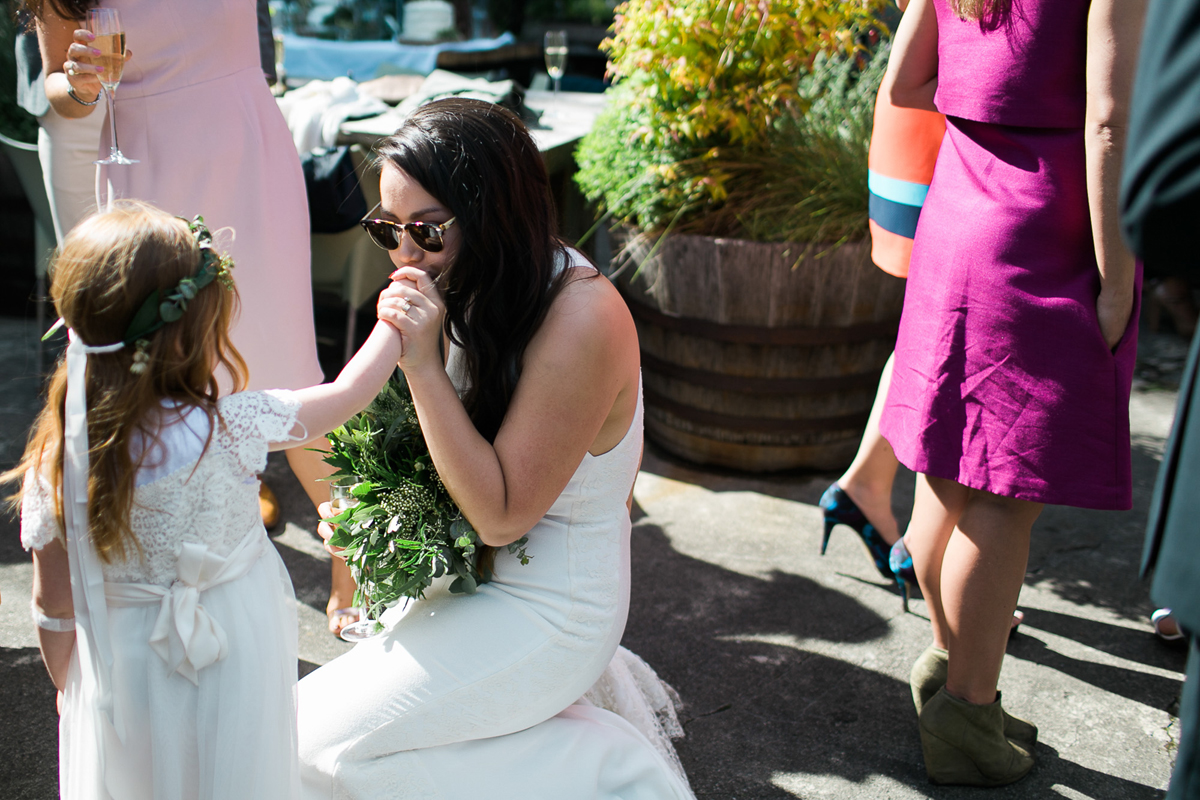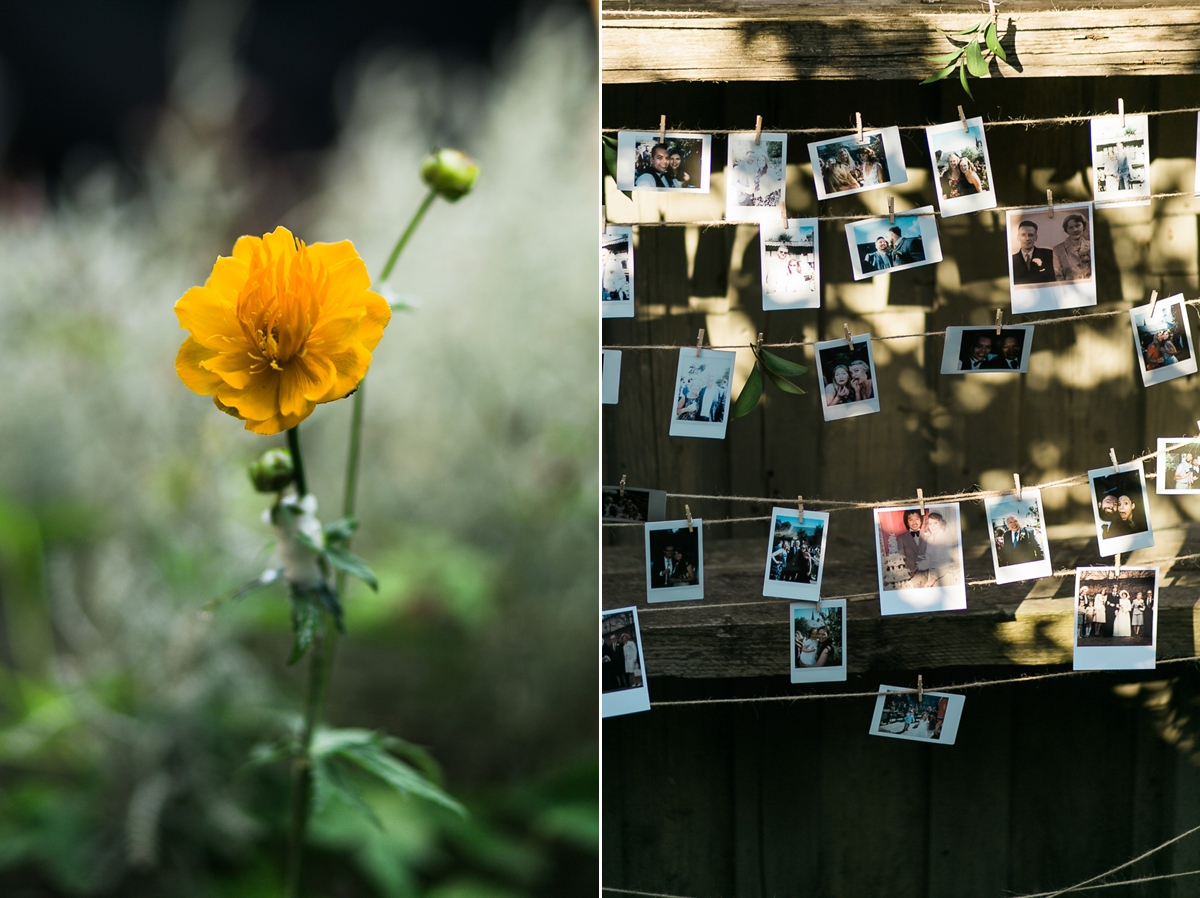 "A friend made our wedding invitations and I wrote the menu on a blackboard.  We didn't have a seating plan and let people sit wherever they wanted."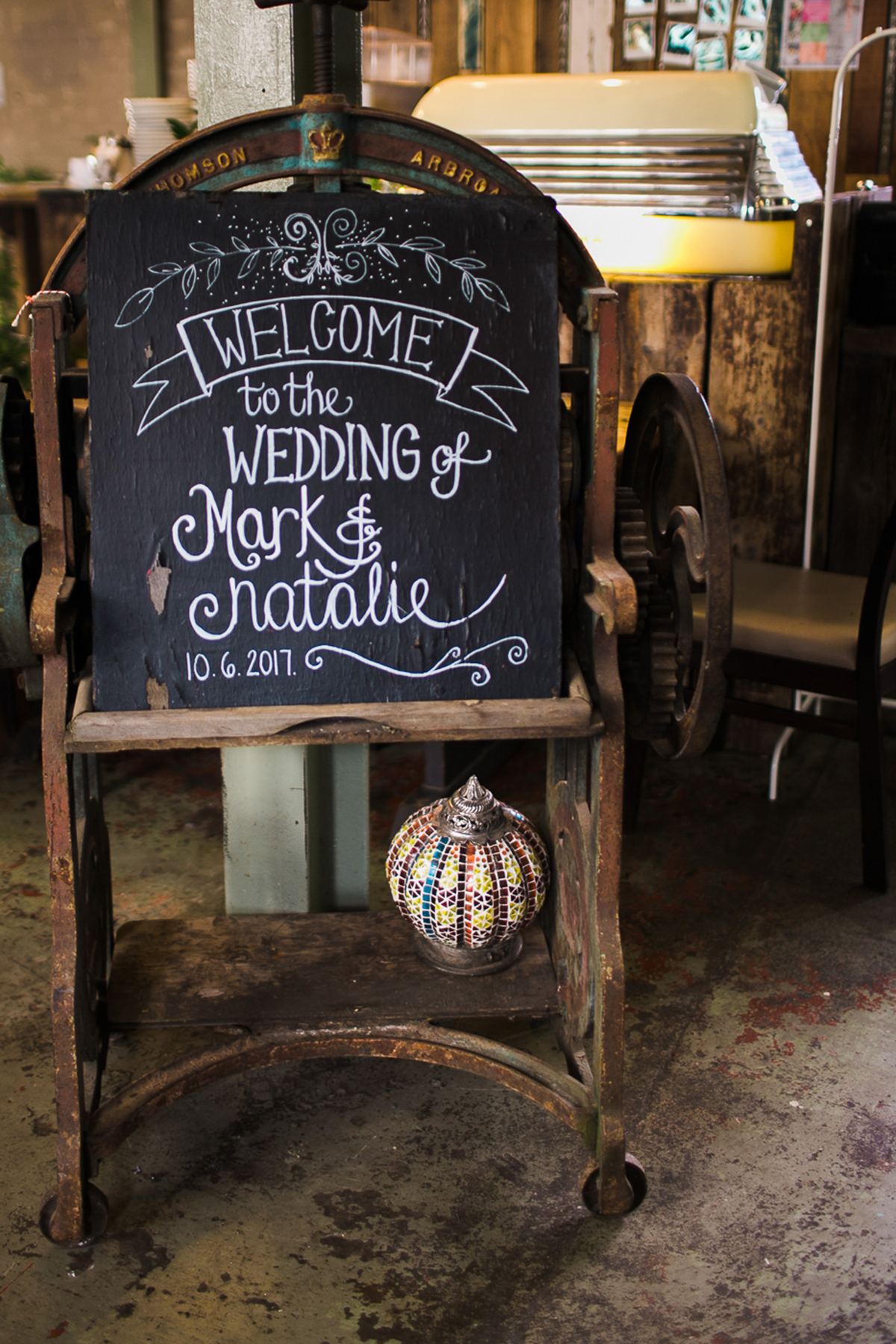 The amazing looking food was the work of Earthy, and included a BBQ buffet, salads, Scottish cheeses, ice cream cones and beef burgers later in the evening.  A veritable (and super colourful) feast.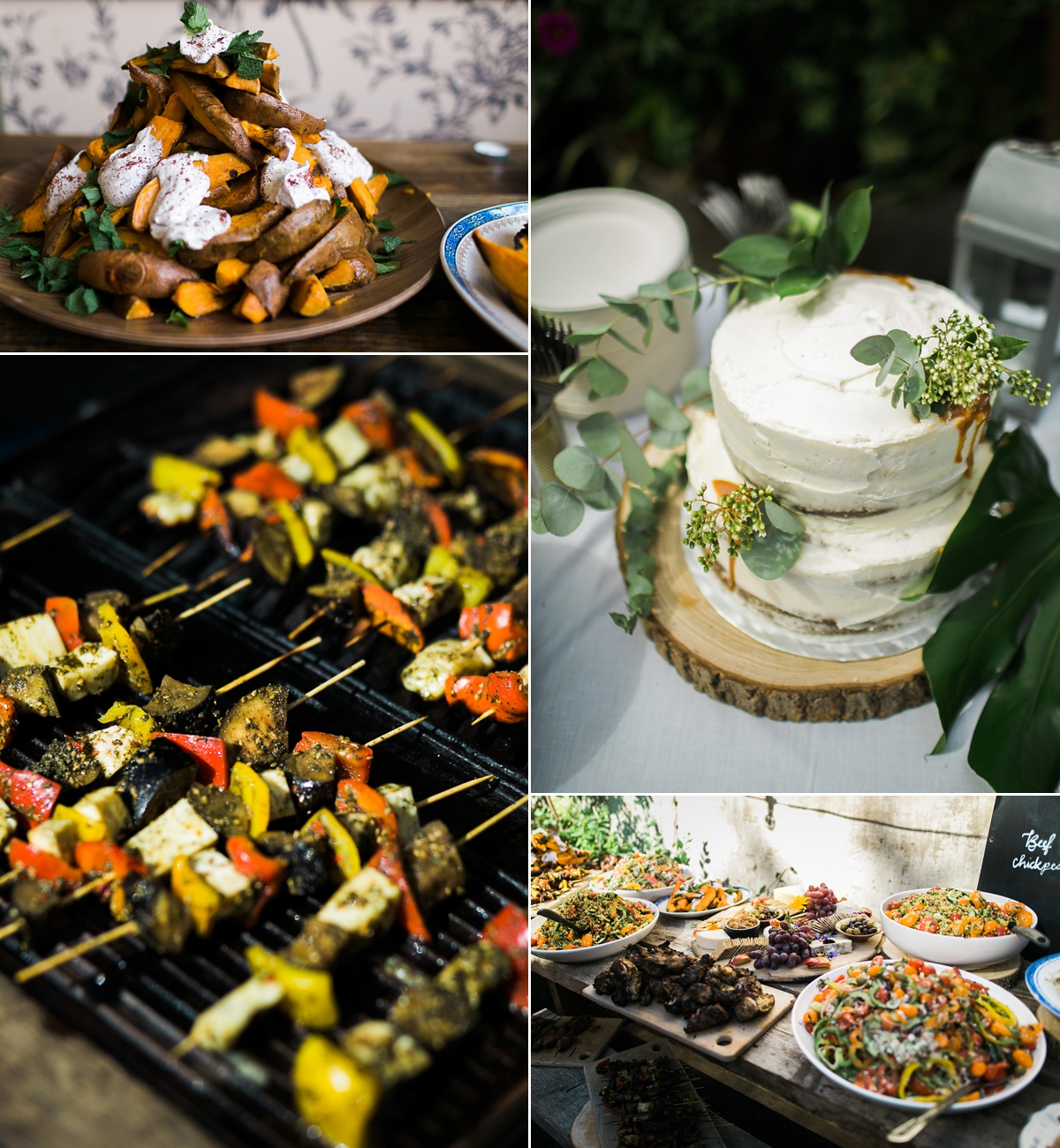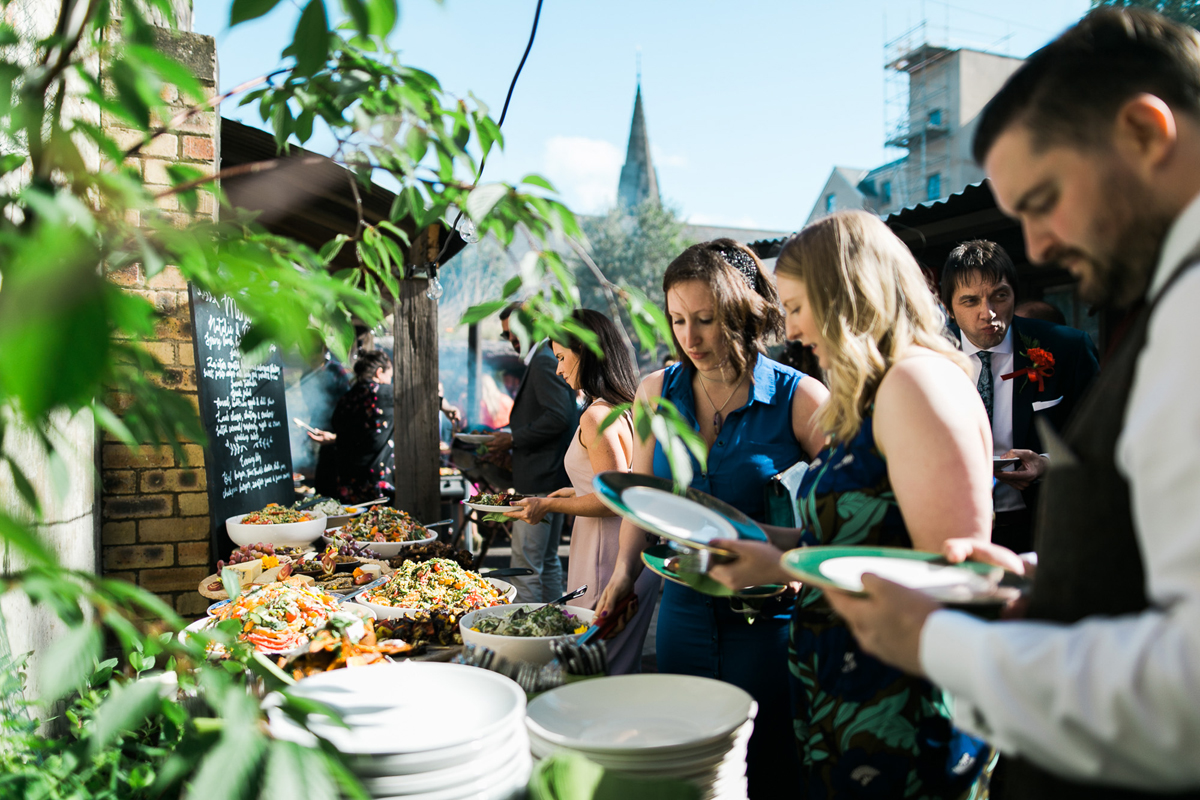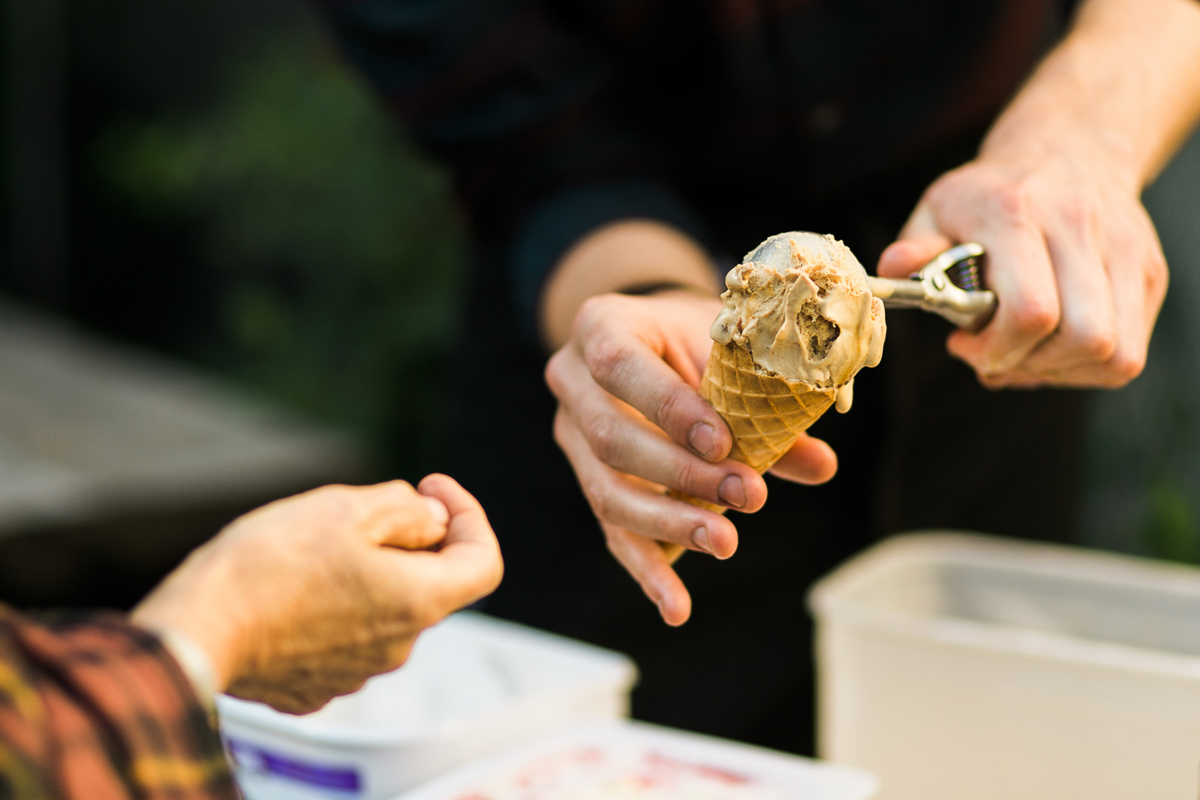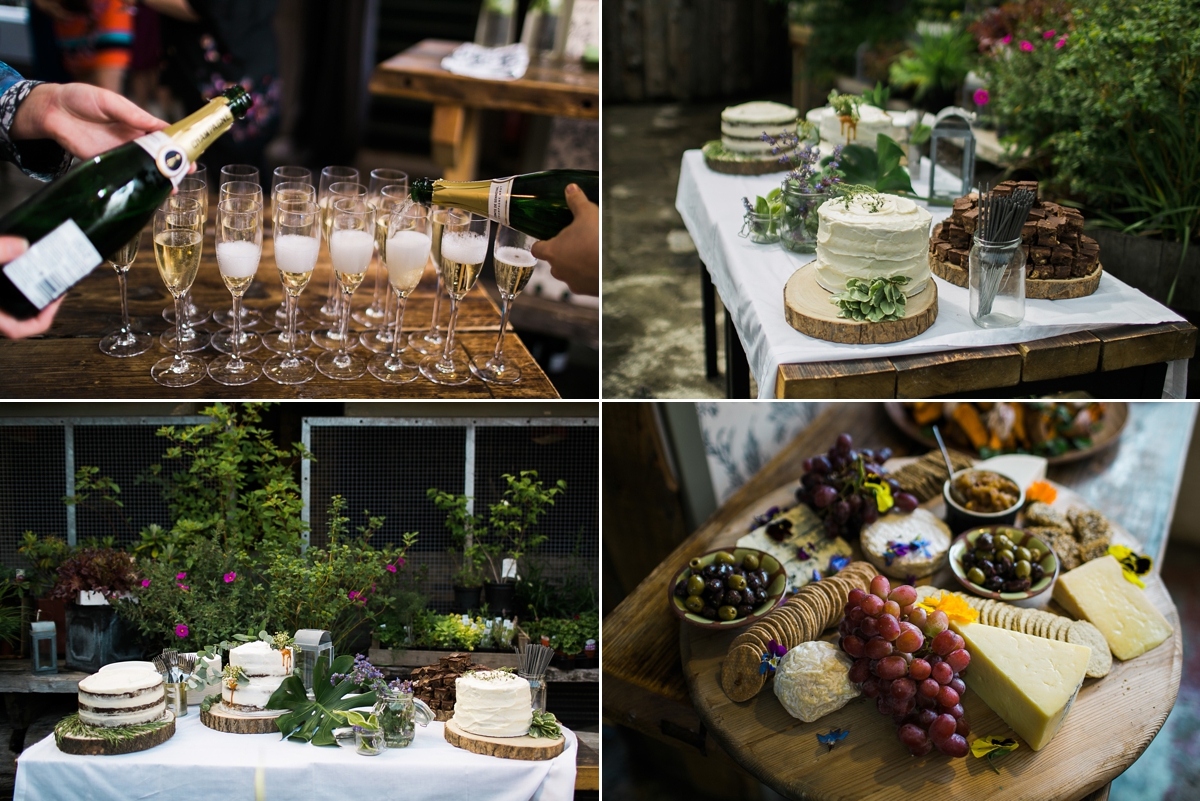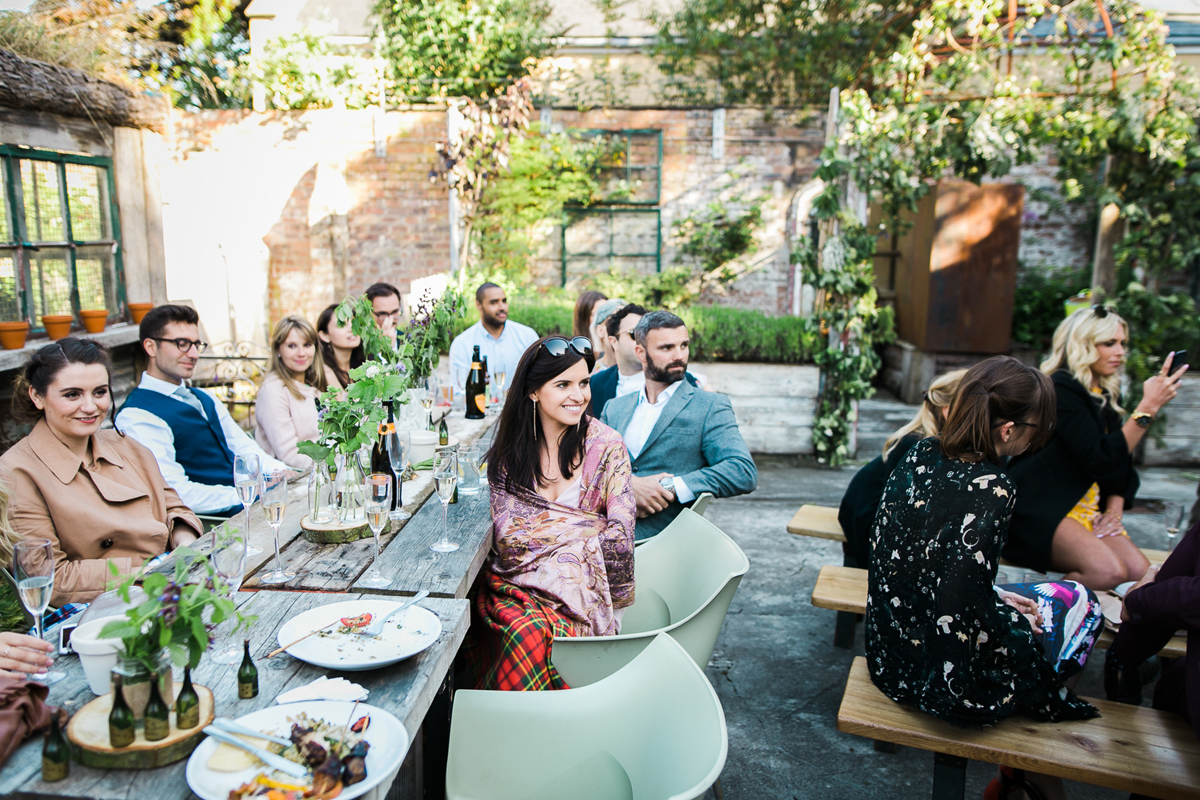 Today's gorgeous pictures come to us from the talented lens of Lauren McGlynn, whose work we have featured a couple of times before.  I love Lauren's eye for an unusual shot or placement (I particularly love the image of Natalie with her train at full length in the colourful space of the vegetable shop) and her ability to catch every tiny detail.
"We love our photos and the action-shot vibe!  We didn't want any too formal/posed photos so Lauren's style suited perfectly. When the sun was setting Lauren suggested we go to Holyrood Park to take some pictures and it was lovely to get some time on our own, even though we were only gone from the party for about twenty minutes."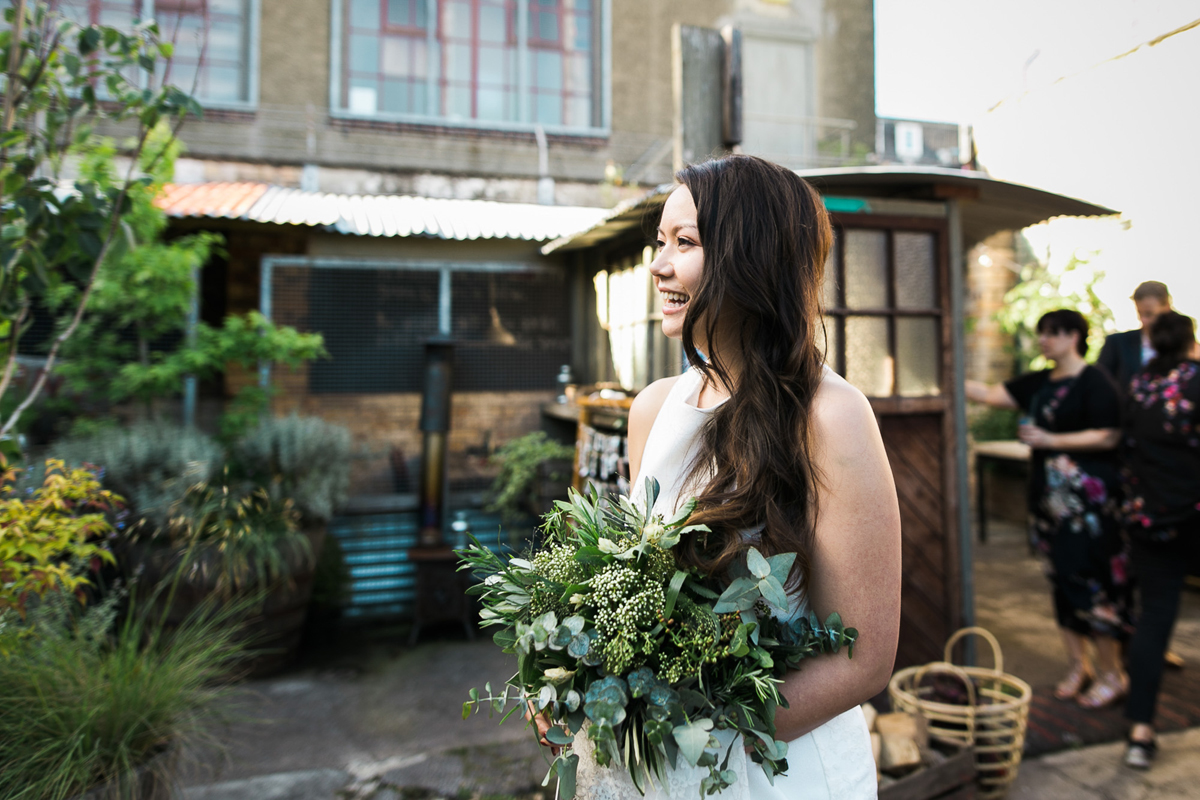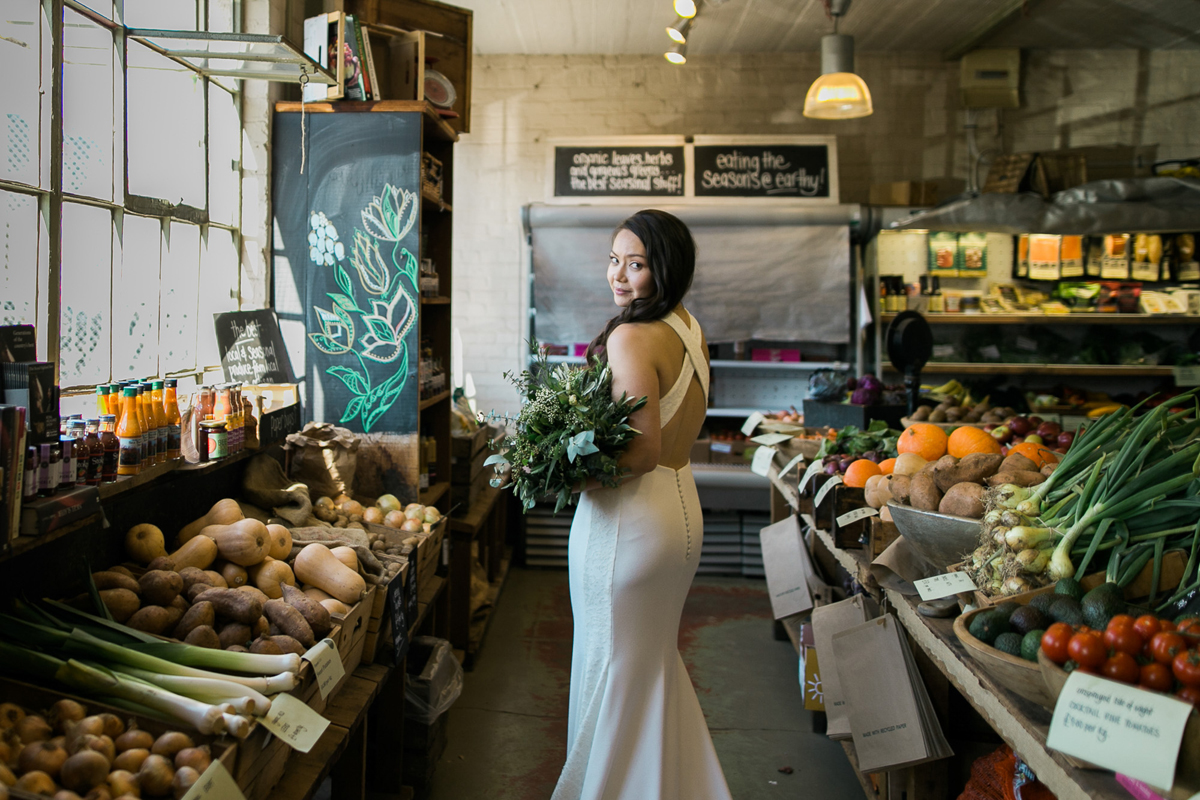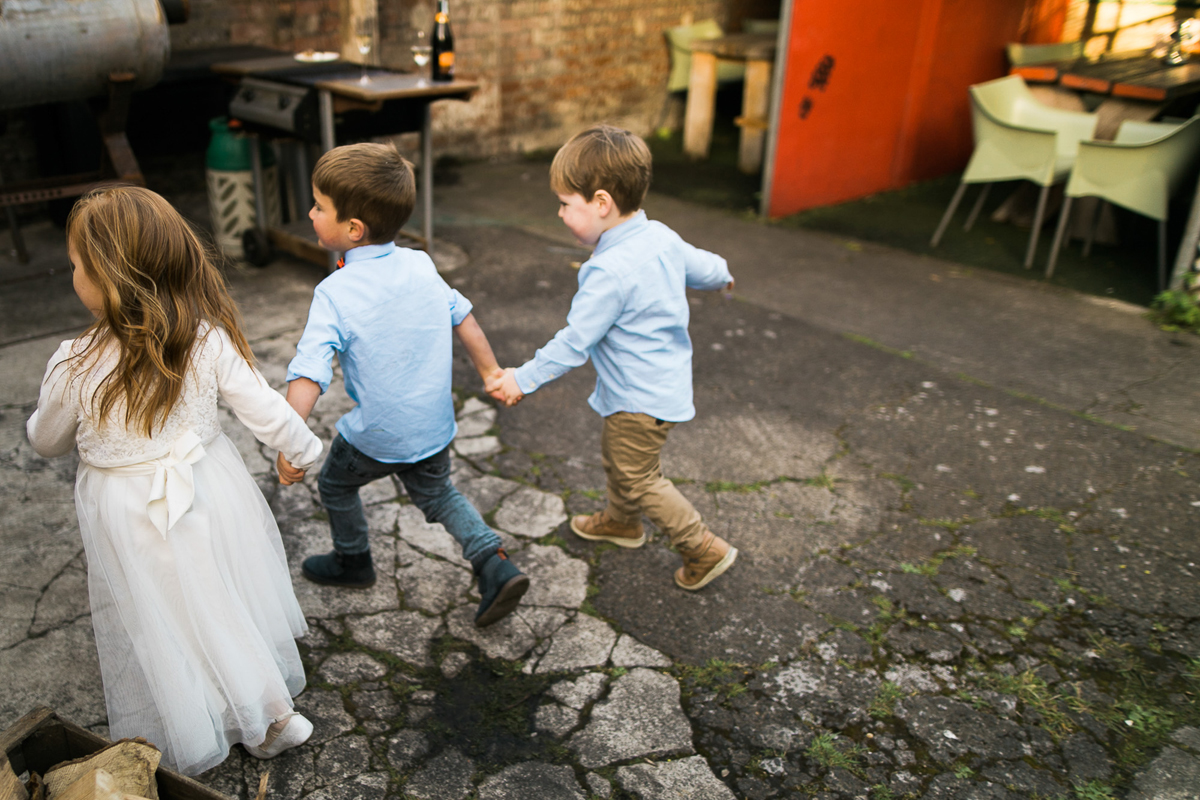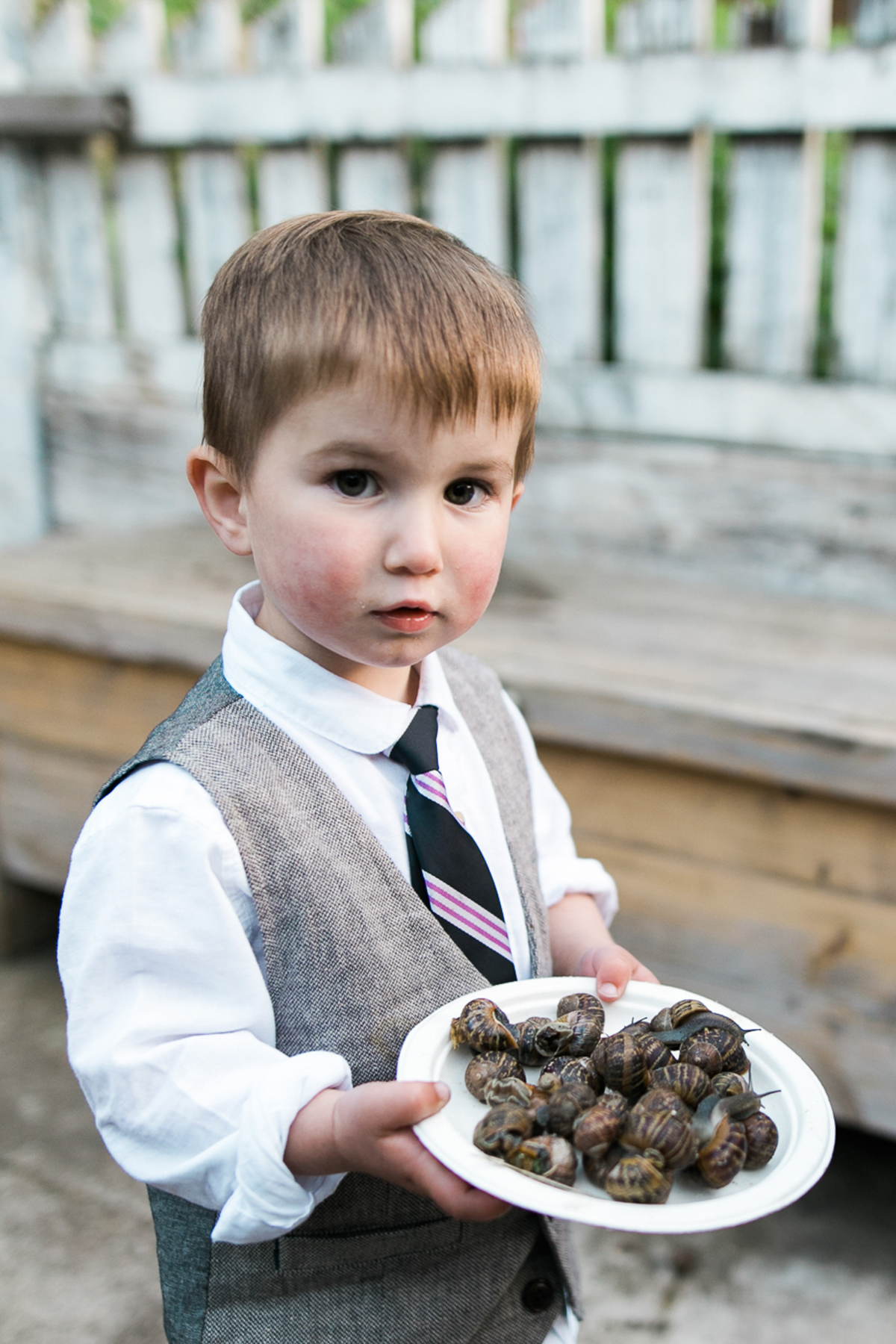 Of course, Natalie made the wedding cakes herself, choosing a carrot cake, a lemon and raspberry cake, and an 'Elvis' (banana and peanut butter) which was the cake Mark had on his first trip to Natalie's cafe.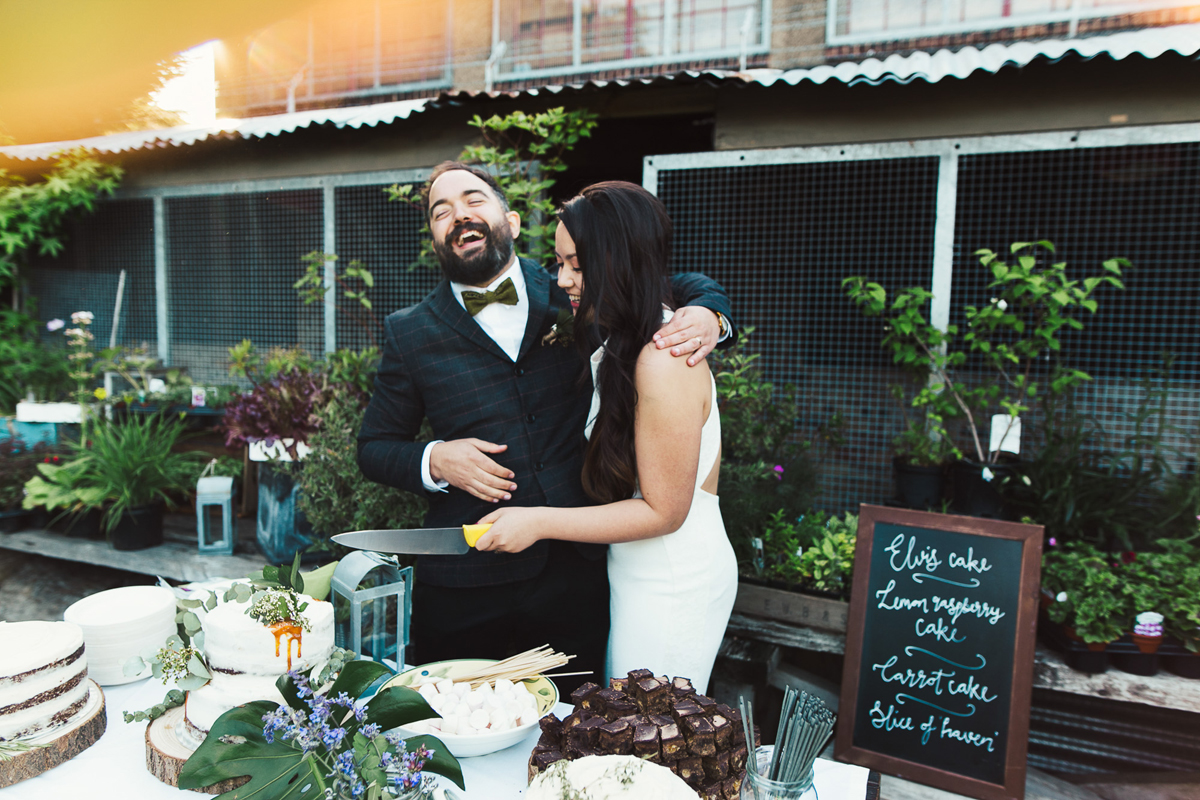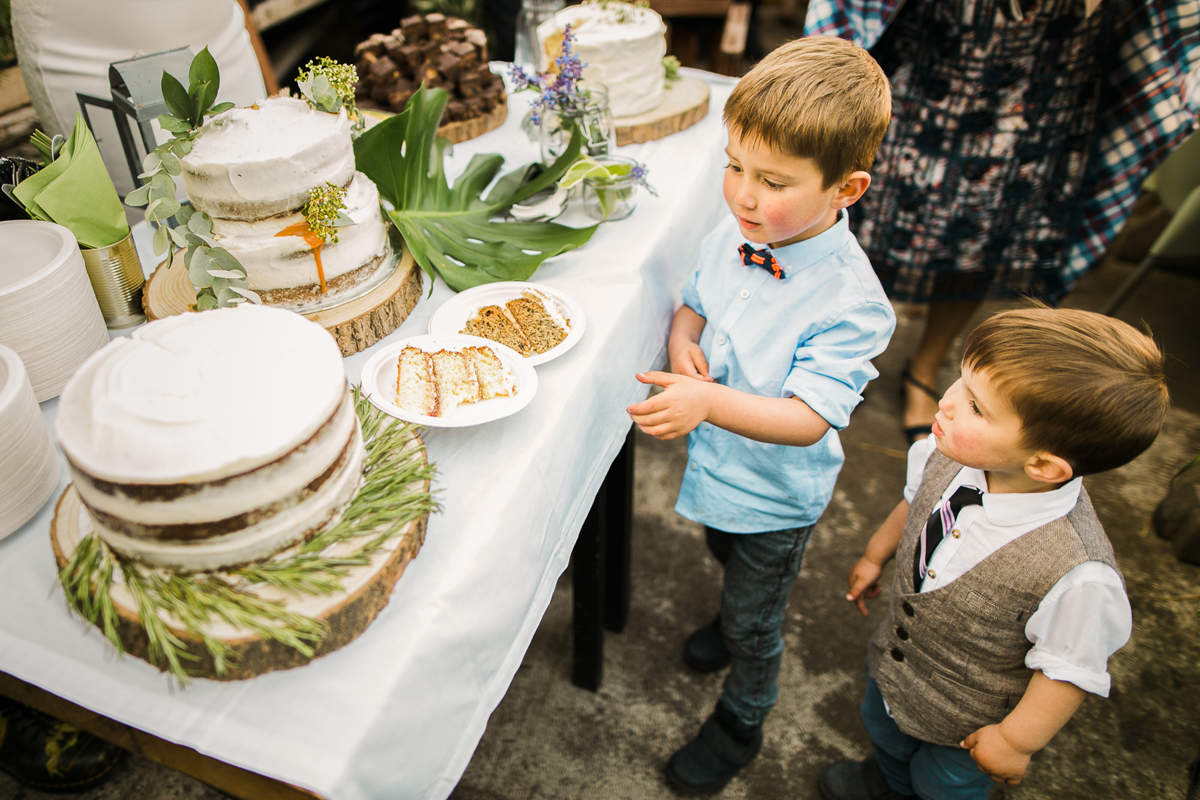 Reggae ska band Irie Yo-Yo kept the party going and Natalie and Mark had their first dance to 'Your Love Gets Sweeter Everyday' by Finlay Quay, played by the band.
"They were amazing. One of the most memorable moments of the wedding was doing the conga around the venue to them playing."
"I loved dancing to the band, the dancefloor was full all night!  I also loved cutting the cake together and serving it to each guest.  If we were to do it again we would have got a videographer as we want to relive the day over and over again."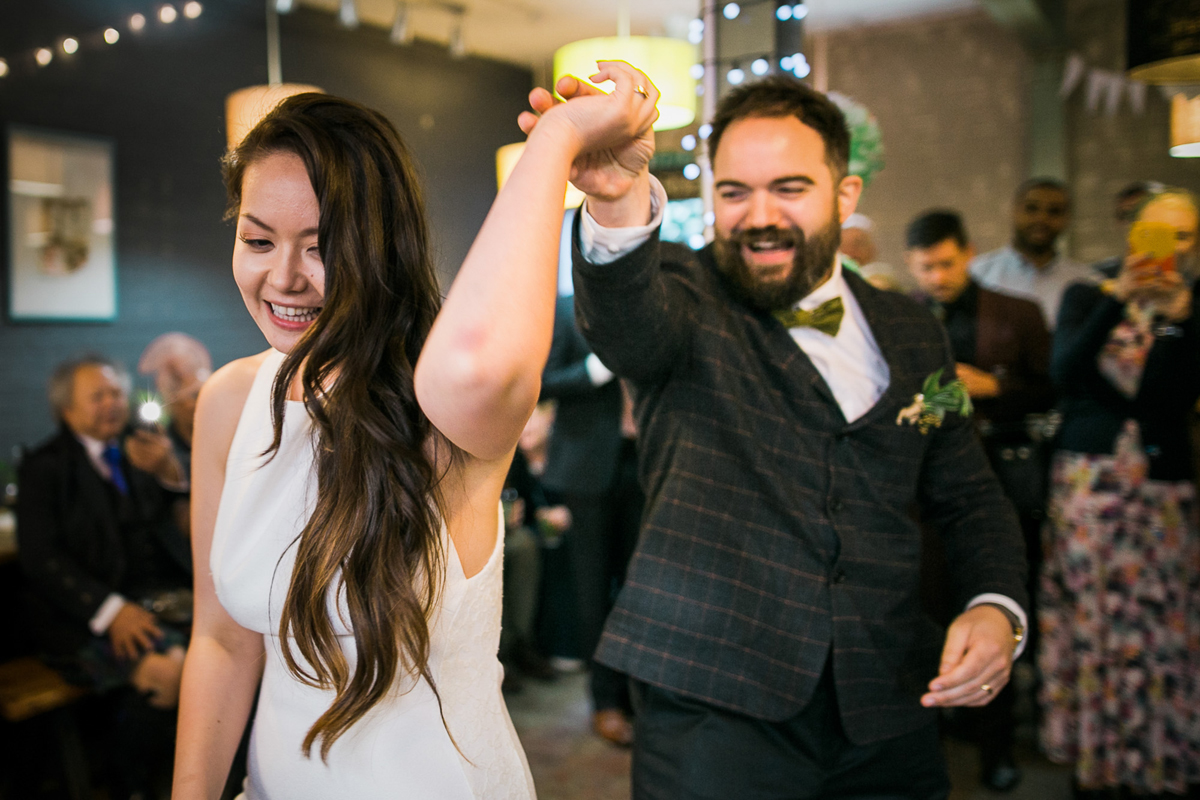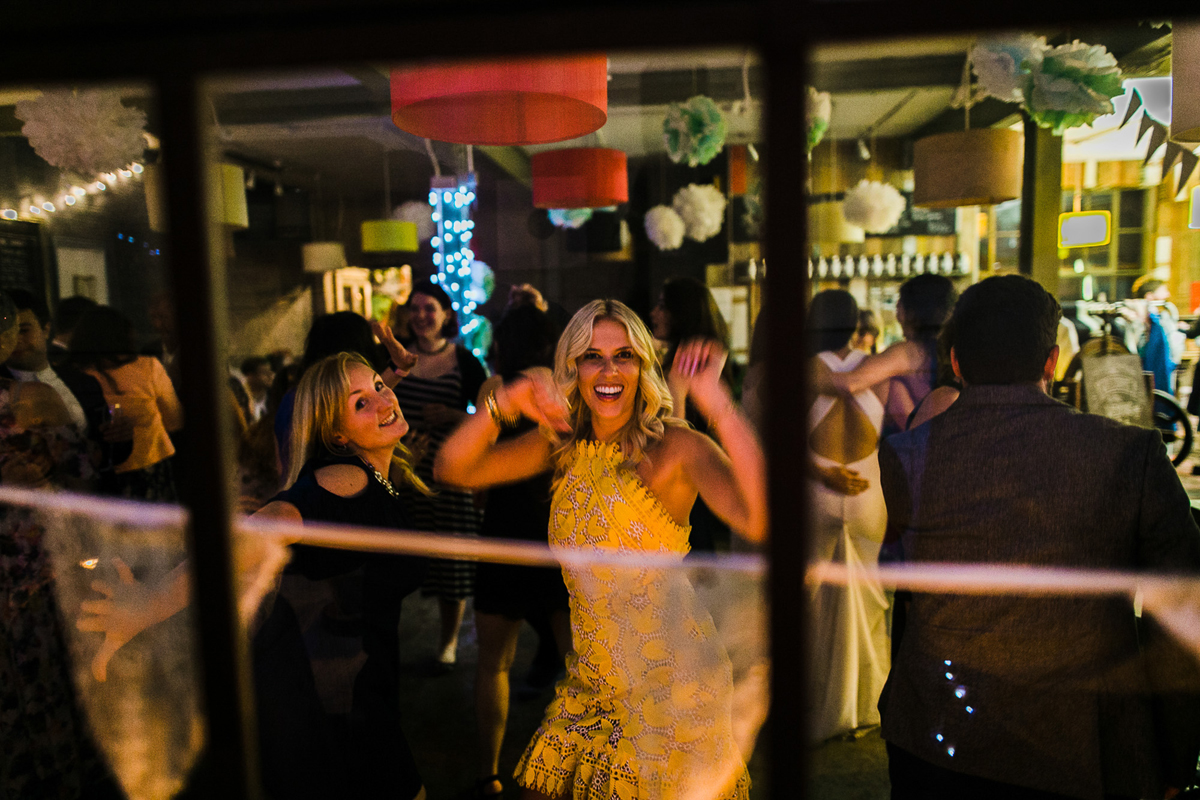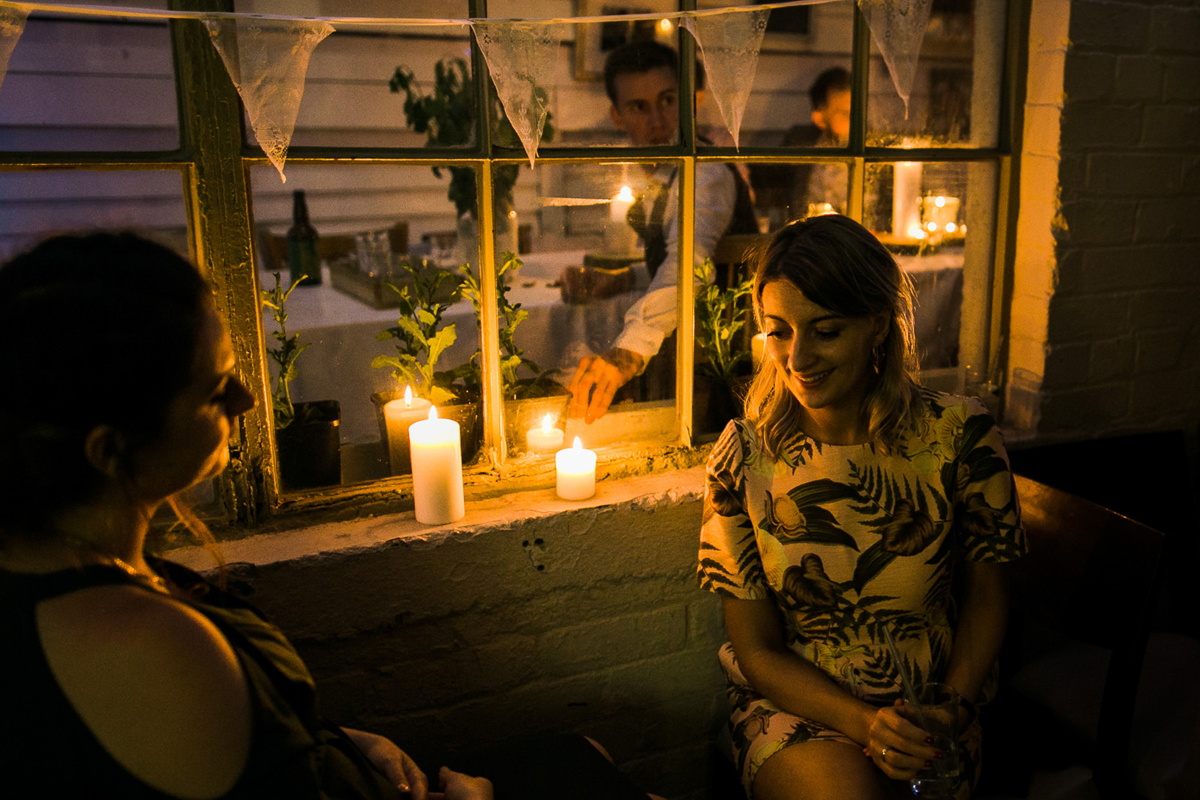 Words of Wedded Wisdom
"Keep it simple and stay true to your style.  Spend more on food and drink than anything else.  Remember what the day is actually about."
So many thanks to Natalie and Mark for sharing their incredibly heartfelt day, and of course thanks also to Lauren McGlynn for her evocative images.  Scotland is such a happy place for me and I would love to live there one day.
In the meantime, do join me in perusing some of our previous beautiful Scottish weddings, or, if your heart is promised elsewhere, how about some more wonderful Pronovias gowns?
Much love, Shona x