I genuinely cannot tell you how excited I am to be sharing this with you today – this article has been waiting patiently in the wings for weeks now, in anticipation of the arrival of the brand new and absolutely beautiful new collection of wedding dresses from Needle & Thread.
And now that it's here, I'm bursting with desperation to share it with you all. My love for the Needle & Thread brand and everything they design is as real as it can get. Those of you who know me will know that I'm married to someone who graduated in fashion design and who has taught me a lot about what makes a good garment – the kind that has been crafted with care and love and attention to detail.
Plus, I gotta be honest, I've a weakness for gorgeous, feminine frocks (who knew?) and am constantly on the look out for exciting designs to enter the bridal market. And, whilst we are exceptionally proud to support a number of incredible couture designers through Love My Dress, I'm well aware that not all our readers have the budget for a couture wedding dress.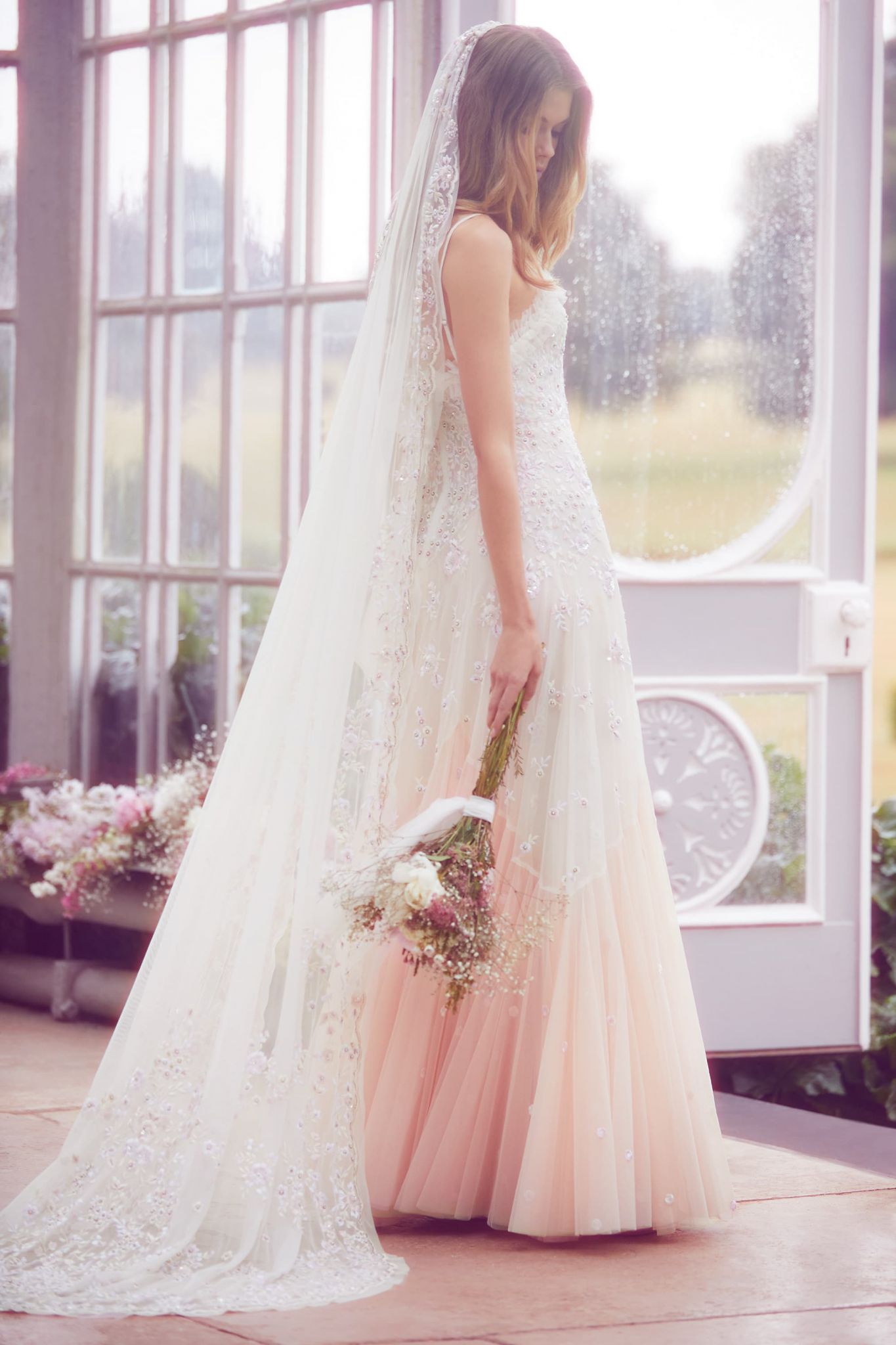 Pearl Rose cami tinted gown, £850
But what does a girl do if she longs for the kind of dress experience we're all lead to believe we deserve on her wedding day? That rare sense of slipping into something utterly luxurious and special – a gown that has come from a designer with a heart and a brand with integrity?
If this is something you identify with, then it really does give me the greatest of pleasure to be introducing this gorgeous new collection with you.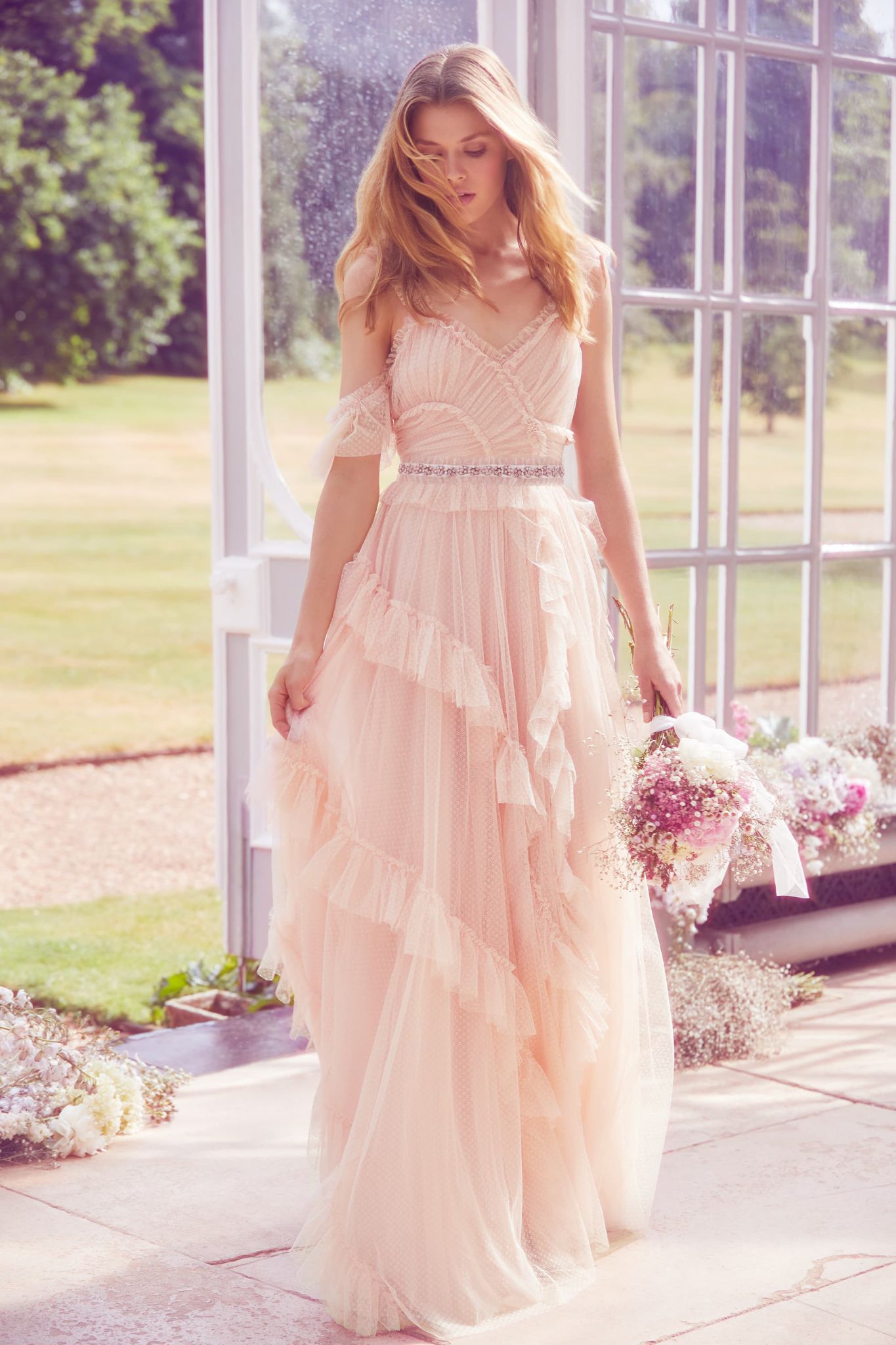 Degas gown (tinted pink), £550
Needle & Thread are probably better known for their statement ready-to-wear dresses, whose signature intricate beading and embellishment, and elegant feminine details like ruffles, tiers and floor-sweeping hemlines for the glamorous party-goers amongst us. But they are also taking the bridal fashion world by storm too. And for me, it is no surprise why.
This London based brand (who also has a Head Office in Delhi, India), was founded in 2013 by Hannah Coffin, who received her first sewing machine at the age of 11, and instantly fell in love with sewing.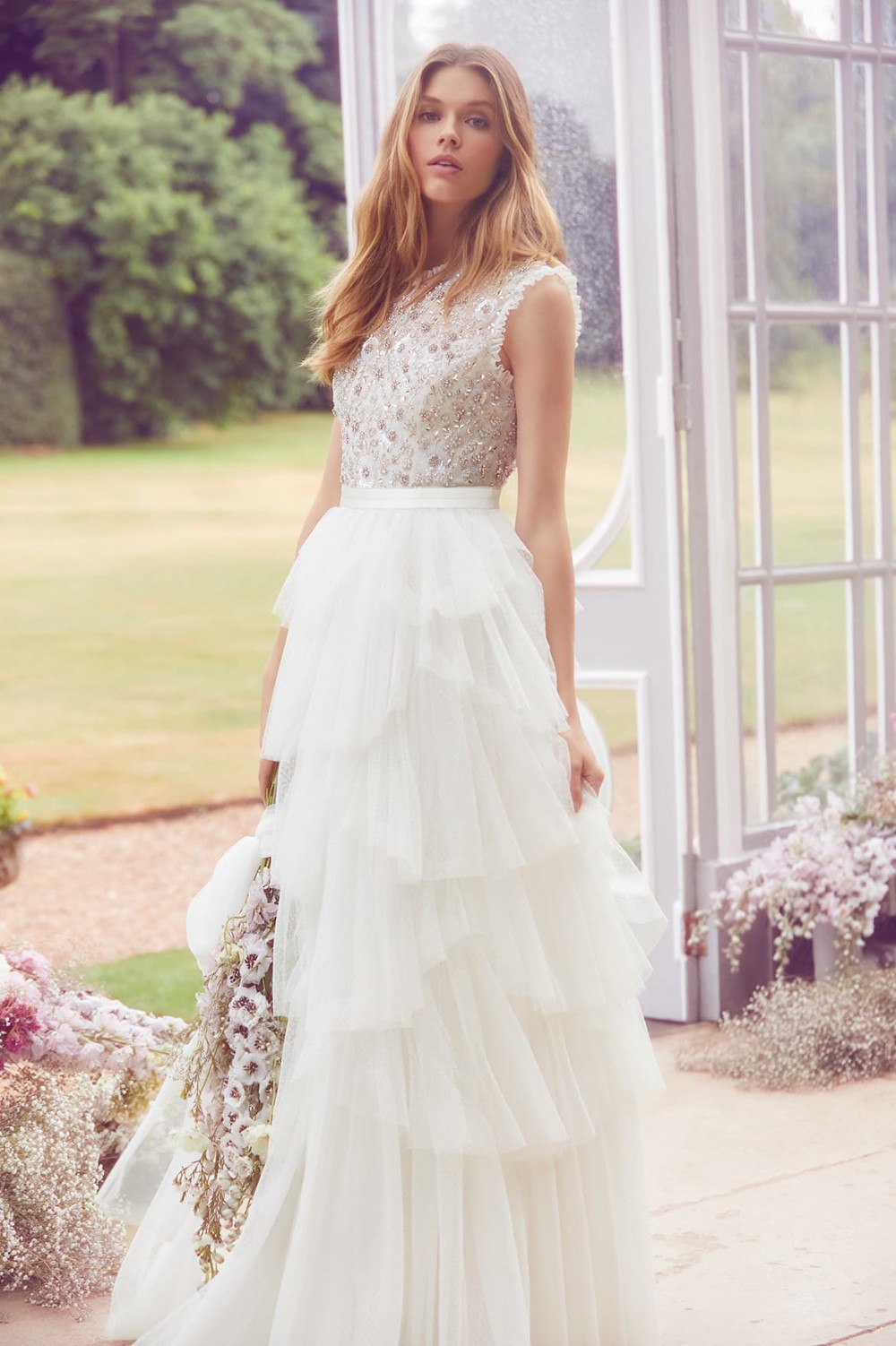 Scallop tiered sleeveless gown, £650
Some years later, Hannah went on to study Fashion and Textiles at university which led to a career working in the fashion industry for 10 years at successful British high street brands.
I had always wanted to launch my own brand and I identified an opportunity in the fast emerging contemporary sector. I wanted to launch a brand that brought cool, feminine, timeless product to the consumer at an obtainable price tag.
"Soon after our launch in 2013, we had the valuable support of some of the most premium retail stockists globally and these continue to be our most valued stockists to date – they include Harrods, Selfridges, Net-a-Porter, Lane Crawford and Moda Operandi."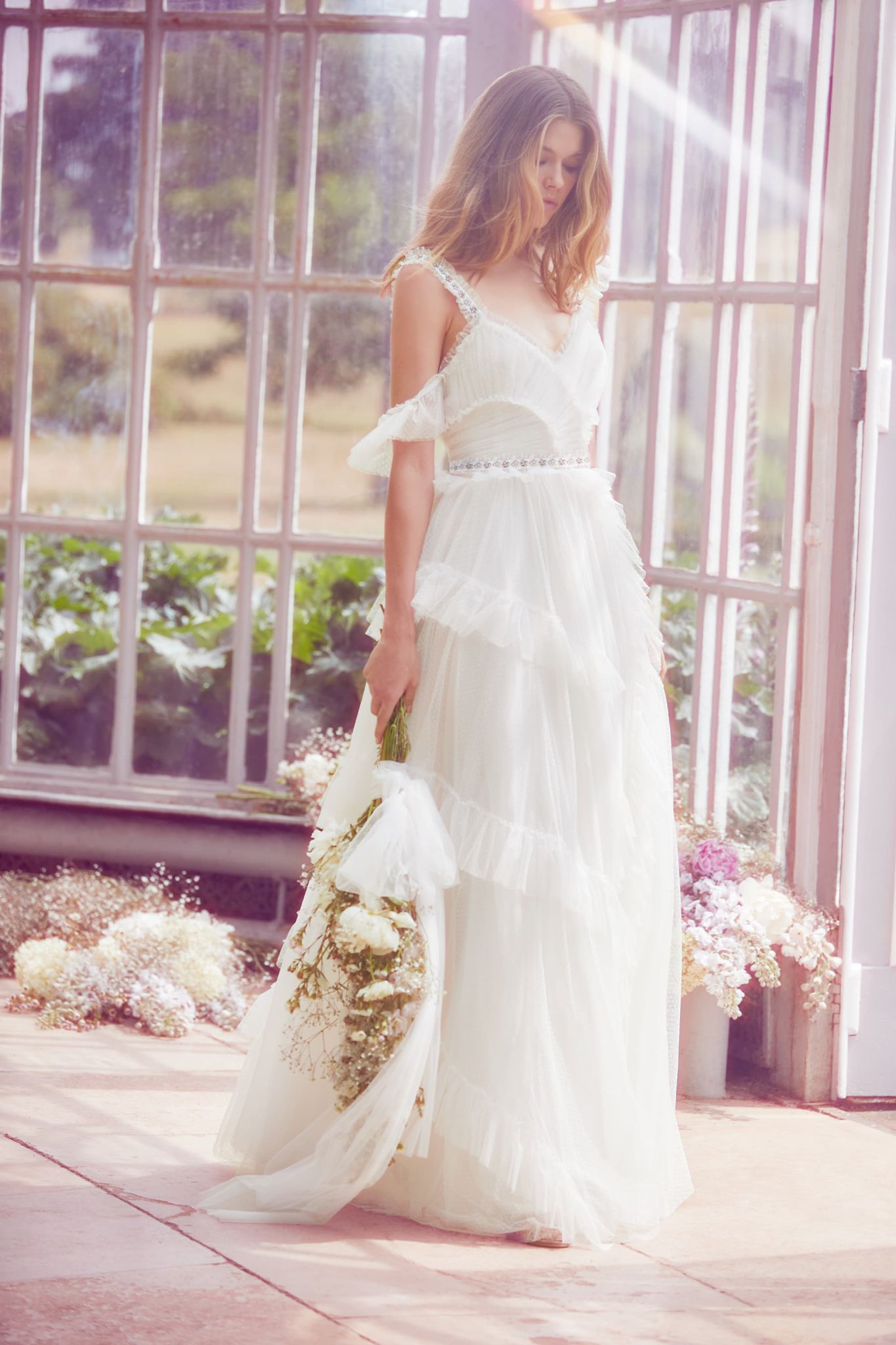 In 2016, Hannah and her Needle & Thread team launched their debut Needle & Thread bridal collection, with a focus on contemporary, creative and feminine designs. Today, the company are proudly releasing their Spring Summer 2019 collection for brides and I am beyond thrilled that we have been asked to help share the love. All the beautiful, tiered, embellished, beaded, glorious ivory, fuschia and tipped pink tulle love.
"Our designs are always inspired by my travels to my favourite countries – India, Morocco, but also the English countryside, antique fabrics, vintage markets, colour and flowers."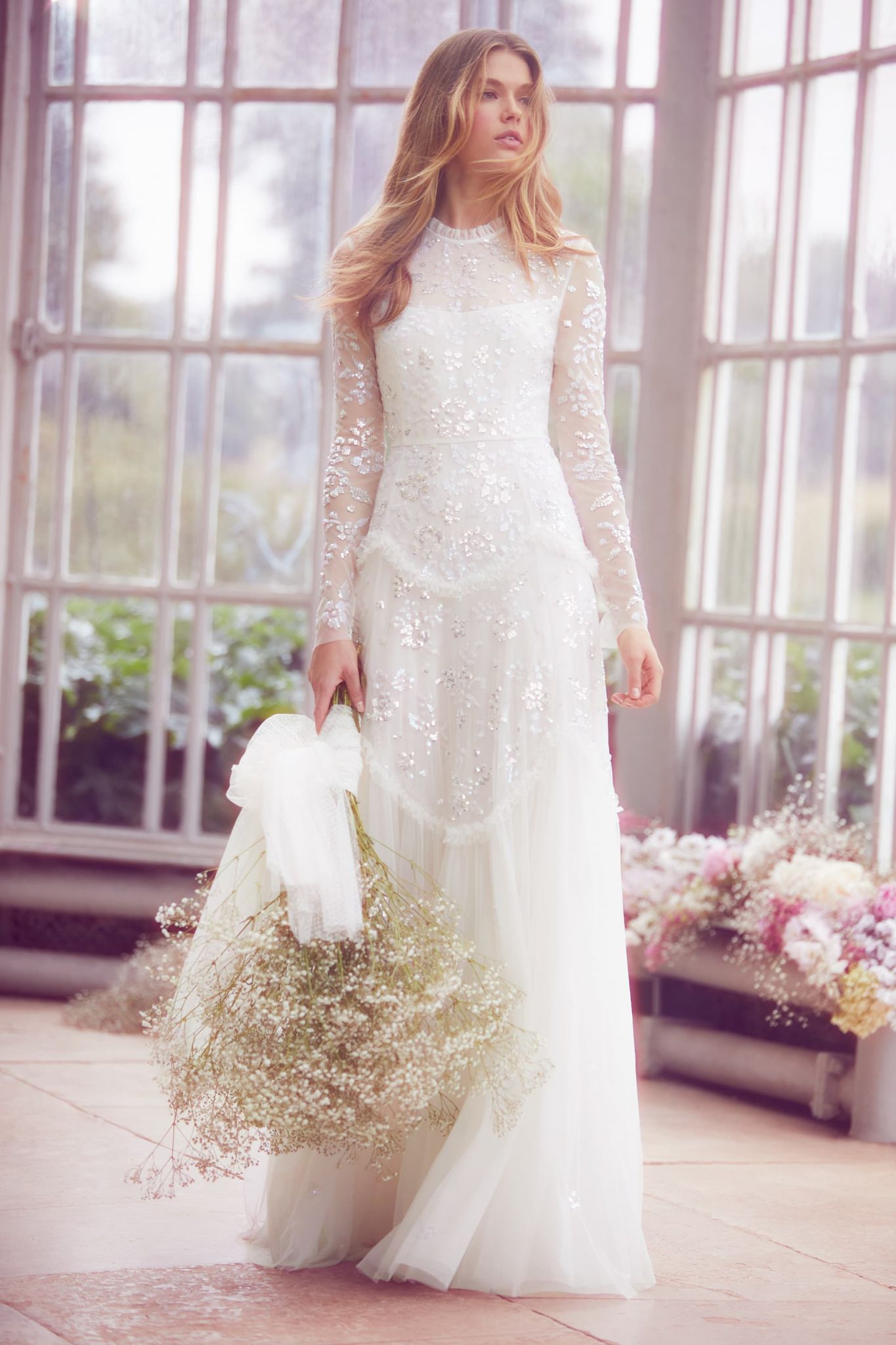 This is a small, but perfectly formed collection and offers modern brides a chance to play with colour, shape and playful fabric – all the polka dot tulle for me please!
The silhouettes are incredibly flattering and feminine and the lightness of the fabric means the gowns move beautifully. You'll literally look like you are gliding along the floor in one of these gowns on your wedding day!
As well as their bridal collection, Needle & Thread have the most beautiful ready to wear collection, ranging in price from £175 – £425. Wedding dresses range from £550 to £850; the team have tried very hard to produce bridal gowns that can retail at less than £1000, keeping their core client and their commitment to 'obtainable luxury' very much in mind.
Bridesmaids gowns range from £195 to £235.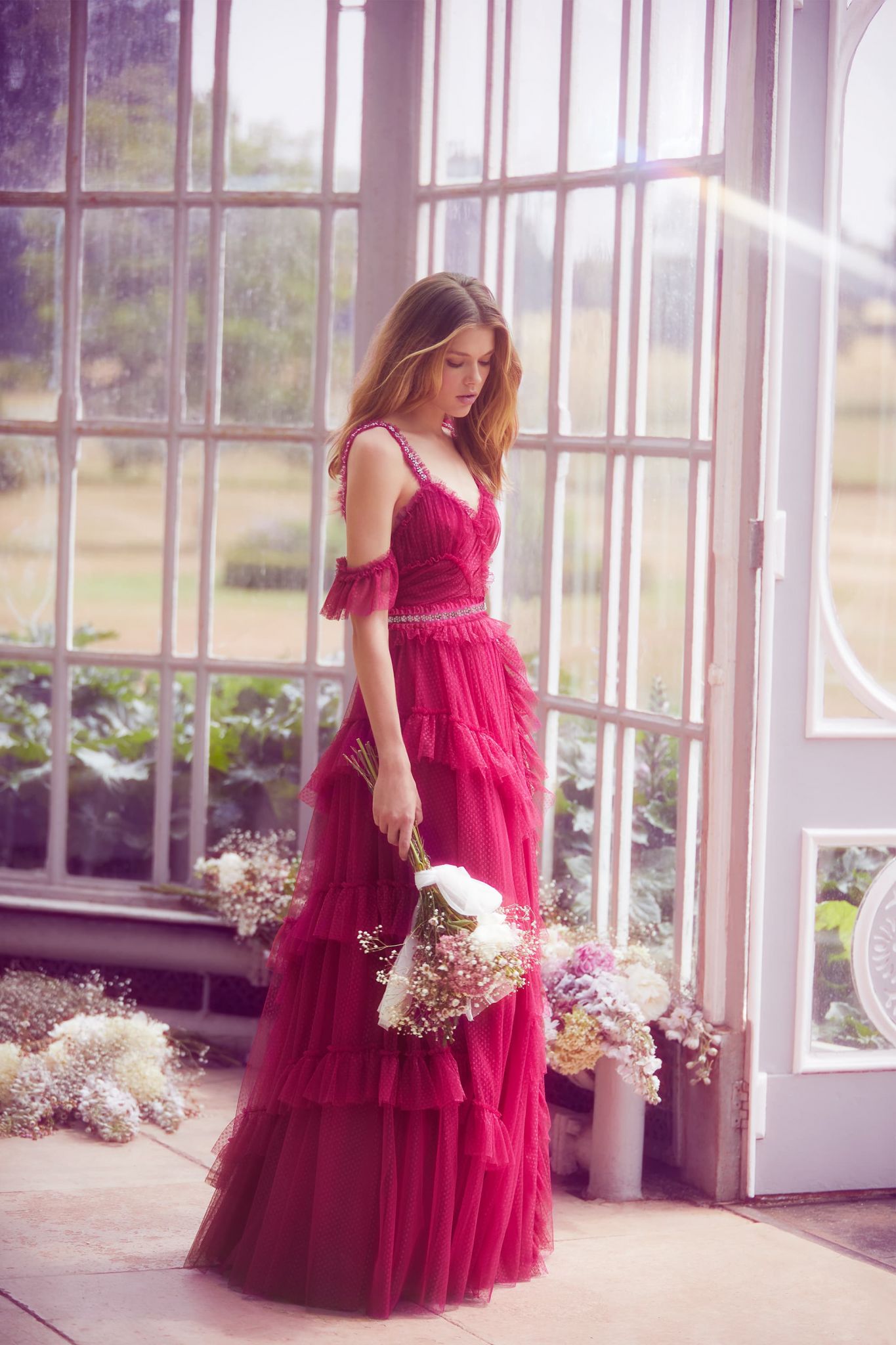 And don't be fooled or concerned by that obtainable price tag either – because no part of the quality or construction of these beautiful dresses has been compromised in order to keep the consumer price tag as low as possible. I think founder and designer Hannah herself sums it up best below…
"The team are incredibly talented and dedicated and they make everything possible. We invest heavily in our creative and technical functions which result in beautiful designs that fit women well.
 Our designs are authentic and original at an attainable price point."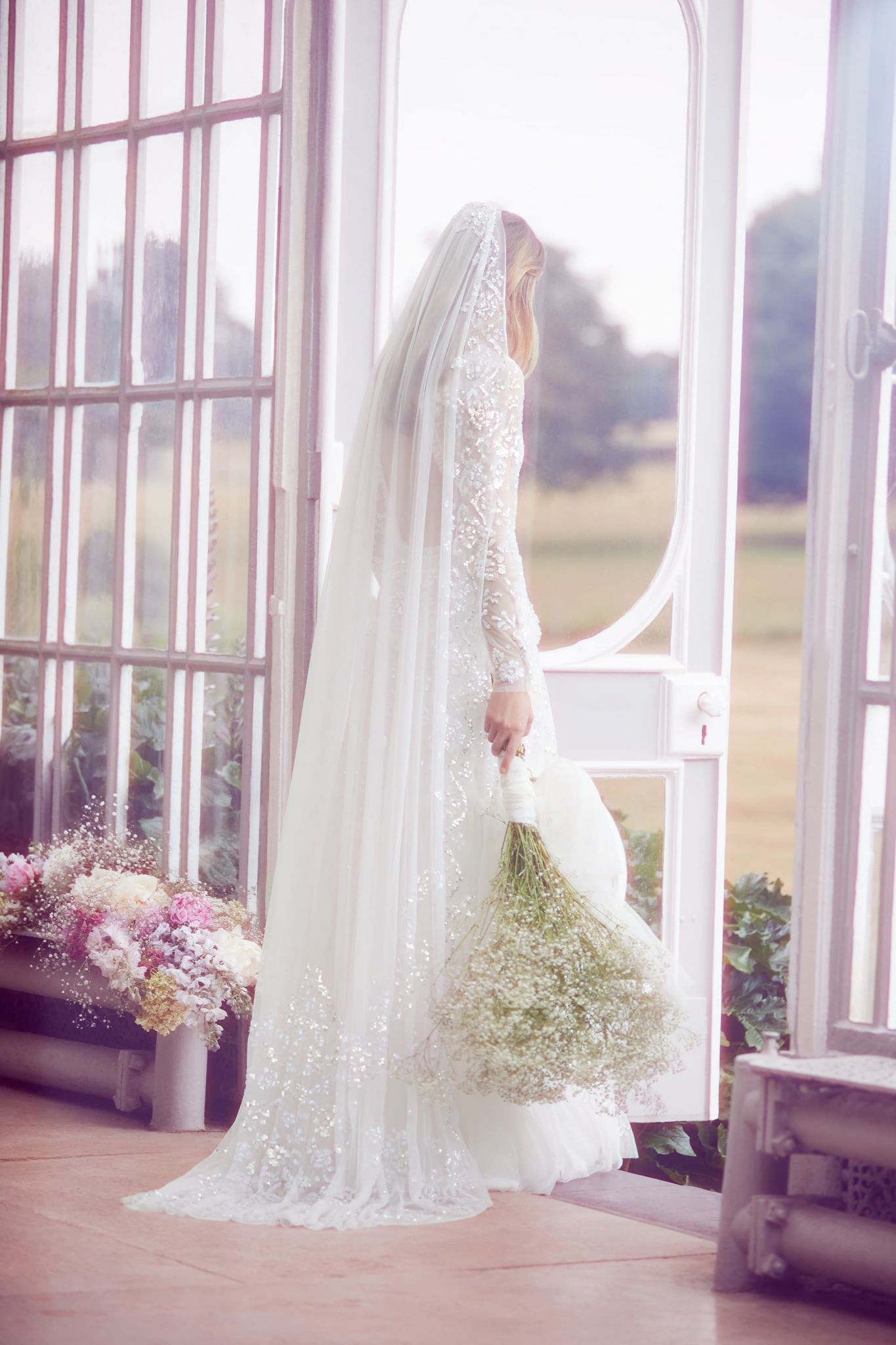 Needle & Thread ship globally, and offer free worldwide shipping. Our own community of Love My Dress brides adore these gowns – you can see some of our real weddings featuring Needle & Thread brides here (we've several more due to be published in the coming weeks).
I'd love to hear from any Needle & Thread brides out there – might you be considering one of these absolutely beautiful dresses for your own day?
Annabel x