Today's wedding is a romantic affair filled with lovely summer greenery, and a couple inspired by their Scottish heritage, filling their day with suitably Celtic touches – handfasting, tartan, a ceilidh band and more, all taking place at the most beautiful castle in Ayrshire.
Psychology graduate Corinne and Sam, an online community moderator celebrated their marriage on the 16 June 2018 in the beautiful medieval Rowallan Castle.
Let's begin with a film from the couple's videographer, Robert Karbownik of Lighthouse Picture.
"Rowallan Castle was the first and only wedding venue we visited as we knew instantly that it was the right for us! The grounds leading up to the main castle were beautiful and we loved the rustic aesthetic inside."
"The exclusive hire provided the intimate setting we hoped for and we were taken with the special features including the old library, the carvings on the walls and two castles on the grounds!"
Images by Suzanne Li Photography.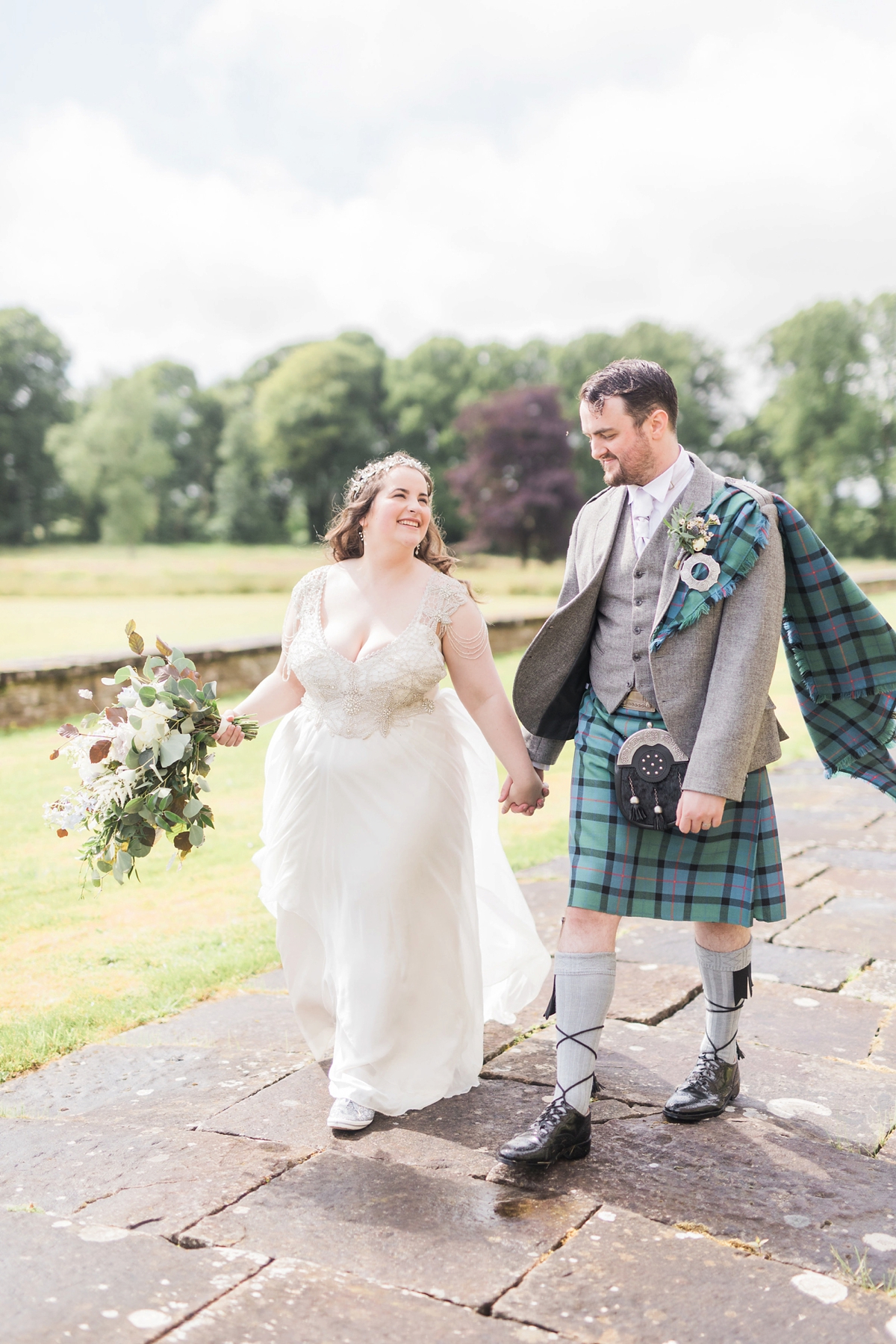 "When researching Scottish castles, I discovered a real wedding on Love My Dress at Rowallan Castle and thought the pictures of the castle were wonderful. From this, I ended up listing it in my top 5 venues before visiting an Open Day with Sam and my parents."
Corinne chose a gorgeous pair of statement heels embellished with crystals by brilliant Little Book member, Freya Rose. For later in the day she also had a pair of glittery silver Keds (x Kate Spade) on standby!
"I adored my crystal heels from Freya Rose. I felt like a real-life Disney princess. However, in preparation for all the dancing in the evening I bought some sparkly trainers for both style and comfort…"
Corinne and Sam were keen to include lots of DIY details and homemade elements into the decor for their day. Corinne made their stationery herself, downloading a font from Creative Market and using card from Hobbycraft.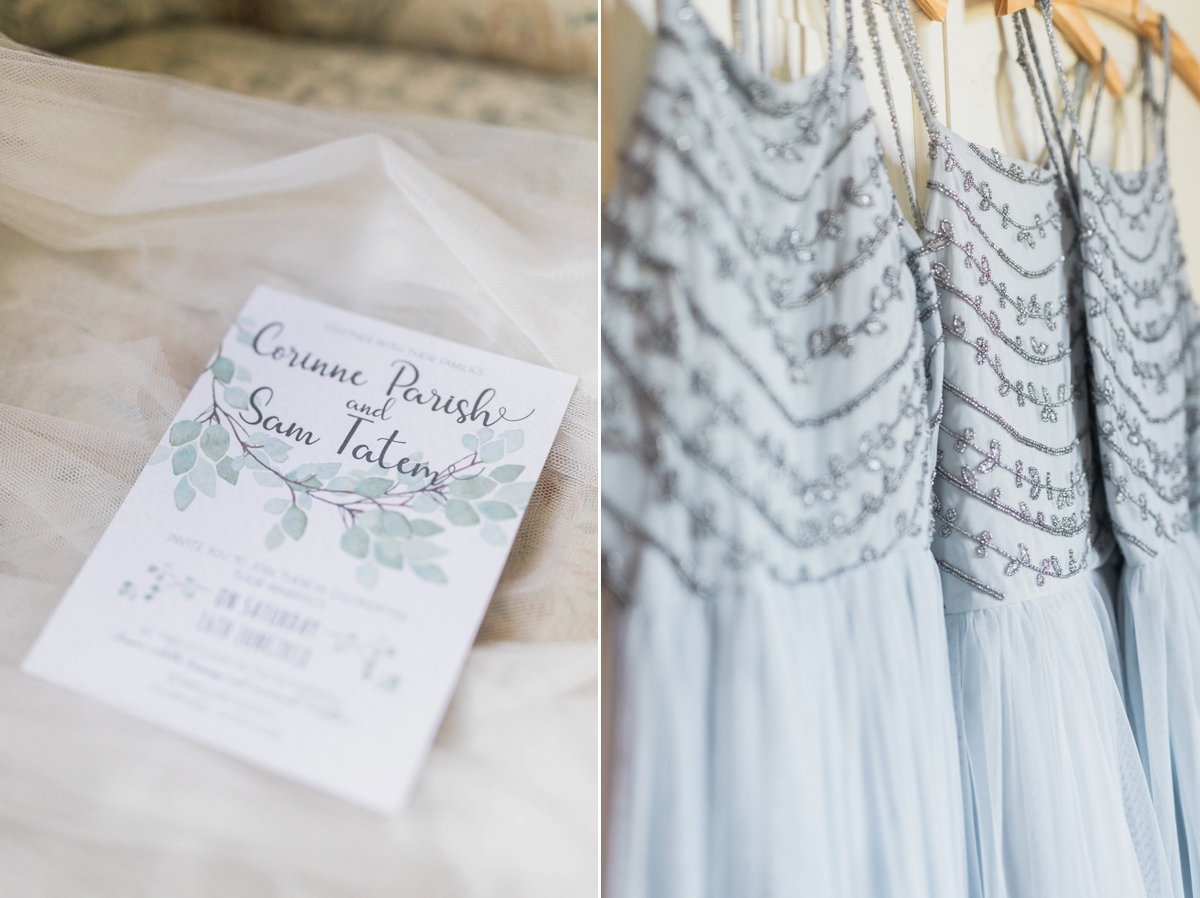 Lesley from Pamper & Polish curled Corinne's hair in soft waves with a pretty French braid half up-do, and I love the radiant and natural make-up look she created, too.
[JP-VIDEO]
"I loved that Lesley understood the natural look I was going for. My make-up stayed on throughout the whole day. My hair had the exact braided and wavy style that I hoped for on my special day. I wish I could have my hair like this every day!"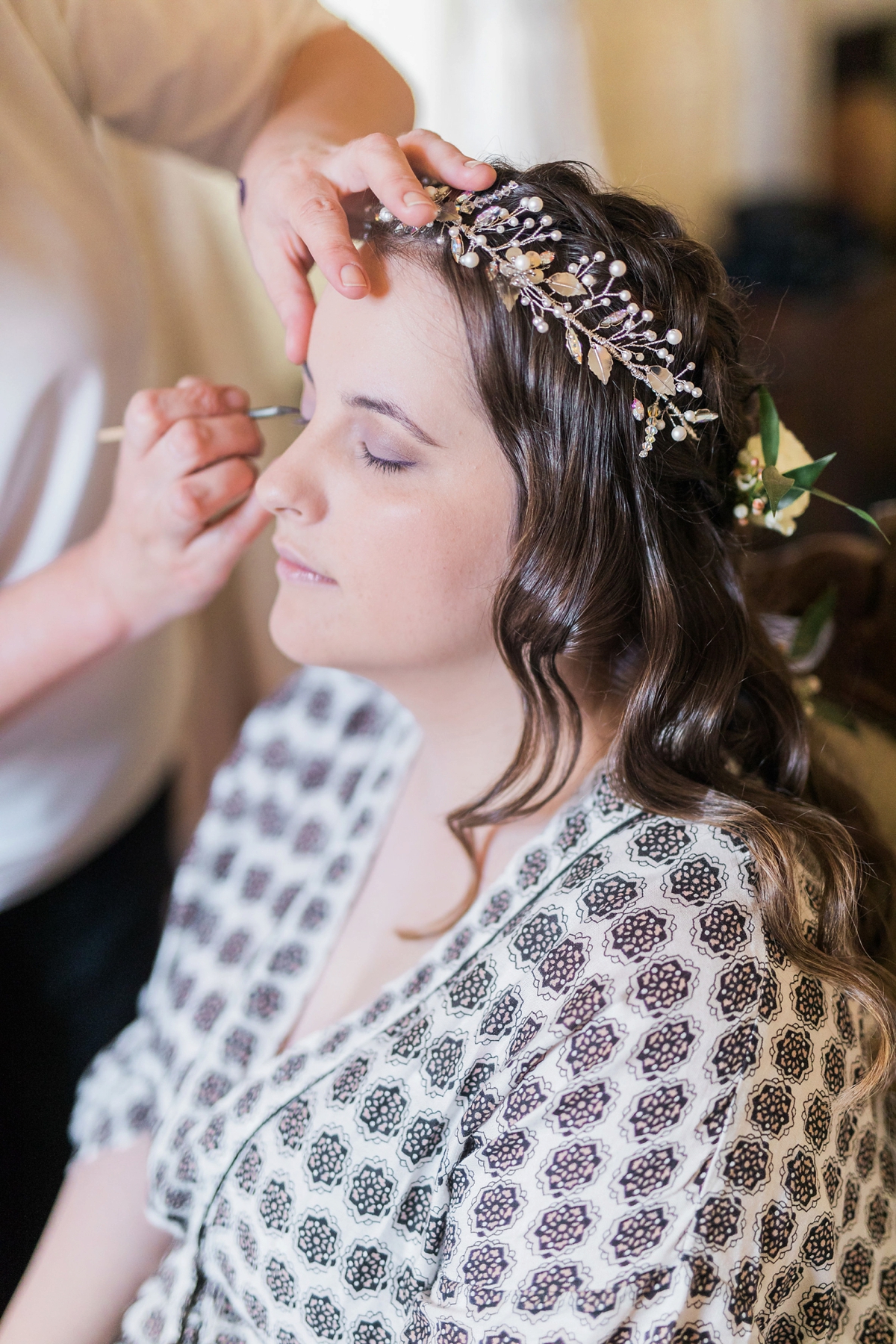 In her hair, Corinne wore an elegant custom vine – the 'Rosalyn' by Blair Nadeau Bridal Adornments, and added a long draped veil, also from Blair Nadeau.
"Blair was excellent. I had admired her work from afar before approaching her about a customised hair piece for my wedding day. She knew exactly what I wanted and created an incredible delicate crown/hair vine that matched the bohemian yet regal look I was going for."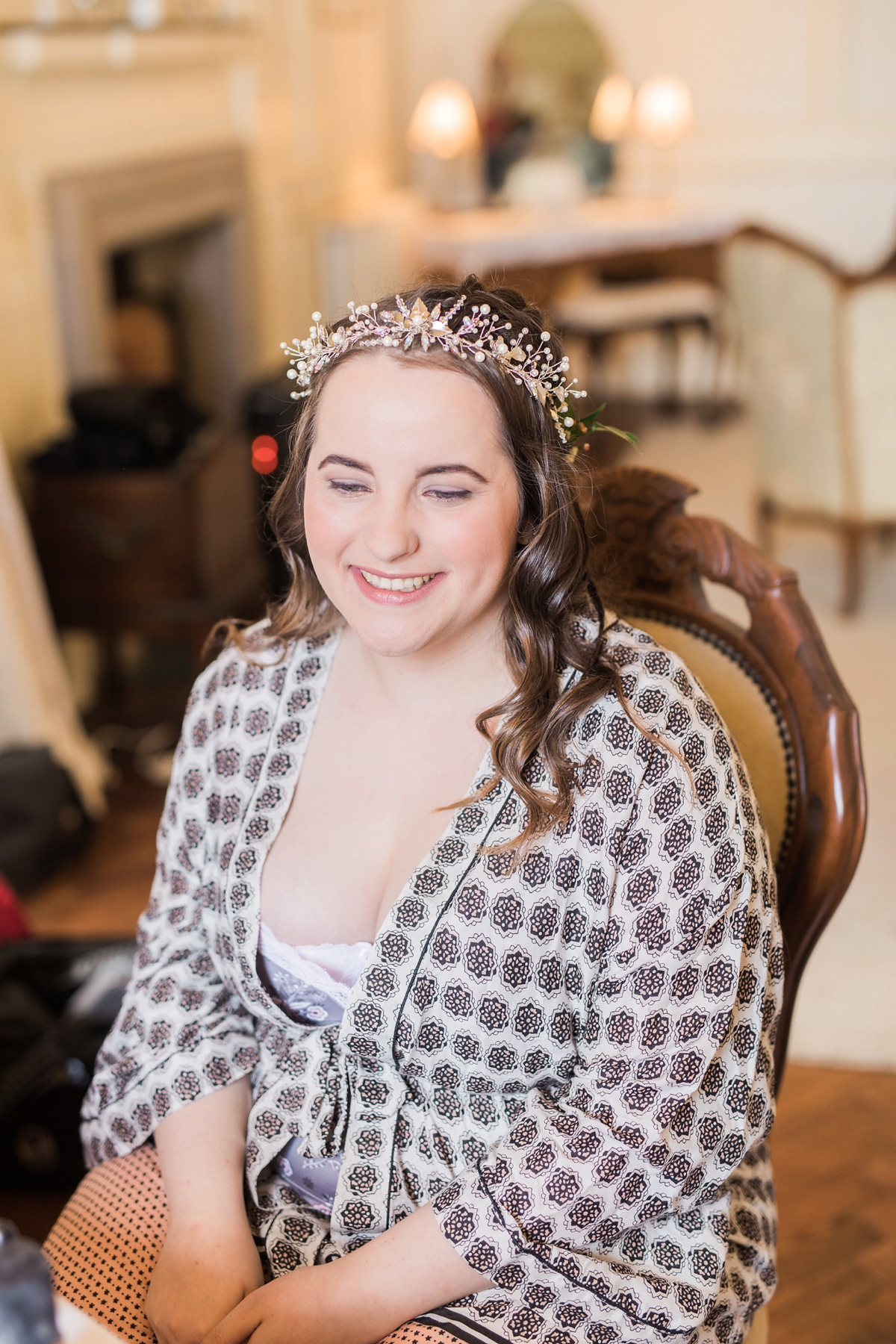 Corinne's flowergirl wore an embellished dress from Monsoon's Artisan collection for children, as well as a fresh flower crown.
The bridesmaids wore floaty pastel blue dresses embroidered with sparkly beads from ASOS, together with their own shoes, pearl necklaces from T.K Maxx and fresh flowers in their hair.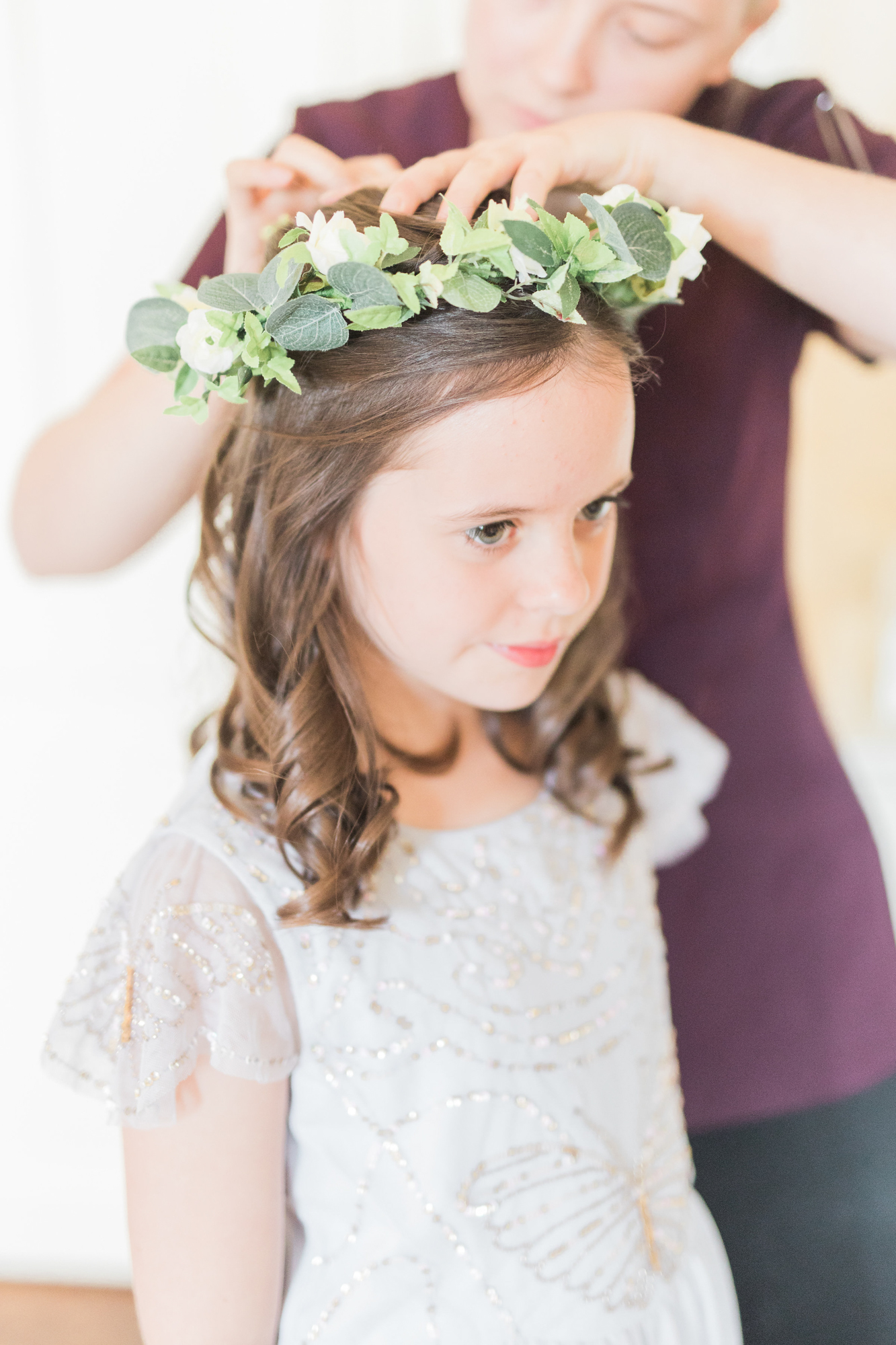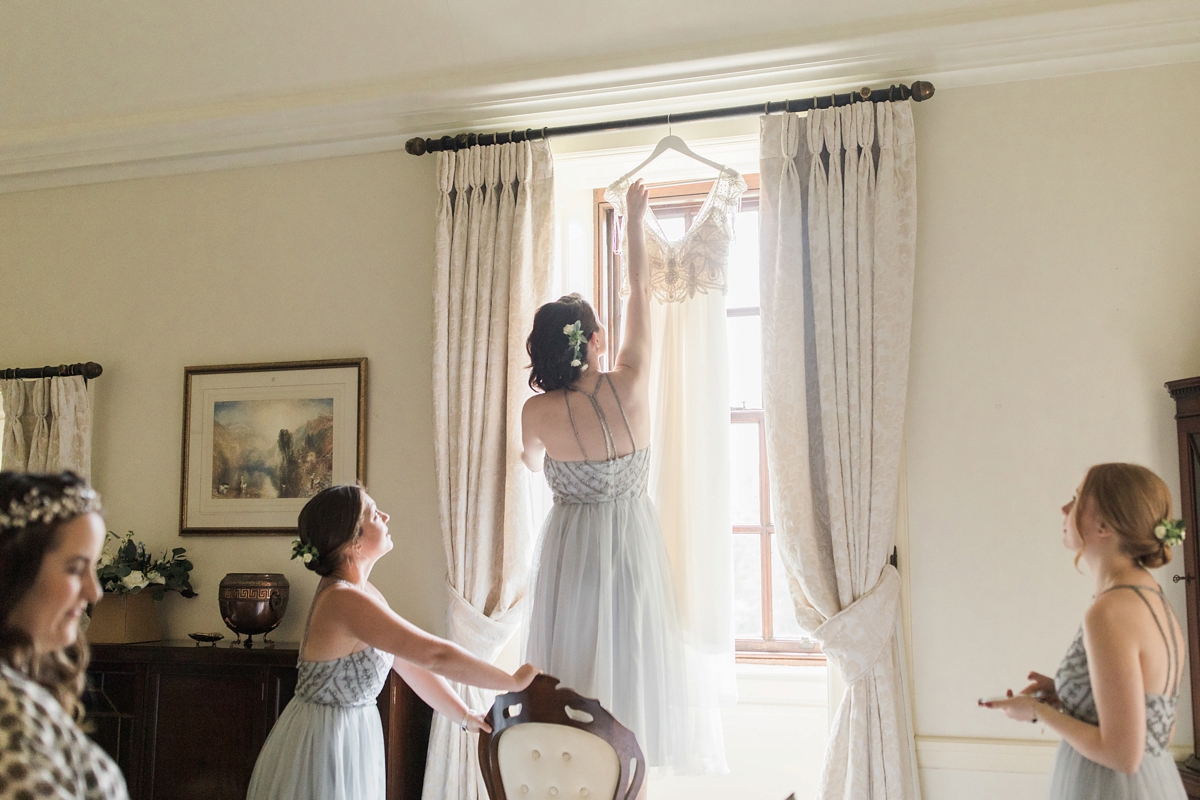 Corinne's Freya Rose shoes paired perfectly with her beautiful and ethereal gown, its bodice adorned with sparkling bugle beads (those shoulders, too!) – The 'Grace' gown by Australian designer Anna Campbell.
"I had always wanted a dress that felt true to my own personal style. I really wanted a whimsical, bohemian feel with a flowing skirt. Following an appointment where I tried on several dresses, I realised that none of them felt quite right. I then considered the Anna Campbell designs that I had spotted on Pinterest."
"I discovered that the closest stockist to Ayrshire was Jean Jackson Couture in Manchester (a mother-daughter run wedding boutique who stock bohemian style gowns). I felt lucky as when I contacted Felicity she explained that they had arranged an upcoming pop-up event with Fabricated Bridal (sadly now closed), in Glasgow."
"When I tried on 'Grace' I knew it was my dress. I loved everything about it – from the delicate shoulder beading, the shimmering embellishment, the low-back and the cascading silk chiffon brocade skirt. which made me feel free and allowed easy movement. Once my dress arrived from Australia, Catherine from Fabricated Bridal did all the alterations dealing with the delicate beadwork and silk with care."
For jewellery, Corinne wore earrings from Joanna Reed, and for her wedding day fragrance, Miss Dior Blooming Bouquet.
"After reading about the 'olfactory bulb', an area of your brain, which can help conjure memories by smelling specific smells, I knew that I wanted a new perfume that would be forever tied to my wedding day. I choose Miss Dior Blooming Bouquet as the middle notes of peonies and rose matched my wedding bouquet. It is a subtle and fresh scent that was perfect for my wedding day. "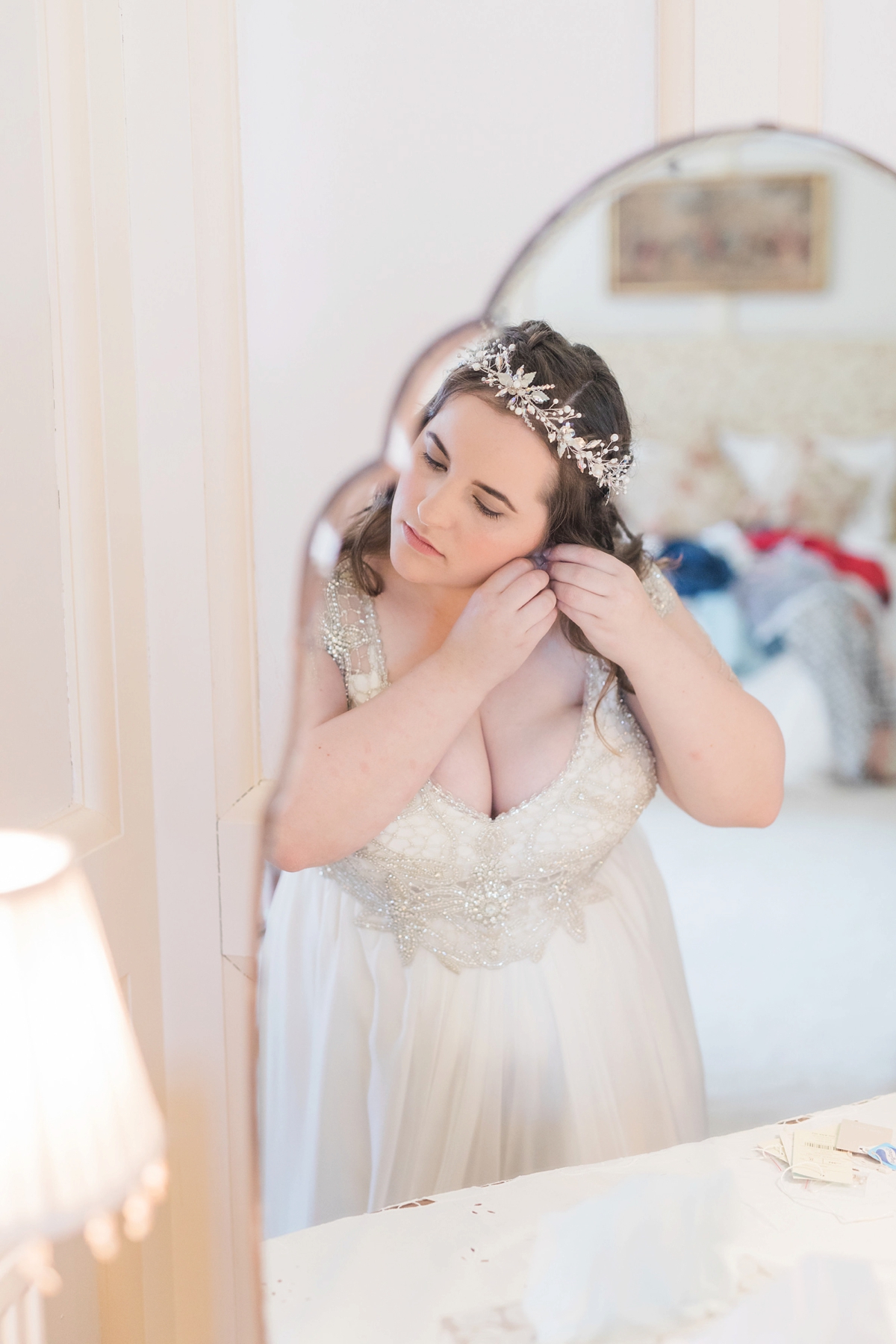 Sam and the groomsmen wore splendid Highland dress – the Flower of Scotland tartan with a Lomond jacket and shoulder plaid, from Kilts 4 U, and Corinne gifted Sam a pair of engraved cufflinks to wear, too.
"Sam and I met years ago through his cousin, my long-time best friend and maid of honour, Emma. We were good friends for years before the friendship blossomed into love as teenagers. On a family trip to Isle of Skye, Sam suggested visiting the Fairy Glen one afternoon as it is our favourite spot on island. We piled into the car with his family and our Cavalier King Charles Spaniel Willow and headed to Uig, upon arriving Sam tried to convince me to climb up to the basalt topping on one of the hills that looks like a ruin from afar called Castle Ewan."
"I was reluctant to go up to the top as it was a windy day and I remembered how steep it was on a previous visit. We settled for climbing the hill but not up the rock. I was completely preoccupied planning a nice background for photographs for my blog as Sam took some pictures then dropped down on one knee."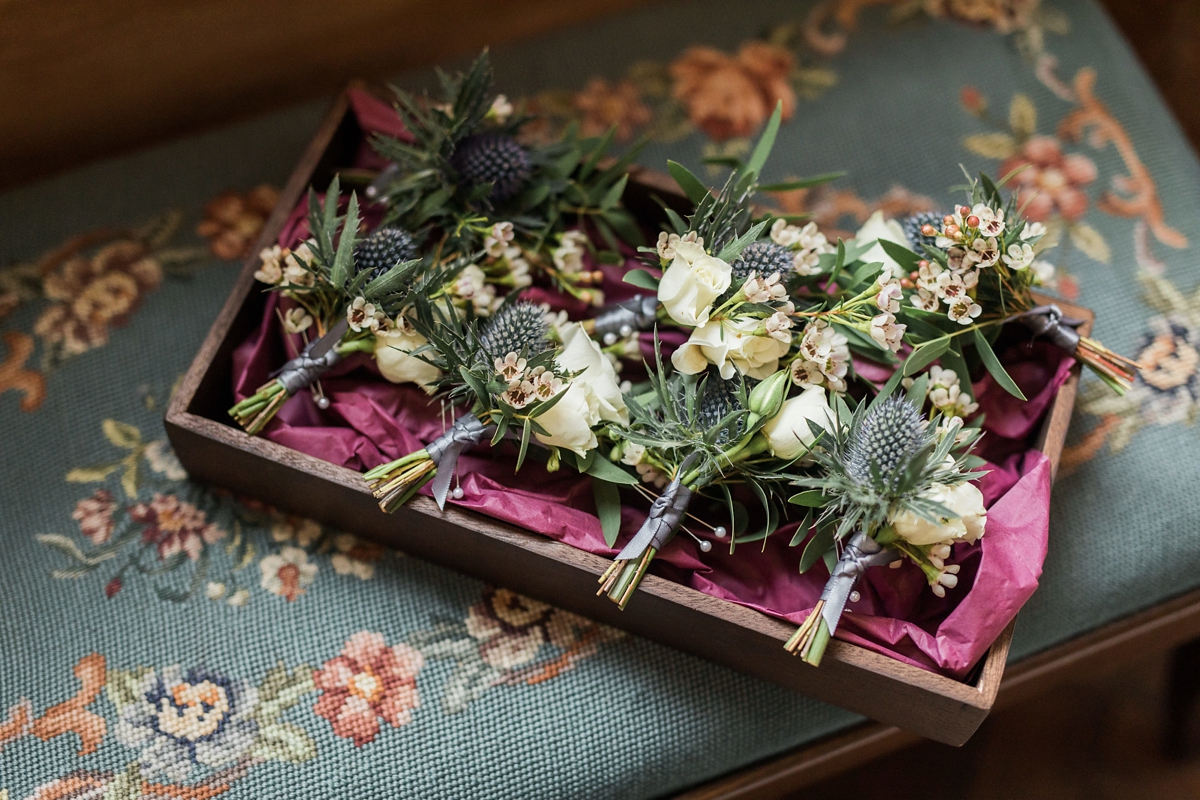 "I was caught  off-guard as I thought he was getting some balance on the hilltop, instead he asked, "How long have we been together for?" to which I replied "I don't know… too long," jokingly and then he opened a ring box and replied "How about that making it longer?" and in my confusion I exclaimed "What?! Are you being serious?!!" before tearing up and replying "Yes, of course"."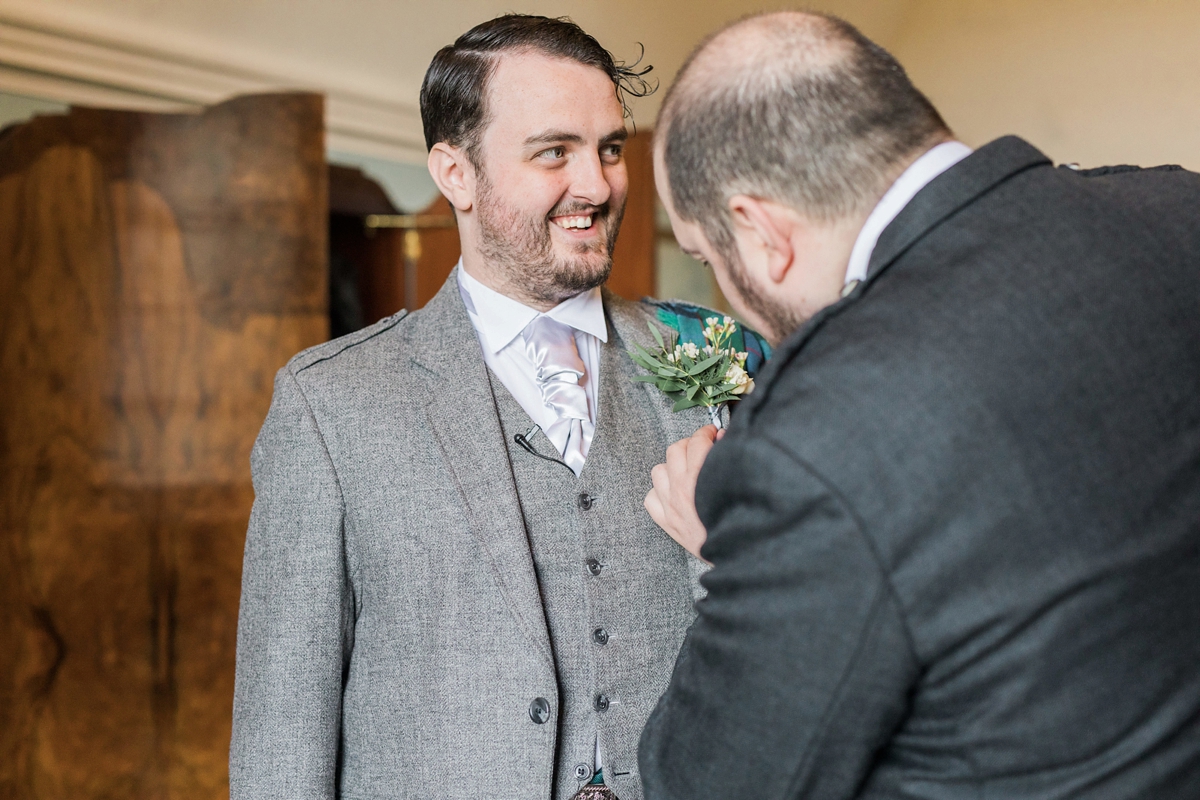 The couple became engaged in April 2016, and began planning their day in earnest the following winter.
"We both knew that we wanted to get married in Scotland and included some Scottish themes throughout the day including a Celtic handfasting and a ceilidh to celebrate. In the past, I had always envisioned having my wedding surrounded by a forest setting and although you can get married anywhere in Scotland (including standing in a loch!), we also knew that the Scottish weather is not reliable. We wanted a venue with character that we could fill with close family and friends. Rowallan Castle reflected that…"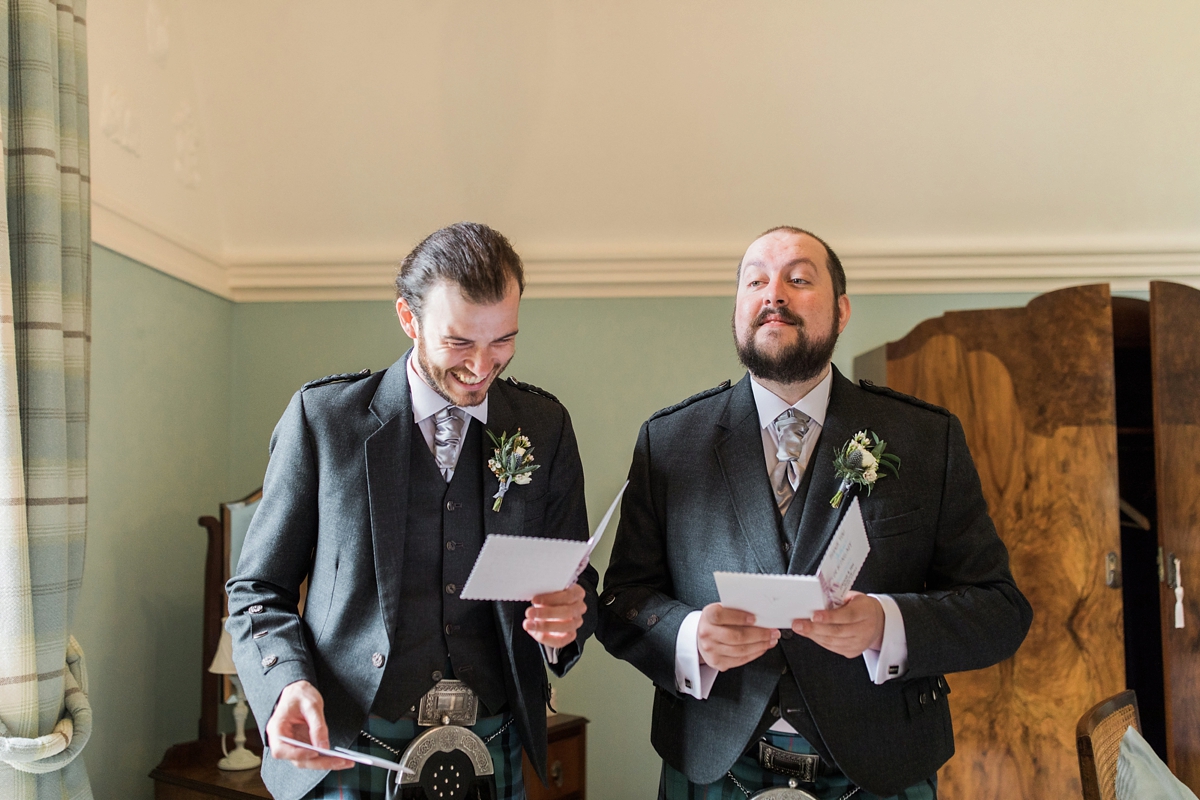 Corinne walked down the aisle accompanied by her dad, to Piano Dreamers' version of the Paramore song, The Only Exception. The couple's celebrant was Paul Harkin, from the Humanist Society of Scotland, who worked with the couple to tailor their vows, with the handfasting section specially written by Corinne and Sam (a highlight of the day for the couple).
"We returned to Grace Jewels when buying our wedding rings as we like to support small businesses, and the rings were high-quality and in a unique style. We decided to invest in our rings choosing palladium metal as it is durable and long-lasting. After all, wedding rings are meant to last forever!"
"In addition, Sam had a good experience using Etsy to directly contact her when asking about the sizing difference between UK and US measurements for my engagement ring. I really liked that the jewellery is eco-friendly and the diamonds on my wedding band were conflict-free."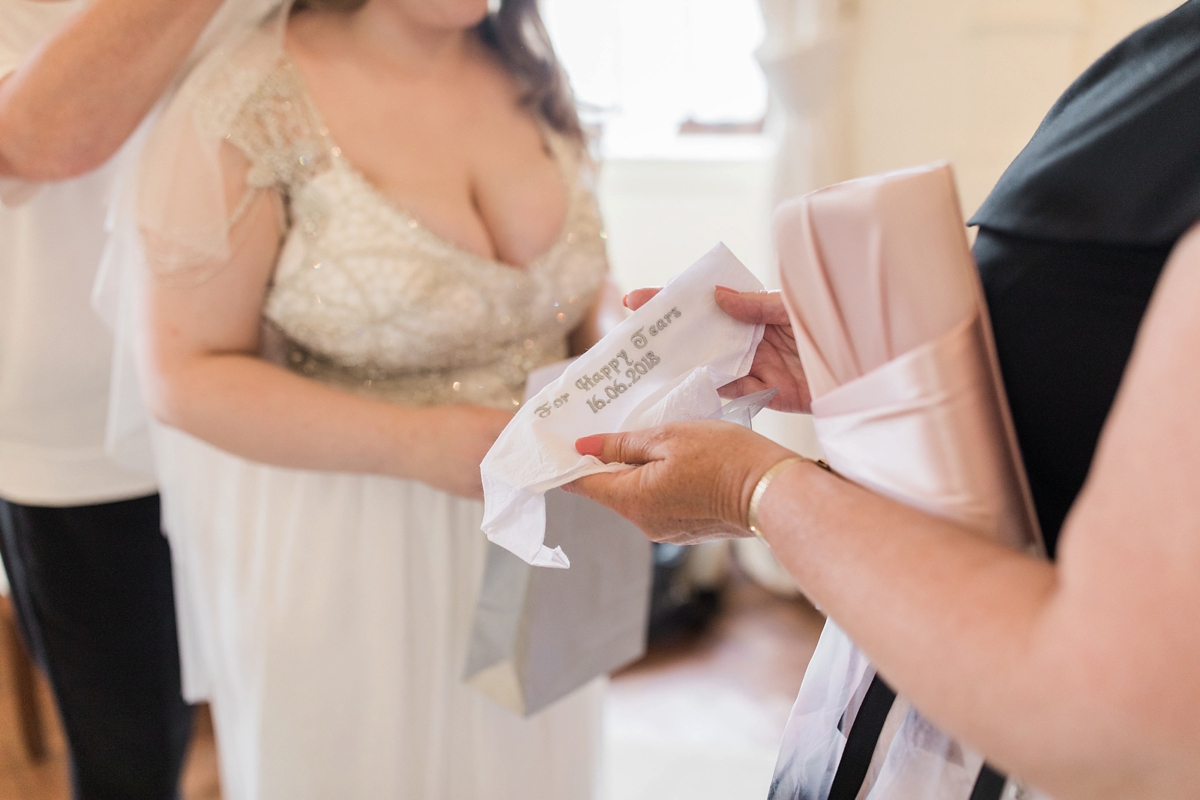 There were two readings during the ceremony; Maid of Honour Emma read Love Is A Temporary Madness from Captain Corelli's Mandolin, and Sam's mum read a Scottish Wedding Blessing in old Scots, with ring-bearer and Sam's half-brother Joel translating into English!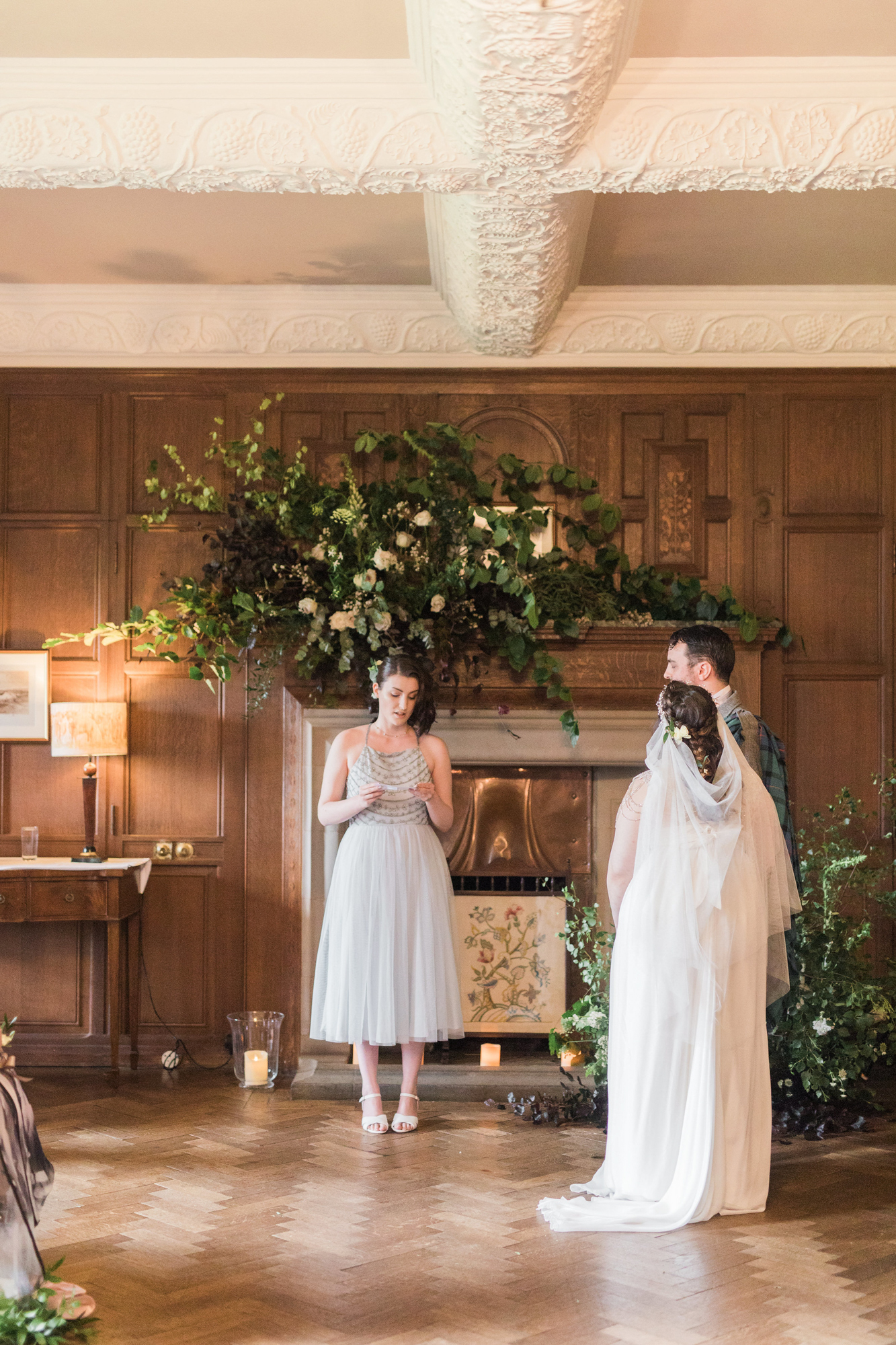 "When considering readings for our ceremony we wanted something that felt true to us. Captain Corelli's Mandolin stood out it explains exactly how we feel about being in love in a long-term relationship."
"We also liked the tree metaphor which matched our theme. The Scottish Wedding Blessing was a short and sweet way to end the ceremony."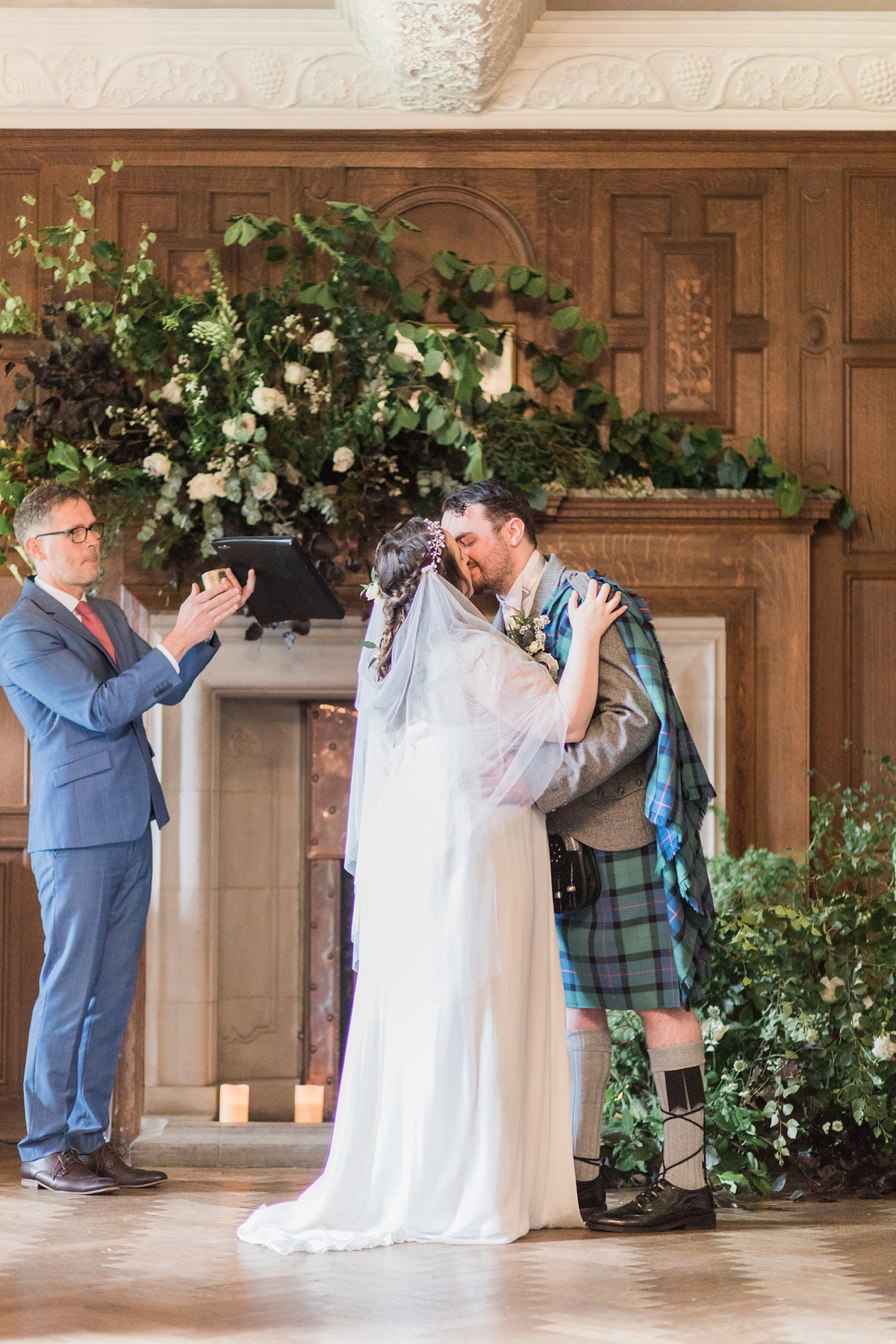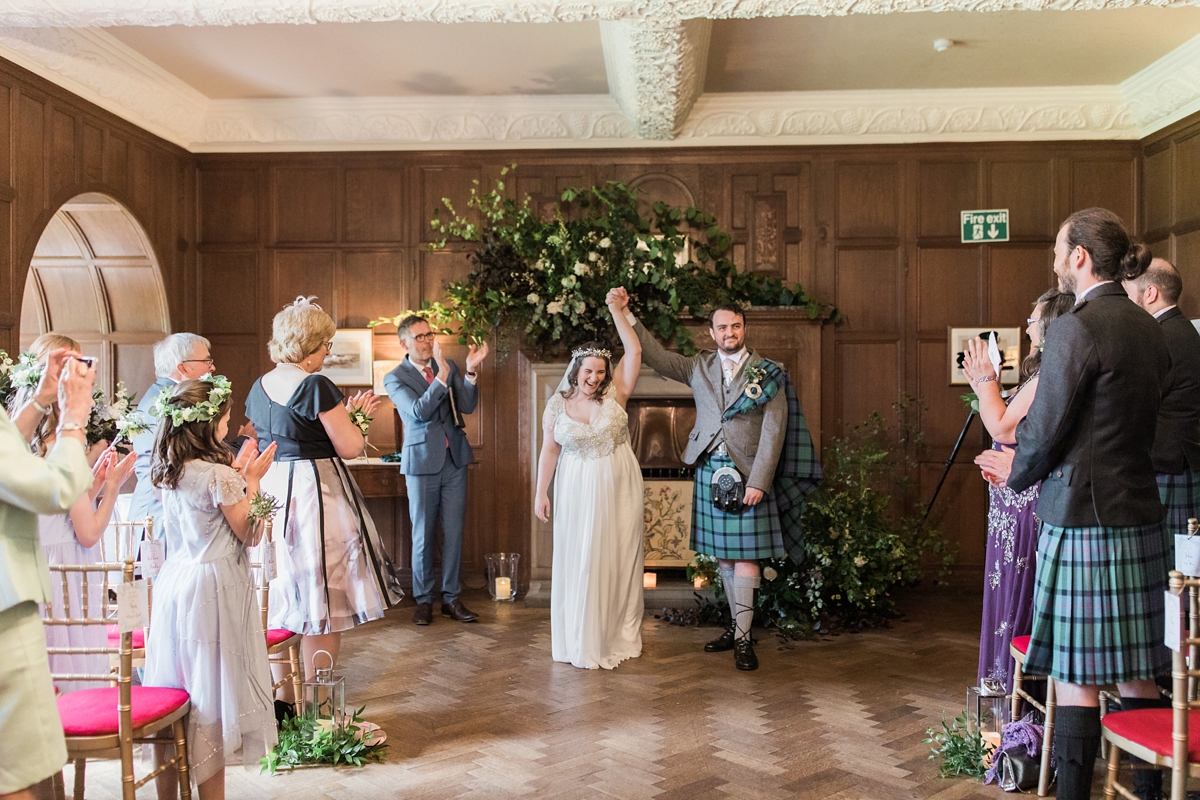 These enchanting images, filled with soft natural light are by photographer Suzanne Li. She has perfectly captured the spirit and romance of Corinne and Sam's day, and they couldn't have been happier with their choice.
"Suzie was wonderful; she was friendly and fun to work with. She made us laugh and feel instantly at ease. She has a keen eye for detail and managed to capture the moments in between the moments. We couldn't be happier with the pictures. We love her natural, airy style of photography and highly recommend her!"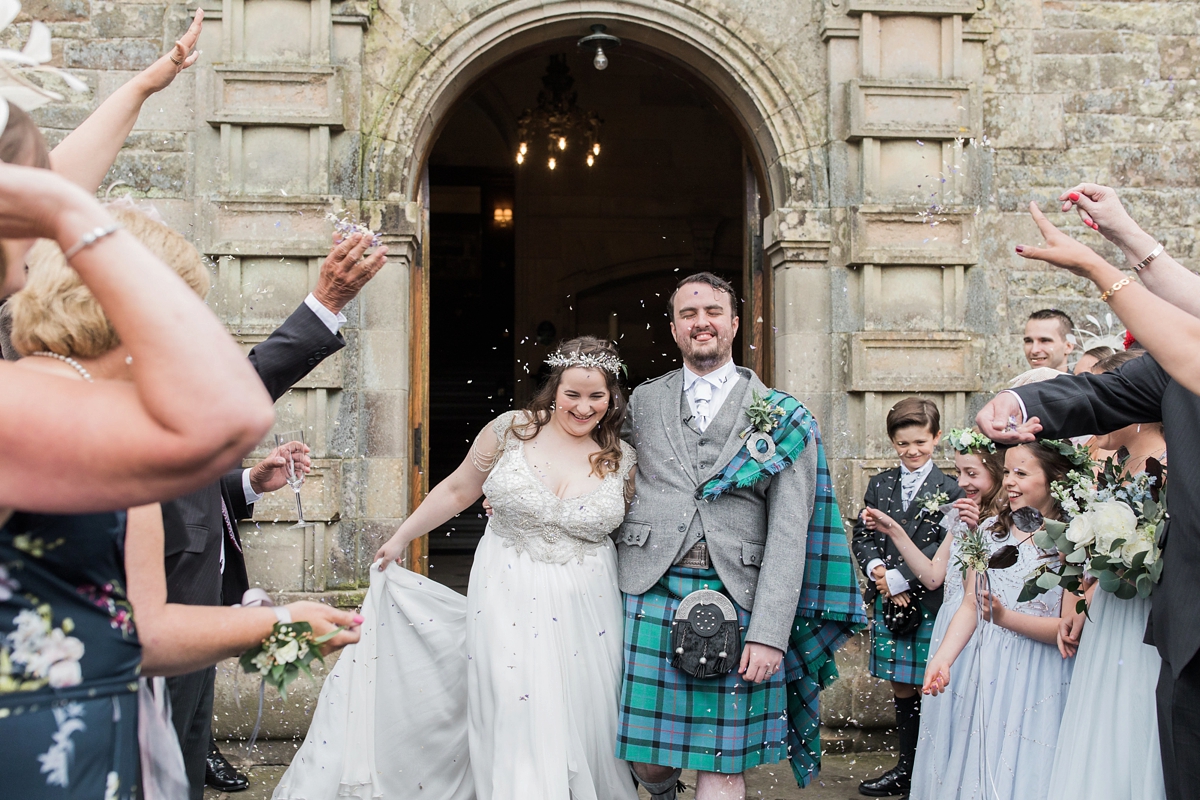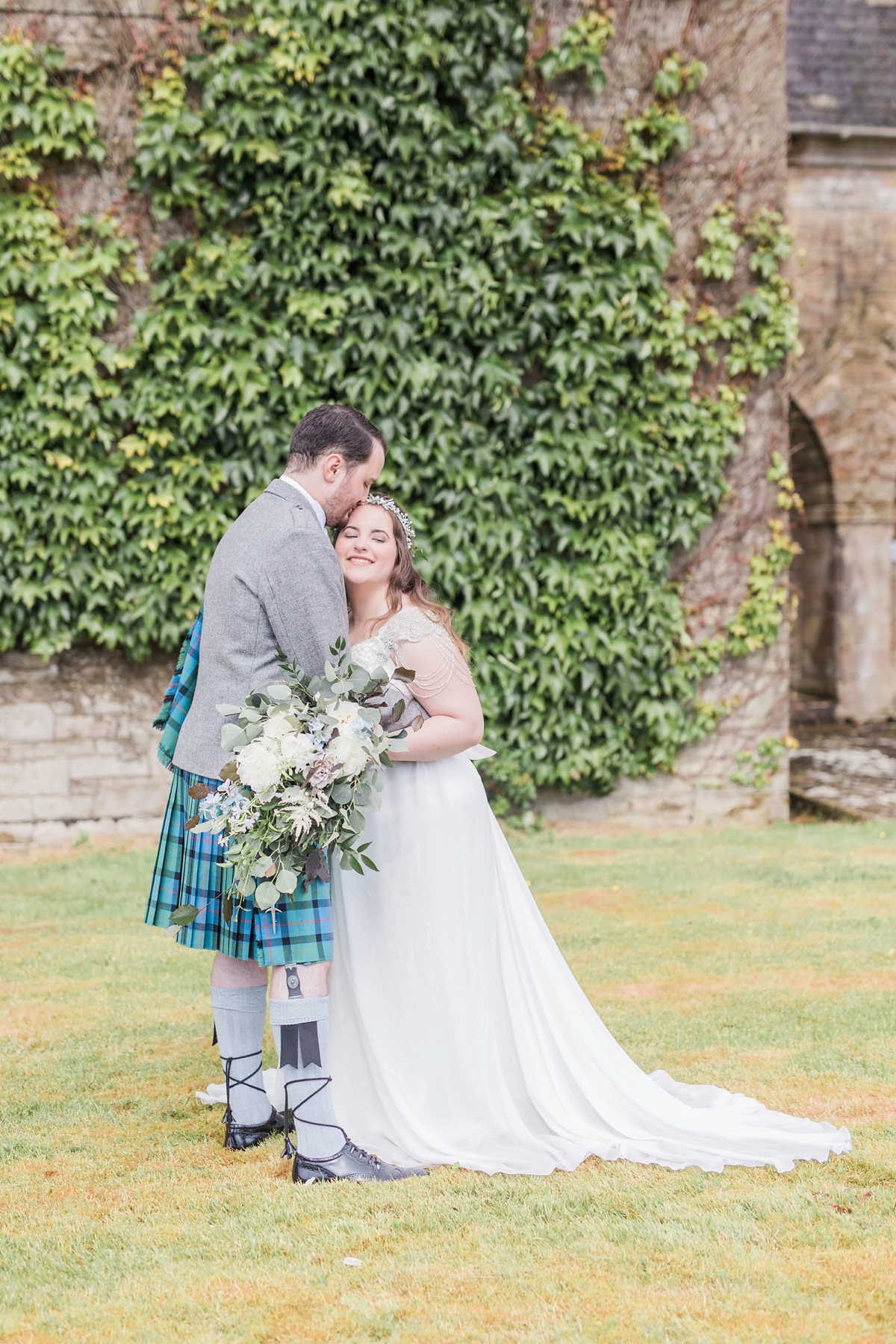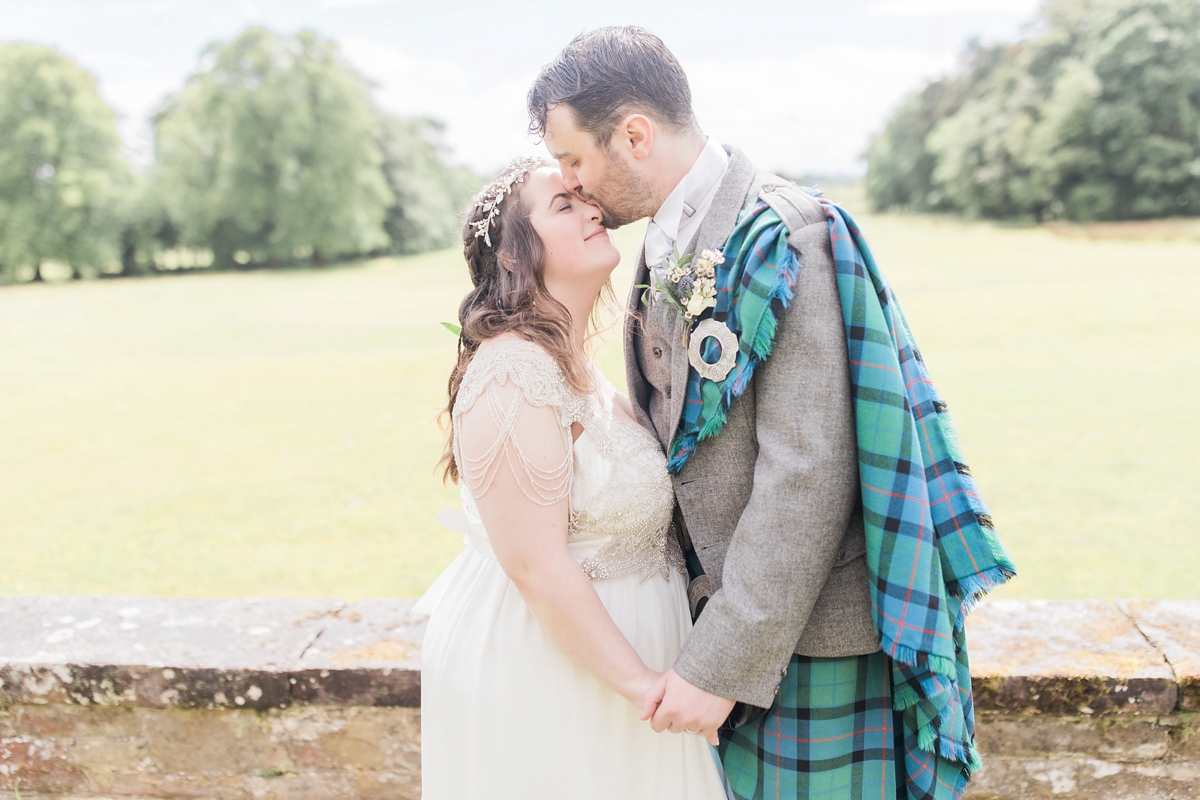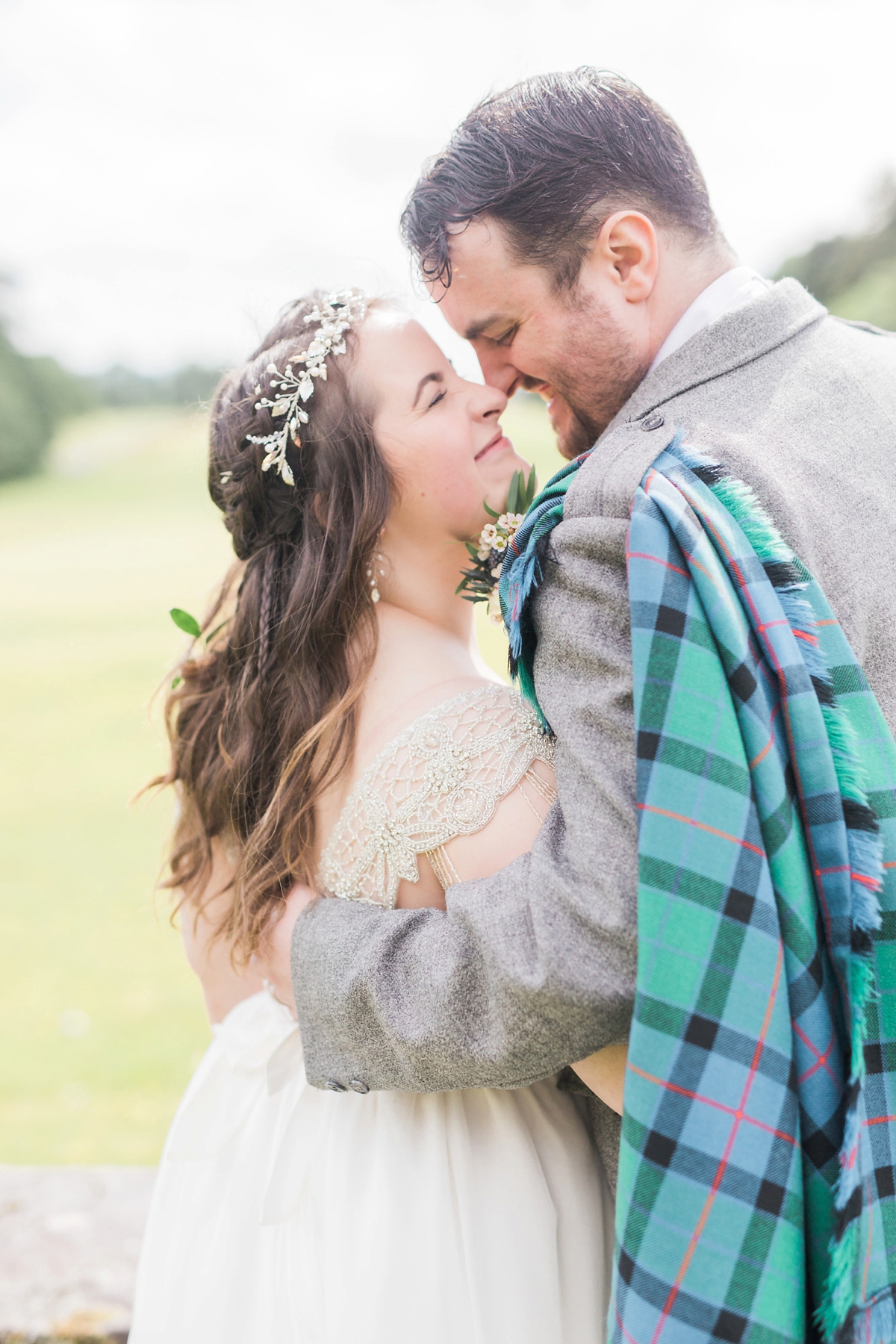 "We made chalkboards and the table plan using picture frames. We used a small crate with wooden letters, pegs and twine to collect the cards."
"As we wanted our tables to be quirky, we included items from our home that referenced our favourite franchises e.g. Vikings, Game of Thrones, Lord of the Rings, Star Wars, Disney, and Harry Potter."
Florist Julie from A Curious Arrangement added rustic sliced logs to the tables, placing clusters of small vases of flowers on top, as well as a beautiful garland of greenery on the top table. Corinne and Sam also dotted LED tealights from IKEA around, filled with decorative moss to create a woodland feel. Wedding favours were fragrant soaps (palm oil and cruelty free) from an Etsy seller (sadly, no further details provided).
"In addition, as we have both lost grandparents, we wanted to include a special way to incorporate them into our wedding day. We choose to have framed pictures from each set of grandparents wedding day on the shelves in our reception room. This gave the guests the chance to fondly remember them and see how the wedding fashion over the decades have changed."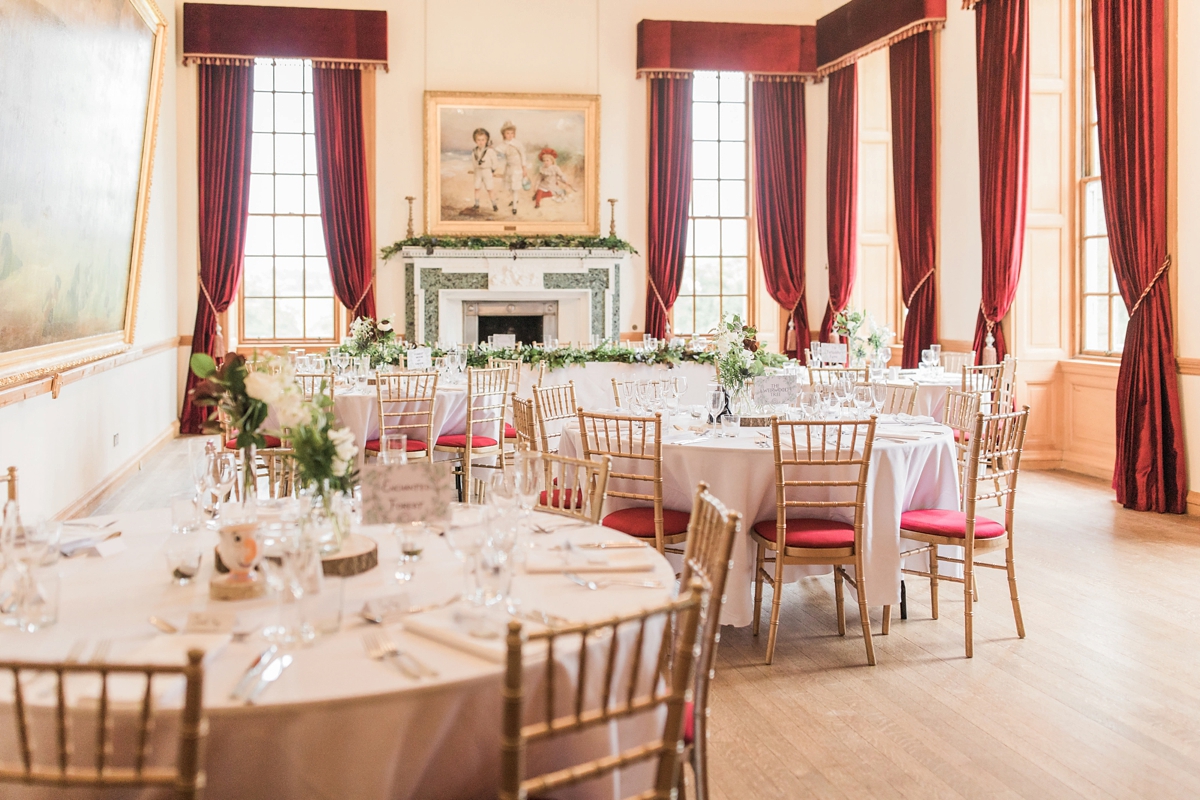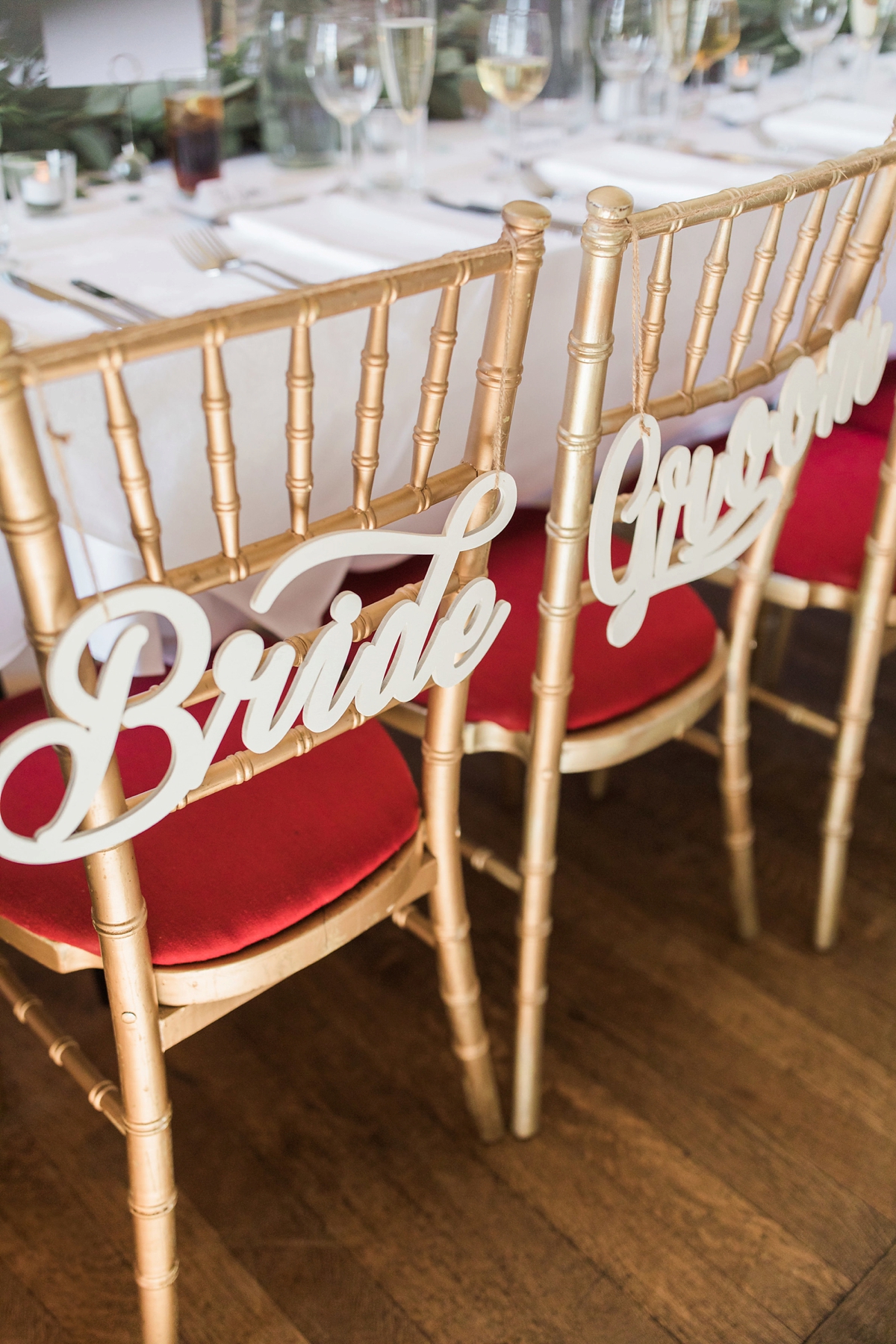 Rowallan Castle also has a wonderful restaurant on site – The Glasshouse – and the team there took care of the wedding breakfast, followed by cake from Kitchen Social.
"Sam's step-mum, Fiona, is an extremely talented baker who co-runs a small baking business. She kindly baked our three-tier naked wedding cake with a layer of chocolate cake, carrot cake and lemon drizzle with buttercream. It was decorated with fresh berries and shortbread hearts. She also surprised us with a chocolate "groom's cake" which the guests loved!"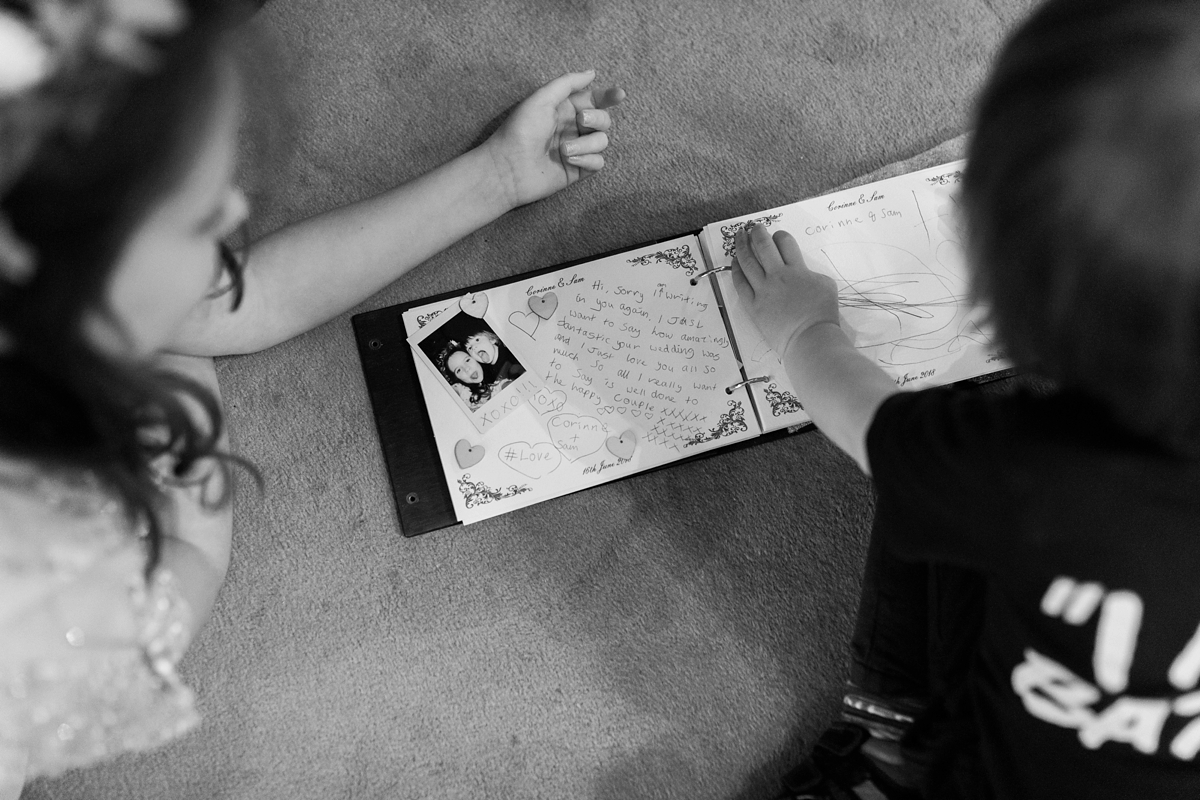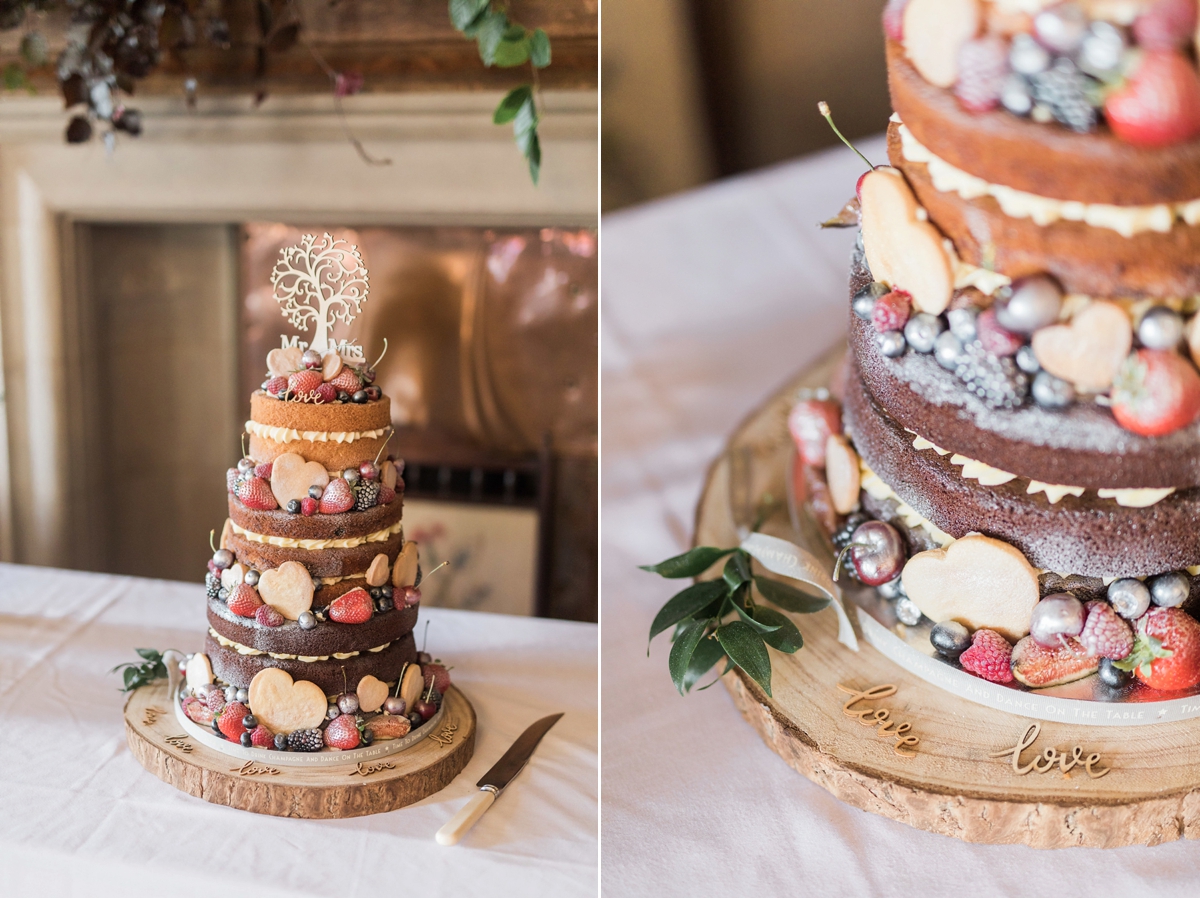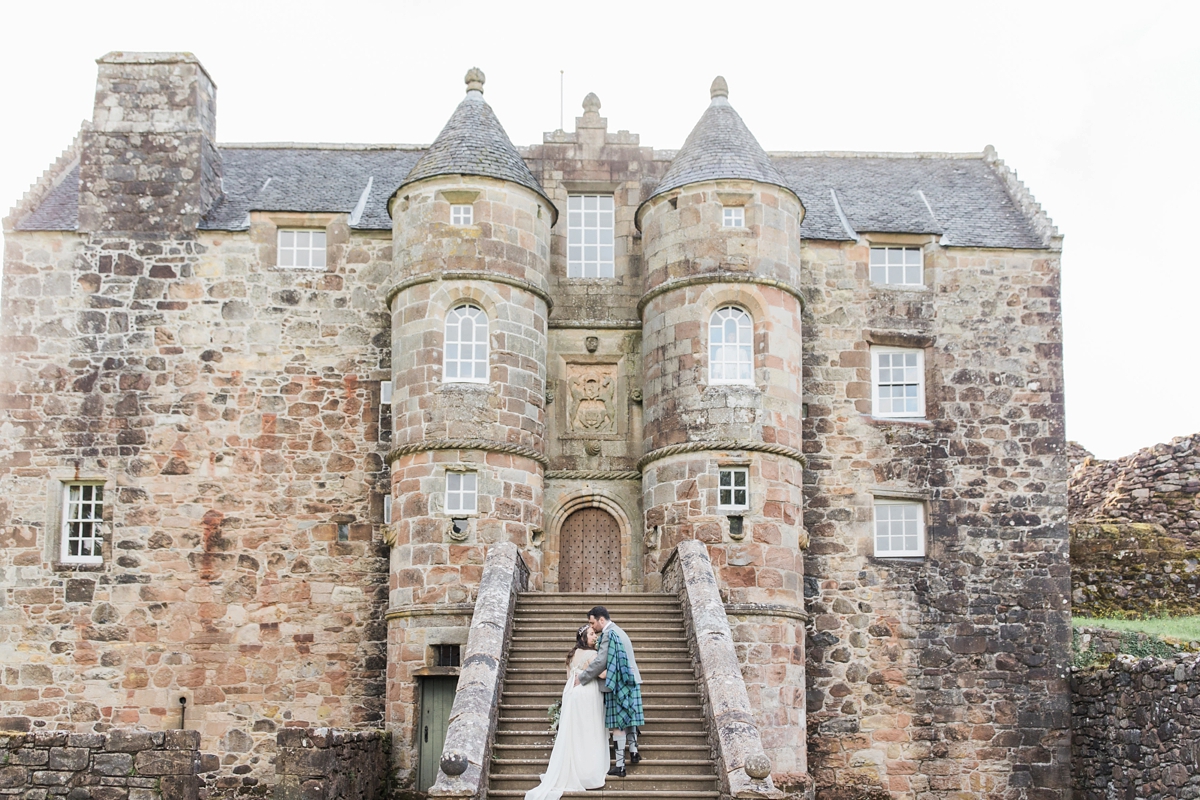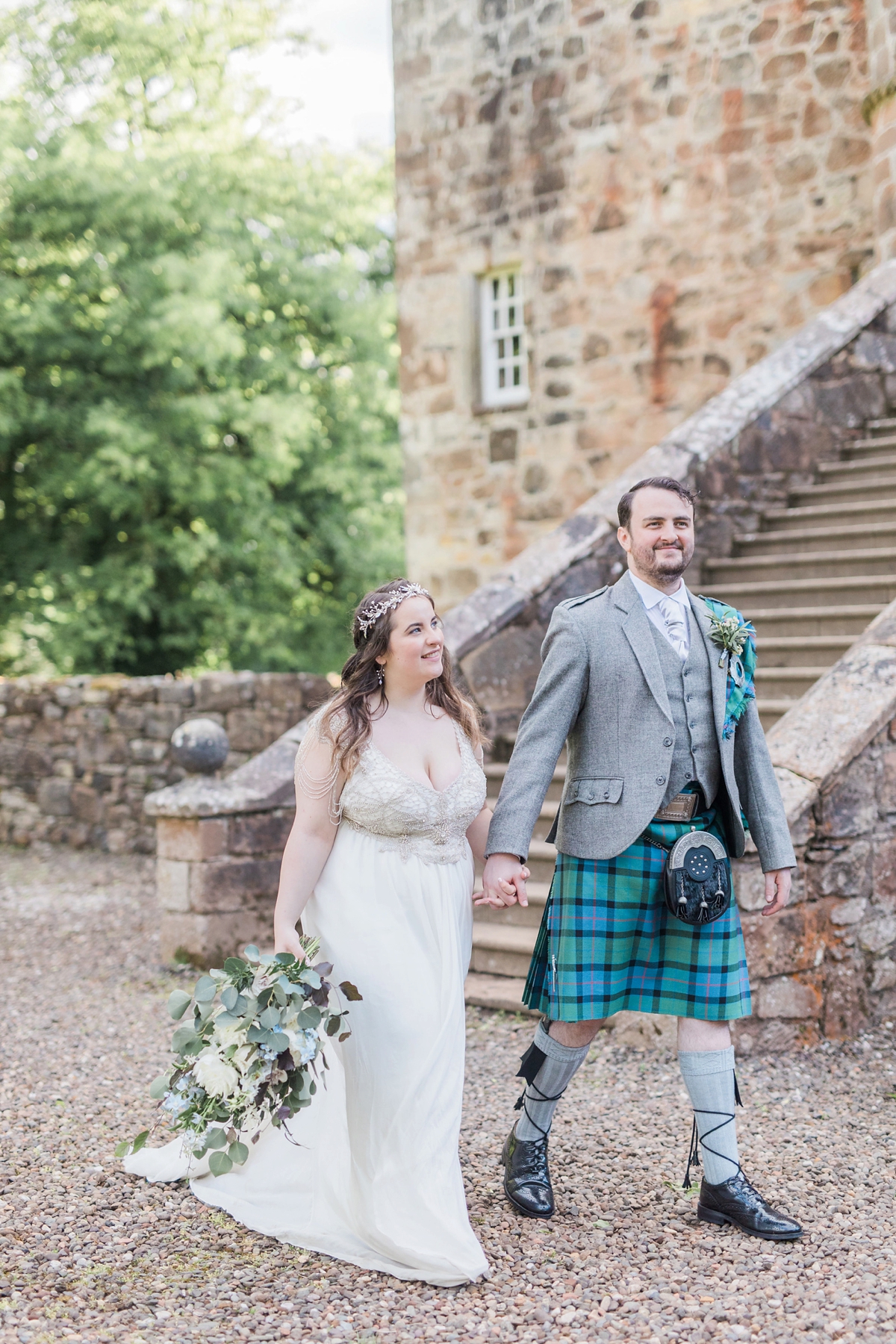 Corinne and Sam's first dance song choice was As The World Falls Down by David Bowie, from the brilliant 1980s film, Labyrinth (also one of my favourites, too!).
"We chose this song for our first dance as we are both fans of Bowie and love the Labyrinth film. In fact, it is one of Sam's favourite films from his childhood! It would also be an uncommon choice among other couples and the lyrics are fitting to our relationship."
Ceilidh band It's No' Reel kept everybody well entertained into the evening, too.
"It was fantastic having our family and friends altogether under one roof. I remember looking around the room seeing everyone enjoying themselves and feeling so loved. Looking back, there is very little about our wedding day that we would have done differently. Although, Sam wishes that he did not miss out on the cake!"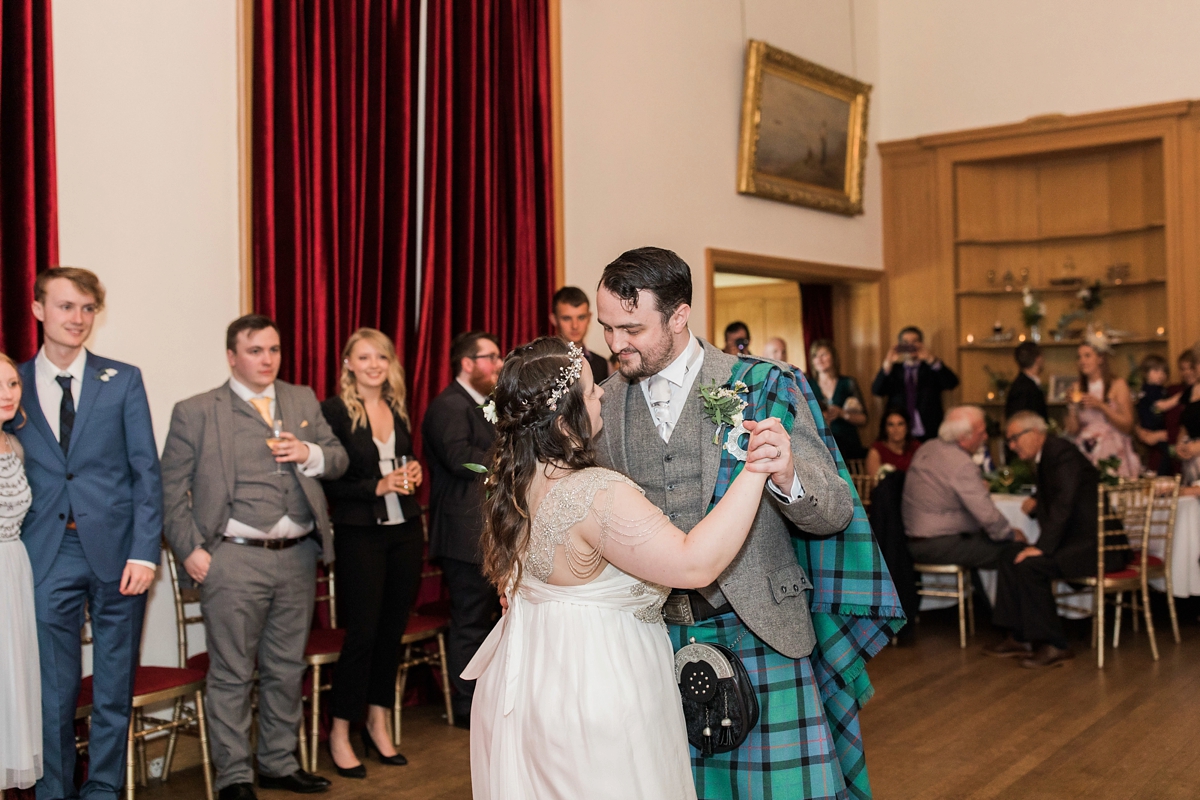 Words of Wedded Wisdom
"Don't sweat the small stuff! Everyone will have opinions but try to remember to do what is right for you and your husband. It is your day after all. Once people witness your happiness on the day they will follow your lead and enjoy themselves."
"We kept our day personal and as relaxed as possible. Afterwards, it was lovely to hear that our guests had a brilliant time and had not attended a wedding quite like ours before!"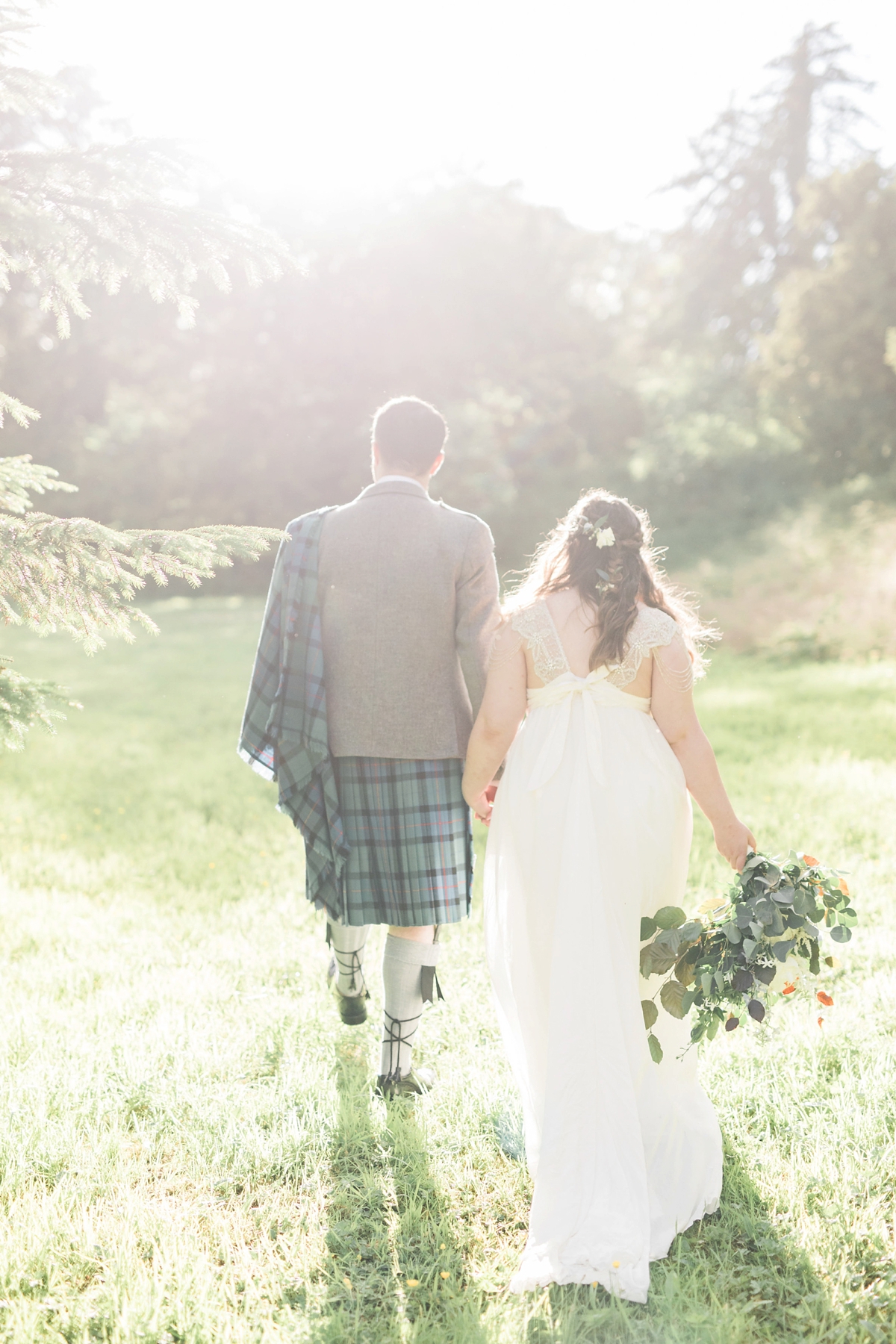 Corinne and Sam, congratulations and thank you! What a breathtaking day in the most wonderful setting. Many thanks also to Suzanne Li for these lovely images. You can see more of her work on Love My Dress here, as well as more designs by Anna Campbell gracing our pages here.
With love,
Laura