Hello again lovely readers and if you're new to Love My Dress, it's wonderful to have you with us. Today, I have to admit that I'm in bridal heaven because this feature is all about accessories.
And, as I have the huge pleasure of introducing you to the latest collection by the wonderful British designer Debbie Carlisle, these bridal accessories really are something special. Let's fall in love with Stardust.
For those of you that haven't yet had the pleasure of meeting Debbie Carlisle, let me introduce you. Debbie is an insanely talented designer who creates ethereal headpieces mixed with classic and vintage-inspired details. For all that, her work still has a modern bohemian aesthetic and she's been rightly popular since she started designing after her own wedding in 2009.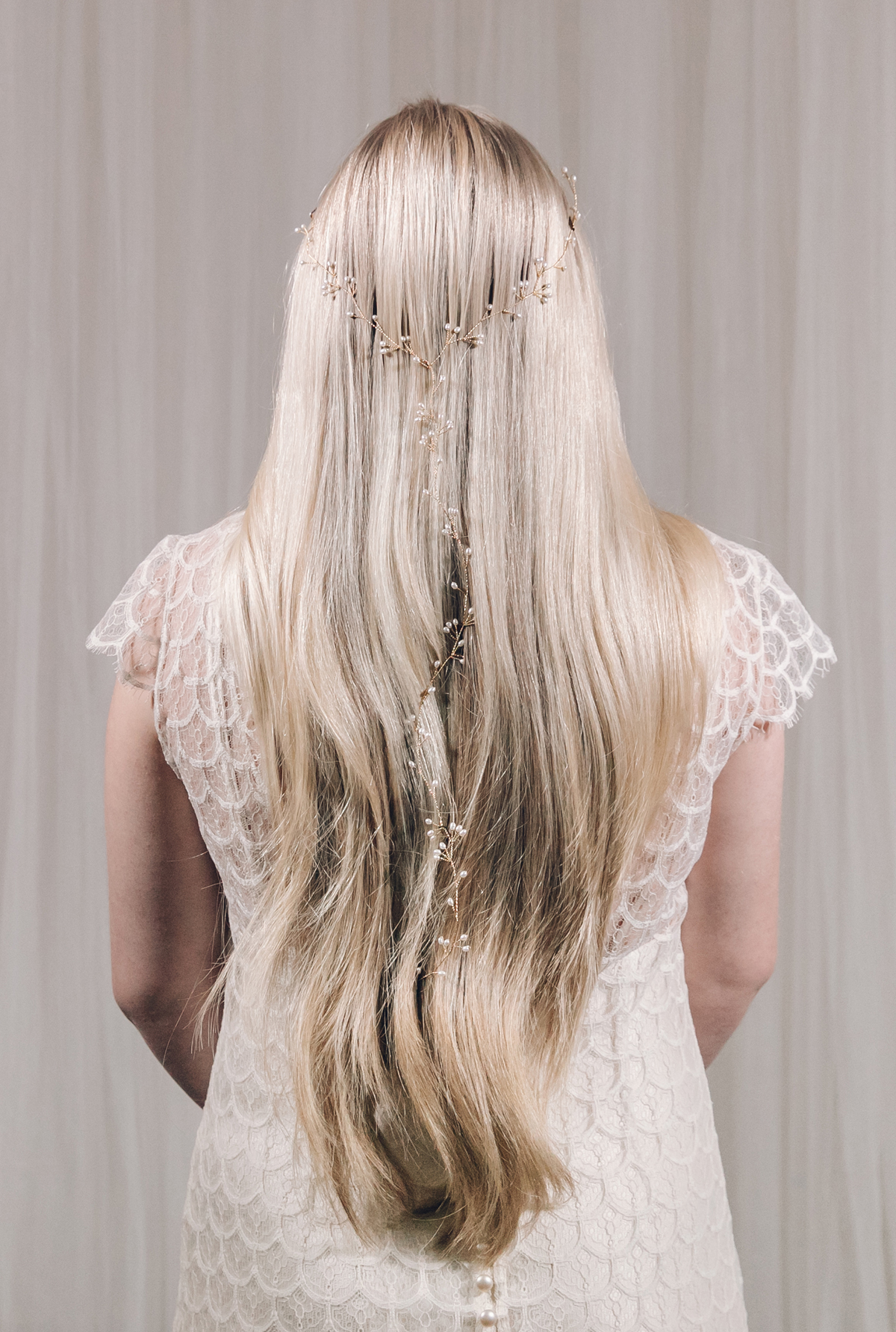 As you might expect from the name, the Stardust collection is inspired by the starry night skies and the wild beauty of the natural world. There are 24 fabulous new designs ranging from elegant and simple hair jewels to spectacularly intricate hair vines and crowns that really make a statement.
"This collection continues my long-standing love affair with the outdoors, which has always inspired me," says Debbie. "You'll find inspiration from floral and botanical designs, which complement and extend my previous work, to designs that are obviously influenced by the celestial night sky such as my Swarovski Star hairpins and headbands."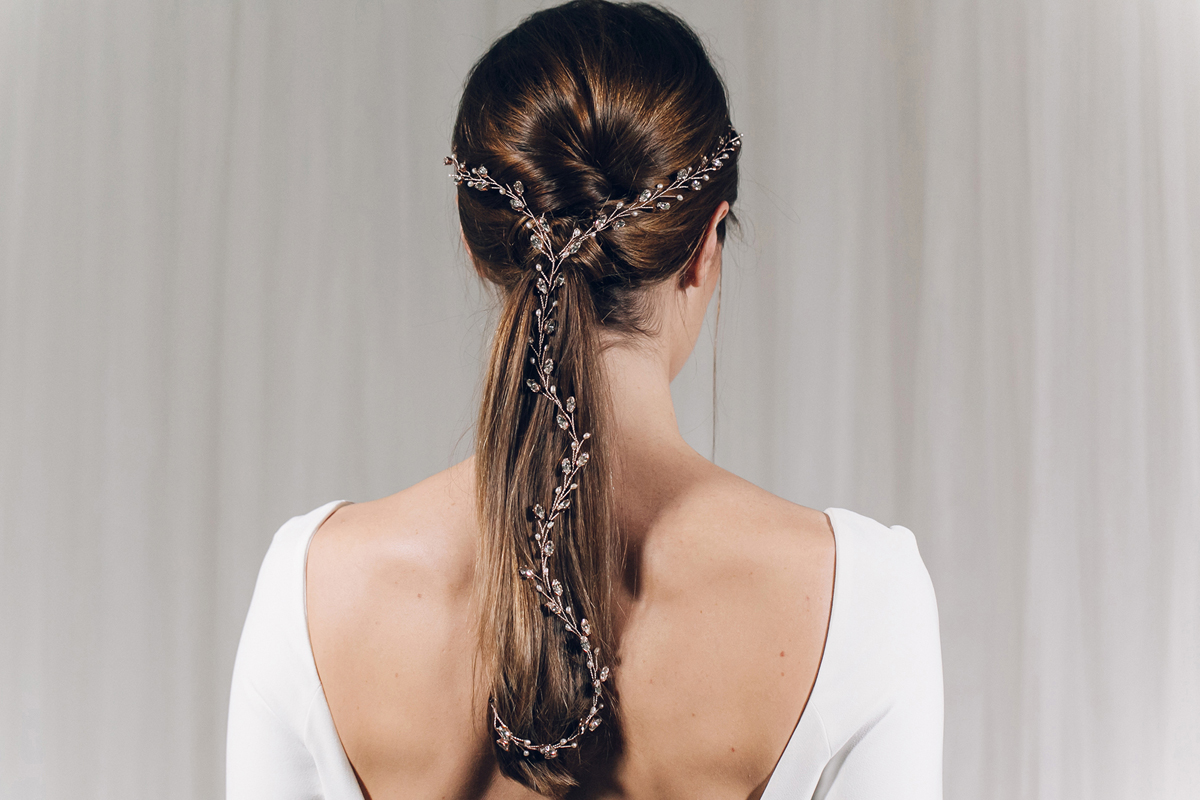 "When I design, it's an organic process that generally involves playing with the raw materials I want to use and seeing what comes from my fingers! For this collection, I did have a broad theme in mind – of the celestial, starry, wild outdoors – and I just let things come naturally from there."
"At the end of the collection designing period, I always do something where I just let my imagination run wild – this time it was my jewelled veil hair vine, Elise. I love to think of brides wearing it as an alternative to a traditional veil or shimmering gently underneath one ready to be revealed later in the day."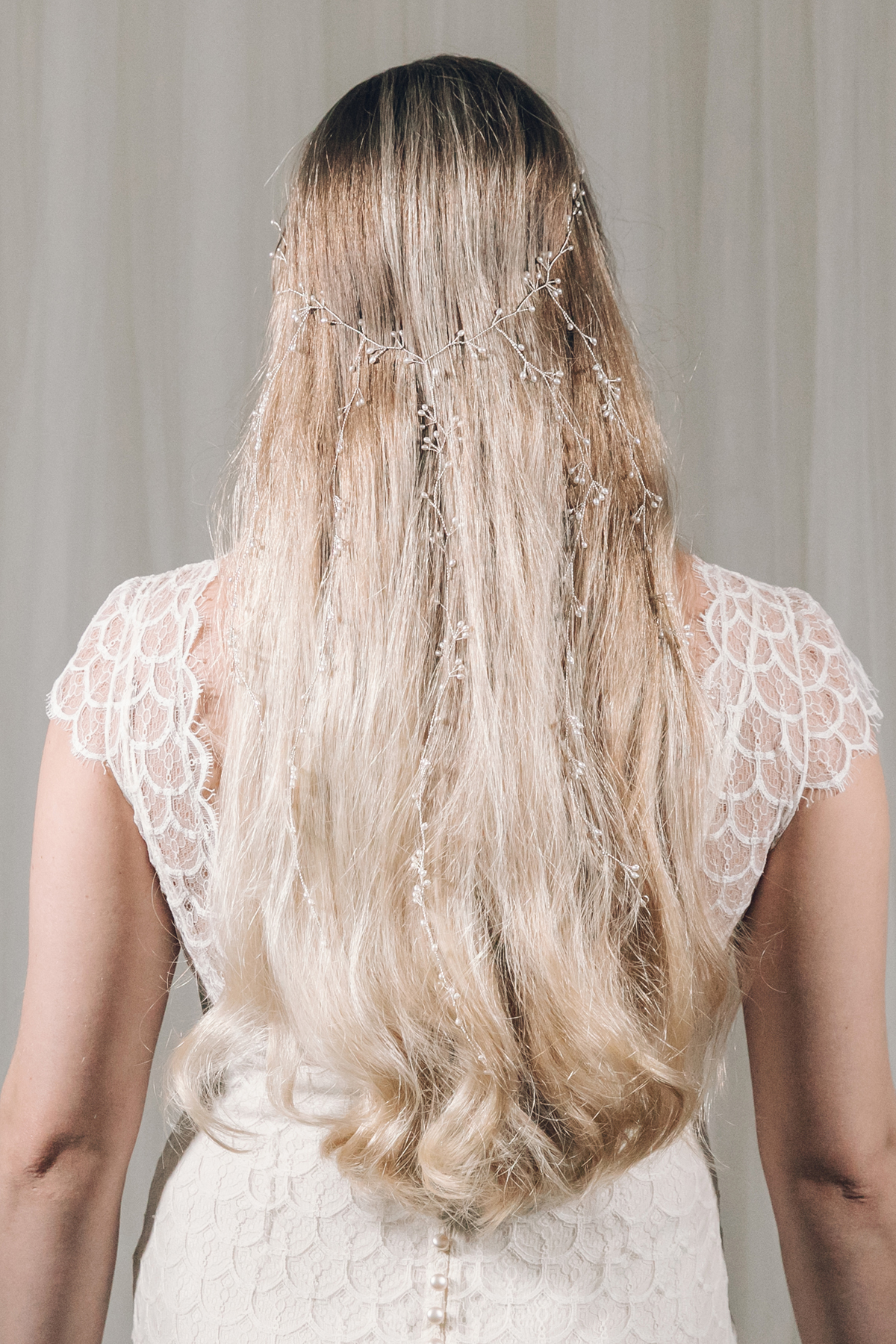 Debbie is absolutely right, Elise is a stunning piece with cascading hand-beaded freshwater pearls but then every design in the Stardust collection is truly beautiful. There are simple combs and pins with a classically elegant 'Old Hollywood' feel, delicate sparkling hair vines and pins that would look superb curved into and around an updo or half updo.
I also love the intricate woven styles, such as Cressida and Katarina, that could be pinned into the back or side of the head or worn as a striking statement bridal crown.
The collection features super-sparkling Swarovski crystals that look great against every hair colour. There are also timeless freshwater pearls and Mother of Pearl carved flowers that are paired with more sparkles in the form of Swarovski and Czech crystals. All designs are available in classic bridal silver and most pieces are also available in gold or rose gold, giving you the chance to create the piece that's perfect for you.
"I'm working in some new colourways for this collection, adding luminescent Swarovski white opal and light gold leaf-shaped crystals which have a less obviously bridal feel. I've used these to create some two-tone crystal designs, which I think creates a very classic vintage Hollywood look in the Nova and Lyra hairpins."
Debbie has also introduced some new extra-long hair vines in a special 'Y' shape that can be pinned on each side of the head with the long central section weaving over, or through, a plait, updo or ponytail.
Debbie's favourite design in the new collection is the Ella hair vine. I love this small, delicate floral piece and can absolutely imagine it curving around a low bun or chignon. It mixes Swarovski crystals and pearls and it's a fabulous modern ethereal piece with a slightly different aesthetic than a traditional comb.
"I'd wear this myself if I were getting married now!" says Debbie. "I think initially, I design for myself and what I love but I think that does mean I have certain bridal styles, looks and even characteristics in mind. I love mixing genres and styles and I think Debbie Carlisle brides tend to be the same – they combine styles that don't always seem obvious but work really well together to create a look that's personal to them."
If you're starting the search for your bridal accessories, Debbie has some great advice for you:
"It's easy to get overwhelmed by all the different options – an easy piece of advice I would give is to follow your heart! I usually find in consultations that 'the one' is often the piece that my brides have been especially drawn to before they've even set foot inside my studio."
"If you find it hard to find just one piece you love I would recommend asking your favourite designer to help. If you send me a picture of your dress and of yourself, for example, I should be able to pick out a piece for you or help you narrow down the choice from your own shortlist (however long it might be!)"
"Finally, if you like what a designer does but can't find the exact thing you'd like – get in touch as they'll often offer a bespoke service. I'm happy to change sizes or colours or materials wherever possible and often these changes don't cost extra so don't be put off for fear of the cost ruling out a bespoke option."
"I use a lot of Swarovski crystals in my designs and they have a huge array of colours available so it's usually no problem to create a piece in a different colour – although I would recommend getting in touch a few months in advance where possible for bespoke options as some materials may take a while to come into stock."
You'll be pleased to hear that all of these delightful designs are now available on Debbie's website and they'll also be appearing at stockists around the world soon.
To find out more, visit the Debbie Carlisle website and get ready to be dazzled by Stardust.
Love,
Tamryn x