Dear Readers, you'll want to take a few minutes to enjoy this breathtaking wedding celebration – there's such beauty to take in, so settle down and enjoy a few minutes spent in the company of today's lovely couple, in the most spectacular setting in Northern Ireland.
Sarah, who runs her own vegan catering business, Sarah's World Fare, and Conor, an aeronautical engineer, were married on the 9 June 2018 at Old Court Chapel, right on the shores of Strangford Lough, County Down.
Images by Chris Copeland Photography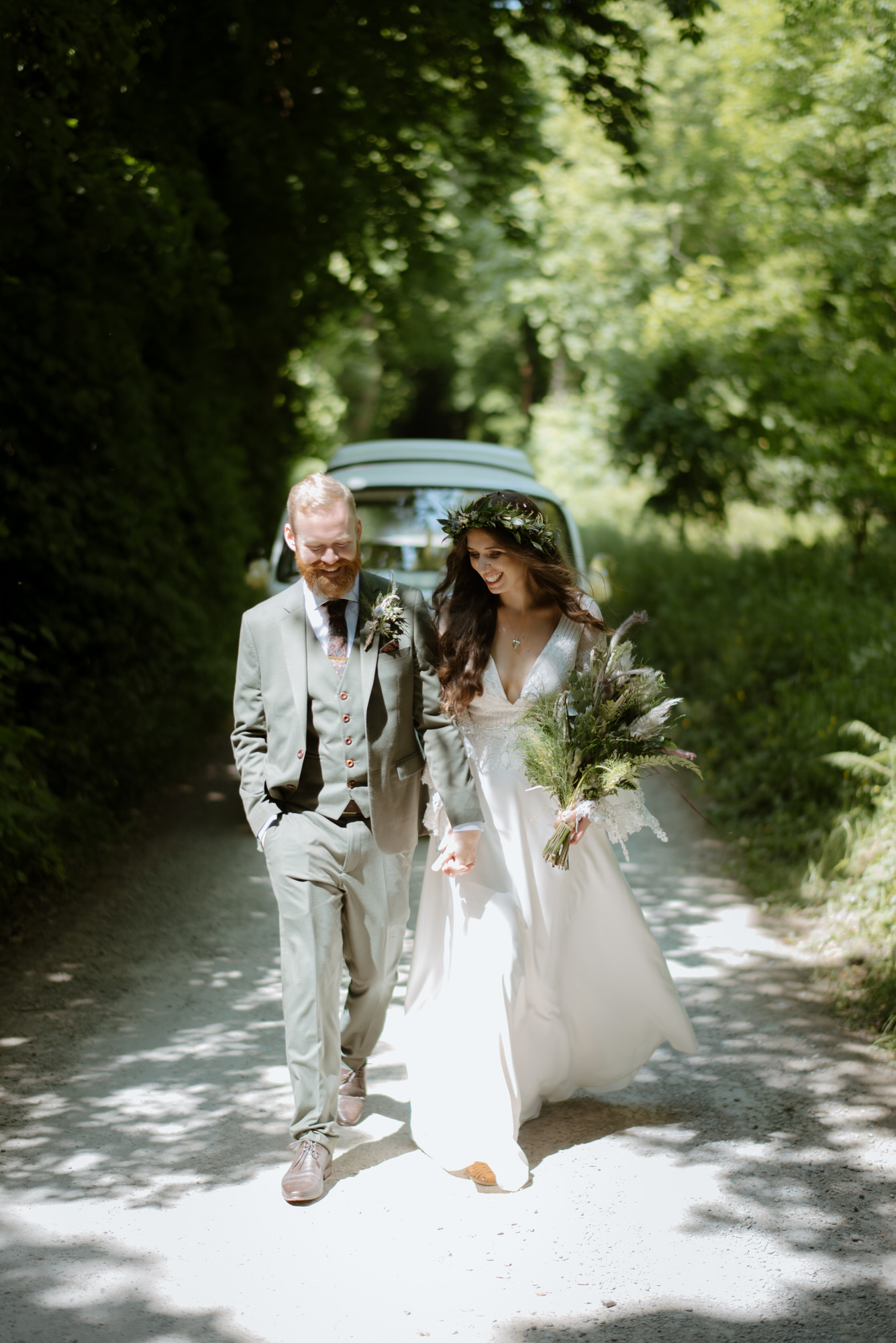 Sarah and Conor wanted to keep their day intimate and personal, and so chose to have a small celebration with those closest to them, and an outdoor ceremony overlooking the lough. Now, while the ceremony may have been held out in the open, Sarah and Conor brought the indoors outside by creating the most amazing outdoor 'room' with fun and thoughtful styling.
"I actually had a dream one night that I got married in my nanny's front room but it was outside by the lough. When I told Conor he thought it was a brilliant idea, so we set about creating an outdoor living room with a fireplace against the tree as our altar and lots of pieces of retro furniture collected from various members of my family."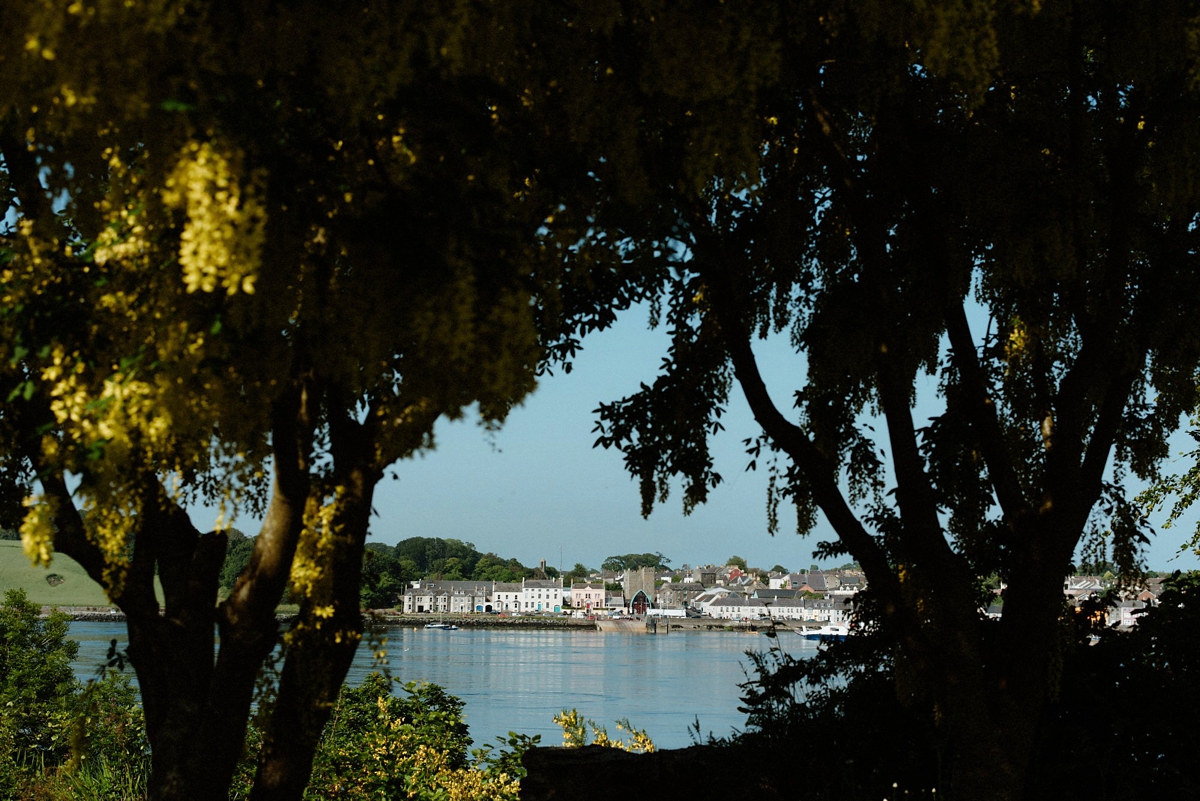 "We also had framed pictures of both our grandparents on their wedding days, which meant a lot to us. I guess it was a way for everyone to feel at home and for us to feel closer to those that are no longer with us."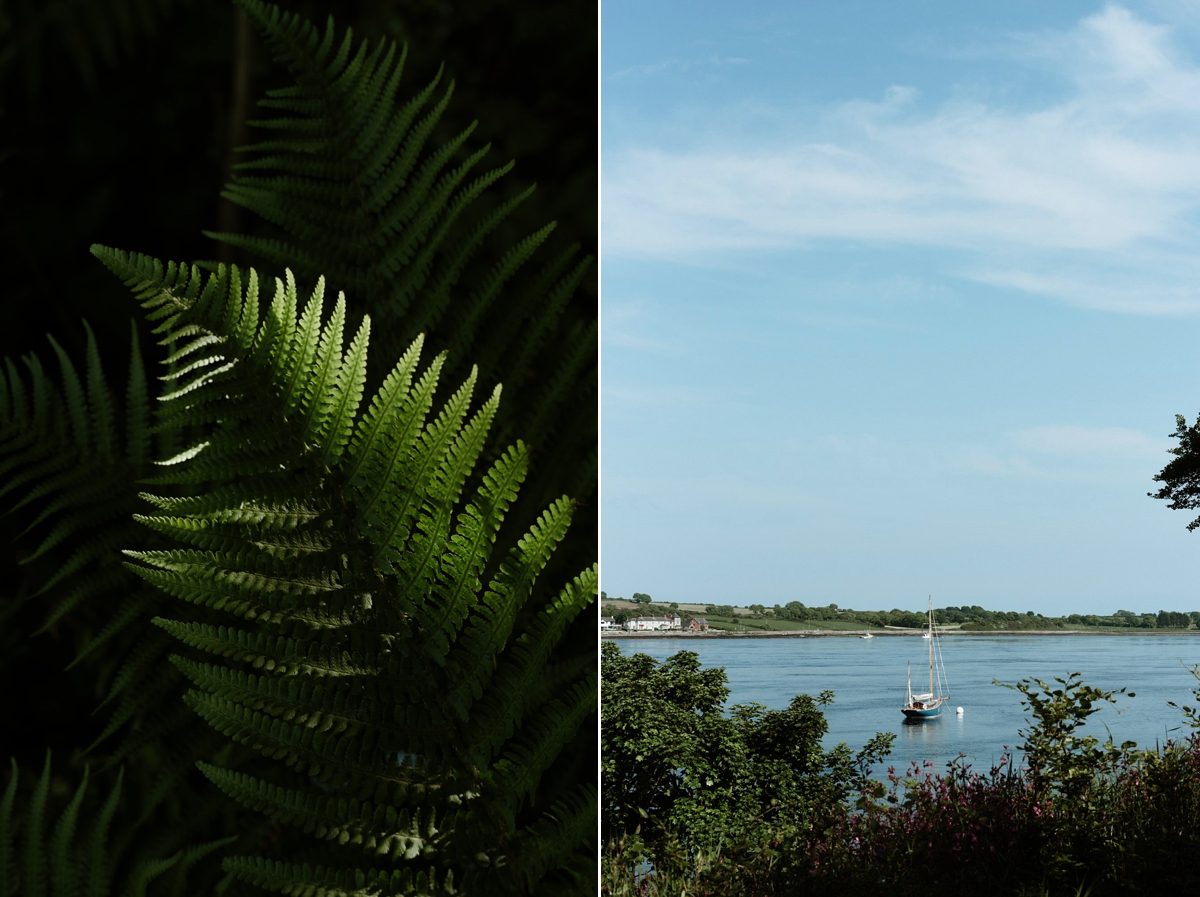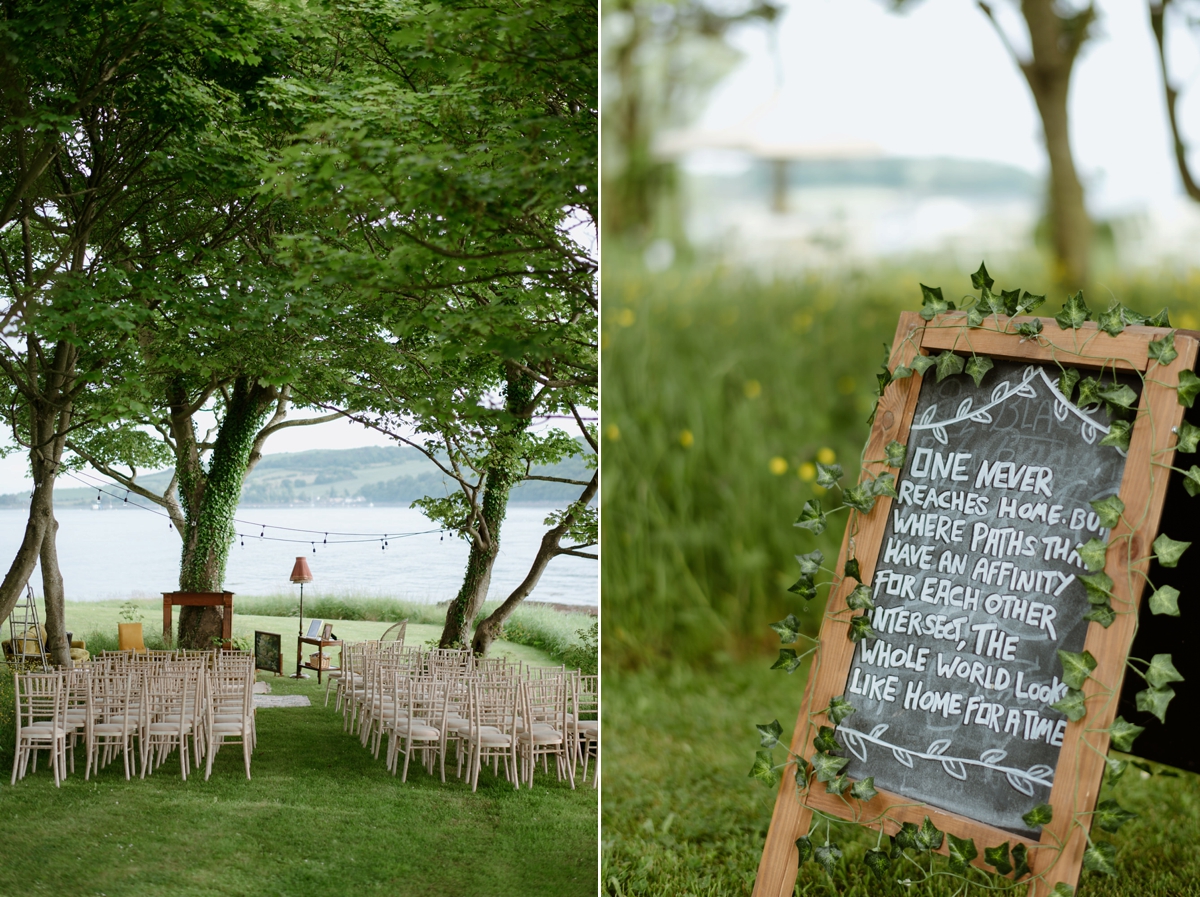 The couple also exchanged rings from L. Murray Jewellers in Newtownards – Sarah has known the owner, Luke since childhood.
"I wouldn't have gone to anyone else. We got simple gold bands, which Luke helped us pick from his beautiful collection. I would highly recommend his shop; he really knows his stuff and is the loveliest man."
Sarah added some lovely family heirloom jewellery – a gold heart locket belonging to her mum, which in turn had been given to her by their Aunt Mildred – the inside of the locket contains tiny photos of Sarah's great-grandparents.
"On my right hand I wore my Nanny's engagement ring, which was given to me by my Granda after she passed on and it is my most prized possession, it makes me feel as though she is close by. On my left hand I wore my gold cluster engagement ring, which Conor chose for me himself."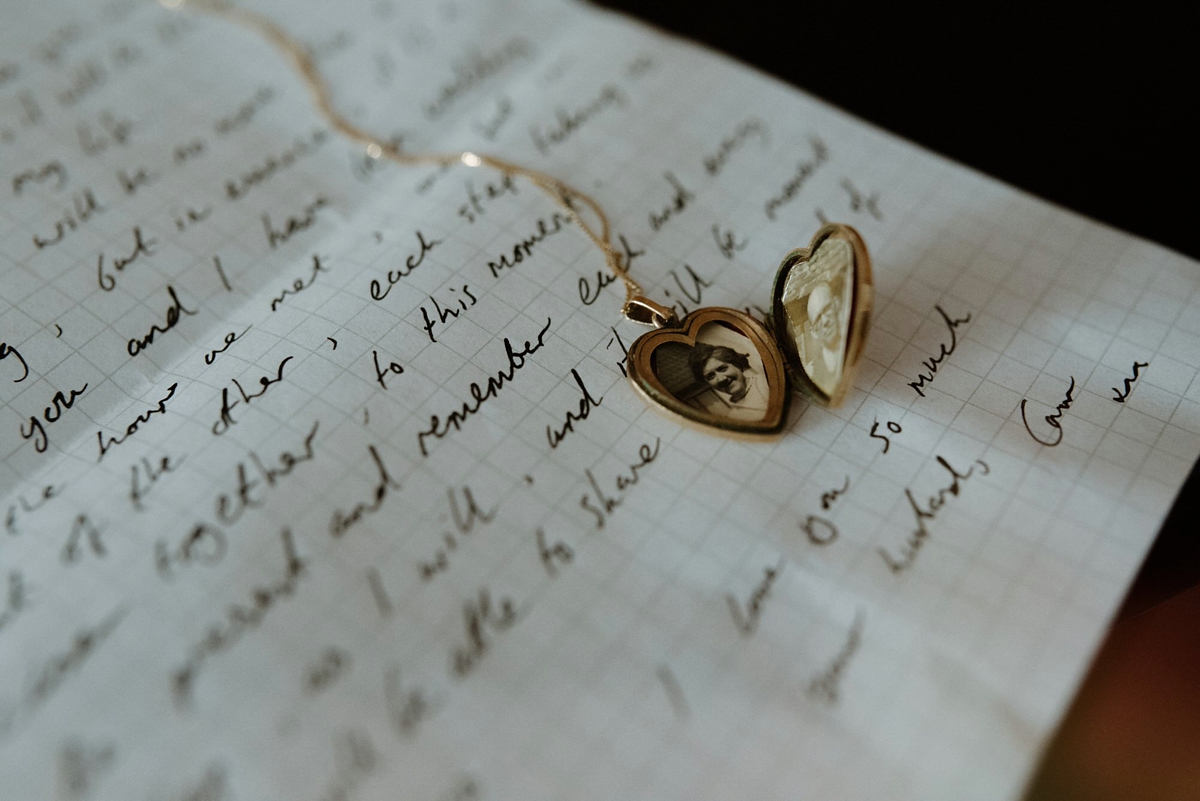 "I got so caught up with organising everything else that I didn't give a second thought to my shoes until the night before when we were all out for celebratory drinks. I noticed my bridesmaid was wearing a lovely pair of sandals so I asked if I could borrow them; thankfully we're the same size."
For her wedding day perfume, Sarah chose No. 006 from Eden Perfumes, a brilliant company who make cruelty free versions of many well-known fragrances.
"Our make-up was done by Stacey Kilpatrick (S.A.K Designs) & our hair was done by Oh So Boho Hair. Both women were absolutely incredible, not only did they take on my wishes to use cruelty free products but also just listened to exactly what it was we wanted and just got it completely. Couldn't have imagined the morning going so well without them, they were a dream team and went above and beyond in every way."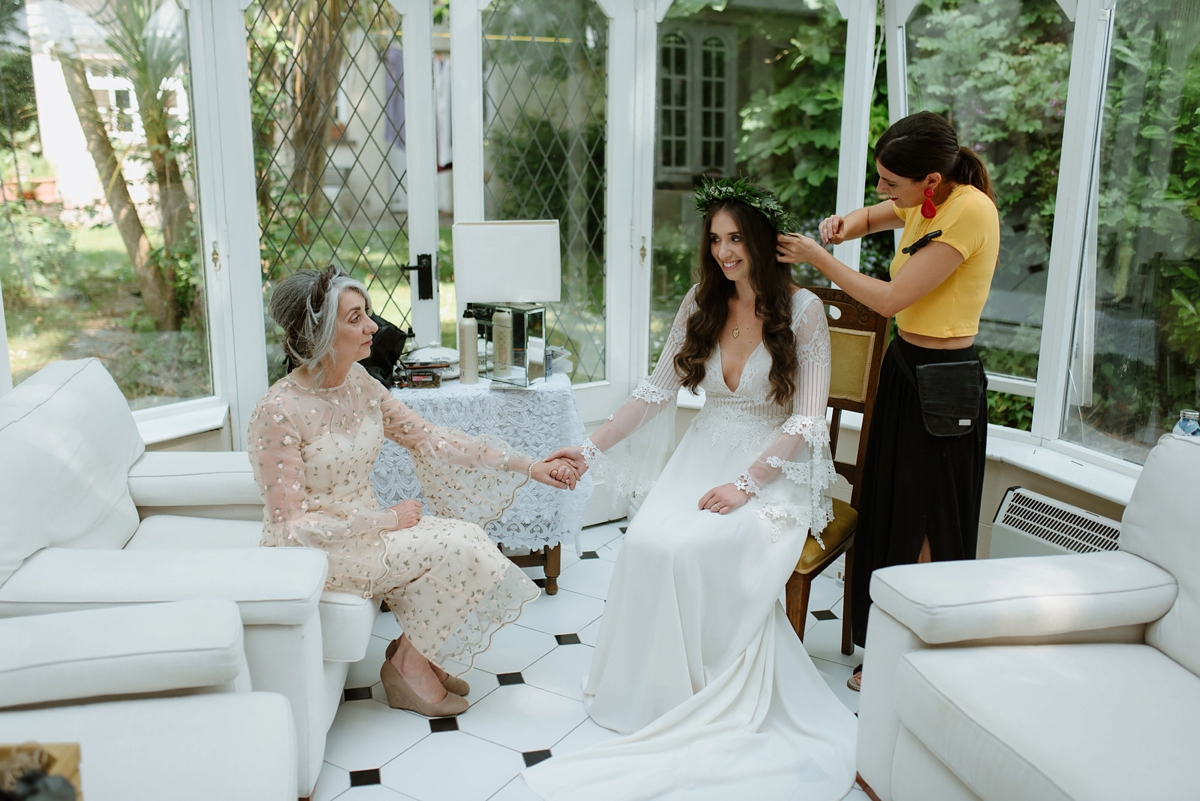 Sarah looked incredible in the romantic, boho 'Sauvignon' gown by Claire Pettibone, which she chose at Dublin-based boutique Myrtle Ivory Bridal Couture. The flowing crepe skirt, long tulle sleeves and lace edging make for a dreamy look, with something of a 1970s feel, too.
[JP-VIDEO]
"I always imagined that I'd have a vintage dress, as I love the styles from the 40'sand 60's. So no-one was more surprised than me when I went for a designer dress. It still had the feel of a bygone era but also a beautiful ethereal look to it, that was completely unique to anything else I had seen. I loved the delicate embroidered lace leaves and the boho sleeves, which fit perfectly with our outdoor wedding. Most importantly the dress felt incredible on, it was comfy and light and I always said from the start that was key. Once I had it on I didn't want to take it off –it was the dream dress."
"Conor and I met in Belfast five years ago at my leaving party. My best friend was dating his close friend at the time. They had invited Conor to come down to the bar for drinks; we had never met until that night. Our eyes locked and it was like magic, I don't think either of us had ever experienced anything like it."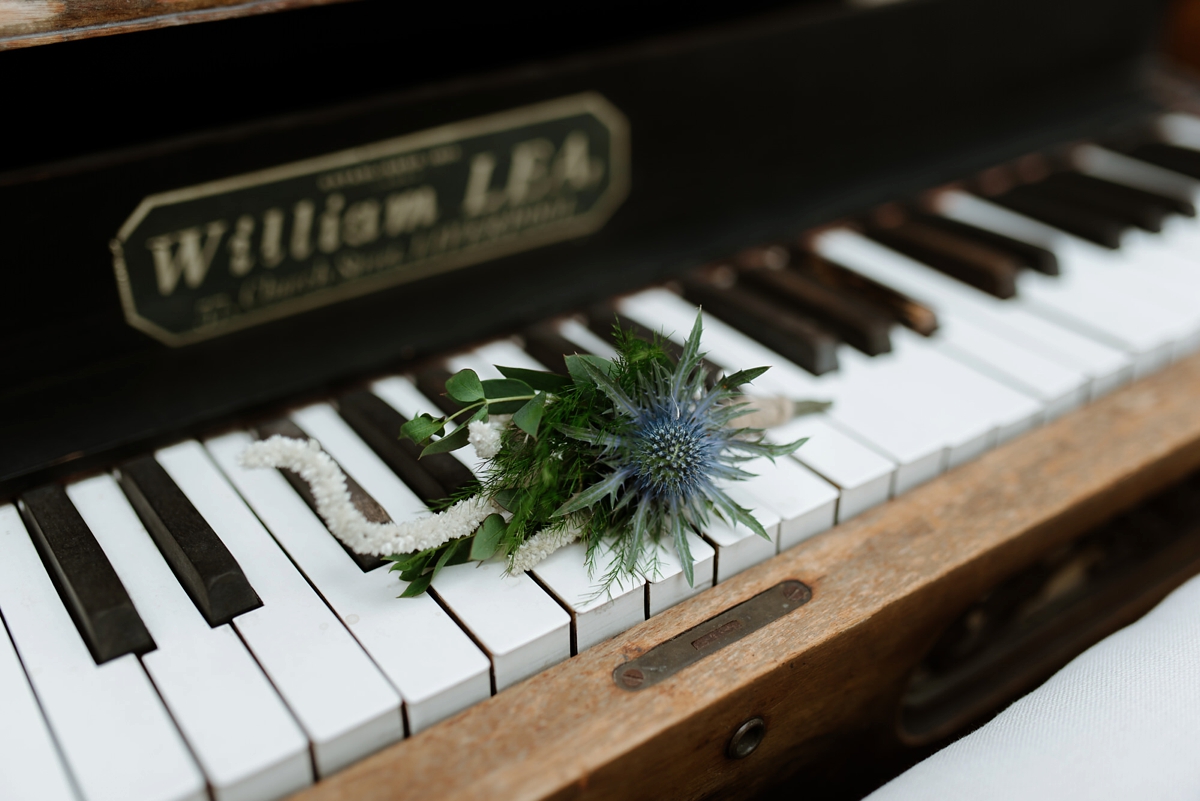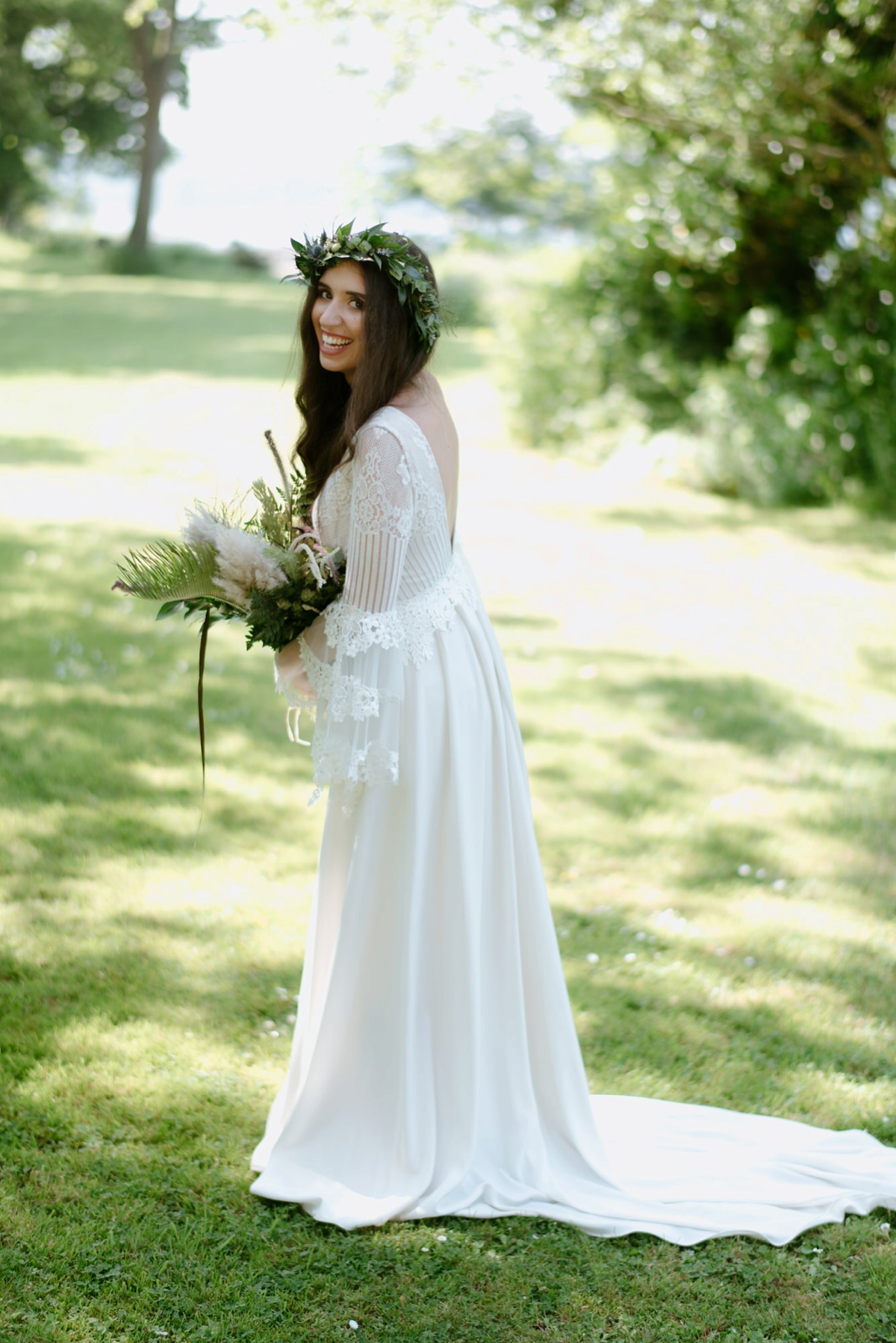 "I was moving to London in two weeks so we crammed in as many dates as possible until then. We both decided not to go head first into a long distance relationship but the distance made us stronger regardless."
"We sent each other letters, daily music and surprises in the post. We went through a lot of personal struggles in the months that followed and we were always there for each other. I finally moved home the following year and we have been together ever since."
In April 2017, Conor proposed to Sarah on a beach near her hometown.
"I grew up beside Strangford Lough so I always envisioned getting married near the water's edge and close to home. Although Conor is originally from Armagh he fell in love with this area over the last five years, so neither of us ever considered getting married anywhere else. From the venue we could look over the lough to our right and see my hometown Portaferry and to our left Audley's Castle where we had one of our first dates."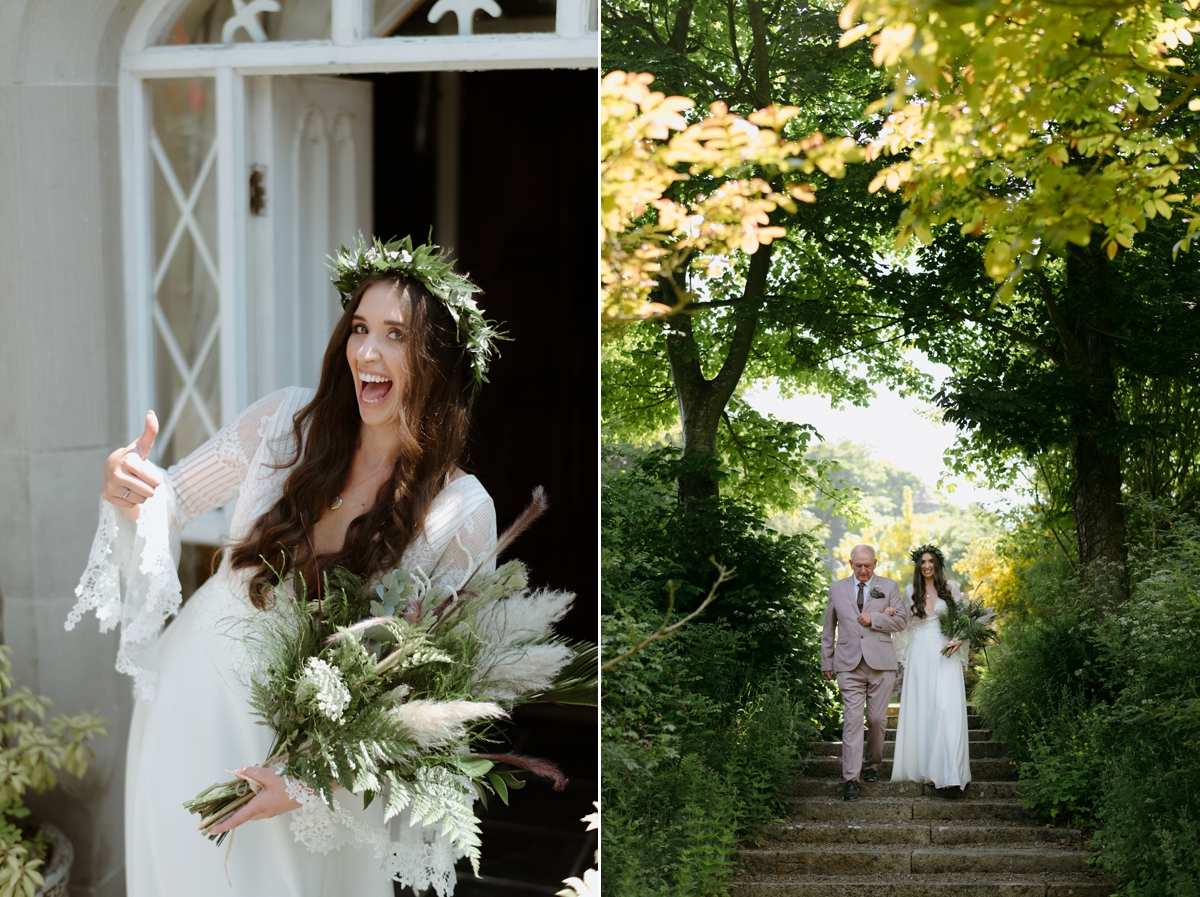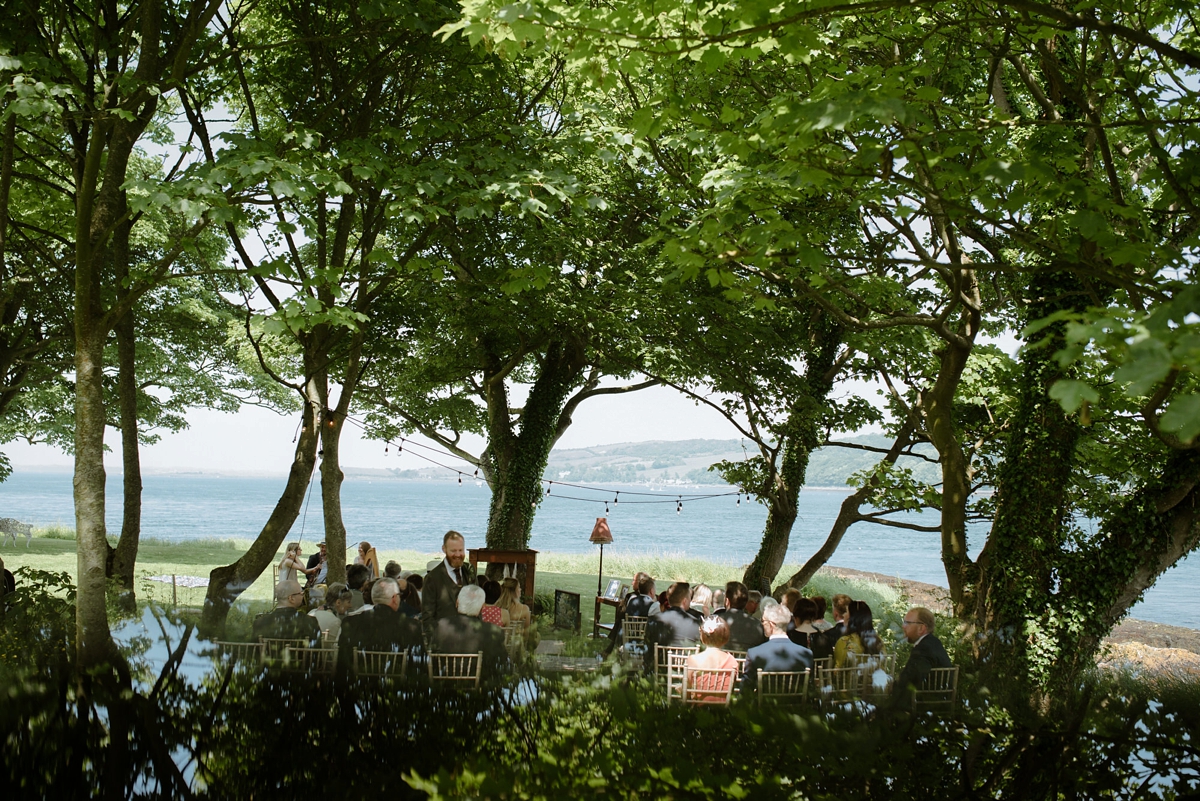 Conor wore a handsome bottle green three-piece suit from Moss London, replacing the buttons with wooden vintage ones. He also wore a earthy-toned tie from ASOS together with a pocket square, and a gold tie pin and a St. Brigid's cross necklace, which Sarah gifted to him on the morning of the wedding.
"His Best Man wore the same suit from Moss London but in blue with the same accessories. His dad also had the same accessories but with a rust coloured suit from Next."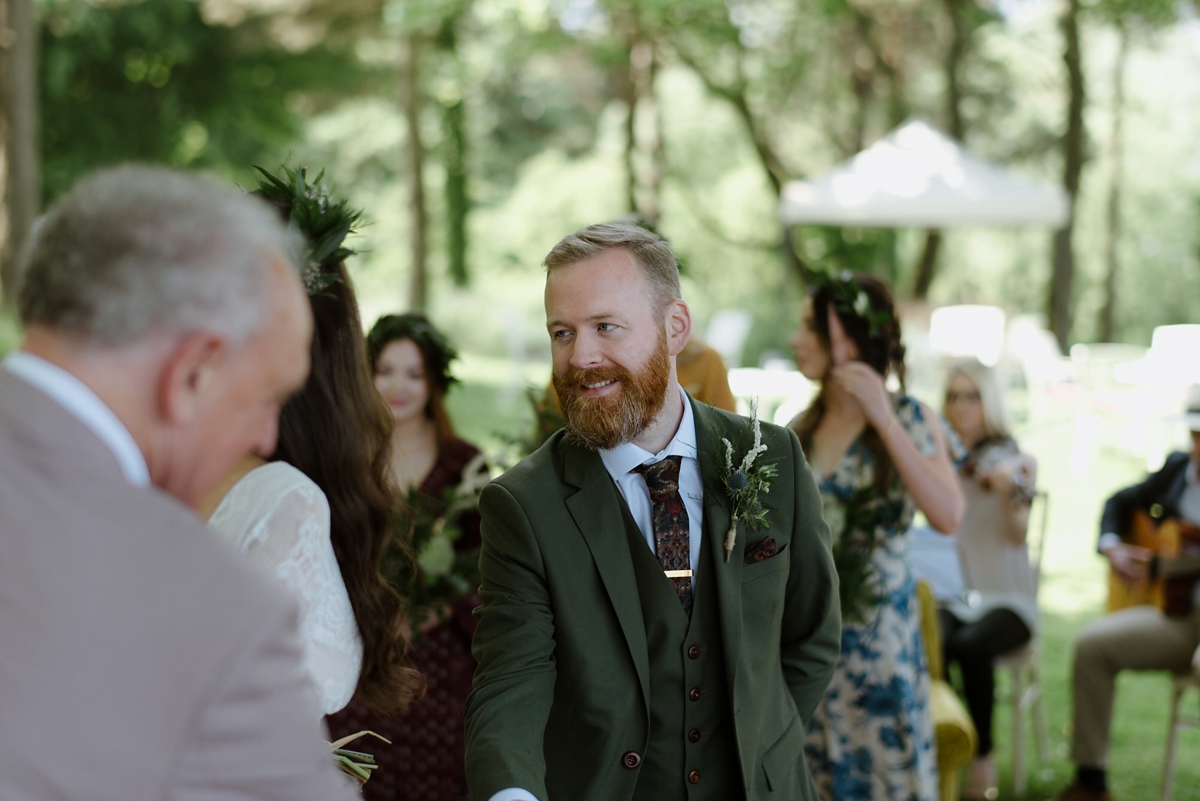 Wedding transport came in the form of a vintage blue VW Campervan from Logybear Campervan Hire, and once at Old Court Chapel, Sarah and her dad walked together down a beautiful path lined with trees to begin the ceremony. Accompanying them with music was Sarah's cousin and her husband playing The Ludlows from James Horner's score to the film Legends Of The Fall on the Irish harp and guitar.
"We knew early on that we both wanted my mum to marry us. Neither of us are religious but we did want to honour our Irish ancestry by incorporating hand fasting into the ceremony. Having my mum marry us was so deeply personal and she did an incredible job."
"I'll never forget that moment as long as I live, being walked down the aisle by my dad and seeing my mum and husband to be waiting for me under the tree. As my mum is not an official celebrant we signed the legal marriage documents a few days before."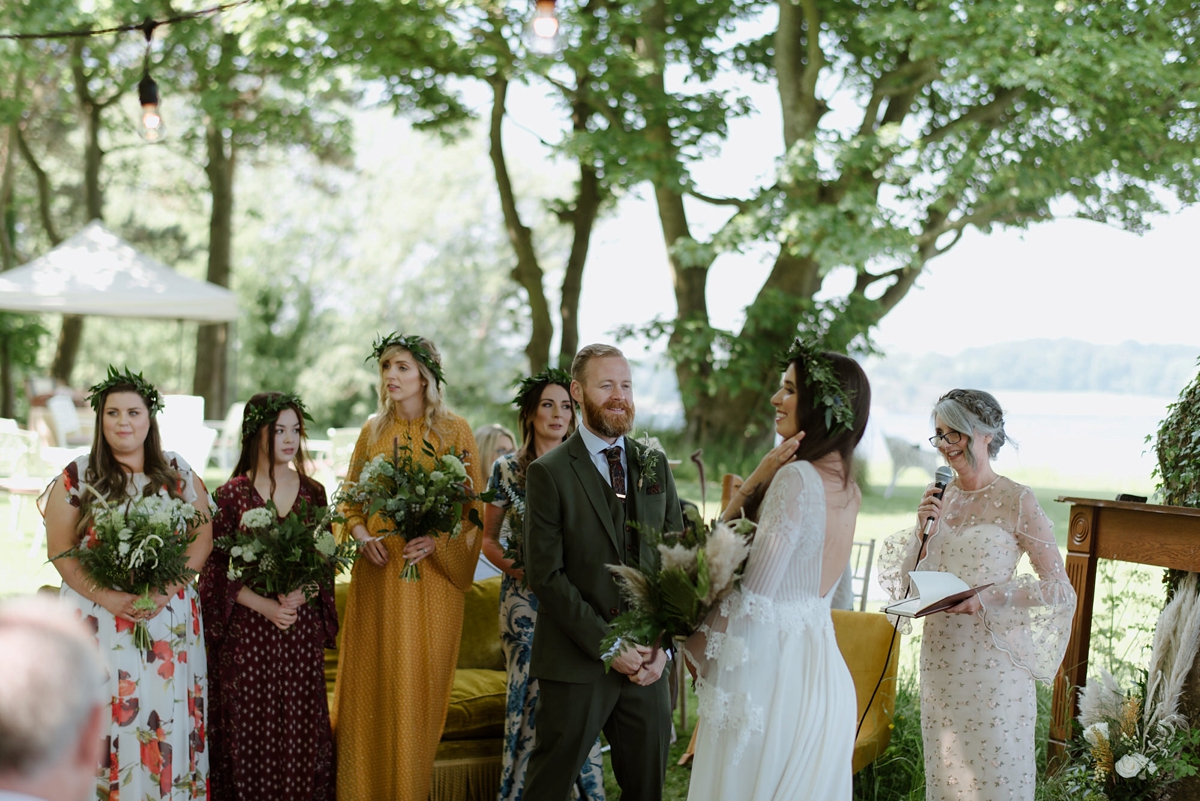 "When my Mum welcomed our guests at the start of the ceremony she said 'Welcome to the home of the ancestors', and I thought that summed it up perfectly."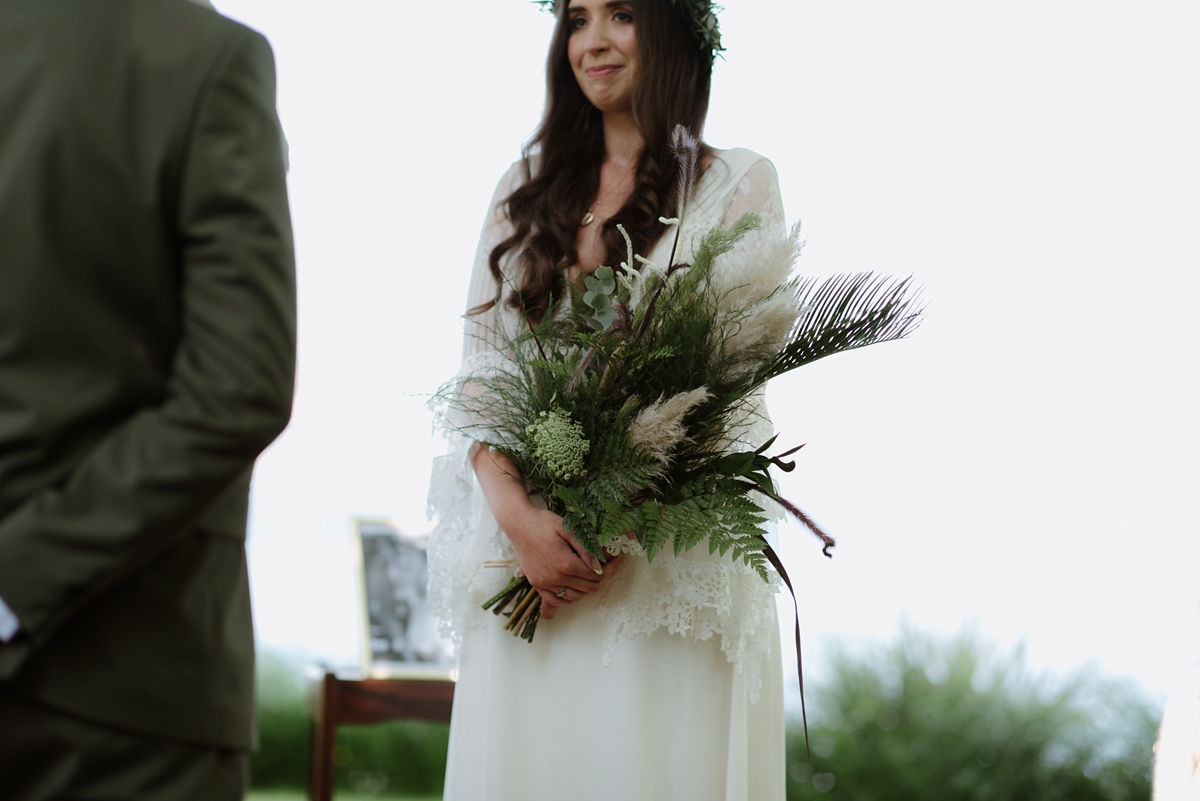 Under the shade of a graceful tree and with the beautiful lough providing a spectacular backdrop, Sarah and Conor exchanged vows, which they had each written.
"It was daunting at first but It was so important to us to be able to speak our promises in our own way and with sincerity. Conor always said the vows were the most important part for him because that's the declaration spoken in front of everyone we love and that's what truly binds us, not the piece of paper."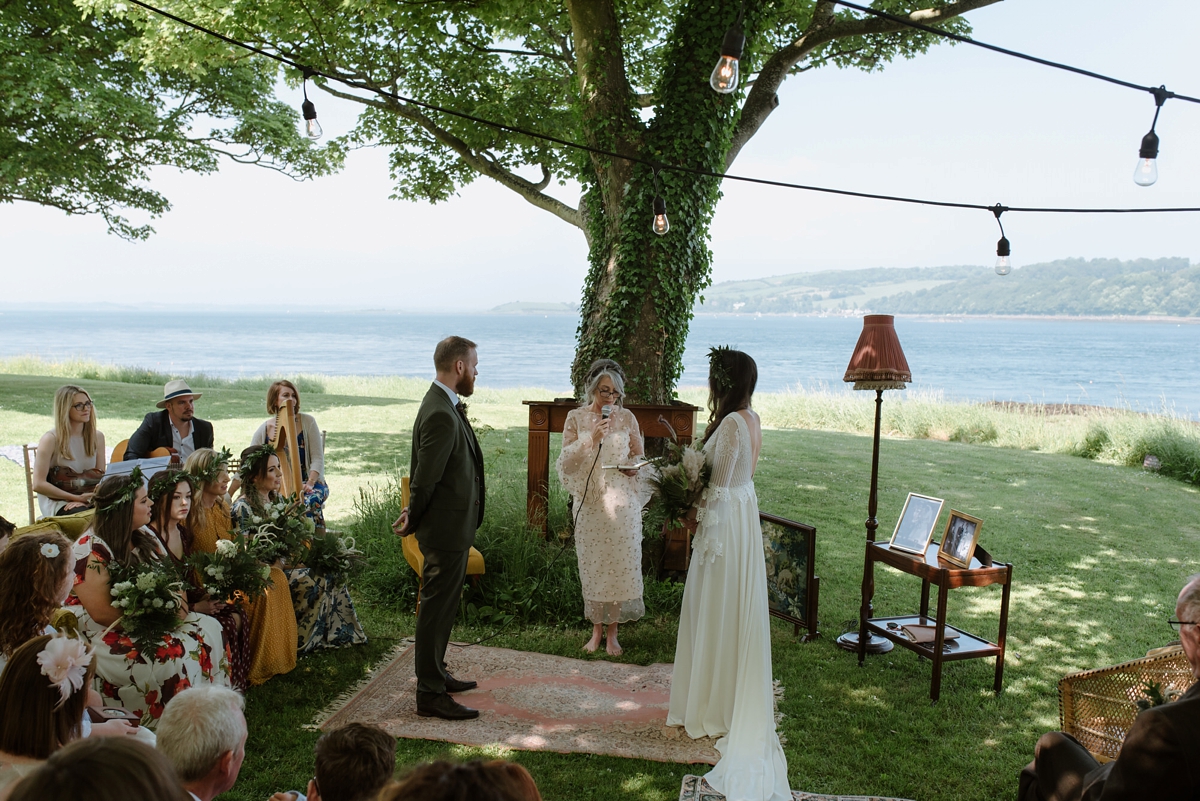 Conor wrote a poem for the wedding ceremony, and for their second reading, the couple chose a lovely poem from J.R.R Tolkien's Lord Of The Rings: The Two Towers called The Ent And The Entwife.
"Our favourite part of the day was definitely the ceremony. It was really intimate and personal, the setting was stunning and it was exactly how we imagined it. Also sleeping on a boat in Strangford Lough on our wedding night was pretty magic!"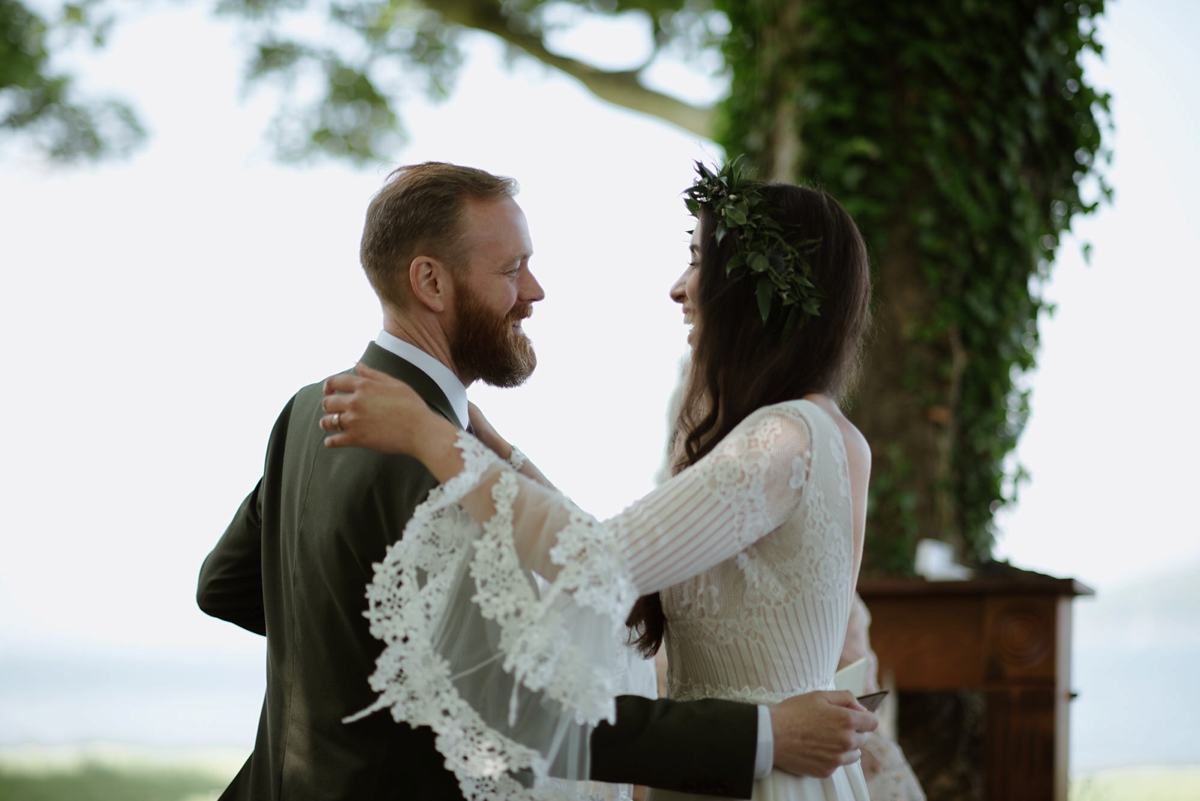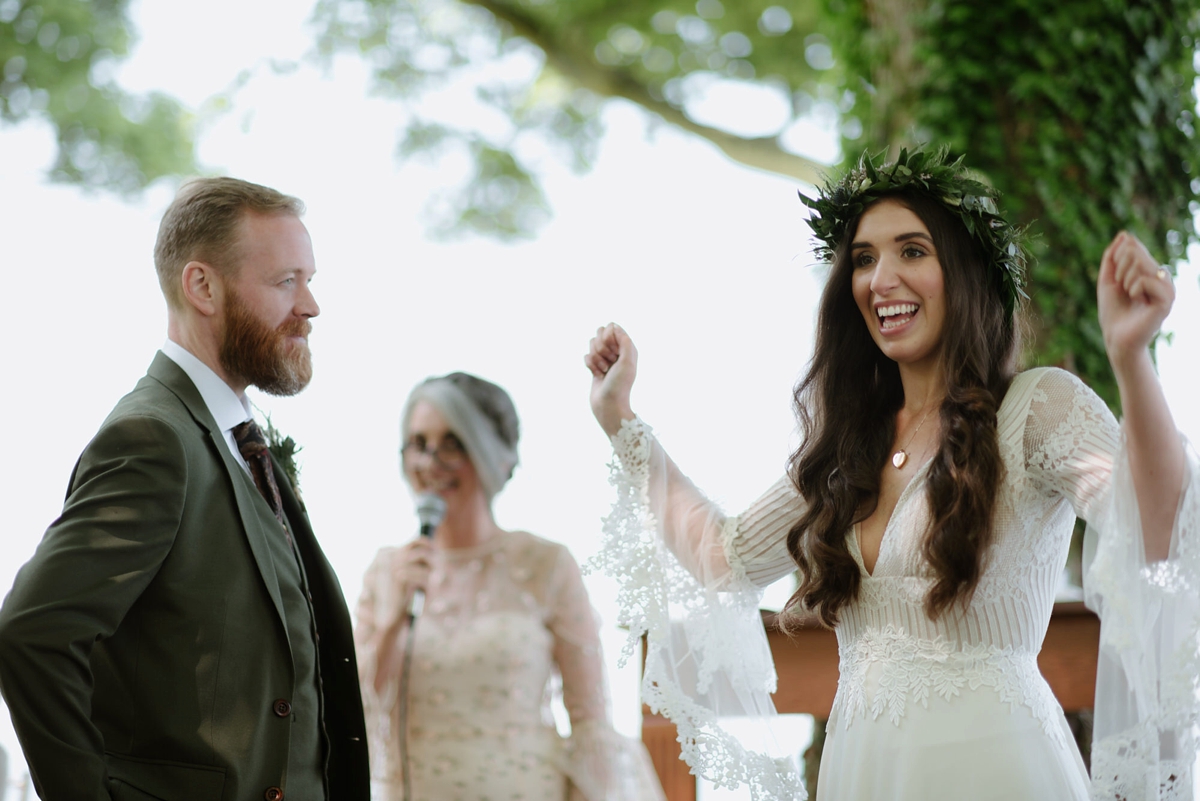 These bright and beautiful images come to us from the couple's photographer and close friend, Chris Copeland.
"We were very fortunate that our close friend Chris Copeland is also one of the most talented wedding photographers on the planet. Although we initially worried that he wouldn't be able to relax and enjoy the day, there was also no way we couldn't ask him to do it. We are so delighted with the pictures; they transport us back to that day every time we look at them."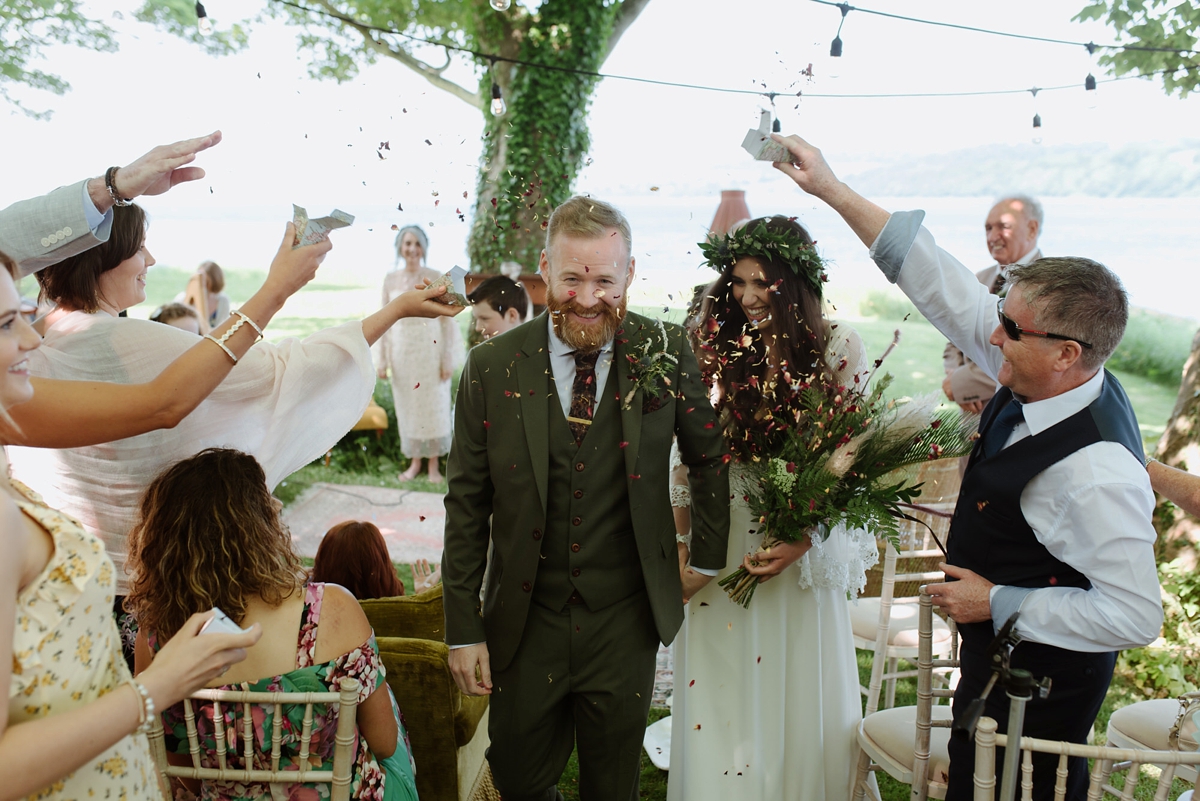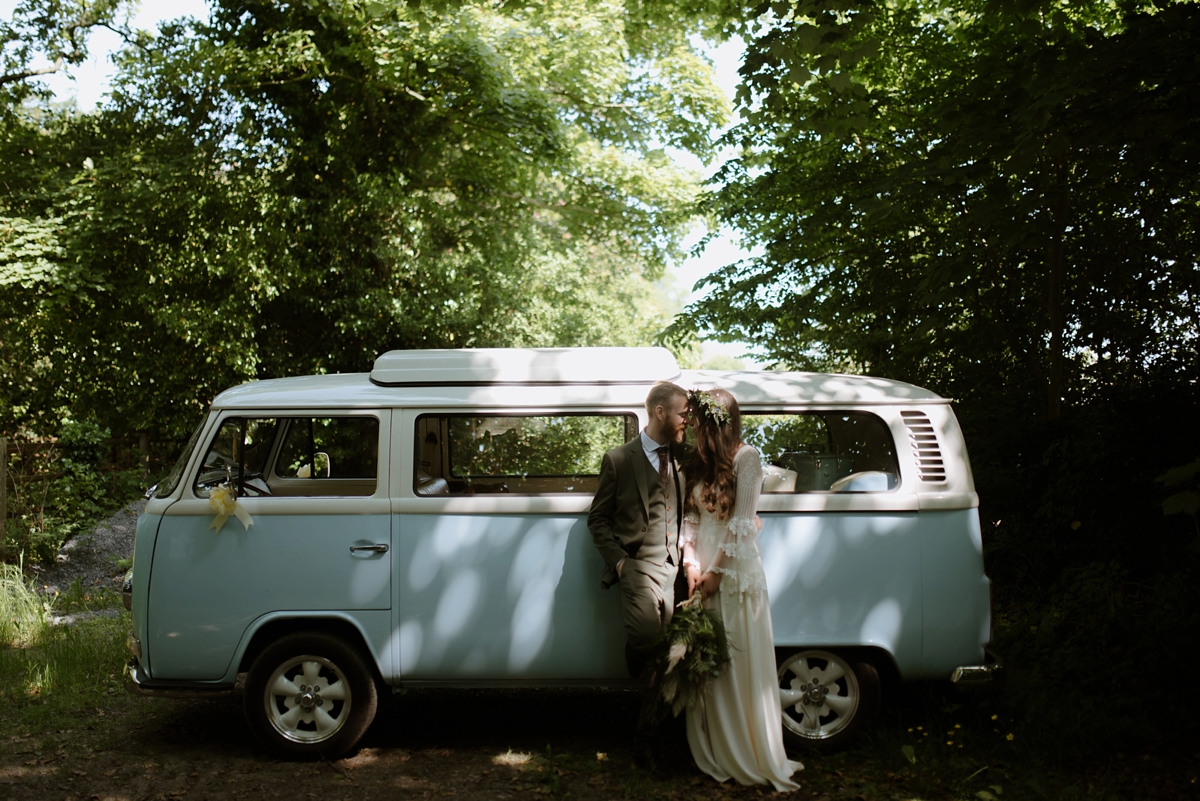 Sarah's four bridesmaids each wore different dresses in a mixture of bright prints, chosen from ASOS. They also wore gold knot bracelets, which Sarah sourced from Not On The High Street, and matching wedges from New Look.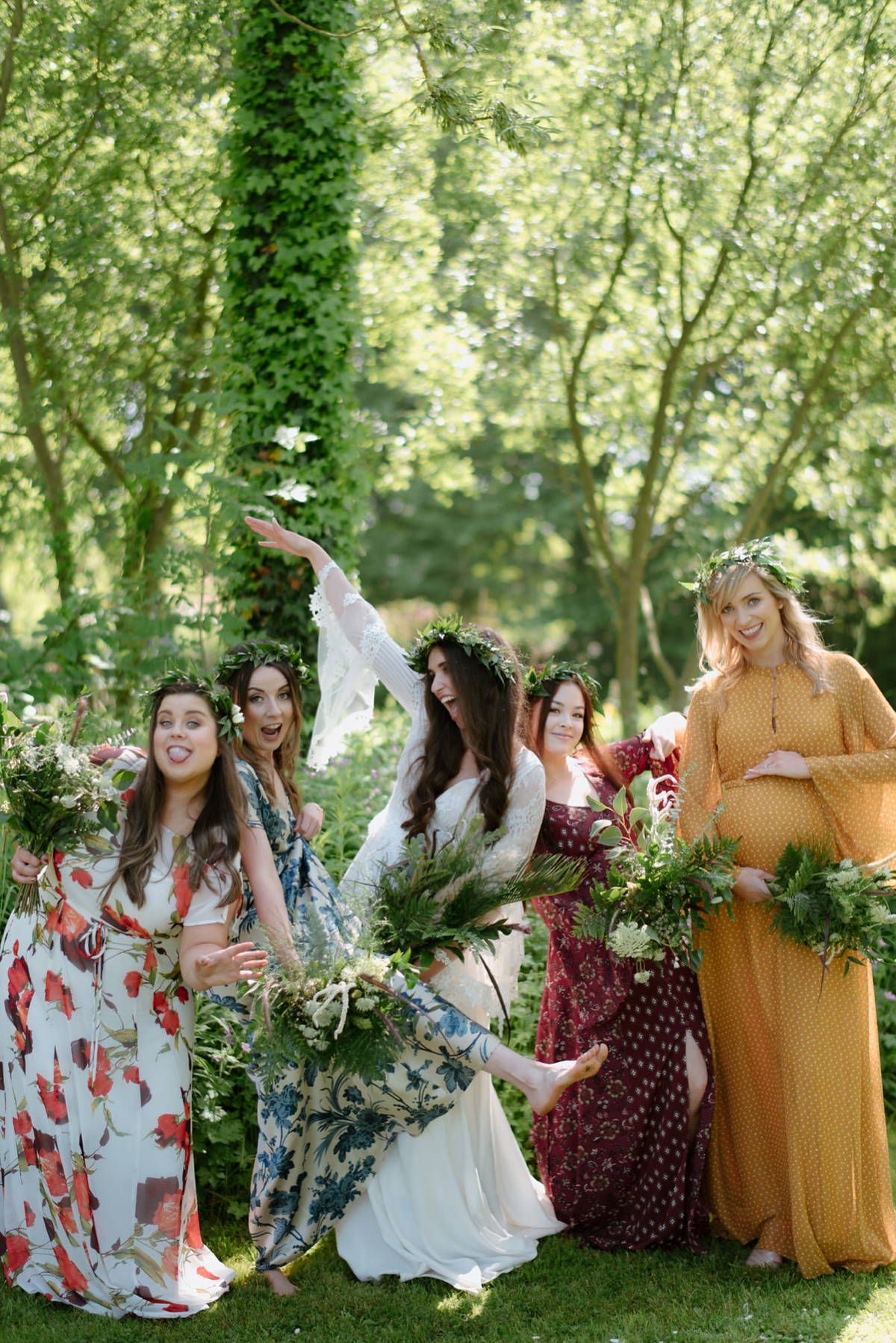 In her hair, Sarah wore a crown of glossy summer greenery and carried a glorious bouquet of pampas grass, thistles, ferns and other wild beauties from talented florist Caitlin at Best Buds Belfast.
"I have known Caitlin for a few years and have yet to see anything she has done that I haven't liked. I told her in brief the style of the wedding and showed her the dresses. I told her to go wild and do whatever she wanted, meaning that the morning of wedding was a total surprise. Giving her full creative control paid off as it was the most stunning bouquet I had ever seen –I especially loved the pampas grass and the purple thistle. She is a creative genius."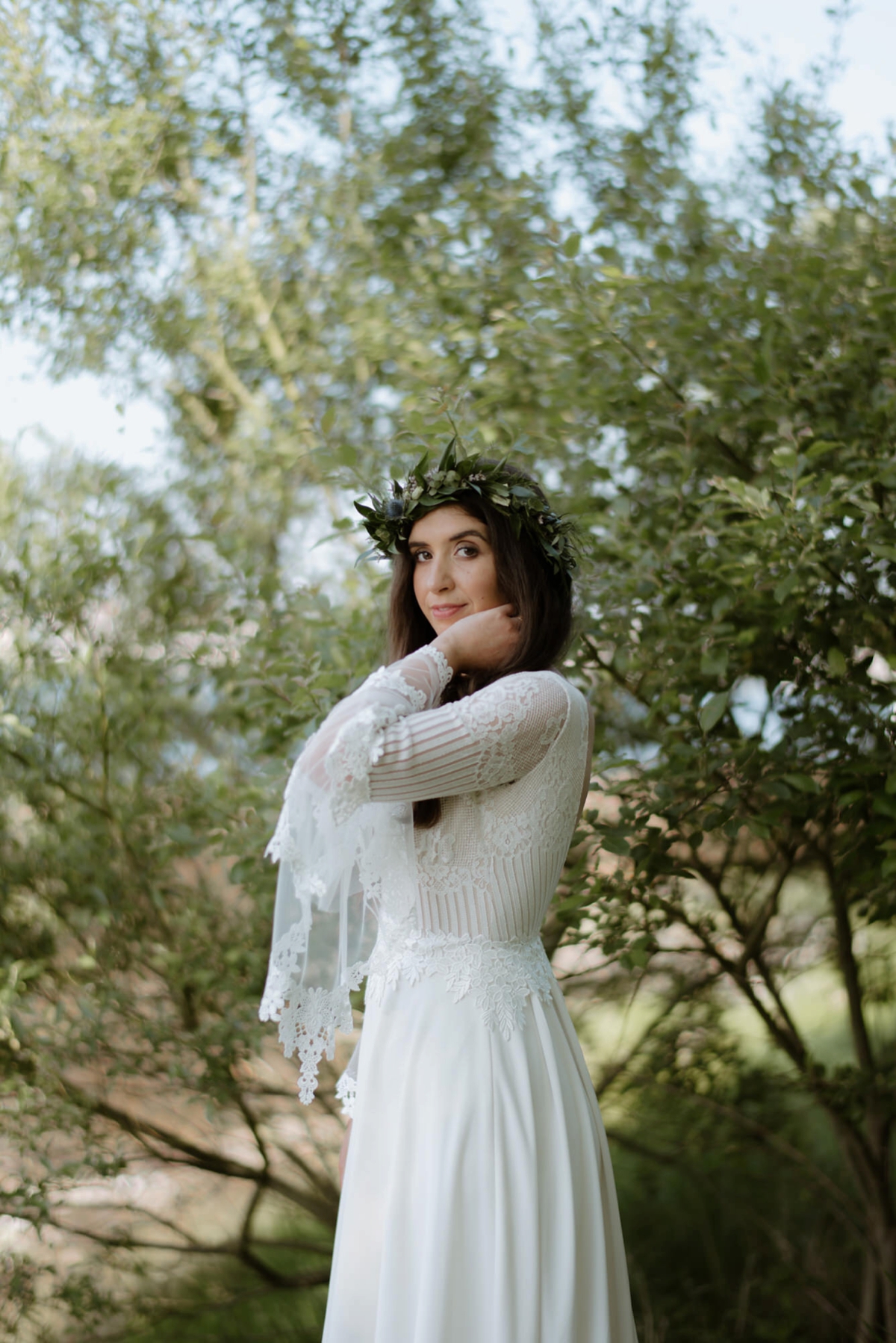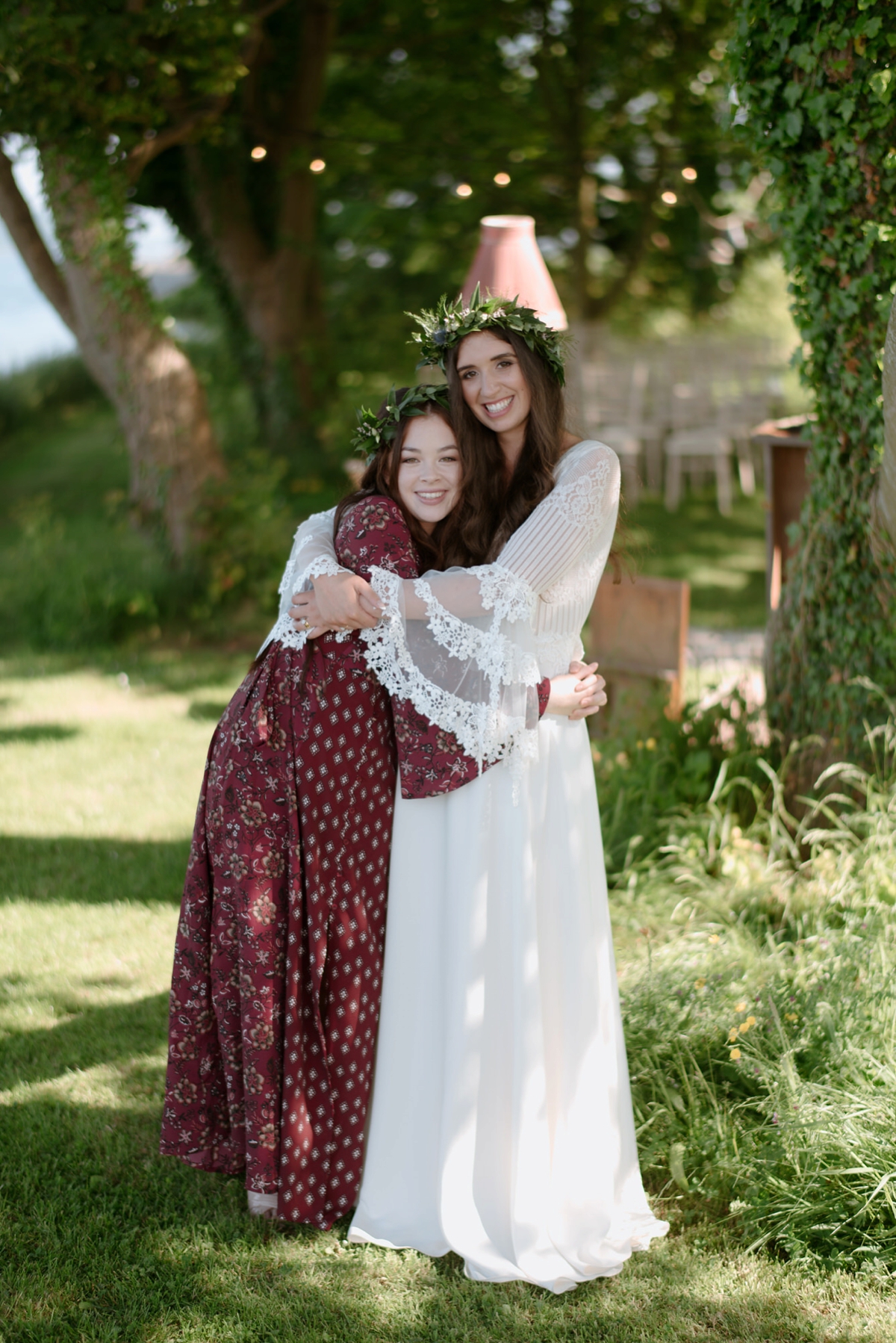 Inside the light and airy marquee, with its pretty ceiling canopy, tables were laid with floral print runners stitched by Sarah's mum, candles and old whiskey bottles, and place settings decorated with sprigs of fragrant rosemary.
"We made our wedding favours ourselves. I got a whole bunch of glass gold-topped mason jars and filled them with mini Oreos. We then sprayed a bucket of plastic animal toys with gold spray paint and used a glue gun to stick them on the jar along with the guest's initial."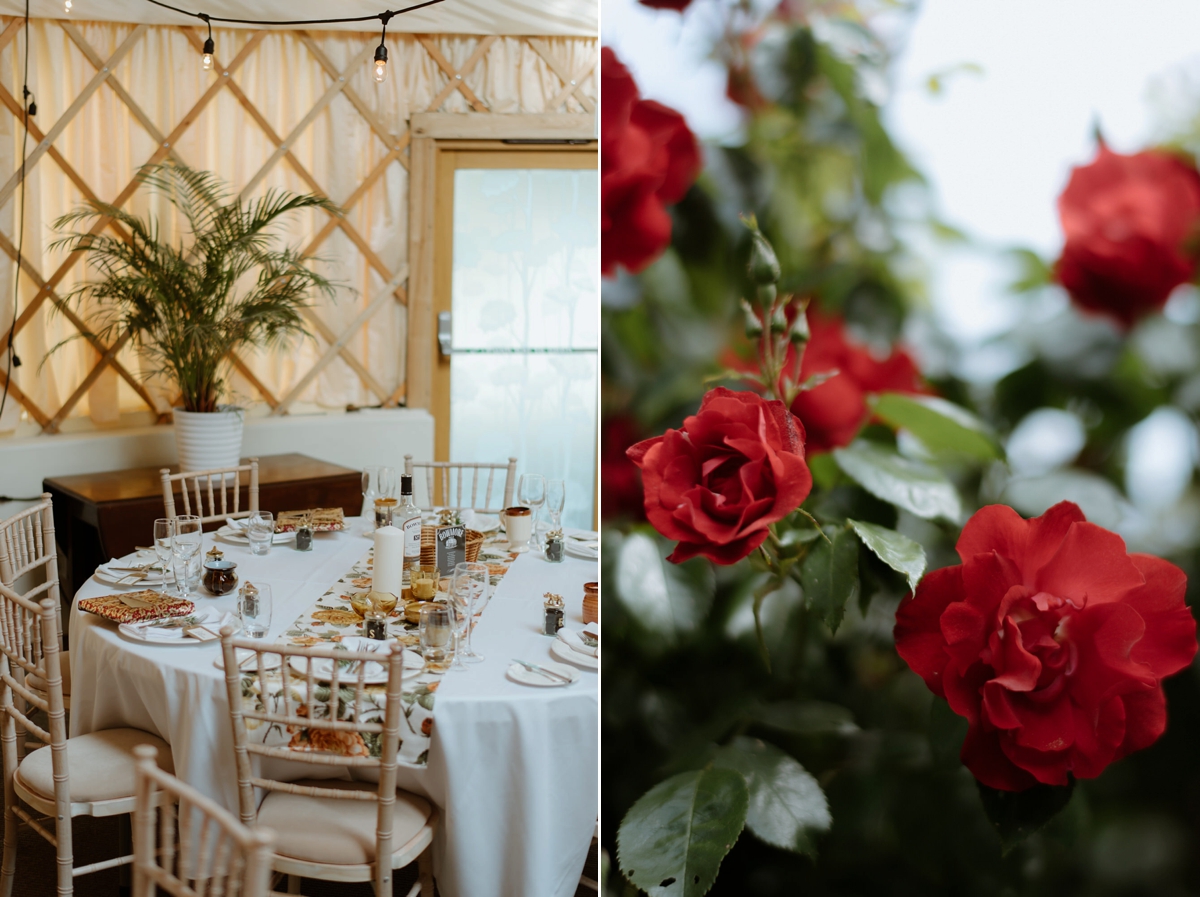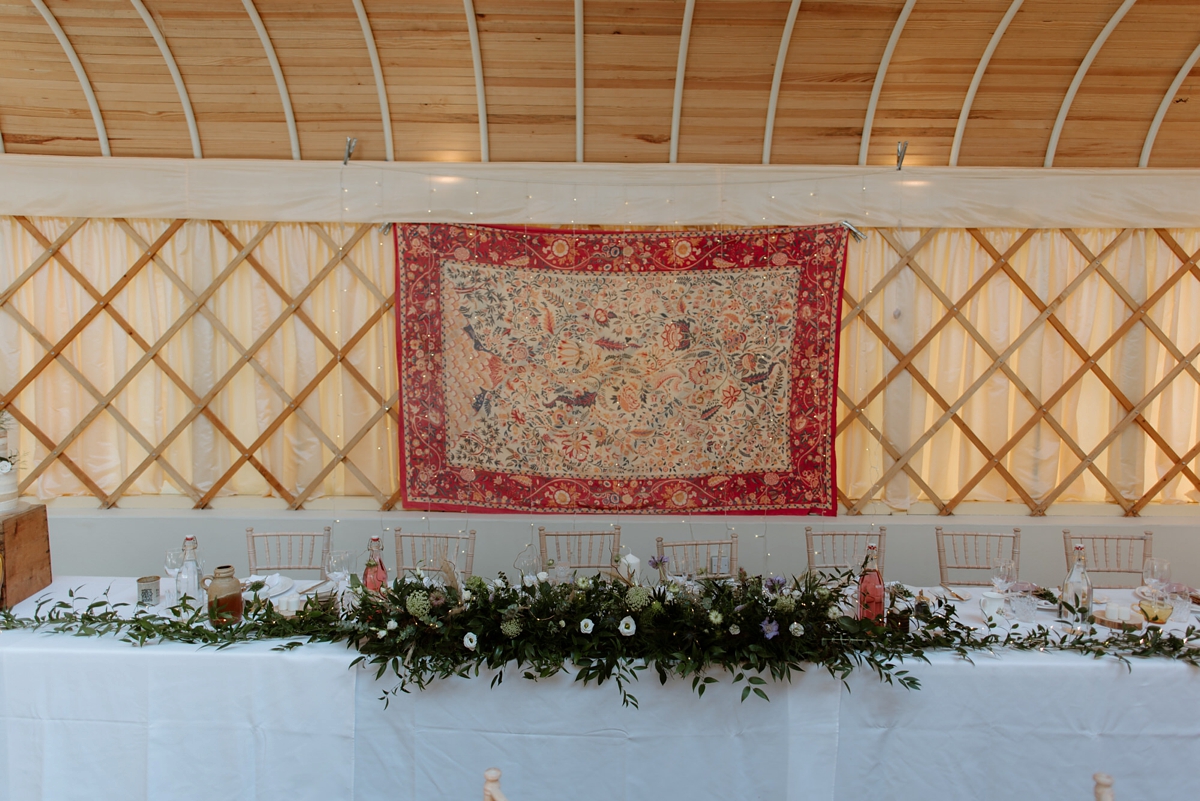 There are so many fantastic, personal touches to this day, with lots of items designed and made with love by family members.
"I designed and printed the wedding invites myself and my very talented 84-year-old Granda used to be a textile designer and he did all our place cards and signs for us, he hasn't lost his touch."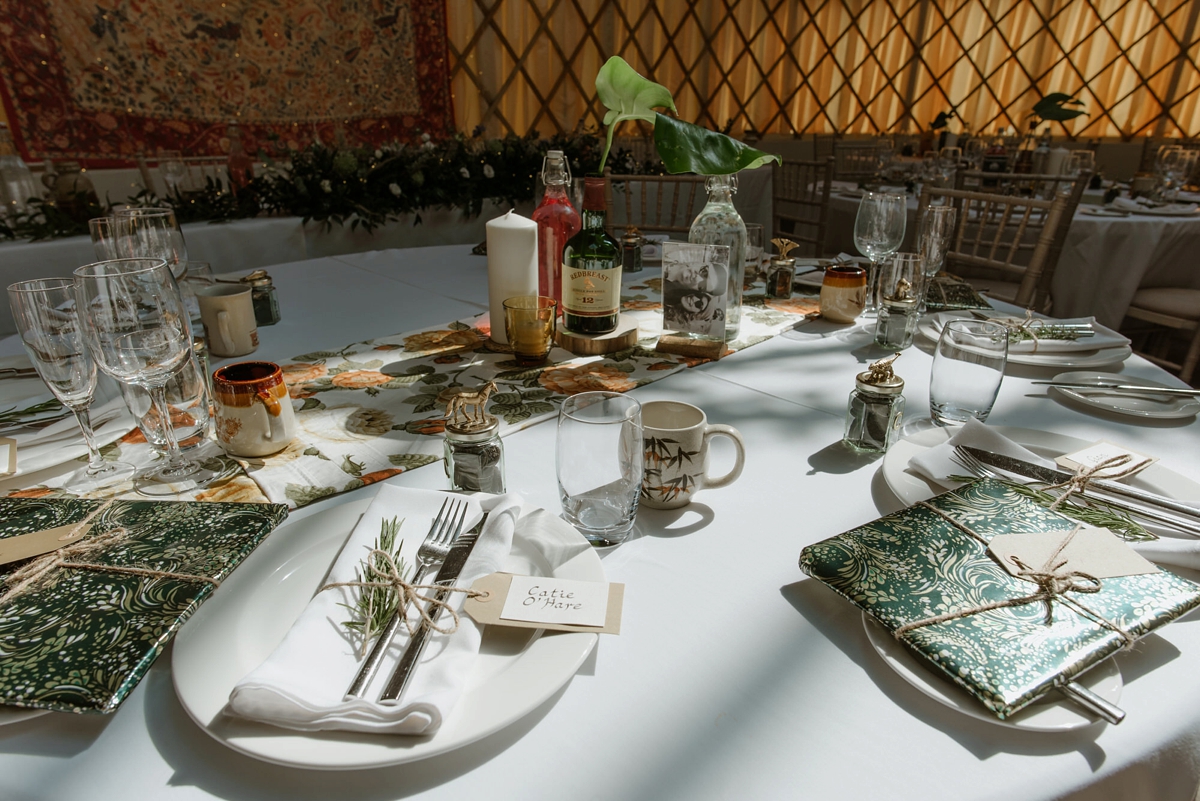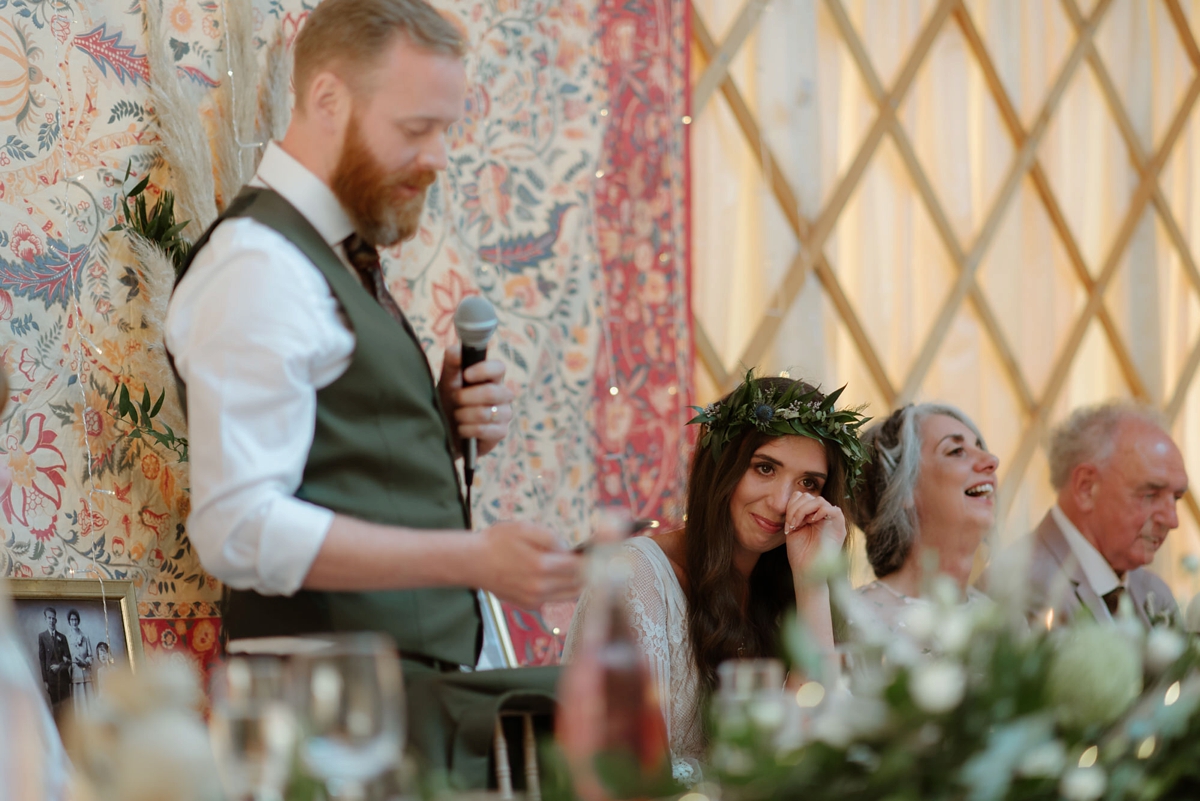 A vegan buffet feast came courtesy of Sarah and Conor's favourite Belfast restaurant, Eat Street.
"Initially I was going to cater the whole wedding myself but as we got closer to the date, I realised it probably wasn't the best idea. It was still important to us that all the food be vegan and food that everyone could enjoy. So we asked our favourite restaurant Eat Street…if they would do our buffet spread for us and thankfully they agreed."
"The food was phenomenal, a proper feast of comfort food – the pies went down particularly well and their serving staff were so helpful and hardworking – we can't thank Donna and Gérard enough.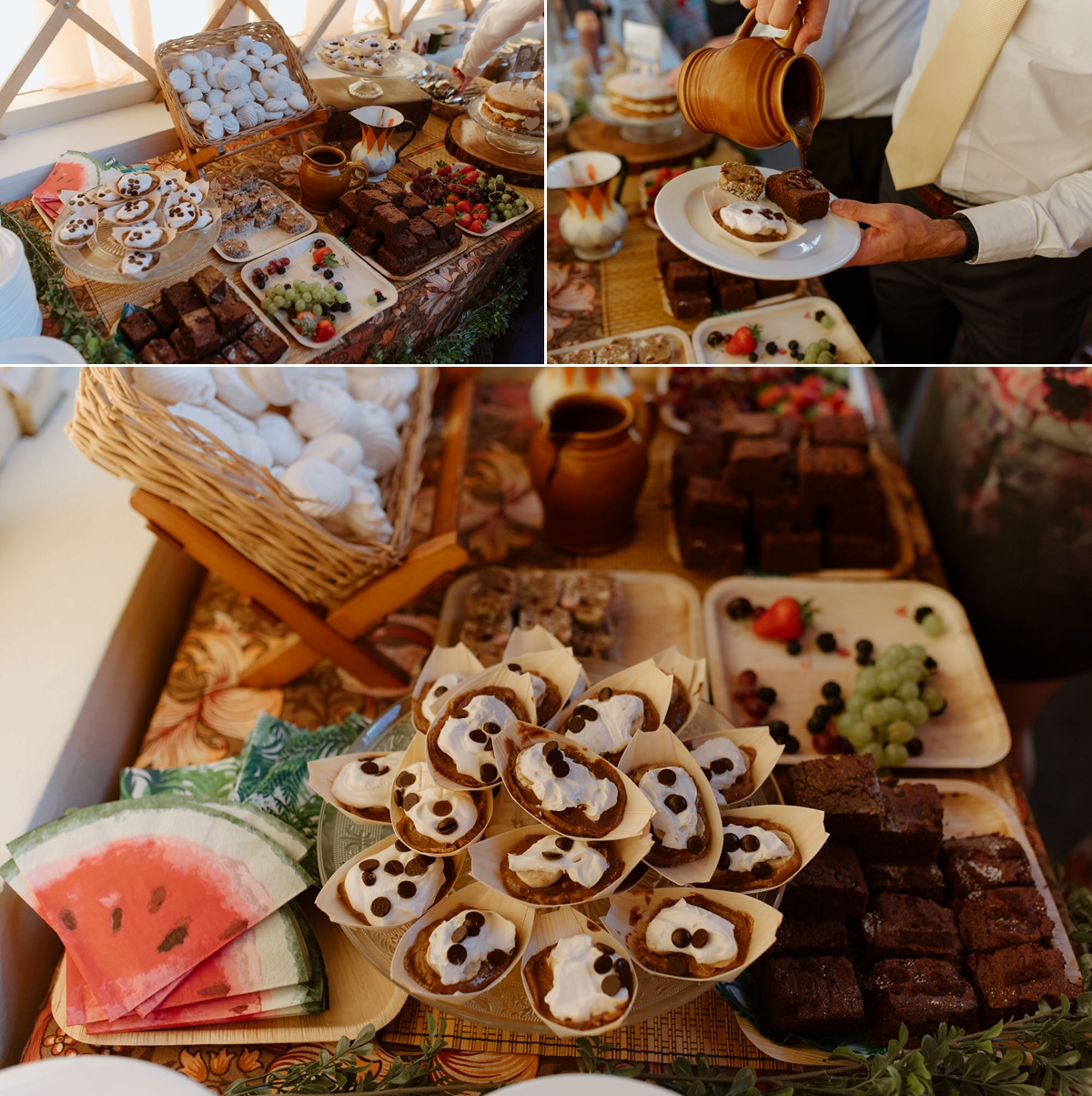 Later in the evening, Sarah and Conor gave guests picnic bags filled with sausage rolls, crisps, juice and cupcakes (made by Louise at Crumbs) to enjoy down by the water.
"Everybody pitched in the day before to assemble them. On the day our guests grabbed blankets and chairs and picked a spot in the sun, it went down a treat."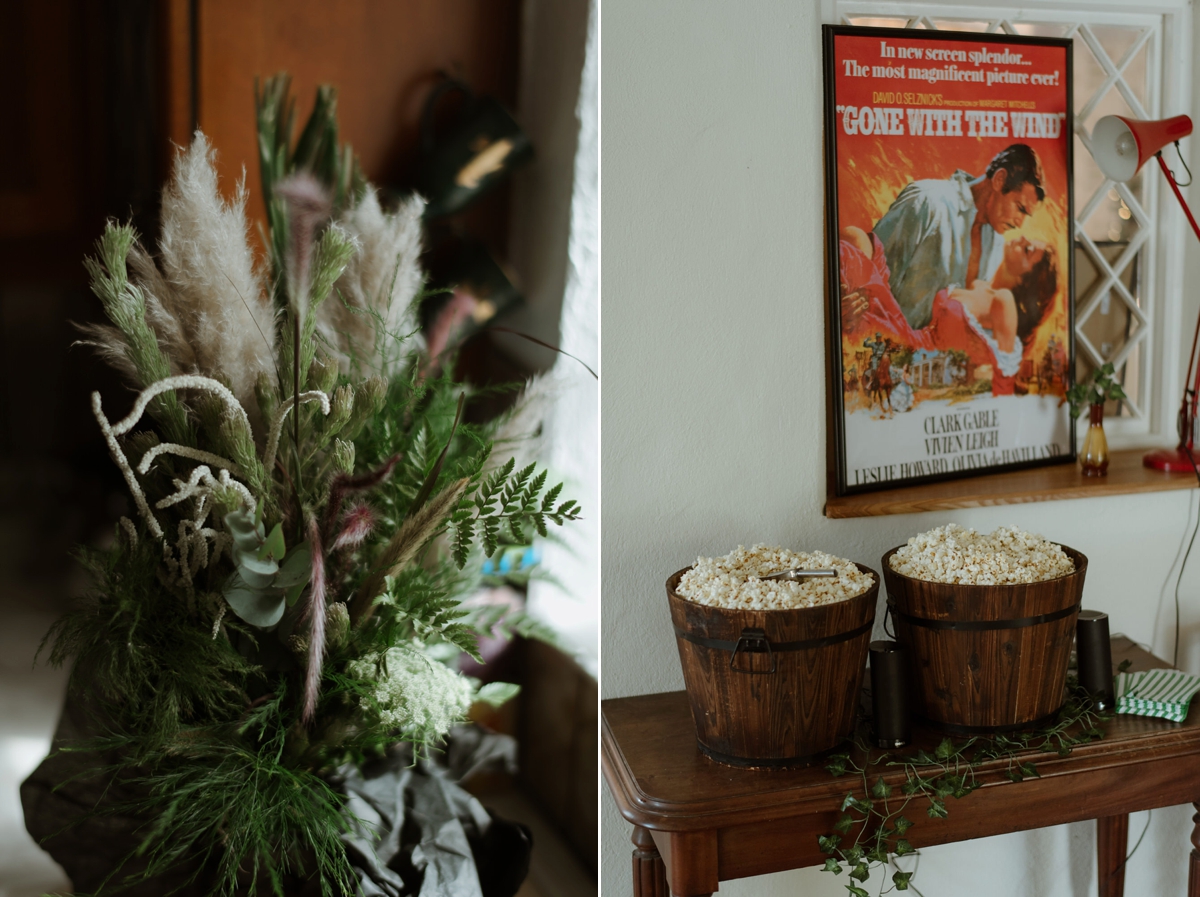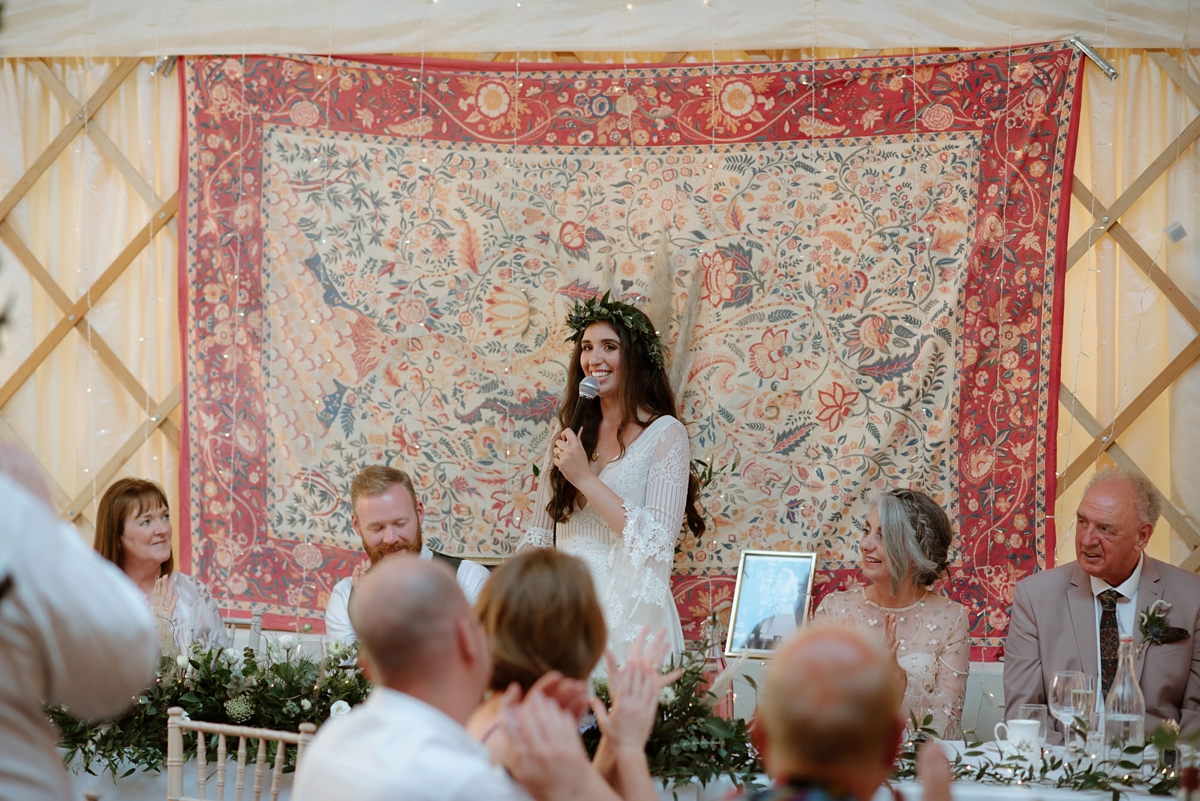 The wedding cake was a delicious naked Victoria sponge adorned with greenery and flowers, and made by the couple's friend Louise, who runs a vegan bakery in Belfast – Crumbs.
"Louise makes the most amazing sweet treats and our wedding cake was no exception. She really outdid herself, it was so good in fact, I didn't wait for utensils."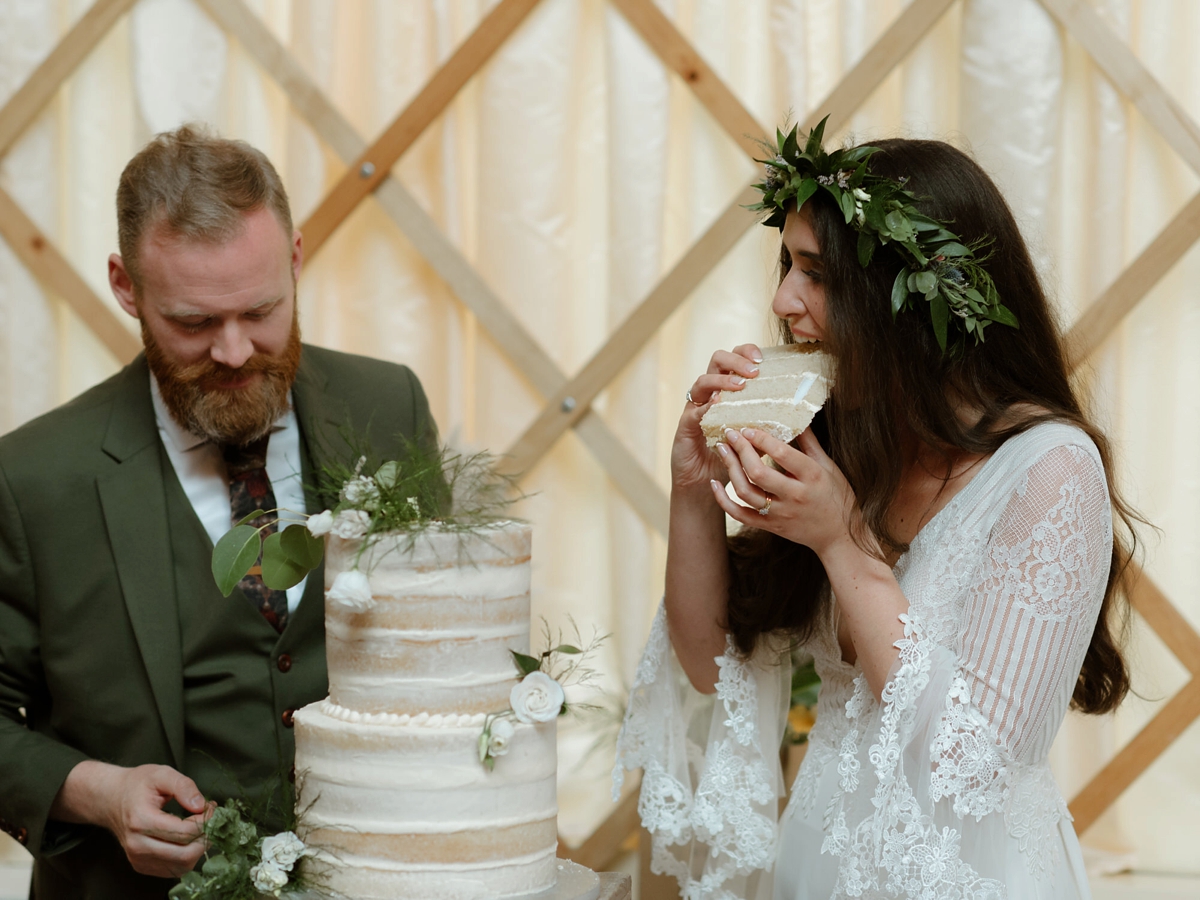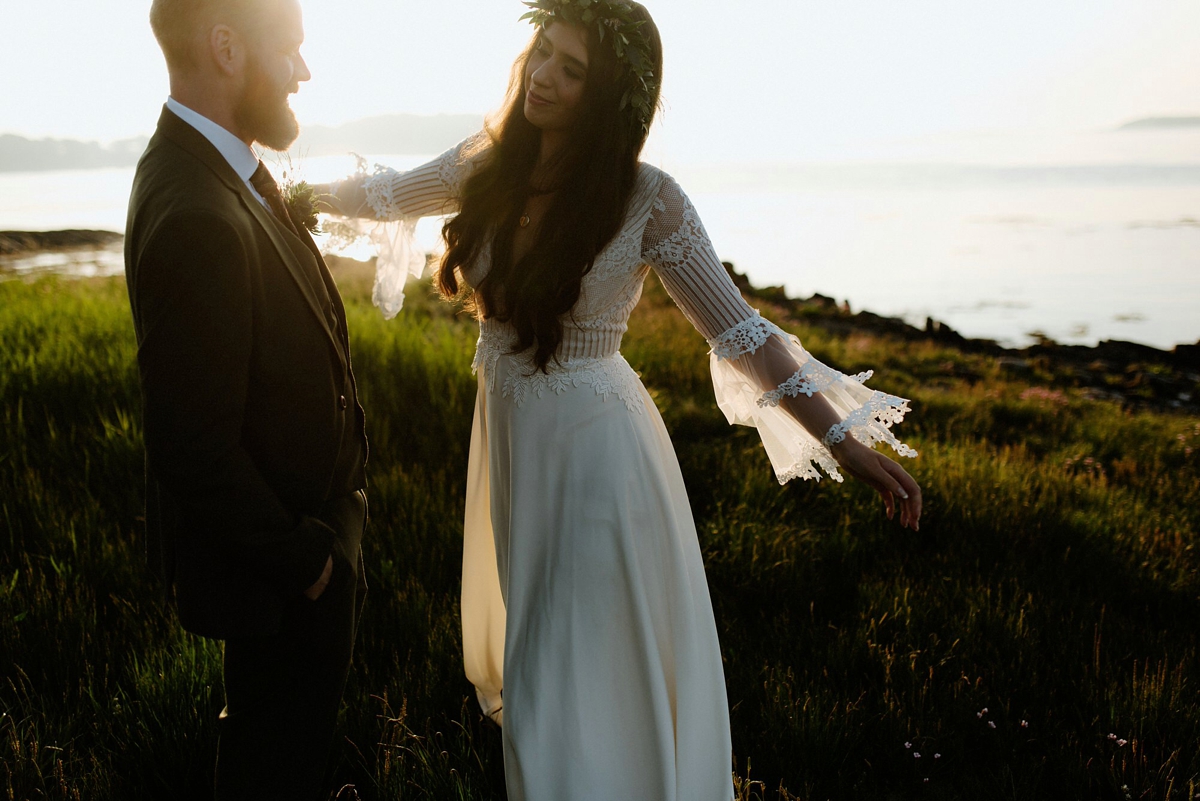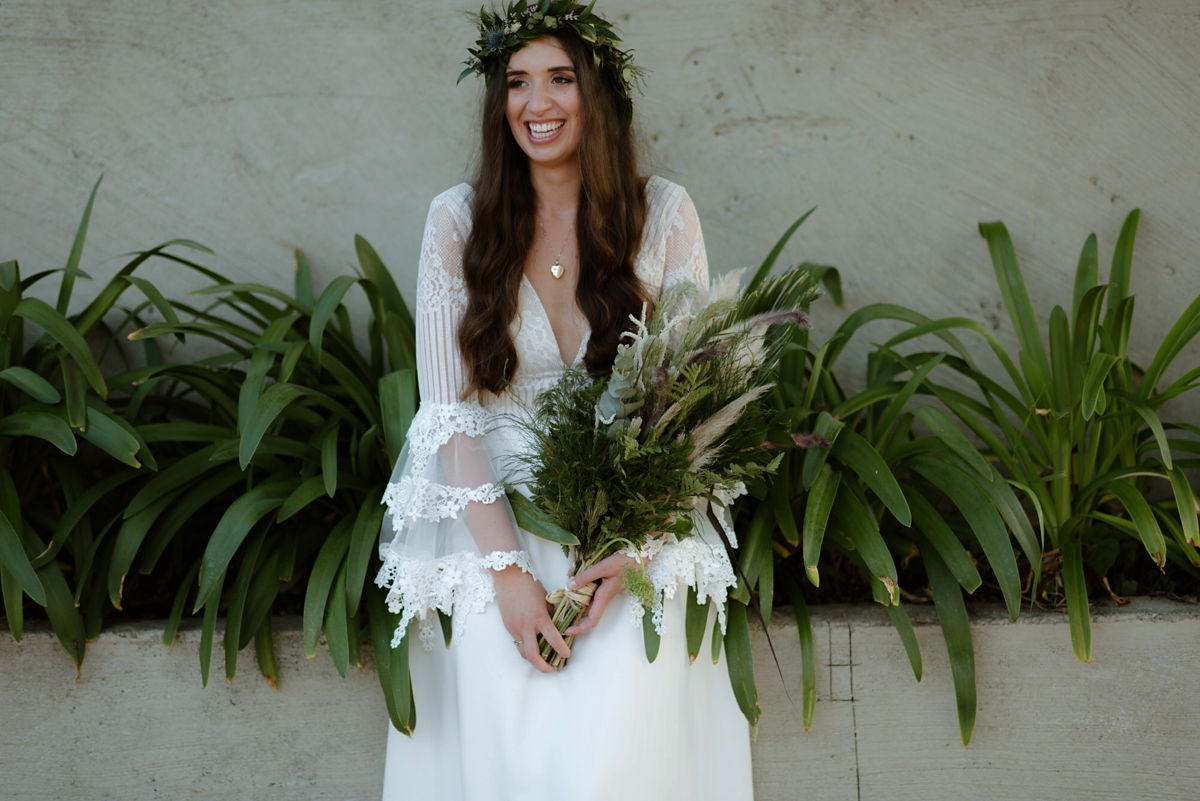 "We hired Davey Music to play traditional Irish music at our waterside reception. They were fantastic and really complimented the beautiful scenery. For the evening we hired Bespoke Music Solutions to DJ. They were fantastic also, they mix with vinyl giving it a more retro sound and they took on all our music suggestions, the dance floor was never empty."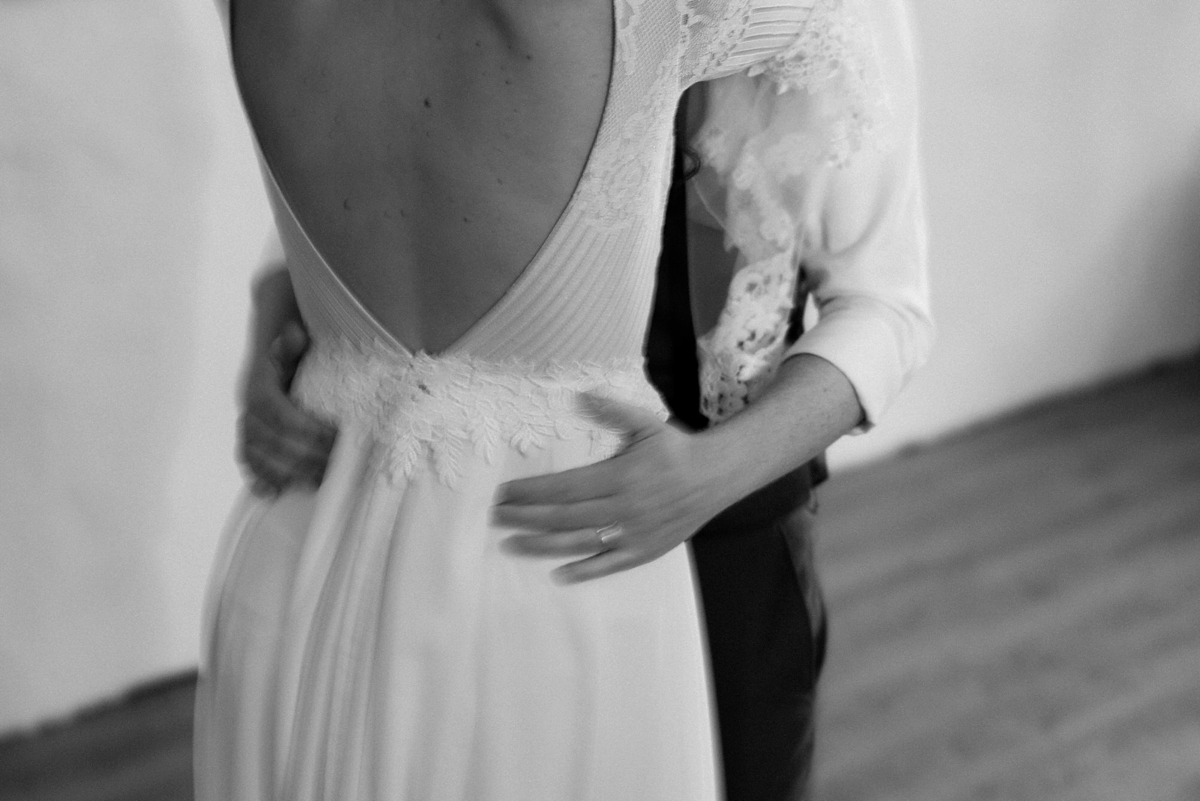 For their joyful first dance together, the couple chose a song special to them – Rivers And Roads by The Head and The Heart.
"We were very careful with planning the wedding that we didn't add in anything that we both didn't love, we didn't try to people please or make extravagant purchases that didn't add anything to our day so looking back I'd say we wouldn't do anything differently. Everything was better than we ever could have imagined."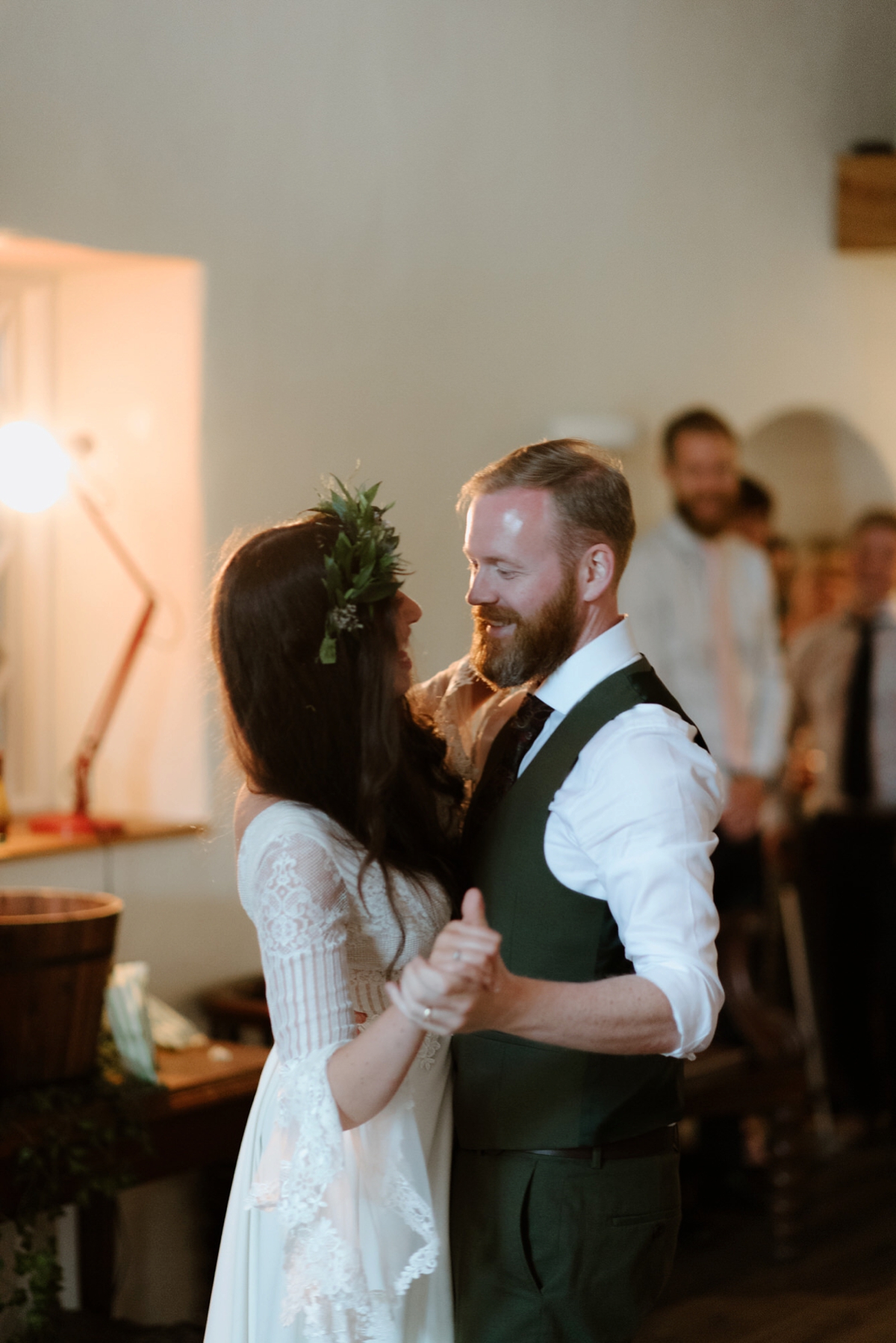 Words of Wedded Wisdom
"When I was planning I kept telling myself that I was planning a party not a wedding, this helped me not over think it too much and enjoy the process so much more. Some of my favourite memories are when my family were all together, with food on the table and some drinks around a fire, and that doesn't take much planning at all."
"It's such a special day but remember it's the people there that make it not the fancy silverware. Try not to worry about making everyone happy at every part of the day, not everyone likes the same food, has the same religious beliefs or the same taste in music, remember people are really there to see you on the happiest day of your life."
"Research is good but don't get caught up in comparing to other people, just do you.Other than that I'd say be as present as you both can on the day, really take it all in and enjoy every second."
Sarah and Conor, thank you, this was completely magical and has been such a joy to share. You can see more wonderful work by photographer Chris Copeland on our blog pages here – and many thanks to Chris for this beautiful work.
Until next time!
With love,
Laura