We're being transported to Umbria in Italy today for a showstopper of a summer wedding bathed in glorious golden light.
The couple were guided throughout the planning process by their setting, choosing natural and neutral styling to let the location shine – and so it does! Chantal and Phil, who work in project management and sales operations respectively, were married on the 21 July 2018 at Casa Bruciata, Umbria, overlooking spectacular mountains.
Chantal looked incredible in a sleek and elegant strapless silk gown from brilliant designer and Little Book member, Sanyukta Shrestha, which Chantal chose at Sanyukta's Behuli Boutique in Fulham. We've been championing Sanyukta's ethical and eco-friendly designs for a while now, and I love the classic and clean lines of Chantal's gown, with a touch of sparkle at the waist.
Image by Divine Day Photography
"I never thought I would have the 'this is the dress' moment but as soon as I put it on, I knew it was the one.There are no other words to really describe it but, in that dress, I felt how I had always dreamed I would on my wedding day. It was simple but still had the wow factor. The shape was so flattering and timeless and the materials Sanyukta uses are unbelievably soft and luxurious."
"For me, it was the fabrics which really left an impression –you put on a dress and you can't stop running your hands over it –the softest silk and so comfortable. I really didn't want to end up in a dress that was beautiful, but I couldn't move (or god forbid, eat) in!"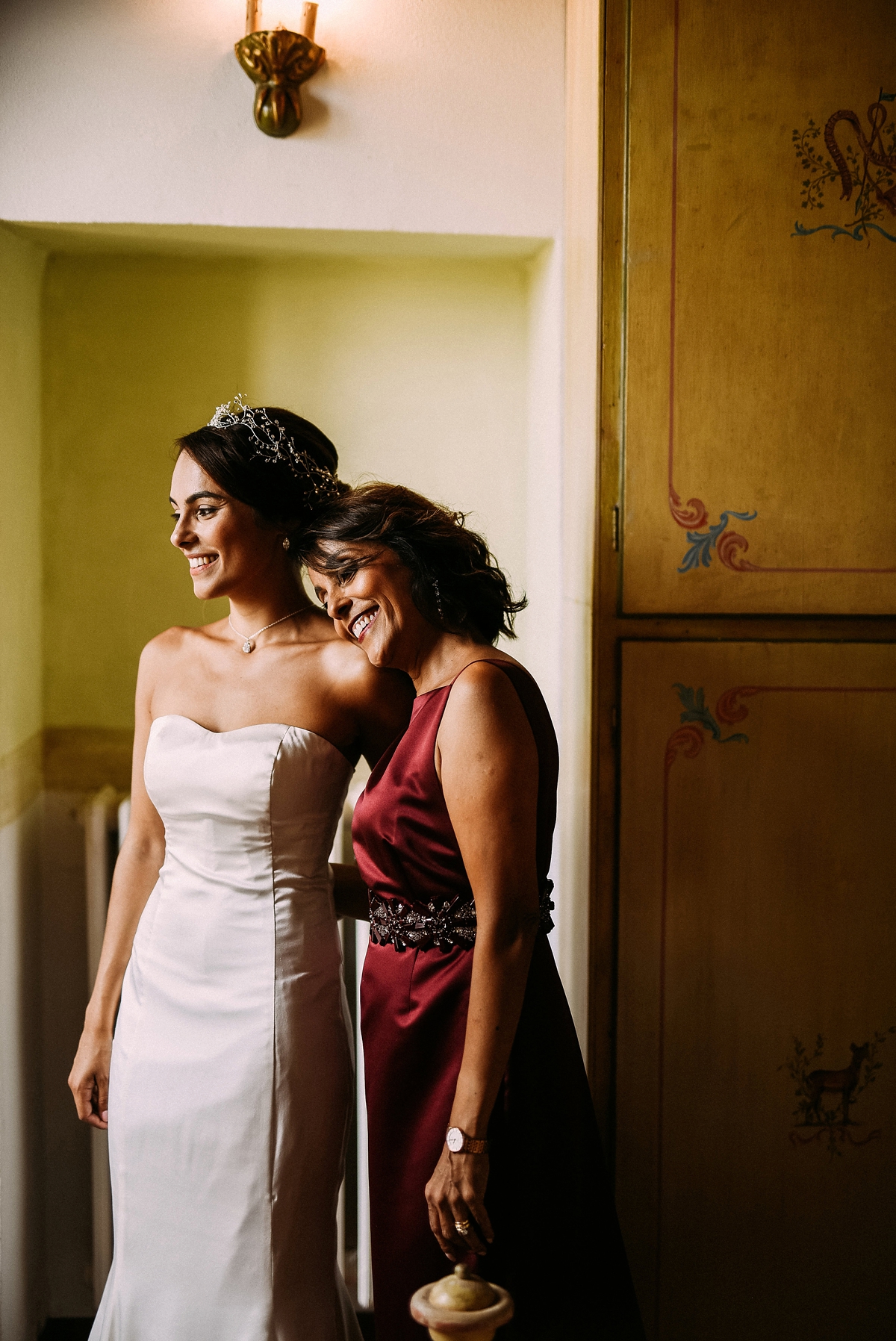 "Thank you so much, Sanyukta, for helping to create my perfect dress. I felt like a real princess in it and hopefully you can see from all the smiles in the pictures, that I was beyond happy with it."
"I can't tell you how happy I was – the dress fit like a glove and was so comfortable to wear."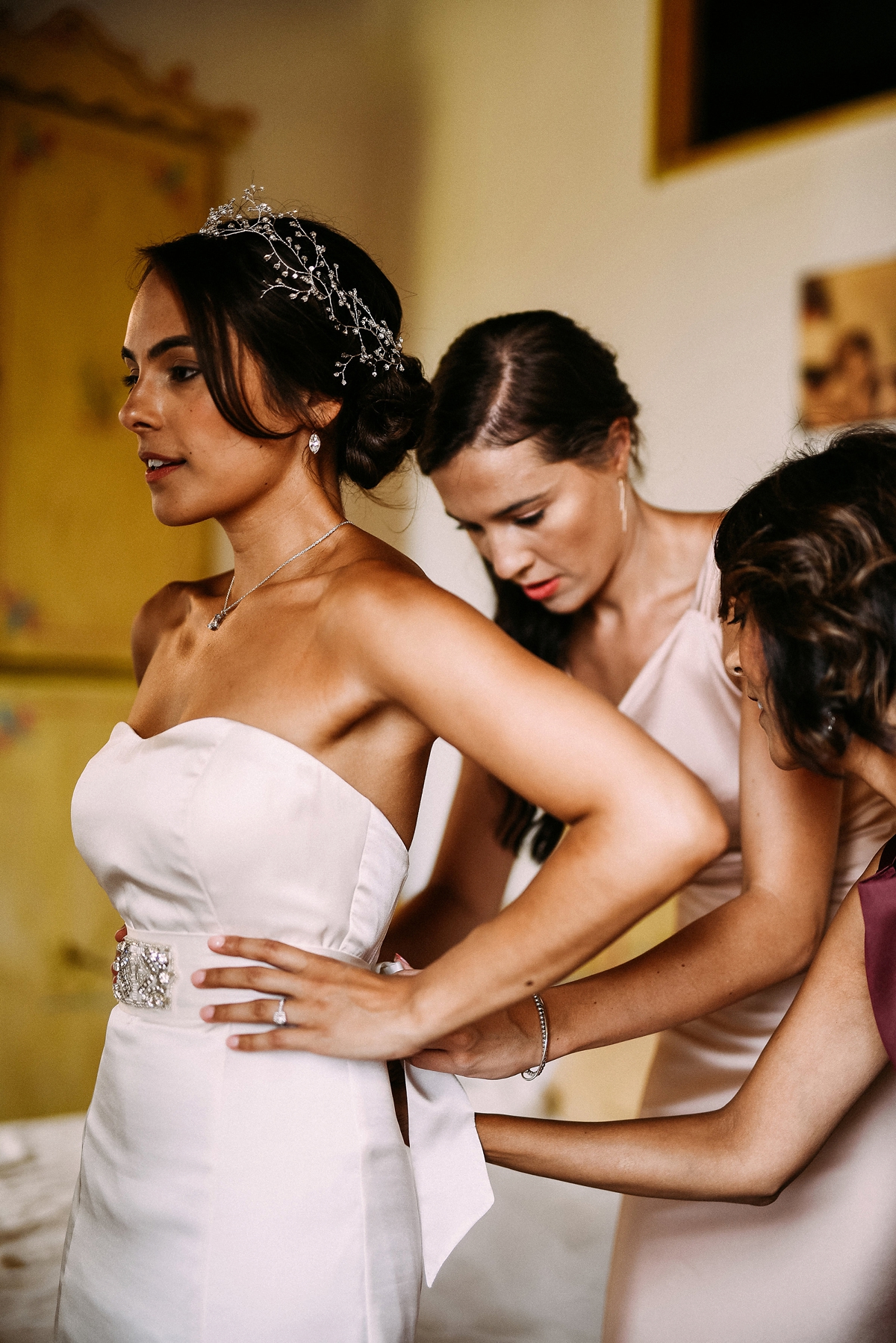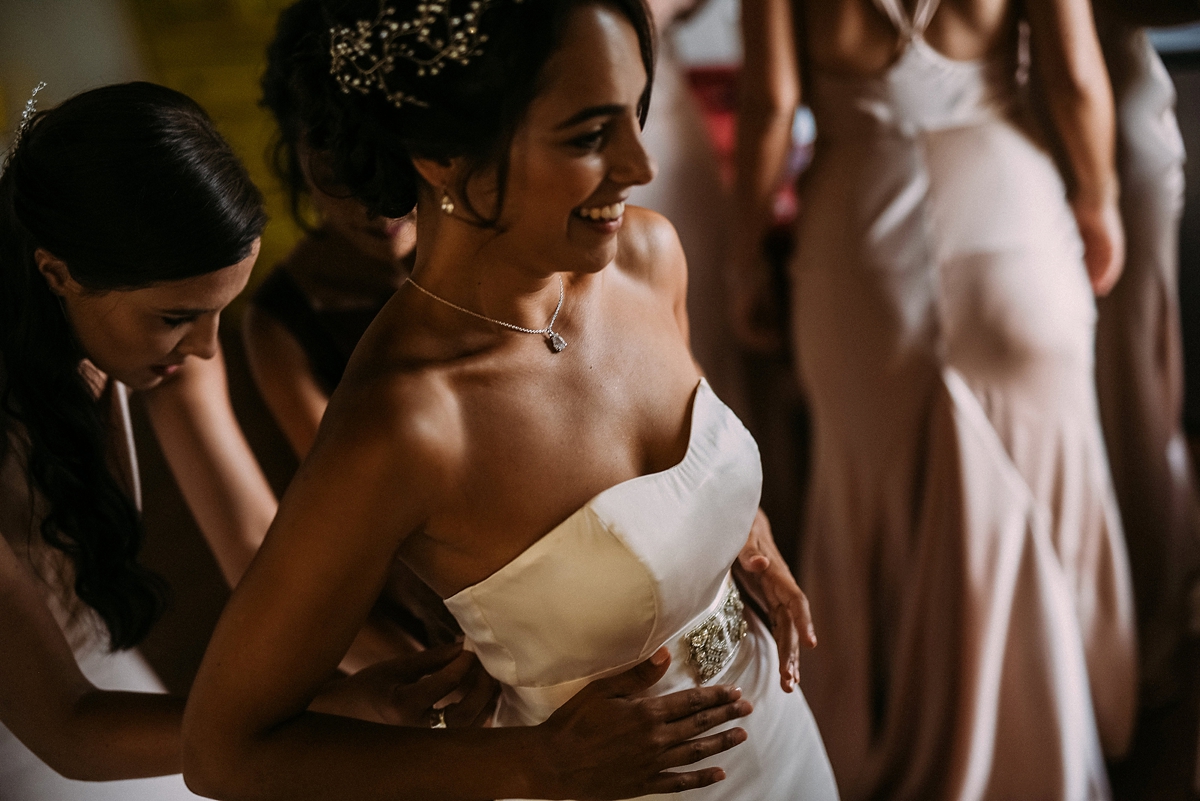 "Sustainability is so important and even more relevant in the world we live in today. If anything, the commitment to women's equality and ethical production makes the dress feel even more special."
Chantal wore strappy silver glitter sandals from Karen Millen, and diamond drop earrings borrowed from her mum, as well as a delicate infinity bracelet from Tiffany, gifted to her by her mum.
"My aunt made a necklace for me the day before the wedding, adjusting a necklace I had bought to create a back necklace and adding in additional stones to make it more sparkly."
Chantal's bridesmaids wore gorgeous dusky blush pink gowns from Jarlo London with their own shoes and jewellery and hair pins from Hermione Harbutt – gifts from Chantal.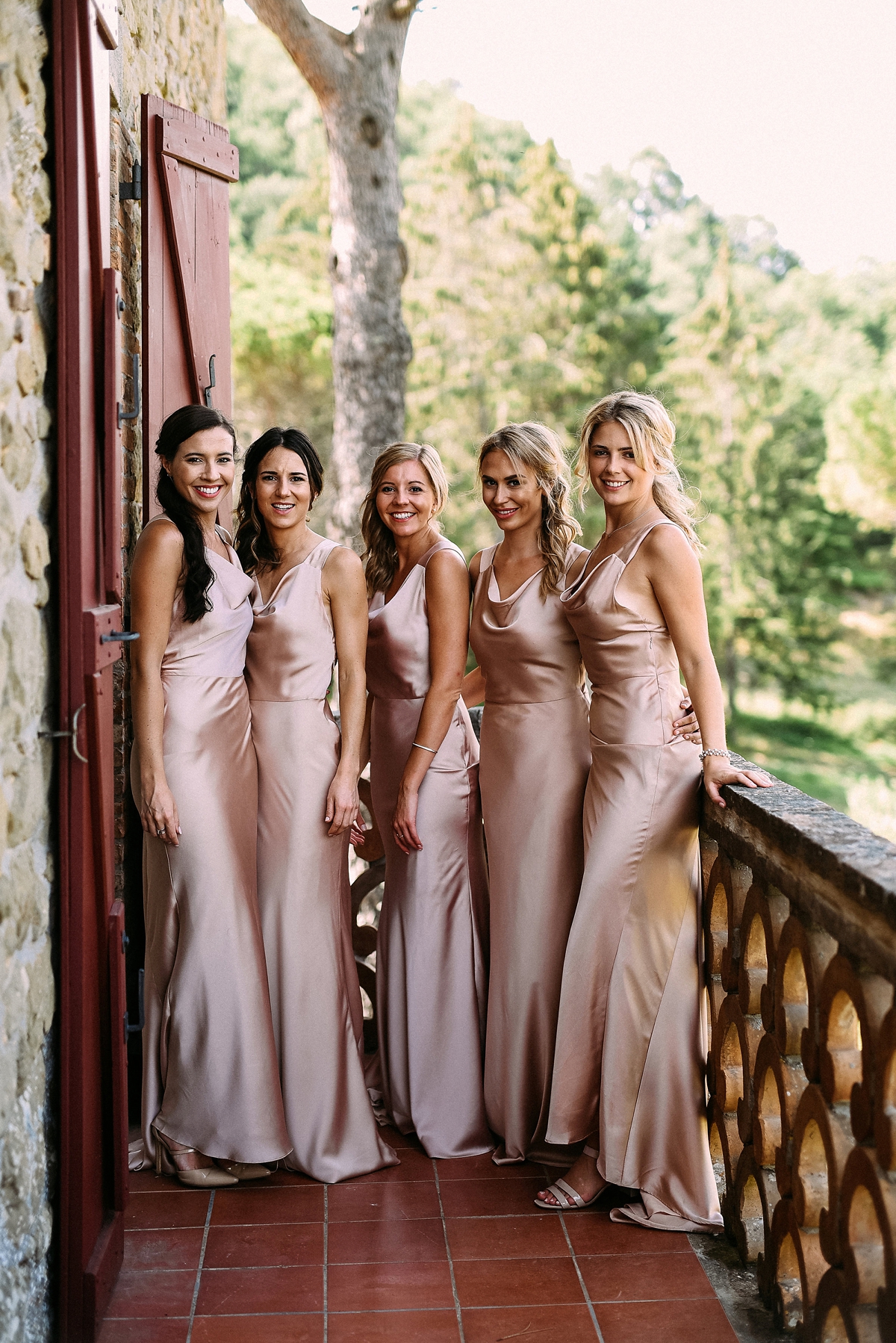 A local hair stylist – Monia (no details provided) put Chantal's hair in a lovely chignon, adding a veil by Sanyukta Shrestha and a pretty hair vine by Little Book member Hermione Harbutt.
"Hermione is amazing. Her pieces are so beautiful and intricate it's almost impossible not to get carried away and buy everything. She is so lovely, warm and welcoming and really tries to understand what your style is, what you're looking for and how she can achieve it."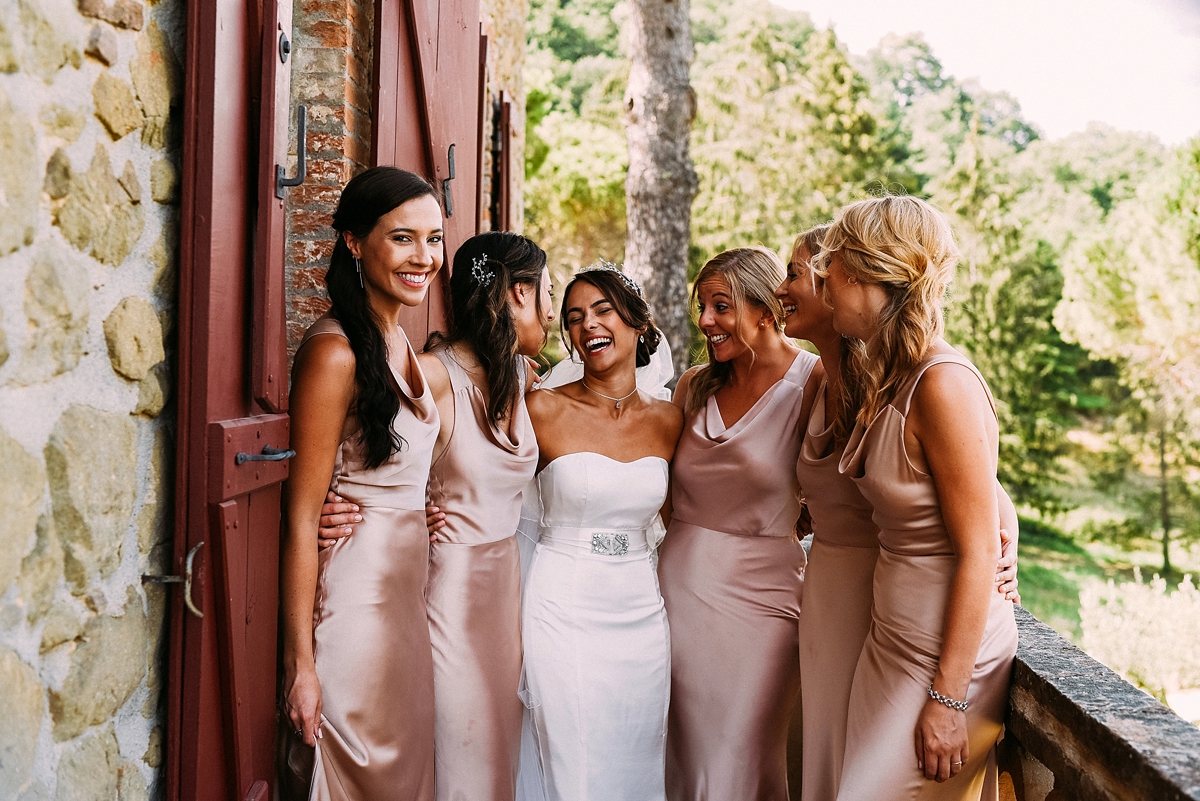 "I had no clear idea about how I was going to wear my hair or what I would wear in it but the headpiece she created was the perfect accessory for my dress and the style of the wedding."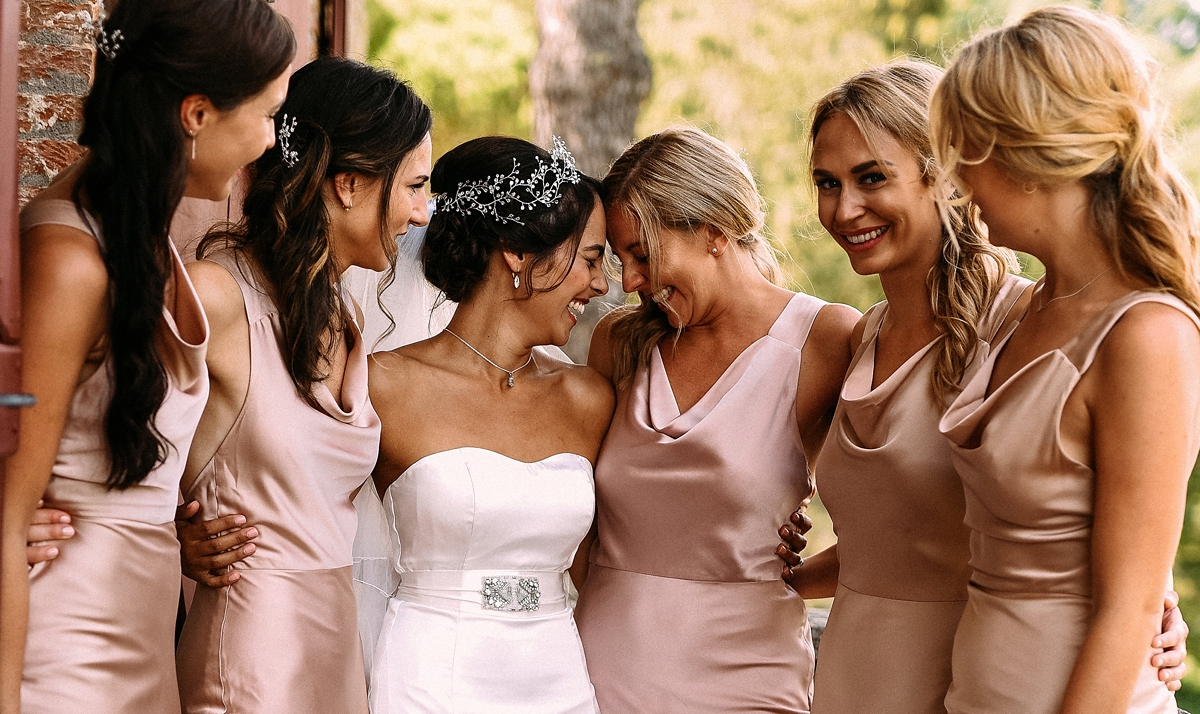 "I decided to do my own make-up, to remove the need of finding a make-up artist in Italy and the additional expense of this.The only prior planning was to arrange a couple of appointments with an Estee Lauder concession in our local department store so that I could buy everything I needed and also see how to apply the products."
[JP-VIDEO]
"People warned me that this would be stressful, but the morning of the wedding was so relaxed it worked out fine and meant I could feel safe in knowing that I would look like myself on the day."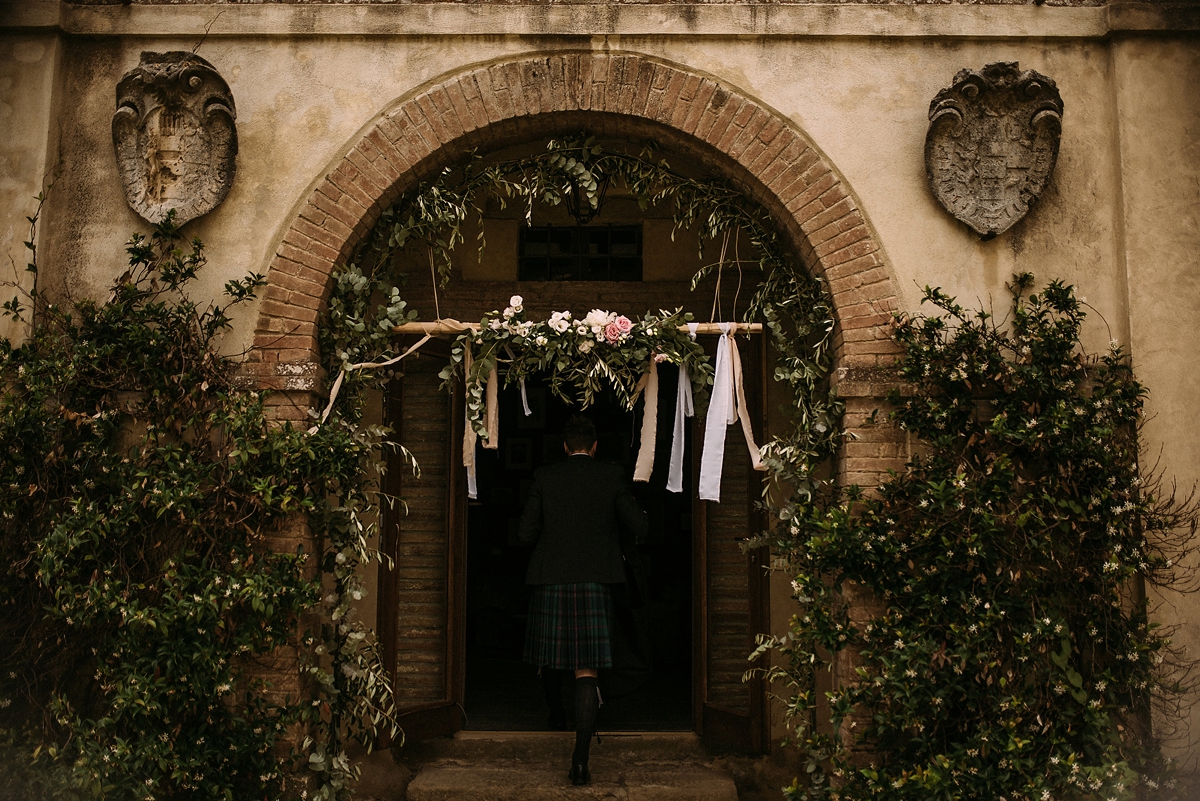 Phil wore fantastic Highland dress, with his own kilt and a jacket and waistcoat from Heritage of Scotland, and the Best Man and groomsmen hired their kilts from Slanj Scotland.
"We were set up by a friend of Phil's who I met while on a waitressing job.When I first met her, one of the first things she said was 'My friend would love you'."
"Her being a relative stranger at this point meant this was quite a strange announcement, but a few months later, I visited her in Edinburgh and she sat me next to Phil at a dinner party."
"It wasn't until a year after this that we officially started dating and we had to manage through the struggles of a long-distance relationship for a couple of years."
"Then, in June 2017, after 4 years together, Phil proposed in Copenhagen. He planned for us to go boating on the canals, so we spent the afternoon exploring Copenhagen by boat drinking rosé. Right at the end, he made us do another loop 'to see something we had missed before'."
"Cut to me sitting expectantly at the front of the boat, waiting for some impressive building or sight to be revealed. He called out my name and when I turned around, he was holding a diamond in one hand, still steering the boat in the other."
The whole wedding party walked down the aisle to the Ayoub Sisters' Melodies From Scotland, a piece of music with a great emotional significance for both Chantal and Phil. Chantal was accompanied on her walk by her dad.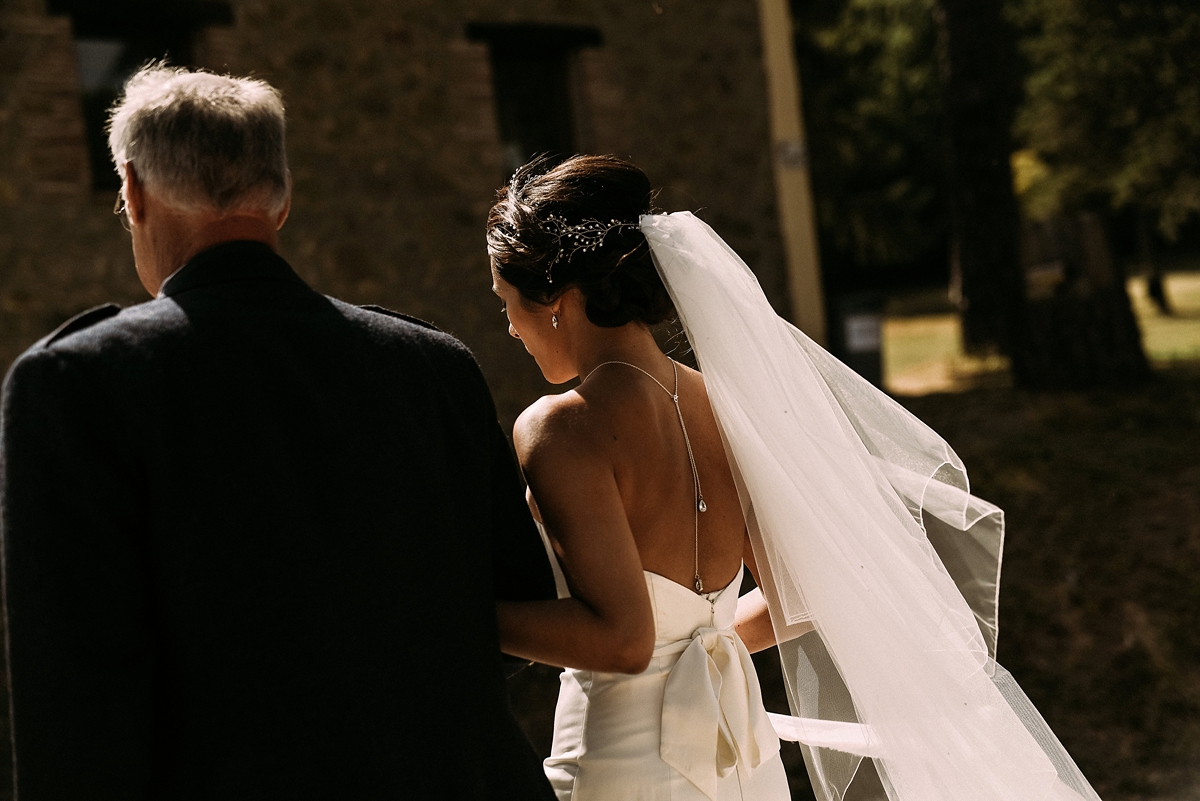 The bouquets and floral arrangements were the work of Roberta Turca, in a softly muted colour palette in keeping with the rest of the day.
"Roberta works on nearly all weddings at Casa Bruciata and although we let her know what colour scheme we wanted and our budget, we really let her run with her own ideas."
"We wanted a very natural arrangement with lots of greenery and had no specific requests for particular flowers so left it up to Robertain terms of what flowers were in season in Italy. She did manage to source thistles for my bouquet and the buttonholes as a nod to the Scottish heritage, which was a lovely touch."
The couple said their vows to one another underneath a beautiful arbour decorated with flowers, and in front of the most breathtaking Umbrian scenery.
"Annie Peacock was our celebrant, recommended by Gabriele at Casa Bruciata for all the English-speaking weddings there… Annie is fantastic – she not only put together the perfect order of service, which was so tailored and so individual to us as a couple, but she also helped us through all the hurdles of getting legally married in Italy, which we did two days before the wedding day."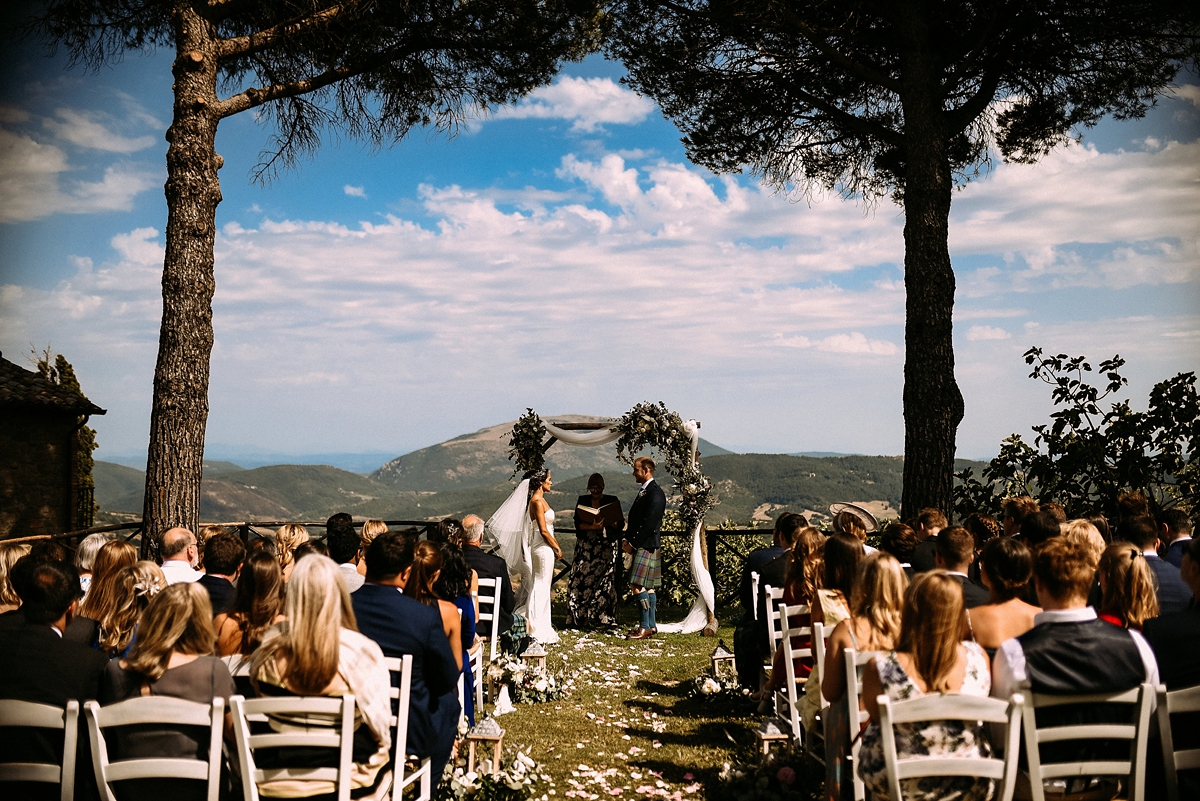 "Phil and I decided not to right our own vows, but Annie helped us to incorporate so many personal touches to the ceremony which worked a lot better for us. We did not read the traditional vows we have heard at other weddings but followed a more humanist approach."

Here, Chantal has kindly shared an extract of those vows with us.
"I promise to share my life with you and build our dreams together. I will support you, respect you, love you and be loyal to you, through all our trials and triumphs."
The couple chose three readings for their ceremony, read by Chantal's brother, Phil's younger sister and Phil's older sister and Maid of Honour. They chose an extract from Captain Corelli's Mandolin by Louis de Bernieres, an excerpt from Paulo Coelho's wonderful book, The Alchemist – all about the power of 'the spark', and finally a Blessing of the Hands by Rev. Daniel L. Harris, which was read during Chantal and Phil's handfasting; their hands bound by a piece of Phil's family tartan.
Chantal and Phil chose to give rings to one another too, which they picked at Galio Jewellers in St. Albans.
These gorgeous, atmospheric images are by Chantal and Phil's photographer, Sandra of Divine Day Photography, whose lovely work we've featured here before.
"Sandra is absolutely brilliant. She was exactly what we were looking for in a photographer – she put us and our guests at ease and really fit in to the group –it was almost as if she was one of the guests.She's so clearly captured all the emotion of the day and all the joy that was around us.We were very nervous about the photos of the two of us, but she helped us laugh our way through it and we couldn't be happier with how they have turned out."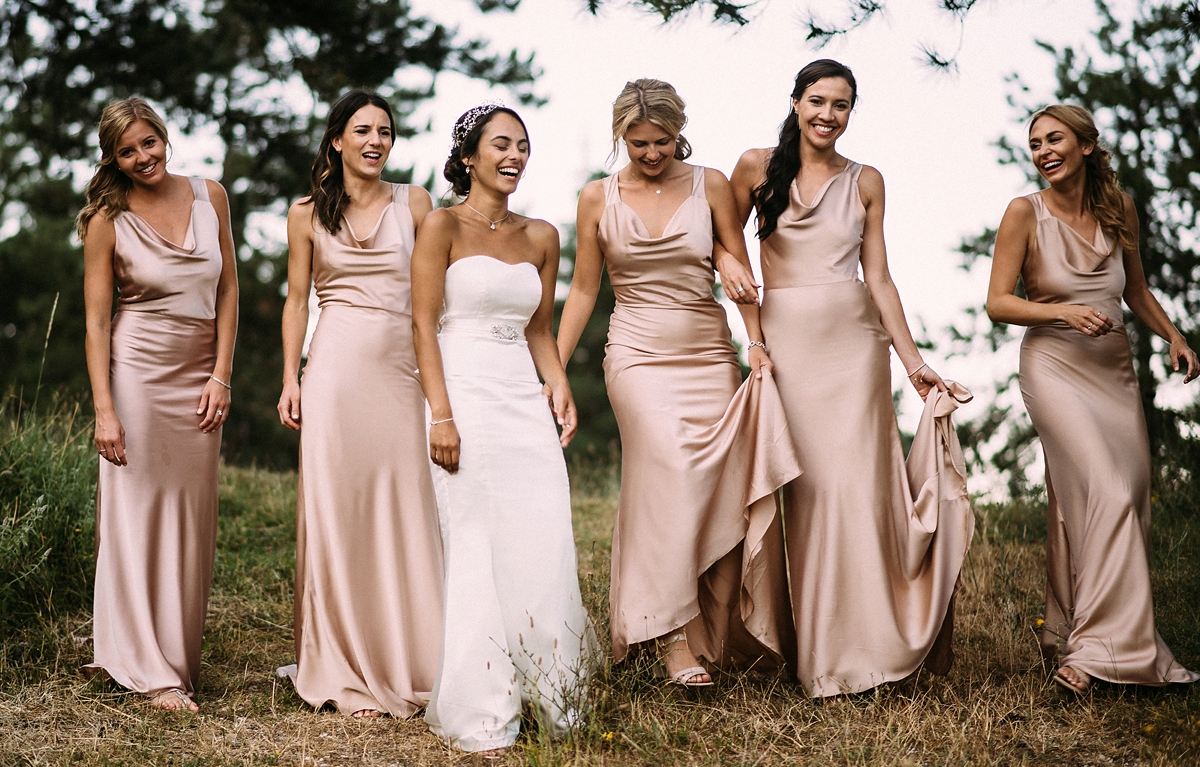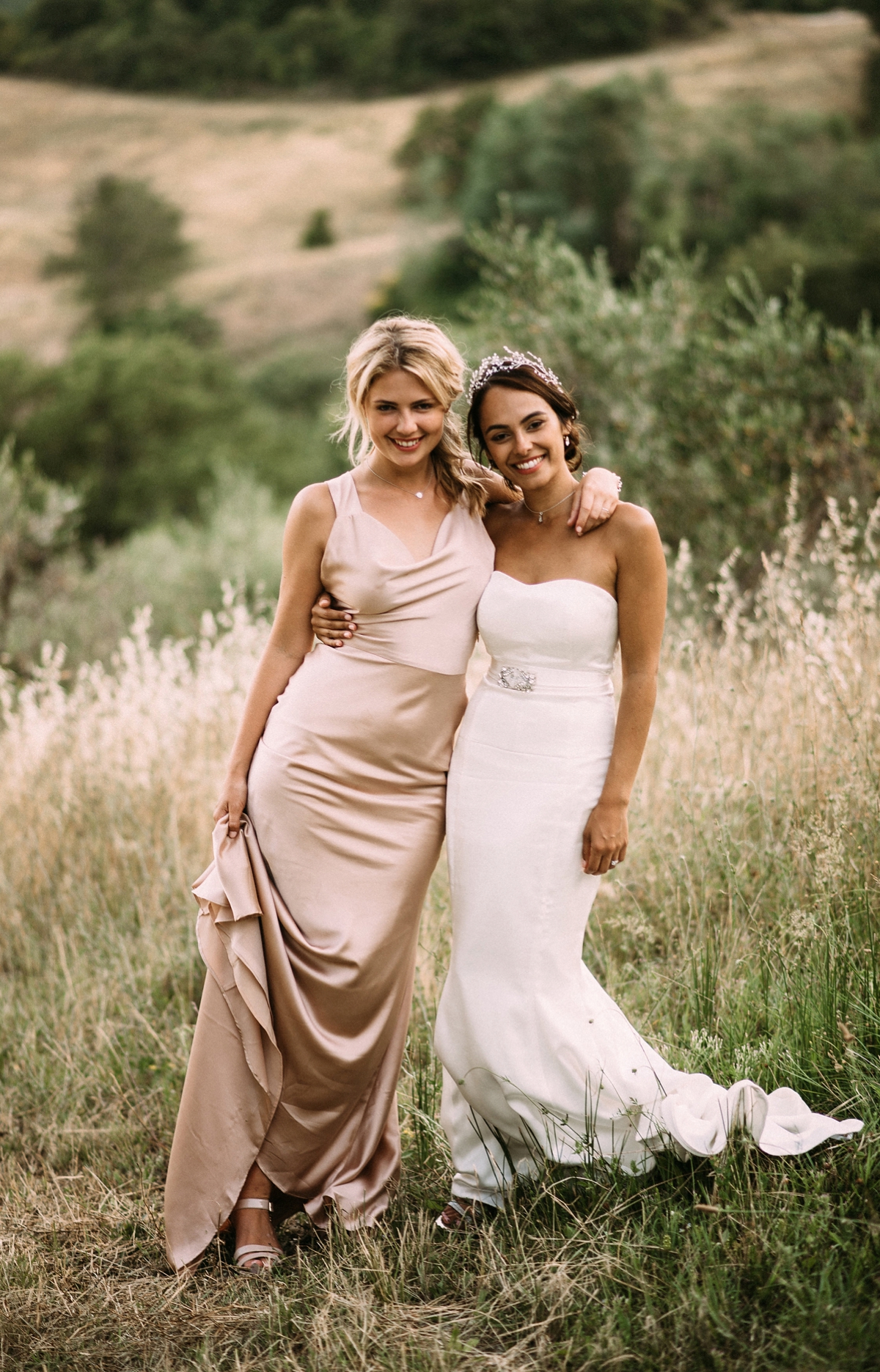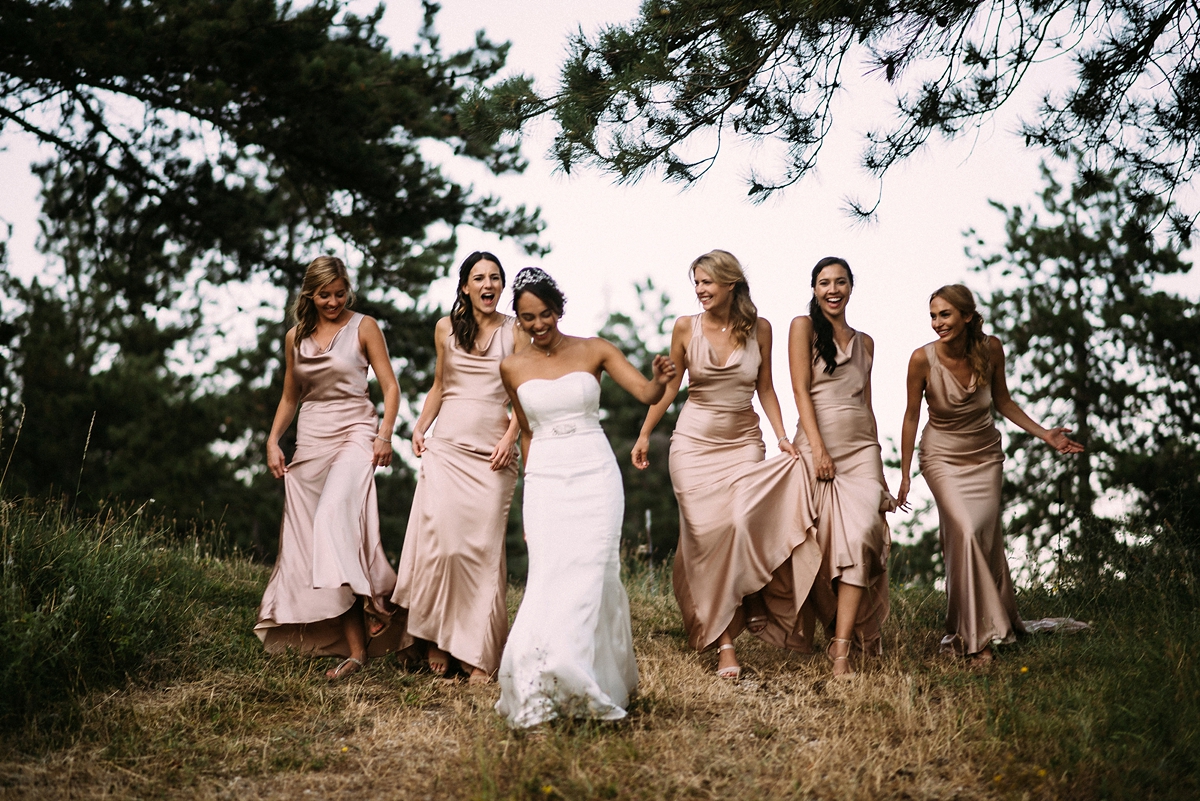 "Our venue is such a stunning setting, so we wanted to make sure the styling was very natural,and the scenery and views could really speak for themselves.Our colour scheme was green, cream and blush to keep the colour palette as neutral as possible."
After the ceremony there were drinks and canapes served in the sunshine before everyone sat down to a feast provided by a restaurant local to Casa Bruciata (no further details provided).
On-the-day stationery (and invitations, too) were from Papier, and menus and were handwritten onto mini chalkboards by Chantal's sister-in-law, who also wrote name cards for the table settings, too.
"To avoid spending more money on printing a large table plan and shipping it to Italy, we printed these ourselves onto card using the graphics from our invitations and had the groomsmen show guests to their seats."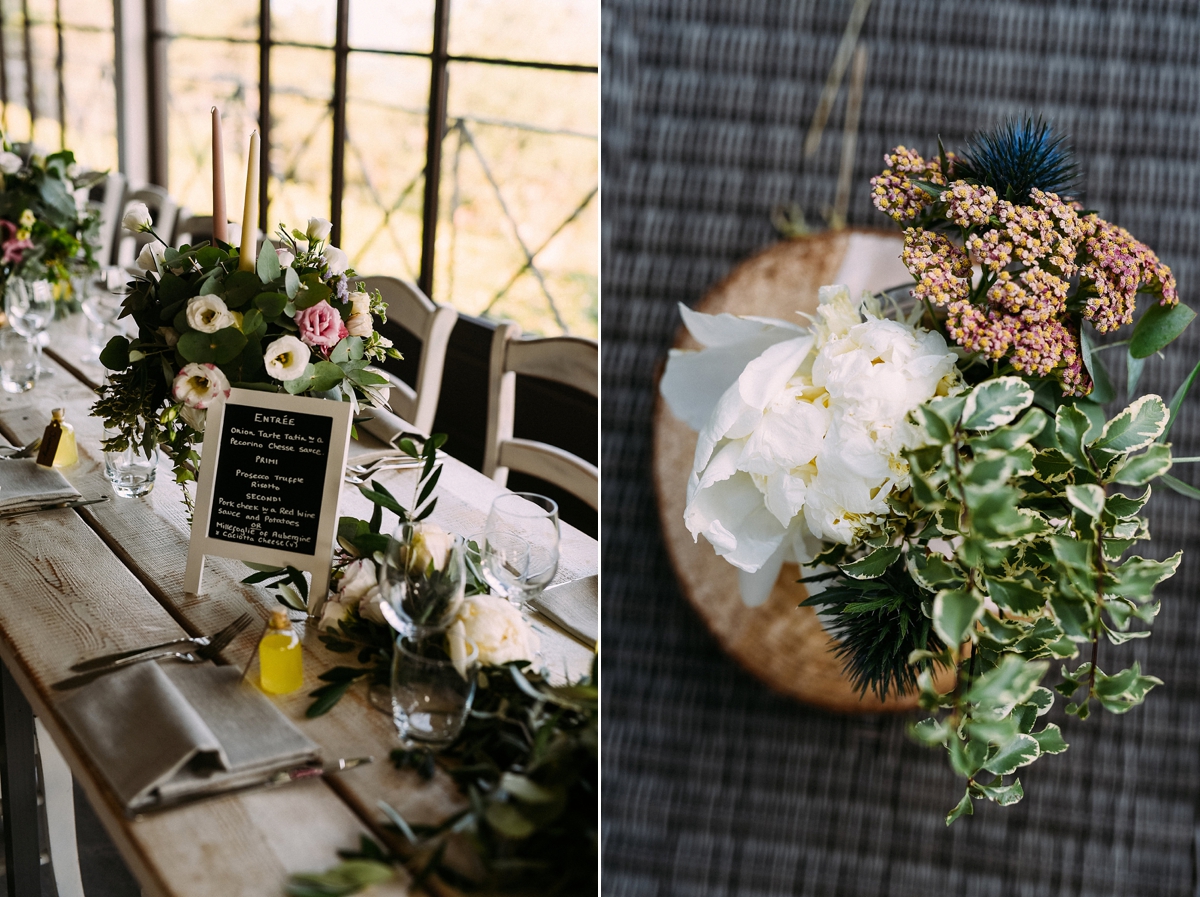 Gabriele at Casa Bruciata, and florist Roberta worked their magic on the styling and decor, with beautiful pedestal arrangements and garlands of flowers and candles on long, rustic dining tables. Chantal and Phil also added solar-powered fairy lights to wrap around the olive trees at the entrance, too.
"We had mini bottles of limoncello as our wedding favours which also served a dual purpose as our place settings. We shipped 90 glass bottles from Amazon over to Italy…and put the wedding party to work filling them with limoncello."
"The cake was a traditional Italian millefoglie and was included with the dinner selection at the venue. Neither of us wanted a traditional wedding cake so this was perfect."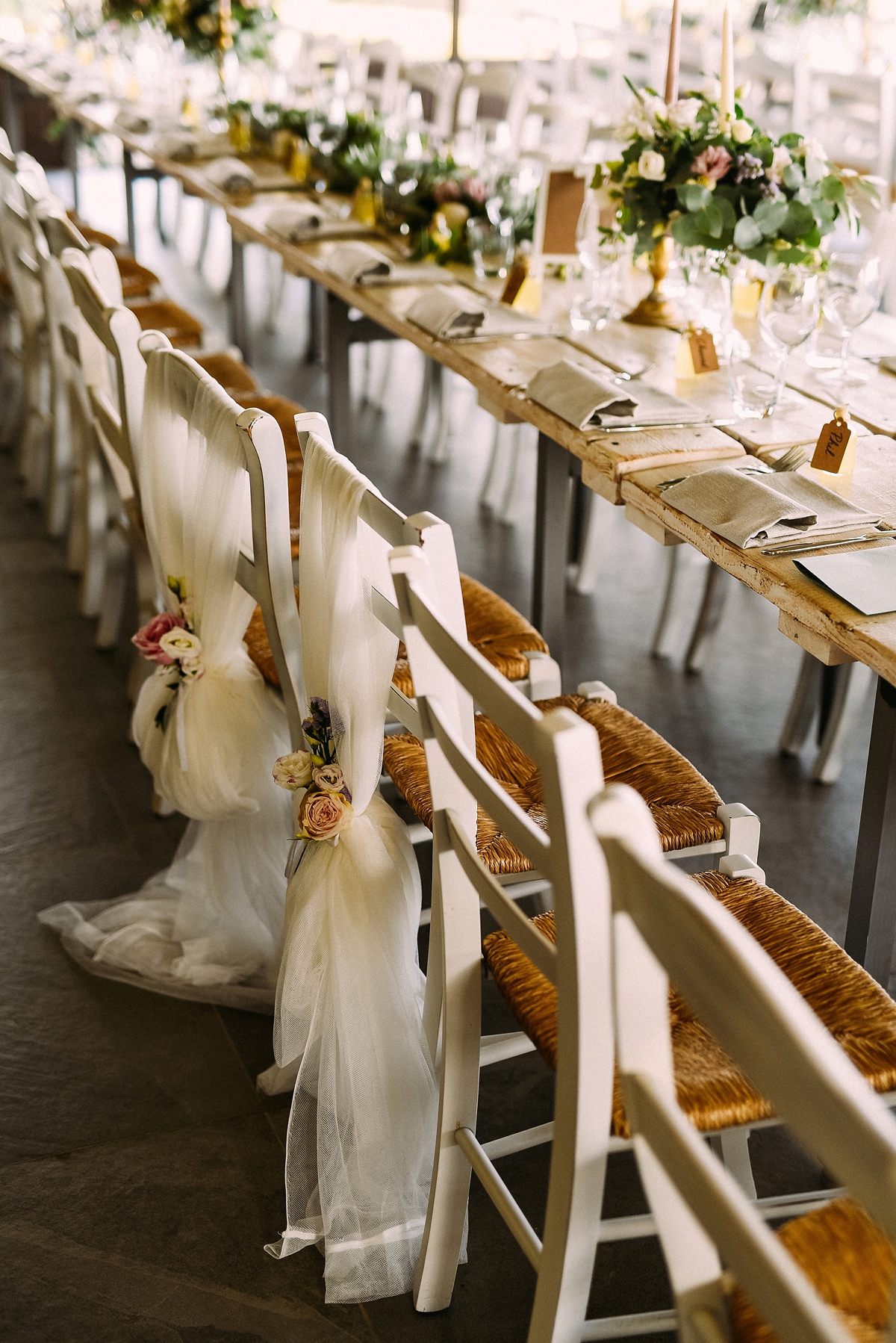 The newly married couple and their loved ones were treated to a glorious burnished sunset, and later in the evening, fantastic live music from band Roameo.
"I cannot recommend them highly enough! They really made the party and big bonus points for learning our slightly unconventional first dance song (a mashup of 500 Miles by The Proclaimers), which turned the dance floor into a mosh pit within the first opening notes and avoided an awkward first dance, which neither of us was keen on!"
"The band opened with a slow cover of the song by Sleeping At Last and then built up to The Proclaimers' original version…This track gave us the opportunity for the slow dance everyone wanted before very quickly turning into the upbeat track for everyone to join in. However, we didn't quite anticipate the mosh pit that ensued and nor did the band!"
"There were so many favourite moments, we couldn't possibly choose. It feels like a cliché to say that it was the best day of our lives, but it was even better than we could have imagined or hoped for.The best and most surprising thing was the atmosphere at the wedding, during the whole weekend."
"There was so much joy and so much love between our friends and family and it made us realise that what brings us together as a couple are the same values and bonds shared by our respective friends and family. It was a joy to genuinely watch the two sides come together so perfectly."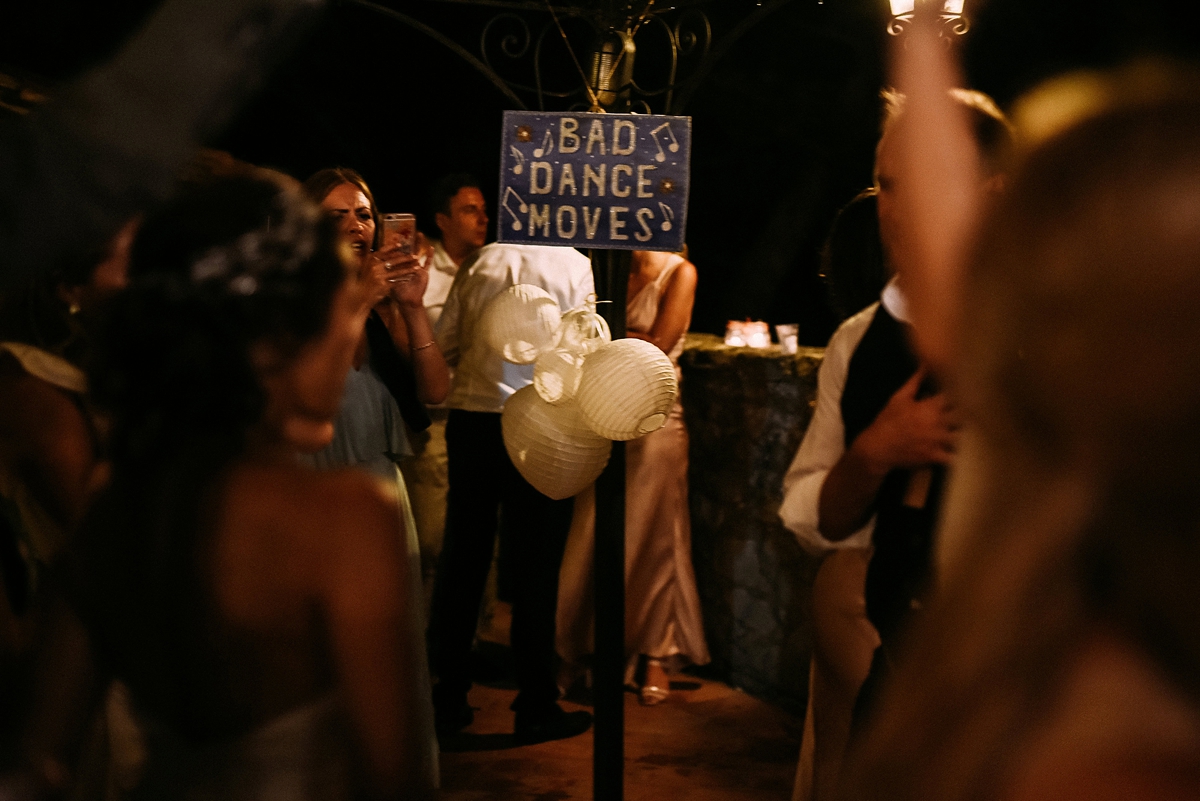 Words of Wedded Wisdom
"Focus on what is important to you both and make sure the day reflects you as a couple. It is easy to get distracted by Pinterest / Instagram and other people's opinions and lose track of what you want out of the day and the reasons why you're getting married."
"Make sure you take a moment, or regular moments to just sit back and enjoy it. Phil and I spend most of the dinner doing that – watching our guests and taking it all in, feeling all the energy and happiness in the room. No matter how long the day is, it's over in a flash, so make sure you enjoy every minute."
"If you can, spread the celebrations out over a couple of days. We had a pizza night at the venue, the day before the wedding, with only family and our bridesmaids and groomsmen and then a pool party/barbecue the day after with all our guests. It prolonged the celebrations and also meant that we got to speak to everyone in our own time. There was no rushing around on the day worrying about who we hadn't had the time to speak to so we could enjoy it exactly how we wanted to."
Chantal and Phil, thank you so much for sharing your spectacular day with us. Huge thanks to Sandra from Divine Day Photography, too, for these beautiful images. If you're searching for more Italian wedding inspiration, we have lots to see here.
Until next time!
Love, Laura