Lovelies, what a beauty of a wedding for you today. We're heading north to the windy shores of Loch Venachar for the marriage of Karita and Rachel.
The brides created the most wonderful day to celebrate their love for each other, and I can't wait to share it with you.  The couple are Karita, a restaurant manager and Rachel, who has just had a career change from cheffing to hospitality management. They married on 28 April 2018 at Venachar Lochside, Callander, Scotland, and created a relaxed, dinner party style celebration which made the most of time with friends and family. Karita and Rachel fell in love with the venue's rustic, laid-back feel and its magnificent setting close to their home town of Glasgow; their simple foliage and subdued pink floral decor let the Scottish landscape sing, as you'll see in these wonderful photographs.
Photography Claire Fleck Photography
Pinterest and Love My Dress were the main source of inspiration for the Karita and Rachel, who got engaged after one year together.
"I quickly realised what felt right for us. Instead of a very 'put together' wedding we decided to have a relaxed, more of a dinner party style wedding with lots of lovely food and drink. I loved the 'Real Weddings' pages on Love My Dress and I still read the blog although I'm now married. Seeing moments of other couples special days and reading their words of wisdom really helped us remember what was most important to us. You often see these perfect photos of wedding in the magazines and websites that in reality only few of us can afford. I liked reading stories of couples with similar budgets as ours. It really made me feel as if I too could have my perfect wedding."
If you're thinking of going for bridal separates then I hope that you take inspiration from Karita's choice of outfit; I fell in love instantly with this elegant, ethereal three-piece from Catherine Deane which allowed Karita to really channel her own style with the fitted bodice, full skirt and lacy over-layer. Oh and what about those emerald green shoes?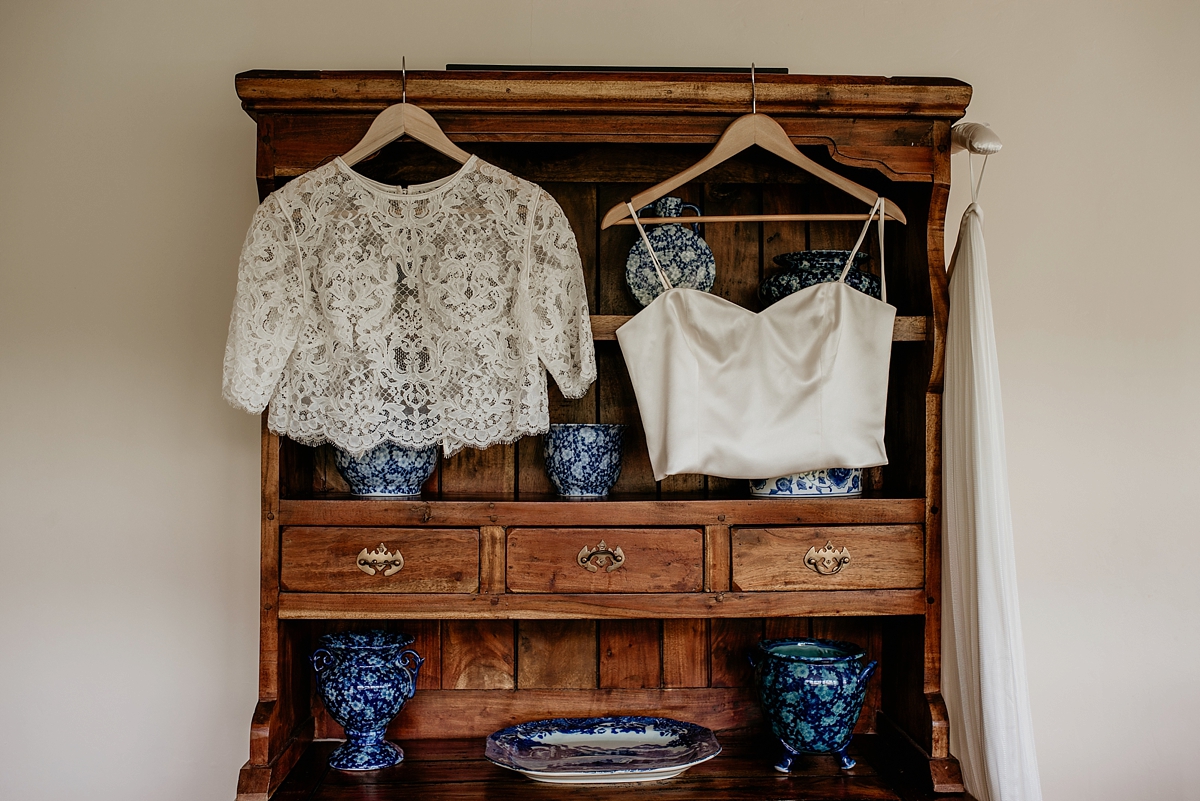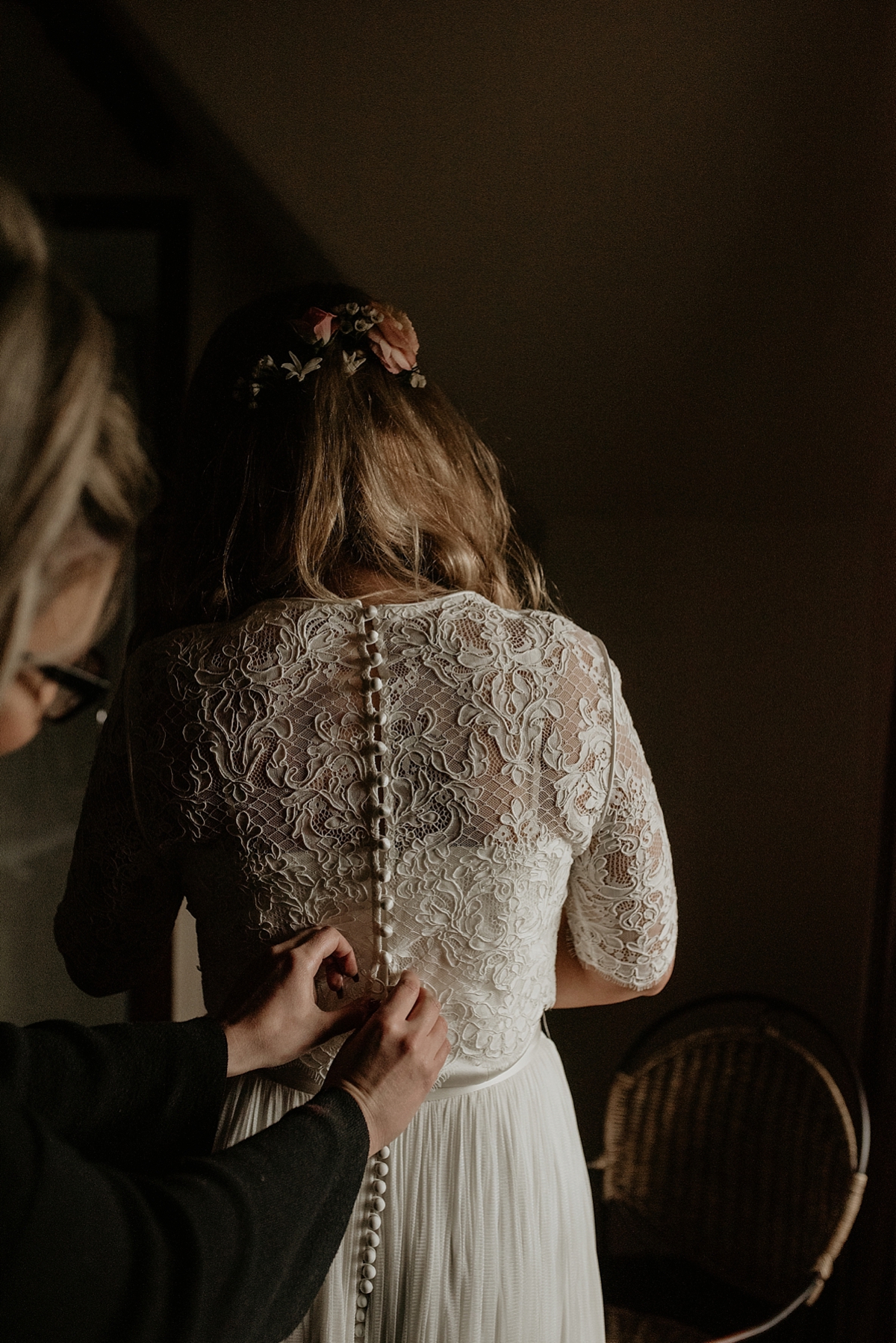 "I tried on so many dresses in Scotland as well as down in London but all of them felt either too dressy or not dressy enough. My final appointment in London was with Catherine Deane. I tried on a couple of dresses as well as separates and found my one. The three-piece felt so comfortable and I loved the lace and button details along the back. It was also a mid-season sale so I ended up paying just £700 for everything!"
"I was determined to have my wedding shoes in my favourite colour but it turned out near enough impossible to find them. I looked online and in shops and was almost ready to splash out on Manolo Blahniks when in the middle of my Christmas shopping spree I found my ideal pair – block heeled, closed-toed Clarks, that I won't get scared to ruin."
[JP-VIDEO]
"I wore little gold and diamond hoop earrings that were one of the wedding presents from Rachel."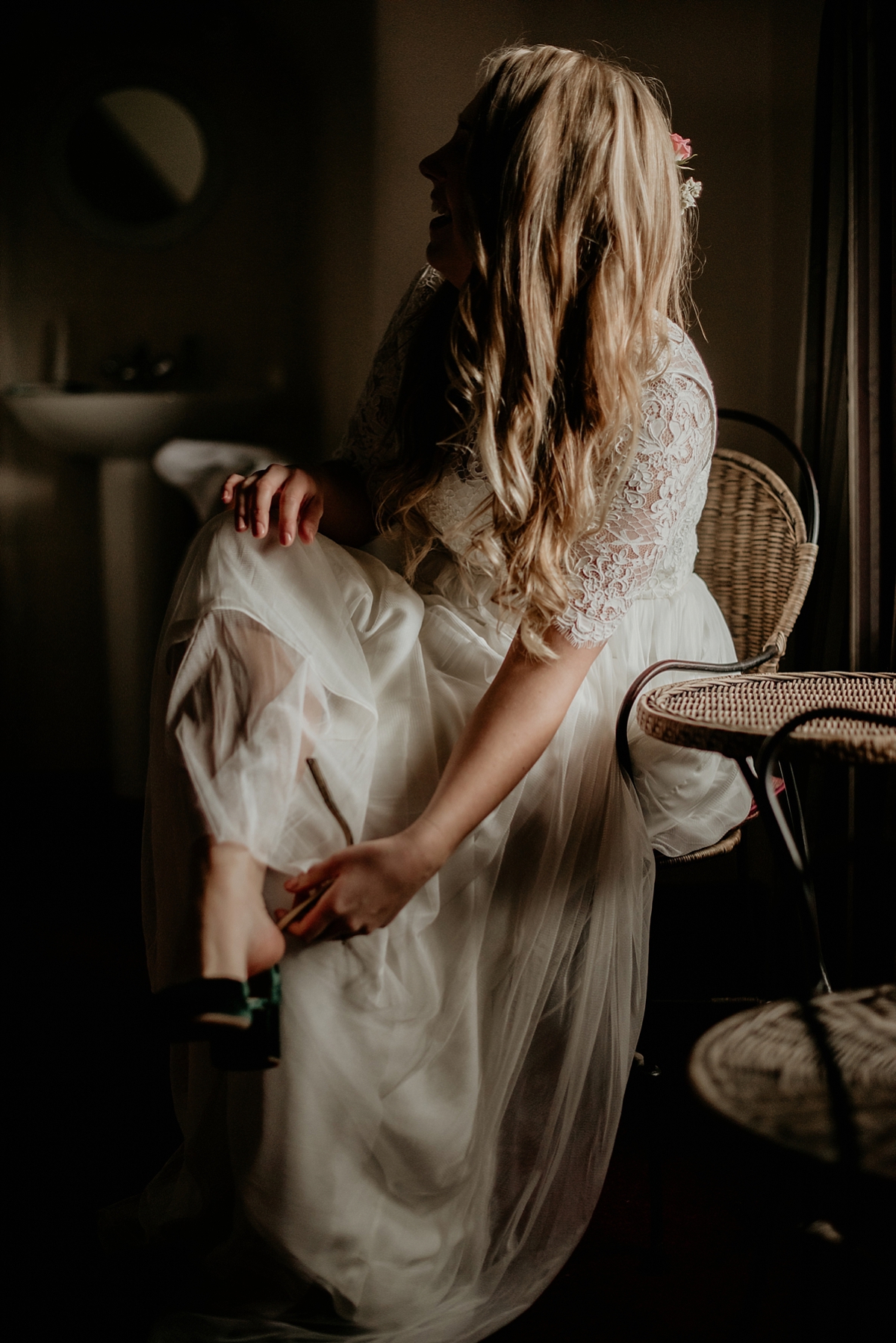 It's amazing just how well Karita and Rachel's bridal looks compliment each other, with both of them choosing exquisite, graceful pieces that are soft and romantic. Rachel found her perfect Stella York gown at Sarah Louise Bridal in Glasgow. I love the Art Deco-esque, scalloped beading on the bodice's back. So dreamy. She added a touch of blue with embellished Kurt Geiger heels.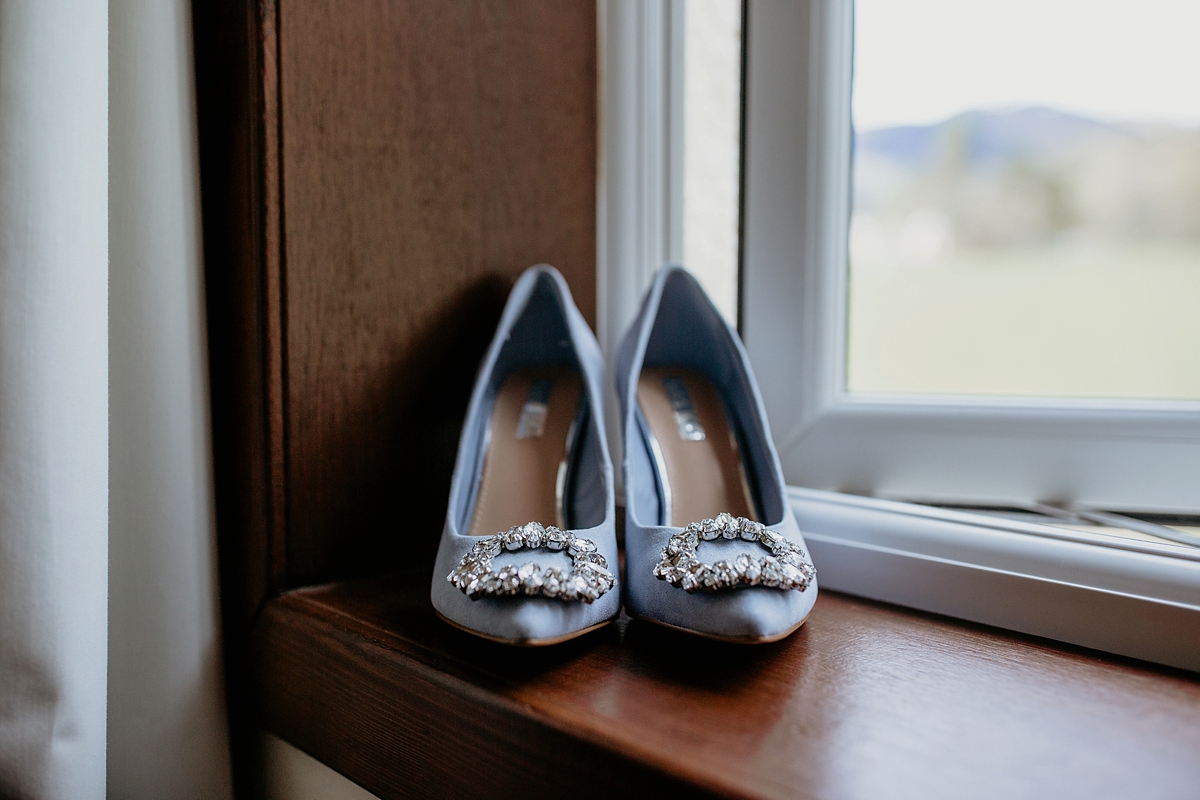 "I'm not your usual girly girl but I always dreamed about my wedding day, so I was almost 100% sure of what kind of dress I would like – a sweetheart neck-lined body-hugging white dress, not too blingy not too puffy. Together with my sister and mum we headed to the Sarah Louise Bridal in Glasgow and ended up browsing thought the dresses, each choosing one for me to try on."
"To my huge surprise my dream dress (my own choice) looked awful on me. I hated it. The second dress (mum's choice) I tried on made me look like a granny but the third one (chosen by my sister, who probably chose it for herself) instantly felt like the one."
"It was the exact opposite of what I thought I wanted. The Stella York dress top is covered with sparkle and the skirt is as puffy as it gets."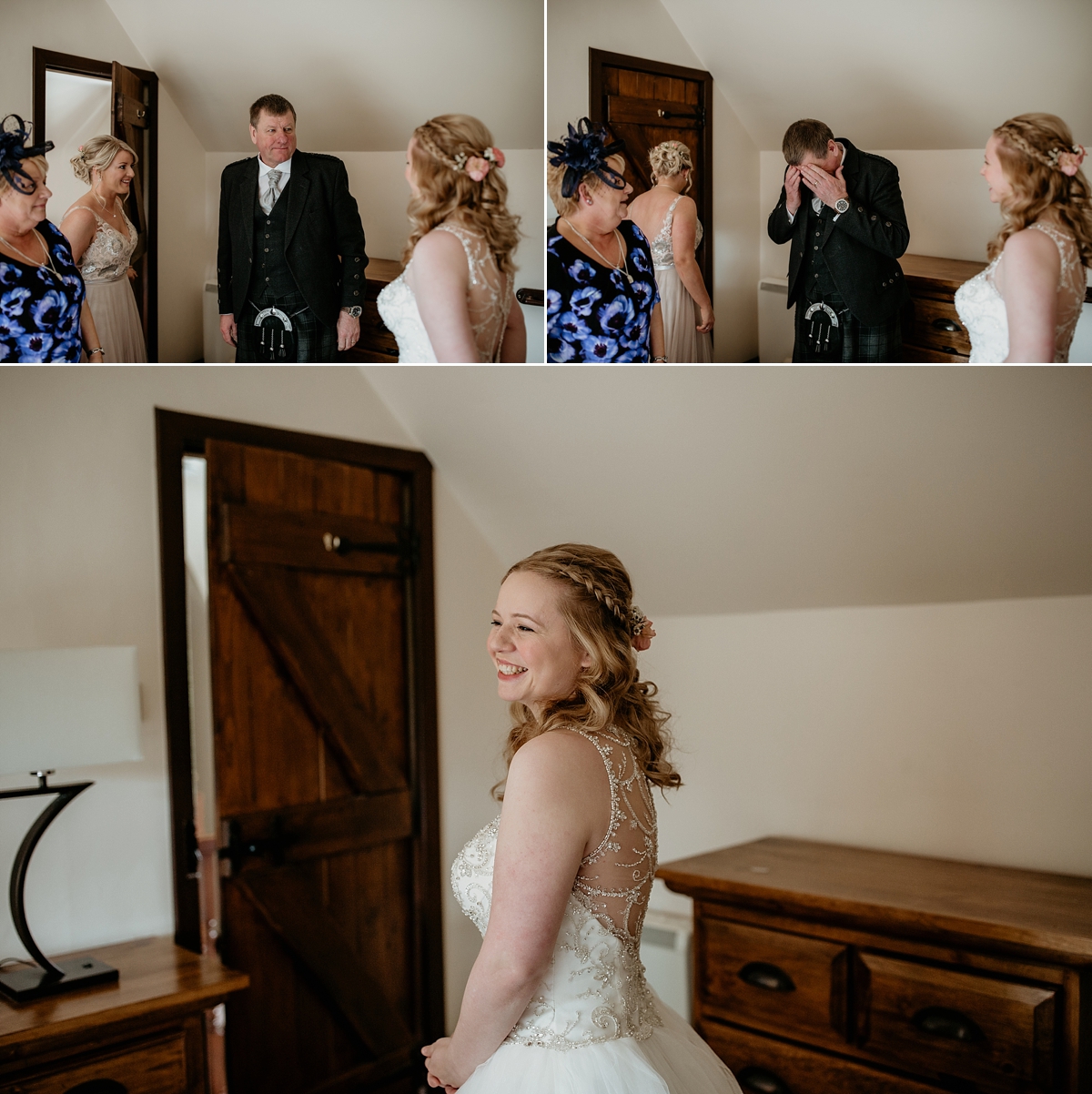 "The truth is you will never really know what suits you until you try it on."
"I wore a locket with my grandparents' photos in it – a wedding present from Karita – and a bracelet from my sister Lynn that she gifted me on the day of the wedding."
"We spoke to quite a lot of florists around Glasgow and Stirling area but the most reasonable quote was offered by the girls from Endrick Blooms. We knew what we wanted for the day, and even though I (Karita) love flowers I was not willing to spend a fortune on the arrangements."
"The girls from Endrick Blooms welcomed us to their shop with open arms and every meeting with them was personal yet easy-going. We chose the colours of our arrangements to be cream and white with touches of pinks and blues as neither of is really fond of bold colours. We wanted everything to be kept quite natural and fitting to our venue."
Karita and Rachel first met at work in 2015 and their love grew from a strong frienship. Karita, who is originally from Estonia and came to Scotland for university, explains more.
"It was the end of summer 2015. I had spent the entire end of August and the beginning of September living in London training for a new job position. I had just arrived back in Glasgow to start the job, moved into a new apartment and I was basically ready for all the new beginnings. It was the time in my life when an old relationship was coming to its end and my heart was open and ready to love again."
"I found out later it was about the same time Rachel's life was full of changes. She had lost her grandfather at the end of July and the things in her love-life were slowly fusing out."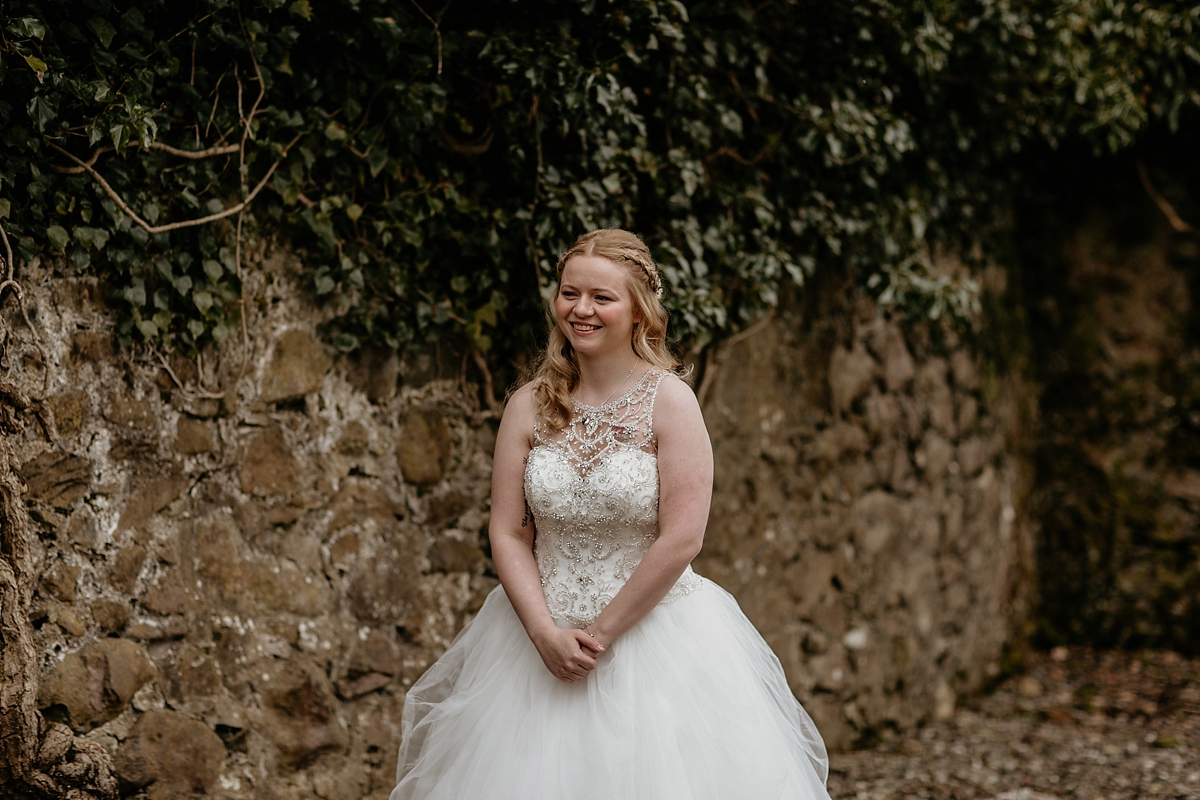 The 'first look' photographs are some of my favourites; there is such joy and love on the girls' faces and the location is awe-inspiringly beautiful.
"Rachel: My favourite time of the day was when we had our "first look". Karita and I are so close it was odd not to see her for the whole morning, but seeing her during the first look and seeing how beautiful she was made all the waiting worthwhile."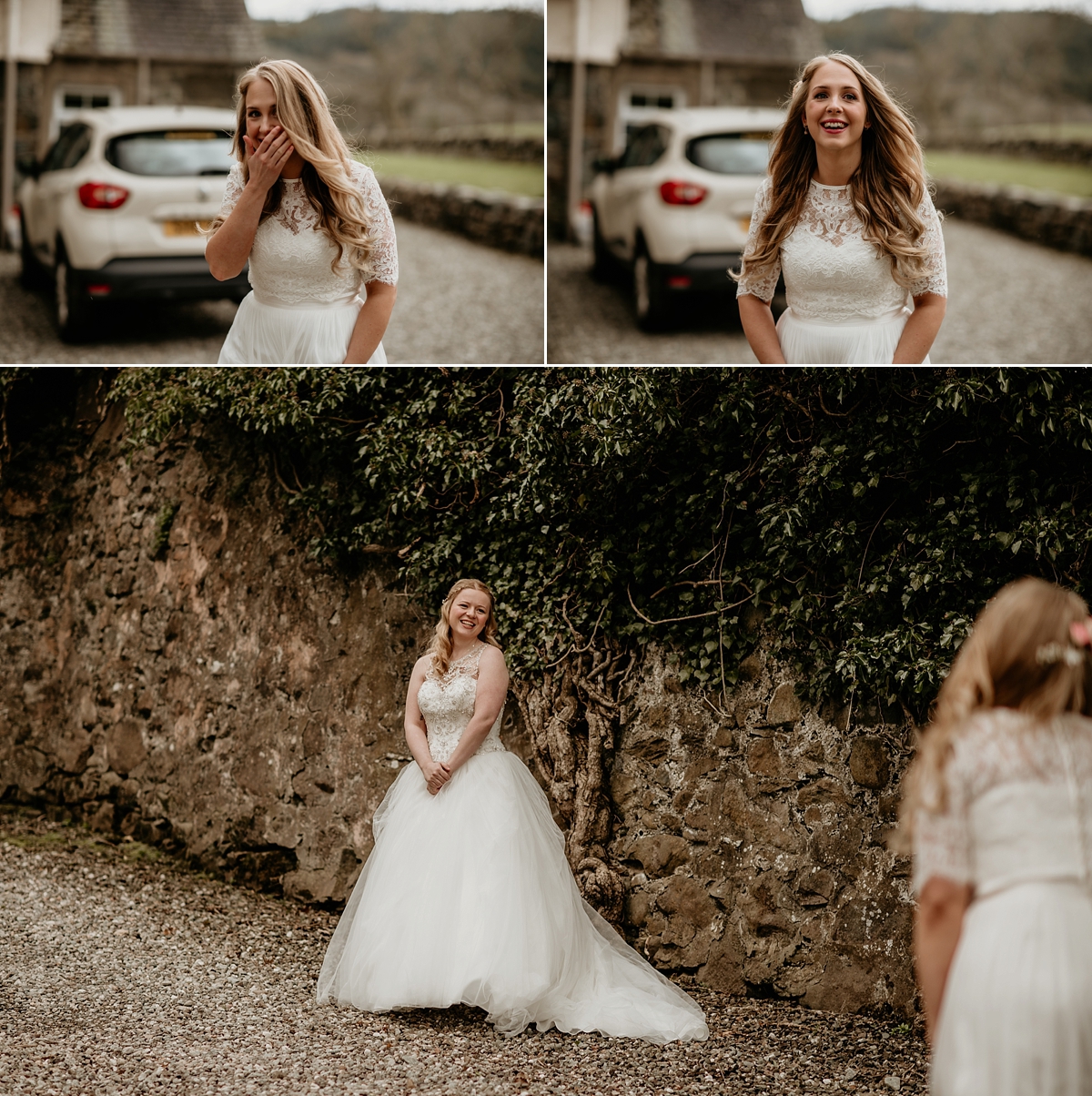 The girls both have the most beautiful hair, which was styled into soft, romantic styles by Kayleigh Gray from Absolut Hair. Caroline McKiernan applied their natural, pretty make-up. Both wore little posies of fresh flowers, put together by Endrick Blooms, in their hair.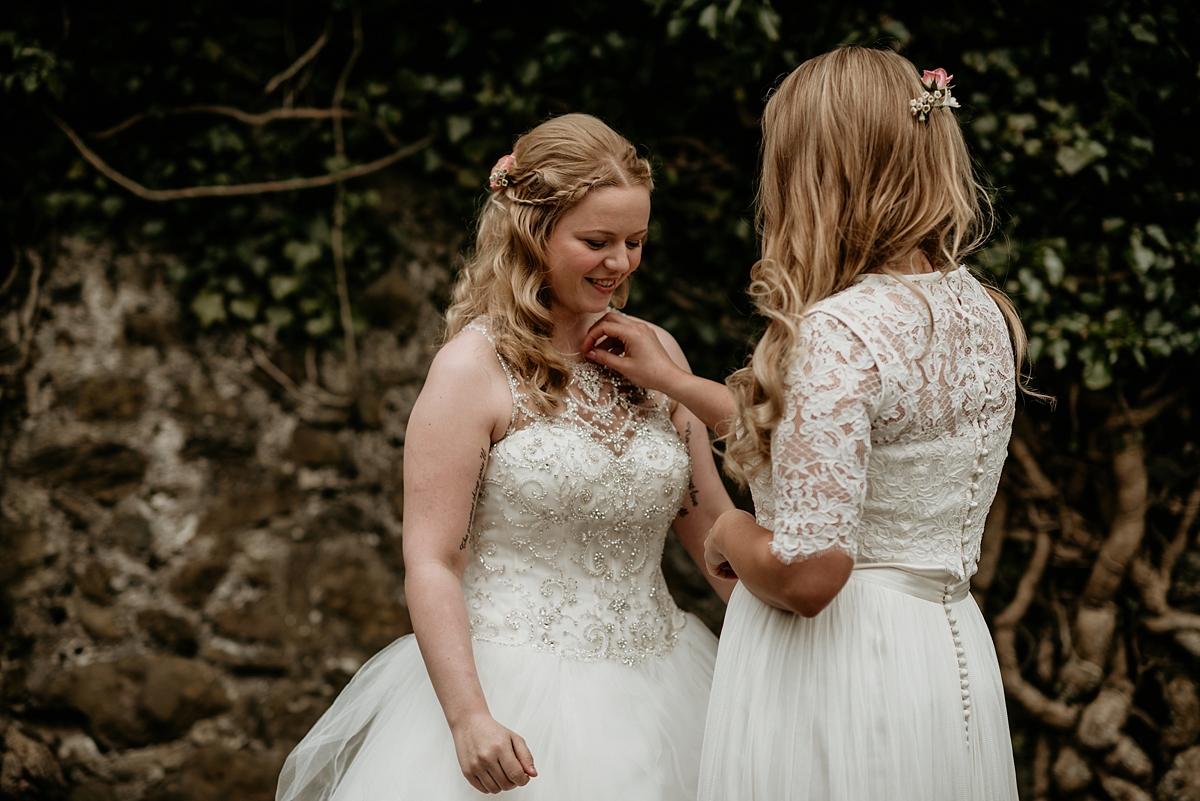 "I started back in work in the end of September and a lot had changed since I left. When I returned to work half the kitchen staff had been replaced. There were three new girls who had recently started – one of them was Rachel."
"I remember on my first day back I sat down for a catch-up with my general manager and whilst we were speaking I could just see this short little blond-haired girl drowning in these XXL chef whites working away behind a food pass. I was instantly drawn to her. They talk about 'love at first sight' and I think that's what it was."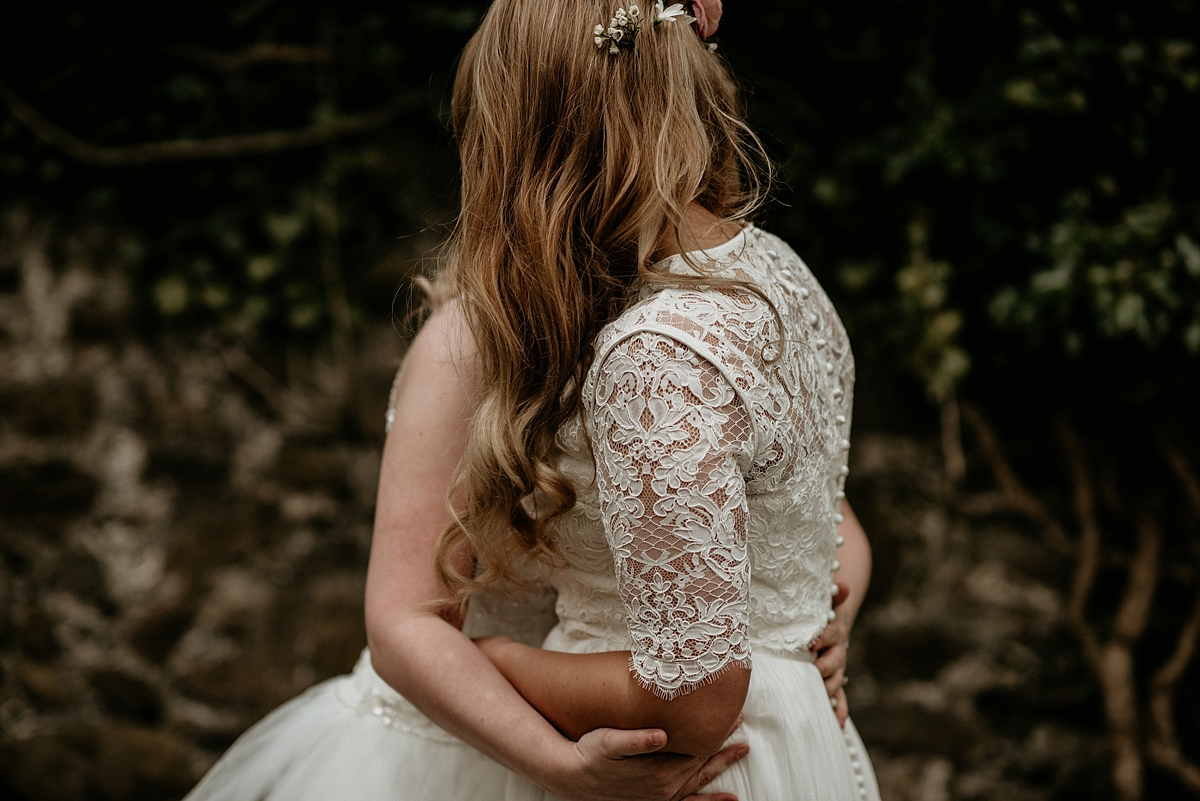 "We quickly became friends and I would always make an effort to have a chat her even though she was so incredibly shy and would hardly ever look me in the eyes (she later admitted she knew her eyes would reveal her real feelings)."
"Rachel is naturally such a people pleaser so she would always bring me treats. Her nice and caring nature was just so refreshing and new to me."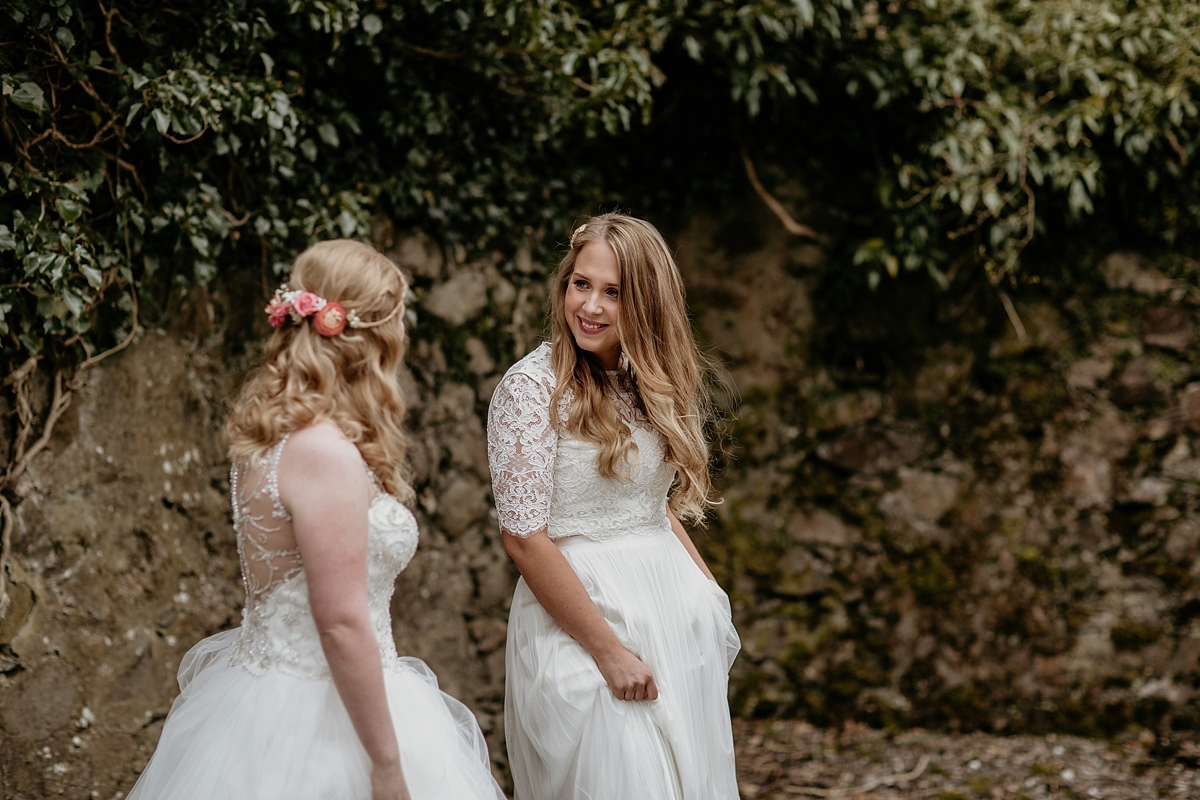 "One day after a long shift when Rachel was giving me a ride home I confessed her I liked her, that I liked her more than just a friend. I think she freaked out as she kind of just sat there and kept saying sorry."
"Rachel had never had a girlfriend before and at the time I was still in a relationship with my ex, so the situation was not simple for either of us. I remember really struggling to accept that she only saw me as a friend so I told her to stop being so nice to me and making me fall in love with her. From that day nothing really changed until a month later when I travelled to Thailand for a family holiday."
"As they say, 'distance makes the heart grow fonder'… three days into my travels and there she was admitting her love for me via text message. We have been inseparable ever since. This love was definitely built on a strong friendship."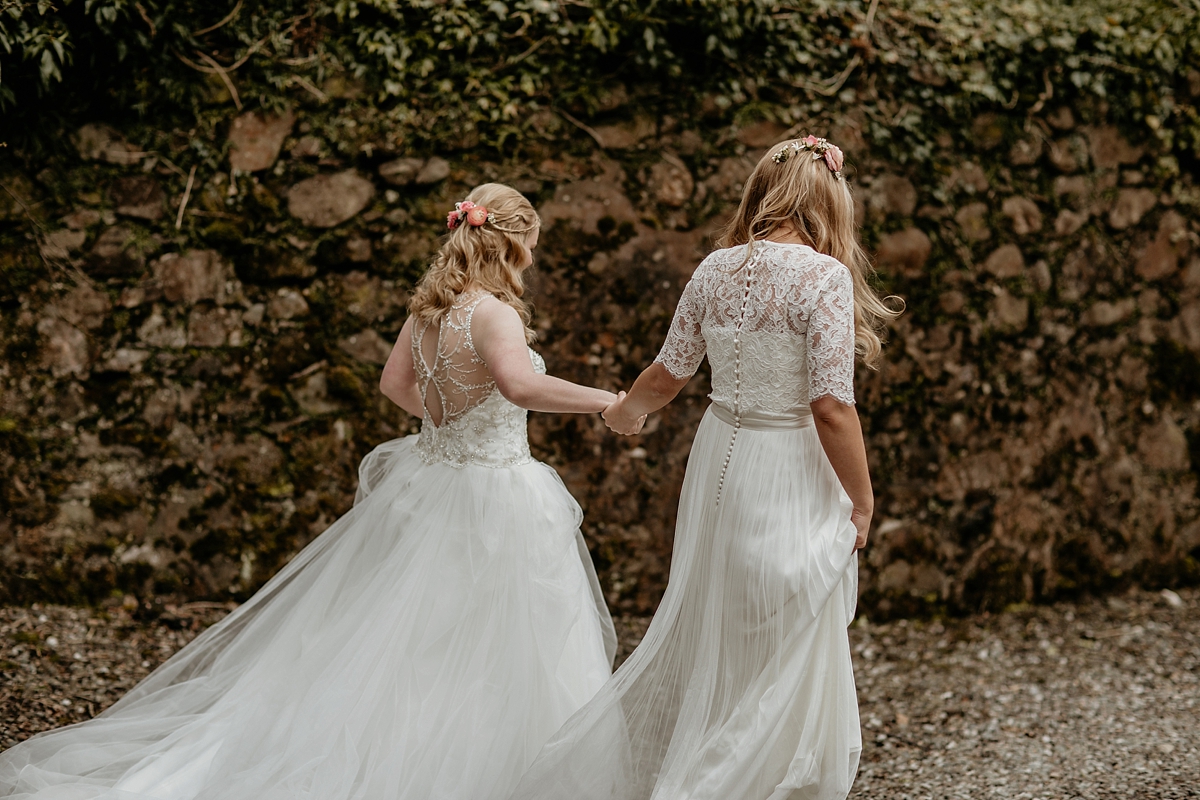 The girls' choice of venue fitted in with their dream of a natural, relaxed celebration.
"We both have always loved the sea and the countryside, so the idea of a hotel wedding just didn't appeal to us at all. We searched for all kinds of country venues online and the first one to fit our budget and that was close enough to Glasgow (our hometown) was Venachar Lochside."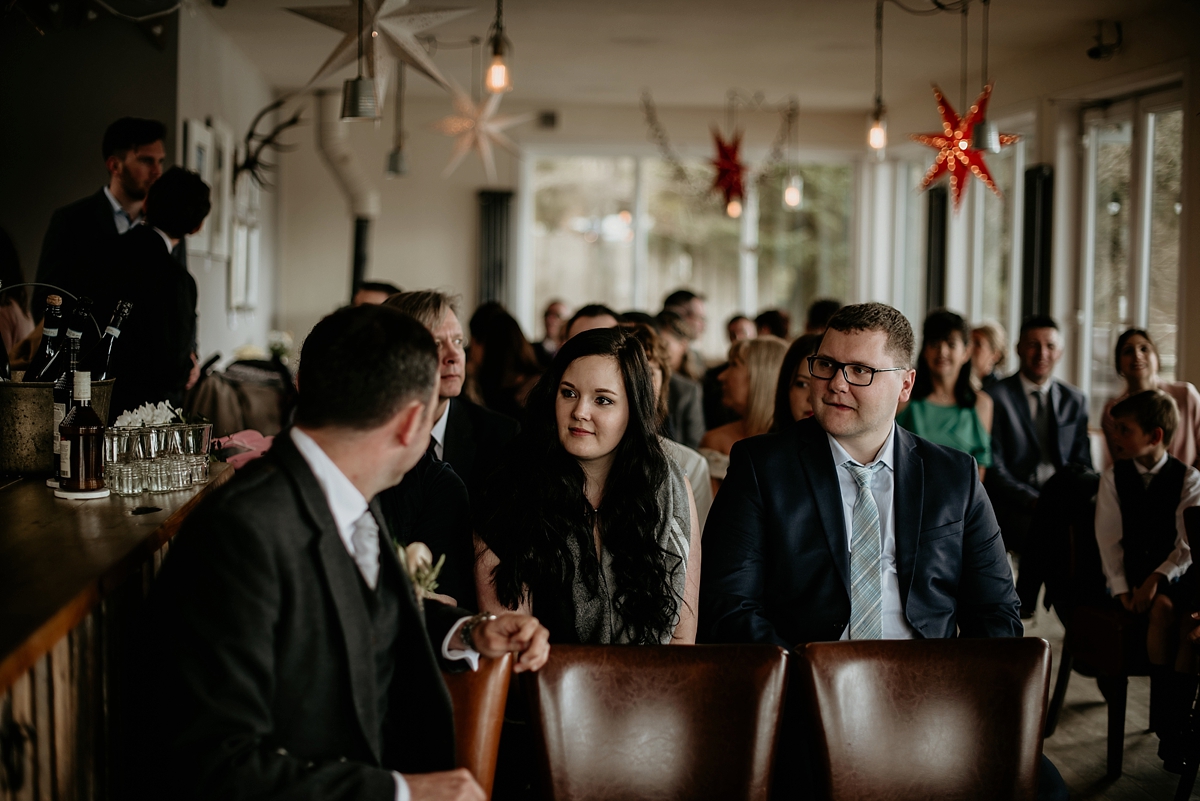 "We fell in love with the beautiful scenery of  Loch Venachar as soon as we arrived and from there on everything else  just kept ticking all our boxes. The owners of the venue are so passionate about what they do, starting from the delicious food they serve – Venachar Lochside has been awarded with Scottish Thistle Awards twice."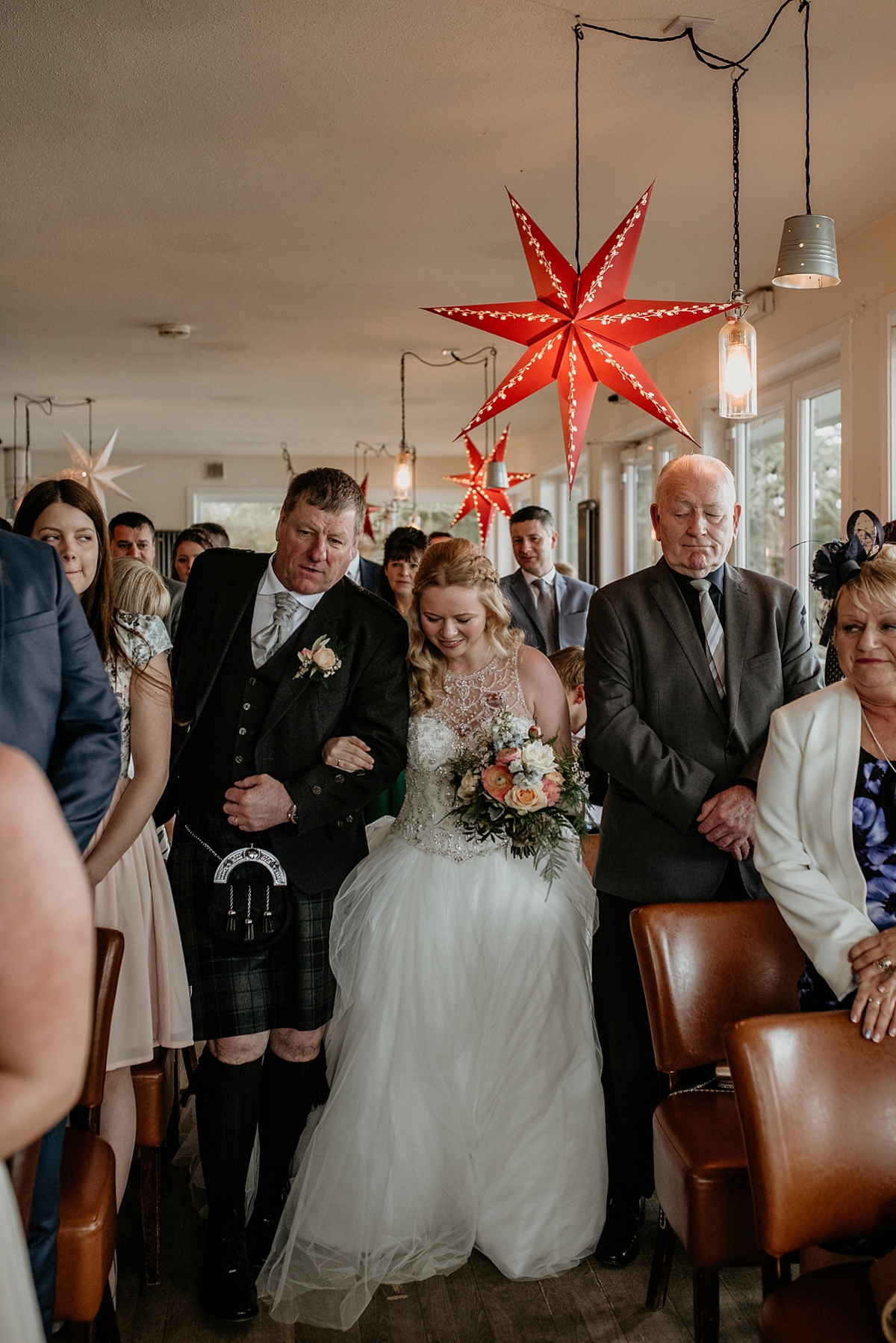 "The venue itself has a lovely rustic and relaxed feel to it and that was exactly what we were looking for."
The ceremony room has breath-taking views over the water, and needed little decor apart from the wonderful floral arch and hanging branches.
Rachel walked down the aisle with her father Ian and Karita walked in with her bridesmaids to the sound of Matt White's 'Love'. The couple have shared details of their heartfelt ceremony with us.
"We did not write our own vows as we were both certain we would burst out crying and be unable to finish, so we decided to choose one of the vows suggested by our celebrant: 'I promise to love you and trust you, to be honest with you and to be faithful to you. I promise to be loving and supportive wife to you for as long as we both shall live'."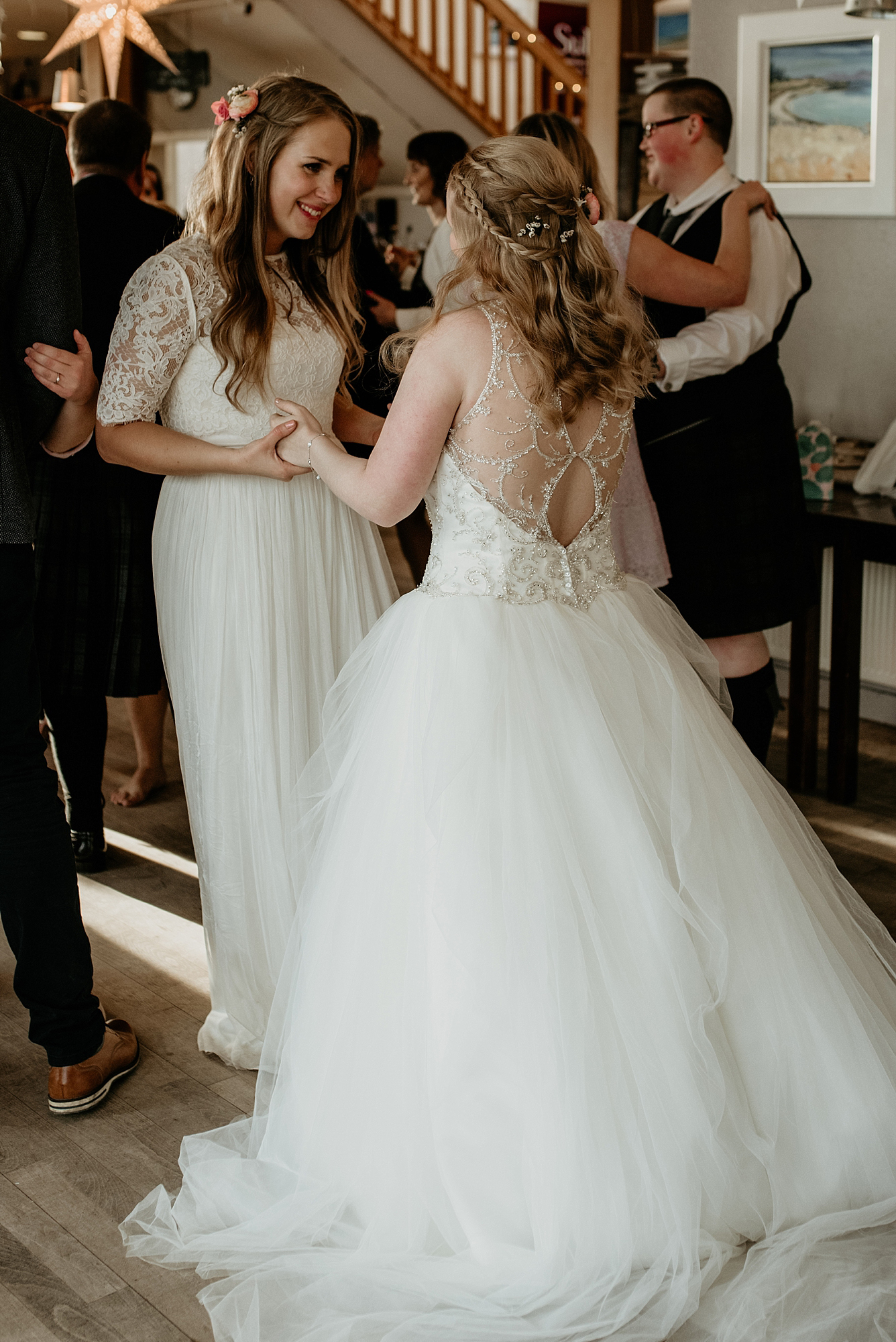 "One thing that we did create for our ceremony were three little things about each other. We both wrote down one thing that we love about the other, one thing we hate about the other and one hope for our future."
"Colin, Rachel's brother-in-law, did a reading by Emma Salmon called 'My Future'. We loved this poem because it felt real, as this could be our life, as this was the future we are dream of."
The couple found and designed their rings online with Orla James.
"We loved the fact we could basically design our own rings and it was all done via the website. Karita went for a round court 3mm gold band with a 2.5mm diamond in it and Rachel for a 3mm white gold flat court plain ring. Both rings have an engraving with each other's name and the wedding date in them."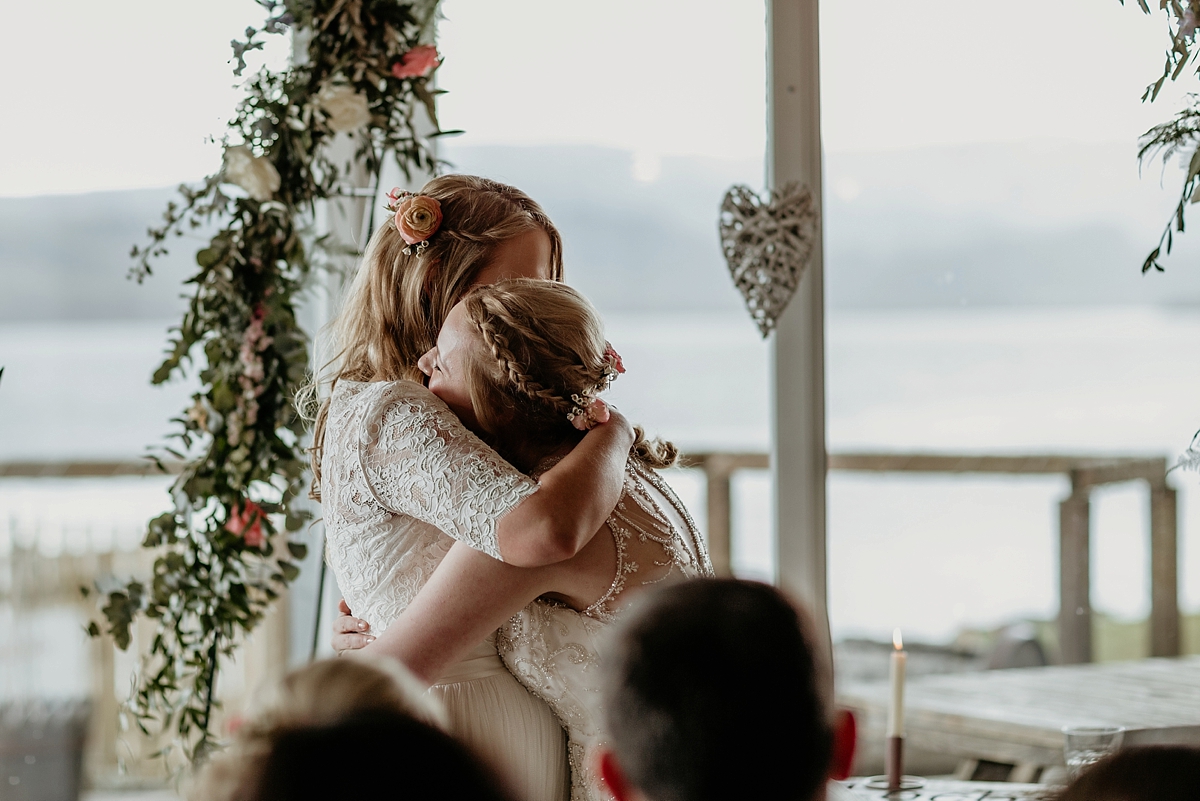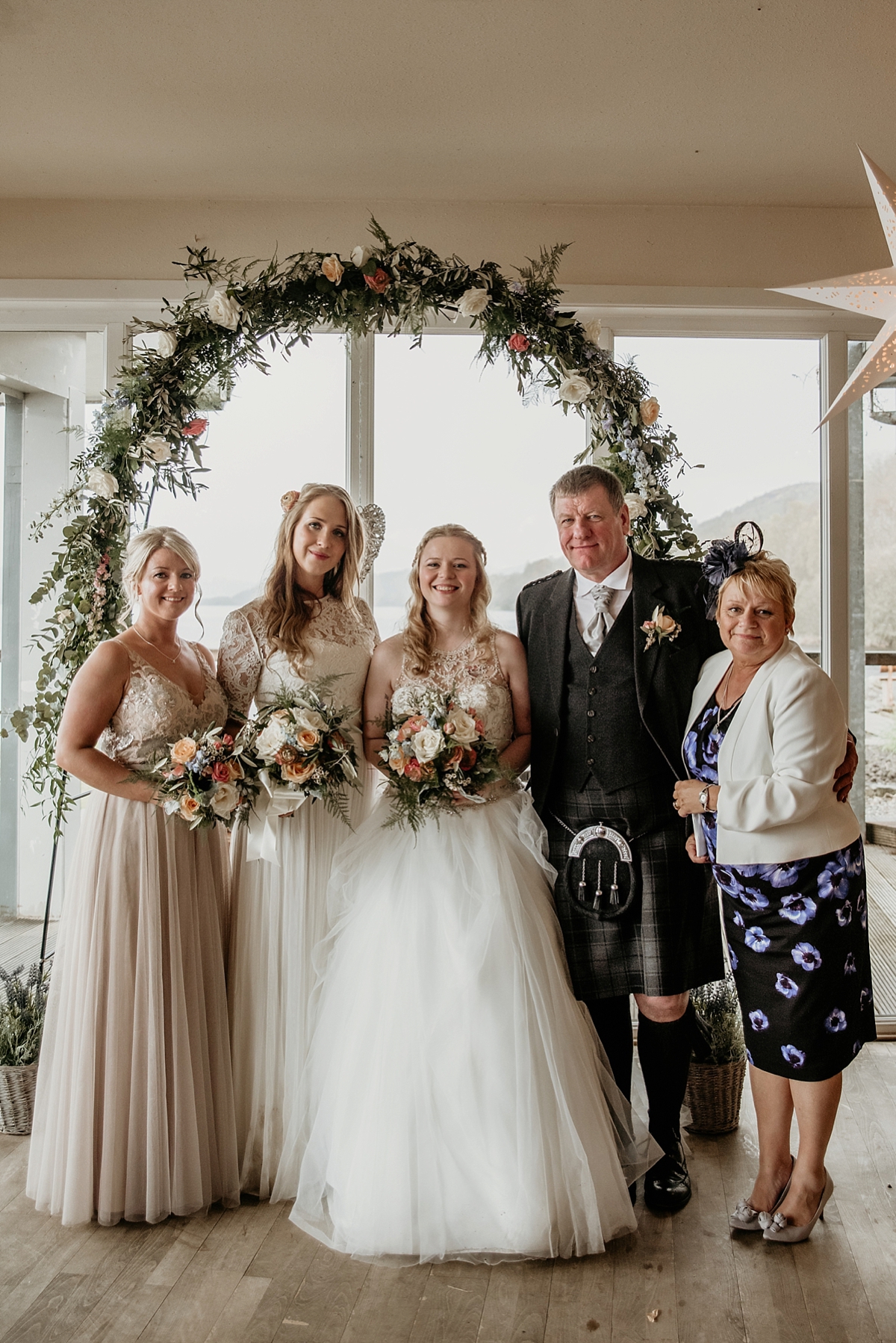 Rachel's sister Lynn was her bridesmaid, wearing a sparkling, embellished Watters dress. Karita chose two bridesmaids, who selected dresses in a soft blush pink from Sandro and Estonian designer Xenia Joost.
"Kaidi wore Monica Vinader rings, one of which was a present from Karita. Kelly wore her own earrings and a rose quartz bracelet from Etsy."
I love how both brides had a best man, who both wore traditional Scottish outfits from Slanj Kilts. Oh, and the two cute page boys were immaculately fitted out, too.
"Dillian wore a kilt from Slanj Kilts in Glasgow and little Brodie wore a suit from Next with a pair of Converse purchased from Schuh."
After the ceremony came time to relax with friends, family and the couple's dog as well as an opportunity to get more photos with the loch as a natural backdrop. I'm sure you'll have spotted the pair's gorgeous little beagle, who played a starring role in Rachel's surprise proposal to Karita.
"In November 2016 we went to a little city break to Dublin and then Rome. It was our last holiday abroad before getting our beagle puppy, Harley. The entire trip was lovely but I could tell Rachel was hiding something, she was so protective over her luggage."
"On our last night in Rome she kept insisting on going for our final little walk around the Colosseum and I knew what she was about to do. After walking around for hours (and no question being asked) I was getting really cold and fed up, so we returned back to the hotel and back home like nothing had happened."
"The next morning we picked up our new fur baby. I remember sitting with Harley whilst Rachel was adding pages to our relationship scrapbook and when she finished she came to show me the new photo additions."
"I was flipping through the pages and as I got to the last one it was filled with photos of beagle puppies with a message, 'There's one thing mummy R would like to ask' (this being Harley speaking) – 'Will you marry my mummy? If yes, check my collar'.  And that's how Rachel managed to surprise me."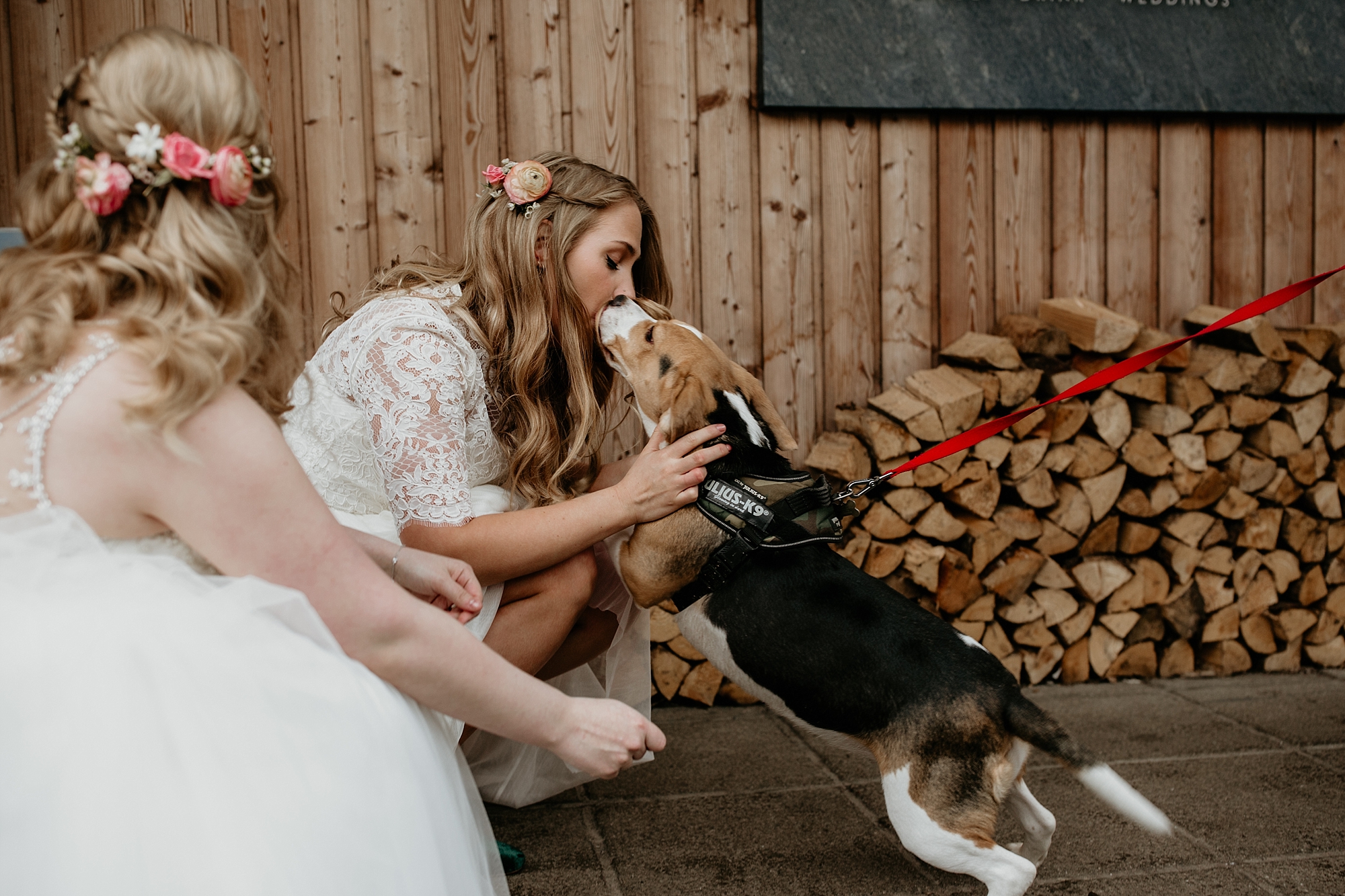 The couple's day has been photographed so beautifully by Claire Fleck Photography and second shooter Leanne, whose work has a lightness and romantic touch that I really admire.
"I discovered Claire when I stumbled across the photos of a wedding that one of my Facebook friends had attended. I remember I loved her style instantly and from there on my mind was set; no other wedding photographer's portfolio was cutting it for me. I quickly enquired about her availability and luckily she was happy to be part of our day."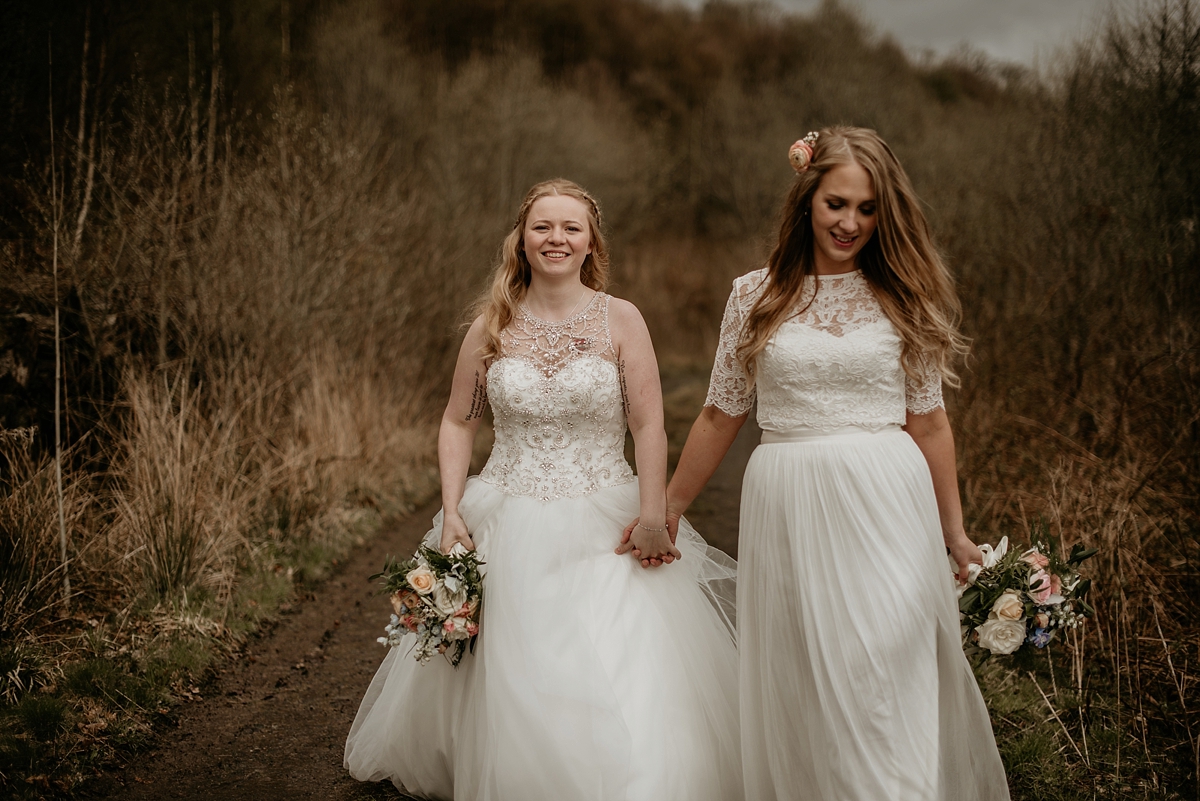 "I remember our first meeting. I'm not a shy person but it can be intimidating meeting people for the first time, especially when you are not entirely sure about their views and opinions on same-sex couples. Claire couldn't have been more welcoming and warm. It was so easy to open up to her and discuss our plans and hopes for our special day. We knew we had made the right choice there and then."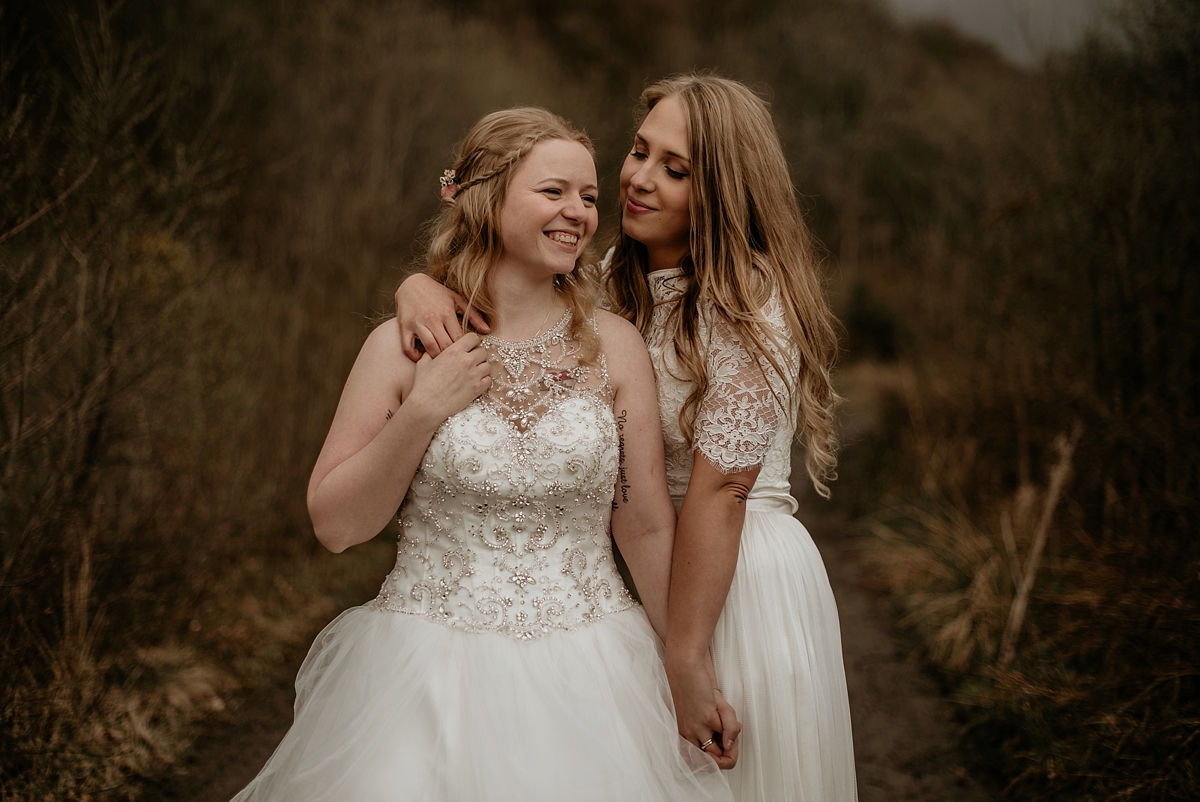 "We organised for two photographers to capture our day. Alongside Claire came her good friend and fellow photographer Leanne. Both of the girls did a lot more than asked for. As we were running terribly late for the ceremony Claire ended up being the one helping me getting dressed and Leanne was like a little personal assistant holding up Rachel's puffy skirt when we were crossing muddy paths for different photo locations."
"The pair of them really did play an enormous part in our day to help it turn out as perfectly as it did. There are not enough words to say how amazing and talented they are."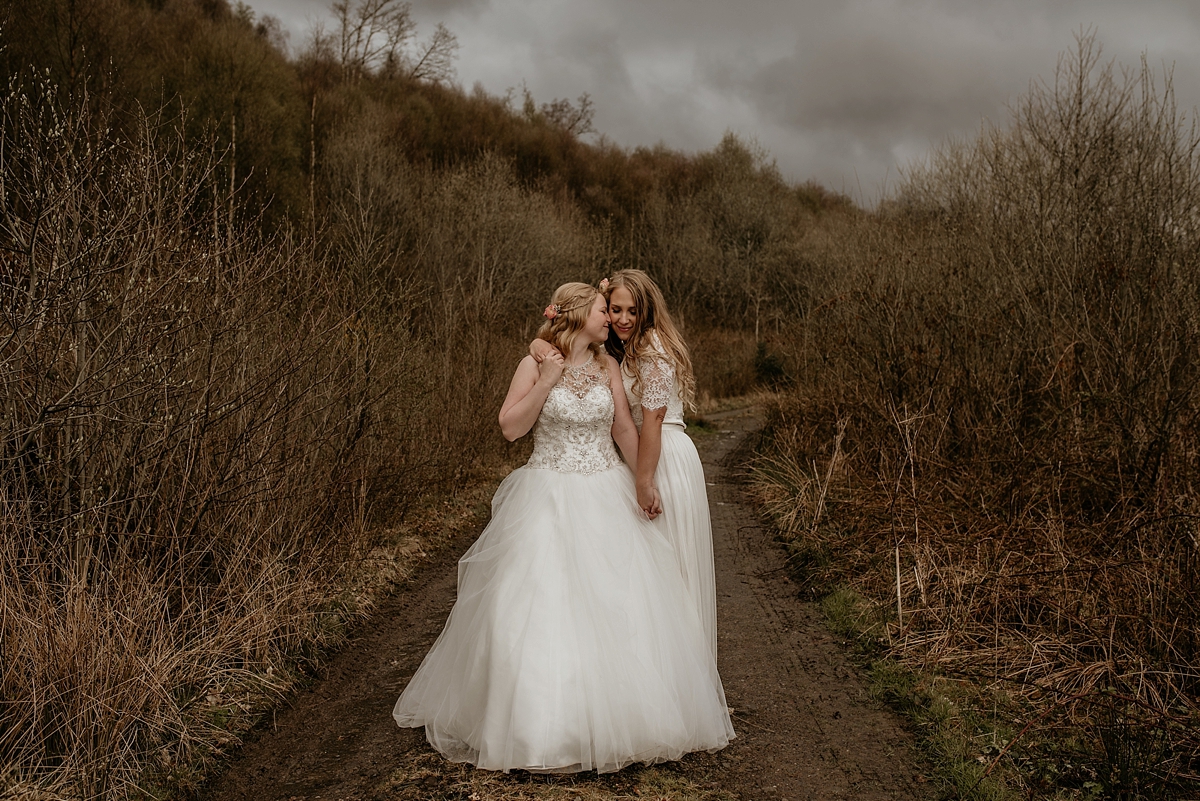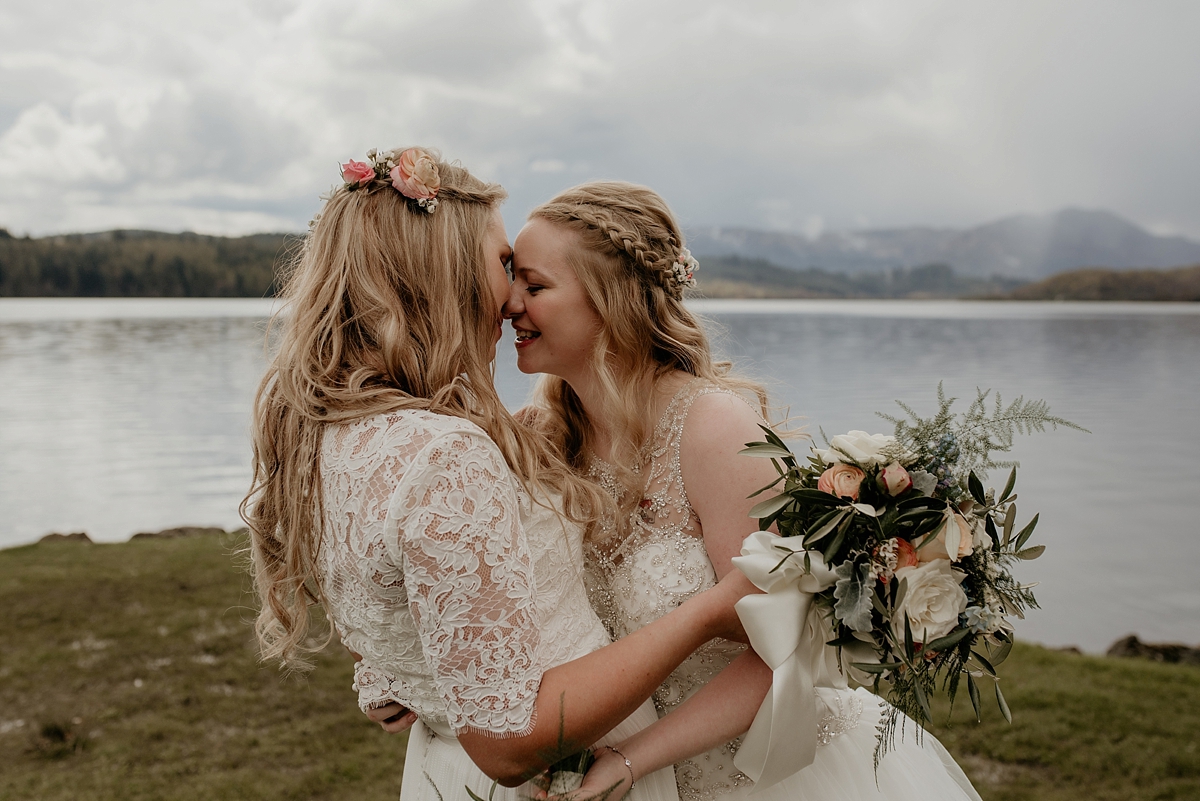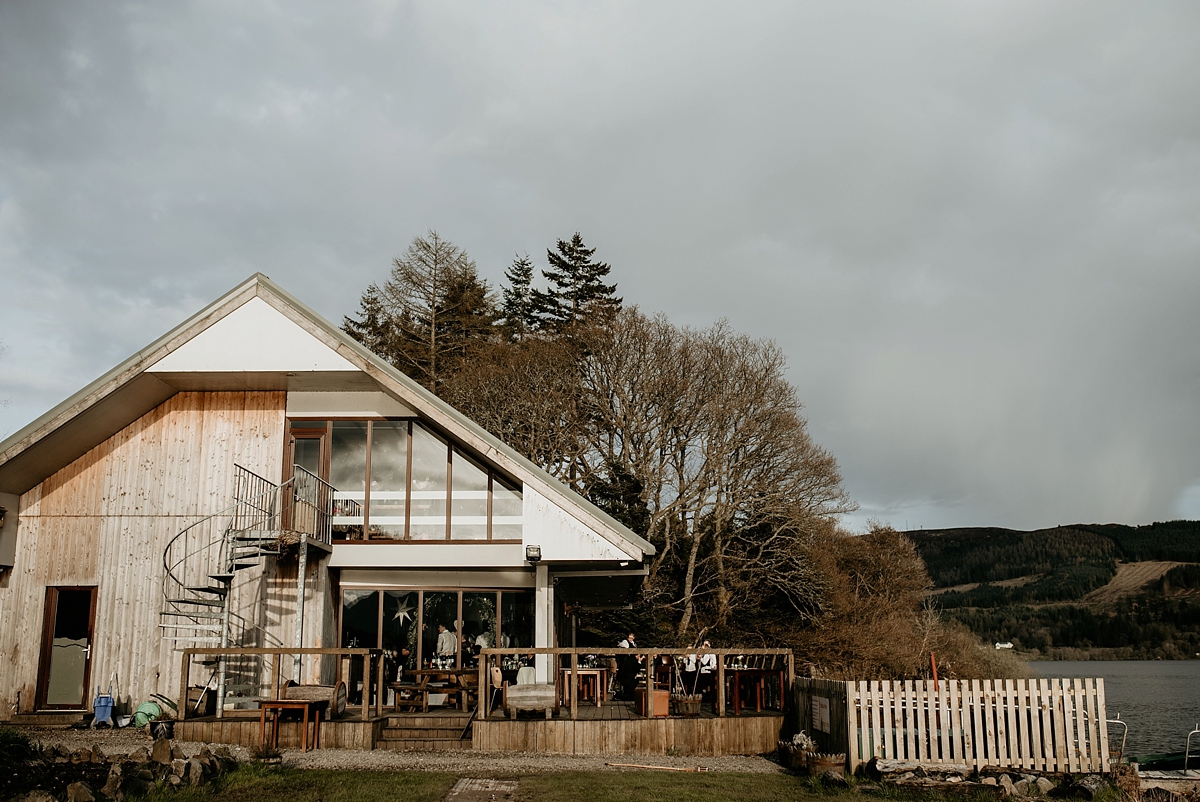 The venue created the 'Pimp My Prosecco' bar as well as providing the food. Instead of a wedding cake, a cool doughnut wall took centre-stage.
"We had three tiers of chocolate-covered strawberries and a doughnut wall purchased from Ginger Ray and ring doughnuts from Krispy Kreme."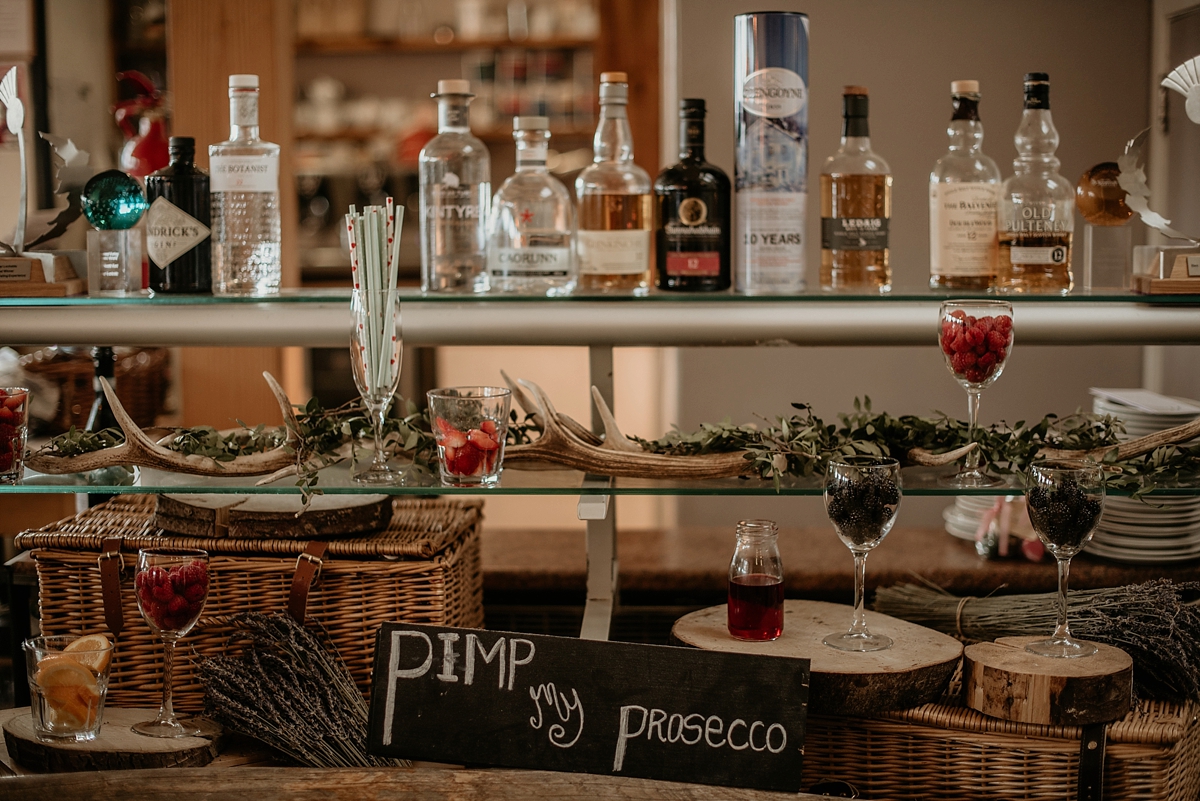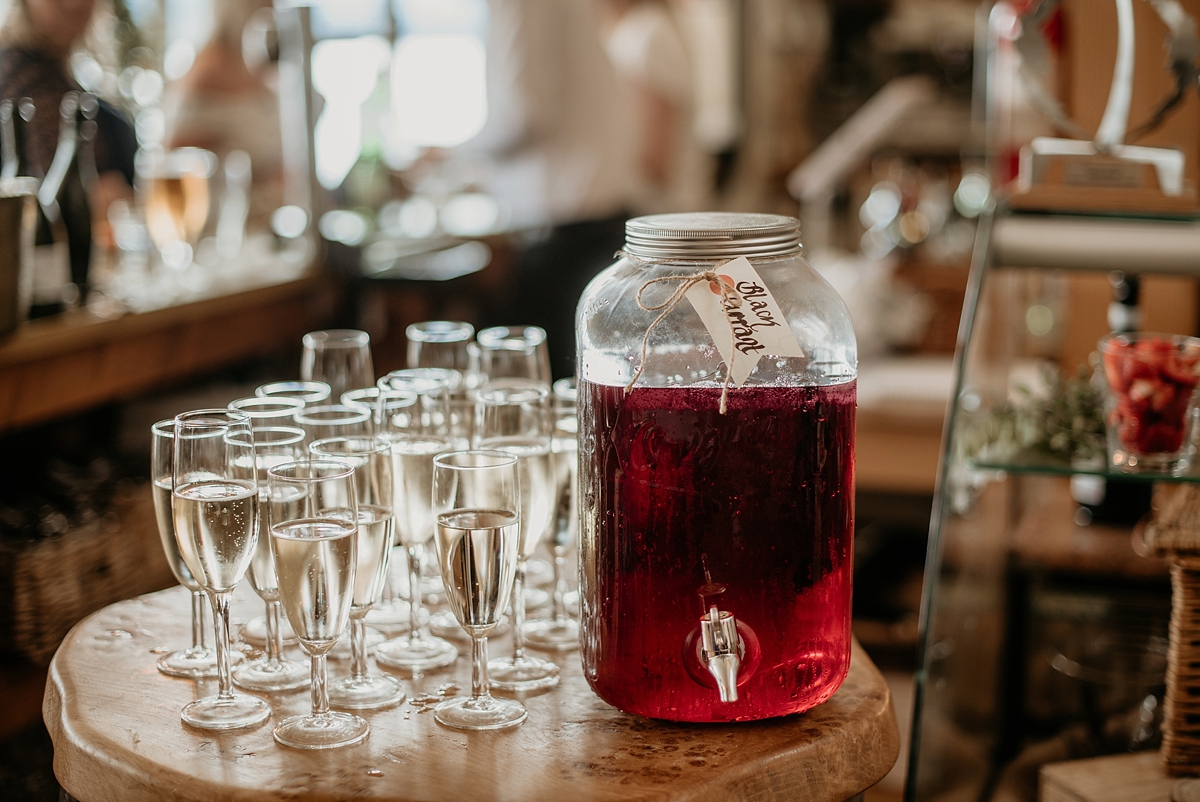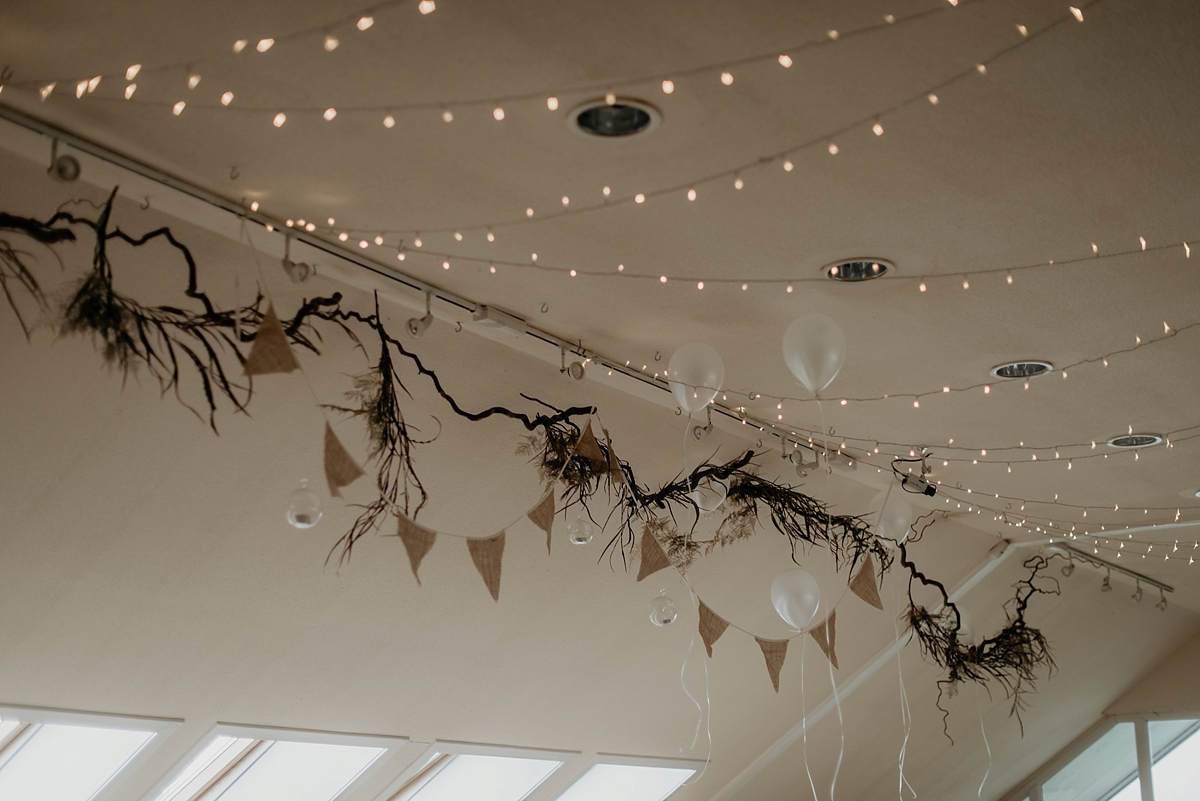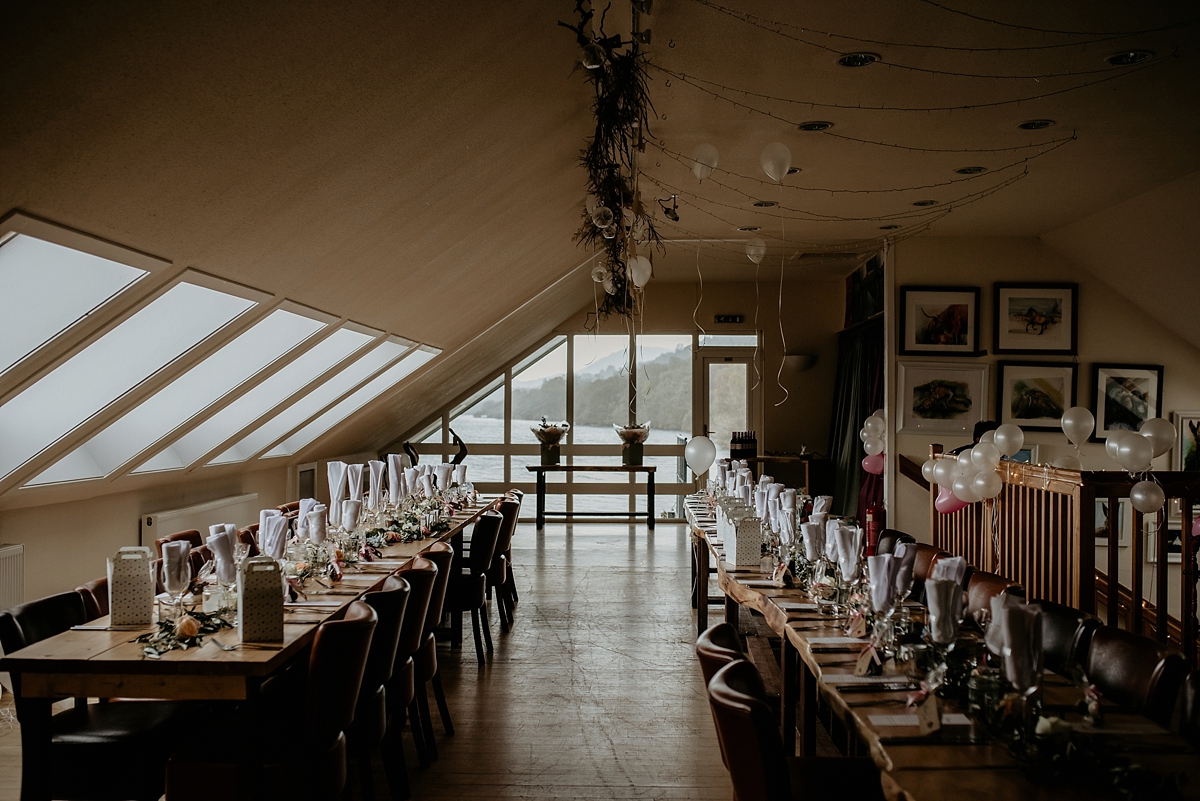 "Our wedding favours were bags of handmade assorted chocolates provided by The Cocoa Bean Company. The favours acted as place cards as the names were tied on the bags. We also provided kids' packs with pick'n'mix, chocolate lollies, glow sticks, bubble wands and activity packs as well as refillable juice cups."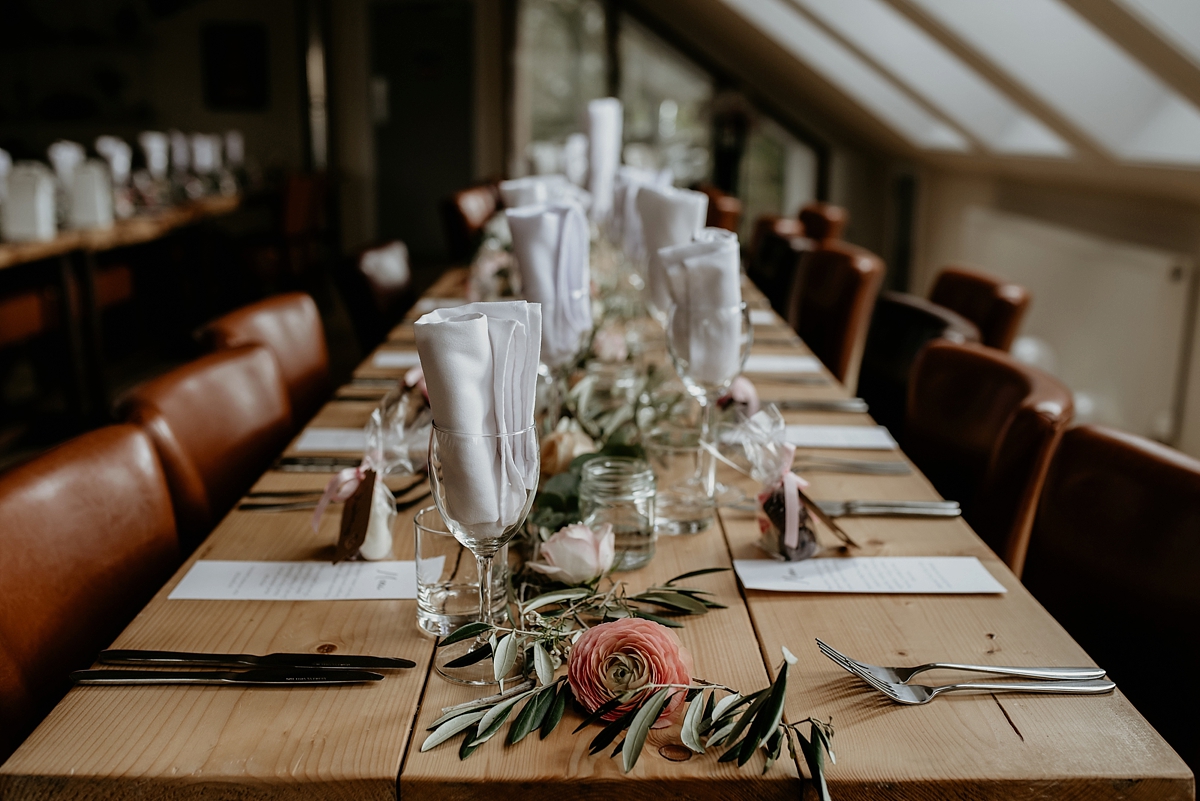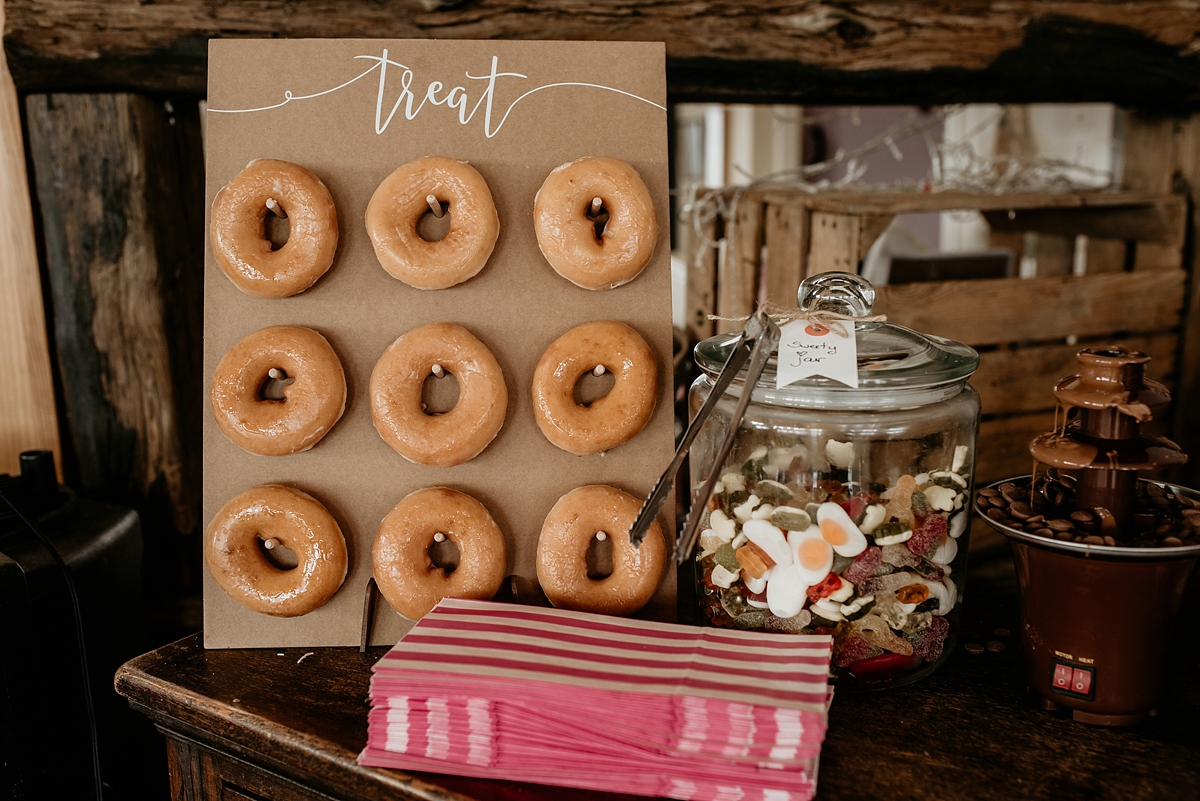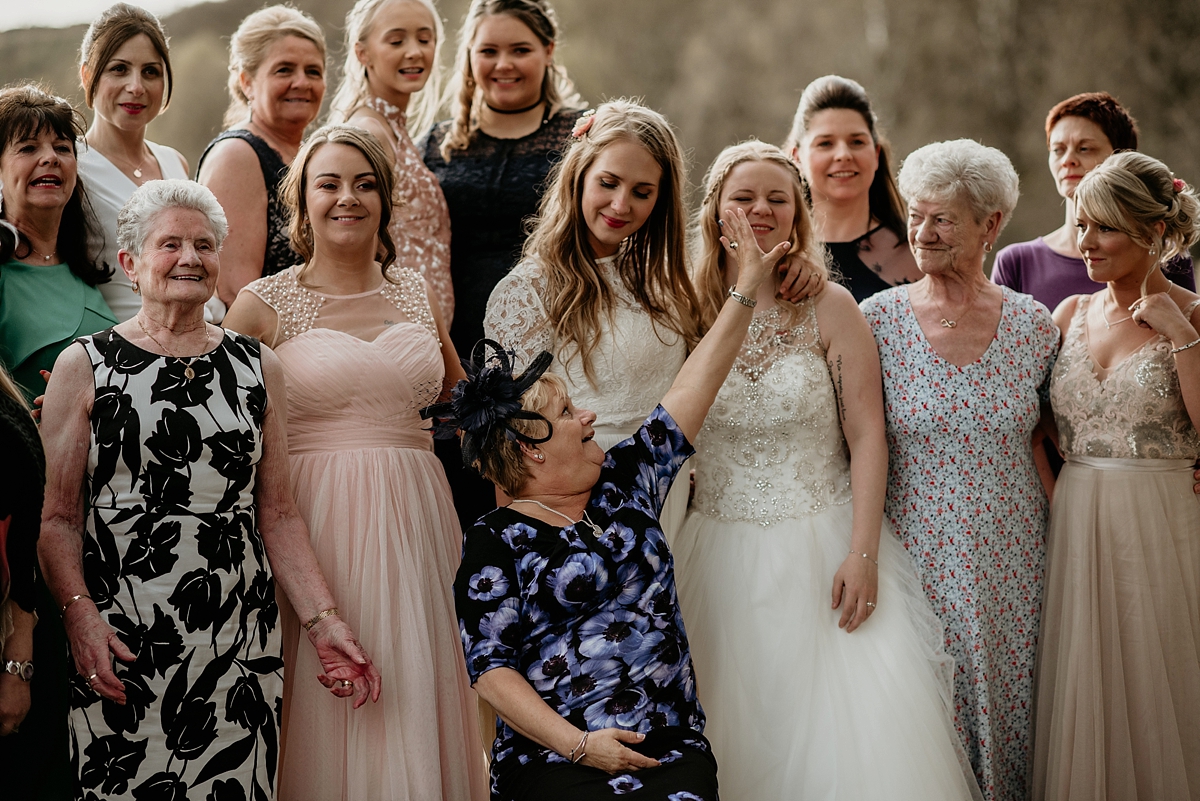 The evening's music came courtesy of DJ David from Panoptic Events after a first dance to 'From Eden' by Hozier.
"We both absolutely love this song and even though the lyrics have got many interpretations I always felt as it is about 'forbidden love' that feels so right. Just like us."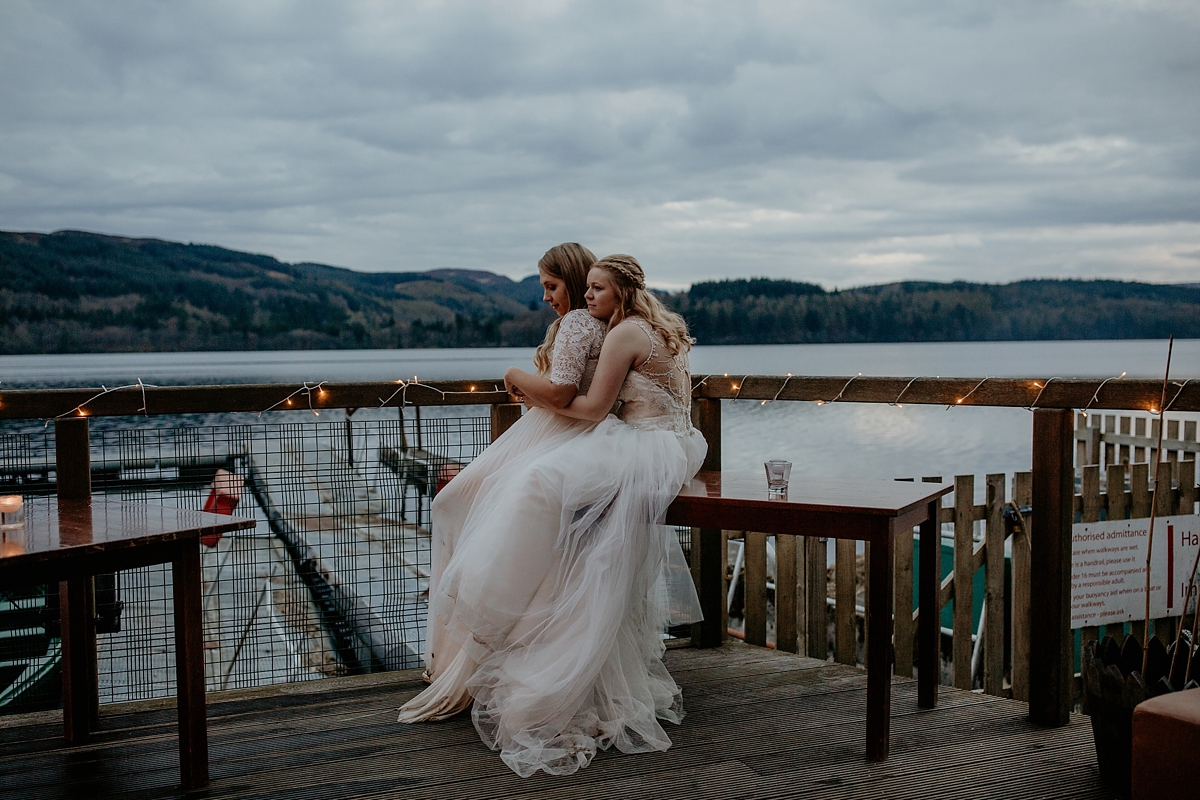 The newly-weds took a few moments to themselves to enjoy the spectacular sunset.
"Karita: I loved the moment we shared in the end of the night when Rachel and I sat down on the porch of the venue and just watched the sunset together. By that time most of the guests had already left and it felt so special just two of us against the world."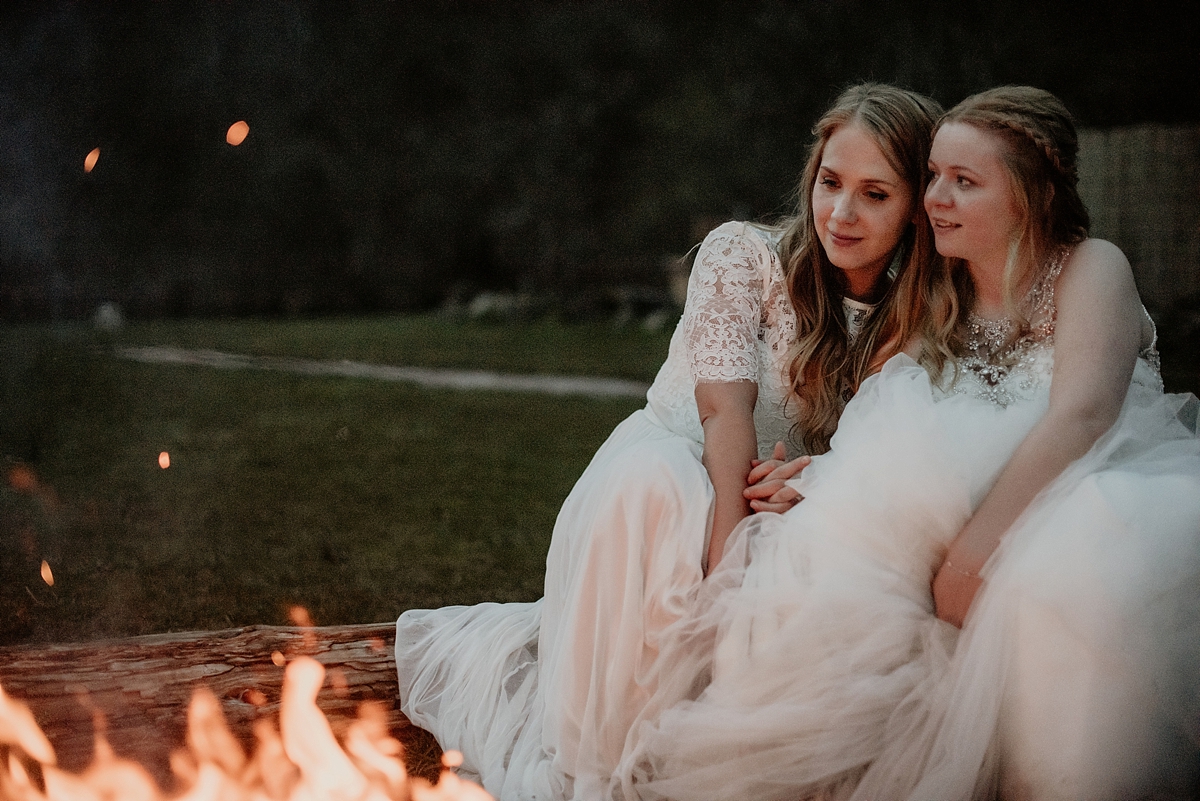 Words of Wedded Wisdom
Karita has some very heartfelt words of wisdom to share, particularly applicable if you're experiencing difficulties with those around you accepting your relationship.
"This might not apply to all couples but, you have to remember this is a day for you and your other half. There will be people close to you who might not agree with your union and decide not to come to the wedding but trust me you will not miss them. You will want the people around you who love you and support you no matter what."
"Having the ones who's opinion might intimidate you there will only spoil your special moments. My parents chose not to come to our wedding and even though it was difficult to imagine walking down the aisle without my dad, and my mum not being here to help me get dressed in the morning I quickly realised I shouldn't have to convince anyone I was in love and happy, not even my own parents." 
"Love is a privilege. Not everyone gets to experience it."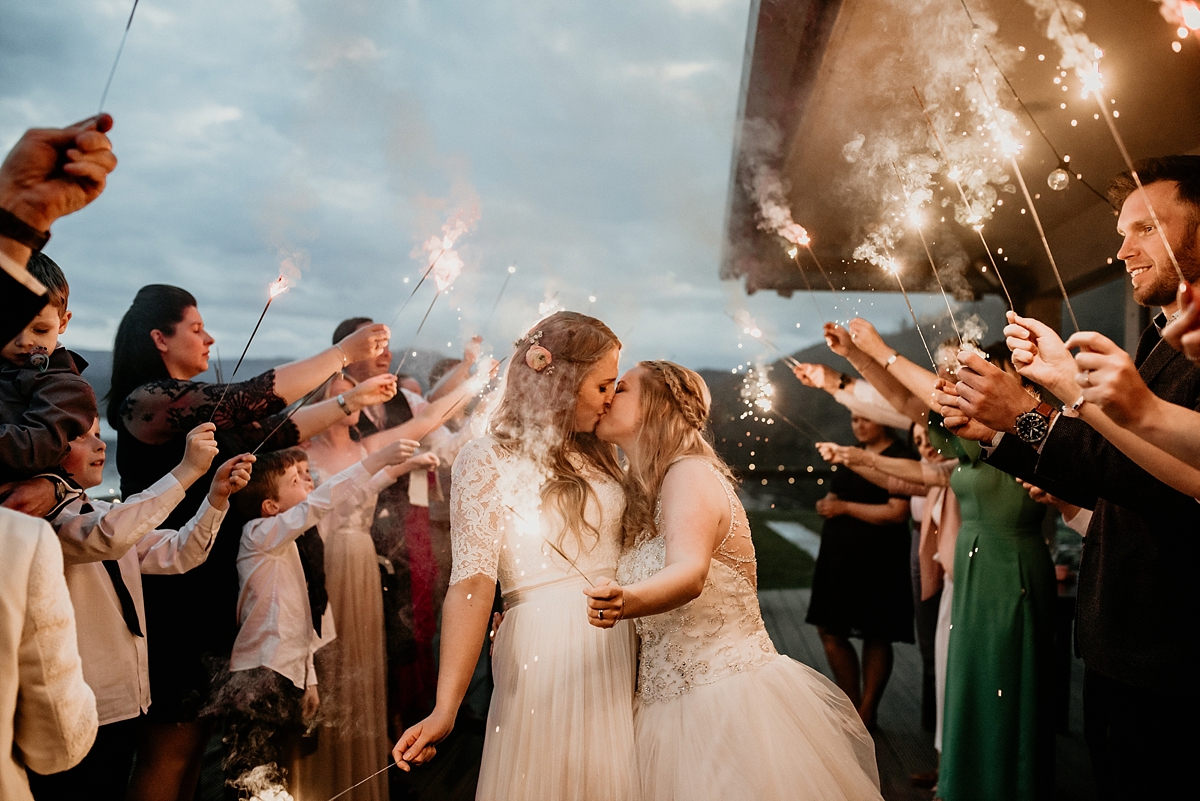 Karita and Rachel, thank you so much for sharing your story and your day with us today. These photographs really are so beautiful, and really encapsulate your love and joy for each other. It's been a real privilege to write about your wedding here, and thank you so much for your kind words for Love My Dress too. Claire Fleck, your images of the newly-weds are just so lovely, and I love your incredible landscape photography of the loch too; thank you so much for letting us publish them.
We are so proud that we are able to share such a diversity of weddings and couples here; thank you.
Ele xx