Lovelies, are you thinking about your wedding veil this week? If so, I hope that today's utterly divine wedding gives you some inspiration into what you want to do.
Bride Sam wore her granny's embroidered veil from the 1940's and it's just gorgeous. Oh, we're also heading down to the beautiful Cornish coastline. Mawnan to be precise – a village that I've fallen in love with over years of visiting so I can quite understand why Sam and Andy decided to return there from London to celebrate their marriage.
The bride and groom are Sam, a TV documentary producer and Andy, a finance manager who married to 9 June 2018. After a church service at St Mawnan and St Stephen Church, Mawnan, Cornwall, they proceeded to Rosemullion Head Farm for a marquee reception full of colour and light, inspired by a simple confetti balloon.
"I love the variety of the weddings on Love My Dress. The budgets, dresses and feel. None of them feel the same and I felt that really helped to inspire me."
Photography Nick Walker Photography
When I first opened this file of photos I was bowled over by the riot of colour in the flowers, marquee's decor and stationery. Sam has so cleverly tempered it with elegant white to keep the look sophisticated and pretty.
"I love colour, and always knew it had to play a part in the day somehow. Then I was inspired by a confetti balloon, and thought this is a great way to get as many colours in as possible! I  started experimenting with stamping out coloured card in tiny circles for the invites and then extended this to make paper garland/ bunting from the same coloured card."
A country twist was added by Sam's colourful and delicate dried flower crown, worn to the back of her head to frame her face.
"I adored my flower crown and Gez of Folky Dokey did such an amazing job! She really listened and worked with me to make it. I couldn't recommend her enough!"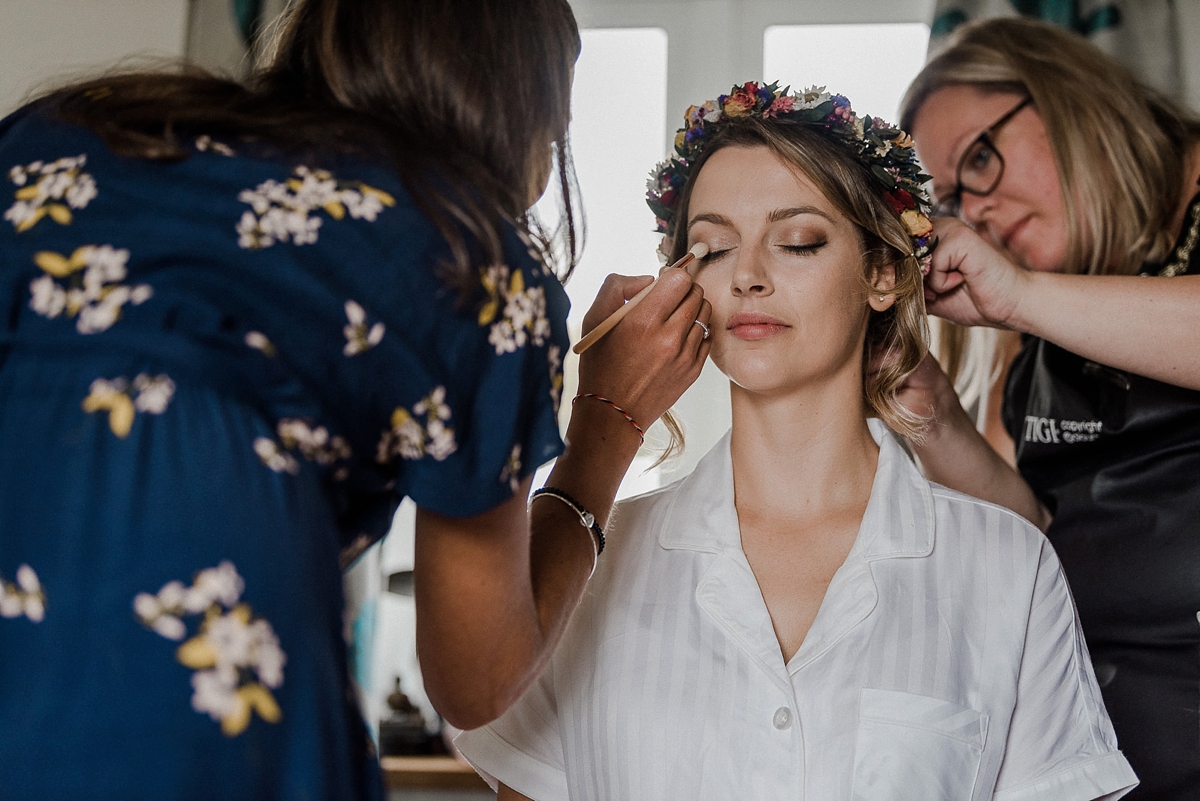 Another burst of colour came via Sam's Sophia Webster sandals with their brightly-beaded wide strap.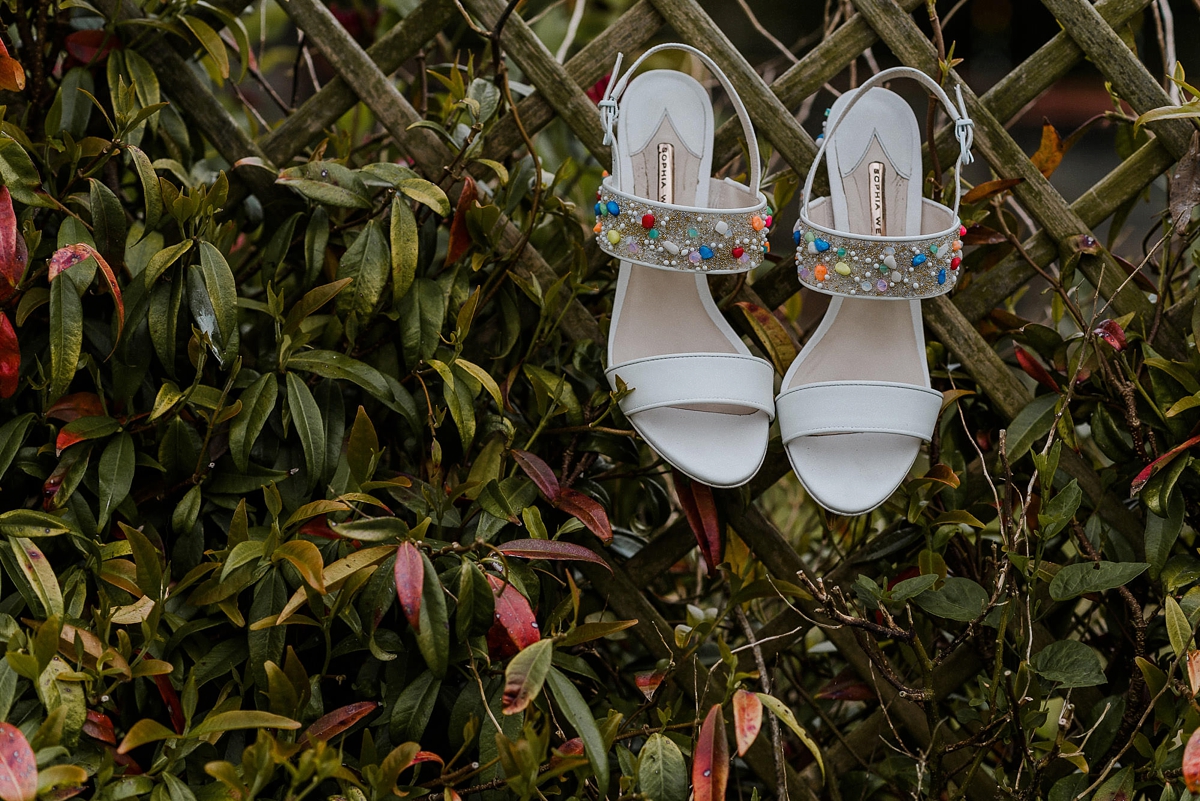 I'm so in love with the cute flowergirls' outfits of tutus bought from Flowers and Confetti matched with simple dance bodies. They each carried a little posy of fresh flowers and had matching blooms in their hair.
Sam wore her hair in an elegant up-do and had classic makeup to emphasise her natural prettiness. A few finishing touches made the bride look elegant and feel relaxed.
"This was one of the bits I was most nervous about so enlisted people from Cornwall I've known for a long time. My hair was by Francesca Mercer. I've know Chess for years and trusted her to help me through my wobbles. I loved my hair and somehow it just got better throughout the day."
[JP-VIDEO]
"Makeup was by Madeup by Hannah Symons. I've known Hannah for ages and she helped guide me and made sure I loved what she did. I still looked like me but a more 'done' version. It was everything I hoped for."
"I wore simple pearl earrings gifted to me when I was 18 by my godmother and Jo Malone's English Pear and Freesia perfume layered with their Sea Salt and Sage body lotion."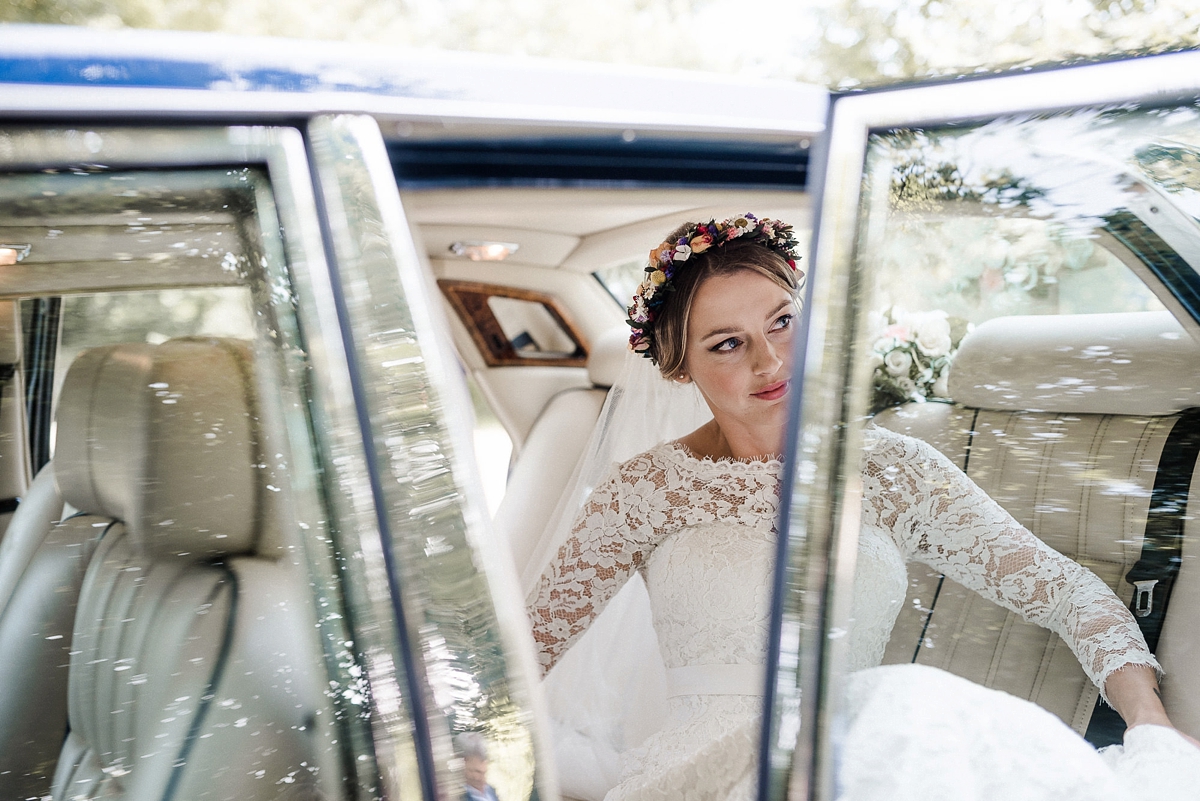 St Mawnan Church is hidden away down a long winding country road, and the bride and her father travelled there in style in a vintage Rolls Royce lent by Sam's mum's boss.
"My wonderful father Roger walked me down the aisle.We had an organ player perform Elvis Presley's 'Can't Help Falling In Love' which sounded wonderful."
"We had the brilliant Reverend Johanna from the local church perform our ceremony. We kept it very traditional and had the standard marriage vows. However, I did have the 'obey' line from my vows taken out."
Readings were taken from Bob Marley's 'He's Not Perfect' read by Andy's brother Richard and 'Romans 12:9 – 16 Love In Action', read by the couple's friend Stephanie.
"My wedding ring is a simple gold band from Susannah Lovis, the same shop Andy bought my gorgeous engagement ring. I didn't want anything with any diamonds as I wanted to have a plain, classic band. Andy's ring is a simple palladium ring from E Katz in Hatton Garden. He wasn't sure about actually wearing a ring at first, but seems to quite like it now."
"Saying our vows was actually really intense (in a good way!) and it was amazing to commit ourselves to each other in front of all our friends and family. I think we were both surprised at how emotional it all was."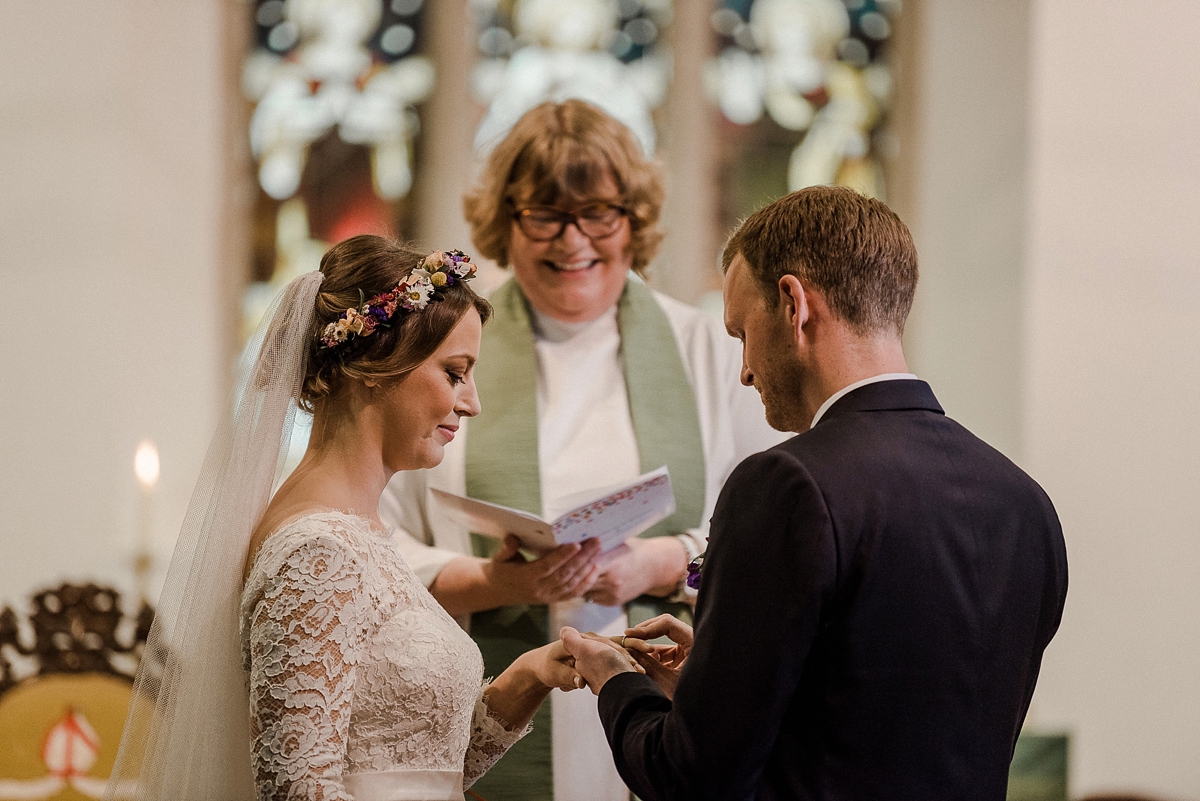 Andy chose to wear classic groom's attire; a deep grey Paul Smith three-piece suit worn with a light pink Reiss tie and shoes from Grenson. His ushers and groomsmen wore their own suits but like the bridesmaids, had their look tied together with one key piece.
"We wanted our ushers and best men look and feel like themselves. It was also a great way to save money as we simply didn't have the budget to hire or buy suits. Andy had three best men and another five ushers. Added to that were our dads so it would have cost a fair bit of our budget. Instead we bought matching pink ties from Reiss for the best men and some simple light blue ties for the ushers and our dads."
OK, time to talk about Sam's lacy gown. The bride visited Amanda K Bridal in Truro to work out exactly what kind of gown she felt comfortable in. Her divine full-skirted piece in pure white is part of Amanda K's signature collection and was adapted to suit the style of the day. I'm sure you'll know that we love to support bridal designers and boutiques here on Love My Dress, so it's brilliant to hear how Amanda K really helped Sam get something perfect for her. I adore the contrast between the demure bodice and sexy open back.
"I was really unsure what kind of dress would suit me, so I was keen to try a bit of everything. Amanda was amazing at helping me figure out what I definitely didn't want and guide me to what I liked and what suited my figure."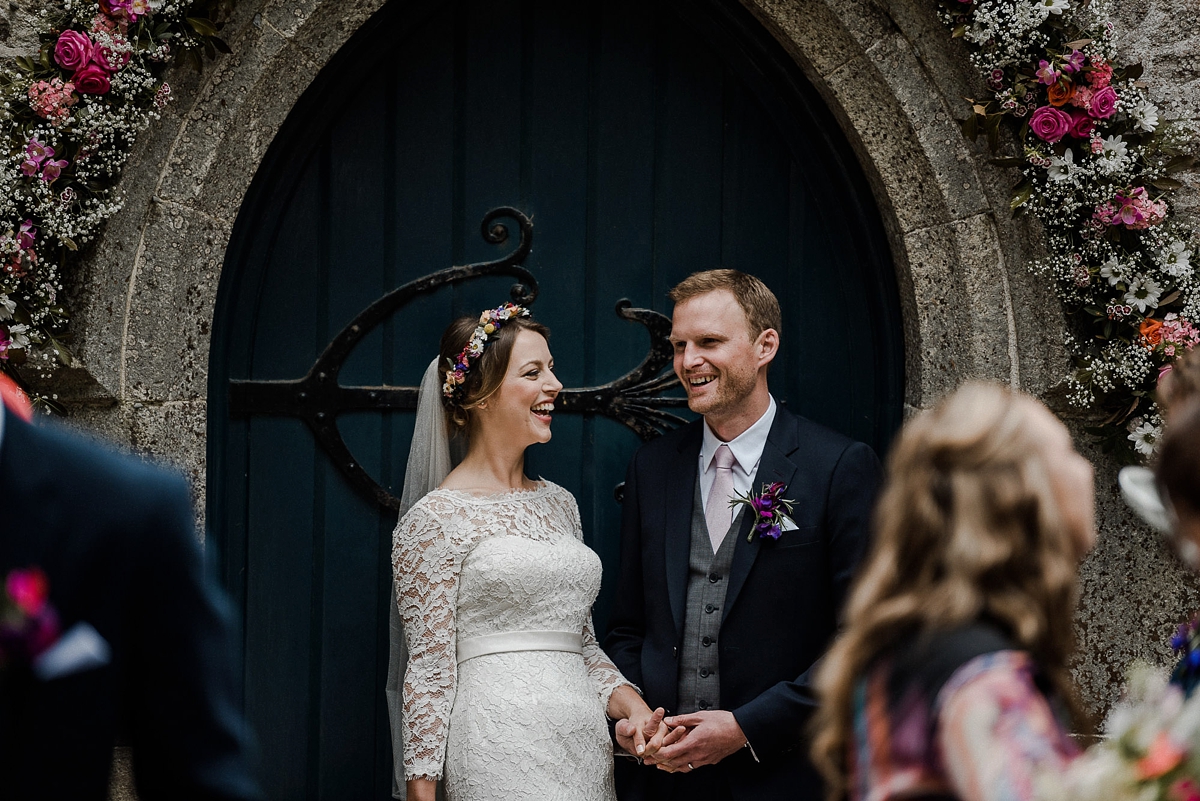 "I always knew I liked lace and I secretly hoped it would suit me (without getting my hopes up!). My mum actually picked out my dress and as soon as I tried it on I felt that 'wow' moment."
"Even though I loved the dress I had quite a few alterations done. The original gown had long sleeves but as it was a summer wedding had them shortened to 3/4 length. I also had the neckline lowered to just below my collar bone. I adored the lace detail and even though the dress was quite conservative it had a gorgeous low back."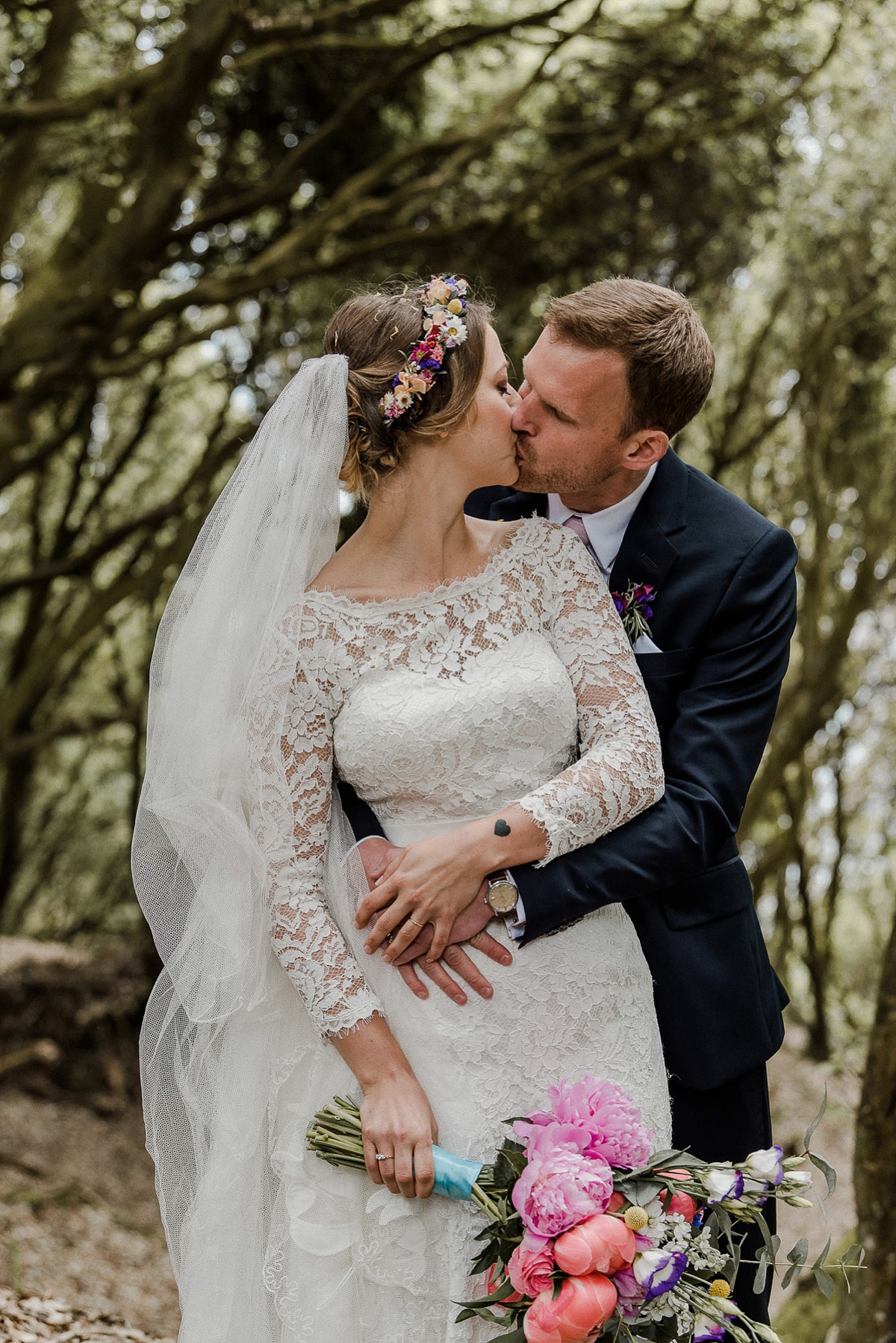 Sam's exquisitely-embroidered veil originally belonged to her Granny Williams, and is so unique in its style and hand-worked detail. Wearing an heirloom piece must have been so special for the bride.
"It was 1940s silk tulle with delicately stitched flower details. It was a really unusual large rectangular shape so we thought carefully about how to drape it."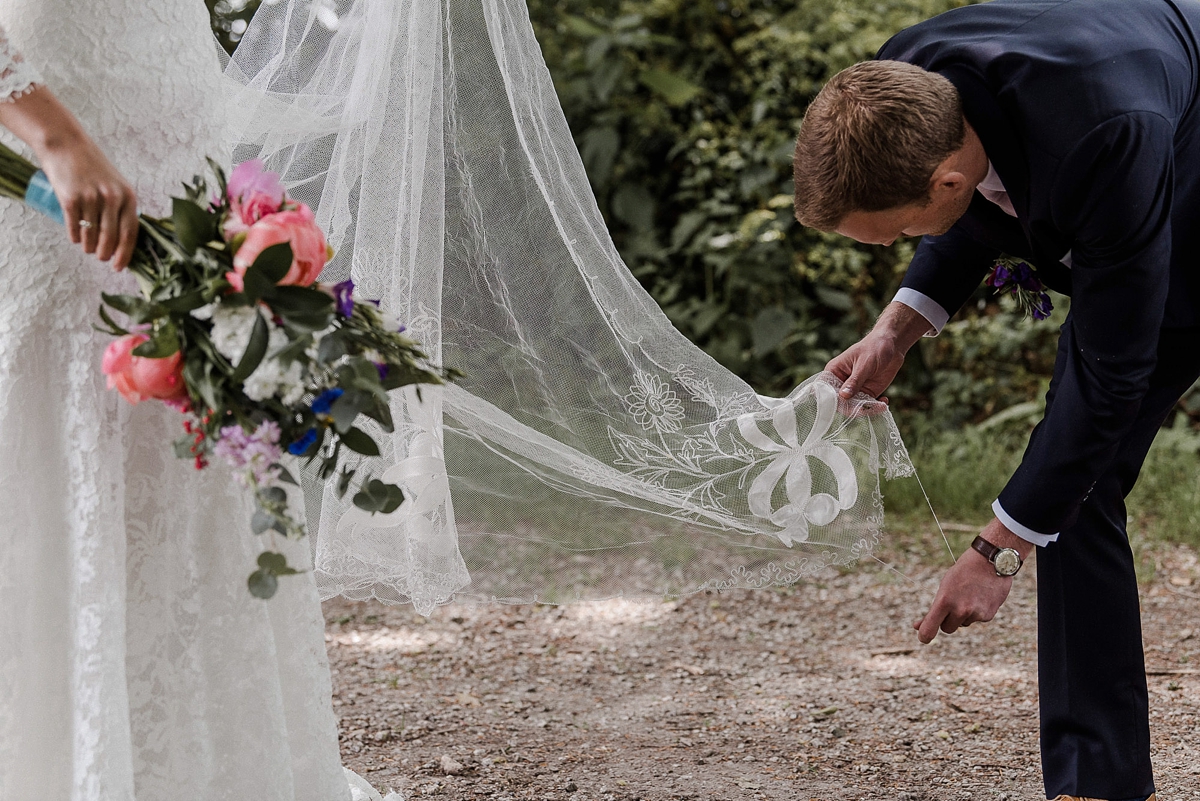 And that bouquet! A riot of roses, ranunculus and peony that Sam made herself.
"I wanted lots of colour and blooms for our flowers. I decided I would make my own bouquet and my mother in law Ann and my good friend Lisanna (along with some other glorious helpers!) helped put together the rest of the flowers for the marquee.
"They did an incredible job.. I used Triangle Nursery, an online flower wholesaler, to buy the flowers and did lots of research into colours and prices. In the end I spent about £400 which covered the reception's flowers, my bouquet, the bridesmaids bouquets and button holes, along with some flowers from people's gardens."
"To help me with my bouquet making I did an evening class with The Flower Appreciation Society, which helped a lot. The gorgeous church flowers were done by very talented members of the congregation."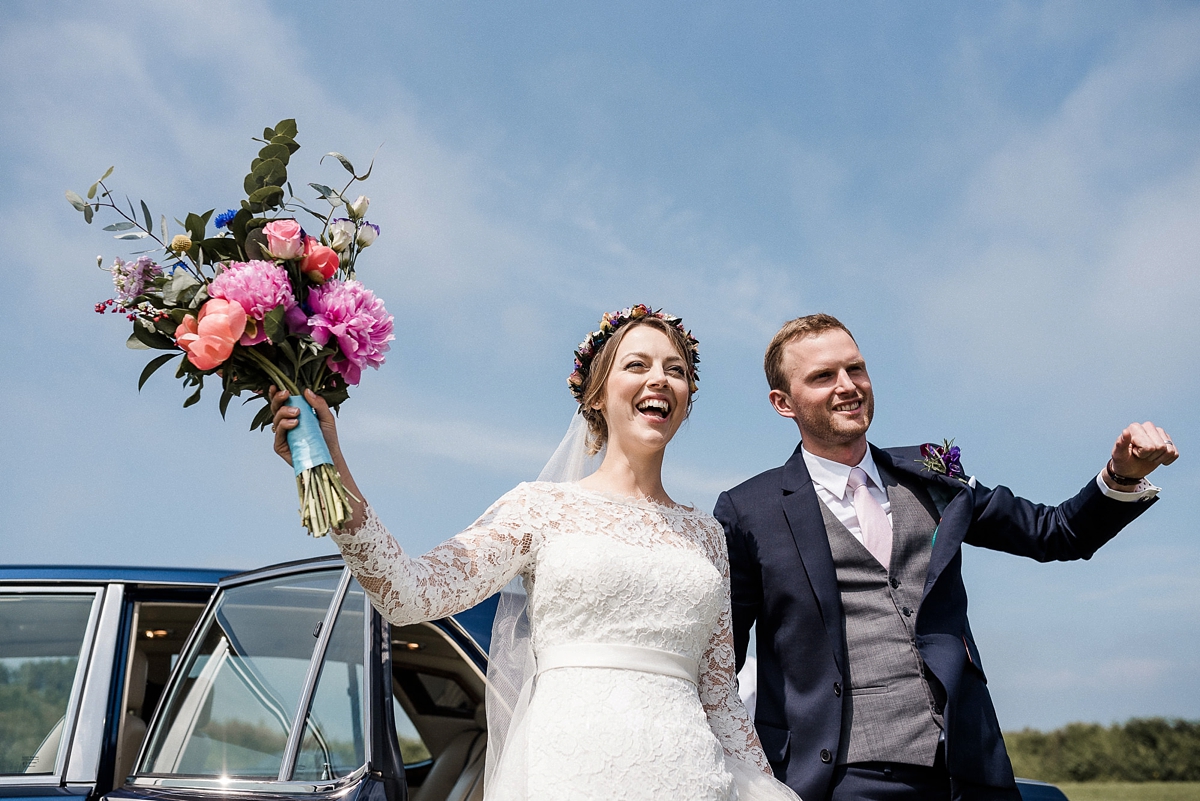 The bridesmaids were asked to choose their own navy outfit, resulting in this happy mish-mash of styles for a modern look. They each had a floral pin from Folky Dokey to tie the look together.
"It was really important to me that the bridesmaids all felt comfortable and 'themselves' and as they are all different shapes and sizes I just chose the colour and then they picked the rest. I picked navy as it suited all my girls. It was great letting them choose their own and I had a really great mix of dresses and jumpsuits. It felt really modern and I loved the non-uniform nature of how they looked."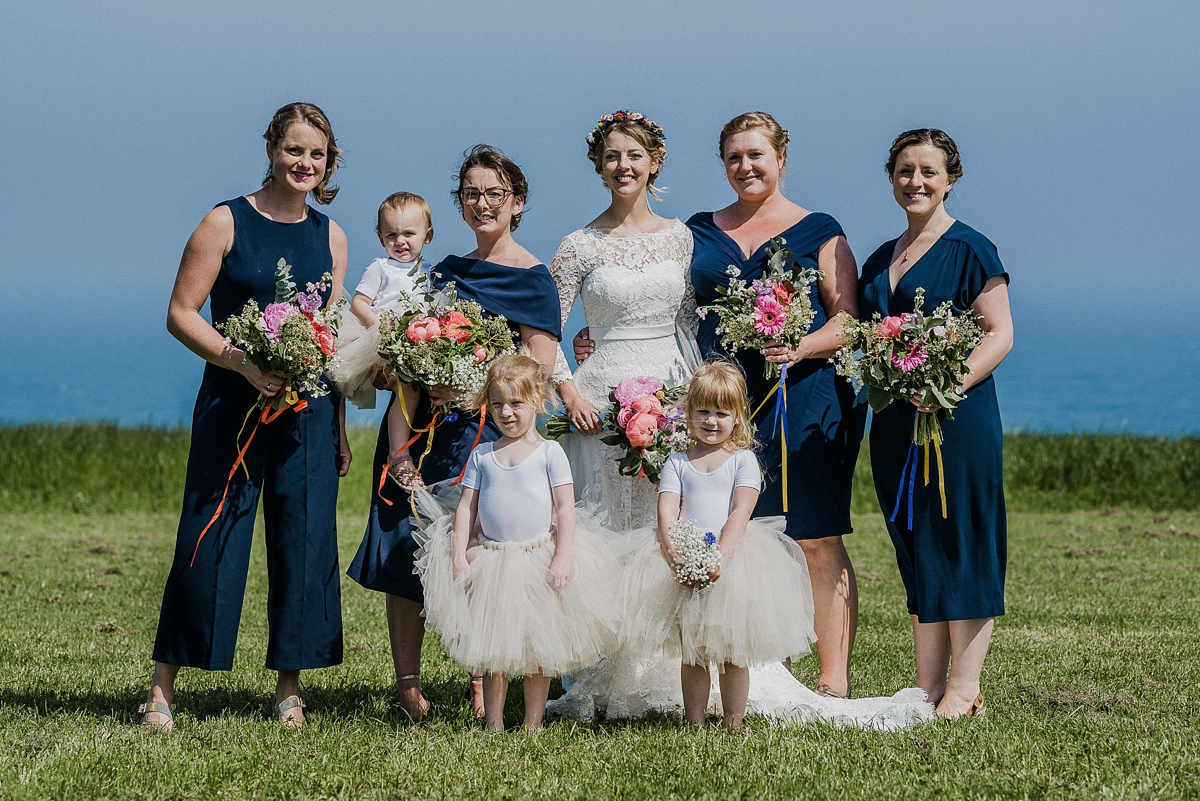 Sam grew up on a farm just a mile or so from the church and Rosemullion. As Andy's parents are Cornish and he's holidayed there every summer, the area is so special to them. I agree whole-heartedly that the area has such an allure that makes you return, again and again.
"We have lots of very special memories in the area and wouldn't dream of having our wedding anywhere else."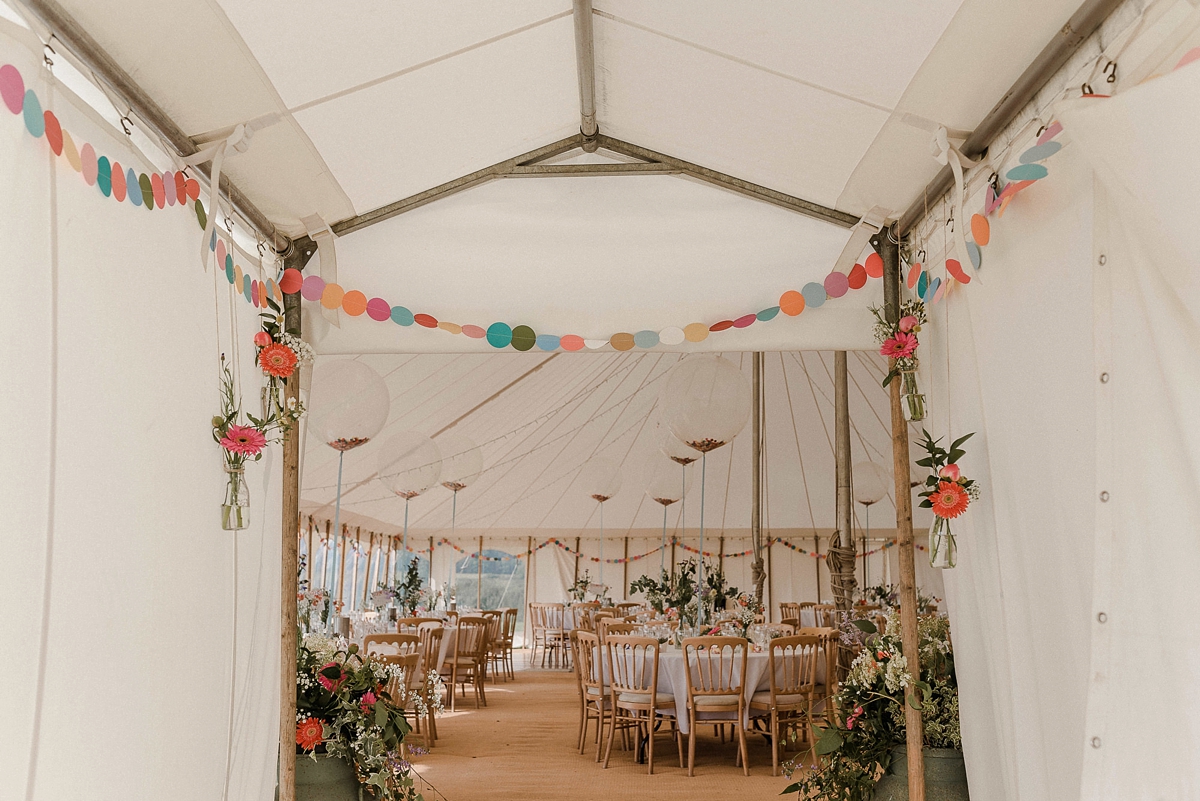 A sharing feast created a relaxed summery vibe, and the couple asked Hermanos Paella to cater the wedding breakfast.
"Jonny and his team were outstanding. We both knew we didn't want a formal sit down dinner, but wanted something hot and summery. Paella seemed the perfect choice. We travelled to Totnes to try Jonny's paella and it was delicious."
"On the day it was incredible and I saw people going up for seconds, thirds and even fourths. And for weeks afterwards we kept getting compliments on how great the food was. Desserts were also a delight! The food was everything we'd hoped for."
"We used Marks and Spencer's Percy Pigs and Friends for favours. As I'm a farmer's daughter and as the reception was on a farm it seemed appropriate. I also don't know anyone who doesn't like Percy Pigs! In addition to this I had succulents. I really wanted these but after some research thought they'd cost too much."
"Instead my mother-in-law Anna managed to buy some a year before, they all had little babies and she managed to grow enough for the 130 guests and have spares for table decorations too. I'm so pleased Anna managed to grow them as they looked brilliant. Lots of people took them home and now have that memory of the day."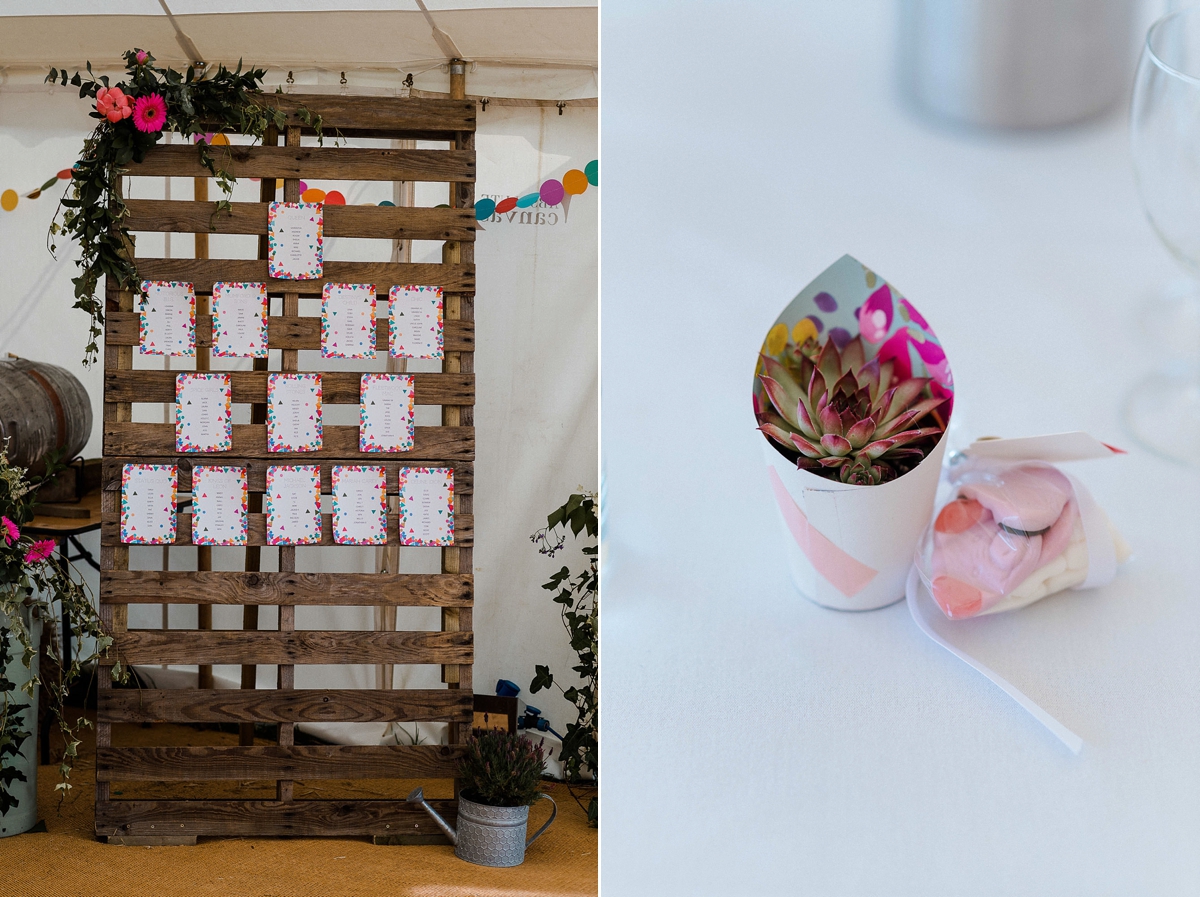 "I hand-made 100s of metres of paper garland. Andy thought I was mad but it was quite simple. I bought a circle-shaped hand-paper stamp and then sewed together the circles. It was quite a feat and I did it over a long period of time so I didn't get overwhelmed!"
"I also had an idea of making a backdrop out of coloured tissue paper to sit behind Andy and I. One of our friends, Iveta, put it together when we were setting up the marquee and it looked better than I thought. And it was so cheap to do!"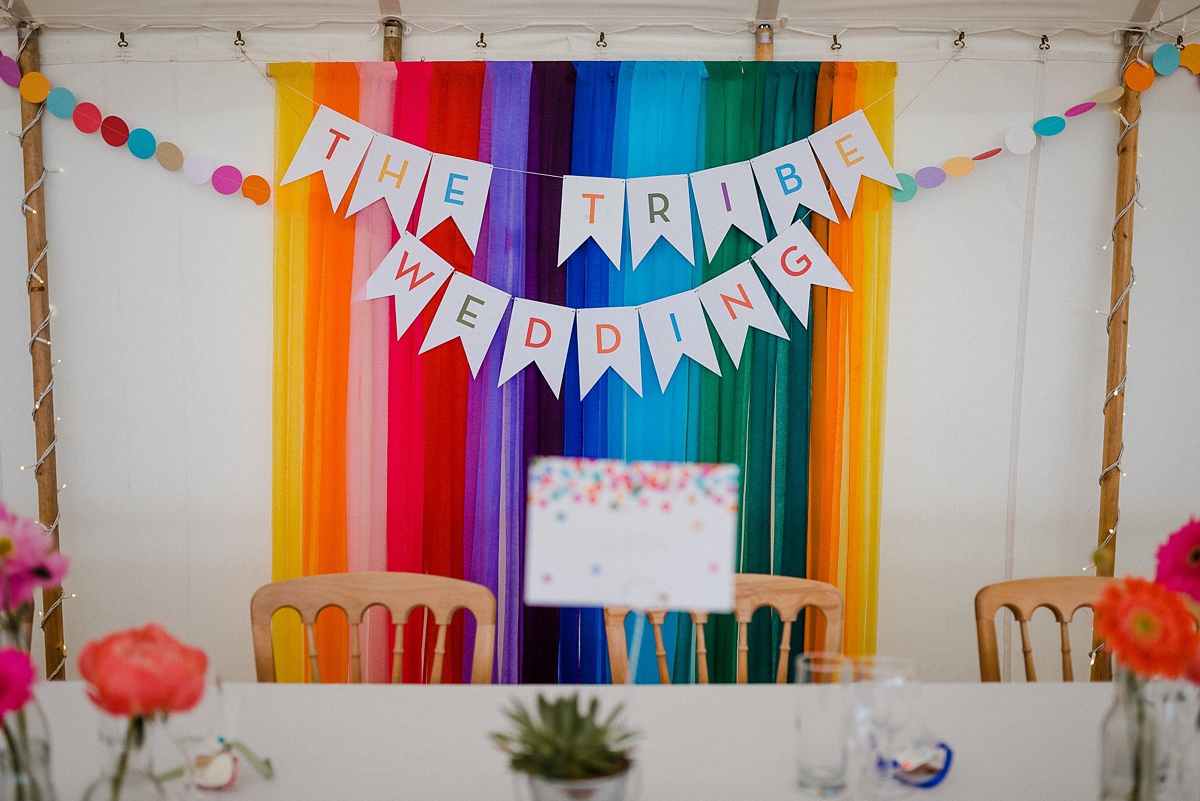 "I designed all our stationery as I wanted it to compliment the colour and confetti theme. It was a big job and I'd never done anything like it before but I loved the process of designing it all. I think it made such a difference to help tie the day together subtly."
These light and airy photographs were captured by Nick Walker Photography. Just look at those beautiful seaside shots of the newly-weds on the cliffs…. I always so admire photographers who manage to capture a perfect sunset and get the bride and groom out at exactly the right moment, and Nick has achieved that for sure.
"Along with the church and the marquee, getting the right photographer was so important for me, probably because I work in a visual industry. I love the reportage/ documentary style and didn't want too many staged photos. I wanted Andy and I to feel a relaxed as possible on the day as we're not natural posers."
"Nick was always easy to communicate with and on the day he just blended in (in the best possible way!!) and got some gorgeous natural shots of our friends and family. He really caught the feel of the day."
"I also had my fingers crossed for that magical golden hour. And we got it. Those shots are some of my favourite from the day. Andy and I are relaxed and we have the gorgeous Cornish scenery as a backdrop. They were everything I hoped for."
In a nod to how they met the couple made a massive Tinder Instagram frame for fun photographs. There was also dancing to music by Stone Roots and the groom's own band, Okay Bouquet, too.
"We didn't really have a strict budget as the wedding was slightly bigger than we had first intended. Originally I had hoped to spend around £15,000 but it actually ended up being closer to £20,000. We were both really happy with this as we had 130 guests increasing to 150 in the evening all of whom we fed and provided plenty of drink to enjoy!"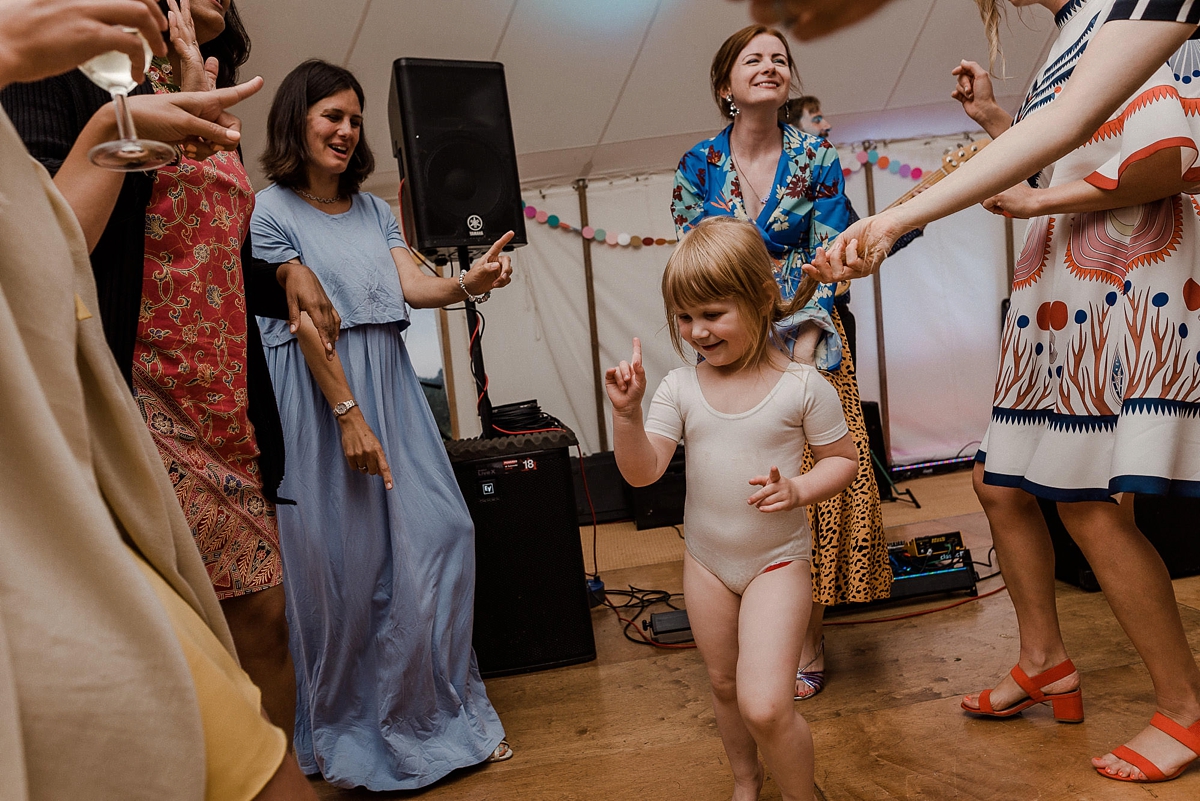 "I wasn't too fussed about a cake. My mum insisted we have one and I asked her to make some Saffron Cake which is a traditional Cornish teatime cake. However, Mum cheekily surprised us with a proper cake!"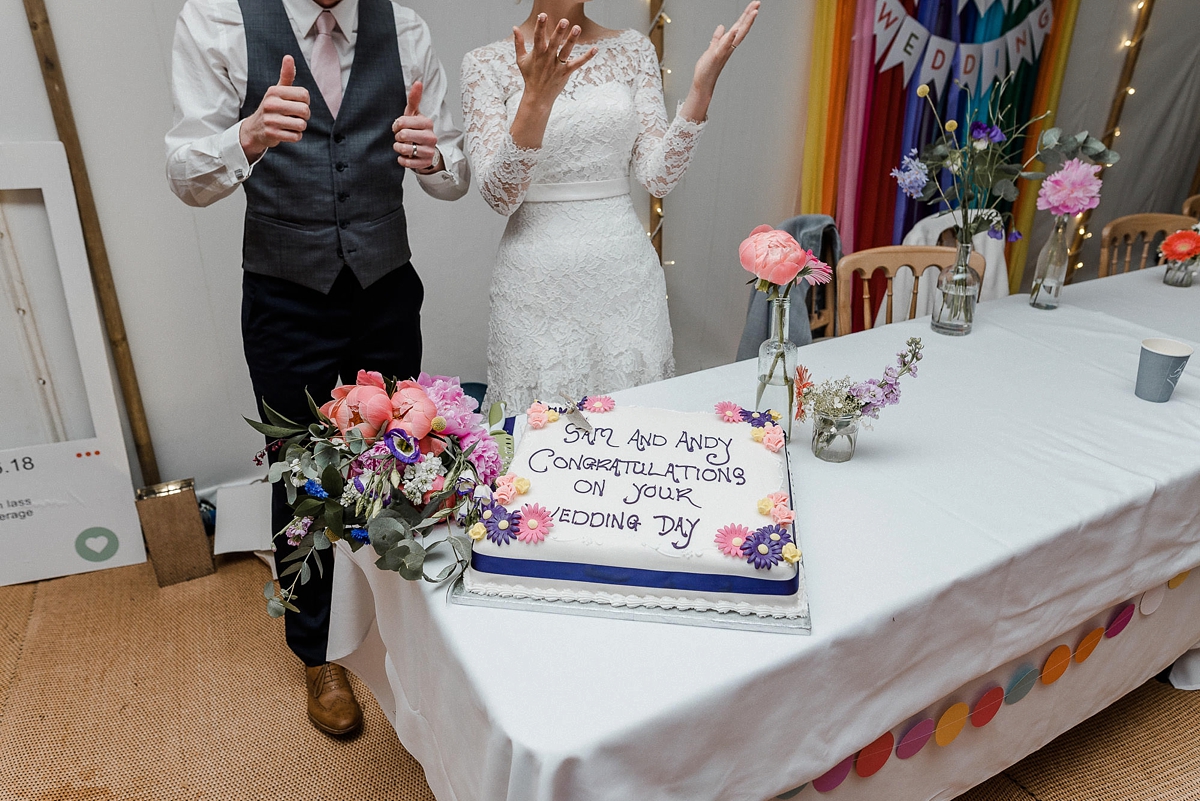 The first dance was to  'Undo Ordinary' by River Matthews.
"We really struggled to decided what our first dance was going to be but we loved the words in the song and it wasn't too difficult to dance to."
"We went with a fabulous Cornish band called Stone Roots. They were incredible. The band was another really important choice for us as we both love dancing. Whilst we were researching bands we remembered we saw them perform at the Falmouth Oyster Festival not long after we met and we recalled how fun they were. They didn't disappoint and the dance floor was full all night."
"I also need to make a special mention to Andy's own band; 'Okay Bouquet'. He and three other friends started a small band to play at another friend's wedding, they actually ended up being pretty good, so of course we had to have them at our own wedding. This was another highlight of the day."
The whole wedding was such a personal affair; so many of the couple's friends and family had an important role in the day which meant a lot to Sam and Andy.
"Lots of our family and friends played a part in the day. My cousin Joe was Master of Ceremonies; he's a comedian so it was an easy choice to have him and he did a great job of moving the day along, as well as provide some extra entertainment. My Uncle Brian wrote a song about pasties for us all to sing which was lots of fun."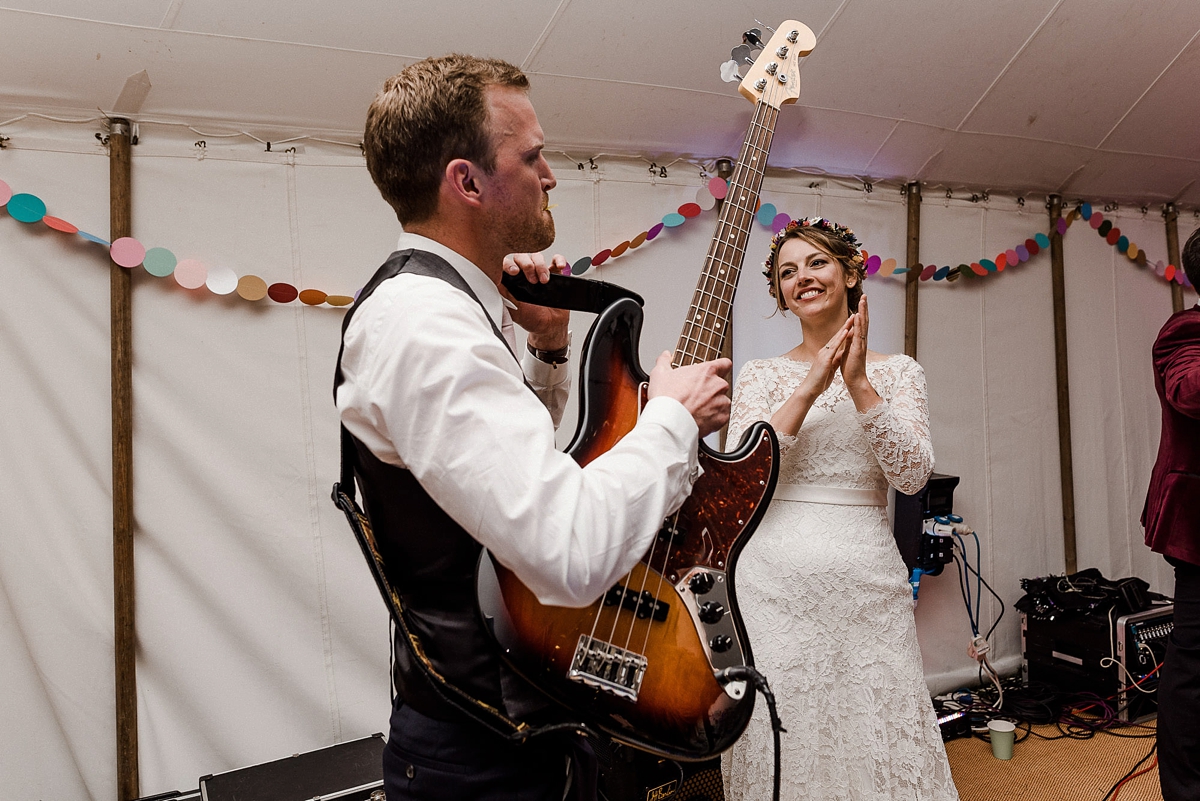 "My other uncle John did a traditional Cornish 'Oggy, Oggy, Oggy', an essential part to any Cornish wedding. Also Andy and his band adapted the song 'Common People' to become 'Cornish People' and then we all danced the night away."
Words of Wedded Wisdom
"My biggest advice is to get started early. I did a lot over a year before the wedding. Andy thought I was mad but I know I didn't want to be stressed and panicked in the run up to the day! As I made and crafted a lot of stuff too this helped spread the load and I loved making and planning."
"Write everything down in a note book. I didn't have a planner per-se but I did have a note book where I scribbled ideas, wrote down costs of things, allocated jobs and wrote a timeline of the day. It was a brilliant way to brain dump and meant that most the time I wasn't worrying too much."
"Ladies, do a speech! Right from the outset I knew I wanted to speak at our wedding. I'm a talker and I didn't want to leave it all to the boys. Although I was nervous I was so pleased I did. It meant a lot to be able to thank all our friends and family, and of course say some lovely things about my new husband too!"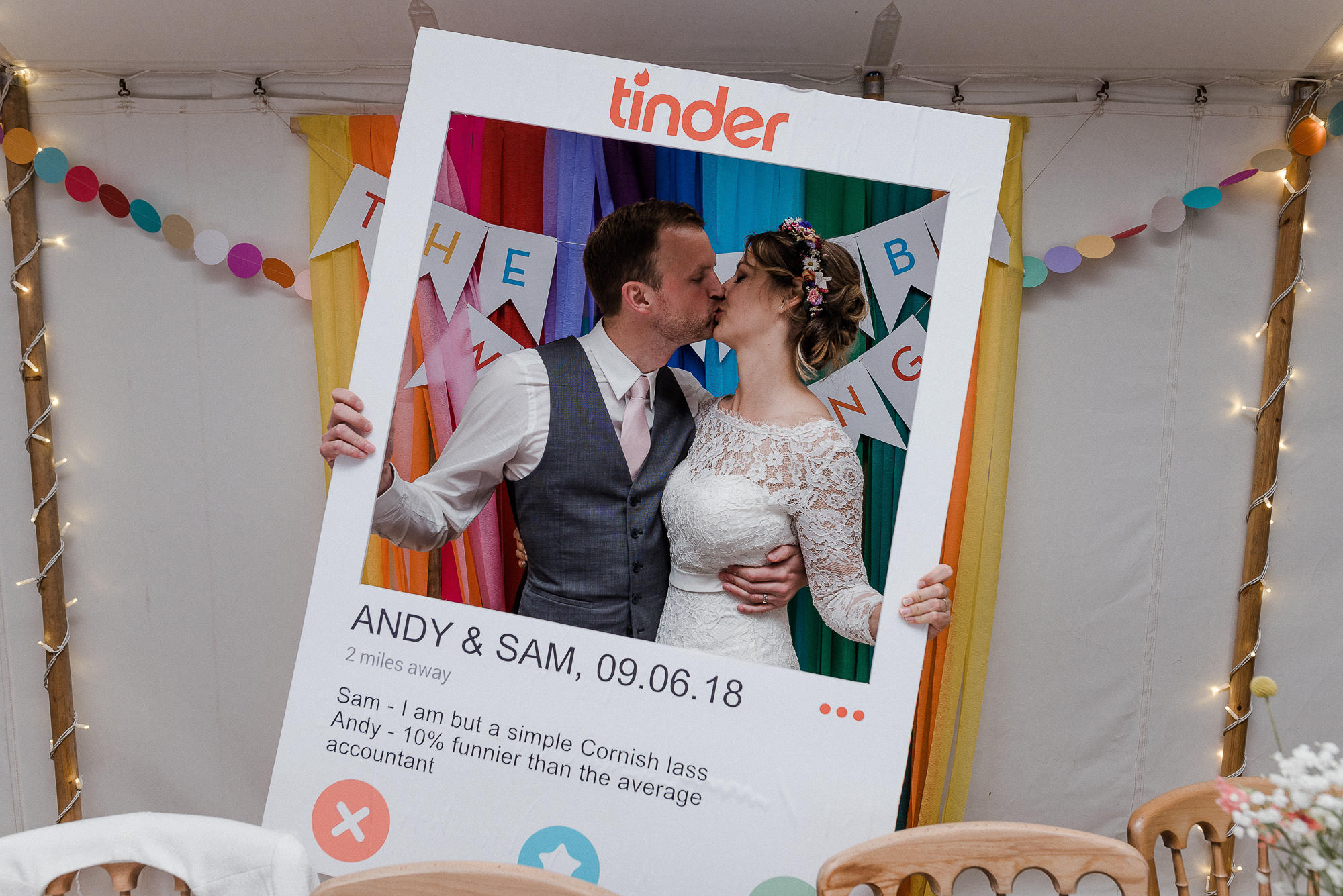 Lovelies, don't you just love the creative use of colour in Sam and Andy's day? Many congratulations to you both on your wedding, as well as thanks from myself and all of our readers for sharing it with us all. Thank you too to Nick Walker for your glorious photography; it's been so lovely to see the Cornish coastline and this gorgeous farm wedding in your work.
Love the DIY approach? You can get more inspiration from these weddings.
Ele xx