Hurray, we're off to the glorious Lake District today for a completely joyous celebration – colourful, fun and relaxed, with vintage inspired details and an embellished, free-spirited wedding gown of dreams!
Meet our couple, marketing account manager Jasmyn and Huw, a policy manager for a large healthcare insurer. They were married on the 19 May 2018 at New House Farm in the beautiful Lakeland Fells, Cumbria; once a farmhouse and now luxury guesthouse and wedding venue.
"We have a family home in the Lakes and we love spending time up there so it felt right to get married there. New House Farm was the first venue we looked at and we instantly knew it was perfect for us. A nice mix of elegance with a rustic country feel."
Images by Emma Boileau Photography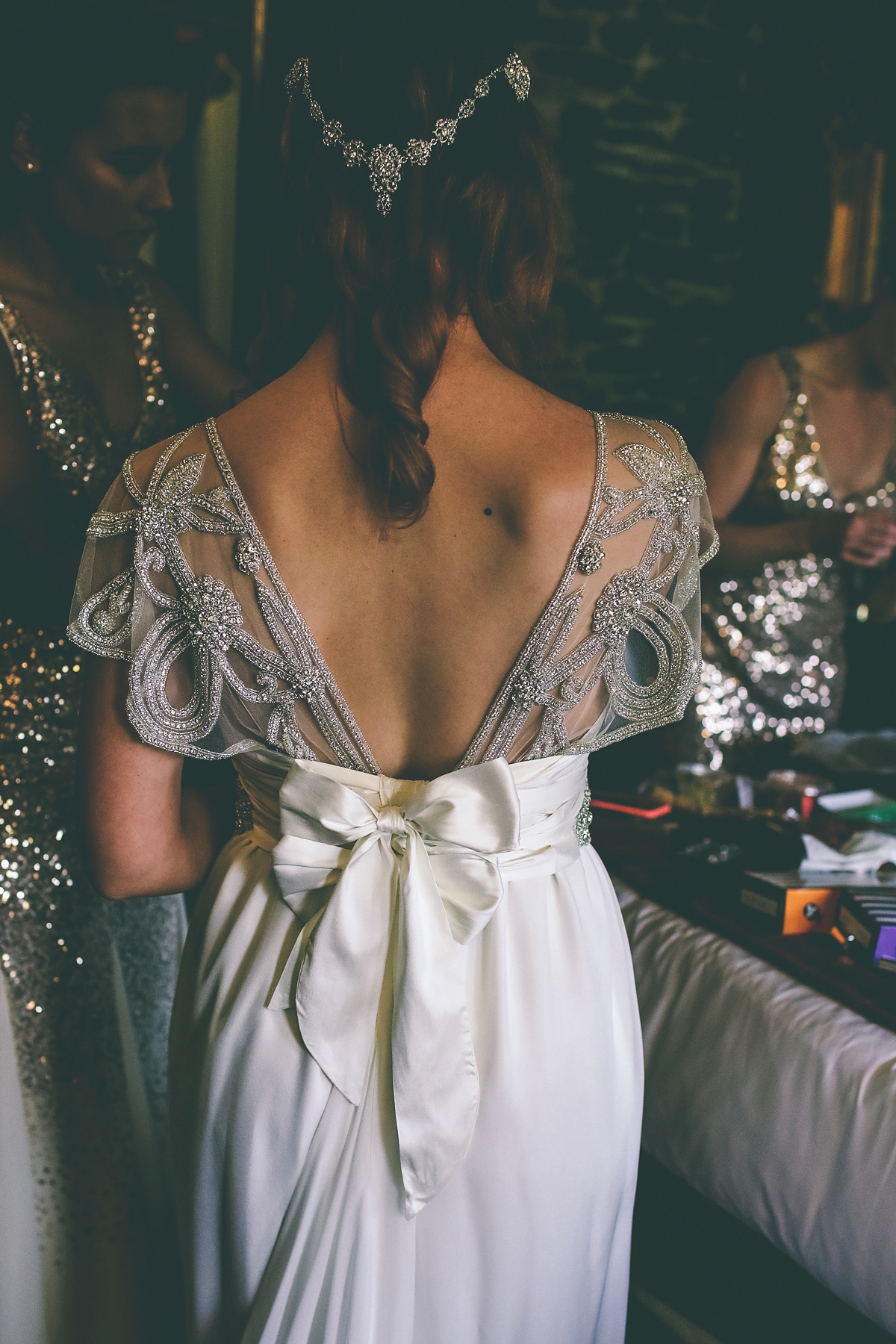 To tell the enchanting story of their day, Jasmyn and Huw chose Emma Boileau as their photographer, and what a magnificent job she did, capturing all those lovely details.
"Oh my gosh –I can't sing Emma's praises enough. She was absolutely amazing on the day, especially in making sure we were ready on time and getting all the group shots done considering we'd all had a few drinks at that point!"
"There's loads of pictures during the ceremony which we absolutely love –and NOBODY knew she was there taking them. Her style is so unique and she was the only photographer we considered, she perfectly captured the atmosphere and joy of the day."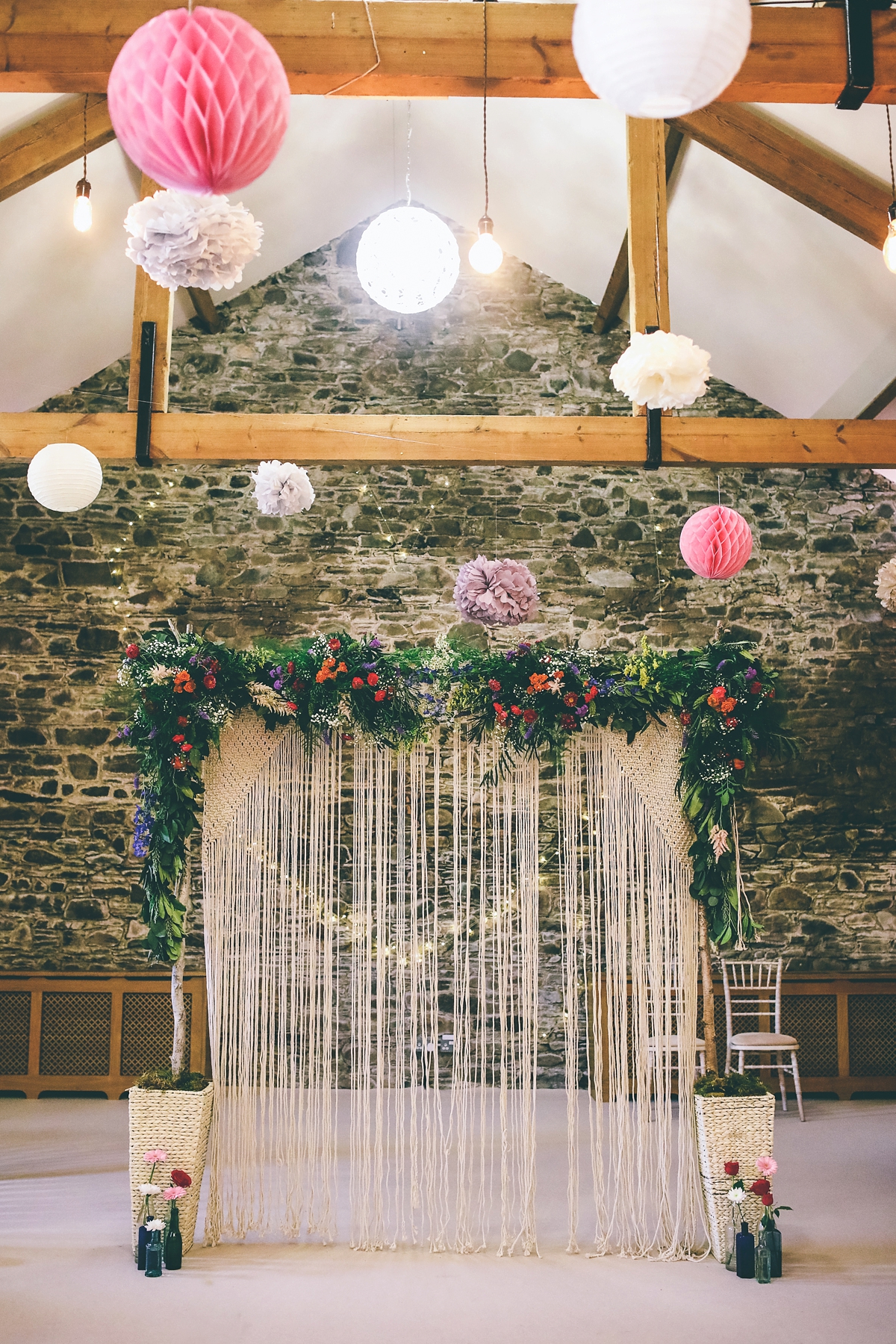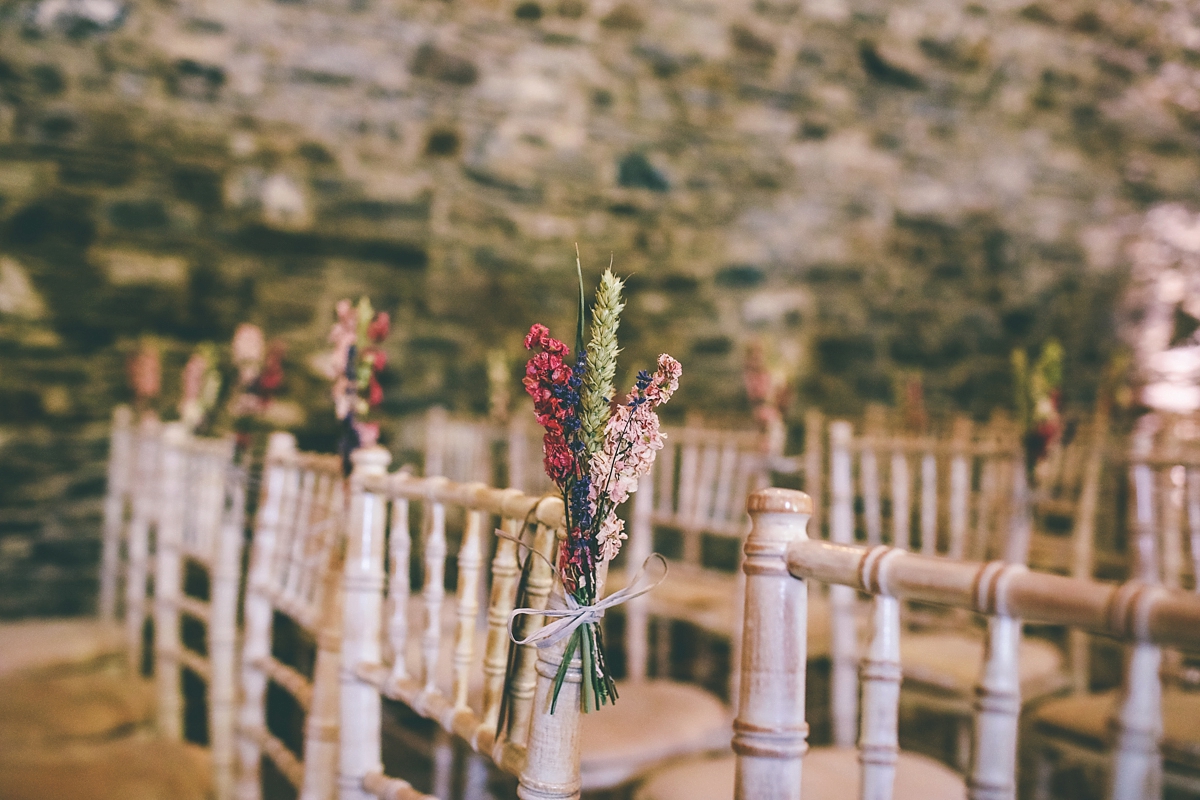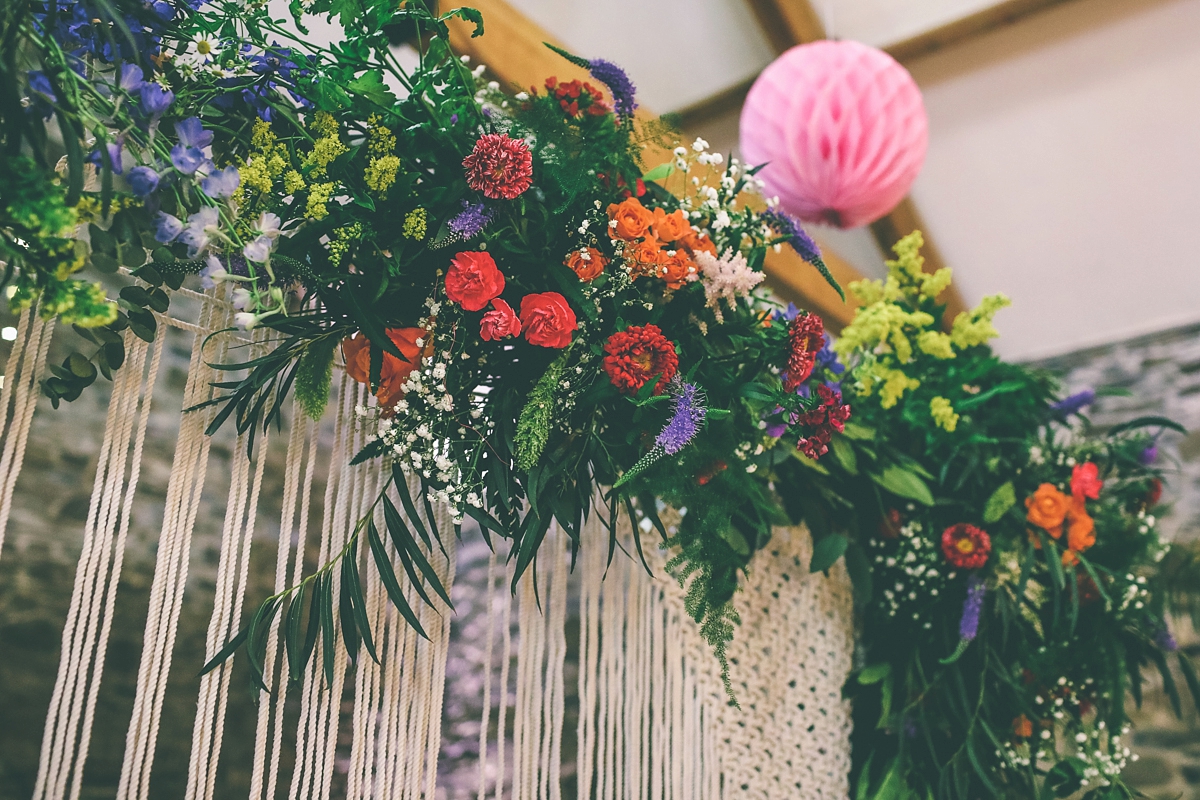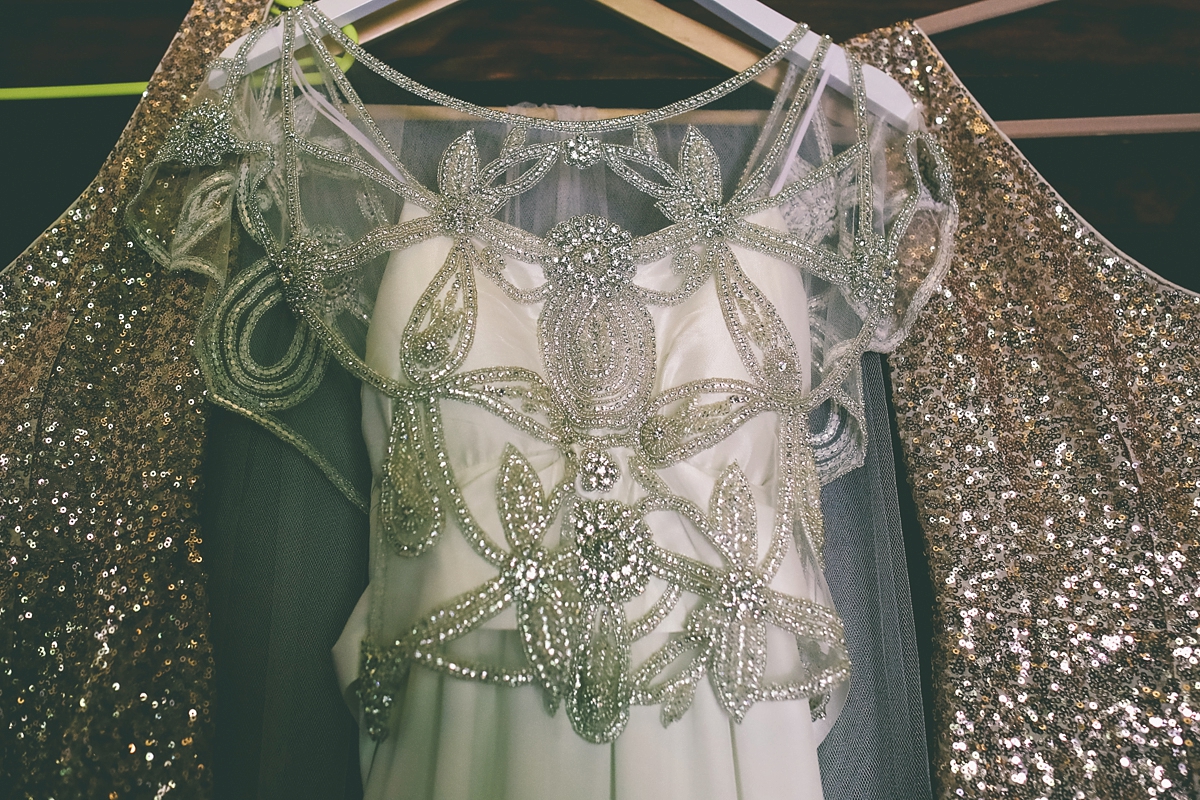 Jasmyn wore a pair of Ted Baker shoes, covered in luxurious pink velvet with the most amazing embellished buckles and rose gold stiletto heels.
[JP-VIDEO]
"As my dress had so much detail I didn't wear much jewellery. Just a Swarovski bracelet Huw had given me as a gift a few years ago and a pair of Swarovski earrings one of my bridesmaids bought me as a wedding present."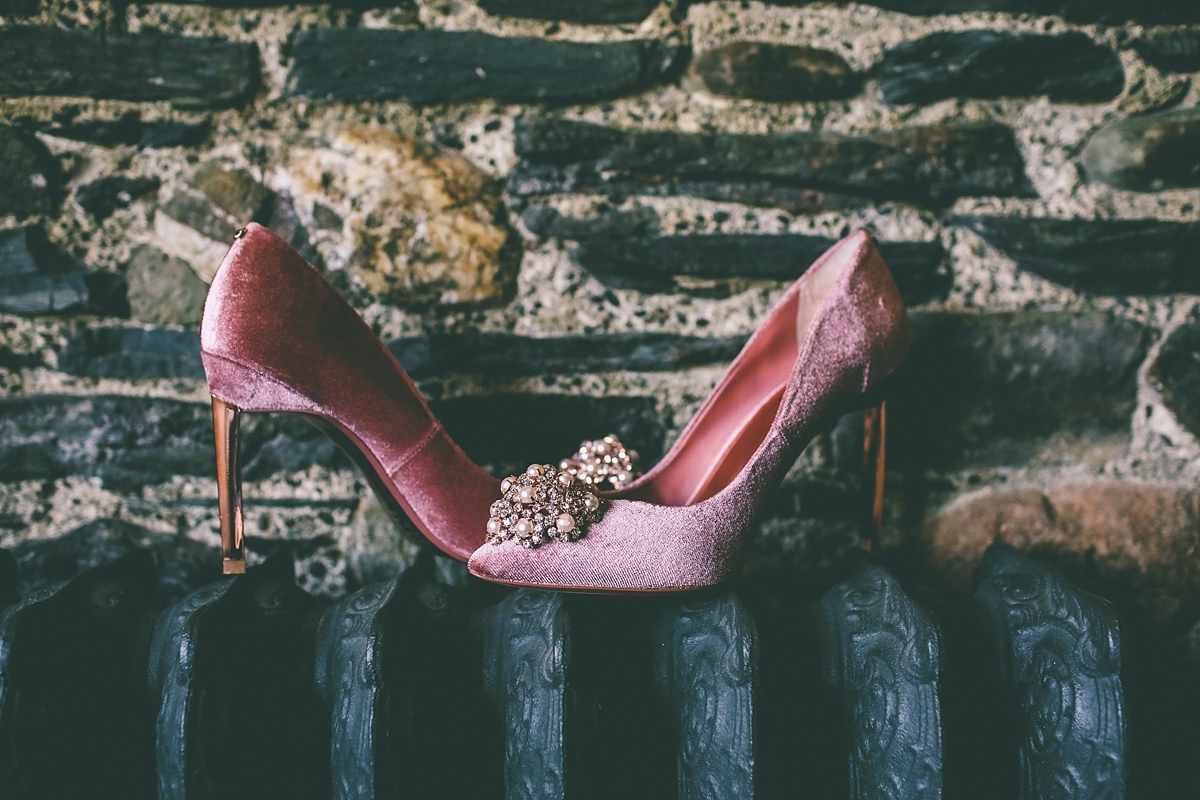 I love the rich red shade of lipstick Jasmyn wore, with her hair styled in vintage waves as a beautifully polished nod to a bygone era, all by Stephanie Swain Hair and Makeup.
"She was brilliant on the day and kept all of us girls on schedule. I've never felt more beautiful."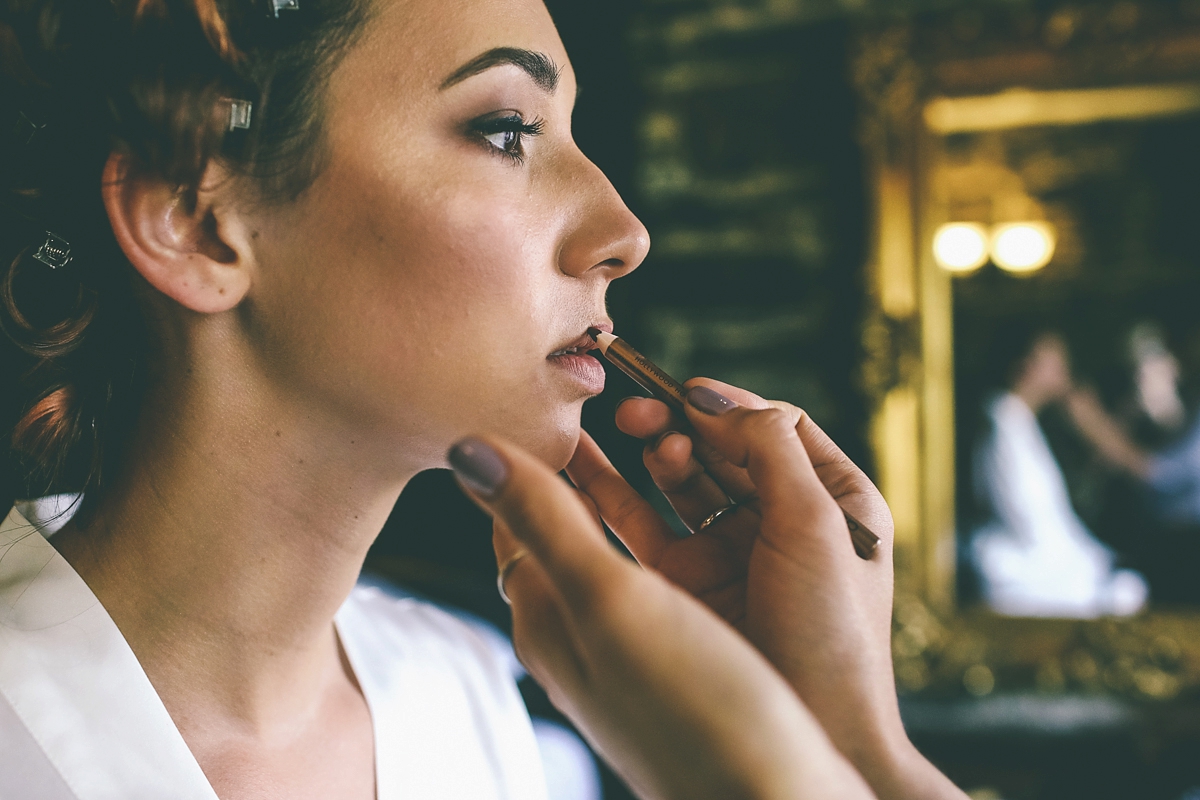 Jasmyn decided on a hand beaded and silk gown by Anna Campbell, and how wonderful she looked. She chose the 'Adelaide' at Jean Jackson Couture, and has a really lovely story about the boutique to share.
"I always knew I wanted to buy a dress at Jean Jackson Couture since I was little. The boutique has been in my hometown since I was born and I used to love looking at their window displays as a child. I realised very quickly I wanted a floaty dress with a vintage feel and although there were lots of choices, this one really stood out as a beautiful mix of glamorous and laid back."
In her hair Jasmyn wore a hair vine from Donatale Bridal paired with an ethereal draped veil from Noon On The Moon and they looked wonderful together – Art Deco meets medieval!
"We went for a 'scent your wedding' session at Jo Malone and it was really good at helping us decide on perfumes. It was all around scent layering so we both wore two colognes each which complemented each other, as well as complementing what the other person was wearing. I went for Lime Basil and Mandarin and Black Cedarwood and Juniper, and Huw had Myrrh and Tonka and Oud and Bergamot."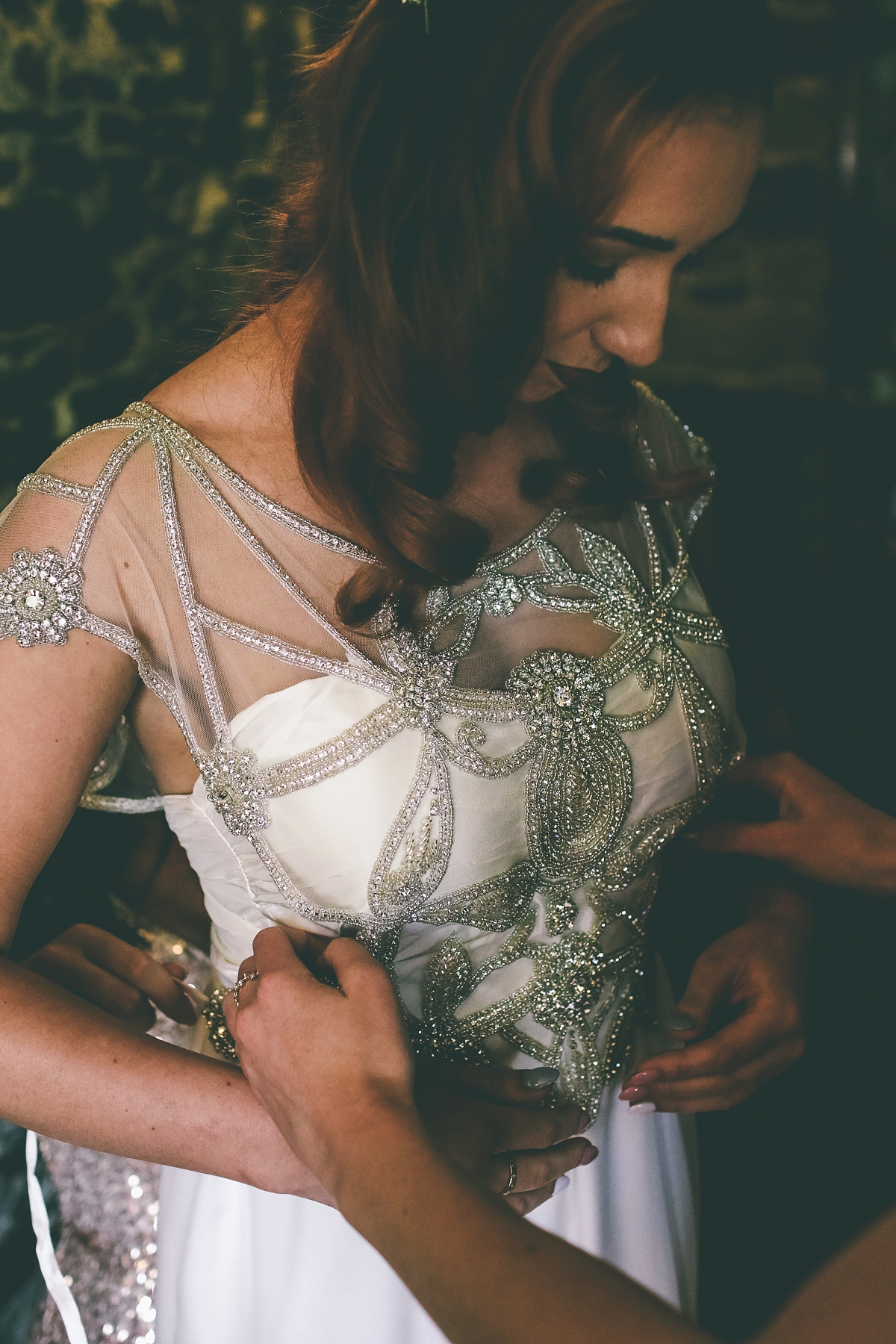 The bridesmaids wore glamorous gowns covered in gold sequins from Goddiva together with their own shoes and minimal accessories to offset the shine of those incredible dresses, while Jasmyn's flowergirl wore a dress from Monsoon.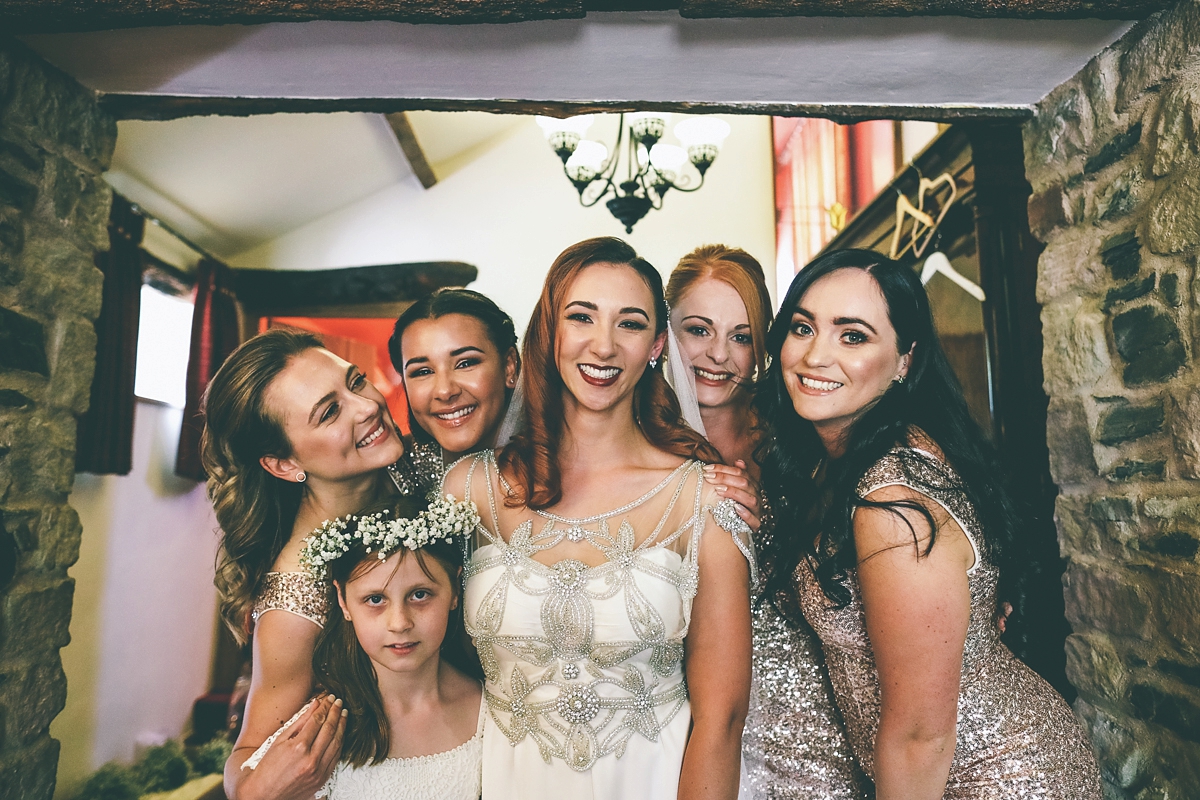 Jasmyn and Huw first met eight years ago when they were both working at Marks & Spencer, and they very quickly became great friends.
"It took us a couple of months to realise we were actually more than that! Huw proposed to me in Mexico at the most luxurious resort we've ever stayed at, we then got married 17 months later."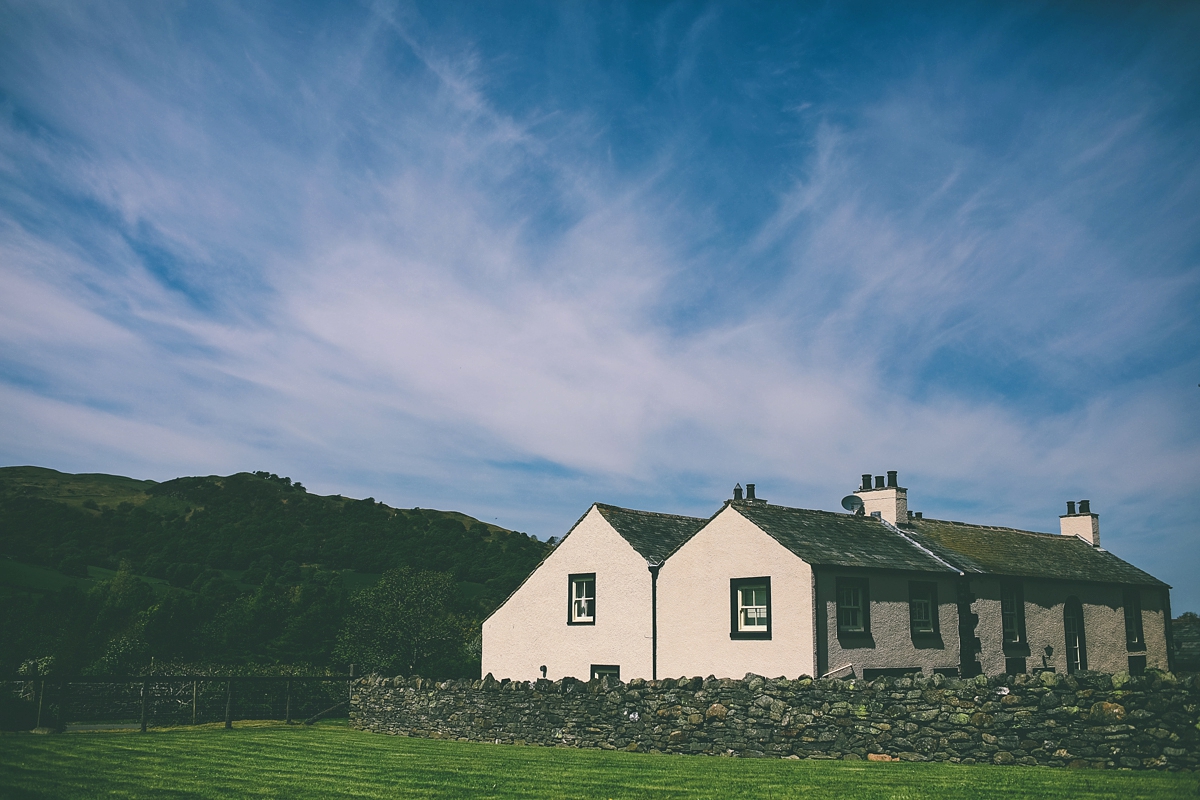 Huw wore an outfit with a brilliant mixture of prints and textures – a navy blue suit with contrasting grey check waistcoat from Whitfield & Ward with a fantastic paisley tie and pocket watch to accessorise.
"These guys were absolutely brilliant and really helpful…the groomsmen's suits were also from Whitfield and Ward –I've never seen them all look so smart together."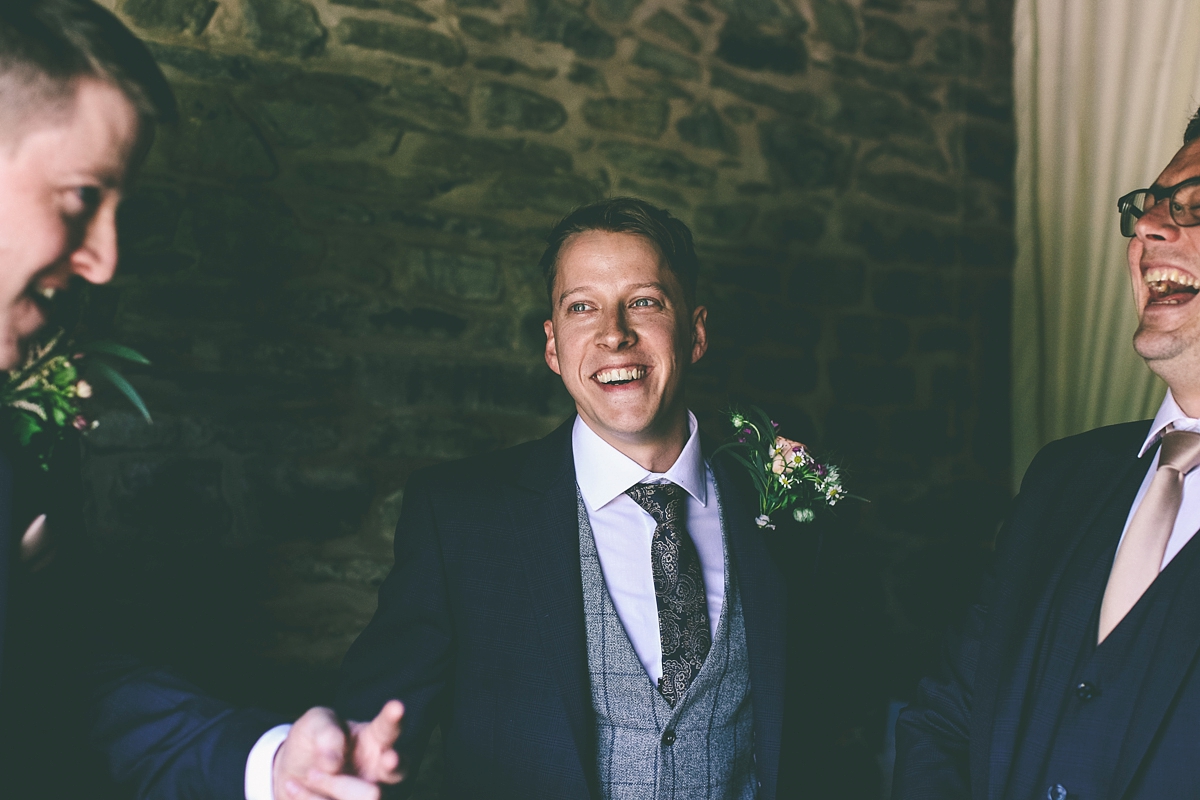 Jasmyn and Huw said their vows in front of a beautiful, wild and modern floral arch crammed with colourful summer blooms and greenery, and Jasmyn carried an exquisite bouquet of wild flowers, including a favourite of mine – delicate Love-in-a-Mist. These arrangements were all created by Evergreens of Keswick.
"As it was a boho wedding we didn't want anything too structured. There are so many beautiful wild flowers in the Lake District so we just instructed her to choose whatever was in season on the day. We ended up with such a gorgeous mix of colours in the room that really encompassed summer in the countryside."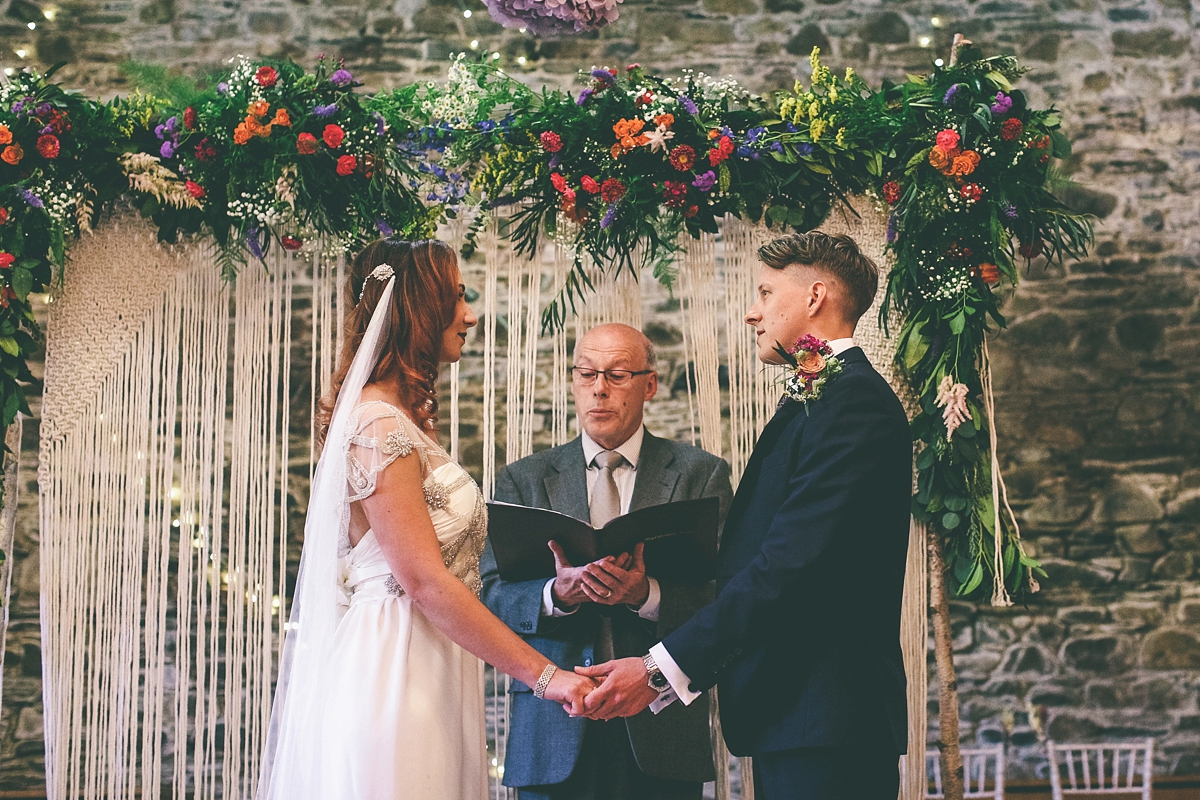 "My Dad walked me down the aisle, I say walked, I pretty much ran up I was so nervous…I walked down to an instrumental version of Snow Patrol's Chasing Cars, it was lovely."
There were two readings during the ceremony, read by the Maid of Honour and Jasmyn's sister. They chose Bob Marley's He's Not Perfect and Union by Robert Fulghum.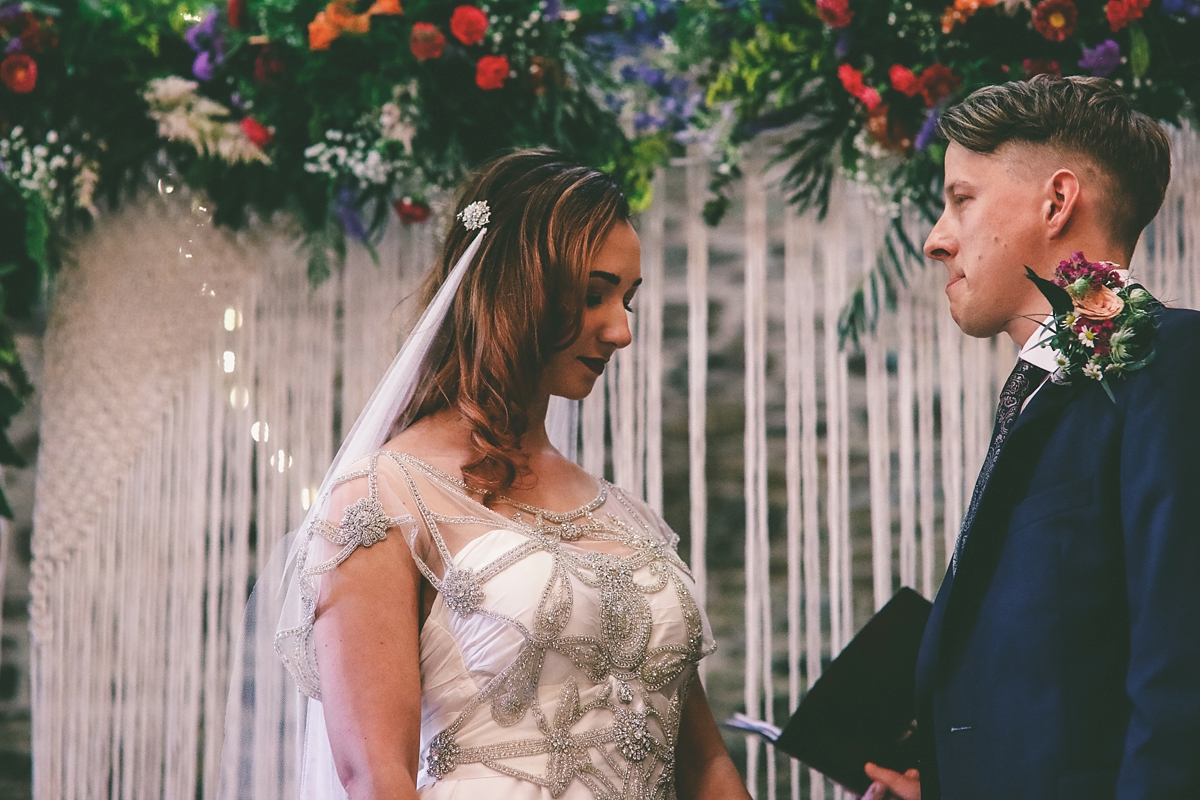 "We chose them because they weren't too soppy but really summed up our relationship and how we work together. The first was also special to me as I am quarter Jamaican so had to get Bob Marley in there somewhere!"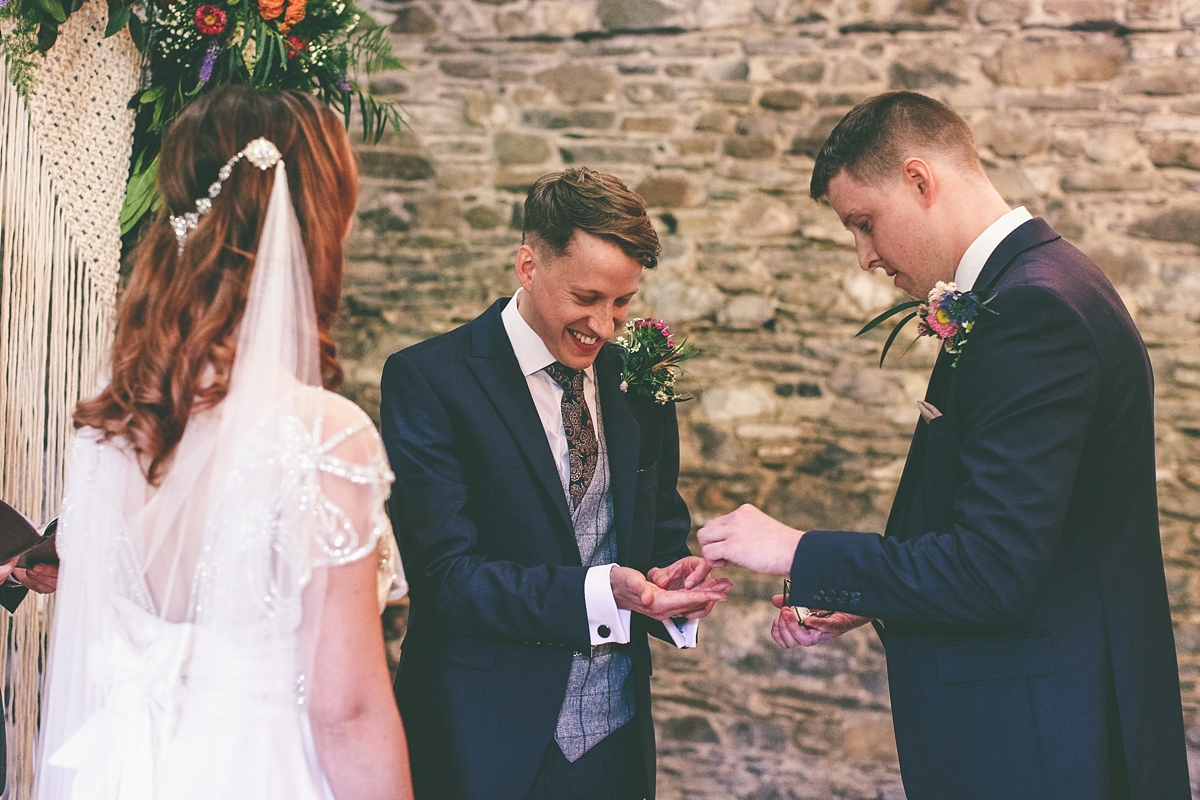 The couple exchanged their vows, and also chose to give one another bespoke rings from Orb Jewellery Workshop.
"This is a company from where I grew up and we've had a few pieces from them before. Both of our rings are bespoke, with Huw's being made from melting down some family gold to make his band."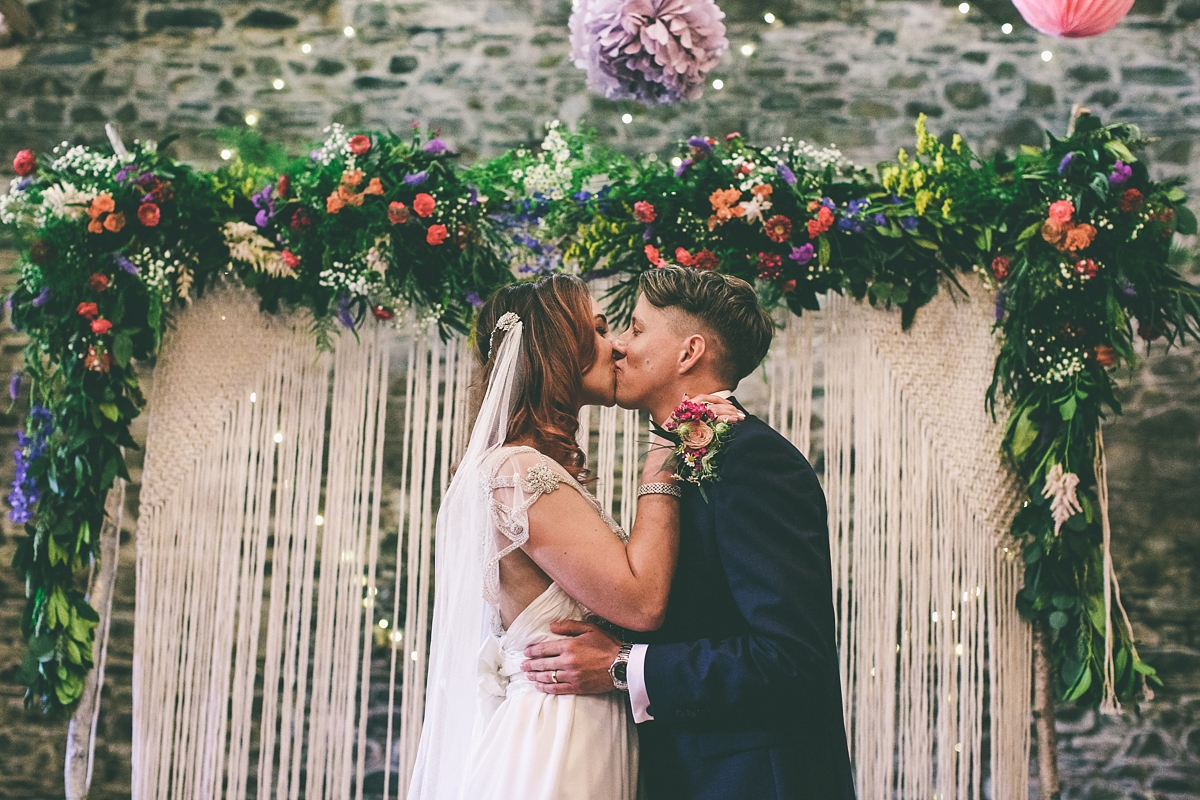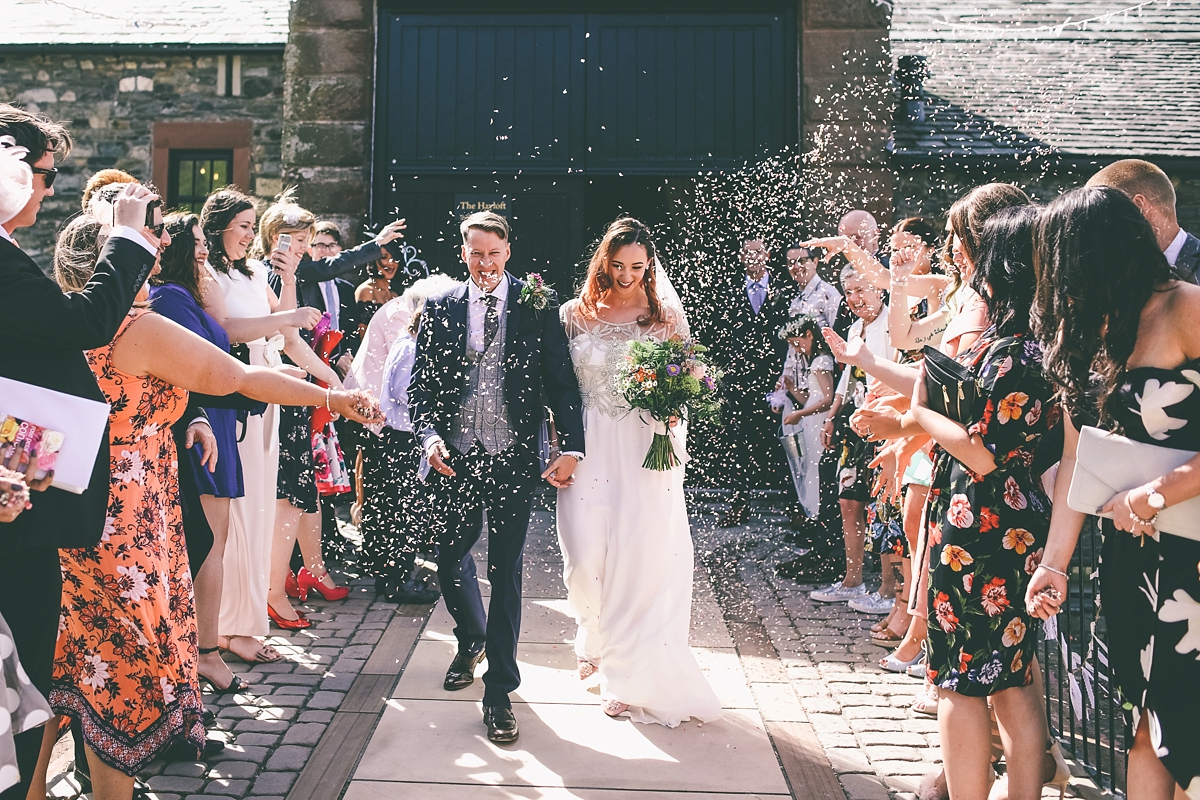 There were drinks outside in the sunshine following the ceremony, with guests entertained by Lauren Charlotte Violin and Sax Duo.
"It's difficult to pinpoint a favourite part –it was just so wonderful. The drinks after the vows were a lovely time as it was great to see all of our loved ones smiling and having a great time… It was just incredible to see everyone smiling all day."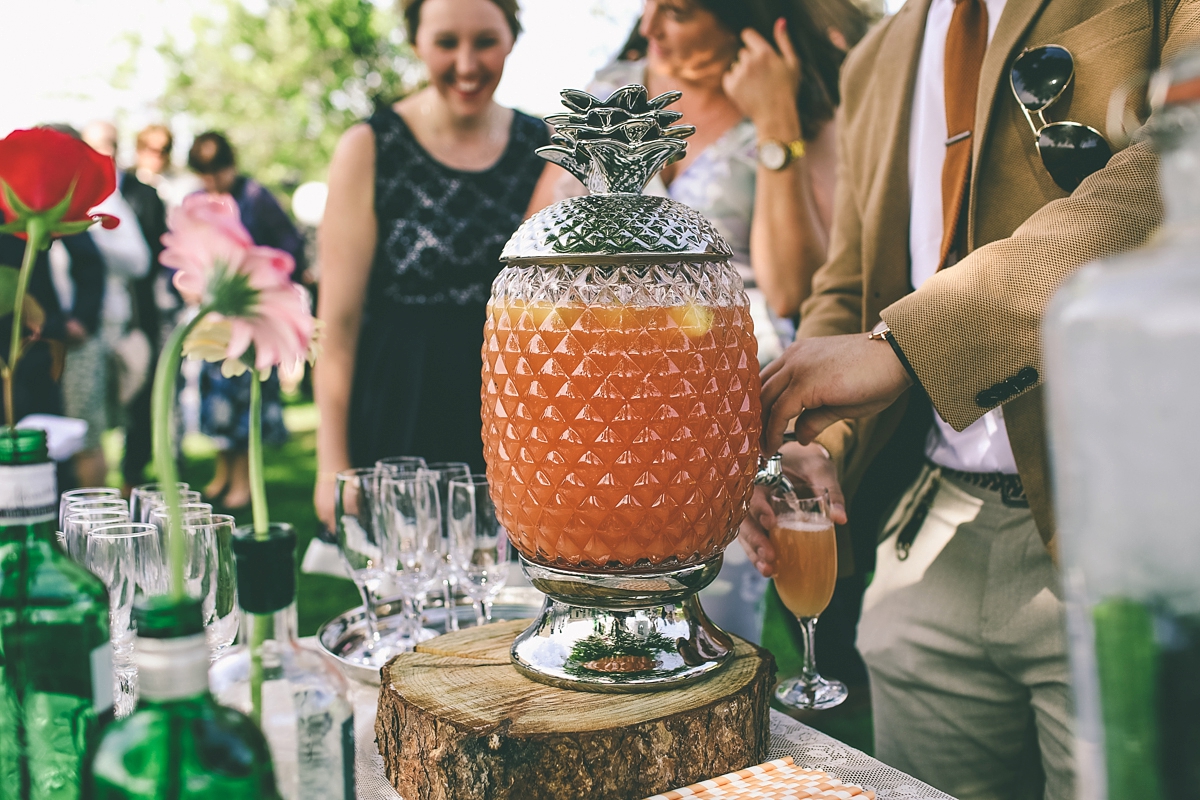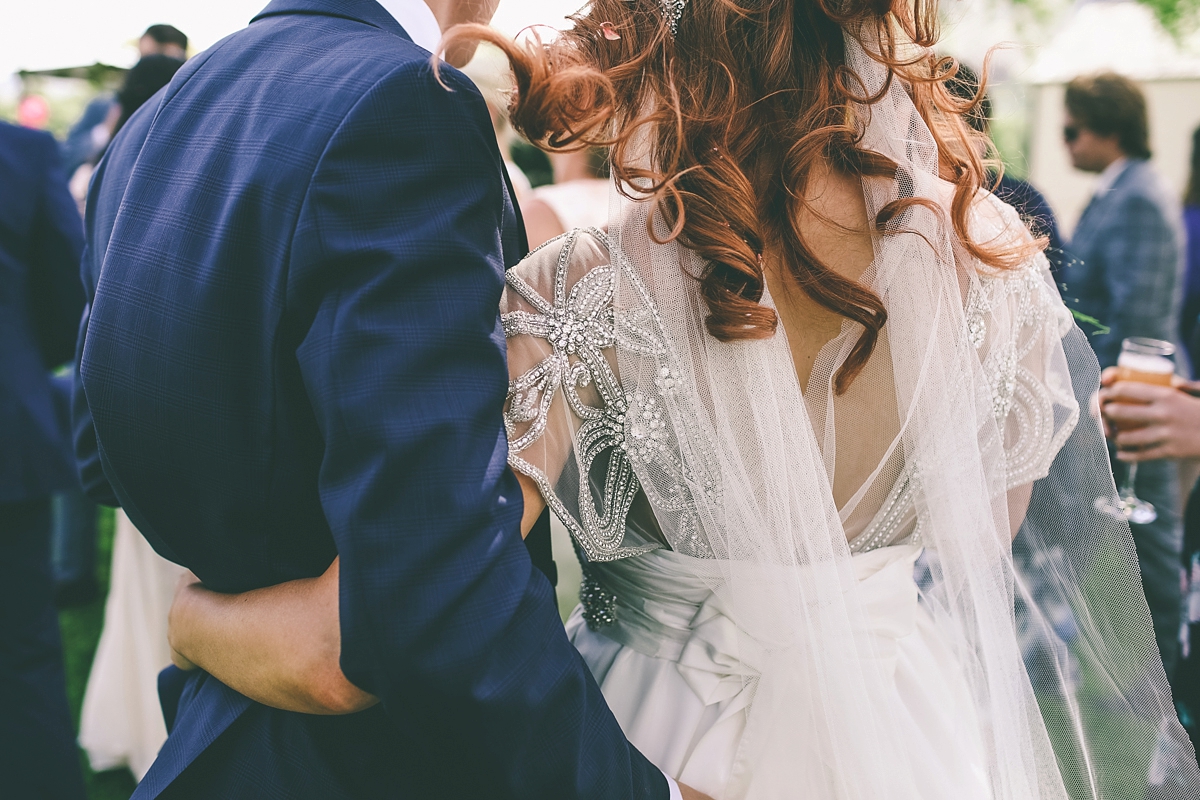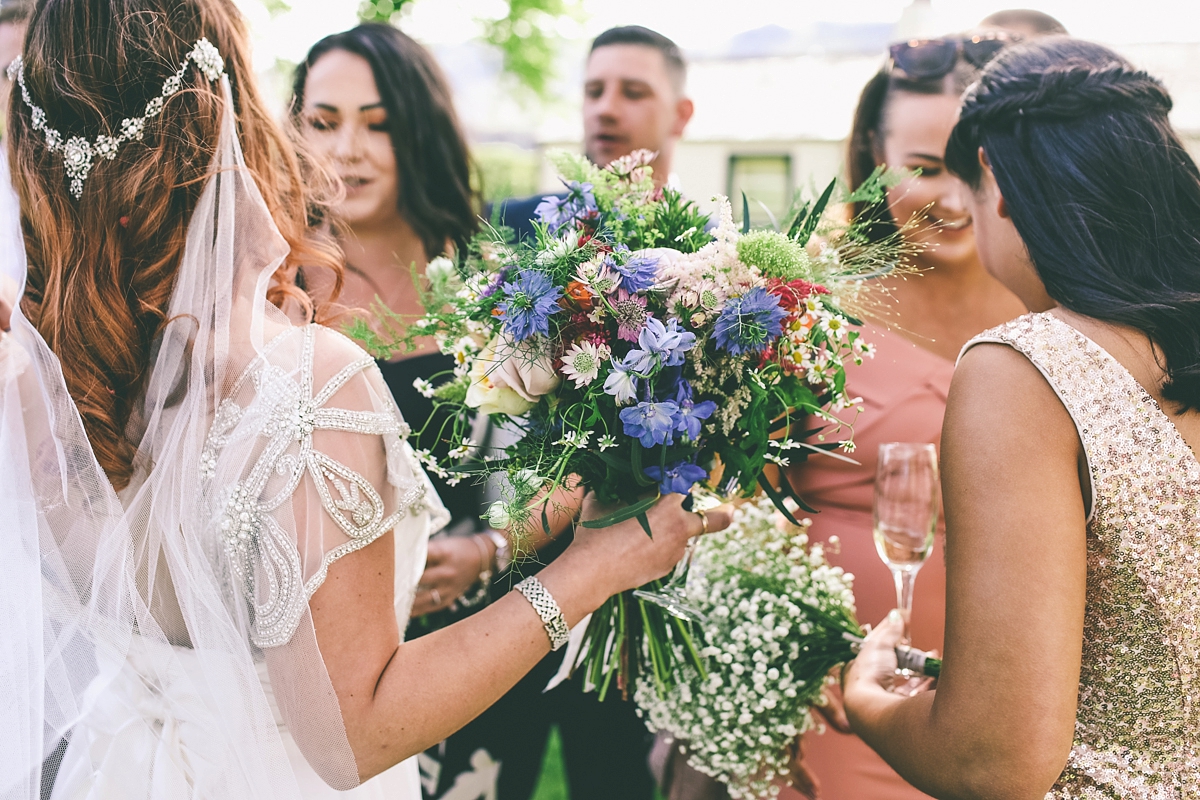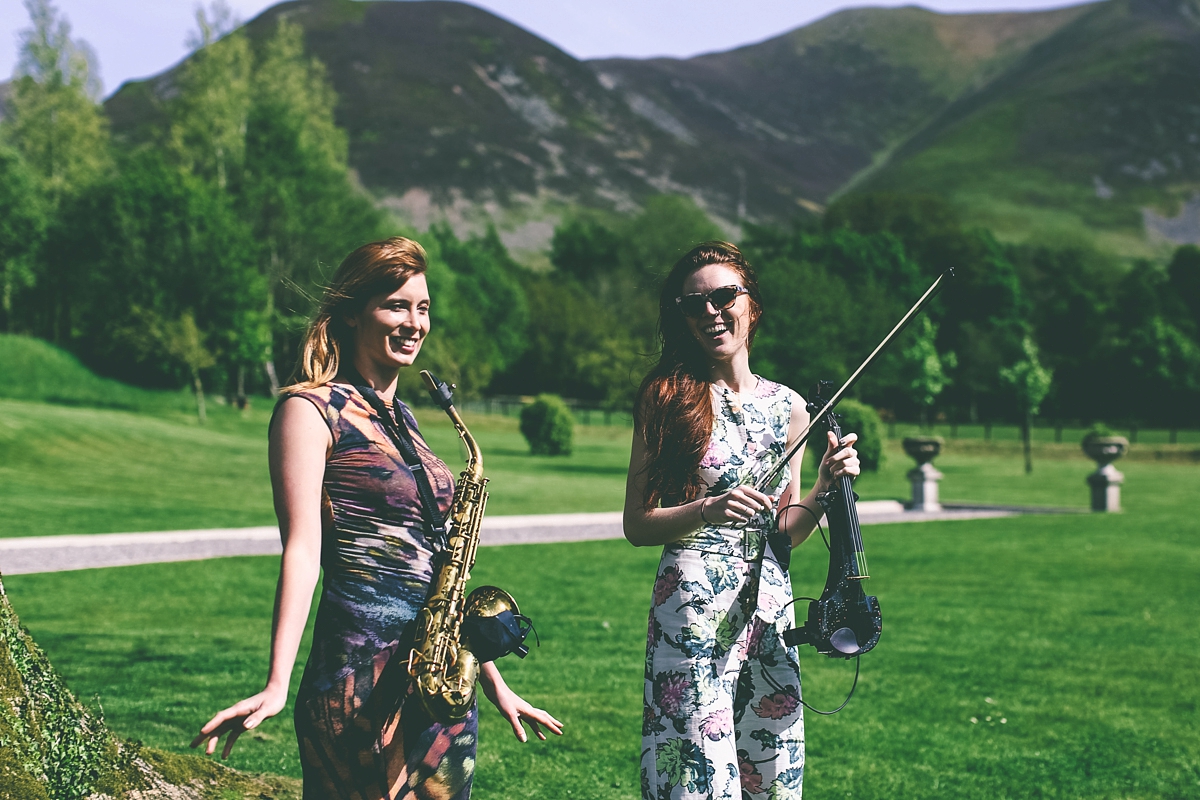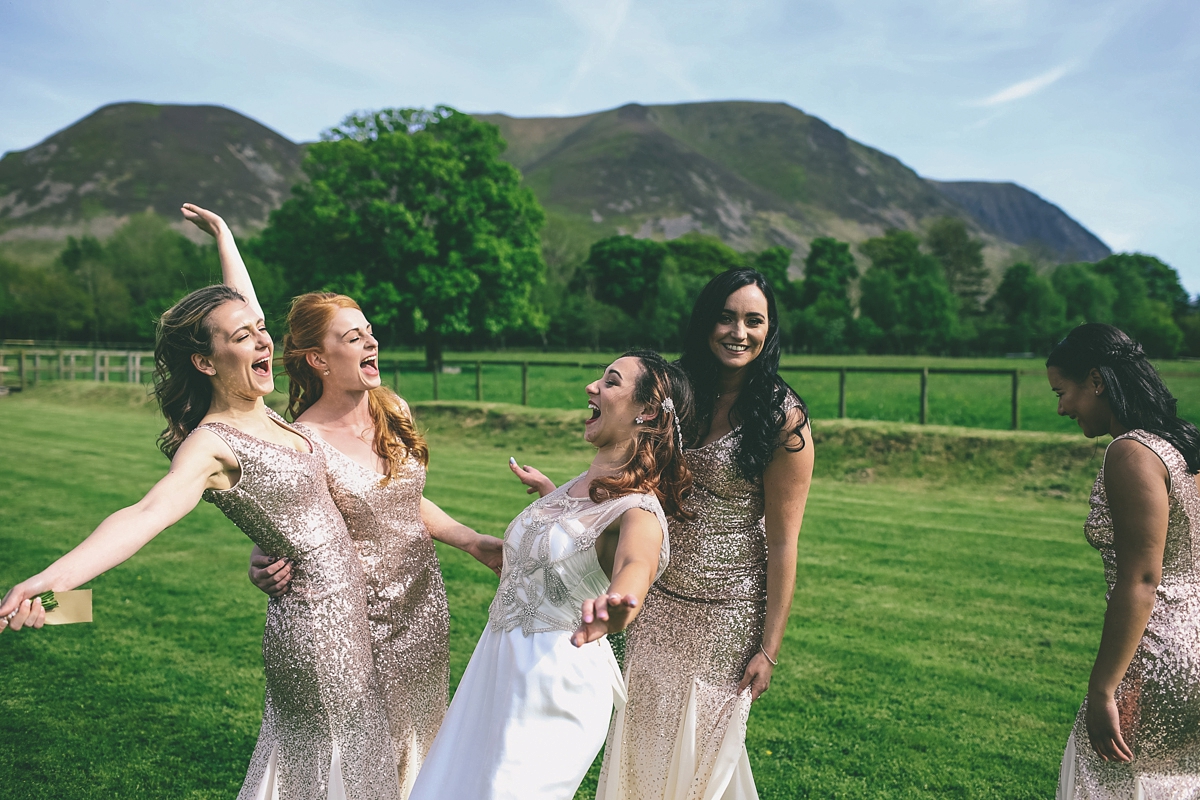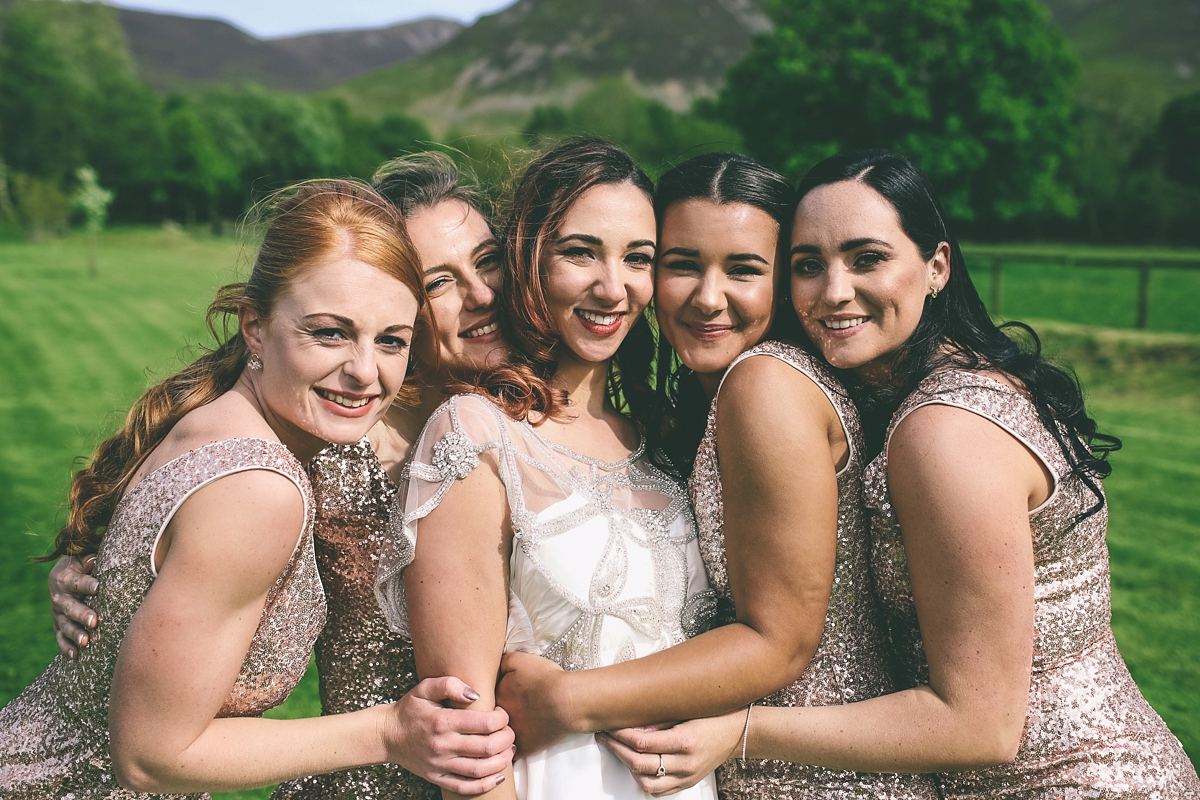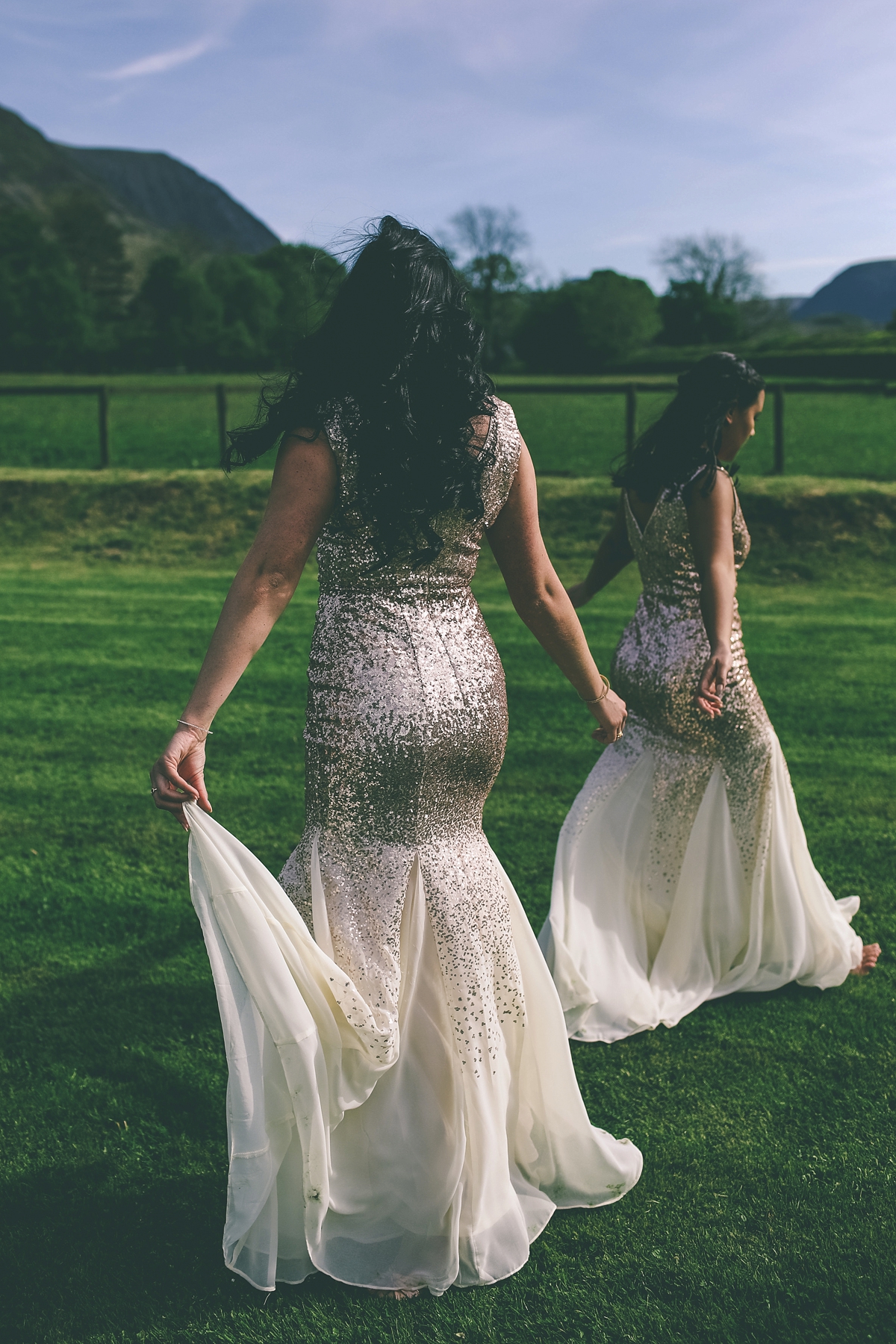 Jasmyn and Huw's cake was a gorgeous semi-naked gin and tonic flavoured cake made by a family friend, and decorated with colourful macarons and fresh flowers.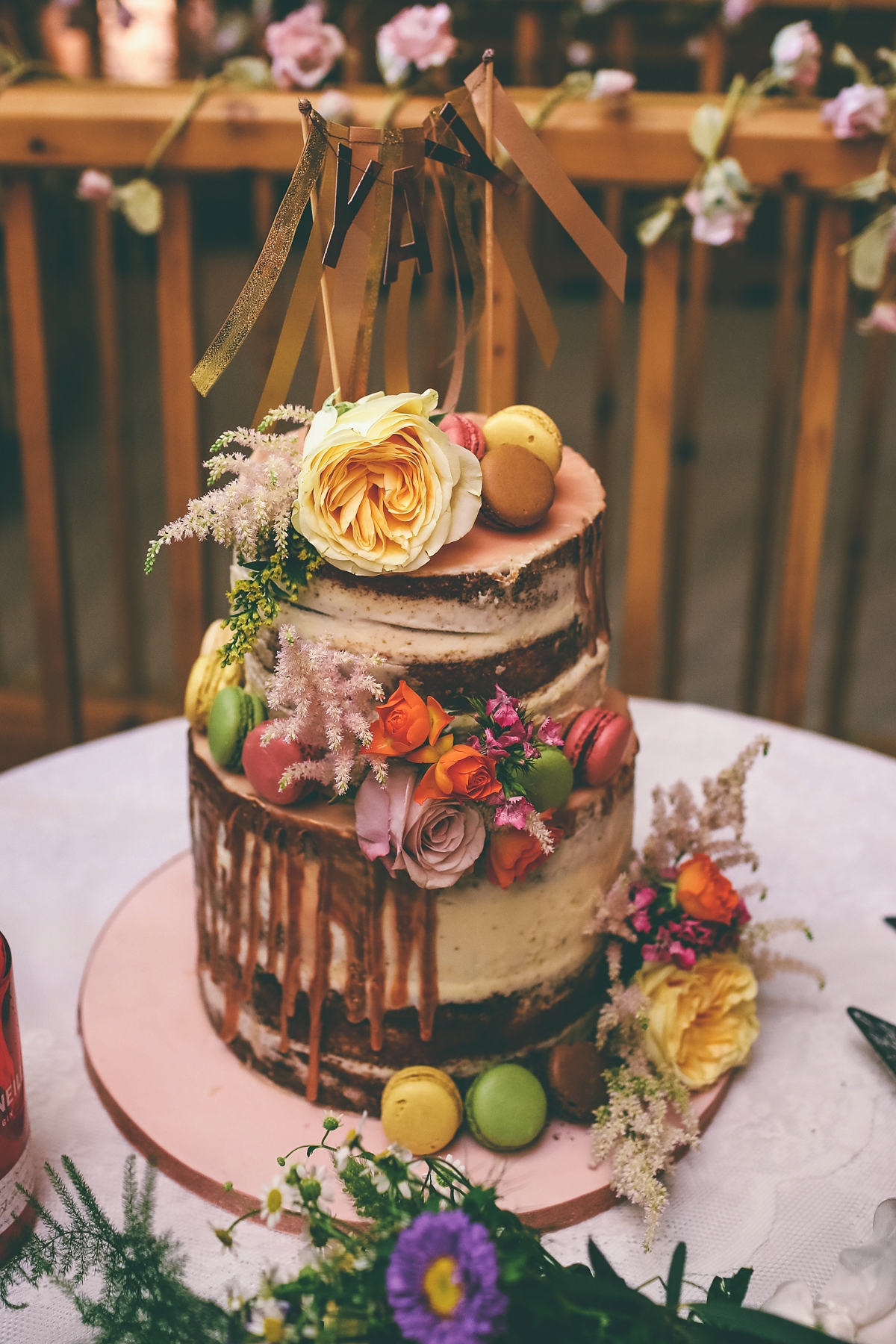 Inside the reception space was transformed into a vintage treasure-trove filled with delights – the incredible table centre pieces of antique books, jewellery, clocks and candles were created by Wilde & Romantic.
"Janet was excellent and worked tirelessly to get it finished for us…The chair ends were all handmade by me; I bought the flowers from Shropshire Petals and as they were dried it meant I could make them months in advance. It worked out so much cheaper than real flowers too!"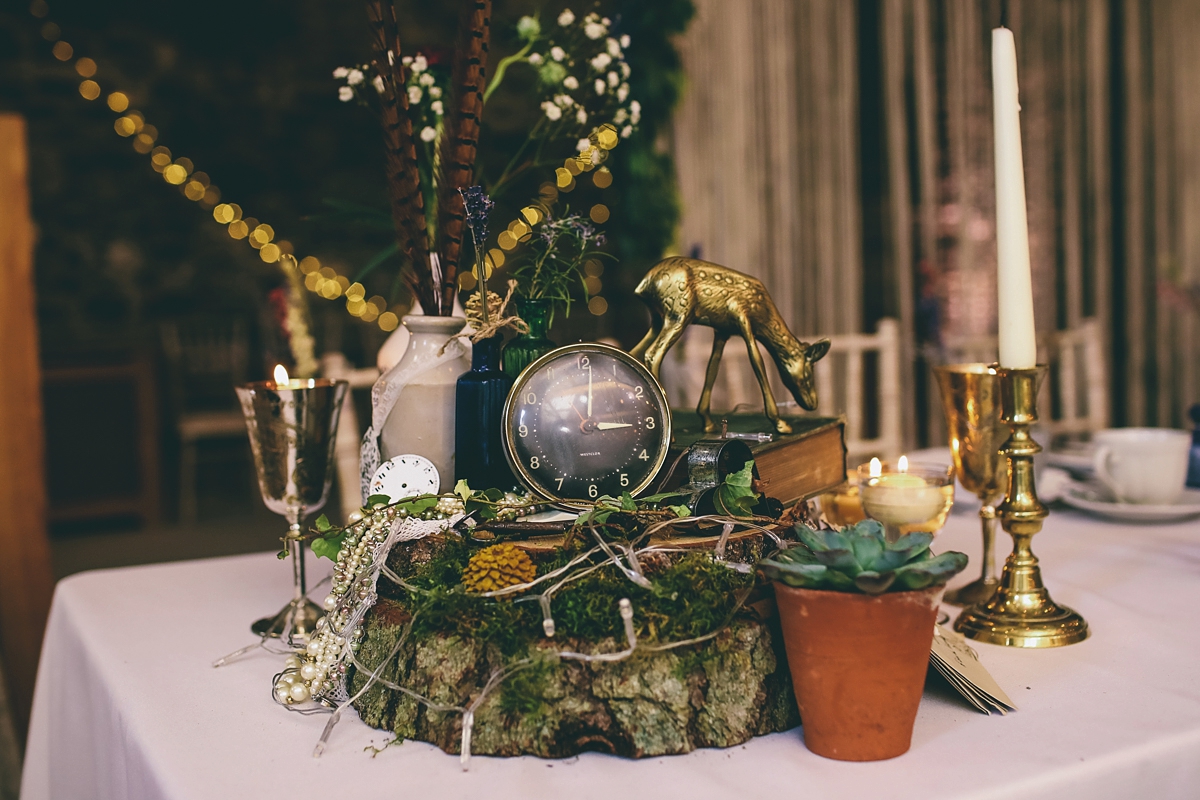 "After lots of looking through Pinterest I found that I was more drawn to the more boho/vintage feel with lots of pops of colour – plus we're massive gin lovers so that had to be included somewhere. This worked out great as it basically meant that anything went, no matter what the colour!"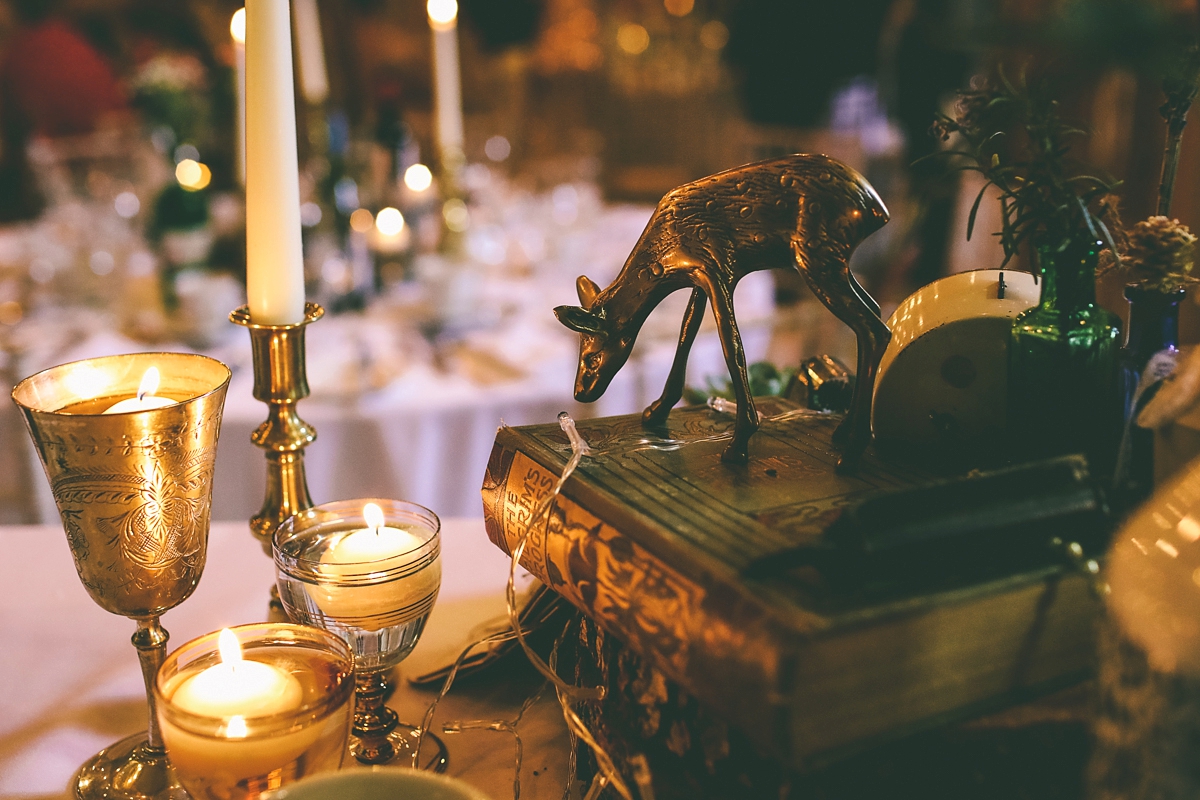 Jasmyn and Huw's styling also included lots of handmade DIY items, including all the stationery, with other items sourced from eBay and Etsy. There were favours, too – gin and elderflower lollipops from Holly's Lollies, and later, a delicious wedding feast from Karen Rhodes Weddings & Events.
"These guys were good! We had so many compliments on the food, it's a shame Huw and I were too busy to eat it! They also really helped out with the timings of the day and were accommodating when we ran a little over schedule."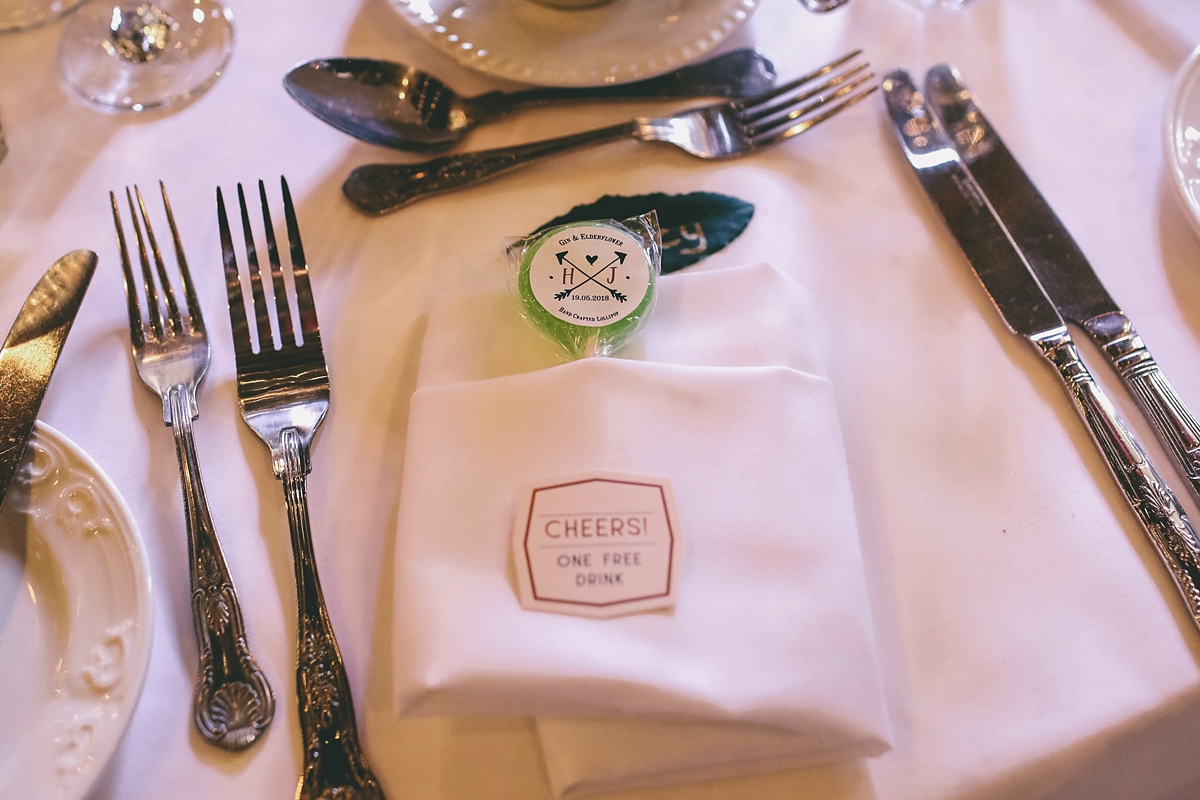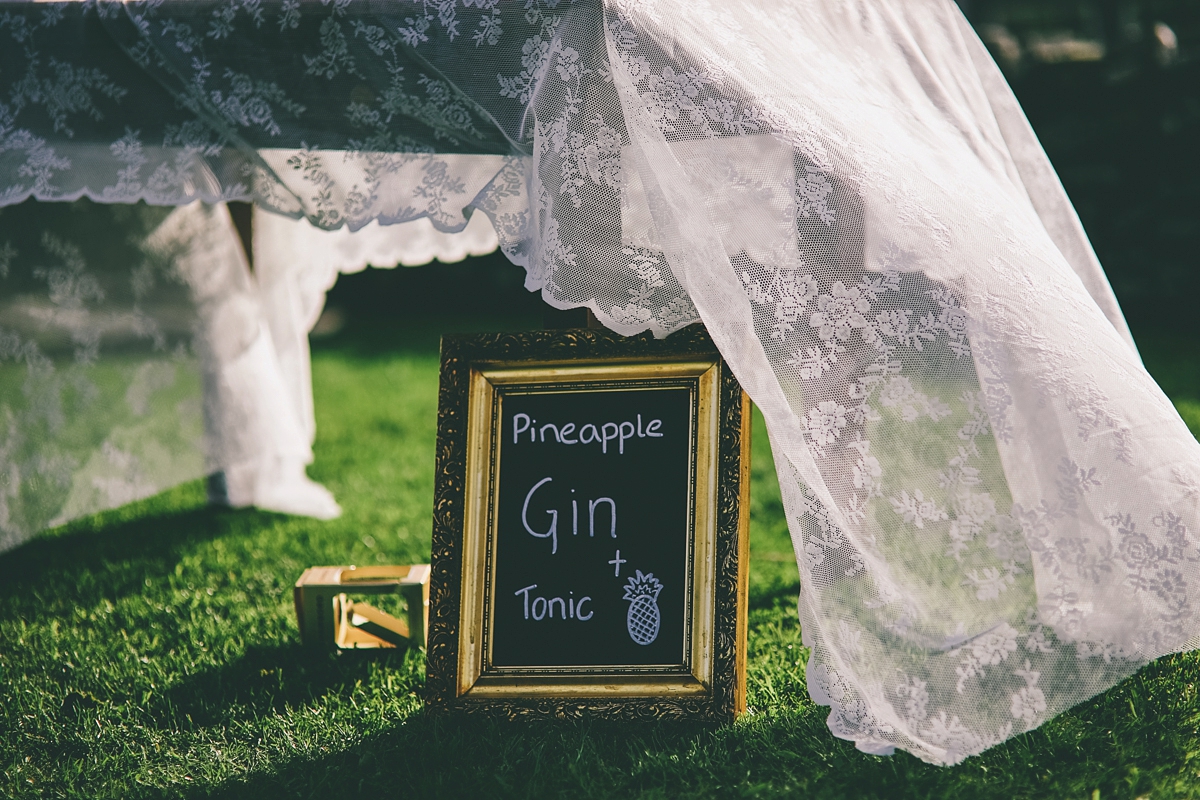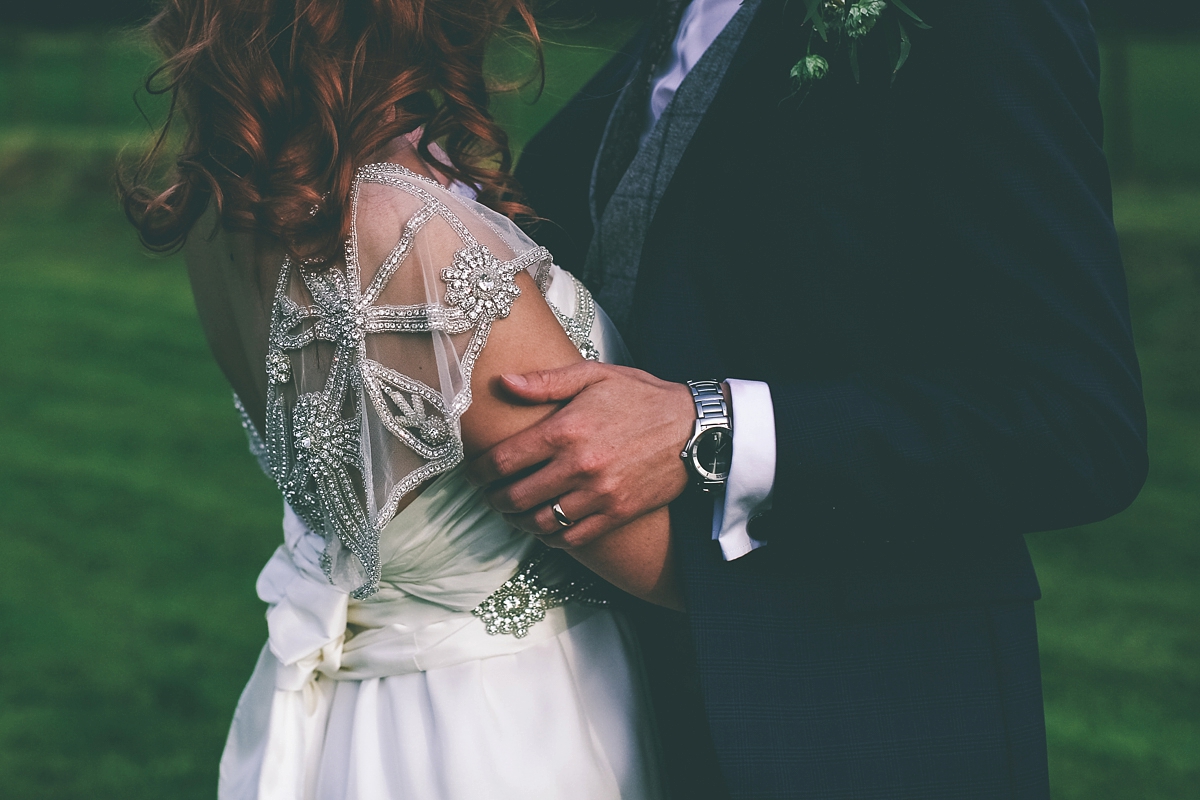 After dinner, Lauren Charlotte Violin and Sax Duo played for an hour, and kicked up a great party atmosphere for the dancing to come. Jasmyn and Huw took to the floor for their first dance, Young And Beautiful by Lana Del Rey.
"It wasn't overly sentimental to us, but the lyrics are beautiful and it's one of our favourite songs."
"For the evening we hired a jukebox from Retro Jukebox Hire, which went down a storm – it was great to let everyone pick their own songs and meant the dancefloor was never empty. We also had a vintage photobooth from Jolly Good Photo Co. with a genuine Victorian camera, it was loads of fun and we got some brilliant shots of everyone for the guestbook."
"We both can honestly say there's nothing we would change. It was absolutely perfect for us and everything went to plan –including the weather!"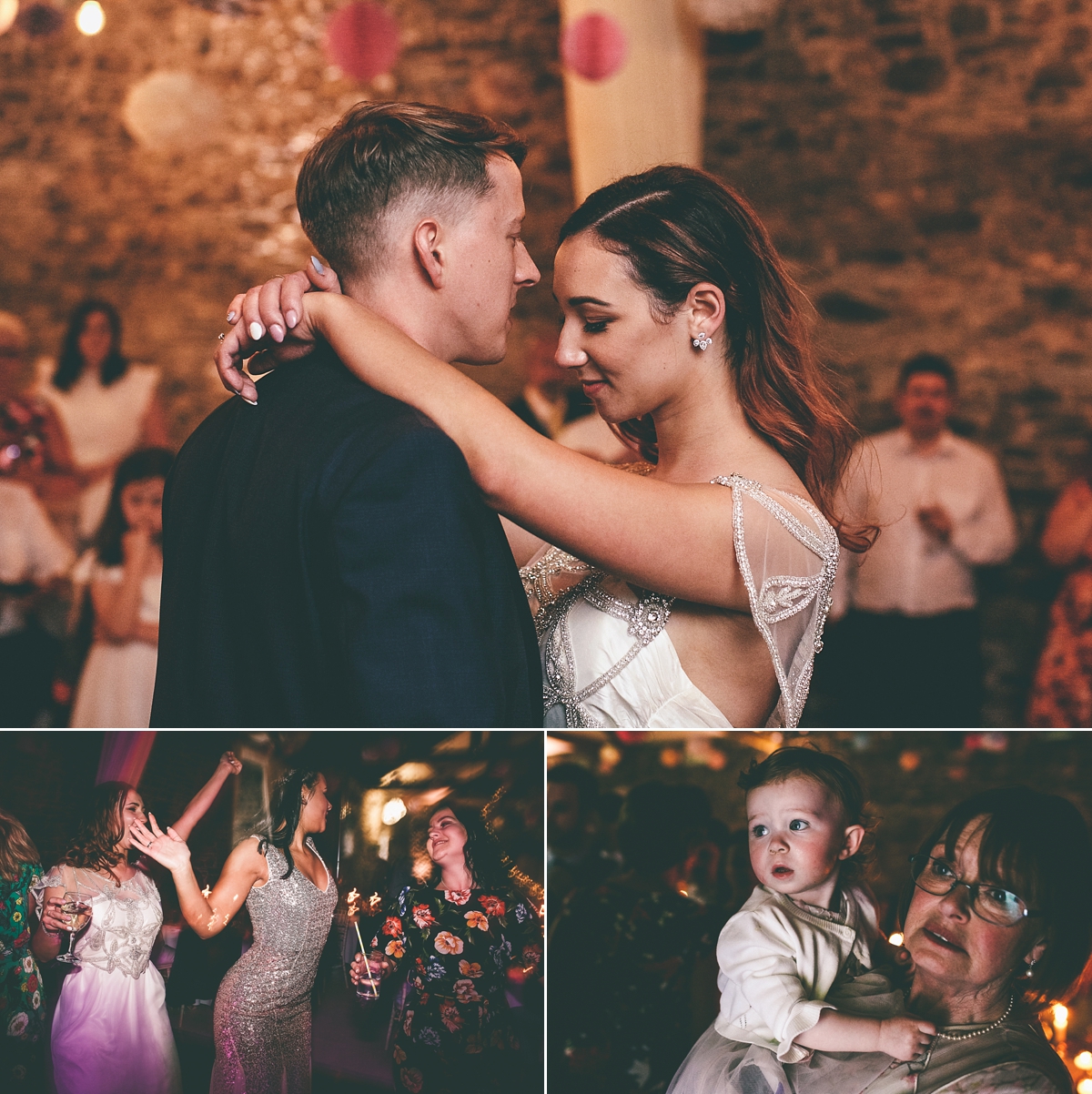 Words of Wedded Wisdom
"We thought it would be a great day but never expected it to be the best day of our lives – turns out it really was! It was amazing because it was filled with family, friends, laughter, booze and bad dance moves."
"If I could give you one piece of advice, all I will say is that it's true –no one really cares about all the little details, they're great if you have time but please don't stress over them, they really won't be missed. We bought tonnes of things for the evening that never appeared because we were having too much fun to notice. Enjoy the day… it goes in a flash!"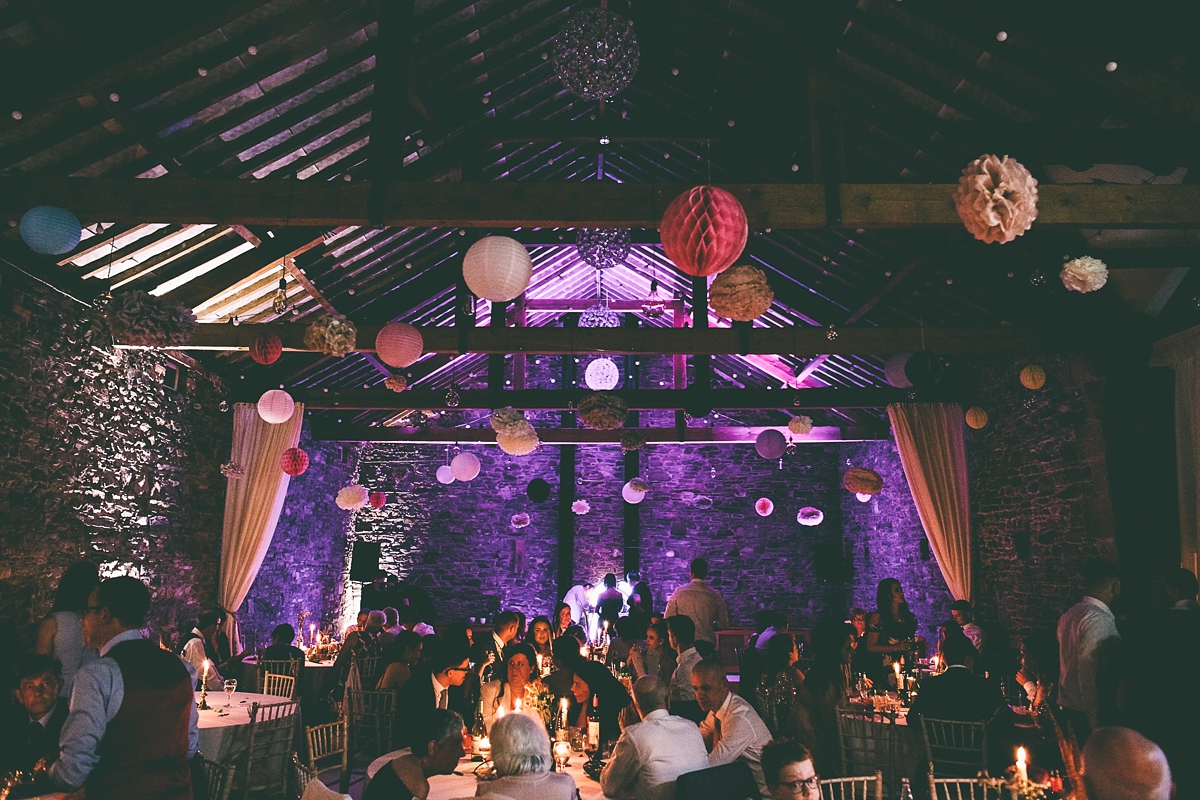 Thank you so much Jasmyn and Huw, what a delight it's been to write about your beautiful day. Thank you also Emma Boileau for these fabulous images. You can see more of Emma's inspiring work on our blog pages here, and more glamorous wedding gown designs by Anna Campbell right here.
Until next time!
Love, Laura