Do you read many books? I'm a member of a book club and love our meetings discussing the monthly choice of book. This February we've been revelling in a 1930s murder mystery and I have to say I'm in love with the entire era depicted.
The same love inspired the styling and vibes of today's wedding between Annabelle and Chris. Intrigued? Let's get started.  Annabelle and Chris, who are both lawyers, married on 18 August 2018 in a Church of England ceremony in All Hallows Church, Whitchurch, Hampshire with a reception afterwards at Sandford Springs, Kingsclere. The dress was a complete head turner, and, we're delighted to say, purchased form one of our highly recommended Luxe Bride boutiques, Exquisite Bridal Couture of Winchester.
Photography Carrie Lavers Photography
Annabelle grew up in the area and the couple have recently moved back, so wanted to make their own memories at a venue which has hosted many family celebrations in the past. Sandford Springs was also a magnificent location for a dinner party inspired by country house murder mystery novels. The bride set the scene in her choice of era-inspired beaded Jenny Packham gown, and their guests wore black tie and evening dress for a fabulously luxe feel.
Annabelle visited Exquisite Bridal Couture in Winchester where Natalie and the excellent team helped her find this exquisitely-embellished 'Lyla' gown by Love My Dress favourite Jenny Packham. We'd love for you to see more of her gowns by visiting her Little Book listing here, and for more details about Exquisite Bridal Couture and their luxe range of gowns take a look at their Little Book page here.
This particular gown really caught my eye because of its Art Deco-inspired beading and beautifully-draped sleeves.
"I loved the colour and the style really complimented the ideas I had for how I wanted the wedding to look as it has a vintage feel. I love beading and sparkle and so I was always drawn to Jenny Packham's dresses. We asked our guests to wear black tie and evening dresses and my dress felt like part of that whilst still being bridal."
"Natalie was amazing and really looked after me from the first time I enquired about timescales. She got a really good idea of what I liked and made the process of choosing my dress fun but easy."
An unusual cap-style veil from Helen Martin Veils, beautifully edged with lace, added to the vintage feel of her look and looks so elegant secured in place by a dainty Jenny Packham tiara as did her Harriet Wilde ballet flats.
"I wore pearl earrings that Chris bought me for Christmas just before we got engaged from the same shop where he bought my engagement ring – Parchment Street Jewellers. I also wore a vintage sapphire ring given to me by a relative as my something old and blue."
I love it when the bridesmaids' gowns mirror that of the bride, and these deep blue Monsoon dresses do just that with their elegant silhouette and neckline.
"My bridesmaids all chose their own shoes. My matron of honour's shoes were from Hobbs but another of my bridesmaids wore some very sparkly Fitflops! I have a minor disability which impacts my walking and shoes can be tricky for me so it felt very important to me that my bridesmaids felt comfortable in their footwear!"
I was delighted to hear that Annabelle found this very blog a source of inspiration, and also found stationery designers Papier here.
"I found it really useful being able to see what different designs looked like and Papier's customer service was great.
"Love My Dress was really the only wedding blog I looked at as I found the way weddings are categorised really helpful. I used Pinterest too and looked at lots of things that weren't necessarily wedding-related (e.g. 1930s hair and make up) but that captured the look and feel I wanted for the day. I loved the breadth and inclusivity of weddings on Love My Dress and that weddings of all types and budgets are celebrated and look amazing on the site. Our budget was £20,000 and we came in just under that."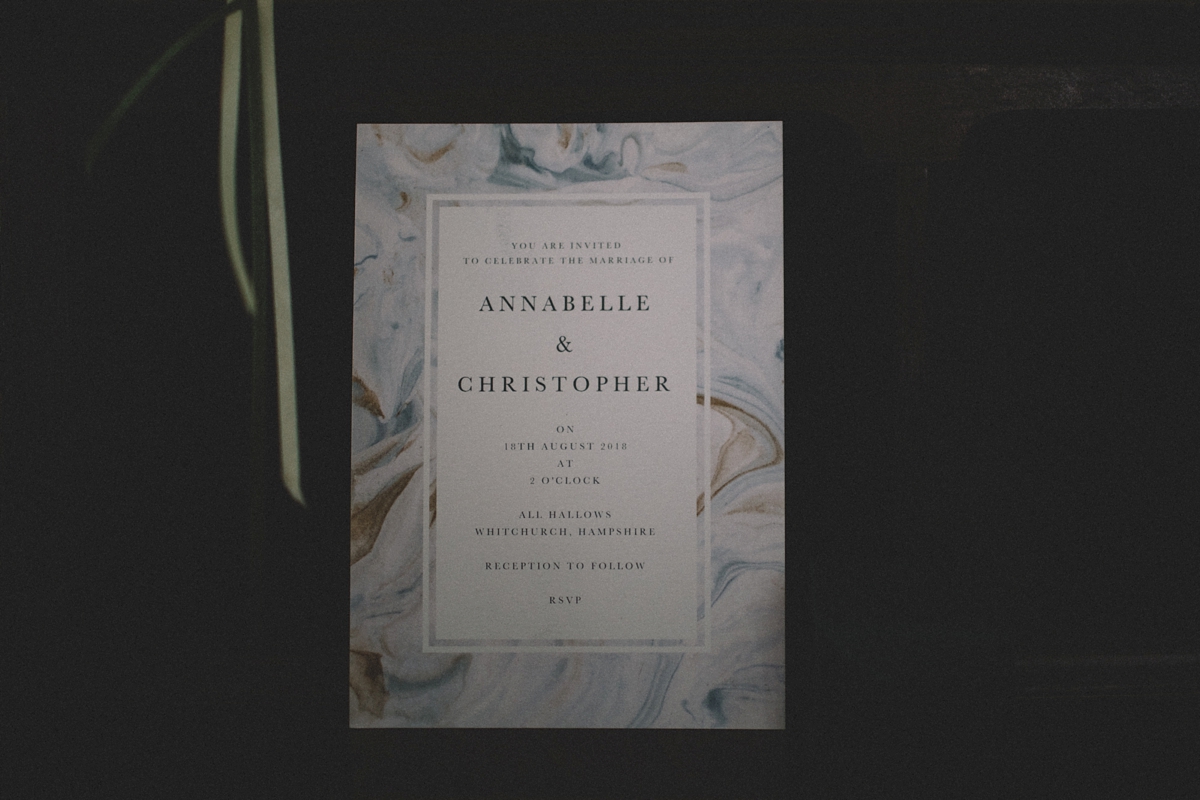 Annabelle's hair was styled into a pretty up-do at Bloomer & Bloomer, and her make up was flawless and fresh with a vintage-inspired, vivid red lip, applied by Dolly's Beauty Parlour. Her choice of fragrance – Rose of No Man's Land by Byredo – held a lot of personal meaning for her.
"Bloomer & Bloomer are my regular hairdressers so I went there in the morning with my bridesmaids, mum and aunt. We were spoiled with a Bucks Fizz breakfast and it was great to have this relaxed time together at the start of the day."
"One of my bridesmaids, Sam, had the lovely idea that my something 'borrowed' could be one of her perfumes. Rose of No Man's Land is a tribute to the Red Cross Nurses at the front lines during the First World War. My family has a long military history so this felt really poignant, as well as being a beautiful scent for a summer wedding."
The page boys were dressed in smart bow ties and waistcoats, found at John Lewis, whilst the bride's mum made the flowergirls' gorgeously floral dresses, which they wore with fresh flower crowns by Lily Lupin Floral Design.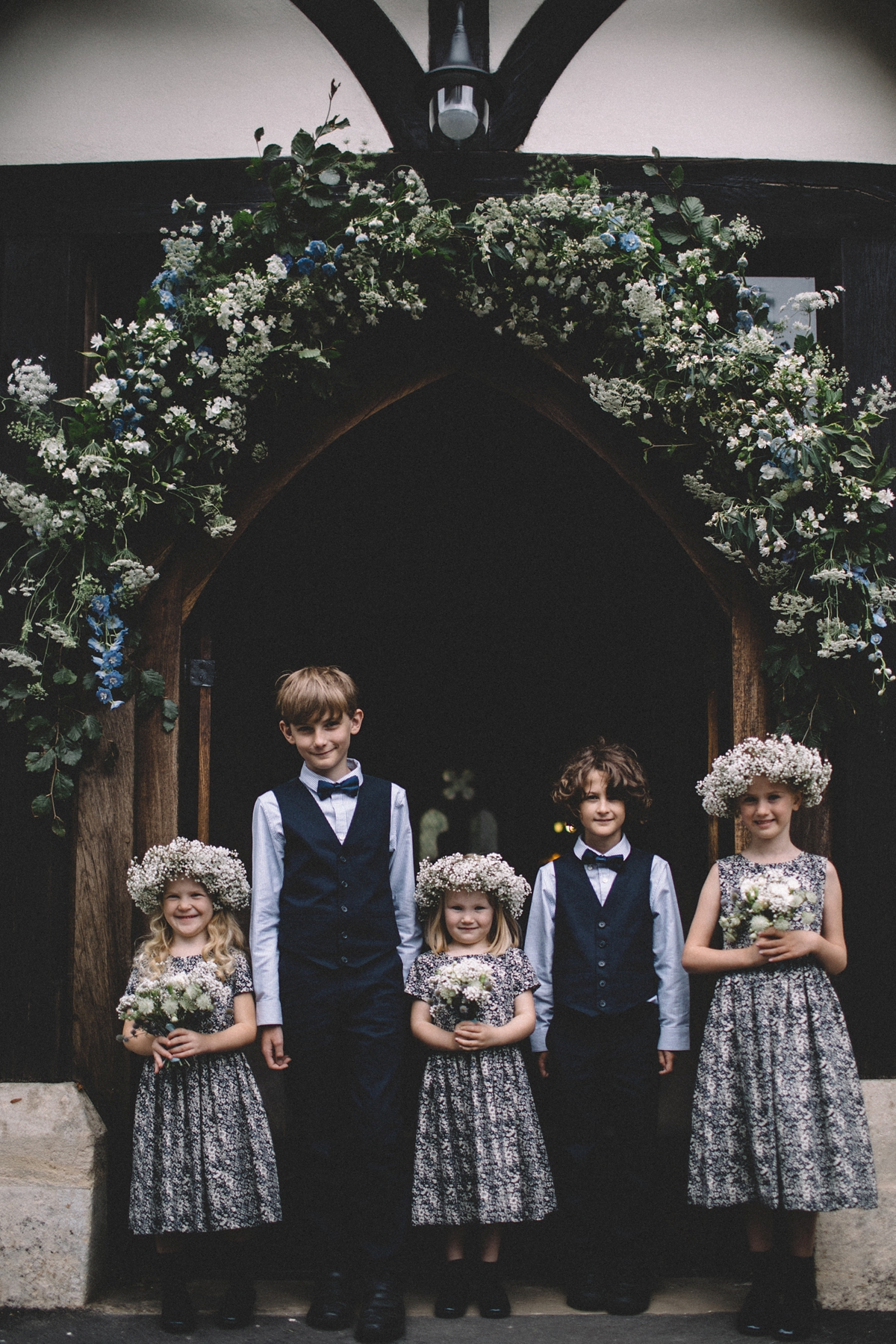 The bride's uncle drove the bride and her father the short distance to All Hallows Church.
"My mum's brother has the most beautiful car so he drove us around – it was lovely to have that time with him on the day."
"My parents' godson used to be the church organist and choir master at All Hallows and so he played 'Air' from 'Water Music' by Handel as I walked down the aisle which was really special."
The photos of Annabelle arriving at the church with her father and then seeing Chris for the first time are amongst my favourite of these timeless photographs by Carrie Lavers Photography. I love their reportage feel and muted tones which create a real era-inspired vibe.
"We met Carrie through Exquisite Bridal Couture and knew immediately we wanted her as our photographer. Neither of us wanted lots of formal photographs or for the photography to dictate what happened on the day and Carrie understood this from the start. Our photos really look like the day felt. She was a pleasure to have around on the day and never got in the way – one of our guests described her as a ninja!"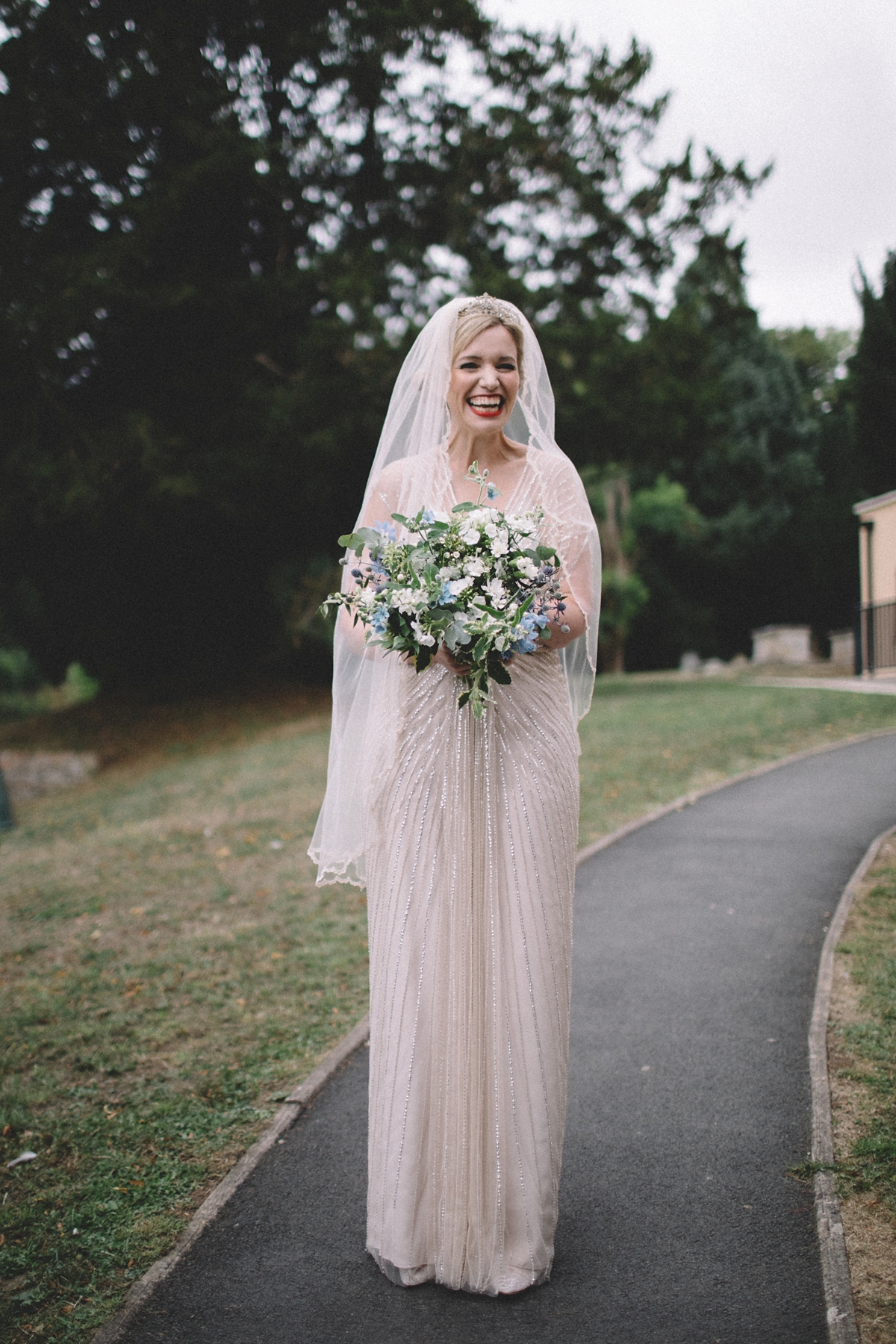 "We were married in All Hallows which is at the centre of our community and our family church. We had our reception at Sandford Springs on Kingsclere which again has been the scene of many celebrations amongst our family and close friends. I love traditional country house murder novels – especially Agatha Christie – and we thought that the style of a 1930s house party really complimented the traditional setting of our wedding in a country church."
"We met at work and were friends for about five years. It was only when I was about to change jobs that we realised quite how much we liked and would miss each other so Chris asked me out at a bus stop. We were engaged for just over 18 months before our wedding day."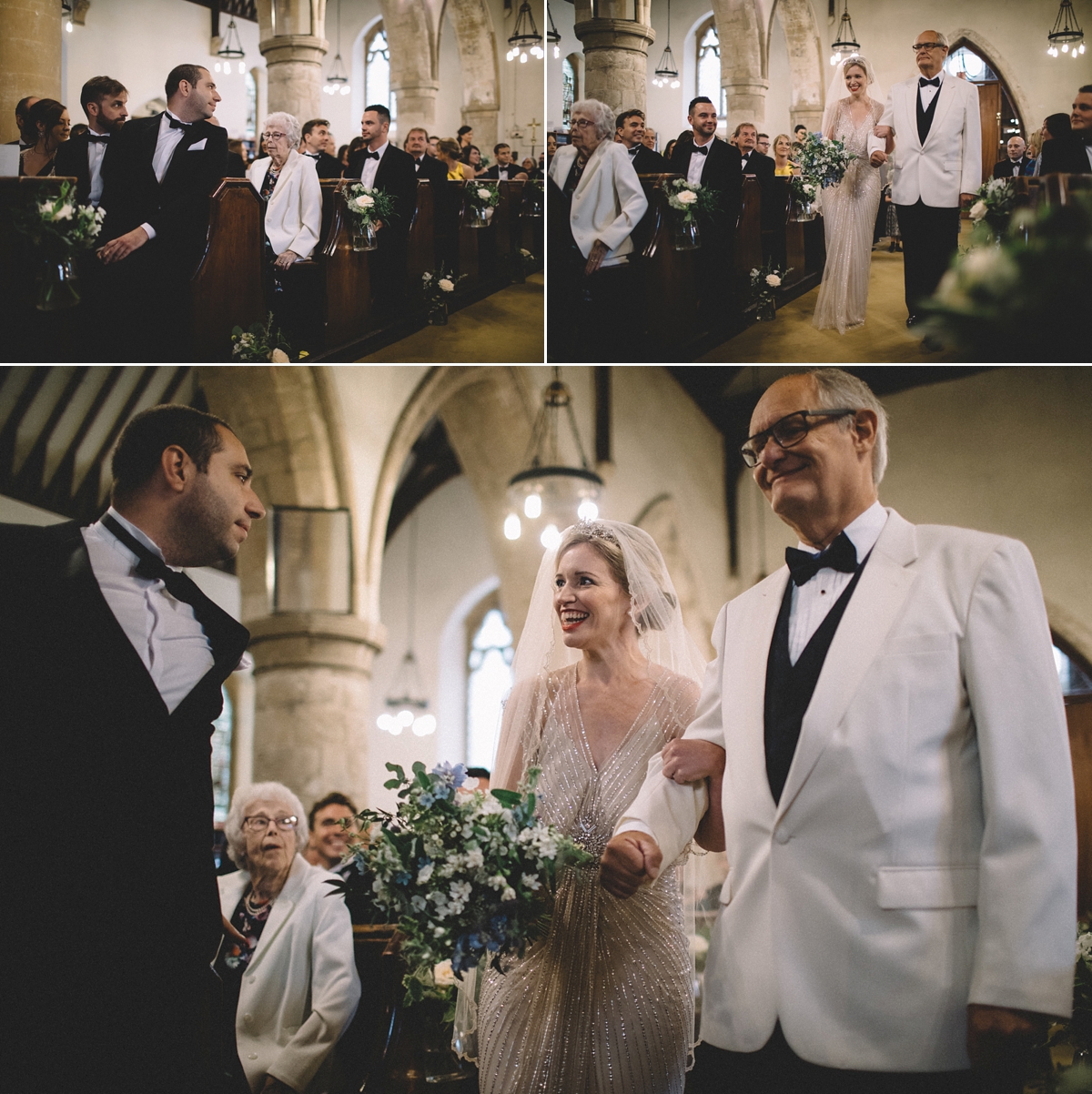 Chris led the way for the wedding guests in his smart tuxedo and black bow tie from Moss Bros. He was accompanied by five best men.
"Chris couldn't choose between his closest friends. This worked really well as they delegated jobs between them but gave a speech together during which they put Chris on trial for his misdemeanours."
"We chose Chris's cologne together; this was Jo Malone Black Cedar Wood and Juniper. This was a really nice thing to do in the lead up to the wedding – I was really conscious that nearly everything else was about me!"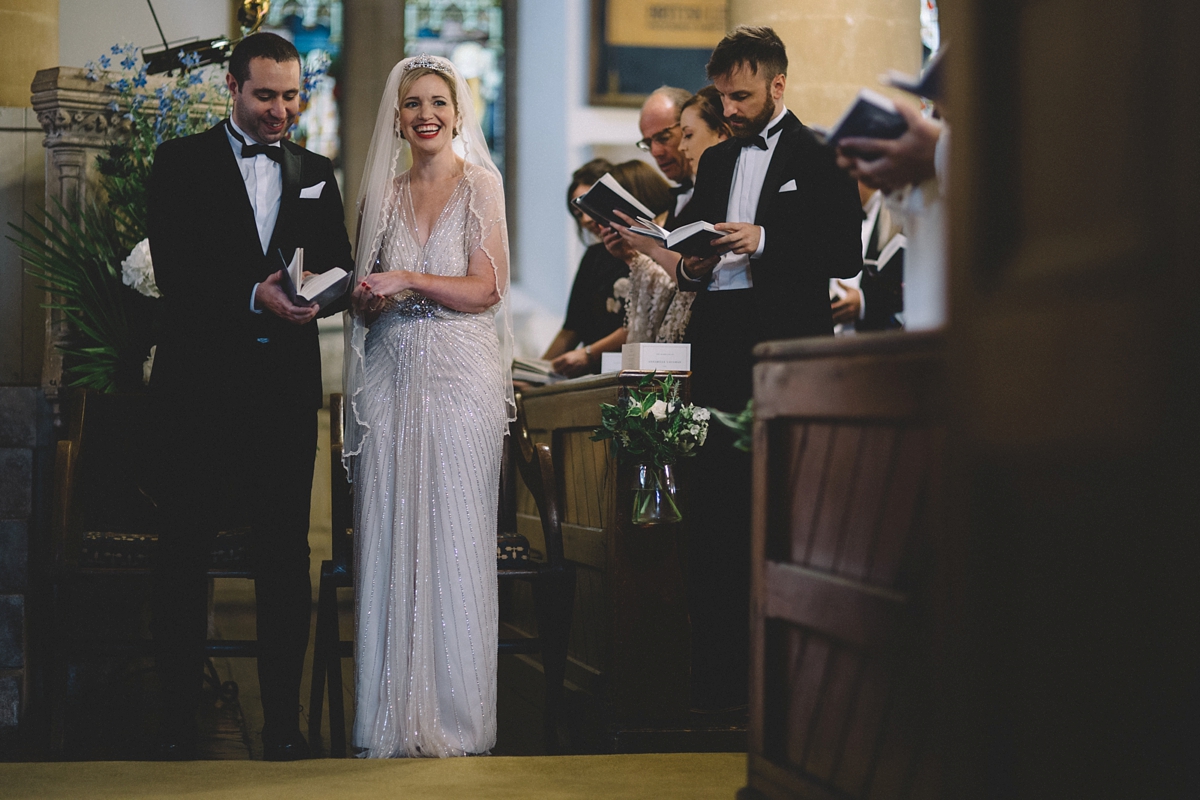 The parish vicar The Reverend David Roche married Annabelle and Chris in a traditional Church of England ceremony, for which they'd written their own prayers.
"We wrote some prayers together within which we were able to give thanks for our nieces and our cousins' children. My godson read these so it was a really personal part of the service. We also chose a Bible reading which Chris's sister, Charlotte, read – Ecclesiastes 4:9-12."
The couple's rings were from Parchment Street Jewellers.
"Chris chose my engagement ring from Parchment Street Jewellers in Winchester as that was the first street where we lived  together. David, the owner, was so helpful that it was any easy decision to buy our wedding rings there."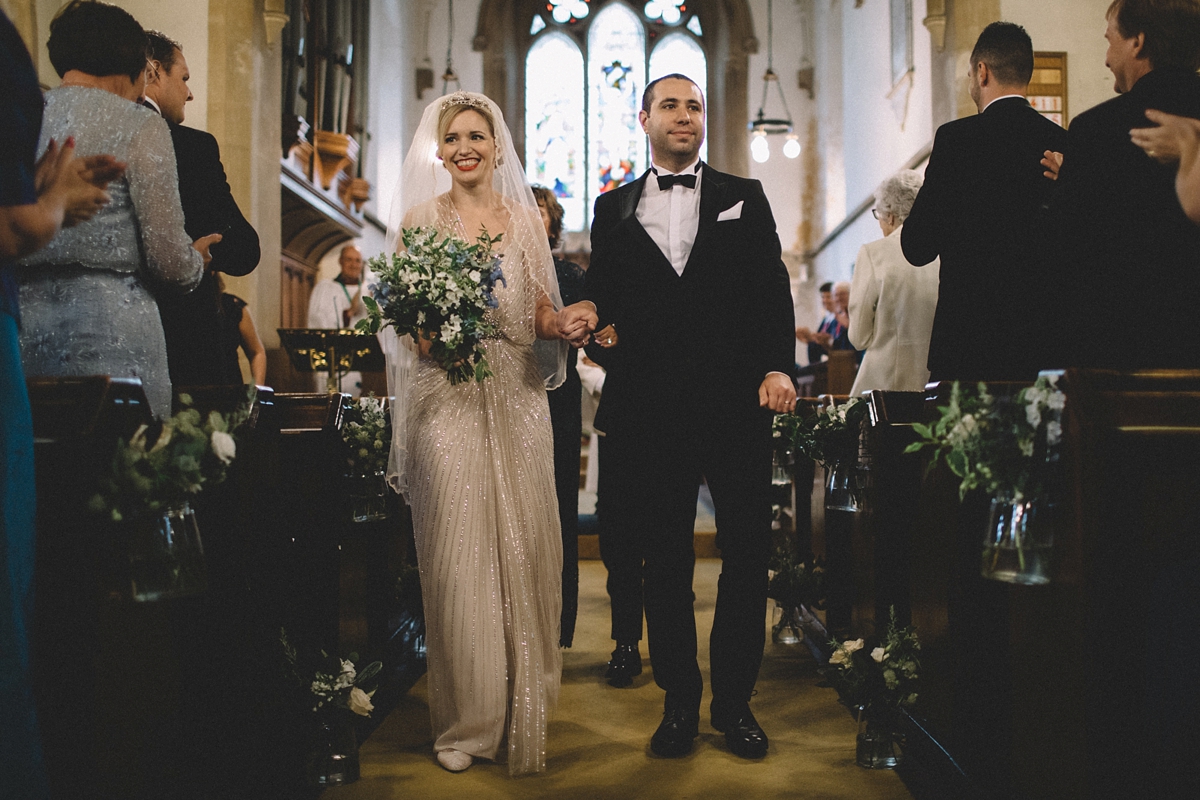 The girls all carried bouquets by florist Lily Lupin. Annabelle had requested a soft, romantic style and Lily Lupin certainly delivered with a combination of foliage, cream and pale blue.
"I wanted romantic flowers that were not overly formal but captured the English countryside. I wanted blues and creams within the bouquets and the arrangements as these complimented the colour of my dress and the bridesmaids dresses."
"After giving my mum a brief she met with Lisa and as soon as I saw the mood board I knew the flowers were going to be exactly how I wanted them. After that I left mum and Lisa to choose the specific arrangements together."
"I know some brides would find that extraordinary but I knew they were on the right track and after planning everything else in such detail it was a lovely surprise to see the flowers on the morning of the wedding."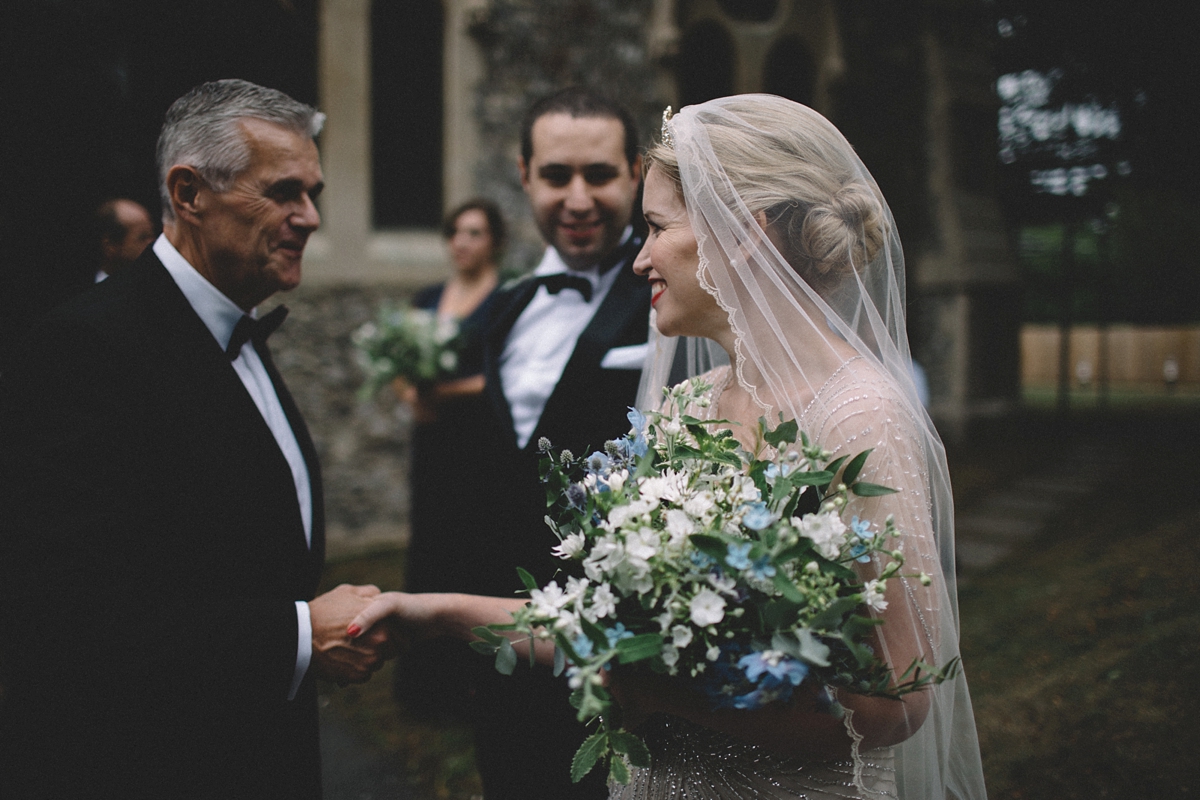 "One of my favourite details of the day was the floral arch around the church door. I thought about it a lot as I thought it might have been an unnecessary expense but it looked so beautiful and is stunning on the photos outside the church."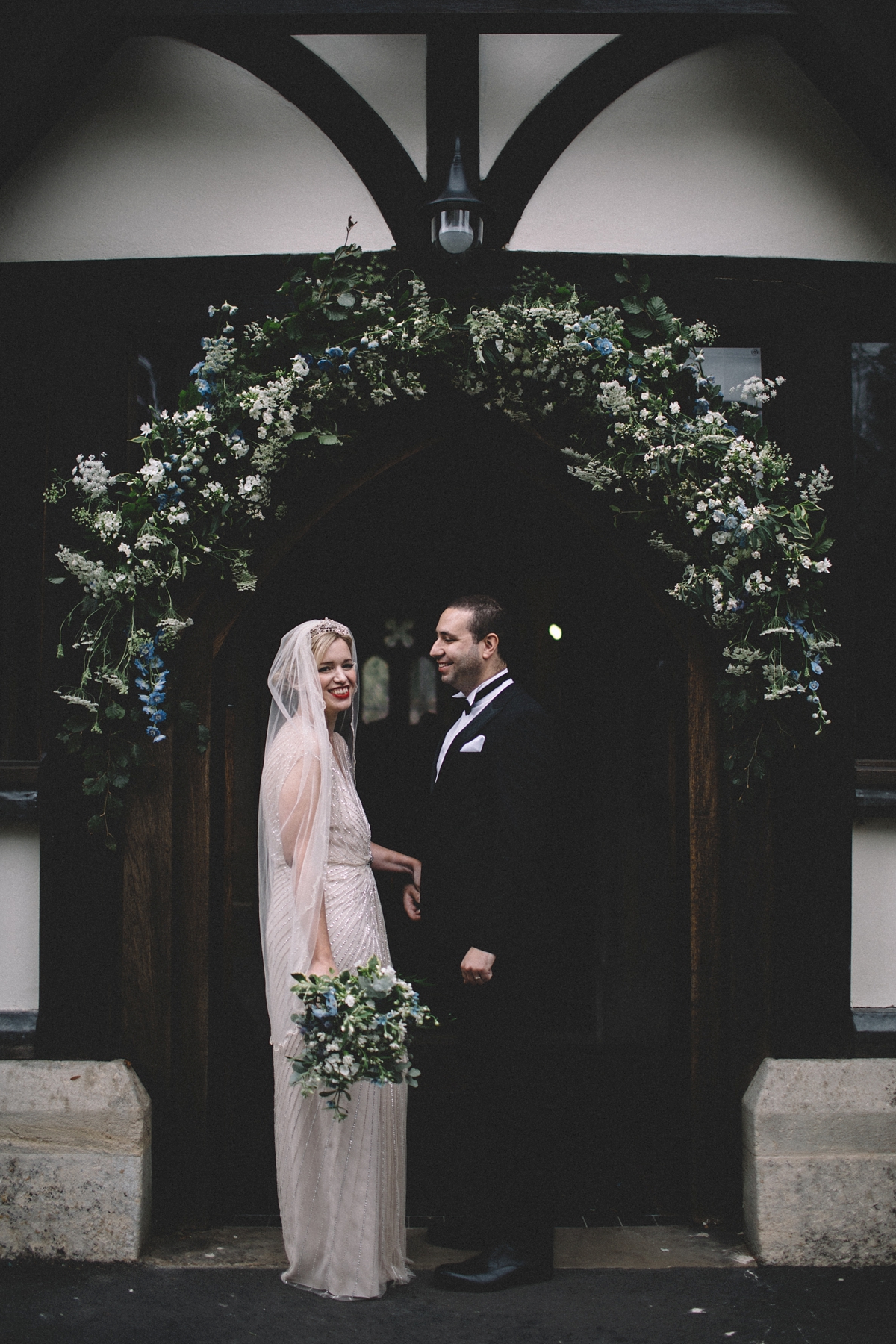 My matron of honour (my sister Charlotte) also had a Jenny Packham at Debenhams hairpiece. I bought all of my bridesmaids a simple silver knot bracelet from Stella & Dot – a thank you for being with me when I tied the knot!"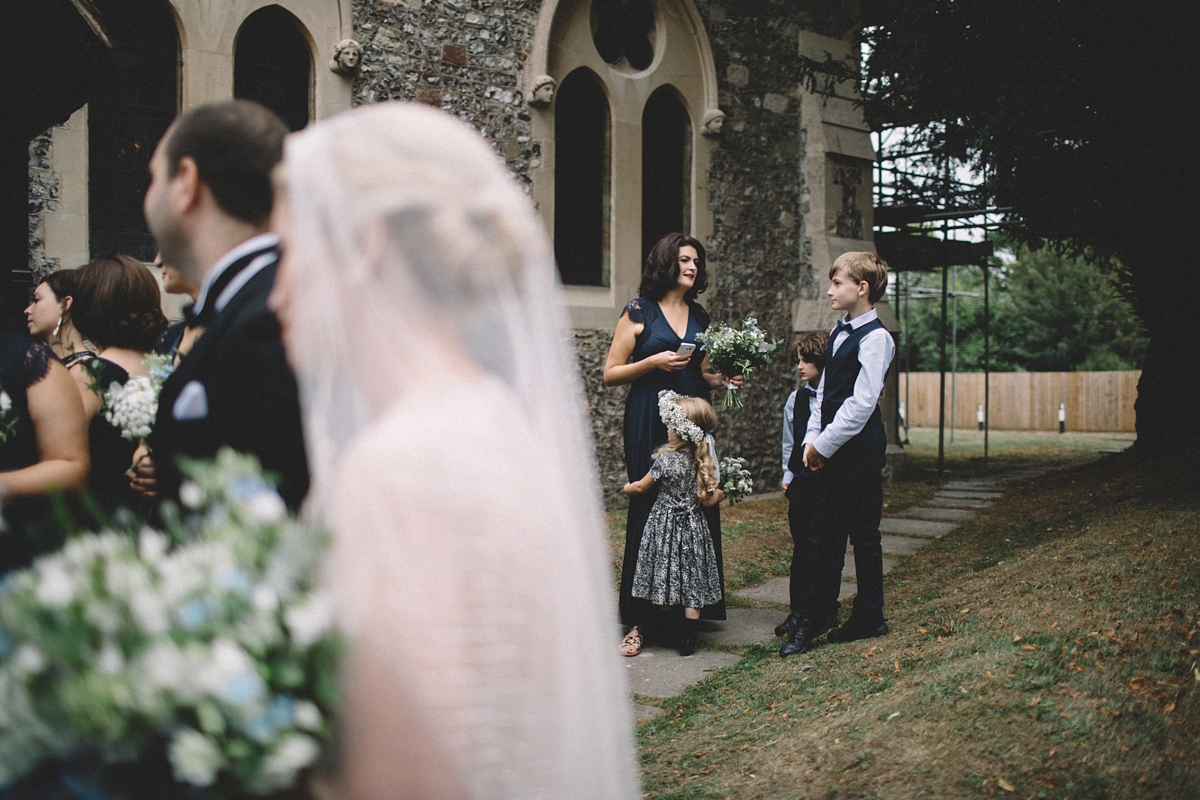 The newly-weds emerged into the hot August day for these glorious confetti photos and for the bride to greet her guests. There is so much love and happiness that radiates from these photographs.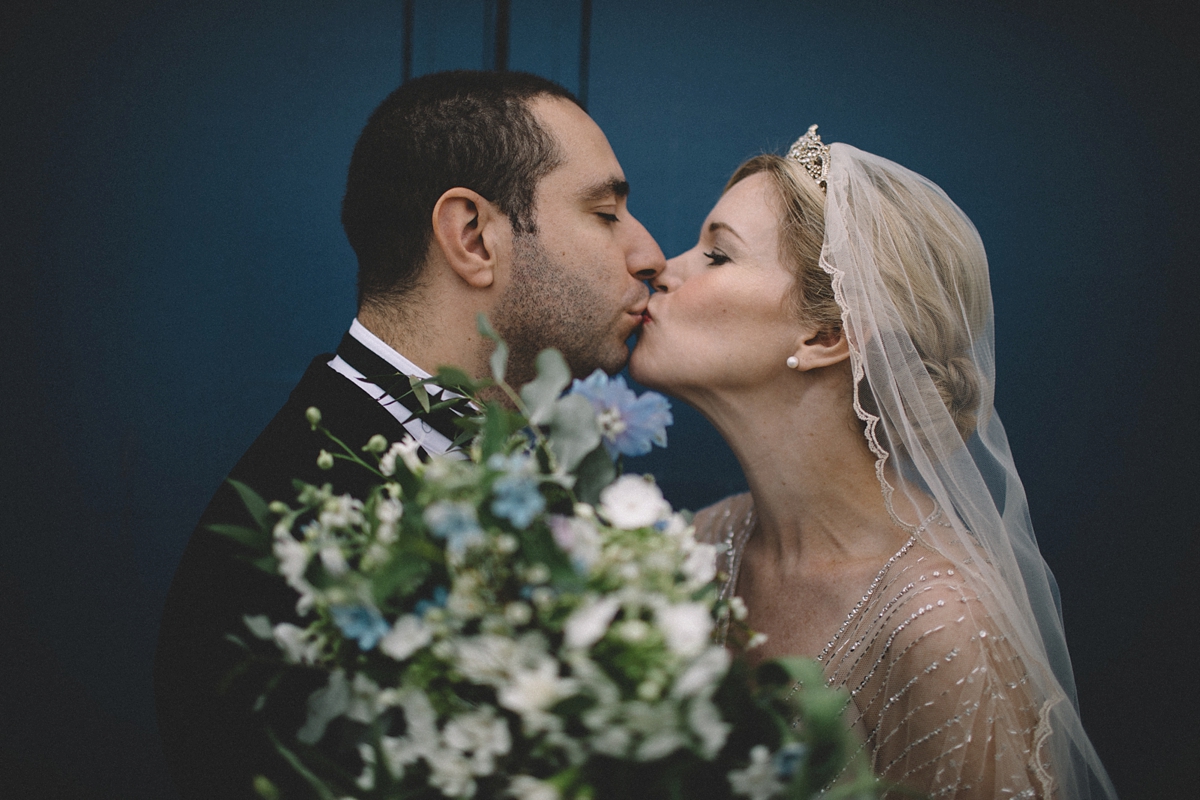 Sandford Springs had been decked out to fit the couple's 1930s inspiration, complete with a murder mystery favour for each guest.
"We wanted our guests to have something we genuinely loved and fitted our theme so we used vintage Agatha Christie Books which we sourced from second-hand book dealers. It was fun looking for them and they weren't at all expensive. We had a stamp made by English Stamp Company that looked like a library stamp but had our names, the date of our wedding and a message thanking our guests for being there."
"We used flowers from the church as centrepieces on tables together with lanterns containing Diptyque candles. These are something that we always have in our home so it was wonderful to have our reception room filled with our favourite scents. Sandford Springs already had great lighting and classic-looking furniture which fitted really well with our theme."
For the Italian-inspired meal, Annabelle and Chris sat with their closest family.
"Chris's mum is half-Italian so we had Italian food including bruschetta and risotto. Instead of a traditional top table we sat on a round table with our parents, siblings and their partners which meant that the meal was an opportunity to share some time with those closest to us. Chris's cousin advised us to take a look around at all the people we loved being in one room and we found a moment to do that which was really special."


"The cake wasn't a huge priority for us as so we wanted to balance style with budget. After struggling to find a cake supplier (they all seemed to be booked up) we found our perfect cake at Marks & Spencer. I wanted a simple, classic-looking cake that would fit with our décor and accommodate a floral topper. We chose a white chocolate with subtle gold detail."
"The cake wasn't a huge priority for us as so we wanted to balance style with budget. After struggling to find a cake supplier (they all seemed to be booked up) we found our perfect cake at Marks & Spencer. I wanted a simple, classic-looking cake that would fit with our décor and accommodate a floral topper. We chose a white chocolate with subtle gold detail."
Even the entertainment was vintage-inspired, with 30s songs from three-part vocal harmony group The Spitfire Sisters.
"We were both quite nervous about doing a first dance so we tried to hide 'At Last' by Etta James in a playlist between The Spitfire Sisters' sets – this didn't really work though as people noticed us dancing and watched! We chose the song as for us it reflects all those years knowing each other without realising that we were more than friends."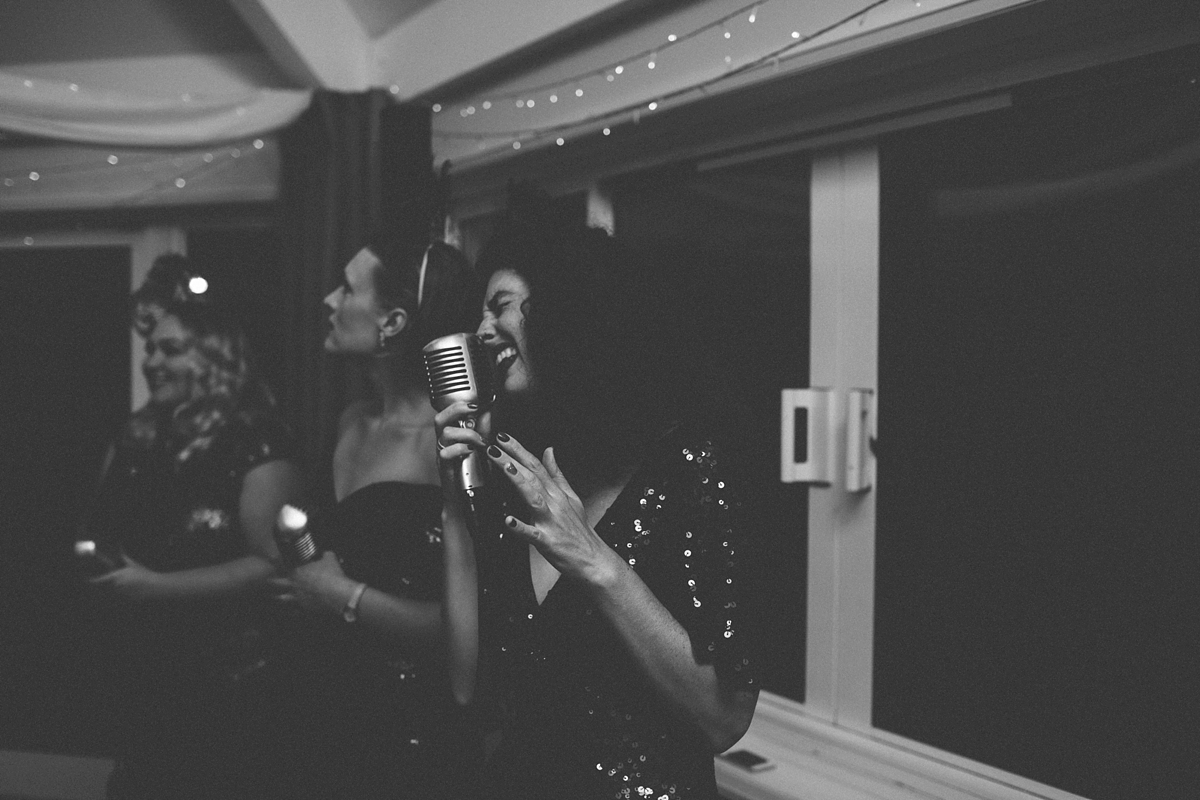 "Little hiccups happened on the day, like tearing my dress on the way out of the house. Fortunately my mum's dressmaking skills came to the rescue and Carrie took some great photos of this unexpected moment. Moments like this became part of our wedding and we laughed about them and carried on."
Words of Wedded Wisdom
"If something you think you ought to do doesn't excite you don't do it. There are lots of things you often see at weddings – a photo booth and confetti spring to mind – that just weren't us so we didn't do it. No-one missed it and we saved money."
"I urge any bride to ask your suppliers about other suppliers they work with. Natalie at Exquisite got to know me and my style really quickly so knew it would be great for me to meet Carrie and Lisa at Lily Lupin. They've all worked together before so I really felt like I had a team alongside me."
Oh Annabelle and Chris, what a beautiful day you created together. I hope you had a wonderful celebration, and many thanks and congratulations from all of us. Thank you also to Carrie Lavers Photography for these timeless photographs. If you're taken with the 30s era then we have much more inspiration for you here.
Oh, and you can see more of Jenny Packham's gowns on our Collections page here.
Eleanor x