Yes, you read that headline correctly – a secret garden wedding in south London. If you know where to look, there are quite a few hidden gems like the venue you'll be seeing today
And it made for just the kind of intimate, relaxed and boho celebration our couple wanted, as well as being filled with so many beautiful shades of pink throughout. Eleanor, who is a Business Development Manager for online jobs board, LeisureJobs and Jacky, an international DJ, celebrated their marriage on the 14 July 2018 at Wandsworth Town Hall, London followed by a gorgeous reception in the hidden garden at Metro Clapham. The couple's videographer Lee Anthony (sadly no details provided) put together a really lovely film of the day, which we're happy to share here.
"From a young age I always thought I wanted a huge traditional wedding in a church with a big meringue dress, a huge marquee in a garden and men in black tie. From the moment I had a ring on my finger and we got down to the planning this all changed. The style was definitely influenced from a boho angle; calm, relaxed and easy-going. Pink was always going to be the focal colour for the day along with rose gold and grey."
Images by Mona Ali Photography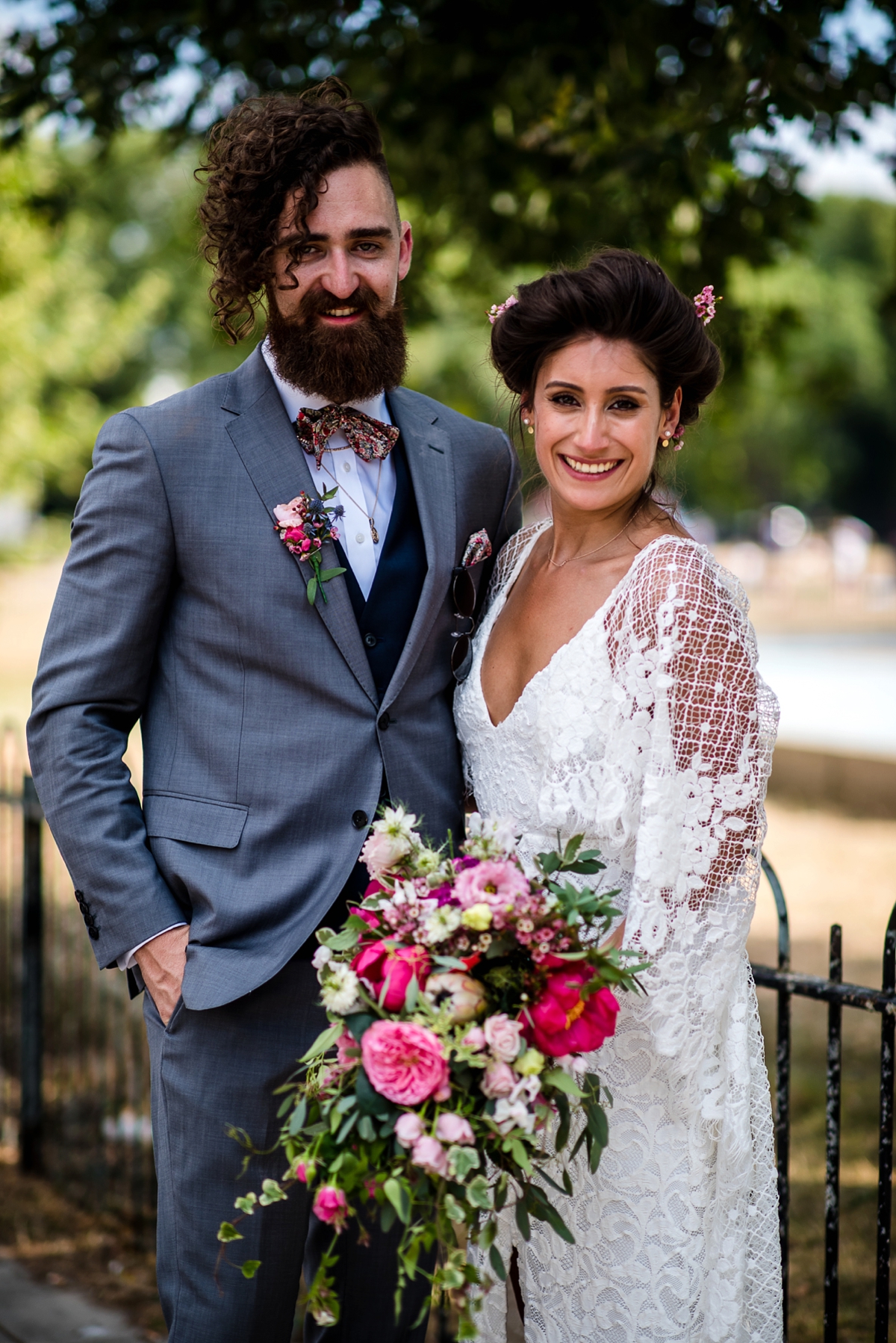 Eleanor chose a breathtaking French lace gown – the 'Verdelle 2.0' by the brilliant Grace Loves Lace, which she found at their London boutique. There are so many wonderful details on this dress, from the front split and the low back to dramatic bat wing cape.
By the way, you MUST follow our Grace Loves Lace Pinterest board – we update it frequently with new images of beautiful brides and gorgeous gowns from their latest collection.
"From the moment I put the dress on I knew it was the one. I knew it before I even tried it on to be honest! I tried on 4 other dresses at the same showroom, waiting to try mine until the end. I loved how different it was to anything else I had seen before, it was incredibly flattering and comfortable. The arms in particular sold it to me as I felt like I was wearing wings!"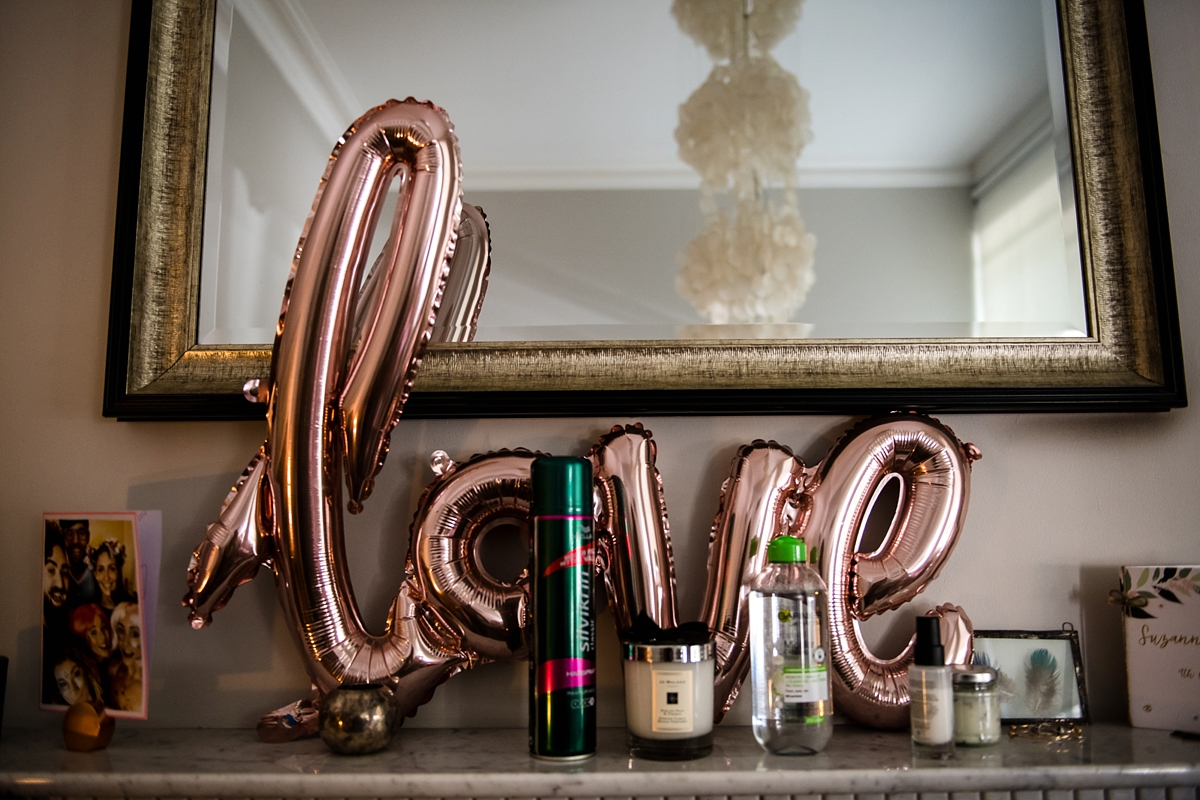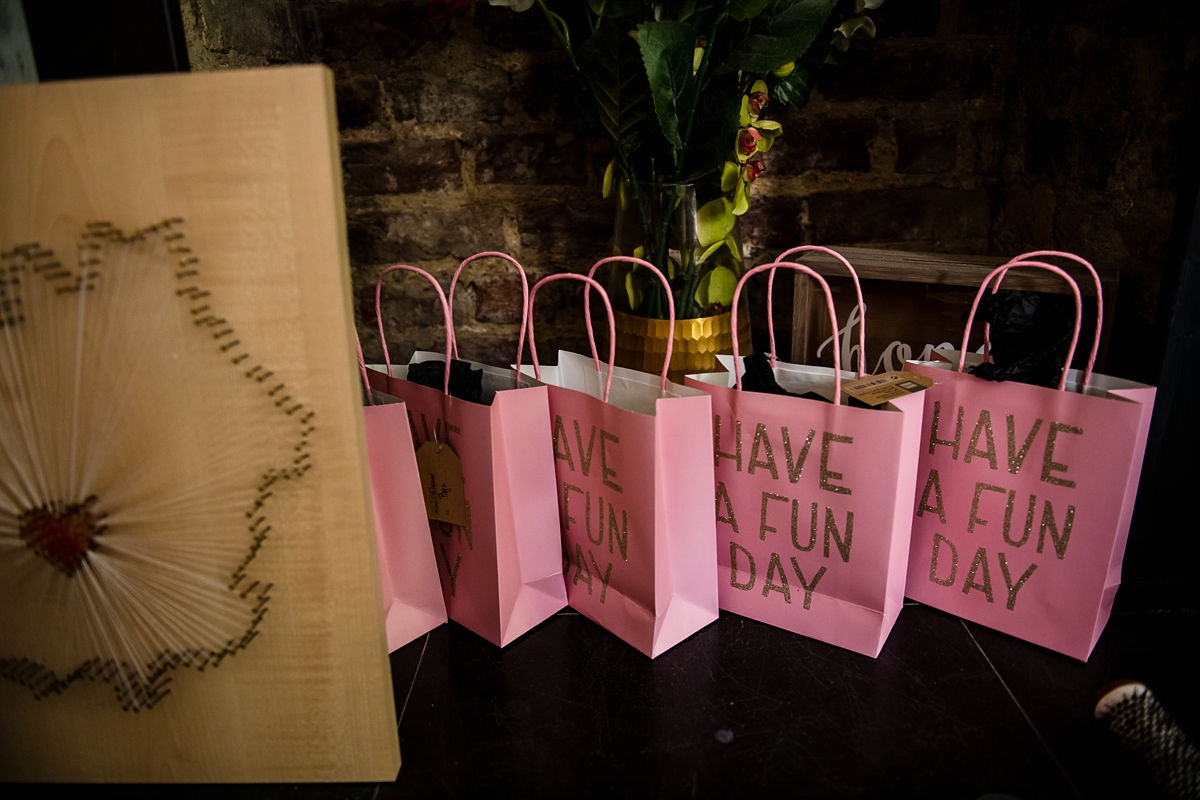 Carrie Macey of The Topiary Tree put together luscious summer bouquets of lilies, peonies and roses in shades of pink.
"Pink is one of my favourite colours but I also wanted touches of green, lots of eucalyptus and my all-time favourite flowers – peonies. Many hours were spent head first in Pinterest trying to figure out the vibe I wanted! I knew I didn't want structured; I wanted it very free-flowing and relaxed. Carrie is extremely talented and brought my vision to life and then some!"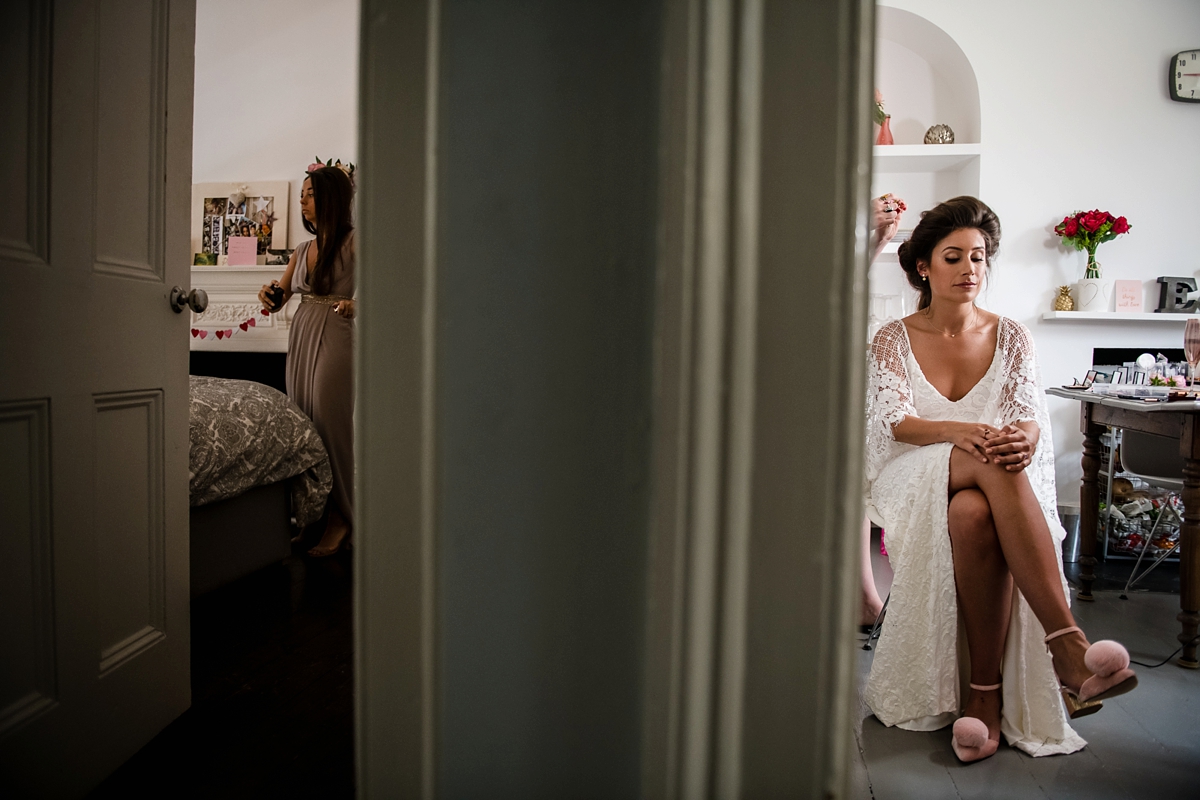 Eleanor wore pretty fresh flowers in her hair, which was put into a gloriously romantic style, which reminds me so strongly of the Gibson girls of the late nineteenth and early twentieth centuries. This, and her beautiful make-up were done by Tamzin Cummings, who Eleanor says is a 'genius!' As a final, finishing touch, Eleanor added her perfume, Coco Mademoiselle by Chanel.
To go with her dress, Eleanor wore a floral inspired pink opal necklace from Astley Clarke, together with earrings, which had been gifted by one of her bridesmaids at her own wedding, and a signet ring made by her godfather Andy Guess, of Glydon & Guess. On her feet Eleanor wore a brilliant pair of blush pink pom-pom shoes from ASOS.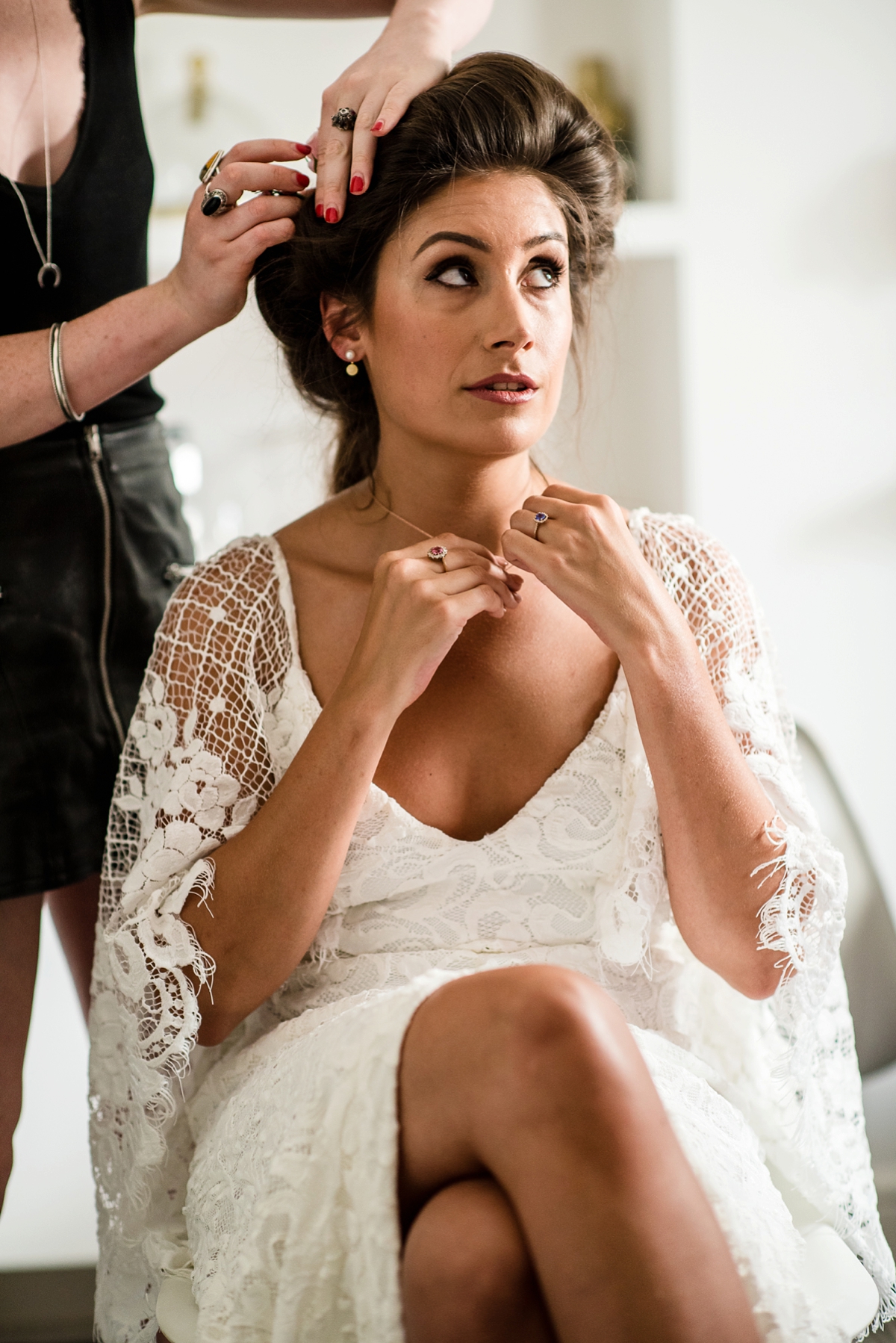 The bridesmaids wore softly draped dresses with silver belt detailing from TFNC London, which they wore with their own shoes and accessories, as well as a bracelet each from Junk Jewels.
Eleanor and her dad Paul made their way to Wandsworth Town Hall in a wonderful vintage Austin Princess from Lux Wedding Car Hire, and together they walked down the aisle to the song Destiny by Zero 7.
"Jacky and I met at a party in Manchester just over 5 years ago. We had a few mutual friends and as cliché as it sounds we saw each other across the dance floor and partied until the sun came up!"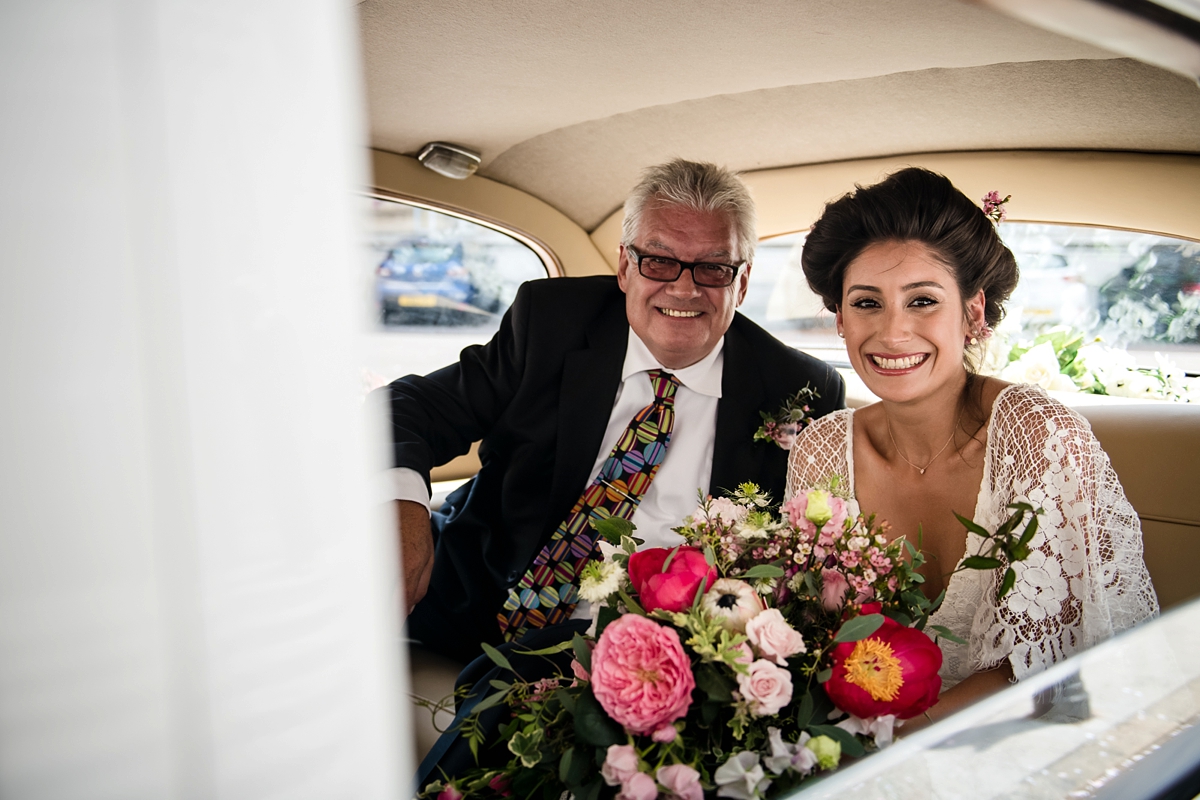 "We were engaged at our favourite festival, Secret Garden Party at the 'wedding party' –everyone was dressed up as wedding guests listening to 80's classics when the music stopped and the DJ came on the mic to say someone had a very special question to ask…"
"Before I knew it, in front of how ever many hundreds of people that were there, Jacky was down on one knee asking me to marry him, and our song, Chic's 'I Want Your Love' then came bursting out! We were engaged for just under a year before we got married."
There Jacky was waiting, wearing a smart suit with contrasting waistcoat from Joe Black, which he wore with a fabulous floral print bow tie and pocket square, and watch from Sekonda. The groomsmen wore grey suits from Next with bow ties and pocket squares from ASOS.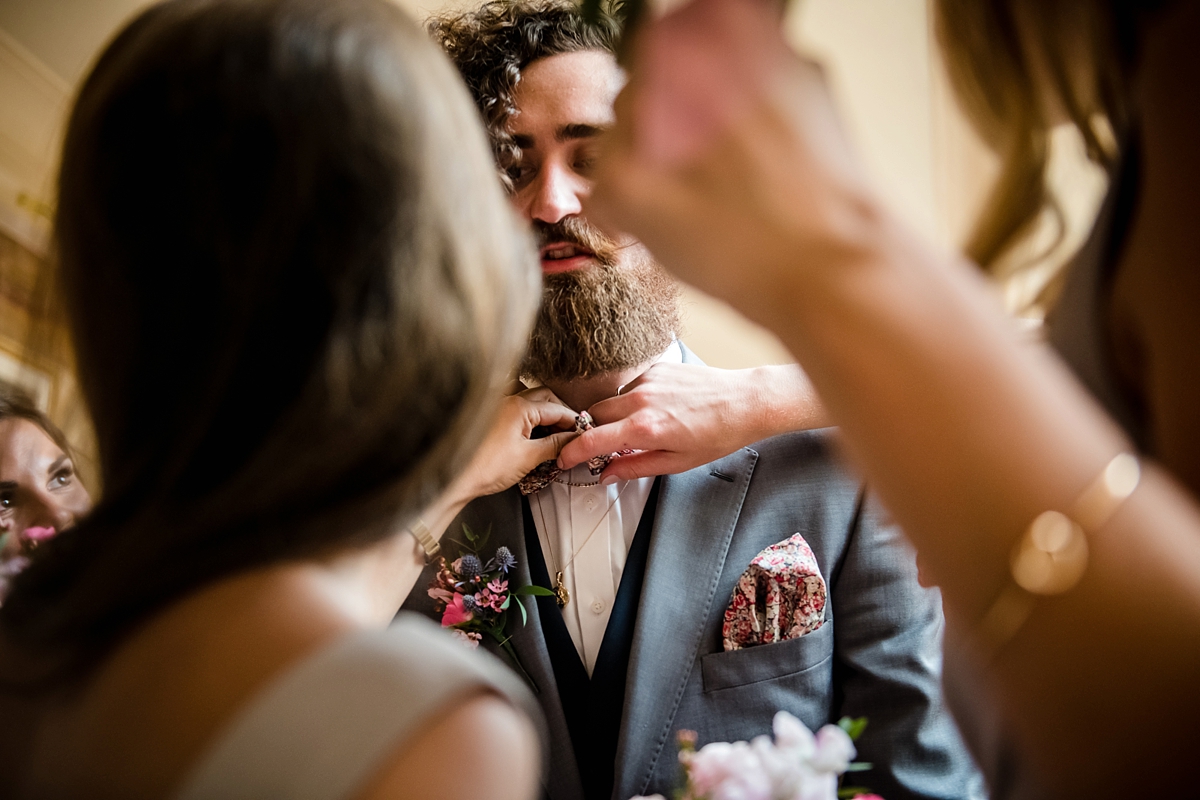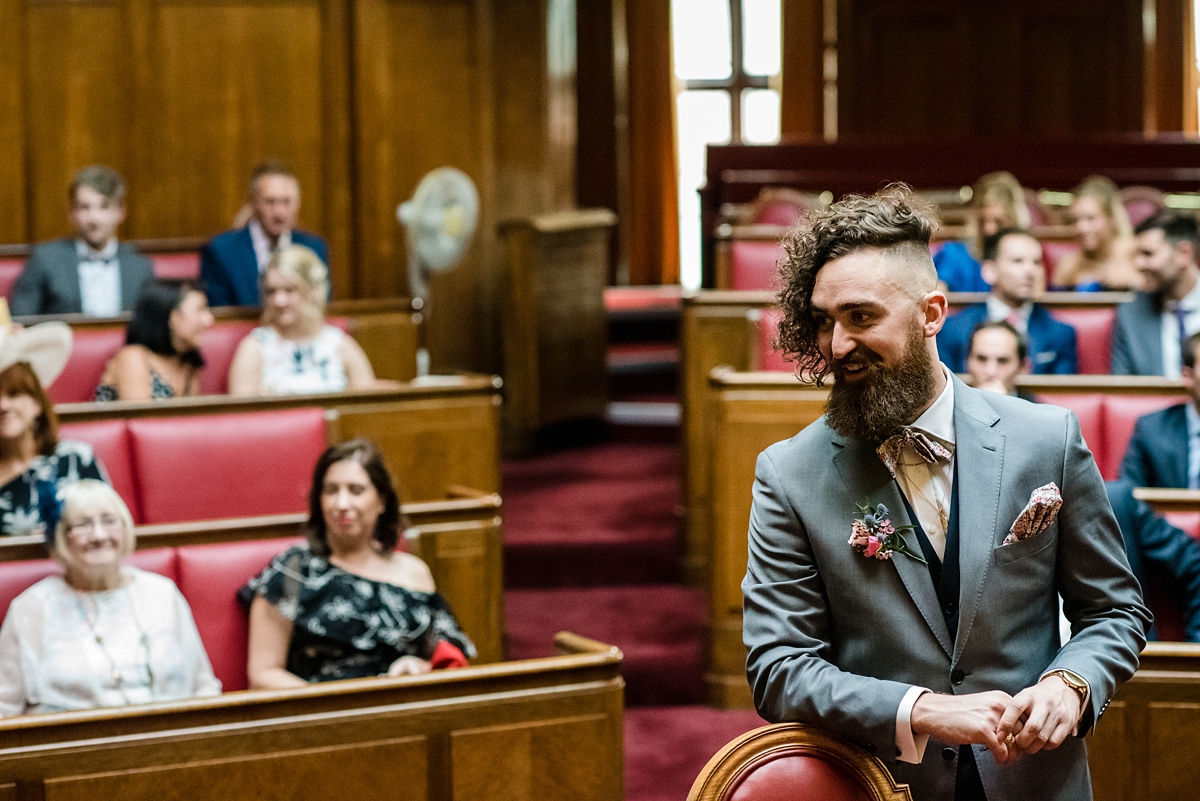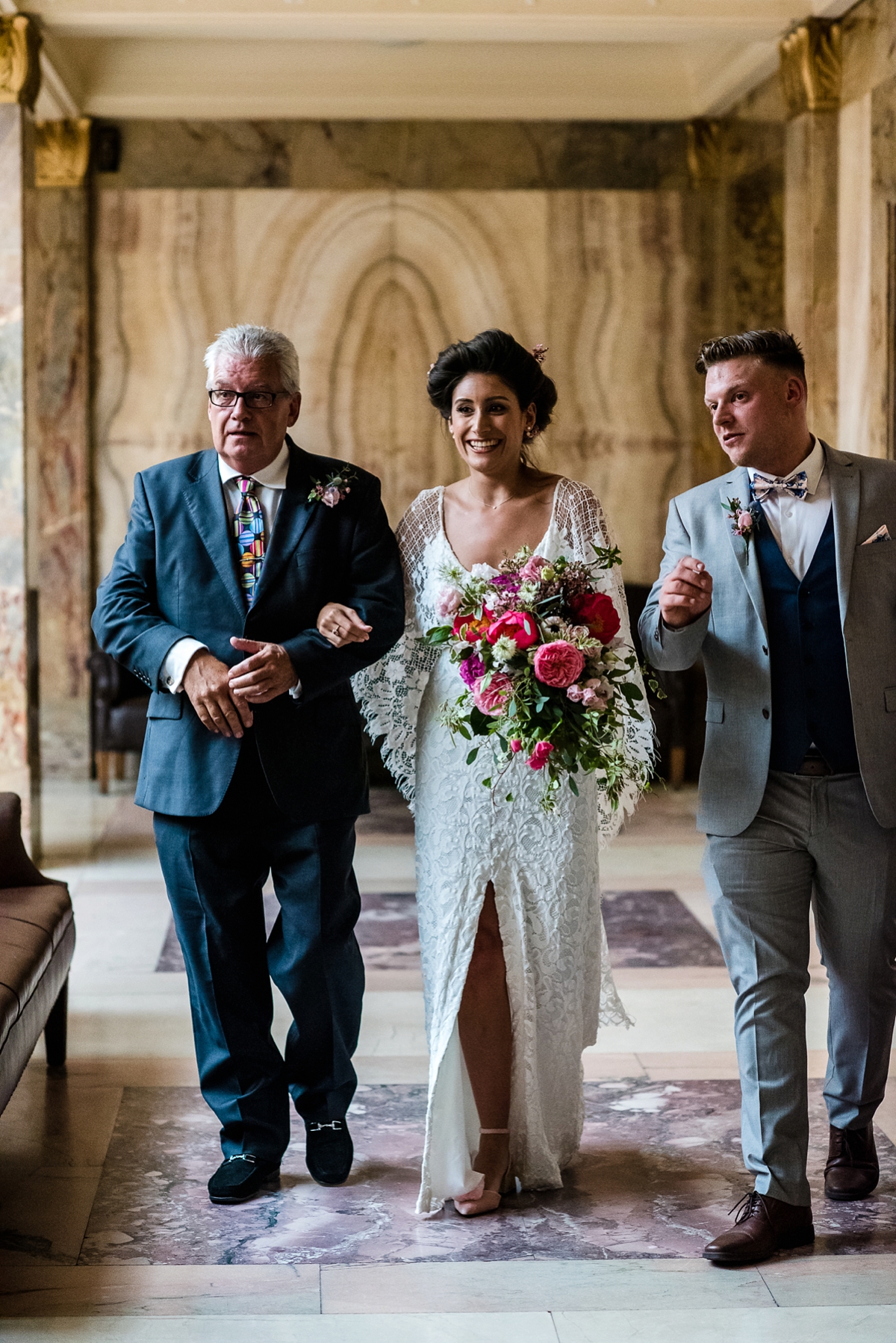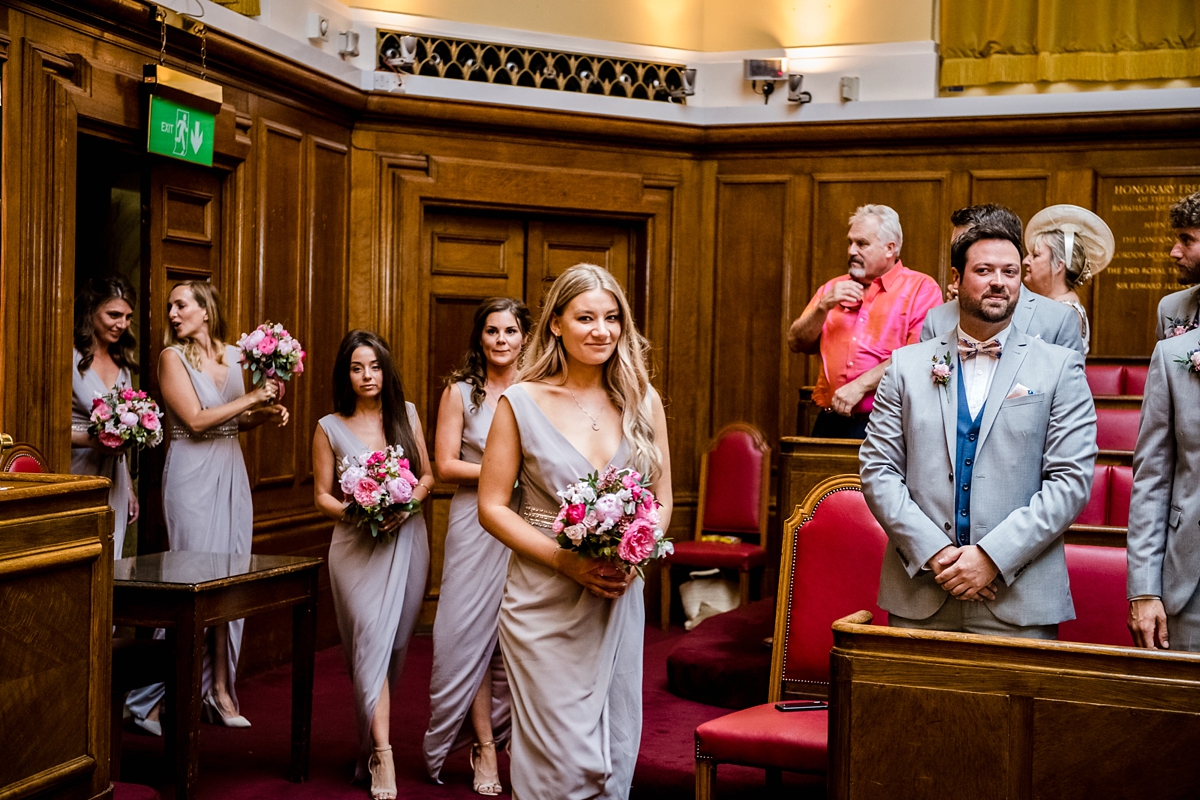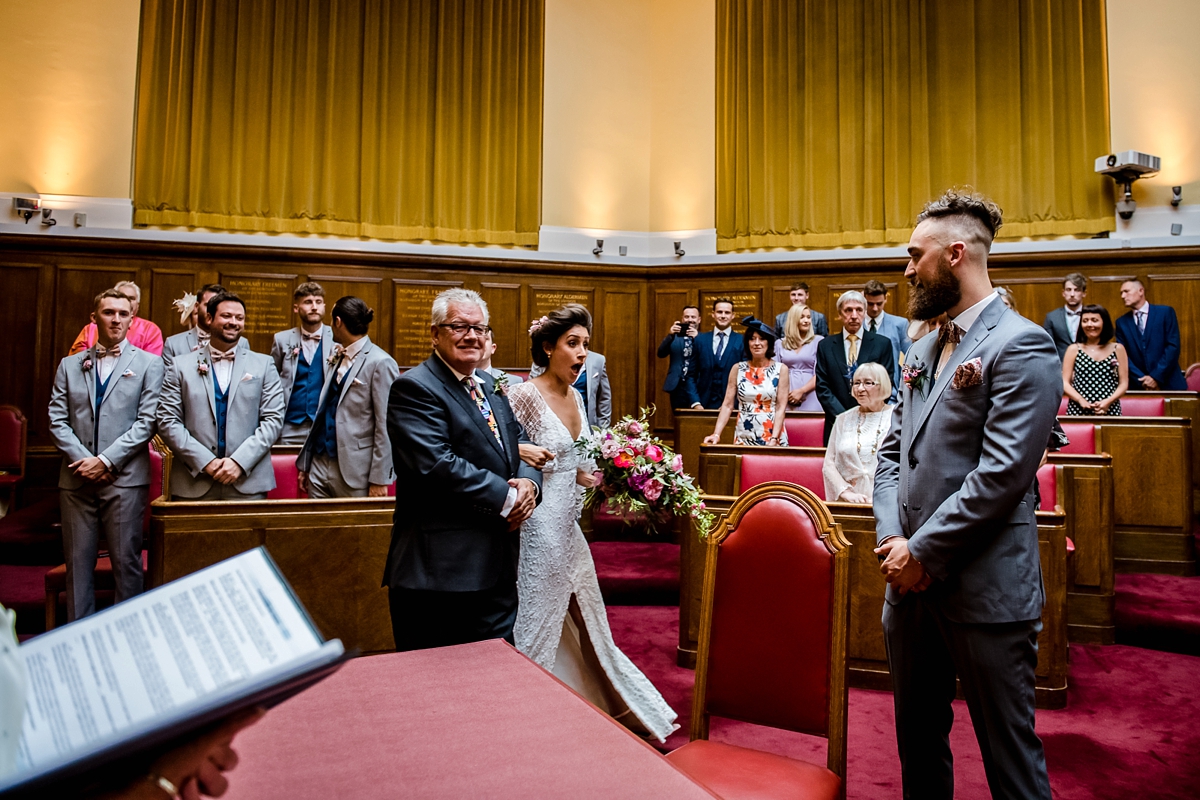 "We used the vows provided by the registry office and went for the 'contemporary' option. The most important thing for myself and Jacky was the getting married bit but without it being too wordy."
Jacky's sister Jessica read a heartfelt reading to the couple, an extract from Richard Bach's The Bridge Across Forever.
"We chose this reading as it really explained how Jacky and I feel about each other."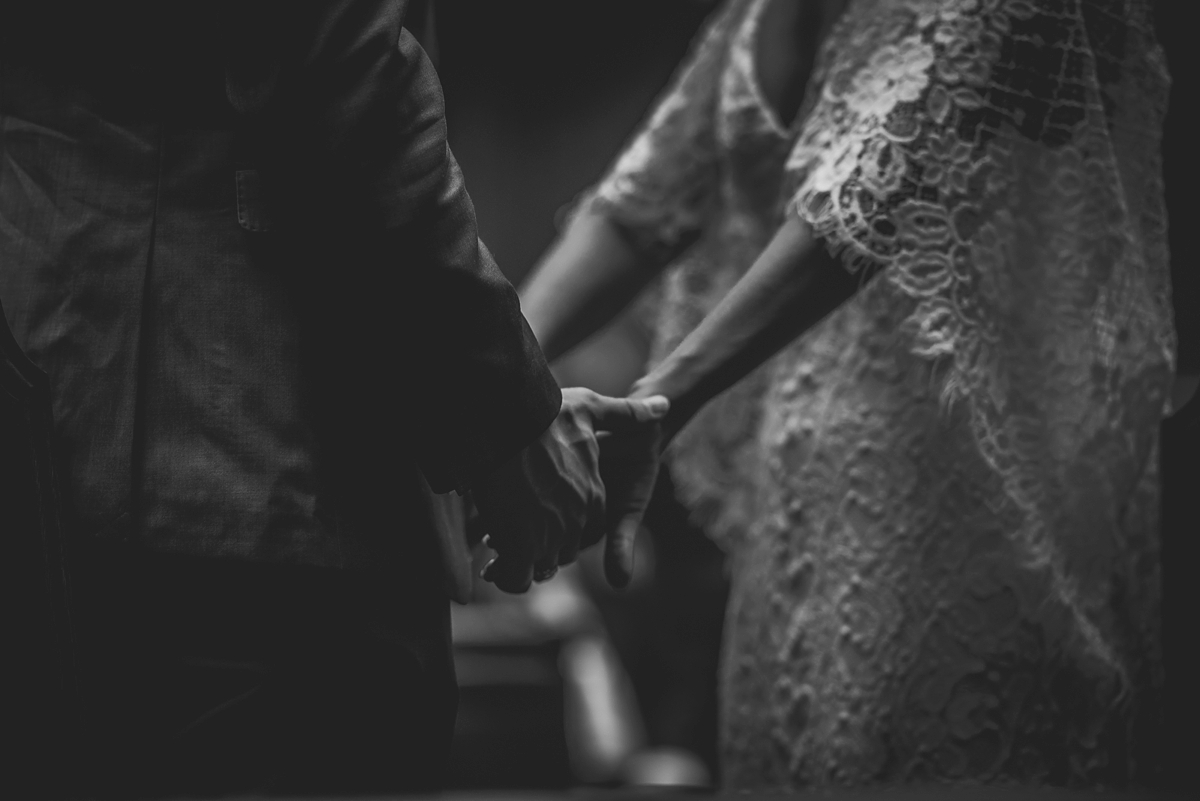 Eleanor's engagement ring had been specially designed at family jewellers Padgham & Putland, and Jacky chose tanzanite, as he had grown up in Tanzania, and because purple is Eleanor's favourite colour.
For their wedding rings, the couple headed to Ernest Jones and chose plain rose gold bands, which they had engraved inside with their initials and wedding date.
"My favourite part of the day was finally saying I do and marrying my love in front of all our smiling family and friends!"
After the ceremony there was energetic confetti throwing, with colourful petals sourced from Shropshire Petals, and everyone headed to the lovely vintage Routemaster buses waiting for them courtesy of RedRoutemaster.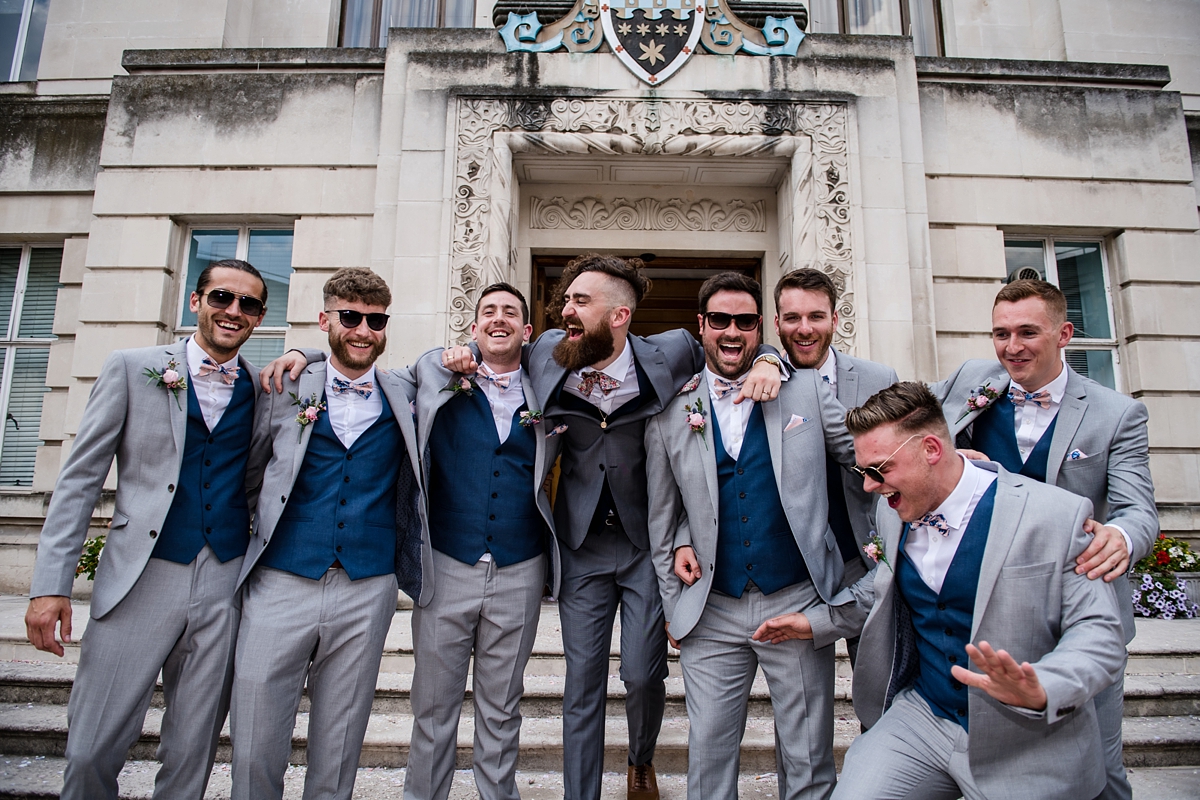 Ice cold fizz and delicious canapes were waiting at Metro whilst guests relaxed in the beautiful, green and shaded garden space.
"We were able to use a number of props from our wonderful florist including vases, glass cut candle holders and confetti baskets. We used Ginger Ray for a few props…My husband made our 'Order of the day' from scratch – he brought the wooden pallets himself and put it together; he even made stencils to paint on the wording."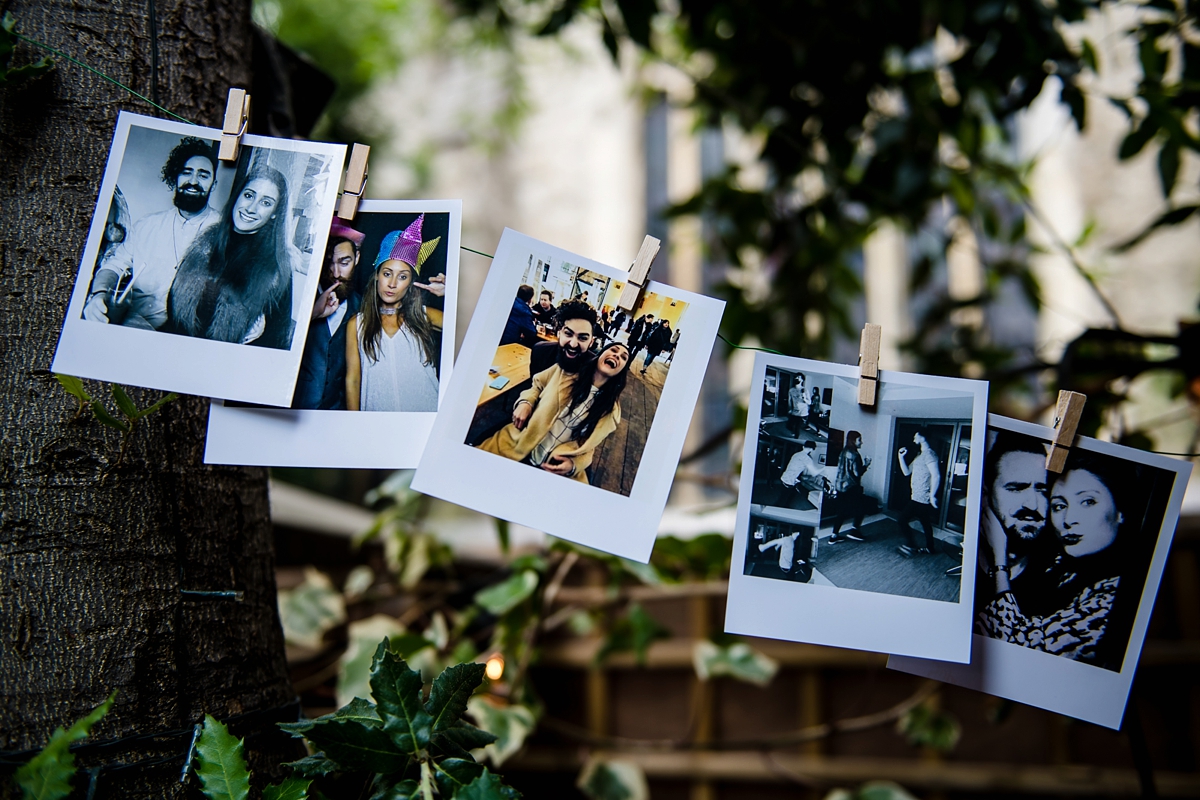 All the lovely stationery, including on-the-day necessities like place cards were sourced from Papier.
"We made the favours ourselves. We took inspiration from Pinterest and made little envelopes with wild flower seeds inside. Each envelope had a bow made with pink raffia, and a handmade tag attached with the guest's name and the date of the wedding and the phrase 'Let love grow' on it."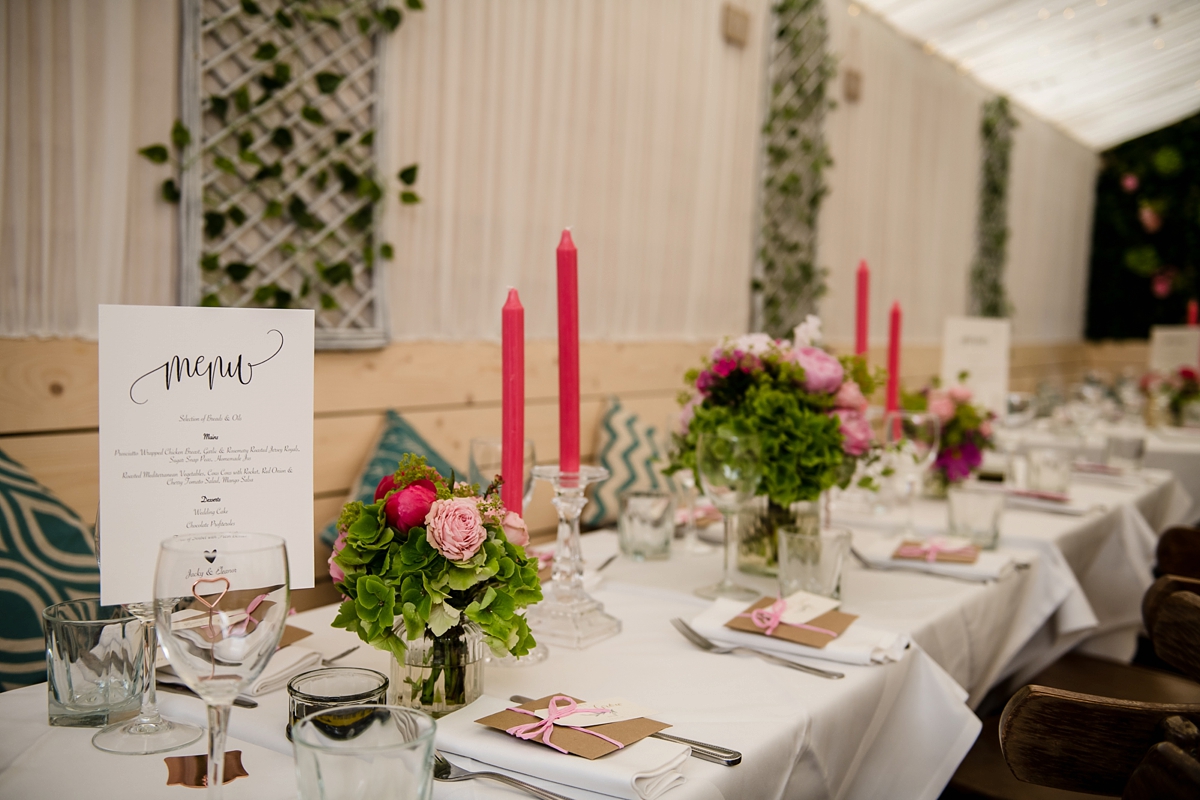 Dinner and speeches were followed by cake (cut with a sword, no less!), and what a cake! It was made for Eleanor and Jacky by their good friend Caitlyn Thornhill of Hackney based Cupcakes and Shhht.
"A number of my guests were vegan and I wanted to cater for everybody. It just so happens her cake is some of the best cake I've eaten in my life and it meant a lot for a friend to make it. She made it to order, I just gave her my vision and she brought it to life!"
"It had four tiers – Chocolate at the bottom going up through vanilla, fresh strawberry and lemon covered in pale pink icing and decorated with fresh flowers. It was served on my grandmother's silver tray, which she had her wedding cake on, as did my parents."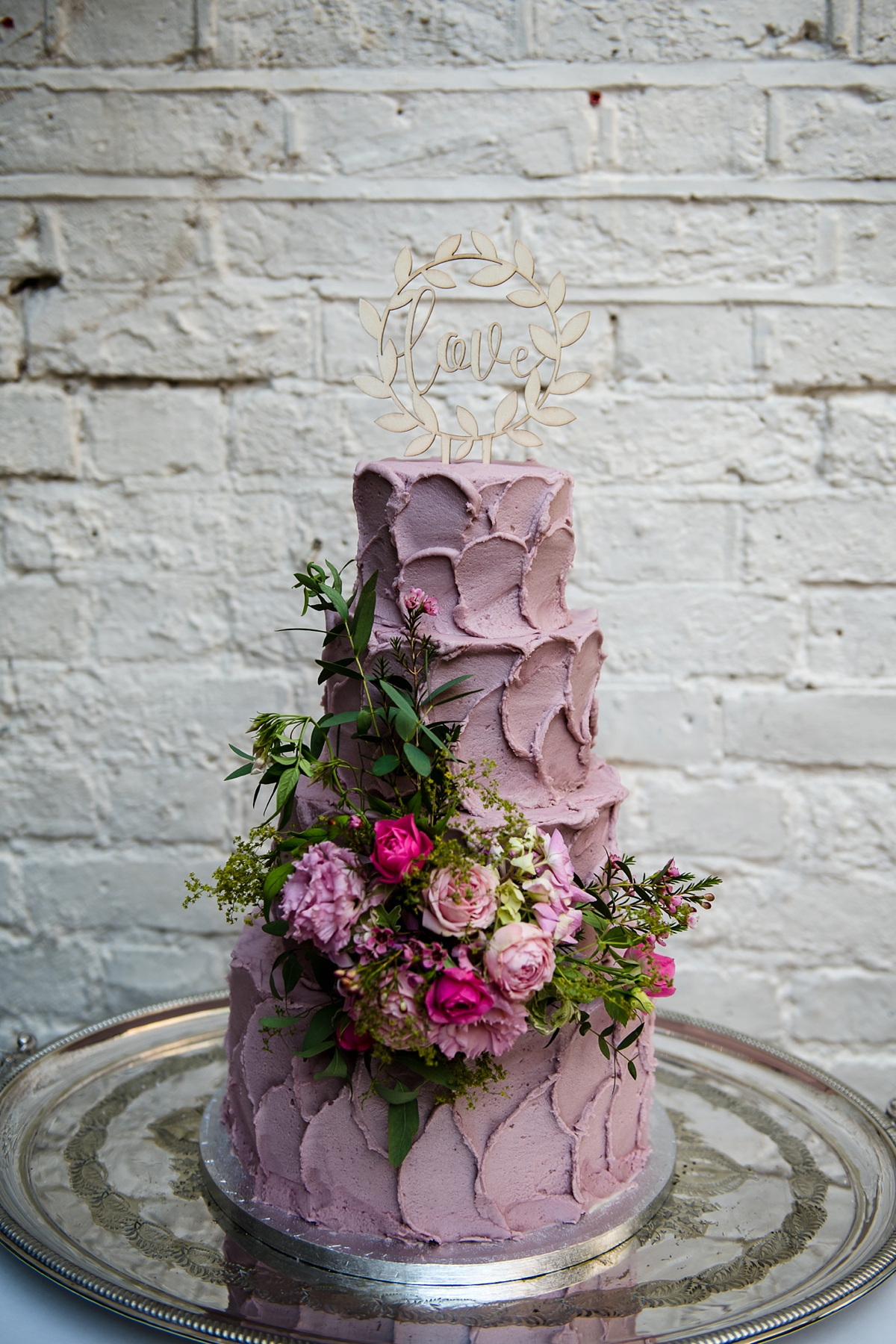 Eleanor and Jacky took some time out to take a stroll around Clapham Old Town and the Common (I know these well myself!) with their photographer Mona Ali, whose joyous and colourful images are a delight.
"I knew Mona was the photographer for us as soon as I spoke to her on the phone. She was incredibly professional but so friendly at the same time and made both of us feel very comfortable. She was very organised, prompt and this continued to the lead up to the big day and throughout the entire wedding. Couldn't recommend her more and the finished photos were more than we could have imagined!"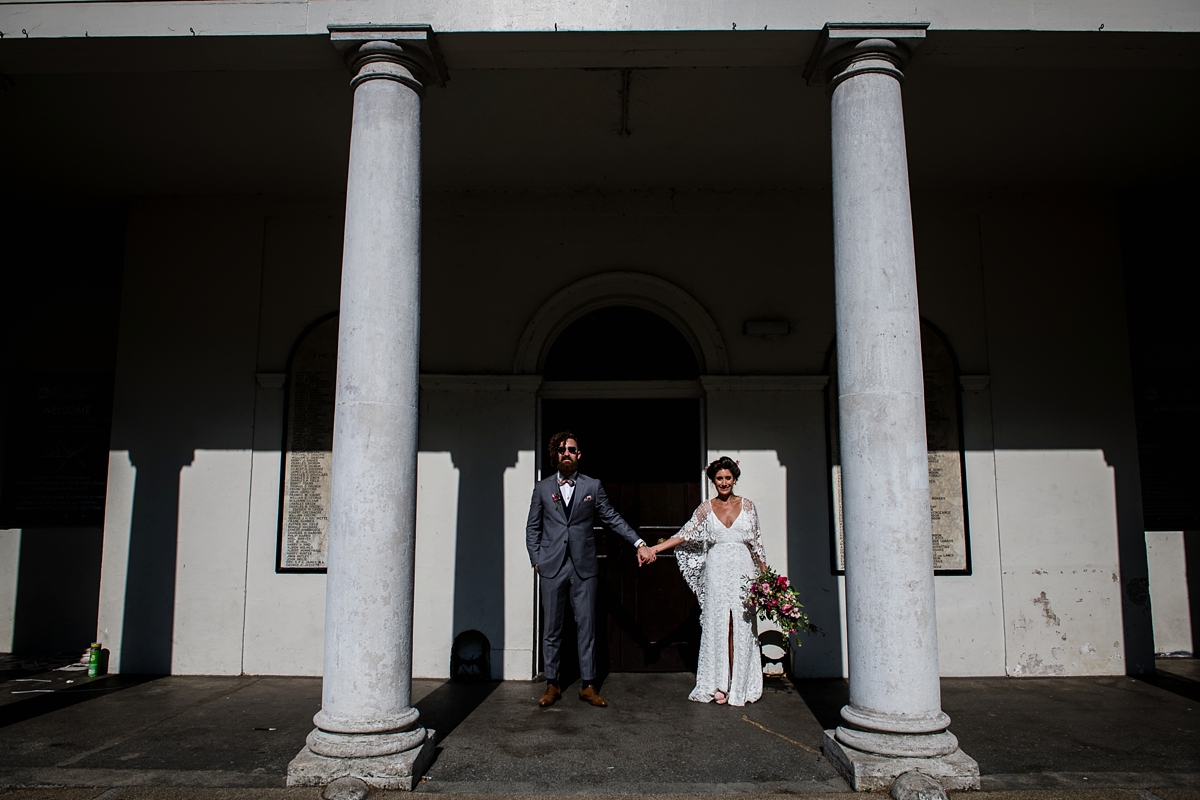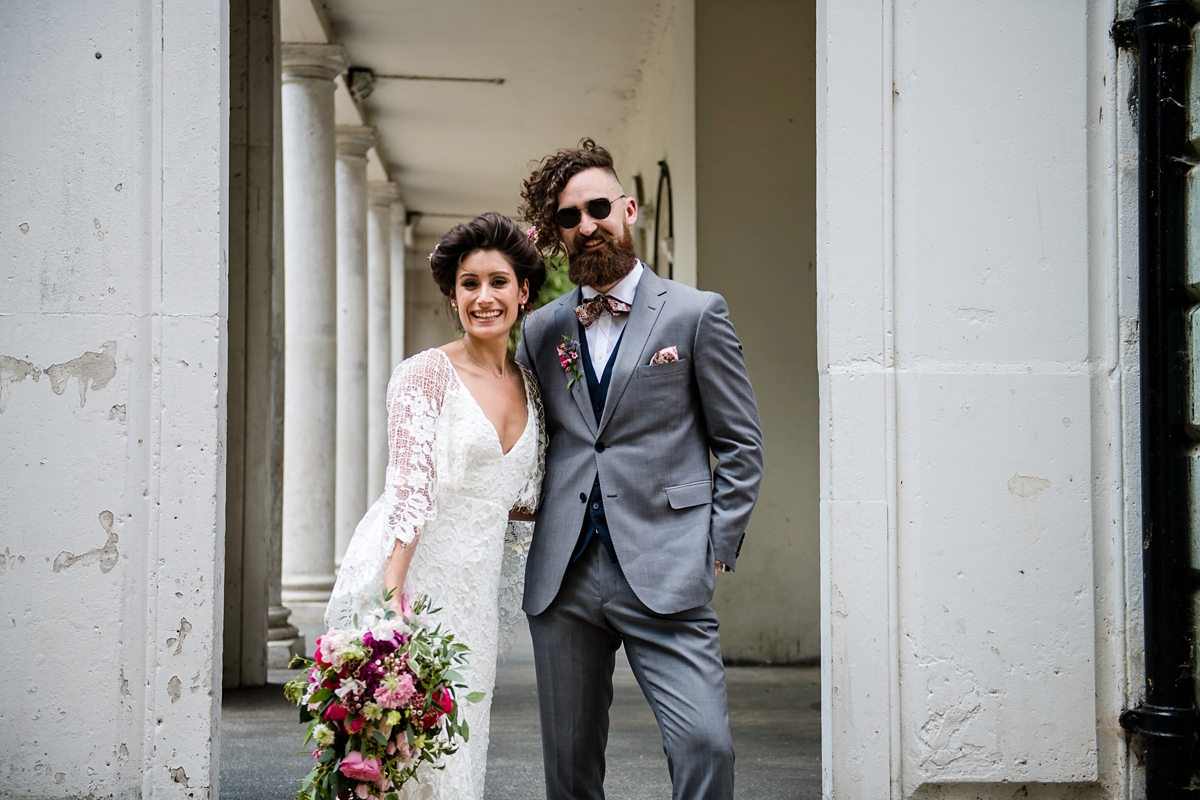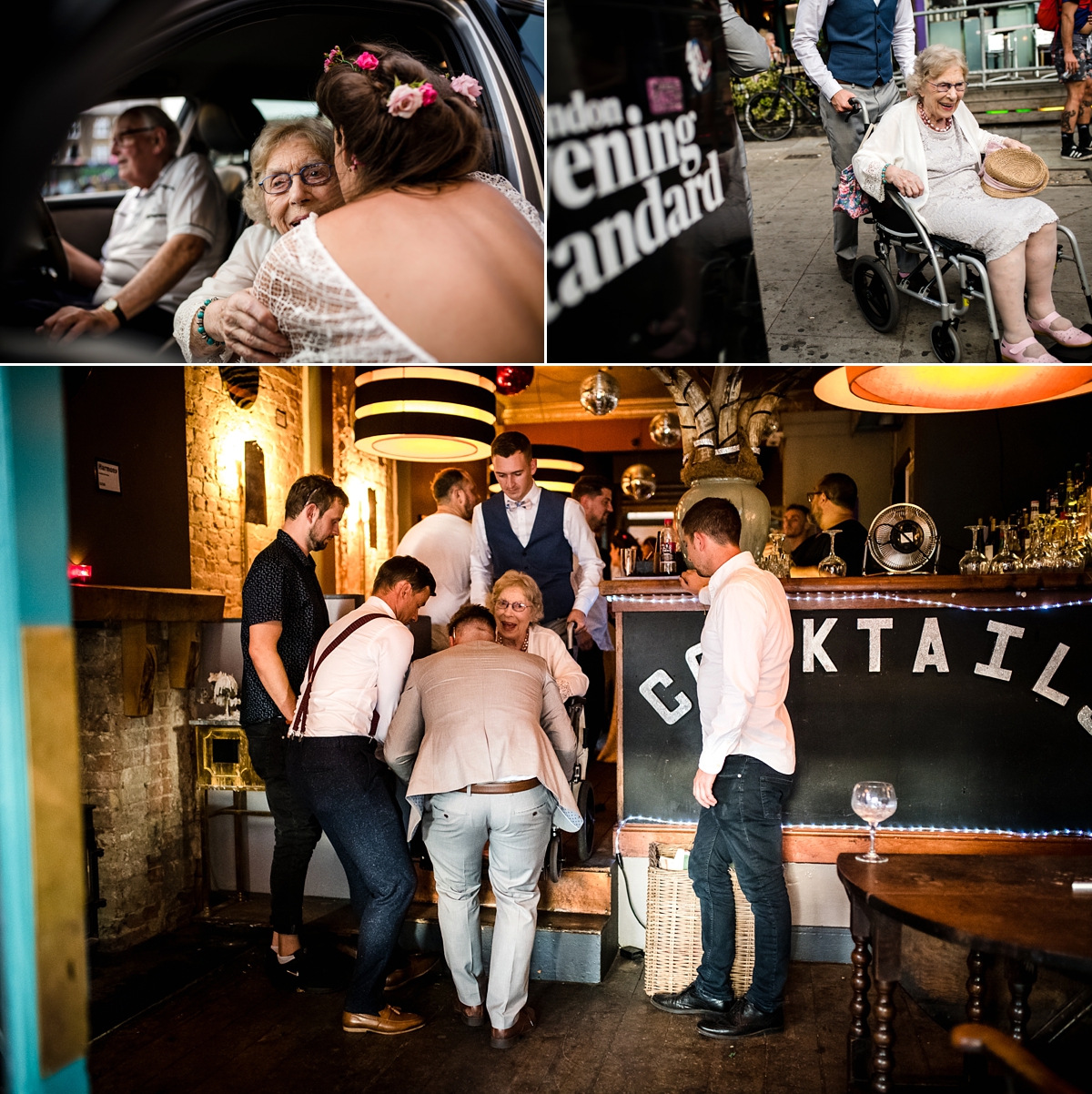 Eleanor and Jacky took to the dance floor for their first dance choice, One Love by DJ Vas.
"We first heard this song at a friend's garden party and couldn't stop singing it. It's funky, full of soul, a bit of disco and love."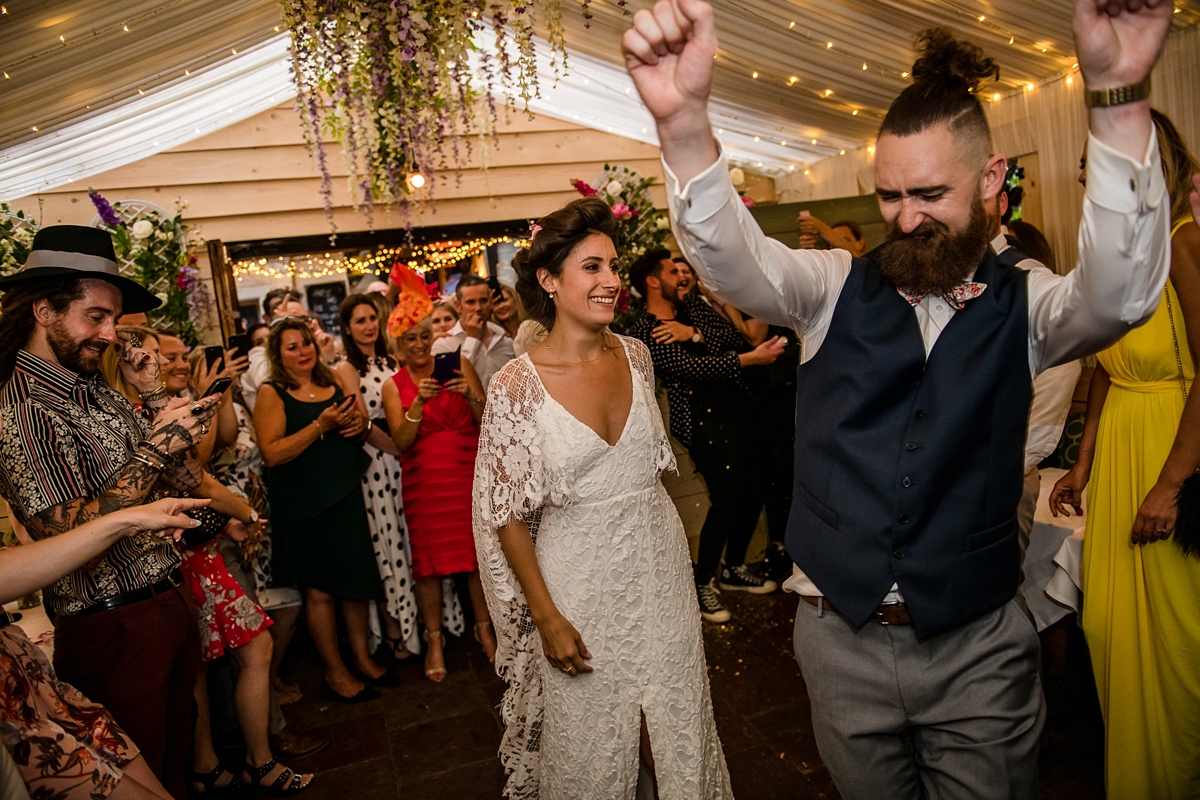 DJs and friends The Menendez Brothers played throughout the night, with the finishing set by Jacky himself.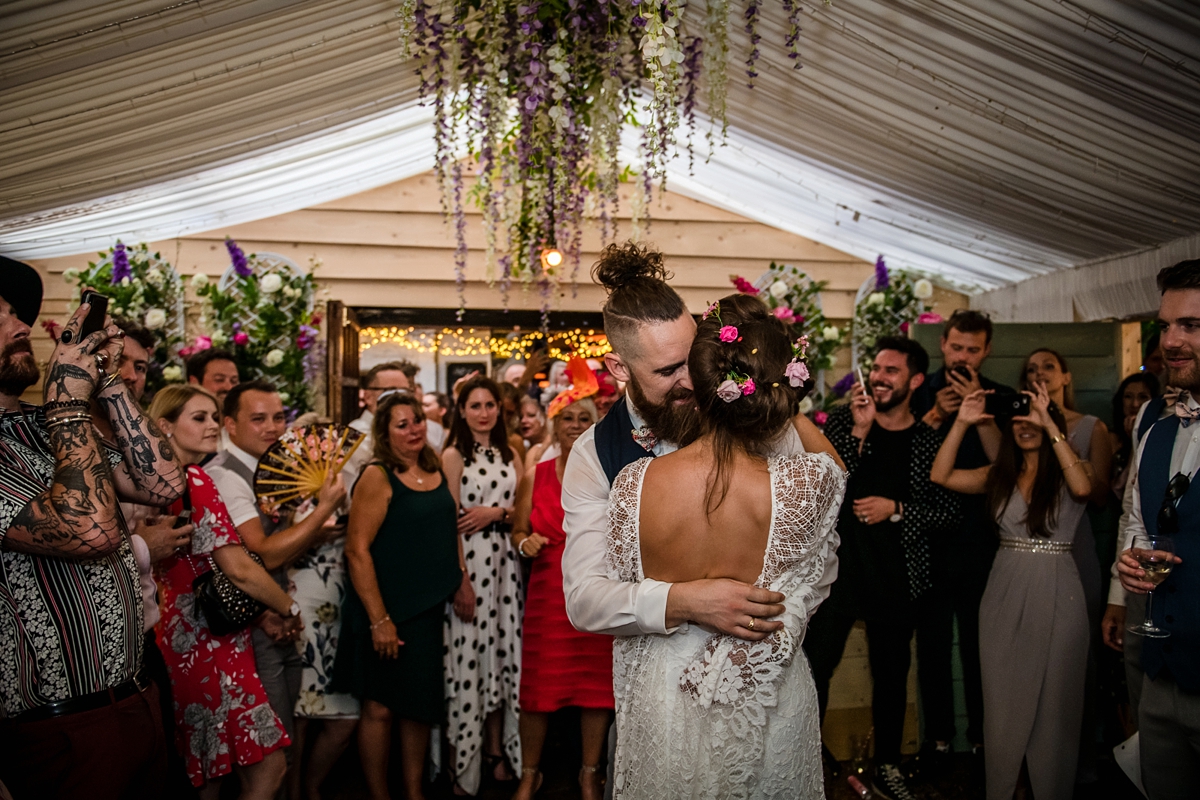 Words of Wedded Wisdom
"This is your day – try not to allow family and friends sway your idea of your perfect wedding. When it comes down to it, the little bits don't matter. Everyone there will be happy to share your special day with you. Enjoy the planning and absolutely include your husband/wife to be!"
"If I had been able to predict it would be one of the hottest days of the year on our wedding day I would have provided fans for everyone as it was a scorcher! I would have also made more of an effort to eat the beautiful food we picked out… The day other than that was perfect!"
Eleanor and Jacky, congratulations and thank you so much. What a wonderful, relaxed and happy day you had. Many thanks also go to Mona Ali for these lovely and romantic images. You can see more of Mona's work on Love My Dress here as well as more fantastic designs by Grace Loves Lace right here.
Until next time!
Love,
Laura