Hello dear readers and how are you on this fine day? We're closing in on the end of the month so that means weddings are getting closer! I hope you're flying through your to-do list and today, I'm here to help you tick off another big thing – bridesmaid dresses.
A little while ago, we had the pleasure of introducing you to Willow & Pearl's beautiful multiway bridesmaid dresses. Now, we're going to look in more detail at the Designer Collection and I just know you're going to love this.
So, what is the Designer Collection? Well, it's a super innovative concept collection where you can choose from different style options to create your own custom dress design. Yep, you read that correctly – custom bridesmaid dresses created by you!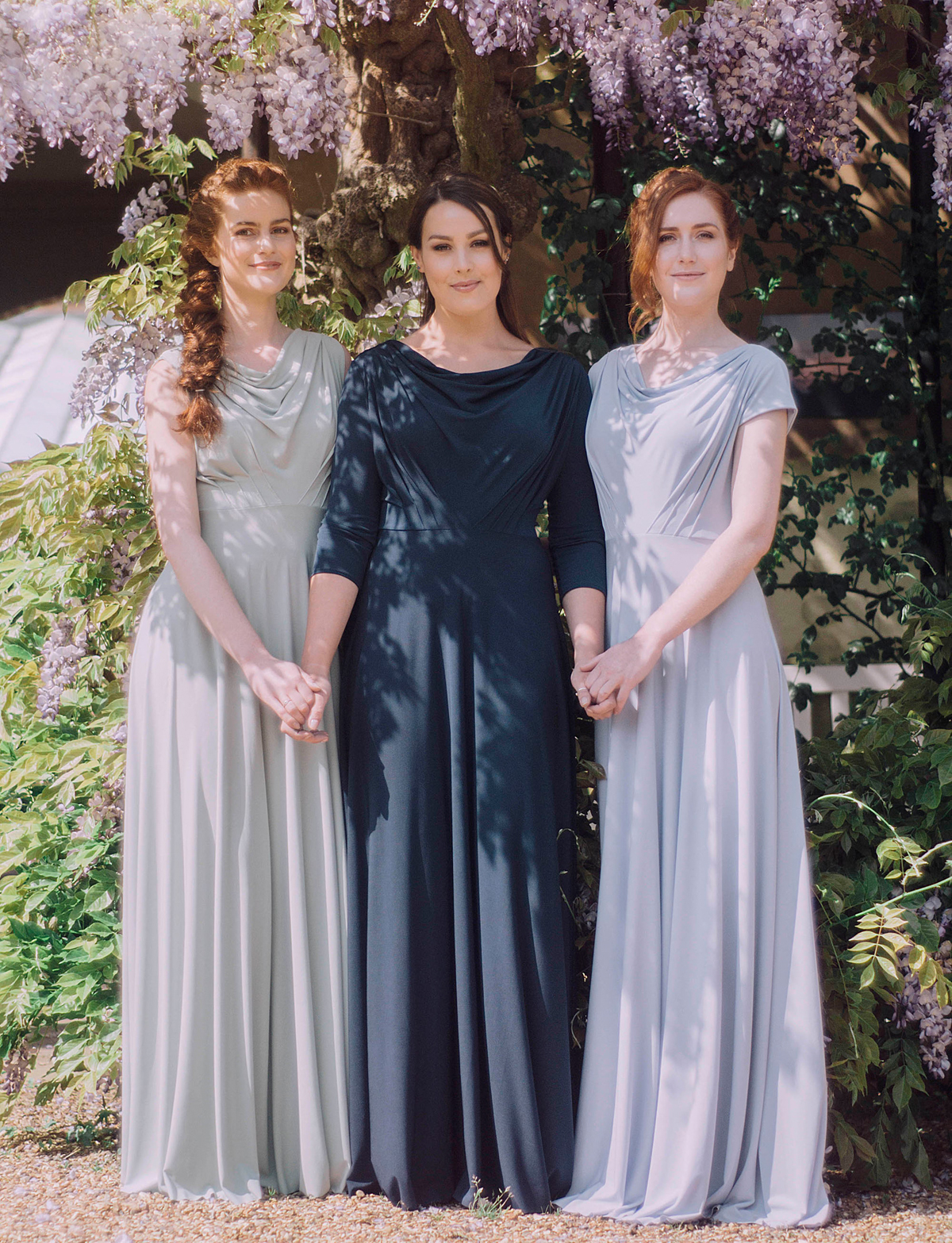 The designer range features 6 bodice styles, 5 different sleeve options, midi and full dress lengths and 51 different colours. Once you've done the maths on that, you'll see that there are 3060 different dresses within the collection and, as the dresses are made to order, there's a good chance that your dress will be one of very few made, if not the only one ever created!
"The designer dresses are great for bridesmaids because of all the different options," says designer Holly. "Mixing and matching gives each maid the flexibility to have a dress that suits their style and that they feel completely comfortable in."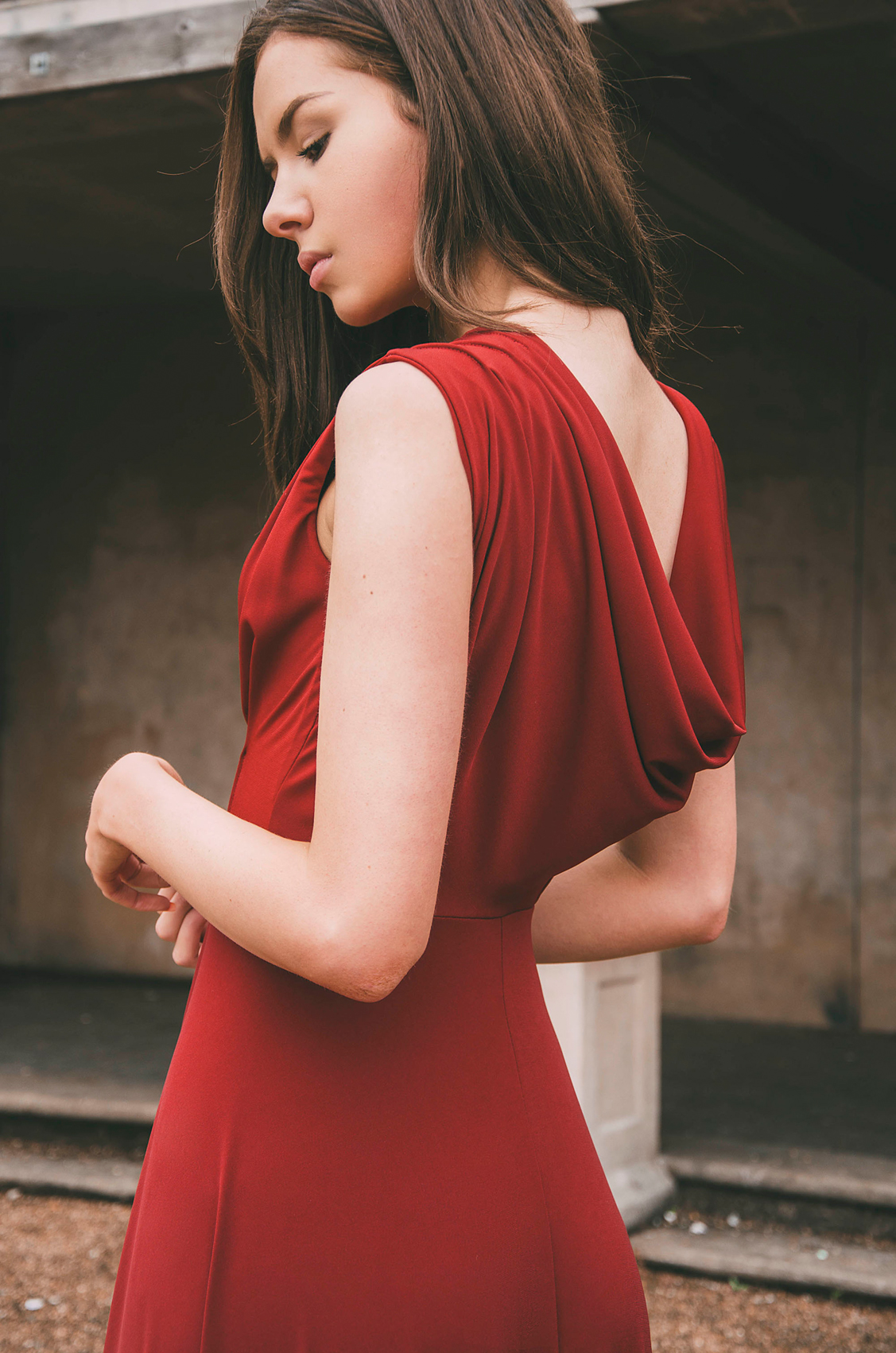 "The designer collection is made from the same signature jersey we use for our multiway dresses and this luxurious fabric is just amazing. It stretches softly ensuring the best fit without the need for alterations whilst still draping and flowing beautifully to create the most flattering appearance. And, because it's super stretchy, it's also super comfortable to wear."
The designer collection totally reflects the wonderful Willow & Pearl aesthetic. I love that their designers focus on classic, feminine beauty without being too girly. There are chic necklines and delicately pleated bodices that ooze grown-up sophistication. I'm also a fan of those nipped in waists and full skirts that create a gloriously feminine silhouette.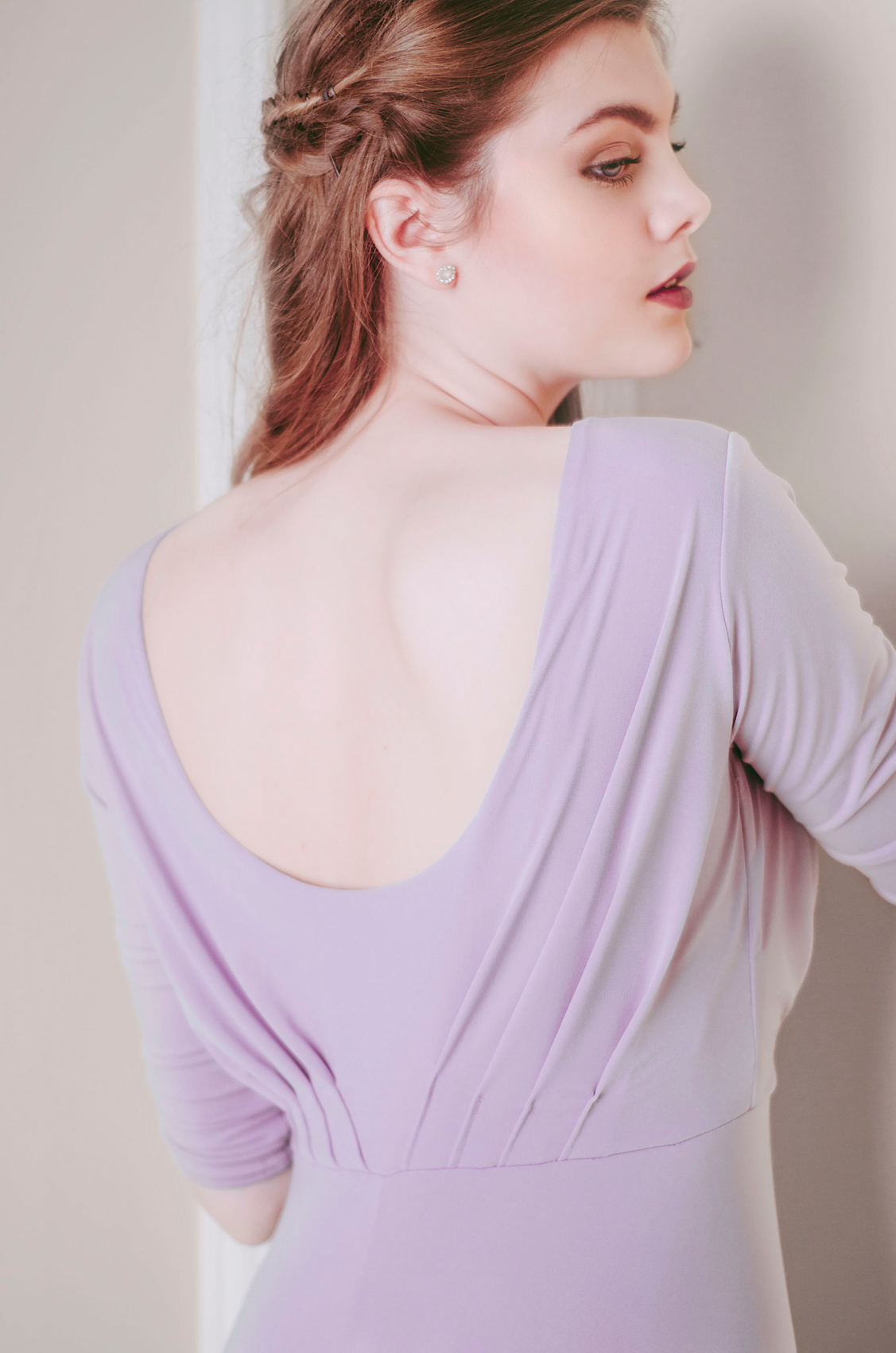 Another plus point I absolutely have to mention is that all of the current bodice styles have been designed to be worn with normal bras so there's no need for expensive underwear or clips and contraptions to keep you in place. Even the gorgeous cowl back of the Moon dress is designed to fall above your bra. Perfect.
Holly has definitely focused on timeless classic designs in this collection and, to my mind, this is yet another reason to applaud these designs. They're fabulous and practical with long-lasting style.
"For bridesmaids, we think it's especially important to create designs that won't age because these dresses will be in the couple's wedding photos. We want couples and bridesmaids to be able to look at their photos in many years to come and think how timeless the dresses still are."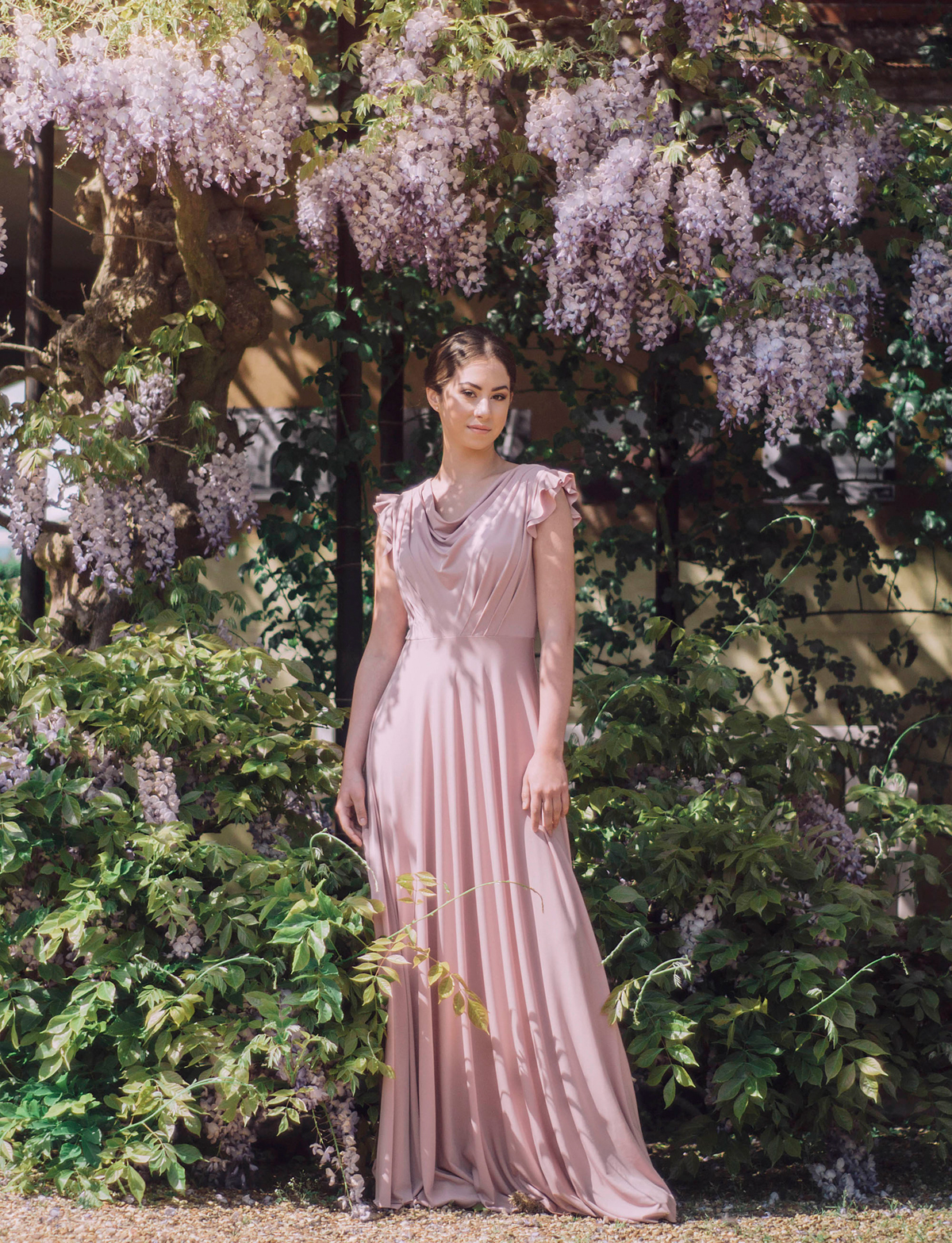 "Our clients are savvy and style conscious. Not only that but they're also eco and socially conscious as well as being budget conscious too. In the main, our customers enjoy having an original designer dress for a fair price and they love the fact that they're also supporting a small business."
Holly's personal favourite from the collection is exactly the same as mine and we both love Cloud for the same reason – the cowl neck. I'm addicted to knits and roll necks so I was instantly drawn to this design as it's just 'me'. Those three-quarter length sleeves are also Holly's favourite sleeve option and there's something very elegant and refined about this length. I should also mention that the ivory versions of these designer dresses are really popular with brides. Not only are they the fraction of the cost of a traditional wedding dress but they're also chic, modern and strikingly minimalist too.
If you're setting out to find bridesmaid dresses, Holly has some wise words for maids because, as she explains, a bridesmaid dress is so much more than that:
"Try to remember that it's not just about you wearing a dress, being a bridesmaid is about so much more. However, when it comes to your dress specifically remember that it's your friend's wedding, not yours. I'm sure your friend, the bride, will want you to feel confident and comfortable but she'll have her own ideas of how she wants the bridal party and wedding as a whole to look so try to be flexible and open minded to suggestions. I think trying on any dress that the bride suggests is a good thing to do, it shows willing and even if you know that it's not going to suit you, if you try it on your bride will be able to see this first hand for herself."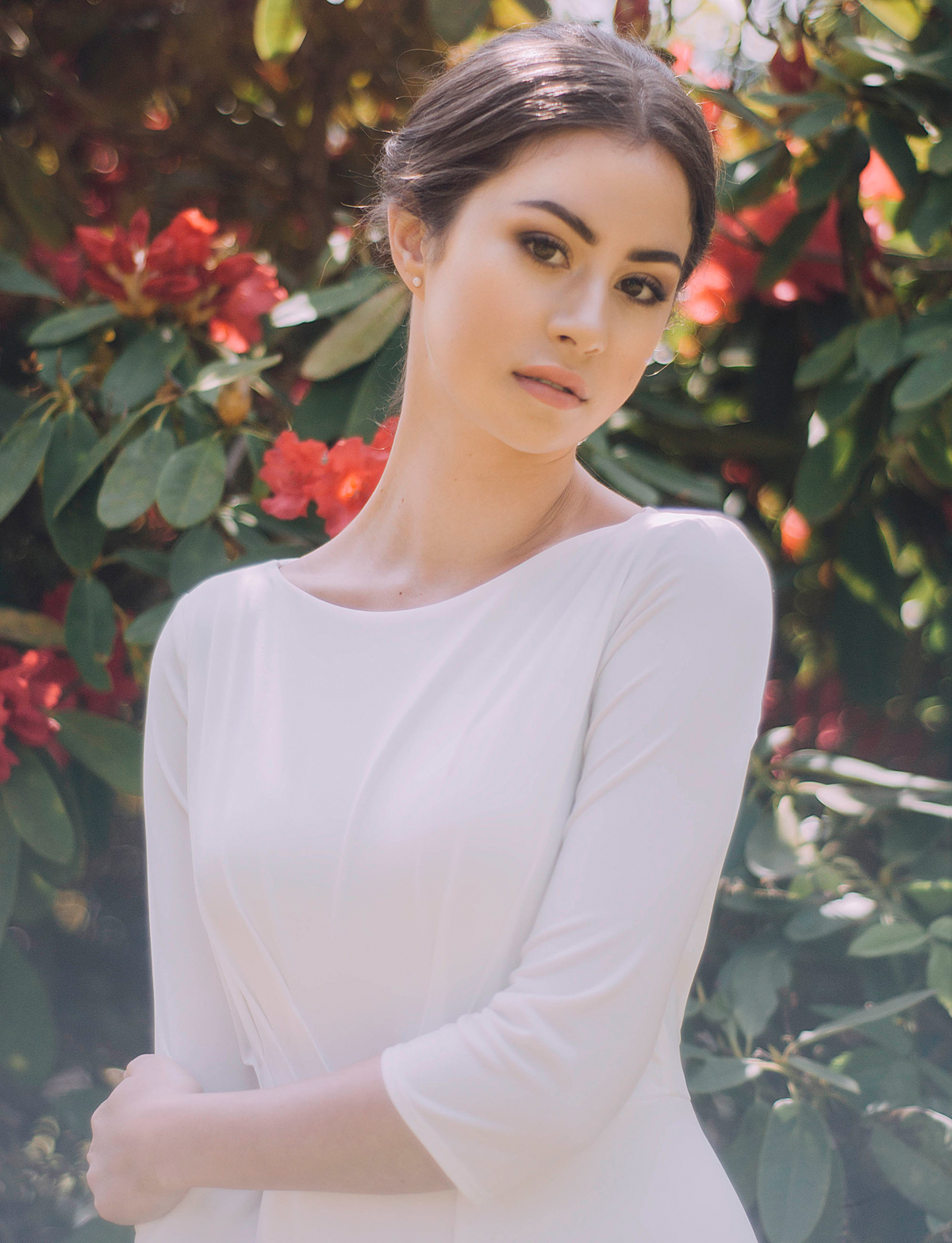 "The great thing nowadays is its normal for bridesmaids to all wear different dresses or outfits so making sure everyone is happy is easier than ever – if you know what suits you and what you feel comfortable in start there, just like the bride you shouldn't be a completely different person on the wedding day, just the very best version of our usual self."
To find out more about the Designer Collection from Willow & Pearl, click on over to their marvellous website.
Love,
Tamryn x