Good afternoon lovelies! Gosh it feels so natural to be swinging into January now doesn't it after all that festivities?
It's been an incredibly busy couple of days since we returned to our offices, responding to emails from clients and queries from so many of you lovely brides. As we enter our tenth year of Love My Dress, it feels like such an immense pleasure to be her to help so many of you about to embark on a new, married phase of your lives. It gives me all the good chills.
We still have folk following our social media feeds who married years ago now and this is also incredibly rewarding. Any of these people will, I'm sure, be able to tell you how very passionate I am about supporting the independent designer. I know first hand how hard these individuals work, because before I tied the knot myself, my husband was one.
Dress by Willow & Pearl
Seeing how much effort was required to shine a spotlight on an independent business like my husband's, in the absence of huge marketing budgets was a wakeup call – it's an experience that has been fundamental in the direction Love My Dress has taken in recent years, turning down huge multi-national, faceless brands in favour of smaller,  more personal, authentically run businesses, like Willow & Pearl.
Willow & Pearl, founded by lovely designer and creative mind Holly, produce beautiful, flattering and lovingly created multiway bridesmaids and flowergirl dresses. You know what I mean, right? A dress that can be worn in different ways (a tie over the shoulder, both shoulders covered up, both shoulders exposed, asymmetrically, using the fabric as a dress wrapped or waist tie, etc etc) – basically a number of different styles that ultimately suit a number of different body shapes.
These gowns are frankly genius in design and provide an instant solution to the 'what the heck are my bridesmaids going to wear? They're all so different!' problem. With a variety of sleeve lengths, bodice shapes and skirt lengths, on top of over 50 colour shades to choose from and a website that makes selecting designs an absolute doddle, Willow & Pearl are bringing choice to the bridesmaids market like never before and we are thrilled to be introducing you to Holly and her beautiful gowns today.
"I became aware that the multiway dress concept was becoming popular as a bridesmaid dress when I looked into the market," says designer Holly. "I studied fashion design at university and was so keen to set up my own label and I established Willow & Pearl with the multiway dresses. I absolutely adore being a dress designer and love being able to offer lovingly made designs for what I believe is an affordable price."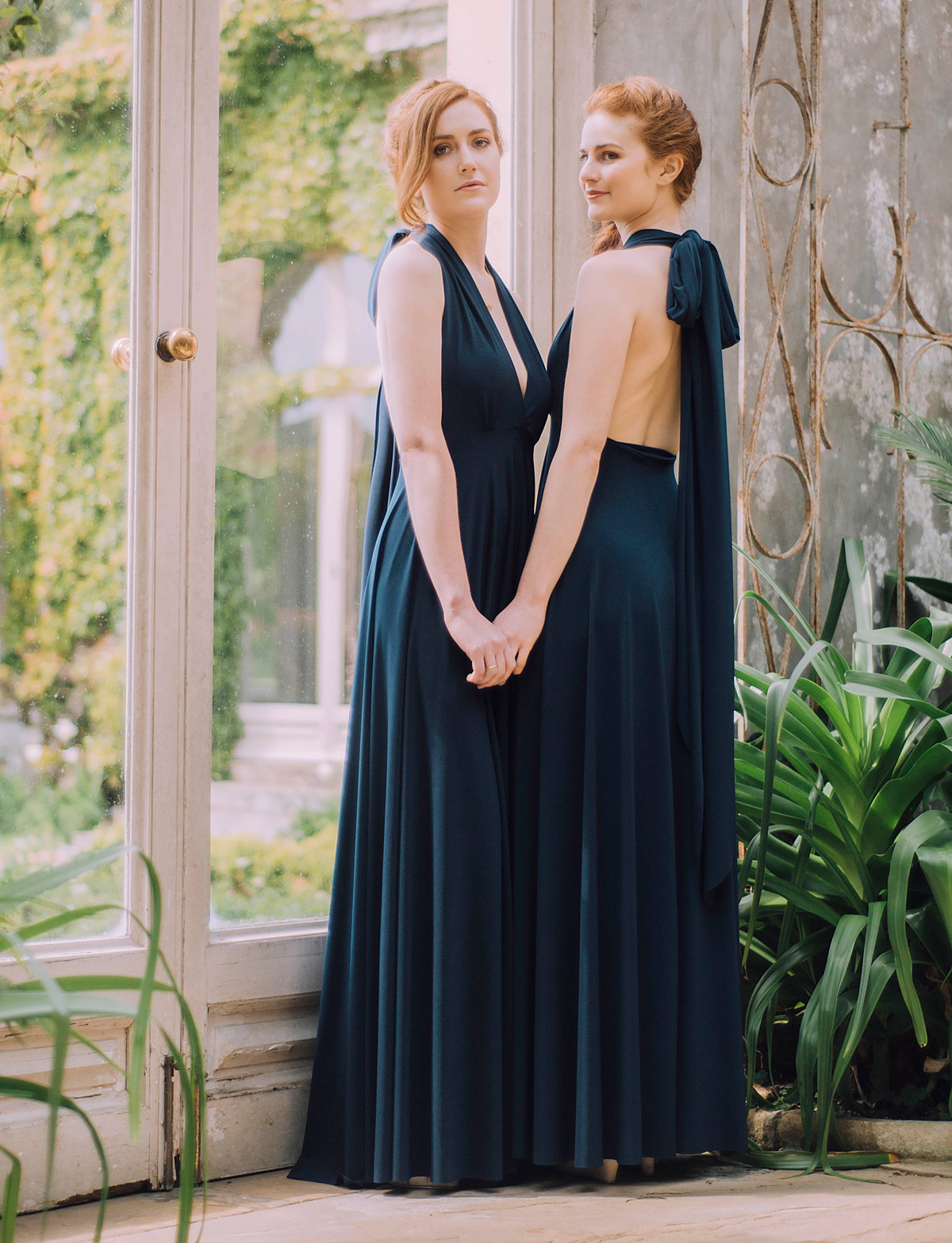 "Our dresses are designed to stand the test of time, both visually and in terms of their quality," says Holly. "We design dresses that suit all shapes and sizes as well as all ages and we hope that a dress bought now will still look great in many years to come. Our designs are contemporary classics meaning they will always look beautiful and flattering and never go out of fashion. They can be worn again and again for summer holidays, parties and special events."
"However, our main design aim is for anyone who wear our dresses to feel comfortable, confident and to genuinely know they look great. We like to take the essence of the classic beauty aesthetic and blend this with the modern ideals of comfort, easy fit and easy care."

Environmentally Friendly
This is why we love working with businesses like this, because they really care about their customer experience.
Willow & Pearl work from a design studio in Norfolk and retail online via their website with worldwide shipping available (UK delivery is free, by the way). And that's not all, Willow & Pearl also do their bit for the environment. The dresses themselves are ethically and responsibly made either made at the studio or at a small manufacturer in Exeter. Every dress is designed to generate as little textile waste as possible and to avoid landfill, Willow & Pearl donate all their offcuts to local schools and community projects to reuse.
The label's hero dress is 'Willow' and it's loved by both brides and bridesmaids alike. This gown, as with any other in the collection, is producing using Willow & Pearl's premium signature stretch fabric. No adjustments are ever required because fit is guaranteed – and thus, when it comes to sizing, any one of these gorgeous Willow & Pearl gowns can be purchased online with confidence.
The signature Willow & Pearl aesthetic is most definitely elegant and timeless. It's feminine without being too girly and the huge choice of colours available means that you can choose the perfect shade for your wedding or give your bridesmaids the option to select their favourite tone.
You could work across a coordinating palette to provide a depth and richness to the look of your bridesmaids, particularly when they can style their multiway gowns in any way they like.
Top each gown off with some beautiful statement jewellery or fresh flowers accessories and voila.
There's no doubt that these multiway gowns are a brilliant choice for bridesmaids – and the little ones too.  Adult dresses from Willow & Pearl range from £130-£160 and children's dresses are £55-75. To find out more, please visit the Willow & Pearl website.
Annabel x