Happy New Year lovely readers.  I hope you enjoyed the festive period and a very warm welcome to those of you who got engaged over the holidays!  January is usually a rather grey month, so let me brighten your day with a beautiful Greek wedding, guaranteed to make you smile.
Meet Alexandra, a renewable energy engineer and Mark, a musician, who married on the 26th May 2018 at Venetsanos Winery, Santorini, Greece.  The couple were keen to combine their Ukrainian and British heritages, while also embracing the stunning Greek scenery and created the most beautiful day at their fabulous outdoor venue.
"Venetsanos winery was impossible not to fall in love with at first sight. It's a family business and I'm so happy they let us celebrate on one of their terraces.   As well, the venue was licensed to have the ceremony and the reception in one place which was great."
"We focused on the view and wanted to support it with natural materials: wood, greenery, candles and textiles, hand-made items, unique, restored furniture pieces keeping it as relaxed and cosy as possible. We didn't want any guests to be indoors or feel too formal on holiday."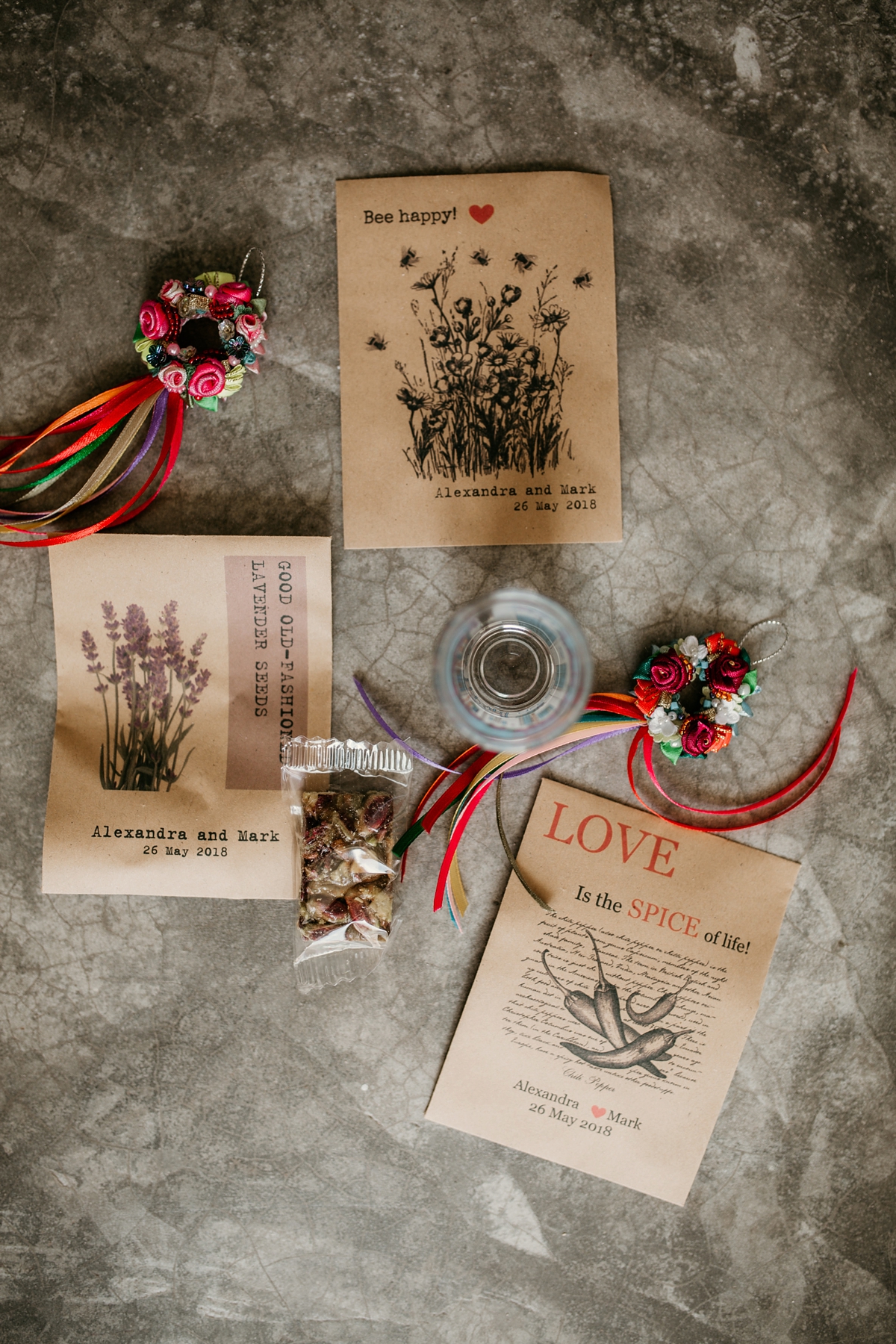 Alex wore the fabulous Emanuela by Grace Loves Lace, which she bought from the London showroom.  It really is quite spectacular.
"I love lace and Grace Loves Lace gowns are all works of art.  The combination of different lace patterns, geometric and intricately flowery was perfect and I felt feminine and comfortable in it."
On her feet Alex wore shoes by Miss KG (House of Fraser), while for jewellery she chose earrings and a necklace, both from House of Fraser and a bracelet which was a present from Ukraine.  In her hair she wore fresh orchids by Betty Flowers Santorini, to add to the holiday feel.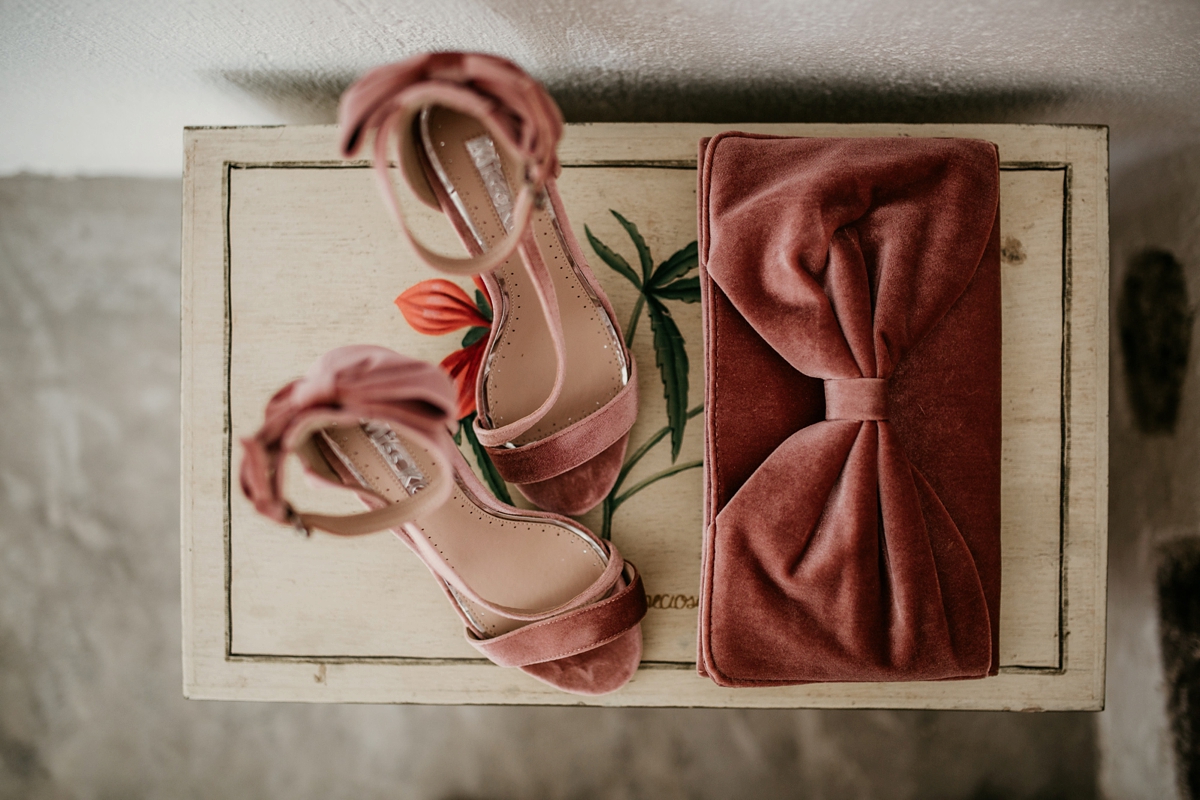 Hair and make up was the work of Renia Bledaki, who styled Alex's tresses into a relaxed fishtail plait studded with fresh flowers, perfect for that boho feel.  Alex also chose a deep red lip to show off all her smiles!
"Betty Flowers Santorini were my dream florist.  I've never been happier with flowers and greenery, it was just what I wanted.  I discovered king proteas on Pinterest and fell in love with them immediately and the ladies at Betty Flowers Santorini designed the best rare orchid and greenery framing for them.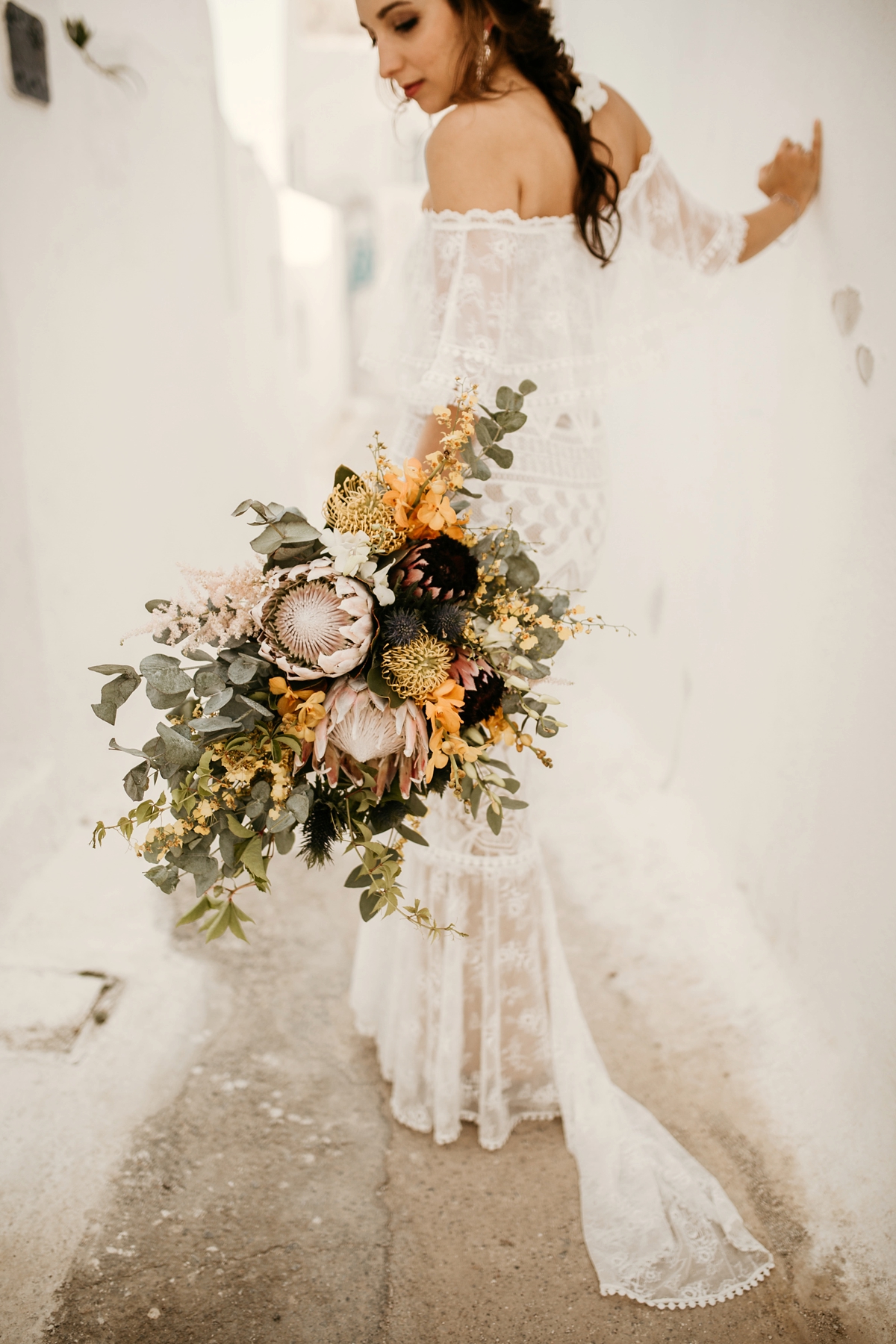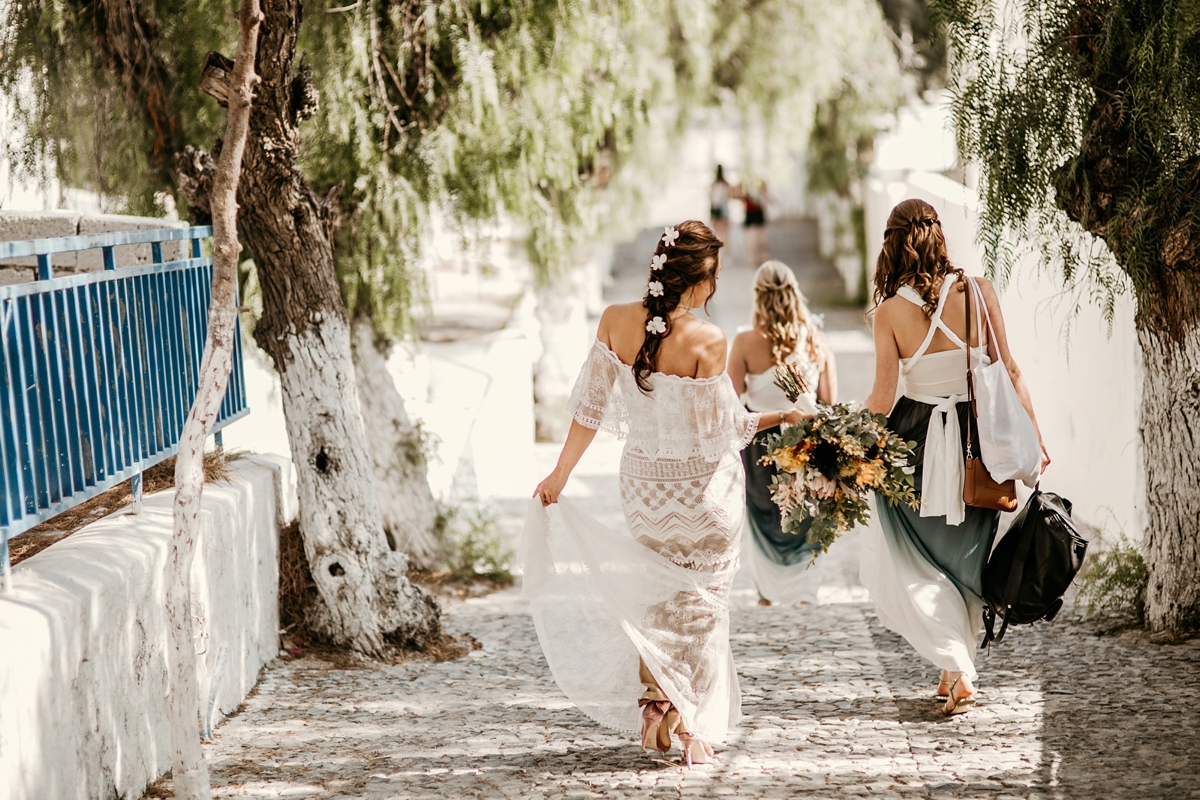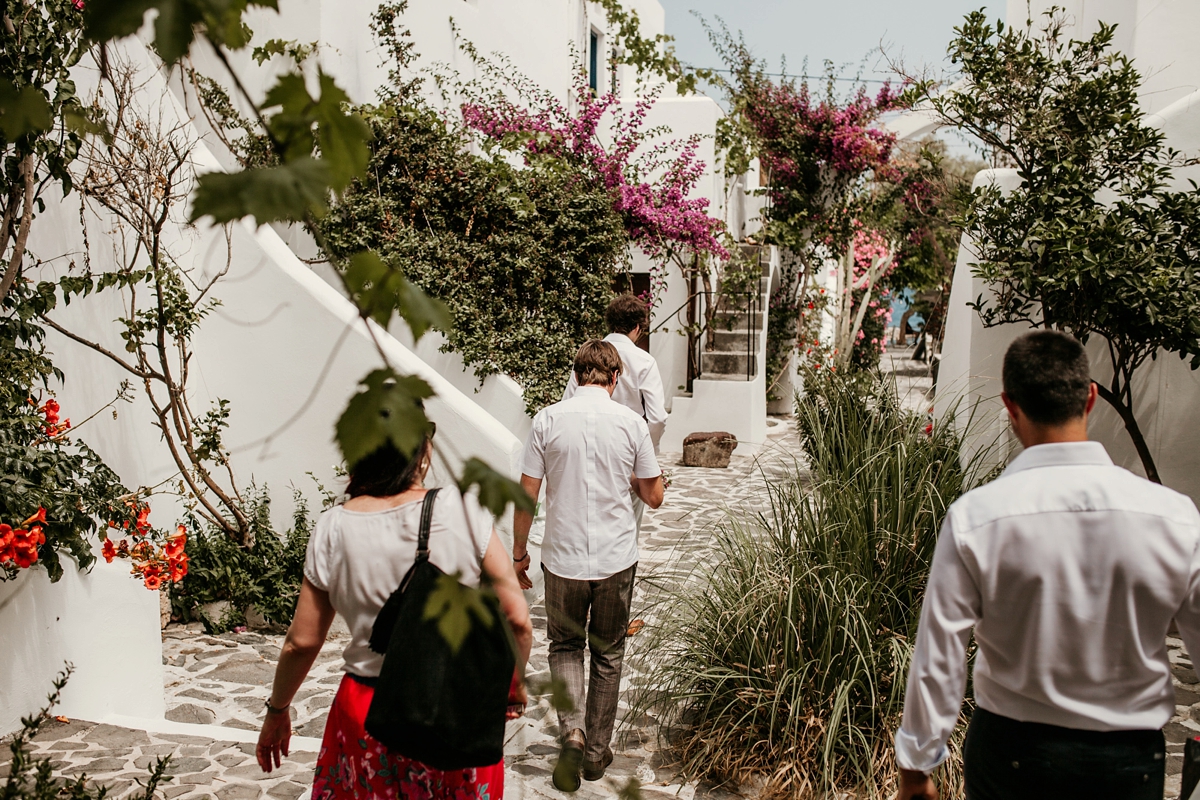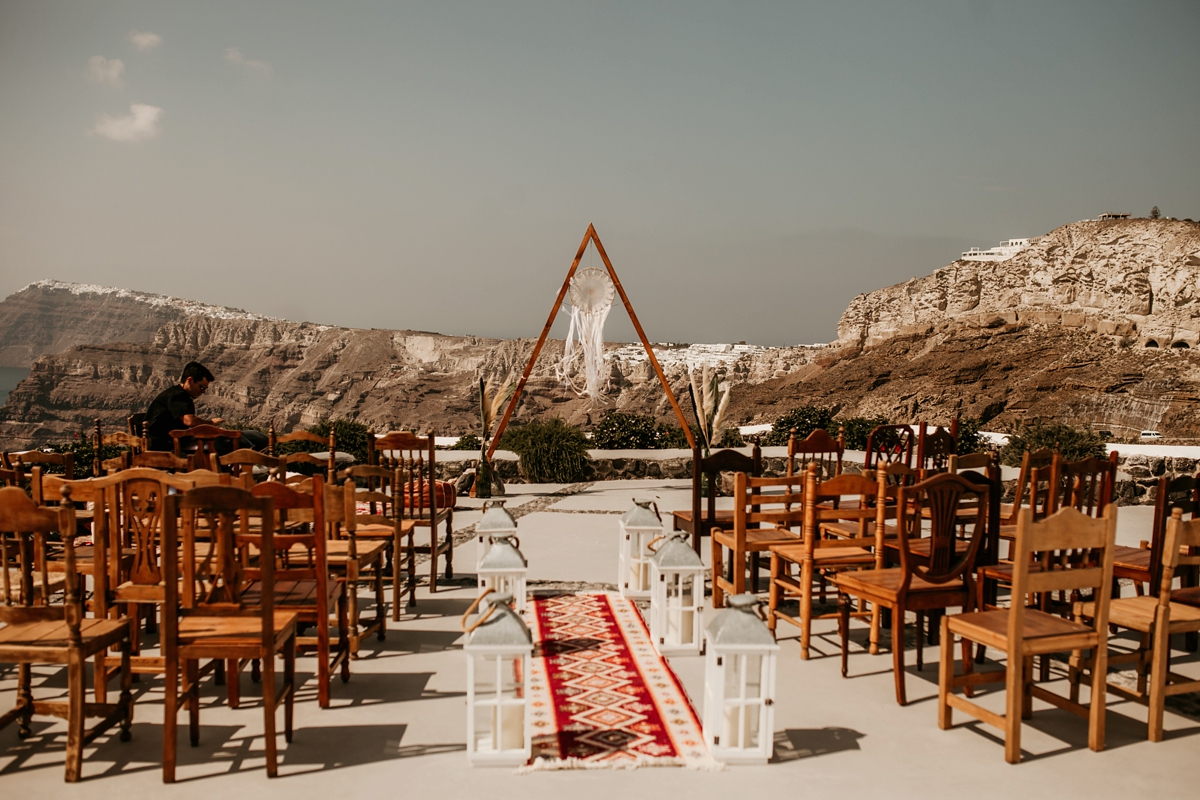 Decor came in the form of carpets, runners, Moroccan poufs, cushions, candles and lace fabric for tables – all by Weddings and Whimsy, the embroidered runners came from Ukraine and the hand painted signs were also the work of Kirsty at Weddings and Whimsy.
The bridesmaids wore floaty ombre dresses from Etsy, paired with jewellery from Next and corsages by Betty Flowers Santorini, while the little flower girl wore a pale pink dress from our Little Book members, Monsoon.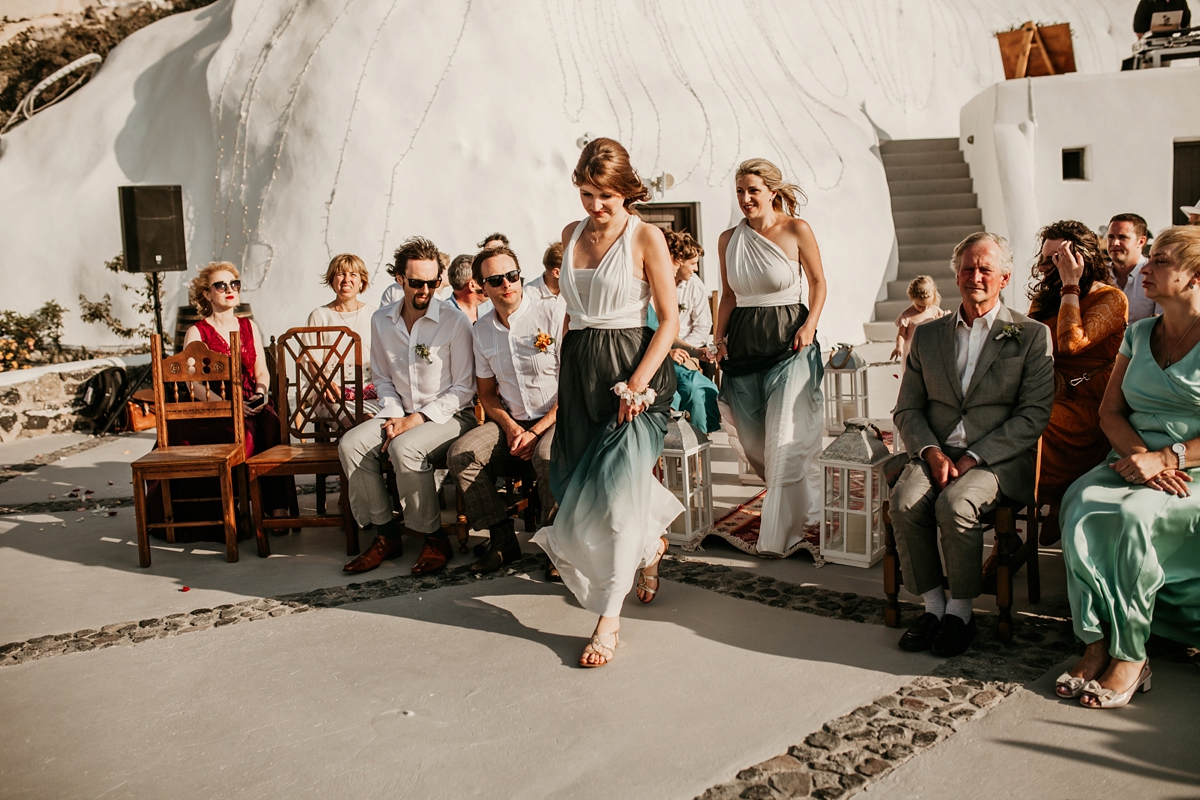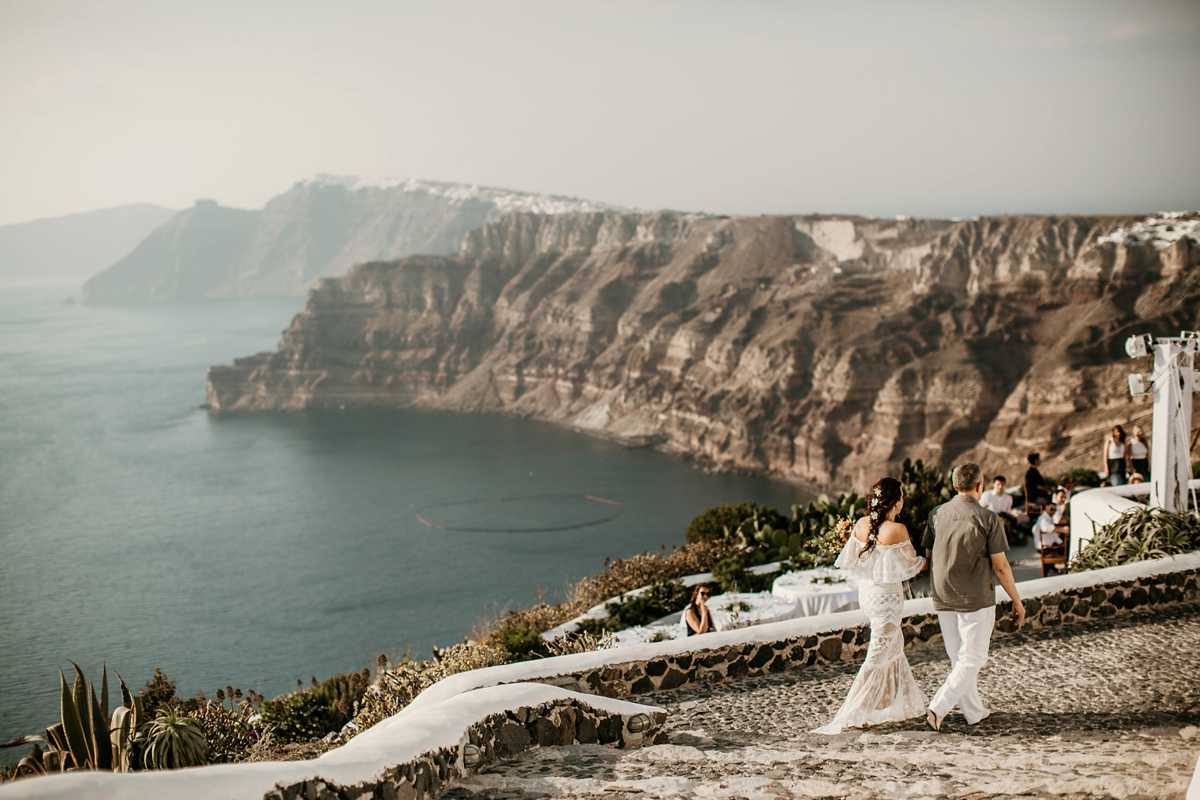 Mark waited at the end of the aisle in checked trousers from Tommy Hilfiger, paired with boots from Bertie (at House of Fraser) and a crisp white shirt.
Alex's father accompanied her down the aisle to 'Hell to the Liars' by London Grammar and the ceremony was led by John Kavallaris.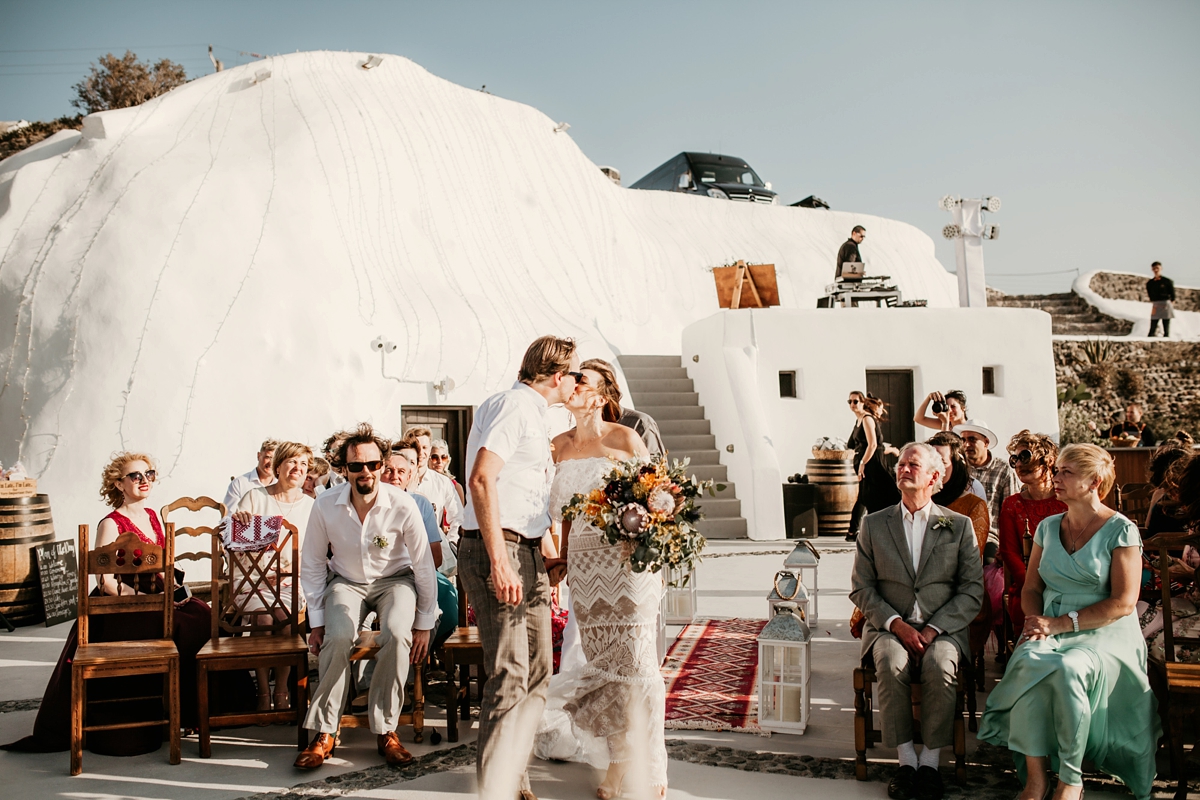 "Our ceremony was a combination of English, Greek and personal input.  We felt it was important to add the following to the more traditional text:
I will celebrate our differences and give you your space, will learn to forgive and forget and always remember to laugh. I will love you as your wife/husband, your lover and your friend, and I will never forget why I married you."
"A close friend of mine read a poem by Ukrainian poet Pavlo Tychyna- "Do You Know How Linden Rustles?".  I wanted a piece in Ukrainian as all the wedding was in English, it meant there was an untranslated, original piece from home.   It is a poem about love and my favourite tree."
To bind their vows, the couple exchanged rings from Isabella Day.
"Bella's handmade designs were soulful and unique. We chose a hammered facet ring for Mark and an ancient Tudor rose design for me.  It has also become symbolic for me as it brings a bit of English culture to my Ukrainian nature."
The whole day was captured on camera by Green Antlers Photography, who seems to have been everywhere, making sure every moment, every smile, every word was noted and recorded.  You can almost feel the bleached white heat of the island and the sea breeze in your hair as you look at these.  Gorgeous.
"Sam and Diana are professionals with tons of experience and above all, people with big hearts and genuine souls.  I've been following their work online for over three years and it never fails to impress. Their artwork makes you feel in the moment, with amazing attention to detail and quality.  I had absolutely no doubt they would be the first ones on the list when the time came and I had a feeling their photography style would be just right for us. They were amazing and all our guests loved their company."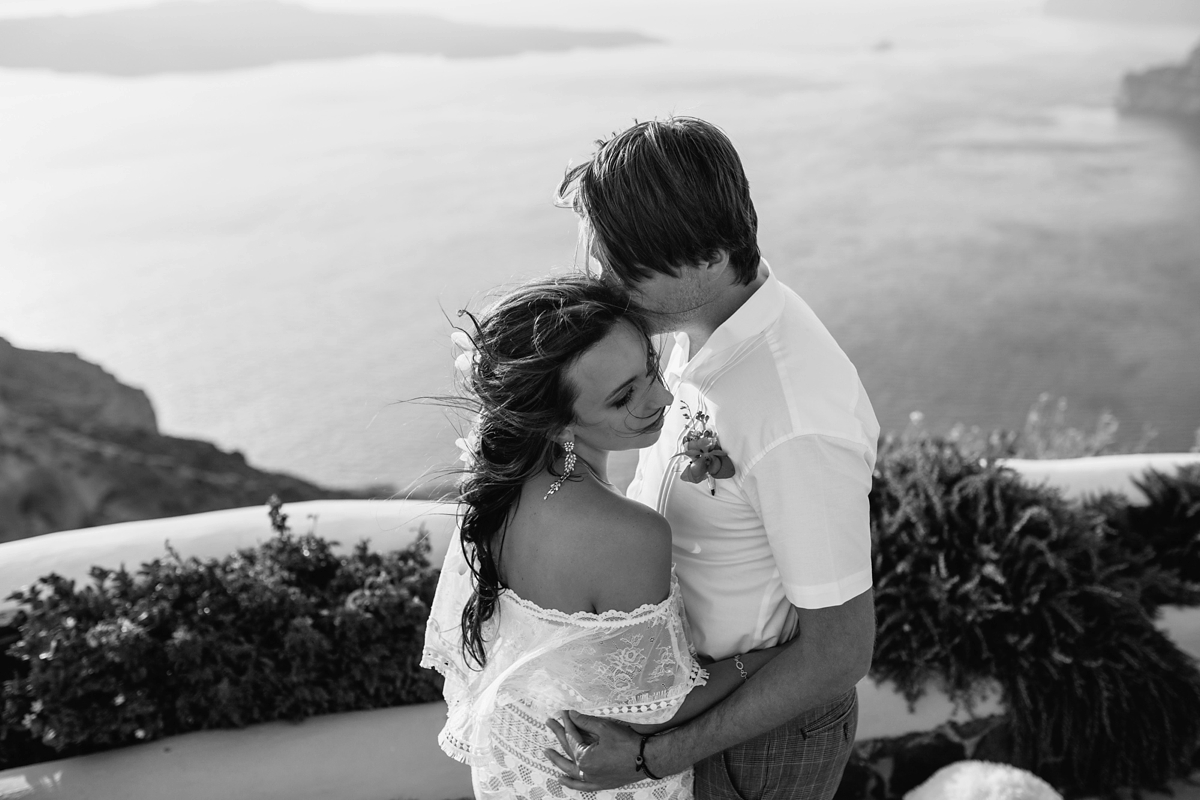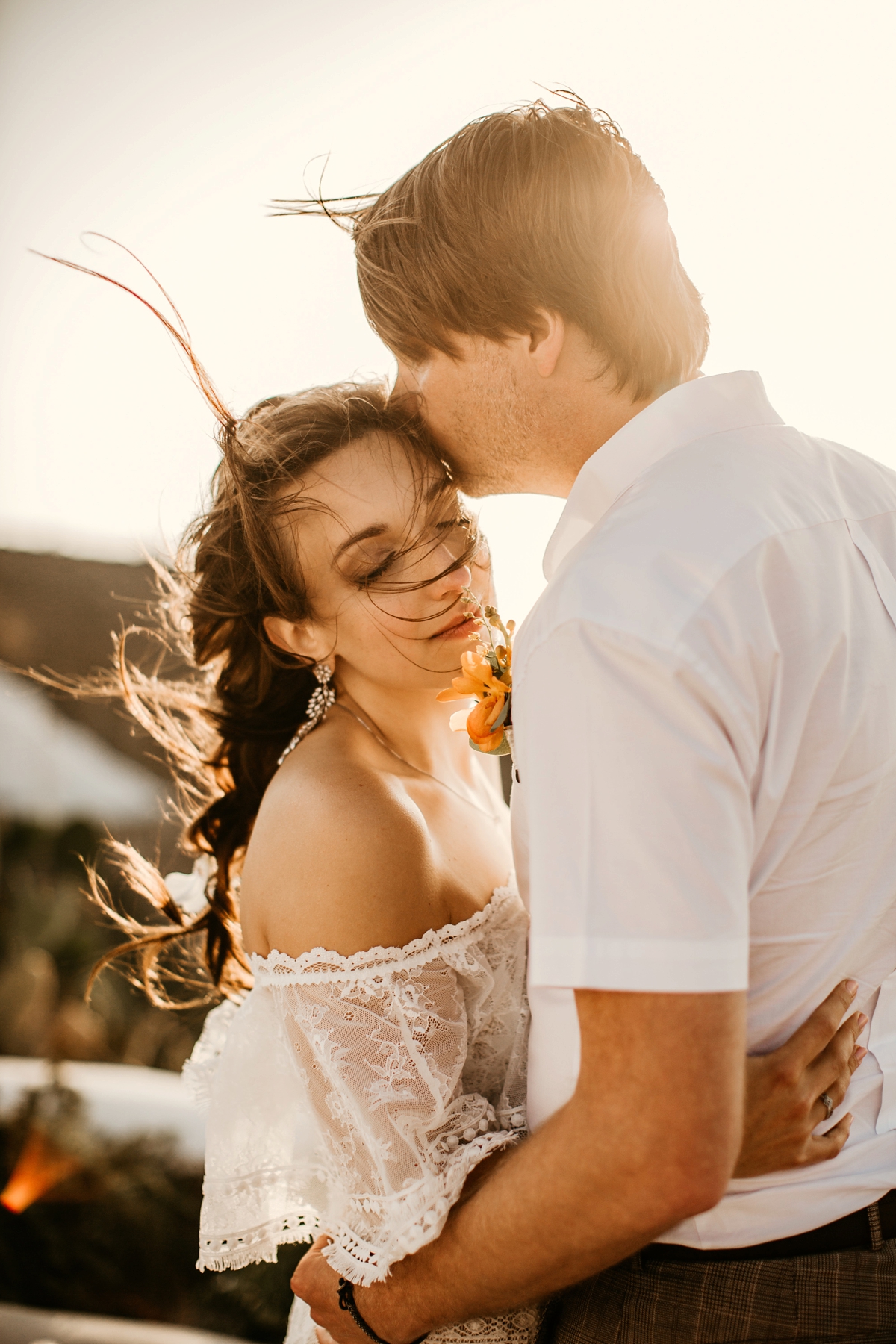 The wedding breakfast took place on the terrace, with amazing views across the sea.  The food was provided by Spicy Bites (described as 'delicious, with outstanding service and customer care' by our bride), while the cake came from Alexandra's Cakes, in tiers of lemon and strawberries and chocolate orange.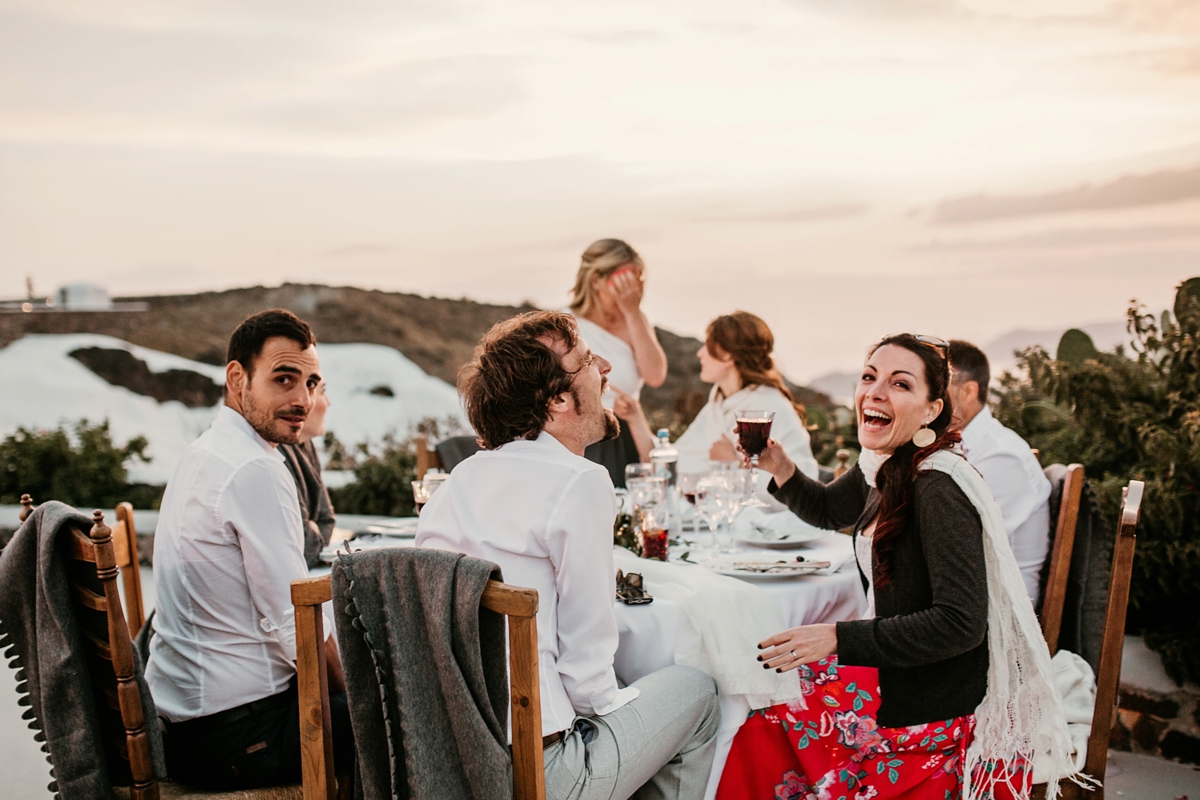 For favours, Alex and Mark chose wildflower, chilli, lavender and poppy seeds from Wildflower Favours, santorini shot glasses and honey-pistachio sweets , and traditional Ukrainian mini decorative flower headdresses (the symbol of an unmarried girl).
"We kept the table décor simple with Italian ruscus branches- the sunset view added colours to the tables instead.  I'm a fan of contrast so thought banana leaves would be just right, adding both to the holiday feel and the festivity of the moment and Betty went an extra mile or a hundred to get them for me.  They were like little natural fireworks to the sides of the arch."
Entertainment came in the form of hang drum player Spyros Pan and a DJ from Events Santorini (who additionally provided the beautiful lighting).  Guests were also treated to a tour of the winery.
Mark: "My favourite part of the day was the actual ceremony.  It was the heart of the event and it was beautiful.  The whole day was overwhelming in a good way."
Alex: "When organising a wedding abroad, all you see is pictures, spreadsheets, websites, emails, Instagram stories and occasional skype calls, so it feels a bit theoretical and literally distant, even though is a very interesting adventure.  I wanted to step away from the organiser part of this and finally relax, so I paused before the final steps down the aisle to take it all in.  I was holding my dad, I saw Mark just a few metres from me and in all this stunning setting and amazing set up, I saw the dear faces from different parts of our lives all in one place (some I have only seen on screen for a few years) and nobody was moving. That pause and all the thoughts and emotions that went through my head were extra powerful."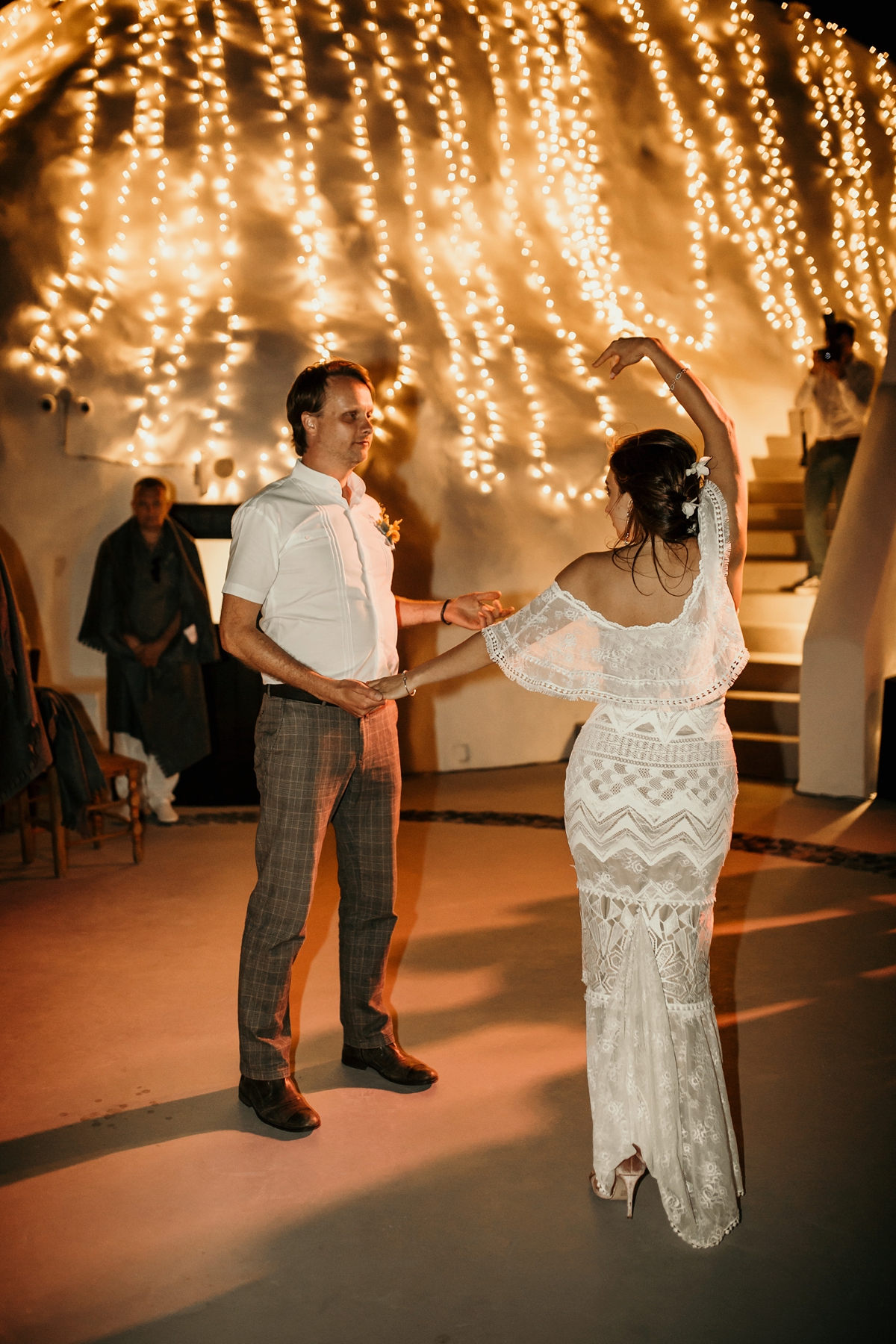 Words of Wedded Wisdom
"Book key vendors in advance – then you can make sure the ones you want to work with are available.  Most importantly, choose them with your heart.
Choose what is important for you. You absolutely don't have to tick all the boxes because others do it.  It's your party, so don't spend on things that don't matter to you.
Know your deadlines. Put a spreadsheet together, set reminders, know your financial flow, there are a lot of things to remember."
"Be flexible. If you wanted a unicorn walking up a rainbow on the day and all you could source was a flying unicorn – that's pretty amazing too!  If you are not flexible, you will be disappointed, and what's the fun in that?
Take some time to switch off and reconnect with yourself before it all starts.  On the morning of the wedding day I woke up and, alone, went for a swim in the sea.  It was probably the best swim in my life"
So many thanks to Alex and Mark for sharing this incredible day with us all.  I'm sure you'll agree these photos are just stunning.  Take a look here for more of Green Antlers Photography's work- its all equally as fab!
Much love,
Shona x