Right where do we begin. Most Curious 19 is 11 days away. We have ALL the butterflies. And what a show we have got this year. We've packed so much in that we wanted to break it down a little for you, with some of the highlights, features and best bridal offers going not to miss at the London event.
A big show, with a boutique feel. You get a lot of bang for your £10 buck at Most Curious. Taking place from Friday 1st March to Sunday 3rd March at The Old Truman Brewery on the coolest street in London, Brick Lane, the shows bring together a total of over 140 of the coolest UK wedding suppliers in an explosion of creativity this Spring.
Making us one of the biggest, if not THE biggest indie wedding show in the UK, Individually handpicked and curated through a strict application process, to bring you the perfect mix of the most skilled, the most pioneering, the loveliest and the most creative brands, designers, makers and services. Full exhibitor run down here.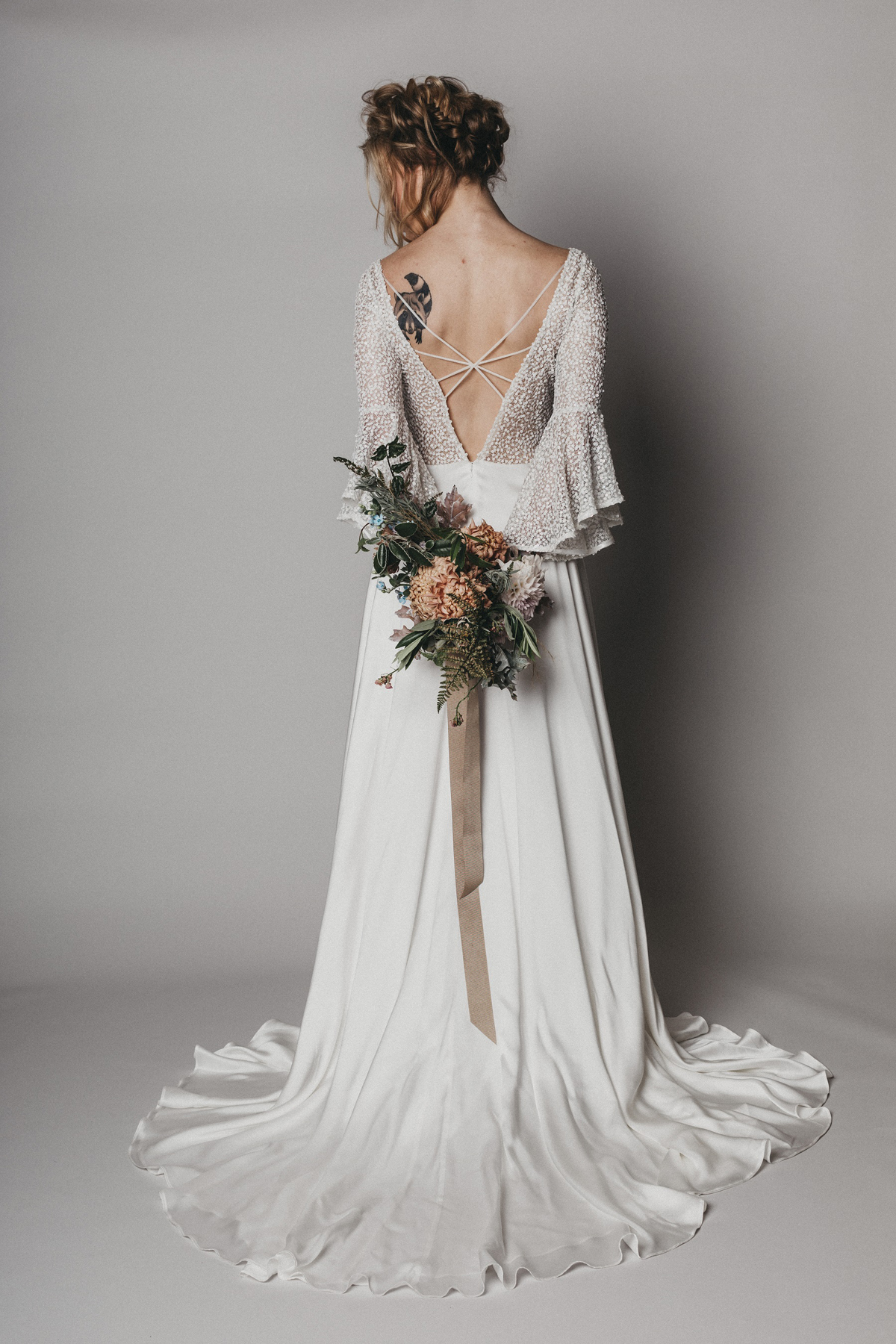 Rolling in Roses (who will be offering 10% savings on orders at the show)
Tap image above for further info

Now in it's 8th year, Most Curious has become a real destination for brands to launch their collections for that year, it's become a calendar date that companies work towards to get their most exciting ideas seen by the most exciting potential clients for the very first time. Take a look at some of the supremely talented designers dropping their 2019 ranges exclusively at Most Curious.
Andrea Hawkes is not only launching a whole new 2019 collection, Identity, at the show but the is giving away the chance to win one of her beautiful creations at the show.
The chosen bride will win a visit to their Islington showroom to meet with the team and choose their favourite dress for their wedding day. Andrea Hawkes will be offering £2,000 towards your dress!
Andrea Hawkes – tap image to learn more
The competition is running through our insta page, so go and see, but essentially you must like both us and Andrea Hawkes, tag your bridesmaids AND post a pic of their stand during the show with the hashtag #andreahawkesmostcurious2019 And the winner will be announced on the 5th March! ?
AM Faulkner  launches the Bleach collection at the show, inspired by sun bleached colours and faded beauty. Incorporating veils, hair pins and head pieces, handmade with beading, embroidery, metallics, tulles and tufty dried flowers sourced from Portugal. Don't miss it.
AM Faulkner – tap image to find out more
Leading, award-winning British shoe designer Kat Maconie has teamed up with Most Curious to launch her first official bridal range. It's a bespoke bridal capsule collection formed of 7 knock out designs. Keeping on brand, all designs follow Kat's strong and feminine aesthetic, with a colour palette of blush, nude and a spectrum of pinks but with signature blocked heels, heavily embroidered bird designs and the brands' graphic element to keep that cool edge. All the styles will be at the show, where they will be setting up a Kat Maconie pop up store, with a special 25% off bridal styles sticker going into our VIP goody bags. They are also launching their new Hen do/ Bridal Packages at the fair, which will be run at their new concept store in Bermondsey.
You and your hens can Private Hirethe Luxury Kat Maconie Beauty + Accessories store for 2 hours, with up to 12 guests, with manicures, a mixology lesson designing and making 2 of your favourite cocktails, and 25% off all Kat Maconie Footwear & Beauty Products! Not only that, phewph, they will be giving 10% off the full party packages via details in our goody bags. OMGeee!
Kat Maconie footwear – tap image to find out more
The show is the exclusive place you will see Grace Lane London's debut wedding dress collection for the very first time. Until now Grace has specialised in custom made; creating outfits for many bespoke brides plus the likes of Florence and the Machine, Rita Ora, and Paloma Faith. The collection will take all the bespoke touches Grace has perfected over the years; giving brides the chance to experience the magic of a special bespoke gown but with an affordable price tag.
Grace Loves Lane – tap image for further info
The collection has a focus on expert pattern cutting, and exceptional fabrics. By launching the collection at Most Curious Grace wants to give brides the chance to see, feel, and experience the outfits in real life. Grace was the creator of our cotton broderie anglaise campaign dress and if as if all the above wasn't enough, she is offering the chance for a bride to win this dress at the show too!
Whether it's dresses, jumpsuits or separates you are looking for, Rewritten takes an entirely modern approach to bridesmaids dressing. Designed to be mixed and matched their dresses are crafted from flowing crepe, satin and chiffon to look good on the aisle or the dance floor. "These are dresses you want to wear again and again – it's what we like to call sustainable bridesmaids dressing," say the team, "no more bridesmaids outfits collecting dust at the back of the wardrobe."
Rewritten Bridesmaids – tap image to find out more
They will be showcasing a brand new collection, with new colour ways AND giving away the chance to win 4 bridesmaids dresses worth up to £700!!! Ermm.. sorted! They will be taking entries at their stand all weekend at the show, where you can also view the new collection and perhaps pick up the odd sweet treat or two.
New children's wear brand Sparksy are working hard on the Base Collection which will be seen for the very first time at the fair. The business is sustainable, crafted occasion wear for the smaller members of the wedding party, and came about after the founder Bethany's own wedding, when she struggled to find companies offering unique wedding appropriate children's wear.
Sparksy – click here to find out more
"Customers have the option to upgrade their chosen design from the Base Collection and customise it with vintage haberdashery/textiles, or something that they may bring along, offcuts from their Grandmothers' wedding dress perhaps?!' describes Bethany. "Alternatively they can choose to have something completely bespoke made. At the fair we will be offering a chance to win a free upgrade to 'Collection Customised."
Meet You At The Flower Bar
Contemporary floral artist Bloaum will be setting up a Mini Flower Bar at her stand where visitors can make pick n mix style dried flower bouquets, with a discounted show offer. Every thing Shelena of Bloaum touches becomes cool, so you're going to want to be part of this!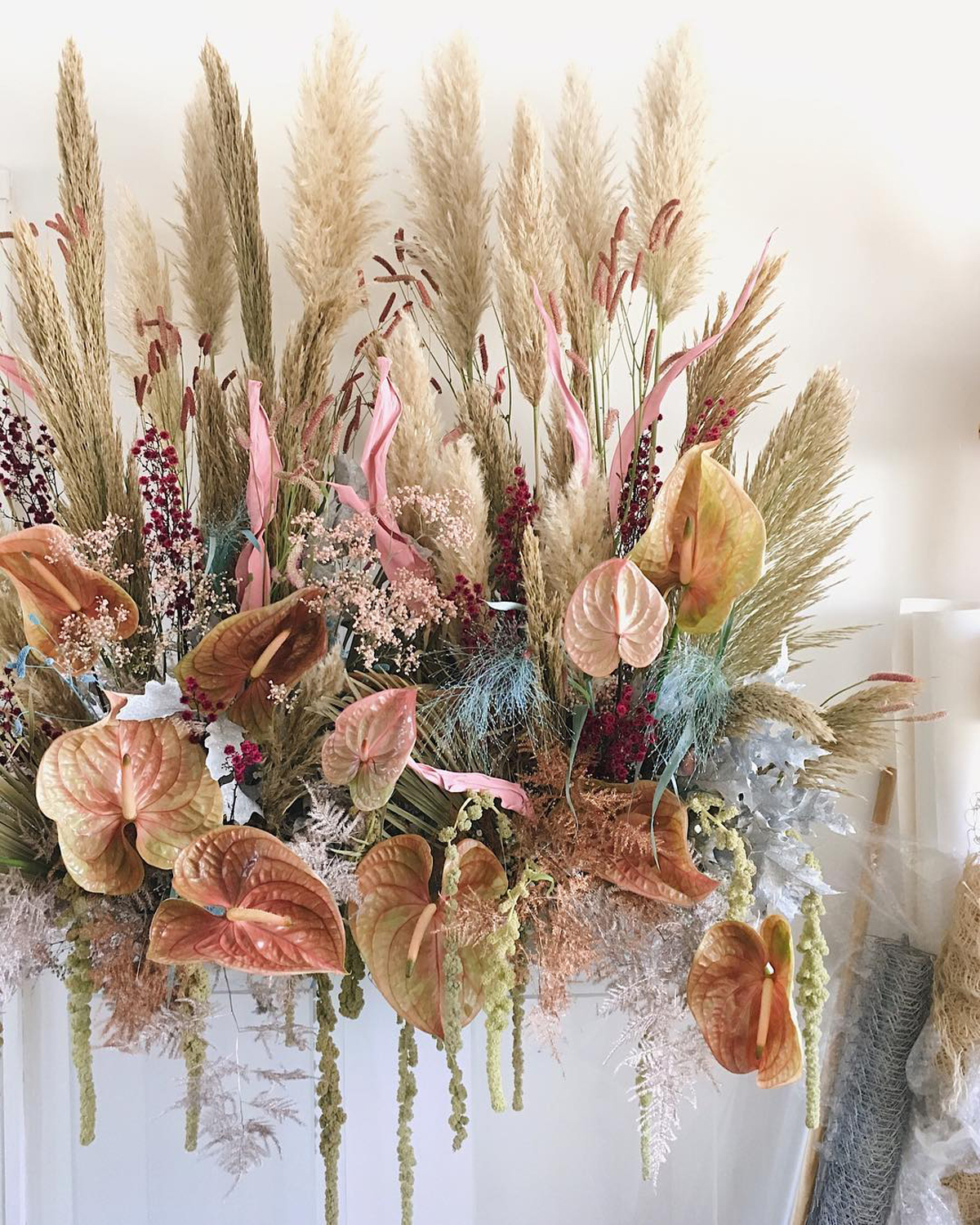 Blaoum Studio – tap image to see more
Endless Inspo From Our Styling Theme
Every year the show has a styling theme, absorbing trends seen in fashion, art, design and forward thinking media right now. The show's styling team decide what aesthetic trend they feel is coming for weddings and this year it is THE ARTSY, THE ARID AND THE ABSTRACT. It means we shall be treating you to a venue taken over by a dry, matte terracotta and apricot palette with Mediterranean and Moroccan accents of ochre yellow and cobalt blues, and we've focused on Matisse and Miro-esque lines and forms and organic, abstracted shapes.
The catwalk and entrance space will be its own landscape, with Alexander Calder inspired floral mobiles and abstract fluffy flower bumps created by our florist sponsor Bloaum, with wedding prop maker extraordinaire Wild and Wonder Events, who are also creating a terrain of rocky love totems protruding up around our velvety seating provided by Juno Hire! Panels of fabric hand dyed by Boomting Bunting will hang above in the catwalk area and Feast food hall too. What does this all mean?? Come and see!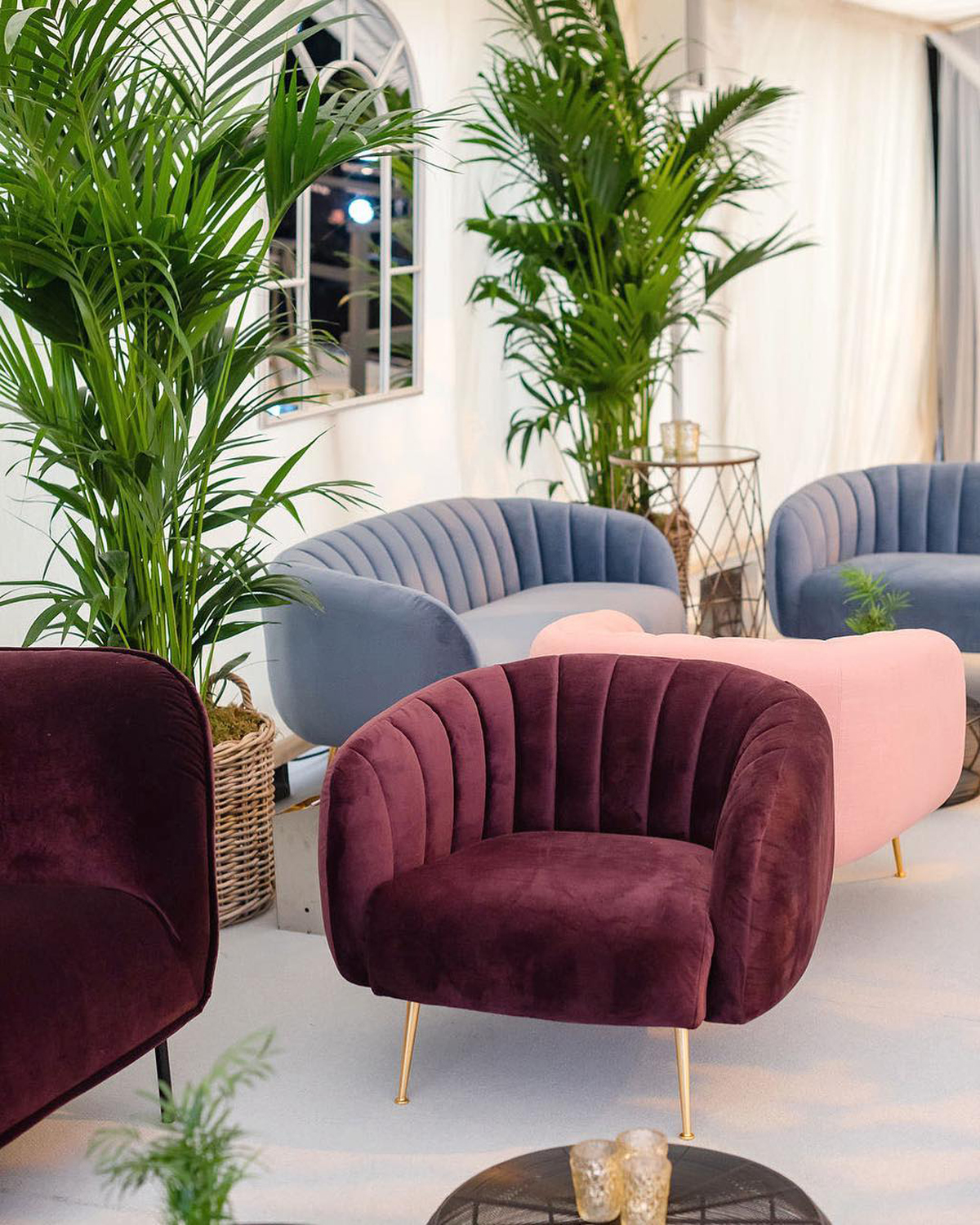 Juno Hire – tap image to learn more
Offers, Competitions & Giveaways
So many brands will be running show only discounts and competitions! Just to give you a taster of a few – Katya Katya will be giving 10% off new gowns bought when making an appointment at Most Curious, Rolling in Roses will also do 10% off at the show and in the following week, ethical jeweller Ellie Air will be offering a 10% discount to anyone who orders their wedding rings during the show and My Native will also be giving the chance to win a complimentary stay away!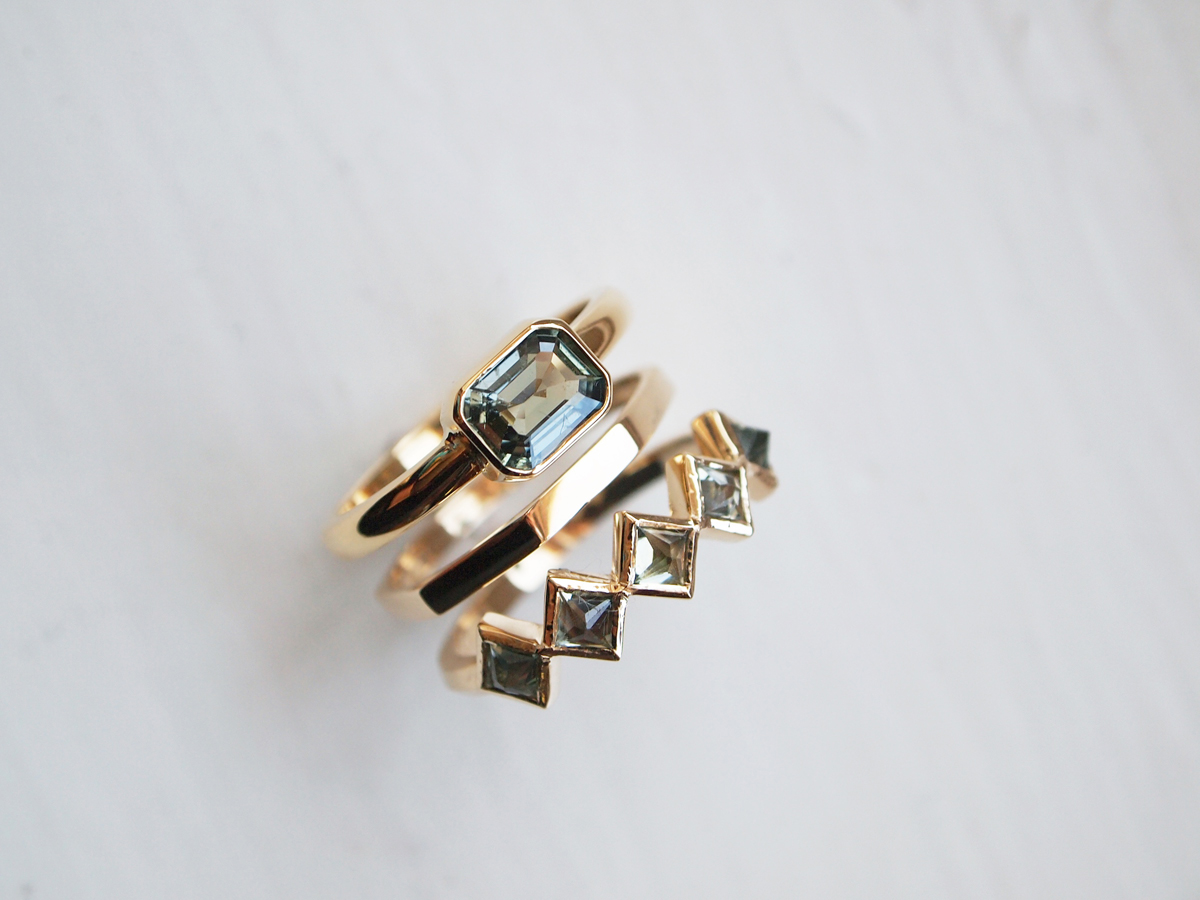 Ellie Air Jewellery – tap image for further info
A Thing Like That Photography that are offering a 1 hour engagement photo session on location in Cornwall plus 3 nights in a beautiful coastal cottage near Port Isaac, Cornwall managed by Latitude50.
And new brand Accent Events will be running a comp to win a 2-hr engagement shoot to take place either in London, Cambridge or Liverpool. For couples who book for a 2019 elopement or small wedding with them, they will receive a unique original mini illustration inspired by the bride's bouquet.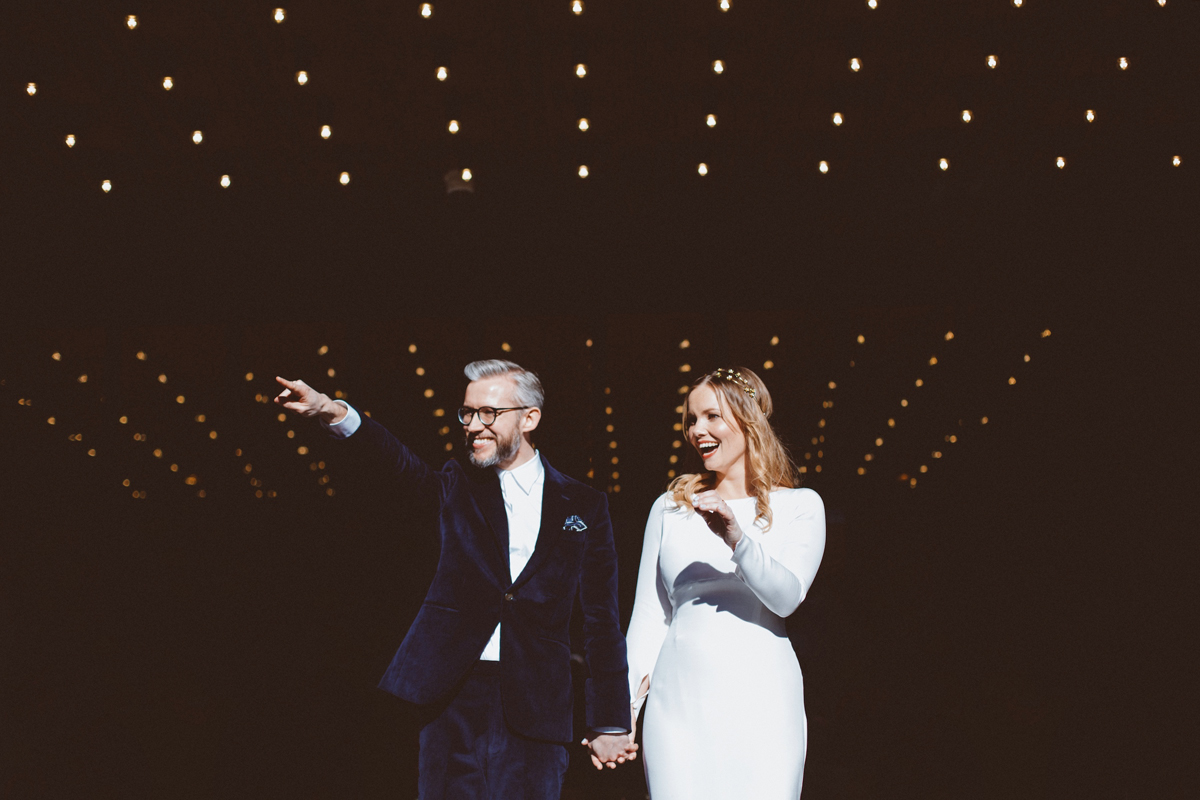 A Thing Like That Photography – tap image to learn more
Catch The Catwalk
Our catwalk shows have made a name for themselves as showing forward thinking trends and aisle inspiration aplenty unlike any other wedding show, with epic styling by our wardrobe team headed up by stylist Luke Reene. The catwalk area itself will have an arid and artsy theme in line with our styling of the venue. There will be two shows per day, the first inspired by a modest, sleek, simple clean lined look, and the second taking its cue from floaty, voloumous silhouettes.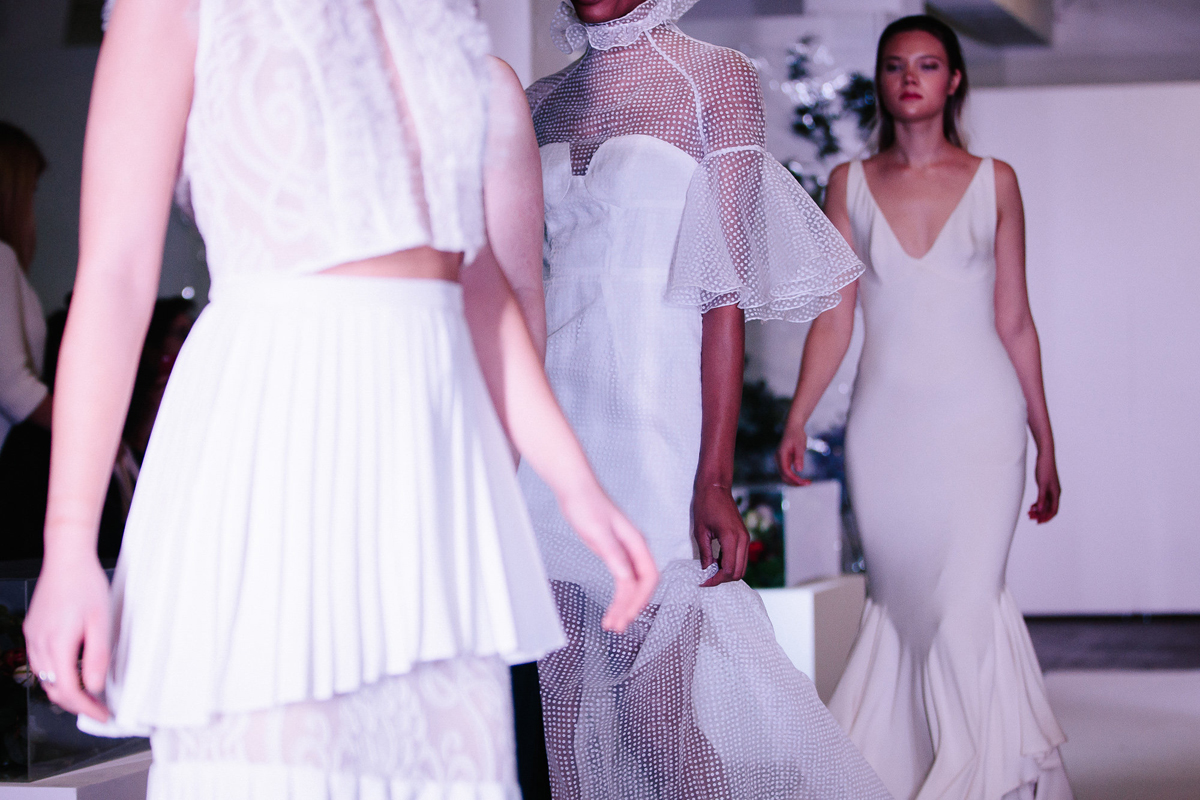 Image from the MOST CURIOUS 2018 catwalk show
Go VIP For The Day!
Upgrade with a VIP ticket for just £20 (worth over £100!) – This means not only your ticket to the show but you also will get a complimentary Prosecco or Craft Beer from The Libation Station, gift bag of salted caramels from The Glorious Bakery, reserved seating for the fashion shows, an exclusive screen printed Most Curious bag chock full of goodies such as a stationery products from our exhibitors, postcards and discount cards, enamel pin badge from Patchwork, Mr and Mrs Unique magazine, Wedding Ideas magazine and Way Out Wedding's brand new fanzine! 10 bags will also have an actual veil inside from Cristina Adami, designer to Florence and the Machine!
Cristina Adami – will you be one of the lucky brides to find one of her veils in your goodie bag?
Merch Drop
Last year Most Curious spearheaded the movement of cool bridal t-shirts! And we're restocking the iconic collab with Spoonful of Sugar design for the 2019 show as well as releasing an Artsy, Arid and Abstract 2019 special limited tee, designed by Studio Sophie inline with our show theme, available only at the events.
Most Curious merchandise
Stay for Brunch, Lunch + Dinner at the Fast Food Hall & Bar
Back FEAST will feature delicious sweet and savoury street food and stalls from all over the world, including Lebanese delights, South East Asian food, Greek Veggie platters, as well as prosecco, cocktails, craft beers provided by The Libation Station and good coffee and Espresso Martinis from Ruttle and Rowe! The space will be styled by Boomting Bunting with hand-dyed fabrics and festoon lighting.
Come and see it all unfold at Most Curious 2019, at the Truman Brewery, 1-3 March 2019.
Most Curious, the wedding show for the style-savvy couple
2nd and 4th March 2018
The Old Truman Brewery,
Brick Lane, London,
E1 6QL