Whilst a large part of my job involves working in isolation from home (hello, the realities of running your own business), one of the things I love most is having the opportunity to get out to socialise, network and meet the amazing suppliers, businesses and individuals who make up our wedding industry.
Last week, I was lucky enough to meet the very lovely Valentina, the lady and 'storyteller' behind wedding planning and styling company, The Stars Inside. I had already accepted this set of images to share with you all, based on the fact that the styling is something so completely different to that I usually see, and because of the beautiful stationery designs by the brilliant E.Y.I. Love.
The creative team worked on a fantastical, avant garde and luxurious vibe with this shoot, choosing the epic Aynhoe Park in Oxfordshire as their backdrop. Aynhoe Park is full of surreal, extraordinary, quirky and extravagant head-turning props and collectibles – and a wedding venue we have featured several times on Love My Dress already. I'll leave it to Valentina herself to explain more…
"The gates open, the gravel crackles beneath our laden cars, and buckets of feathers flutter through our fingers. And so it was that a team of creatives made some magic on a grey November's day."
Film by Handcraft Pictures 
"We played in the majestic halls of the beautiful Aynhoe House – a wedding venue unicorns and Herculean statues for company – all coming together to create something striking for the modern, style-conscious millennial couple."
Photographer Emma-Jane says "Valentina and I formed the concept based on our mutual love of the whimsical, Tim Walker inspired world of wedding and fashion photography. We wanted to blend those two looks, by pairing creative handmade props like our feather wings with wistful, otherworldly dresses from top designers."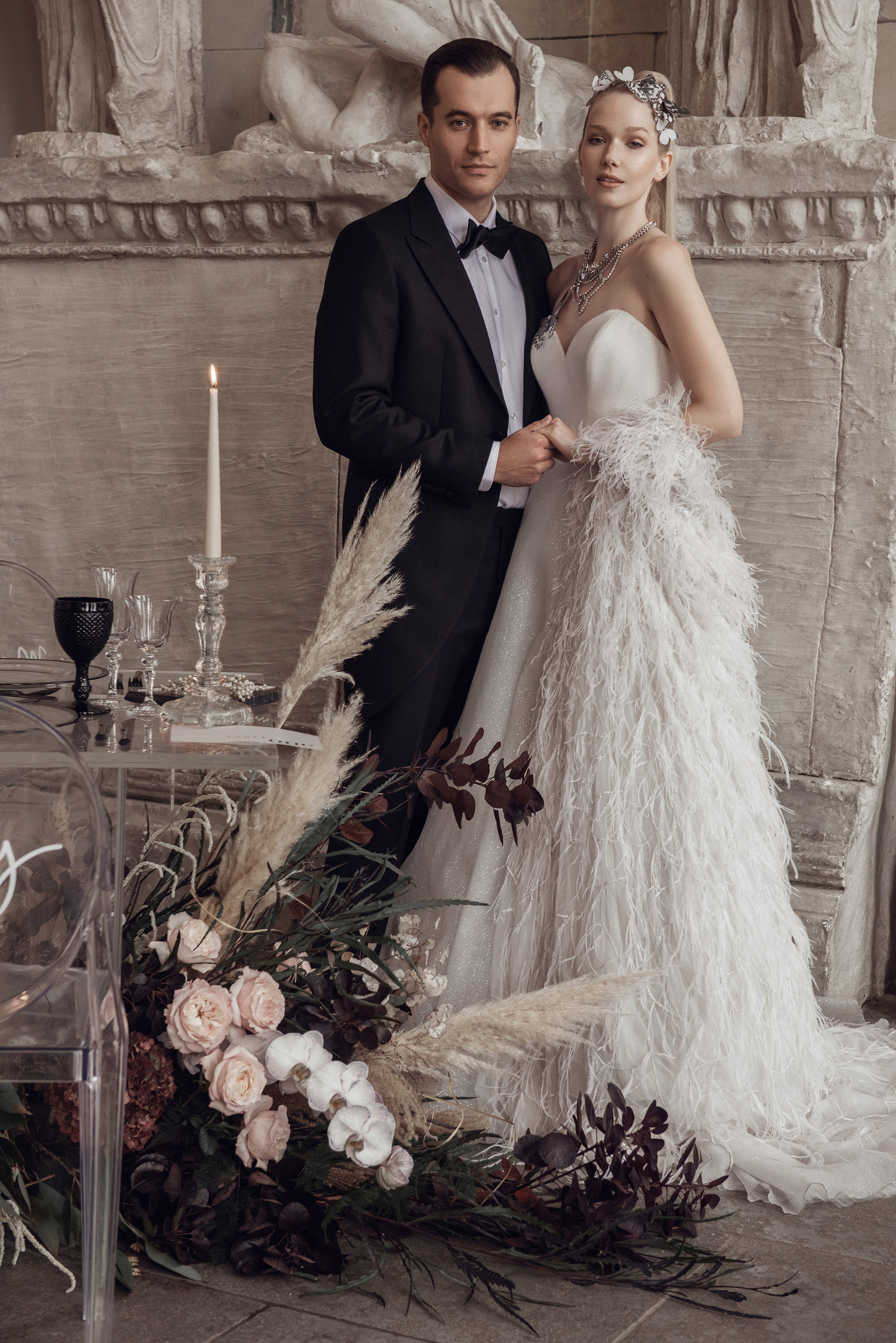 "We wanted to tell the story of a modern, stylish couple – and who better than our gorgeous model Markie and her real life fiancé? A true fairy tale which allowed the shoot to alternate fashionable twists with soft, quiet intimacy."
"Our design concept was dramatic and edgy, but also deeply romantic, taking our cue from high fashion and surrealist, conceptual photography. The unifying narrative was the concept of transparency, air, and wings, echoing through the dichotomy of light and
dark."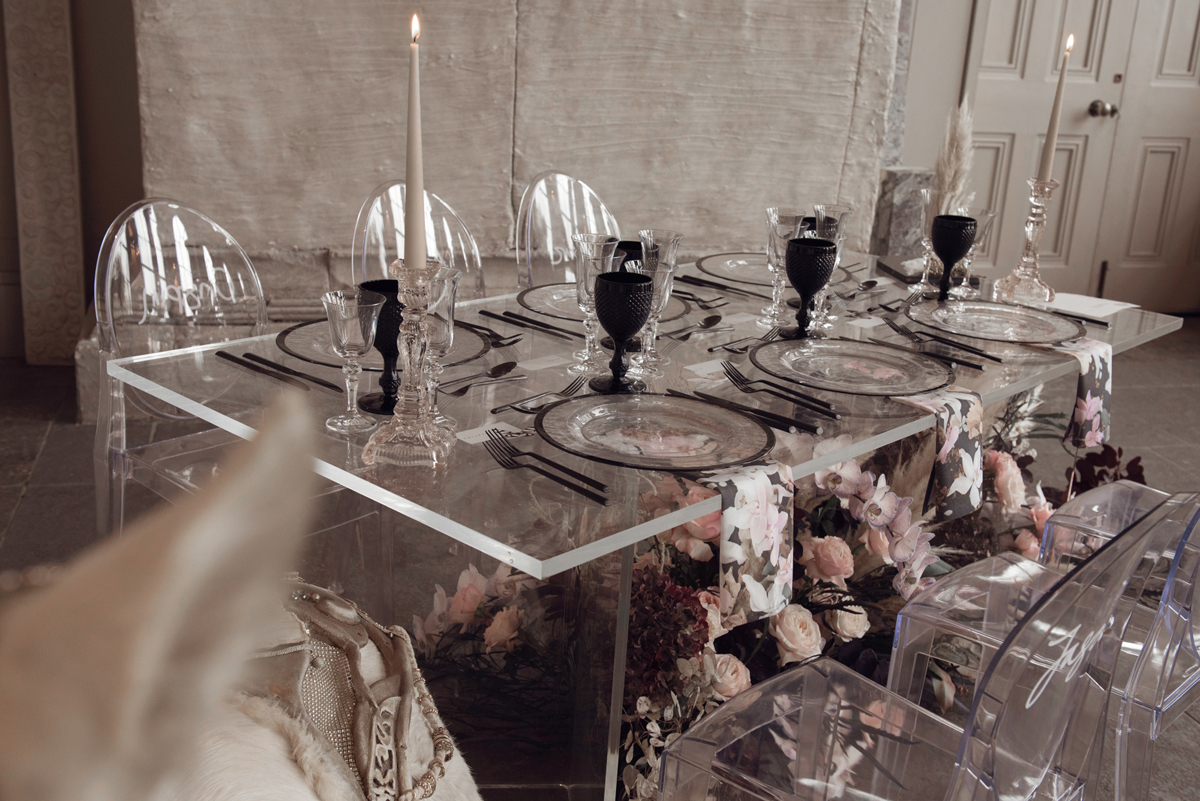 "From a styling perspective, I chose to explore this with materials like perspex, vellum, and glass, and a very focussed, monochrome palette with subtle touches of pink. The team at E.Y.I. Love designed a crisp, minimalist stationery suite for us, a perfect match for the ghost furniture, frosted glassware, and matt cutlery from the divine inventory of Duchess & Butler."
"The floral napkins by Cfleur Design and silky butterflies by Flutter Designs allowed us to assemble a tablescape as unreal as it was luxurious."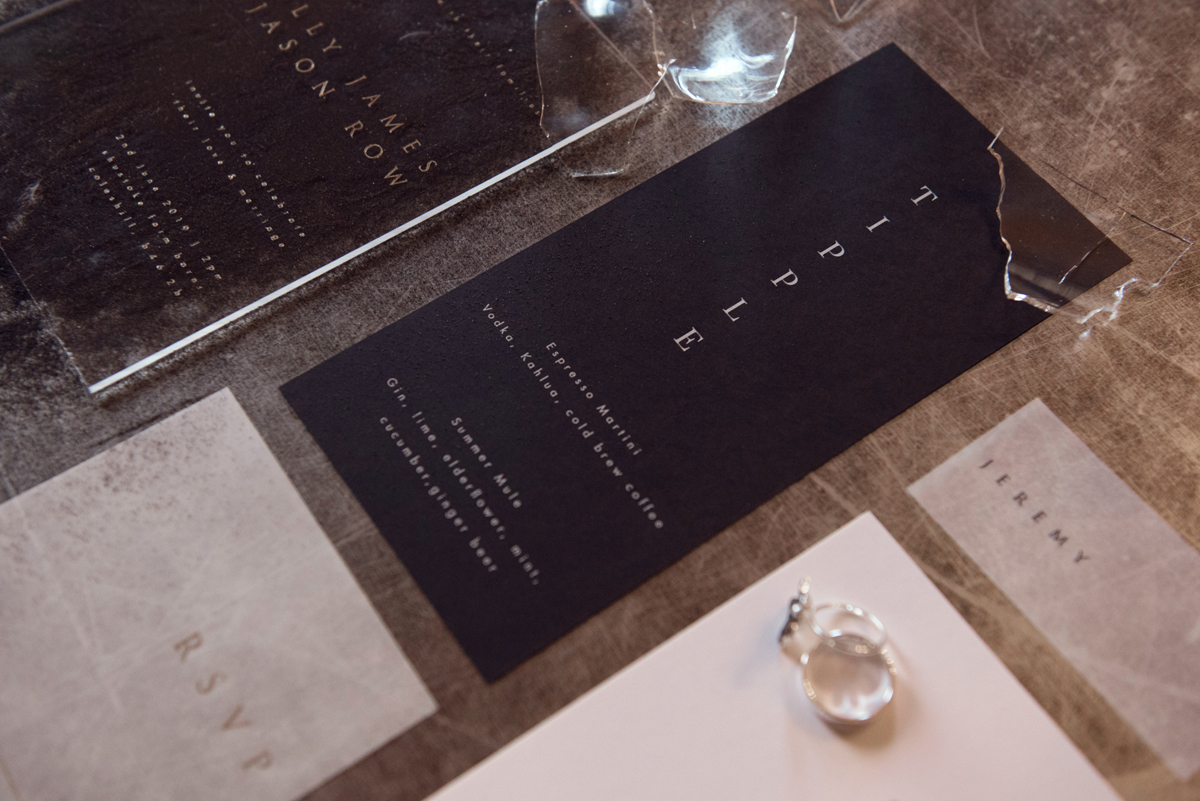 Sophie from Flutter Designs says "I was delighted to create some delicate silk butterflies for the shoot. Inspired by the unique theme and venue, I layered my most striking black and white butterflies to give them more definition and scattered them with sprays of Swarovski crystals. I loved how the styling and beauty teams used them to weave a crown through the model's hair, and as unexpected decorations throughout the dining scene."
We had the joy of dressing our model in intricately embellished dresses by Eliza Jane Howell and Suzanne Neville, and of accessorising with feathery fancies by Beverley Edmondson Millinery and sparkling couture by Halo & Co.
Nicola from Halo & Co says: "It was great to be asked by Valentina and Emma to be involved in their editorial, and we know first-hand how much work these things take. After receiving the moodboards we knew exactly which pieces to send to help them bring their vision to life. As everything in our collections is entirely designed and made in our own studio, we have the creative freedom to meet these kinds of unique briefs."
Readers: we currently have a £500 giveaway running with Halo & Co – enter via Instagram here!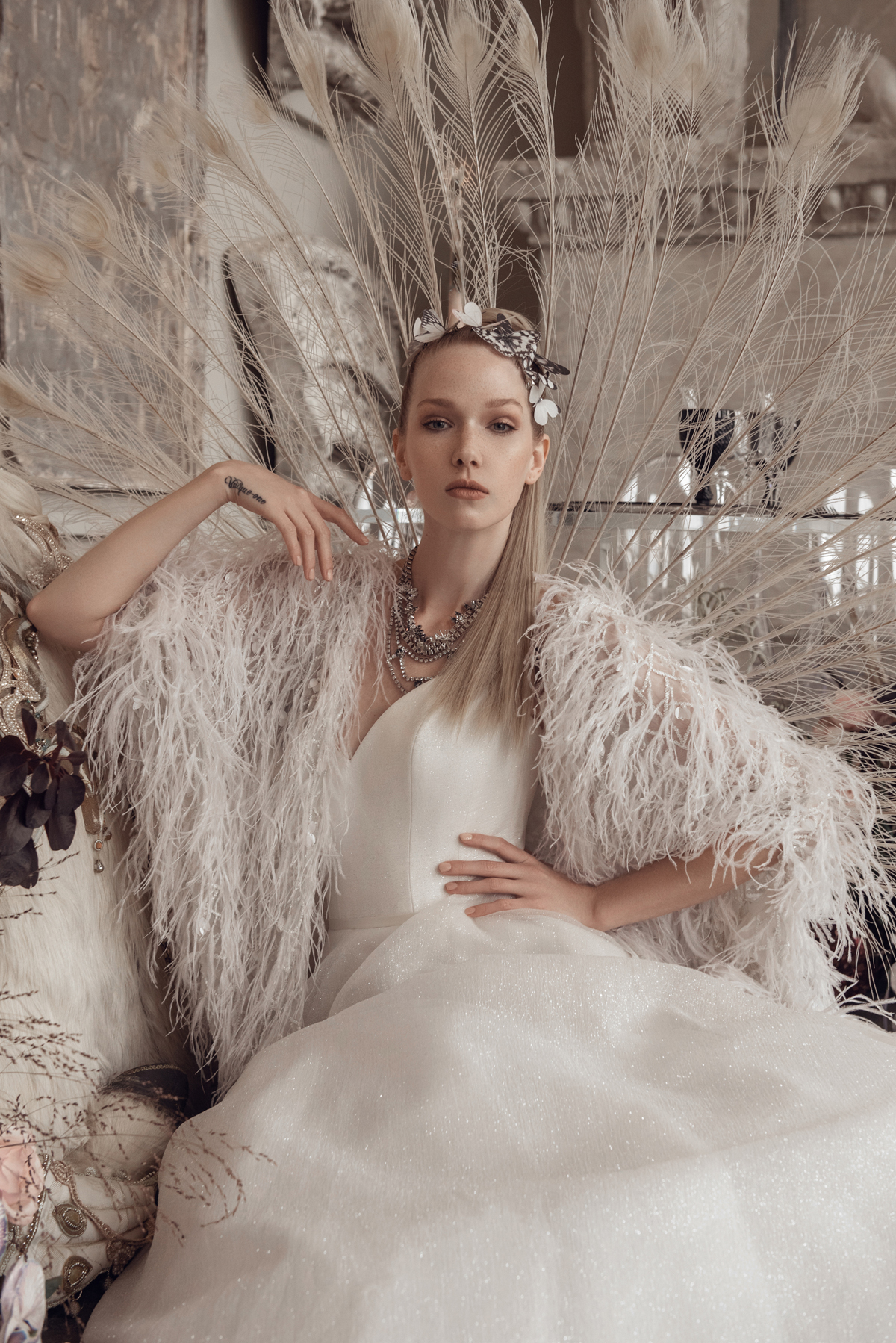 "While brainstorming with our fantastic florist Lou from Loulabel Floral Design, I found myself suddenly saying – what if we had the flowers under the table? When she ran with that idea, I knew I'd found a kindred spirit.Our ceremony arch is a celebration of asymmetry, imperfection, and contrast, with the starkness of perspex singing alongside the tactile softness of our blooms."
Lou says "My inspiration was the surreal luxury of Aynhoe Park itself – walking through those halls felt like falling down the rabbit hole! For the floral design I chose darker foliage contrasted against soft garden roses, cosmic orchids, and feathery grasses to mirror the magic of the space and the wildness of my florals."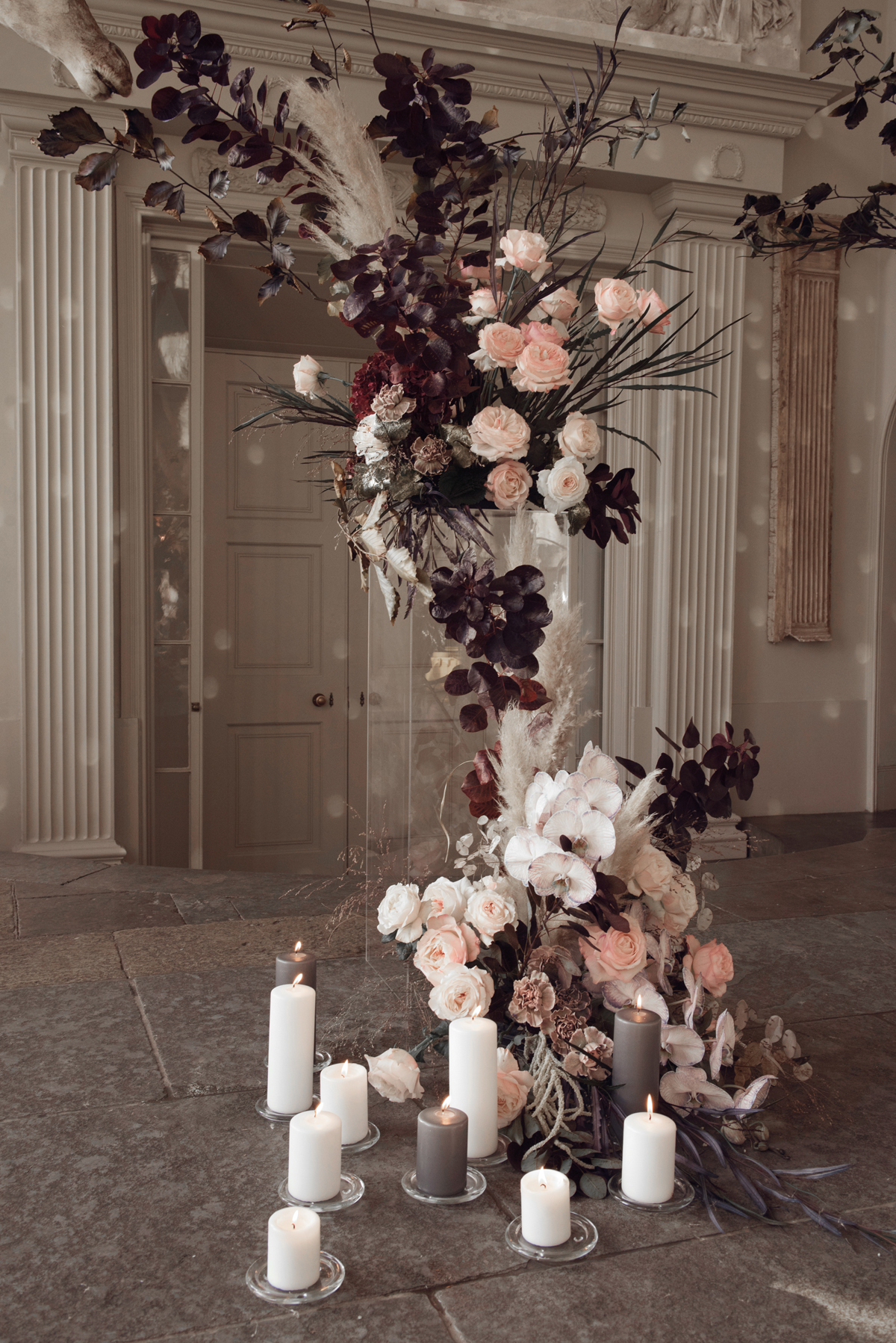 "Our cake artist Jen from Edible Essence truly blew us away with her masterpiece, an all-white cake with over 1,500 hand-punched sugar wafer feathers, layered one by one to create over 80 individual wings."
Jen says "I wanted to create a statement piece that conveyed a sense of depth, surrealism, and movement, to echo the concept at the heart of the shoot."
"We chose to display the cake on a clear plinth adorned with the floating quote – 'for those who dream of stranger worlds', calligraphied for us by Sophie at Sophie Jackson Studios, which embodies the brand message that brought together all the suppliers on the team."
"The ethereal silk fabric by Cfleur Design, alongside a sea of twinkling candles, framed the cake, as if it were timidly peeking through a cloud."
"The evening party began with a stairway of black and white balloons, sculpted together like magic by the Bubblegum Balloons team. More dresses, larger accessories, and brighter lights – setting the scene for the fantastic team at Jenn Edwards & Co to transform our model from daytime belle to nocturnal diva."
"As the disco balls shone by the last rays of the setting sun, our bride and groom set the party alight – the night, their conspiring, sparkling runway."