We know that the wedding venue is the very first thing that couples take to the internet to find after becoming engaged. Of course, it's the first thing you want to secure – it feels like everything can come once you've got your date and venue in place.
It's an area we're focusing on going forward with our Little Book Wedding Directory and it's why it gives us pleasure today to introduce you to a fabulous wedding venue for those of you living in the Hampshire, specifically the Winchester area.
Before we go further however, I am very keen to introduce to The Hampshire Wedding Club – a collective of brilliant suppliers who we are delighted to be supporting, and who are hosting an event on 10th March at the beautiful city wedding venue that is the Hotel du Vin Winchester – and to which you are personally invited. Natasha Newland, co-founder of the Hampshire Wedding Club, tells us more.
"The Hampshire Wedding industry is at it's boldest and best. As a collective of suppliers, we work to encourage genuine connection between modern brides, couples and passionate Hampshire wedding creatives."
"We are a vibrant, innovative community brimming with charisma and determination – striving to provide an excellent experience for all the couples we work with."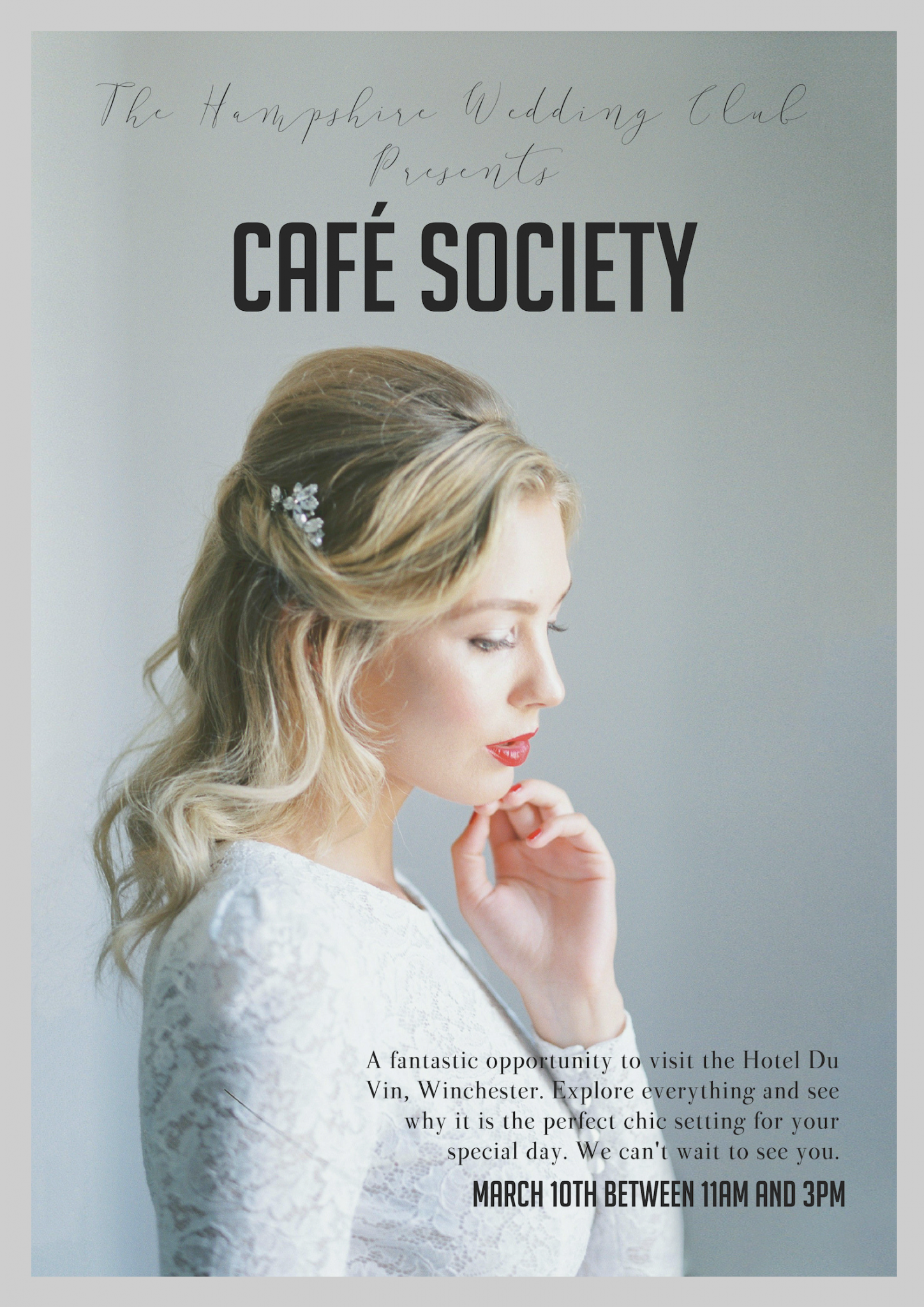 "Using our beautiful online portal, we have created a place that inspires unique, personal weddings, ideas and concepts. We cheer on the kind and inspired individuals working hard in our industry to create memorable days for their clients."
"We love our thriving community of brides and are hugely excited by our diary of bespoke events across Hampshire."
"We are so delighted to be able to invite Love My Dress readers to attend our next event at the Hotel du Vin in Winchester on 10th March – come along, chat with us about your plans and discover some brilliant wedding suppliers who would love to work with you to help bring your wedding day ideas and visions to life."
To celebrate the coming together of such a creative group of wedding suppliers, The Hampshire Wedding Club produced this beautiful shoot, on location at The Hotel du Vin Winchester.  Natasha worked with wedding stylist Lou of Beyond Vintage along with a team of other recommended suppliers (see the list at the end of this feature) on a cafe culture inspired editorial that I fell in love with as soon as it landed in my inbox. So chic and elegant.
Images by Cooper Photography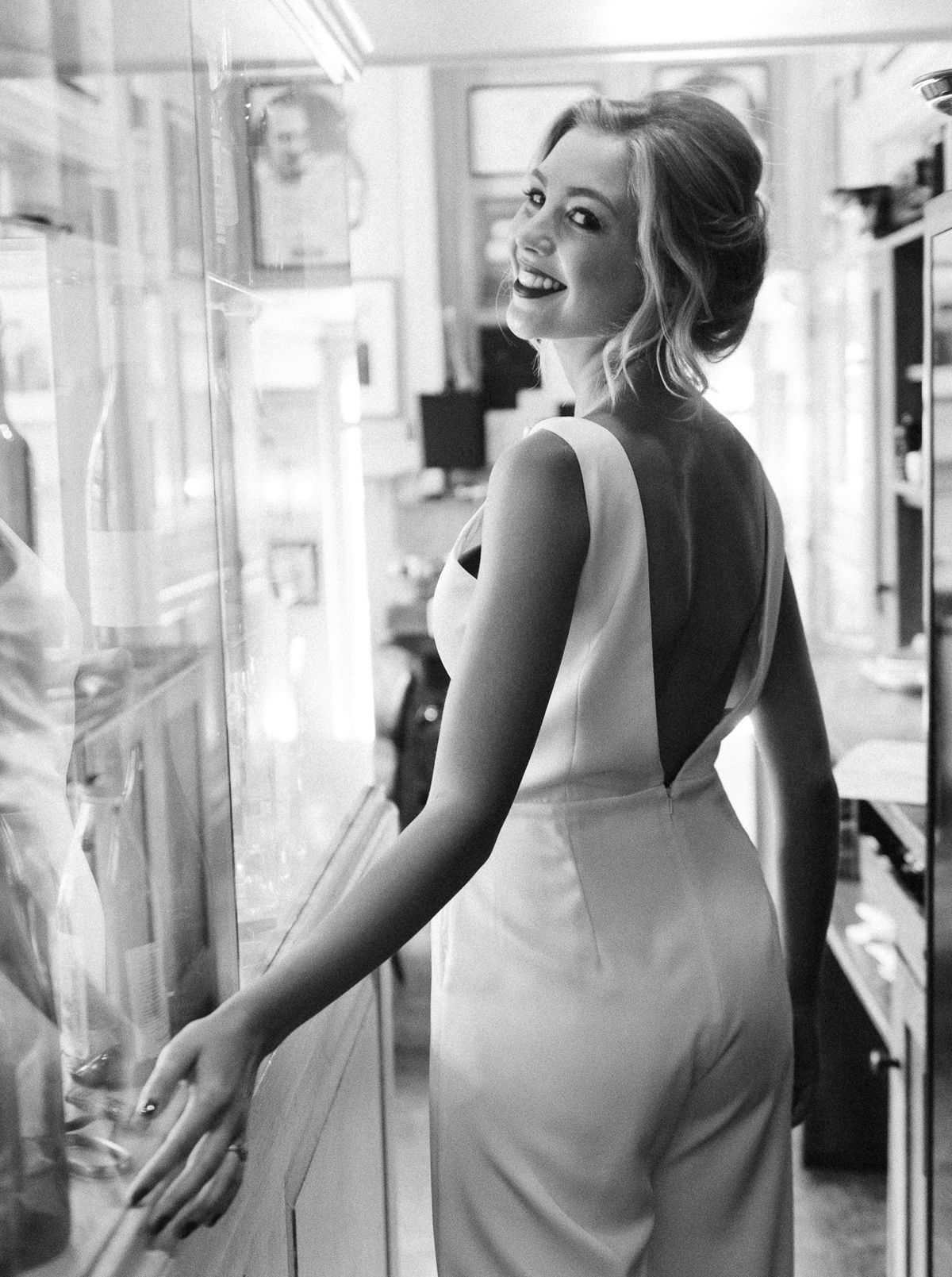 "The Hotel Du Vin, Winchester is an intimate Hampshire wedding venue, and city based chic hotel perfect for a modern and exclusive 'wedding weekend'. It exudes a quiet elegance and part of its effervescent charm is the personal and friendly welcome you receive on arrival."
"We love our collaborative ventures with the team at Hotel Du Vin. A unique arrangement bestows access for them to our sensational local wedding suppliers/members. Whilst it allows The Hampshire Wedding Club a place to work, rest, play, be creative, and of course inspired."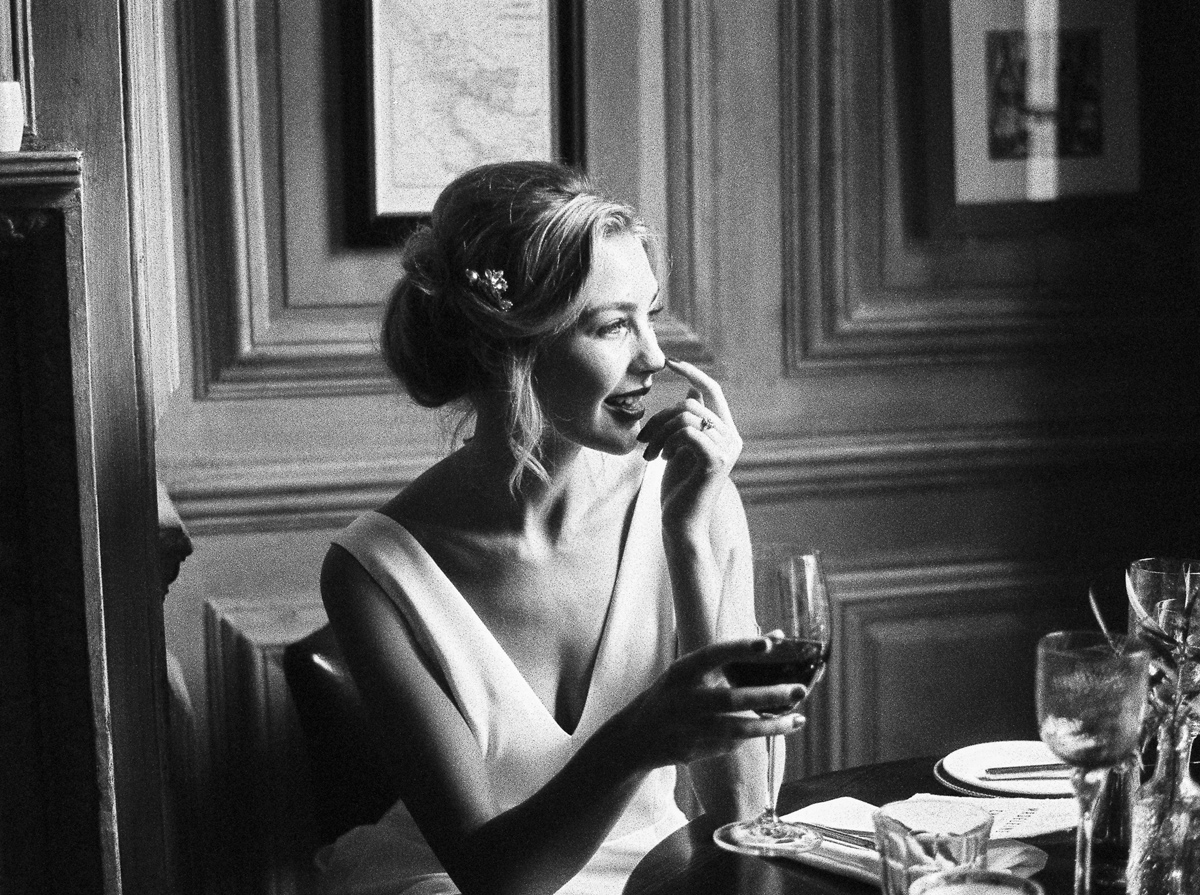 "Styling a unique editorial concept then interpreting it into a bridal shoot is a fascinating task and we wanted to adapt a predicted trend style for 2019 in this shoot."
"We also wanted to find a je ne sais quoi. So embracing an avant-guarde approach to the traditions of quintessential Paris via café styling, café culture, and bags of gorgeous Coco Chanel was so much fun."
"Café culture in France goes back centuries. Cafes have always been a gathering place, to feast, quaff wine, drink tiny coffees, debate and of course looks fabulous. The 'chic set' in Paris or Café Society, as it was called, developed in the 19th century. A group of so called 'beautiful people', the elite, the adventurous, the outspoken and the decadent."
"It is these cafes and this style we felt suited our beautiful Hampshire wedding venue with its strong links to French style and bistro life. We made it our mission to incorporate perfect Parisian charm and of course its unique romanticism. Iconic Latin Quarter meets a city chic stylish Hampshire wedding venue."
"The quintessential French cafe has seating indoors and out with small (usually round tables) and plenty of wooden panelling. Utilising the perfect set up at Hotel Du Vin, ensured we paid homage to this style. The drinks are often more important than the food in true French café culture. A preference for "café" over wine is normal. A perfect glass of red is never far as way, as you casually flick through your favourite journal."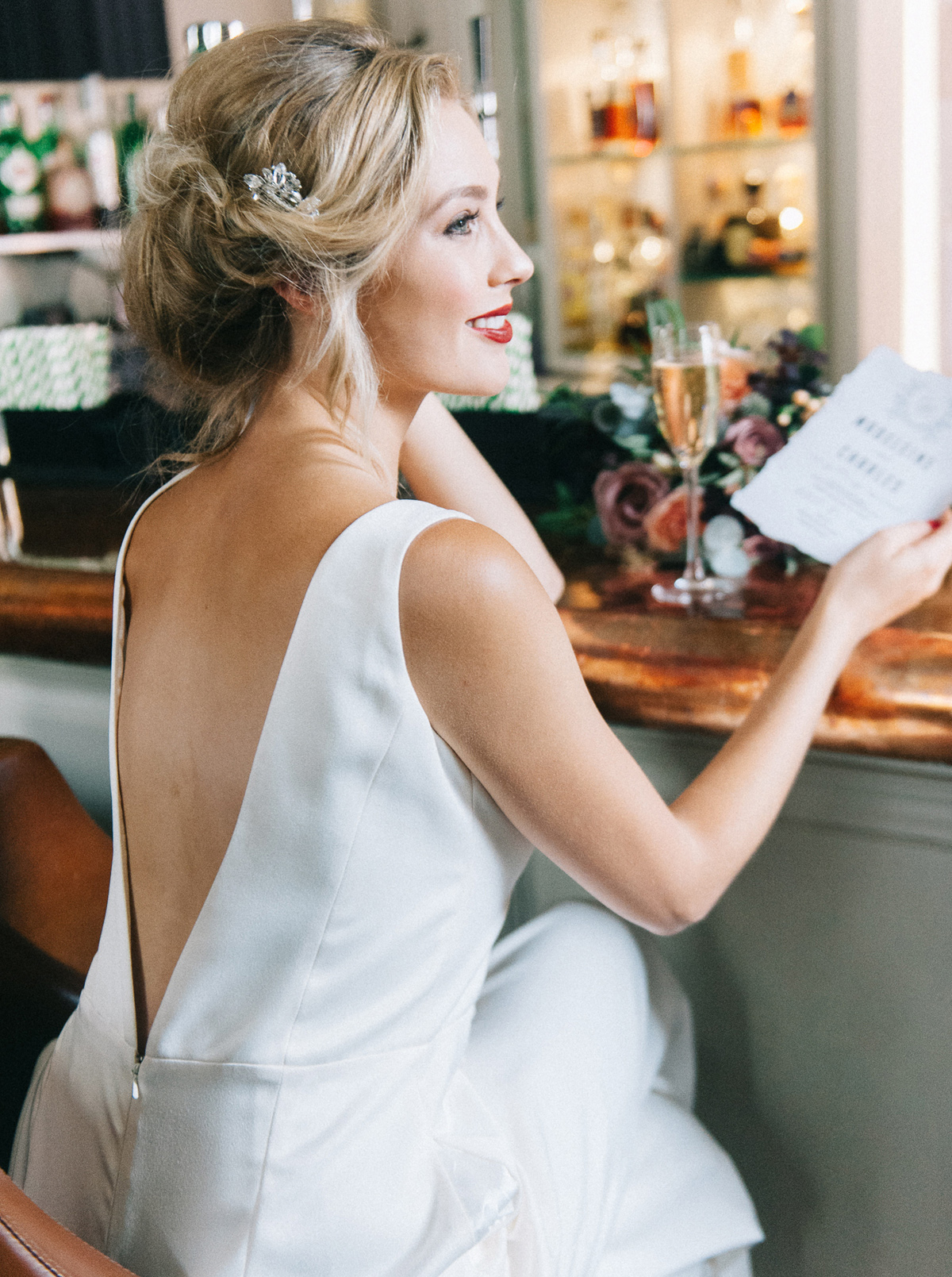 "The French café culture is for people who like to be seen and to do people watching. There also is room in any French bistro for quiet book reading, romantic couples. Get togethers of animated groups of friends sharing a great bottle of wine."
"There are few town-based venues in in Hampshire more suited to these adventures, especially for a week-ending couple marrying and their entourage. We wanted to create a range of looks that were luxurious as well as modern with a chic timeless bias – our version of 'Cafe Society'. With looks completely achievable for real couples."
"Our editorial took place in the beautiful Lombard room. Flooded with natural light from its French doors and big sash windows. It's views across the beautiful festoon bulb lit walled garden is unique to the venue, and is magical any time of day. Our enchanting tablescape incorporates everything Hotel Du Vin into the Cafe Society styling."
"A soft blue silk runner, beautiful blue glass, and blue candles complimented the beautiful antique gold accents. From the brands own bottles of wine, to their in-house event cutlery and crockery."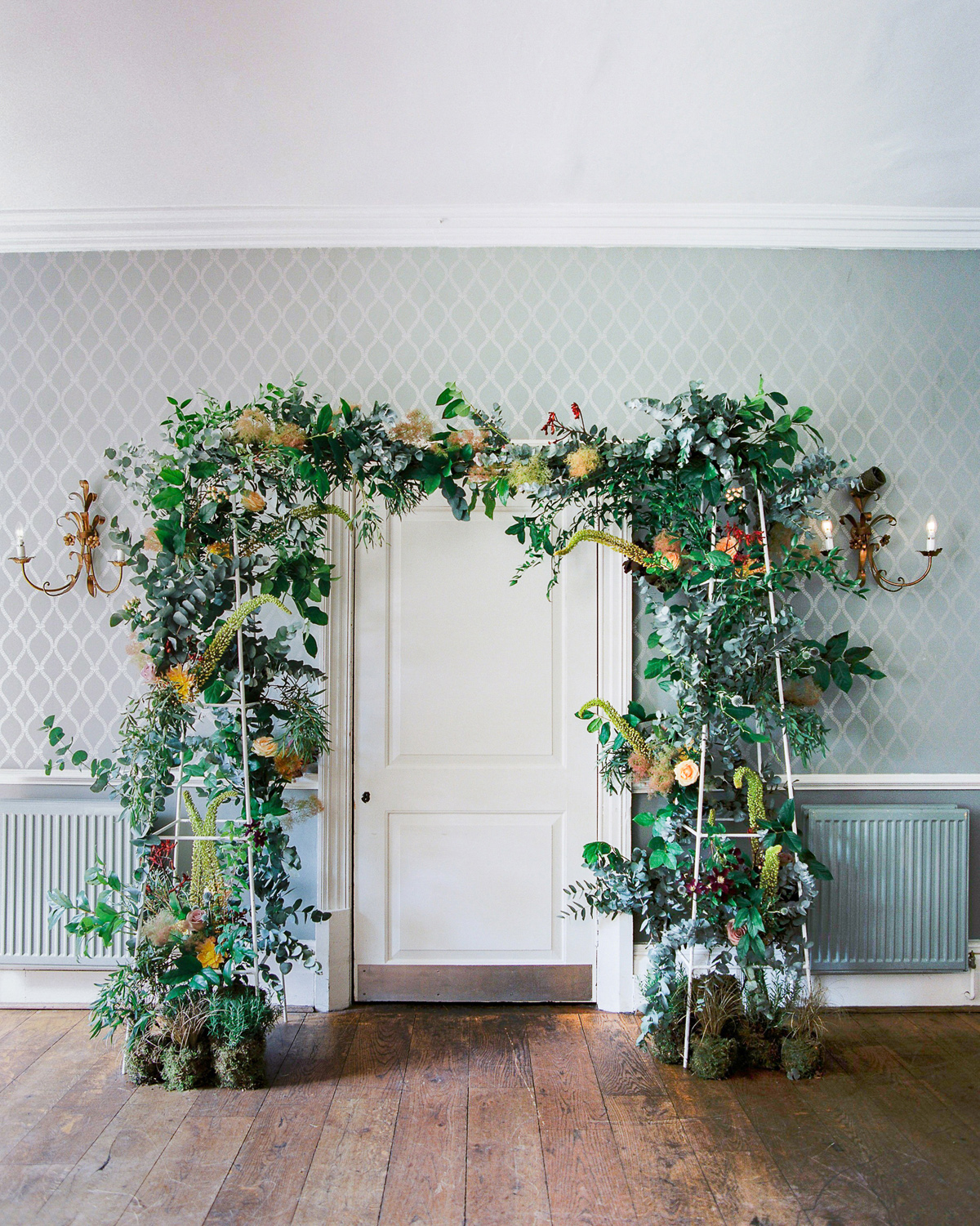 "Lou and I wanted to keep the design elements of our photoshoot clean yet intimate, incorporating some elegant and classic styling. We used a range of soft cool tones and hues with the florals and paper accents and across the tablescape. We styled a pop of bright red, and green with some stylish and unique bridal accessories. There is a very clear statement made by the Parisian fashion styling added by the weekend away style element."
"We hope the readers of Love My Dress adore the results as much as we do. It is our intention inspire and innovate. Encourage you to replicate the looks and styling for your wedding. Everything from the bridal fashion statements, the flawless hair and makeup, to the shoes and accessories. Creating a unique, bold continental style for your special day."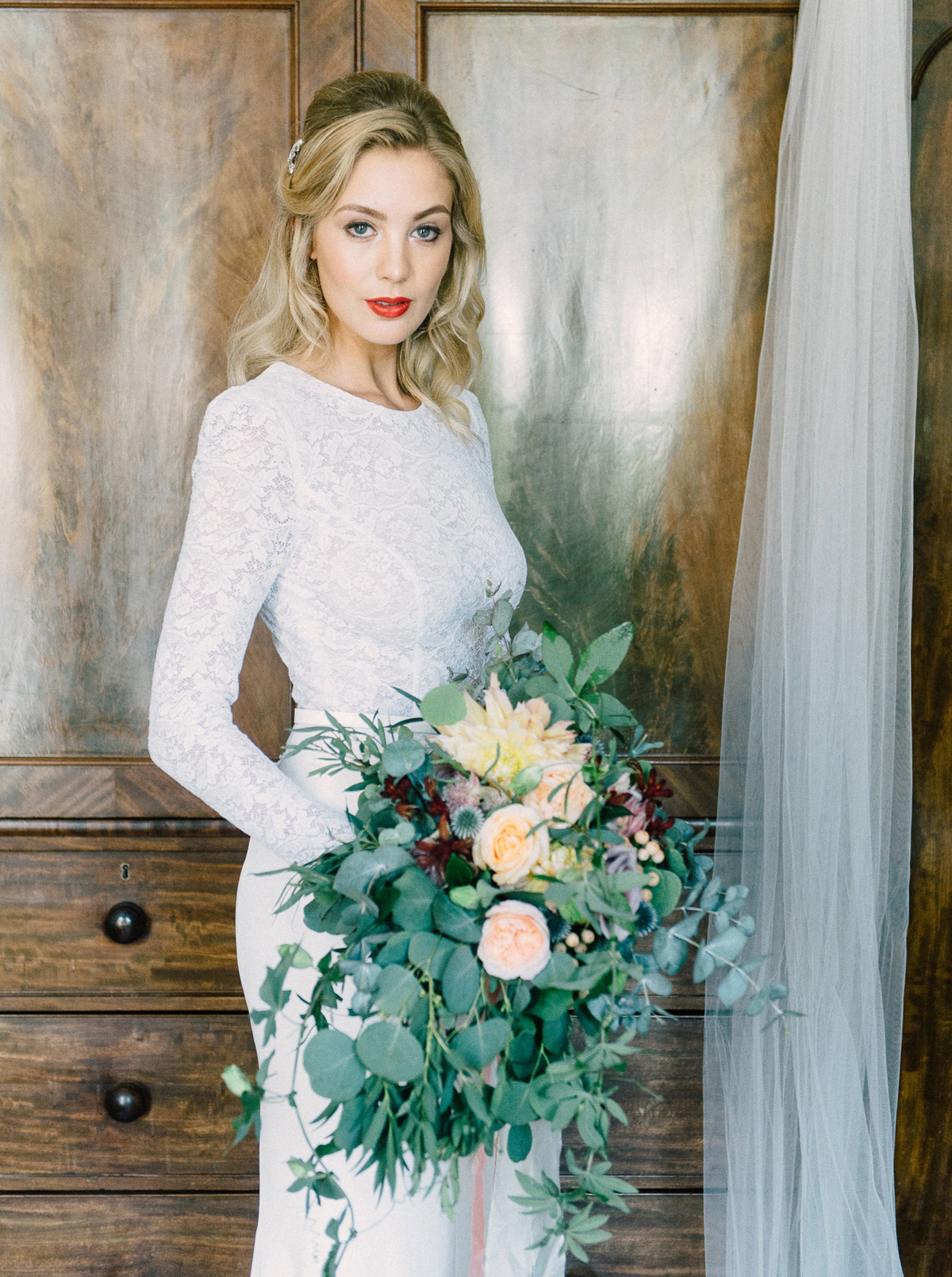 "Our chic floral arrangements embrace a sprawling foliage vibe. With touches of lilac, peach, bronze, amber and burgundy, and structural accents of blue. Creating an archway in the ceremony space with planted stands brings the outside in. Each side an iconic fleur de lys sconce brings in the continental styling of the room."
"Some flowers you will recognise, some you may not. Over on the Pinterest board you will find all the floral elements detailed individually. There are simply too many to mention here."
"The first bouquet incorporated apricot Juliette and lilac Amnesia roses. Paired beautifully with Cafe O Lait dahlia, kangaroo paw in bronze, and eucalyptus and cinerea foliage. It also has beautiful blue echinops (thistles), running through it. The arch has the same florals above, as well as peach avalanche roses, eremurus (fox tail lilies in yellow), and cotinus bush (the fluffiness)."
"Nia is a true floral master and the arrangements were amazing, everything Lou and I hoped for and envisioned. Created that morning, Nia worked very hard creating perfection for the day."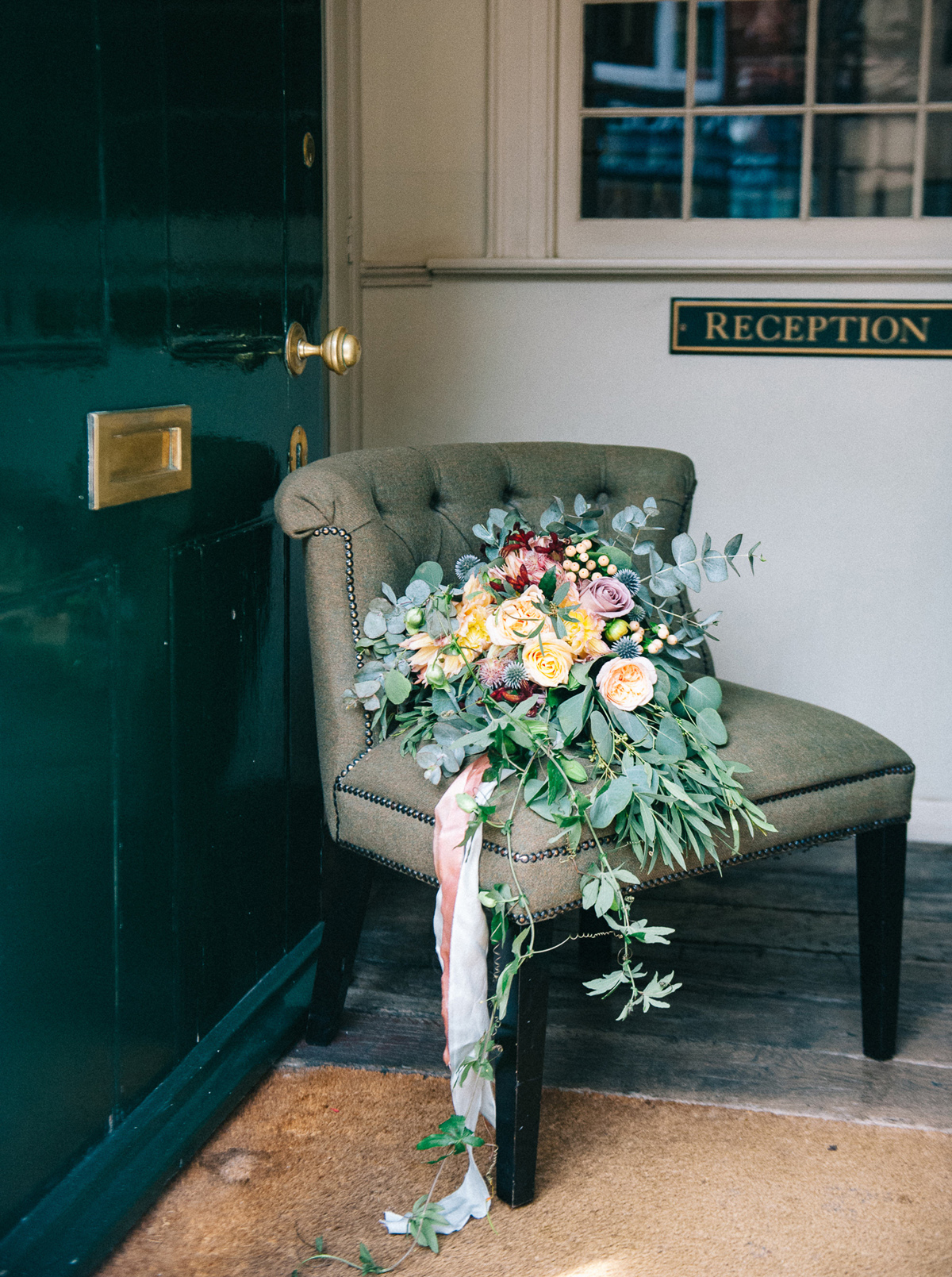 "The scripted stationery designs were beautifully created by Lou herself of Beyond Vintage. With dusty blue accents and iconic cafe menu font styling in dark grey. Lou incorporated on trend torn edging and vellum into the design. The detailing through the stationery is stunning."
"Lou even went as far as creating matching cuffs for the baguettes tied with butcher string. The floral designs by Nia from LuvShifting were also perfectly captured across the stationery."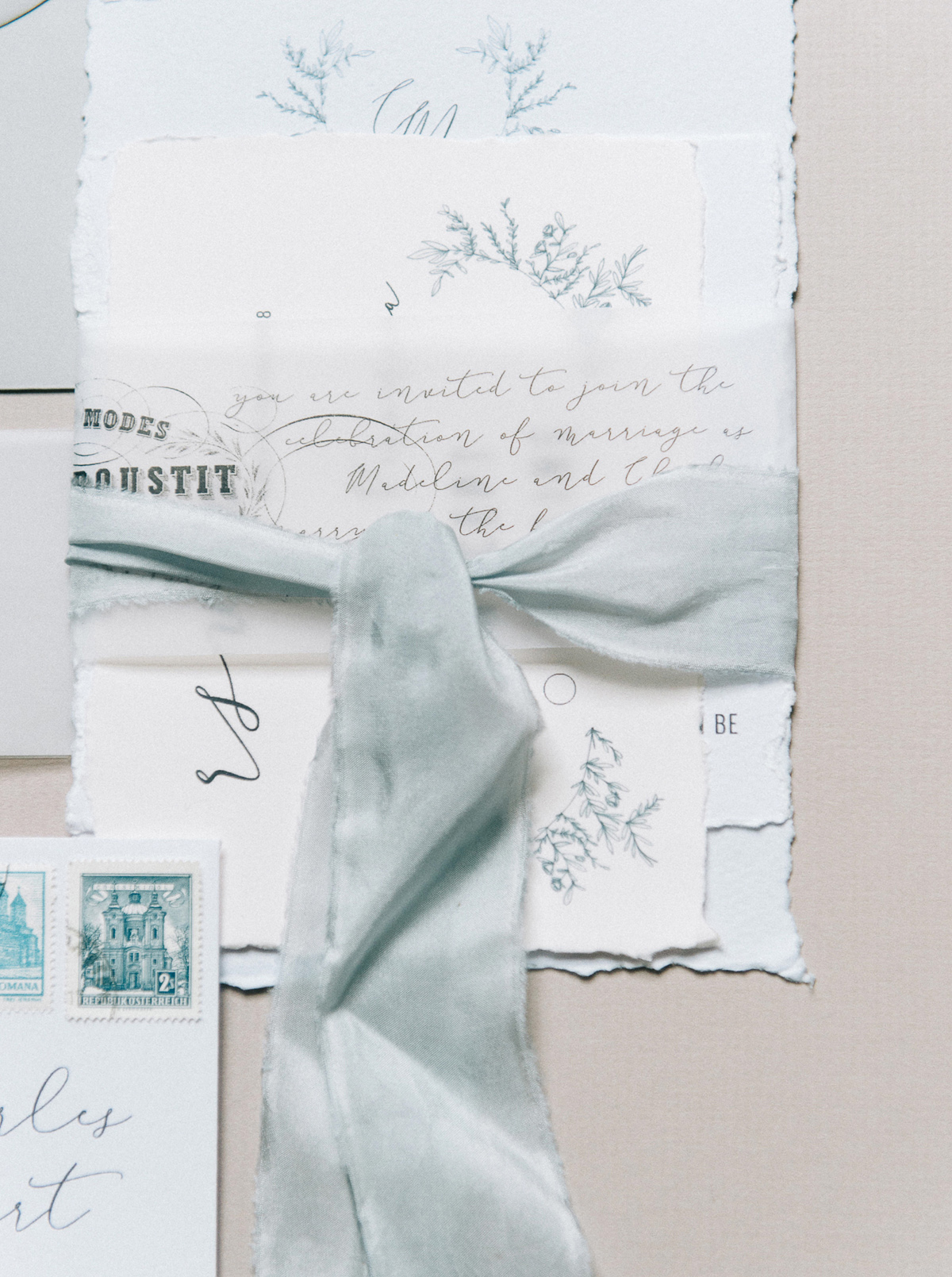 "The cake created by Emma of Gifted Heart Cakes was incredible. It paid a compliment to the much-loved French macaron tradition. Watercolour washed meringue kisses broke the usual style and added to the soft blue and pink accents."
"A hand painted cake base, with real flowers added by Nia ensured the cake perfectly took its place in the editorial. Oh, and don't forget my new favourite little addition to place settings, flat lays and vases – bridal pink protea. I absolutely love them!"
"Our shoot featured two extraordinary bridal designers; Sassi Holford known for her sophistication and style, and Charlie Brear known for her cool as hell designs. The gorgeous Sassi Holford gown Honor and the uber cool Carson jumpsuit you see are available from Brides of Winchester (more below). Brides of Winchester is one of Hampshire's best regarded bridal boutiques."
We're super proud to recommend Brides of Winchester through our partnership with the brilliant Luxe Bride.
Luxe Bride is a fantastic collection of highly recommended British bridal boutiques and if you are not familiar with them yet, you really need to be! Follow the Luxe Bride gang for updates on Instagram at @luxebrideuk.
"Honor pairs an Italian corded lace, long sleeve top with a soft crepe skirt. Creating a classic column silhouette, finished with an ivory satin band at the waist."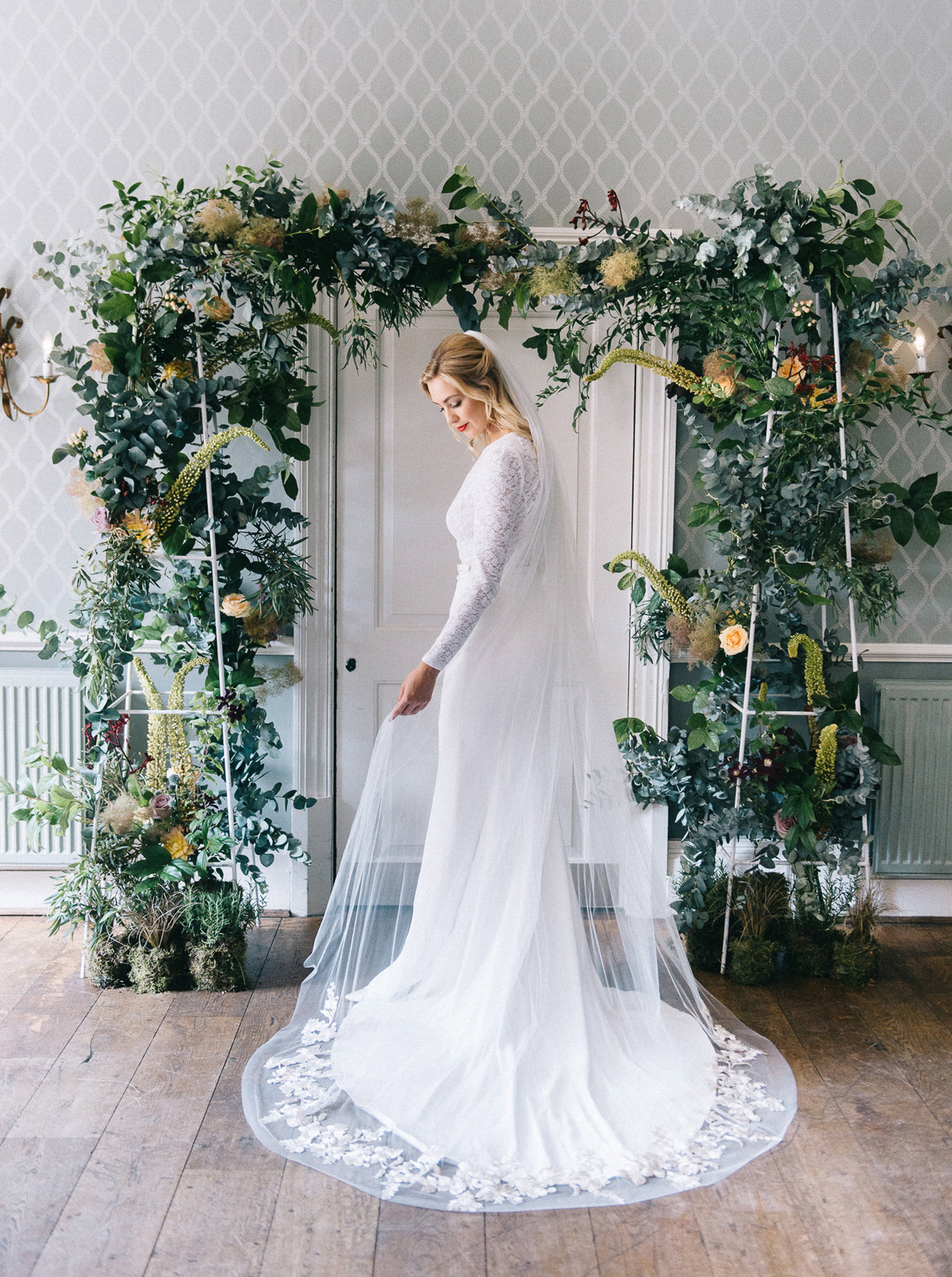 "Jumpsuit-lovers will adore Carson, a simple and striking silhouette is minimalist design perfection. Contemporary bridal, with a touch of 1970 Cher. I also cannot thank the ladies at House of Gallet in Alresford enough for supplying our weekend fashion looks."
"I had so much fun selecting from their boutique. The ladies are 'fashion hunters', curating a selection of beautiful designer wear that is both new and preloved. A superb concept, and a fabulous service."
"Our hair stylist Lee created exceptional hair and makeup looks for our model Jess. Perfectly glam, a little kitsch and very iconic, how very Charlie Brear! Major thanks to Armani Beauty, with a one-off MAC red lippy added amongst the perfect looks."
"Armani create luxury, innovative cosmetics Lee loves using with her brides. Rich, long-lasting colour and irresistible textures the makeup sculpts and defines your features flawlessly. Jess looked sensational, her skin naturally and elegantly glowing with understated sophistication."
"Lee researched the Parisian cool Miss style, and interpreted it to compliment Jess. We wanted a very easy, elegant look with an editorial feel. Incorporating a very simple comb by Little Book member, Victoria Ferguson continued the elegance perfectly. I am delighted with the overall look and feel".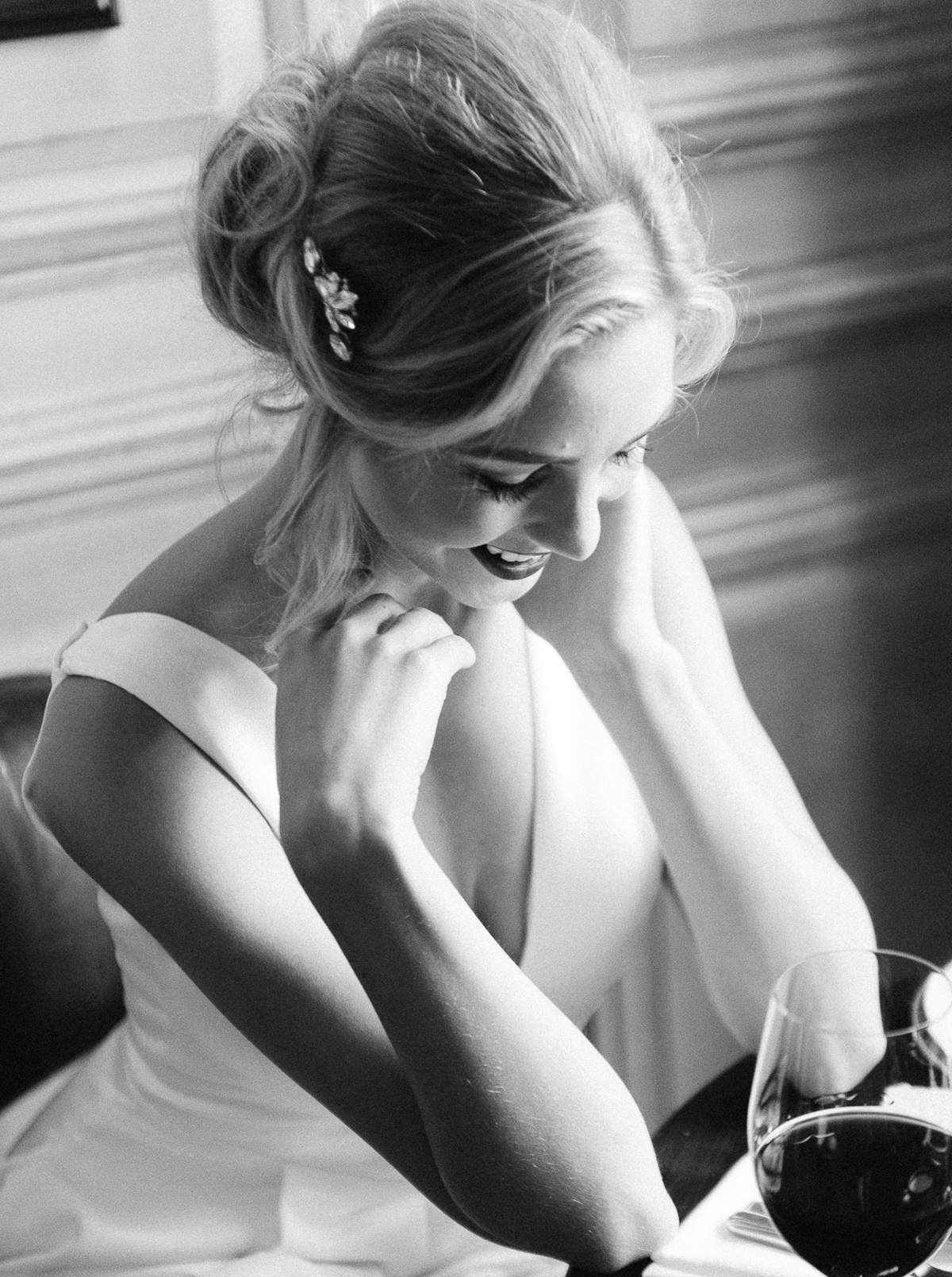 "I cannot end our feature without mentioning Stu from Cooper Photography and Rob from Statement Classic Cars. Stu is one of the most extraordinary photographers I have the privilege of working alongside in the Hampshire Wedding Club."
"We all know being in front of the camera is an intimate sometimes daunting experience. Stu and Anna such an immaculate, gentle, and kind approach, there is simply nothing nerve jangling to feel. They work together in perfect unison, constantly chatting to each other."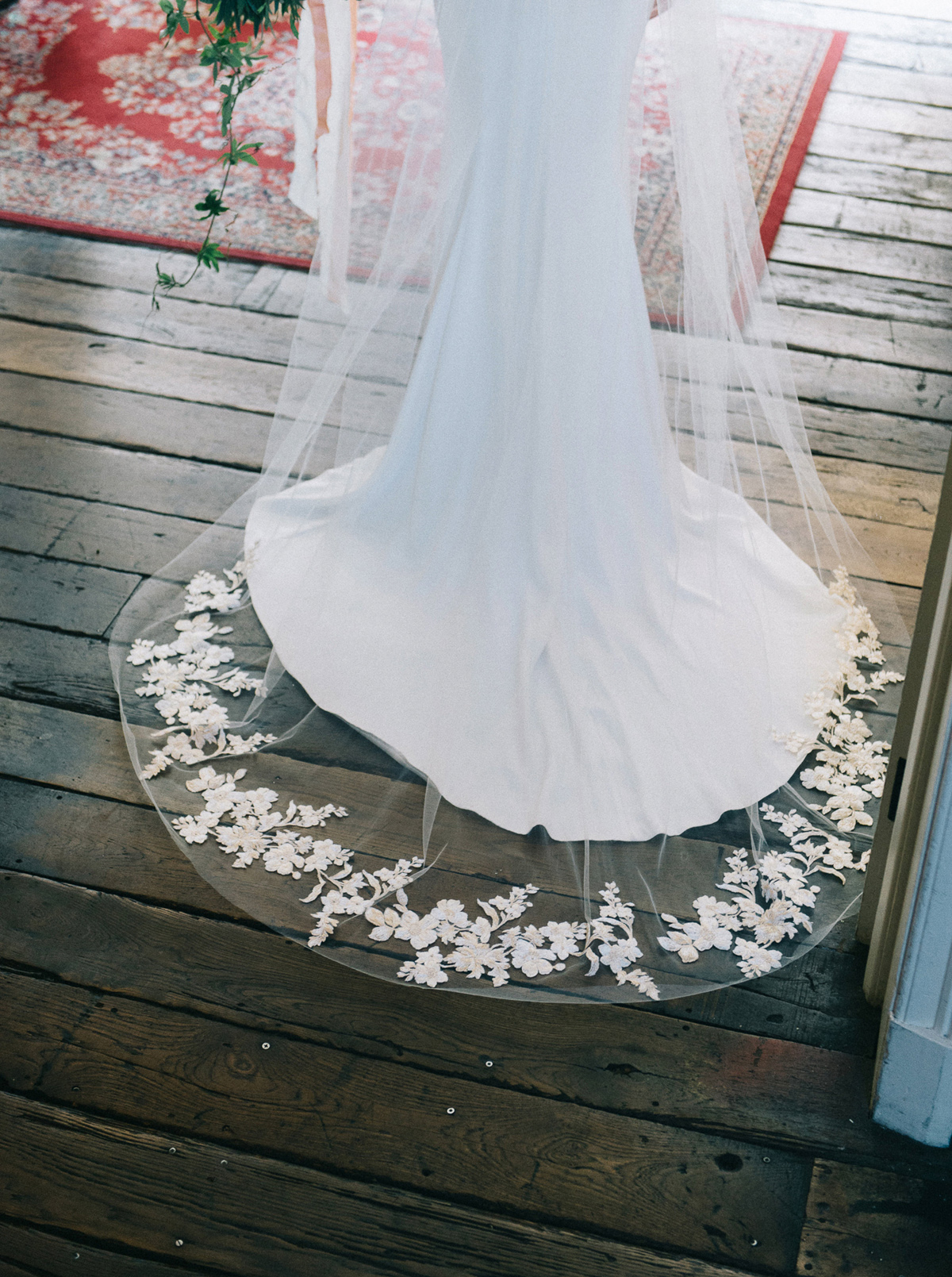 "I guess that is what comes from being husband and wife as well as business partners. Loving what you do is imperative in the wedding industry, and I have found a true soulmate who I love working with in Stu."
"He has the same professional outlook. He is passionate yet humble, and he is always supportive. He has a kind word for pretty much everyone, and I can't wait to test him with another shoot soon".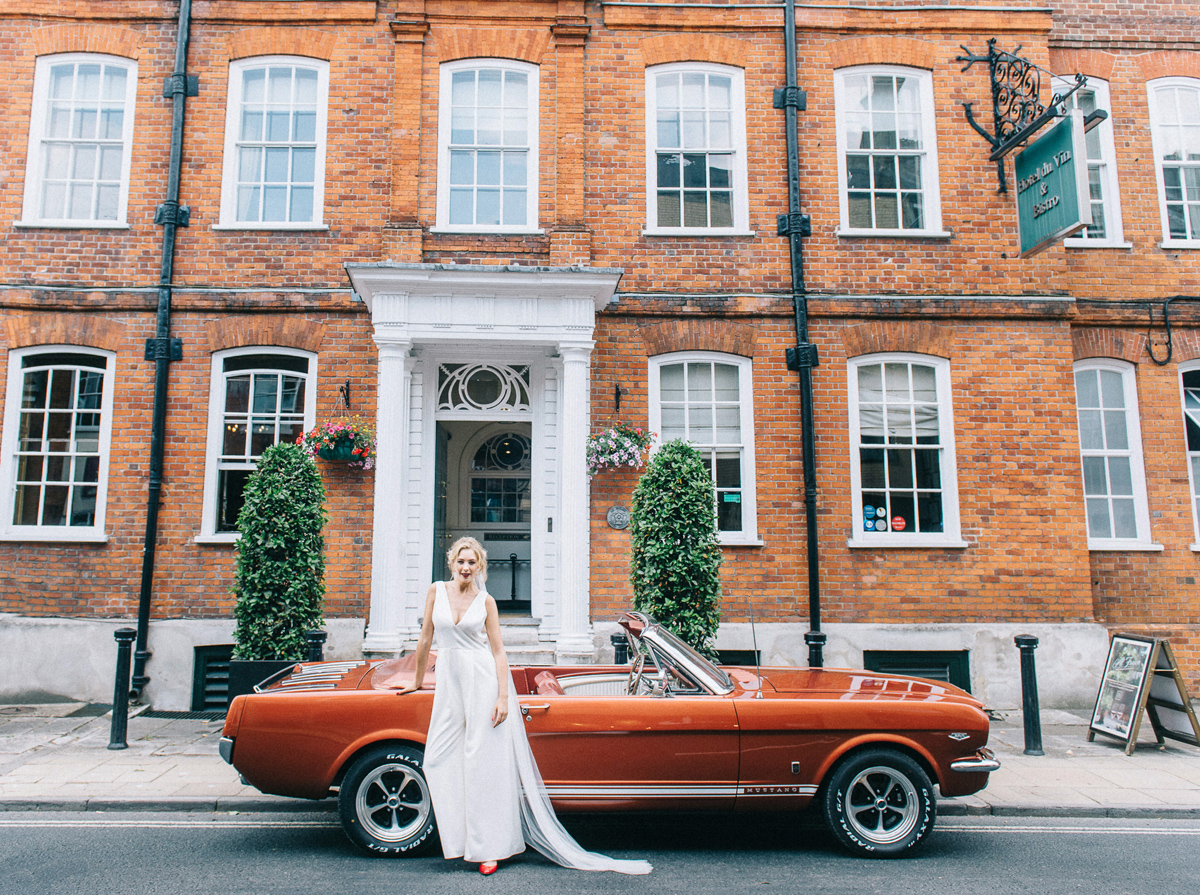 "Rob, well he replied to my request over Instagram for a cool car perfectly don't you think? Arriving on the day making so much GT noise he could not be ignored, and OMG did we love it."
"Taking Jess off to have some brilliant bridal portraits at a second location in Winchester was so much fun. I know we all loved this part of the shoot, especially Stu."
"Hearing shrieks and giggles from Laura and Jess as they thundered out of the Hotel Du Vin car park validates our team advice to couples. Look for a non-traditional bridal car for your day. If not to arrive in, perhaps departing on your honeymoon in something like this 1966 Ford GT would extend the exhilaration of being newly married for just a little longer."
"We're very excited to announce that the suppliers involved in this editorial shoot will run an open house wedding day event for couples at Hotel Du Vin, Winchester creating a revival of this gorgeous shoot on the 10th of March, and we hope you will stop by to see how perfect this fabulous venue can look on your wedding day."