Unusual, iconic buildings are always intriguing and today we get the chance to go inside a very unexpected wedding venue – Spitbank Fort off the Hampshire coast – for this coastal wedding. Excited? Me too.
Hazel, a creative director, and property developer Ben first met nine years ago. They married on 10 August 2018 in their village church, All Saints' Church, Fawley, Hampshire with a reception afterwards in the incredible Spitbank Fort, in the Solent off the coast of Portsmouth. Their wedding day was characterised by a elegant yet joyful colour scheme of silvery blue, pure white and splashes of yellow, with a style that evolved naturally from their shared tastes and interests. Choosing the church was easy for the couple as it was here where Hazel's parents married, as well as where the bride and her brother were christened.
Photography by Robin Goodlad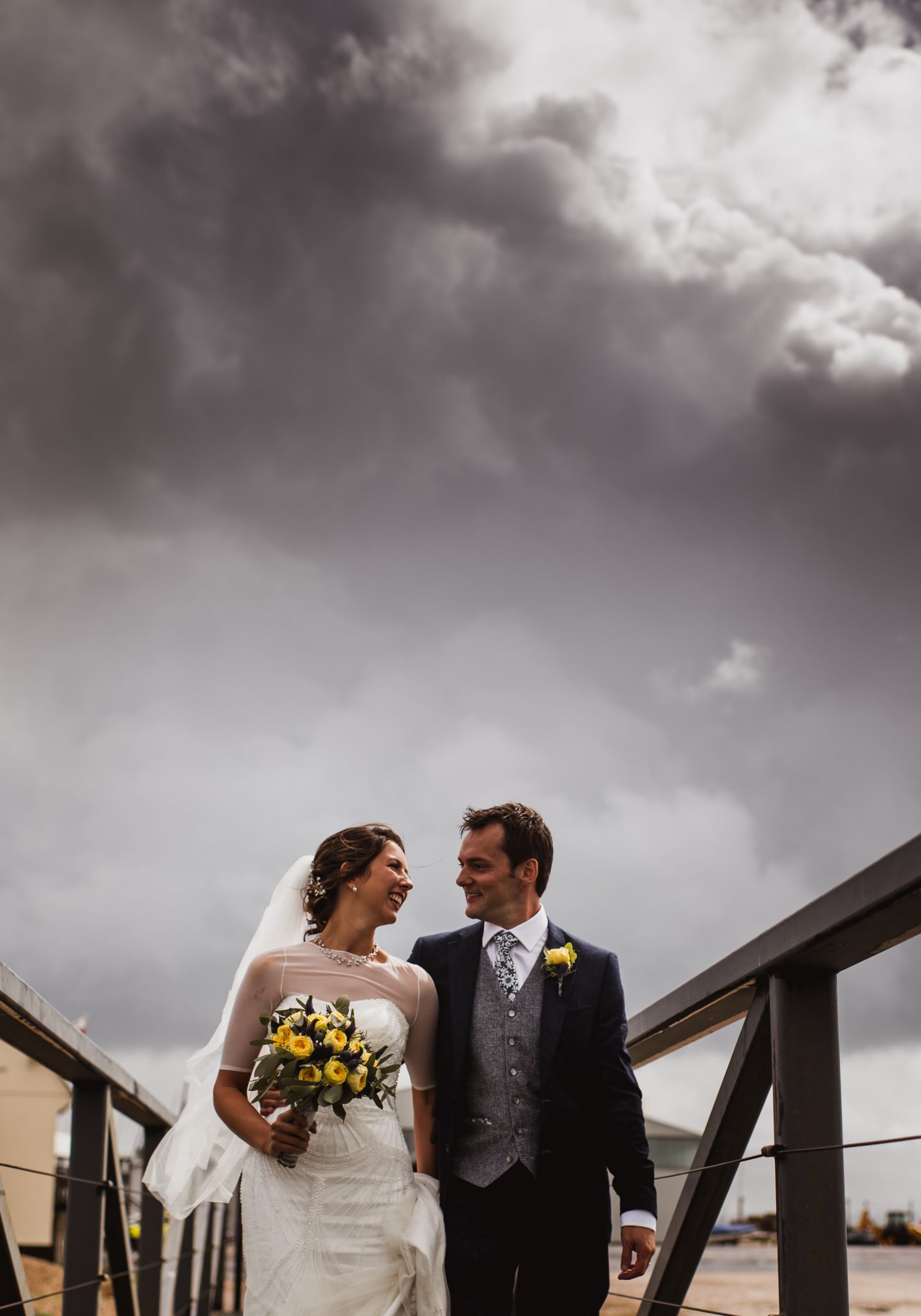 Despite the rain, I love these atmospheric images by Robin Goodlad Photography, whose work captures such movement and emotion. The photographs of the story are so special too, and the pops of yellow really bring them to life. Robin is an expert in making the best of natural light, as I'm sure you can see from these wonderful images. For more details about Robin Goodlad (and a 10% saving just for you), click here to visit his Little Book profile.
"Robin was absolutely amazing, from our first meeting to posting our images in a surprise personalised box.  He went out of his way for our engagement shoot which was a huge help getting to know him and relaxing in front of the camera. He has a real eye for detail and talent for capturing the most precious moments. He and Rachel were very subtle throughout the day."
"Robin sent us a preview of the photos very quickly after the wedding which was really exciting rather than having to wait the full time. We have a dedicated site to view and download our photos and received a personalised taster box in the post with some surprise prints and a message.  We would absolutely, and do, recommend Robin to anyone getting married but also looking for an outstanding photographer. His Instagram is a real treat too."
Hazel paid a visit to Ellie Sanderson Bridal Boutique in Beaconsfield to choose her gown.  Hazel's choice was the Suzanne Neville 'Blush' dress, which features a fitted, beaded bodice and gorgeous and understated (and removable) tulle T-shirt detail. I love the contemporary style of the bodice which flows into a thoroughly bridal skirt.
"The shape fitted me immediately and felt amazing. I loved the beading – it was just the right amount of elegant, sparkly and unique in the pattern. I originally thought I wanted a lace dress and really liked a lot of them but none of them stood out in my mind like this one. Once I put it on I didn't ever want to take it off!"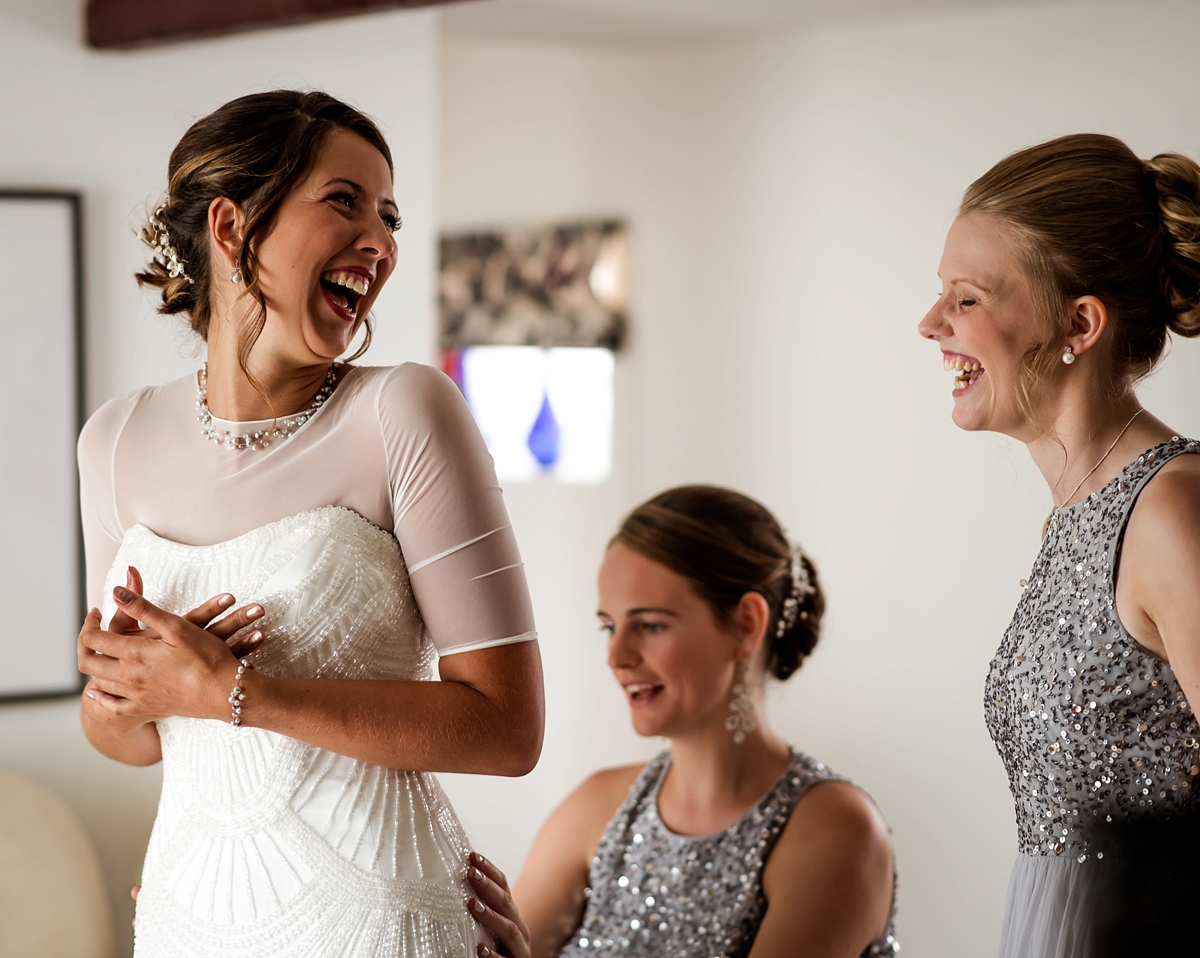 Her beaded grey shoes were from Kurt Geiger and a handmade, beaded hairvine commissioned from Morgan Fairbairn at Seabreeze Creative completed her look.
Hazel's natural tan was enhanced by soft, dewy make-up applied by Ben's sister Rebecca Stenner and her hair was twisted into a pretty, relaxed up-do by Sophie Peach Mobile Hair. She looks so joyful and relaxed.
The coastal setting influenced the bridesmaids' gowns – Monsoon maxi dresses in silvery blue with sequinned bodices – which they wore with headpieces by Seabreeze Creative to complement the bride's.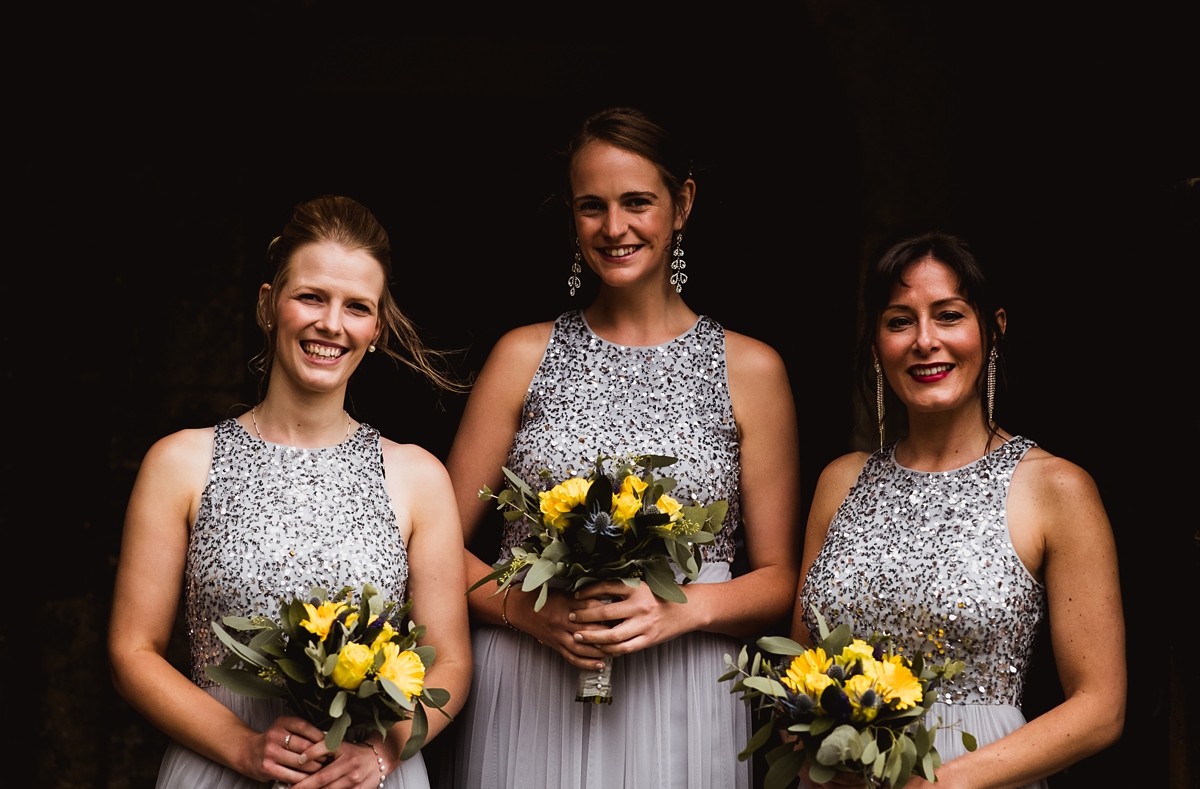 Her mum's veil, which was embroidered with tiny seed pearls, was a wonderful touch and she also wore Swarovski earrings gifted to her by Ben. The simple neckline of the gown was offset by a multi-strand pearl necklace.
"My dad bought me the necklace from Harriet Whinney Pearls and we made the bracelet from a couple of spare strands."
Hazel's aunt is florist at Adrienne Florist and put together the beautiful bouquets in a simple colour palette of green and yellow, helped by Hazel's mum Beverley and bridesmaid Alexa.
"We completely trusted them with our flower choice. We wanted some blue to complement the colour scheme being by the sea, lots of natural foliage picked from my mum's garden and yellow roses – chosen by Ben, because they are my favourite and he buys them every Valentine's."
Luckily for Hazel, her bridesmaid Charlotte is an event manager at Bluebelle Forest Events , specialising in weddings, so she was on hand to help the pair plan the day. Charlotte also predicted that the couple would marry (and asked to be a bridesmaid), even before their first date.
"We met when we were both working at Beaulieu Motor Museum on the monorail! We were together exactly seven years and a day when we got engaged, once we had bought our first house together."
"Ben took us for a weekend in Wales (where I had been at university and Ben had started his business) to go exploring around the south coast visiting lots of castles along the way. It was intended to be on our seven year anniversary but we were having so much fun that Ben didn't get around to it."
"The next day he packed a picnic and we took the convertible up to Dynefwr Castle, our favourite castle that we had visited years ago. We had a picnic in the sun amongst the daisies in Castle Keep with strawberries dipped in chocolate."
"We imagined what it would have been like to live there. That's when Ben asked. It couldn't have been any more perfect. We spent the whole day there in the end until sunset. Then we went for fish and chips on the beach to celebrate."
The groom's suit and accessories were all sourced in the Hampshire area; his dark Herbie Frogg suit was from Astares in Havant and was offset by a lighter Lloyd Attree & Smith waistcoat and tie.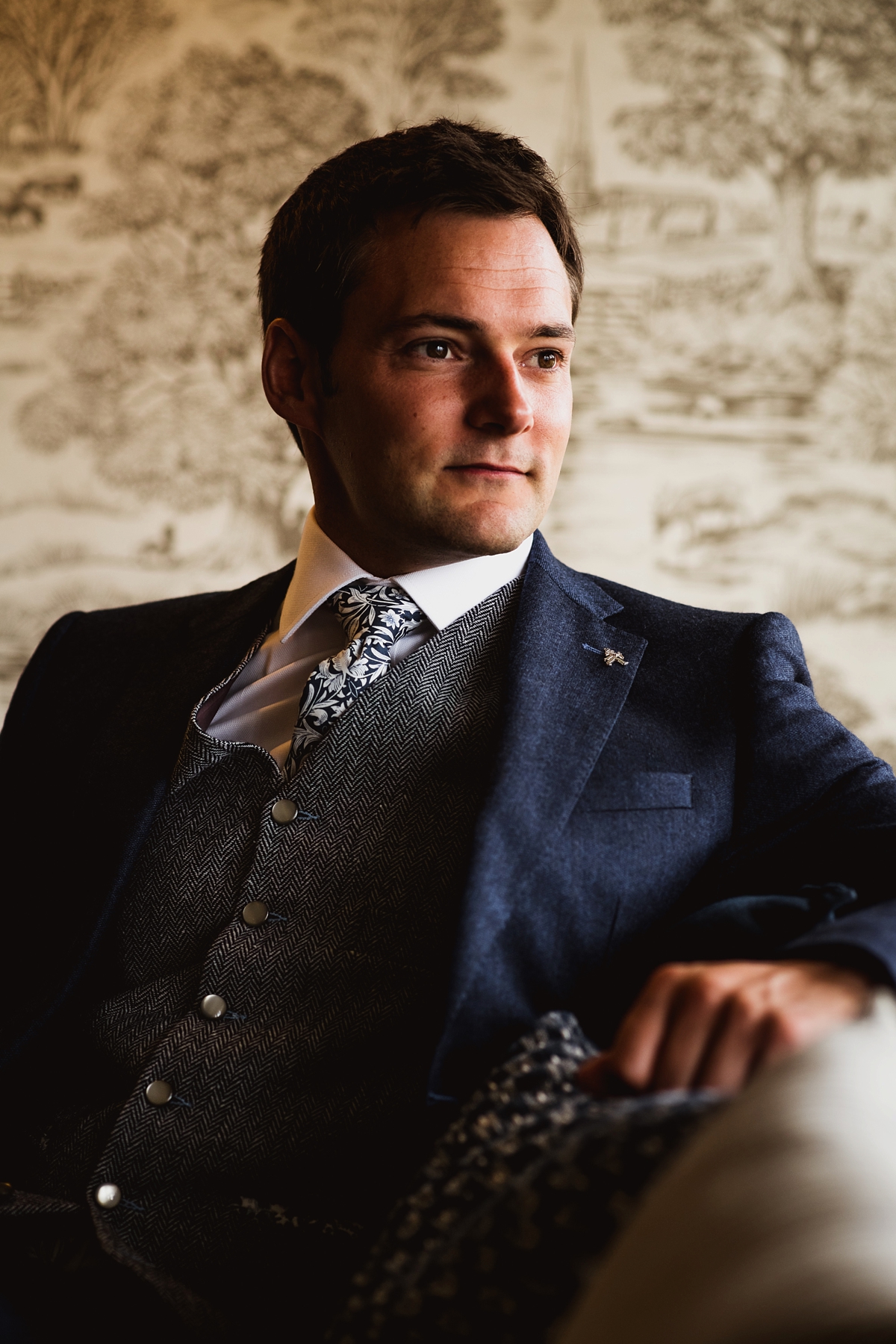 Hazel and her dad Melvin managed to avoid the torrential rain to travel to the church in a Morris Traveller, owned and driven by family friend Chris Brow. They entered the church to Wagner's 'Bridal March', where Ben was waiting with the vicar – the same vicar who had married Hazel's parents and christened her and her brother.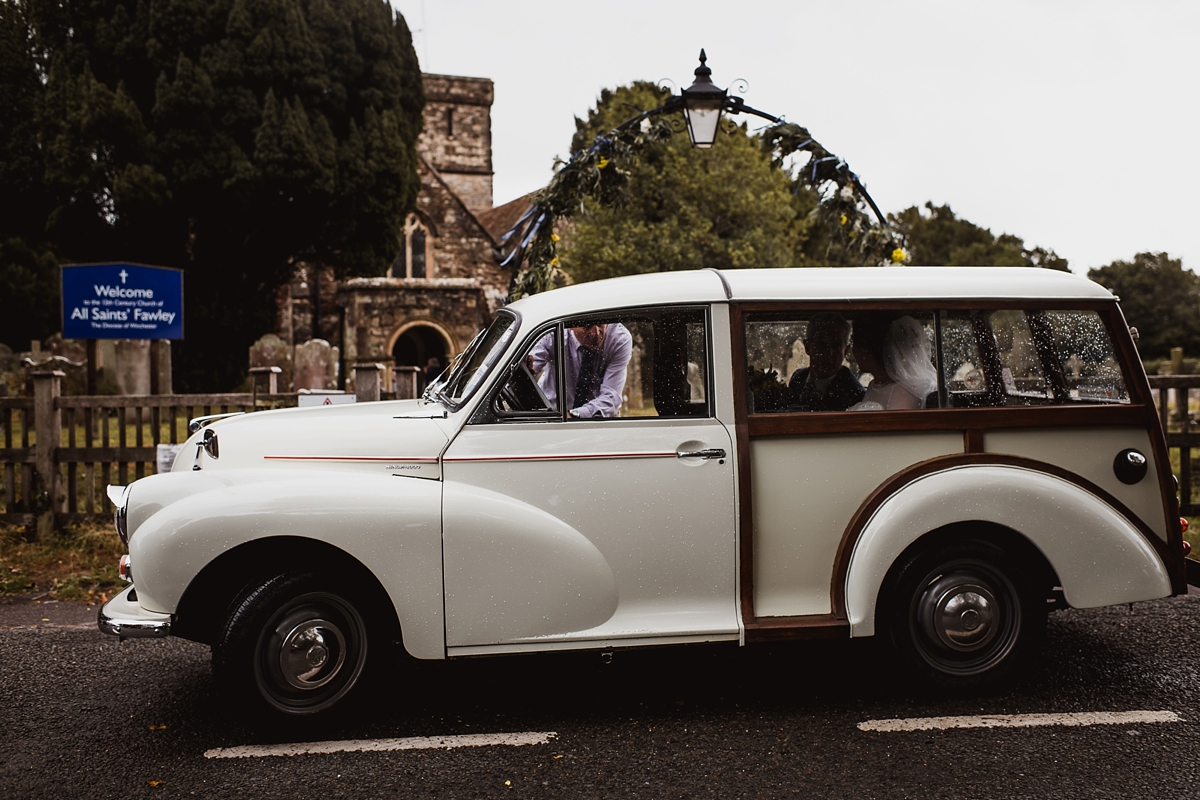 During the Church of England ceremony, Hazel's mum Beverley read 'Ecclesiastes 4:9-12' and Ben's dad David read '1 Corinthians 13:4-13'. The couple also asked Ben's 'almost' auntie and uncle to read 'Guess How Much I Love You' by Sam McBratneyead.
"It's a fun story and we had it read to us as children. Then we found it, as grown ups, at Glenda and Richard's house so when we stay at theirs Ben and I find it and read it together. It was the perfect fit for our wedding. They went above and beyond putting on bunny ears and doing all the actions for the reading in church – much to the vicar's surprise!"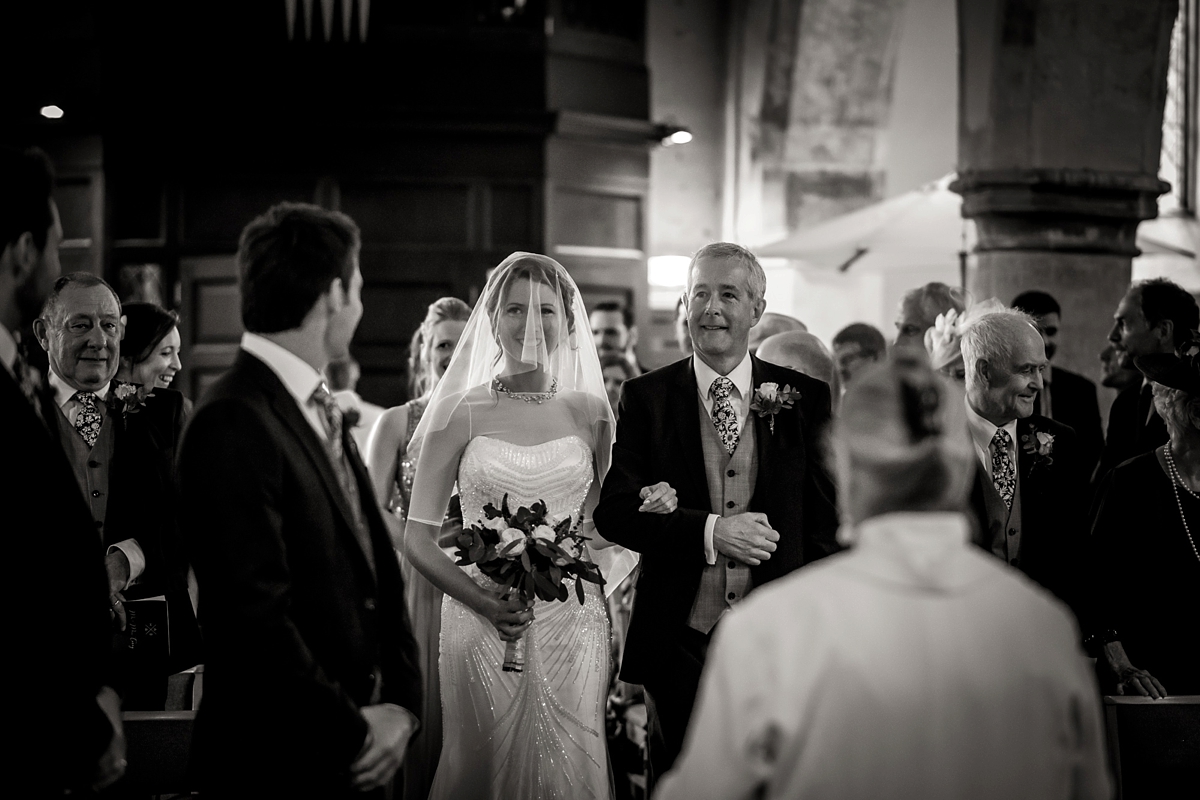 Ben had bought Hazel's engagement ring at Bicks of Montpellier in Cheltenham and they returned there to  choose their weddings rings.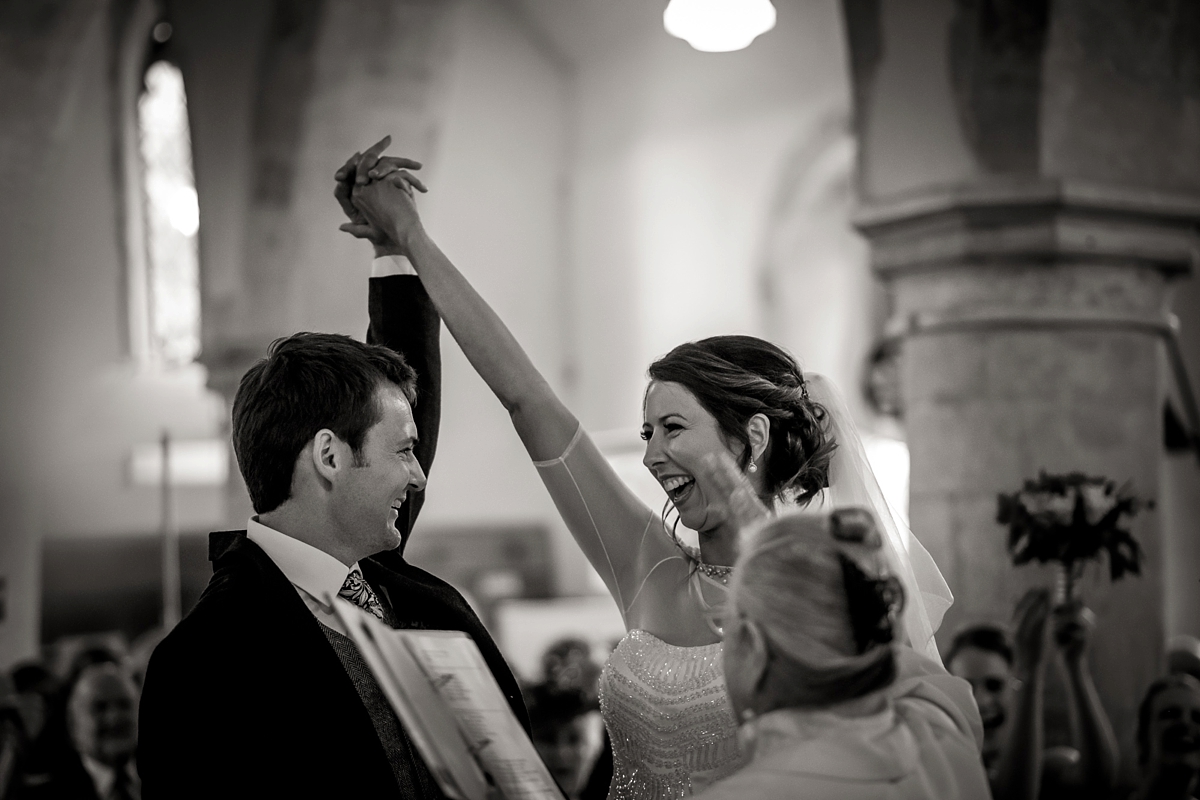 The newly-weds emerged from the church into a real downpour of rain. After greeting their guests, there was chance for some fun umbrella shots and indulging in ice-creams from Cakes & Fancies' traditional 1930's, Art Deco-styled ice cream bike. Then, the newly-weds and the rest of the wedding party made their way to the pontoon for the Blue Funnel ferry crossing to Spitbank Fort.
I love how the couple were able to spend time together on the ferry, which Robin captured on camera, enjoying each other's company and a glass of Champagne. Meanwhile, the guests were treated to packed lunches for the trip – a team effort by the bride, groom and their families.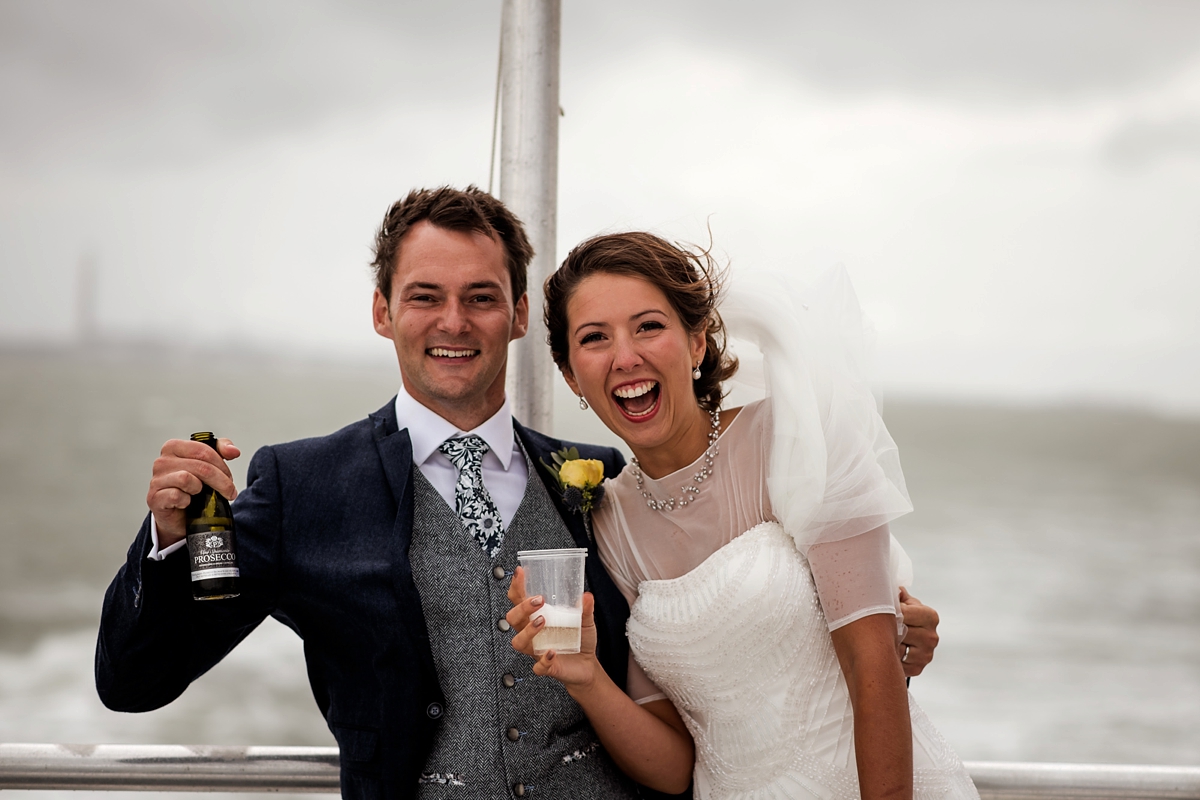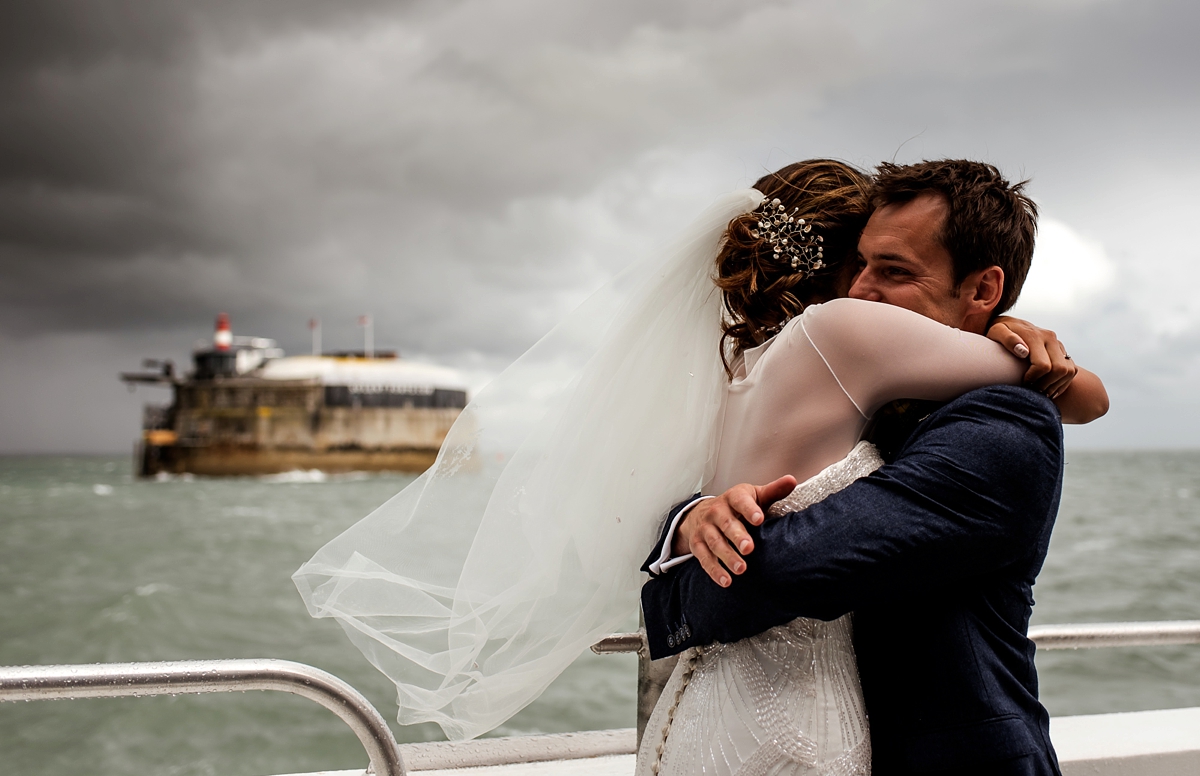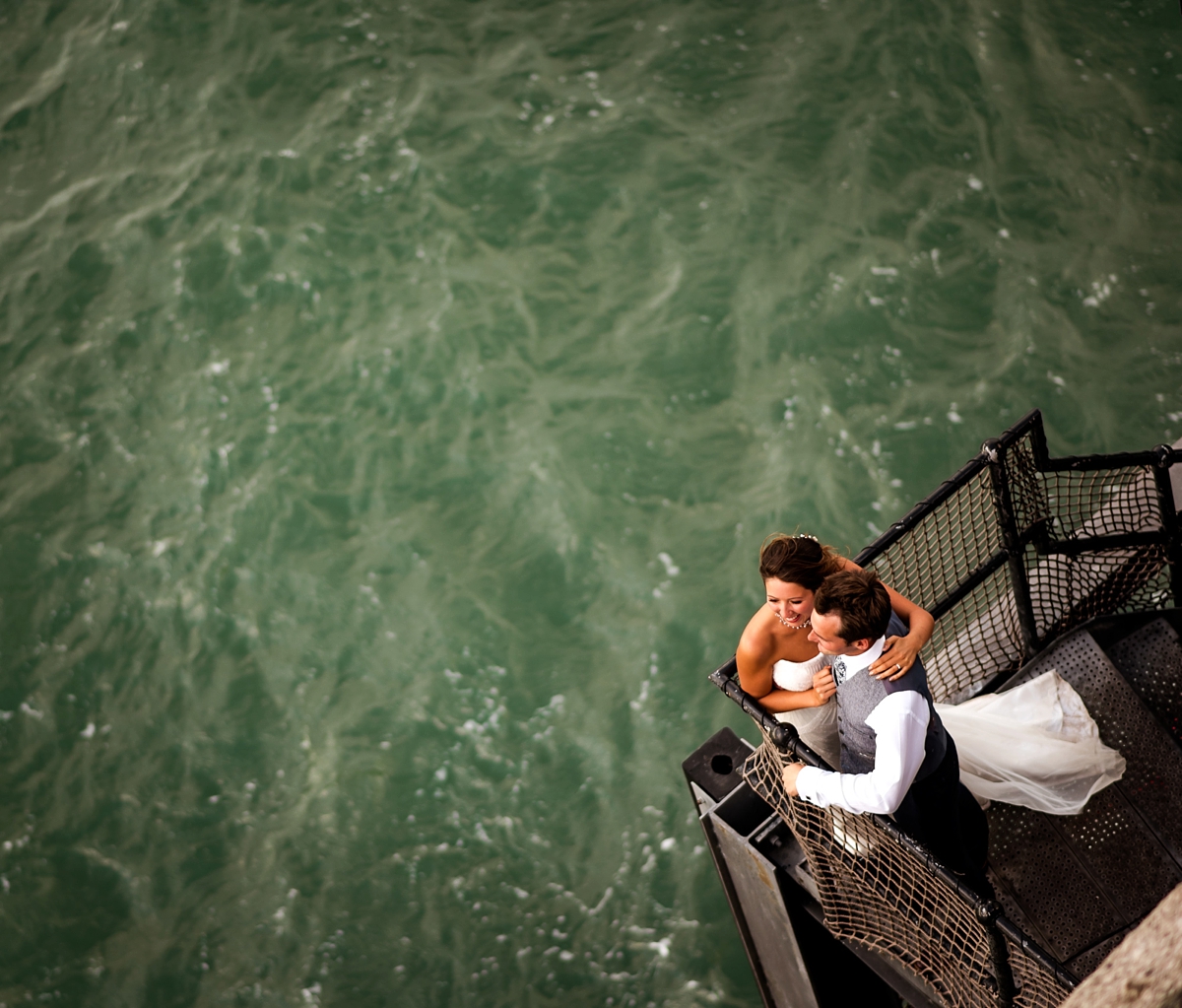 "We saw the Fort get purchased (in the news) in our first year together and imagined what an amazing project to renovate. We watched the work going on and then the opening."
"We always talked about it and said that would be the place one day so we didn't look anywhere else. Ben took me for a surprise birthday dinner, just after we got engaged, to take a look and it was everything we'd hoped for – breathtaking!"
The inside of the fort had been absolutely transformed into a beautiful and intimate party space with the addition of lots of candles in lantern holders, fresh foliage and flowers and fairy lights from Lights 4 Fun. Hazel had got creative to produce the calligraphy and signs, as well as design and hand-calligraphy the stationery.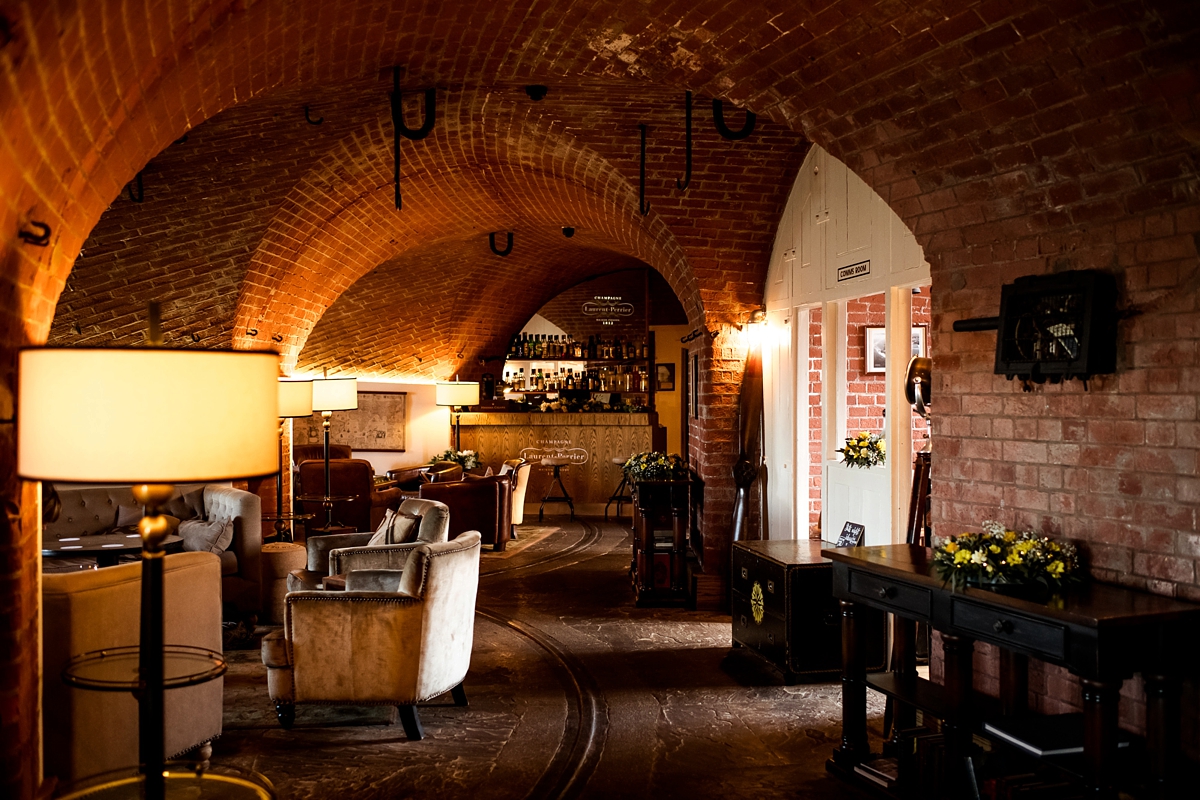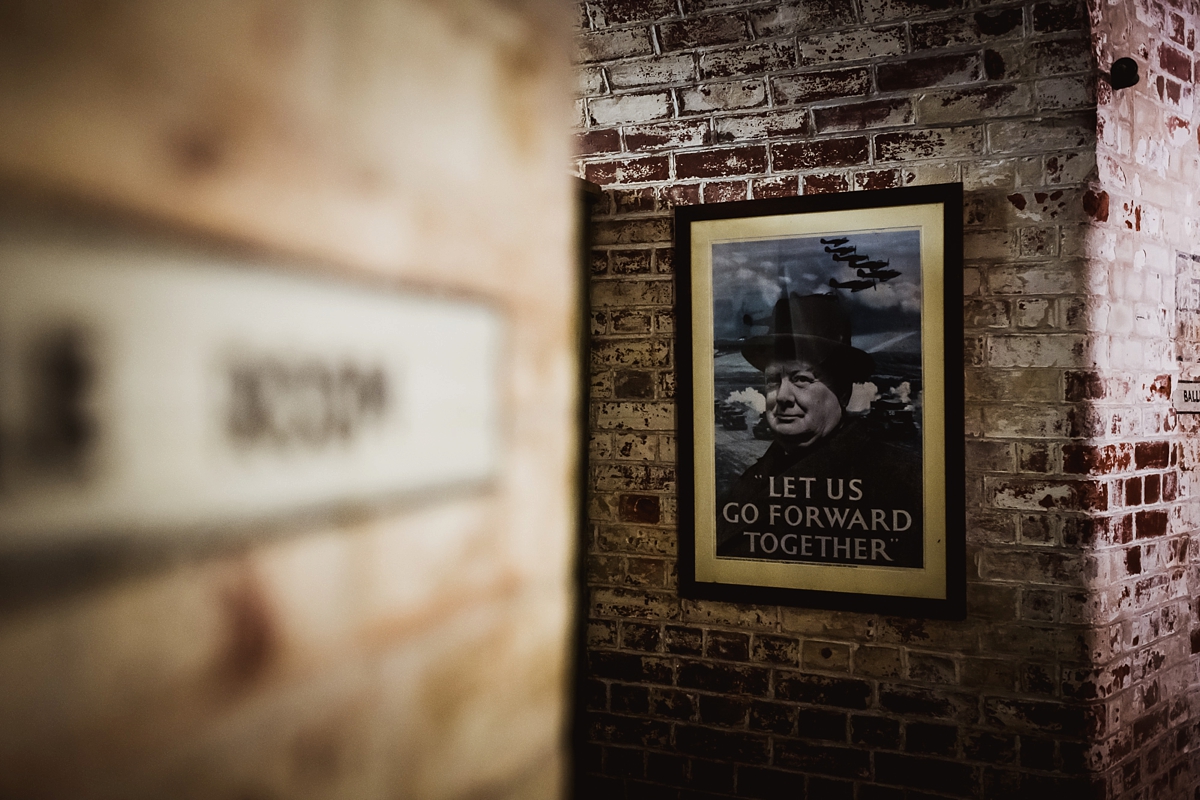 Spitbank Fort is a boutique hotel, meaning that the bride and groom could stay out to sea that night.
"Our guests left at midnight on a tiny boat in high waves and the rest of us retreated to the firepit for hot chocolate and Champagne. Then in the morning we hit the hot tub by 8am to watch the boats sailing past – what a day!"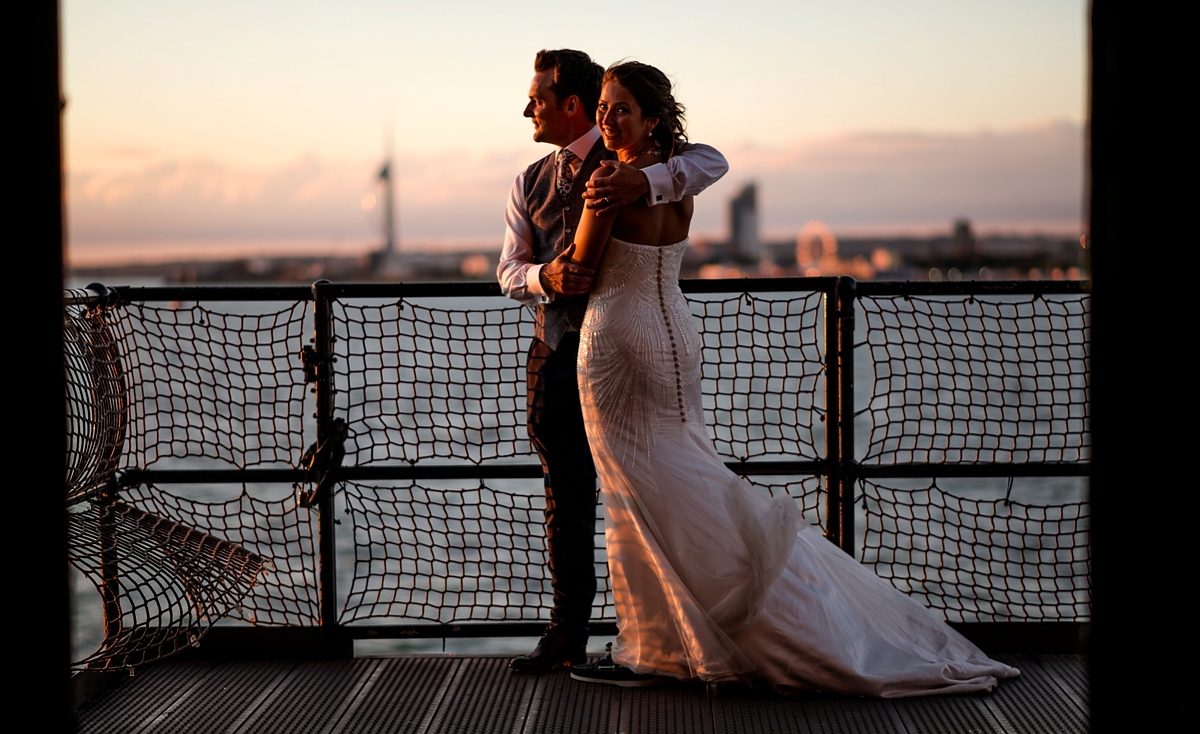 For the reception and wedding party Hazel removed the tulle T-shirt for a glamorous evening look; such a simple way to switch up your bridal style. The Spitbank Fort team served the wedding breakfast of British-style tapas, but dessert was interrupted by an unexpected flypast by the iconic Red Arrows. Robin Goodlad managed to capture these wonderful sunshiney shots which are just gorgeous.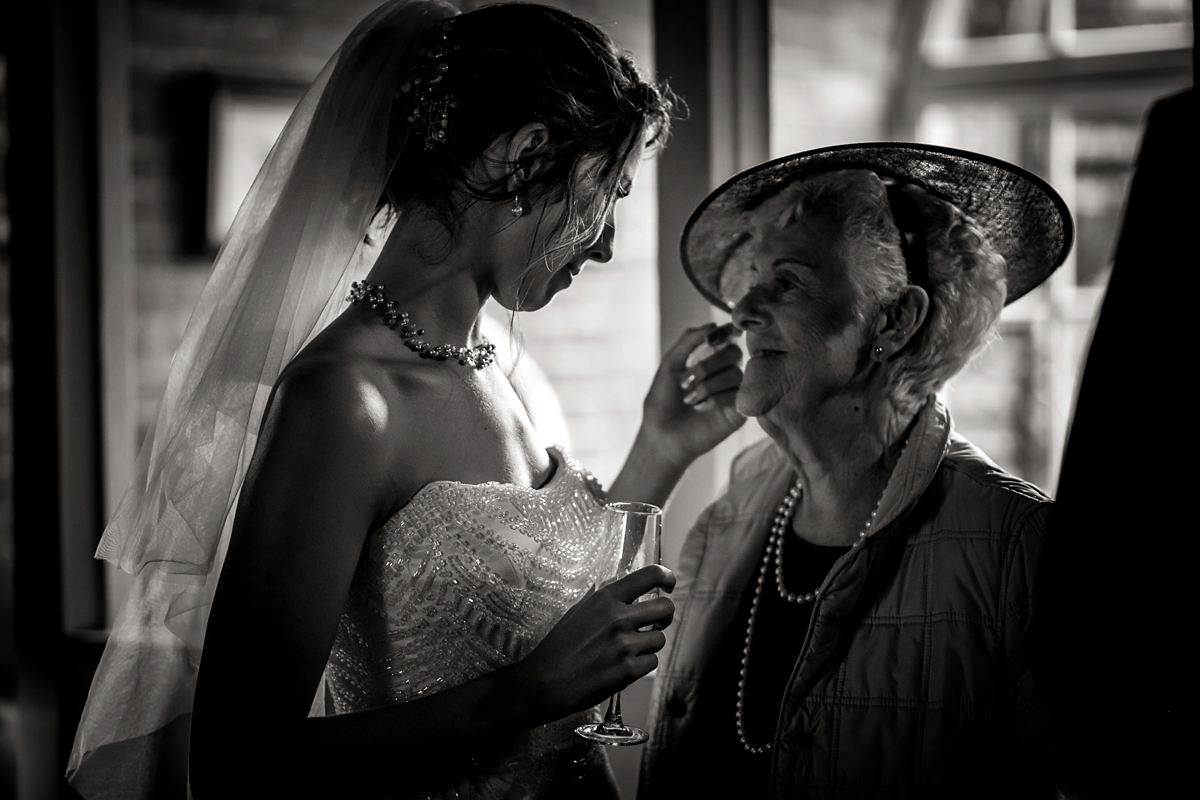 Ben and Hazel had packed a little 'favour bag' for each guest, containing a personal card message and seashell place names (designed and printed by Hazel at Seabreeze Creative), a couple of Terry's Chocolate Orange segments and a badge to denote a donation to Alzheimer's Research UK in memory of Hazel's nan.
The tall, semi-naked cake with its yellow, floral adornments was commissioned from Cake Luxe Design.
"Clare was recommended to us by another supplier, and absolutely shared our passion for cake – Ben's most important decision about the day! She was super-flexible, friendly and sent us yummy samples in the post."
Ben and Hazel have such precious memories from the day.
Ben: "Without a doubt my favourite moment was my first glimpse of Hazel as she came down the aisle – wow. I loved holding her hand at the altar and throughout the ceremony. It was great fun running down the pontoon with Hazel, our family and friends in the wind and pouring rain to catch the ferry."
"Then later when the sun and rainbows came out, we went to the top deck and watched the Red Arrows show. It was like it was put on just for us (it was actually Cowes week) – epic!"
Hazel: "When Ben held my hand at the altar, I've never been more happy or more excited. Saying our vows to each other was wonderful. When we got to the ferry he fireman's-lifted me out of the car so I didn't have to step in the puddles."
"That was fun – a bit like when we popped the fizz on the top deck of the boat with wind and rain pelting down at us; it was so crazy and awesome! The food was absolutely amazing, and exceeded all expectations."
"We had a British take on tapas and worked closely with the chef to get it perfect as we are both real foodies, so that was big highlight. The whole day was overwhelming really, just being with Ben and our favourite people on our fort was such an amazing experience."
The the party kicked off with music from Goosebumps. Frank Sinatra's 'Fly Me To The Moon' was the couple's first dance song.
"They're a good fun swing band with funk sets. We both love Frank and often dance to him. The words in this one are wonderful. It's a pleasure to listen to and always makes us smile. What could be more romantic than flying to the moon and playing among the stars?"
Words of Wedded Wisdom
"Work out who you trust then tell them and trust them – absolutely and completely! Our parents, best men, bridesmaids, ushers and family were absolutely integral to our day. We didn't worry about a thing (even though. technically, lots went 'wrong' from ferries being cancelled to dinner interrupted and music not playing) but they took it in their stride and took care of it all, without bothering us with small details. On the run up and for the couple of days before, when we were all setting up, they were priceless and we knew they had it under control. We couldn't have done it without them."
"Take more days than you think you will need to set up beforehand. In the event you finish early it will feel great and if you need recovery time you've got it without stressing."
"Our sister-in-law Victoria (the best man's wife) passed this onto me from her wedding and it was absolutely priceless. The day goes so quickly, with so many wonderful things happening. Take the time, purposefully, to stop and look around. Breathe in all your surroundings in that exact moment; who's there, what you can see, hear, feel. and take the time to appreciate and remember it while you're there. I can honestly say that those are the moments I remember most vividly, and feel so lucky to have been part of. "
"Don't worry about anyone else. They will take care of themselves, and talk amongst each other. Be with your husband/wife, not spreading yourselves too thinly around your guests. They all loved that we were together, happy and excited – not busy making small talk with them! It meant we had the best time possible with them, together."
"If you have a guest book, make sure you mention it in the speeches."
Wow, what an incredible setting and how very special your day sounds. It's been such a joy to read your memories and see these photographs today so thank you and congratulations to you both. Robin Goodlad, thank you so much for letting us share your work.
For more seaside and coastal wedding inspiration you can take a peek here, and to see other brides wearing Suzanne Neville's designs don't miss these weddings here.
Ele xx