Happy March! This is one of my very favourite months as the days get longer, signs of spring are everywhere and the leaf buds are bursting out on the trees.
I have a real treat for you this bright morning as we're jetting off to Spain for a relaxed countryside wedding full of rustic Spanish influences, full-blown peonies and the most beautiful boho gown. ¡Vamonos!
The bride and groom are Elle, a PA and marketing assistant and Nick, an international data researcher who flew to Hotel Fuente del Sol, La Joya, Andalucia, Spain for their evening wedding on 14 July 2018. Elle's mum is from Gibraltar and the couple love the Spanish culture, so returning to an area which held happy memories of holidays for Elle was ideal for their vision of a relaxed, outdoor wedding. The couple drew on rustic Spanish details to style their day, adding in their own modern twist.
Photography Pedro Bellido Photography
"We chose to have a destination wedding in southern Spain because we love the Spanish culture and my mum is from Gibraltar so I spent much of my childhood holidaying in that area. We love nothing more than exploring the outdoors, soaking up sunshine and enjoying good food and drink so Spain was the perfect fit for us. We also really wanted a completely outdoor wedding with guaranteed sunshine, so the UK was out of the question! Andalucia is a beautiful region of Spain and the inland countryside with national parks and breathtaking views was perfect for the bohemian, rustic vibe we wanted for our wedding."
The couple worked closely with the hotel team to create their beautiful countryside wedding based on a simple colour scheme of white, blue and pink, macrame hangings, vintage rugs and lanterns and opulent bouquets of peonies and foliage. The simplicity and pared-back style let the beauty of the Andalucian countryside really shine.
"We wanted to incorporate a traditional rustic Spanish feel into our wedding but with a modern, bohemian twist. I love bohemian and colourful décor (I used to work for the online team at Anthropologie.eu and I love their creative, quirky homeware) and Nick wanted the wedding to be informal and have a feeling of being in nature. So with a little help from Pinterest we created a beautiful theme with all these elements combined. Think antique Moroccan rugs, vintage lanterns, gold vases and hand-painted Spanish tiles in a rustic, countryside setting."
"Jose and Rosa from Fuente del Sol did most of the wedding planning for us and then we hired a few separate suppliers for flowers, hair and makeup."
Elle and Nick met at university in Wales back in 2008 and created a fun timeline of their relationship for their wedding website. The save the date e-invites, website and table plans were designed by The Crafty.
"In 2008 we were both carefree students at Cardiff Uni. Thanks to our mutual friend's 21st birthday party in North Wales we first met over a weekend of camping, mountain running and potato picking. After bumping in to each other a year later in the library, our relationship began. Ten years later we finally decided to tie the knot."
"Over these ten years we've lived and worked in a variety of different places including Maidenhead, Wimbledon and Western Australia and done lots of travelling including two months exploring Thailand, one and a half years in Australia and many adventurous holidays in between such as Myanmar, Reunion and Barbados. In October 2016, on the false pretence of a birthday weekend away in Cornwall, Nick popped the question high up in a candlelit treetop cabin and I said 'yes'.  We were engaged for one year and nine months."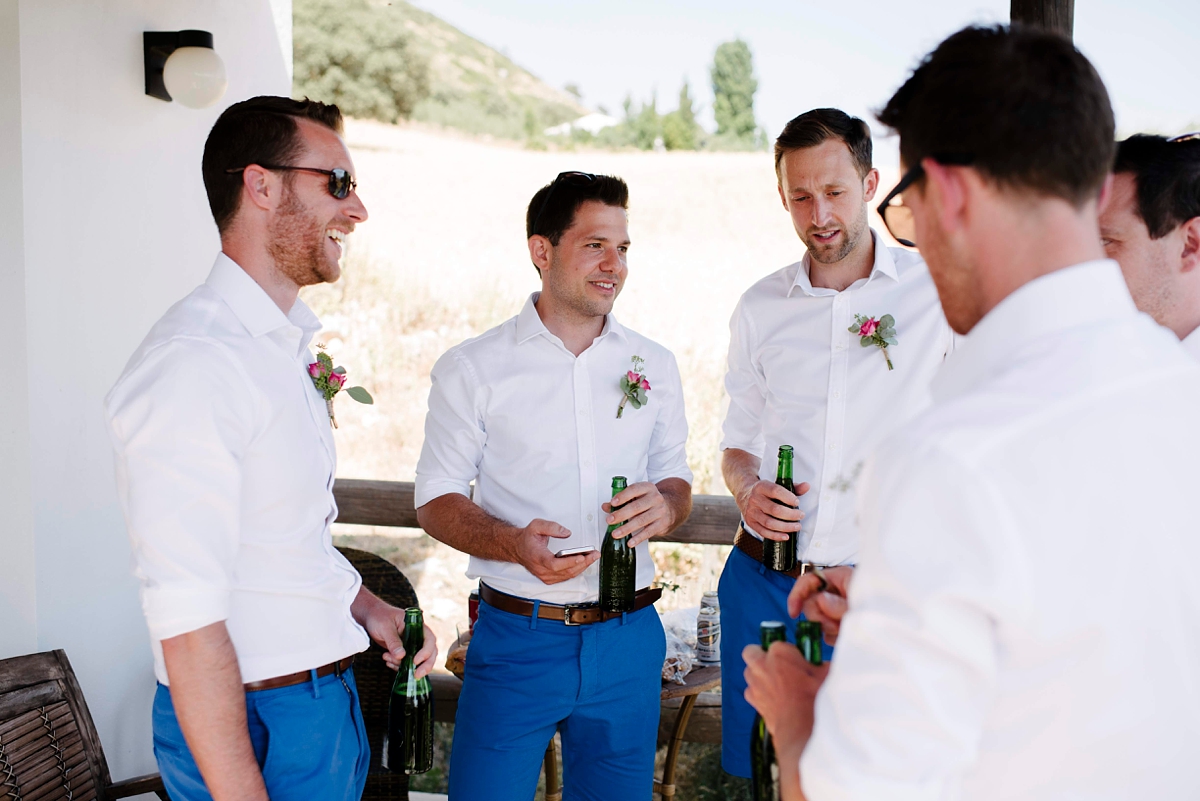 "We spent hours doing online research to find a venue that matched the style and location we wanted. We finally got our shortlist down to four venues, with Hotel Fuente del Sol being one of them. We flew out to Spain to visit the venues and just fell in love with Fuente del Sol as its remote location on top of a hill, amazing views and beautiful décor completely won us over. Plus, we really liked the team as they seemed very professional and we could imagine working with them to achieve the wedding we wanted."
Wtoo by Watters' gowns have a wonderful boho vibe and relaxed style which fitted in with Elle's vision perfectly. She found this open-backed gown at Bridal Indulgence, a luxury boutique in Hampshire.
The team here, led by Kerri, offers a memorable experience with hand-picked gowns that are perfect for the modern bride. We're super-proud to recommend them on our Little Book, and you can find out more here. I adore the custom-fitted, mid-length sleeves and detailed bodice but the summery Cybele lace really makes this gown special for me.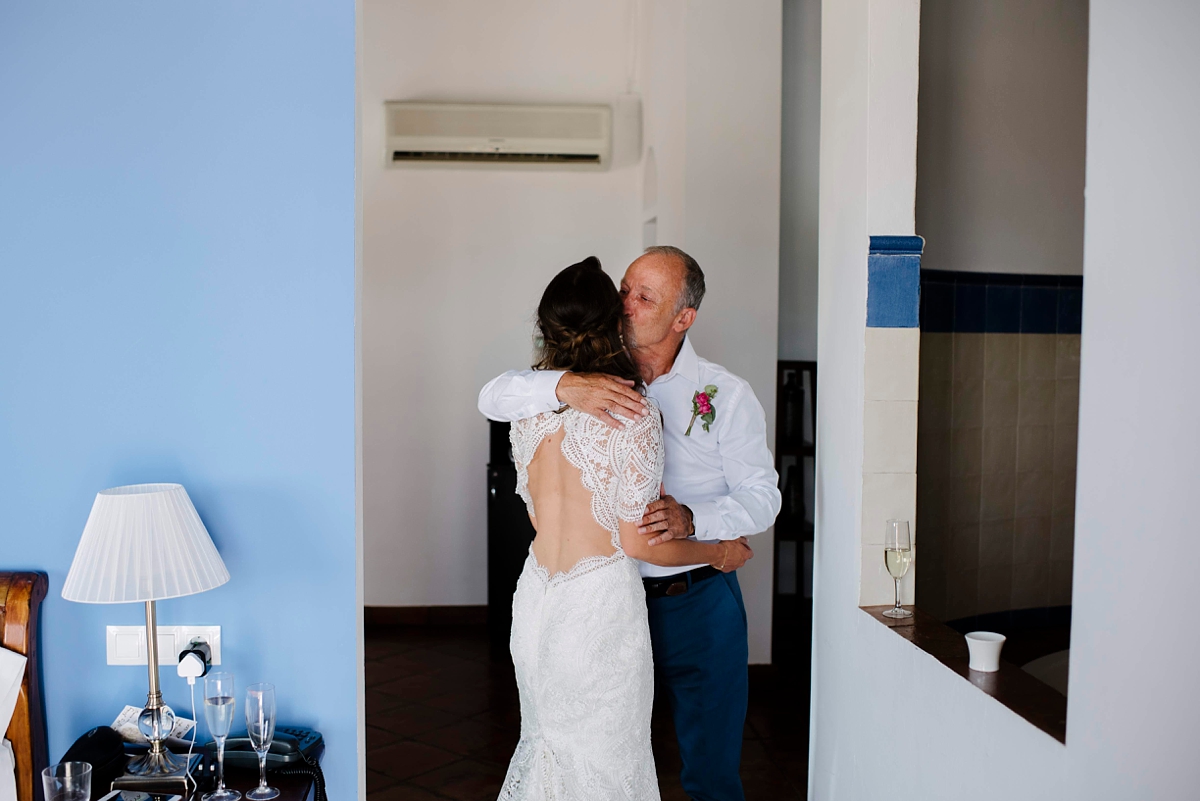 "I am short and petite so needed a dress that didn't have too much material and didn't 'wear me'. Basically I knew I wasn't looking for a classic, pouffy meringue dress. I also needed to take into consideration that I was getting marred in mid-summer in Spain, so it needed to be light and not too covered-up."
"My normal clothing style is quite floaty, feminine and boho and I wanted my wedding dress to not stray too far from my personal style. I also wanted my dress to match the boho, Spanish wedding theme we had gone for. I tried on approximately five dresses in Bridal Indulgence all by the designer Watters and found it really hard to choose as I liked them all! I loved the Cybele Lace and modern feel of the 'Anastasia' dress with its open back and eyelash lace edging. It also had a beautiful, scalloped lace train which added a 'Spanishy' feel to it."
"Originally the design was with long lace sleeves. However bearing in mind the fact that it was pretty much guaranteed to be over 30 degrees in Spain, the lovely seamstress Linda created a shorter, more floaty style sleeve. The end result was a really unique and pretty dress that I was so excited to wear on my wedding day."
The bride chose super-funky Carvela Gigi heels in pink velvet and simple accessories kept the overall look summery. Elle wore just drop earrings from Oliver Bonas and an Astley Clarke bracelet. Her hair was in a plaited, boho half-up and half-down style and make-up was fresh and pretty, with a deep pink lipstick for a pop of summer colour.
"I had the lovely Louise Hill who is based in Marbella, Spain. She understood the fresh, sun-kissed and boho look I was going for and used her airbrush technique to transform us into wedding-ready ladies. I also wore a fresh flower hair piece by Susana Sanchez."
Lovelies, are you considering having bridesmaids in all-white outfits? The look is so fresh and modern, and I love the eclectic feel of the gowns and jumpsuits which these girls chose. Don't they make such a statement with their bright bouquets by florist Susana Sanchez?
"I decided to have a modern take on bridesmaid dresses and let them choose their own outfits. We went with a fresh white, boho theme so that they complemented the bright pinks, whites and Moroccan blue colour palette of our wedding."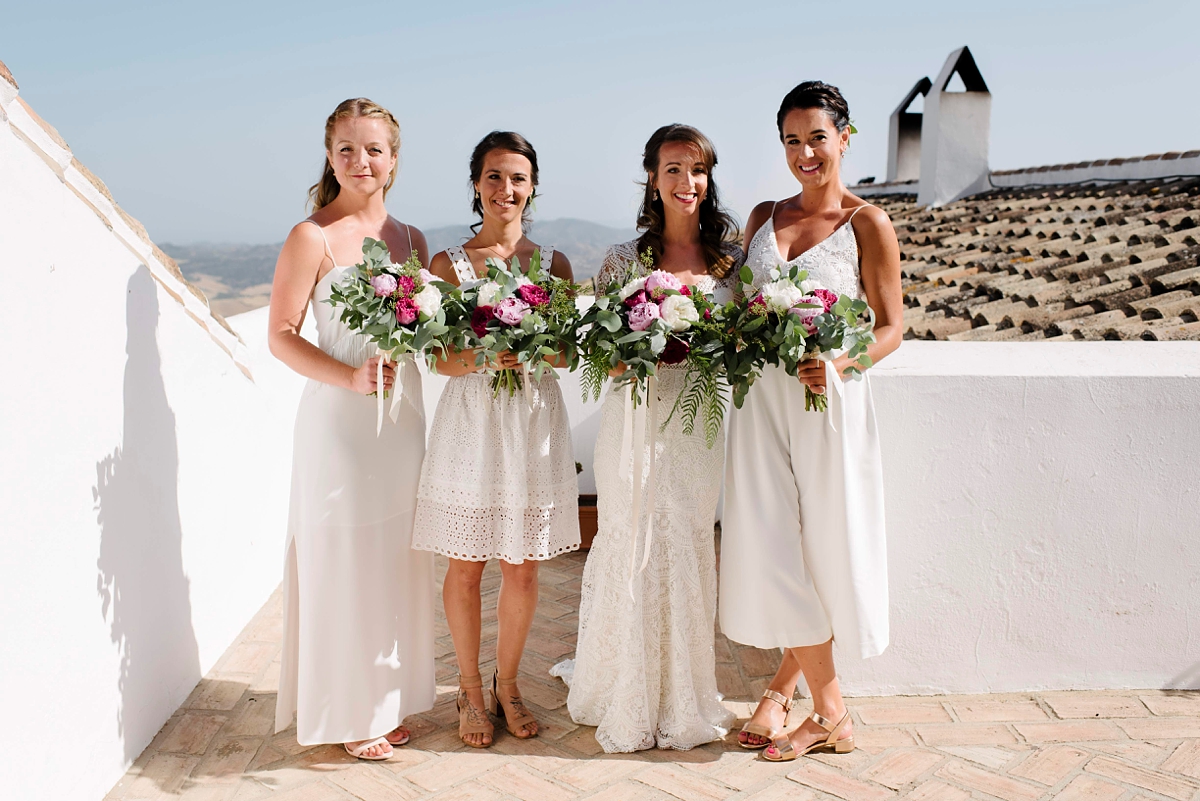 As the Spanish sunshine meant that a daytime wedding would have been unbearably hot, the couple married in the evening giving the entire party time to relax and enjoy their surroundings.
"I loved the fact that we had an evening wedding which went on late into the night – mainly because it's too hot in Spain to start your outdoor wedding at lunchtime!. This meant we had the whole daytime to ourselves with a yoga class, private brunch on our balcony and pool time before we had to start getting ready."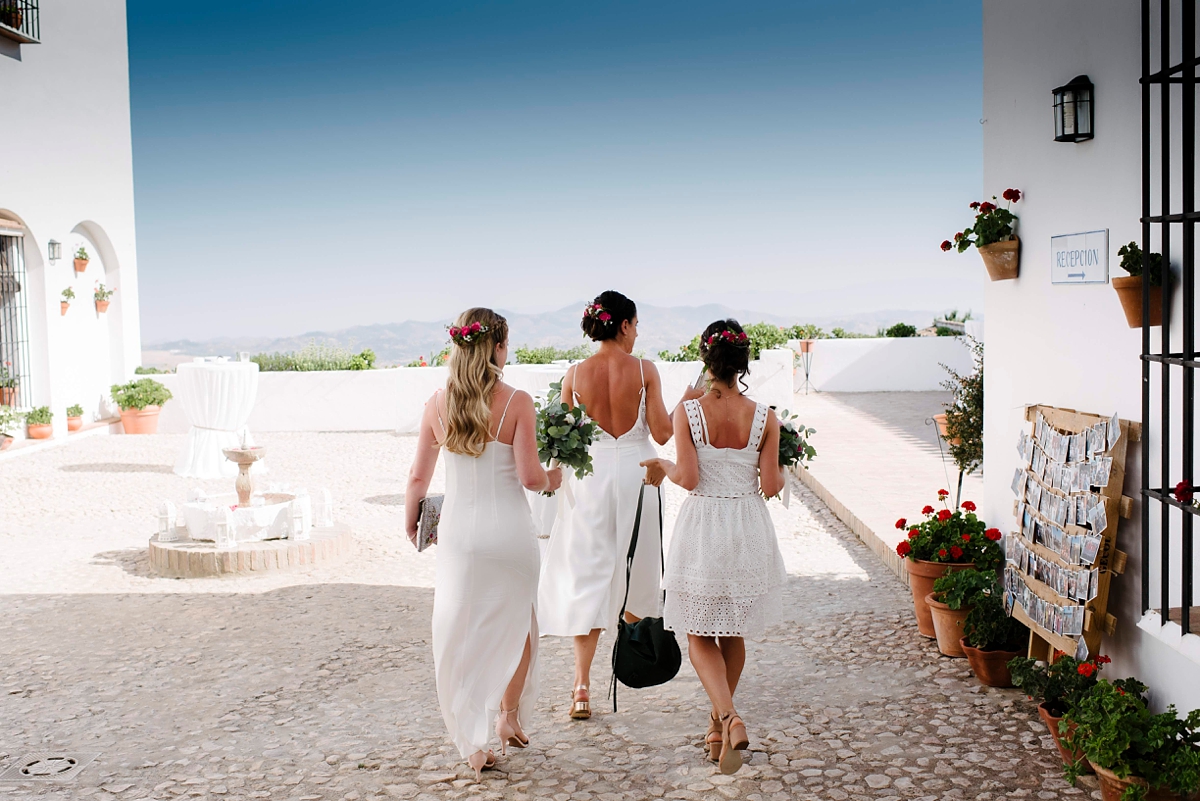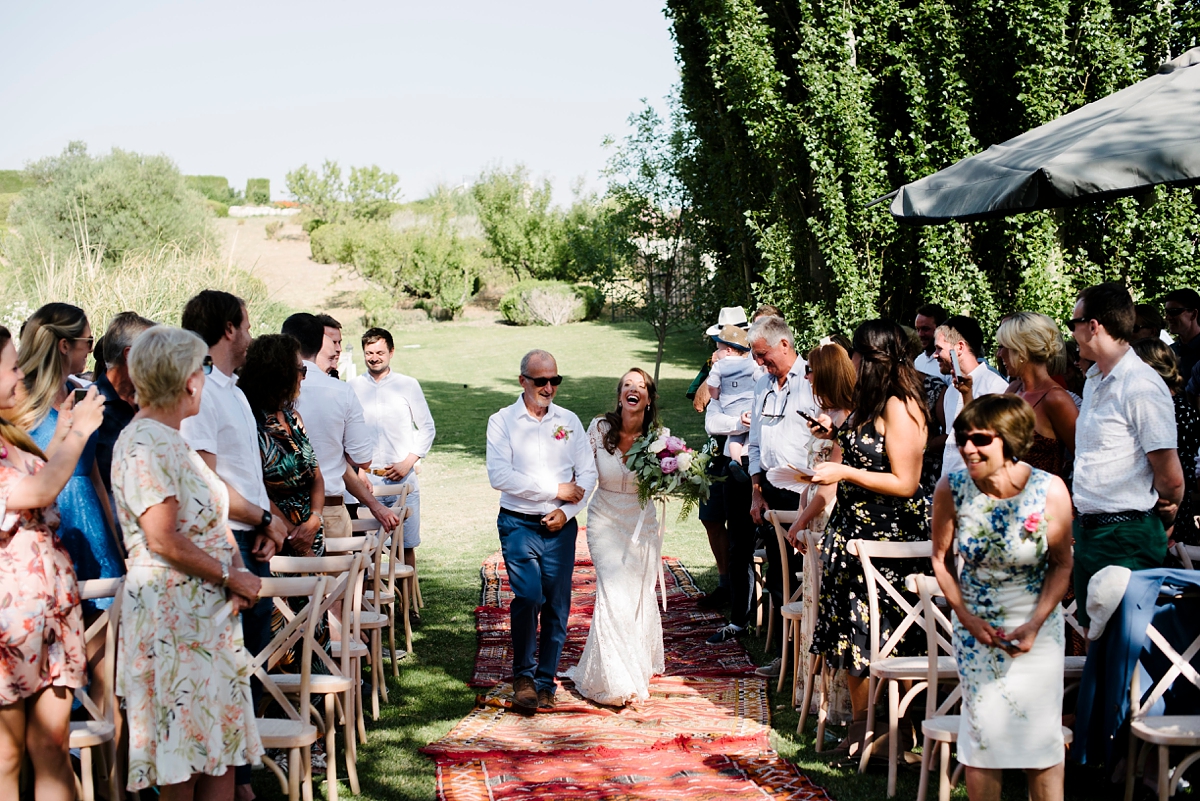 "I really love flowers and wanted a statement bouquet that matched the rustic, boho theme. I went for lots of green foliage, an organic teardrop shape and pink and white peonies. The bridesmaids had complementing bouquets and we also had individual stem flowers in vintage pink and gold vases on the banquet tables. Susana also created beautiful fresh flower hairpieces to fix at the back of our hair, as an alternative to flower crowns."

 
"I chose Susana because I wanted a florist who had a boho and natural style (nothing too structured or 'fake-looking'). I found her online (she is locally based in Fuengirola) and contacted her directly."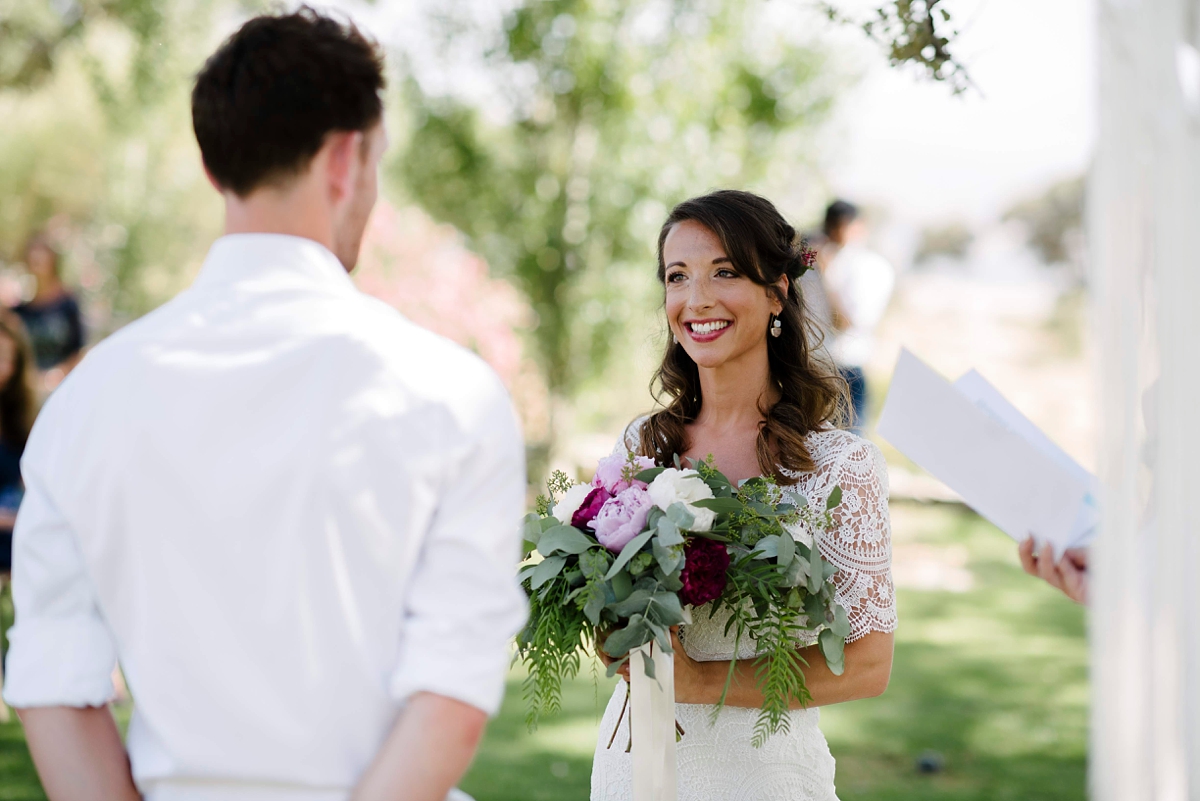 Just as the bridal party channelled a relaxed, summery feel, the groom and his best men did too. Nick chose an open-necked white shirt from T.M.Lewin paired with casual blue Hawes & Curtis chinos and leather deck shoes from Crew Clothing Company. His bright pink buttonhole added a splash of colour. The groom's party wore similar white shirts and buttonholes, but with relaxed blue shorts and deck shoes.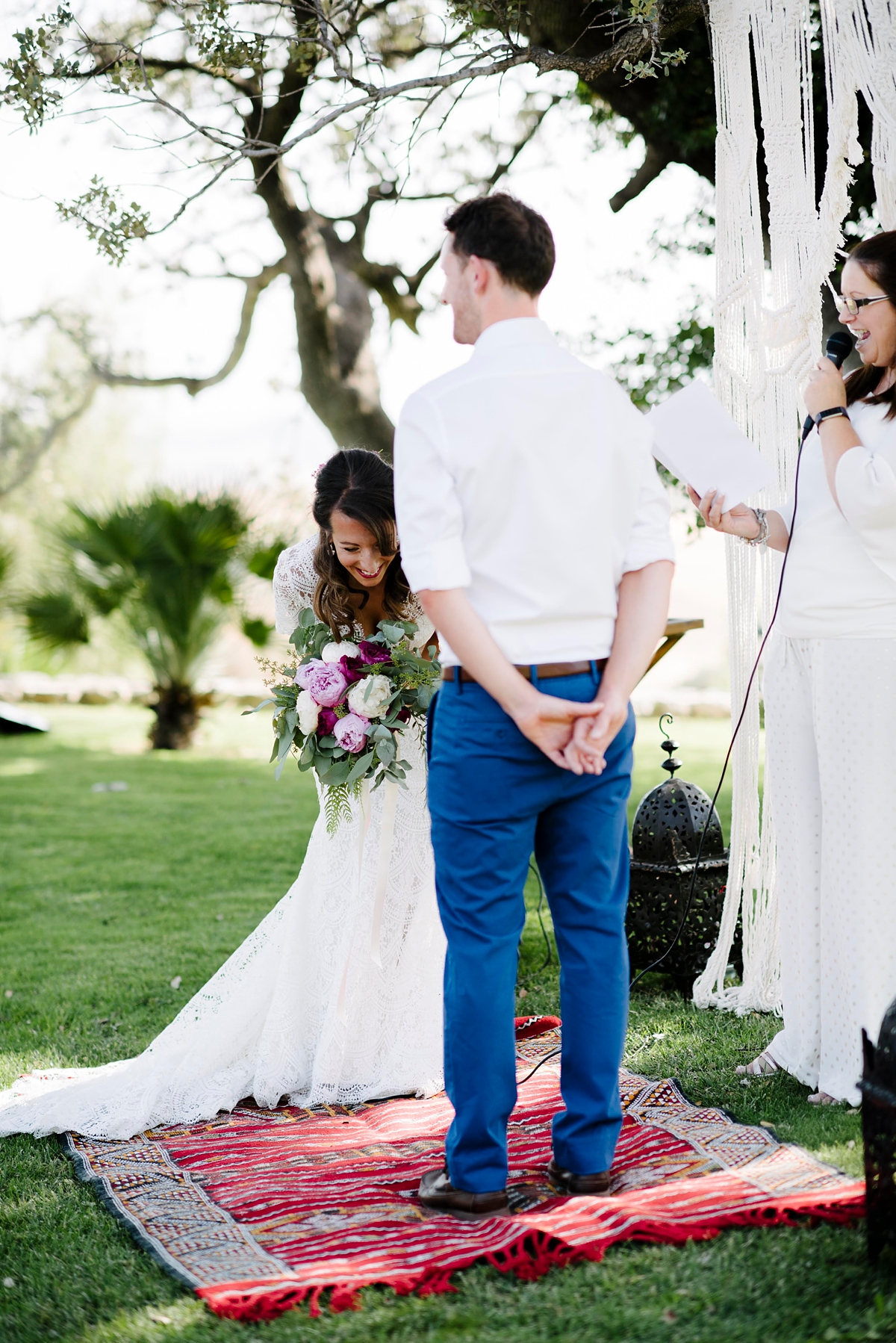 The wedding ceremony was held outdoors beneath a leafy tree in the hotel's lush gardens. The boho look was created with simple wooden chairs, Antique Moroccan rugs forming the aisle and a bespoke macramé ceremony arch featuring 'E & N' crafted by De L'Audace. Elle and her father walked down the aisle towards Nick together as 'Here Comes the Sun' by The Beatles was played. The ceremony was performed by Gayle Armitage from Malaga Minister.
"Gayle Armitage was our lovely celebrant and Natasha Johnson, the owner of Malaga Minister, was also involved and helped us create our beautiful informal, outdoor ceremony."
The blessing ceremony included readings chosen by the bride and groom, as well as a Spanish wine ceremony.
"We are not religious but we still wanted to have a substantial, meaningful ceremony that our guests could enjoy and feel engaged with. It was important to us that the ceremony felt relaxed so we held it under the large tree in the gardens of our venue. Having a blessing ceremony with Malaga Ministers meant we could really tailor the content to exactly what we wanted to reflect us as a couple. We personalised our vows, had a Spanish wine ceremony and also had a ring blessing where our wedding rings were passed around the guests in a box for them to give us their happy wishes before we did our vows."
"We wanted to have readings that reflected our personalities and weren't the generic ones you commonly hear at weddings. We loved our selection: 'Our Journey' by Clive Blake read by one of my best friends Heather Lawrence, 'I Carry Your Heart With Me' by E. E. Cummings read by Nick's sister Rachel Wright and 'I Wanna Be Yours' by Jon Cooper Clarke read by my twin sister Bryony."
Both Elle's engagement and wedding rings were bespoke pieces from North London jeweller Tomfoolery whilst Nick's hammered silver ring was from Firewhite.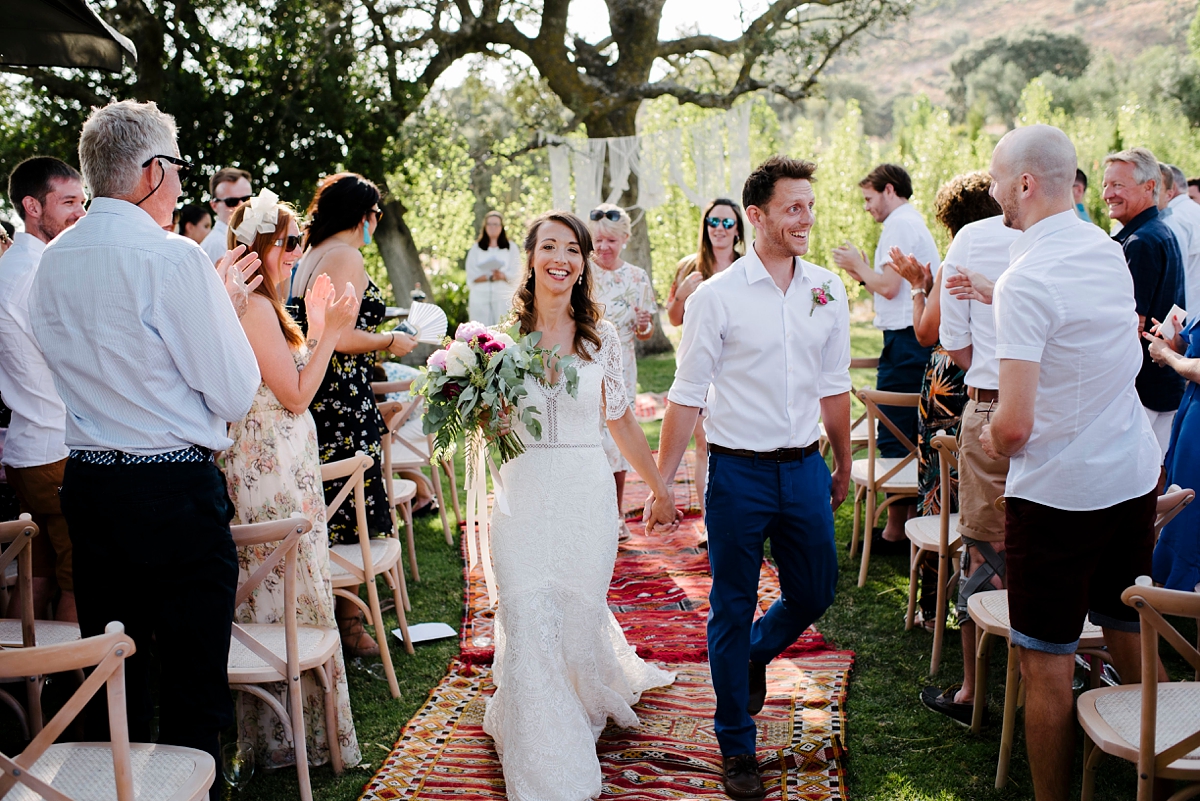 Photographer Pedro Bellido was commissioned to capture the day on camera, and I love his relaxed, documentary style. His landscape photographs are so beautiful, as are those of the newly-weds taking some time to themselves in the evening.
"A friendly, professional and discreet photographer with a contemporary, documentary style – perfect for our big day. His English was also very good which helped a lot."
After the ceremony it was time for some fun wedding photos and chatting whilst welcome cocktails were served.
The wedding breakfast was a gorgeous al fresco affair which was catered for by the hotel team. Don't the long trestle tables look beautiful? They were decked with vintage vases full of pink flowers and gold tealight holders, Spanish-style table runners in blue and white and mini bottles of olive oil for favours. The gift tags and vivid blue table tiles were designed by Aimée Parker.
"We provided mini bottles of olive oil made on site at Hotel Fuente del Sol."
"I loved our unique and relaxed outdoor ceremony and our long, lingering alfresco dinner which we punctuated with the speeches."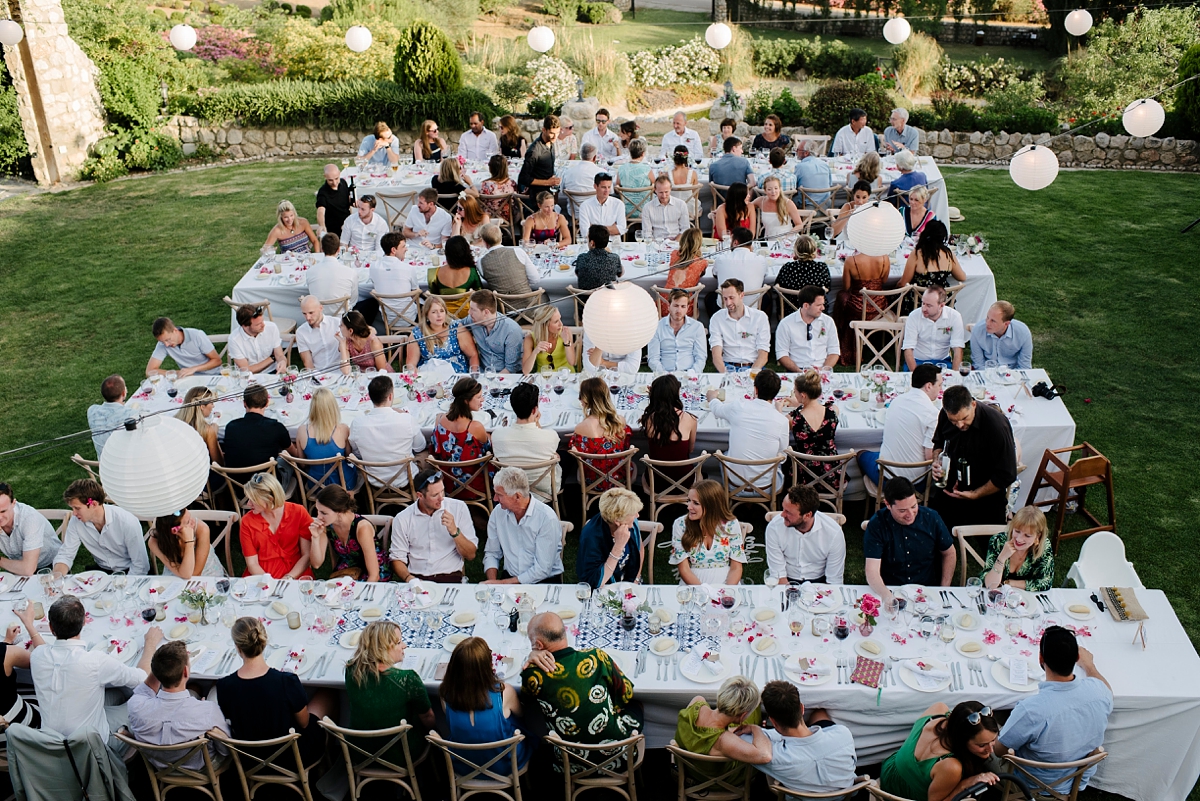 Live music came from local Spanish band Miss Gin who started the dancing by learning the couple's first dance song, 'When The Night Feels My Song' by Bedouin Soundclash.
"We danced under the stars and supplied outdoor sparklers for guests to wave."
"They played a mix of retro classics and modern faves. So many of our guests said that they were one of the highlights and they definitely got the party started."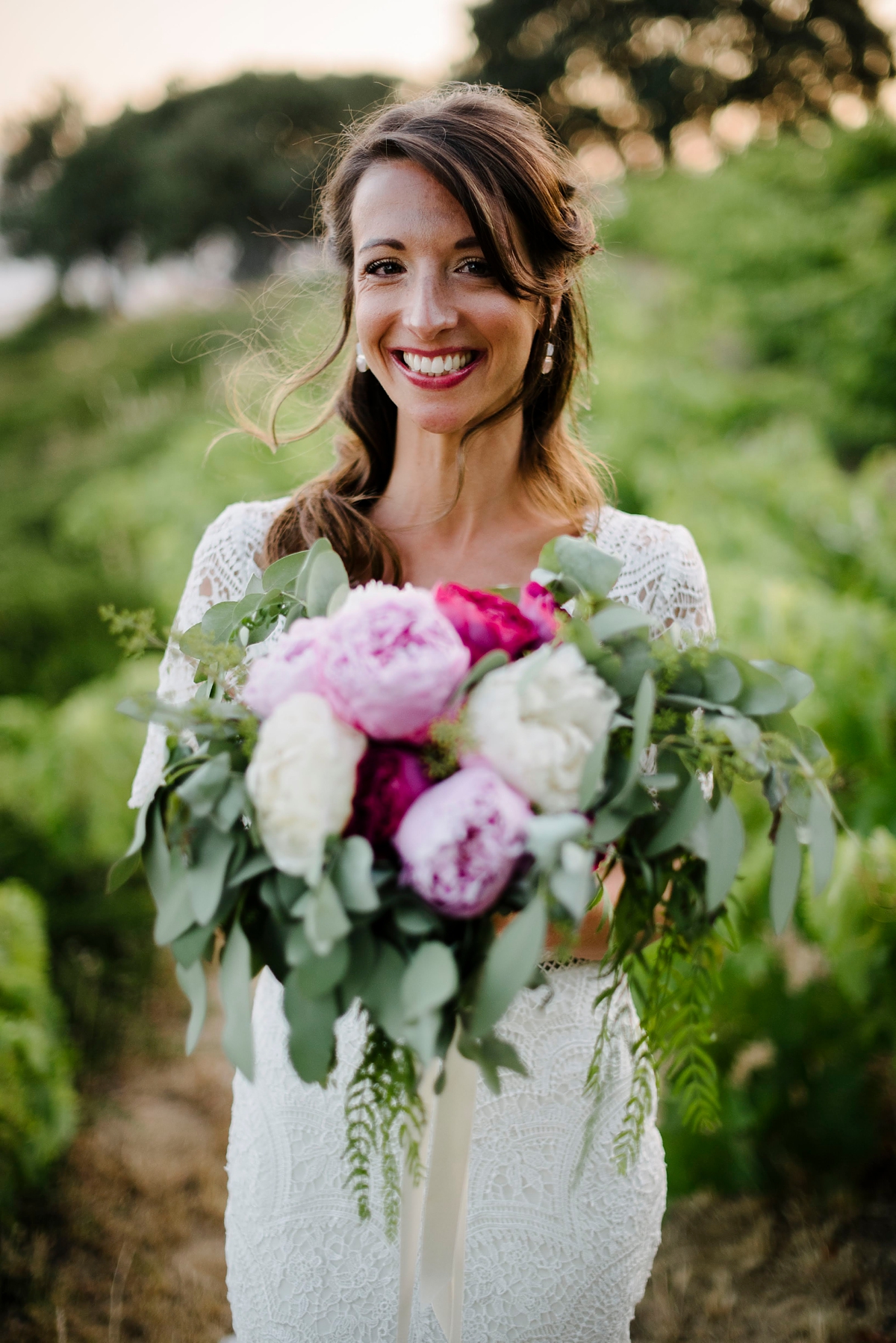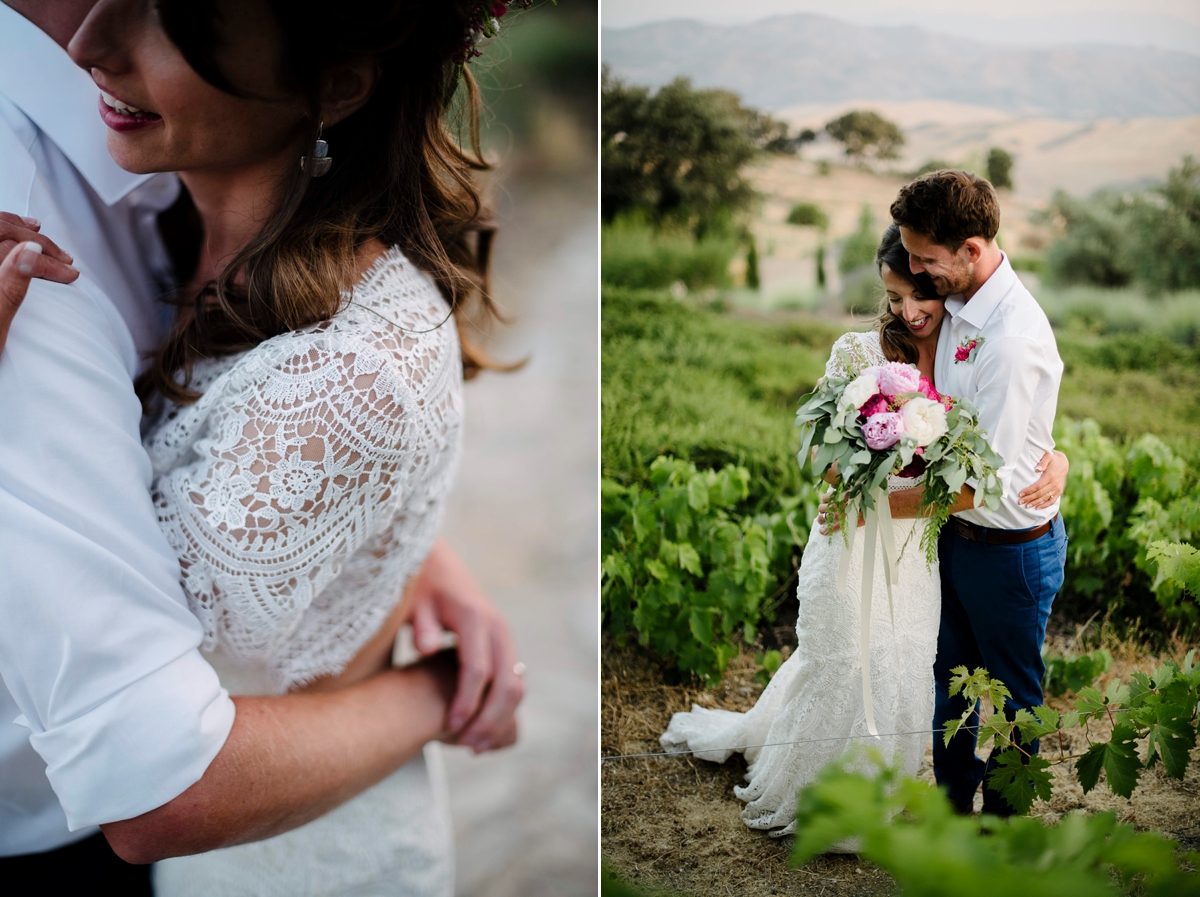 Elle and Nick created a chill-out zone for their guests using lanterns, rugs and seating. However, it proved difficult to lure the guests away from the dancing to enjoy it.
"The only thing I wish we hadn't done was spend money on a 'chill out area'. We thought guests would use it after dinner but because of the layout of our venue, it was forgotten about. Really think about if you need specific décor/props before you throw money at them."
Words of Wedded Wisdom
"Make sure you personalise your wedding and add touches that say who you are as a couple. Guests really notice and appreciate this and it makes your wedding stand out amongst the rest."  
"Include some sort of live music if you can, as it really helps create a fun atmosphere and gets the party started."
"If you are getting things designed/printed for your wedding such as welcome signs and seating plans make sure you do this as far in advance as possible. I thought I had loads of time but ended up running out of time in the run-up to the wedding and had to fly out to Spain without having printed everything we wanted."
"Having a destination wedding means that the focus isn't all on one day as it's likely guests are going to spend a few days in the destination. We spread it out over a long weekend by hosting a tapas welcome party the day before and a poolside BBQ the day after. This meant we could make sure we properly interacted with all our guests and it was a more relaxed atmosphere."
Well lovelies, has this inspired you to hold your own celebrations al fresco? I hope that Elle and Nick's day has provided plenty of ideas for any of you who are planning a destination wedding; I'm sure that these words of wisdom will be so useful for you too. Elle and Nick, thank you from the bottom of my heart for sharing your day with us. I adore your floaty, boho dress – so, so dreamy. Many thanks of course to Pedro Bellido too for these divine photographs.
For more destination wedding joy, be sure to head here and enjoy these weddings.
Ele xx