Well lovelies, I have had some very exciting news. I'm returning to Italy later this spring to teach Pilates in beautiful Tuscany and Puglia. To prepare, I've been taking weekly Italian lessons and today's wedding is getting me even more into the Italian vibe.
We want to give a little shout out to our wedding directory members, Blessings From Italy, who officiated this ceremony.
We're heading to Siena in Tuscany for the outdoor celebration of Lisa and Niklas. Pour yourself a cup of coffee (or a glass of limoncello) and settle in for these utterly dreamy images. The bride and groom are Swedish couple Lisa, an interior designer and Niklas, a security specialist. The couple went with a 'more is more' approach for their elegant and personal garden ceremony on 18 August 2018 at Villa Catignano, Siena, Tuscany.
Photography Jules Bower Photography
The bride's design skills came to the fore as she planned a day with an abundance of florals and exquisite Italian rustic detail combined with sophisticated touches. The villa was a wonderful location for the newly-weds and their 75 guests to relax and enjoy far-reaching views, the Italian sun and gorgeously fresh food and wine.
"My professional photographer Jules Bower and wedding planner Sabrina Carbone are a husband and wife team. They proposed two gorgeous venues to spread the festivities over the entire wedding weekend. The welcome dinner was held at Villa di Geggiano the evening before and we celebrated our wedding day at the nearby Villa Catignano."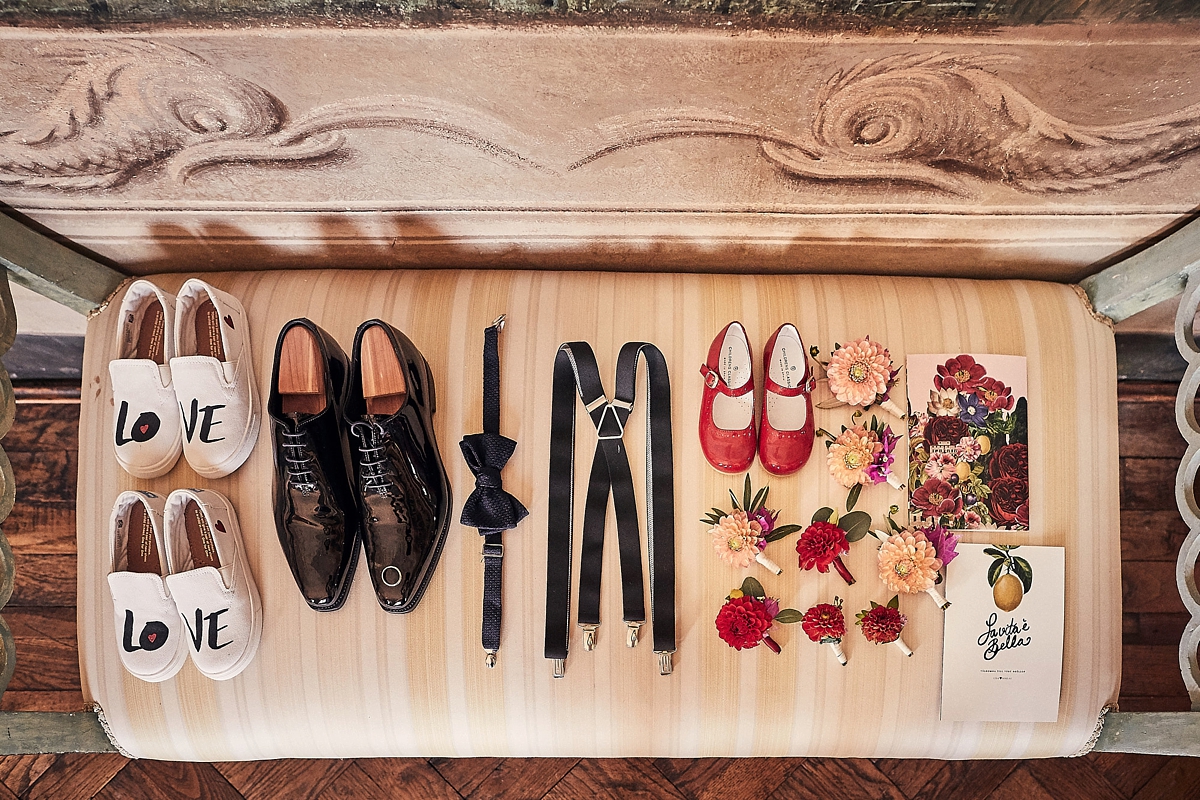 "Villa Catignano was perfect as a second venue for the wedding day and reception. We envisaged a Dolce & Gabbana-inspired theme featuring rustic elements and vibrant colour. We longed for surroundings of stunning natural beauty, elegance and abundance in which family and friends could have fun and enjoy Italian views, food, wine and sunshine."
Lisa and Niklas fell in love twelve years ago and now have three children together, who you can see in all of these wonderful photographs.
"We have been a devoted couple since 2006 and are blessed with three beautiful children. These things felt like more of a commitment for us than a formal engagement but we felt ready to celebrate and share the love we have for each other with beloved friends and family in the country we adore the most."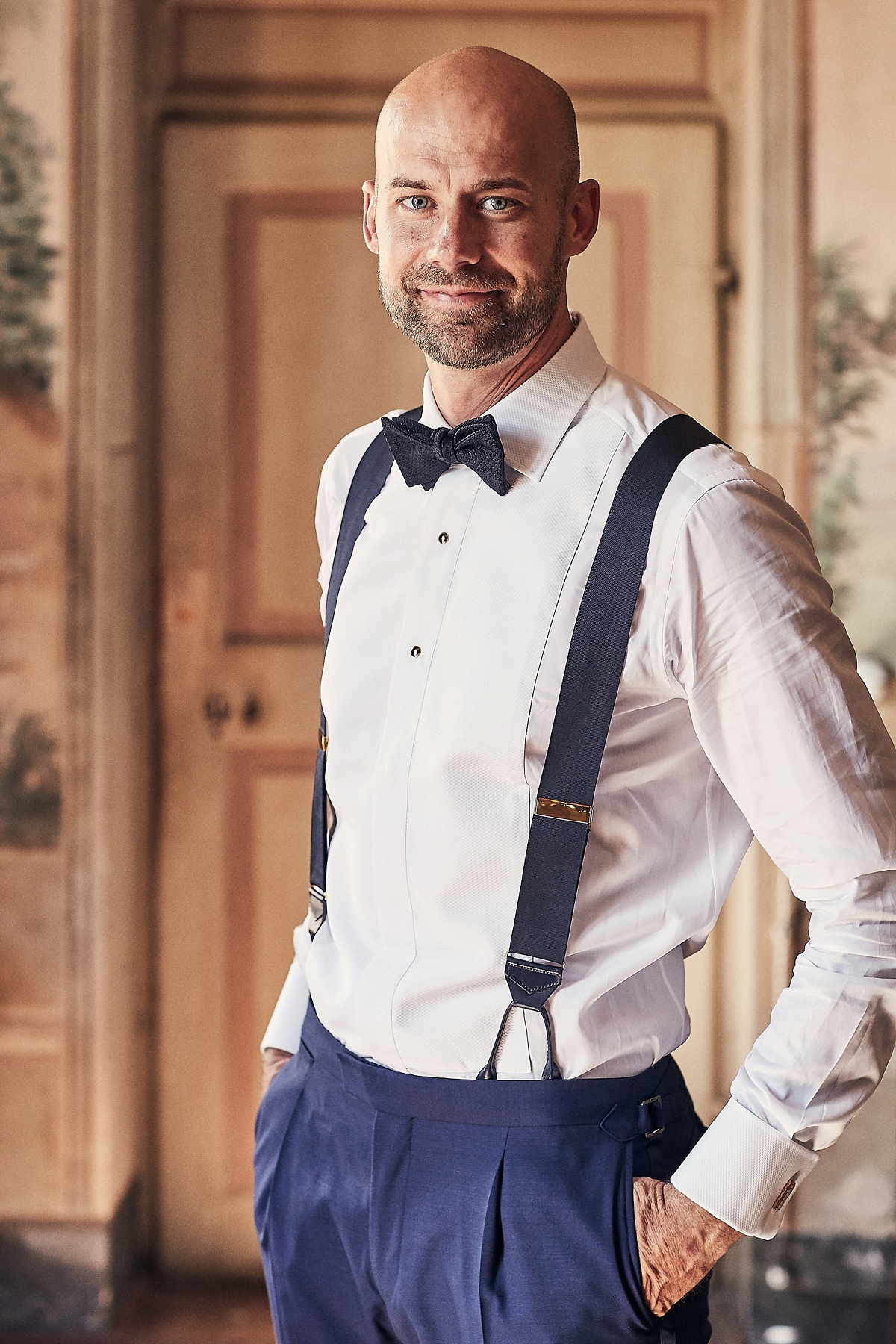 "We have known each other since we were  16 years old but it was not until we met in 2006 at a birthday party in our mid-twenties that we viewed each other in a different light. On one of our first dates Niklas introduced me to the Oscar-winning Italian film 'La Vita e' Bella'. We chose the signature tune for our Processional to represent our deep love and passion for Italy."
"Niklas proposed on 25 October in a hotel room in Stockholm while our children were sleeping. He organised room service to bring us a romantic meal during which he proposed on bent knee."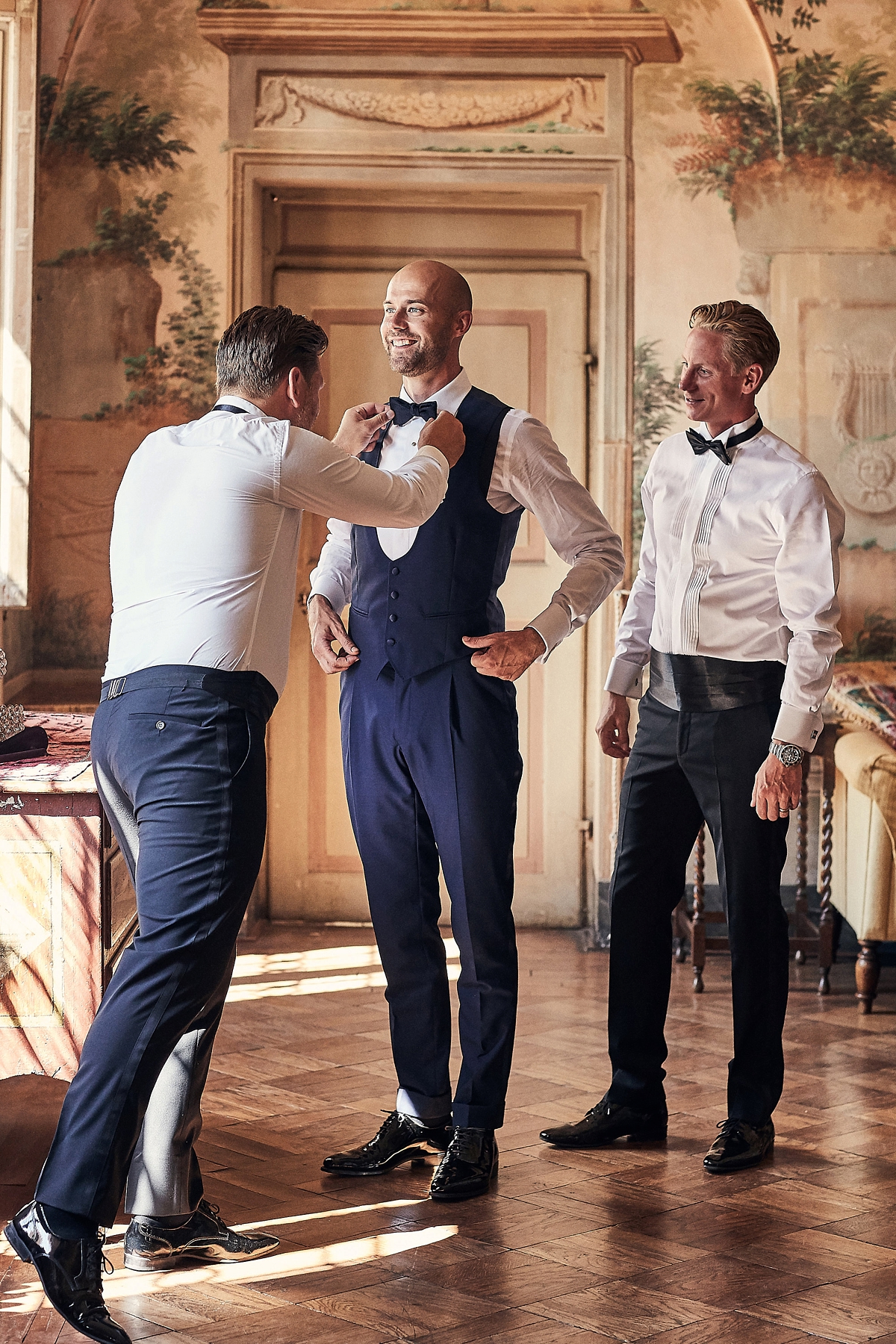 For the ceremony, Niklas wore a sharply-cut, fitted blue tuxedo from Rose & Born. The couple's two sons and daughter were dressed in gorgeous outfits chosen especially for the wedding – just look at these wonderful shoes.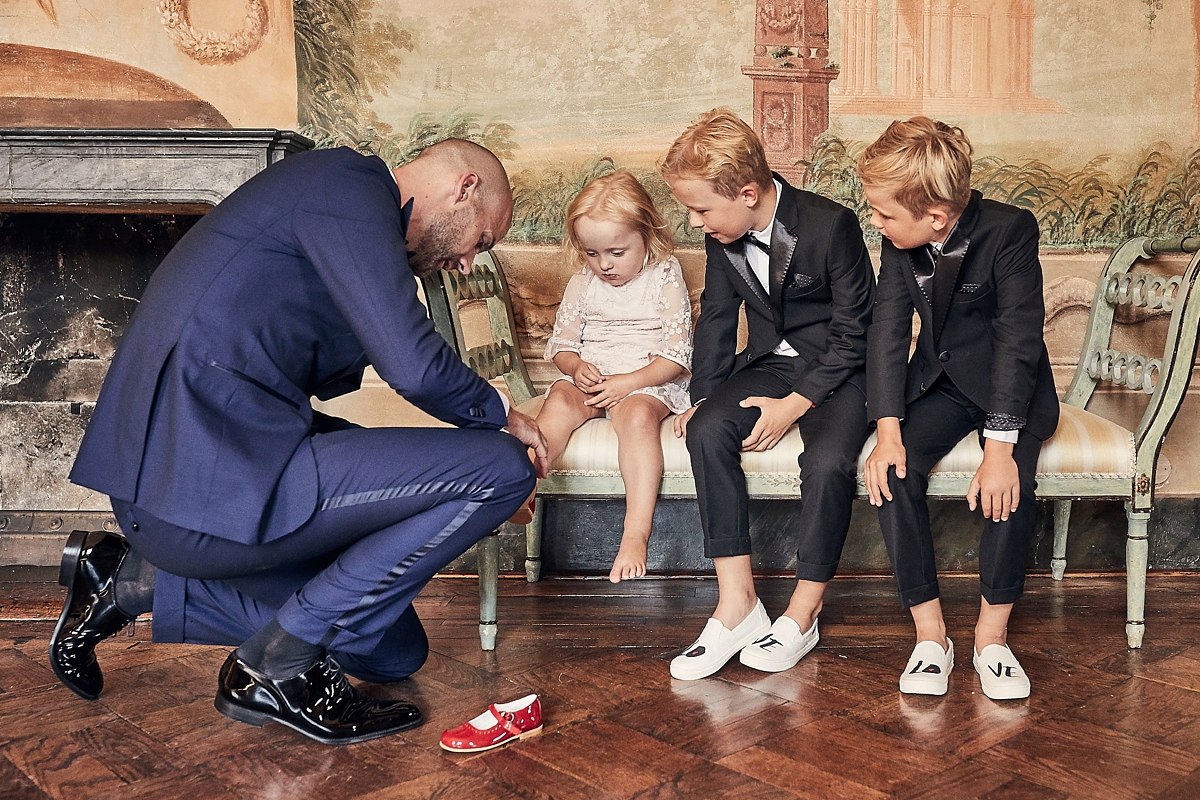 "They each wore special clothes personally selected by me. The boys were both dressed in a tuxedo and their shoes had the word 'LOVE' on them. My daughter wore a pale pink dress with red shoes. She was supposed to wear a red floral crown but that didn't go down too well… and so in the end she accepted to wear a red bow just before walking down the aisle."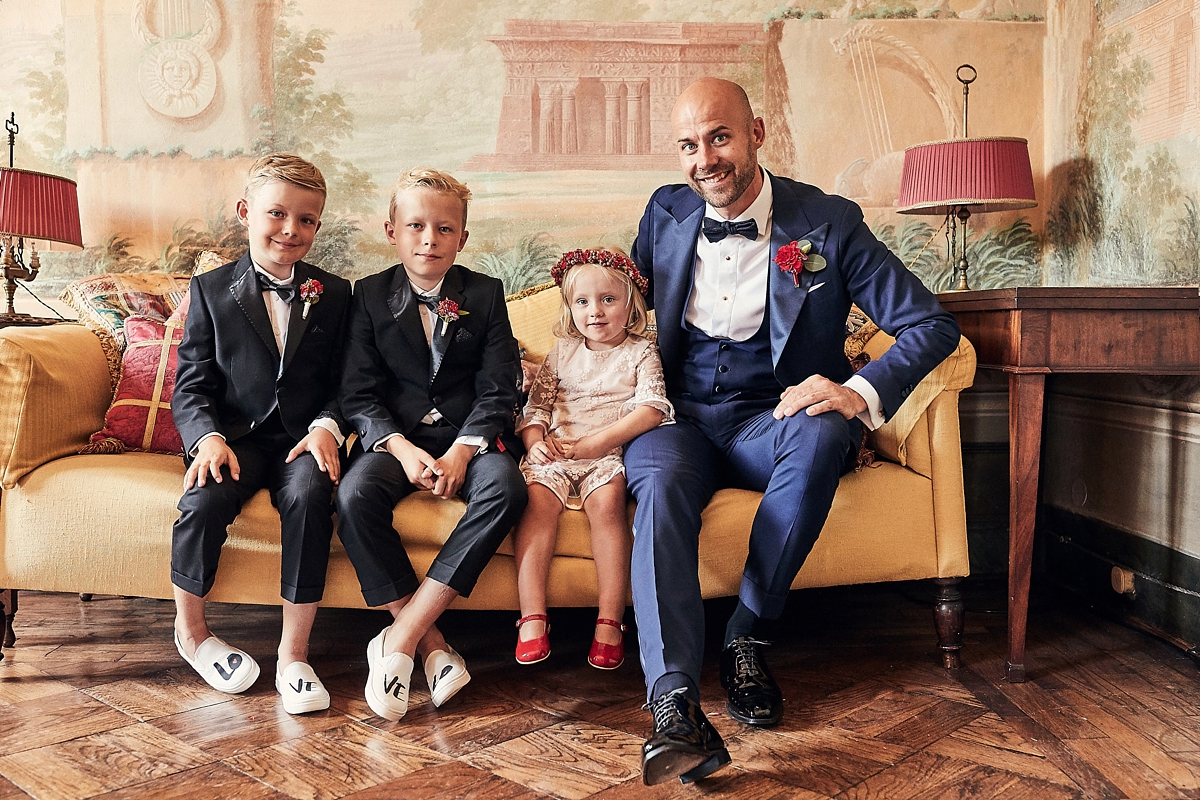 "I prepared to be a bride at Villa di Geggiano because we loved its historic charm and elegance."
"We also wanted a contrast to the wedding day itself and decided to be photographed in the many beautiful frescoed rooms and charming grounds."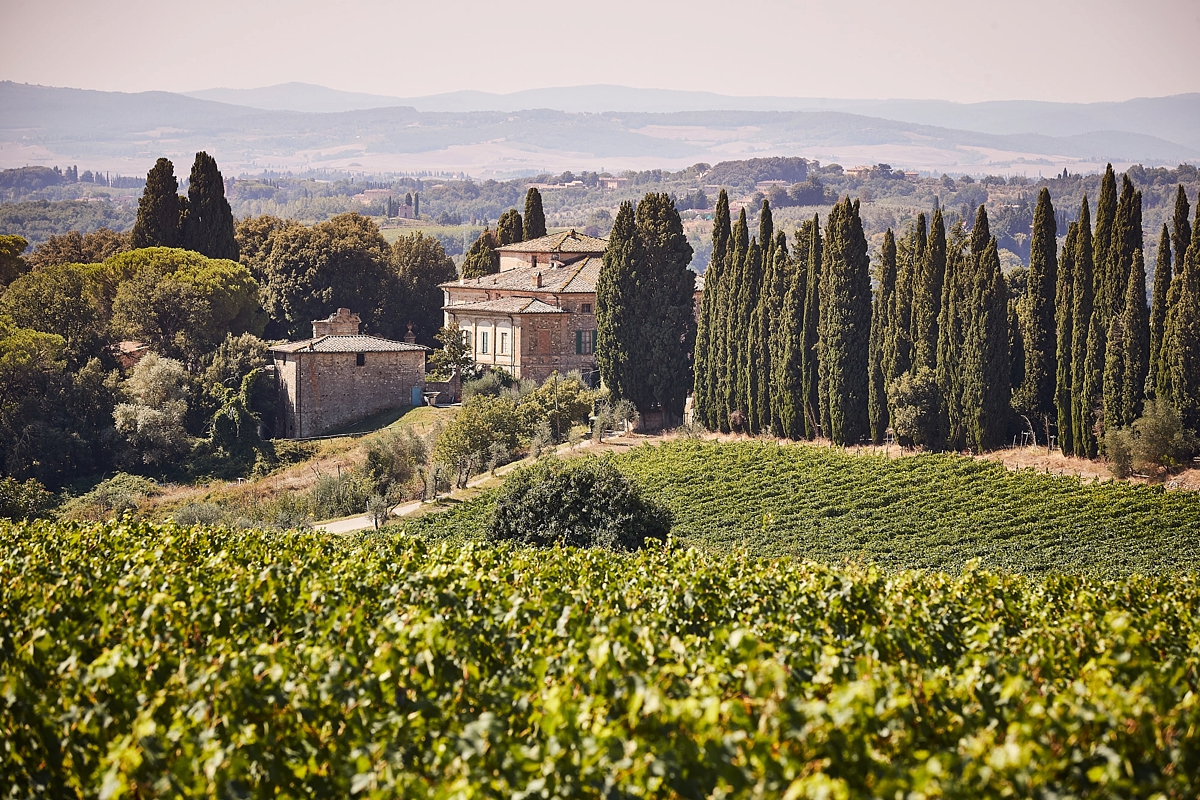 The wedding was put together with a team of suppliers based in Italy.
"We really wanted our wedding to be inviting, romantic, personal and magical. We are so grateful to have had the assistance and creative input of such an extraordinary team of people. Everyone was exceptional – from the wedding planner, photographer, our two premier celebrants, florist, musicians, catering, stylist and videographer… and of course both our exceptional venues, Villa Catignano and Villa di Geggiano."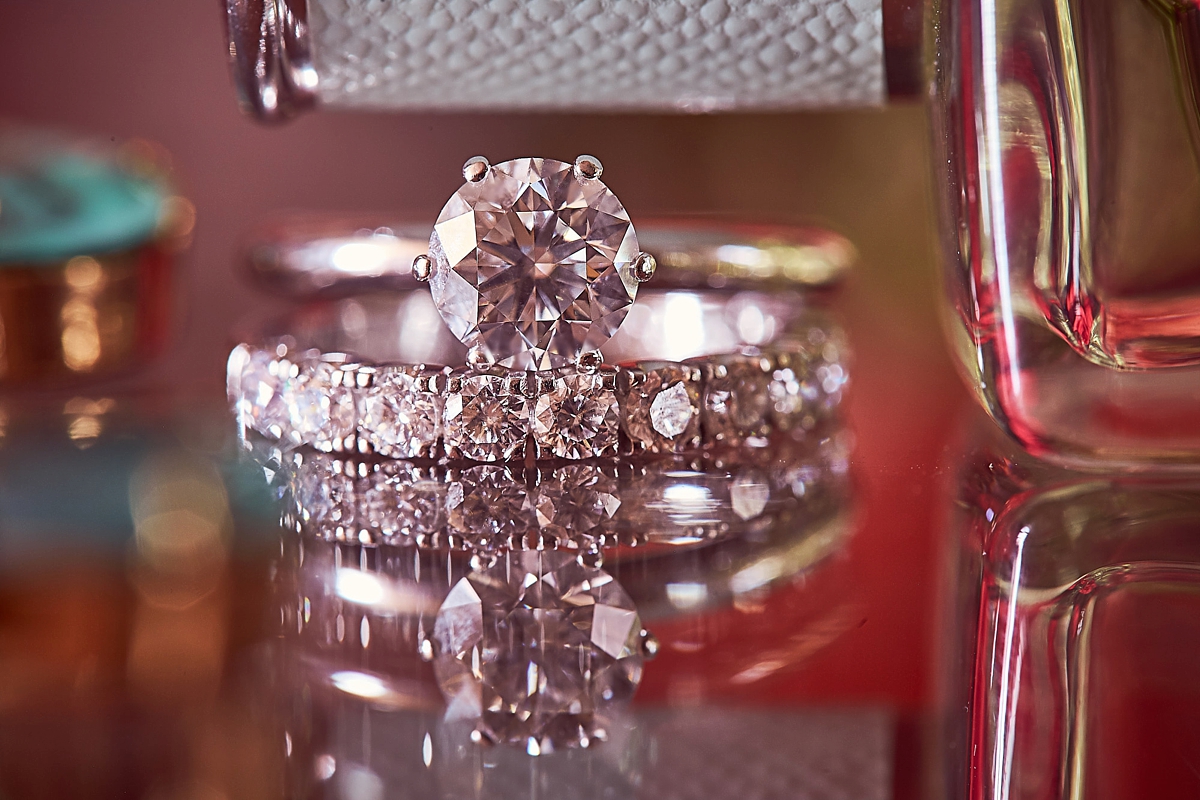 "The vendors suggested by my planner were enthusiastic and delighted to work together as a team for my wedding. During my individual meetings I could clearly see their professionalism, enthusiasm and the high level of care they offered. I felt so reassured by Sabrina's hand-picked team and knew our wedding would be in capable hands."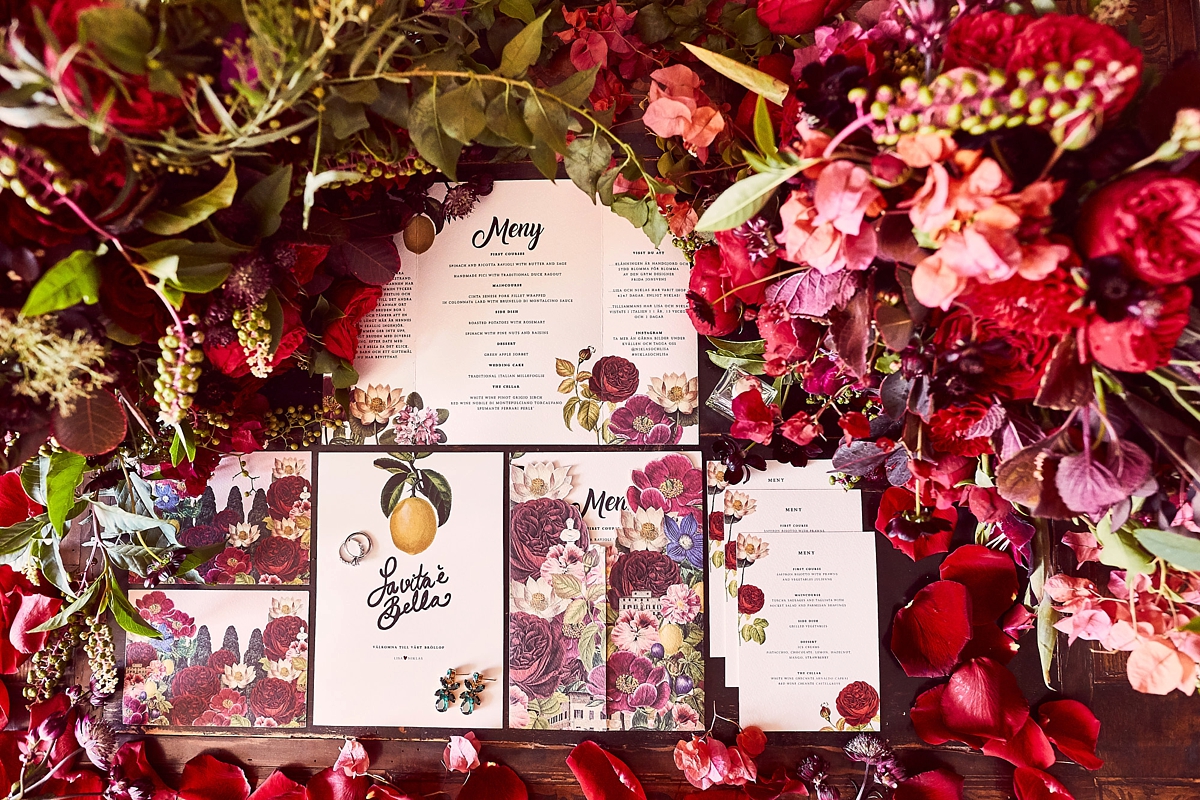 The wedding weekend began with a welcome dinner at Villa di Geggiano served al fresco on a long, long table strewn with red roses and candles. I love how romantic it looks as the sun went down. The vibe was casual and relaxed, and was a lovely opportunity for the guests to catch up with each other.
"It was amazing to feel the warmth of the Tuscan sun upon our skin and be surrounded by those we love, while being serenaded by Arias. My best friend Annie Fredriksson is an opera singer and performed at the magical pre-wedding dinner during which we were seated together with our 75 guests at one long exquisitely decorated table."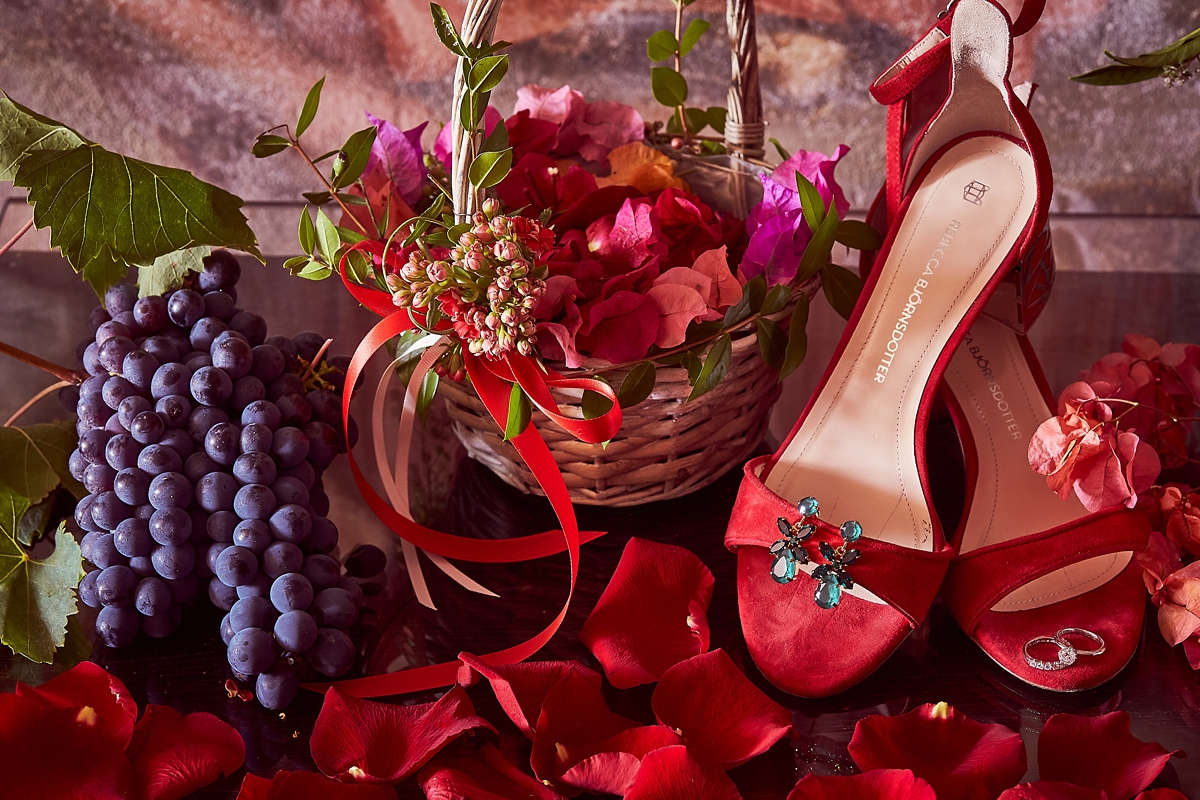 The next morning, Lisa got ready at Villa di Geggiano before making her way to Villa Catignano.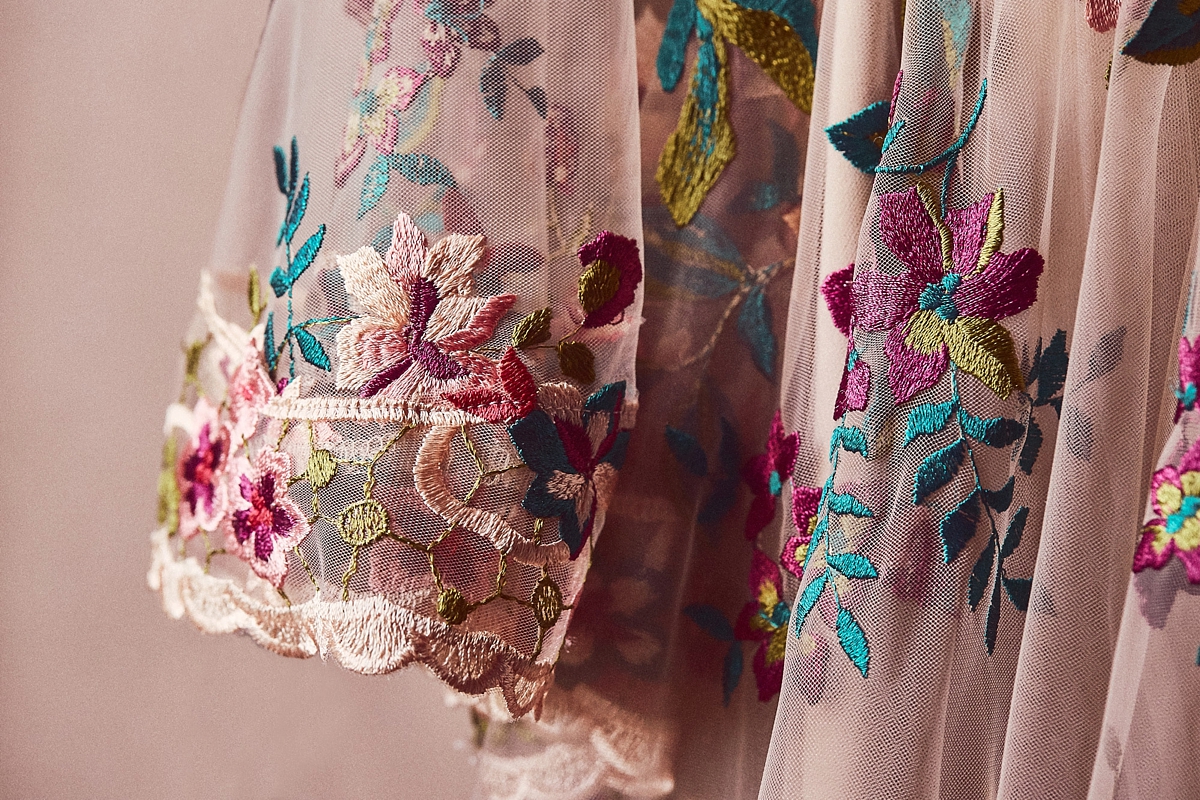 We have to talk about Lisa's incredible embroidered gown which features brightly-coloured, hand-embroidered flowers against a blush pink, fitted gown with draped sleeves. It was a bespoke, handmade piece by Swedish couture designer Frida Jonsvens.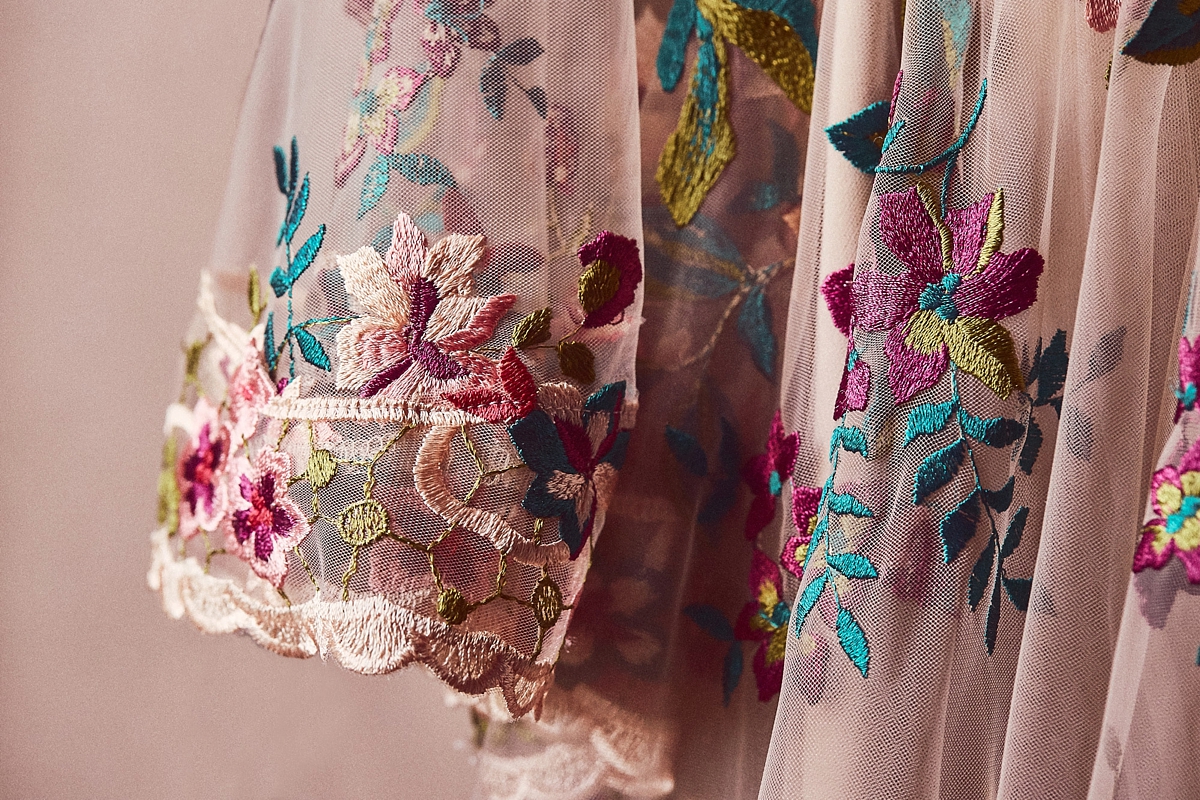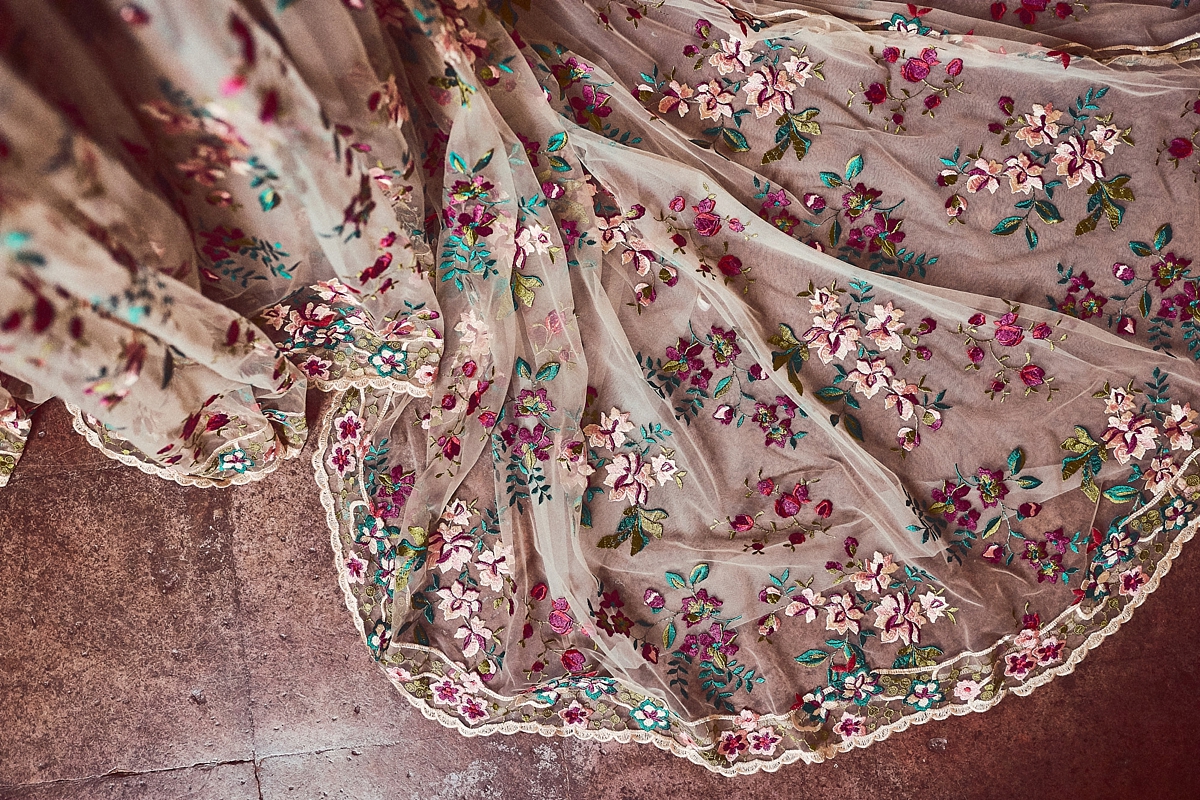 "When I first met the talented Frida Jonsvens I was immediately struck by the handmade fabric with all those amazing flowers and just fell in love! I felt like the dress had my name all over it and was destined to be mine."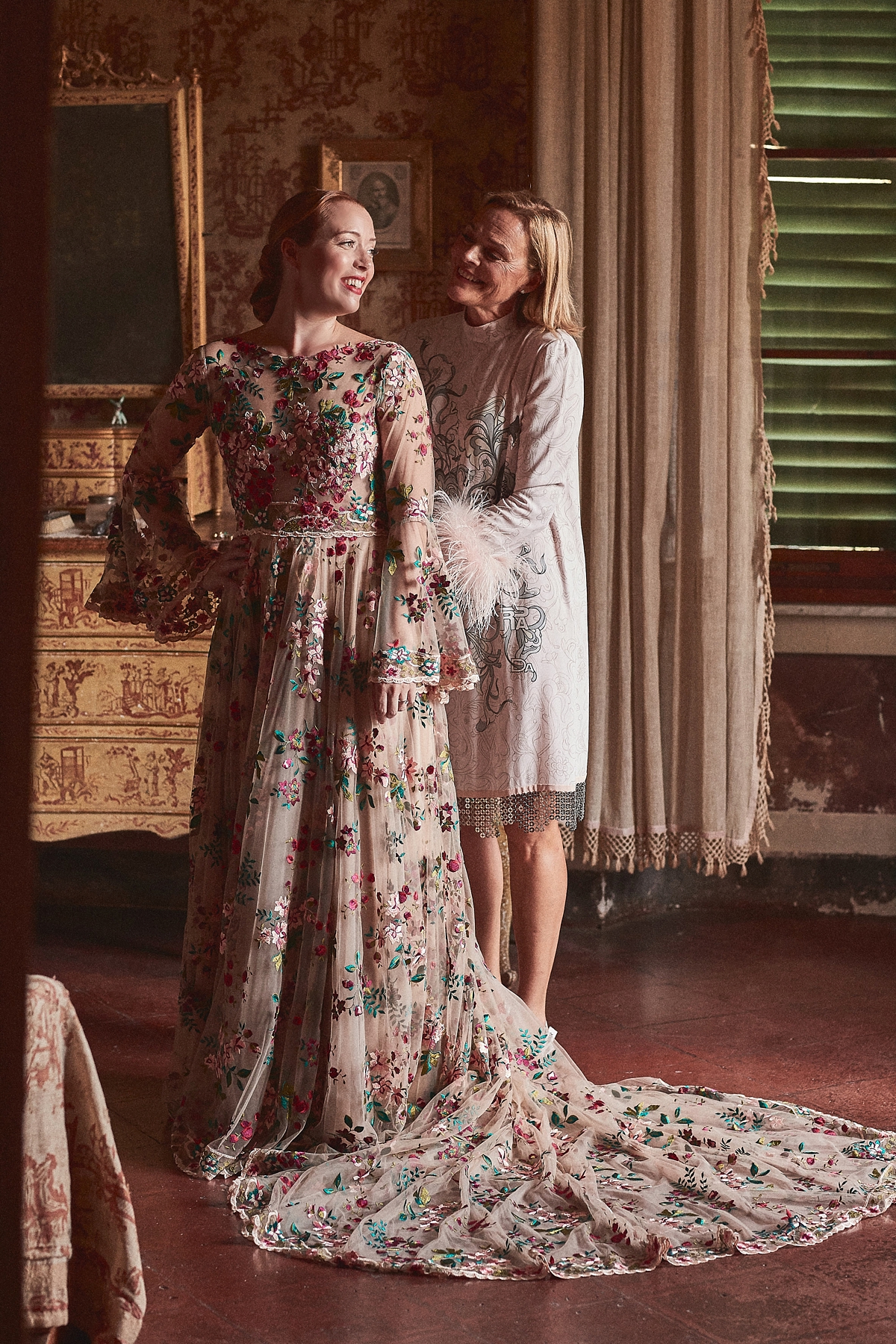 "Frida designed my dress and we worked together upon a 'more is more' theme. She skilfully hand-embroidered all the lovely floral detail on the bodice, arms and train. The back of the dress is stunning but my favourite part has to be the sleeves."
I love how this gown intertwines a summery bridal feel with a timeless vibe. To accentuate the gown without taking away from its beauty, her accessories were kept simple. Bright red chunky sandals from Swedish designer Rebecca Björnsdotter and green drop earrings by Caroline Svedbom were all that she added.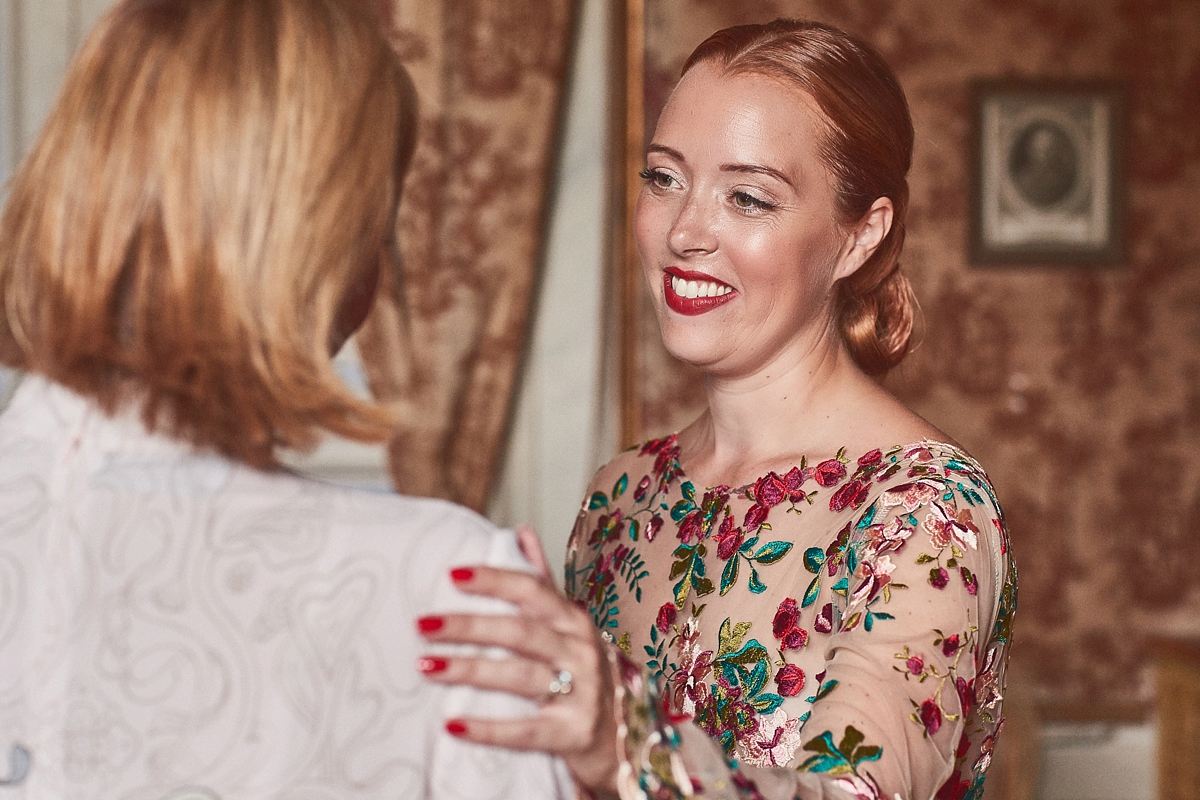 Lisa looks exquisite with her copper hair twisted up into a sophisticated chignon, with flawless makeup and a shocking red lip – all created by hair and make-up artist Daniela Delia.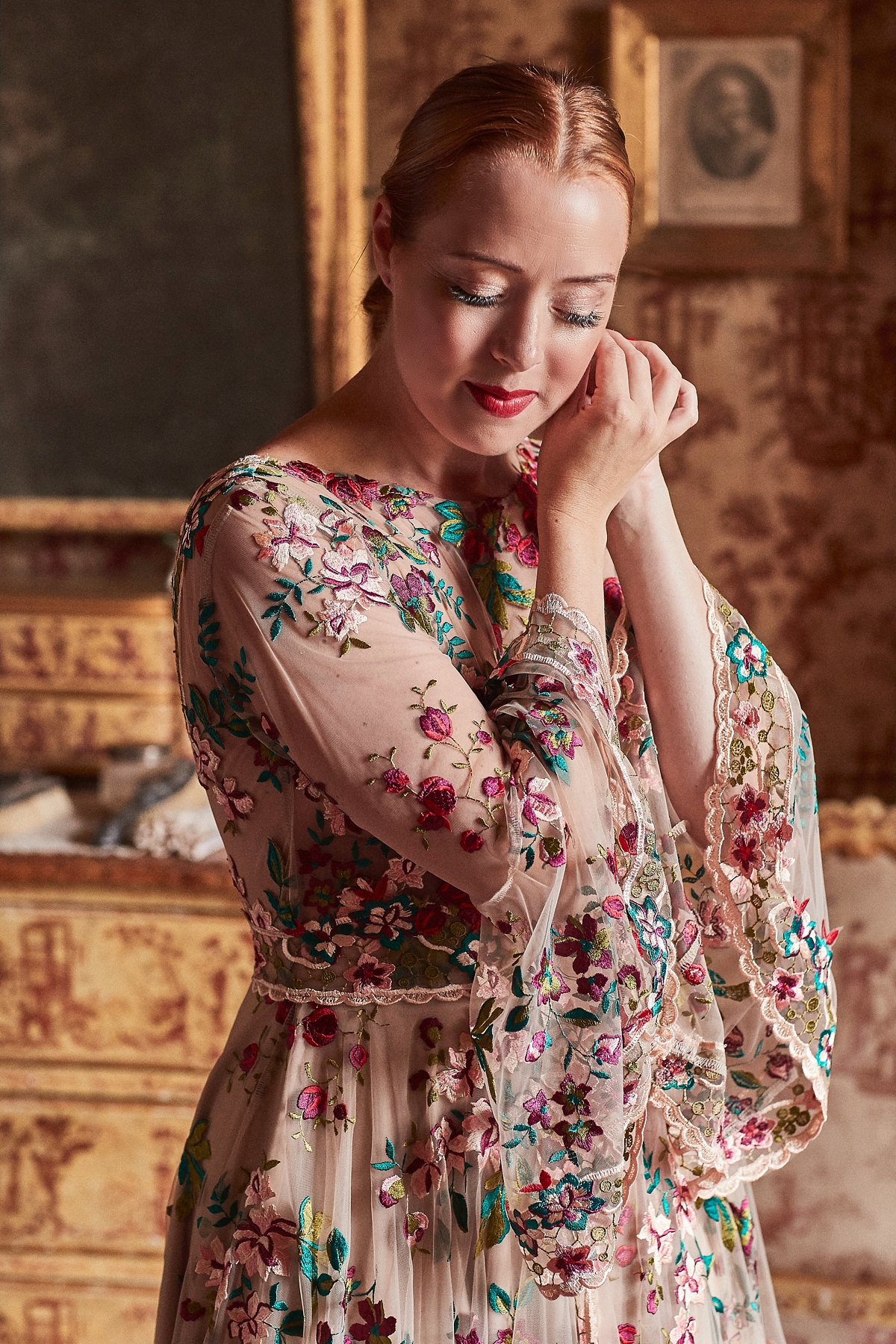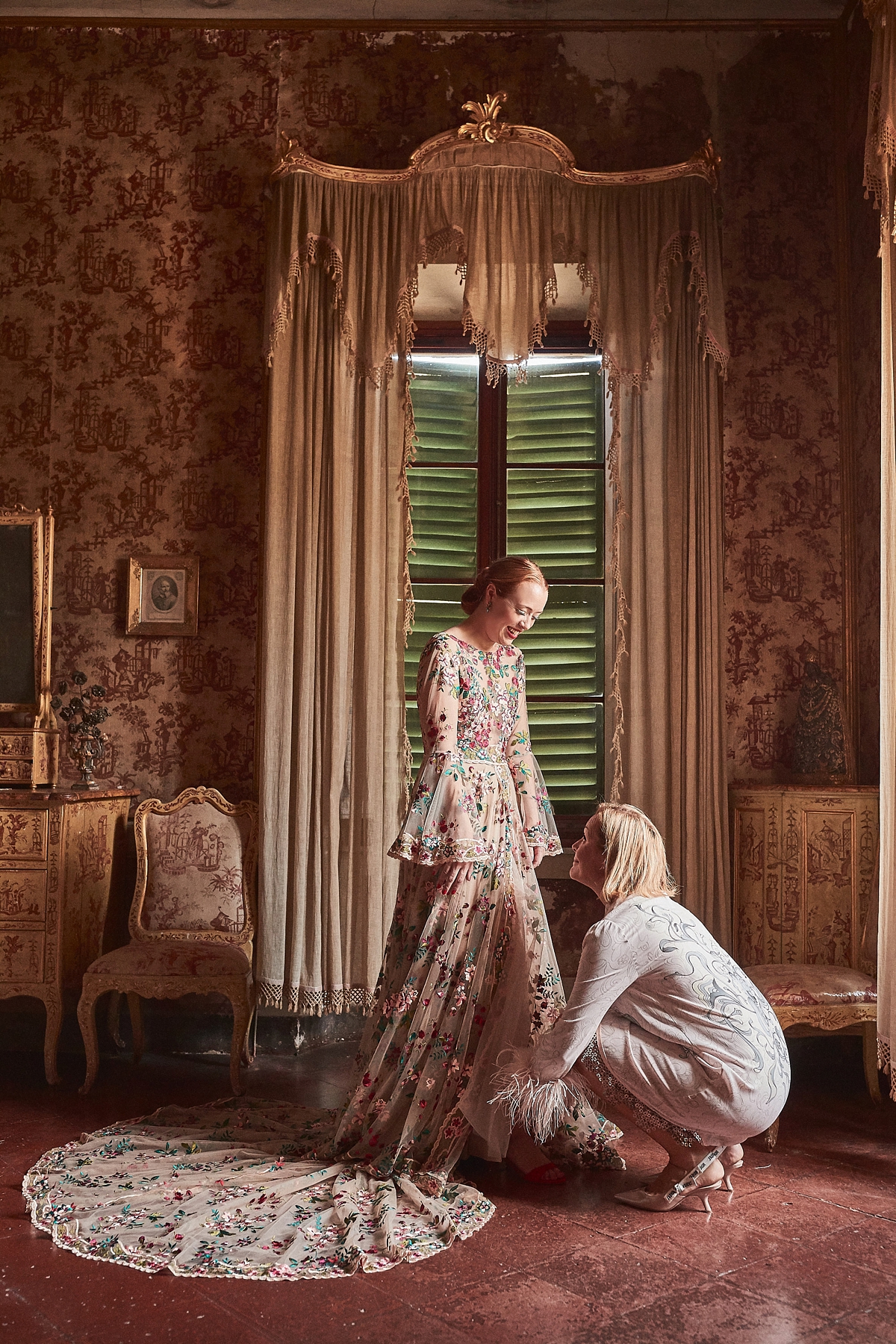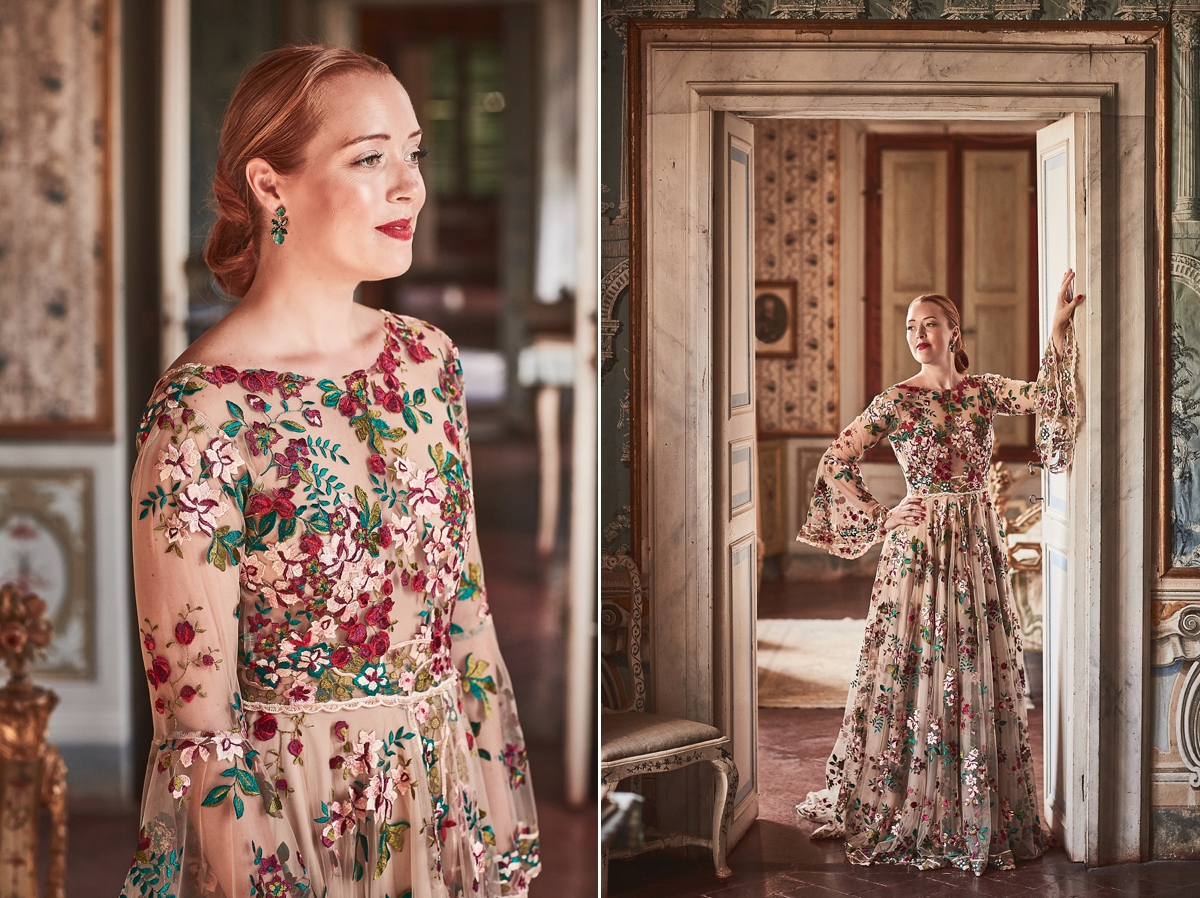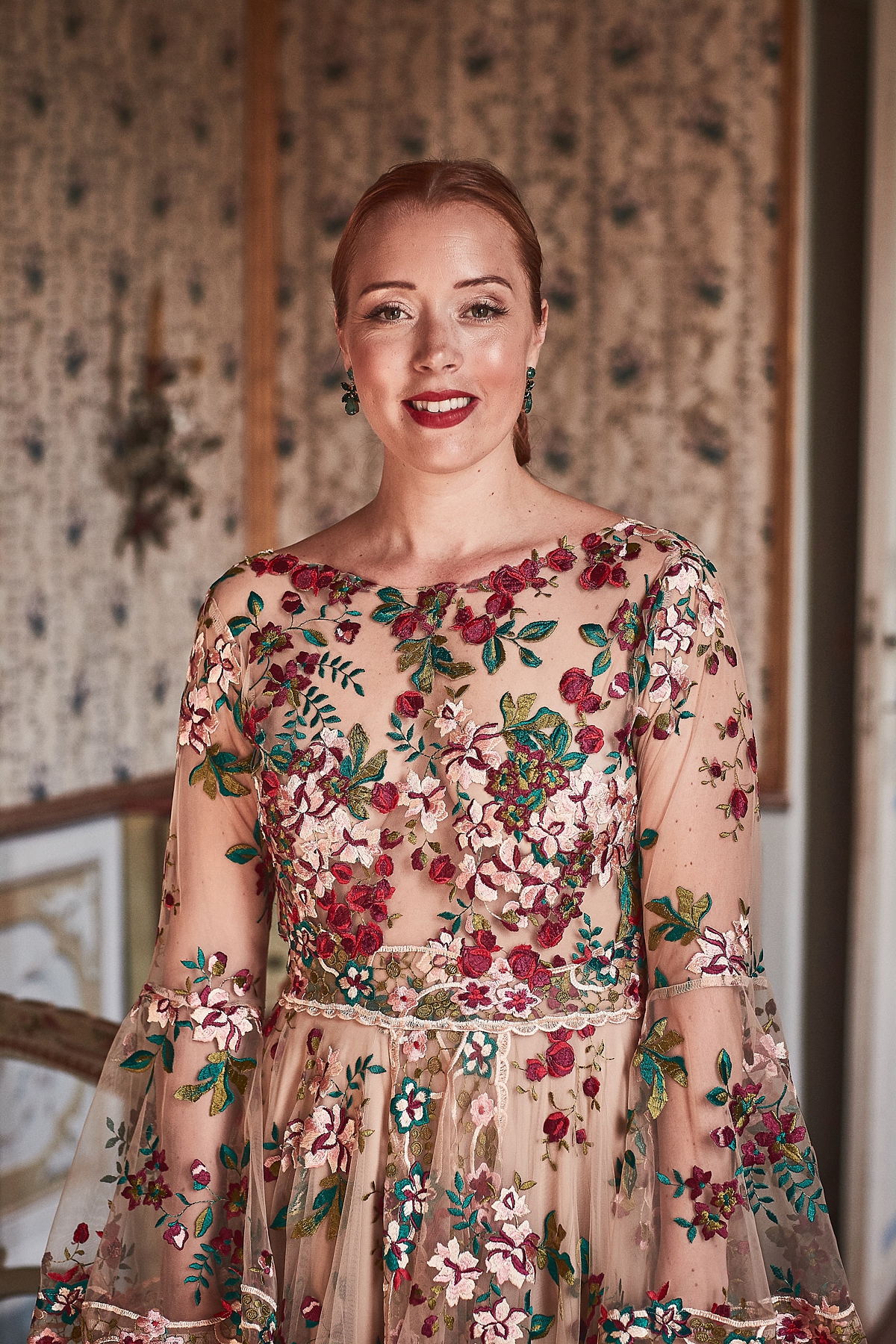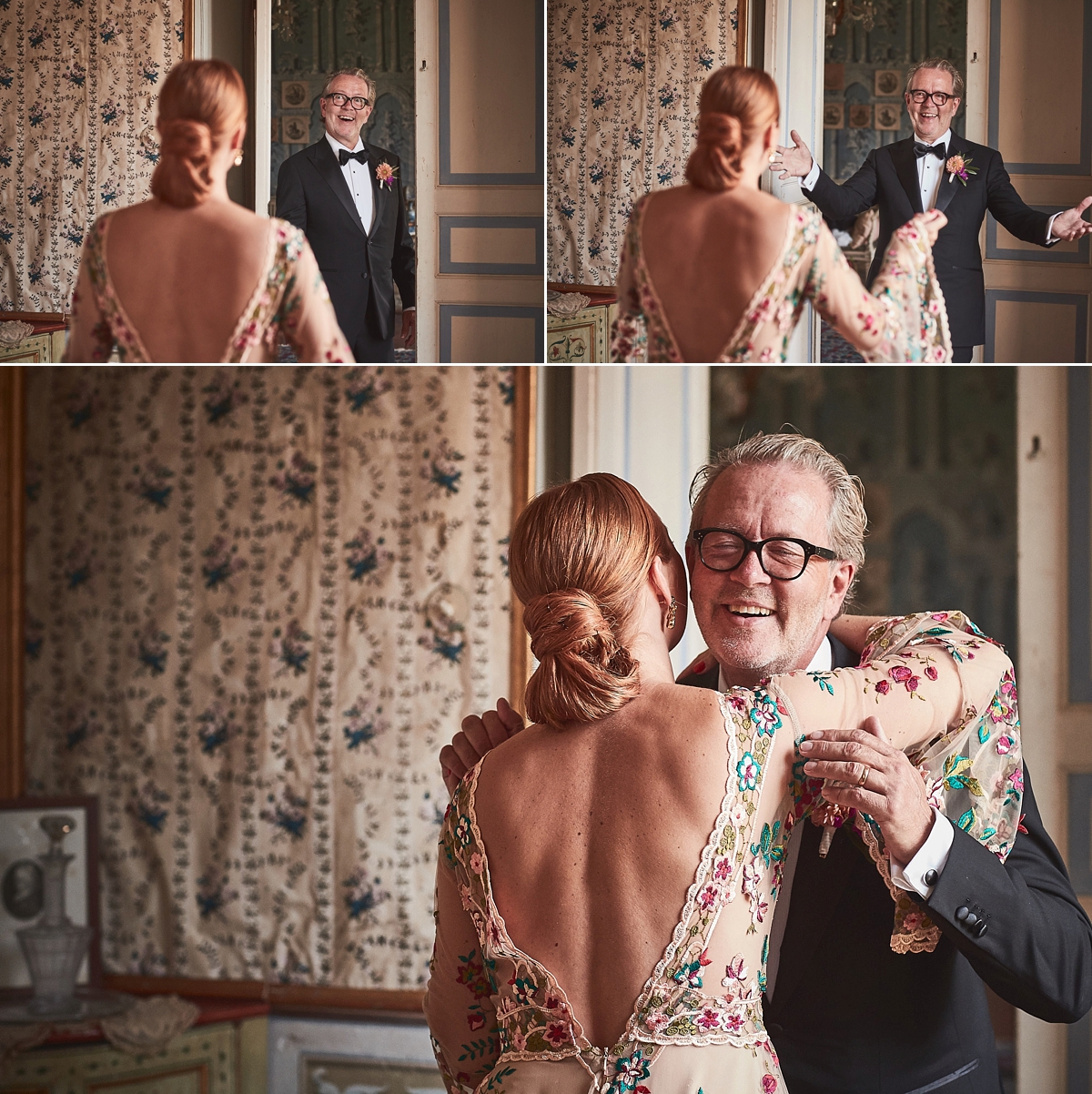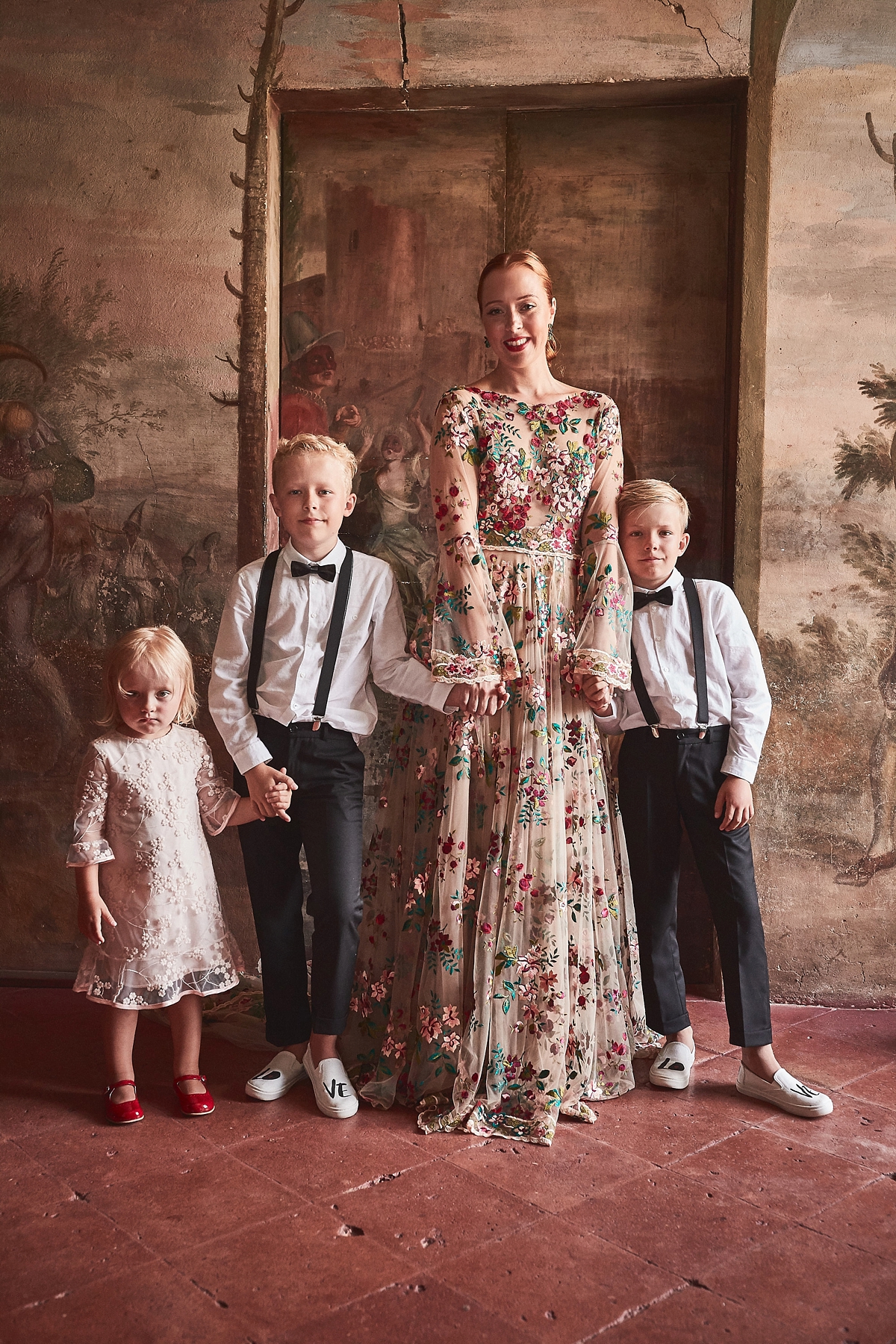 Interior designer Lisa worked closely with her planner Sabrina Carbone florist Stiatti Fiori to realise her floral dream. The effect is breathtaking.
"Our wedding planner came up with the idea of a flowing, organic, loose and colourful bouquet to complement my dress. I especially loved the bougainvillea touch and our florist did a marvellous job with my bouquet."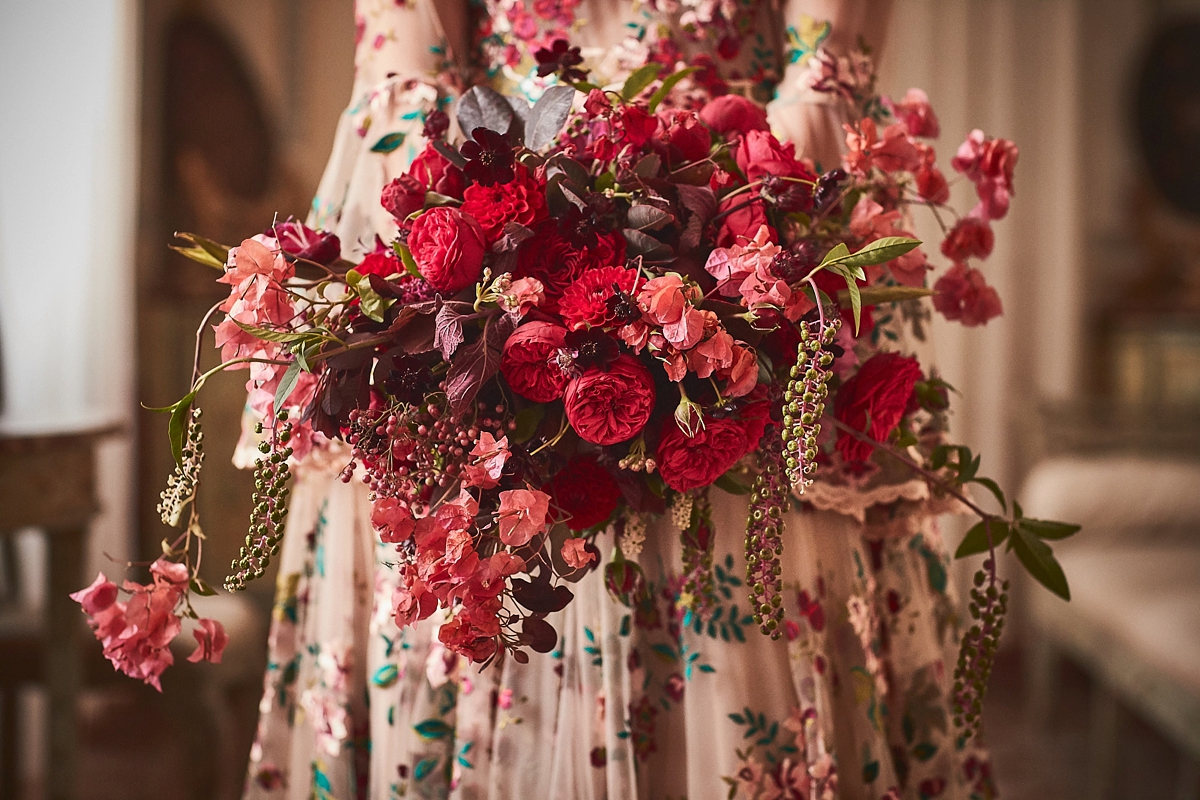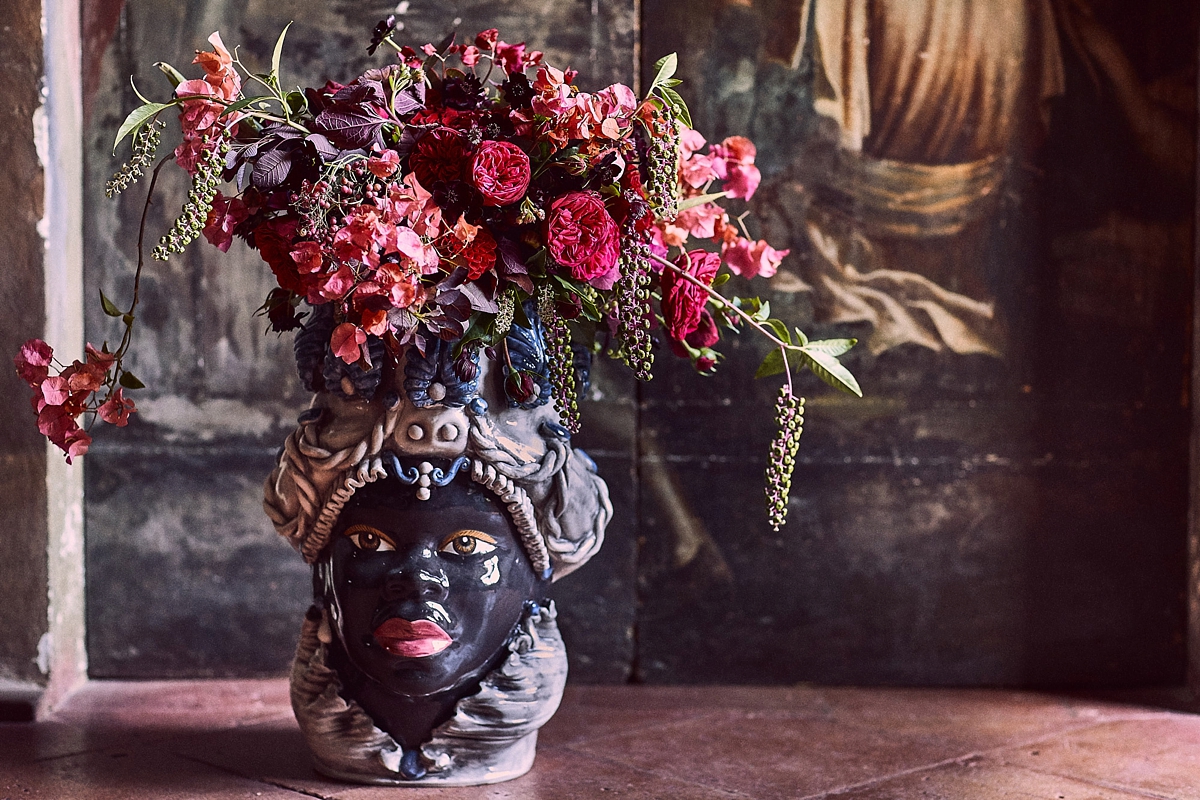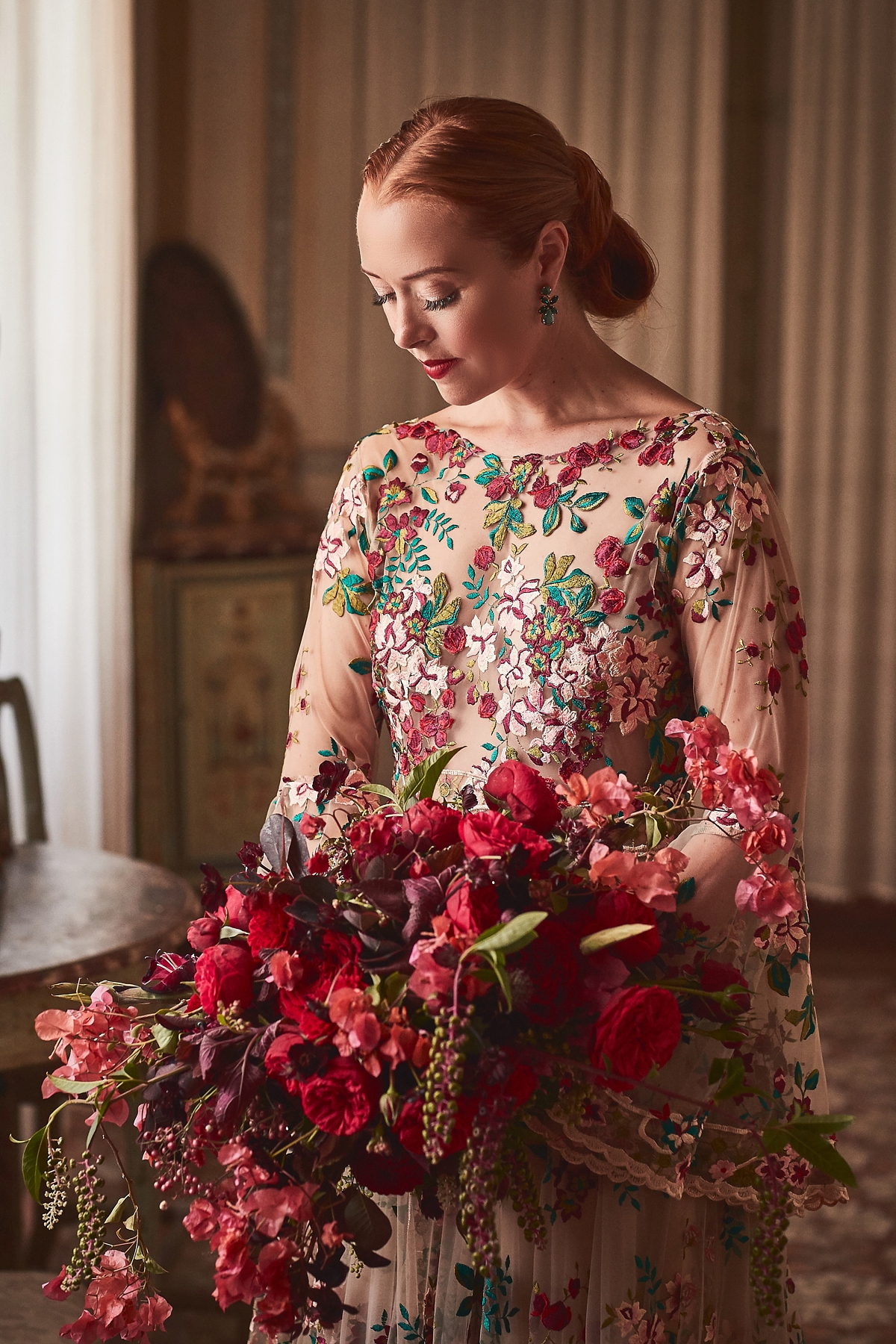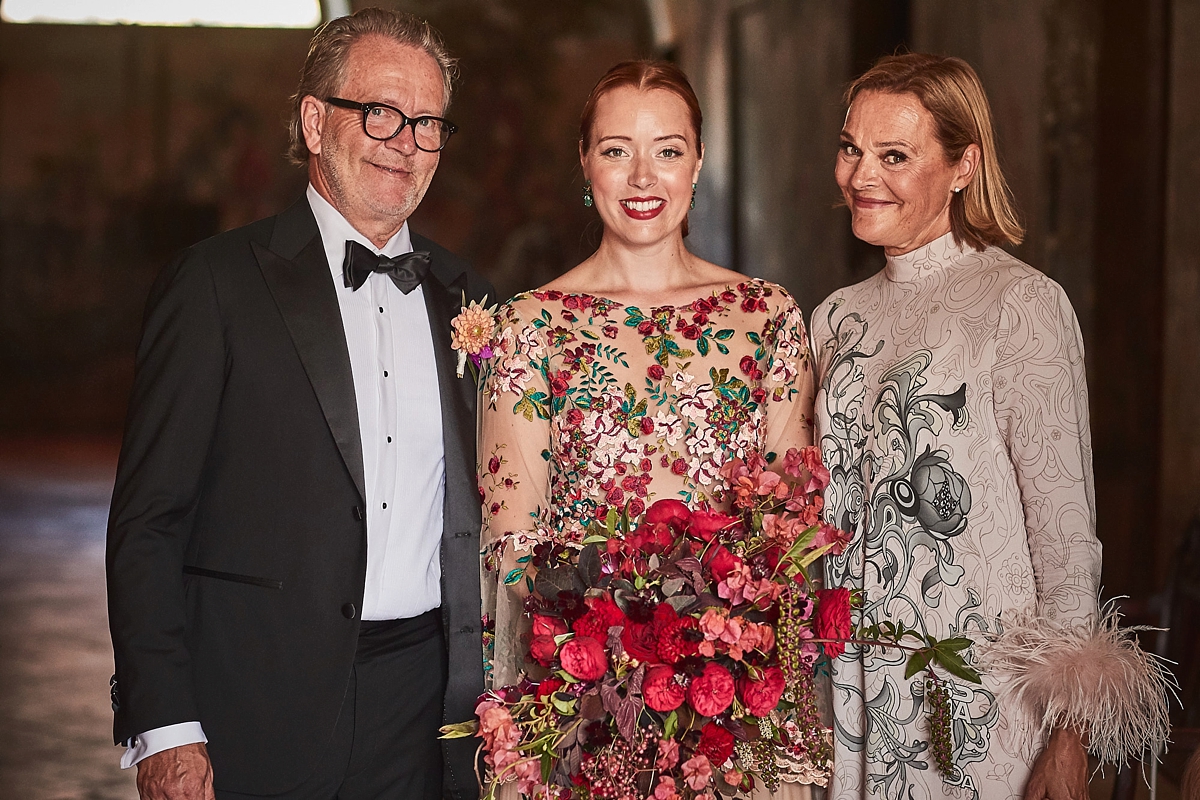 The ceremony was held in the Villa's garden against a backdrop of flowers and leaves. I'm totally in love with these romantic images by Jules Bower which capture the magical moments in which Lisa and Niklas exchanged their vows in the beautiful garden.
"My father accompanied me down the aisle as the string quartet played 'Buongiorno Principessa' from the film 'La Vita e' Bella'."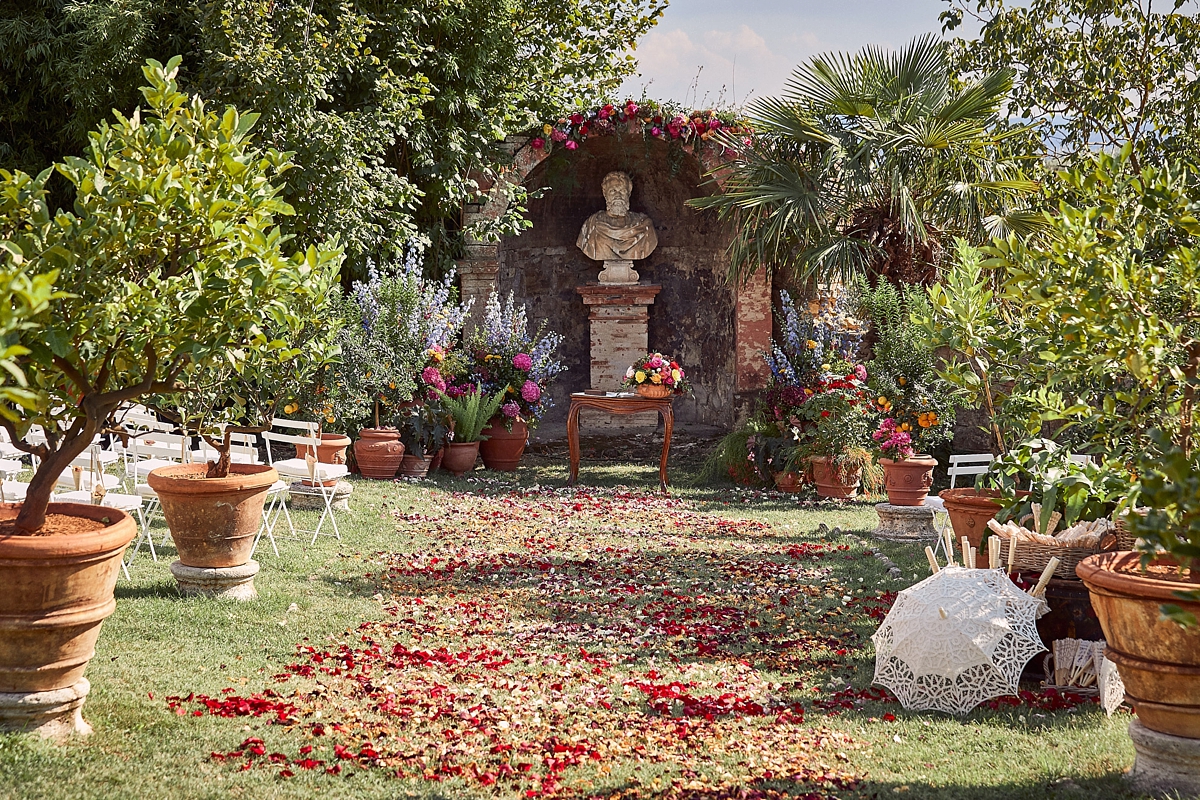 The ceremony was led by Blessings From Italy, a husband and wife team who we are delighted to support on our Little Book. Their personal approach is second to none so please click here to find out more about them and their services for Italian weddings.
"Our two amazing celebrants, Giuseppe and Diane Rossi of Blessings From Italy, were most thorough. They interviewed us together in person months before in a face to face meeting and separately via a detailed questionnaire. We gave our answers separately as requested so that the words would be a surprise on the day. They used our answers to compose a touchingly personal and unique ceremony for us based on our love story."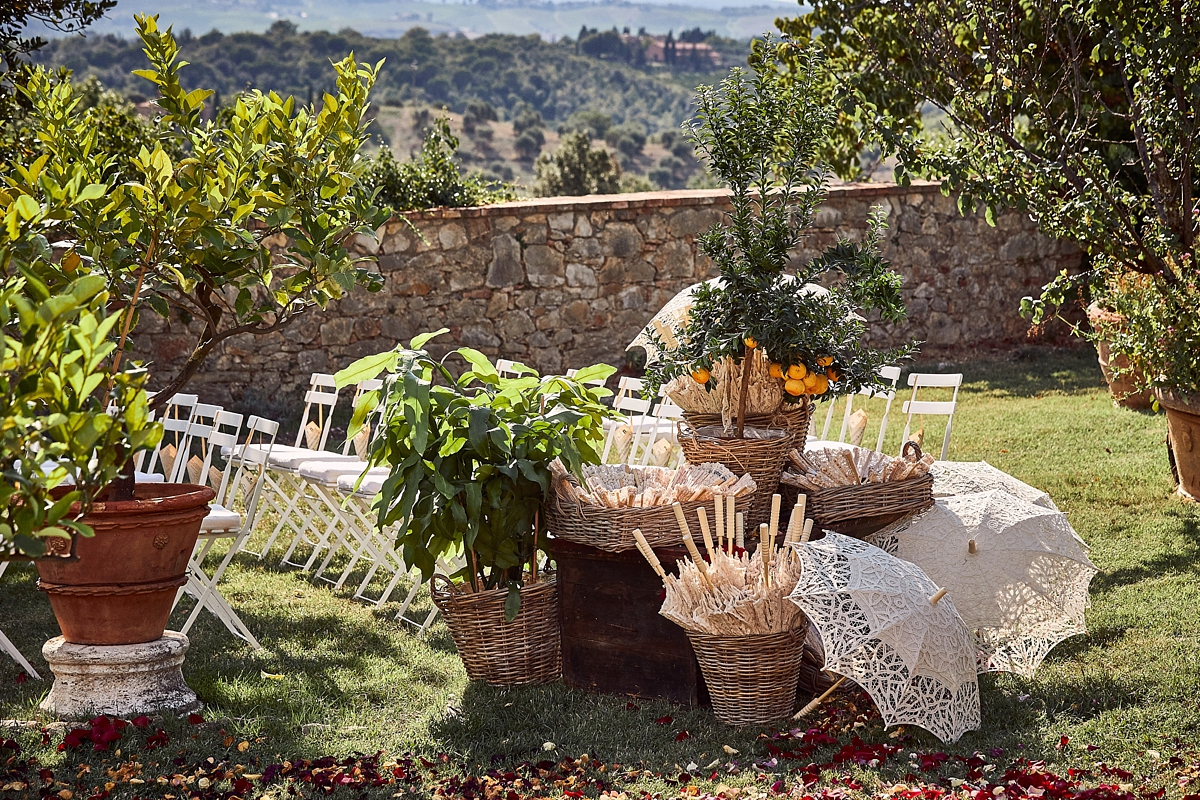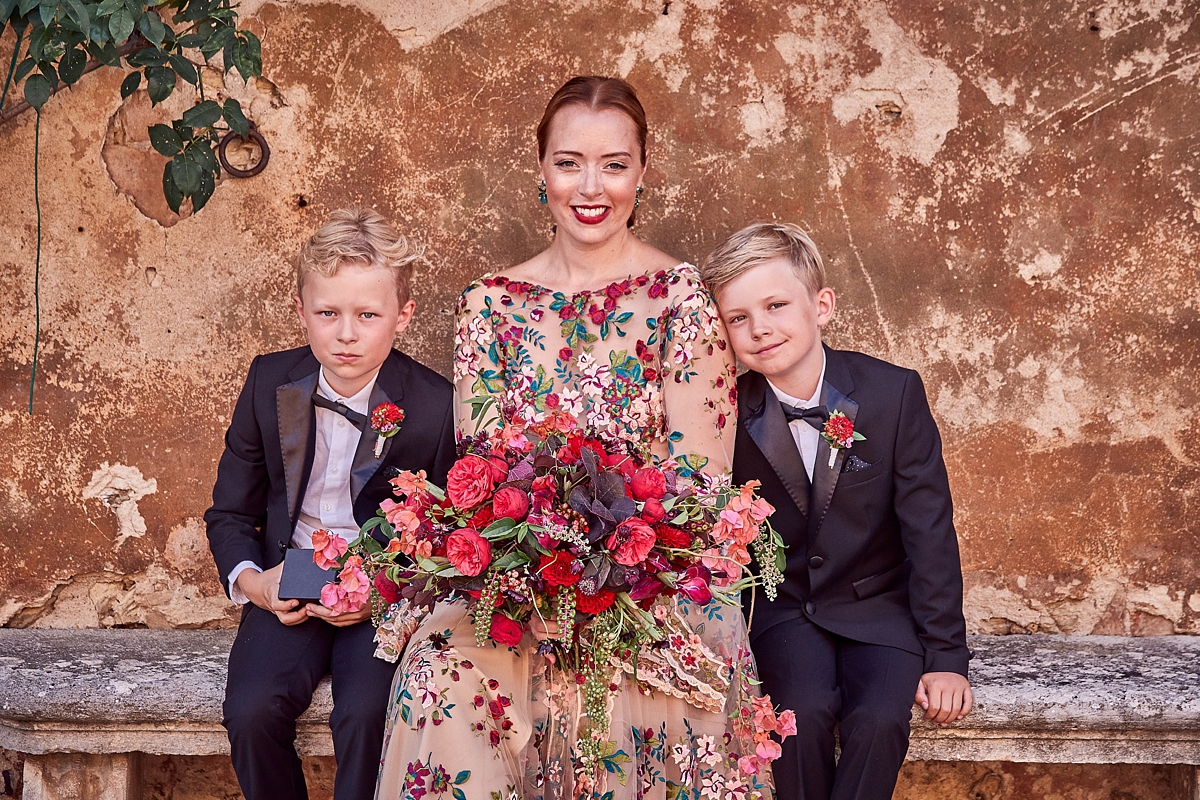 The wedding was made even more personal with music from the bride's best friend, opera singer Annie Fredriksson.
"Before the personalised introduction to our vows our friend Annie sang a song in Swedish called 'Jag Ger Dig Min Morgon' ('I Give You The Morning') which our
celebrants cleverly connected to our choice of processional song in their introduction."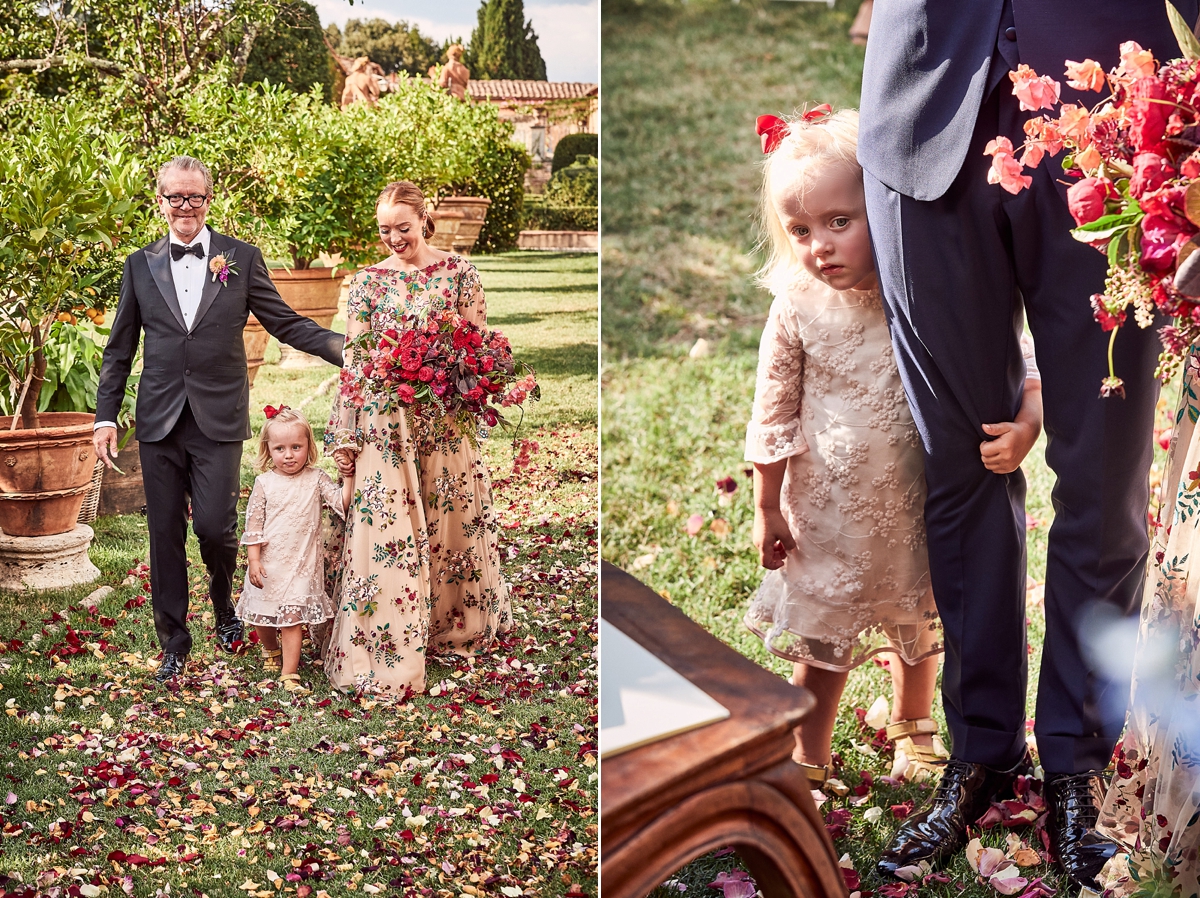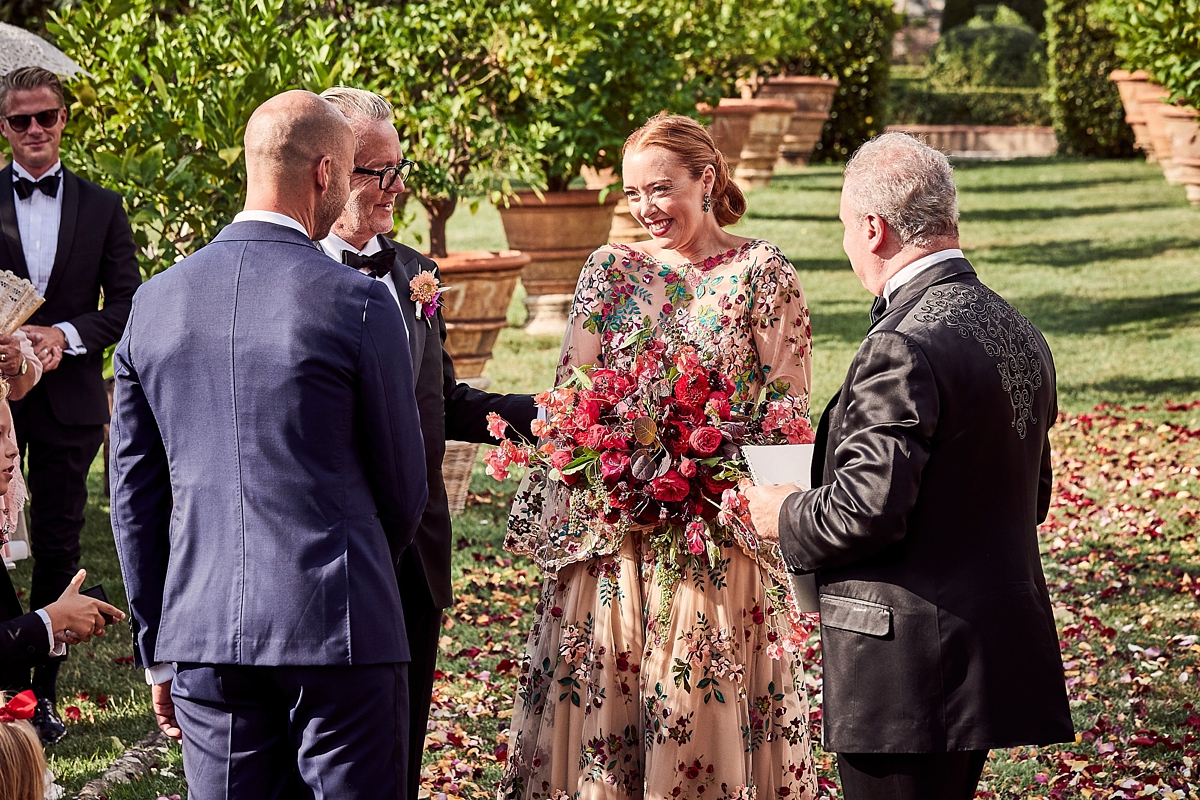 "After Diane's beautiful rendition of the Balcony Scene from Shakespeare's 'Romeo and Juliet', Annie sang 'I Have Nothing' by Whitney Houston."
The couple exchanged rings from Stockholm jeweller W.A. Bolin.
"While we exchanged rings an Italian Tenor sang Andrea Bocelli's version of 'Perfect' in Italian. For the Recessional we chose the upbeat and sunny 'All You Need Is Love' by the Beatles."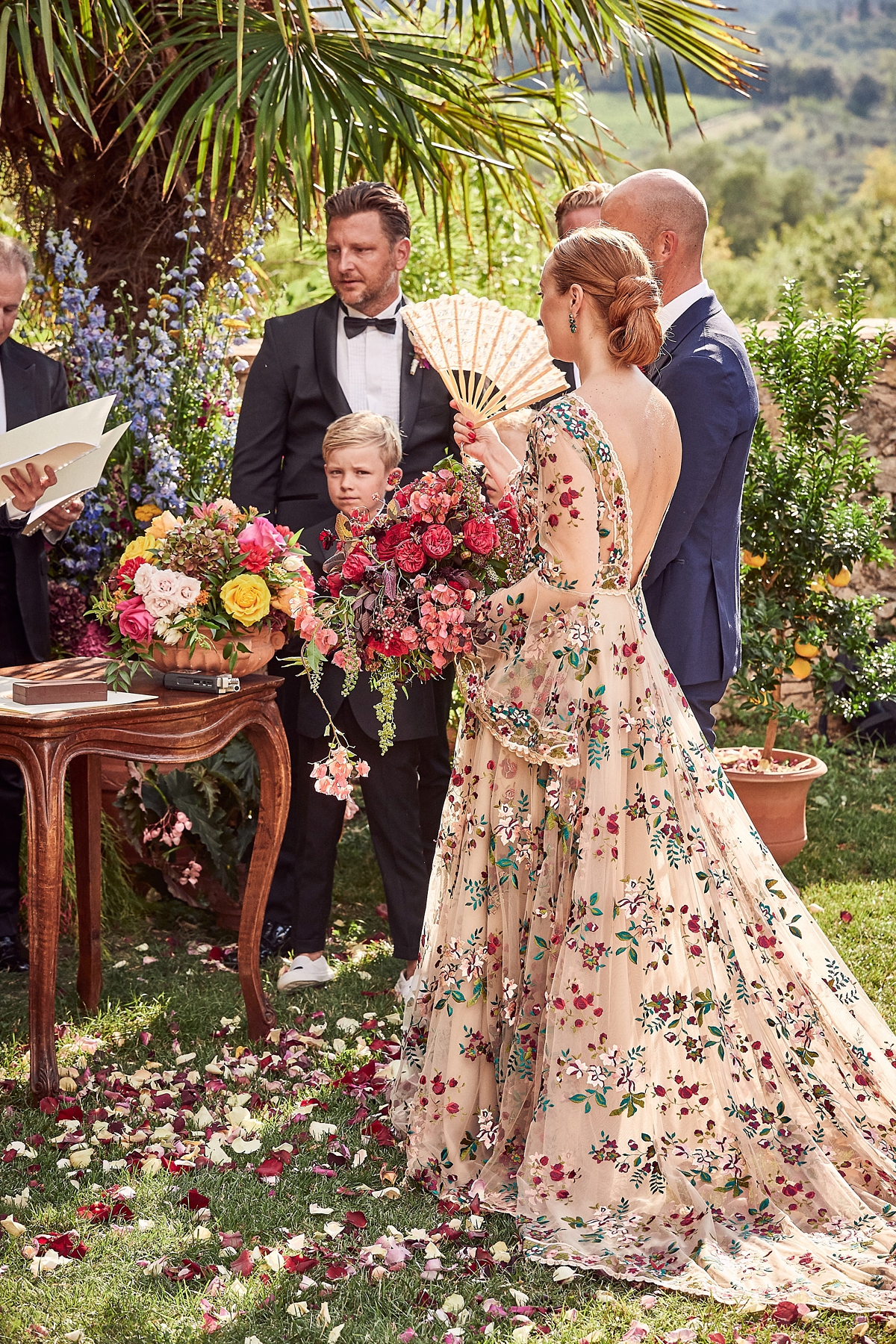 The romantic celebrations continued with more of the couple's favourite opera songs and a feast of Italian food and wine. Just look at the wonderful tables with their opulent flowers, candles and magical lighting, put together by La Semicroma.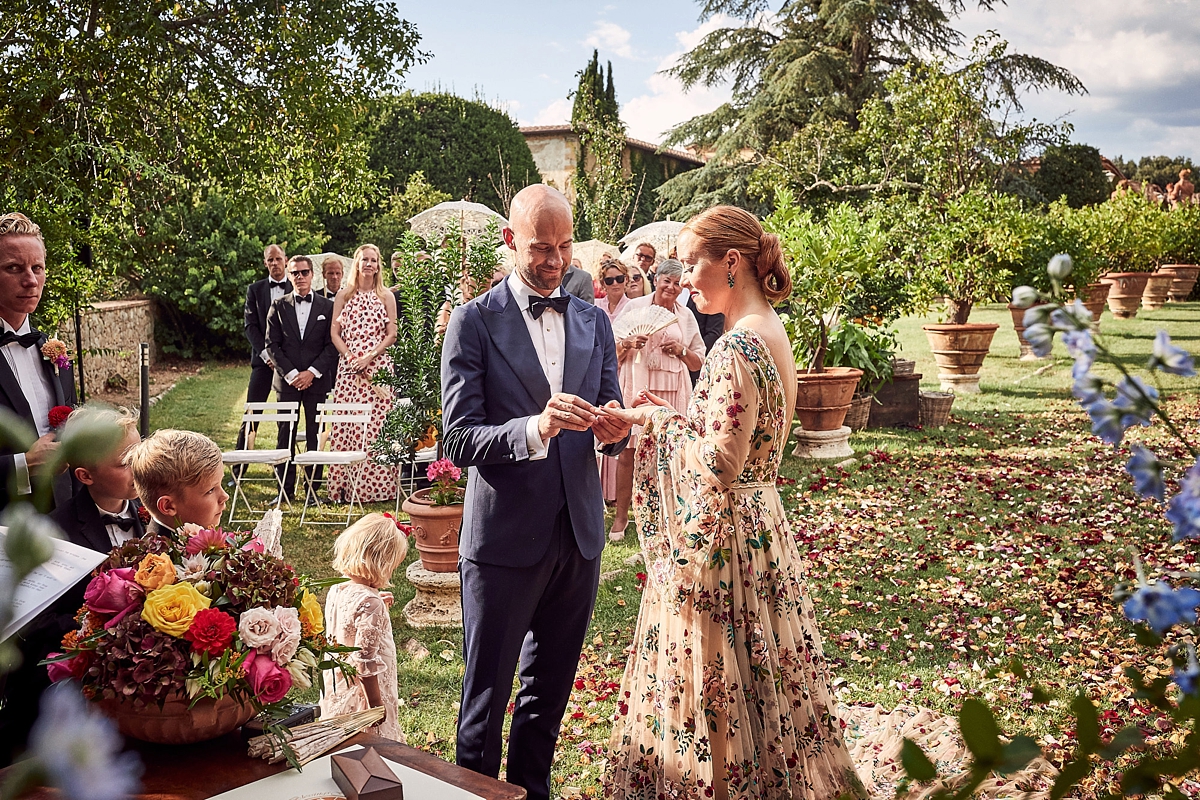 "We loved the idea of an outdoor room and Sabrina conceived a project to utilise lighting and greenery to best enhance Villa Catignano's courtyard. The top table was fully decorated with flowers and we sat together on a stripy sofa."
"The rest of the tables were round and decorated with flowers and secondary compositions. Some were adorned with tall candelabras and lemons were also used together with flowers and candles."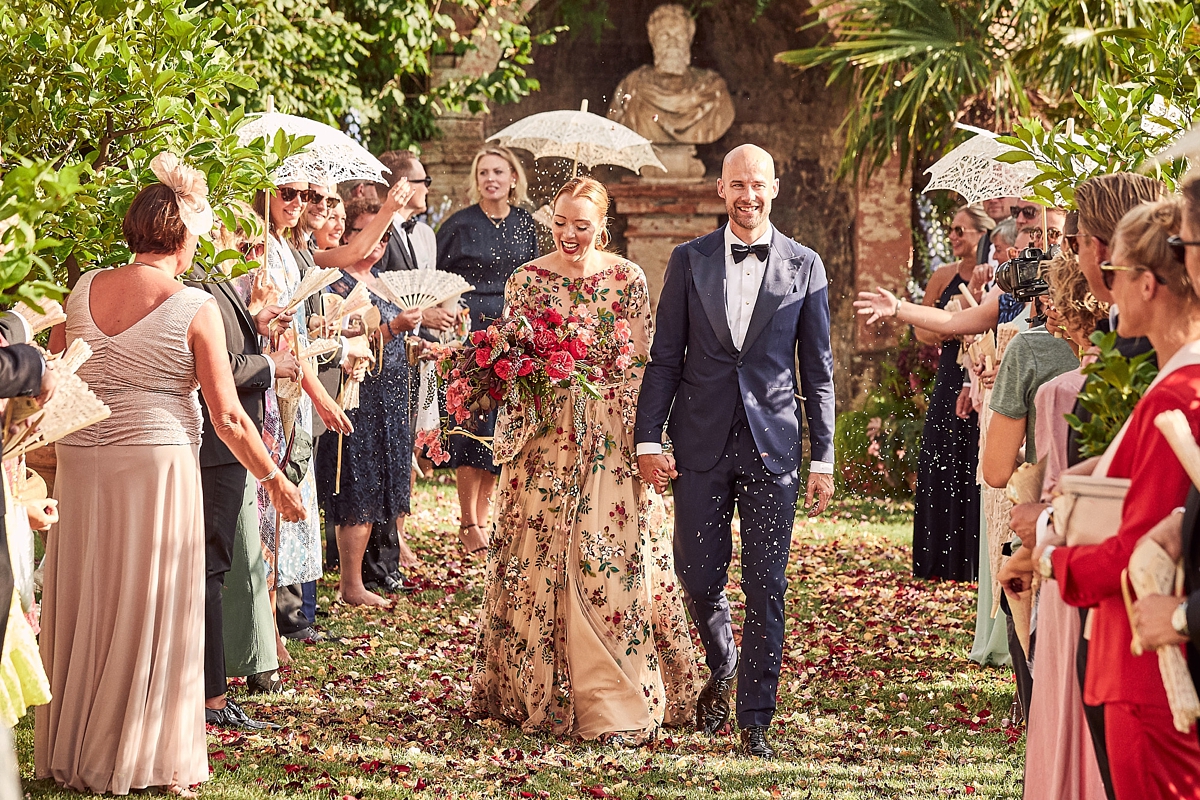 "As it rained during the aperitifs I was a little concerned that we wouldn't be able to hold dinner outside. In the end the tenor sang 'Nessun Dorma' and we entered the breathtaking reception outdoor room which my team created especially for me with everyone applauding us… it was the most amazing sensation."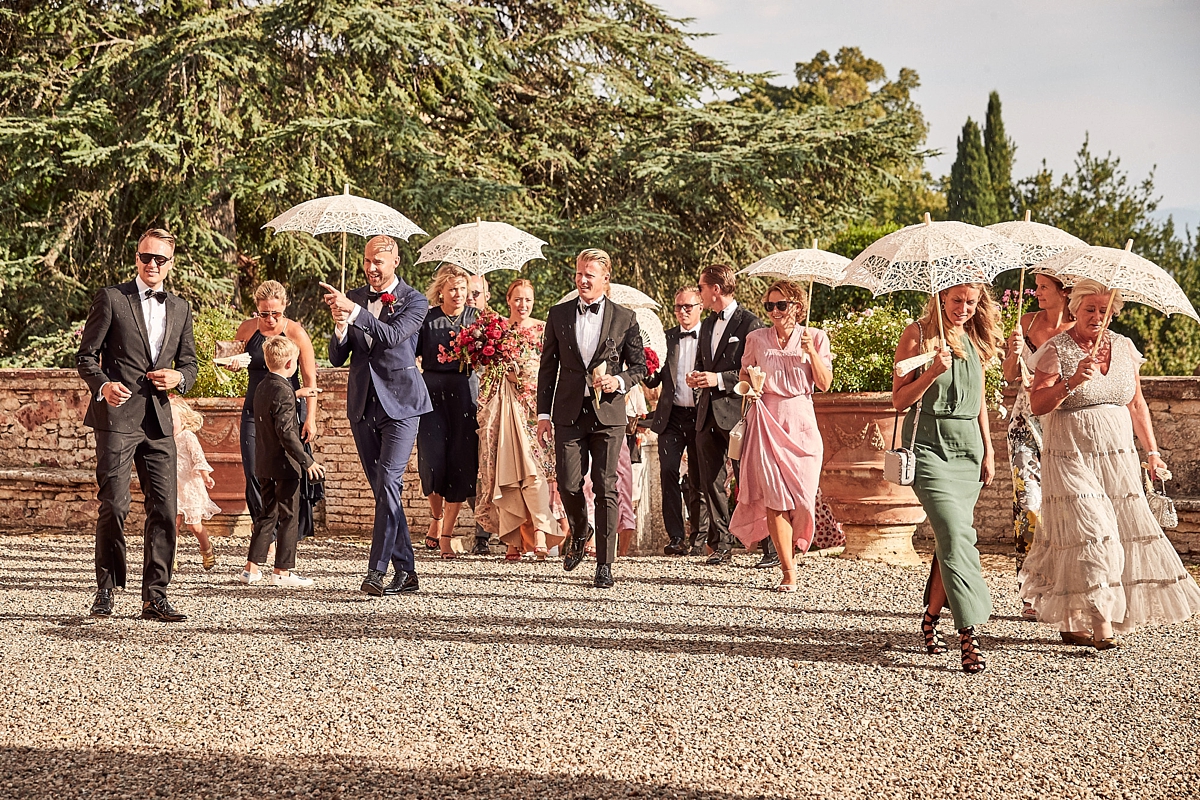 "We had Bellinis and Prosecco at the aperitifs and a special wine tasting with professional sommeliers with the best Italian wines such as Sassicaia, Brunello di Montalcino, Barolo, Amarone, Tignanello…."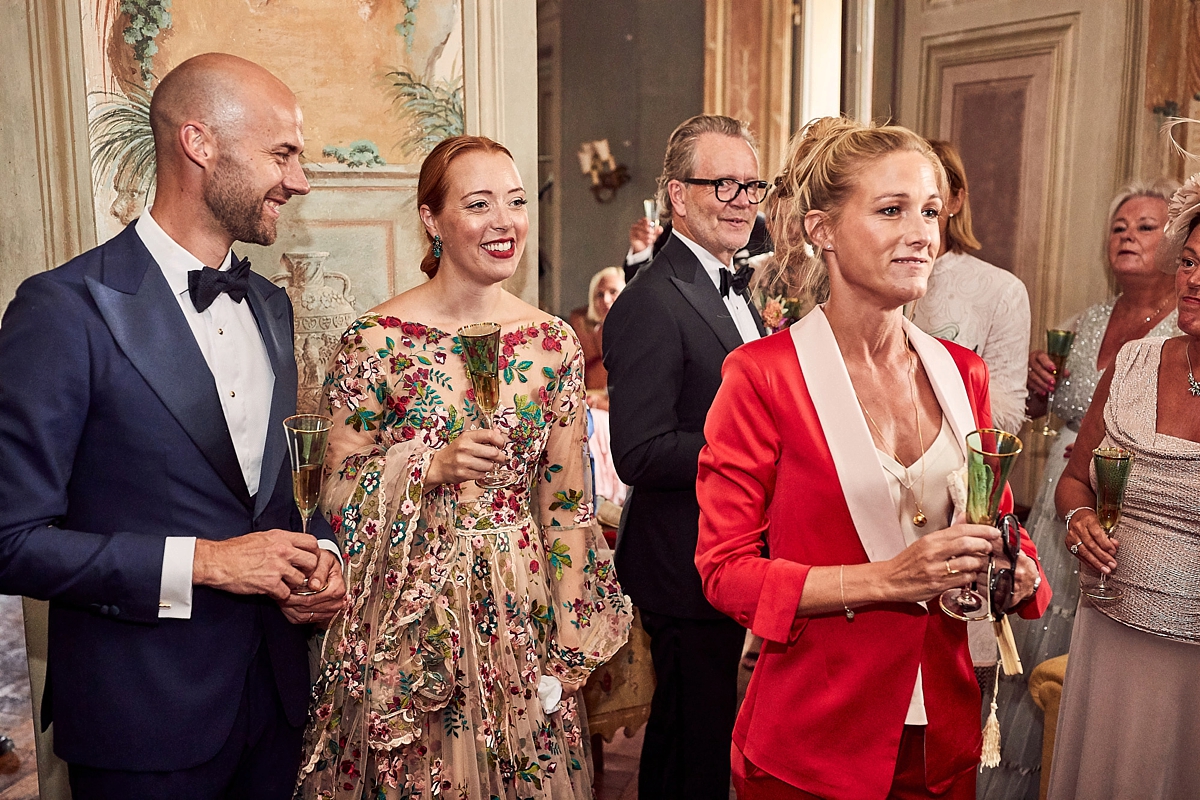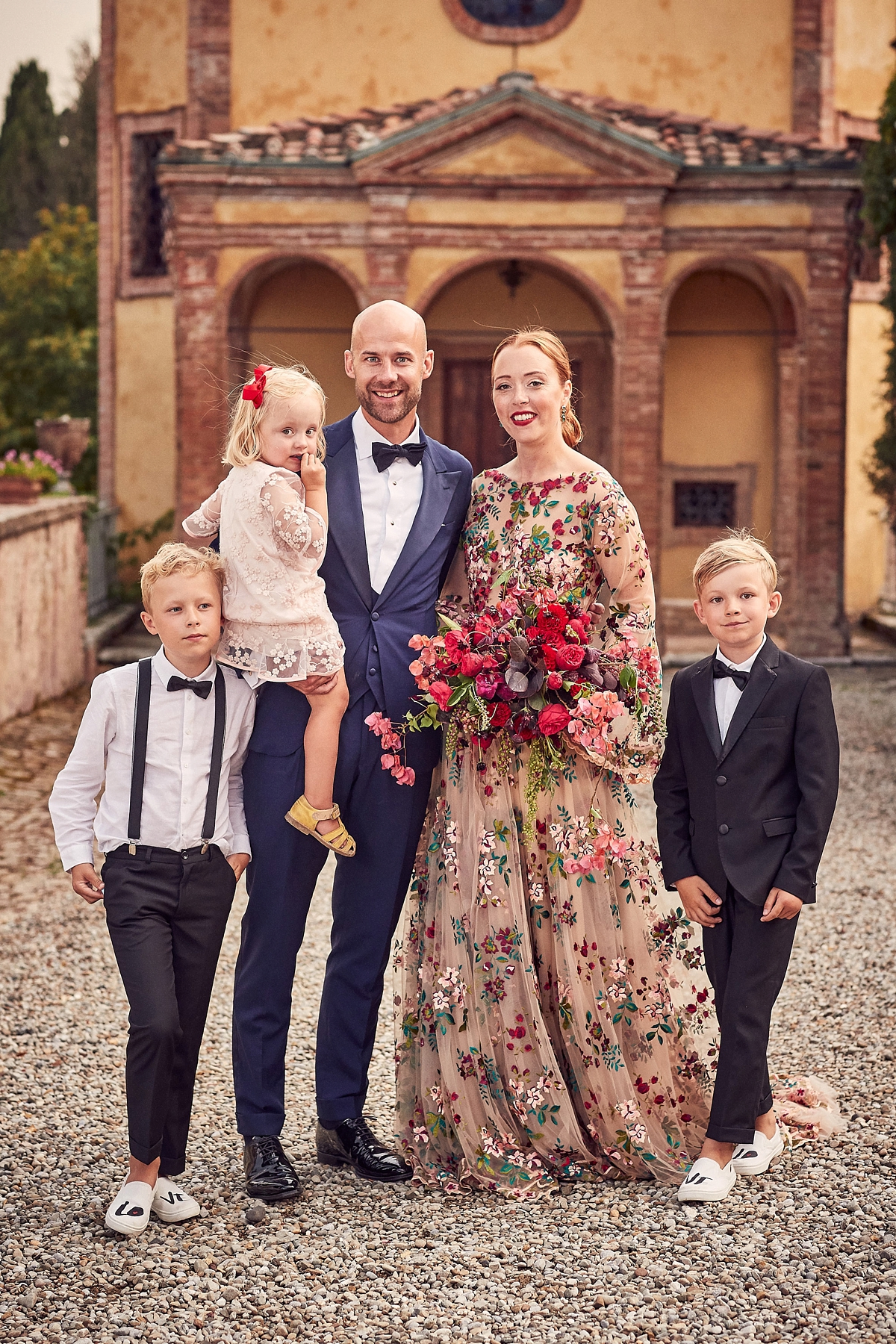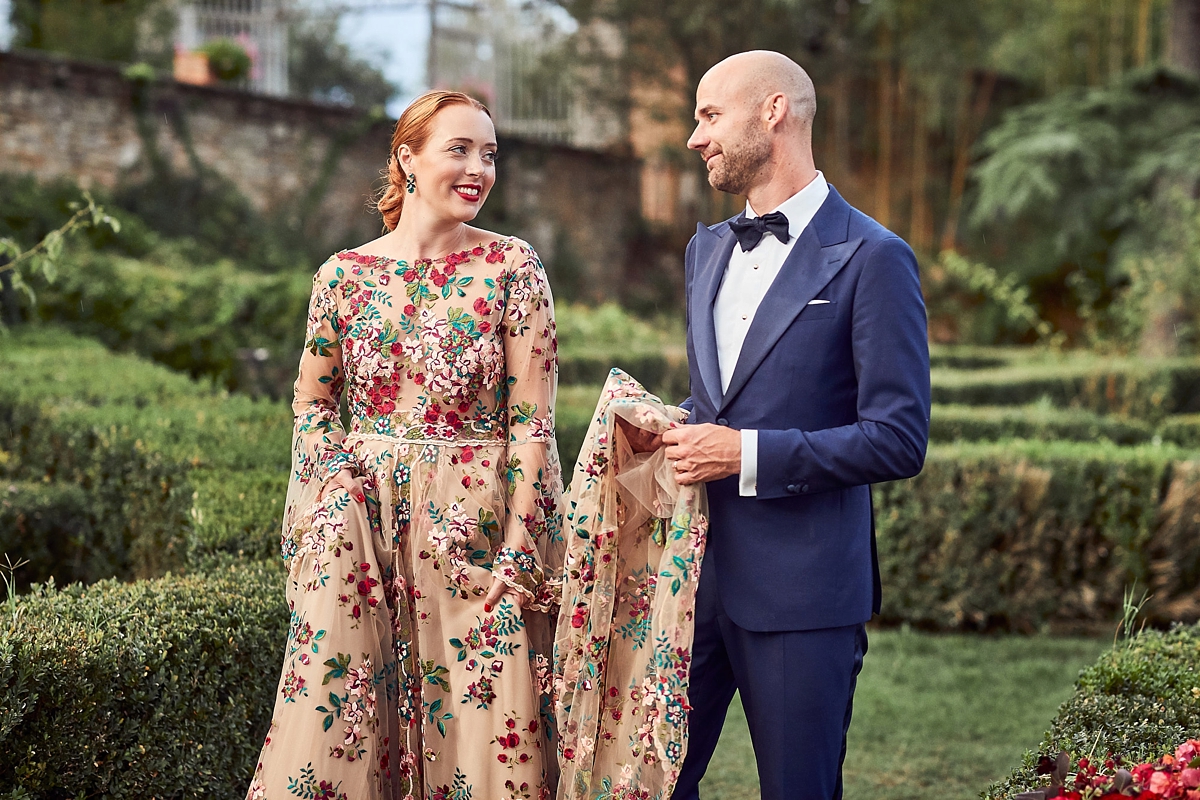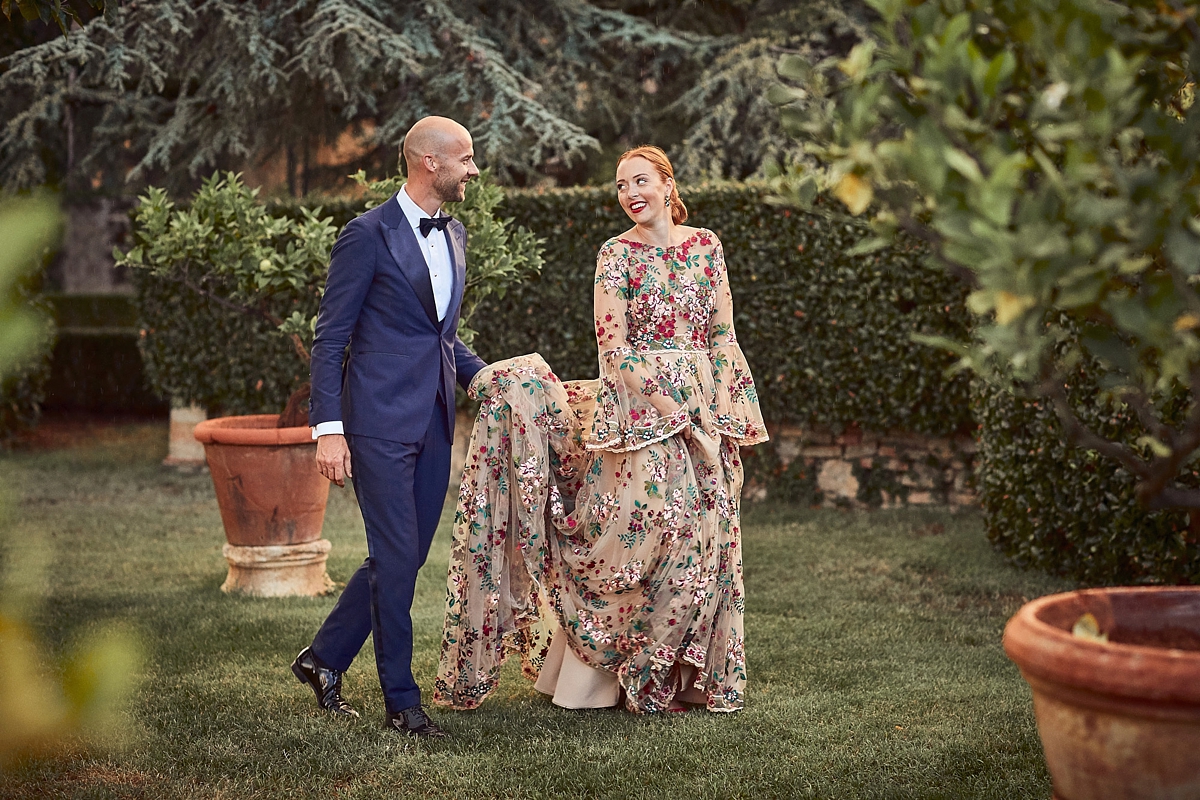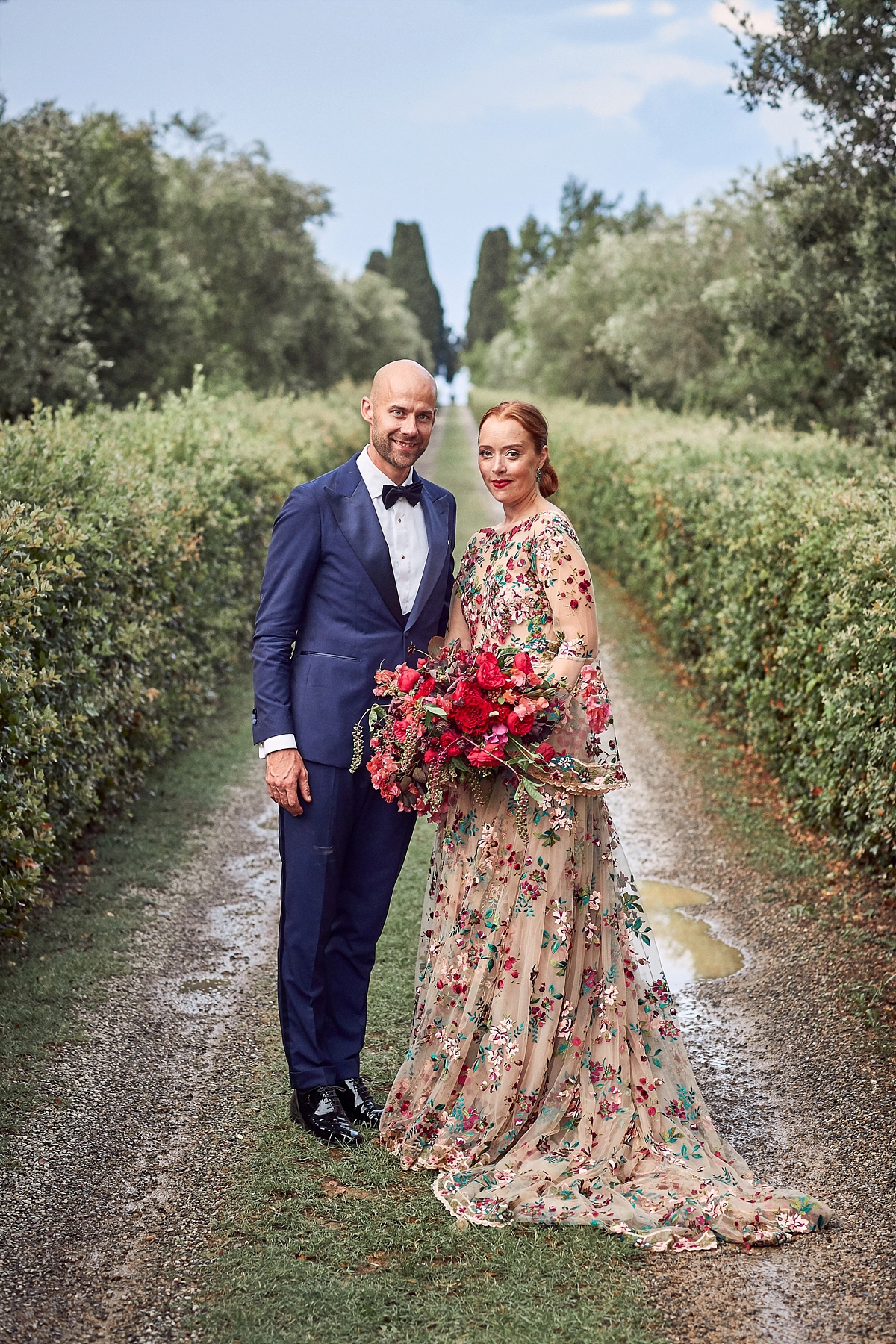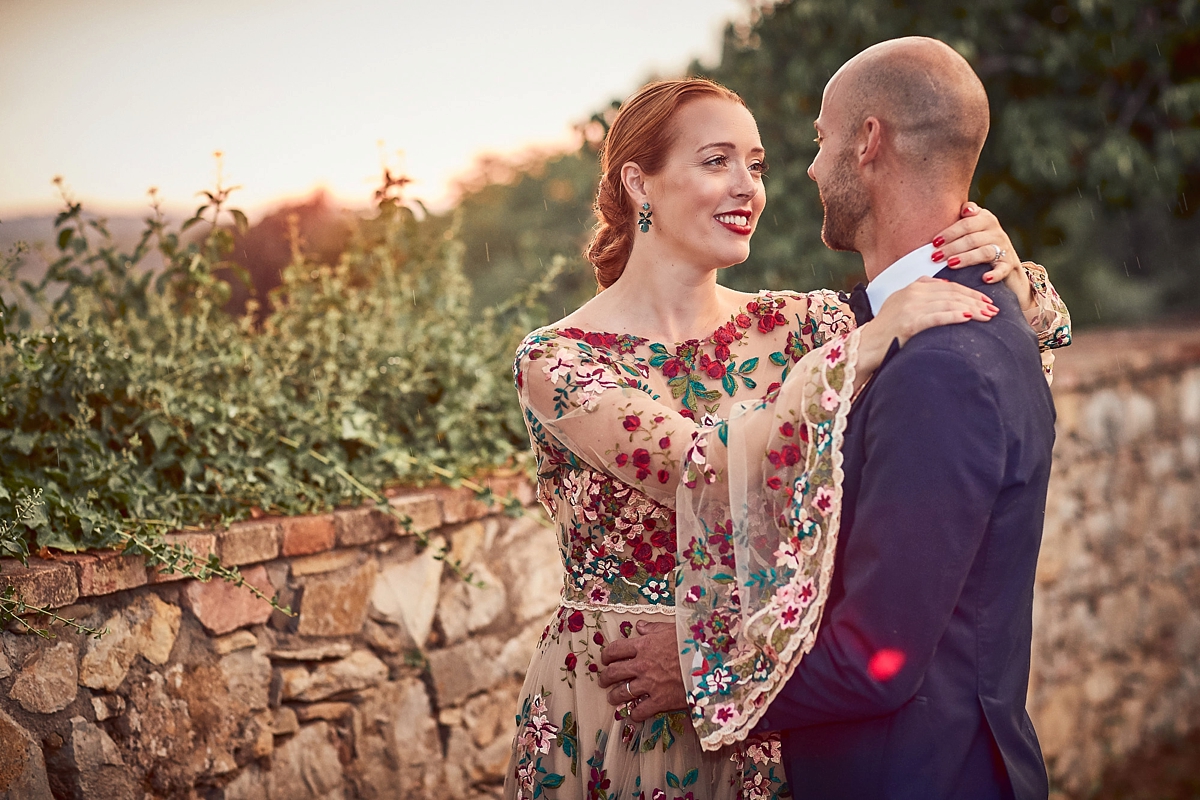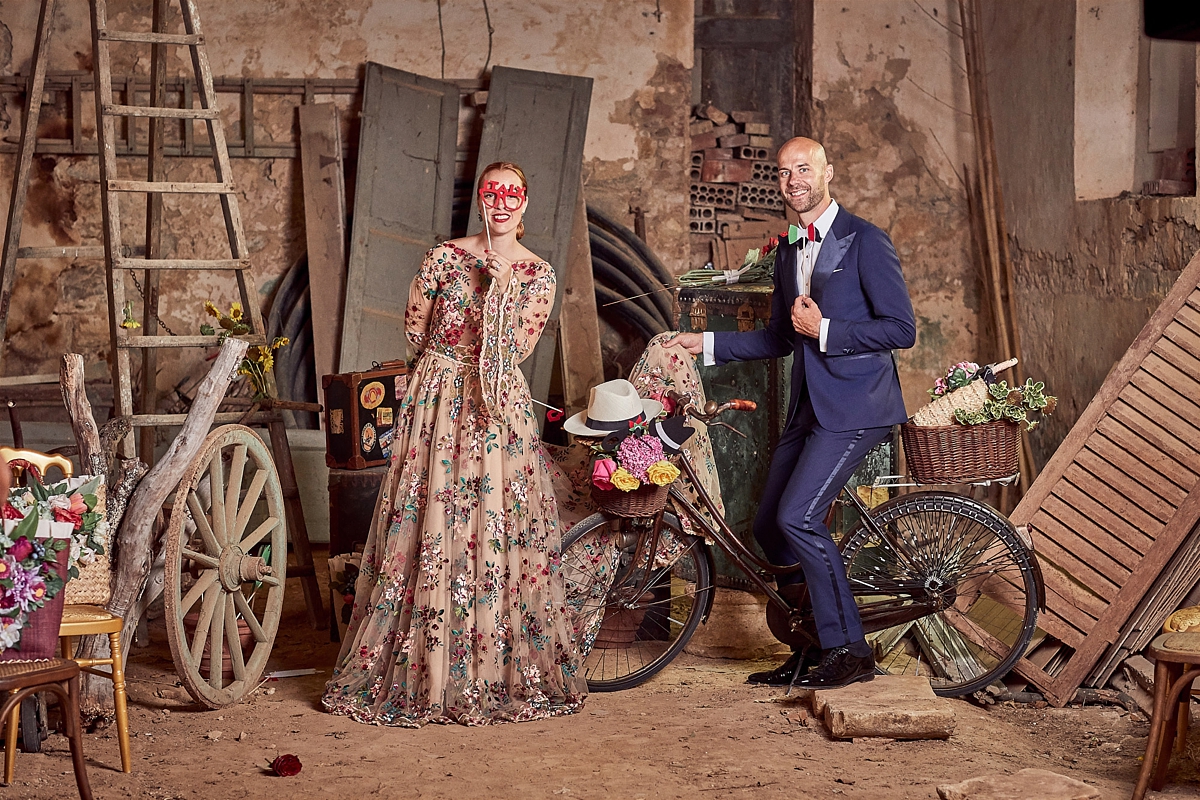 The floral tone for the wedding day was set by the illustrated wedding stationery made by the bride; my favourite detail has to be the bright and bold lemon emblem.
"As a graphic designer and creator of the brand Studio Lisa Bengtsson it had long been a passion project to plan my wedding with spectacular flower arrangements and dinner settings, incorporating lots of colour and texture to develop an original wedding theme."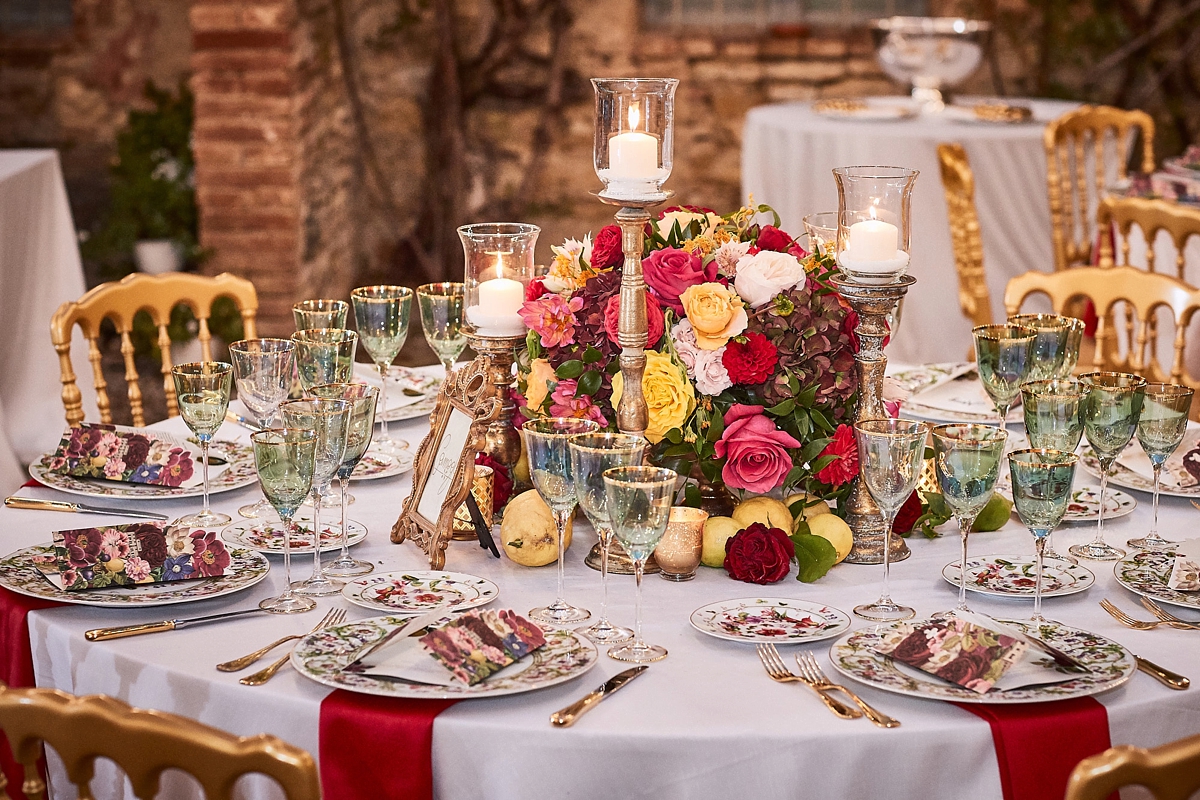 "Our wedding planner is also a designer and we hit it off immediately. Sabrina contributed creatively and enhanced details to greater effect. She understood what I wanted and listened attentively, not only assisting me in creating my unique vision but also making the process enjoyable and effortless. Sabrina made our wildest dreams come true and we couldn't have been happier!"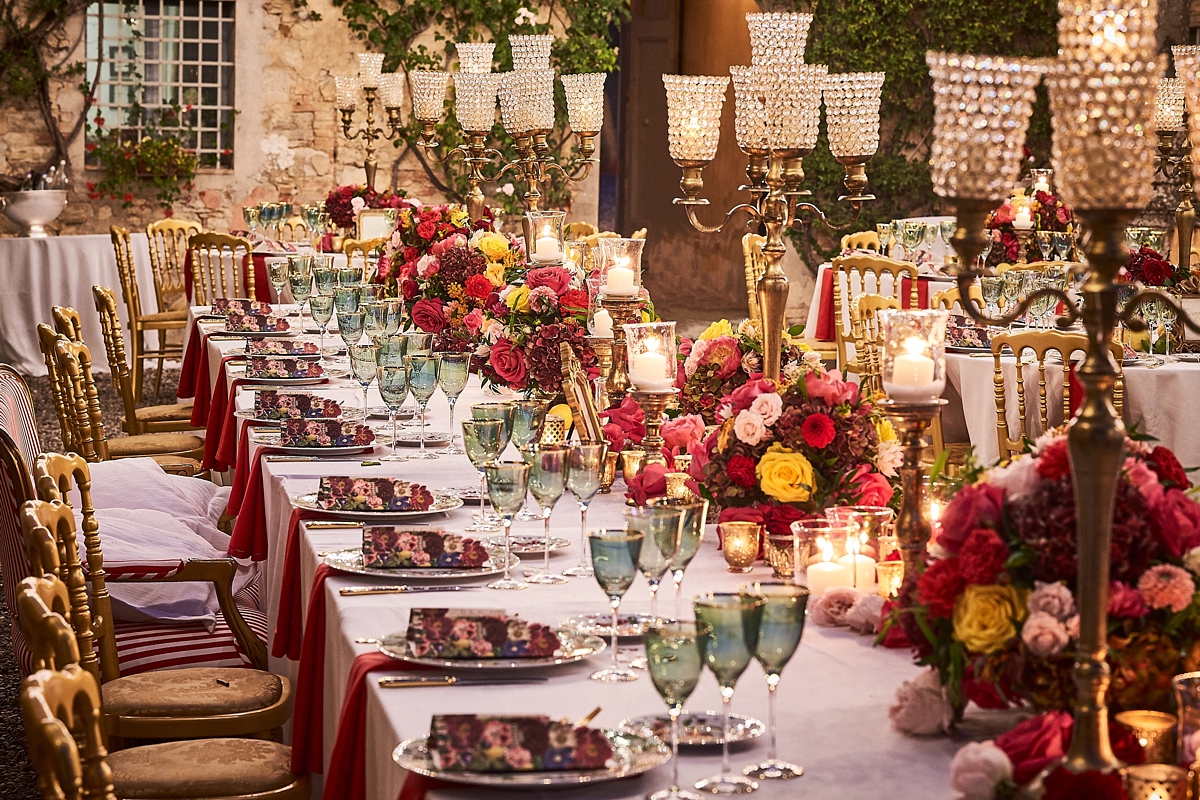 "We wanted a seduction of floral artistry, mostly in pinks and reds but also complemented by other colours and textures. We continued this theme throughout, from the wedding invitations and stationery to the entire decoration. Even plates and crystal were thoughtfully incorporated into the scheme."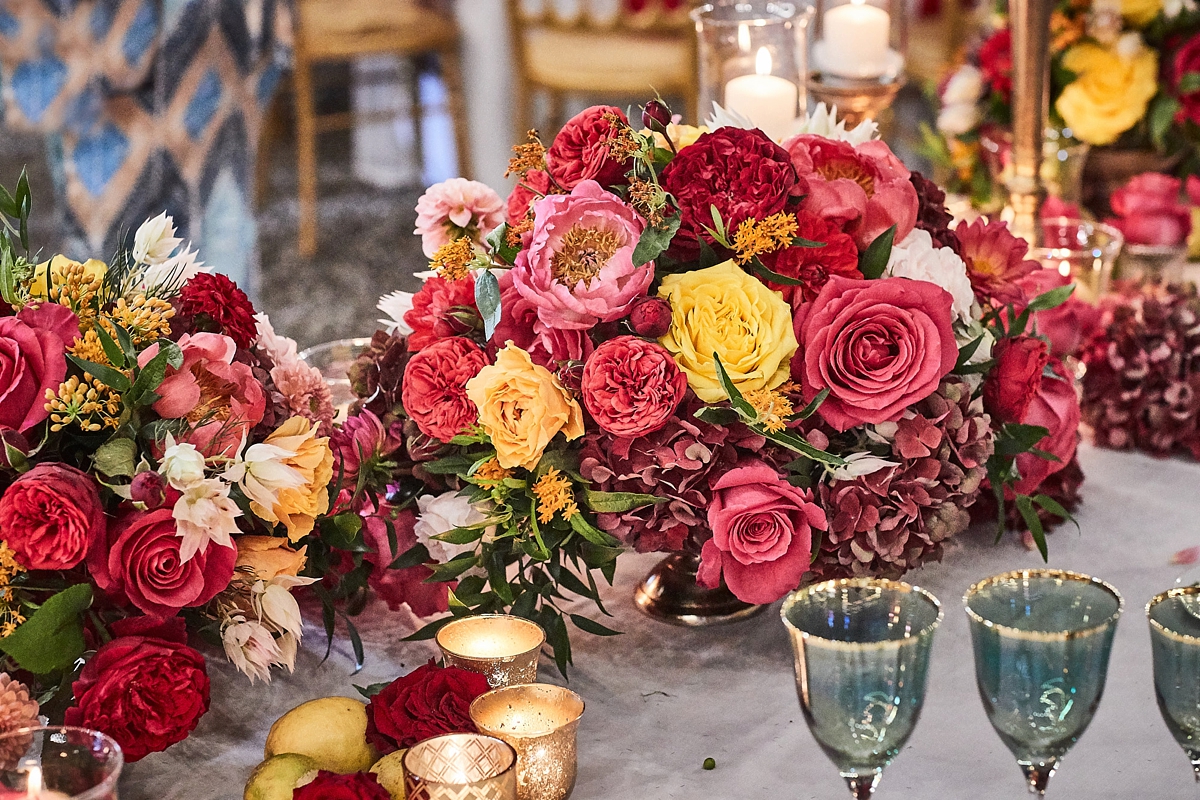 "We took great care to curate every detail, paying particular attention and precision to colouring, flowers, lighting and menus and also the little touches such as a lovely set-up for lace parasols and fans to shield our guests from the sun. The inventive addition of the most wonderful ceramic Sicilian heads rendered the overall effect absolutely perfect."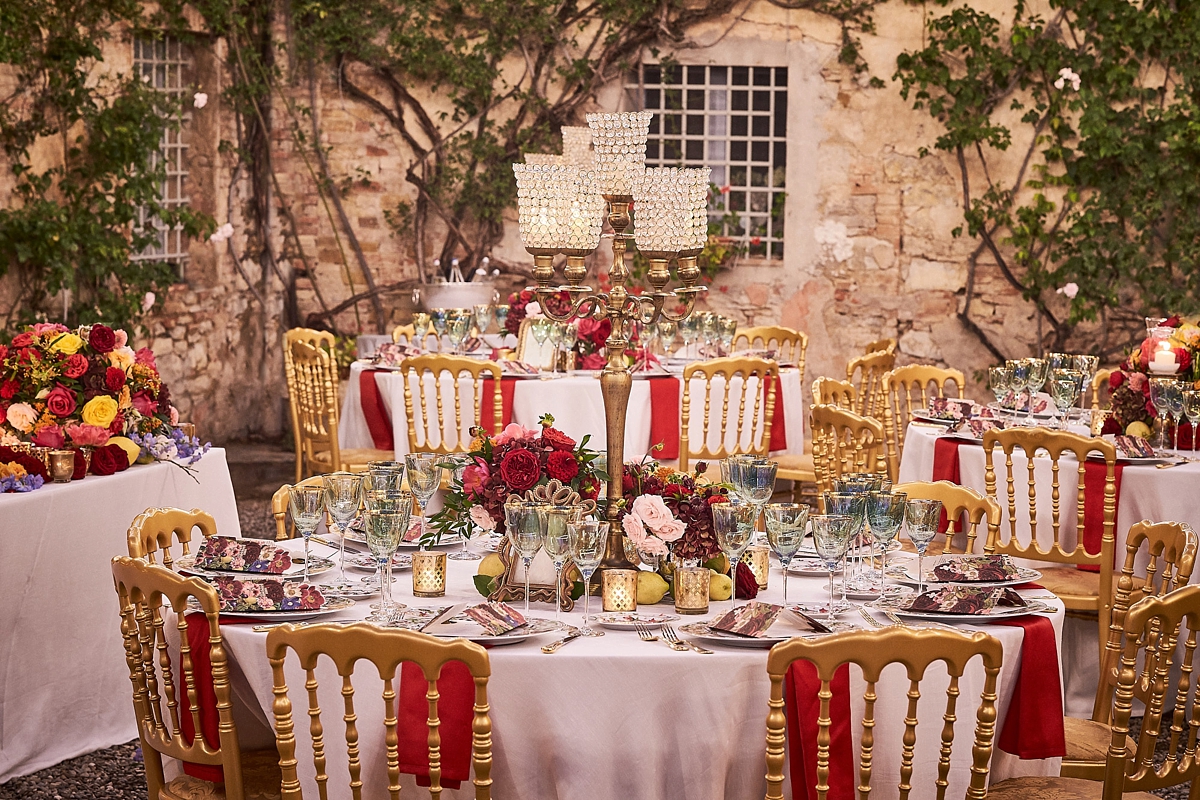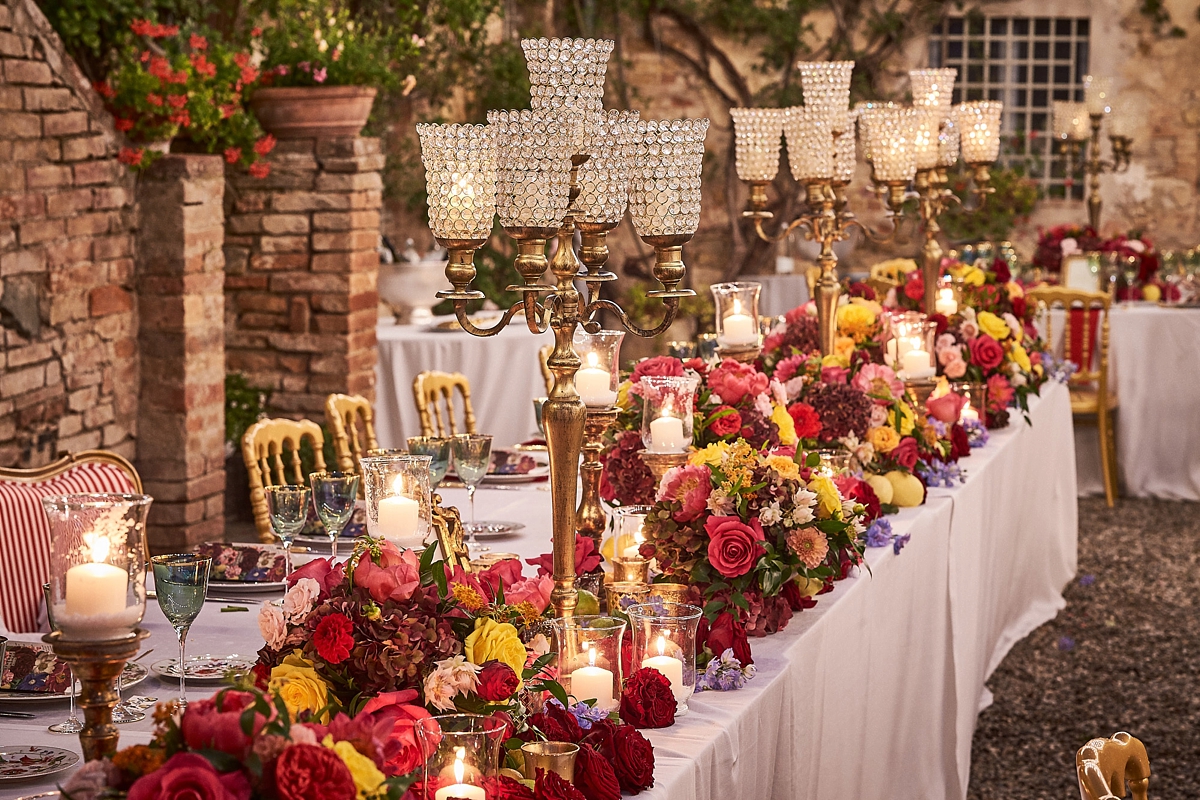 "Our amazing florist utilised thematic colour and included lemon and tamarind trees. She created the most gorgeous aisle decorated with absolutely tons of petals that she had previously dried to exactly match my wedding dress."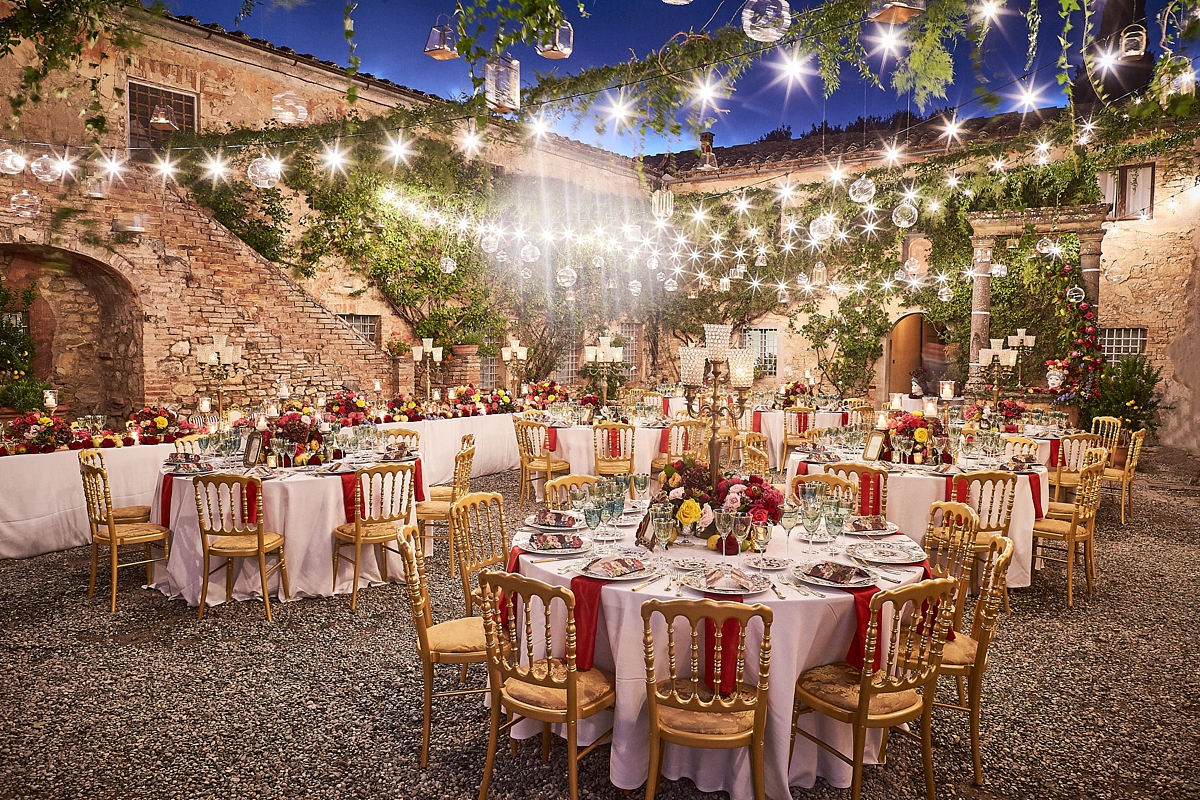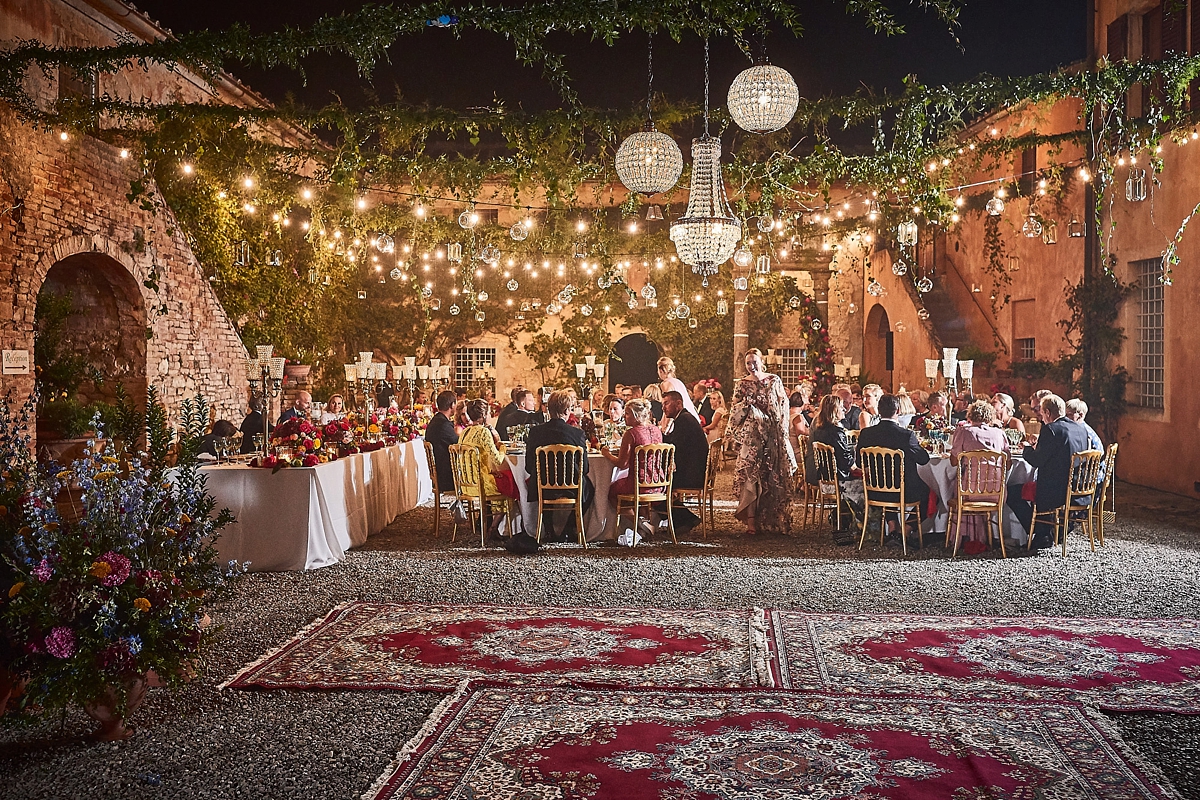 The wedding breakfast, which featured ravioli, pici, pork fillet and green apple sorbet, was created by Preludio Classe Catering who also made the magnificent wedding 'cake' – a traditional Italian millefoglie in the shape of a huge heart with red berries, Chantilly cream and chocolate chips.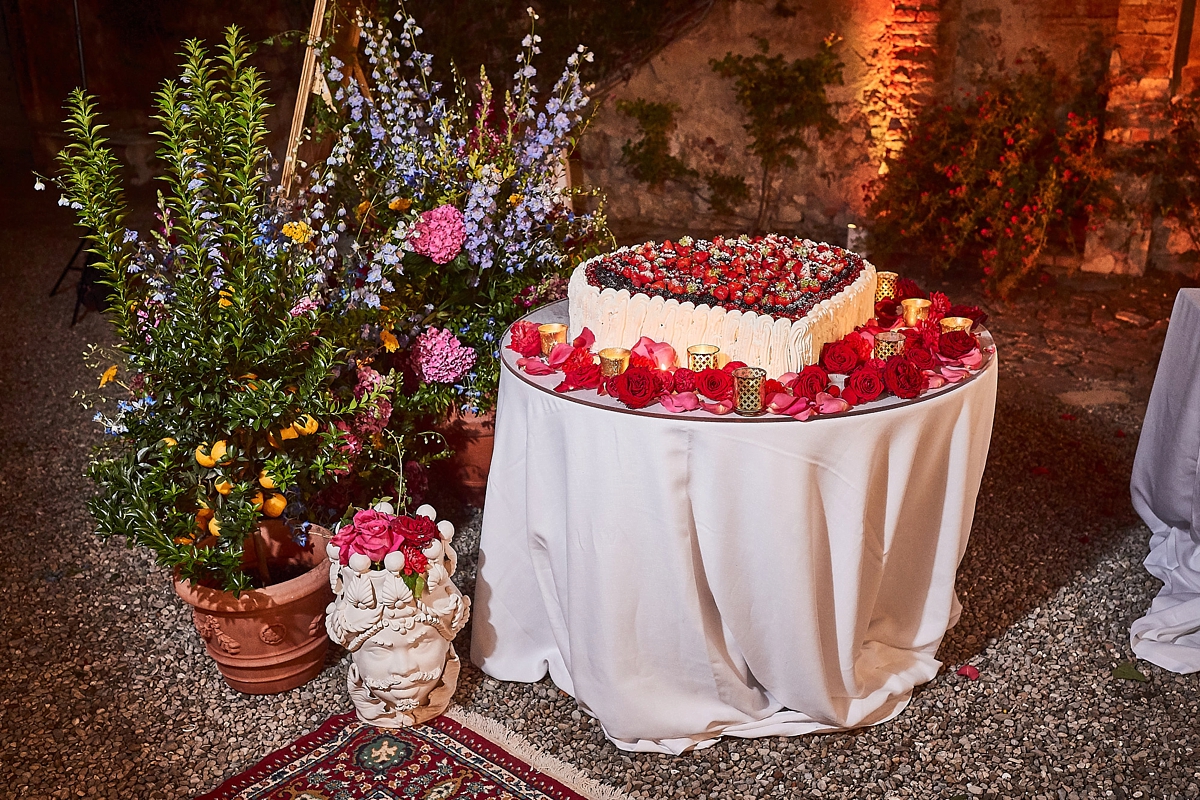 Speeches, and a traditional Swedish dance, were held during the dinner.
"The more stressful part for us was organising the wedding dinner speeches as we weren't able to be involved. In Sweden it's traditional for guests to give surprise speeches but in a destination wedding it was a massive challenge to incorporate our own cultural traditions and catering with those essentially Italian!"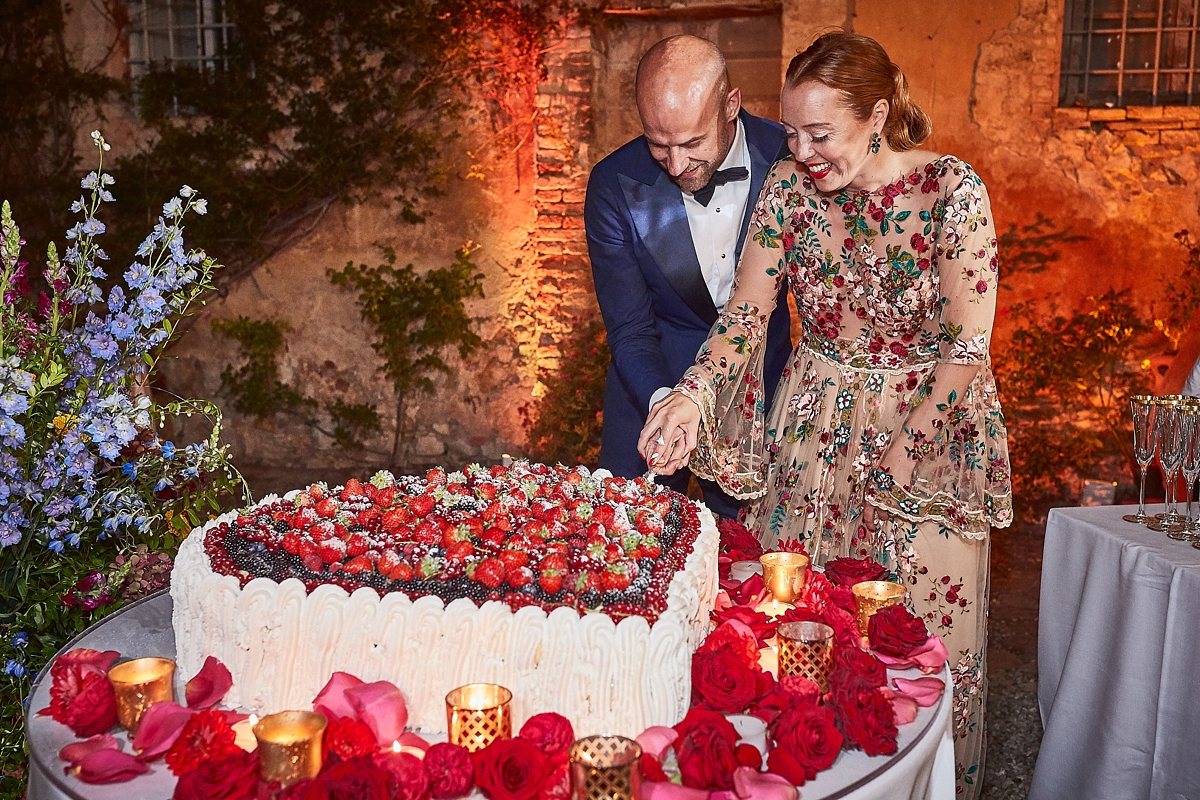 "We hired toastmasters to manage speeches and they perfectly choreographed all two hours and fifteen minutes of them, ensuring that the catering service was not disrupted. We honestly didn't believe it would be possible but our planner instructed and coordinated with musicians and lighting crew to pull off a miracle!"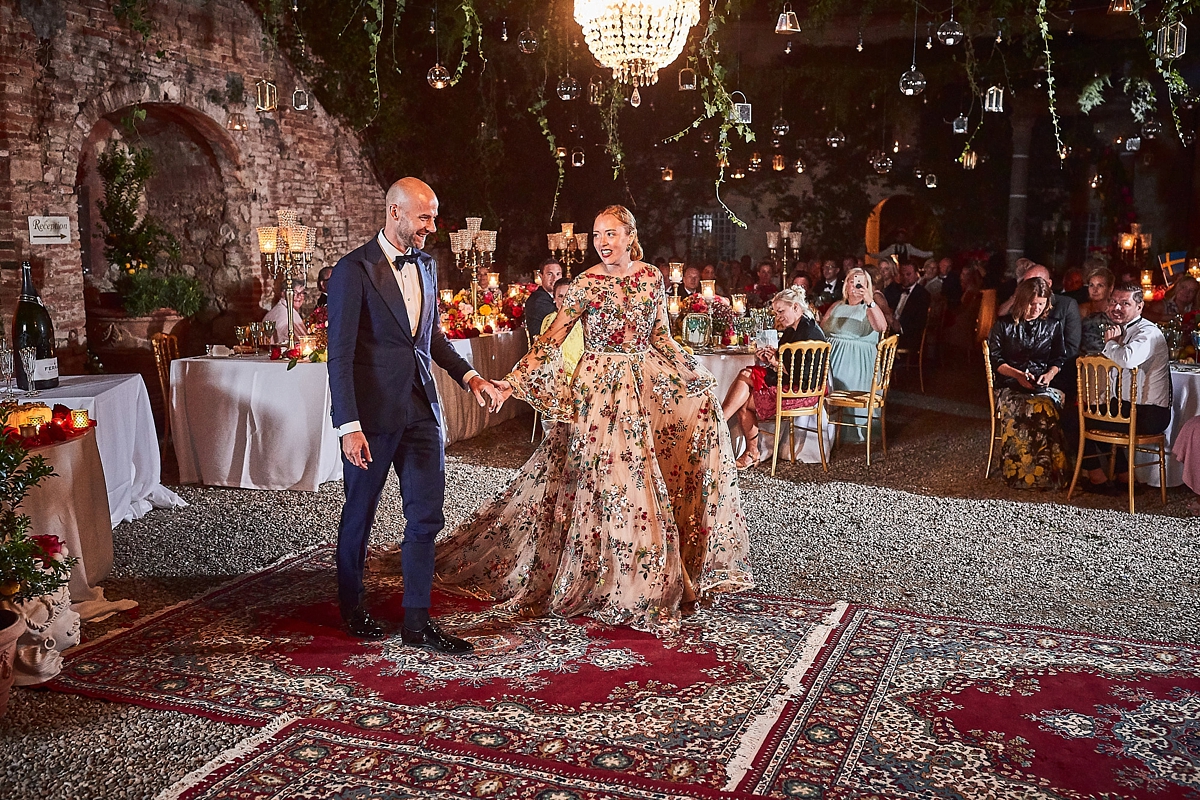 "During the speeches my mum performed a surprise dance dressed like a favourite Swedish singer I had when I was young. At the end of the meal we all stood up waving Swedish and Italian flags while an Italian song played in the background. We had our first dance as a married couple under the light of three chandeliers and danced upon Persian rugs."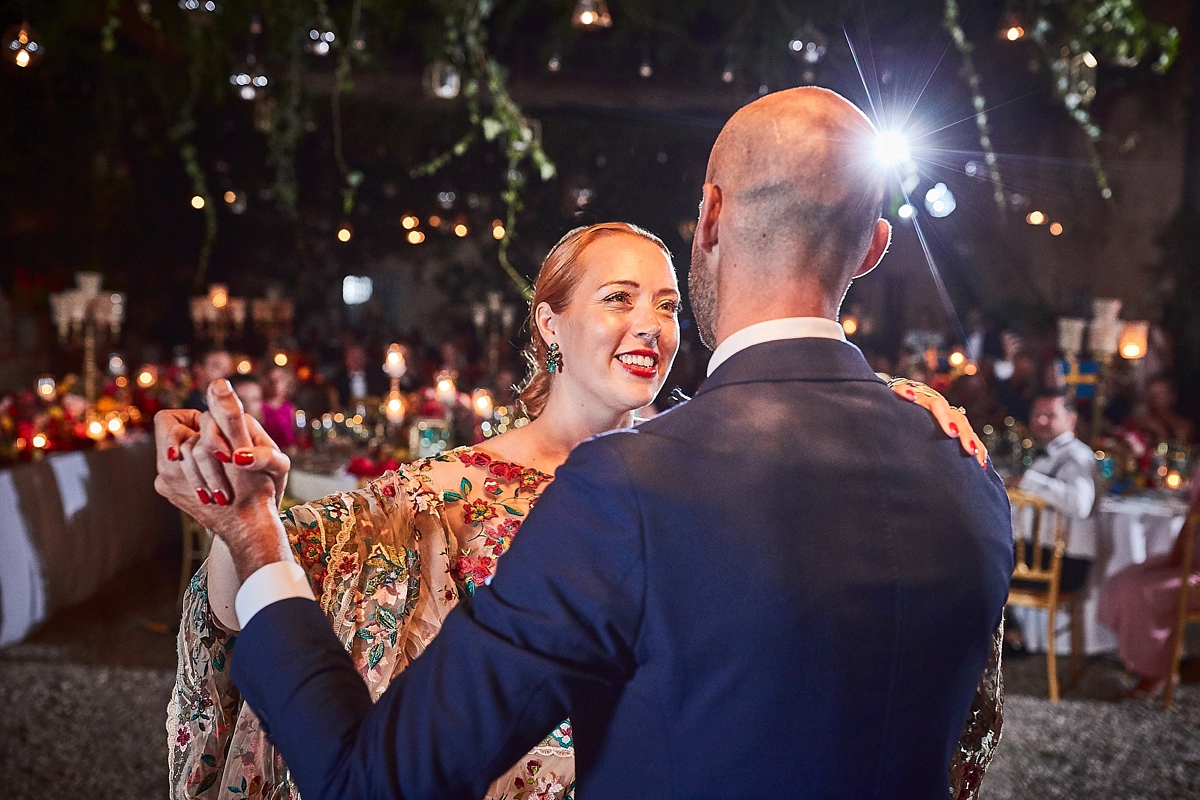 After the first dance to 'Crazy In Love' by Lisa Ekdahl, the newly-weds and their guests made their way inside for a full-on party.
"We had a fantastic DJ for the party who played an 80-90-2000 selection including Italian classics such as 'Gloria' by Umberto Tozzi and Giancarlo Bigazzi. Our first song was 'We Don't Speak Americano' by Yolanda Be Cool & DCUP."

"Our planner had the idea to design an incredible photo booth in the Lemon House (an old building used to store lemons in winter and which housed many antique pieces.) Our guests had so much fun in there!"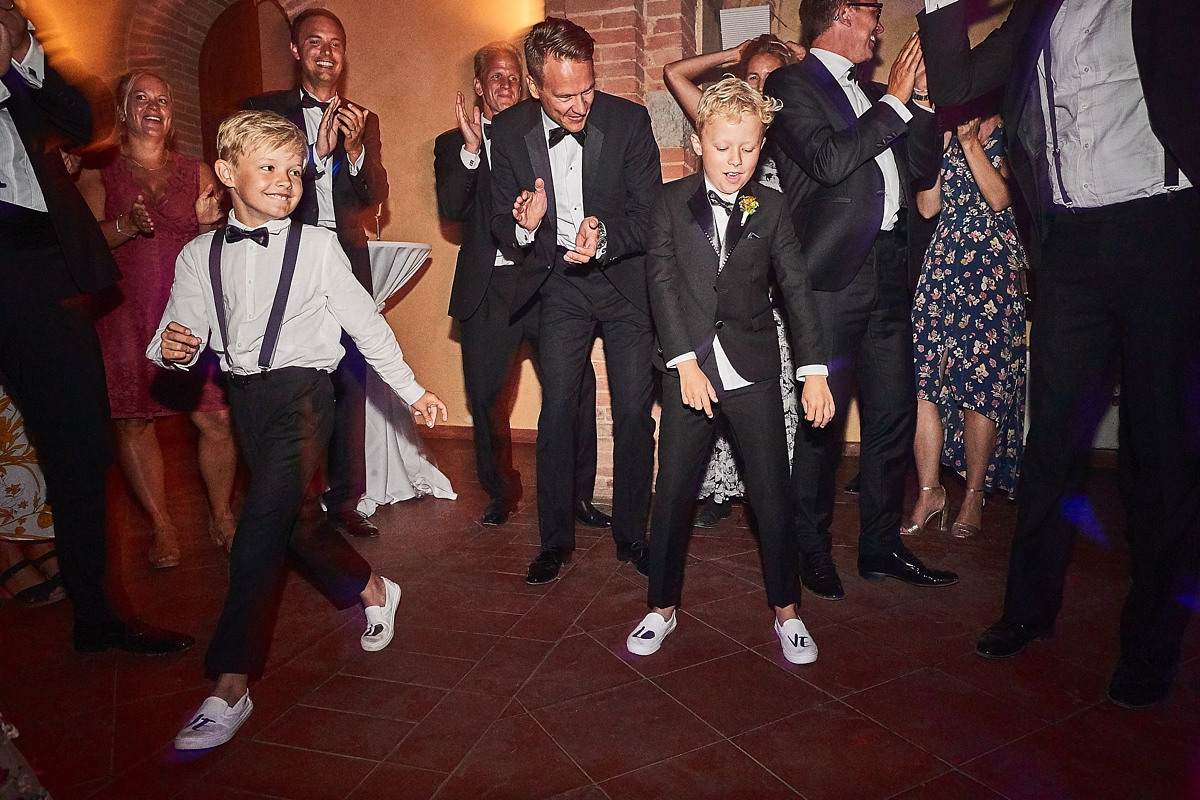 Words of Wedded Wisdom
"Choose a wedding planner you can really trust and who understands who you are, your tastes and vision. Make sure you hire someone who is creative, versatile and who doesn't just offer one style. The person you choose should ensure that your wedding will be as unique as you are."
"The combination of every aspect conspired to produce an unforgettable experience and extraordinarily beautiful dream wedding, which was the best day of our lives so far. It was incredible to celebrate in such an amazing setting together with friends and family. We will remember it forever!"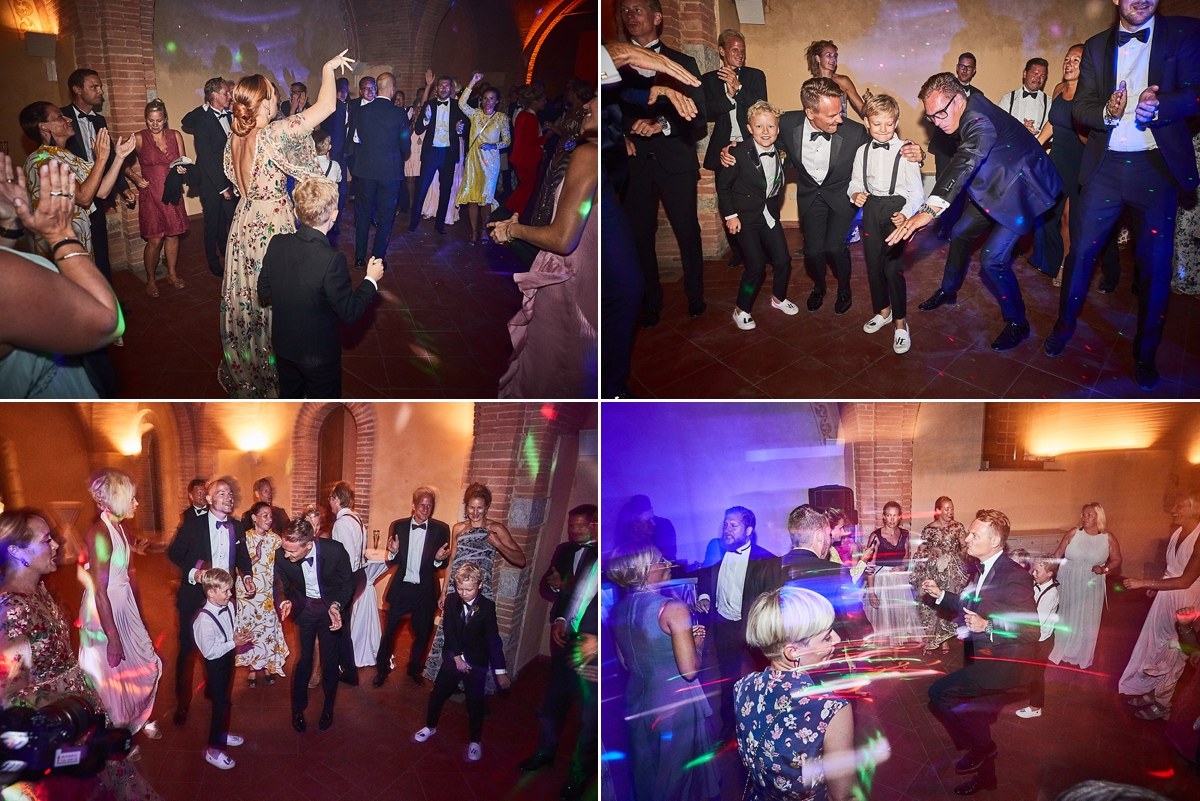 Well lovelies, what do you think? I've been blown away by this floral dream of a day, and have to thank Jules Bower so much for these vivid, intimate photographs. Thank you also Lisa and Niklas for sharing your day today. If you'd like to see more destination weddings then we have a whole category to enjoy here. As for me, I'm more excited than ever to be travelling to Italy to explore Tuscany for myself.
Wishing you all a lovely day,
Ele xx