In the UK we are so privileged to have so many amazing places right on our doorstep. From gorgeous countryside, mountains and coasts to incredible country houses, there is so much to explore.
Looking at these photographs, you'd never know that today's wedding took place just outside London. Come with me to Syon Park for an opulent, regal day full of gold, warm cream and berry tones. Oh, and please hold your breath for this incredible gown, which the bride re-modelled herself.
Annabel, a financial analyst, married research scientist James on 30 June 2018 at Syon Park, Brentford, West London. Their day was inspired by the historic beauty of the mansion, with a colour palette of gold and berry, with lots of flowers and hand-made, playful touches.
Photography Will Patrick Wedding Photography + Laura Martha Photography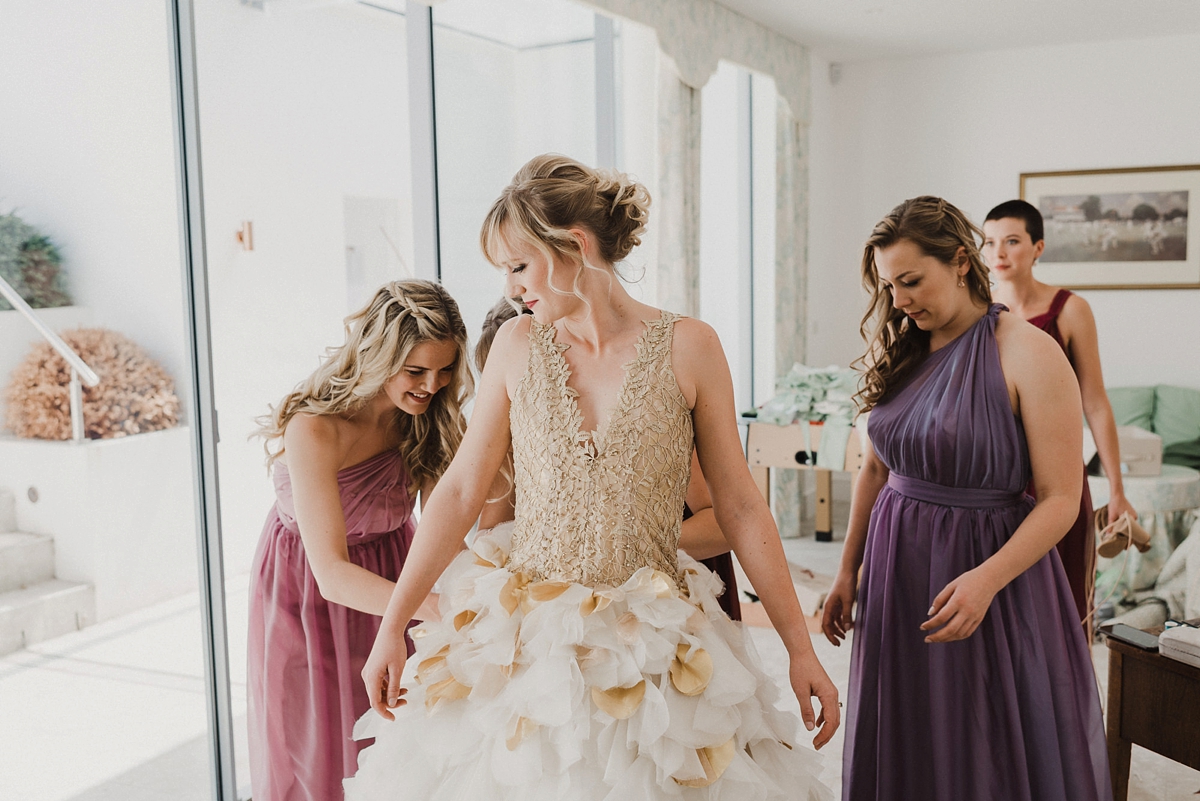 The passion for making things even extended to Annabel's gorgeously romantic, gold, ruffled gown. The gown began life as a Vera Wang design, remade to the bride's own design for a completely unique dress created by her sister and maid of honour.
"I come from a family of dressmakers and haberdashers so the intention was to make the dress from scratch to my own design. I went around several bridal boutiques to get an idea of what would suit and what I liked and in doing so picked up elements from several designers whom I loved."
"Vera Wang was my dream since I was a child so when a Vera Wang sample sale came up, I knew I had to go. I tried on the beautiful Hayley dress and completely loved it – though unfortunately the dress was a fair bit too big."
"A few weeks after getting it home I became paralysed with indecision about if this was the right choice. My family proposed, given how technical the dress would have been to take in anyway, that I could try to incorporate something from the other designers I loved into this dress – this is where I had the idea to take the top of the dress off entirely and redesign it from scratch."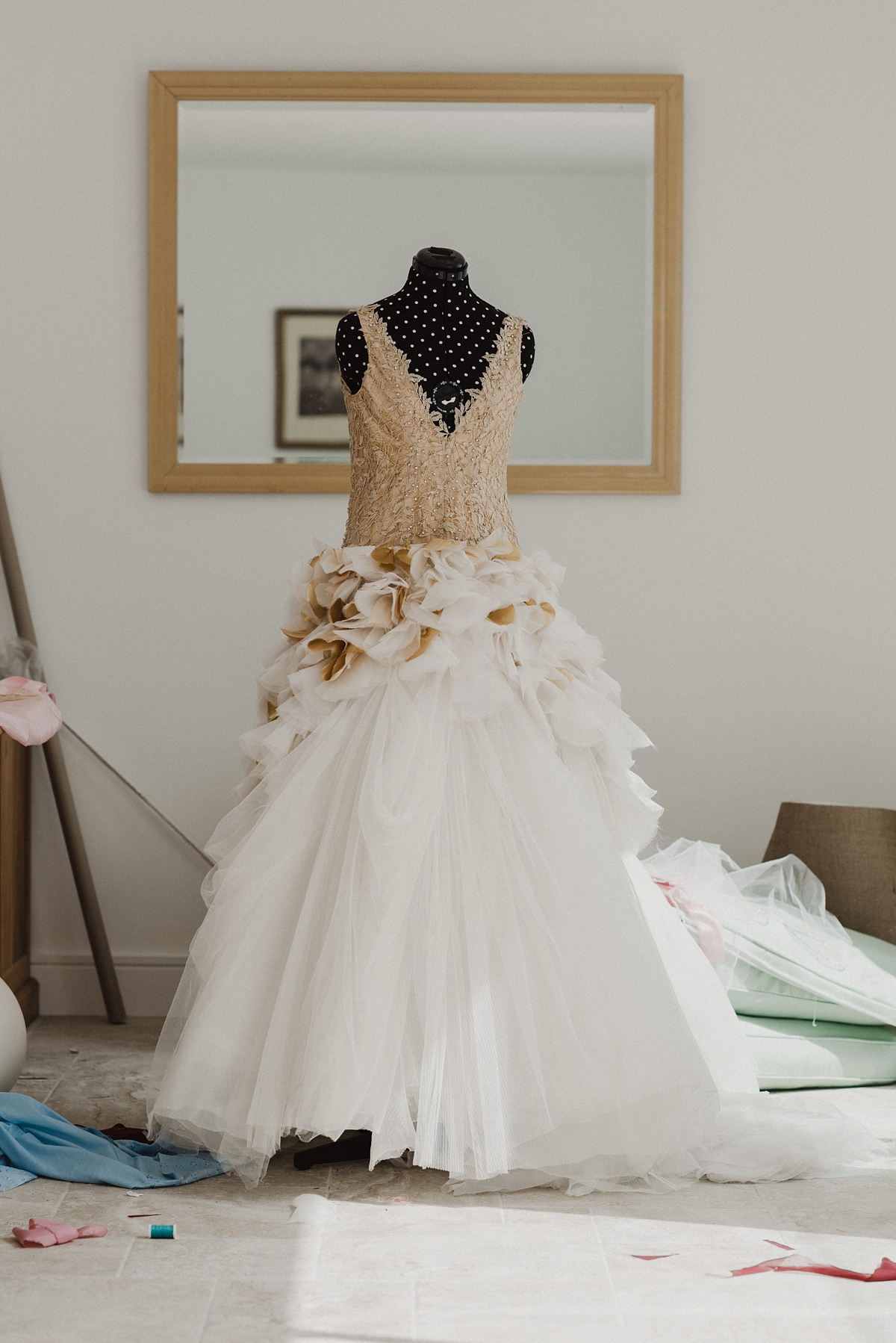 "The top ended up being influenced by the Galia Lahav Lily Rose dress. I particularly loved the ruffles and the train of the Hayley dress and the appliqué, fit and deep V-neck on the Lily Rose dress. The idea of the gold came from the fabric shopping experience and finding a beautiful gold lace. The gold was then fed down through the skirt to blend the skirt and the top together into a beautiful one-of-a-kind creation."
The resulting dress totally matches the bride's outgoing, fun personality as well as the grandeur of ceremony's surroundings.
The couple 'officially' met at university in 2010, studying Chemistry at Imperial College.
"This was actually a year after standing next to one another in the crowd of a Bloc Party gig completely oblivious (we actually have photos of us!). I spent the first year of university trying to convince James that a relationship was a good idea and he finally caved in early in second year."
"Six months later, James proposed on a complete spur of the moment in our tent at a festival in a zoo. Whilst it was an absolute 'yes' at that moment we kept it fairly quiet as it was quite early on – we had barely met one another's parents – and we were very young."
"We decided to wait until we could realistically afford a wedding."
"Five years later in May 2017 James recreated the scene from the festival and proposed (in a slightly prettier tent), this time with a beautiful sapphire ring."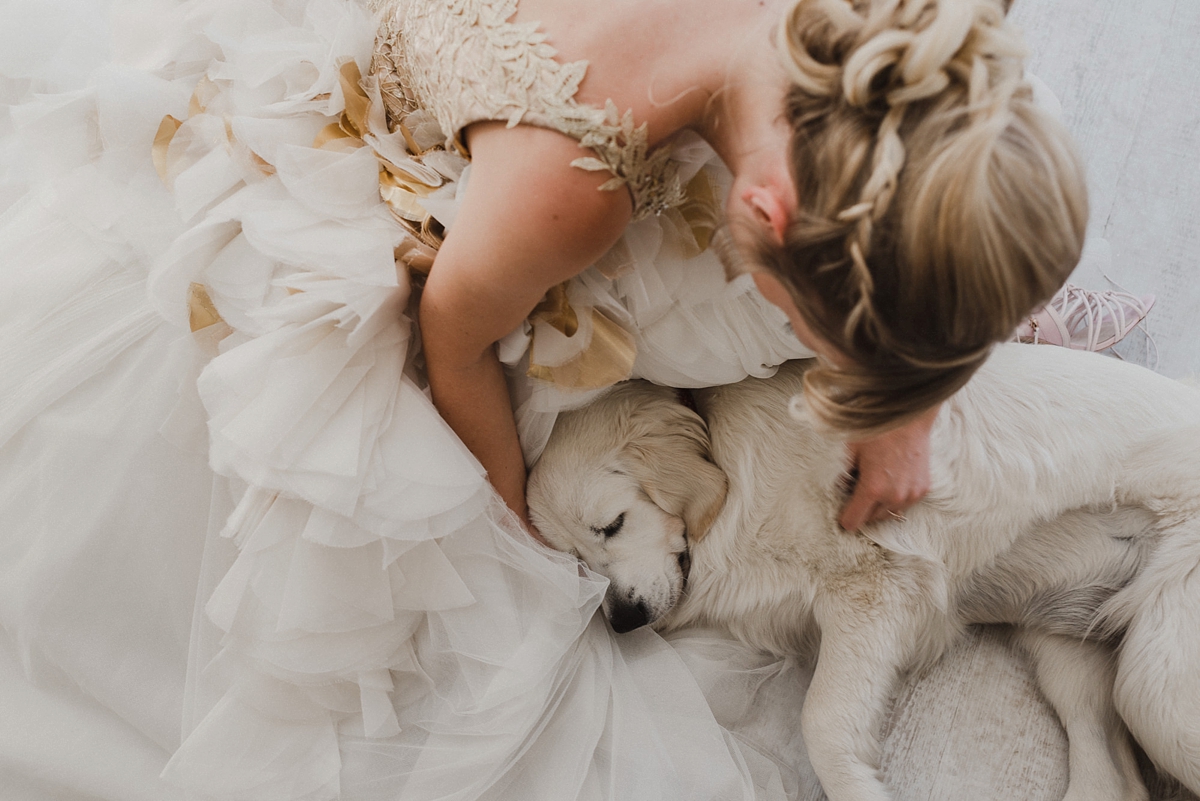 For a really modern touch, she wore a skyscraper pair of strappy sandals with crystal heels – the Lacey Crystal by Sophia Webster.
"I loved the beauty of the shoes, the colour and the 'Wifey for Lifey' on the sole – unfortunately worn off through vigorous practice of the first dance."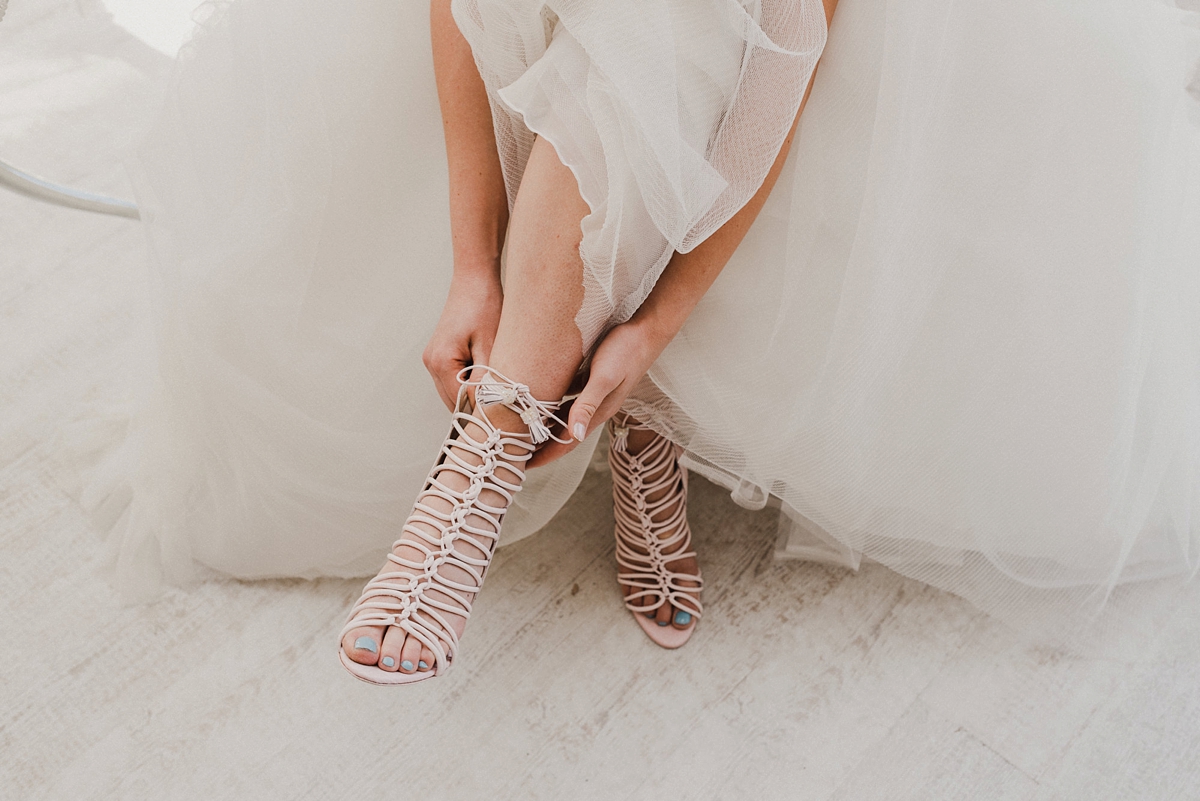 The mansion house venue called for formal black tie, so James chose a midnight blue tuxedo with paisley detailing and black bow tie from Moss Bros. His groomsmen wore the same with bow ties in a dark berry hue. For a splash of colour, their striking buttonholes were single pink roses with a touch of foliage.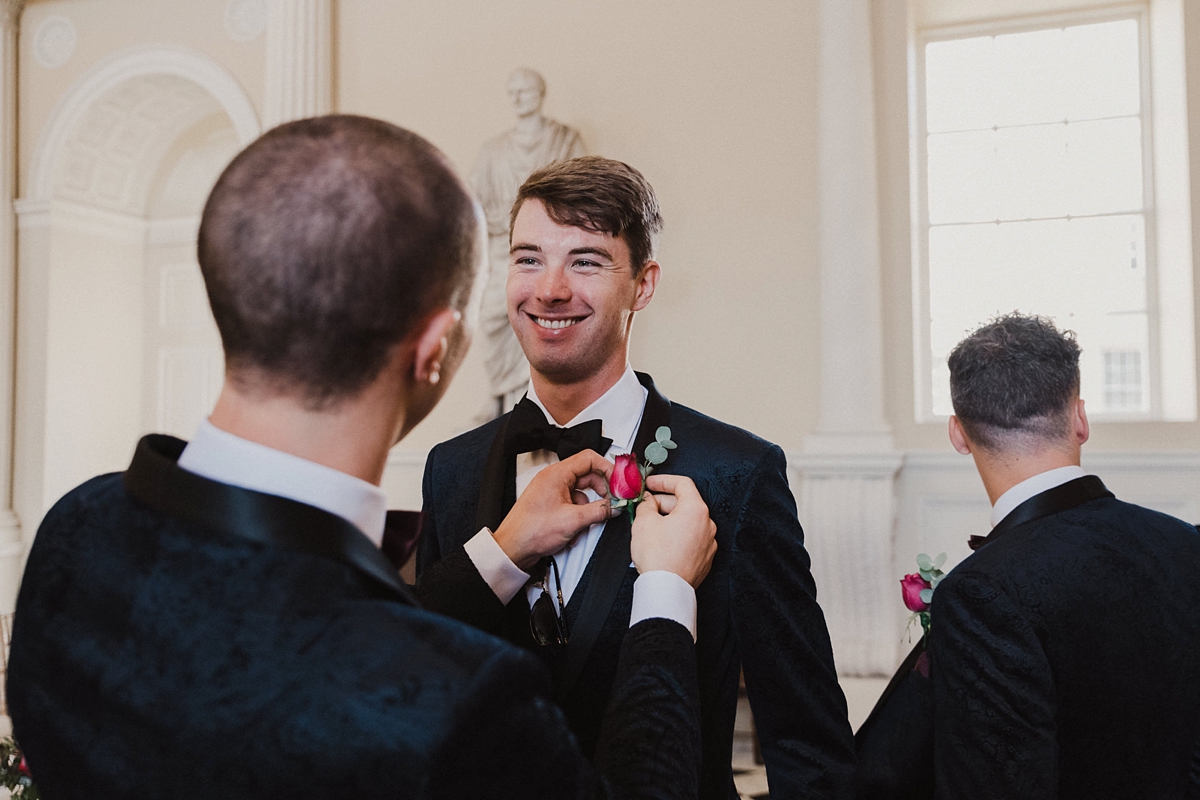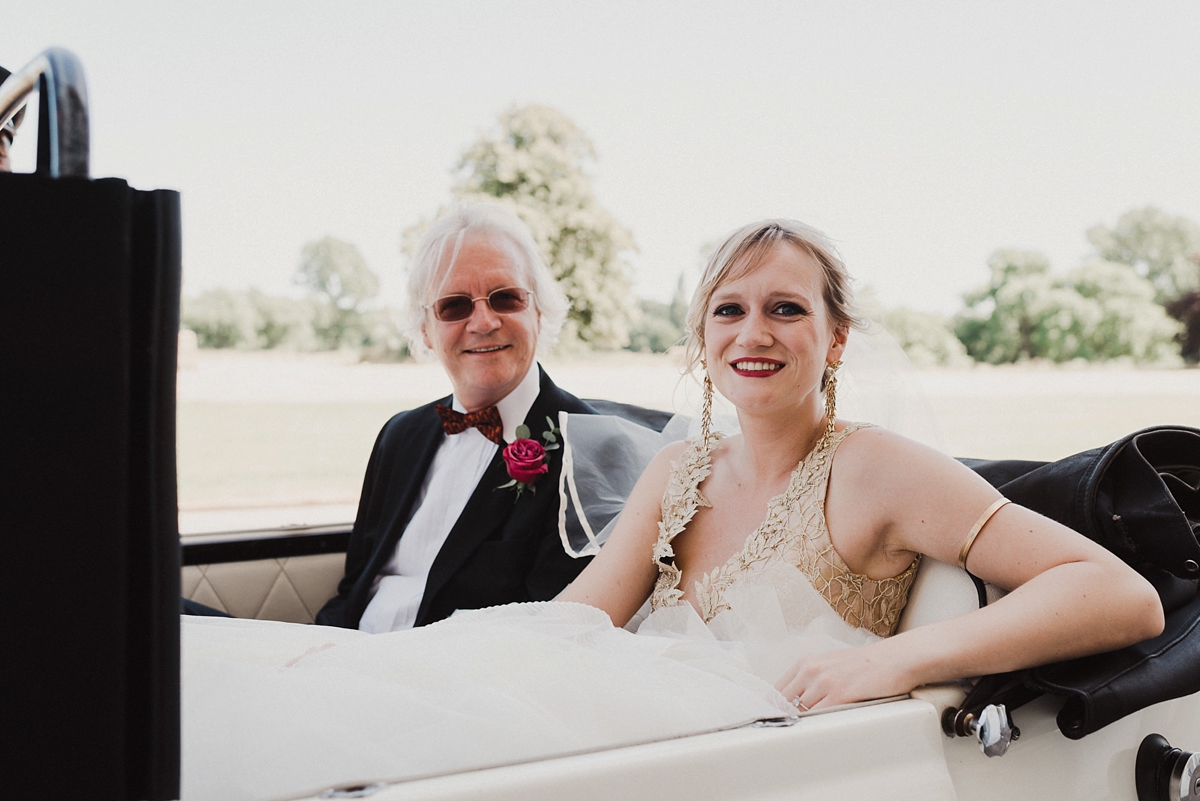 Although a country barn wedding had been the couple's initial vision, a London day proved to be the more sensible option.
"Due to relatives' ill health, it was decided that we had to pick a London venue – for ease of travel and as my family live there so can support when needed. Fortunately London has a large volume of beautiful venues, though limited barns."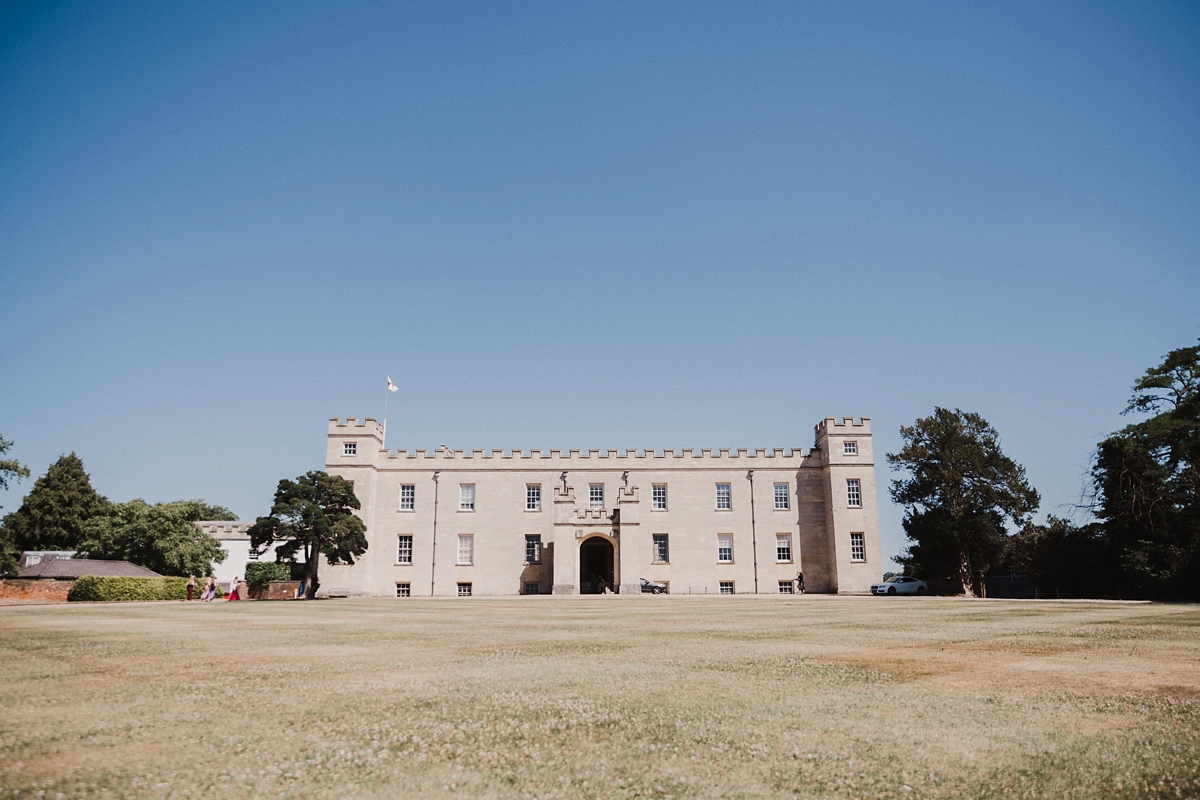 "We had actually settled on another beautiful venue when my mother happened to take some family friends to see the gardens at Syon."
"She then convinced us to just go and have a look and we managed to get an appointment to see it on the Bank Holiday Monday. I didn't even take my notepad or venue 'questions to ask' list as we were so settled on our initial venue."
"When we saw it we were completely blown away and knew pretty instantly that it was perfect – particularly when they mentioned zero corkage and that we could have a bouncy castle and fairground rides if we wanted to. It was essentially extremely beautiful and a much more blank canvas and flexible than other venues. We were phenomenally lucky to get a cancelled date!"
The bride's mother hand-made the matching veil, keeping it light and short to balance the full skirt of the dress. Annabel's long, dramatic earrings are from Rosantica at Net-A-Porter whilst her armlet was a family heirloom from her great-grandmother. On the day, Mel Kinsman was on hand to apply the bride's flawless make up and her blonde hair was woven into a pretty, braided up-do by Maë Hair Specialist.
Her perfume was The One by Dolce & Gabbana, a gift from her godfather.
"Maë was absolutely wonderful, so friendly and so helpful – perfectly tailoring beautiful styles to different hair types."
Annabel's mother's sewing expertise was called upon again for the bridesmaids' dresses. She designed elegant, Grecian-inspired gowns in shades of pink and red, which they wore with Pia Jewellery earrings.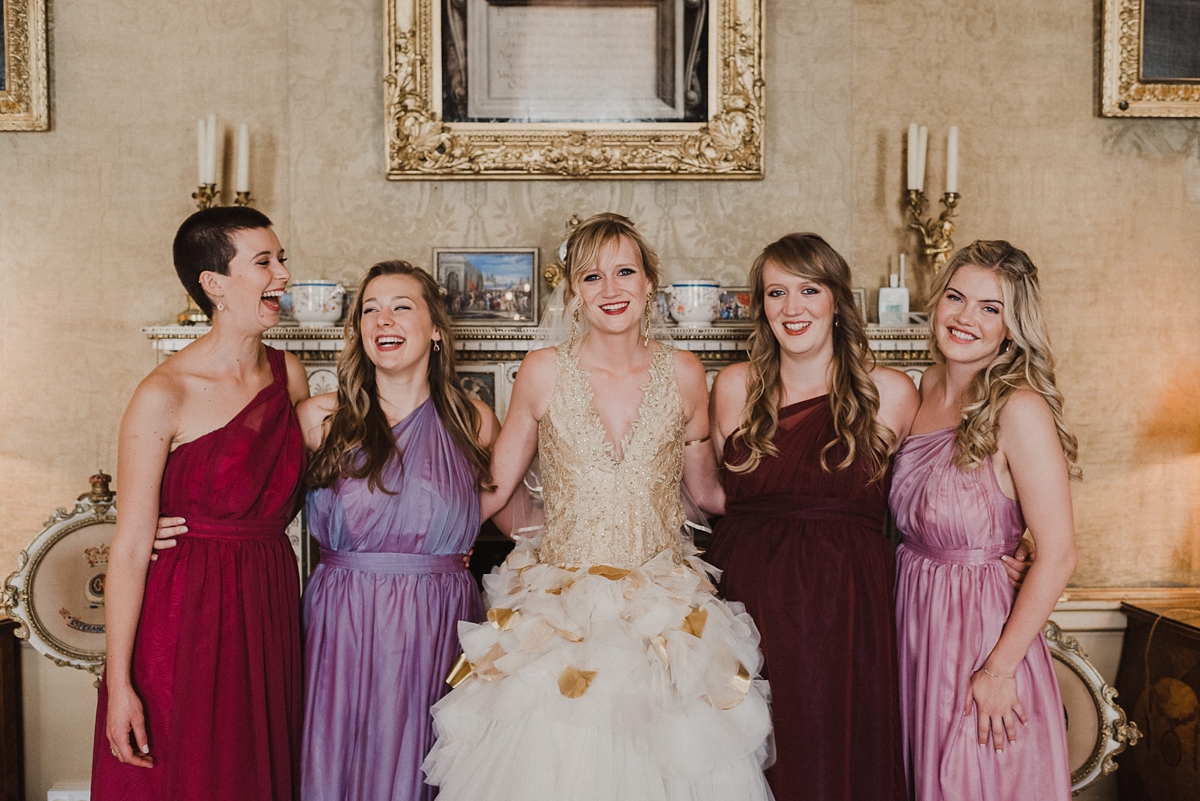 The couple's ideas developed throughout the planning, but they were always keen to create as much themselves as possible.
"The venue had such beauty and elegance that I once joked the theme was 'extravagance and opulence, but as personal as possible'."
"We didn't specifically have a budget and just decided to assess if we thought each cost was reasonable at the time. I (as a chartered accountant) kept several detailed spreadsheets of spending and projected final costs to ensure we stayed within 'reasonable' limits. Tracking the spending meant that we were able to manage savings to ensure we had them ready when we needed them and could splurge if we had any excess."
"We intended to do as much of the wedding as DIY as possible so that it could be as personal as possible. If DIY is planned well, it can obviously save lots of money which allowed us to be more generous with spending in other areas."
"We dread to think what the cost would have been if we had purchased everything and absolutely loved how personal everything felt to us."
The wedding ceremony was held in one of the magnificent reception rooms, decorated with statement arrangements of colourful flowers. Annabel and her father arrived in a vintage Beauford car before entering the ceremony room to Handel's 'The Arrival of the Queen of Sheba'.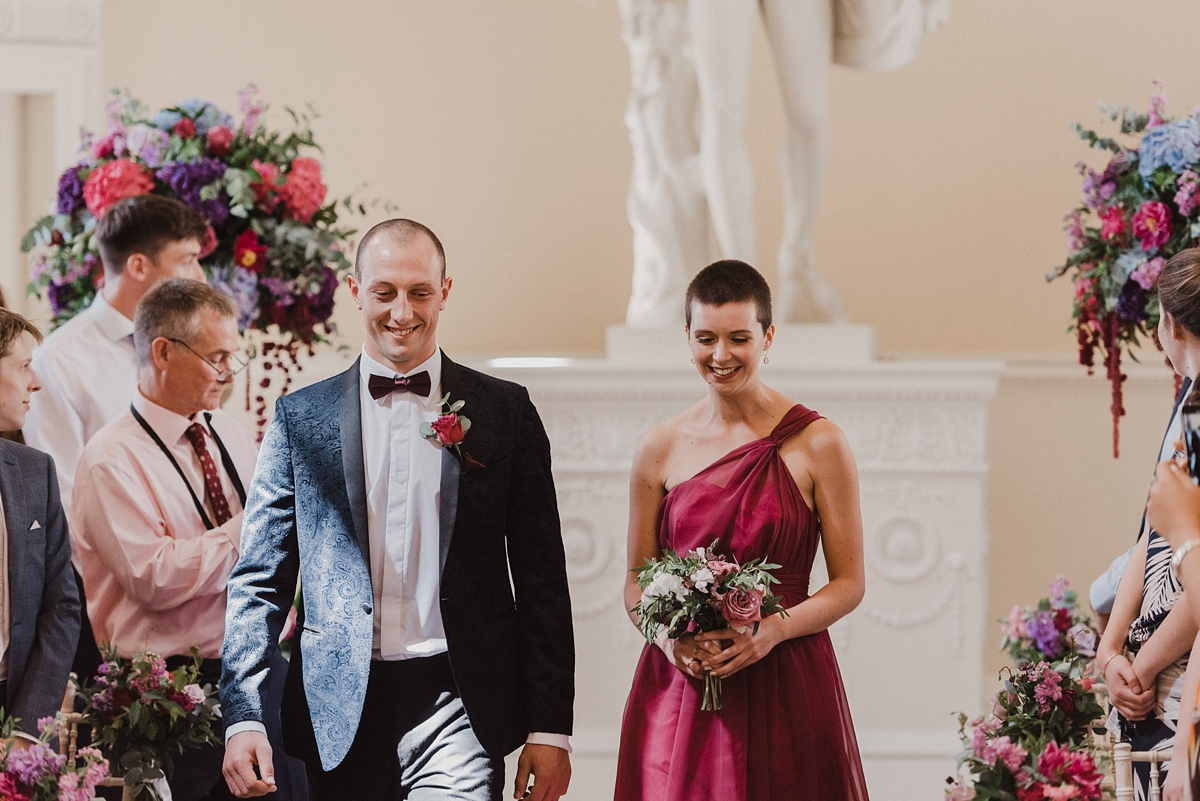 The civil ceremony was short and sweet.
"We actually wanted quite a short ceremony so that we could spend more time celebrating the rest of our lives together with all of our friends and family."
Annabel selected an unusual gold floral wedding band from Ungar & Ungar whilst James' ring was an Orla James design.
"James liked this supplier as they were able to post you 'sample rings' so you could see if you liked wearing the thickness and weight before you committed to purchasing."
The opulent, tumbling bouquets were created by Mary Jane Vaughan whilst the incredible centrepieces were grown and arranged by Annabel's mum.
"My mother grew and prepared all of the reception centrepieces as she is a keen gardener and has won several awards."
After the ceremony the newly-weds and their guests spilled out onto the courtyard to soak up the sun, enjoy reception drinks and have fun on the gorgeous green lawns – lots of space hoppers, lawn games and a Prosecco pong table were provided for the guests' entertainment.
"There were so many favourite parts – the moment we spent alone together to come to terms with the magnitude of what just happened after the ceremony; coming out into the courtyard as newlyweds and having Aperol Spritzes forced into our hands by our eagerly-waiting friends; listening to the speeches – expected and ad hoc; nailing the dramatic lift at the end of the first dance; the dancing and the after party back at the hotel."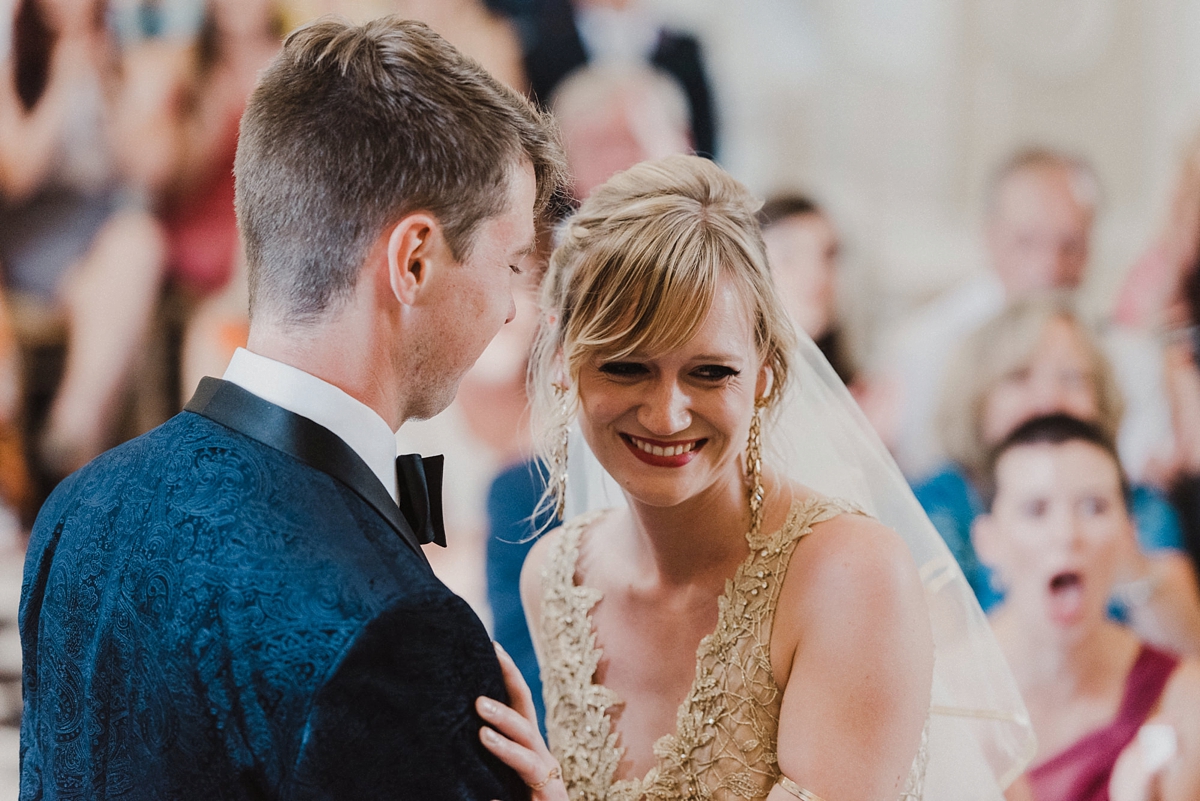 The conservatory looks so luxurious and dramatic with its gorgeous home-grown flowers and DIY décor. It must have smelt incredible, too with all of these fresh blooms.
"Virtually all of the décor was handmade. Table numbers were glued from wine corks drank by both families throughout the wedding planning – along with a lot of help from friends towards the end; the number of corks you need is phenomenal. The placemats (gold foiling over purple fabric) were made by my mother."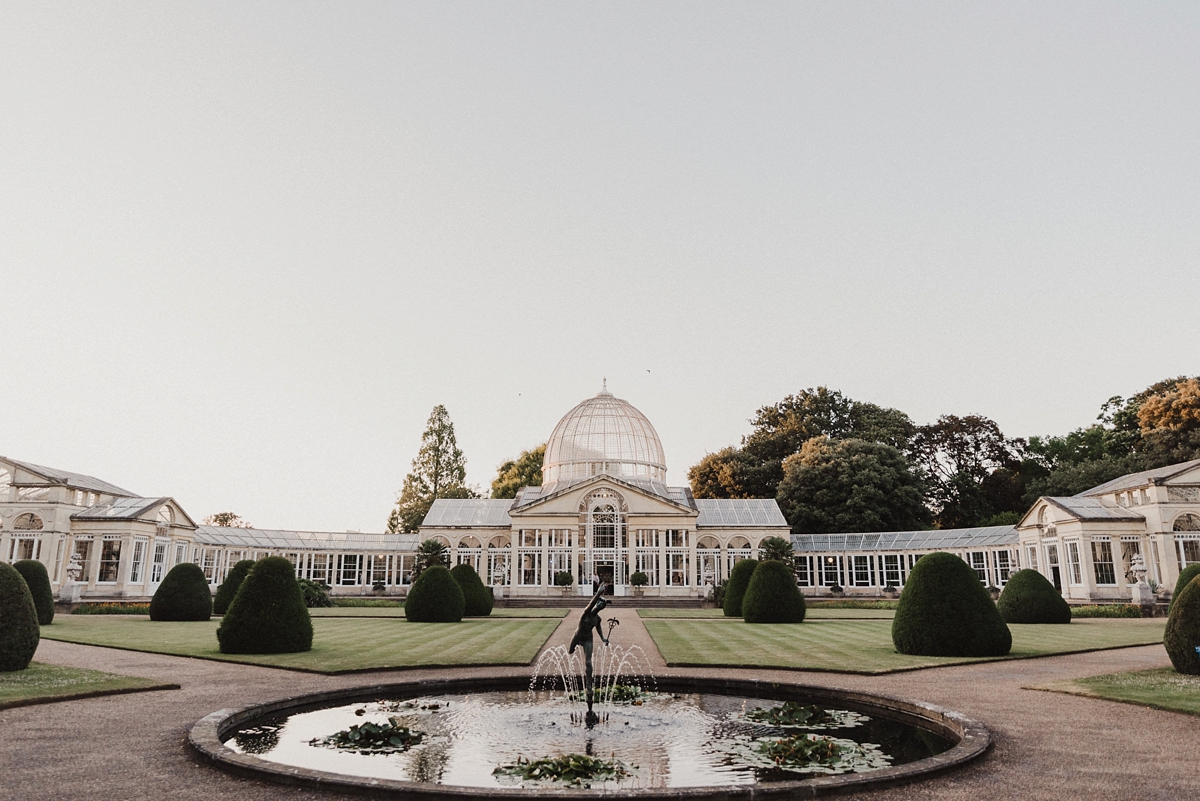 Photographer Will Patrick Wedding Photography and second photographer Laura Martha Photography were perfectly placed to capture the ceremony. His photographs are clean, crisp and filled with light; it looks as if Annabel and James had so much fun getting their couple shots too.
"Will was absolutely fantastic throughout our entire experience – before we booked him, after we booked him and especially (and most crucially) at our wedding – he stayed for an unbelievable 14 hours! Our huge portfolio of beautiful photos was received very promptly afterwards, even in peak wedding season."
"I created all of the signs, including intimate details such as flip flops for tired feet, sunglasses box for anyone who forgot them, bathroom boxes and so on. I also created a beautiful card box, sweets vase area and the wonderful table plan – a collection of small glass bottles with name tags, filled with Fireball whisky, and pegged in alphabetical order onto a chickenwire frame."
"This frame doubled in the evening as a Polaroid photo board."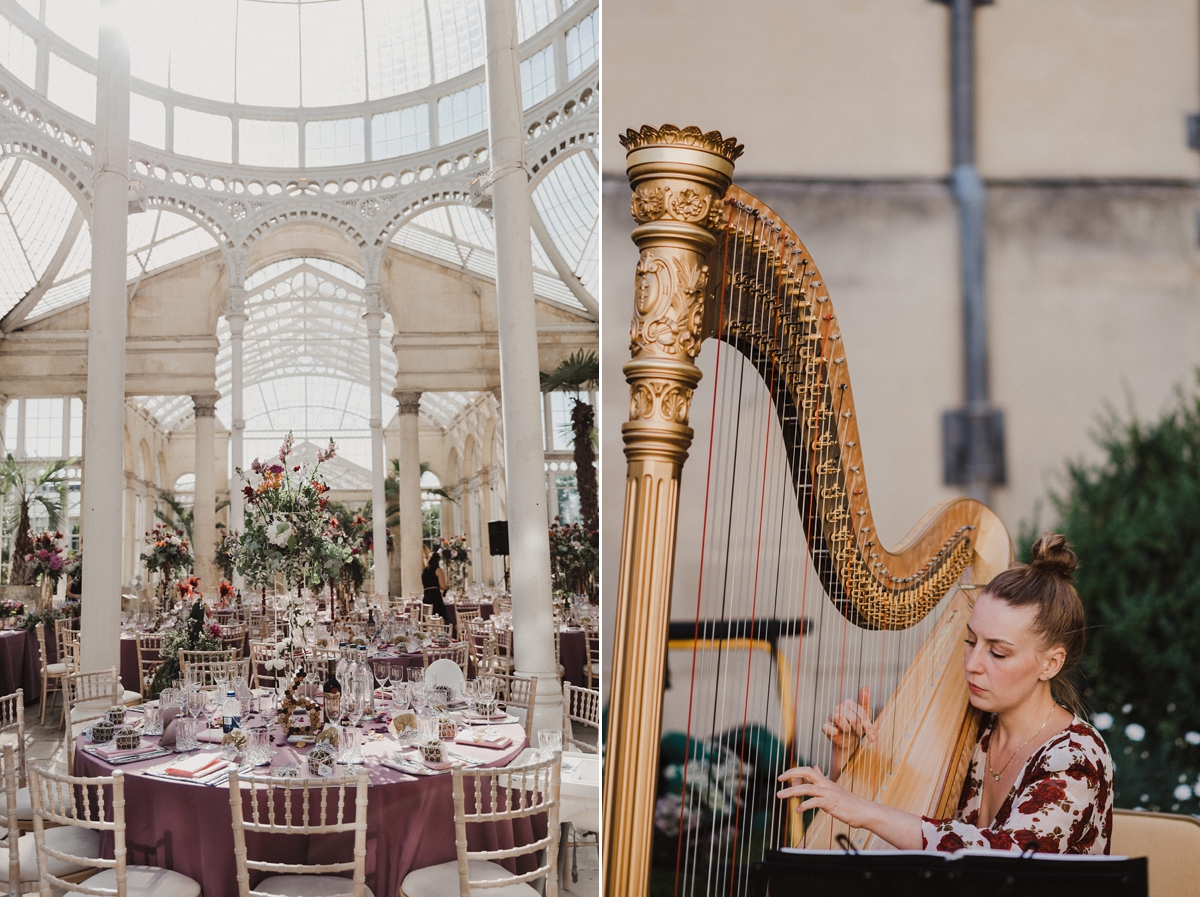 "We were able to acquire hundreds of little trinket boxes for a very low cost due to connections from my grandmothers' shop. We filled each trinket box with some gold tissue paper and three Lindt Lindor chocolates. Unfortunately the day was so hot that they all melted and no one took them home!"
The wedding feast was provided by Acclaim Events whilst in the evening, the guests feasted on food from Well Kneaded.
"Absolutely fantastic pizzas served from a beautiful vintage van."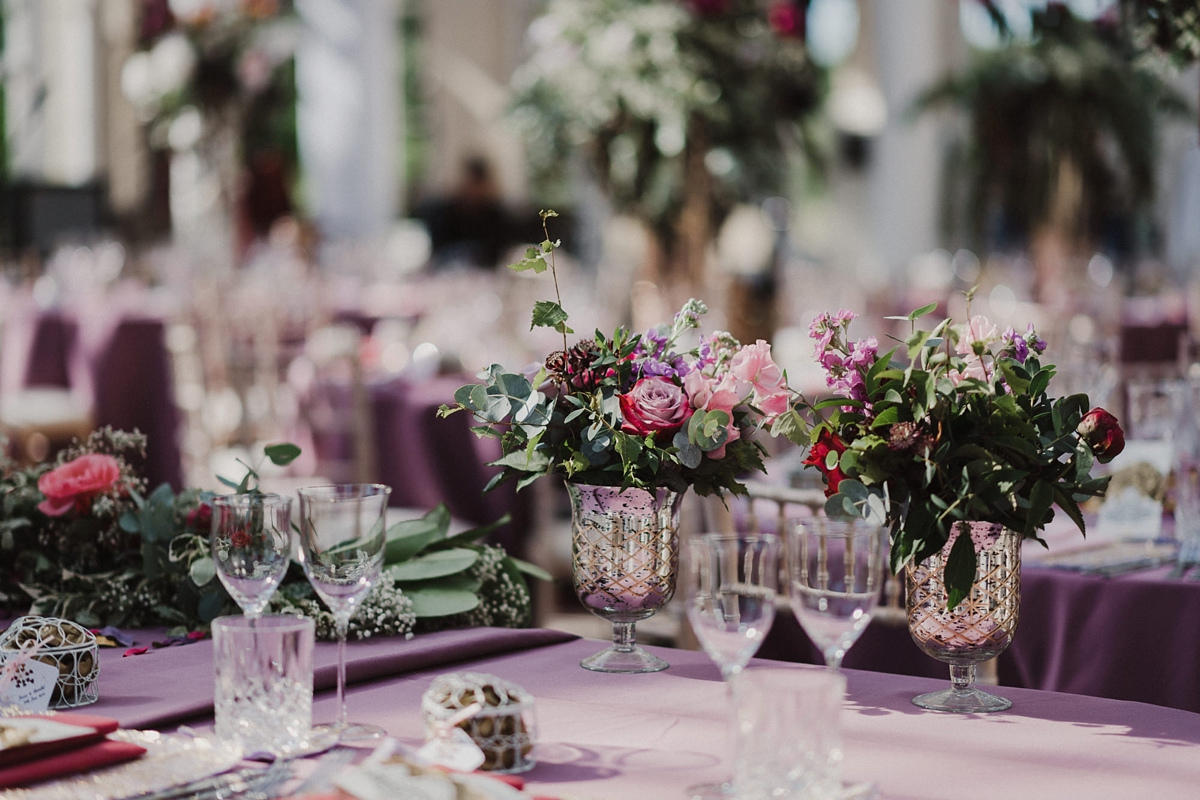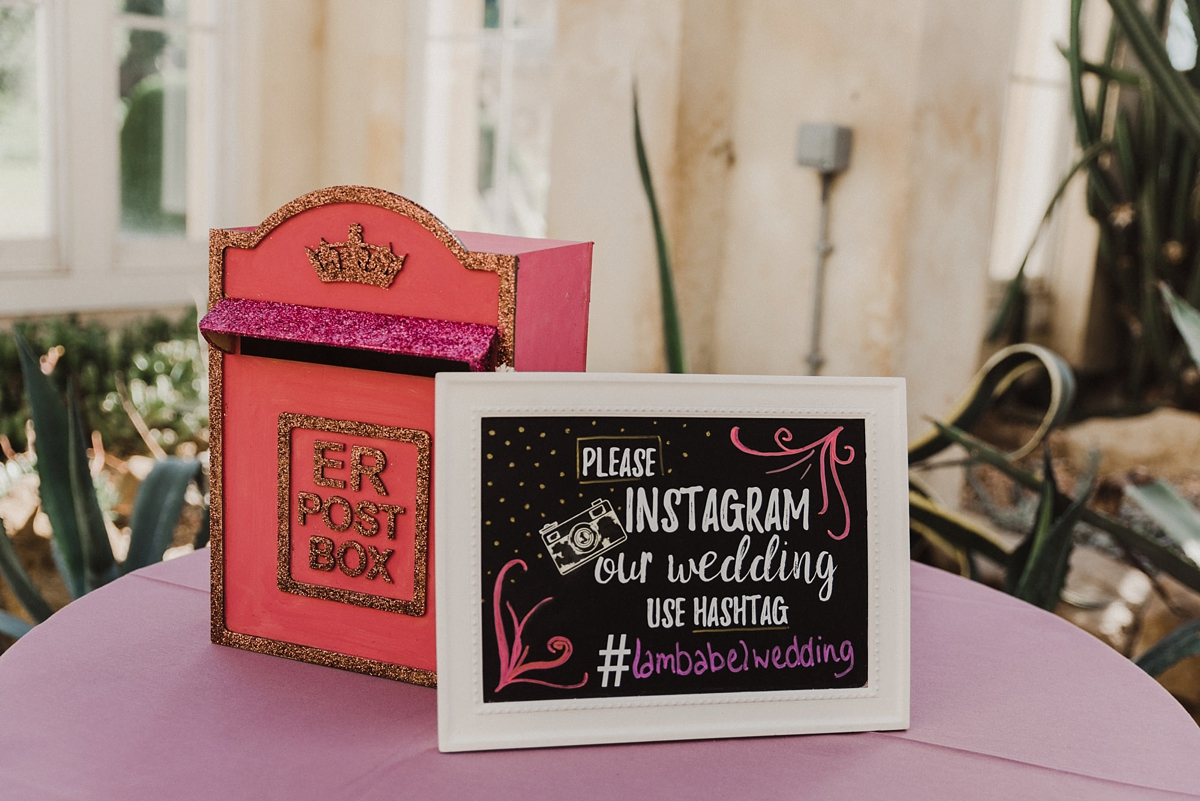 The cake, presented in a gilt bird-cage, is completely unique; I've never seen anything like this before. It was created by Jen's Cakery.
"We really struggled deciding on a cake as there are so many beautiful options out there. My specification was that I wanted something people would not have seen before and Jen was instrumental in helping with ideas. We decided we needed a bold cake in terms of design and colour so as to not be outshone by the giant gold birdcage it was to be placed in."
"We told Jen we wanted to incorporate the gold and berry tones colour scheme. She came up with an ombre rose cake design, which she had made before. We decided to tweak this by amplifying the size and alternating the rose piping tiers and gold leaf tiers. The result was absolutely stunning and – with each tier a different flavour – it tasted amazing."

Come night-fall, Top Cat Collective arrived to play live music for the party.  The first dance was to The Maccabees' track, 'Seventeen Hands'.
"We wanted something personal that we both liked and which actually meant something whilst still being something you can dance to. The lyrics of this song were perfect for the time and the beat which comes in at the chorus fitted perfectly for the joyful dance vibe we were looking for – swaying in a circle would have been our worst nightmare."
"Top Hat Collective are a wonderful six piece funk band. They learned our first dance song from scratch for us and everything. A joy to listen to all evening."
Words of Wedded Wisdom
"Do what you want, within reason. If you think something is beautiful and you think you cannot do your wedding without it, then you only get married once but try to remember that you (the bride, maybe the groom) are the only person who actually notices/remembers the details!."
"Keep a careful track of costs – know how to manage your cash flow, what have you got left to pay versus what you earn or have in savings. We found almost all suppliers ask for deposits with final invoices in the weeks just before the wedding, so it is key to plan for that. Try and think of costs you didn't think of before and add a big contingency to everything you expect to pay, just in case – if you don't spend it, you'll have extra savings for the honeymoon!"
"If you are planning to do DIY make sure you realise the scale of the challenge before you begin – we hand-painted each of our invites, tied ribbons around them, added pegs and carefully shaped hand-cut sleeves and envelope lines… No regrets whatsoever, but this genuinely took weeks. Even making wine cork table numbers takes months of planning!"
"On the day try to relax. My biggest regret about my wedding is I spent so much time worrying if the guests were having a good time that it passed me by so quickly. Also get someone else to get your drinks; trying to walk to the bar in a wedding dress will see you stopped by every friend or relative en route and it will take you forever to actually get there."
"Finally, if you want to use the space-hoppers at your own wedding, don't get a dress with a massive skirt and shoes which take about ten minutes to get on and off!"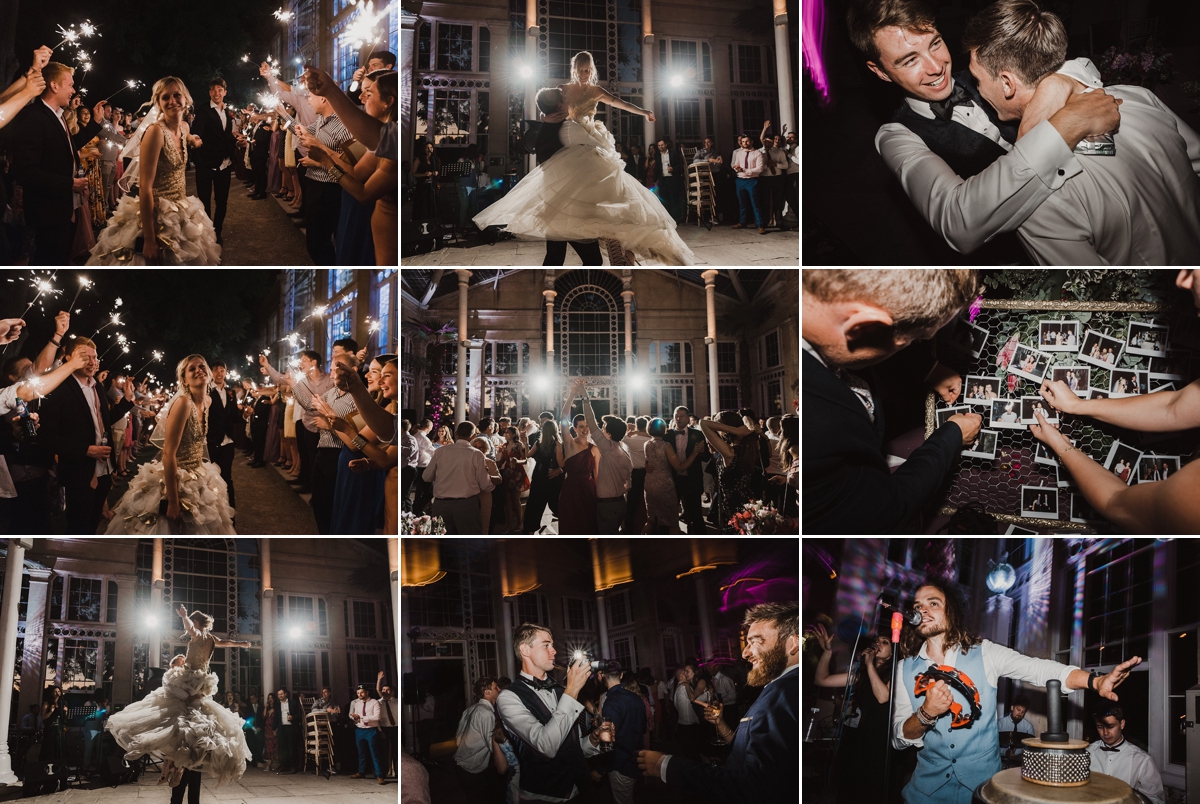 Oh Annabel, thank you so much for these valuable words of advice and also for sharing yours and James' day with us. Thank you also to both Will Patrick and Laura Martha – it's been a real joy to share these photographs. For more creative, DIY weddings you can click here , or you can enjoy other celebrations at Syon Park here.
Ele xx