The colour palette for today's wedding celebration is riotously bright and joyful, from the dreamy flowers tied with trailing ribbons to the vibrant decor – colourful lanterns and tissue paper pom poms – not to mention one thousand carefully folded origami cranes; a traditional Japanese symbol of enduring love.
Vicky, PA to a CEO, and Nick, a Land Manager, were married on the 20 July 2018 in an Edwardian glasshouse inside the beautiful walled garden of the Combermere Abbey Estate, Cheshire. In planning their day, the couple didn't have a set theme, but were keen to fill the venue with as many lovely summer flowers, and as many colourful decorations as possible.
Videography by Full Colour Films.
"Our decision to hire a videographer was a last minute one. We had no budget set aside, but I'd read so many posts (mainly on the Love My Dress Facebook group) that said out of everything it was the best money other brides had spent, as it was the one thing that they looked at over and over again that really captured their day."
"One lunchtime at work, just a few weeks before the wedding, I sent out a few emails to local suppliers just to see. Rob came back nearly immediately, he was lovely and talked me through how he worked."
Photography by Jessica O'Shaughnessy
"The highlights film we have received so far is just gorgeous and has me in floods of tears every time I watch it (totally Rob's intention by the way!). The combination of my mum's reading, the music, the stunning shots of my dress, flowers and capturing not only the way Nick and I smiled basically all day but also just the relaxed and happy nature of the day in general."
"We could not be happier with the results so far and would not hesitate in recommending Rob. The pride and time he took in editing our film is clear to everyone and we have loved sharing the video with our family and friends."
 Vicky was radiant, with make-up by Maxine Smith, and hair by her long-time stylist, Emma Mulvihill from The Scissor Psychologist. Adorning Vicky's hair were colourful fresh blooms by florist Carol's Garden.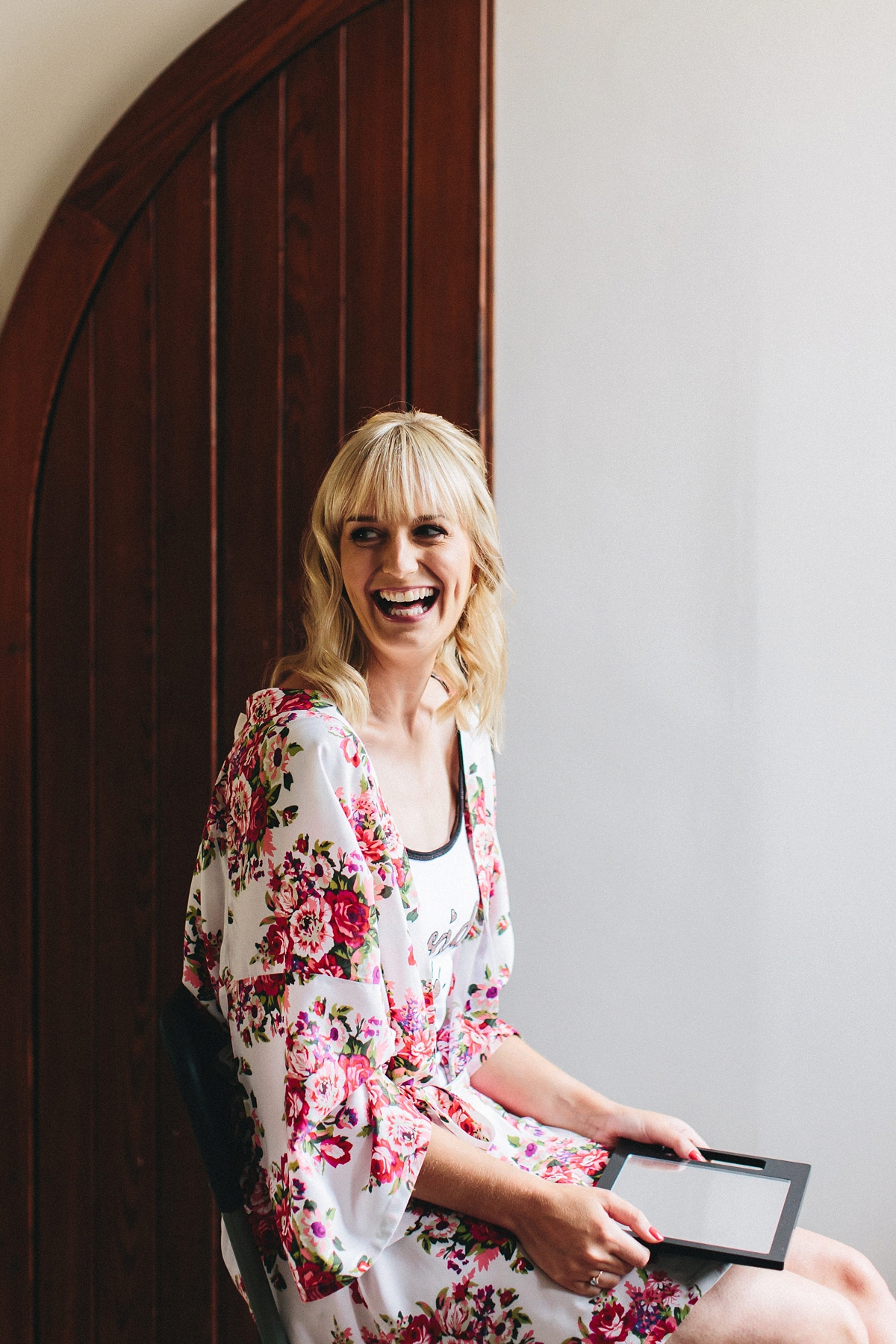 Vicky's shoes were ivory satin and tulle heels ('Adrianna') from Rainbow Club via John Lewis, and her wedding day fragrance was Chanel's Gabrielle.
"I chose a plain, cathedral length veil from Puure Bride to complement the length of my train, whilst not taking anything away from the lace and detail of the dress."
The breathtaking flowers by Carol's Garden were a summer song filled with Old English roses. Vicky first discovered Carol after working just over the road from her, where Carol grows over 500 varieties of flowers in her garden.
"I used to buy vegetables and eggs from her honesty shed. When she first started growing flowers I purchased a bouquet of beautiful dahlias– the first time I had ever bought myself flowers, but I couldn't resist! Not long after, my sister was planning her wedding and wanted informal flowers."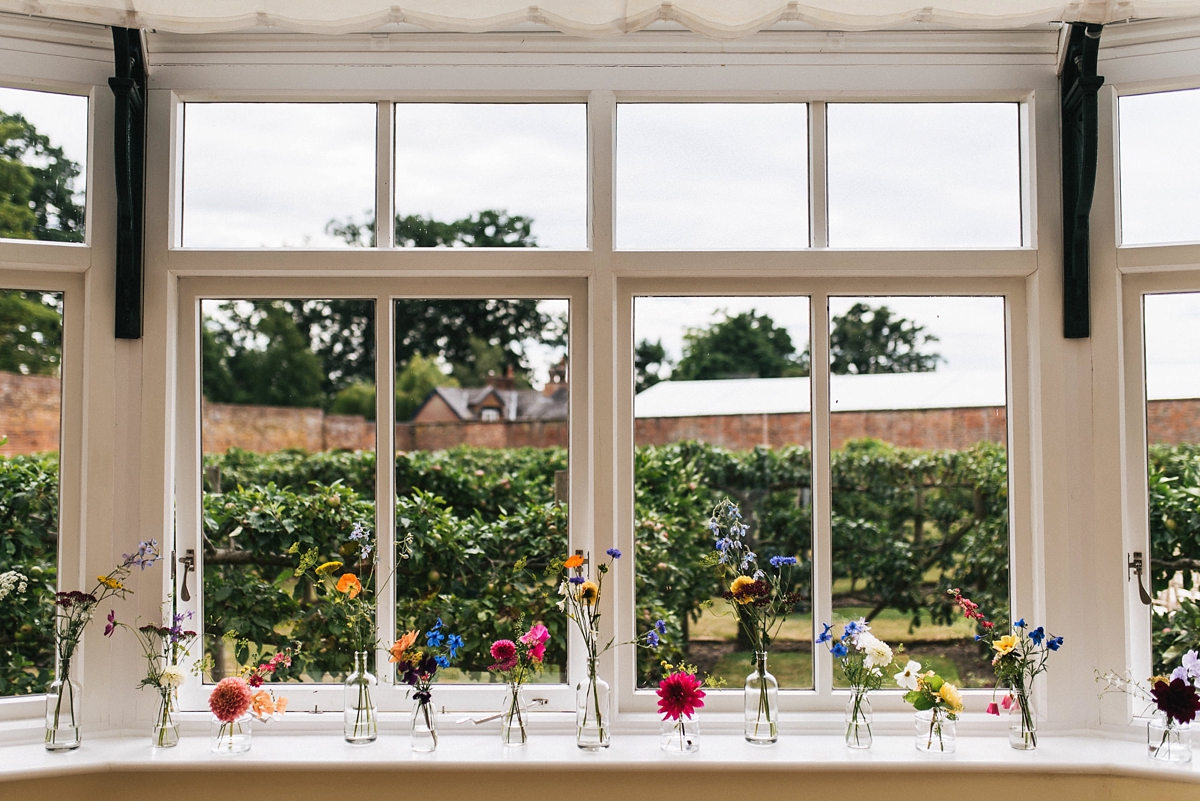 "I thought of Carol and left her a note asking if she would consider meeting Lucie to see if she could do something for her wedding -they ended up working together and the results were gorgeous."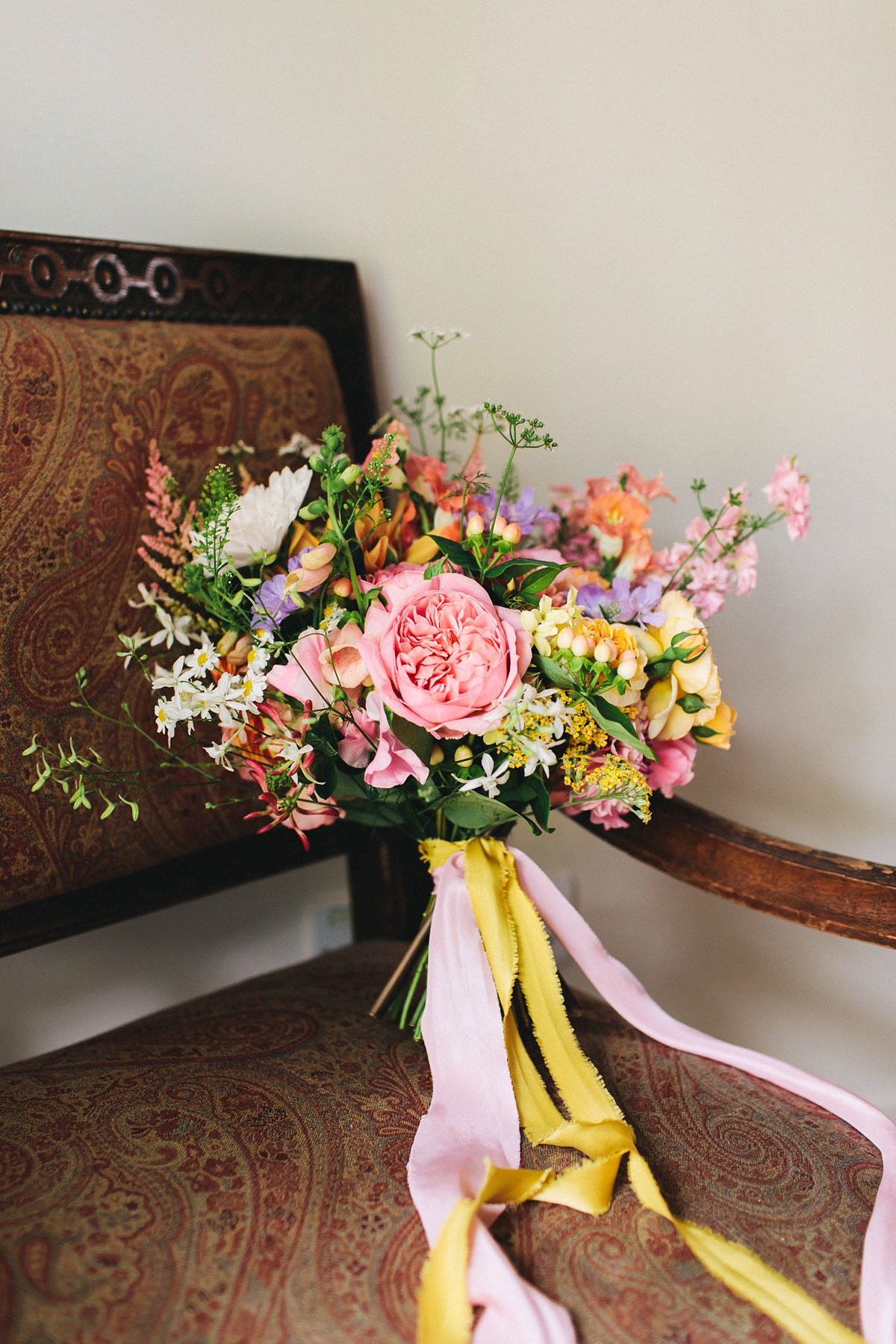 "When planning our wedding I didn't even look at any other florists but sent Carol a message to see if she was free. I was so pleased when she said she would love to do our wedding and was so excited to take Nick to see where everything was grown."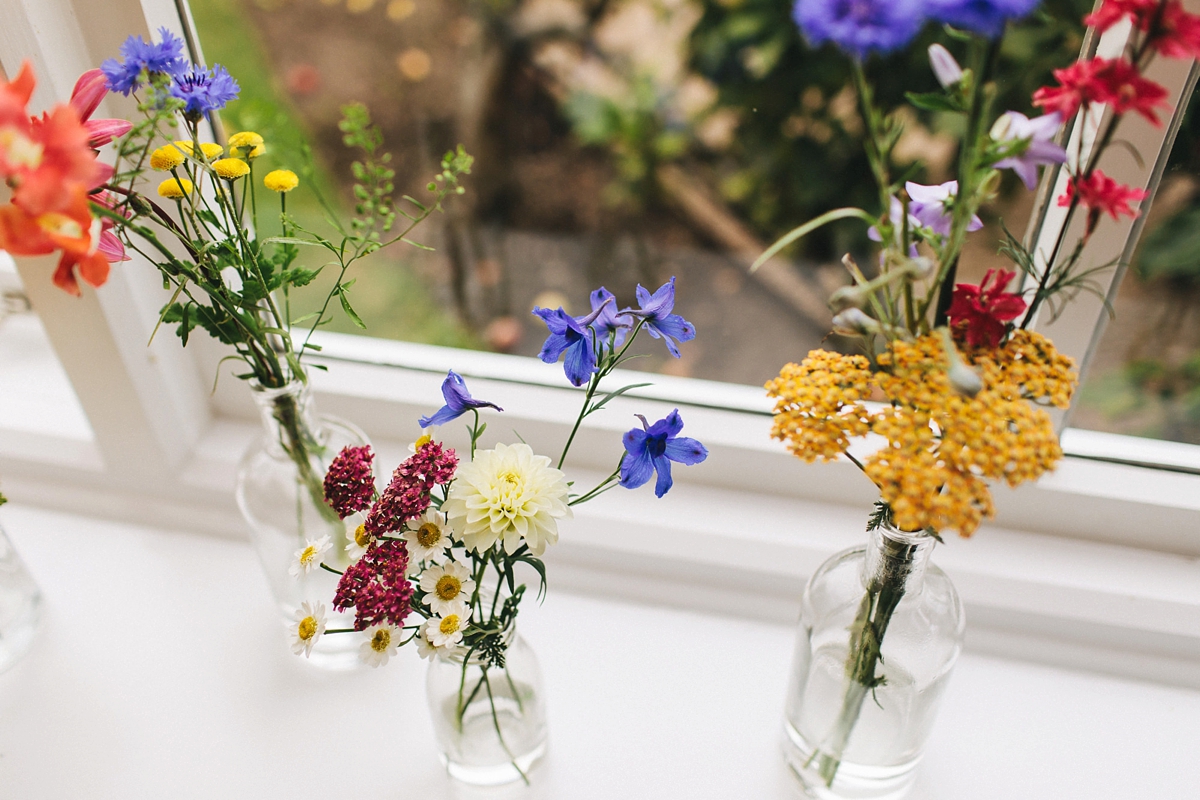 "I knew the results Carol had produced before and so let her have free rein. I asked for flowers in a mix of textures, sizes and colours – as colourful as possible, in fact and she delivered brilliantly."
"Not only were the bouquets & buttonholes stunning, but she arranged dozens and dozens of tiny glass bottles that would fill the windowsills for our ceremony in the glasshouse and then be moved through to add to the centrepieces on each table at the reception."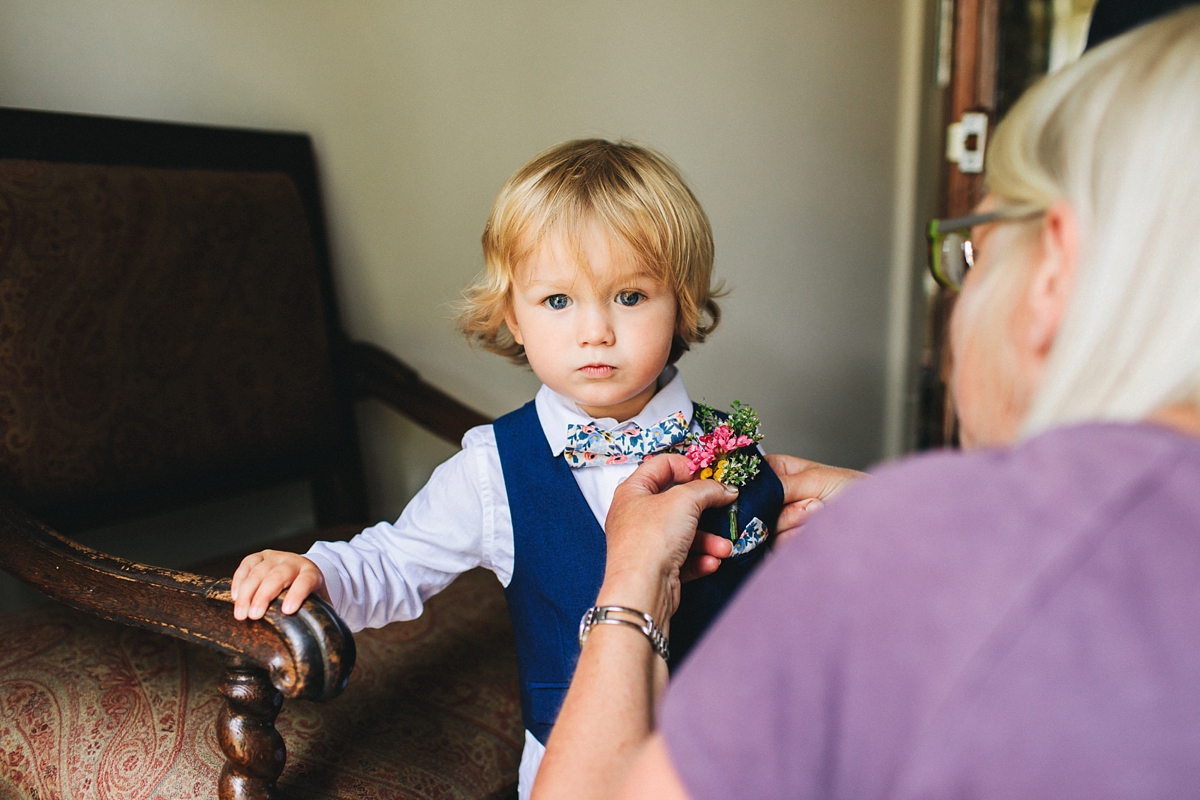 Vicky wore an elegant, romantic off-the-shoulder gown with a lovely lace illusion bodice by Stella York, which she chose at Puure Bride.
"I tried on a lot of dresses and although I liked a lot of them, there was always something not quite right. Either I loved the front but the back was boring, or I loved the back, but the front didn't fall quite right."
"The dress I picked had an unusual neckline with beautiful lace detail, the shape seemed to suit my figure and I loved the lace back, buttons and beautiful, long train."
"The way the satin glowed through the lace was stunning and I chose the darker satin (café) with ivory lace as I really liked the extra contrast this gave and it really showed off the gorgeous pattern of the lace."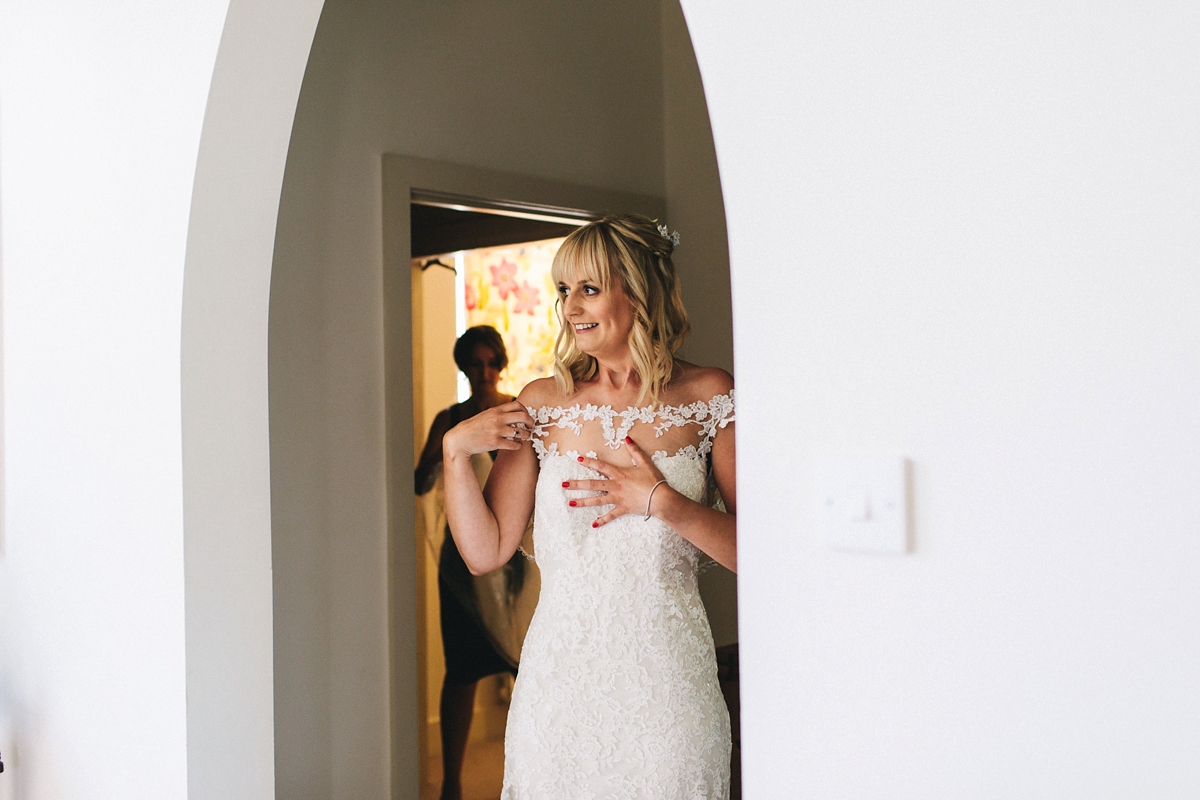 On the morning of the wedding, Nick gifted Vicky a bracelet from Fraser Hart, and as her 'something old', she wore her grandmother's ring borrowed from her mum.
"Earrings were my 'something borrowed' from my mum. Pearl drop earrings given to her by my dad on their pearl wedding anniversary. Garter, my 'something blue' (blue ribbon) handmade (including all the lace!) by my mum's cousin, Jane."
Vicky, her bridesmaids and dad walked from the cottages at Combermere together with their sweet pageboy, looking smart in trousers and waistcoat from Marks & Spencer and a floral print bow tie, which had been handmade by Vicky's mum, Penny, using fabric from Rifle Paper Co.
"Their earrings were a gift from me on the morning of the wedding from Kate Hamilton-Hunter Studio, via Not On The High Street, and were handmade in Britain."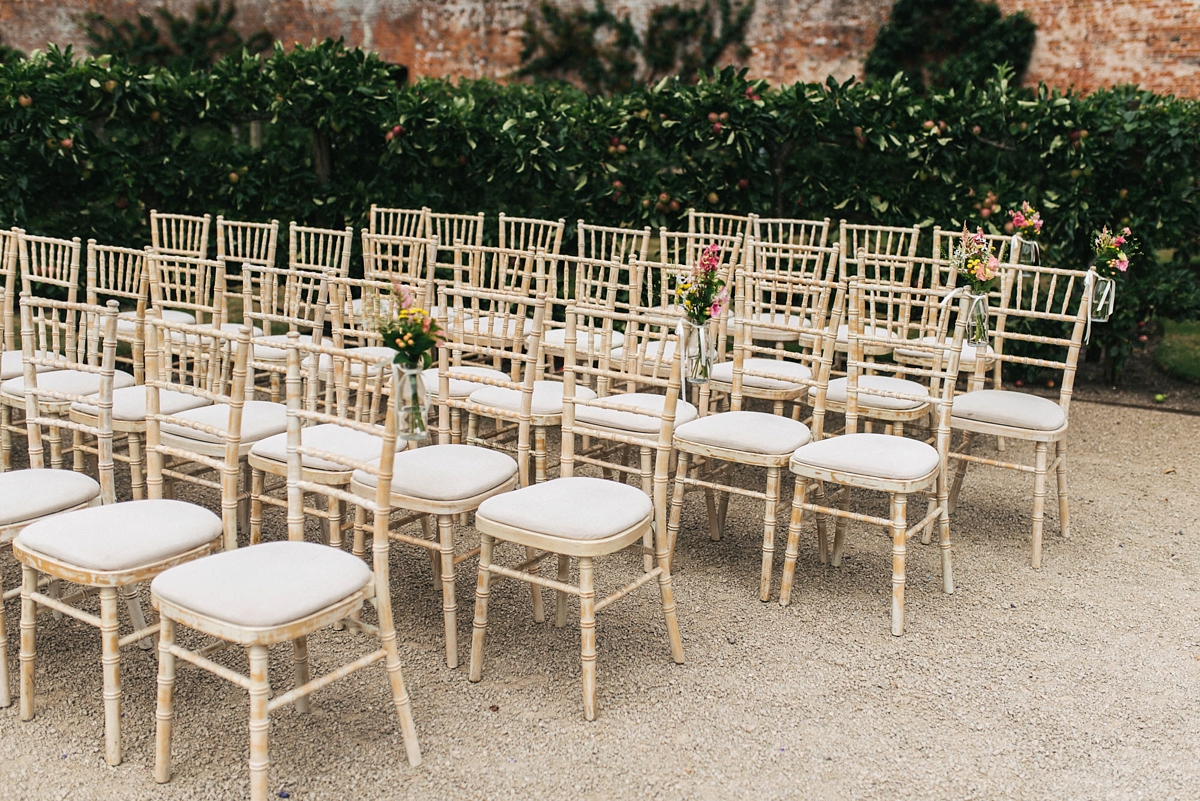 Through the walled garden they went, and the maze of espaliered fruit trees in the orchard. Vicky and her dad, Peter, walked down the aisle together, and Vicky says she was so proud to have him by her side.
"Our band, Rock My Reception, played a live version of The Beatles', Here Comes The Sun. The introduction always has, and guessing always will, give me goosebumps!"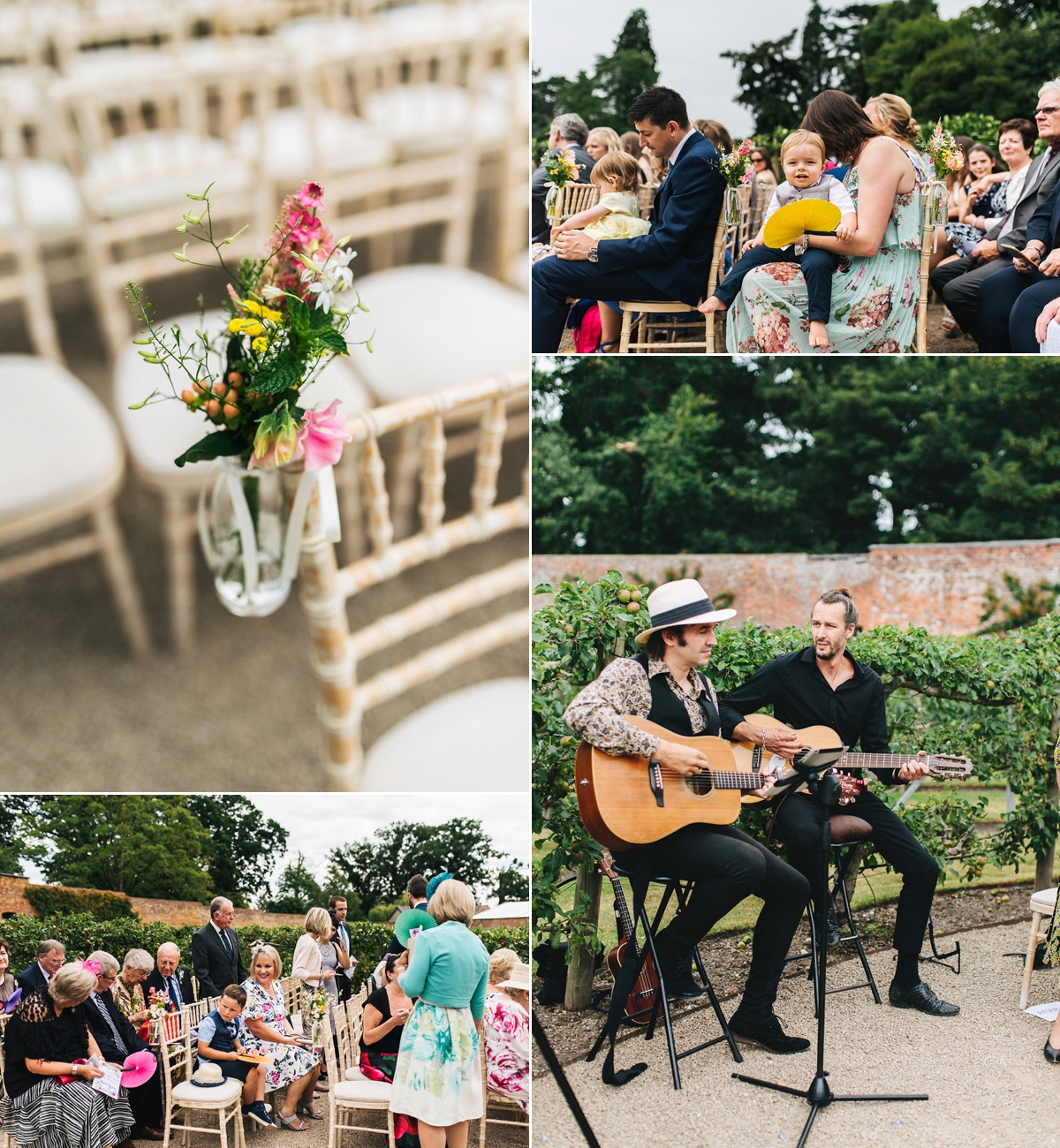 Vicky and Nick first met online via Match.com, where they chatted for a couple of weeks before enjoying their first date together and very quickly becoming inseparable.
"We were basically living together after about a month. We got engaged whilst on holiday on the Amalfi Coast in October 2017, and we had been together just over 18 months. We took a boat to Capri to spend the day on the island and then got  a bus and a cable car up to the highest point on Capri, Anacapri, where the views were incredible. As soon as no-one else was around (and much to my surprise!) Nick got down on one knee and asked me to marry him."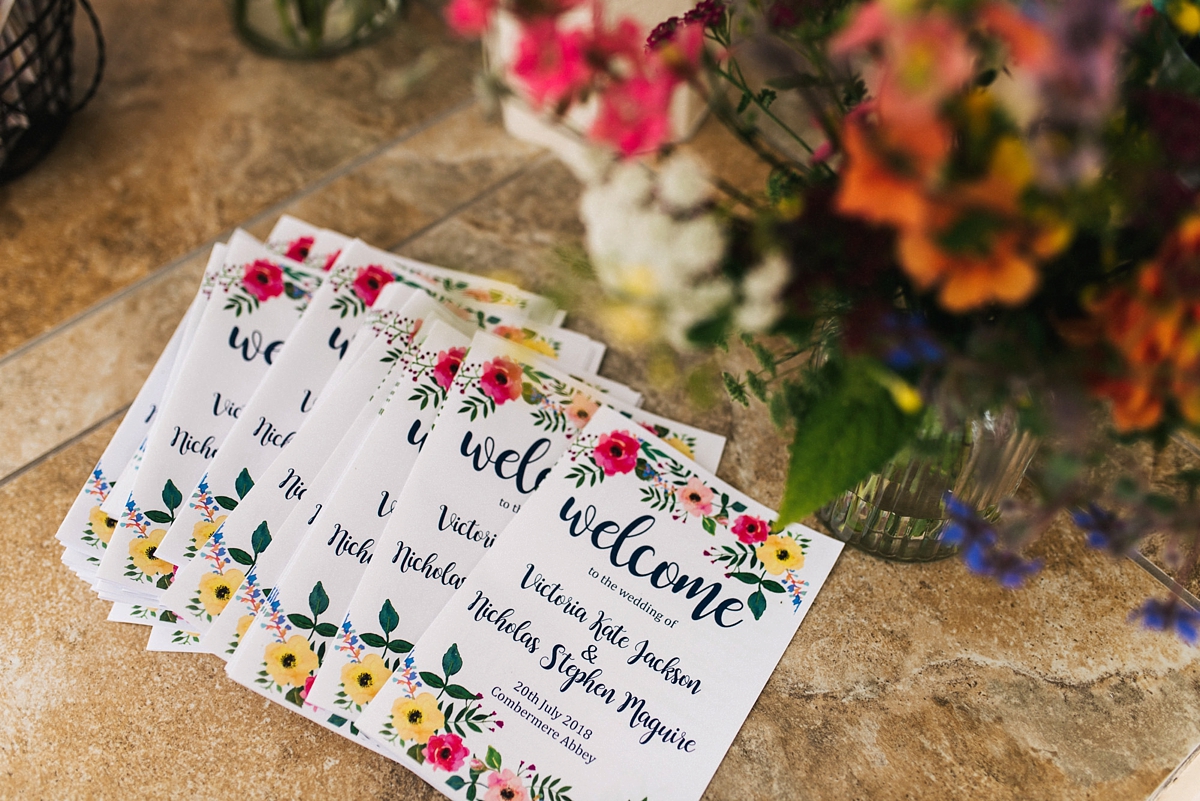 "I burst in to tears and of course said yes! He then produced a gorgeous ring that I'd apparently been carrying around for 2 days, hidden inside my pac-a-mac in our rucksack! We decided that we didn't want to wait to get married and so set the date for the next summer. We were engaged for 8 months before the wedding and planned everything in this time."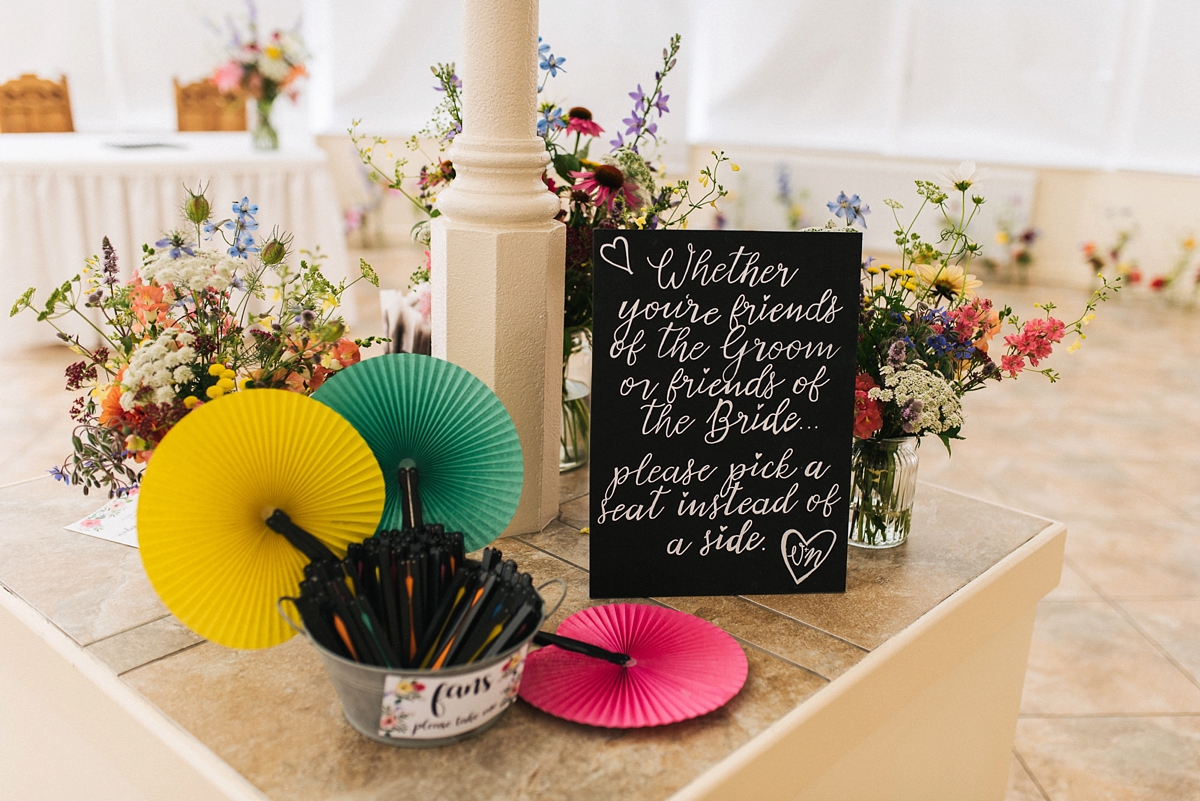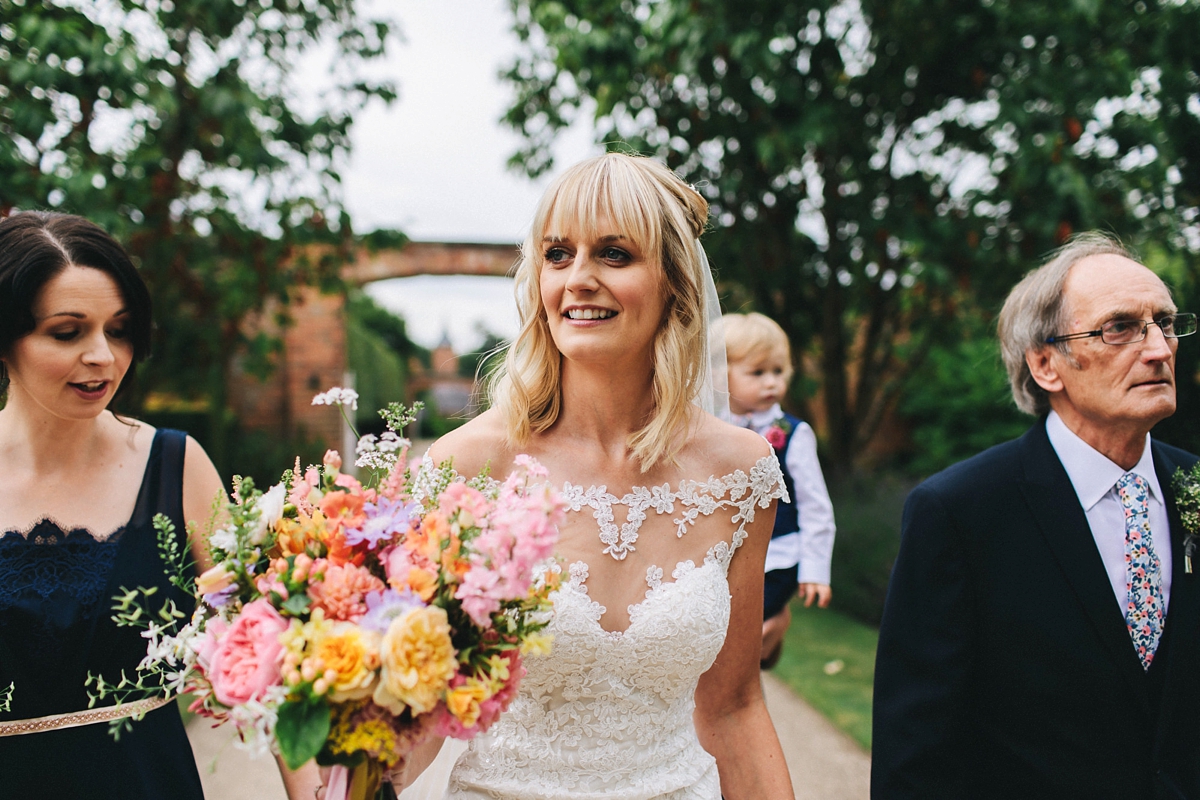 Nick wore a blue suit by Baumler, which he chose at the Manchester House of Fraser, together with a vibrant tie in a lovely floral print from Rifle Paper Co., made by Etsy-based The Belle and the Beau, and a pocket square in the same fabric, made by Vicky's mum.
Nick also wore the most amazing shoes; walnut and navy blue Paisley brogues from Barker, and a pair of cufflinks by Sally Clay (via Not On The High Street), which were personalised with the coordinates of where Nick and Vicky first met and where they were getting married. These were a thoughtful gift from Vicky on the morning of the wedding.
The couple chose three heartfelt readings for the ceremony. The first, Pam Ayres' poem, Yes I'll Marry You My Dear was read by Vicky's mum. Funny and lighthearted, they felt it perfectly summed up their relationship.
Brother-in-law Joe read the lyrics to the song The Colour Of My Love by David Foster and Arthur Janov, and groomsman Daniel read the anonymous poem, The One.
Vicky and Nick decided to write their own vows for their ceremony, as they wanted to include promises that were important to, and that reflected them both as a couple. They also gave one another rings, which they chose at jewellers Fraser Hart.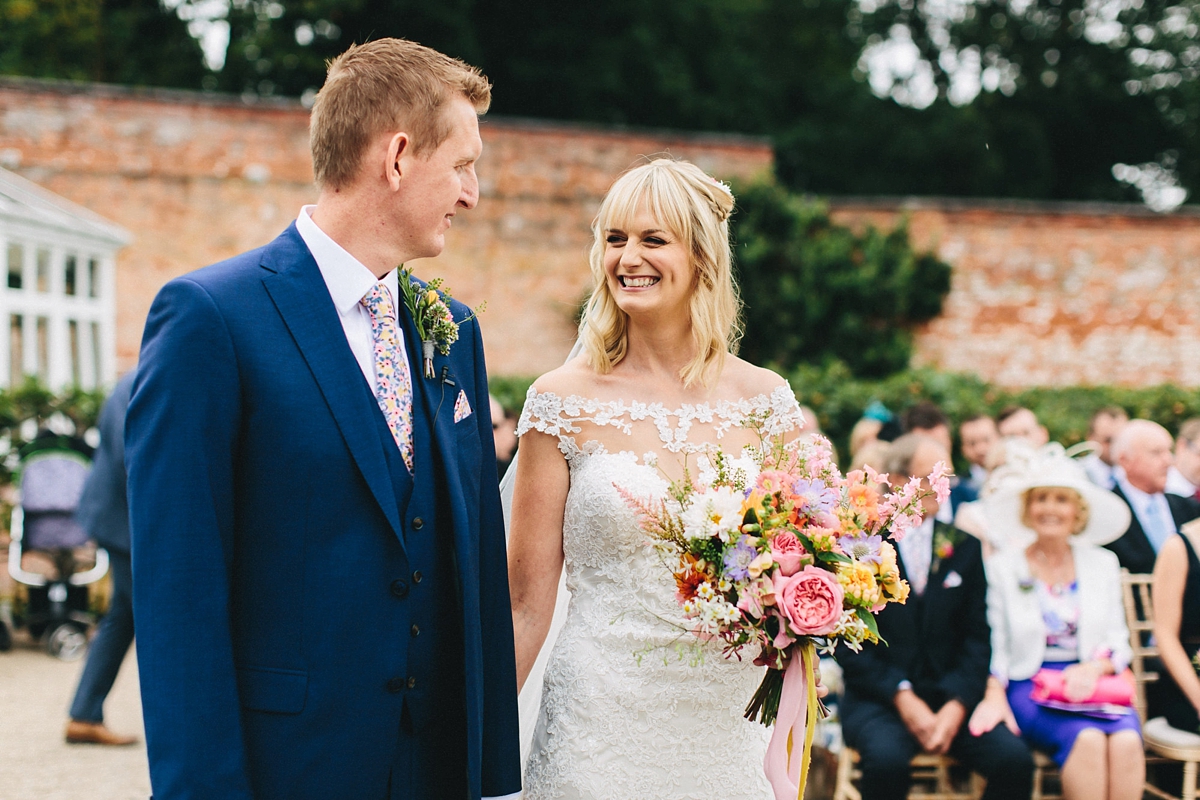 "Nick visited a lot of jewellers in Manchester when looking for my engagement ring. He picked one from Fraser Hart with a beautiful diamond which is the most sparkly thing I have ever seen! A platinum band with a round brilliant cut diamond.We looked at a few jewellers when finding our wedding rings but decided to go back to the same shop. Nick has a plain platinum band. Mine is a platinum with a row of round cut diamonds to complement my engagement ring."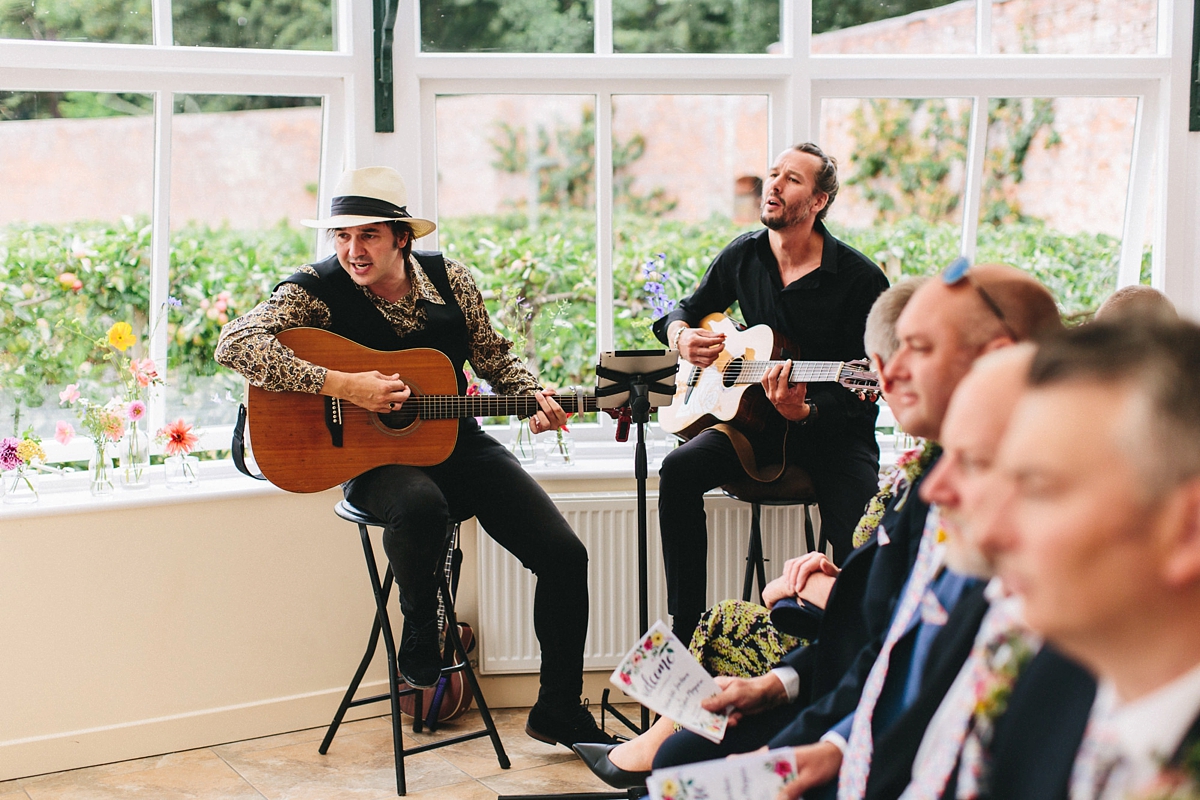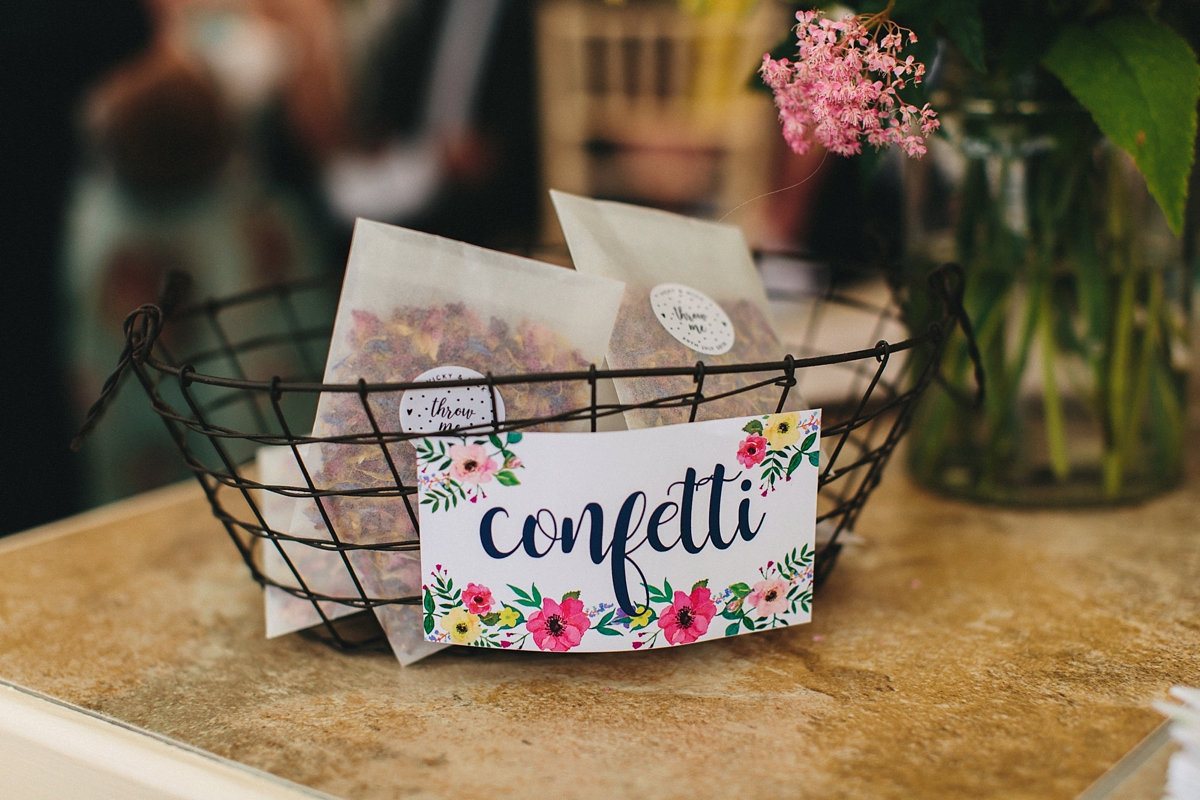 After the ceremony there was time for a spin in Combermere's vintage Crossley car, and some time alone for photos with their photographer Jessica O'Shaughnessy. It's the first time we've featured Jessica's work here on Love My Dress, – it's vibrant, natural and full of joy.
"We found Jess online by looking through a million Instagram pictures from local wedding photographers and knew that her relaxed, documentary style was perfect. We didn't want lots of posed shots, but someone who would really capture our day."
"We soon got to know Jess and what she needed from us to get some good photos. It was weird having a camera on us for so long, especially when she did close upshots, but she really knew how to put us at ease and the pre-shoot was invaluable to have before the wedding day when time is so limited.On the wedding day she arrived at the house and captured the morning with my family perfectly."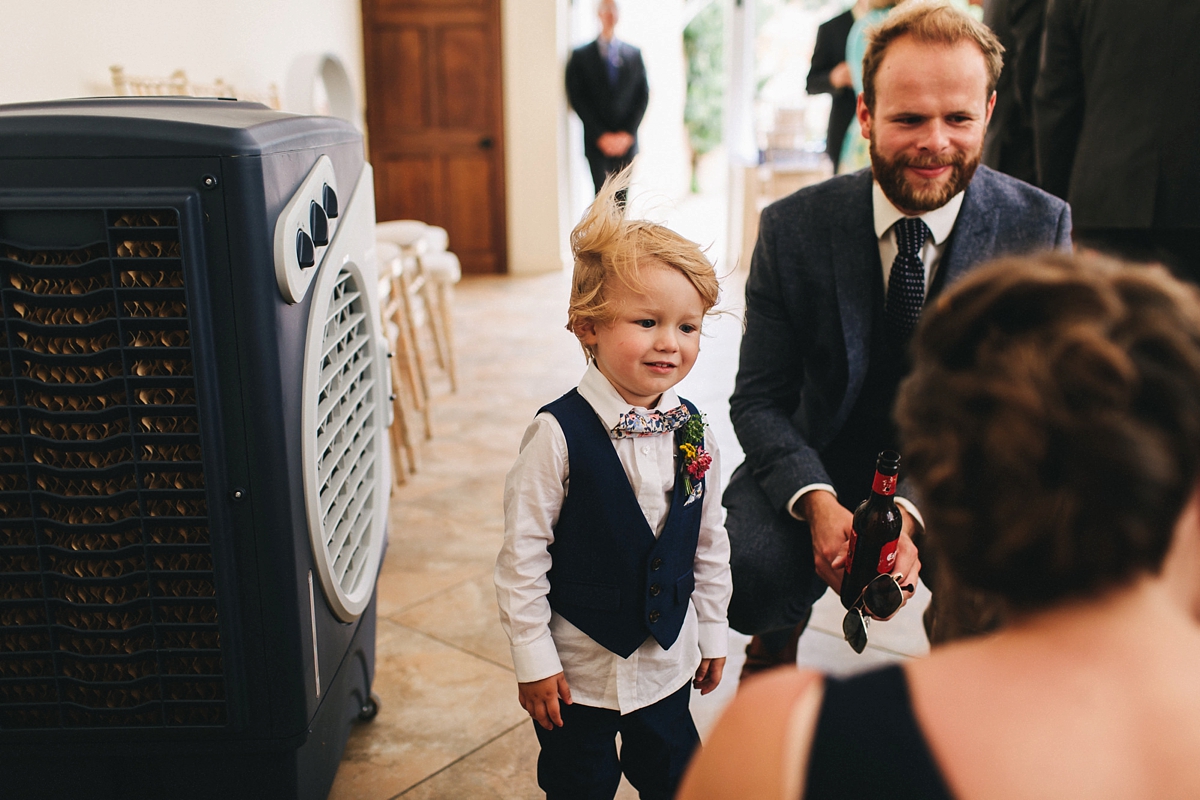 "Throughout the day her and the second shooter Helen were helpful and there to capture everyone. We kept the group portraits to a minimum, as we discussed beforehand, so we weren't endlessly waiting around and instead we had some time away on our own and the rest is as you see it, just capturing the love and laughter of the day."
"We would highly recommend Jess to anyone planning a wedding in the Cheshire / Manchester area or further afield!"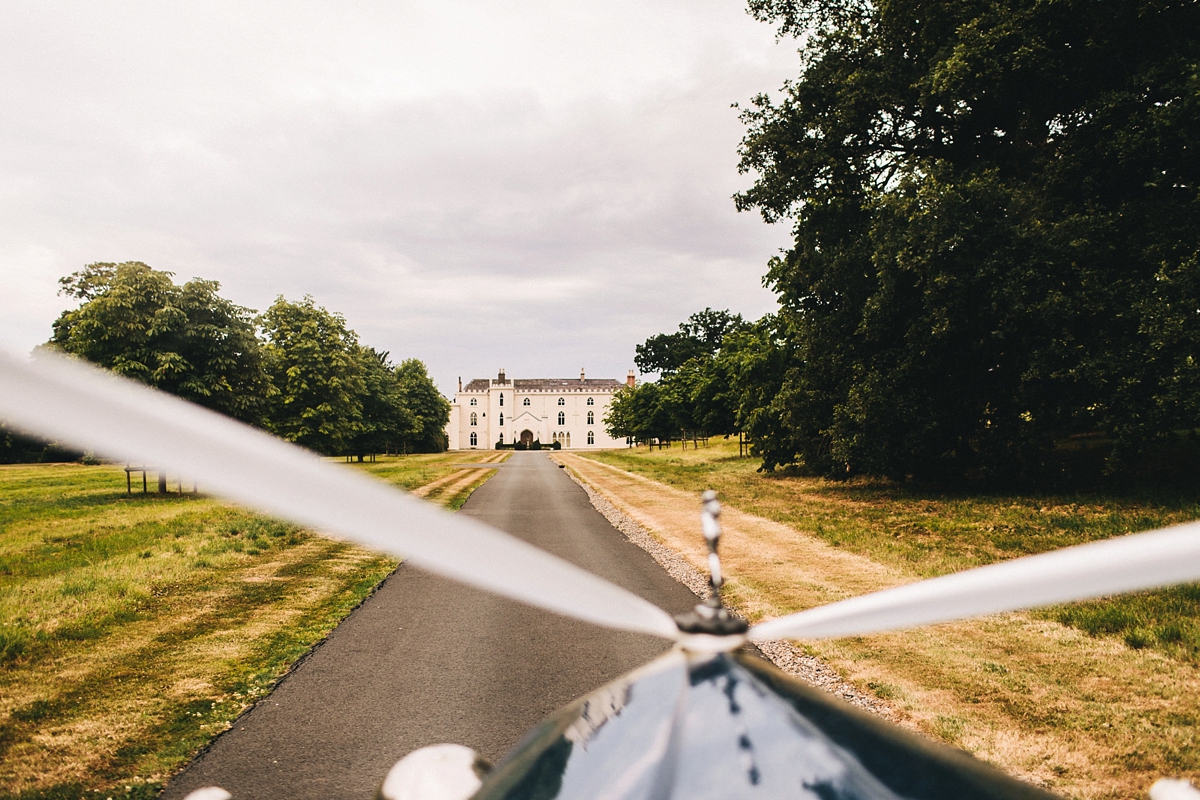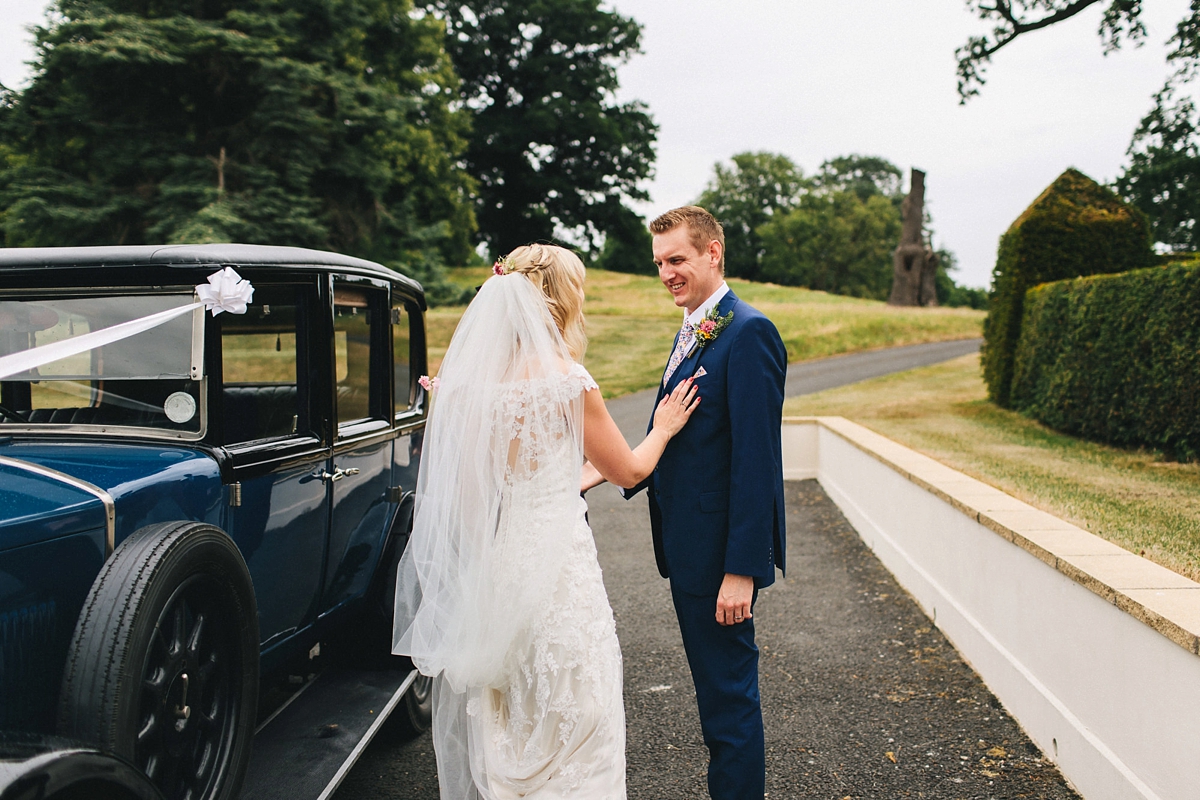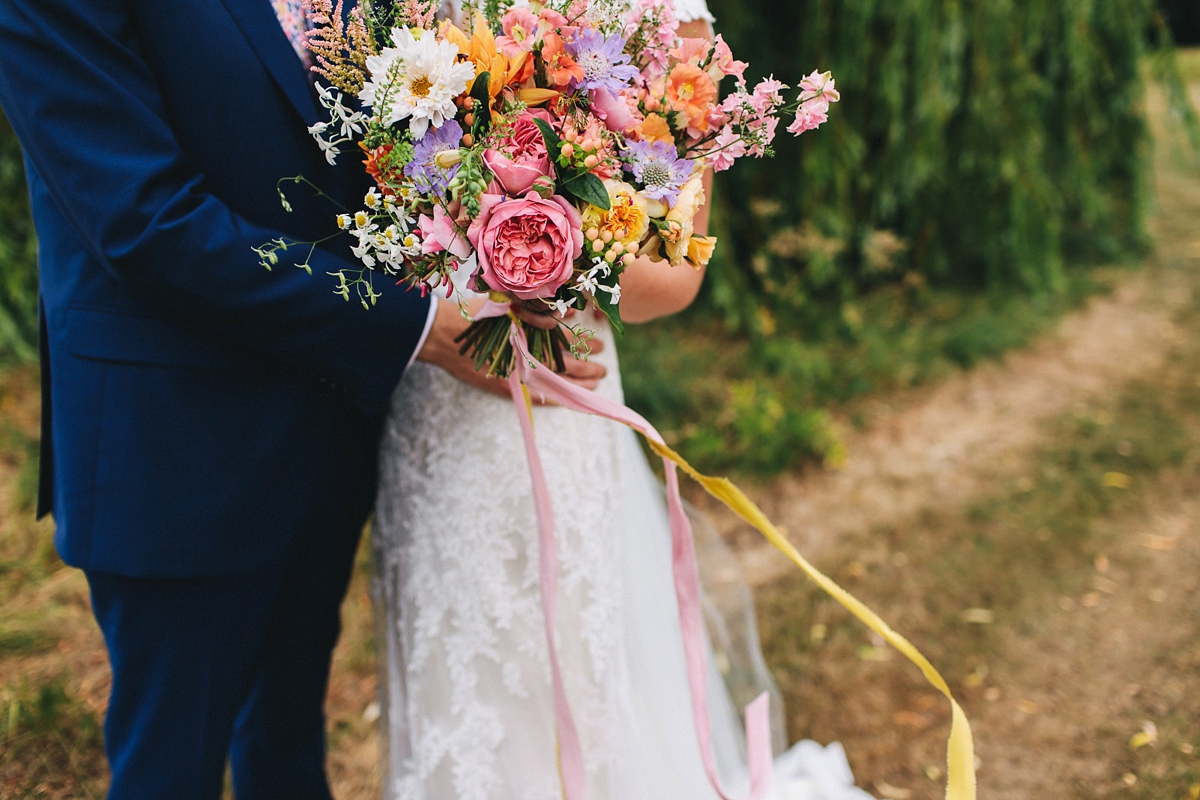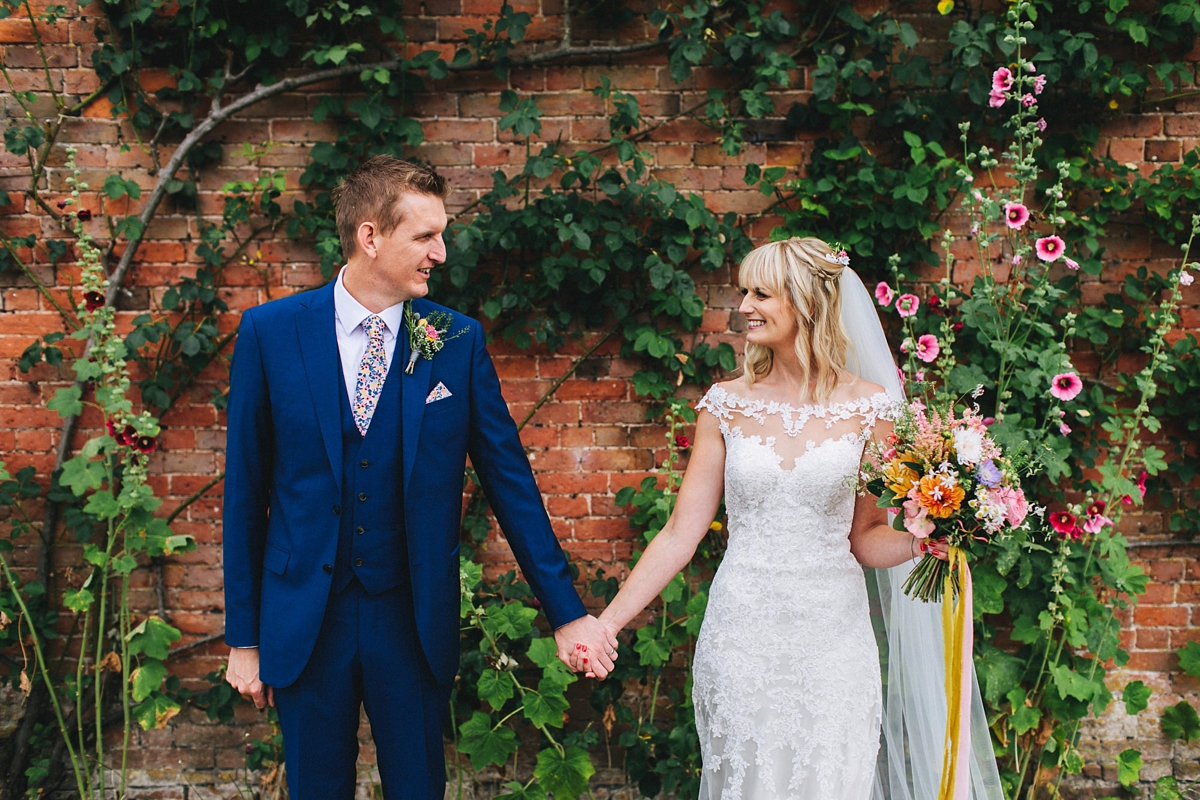 The bridesmaids wore stylish navy blue cocktail dresses from Jacques Vert, and added sparkly rose gold belts from Etsy and glitter peep-toe pumps from Marks & Spencer.
"We decided navy dresses would look good on both my Maid of Honour and sister Lucie and my bridesmaid Anna due to their colouring, and they would be a good backdrop for their colourful bouquets. They also had to allow for the fact that Lucie was 5 months pregnant with her second baby and Anna had given birth less than 4 weeks before the wedding!"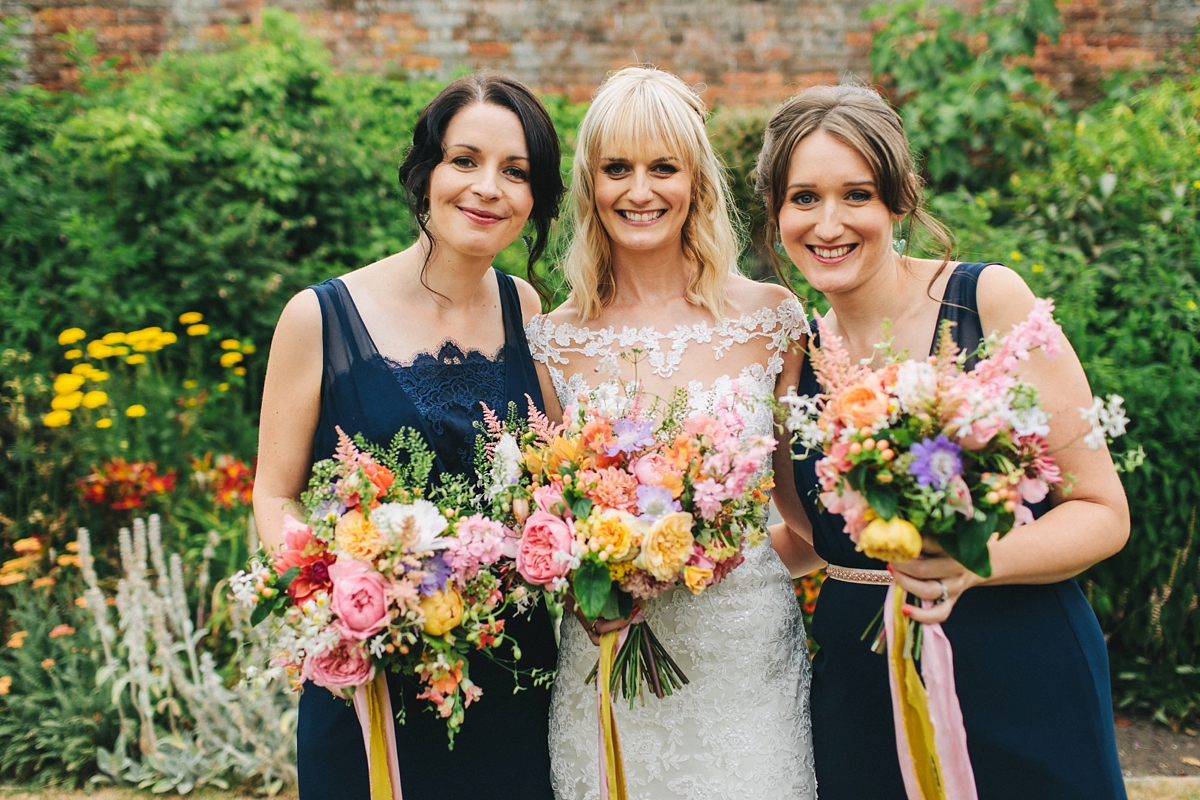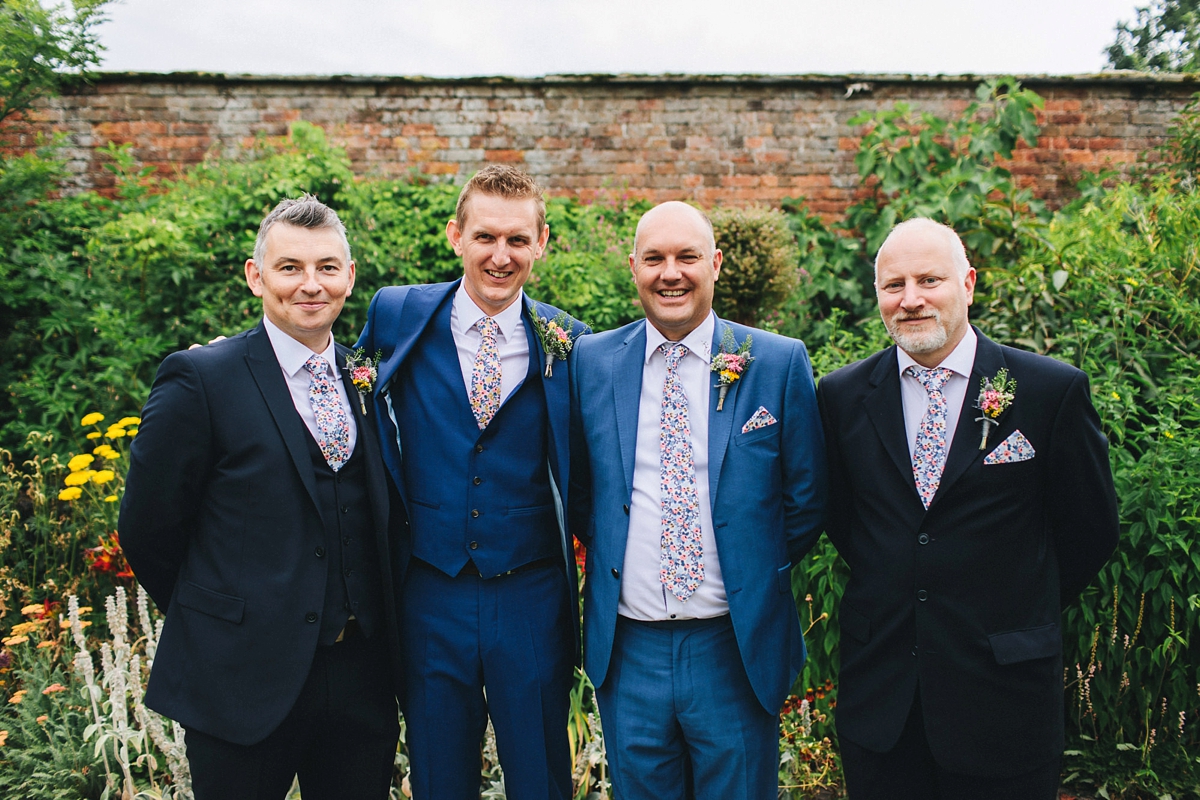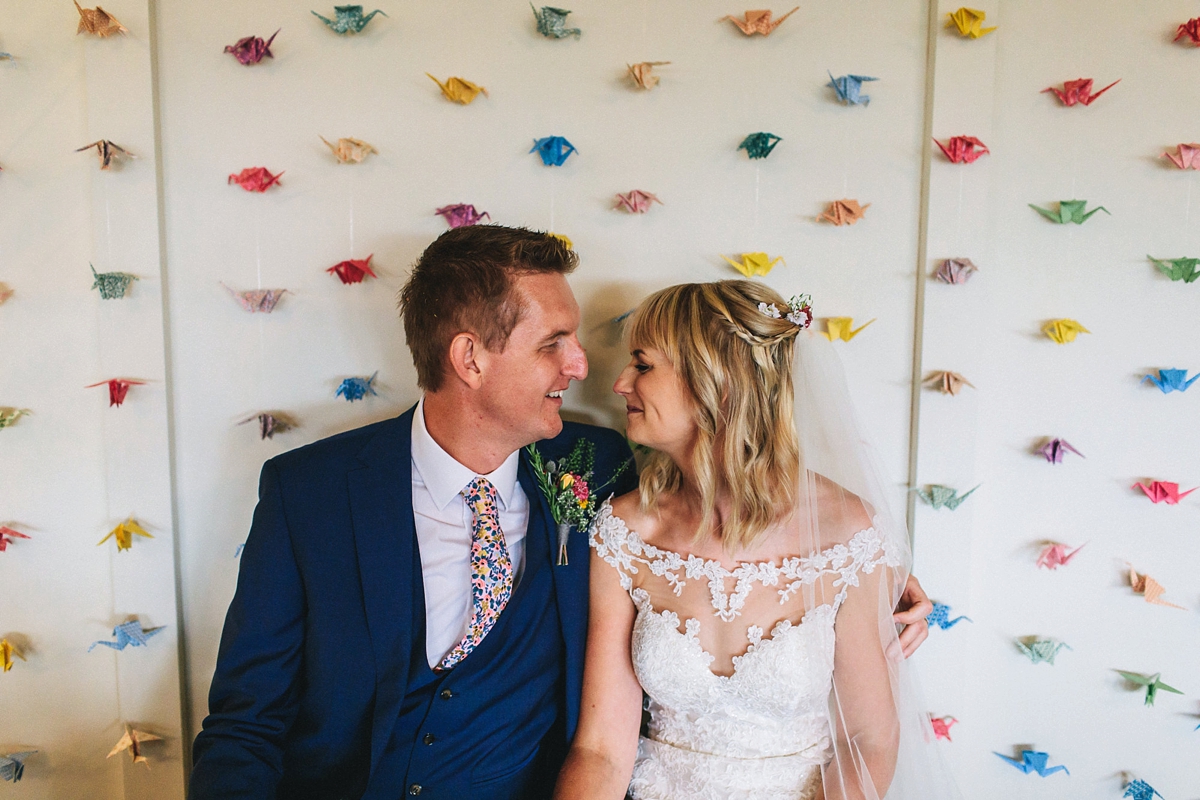 Cheerful, floral inspired stationery was designed and made by Vicky, and well as chalkboard signage made by Nick and decorated by Vicky, too. Hanging from the pavilion ceiling at Combermere were clusters of bright paper lanterns and tissue paper pom poms sourced from eBay, and on every available surface, colourful flowers in glass vases and bottles.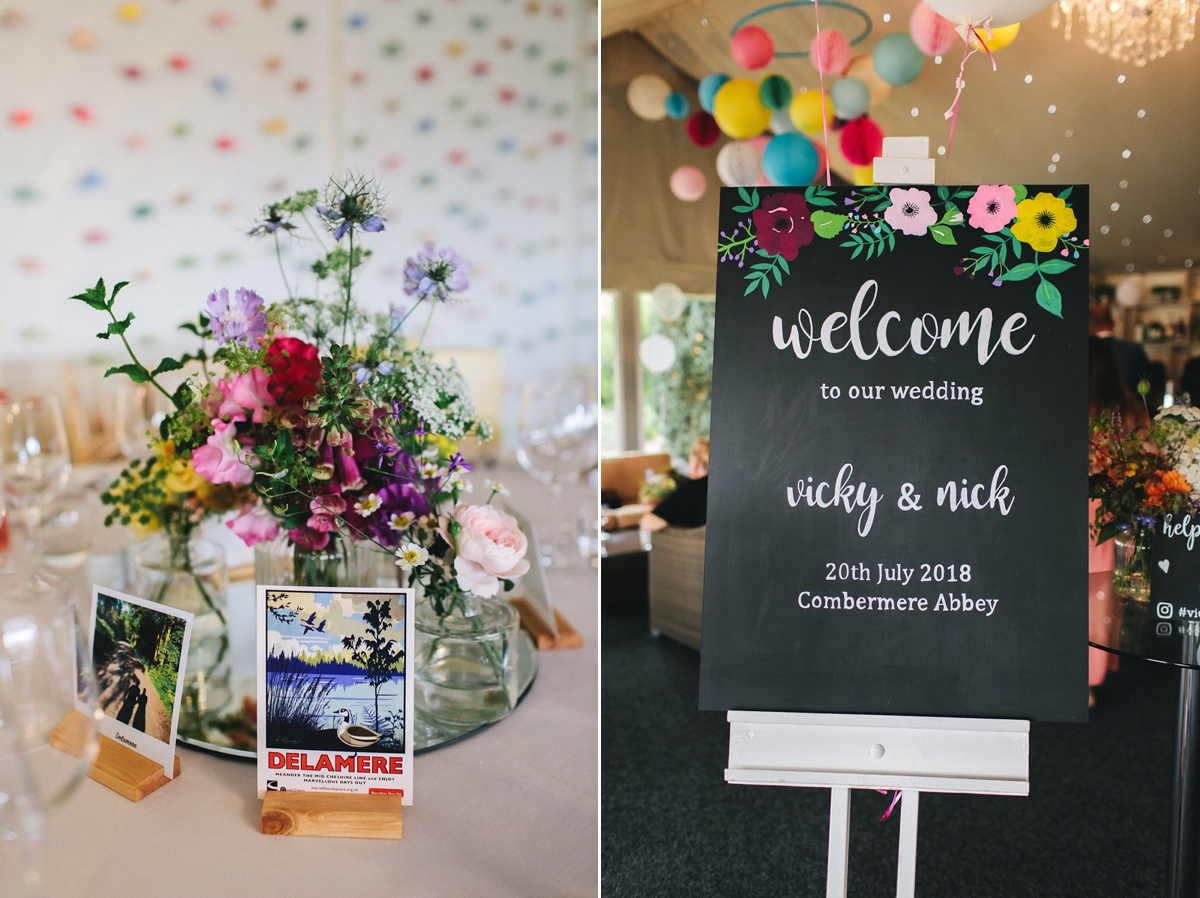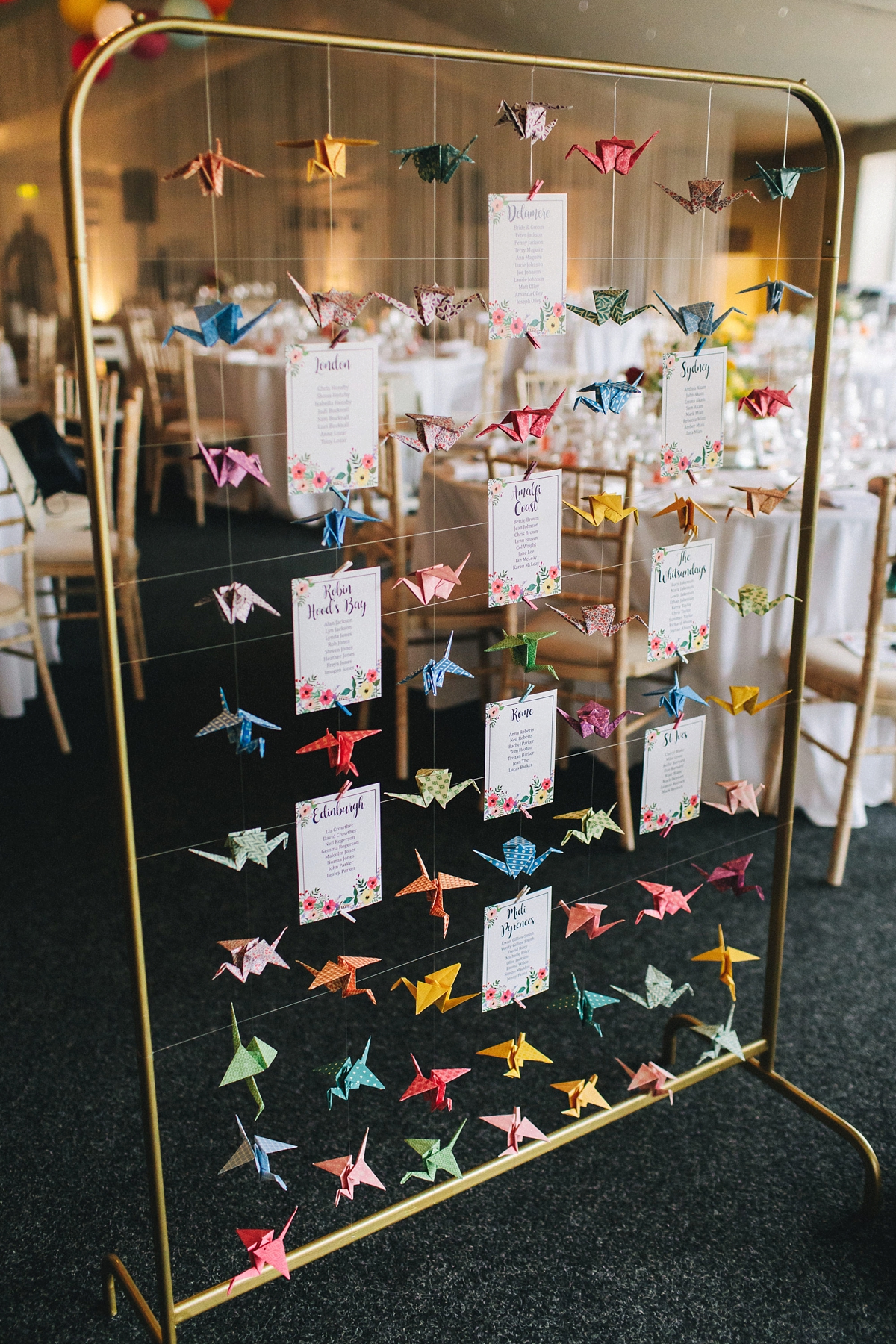 "The main source of colour and major talking point were the 1,000 origami cranes, which I folded and Nick strung. They were all folded in the 6 weeks prior to the wedding, completing them every evening and lunchtimes at work."
"People thought I was mad, but they made such a difference to the venue and I am so glad that we went through the effort to make them. I also found it quite calming to fold them and it kept me off Pinterest for a few hours each day!"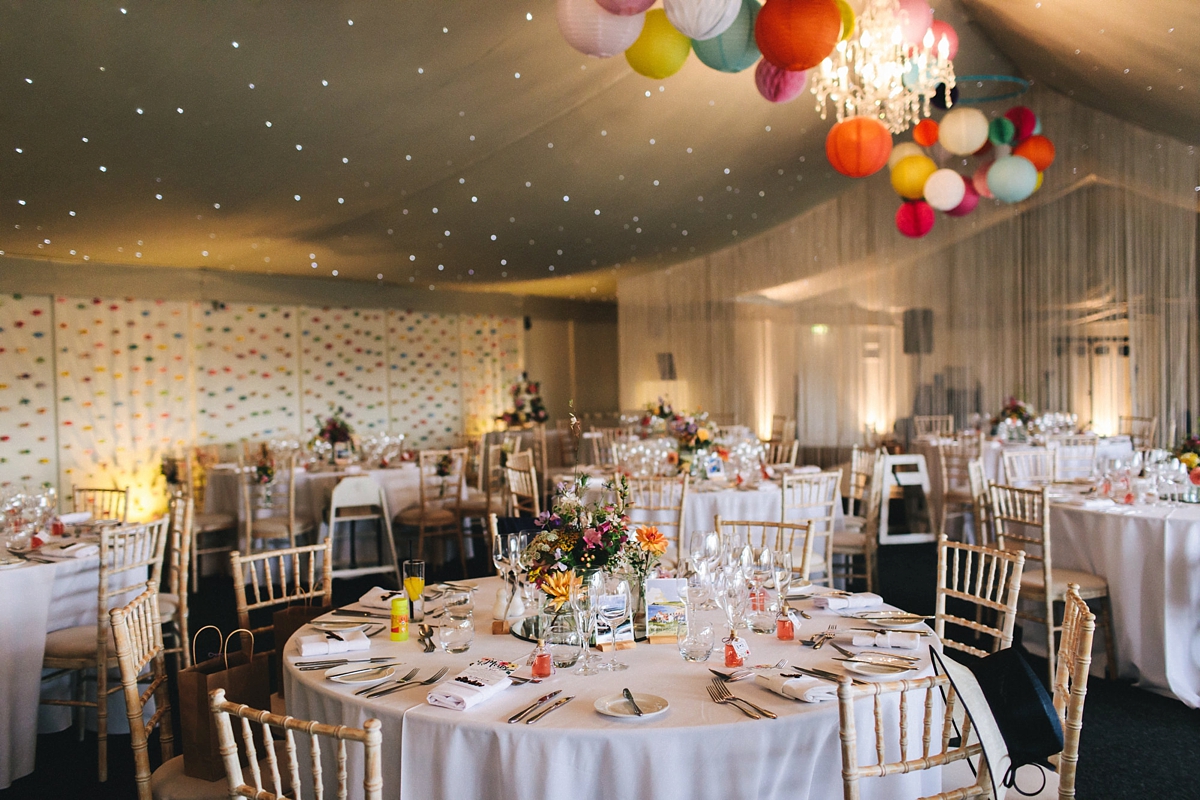 "Depicted as strong yet graceful, the crane is a traditional symbol of love in Japan. The elegant bird mates for life and Japanese lore claims the crane is one of three holy creatures that can live for a thousand years. After folding 1,000 origami paper cranes, one for each year of its life, the majestic 'bird of happiness' traditionally grants one wish, and if completed for a wedding is said to ensure a long, happy marriage full of love and joy."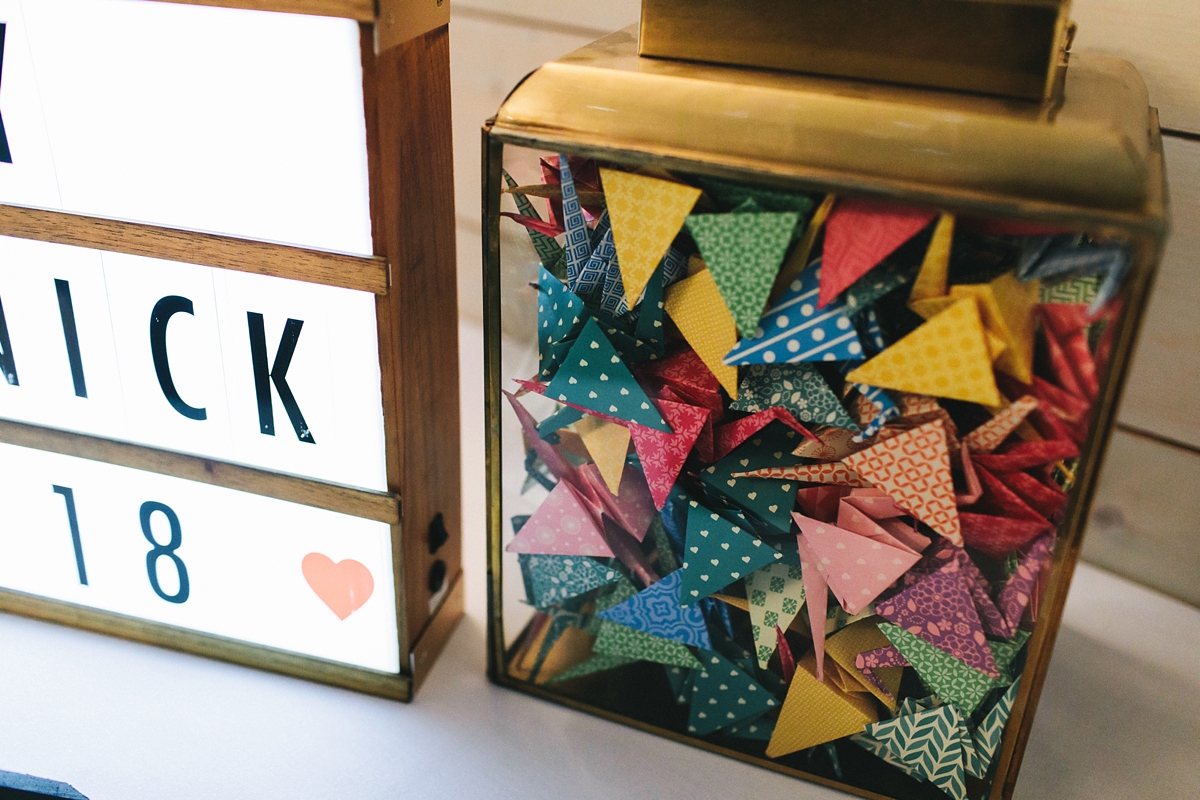 Table place settings were wooden laser cut pieces by Never Forget Design, and for favours, the couple made rhubarb infused gin, with rhubarb from Vicky's dad's garden. Miniature bottles and labels came courtesy of Miniature Glass Bottles Ltd.
Olive Tree Catering laid on my delicious food in the evening to fuel the merriment; a selection of cheese, charcuterie, breads, crackers and chutneys, too.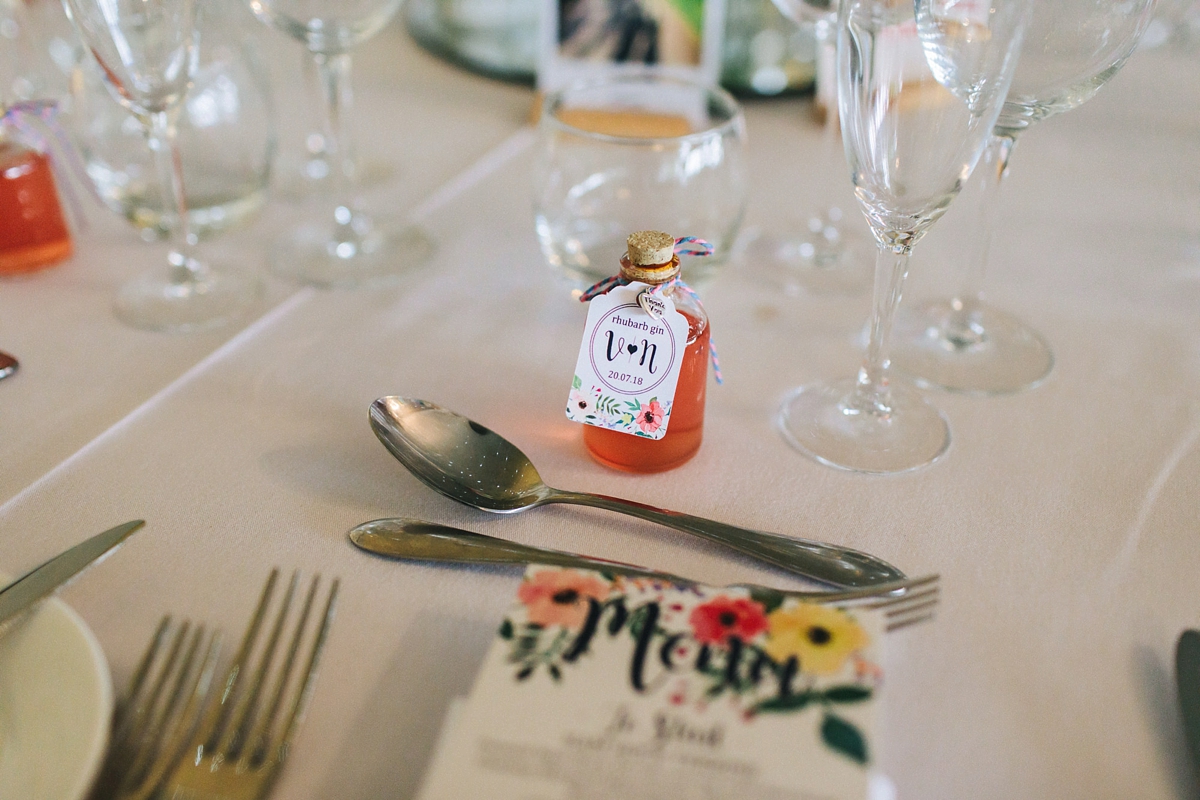 Danny and the team from Olive Tree Catering worked tirelessly all day to provide a fantastic wedding feast, and Vicky and Nick were thrilled with the results. Everyone enjoyed either ham hock terrine or a goat's cheese tart, chicken with dauphinoise potatoes or ricotta and tomato ravioli, and to finish, Sicilian lemon cheesecake. It all sounds incredible!
"My sister and brother-in-law, Lucie and Joe have always been keen bakers and the best people to get a birthday cake from. When they offered to make our wedding cake we were very happy to accept. We agreed on three tiers and after a few test cakes decided on lemon, pistachio and lime and passionfruit sponges – we loved them all."
"The semi-naked cake was finished with buttercream and a selection of silk flowers, which Lucie sourced and prepared. It was finished with a hand-painted cake topper of us which everyone loved. Lucie painted it a few weeks' before the wedding and it was a surprise for both Nick and I on the day. Between them they baked, transported and assembled the cake the night before and the morning of the wedding. It looked & tasted amazing!"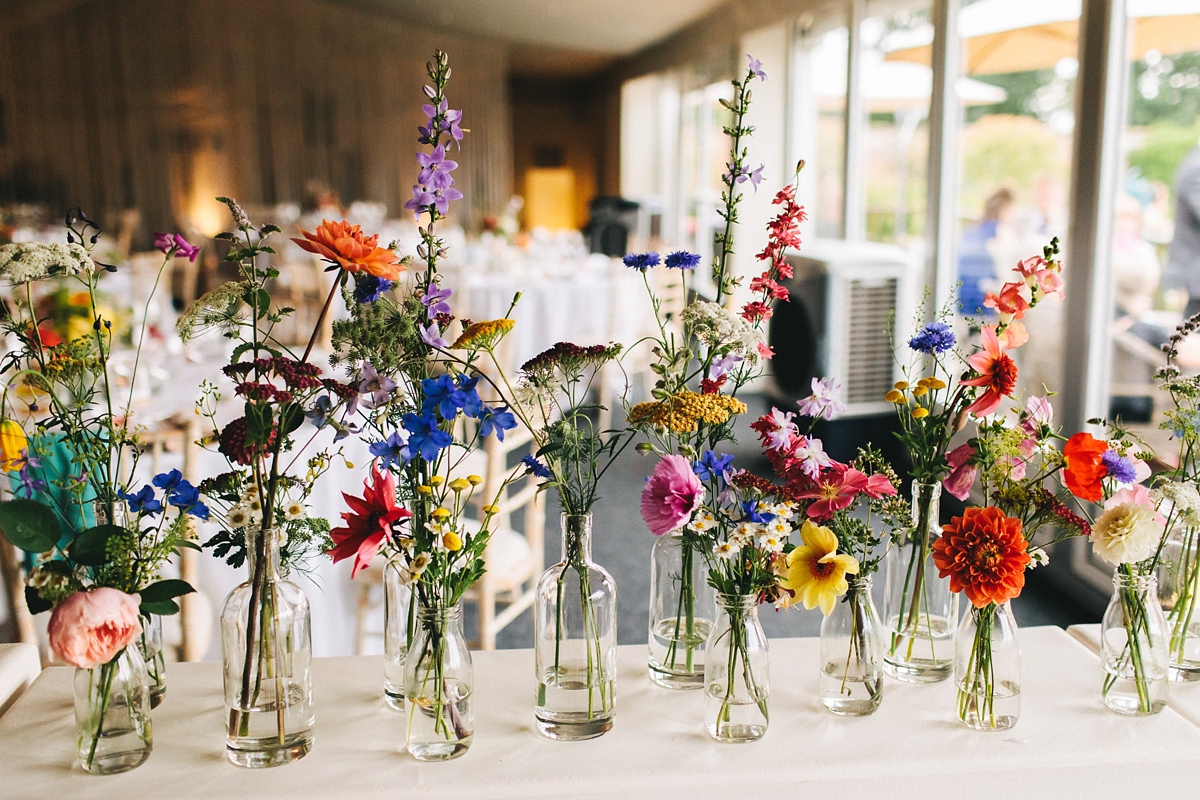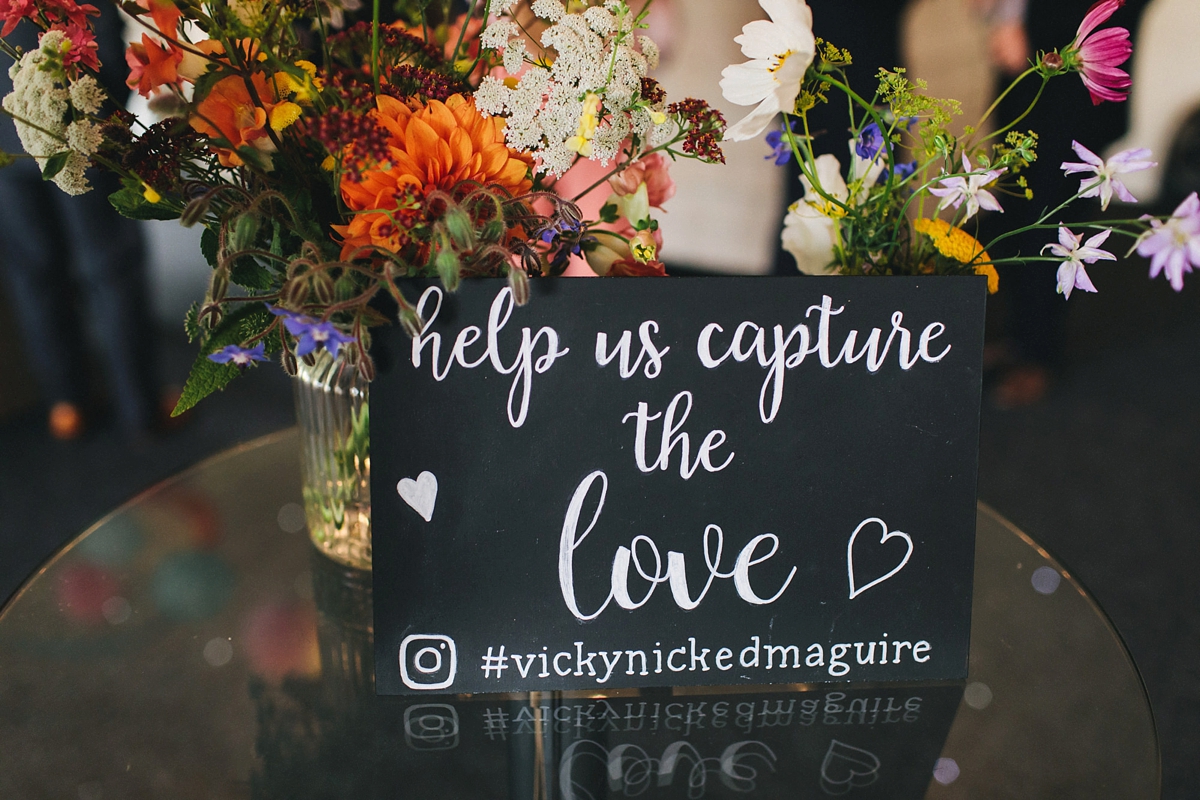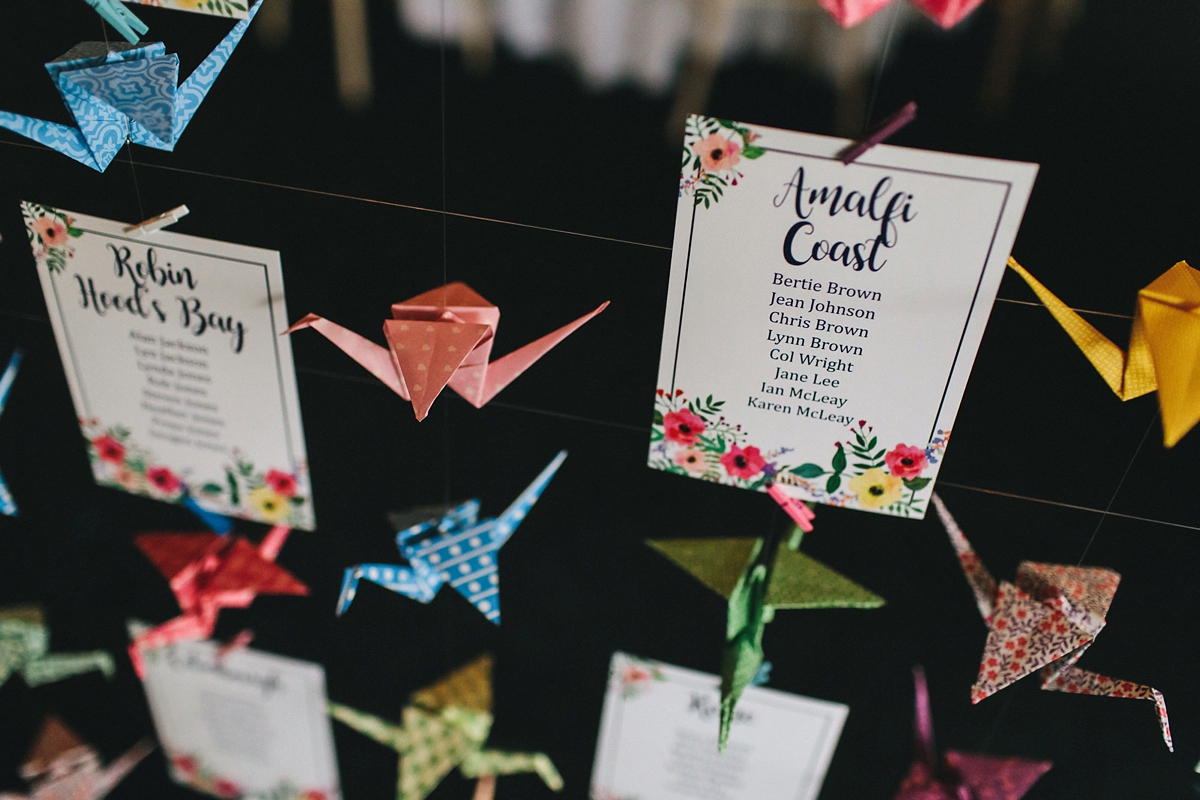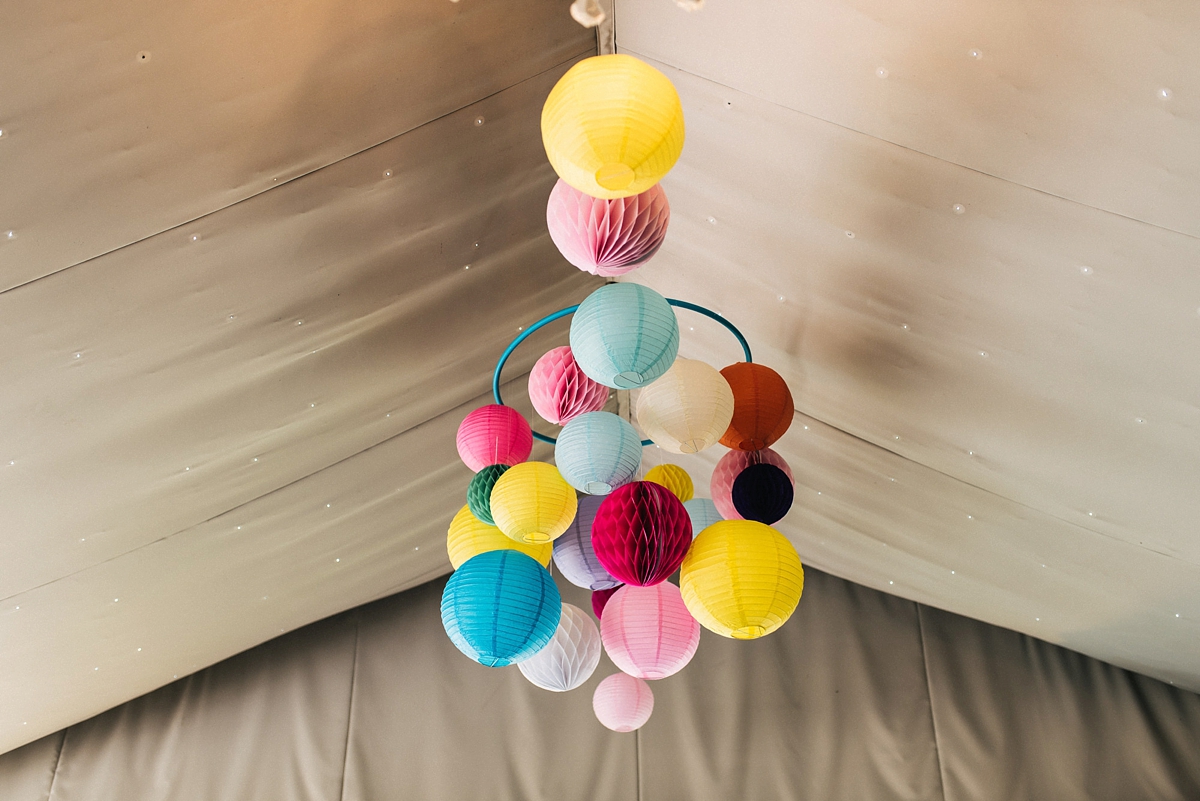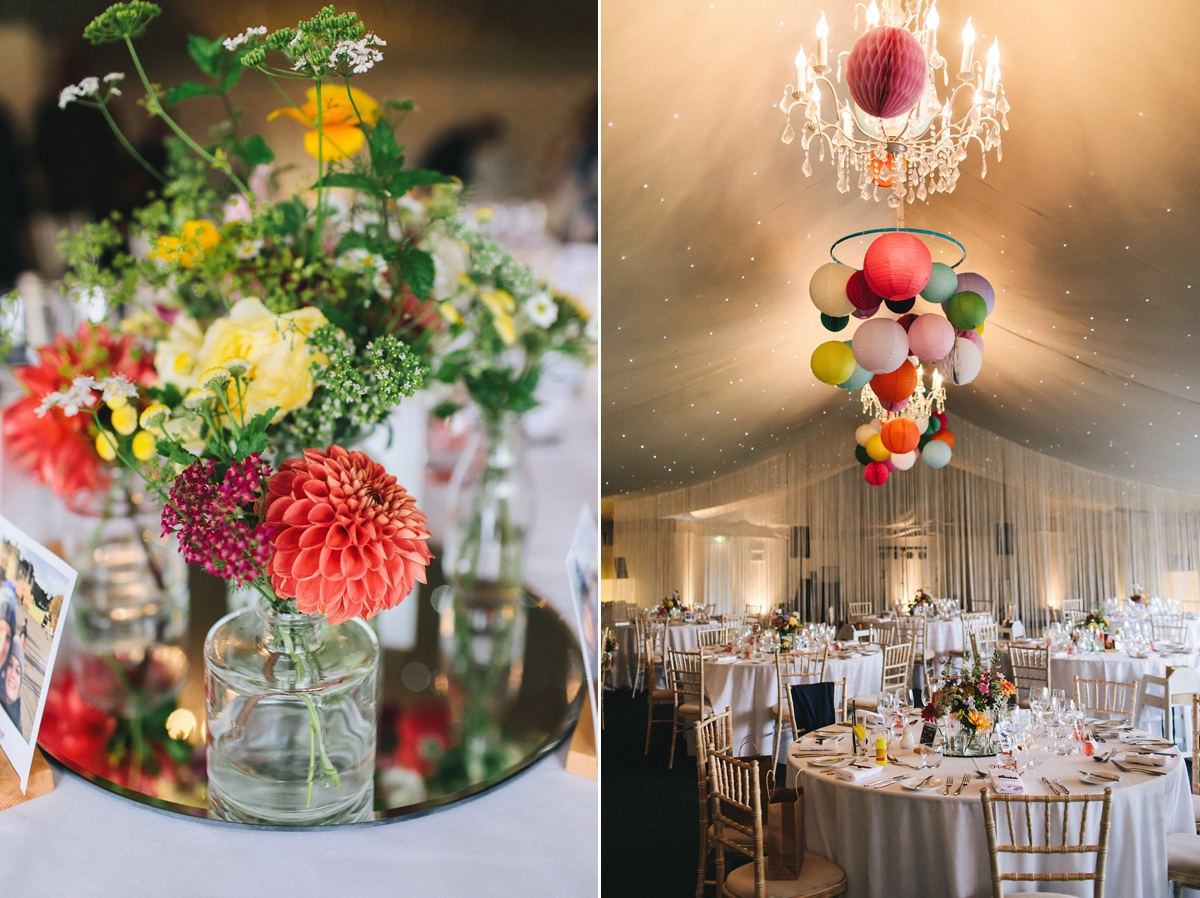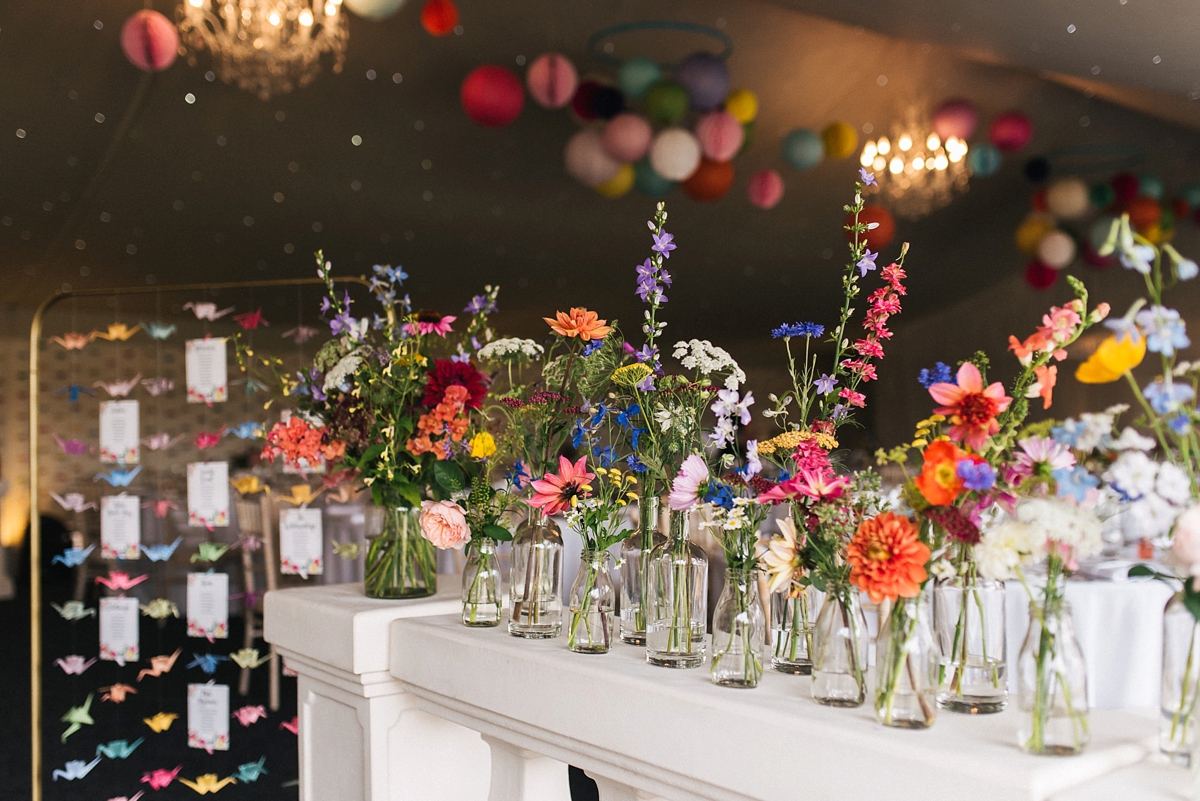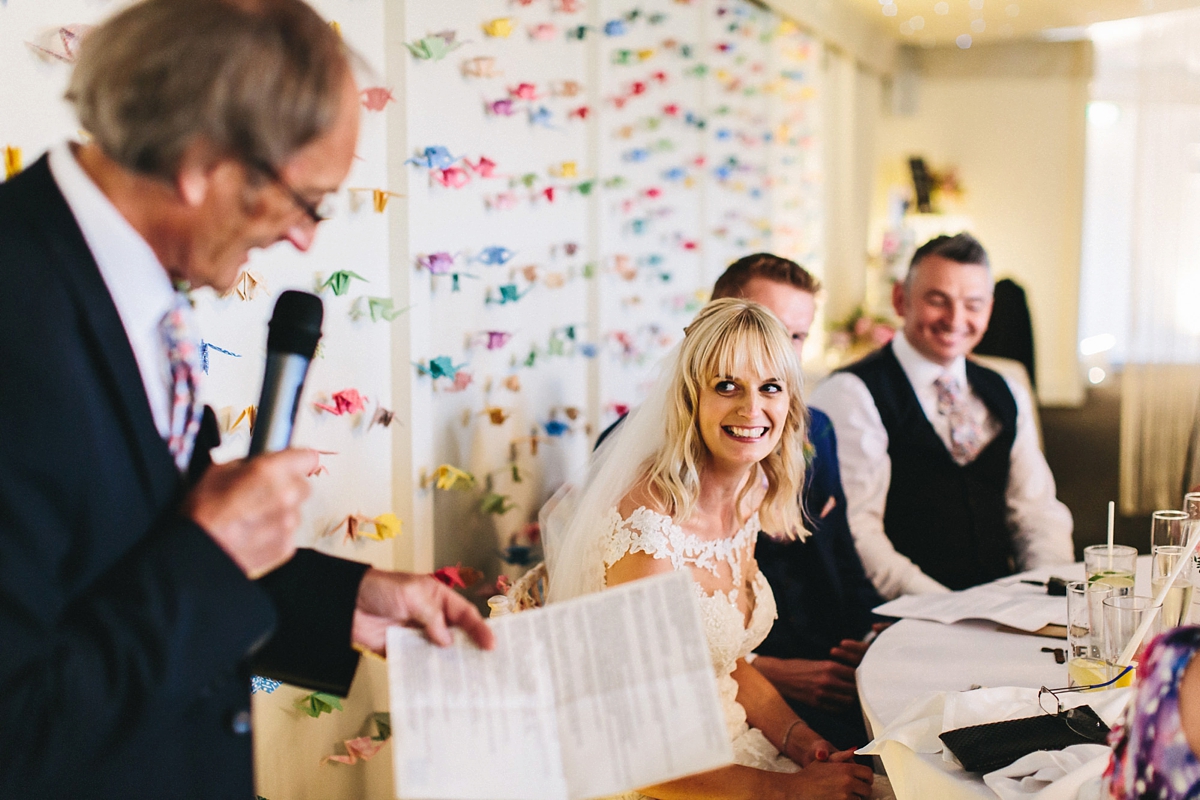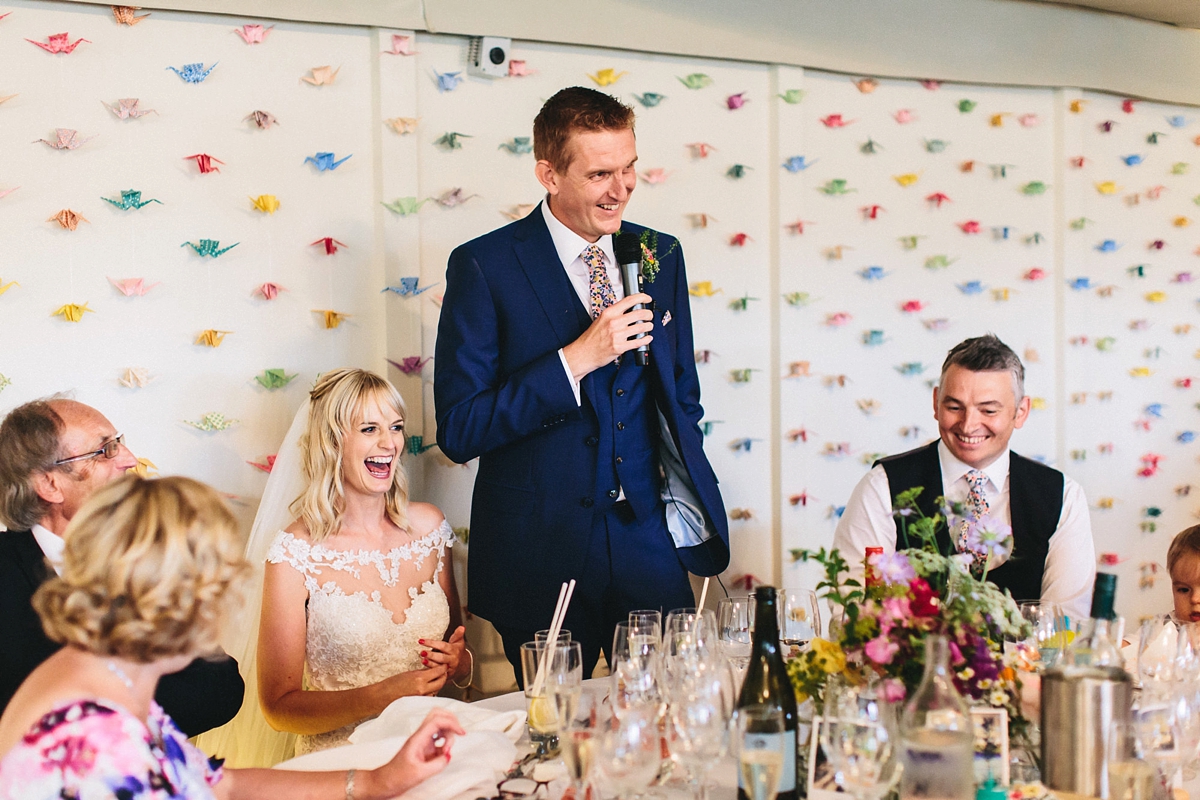 "Our band, Rock My Reception learnt our first dance to play live. We chose the song 'You To Me Are Everything' by The Real Thing. The original is a 70's song and quite cheesy, but we wanted it as it is a song Nick had sung to me on our first trip away to Cornwall."
"After a few drinks I asked him to sing to me and that was the song he chose so it's always made me smile. The live version sounded brilliant and we are so pleased that we stuck with something that meant something to us personally. One of the best decisions we made was to hire Kieran and Dom. They went above & beyond to provide music from when the guests arrived, through the ceremony, acoustic sets on the lawn, in the bar area and an amazing live set at night."
"The whole day was amazing and even things like the first dance, which I was nervous about, I actually really enjoyed. I think the best bit was probably getting on the dancefloor with everyone and seeing everyone have fun. It was also really nice to speak to everyone in the afternoon, catching up and it was so lovely to hear them say that they loved the venue, or the flowers, or the decorations –just to know that everyone appreciated the details and were enjoying the day as well."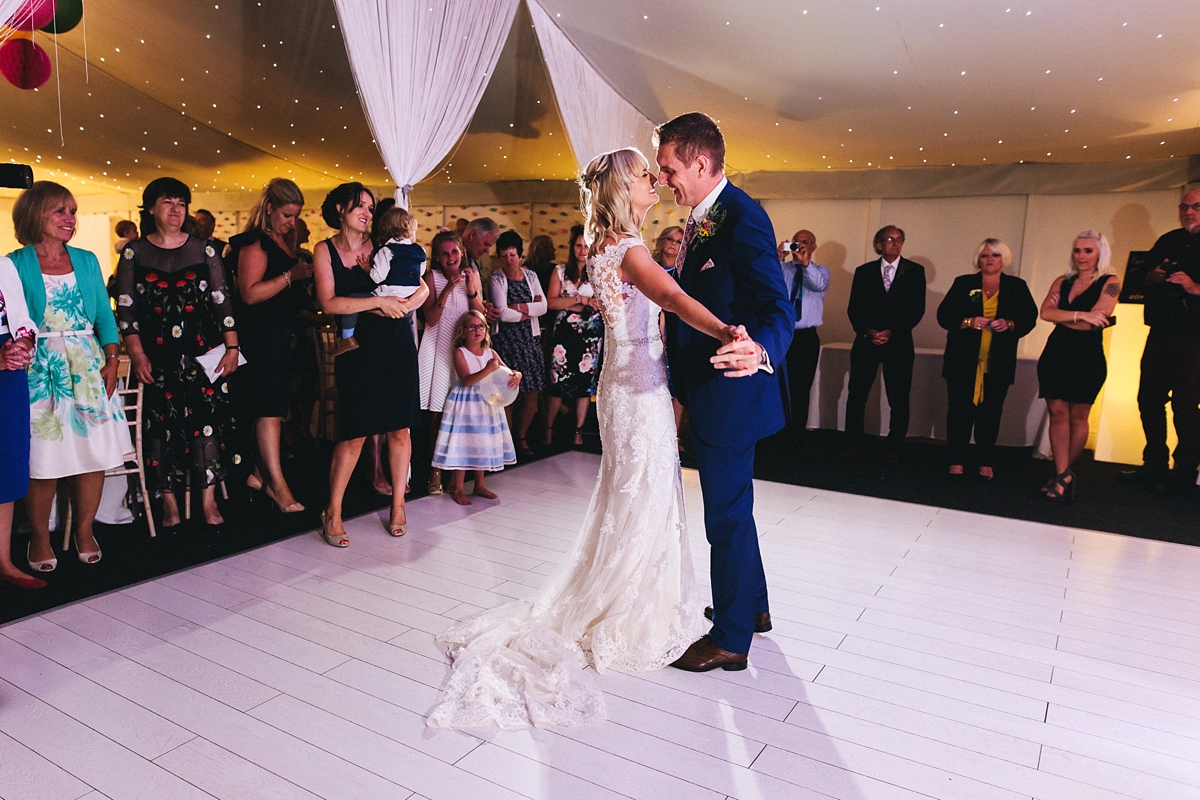 Words of Wedded Wisdom
"I think the best tip would be to plan your time (with advice from your hair dresser and make up artist) to know when you should be doing each stage. It doesn't need to be too rigid, but if you have a list of everything you need to do then at least you might avoid the panic! I'd been so organised leading up to the wedding with lists for everything, but on the day I just didn't register that the planning wasn't quite over and being more organised before the ceremony would certainly have been less stressful!"
"I loved all the handmade details of our day. Anything you can do to make it personal to you will be what people remember. We had silly selfies of us on the tables and were surrounded by decorations that we'd made from scratch. Although it was a lot of work and we longed for a 'non-wedding' related weekend in the run up to the wedding, both Nick and I really felt it all came together so well and we were so happy that we'd made the extra effort to make the day unique."
"Be prepared to be overwhelmed! The day really is all about you as a couple and it will feel bizarre knowing everyone is there for you, to share your day and celebrate with you. If you're not usually the centre of attention then prepare to feel a bit weird about it, but if you just embrace it and know that everyone just wants you to be happy then you will have an amazing day."
"Plan the day that you want and go with it! A friend who used to work at weddings told me the best weddings were always the ones where the couple just relaxed and enjoyed the day. Every time I felt myself getting stressed about everything being perfect, I remembered this, let the little things go and I'm so glad I did."
"I was terrified that I would cry as I walked down the aisle and be a sobbing wreck for all the pictures, but the adrenaline really saw me through and apart from the odd tear in the speeches I was fine and literally couldn't stop smiling. Even when it started raining a few minutes in to our outdoor ceremony, we made the decision to move everyone back in to the glasshouse and we continued the ceremony in there. I would have thought this would have devastated me, but I genuinely was fine about it! It took just a few minutes, everyone picked up their chair and we carried on!"
"Things will go wrong, the trick is to just not let them ruin your day. As long as you have the knowledge that in reality nothing is perfect and some things won't be as you expected or planned, but no matter what your day will be amazing and well worth all the effort and stress that it took to pull it all together!"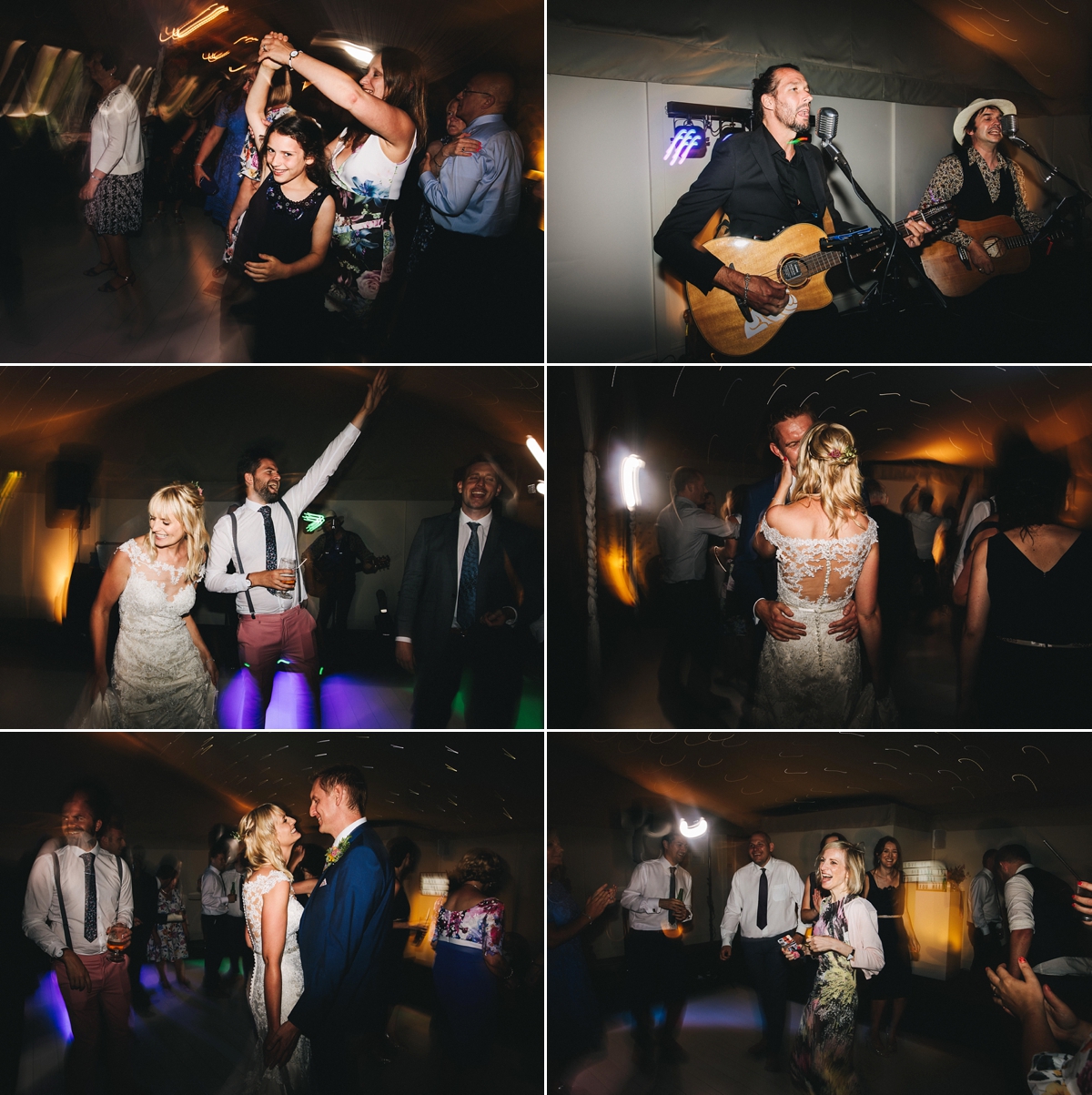 Vicky and Nick – wow, what a day! Thank you so much for sharing, it's been wonderful. Many thanks also to Full Colour Films and Jessica O'Shaughnessy for their beautiful work, too.
Love,
Laura