Late springtime in the UK is a pretty magical time of the year. All the cherry blossom maybe gone, but in its place is a real sense of energy, vitality and colour. It's wonderful to be sharing a beautiful, botanically inspired wedding with you all today, brimming with colourful blooms and lovely greenery.
This is also a celebration that takes its cue from the combined heritage of our bride and groom; a classic English country affair, which skilfully weaves this with Greek and Portuguese cultural elements, all combining into one bright, effervescent and elegant day.
Meet our couple, Sally, who works for EY, looking after one of their graduate programmes, and Zac, who works for the Bank of England. They were married on the 26 May 2018 at Millbridge Court in Frensham, Surrey; a beautifully restored barn venue with a light, contemporary feel.
Images by Dasha Caffrey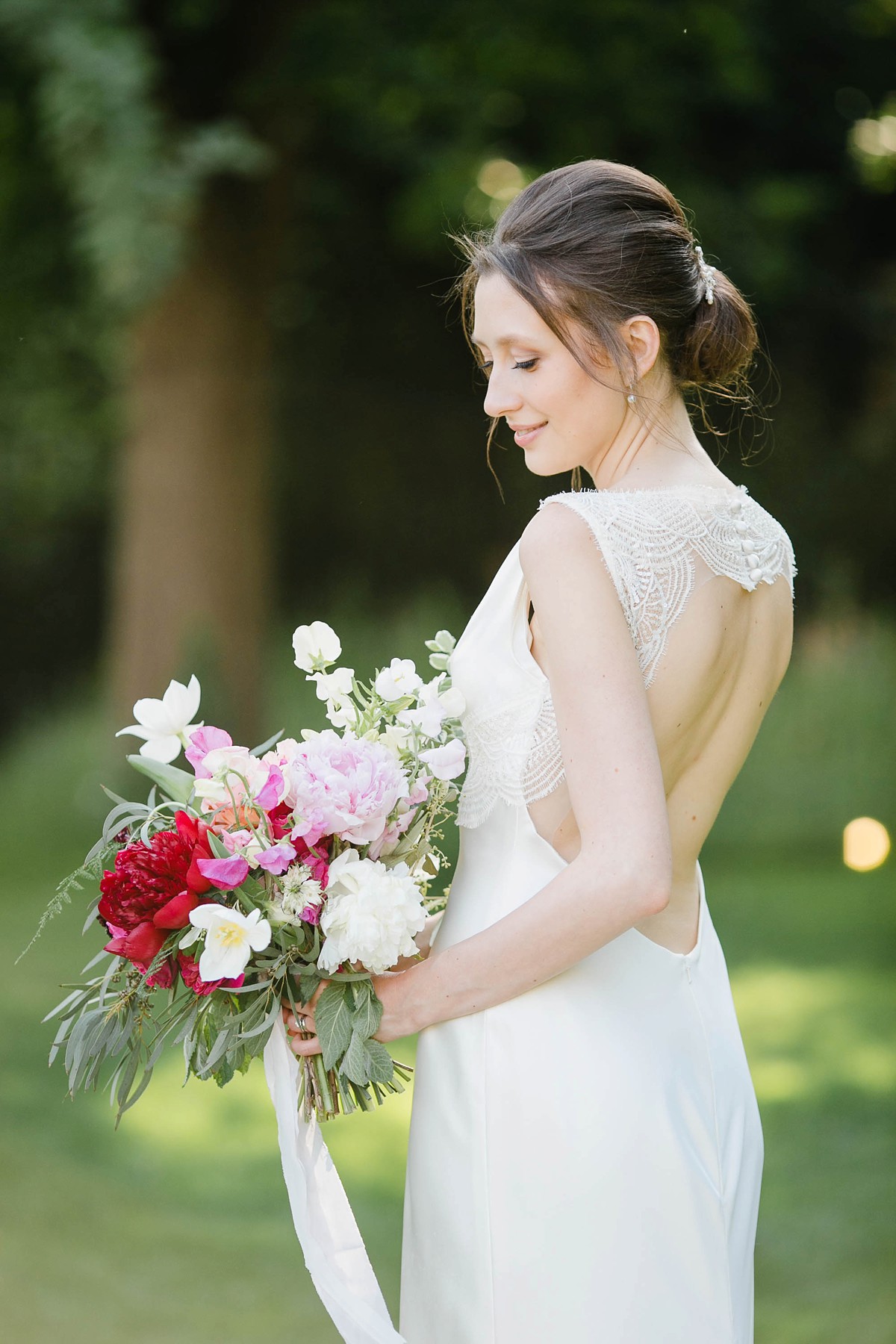 "We decided to style the wedding around our heritage. Although very much born and raised in London, Zac is half Greek and half Portuguese, so we had elements to entwine this, alongside my super English heritage! This featured throughout our stationery suite, with Greek olive branches, Portuguese tiles and English peonies."
Stationery can provide a great preview into a couple's day, and Sally and Zac's was designed by Anna Wallis of Rose Paper Scissors.
"Anna was fantastic, and coordinated with our cake designer to provide an illustration for the favours and bunting. Our stationery really brought the design of the wedding together."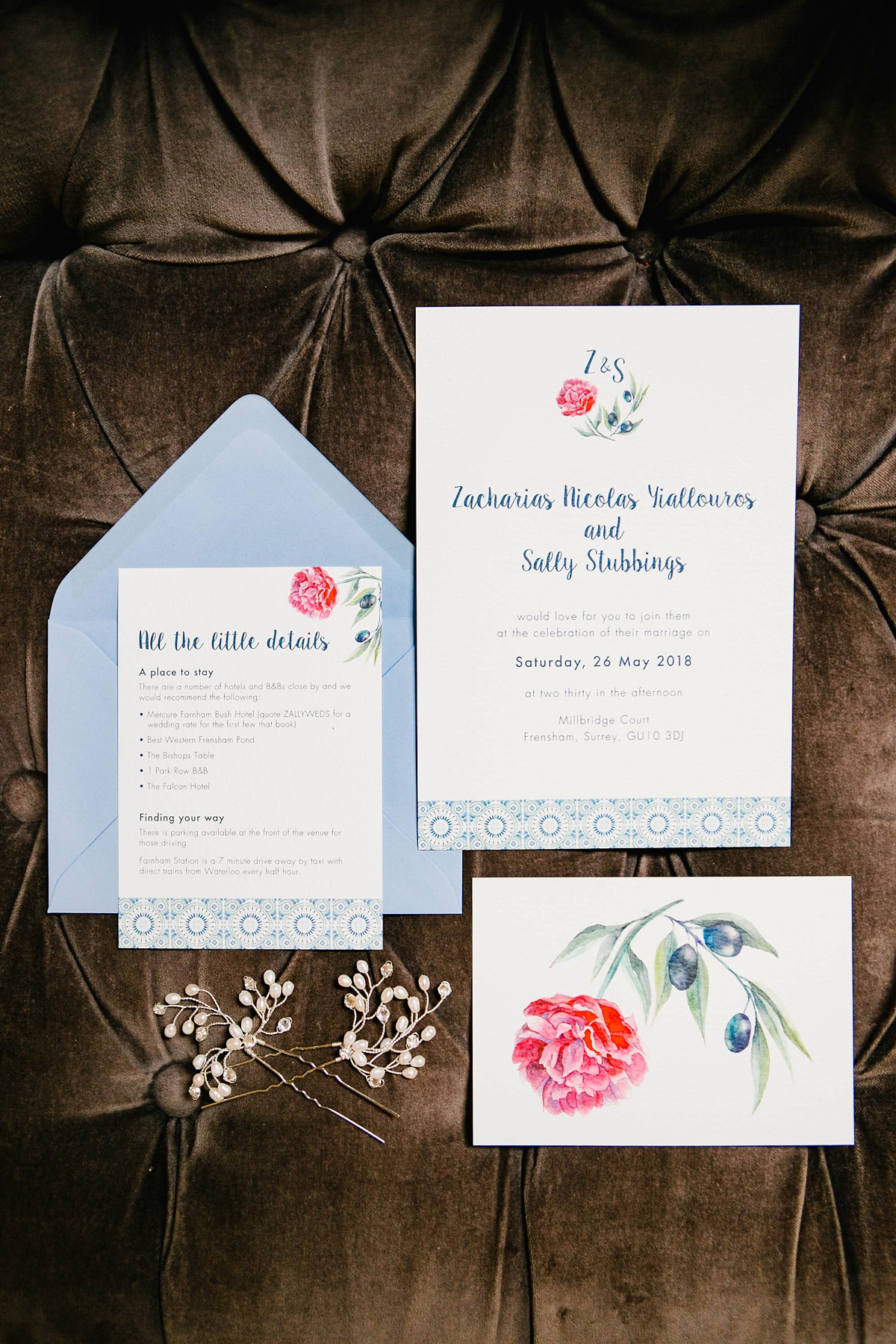 Soft, radiant make-up came courtesy of Amy Goode, who Sally booked through Kristina Gasperas.
Sally's pretty hairstyle was by Gintare Rarivanaite, who also took care of hair for Sally's mum and her two bridesmaids, with Lindsey Rowatt of Amore Hair and Make-up looking after Zac's mum and sisters.
In her hair, Sally wore two seed pearl pins from Not On The High Street (sadly, no seller details supplied).
Sally chose the old Hollywood glamour of the backless, cowl neck 'Iona' dress by Suzanne Neville, together with a simple, classic veil, also by Suzanne Neville – both from Suzanne's flagship boutique in London. I love the details on this dress – elegant, subtle Art Deco scalloped detailing at the waist and back.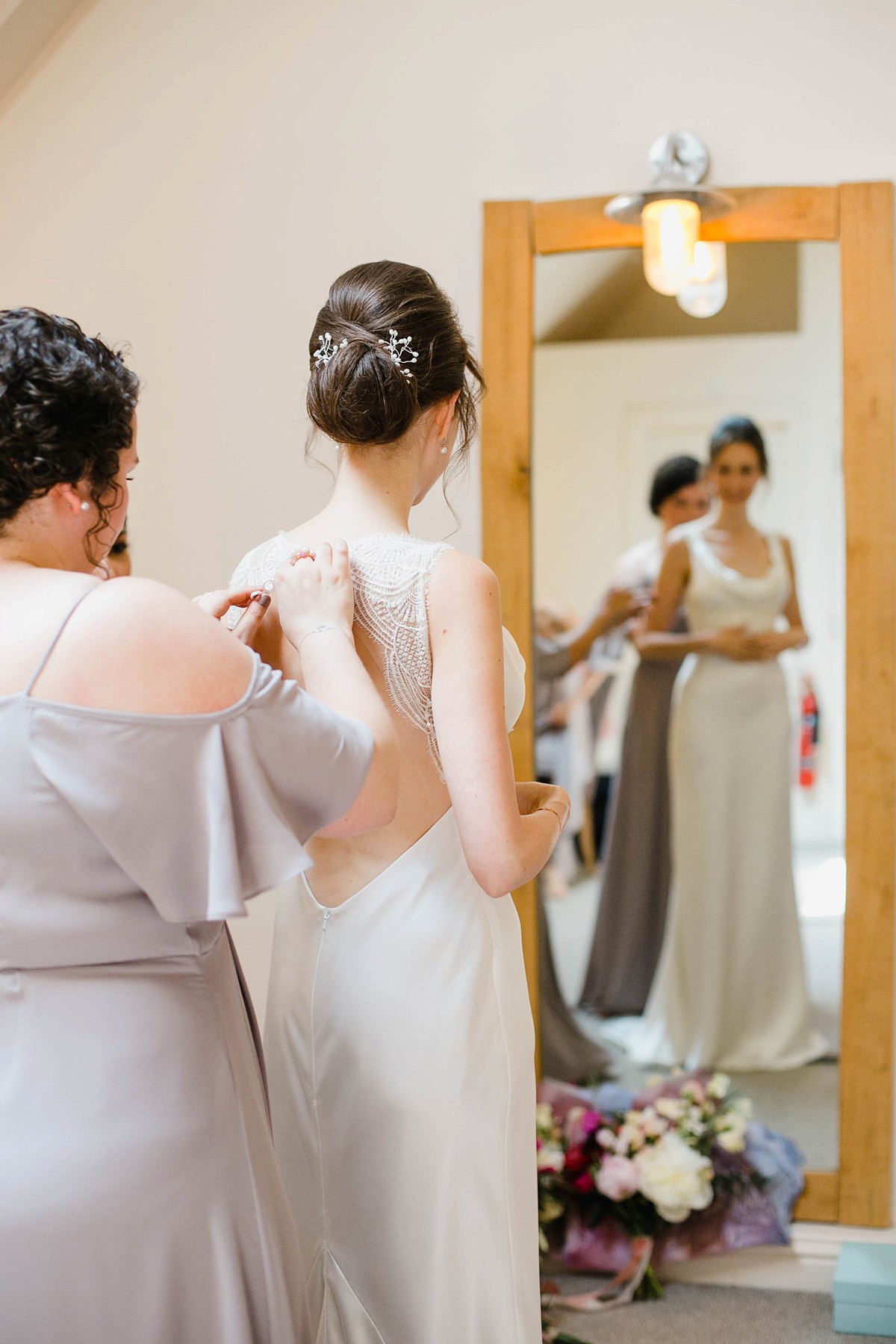 "It was beautiful! I didn't think I'd go for something so slinky; I had lots of lace in mind, but it just felt so right when I tried it on. The open back, the incredible fit, and the delicate detailing were all just perfect."
On her feet, Sally wore ivory peep-toe pumps with a glittery, gold block heel by Charlotte Mills, complete with a silver sixpence inside one sole (Charlotte's signature).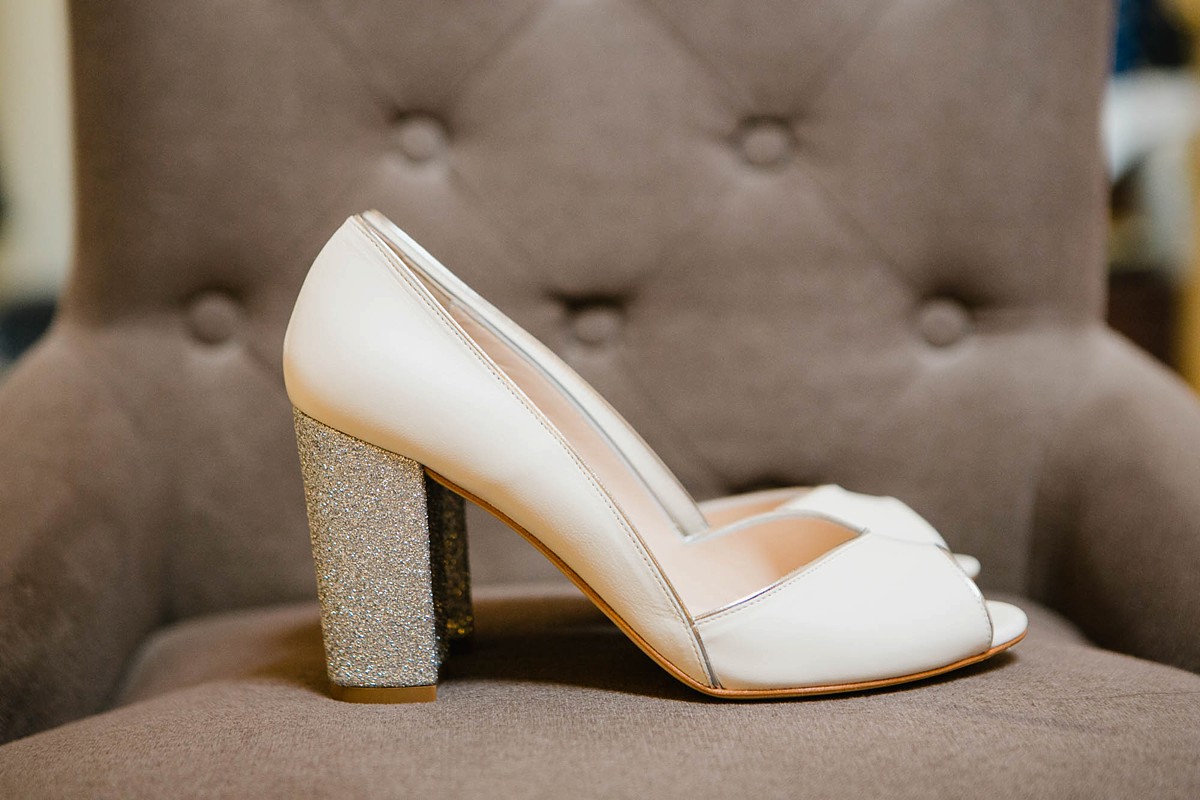 "My earrings were drop pearls from Dower & Hall, which my mum bought for me. Zac bought me a delicate Tiffany bracelet as a wedding day gift, which is so, so pretty. My perfume was Chanel – Coco Mademoiselle. I always use that one, and wanted to smell like me."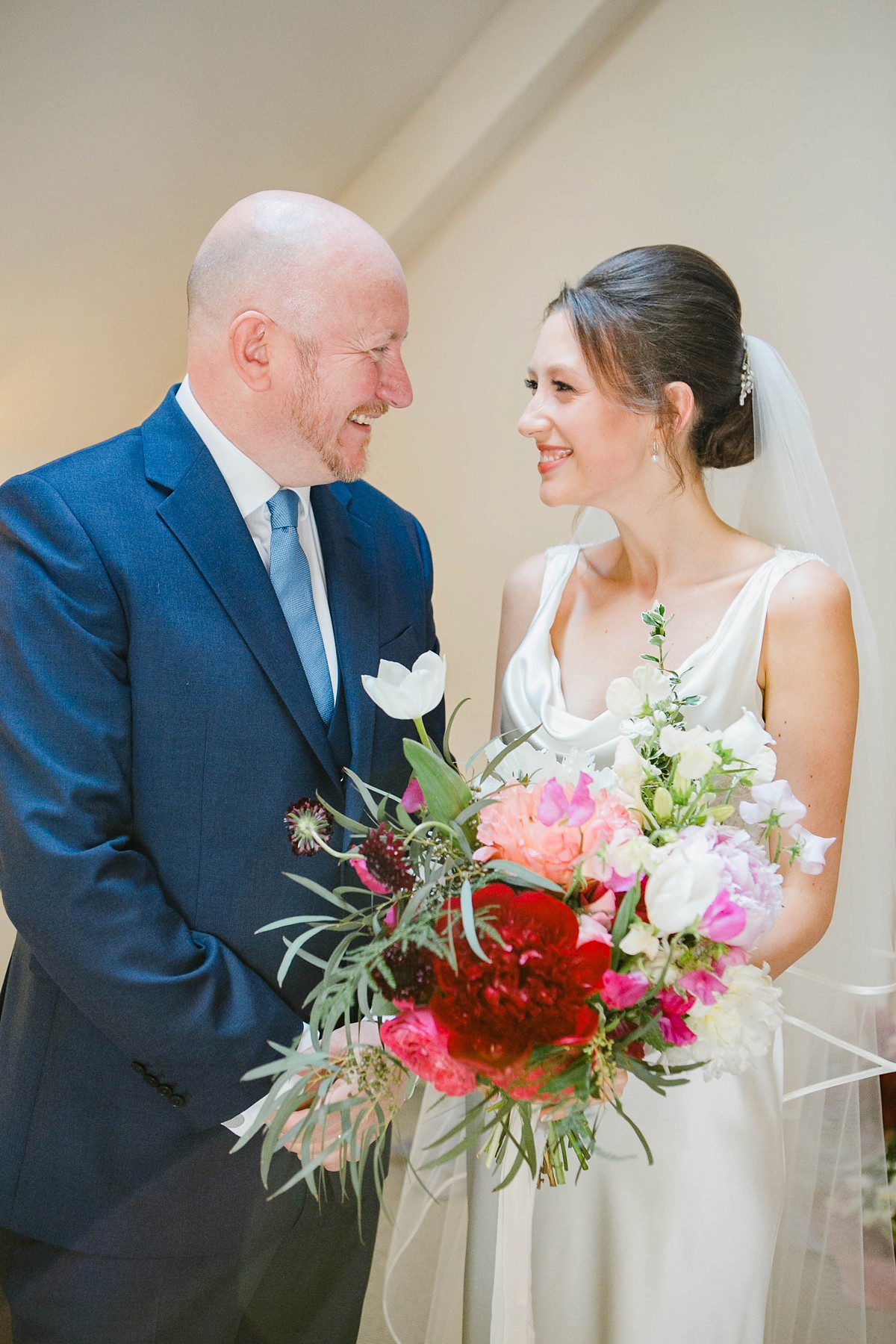 The bridesmaids wore the aptly named 'Mykonos' dress, in a concrete shade, by the brilliant Rewritten, who are also part of our super Little Book wedding directory.
"Millbridge Court is stunning and had everything we needed from a venue; that relaxed country vibe, plenty of light, a few rooms on site, and the loveliest event team, plus we had a close family breakfast the following morning."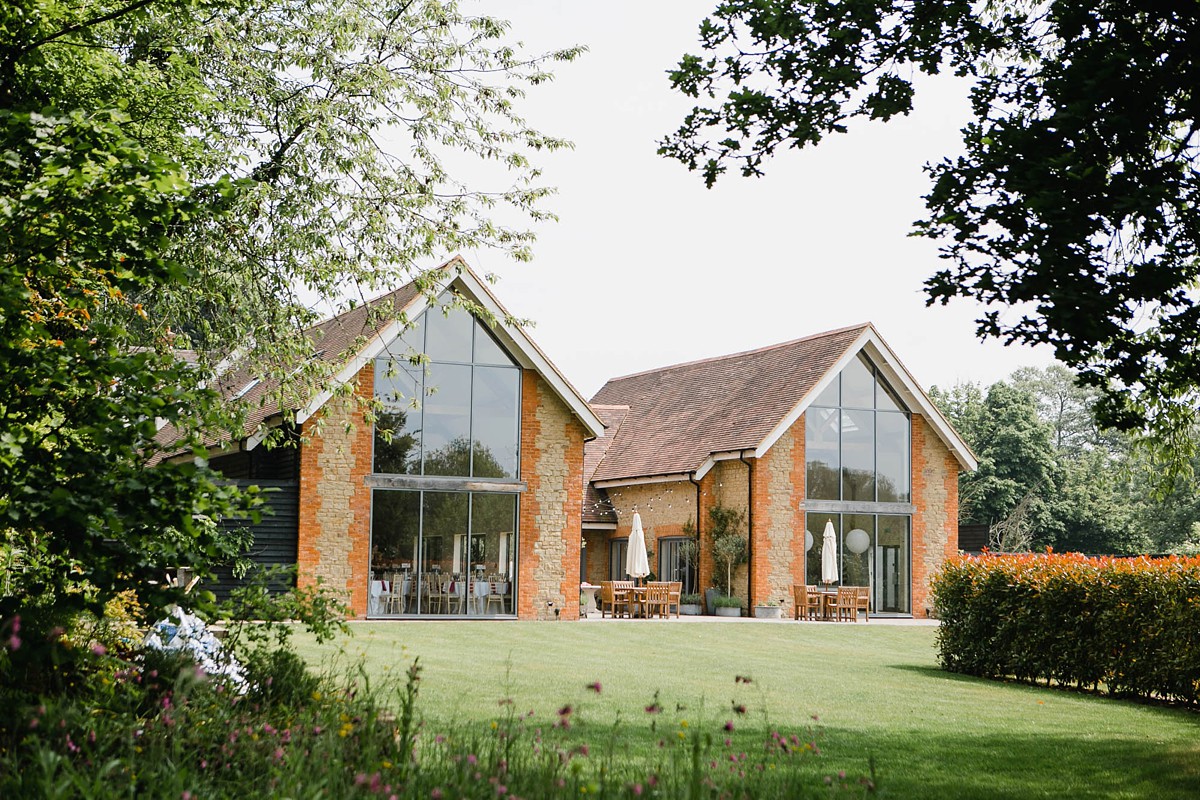 Loved ones gathered in the garden at Millbridge Court, for an outdoor ceremony in front of the venue's lovely, rustic arbour adorned with flowers and foliage.
Zac was waiting in the sunshine, wearing a handsome blue suit from A Suit That Fits, together with a red tie from Hermes.
"Zac had his two brothers (Mike and Andy) as his Best Men. My dad and uncle were groomsmen, and my dad and the Best Men wore Charles Tyrwhitt suits."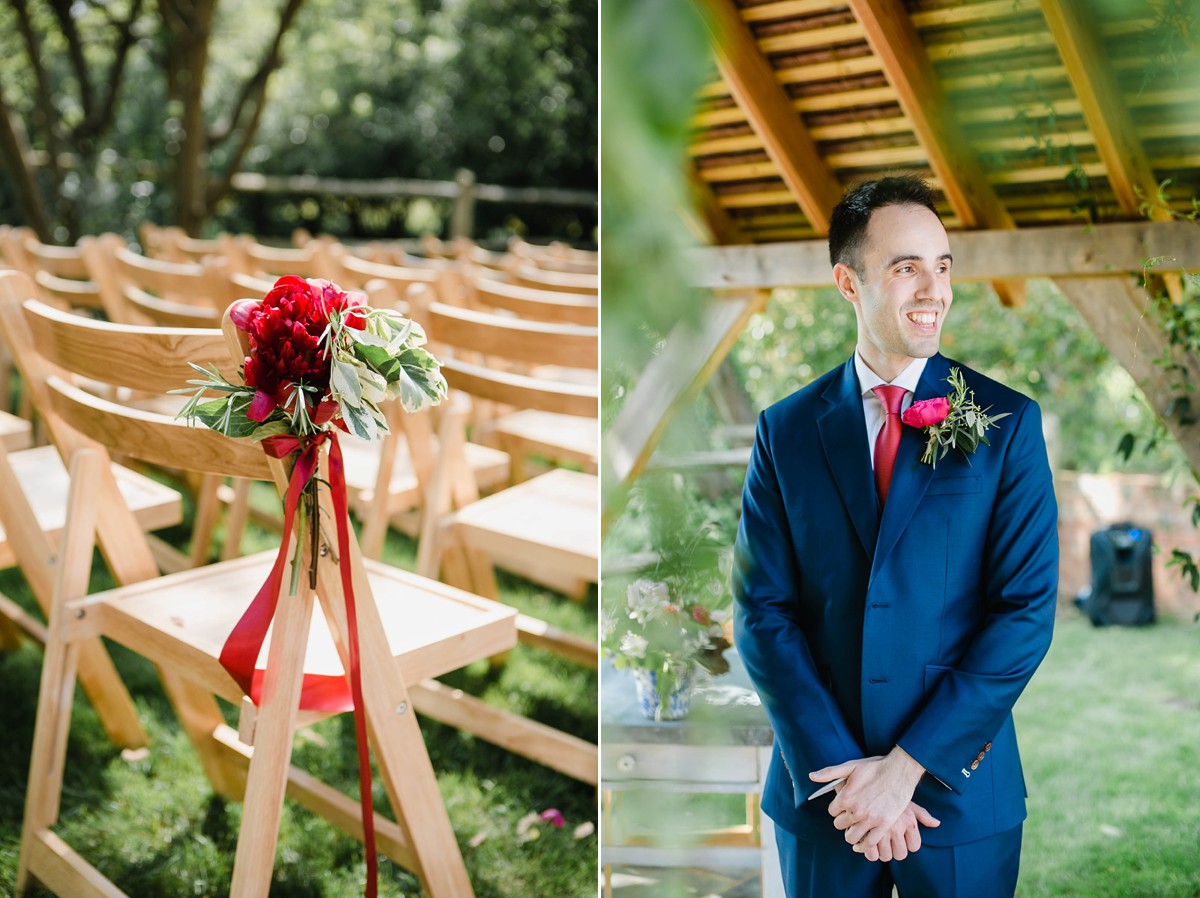 Sally and her dad walked down the aisle together, to the classical piece, Canon in D by Pachelbel, one of several favourite moments from the day.
"Even though I was breathing heavily and totally nervous, it was just the most incredible moment, holding my dad close, and seeing my husband-to-be smiling wider than ever before."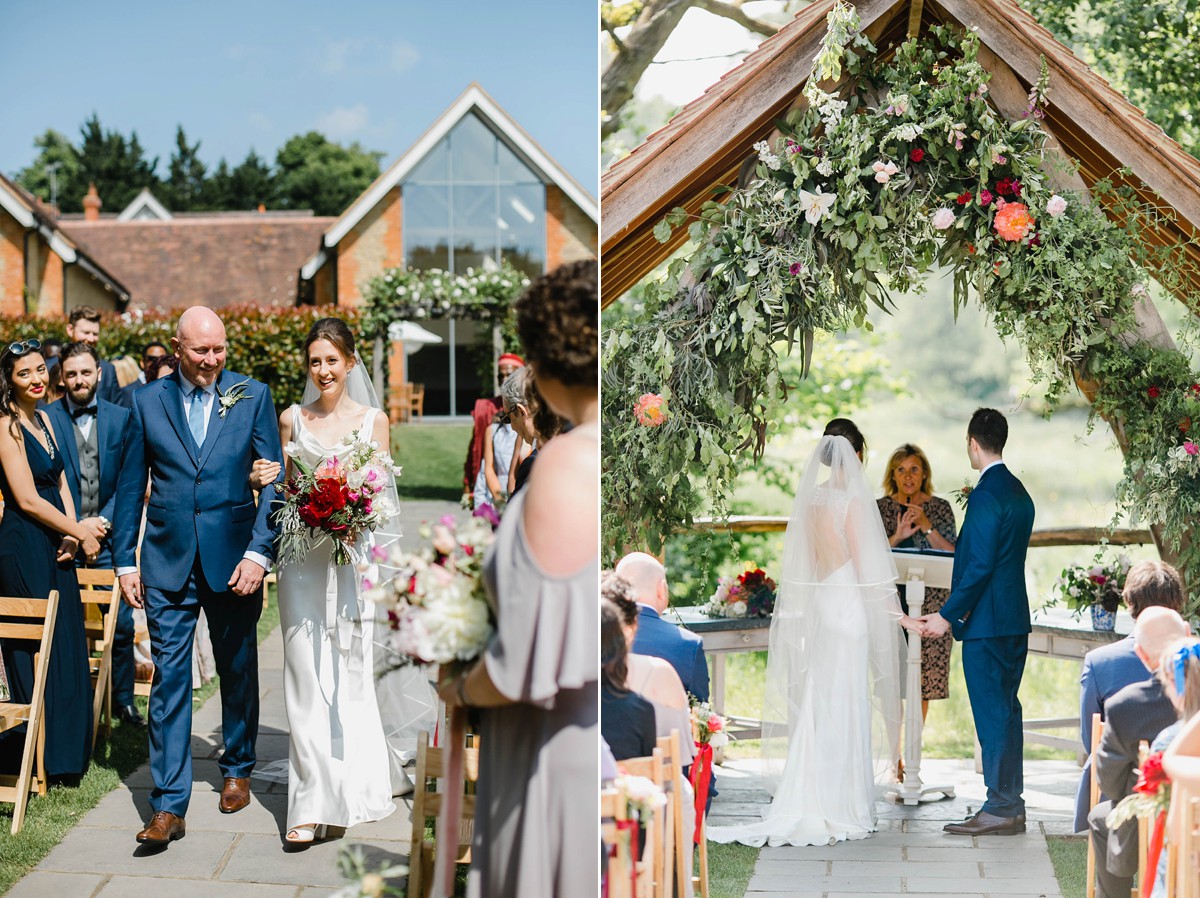 "Zac and I met on the graduate scheme that I now help run in September 2011. We're both proper Londoners who bonded over tequila and indie music; an office romance, which grew legs quickly. He proposed in the September of 2016 whilst in Devon, overlooking the sea on a clifftop walk."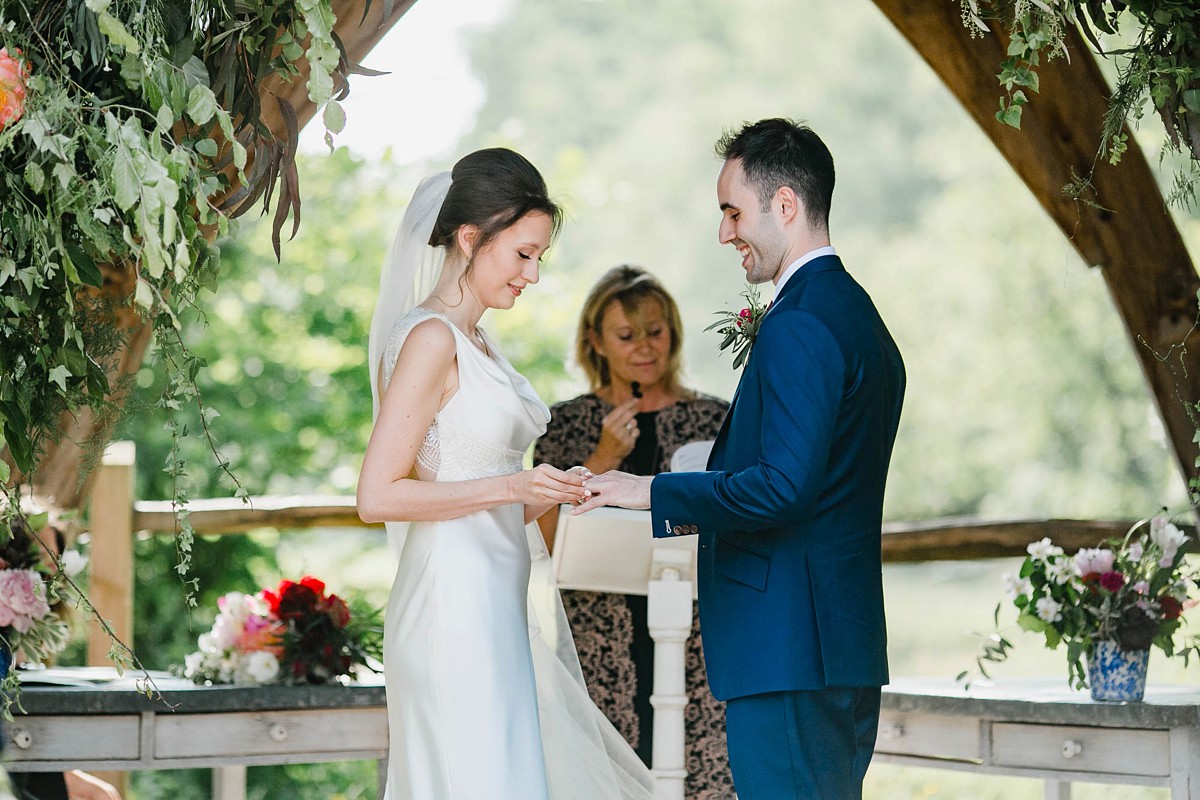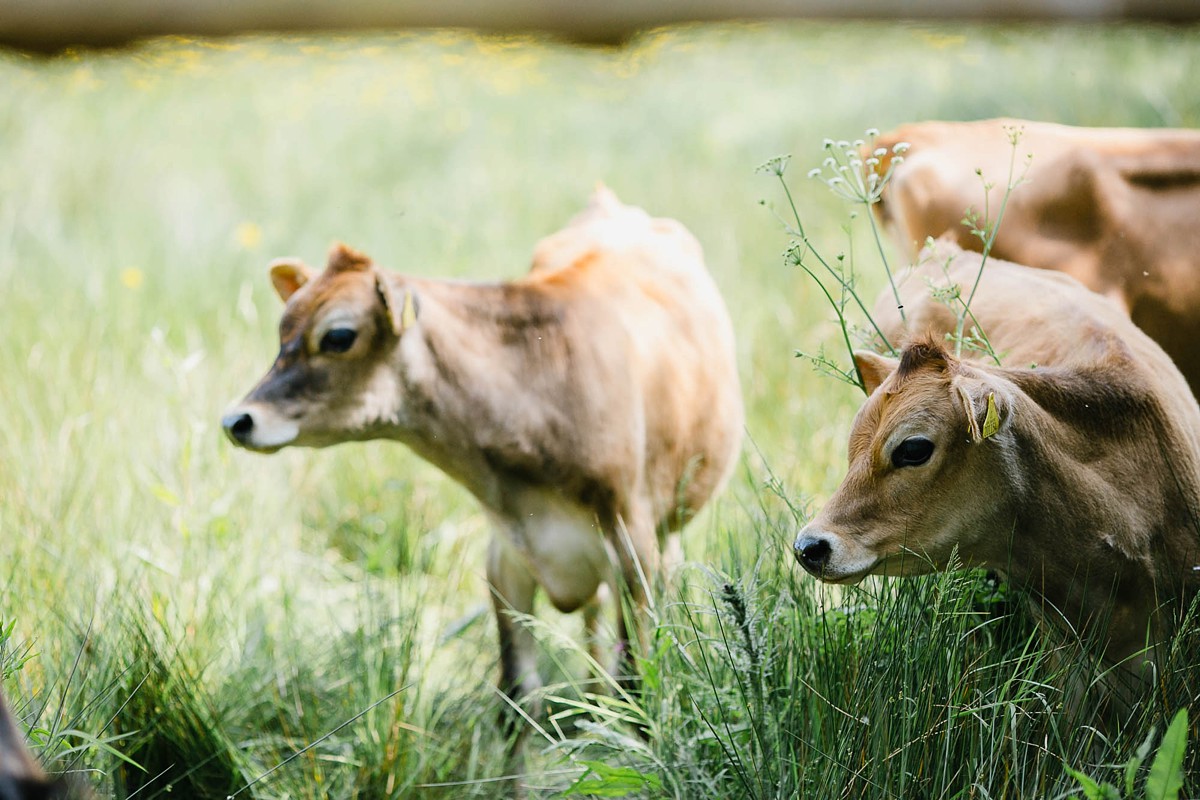 The couple chose to say classic vows to one another, as well as exchanging rings, which they chose at Solitaire in Hatton Garden.
"We had one of my bridesmaids, Swati, read a poem called The Future by Emma Salmon, that we had tweaked to be more in keeping for us, especially the bit about Nanna (my Nanna is pretty much my best friend)."
Sally carried a colourful bouquet, including some seriously huge and lovely peonies, by King-Wey Hii, of the brilliantly named Alright Petal Flowers.
"The most wonderful, wonderful lady, King-Wey. She was phenomenal! She totally got us and designed the most beautiful arrangements. We had lots of flowers to follow the heritage theme; plenty of peonies, olive, Portuguese eucalyptus and lots of incredible smells from the herb foliage around our arbour, and the sweet peas in my bouquet."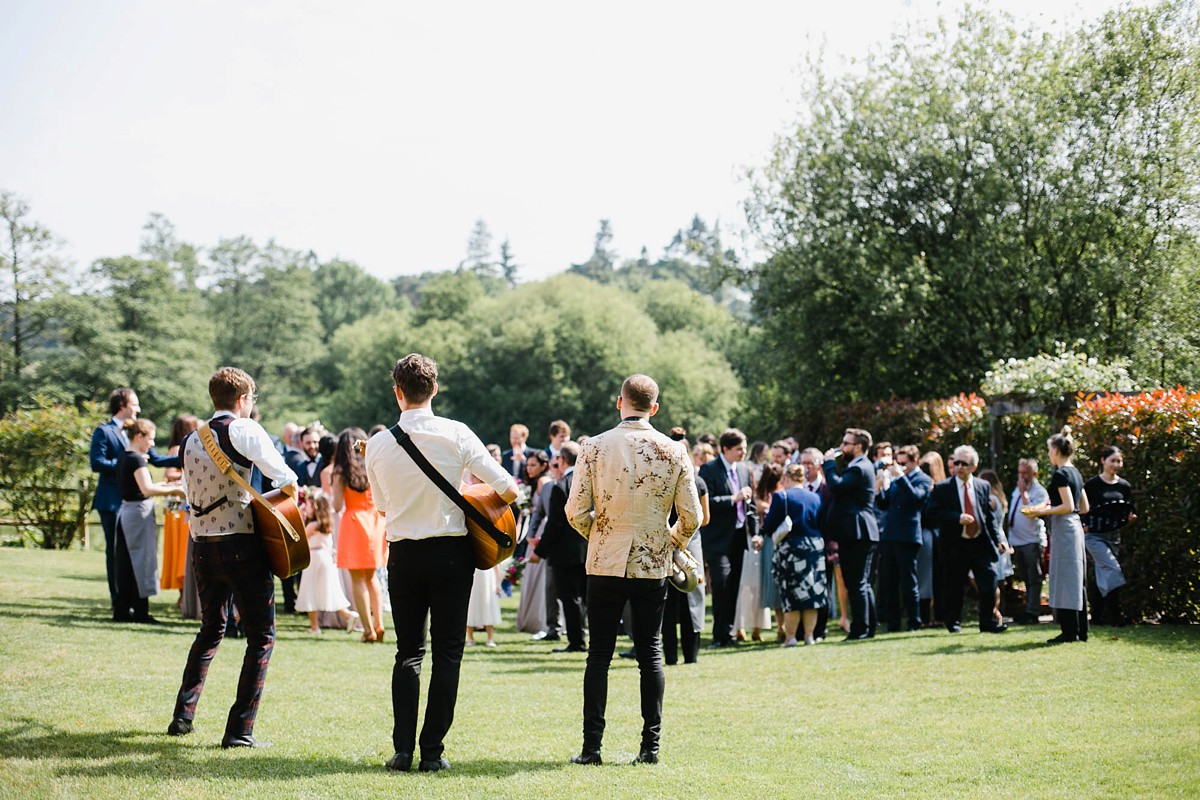 Everyone enjoyed drinks outside in the sunshine, following the ceremony, with live acoustic music from trio Wandering Hands. This was another favourite part of a brilliant day for Sally and Zac.
"The drinks reception – this was the bit I was most looking forward to, and it really was brilliant. Wandering Hands were so entertaining and moved about our guests, fulfilling their requests. Lots of congratulations, hugs and bubbles."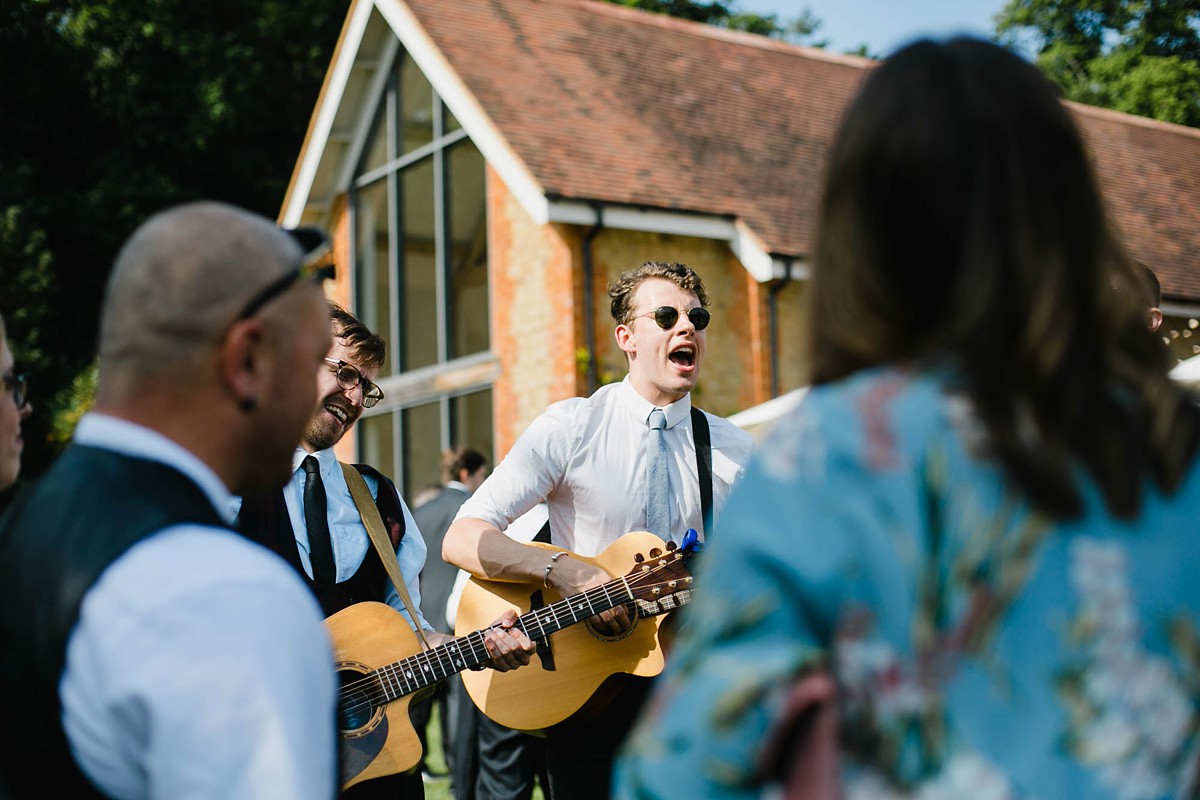 We've featured the gorgeous, fine art photography of Dasha Caffrey many times over the years at Love My Dress, and it's lovely to be able to share more of her work for Sally and Zac's day.
"Dasha's style is wonderful; she captured the light and fun so perfectly. You wouldn't even have known she was there! We are in love with our photos,  and have had so many comments on them. We'll treasure them forever, and we can't thank Dasha enough for her wonderful work. Highly recommended!"
As well as Rewritten gowns, the bridesmaids also wore their own choice of footwear, together with bracelets from The White Company; thank you gifts from Sally.
"The flowergirls wore dresses from Monsoon, but I tailored them slightly by using a cutting from one of the bridesmaid's dresses to make the sashes."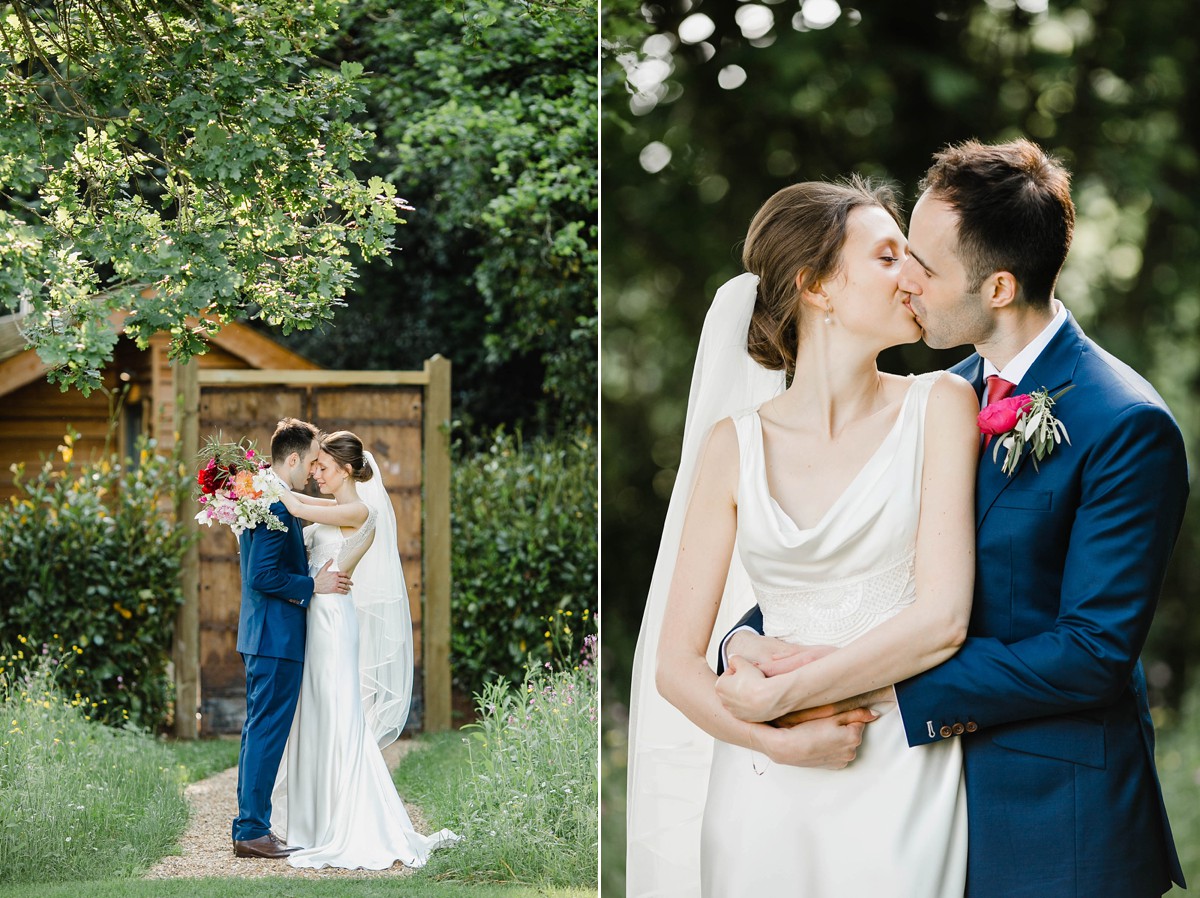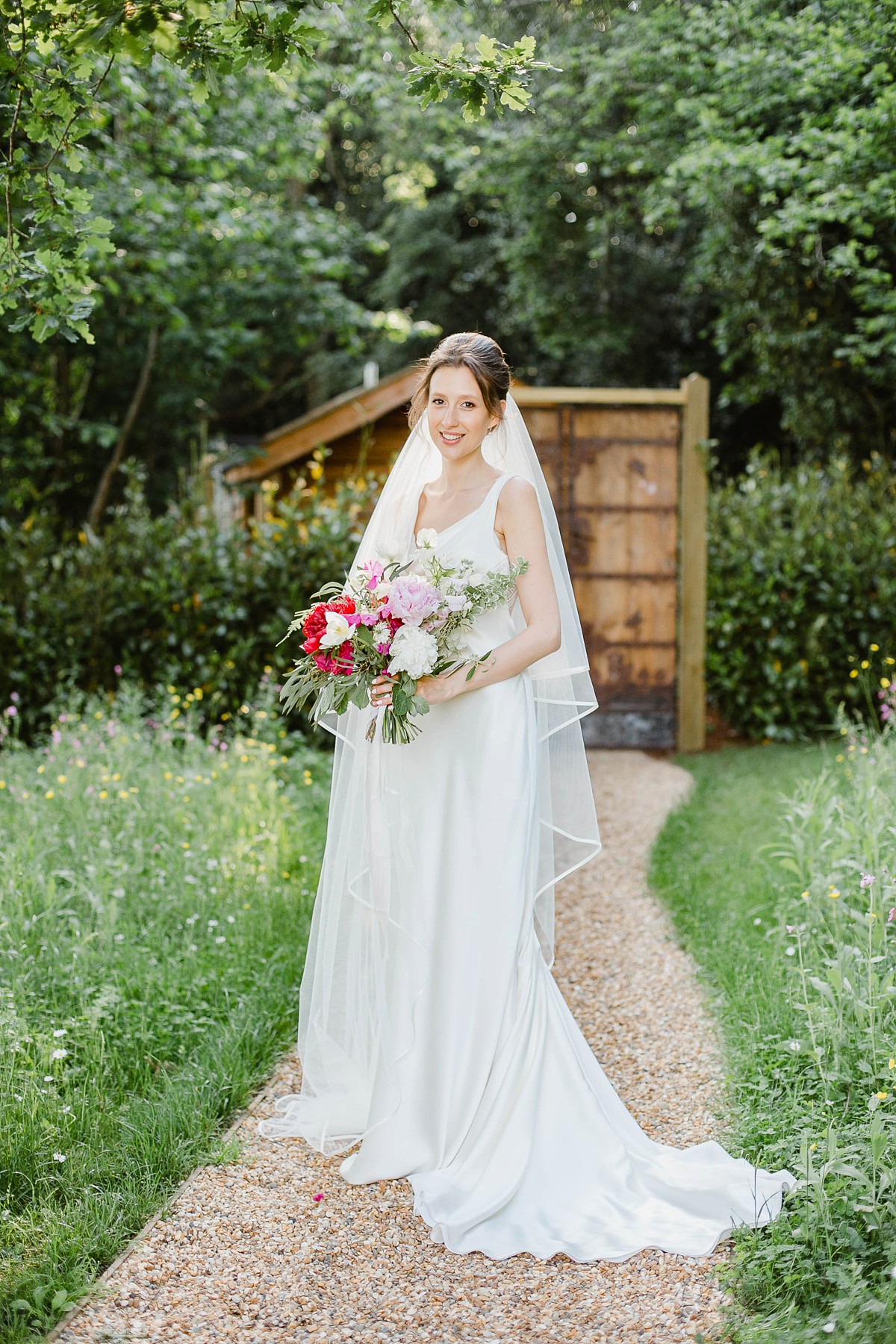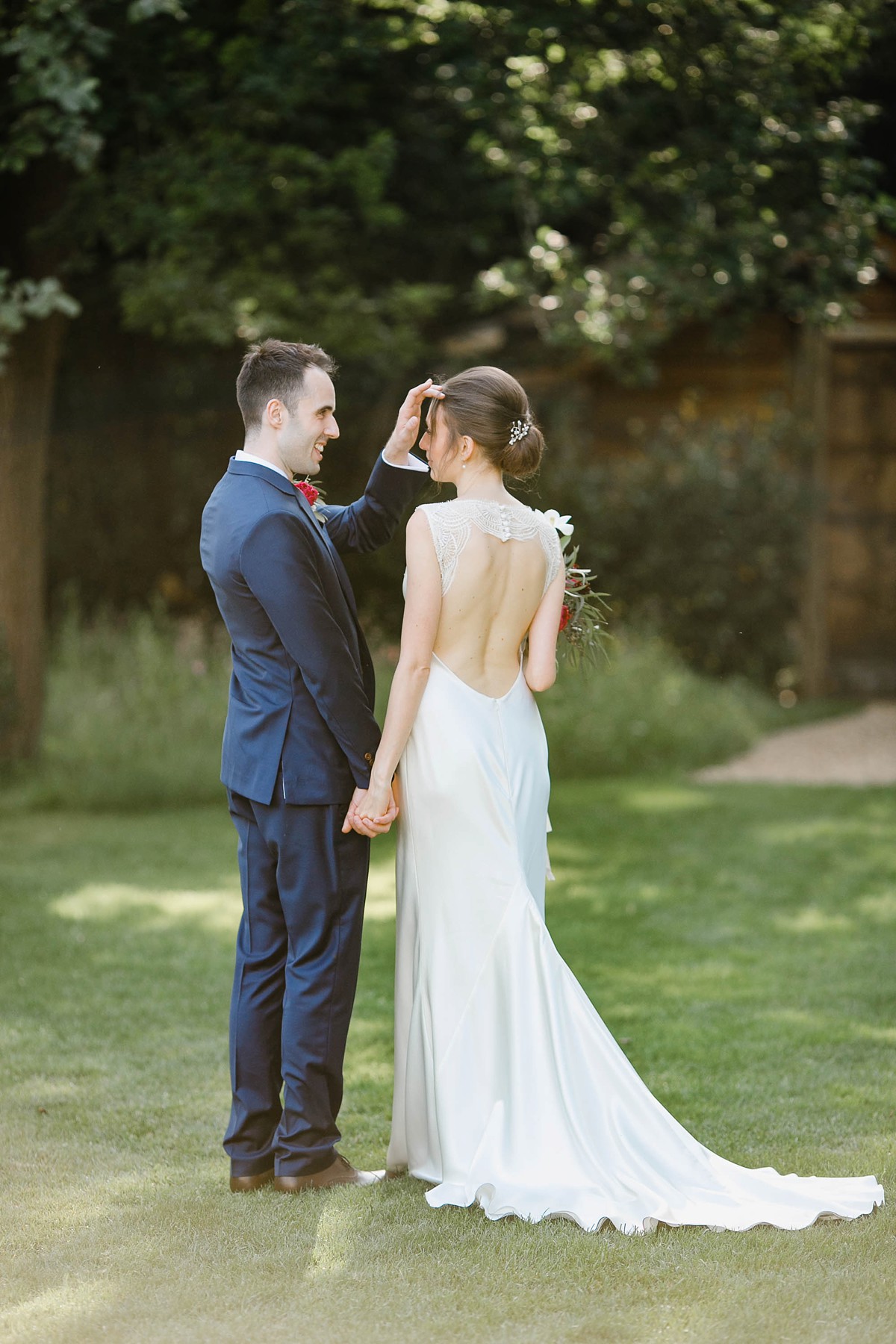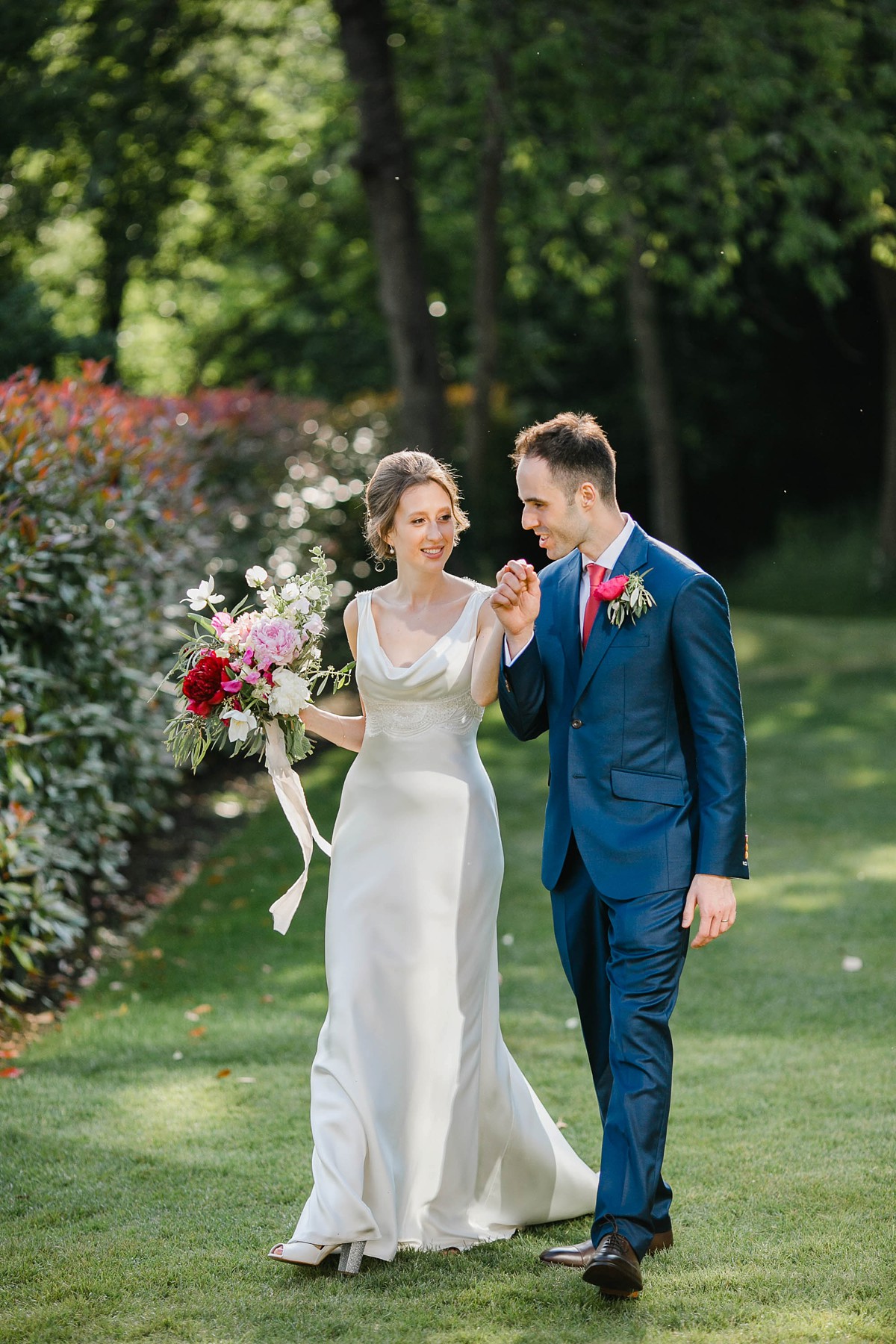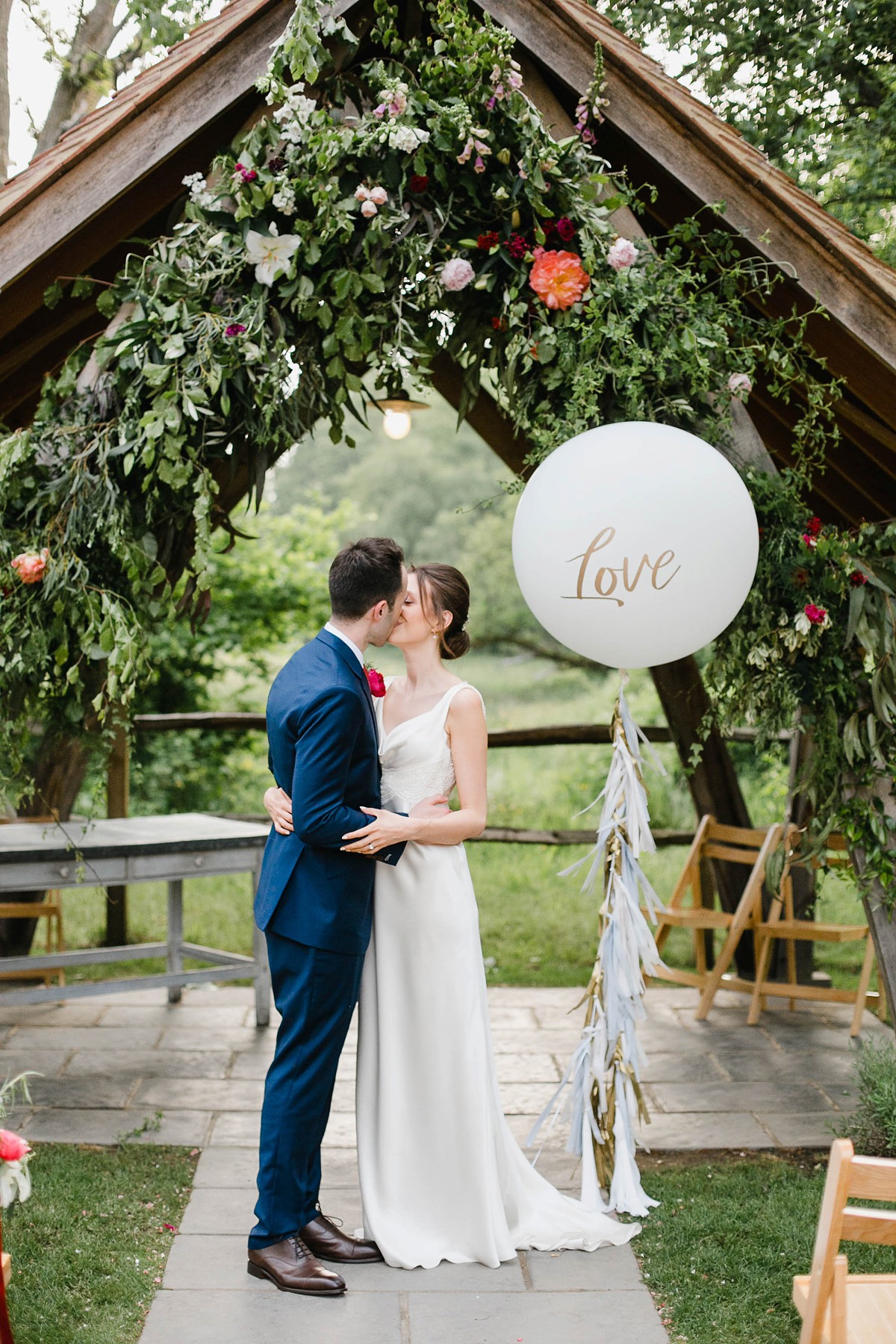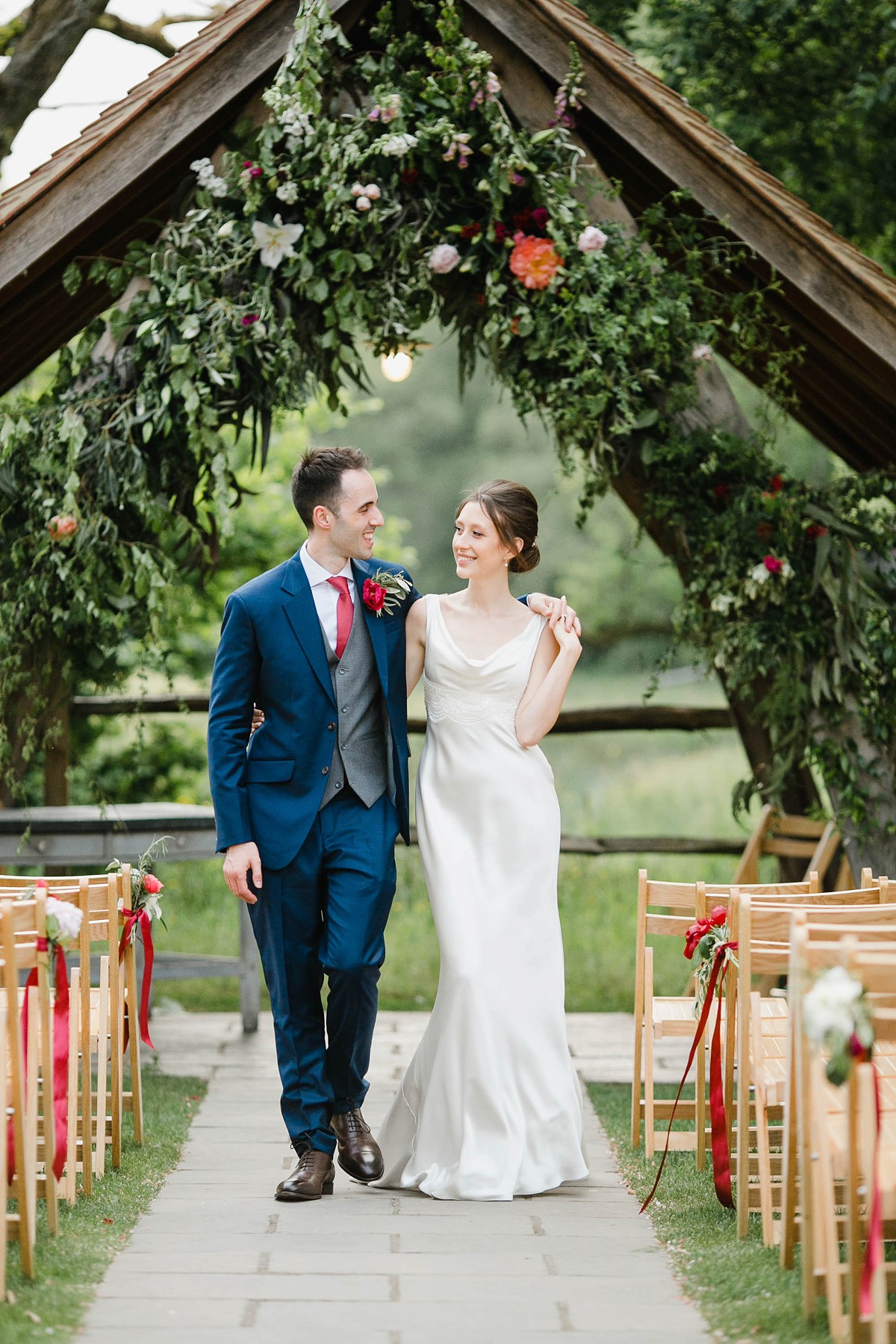 Sally made a welcome sign on a large mirror, which was placed on an easel at the venue entrance, whilst the order of service was displayed on an old clock.
"I have a bit of a thing for balloons, so we had a few really large balloons to display (these were from Bubblegum Balloons). A friend made us a tent for the garden, which we kept the children's goody bags in. It was white and draped with Portuguese tile bunting."
"Kalm Kitchen were our caterers. They came with the venue, and were a huge factor when deciding on the venue, as the selection on offer at their showcase was incredible. They didn't fail to deliver, and we had an amazing feast, including a sharing lamb that a representative from each table had to carve. We handpicked them and got them little aprons for the job!"
After a wonderful meal, and touching speeches, cocktail hour had arrived. Sally and Zac each had 'his and hers' cocktails for loved ones to enjoy – pomegranate fizz for Sally, and rum Old Fashioned for Zac.
Delicious edible favours were made by Claire Owen Cakes – three beautifully iced biscuits of different shapes – peonies, Portuguese tiles, and hearts.
"We brought actual tiles back from Lisbon last year to sit beside the cake, and on the canape trays. Tiles feature heavily on our stationery suite, appeared in frames behind the top table, and are even in our cake bunting and favours."
Claire Owen also made the spectacular three-tier buttercream iced cake, decorated with flowers from Alright Petal, and with a handmade bunting topper. The three amazing flavours were gin and lime, red velvet and lemon.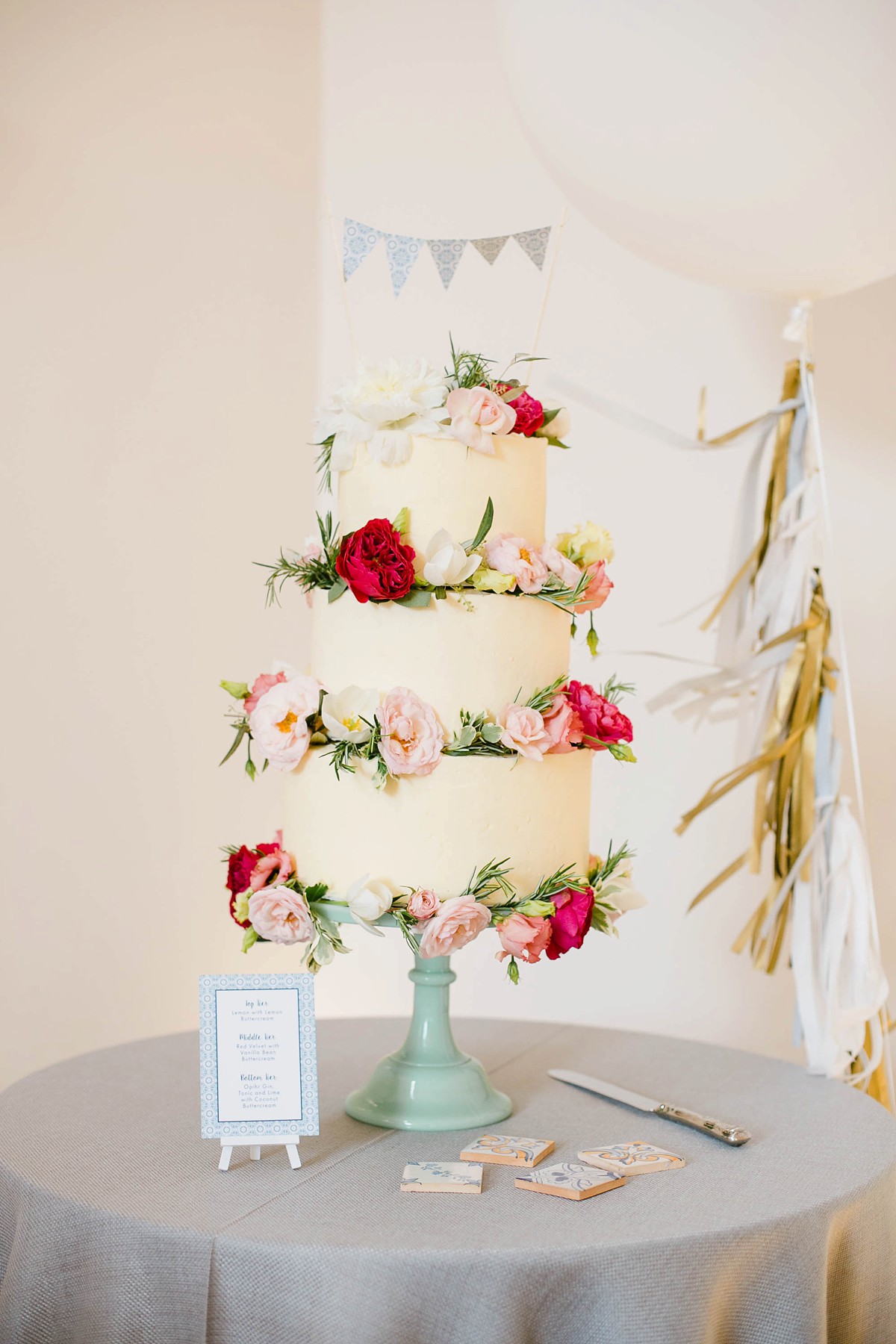 The soaring barn ceilings at Millbridge Court lent themselves perfectly to the glorious, botanical decor, with a combination of wild foliage arrangements in tall glass vases, and smaller, colourful floral centrepieces in bowls and urns – more breathtaking work from Alright Petal Flowers.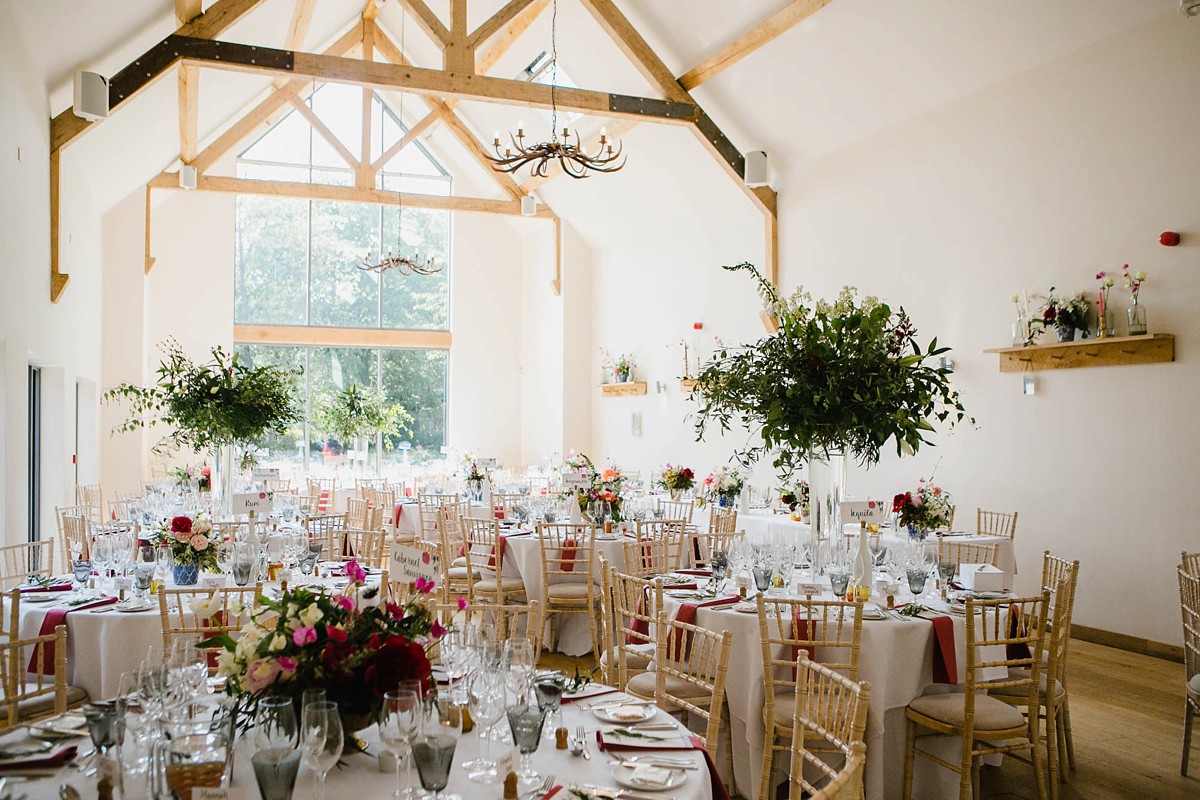 "We honoured Zac's father, who passed away when he was younger, with his favourite flower, white lilies, which we placed in the arrangements on the top table, and within the arbour under which we were wed."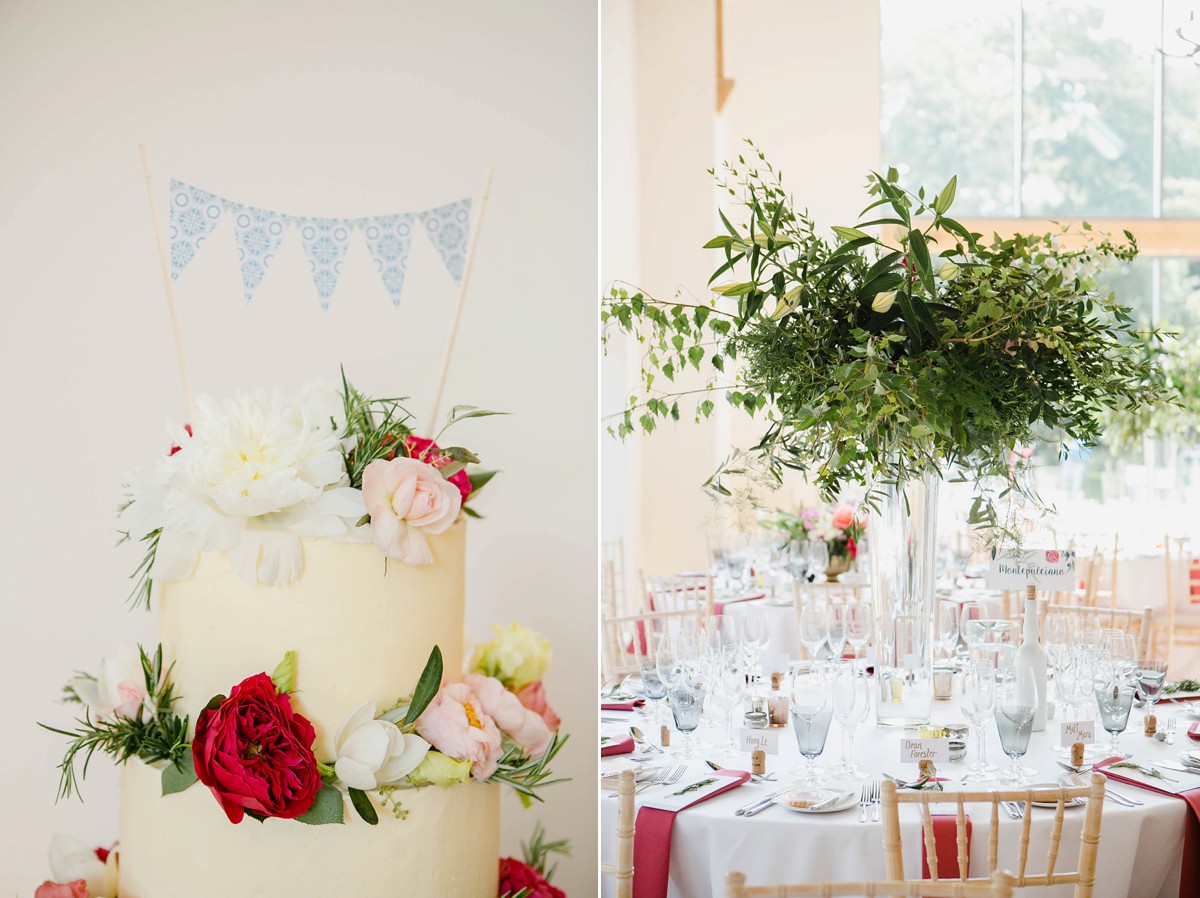 The table plan and place settings were inspired by the couple's love of wine, and also by the fact that they've been steadily collecting corks from bottles throughout their time together.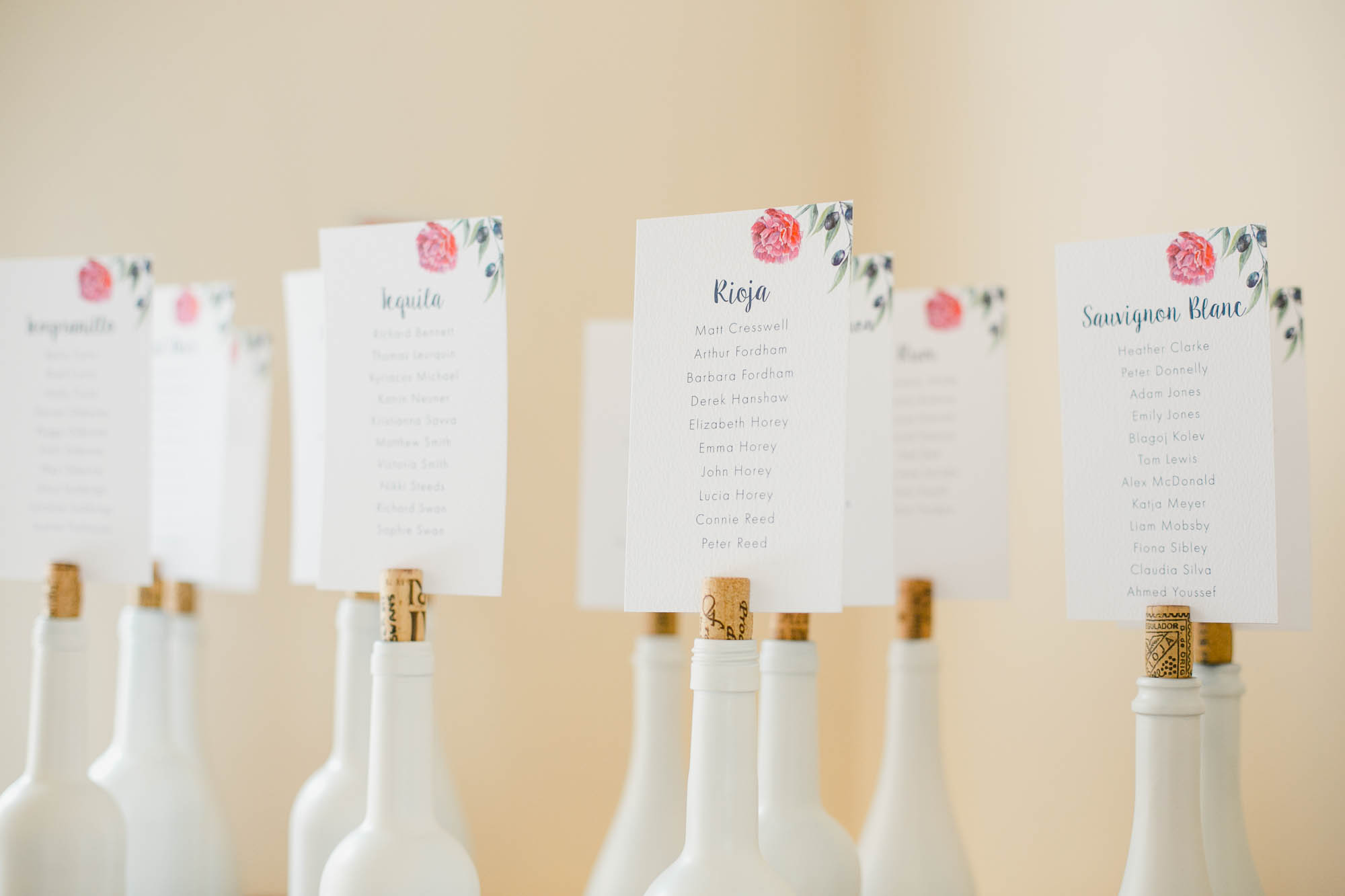 "I've been writing on each cork the date and occasion, and these were used for place card settings, so for the large majority of our guests their cork was specific to them. Our table plan and table names also bring in this theme, as we spray painted wine and champagne bottles for this, and our table names were different beverages (champagne for top table of course!)"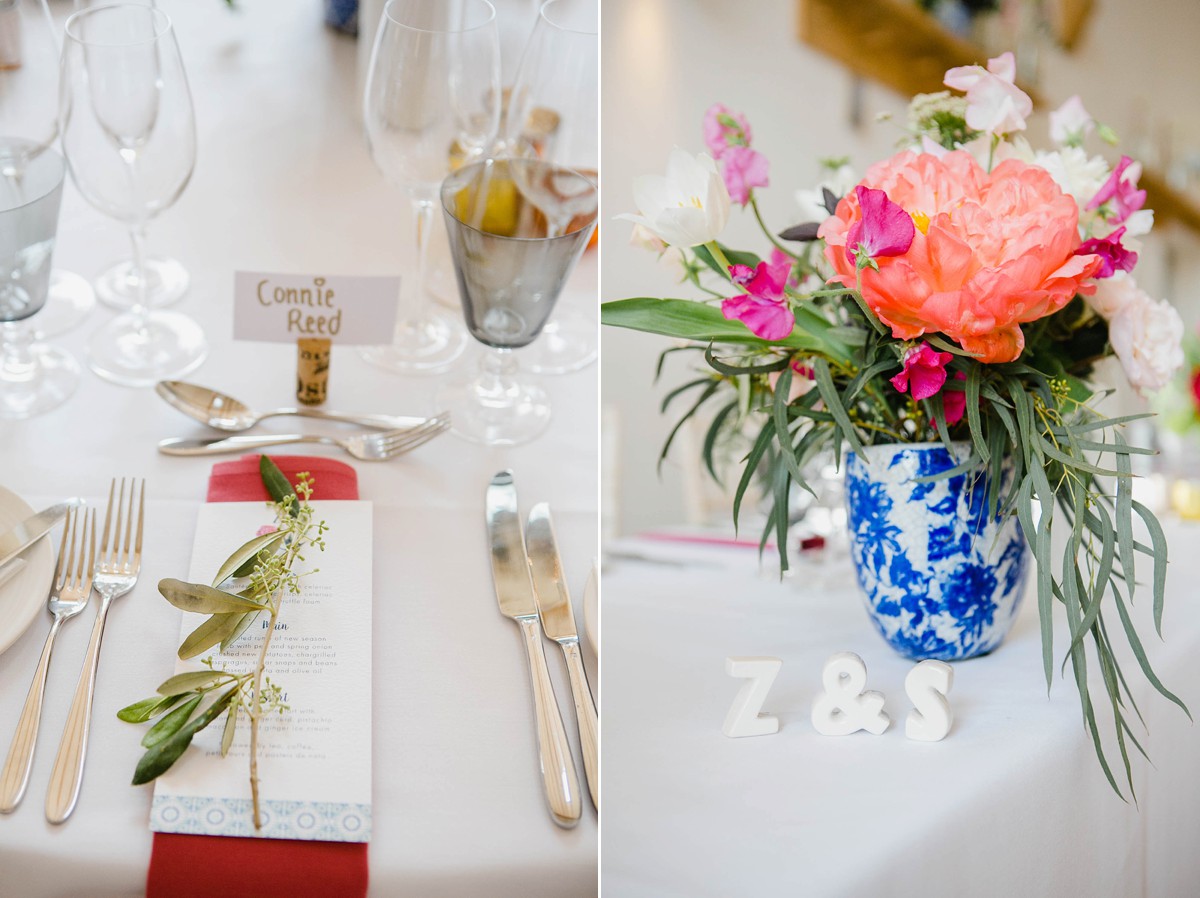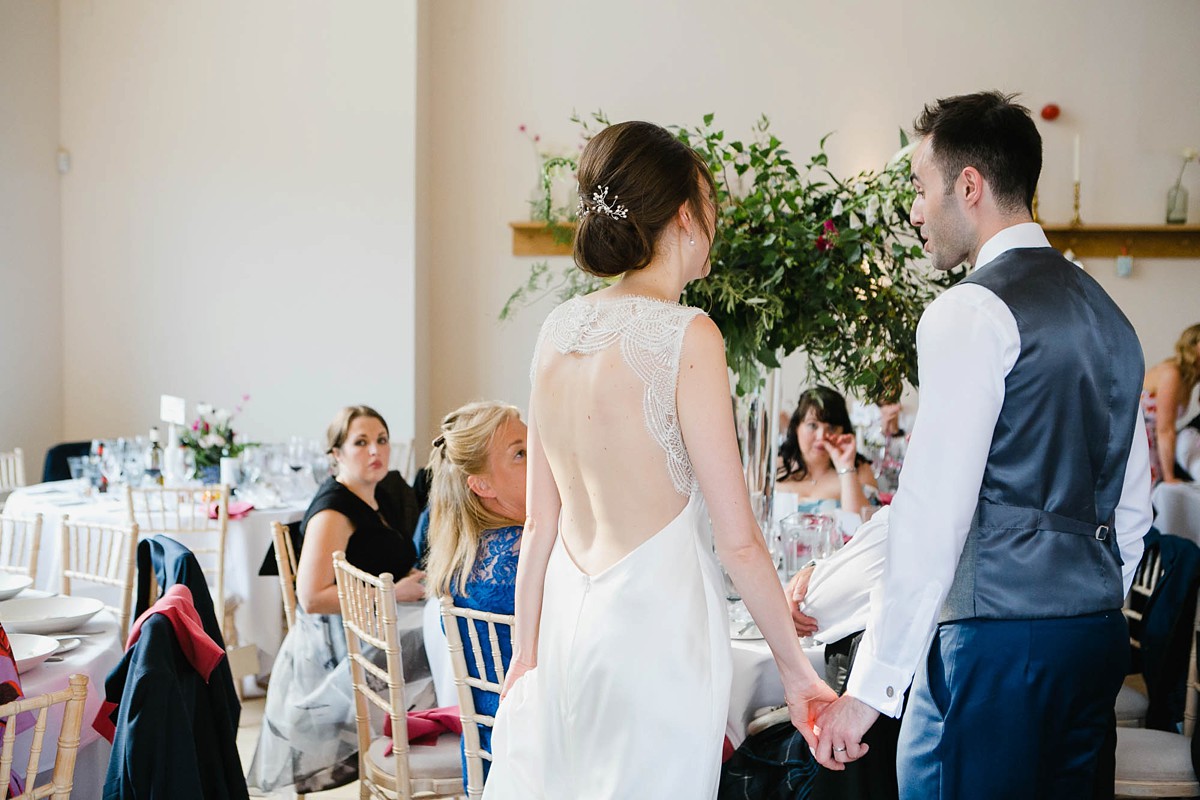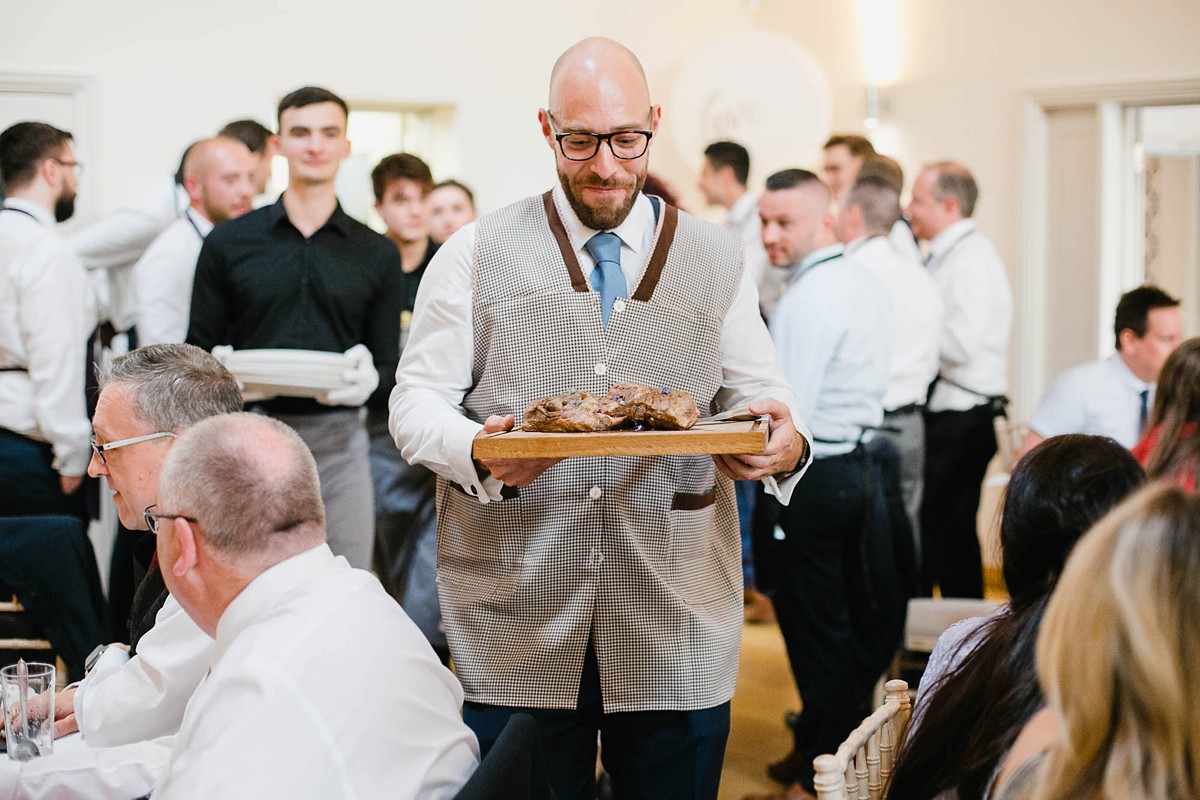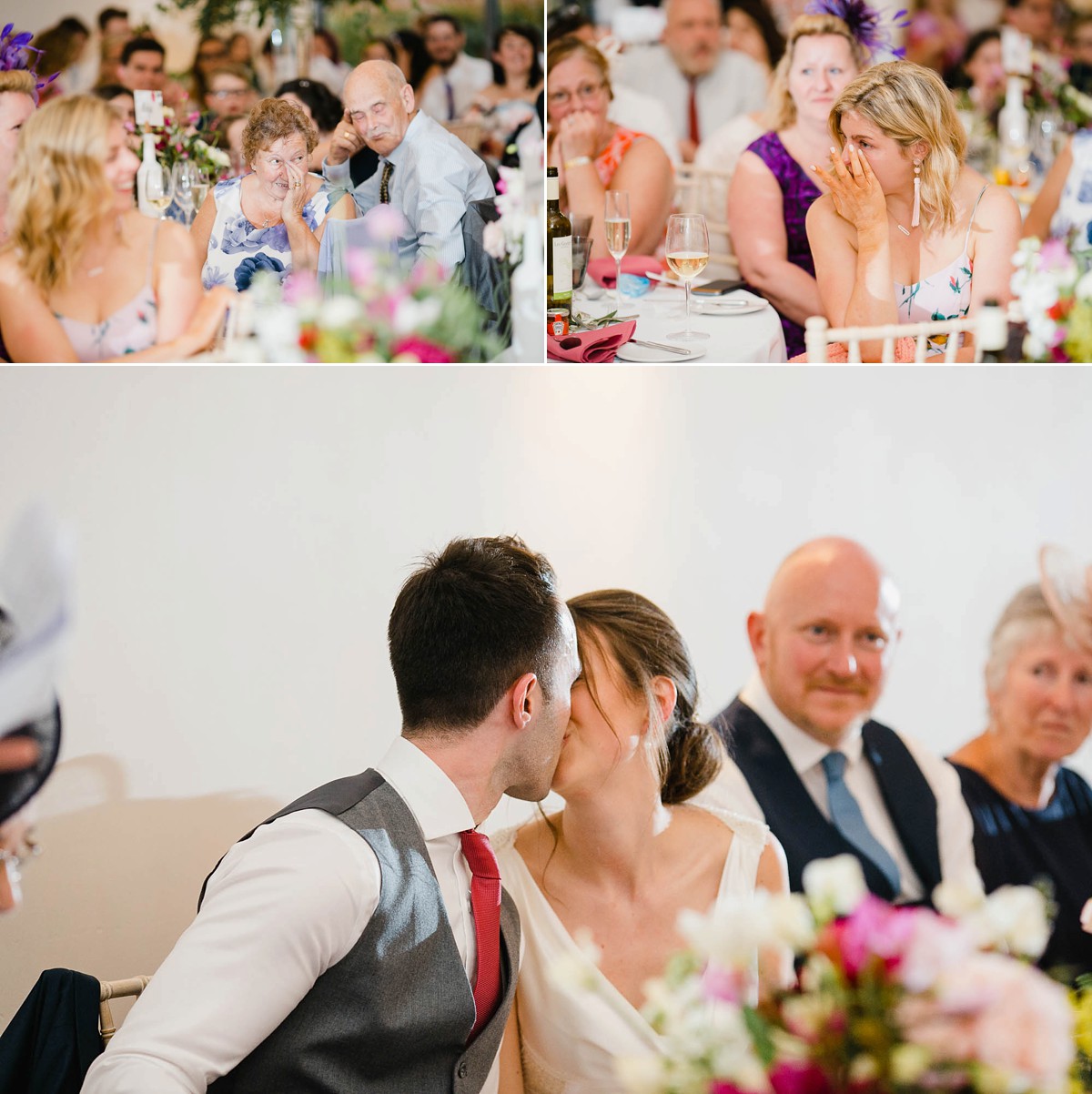 "Our first dance was Eric Clapton – Wonderful Tonight. We just love it, and it's meant so much to us for years. My uncle also loves Clapton, and my uncle means so much to me, so it was a little extra nod to him, which he loved."
Cocktails were followed by plenty of dancing, with DJ Matt Maurice getting everybody up and onto the dancefloor.
"Being carried off to the lodge at the end of the evening was another favourite moment – and having leftover cake in the roll top bath until the early hours."
Words of Wedded Wisdom
"Don't bother with disposable cameras! We had just the two to give to our eldest little ones as a little activity, and I underestimated the price, and even more so when we took them in to get the prints. £40+ when only three snaps were of any good."
"Post it notes and a bottle of wine are a great way to tackle the table plan!"
"In terms of doing things differently – the only tiny thing I'd change is fitting in throwing the bouquet. Time flew by and we missed it. Otherwise it was perfection!"
Congratulations, Sally and Zac, and thanks a million for giving us this bright and colourful peek into your wonderful wedding. Huge thanks also go to Dasha Caffrey for her gorgeous images. More bridal elegance from Suzanne Neville can be found throughout our pages, so do take a look, here.
With love,
Laura