Are any of you lovelies planning a first look on your wedding day? I think that there is something so special about the moment a bride and groom see each other. I'm in love with the first look captured in today's wedding so come with me to Wiltshire for this relaxed, countryside celebration.
Stacey and Ally married on 1 September 2018 in the wonderfully rural Ashley Wood Farm at Tisbury, Wiltshire. This blank canvas venue provided a gorgeous countryside backdrop for their wedding weekend and outdoor ceremony. With a focus on fun and relaxation, the day was styled with lots of lush foliage, pastel summer flowers and areas for the couple and their guests to kick back and relax.
Film Irene Piera Films
The team at Sarah Elizabeth Bridal Boutique in Cheltenham helped Stacey select her dream Caroline Castigliano gown, working with her to tailor it to her individual style. We do adore Caroline's gowns – they are such a wonderful combination of contemporary British design, exquisite detailing and timeless style. If you'd like to find out more about this designer we're delighted to have her listed on our Little Book, as well as our Designer Collections pages  here.
"My dress was a bespoke Caroline Castigliano gown. I chose the 'Morning' gown but decided to remove the shoulder detail and replace with spaghetti straps, which felt more me. I purchased it from Sarah Elizabeth Bridal Boutique in Cheltenham – the entire experience was a dream!"
Photography Siobhan Amy Photography+ Siobhan Beales Photography
I'm such a fan of the sharply-defined illusion lace and love the flirty feel of the spaghetti straps and floating skirt.
"I was looking for a dress that would complement my body shape (I am very short but I have curves!) but which wouldn't restrict me and would fit with the relaxed feel of the day."
 "This gown was perfect as the bodice had structure and definition whilst the skirt was floaty and relaxed so I could move with ease. I absolutely fell in love with the gorgeous bodice, which was 3D illusion lace with a hidden corset."
"My shoes were 'Rosalind' in rose gold by Sophia Webster. I wanted something I would wear again."
The bride's long locks were styled in to a relaxed up-do and adorned with fresh flowers to match those in her bouquet. I love how it became more dishevelled yet still looked 'done' as the day wore on. Her hair was styled by Amelia at The Styling Lounge in Bristol whilst her fresh, natural make-up was by Elle Hitchens.
"I decided not to wear a veil as I never felt comfortable in one. Instead I opted for a relaxed up-do with fresh flowers. I am so happy I chose both Amelia and Elle. Not only were they great at what they do but they were such lovely, fun people to have around on the morning of the wedding. I was over the moon with both my hair and make-up as I felt like I still looked like me, which was so important to me."
Accessories were kept to a minimum; just a touch of Swarovski sparkle and some fresh flowers for a summery, boho vibe.
"I had some very simple Swarovski crystal studs and a Swarovski ring on my right hand. I don't wear a lot of jewellery day to day so didn't feel comfortable wearing too much." 
"A friend of mine kindly treated me to a lovely evening at a Jo Malone bridal event, where I chose to layer the Wood Sage & Sea Salt cologne on top of the Peony & Blush Suede body lotion. The scent was fresh but also floral and wasn't too strong or overbearing, which I loved."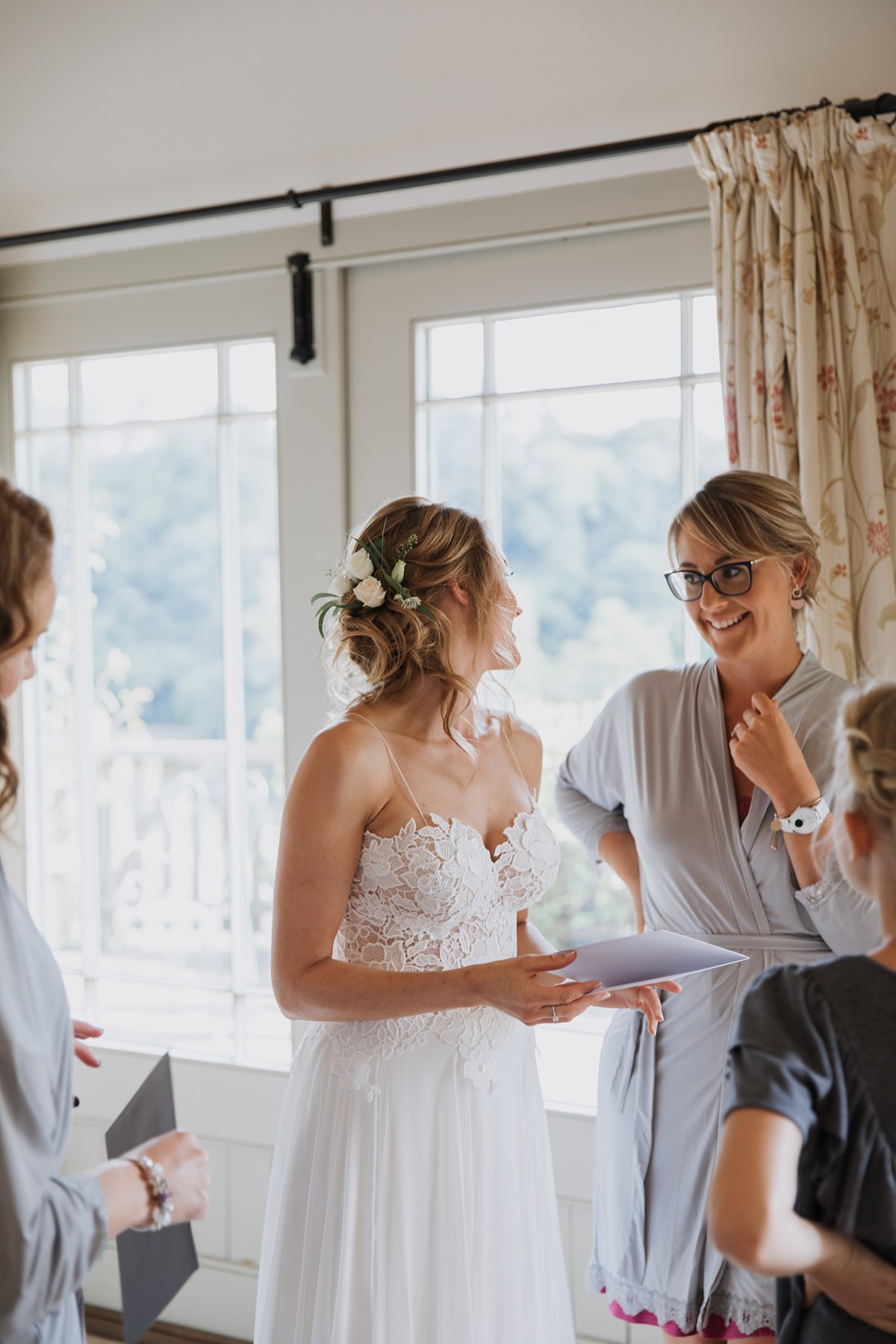 I really like the unusual buttonholes which feature such dainty white flowers against the pastel lavender and wheat. They look fantastic against the deep blue of the men's suits. Ally's was a three-piece suit from Hawes & Curtis, worn with a tailored white shirt, oxblood shoes from Dune and a silver grey tie from TM Lewin.
"We asked Ally's mum to make the confetti and the button holes using lavender from the garden of their holiday home in France. She also used wheat from her garden in the button holes. It was so special to have this personal touch."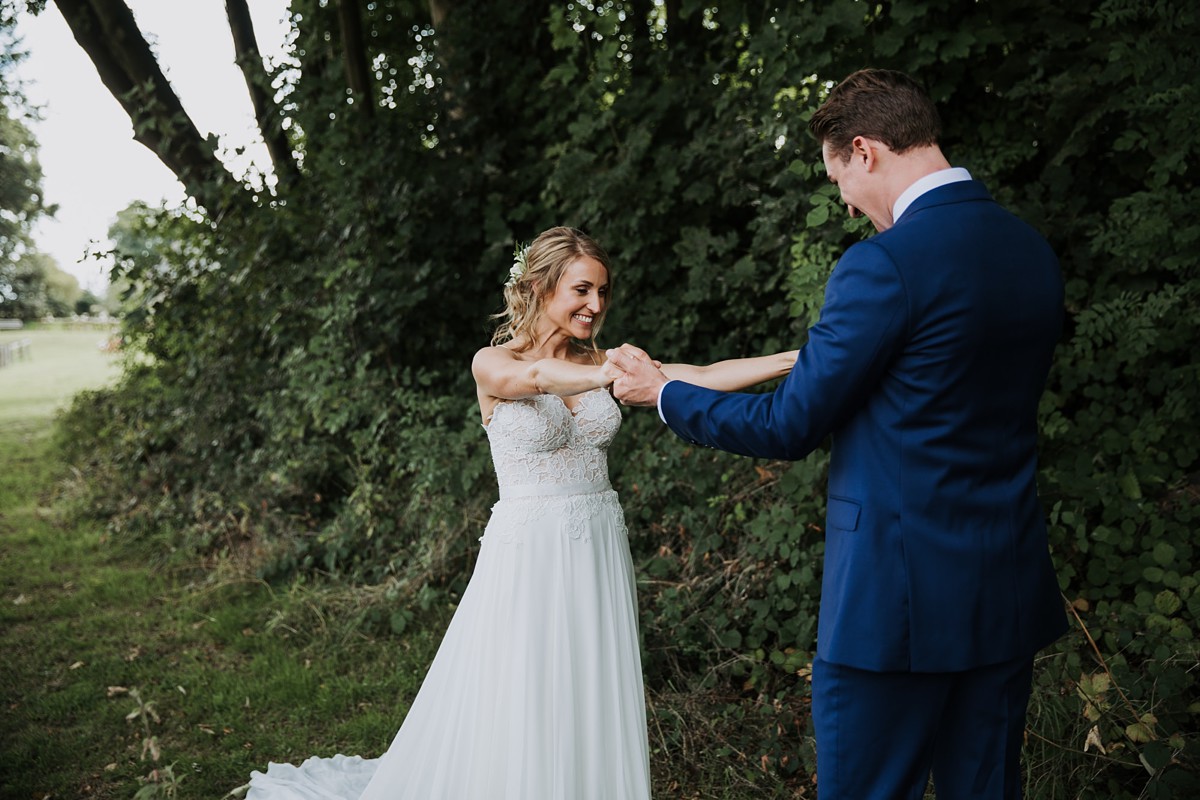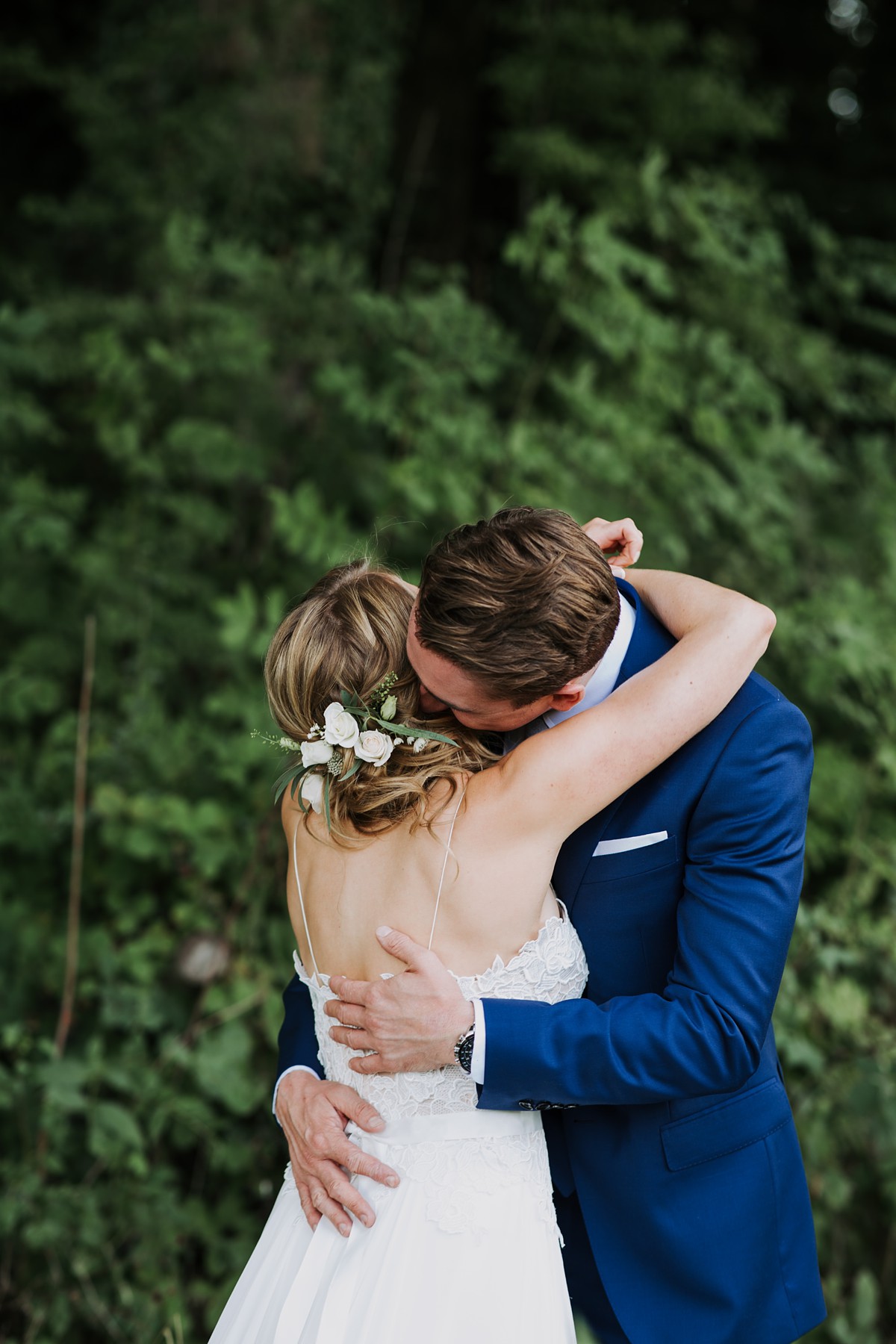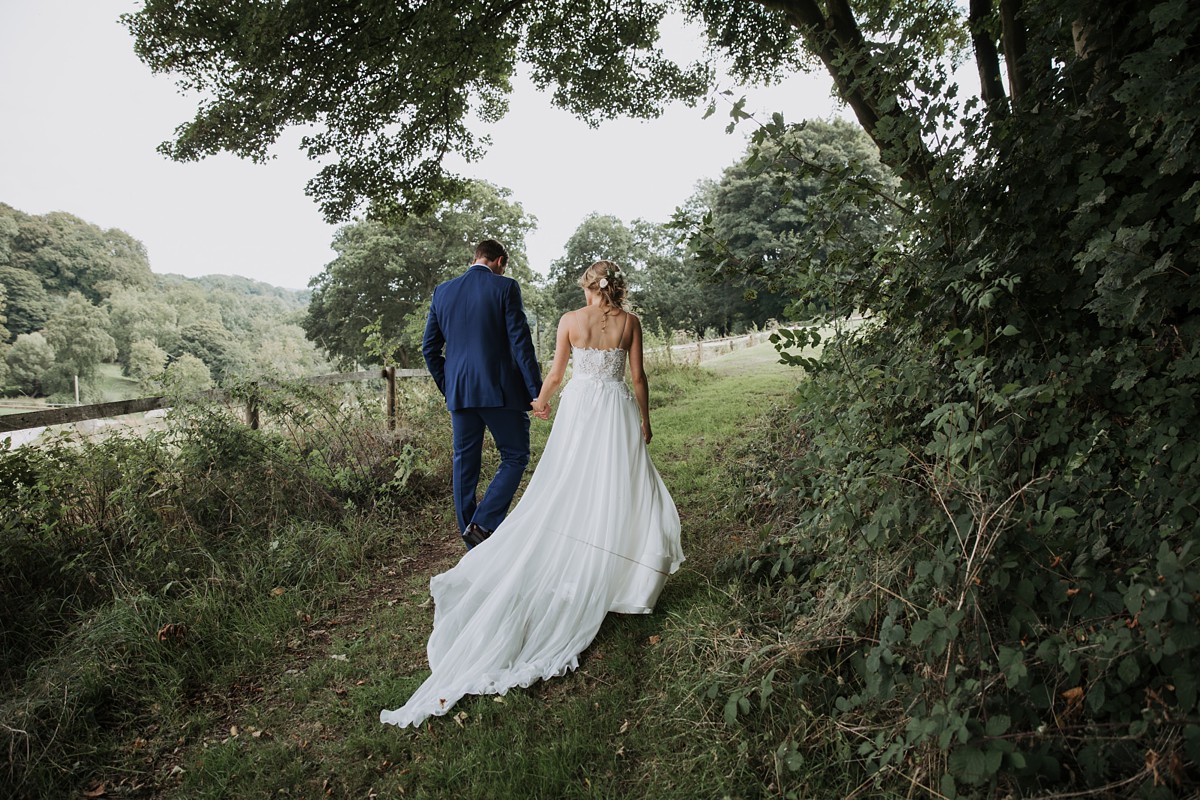 The weather was fine and dry, meaning the guests could sit outside in an area decked with simple wooden chairs, lavender, lots of leaves and hand-written signage.
"We worked with Eliza May Prints right from our save the dates through to our on the day stationery. She provided the order of service booklets as well as some custom signs which were dotted around the venue to mark things like the guest book (or guest globe!), tea and coffee. My friends and I also made some of the larger signs ourselves, such as the order of the day, welcome sign and menu. We upcycled wood from an old wardrobe and painted it with chalk paint before writing on it. I was really pleased with how they turned out as I am not usually one for crafting!"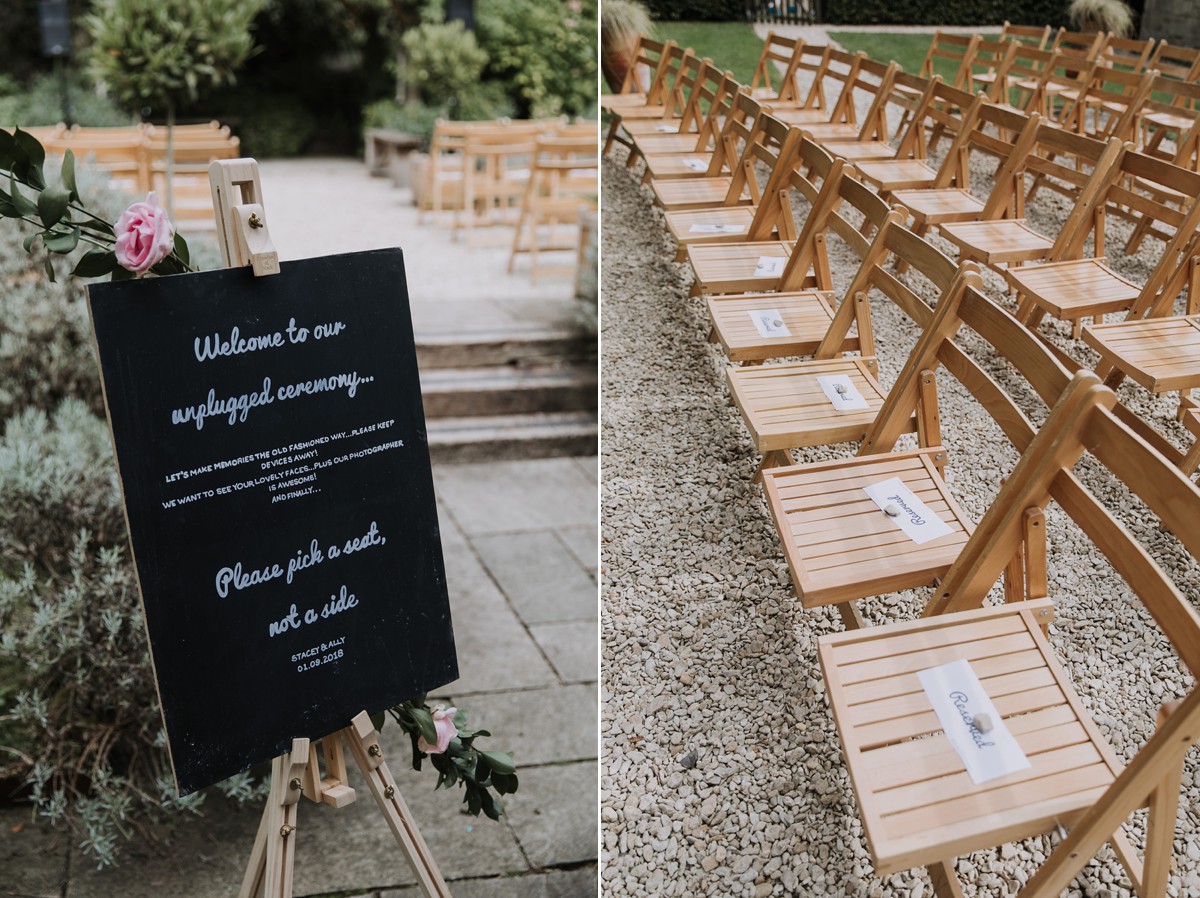 "Four and a half years later Ally popped the question over a beautiful picnic at Ashton Court in Bristol (in the rain!). We were due to get married in France in the summer of 2015 but after encountering some challenges we decided to postpone the wedding and blow the budget on a year of travelling around the world – meaning we were engaged for five whole years before getting married."
Stacey and Ally opted to host their guests for a relaxed wedding weekend on the farm, and found local weddings and events firm Belle Rose Events to give them a helping hand.
"We did most of the planning ourselves but we hired Belle Rose Events to help with the set-up and styling the day before, and to provide on the day coordination. Rosie and Lizzie were absolutely fantastic and our wedding would not have looked as fabulous as it did, or run nearly so smoothly, without them!"
"There was no particular theme but the main thing was ensuring our guests were relaxed, comfortable, entertained, well-fed and that it was a great party! This fed into the styling as we wanted to ensure there were plenty of fun things to see and do, lots of comfy places to sit, and great food and music!"
The couple have been together since their university years, and changed their minds from their original destination wedding idea.
"We met during our last year studying at Bournemouth University. Unfortunately there was no romantic 'our eyes met across the lecture hall' moment; in typical university fashion we met on a drunken night out with mutual friends. However, after that first evening we were inseparable and four weeks later we declared our love for each other."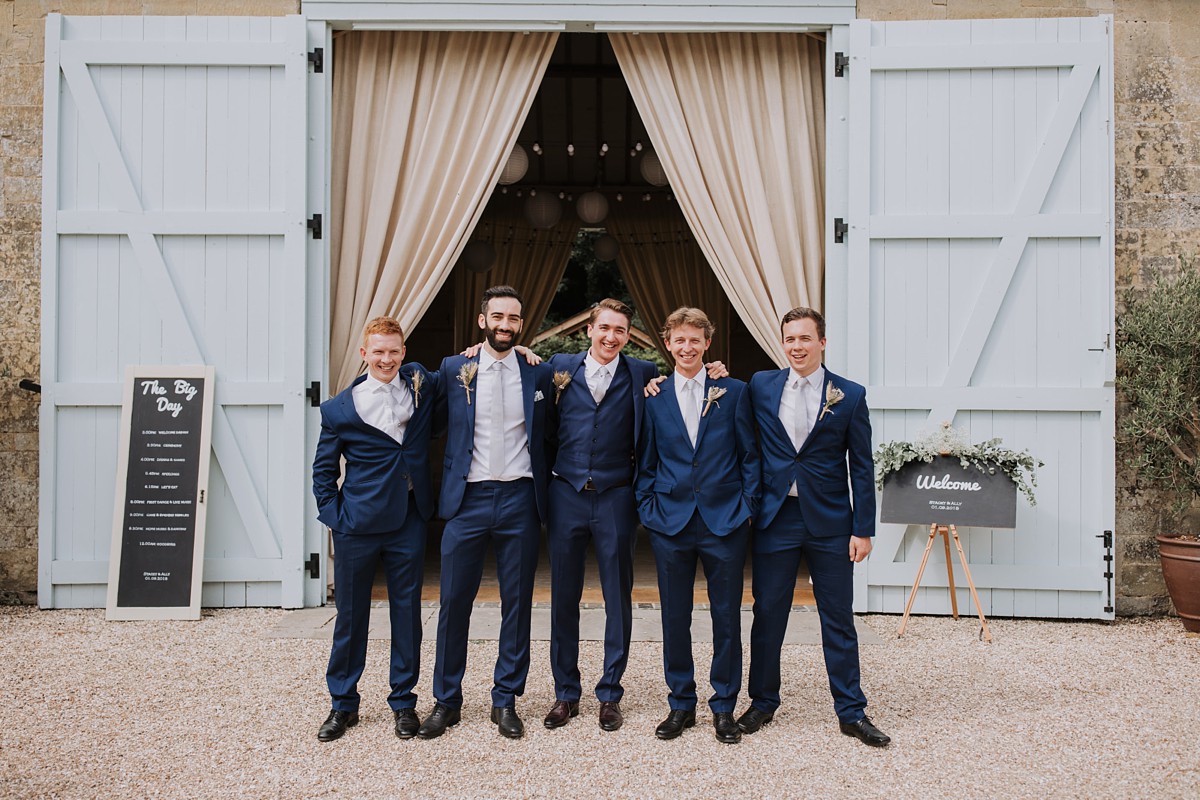 "We chose the venue as we wanted a relaxed, blank canvas, no corkage venue where we could make a whole weekend of it and we would not be restricted by preferred suppliers. Ashley Wood Farm was perfect for this as it is in a beautiful location, you can hire it from Friday to Monday and couples are free to decorate however they would like and use whichever suppliers they choose."
The bridesmaids looked fresh and ethereal in silvery grey gowns.
The girls' bouquets and flower wands, a riot of pink and cream blooms set off by gorgeously fresh foliage, were by The Rose Shed in Bristol.
"I chose The Rose Shed in Bristol to supply the bridal and bridesmaid's bouquets, flower wands and crowns for the flower girls, as well as fresh flowers for our hair and to decorate the cake. Rachel at The Rose Shed is so talented; I love how wild and unstructured her creations are so she was an easy choice for me. I opted for muted pinks, creams and lots and lots of greenery to keep it very natural and wild."
As well as three older bridesmaids, Stacey was accompanied by four flowergirls, and don't they look adorable in their dainty tutus?
"One was a little older than the others so she preferred to stand out and dress similarly to the bridesmaids. We found a lovely dress in Monsoon which was a very similar grey to the bridesmaids' dresses. The three younger flower girls wore a custom-made, light grey tutu from Flowers and Confetti on Etsy with ivory leotards, also from Etsy."
"The bridesmaids and two of the flowergirls had fresh flowers worked into their hairstyles. For the younger two flowergirls I asked my florist to make fresh flower crowns, which were gorgeous but unfortunately lasted about five minutes. I don't think either of them made it down the aisle!"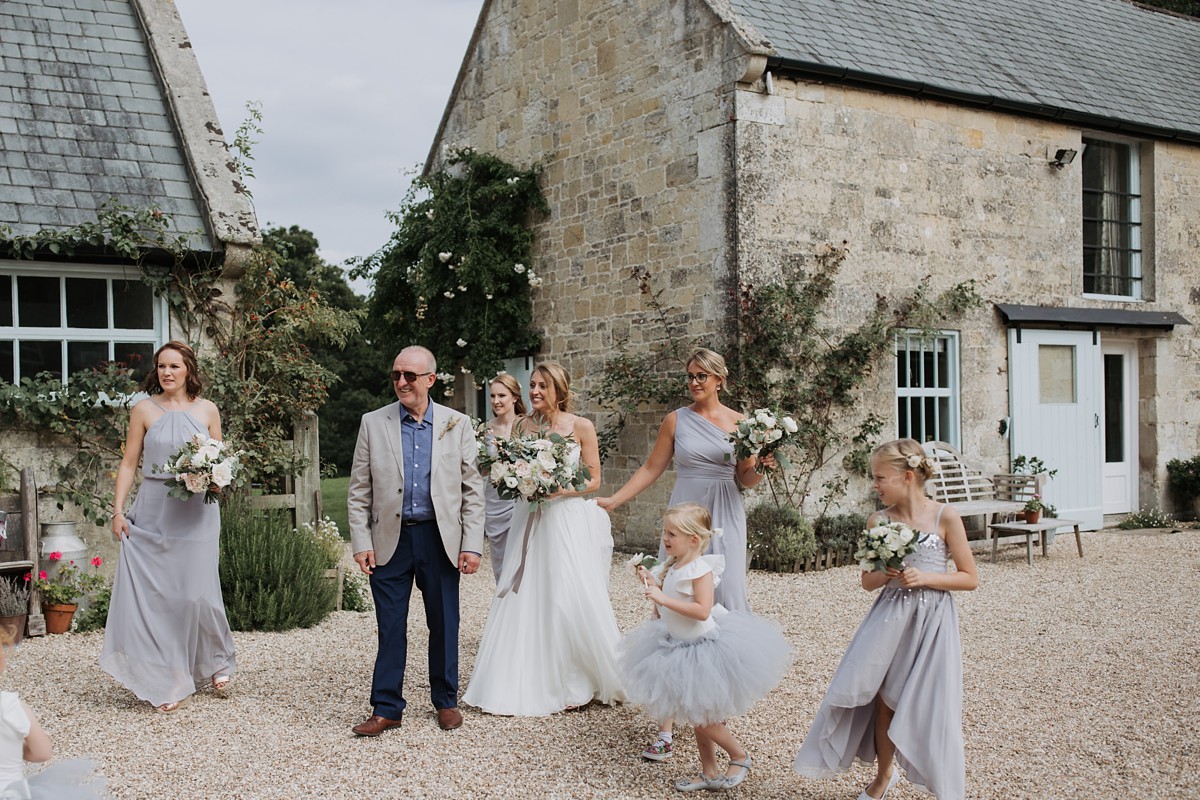 The outdoor ceremony space was dressed by Stacey's talented bridesmaid Tiffany, while Ally's mother created the men's buttonholes and the confetti.
"For the venue flowers, I sourced flowers and foliage from online Dutch wholesaler Triangle Nursery. My bridesmaid Tiffany spent the day before the wedding arranging everything in a mishmash of jam jars, vases, milk bottles and gin bottles. It was such a lovely personal touch to have Tiffany do this for me and she really exceeded my expectations; I thought the flowers looked amazing dotted around the venue. We had so many in the end that lots of our guests took a vase home as a memento."
You may have noticed so many personal touches coming through this day; one of the most special has to be that Stacey's grandad performed the ceremony itself.
"We got legally married at The Old Council House in Bristol a few weeks before so that we could completely personalise our ceremony. We asked my grandfather to conduct the ceremony and he did the most incredible job. It was so, so special to have him there performing the ceremony for us."
Stacey and her father walked down the aisle together to music from Bare Jams.
"Bare Jams learnt 'Wild Horses' by the Rolling Stones for me to walk down to. Ally and I shared a dance to this song while we were travelling around Canada and stumbled across an amazing live band in a pub. We originally intended to use the song as our first dance however, as time went on, we felt the song was a little too long and slow and we would end up just swaying side to side. We decided to use it for walking down the aisle instead!"
The ceremony included vows, readings and a personal 'marriage advice' element.
"We wrote our own vows and we decided to do this in the form of five promises to each other. We had three readings. The first was read by my mum's best friend, Allison, the second reading was from the opening scene of 'Love Actually' read by our friend Steve and the final one was an extract from 'The Amber Spyglass' by Philip Pullman read by Ally's sister in law, Kate." 
"As we weren't having a signing of the register or legal vows, we also added another element to our ceremony to mix things up. We asked one of my best friends, Kelvin, to gather marriage advice from ten of our guests and then we read these out during the ceremony. It was really nice for us as it was a surprise to see what everyone had written, and it was quite entertaining too."
The couple exchanged rings from Bristol jeweller Titcombe Bespoke Jewellery.
"Ally chose a Furrer-Jacot wedding band whilst I had a bespoke wedding band made to fit against my engagement ring."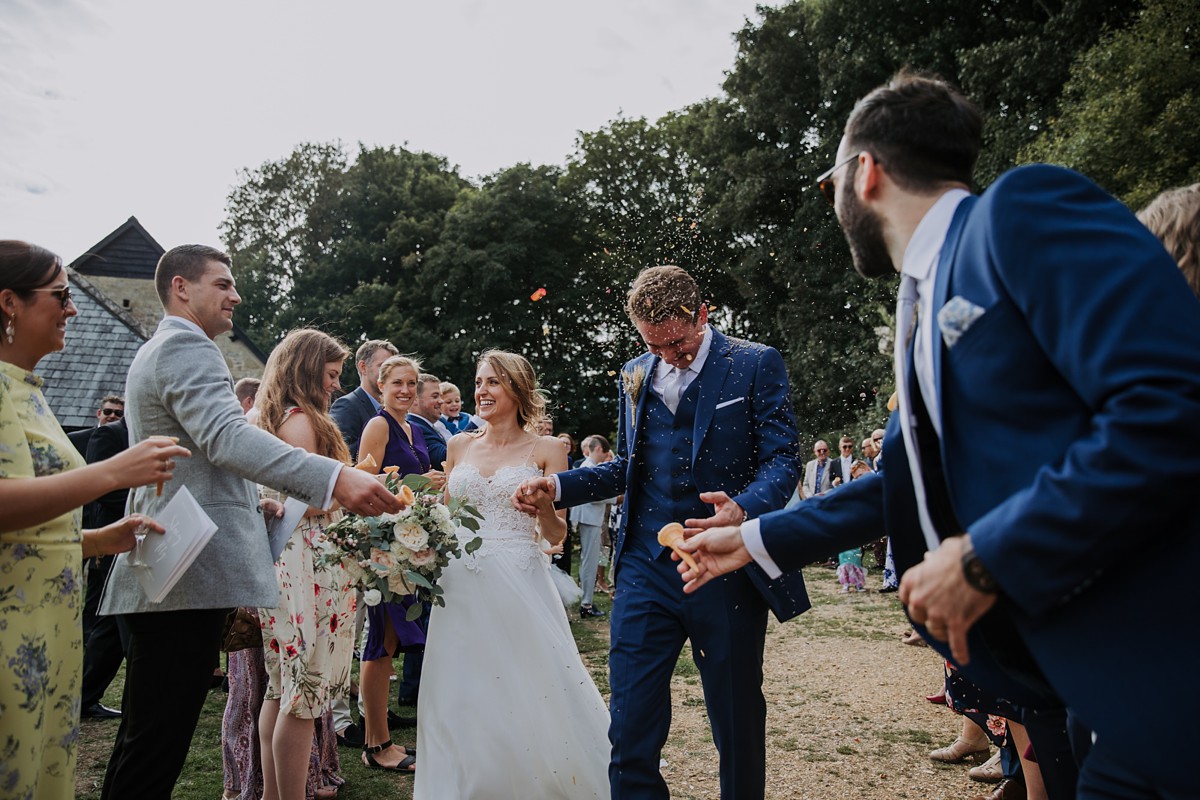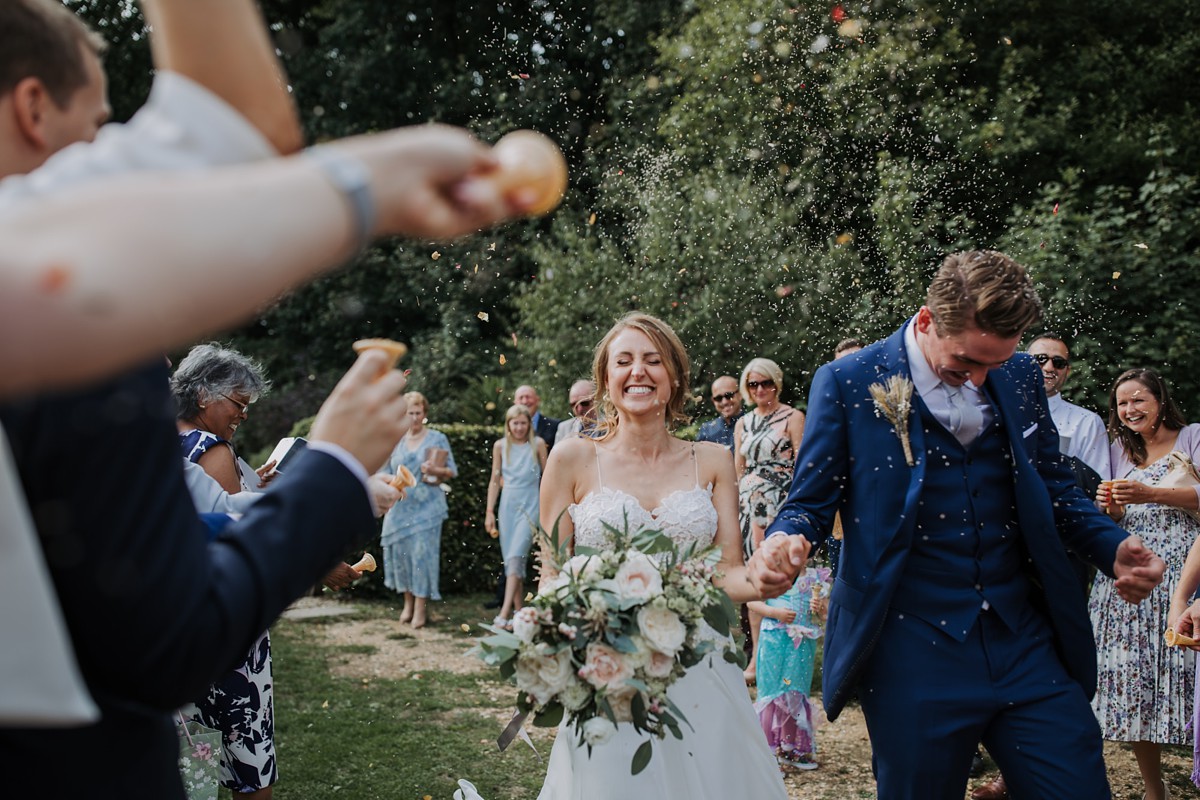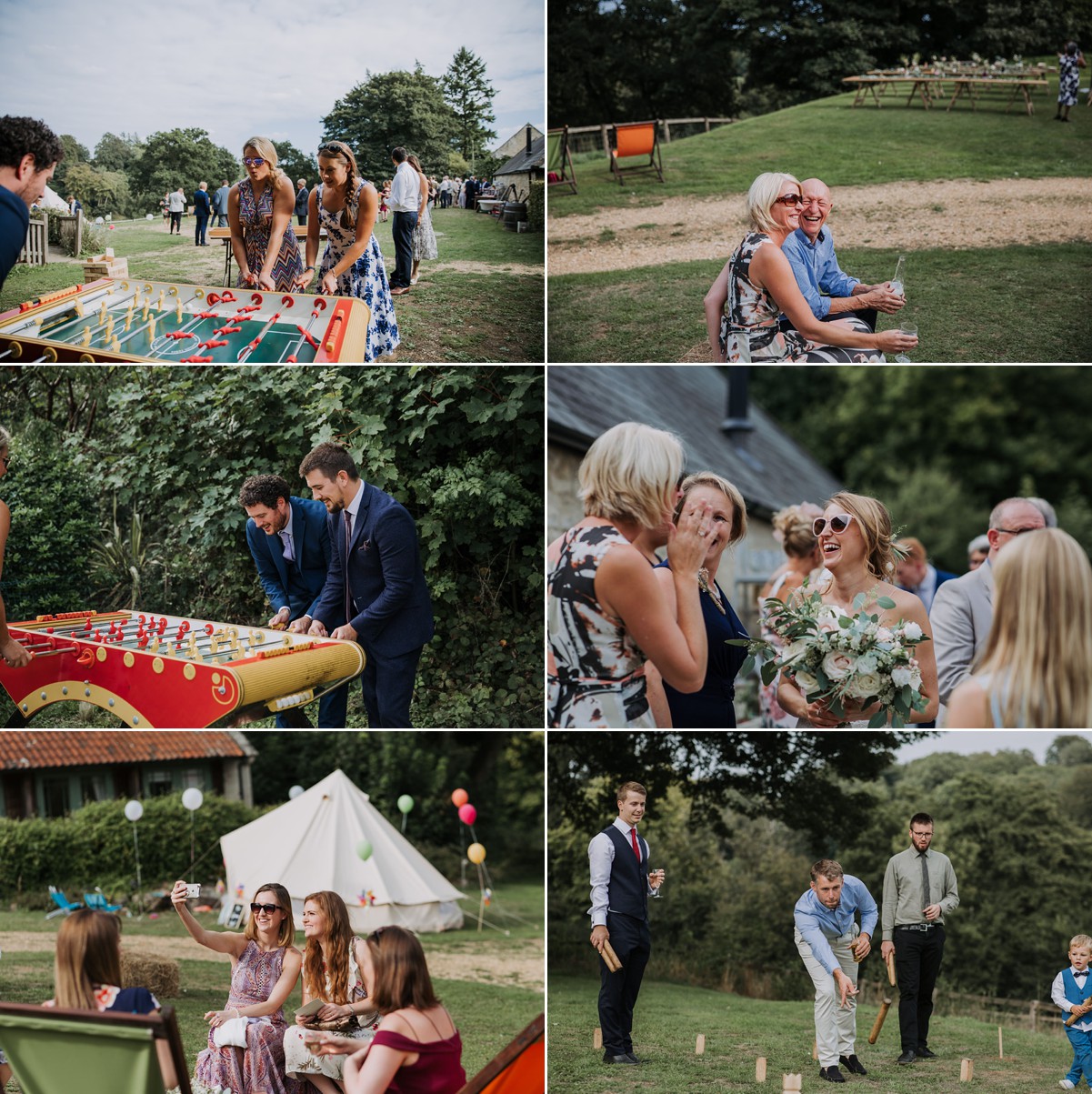 I love the relaxed, natural vibe of all of these photographs but my favourites have to be those of the couple's first look. The day was shot by documentary-style photographer Siobhan Amy, accompanied by second shooter Siobhan Beales Photography, and we're delighted to count her as a member of our Little Book. Take a look here to see more examples of her work.
"Ally and I had a 'first look' and took our couple portraits before the ceremony as we wanted to be able to enjoy being with our family and friends straight after. This was really special as we had some time together and it also helped to calm our nerves."
"Our photographer was Siobhan Amy Photography. She photographed a friend's wedding last year and I absolutely adored her style, her personality and her ability to be completely invisible. She has captured some of the most amazing natural moments as well as some group shots with our family that we will treasure forever. Siobhan was joined by Siobhan Beales as second shooter who was also absolutely fantastic."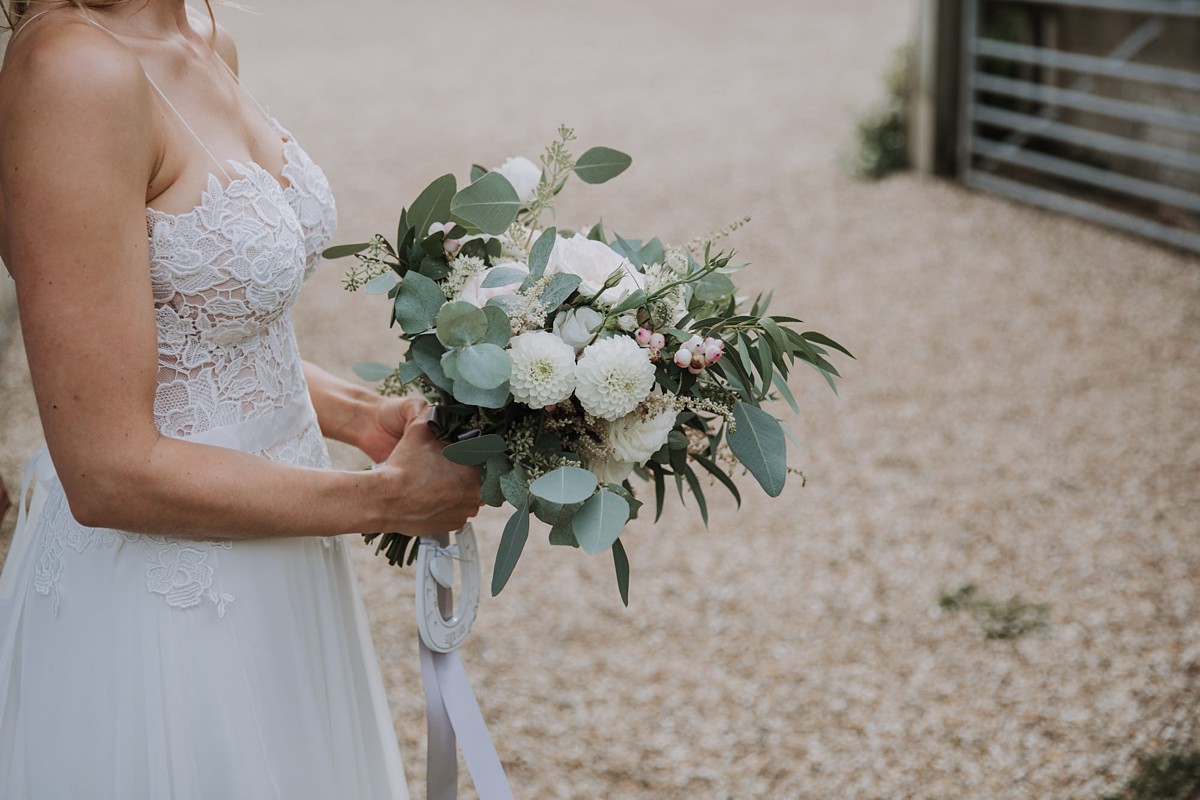 Irene Piera was also there on the day to capture the day as a film, and her work speaks volumes.
"We chose to book Irene Piera Films who has worked at the venue multiple times. I was sold on Irene from the first video of hers that I watched. Irene was joined by her partner Sammy so we also had double coverage for the videographer. I was worried that having two photographers and two videographers would be too much but they all blended into the background so well."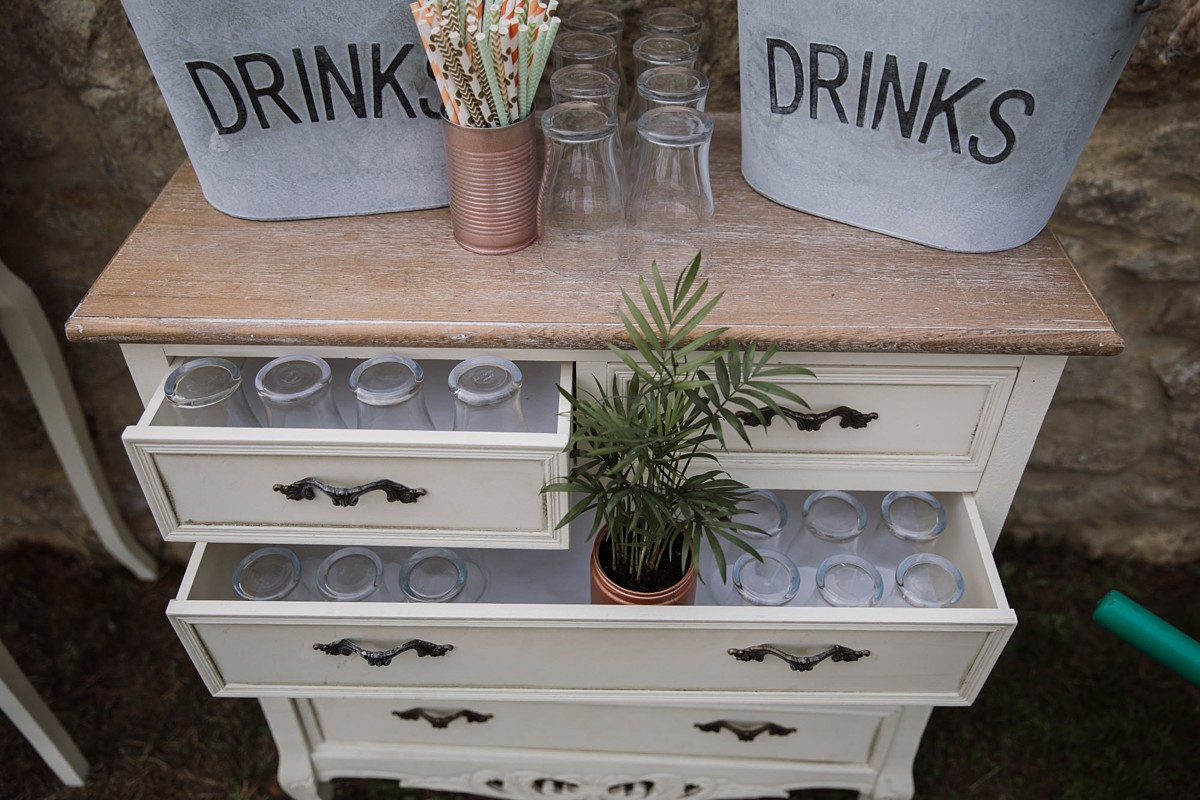 "Straight after the ceremony we stole five minutes to have a quick drink together and celebrate whilst our photographer arranged our guests for the confetti shot. It was nice to have a moment to process what had just happened, and to high five and start getting drunk."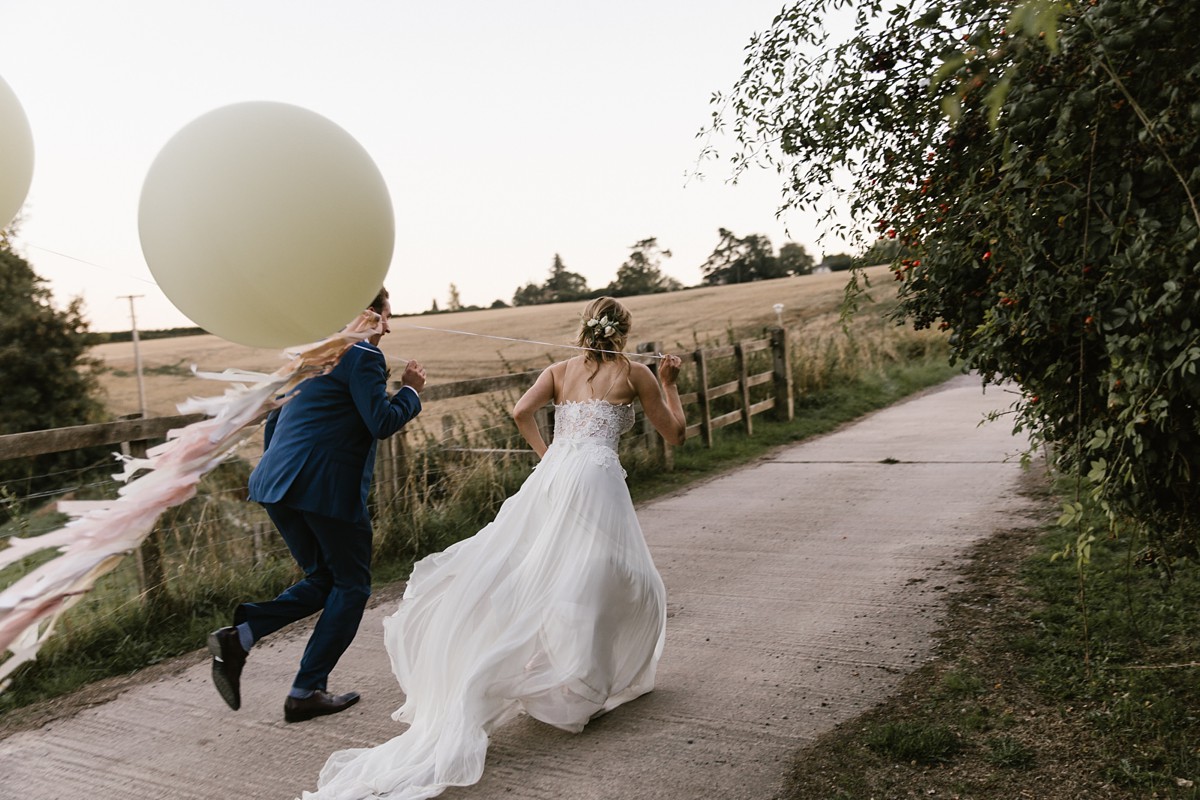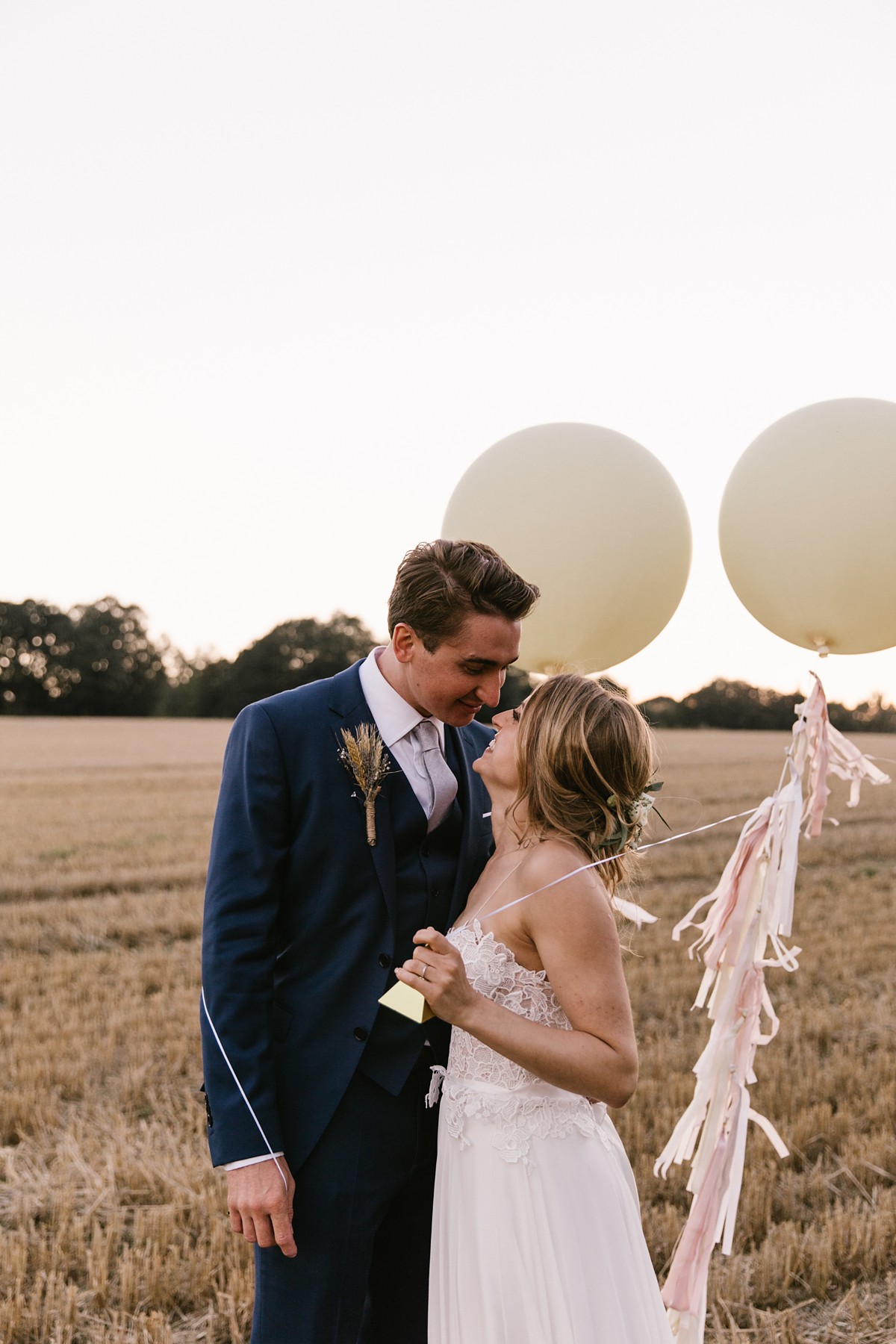 The Farm boasts gorgeously green lawns, perfect for a relaxing and informal drinks reception. Stacey and Ally had worked hard to make the space ideal for chilling out, with lots of games and a bell tent for the kids.
"We hired an amazing band called Bare Jams for the ceremony and reception. They usually come as an eight piece but they played as a three-piece acoustic band which was super chilled. They played laidback acoustic/reggae style tunes during the drinks reception and wedding breakfast."
"We had the use of a lovely large lawn overlooking a lake for our drinks reception and meal. We wanted there to be plenty of places for people to sit and relax so we dotted deck chairs and hay bales around, using pallets as tables for drinks. We also set up a number of drinks stations outside, including a 'Bubble Bath' (a bath tub filled with bottles of Prosecco), a 'Beer Barrow', ladder shelving and an old chest of drawers which held buckets of beer, dispensers of Pimms, Moscow Mule, G&T, some soft drinks, and a barrel of local ale."
"We also set up a popcorn bar on an old chest of drawers. We hired gorgeous rustic trestle tables from Virginia's Vintage Hire which we set up in rows overlooking the lake for the wedding breakfast. We decorated the tables and lots of the surfaces with the flowers that my bridesmaid had arranged, as well as succulents in spray painted tin cans."
"Throughout the day we had different entertainment such as games on the lawn as well as a bell tent for the kids full of things like fancy dress, a ball pit and activity books."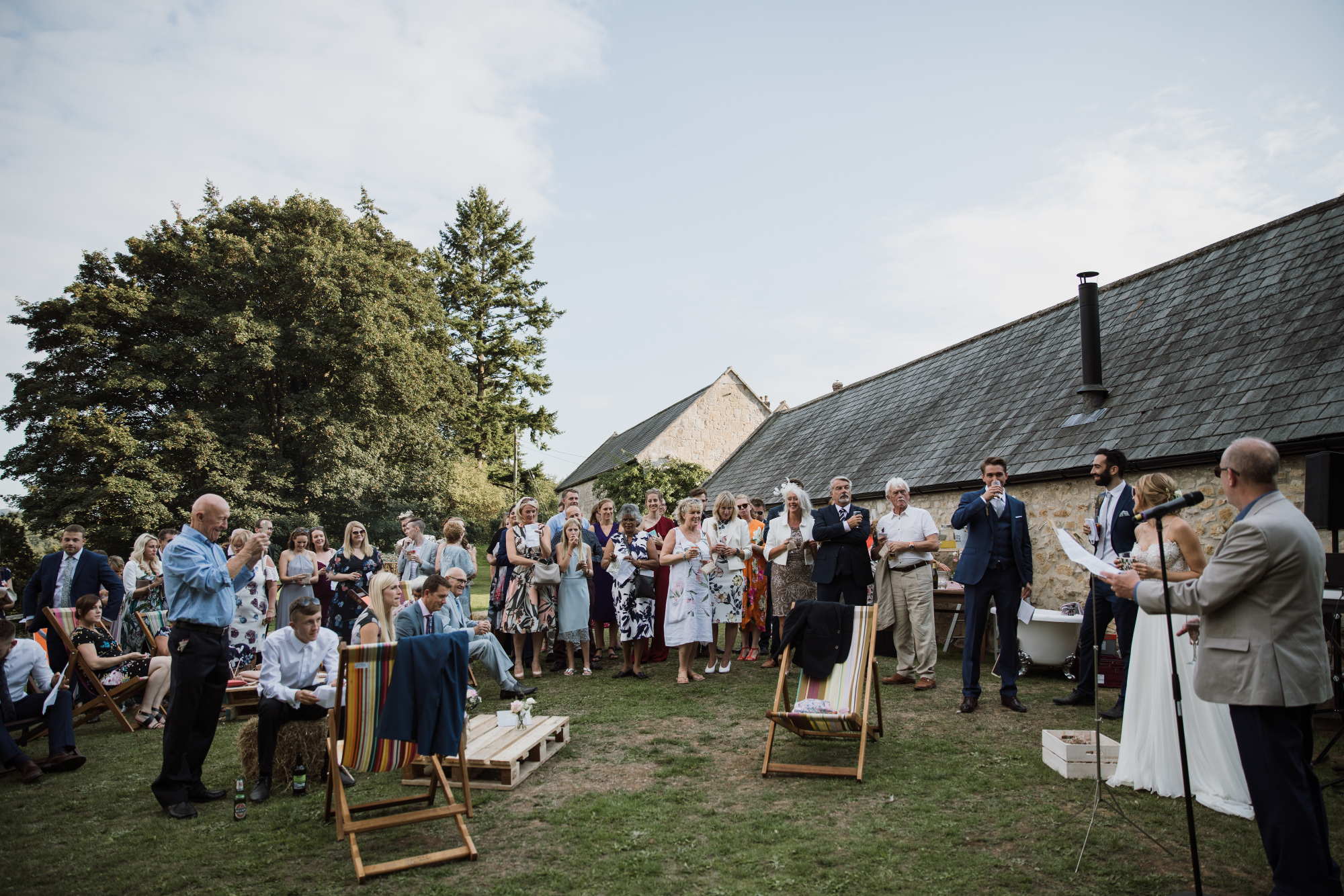 The newly-weds were lucky enough to have their wedding breakfast outside, with BBQ food proving the perfect choice. The Farm's barns were there in case of poor weather, though, and were ideal for housing the wedding cake and the evening party.
"We were fortunate enough to be able to eat outside and Smoke Catering provided the most incredible BBQ food which completely fit with our relaxed feel. We were worried about what people would think about going up and getting their own food, no seating plan, eating outside when people are used to a formal sit-down meal but everyone loved it and our guests are still raving about the food! Visually they also looked amazing, with their huge custom-built smoker."
"We hired the Toot Sweets ice-cream trike to serve dessert which was a selection of Marshfield Farm ice-creams, including salted caramel, chocolate fudge brownie, raspberry ripple pavlova and mint choc chip."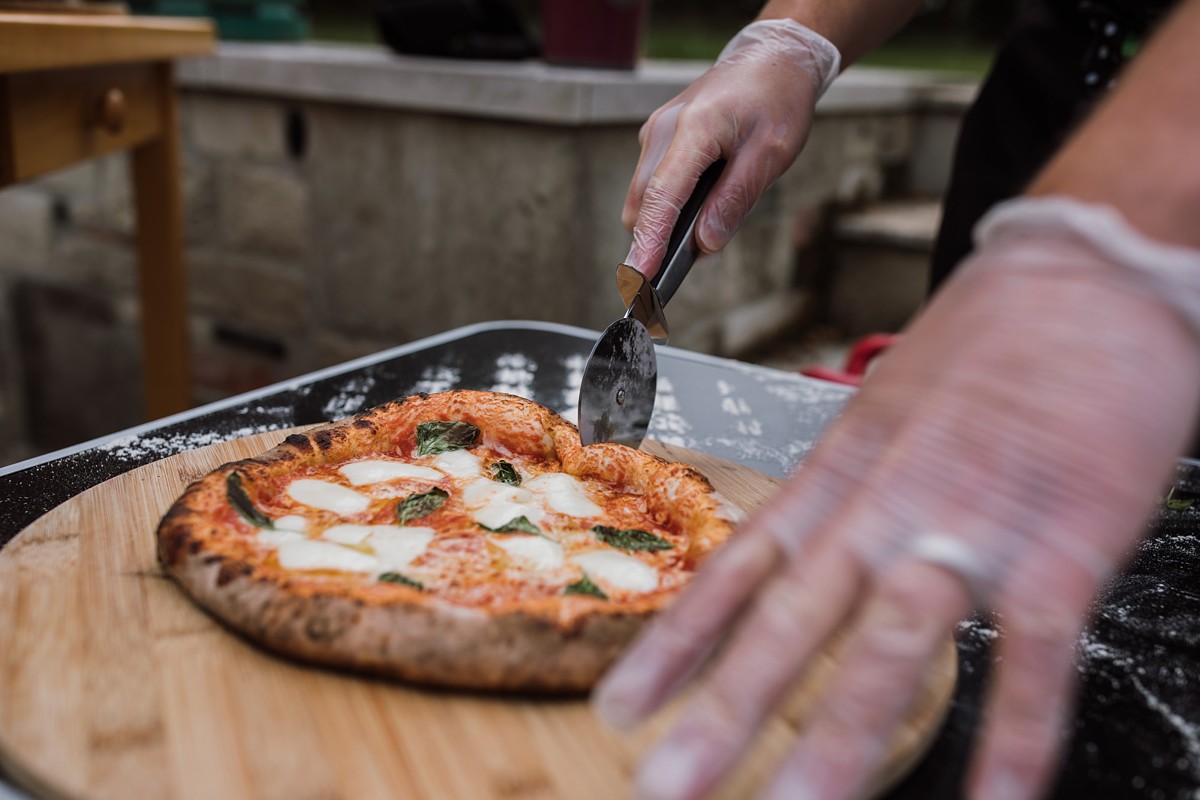 The barns look incredible with their thoughtful styling. Stacey has shared more details about how they created this look.
"The larger, main barn was where the evening party was taking place so we kept half of the room clear for the band and dance floor. We set up some tables and chairs in the other half of the room, and hung some pin wheel decorations on the wall. On the other wall, above the band we hung rose gold balloon letters spelling 'Best Day Ever'. We used festoon lighting, paper lanterns and uplighters to create a lovely atmosphere for the evening."
"In the second barn was the bar and a chill-out area with Chesterfield sofas for people to relax on (hired from The Prop Factory who we also hired the deck chairs from). Here we had the evening buffet and displayed our cakes and our Guest Globe from Loobie Design on Etsy. I also displayed photos of family members that are no longer with us in here. This barn was lit with fairy lights."
"We provided little hessian bags which contained a scratch card, a packet of personalised Love Hearts, and speech bingo!"
The couple went all out for the wedding cake, commissioning a series of metallic, geometric tiered cakes from their talented family friend, Lauren.
"Lauren is a fitness instructor by trade but makes the most incredible cakes as a hobby. We opted for three separate cakes as we wanted to make a feature of the cake table. Flavours-wise, we chose: vanilla sponge with white chocolate and raspberry; chocolate fudge cake with salted caramel; Biscoff; lemon and elderflower with blueberry jam."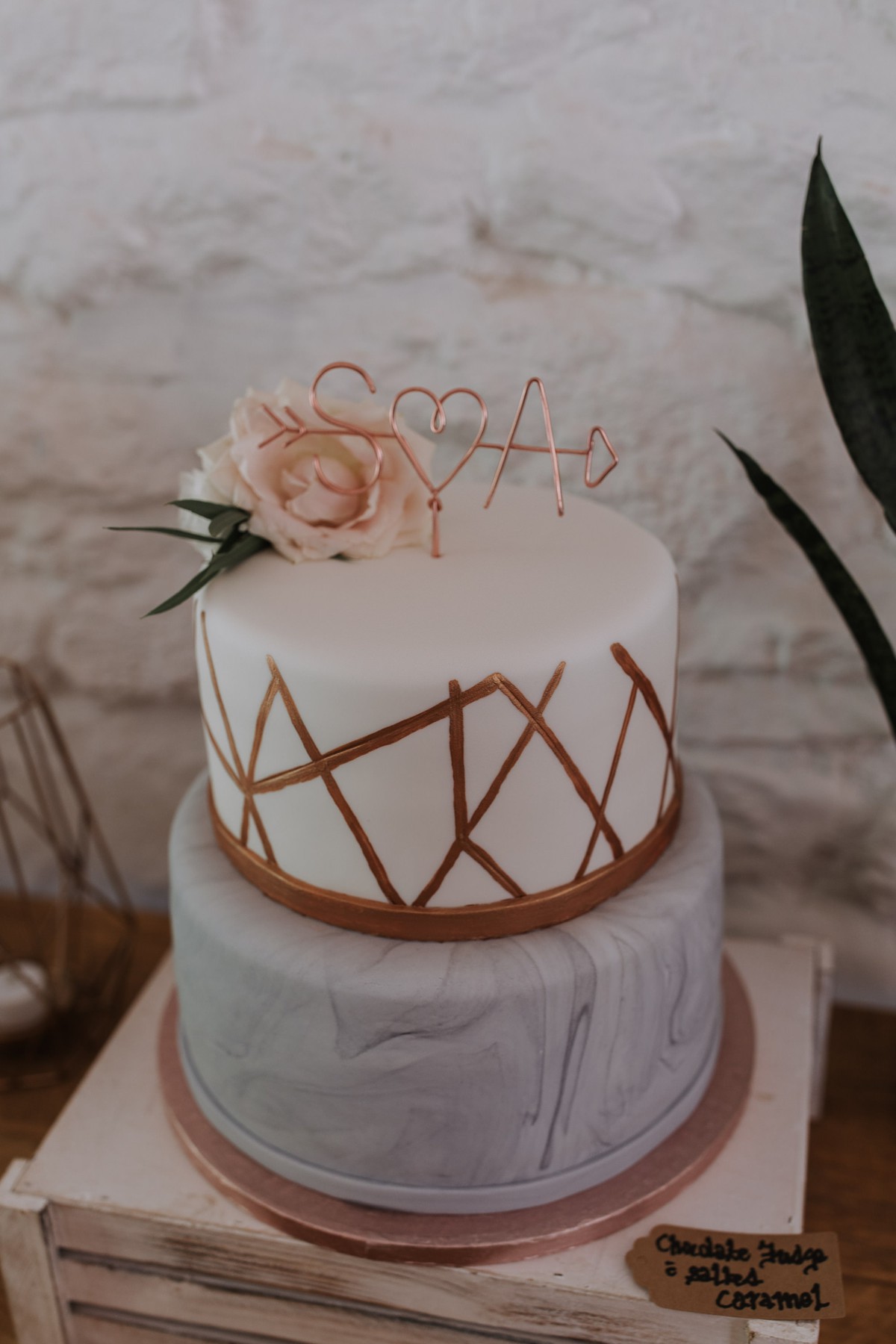 "They were absolutely delicious and looked incredible! The cake table was my absolute favourite part of the wedding, it looked so amazing. The cakes were joined on the table by a selection of macarons and Krispy Kreme."
Later in the day, the guests moved inside to continue the party in the barn. The silent disco was made even more magical by the fun sparklers.
"The sparklers! The silent disco had just started and it was just such a fun and surreal moment!"
"In the evening we were entertained by Jet Pack Jesus – a covers band from Bristol, made even more special by the fact that our friend (and my bridesmaid's husband) is the lead guitarist. After the band finished we had a silent disco from Silent Disco King. Everyone loved it and that's when the party really started. It was great fun to be able to keep everyone happy with different music genres, and to seek out those on the dance-floor who were listening to the same songs!"
"Our first dance was to 'Got To Be You' by Don Broco. The first time I heard the song the lyrics really stood out to me and as they are one of our favourite bands who we enjoy seeing live it was an easy choice."
"There is absolutely nothing I would have done differently – everything went absolutely perfectly and I wouldn't change a thing!" 
Words of Wedded Wisdom
"Try to enjoy the planning process and accept help – people wouldn't offer if they didn't want to and it's actually really special to have your loved ones contribute something to your day.
I absolutely loved looking around and seeing the result of a real team effort – we can't thank our family and friends enough for everything they contributed to make our day perfect!"
"If you can and your venue choice allows – try to make more of it than just one day. We chose a venue that we could use until the Monday, so on the Sunday we invited everyone back to the venue and had a crepe stand serving brunch. It all goes so quickly, so it was amazing for us to be able to have everyone back to ensure we got to spend time with everyone. It was also a good opportunity to ensure that flowers and cake didn't go to waste and everyone went home well stocked up!"
Stacey and Ally, congratulations to you on your marriage, and thank you so much for sharing your wedding weekend with us today. It's been wonderful to see how you styled the farm for your celebrations and Stacey, your gown! Lovelies, if you're interested in seeing more of Caroline Castigliano's designs then please head here to see other brides who chose to wear one of her gowns. Finally, thank you so much Siobhan Amy and Siobhan Beales for your beautiful photography.
Ele xx