We have sunshine, sand and sea views aplenty for you today, dear readers, with this spectacular destination celebration taking place on the island of Crete.
It began with an intimate beach ceremony (the legal bit), and was followed up by a luxuriously elegant villa ceremony and reception, and might I add, a bride wearing not one, but two dreamy dresses, one of which was created by the wonderful Sassi Holford, but more on that shortly.
Sarah, a cruise ship entertainment social hostess, and David, a recruitment manager, were married on the 9 September, in a legal ceremony on a beach at Rethymno, and then a few days later, held a personalised ceremony and reception at the magnificent Casa Scordilli.
Images by HannaMonika Photography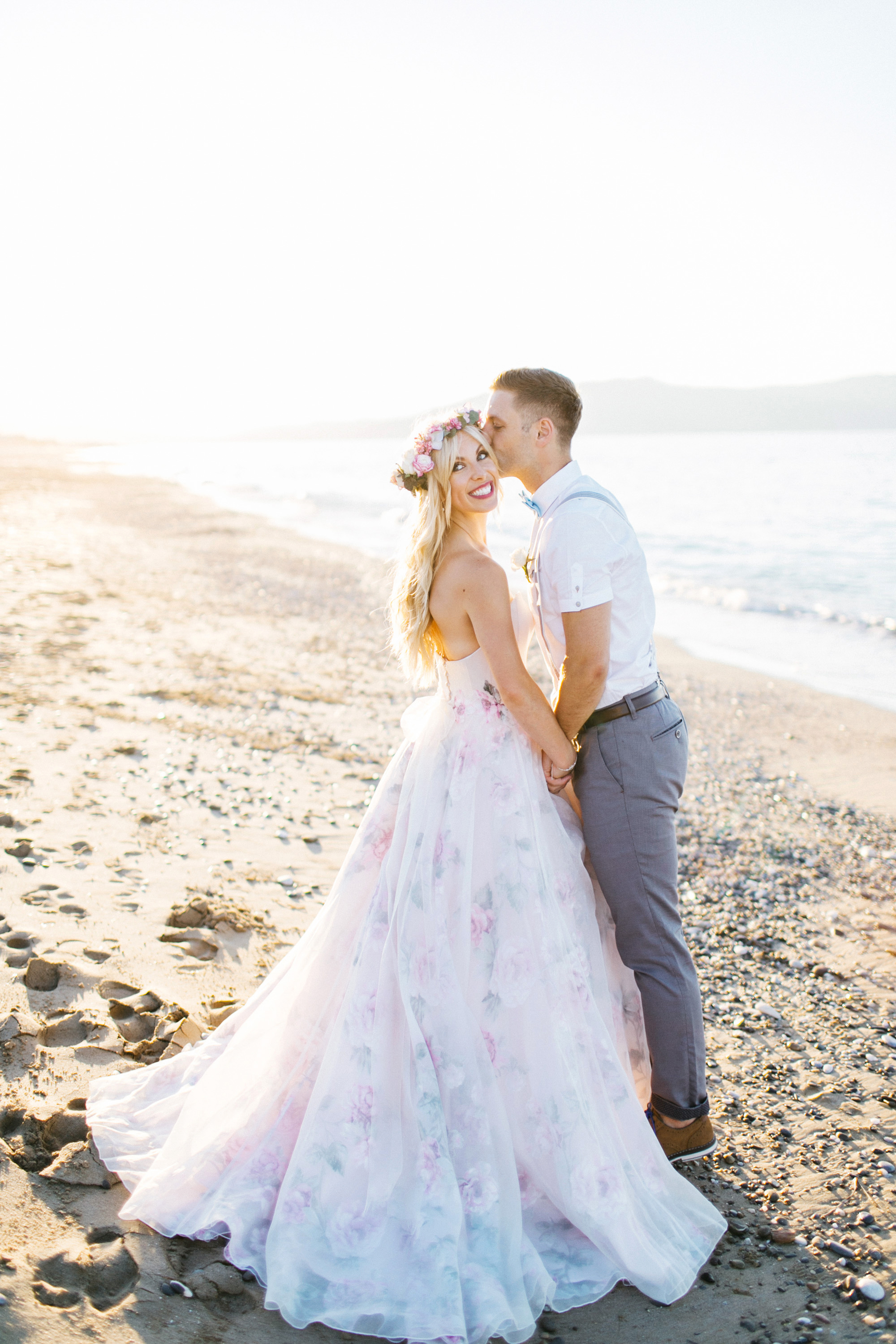 For the couple's sweet ceremony on the beach, Sarah chose the achingly romantic rose print, organza 'Marilyn' dress, by Sassi Holford, which she discovered at the wonderful boutique, Miss Bush, in Ripley, Surrey. Both Sassi and Miss Bush are part of our extraordinary directory of talented wedding suppliers, Little Book, and we just love them.
[RELATED]
"Finding the perfect dress was one of the most exciting parts of the planning process, but also one of the most difficult decisions I have ever made. It was a special adventure I shared with my mum, and will treasure forever. I tried on the 'Marilyn' dress by Sassi Holford, at Miss Bush in Ripley. I fell in love with it, however, it was not what I had always pictured myself in."
The couple's wedding invitation took the form of a plane ticket, to set the mood for the destination celebration (and adventure), which they sourced from Zazzle.
"David and I both wanted to keep the theme very elegant, modern and chic to echo the beautiful villa, however still keeping it dreamy and fairytale like. Although my head was swimming with ideas, the villa was so beautiful, we did not need to add too much decoration."
"David and I met on the island of Crete when we were 18 years old, on holiday after leaving school. We were together for 9 years before we got engaged. I work on a cruise ship and spend many months of the year away travelling. Getting married was not always top of our priorities, however we both always knew we wanted to have a destination wedding."
"When David proposed in Australia, it was totally unexpected but we immediately got thinking about the destination. We have always loved Greece and we knew that going back to the island where we first would make it very special."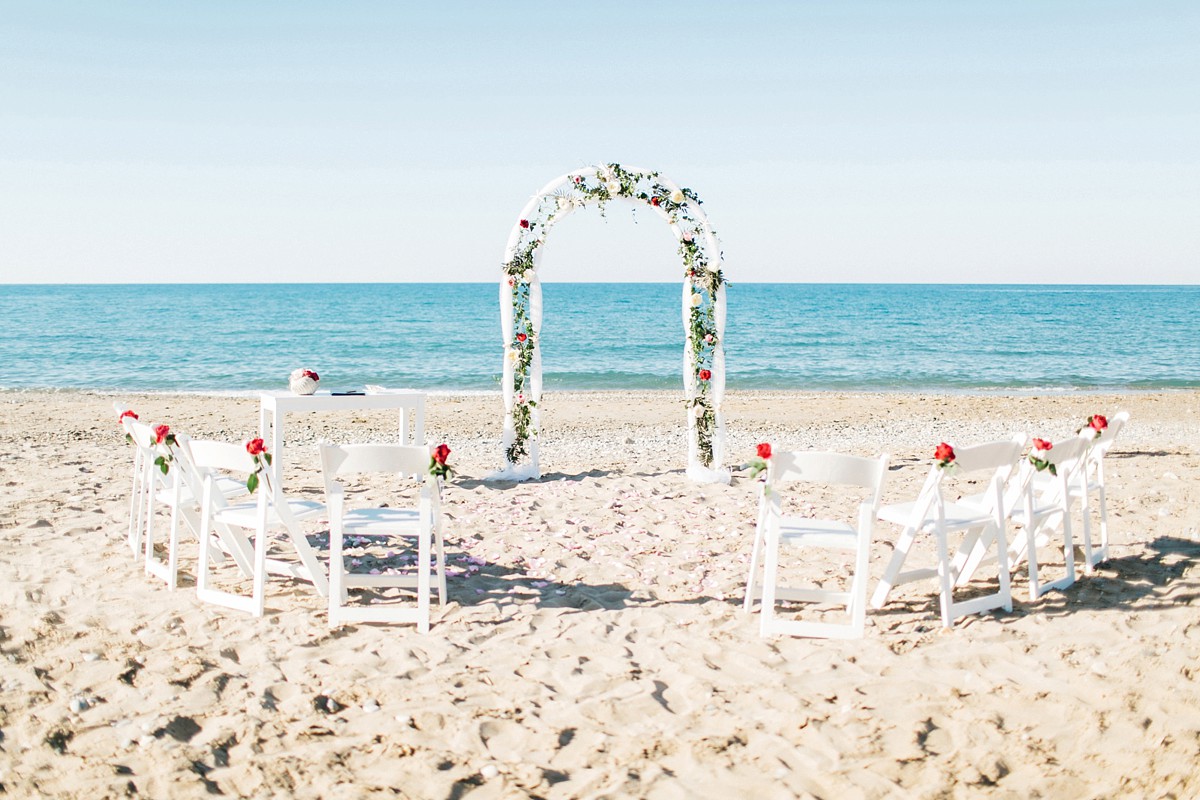 "When I stepped out of the changing room, I will never forget my mum's face – she did not have to say anything, I knew how much she loved it, too. We both agreed it did not match the setting of the villa, however it could be perfect for our civil ceremony. We walked out of the shop with it there and then, and I was so excited."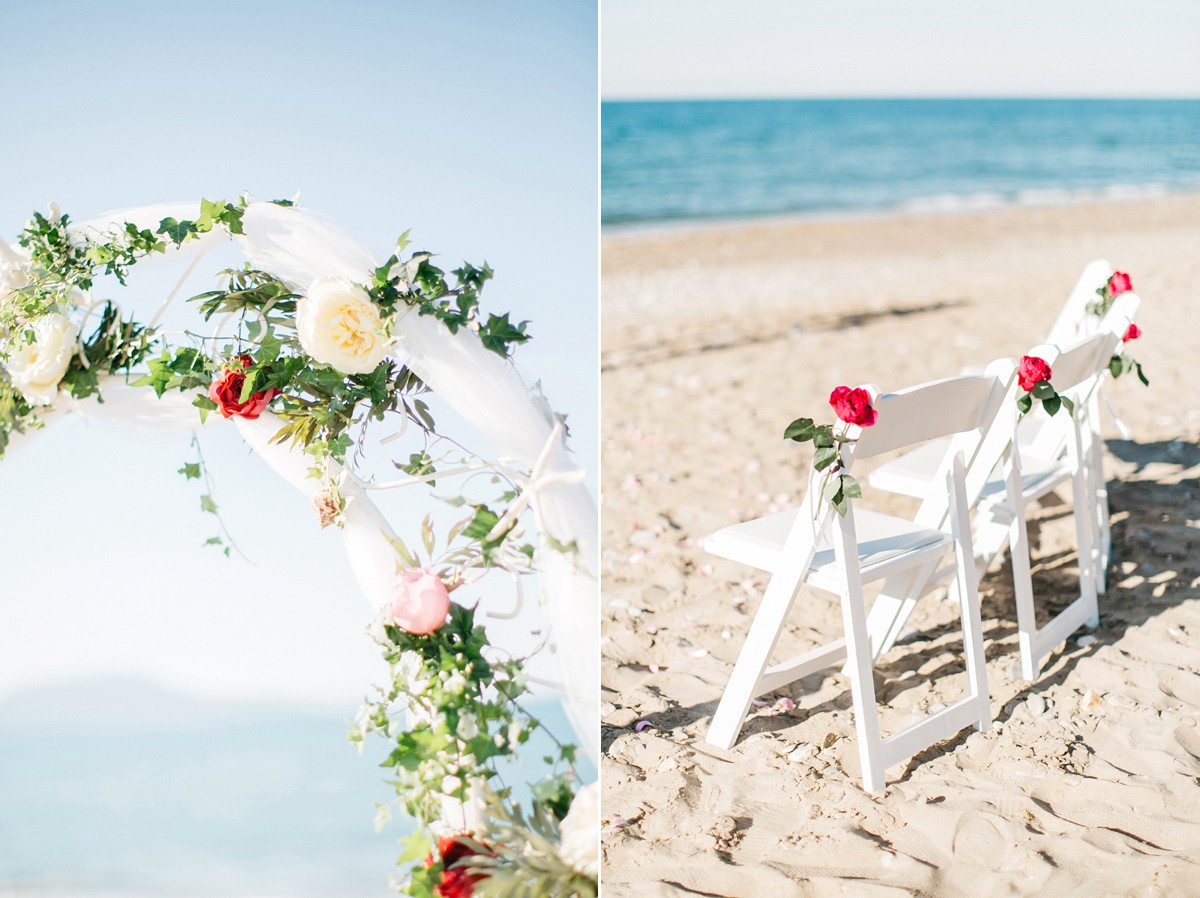 Sarah wore wedges from Dune London, and in her hair, a silk flower crown by Wild Rose Hair, which perfectly matched the pastel rose print of her dress. For jewellery, she wore earrings from Swarovski, and a bracelet given to her as a birthday gift by David.
David wore chinos, a short sleeved shirt, and turquoise deck shoes from Ted Baker, with a coordinating bow tie, as well as braces from British Braces.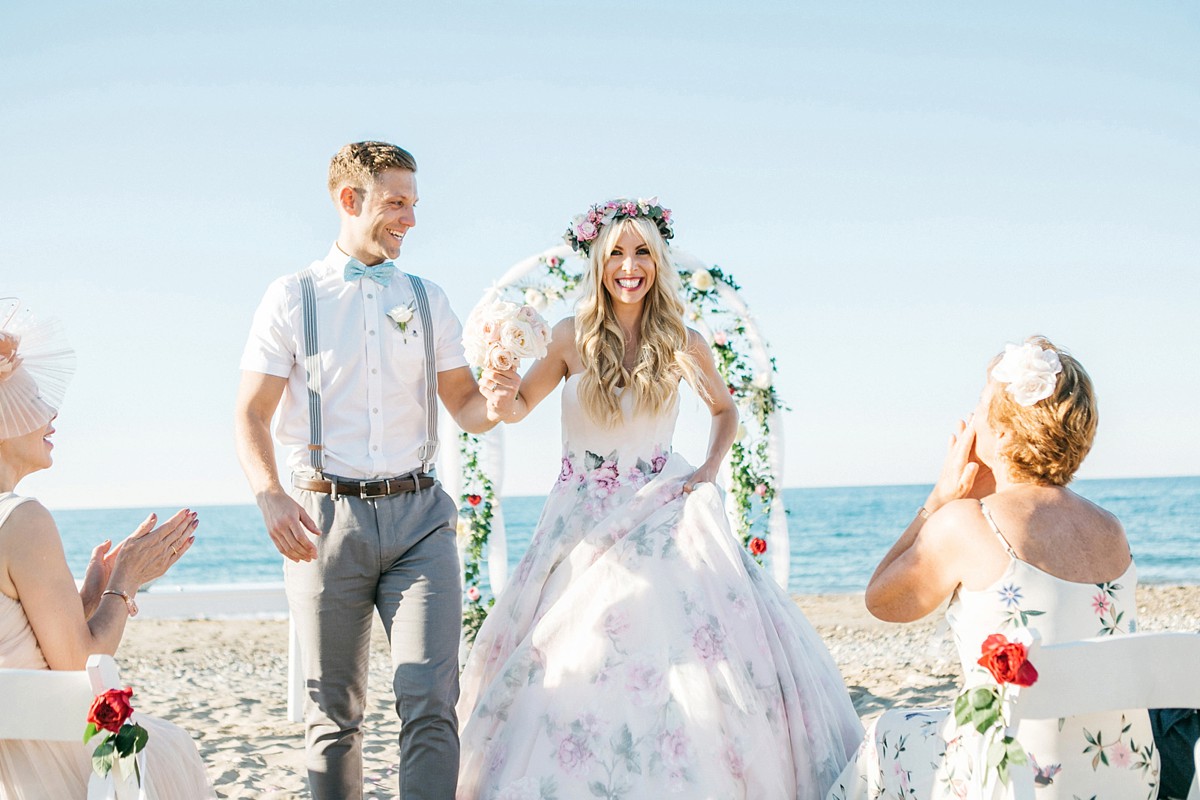 Sarah's dad accompanied her down the sandy aisle to begin the beach ceremony, and the couple said their vows to one another against the stunning backdrop of the beautiful azure Cretan Sea, in front of a white arbour, decorated with chiffon and bright blooms. This was also the point at which they exchanged rings, which they chose at Lawson Ward & Gammage in Hatton Garden.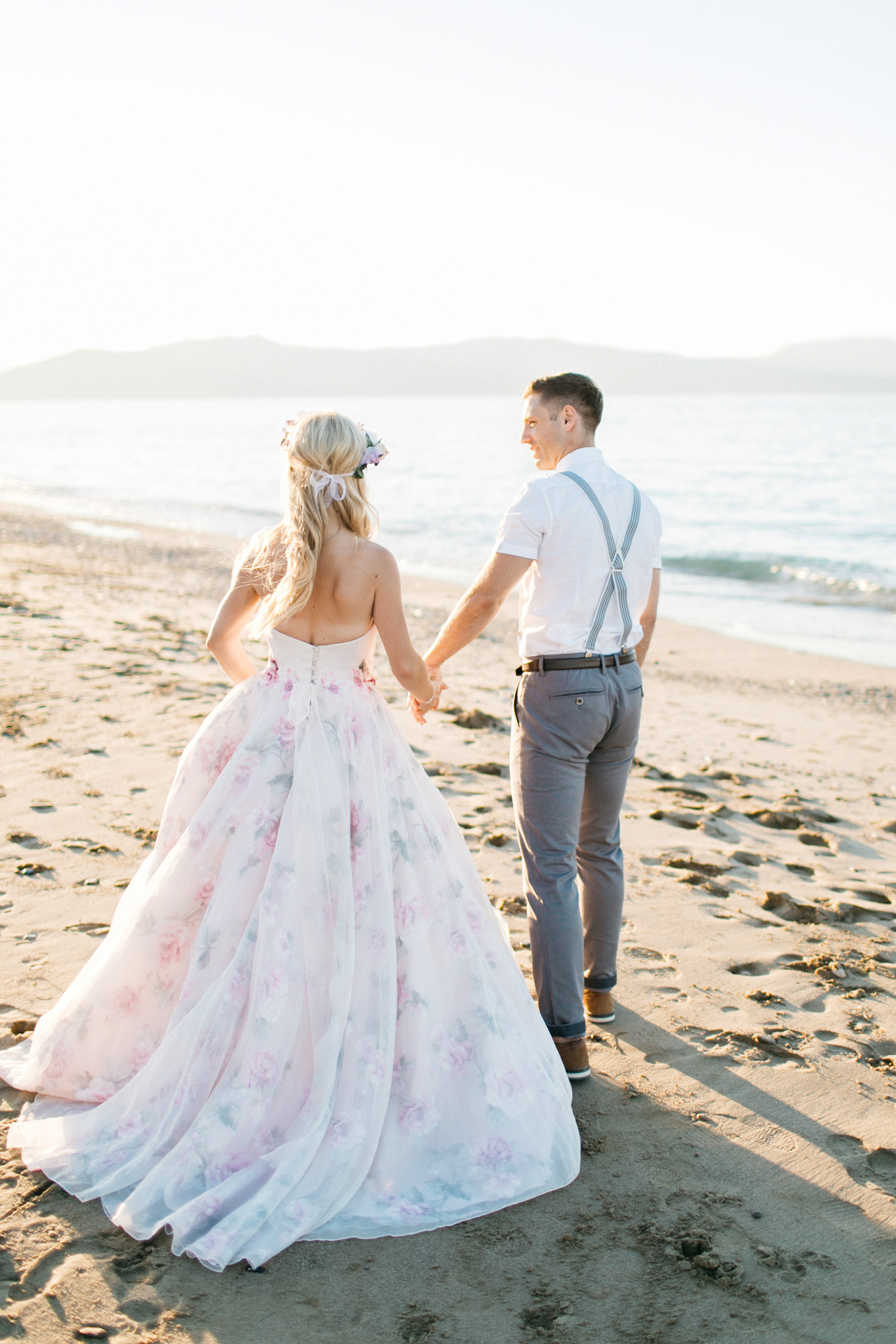 "They were recommended to David by somebody he worked with, and they were located close to his offices. David designed my engagement ring with their help. He had such a great experience with them, and we went back to get our wedding rings."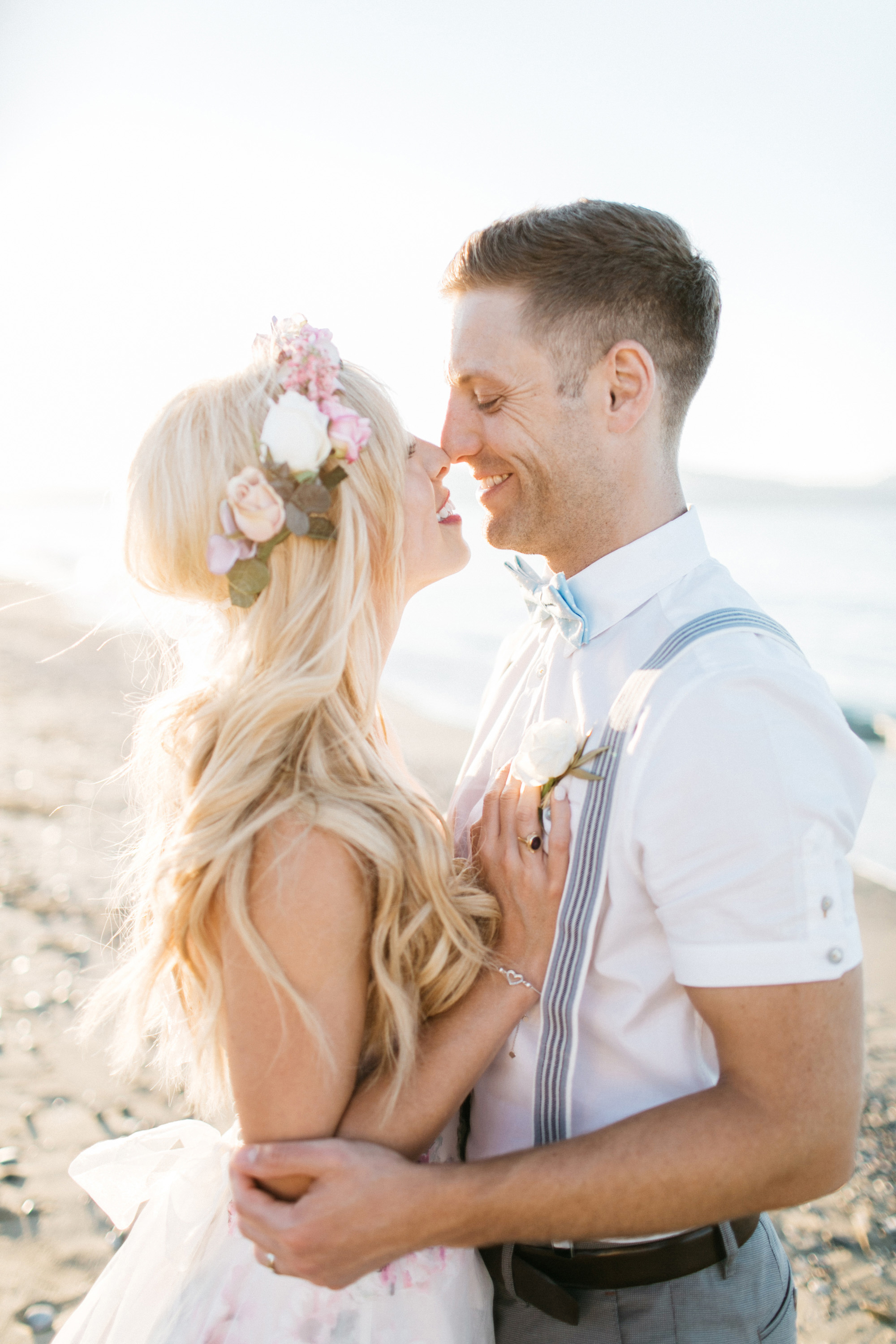 "We planned to hire a private villa to enjoy with our families for a week, and also to conduct the ceremony in the grounds. Casa Scordilli was one of the first villas I came across online, and I knew it was meant for us."
"We planned a visit to Crete in August 2016 and visited a few villas. Nothing compared to Casa Scordilli, and we just had to book it. The owners had never had a wedding there before, and were very accommodating."
Supporting Sarah and David in the planning, coordination and vision for their day was planner Caroline, of Moments.
"Caroline was an amazing wedding planner. She was fantastic in recommending and communicating with suppliers."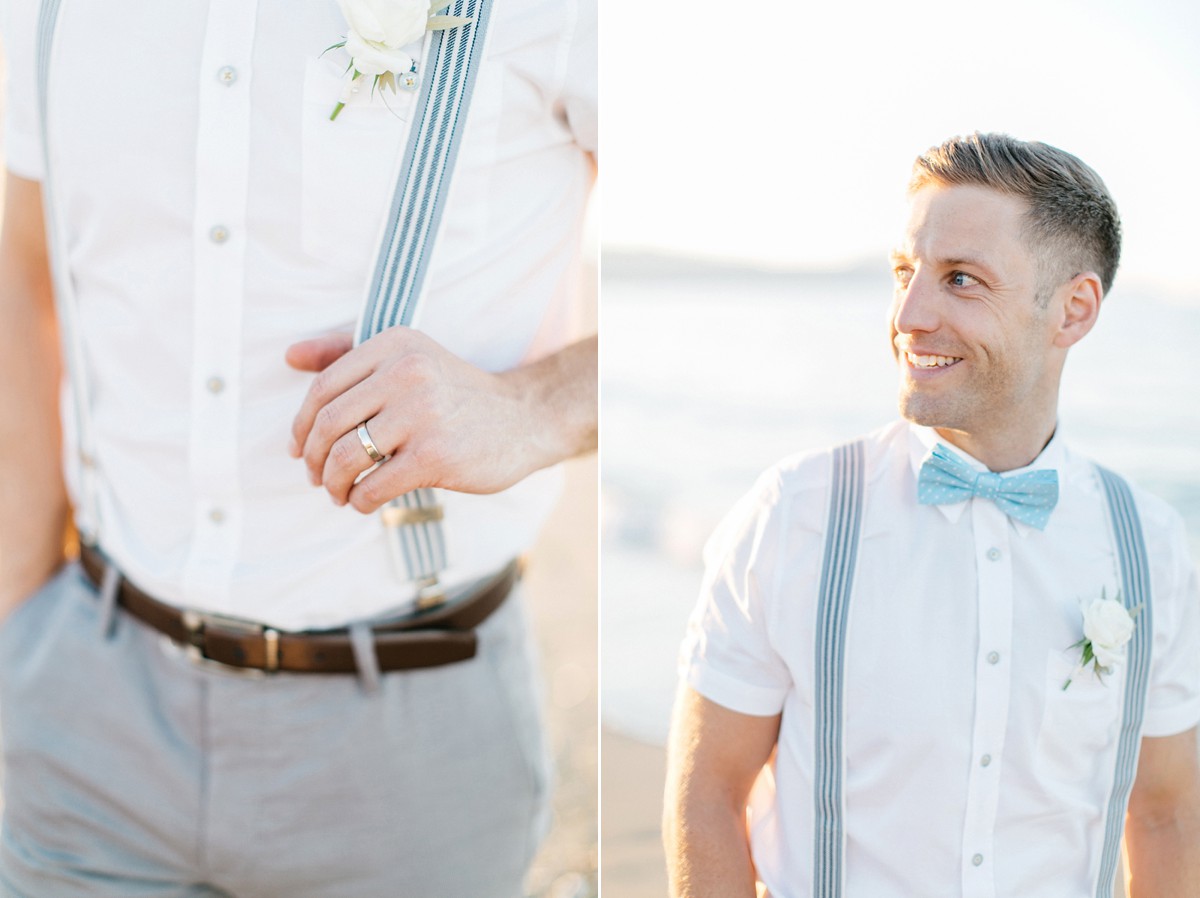 For their second, villa celebration, Sarah and David were joined by more loved ones, and Sarah enjoyed time spent getting ready with her bridesmaids, who took care of her lovely make-up, whilst Sarah styled her own hair.
Sarah knew she wanted to wear a different gown for the villa ceremony, and found the perfect design at The One Bridal Boutique in Sevenoaks – a spectacular embellished tulle ballgown by Lazaro.
"I knew I needed something grand, but also light and modern in order to work with the venue and the weather. I fell in love with many dresses by the designer Lazaro, and knew I would choose one of his designs. I knew as soon as I saw my dream dress, which coincidentally was on the front cover of the Lazaro magazine in The One Bridal Boutique, Sevenoaks, where I tried it on."
"It encapsulated the big, fairytale dress I had imagined, and it also had a modern day catwalk style, whilst being unique. The dress had a beautiful large train that fell naturally. The different layers of tulle had many different colours, which shone in different lights. These elements together with the crystal waistband and open back made it so special, and added an extra dimension to what I was looking for."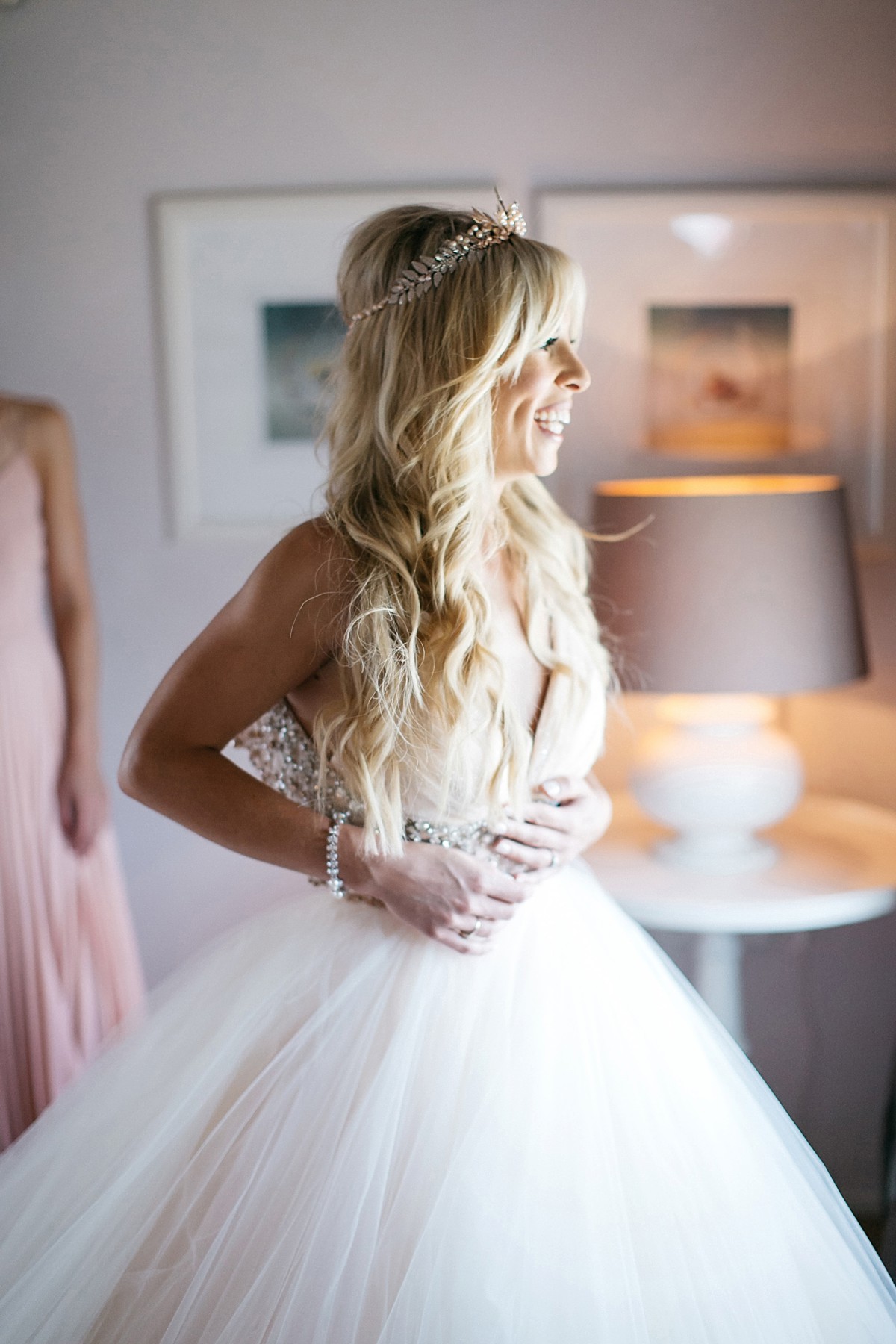 To complement her dreamy dress, Sarah wore blush pink peep-toe heels, decorated with sparkling crystals, by Badgley Mischka.
Other accessories were a bracelet from Helena Fortley, and diamond earrings gifted to her by David, the day before the wedding, as they spent some private time together at the beach.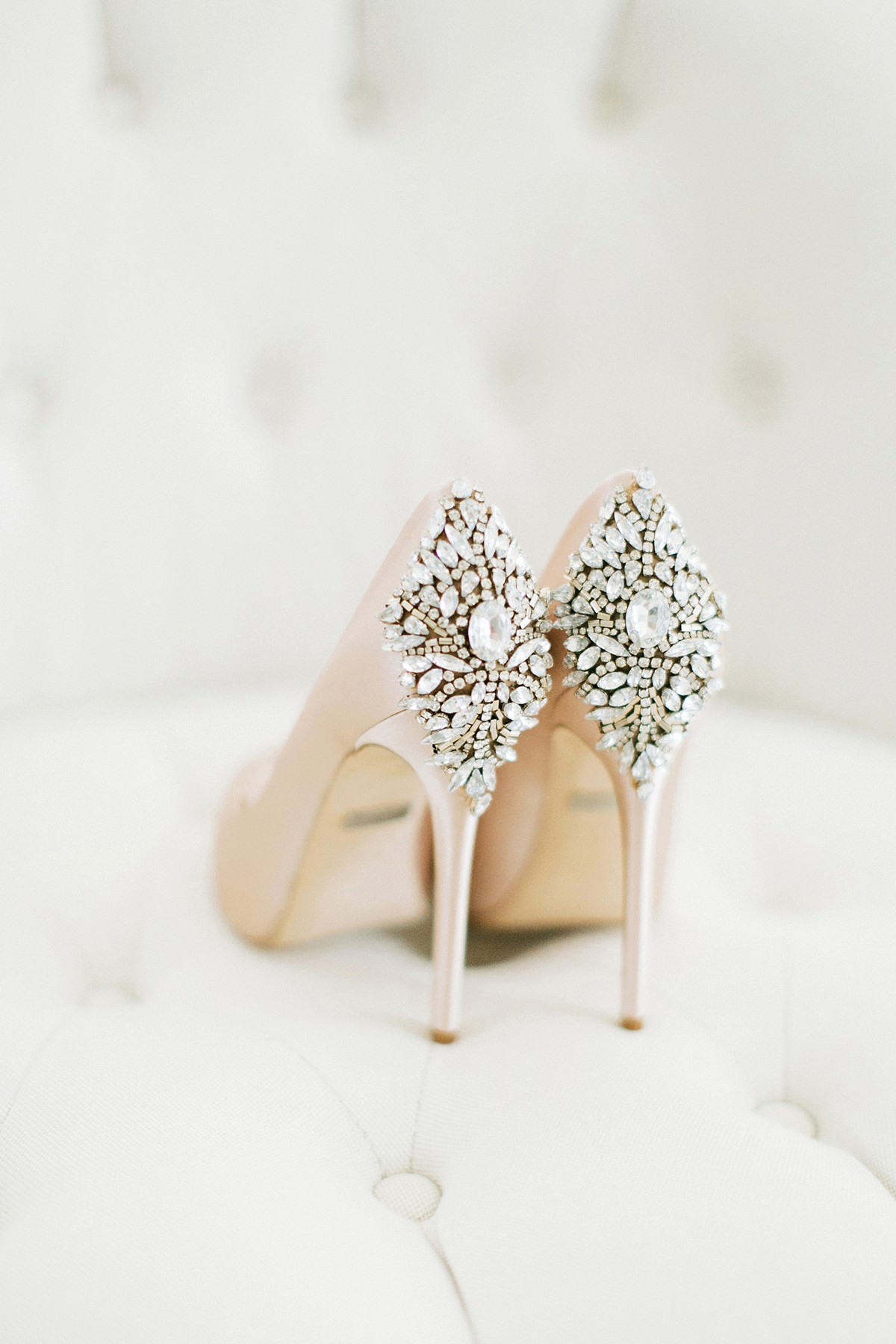 "I had envisioned a tiara with a Grecian theme, and I wanted to include rose gold and silver to match my dress. I discovered the most beautiful boutique in Wandsworth, and had a tiara custom made by Victoria Millesime. It was just perfect. Victoria worked so hard to make it exactly as I had imagined – thank you for this beautiful creation. It could not have been more perfect."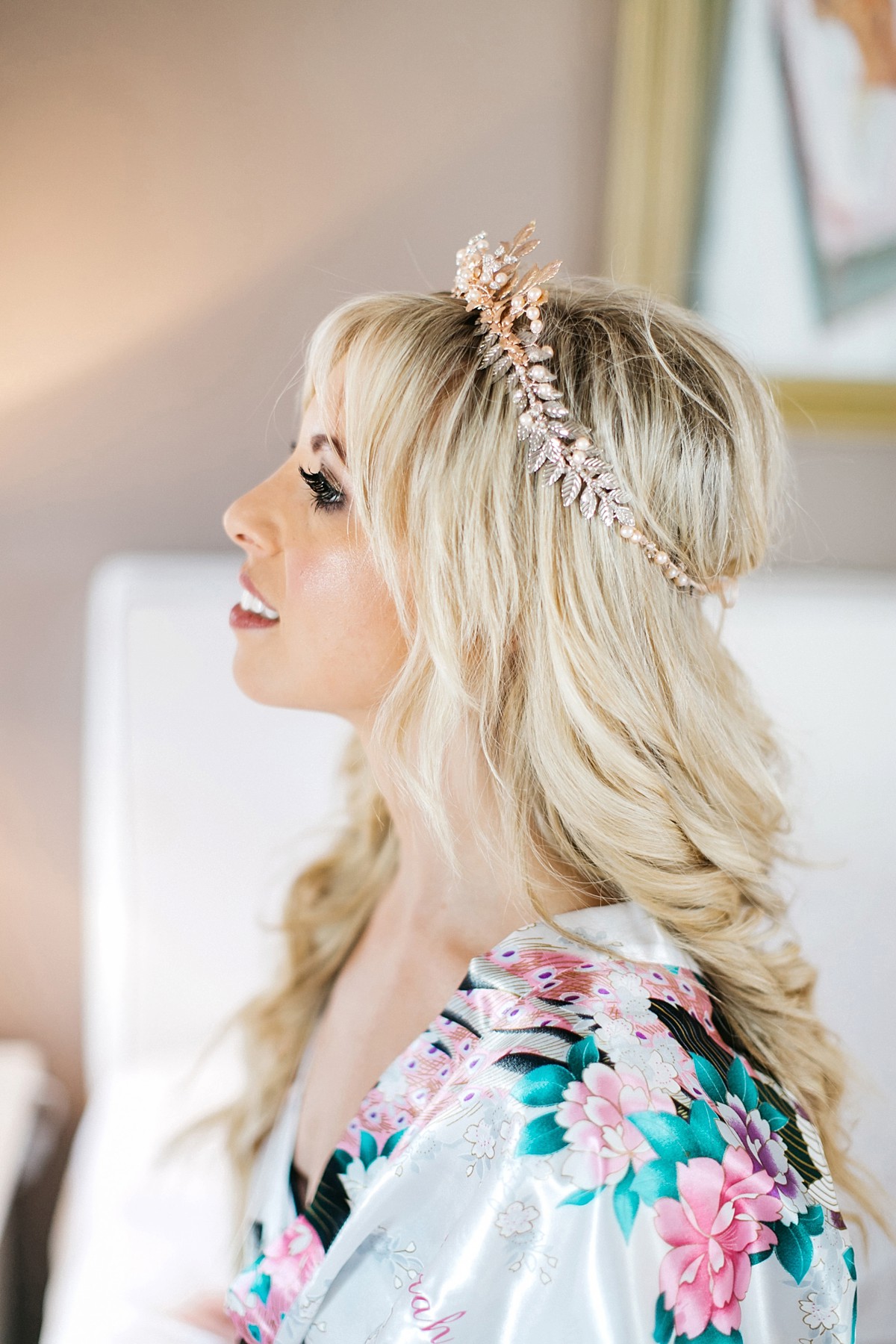 The bridesmaids wore pastel peach coloured maxi dresses, with rose gold sandals from ASOS, with necklaces from Accessorize, which Sarah gave as gifts for the wedding day, and clutch bags from Miss Selfridge.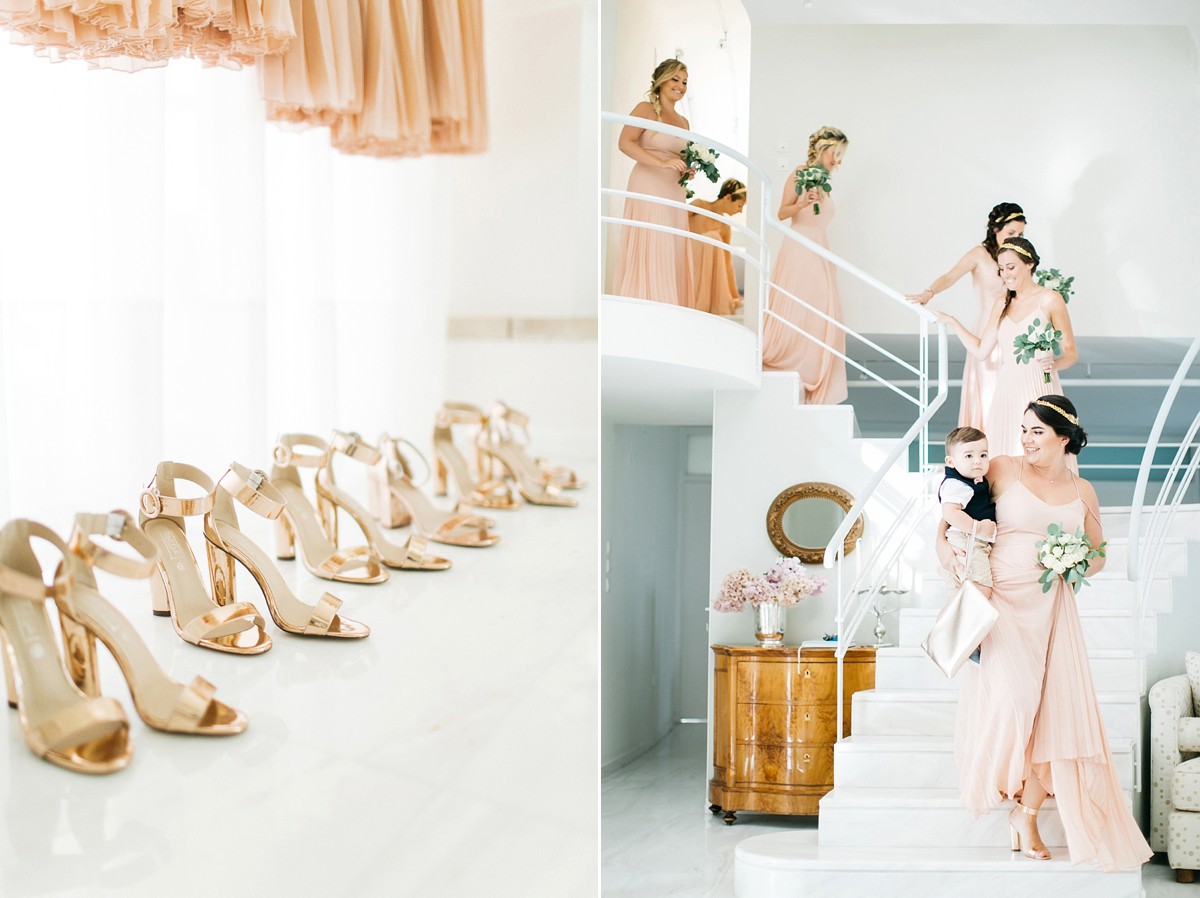 "The bridesmaid's dresses were actually the first decision I made in the planning process, and the first things I bought. I always wanted them to wear long, elegant dresses and the Grecian pleats on the dresses just linked perfectly to the theme and the setting. They were also perfect for the hot weather."
"They all crossed at the back, and this coincidentally also matched the cross over on the back of my dress. Keeping in the Grecian theme, I bought them all gold leaf crowns from Johnny Loves Rosie."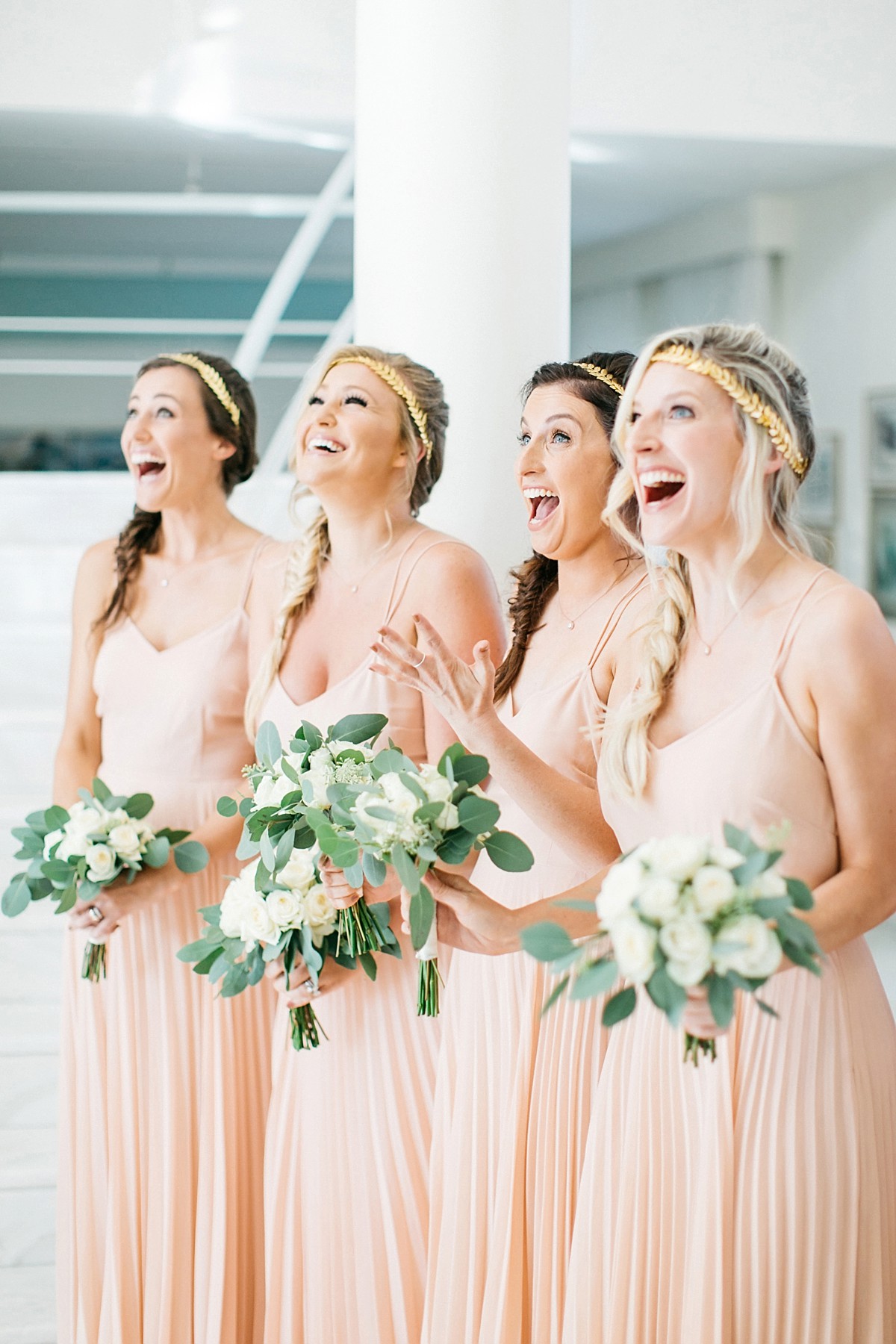 The final touch to Sarah's bridal look was a delicate veil dotted with crystals, chosen at The One Bridal Boutique.
"Julie, who owns the boutique recommended a veil that matched the colour of the dress, and it had many crystals that shone beautifully in the Cretan sunlight."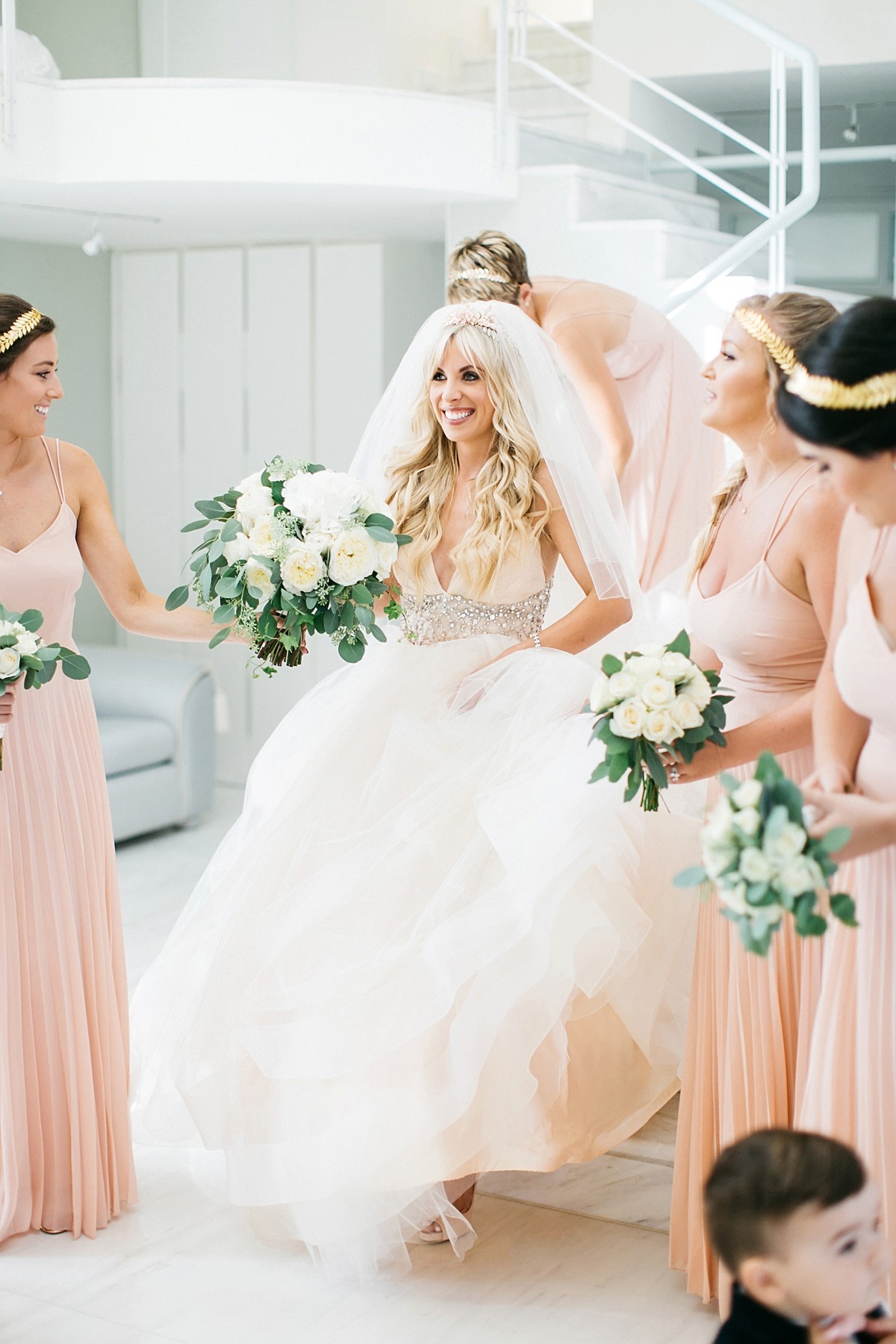 Sarah and David found their florist through their planner, Caroline (although, sadly we don't have any further details), and Sarah carried a beautiful bouquet of ivory peonies, lemon yellow roses from David Austin, ivy and eucalyptus.
"For the villa wedding, I chose ivory flowers, keeping the colour scheme more neutral to match with the dress. I wanted to have a larger waterfall bouquet, so they didn't get lost in this grand venue. The bridesmaid's bouquets matched mine, together with the floral arch. I sent some photographs from Pinterest to our wonderful wedding planner Caroline, who said they could create what I had in mind."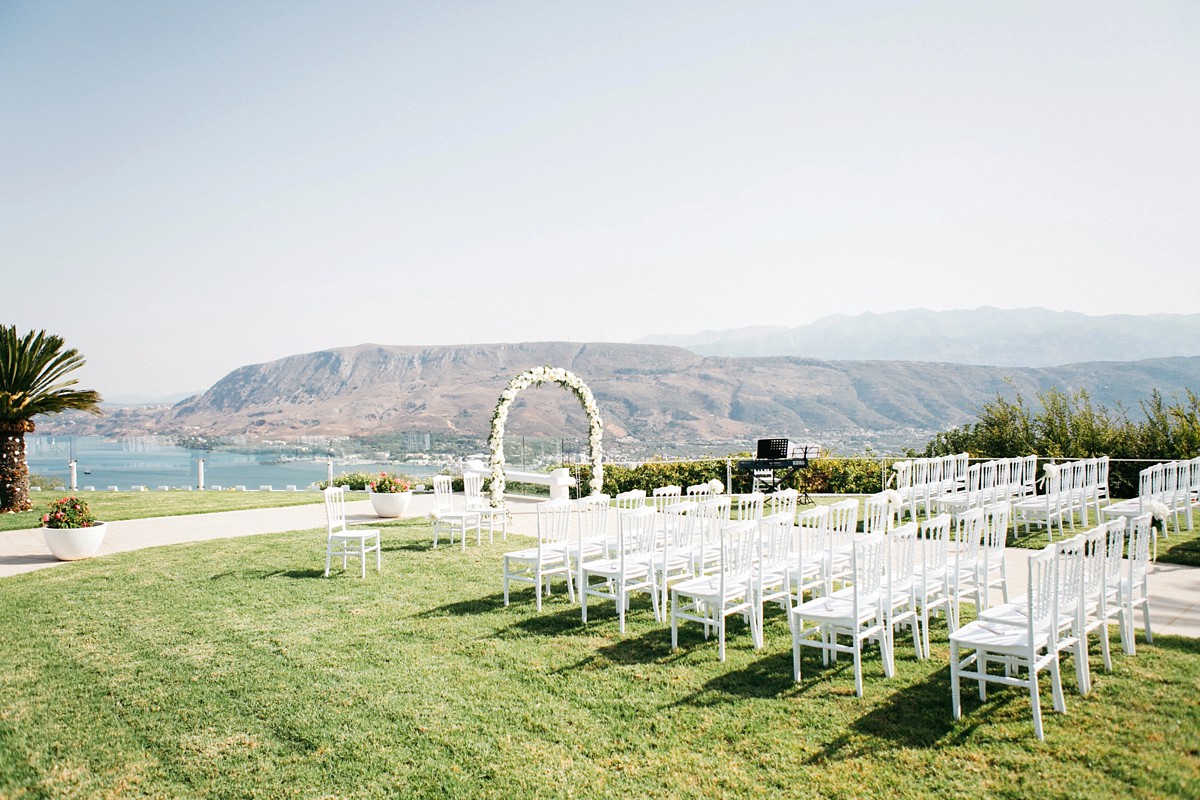 David wore blue suit trousers, a waistcoat and shoes from Ted Baker, striped socks from Ralph Lauren, and a watch from Tissot.
"The groomsmen and fathers' suits were from ASOS, and Master of Ceremonies was my brother, Gregory who flew over from Australia. He wore a suit by Joe Black."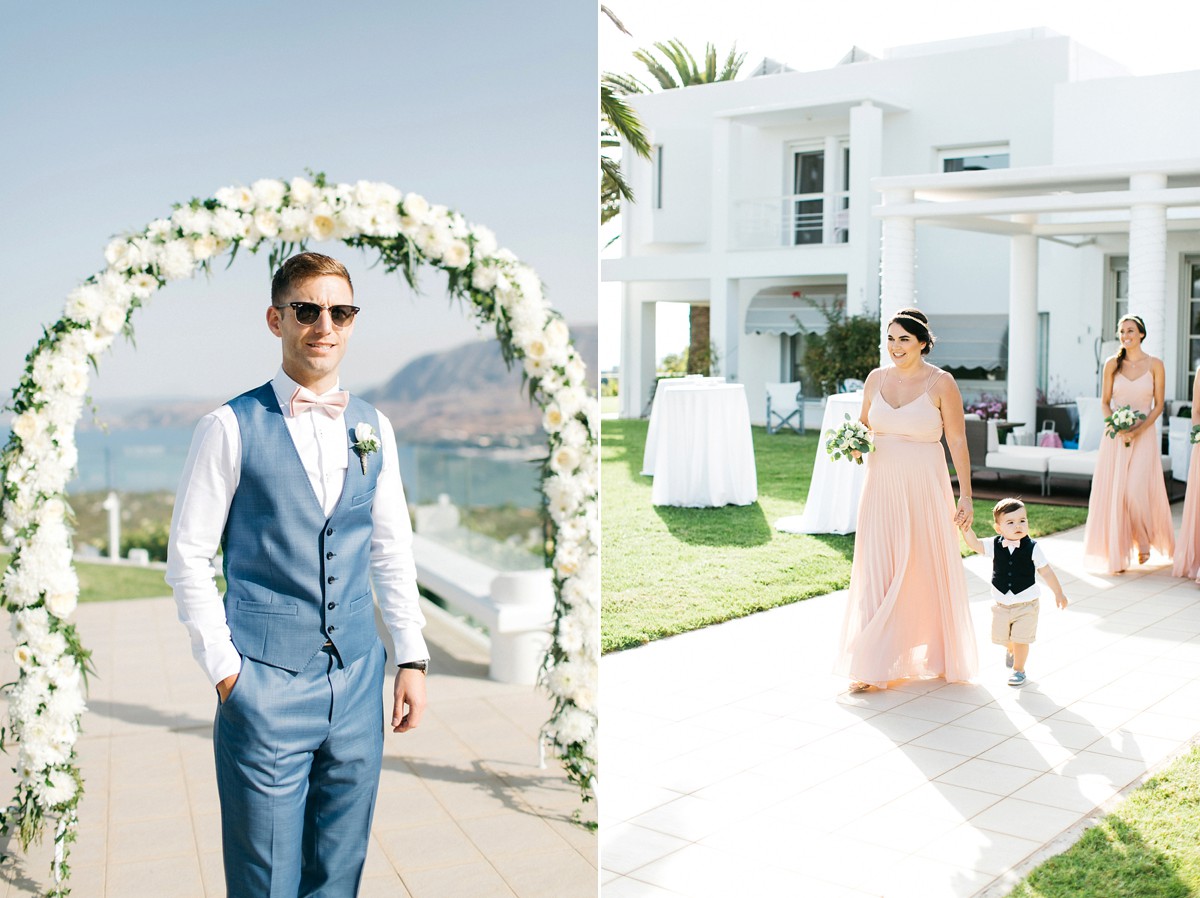 Sarah and her dad walked down the aisle, to a piece from the Cinderella movie soundtrack, called Who Is She? Sarah's brother, Gregory conducted the ceremony, adding sweet and touching (as well as funny!) personal moments throughout.
"He really was the perfect person for the job, and added a whole new dimension to the day. He kept everyone entertained, and had an endless supply of jokes."
"Both of us wrote our own vows for the symbolic ceremony at the villa. We're not religious, and we wanted them to be very personal. We both wrote them separately after discussing the tone and length. We then sent them to each other and they both complemented each other perfectly."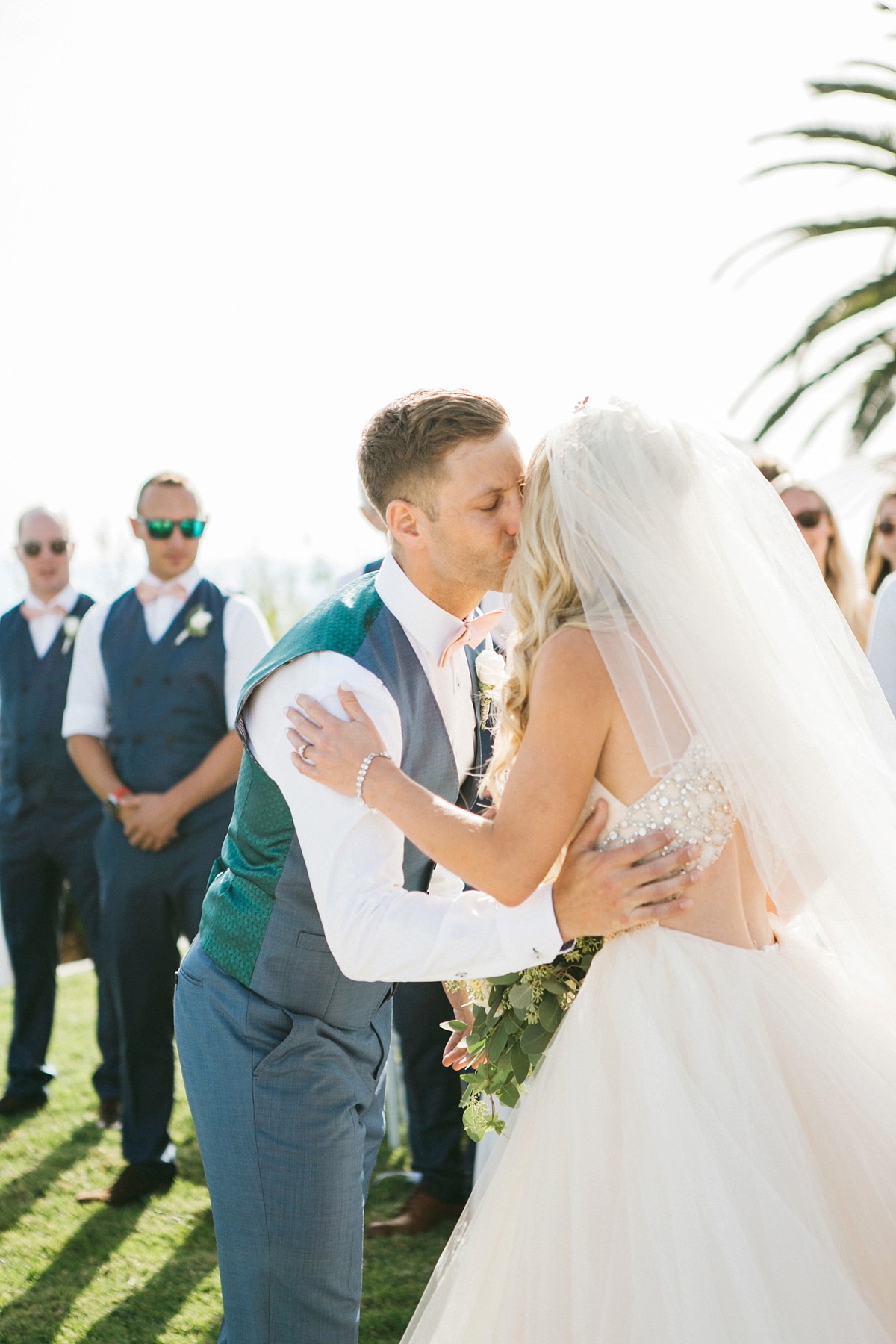 Rather than readings during the ceremony, Sarah instead asked two of her close friends to perform three songs – Can You Feel The Love Tonight, Get Here, by Oleta Adams, and When You Wish Upon A Star.
"Lucy, one of my bridesmaids, I've known since university – we were in the Musical Theatre Society together. Joanne and I worked together on a contract on a cruise line, in the entertainment team. Both are extremely talented and such special friends."
"It meant so much to me to have them there, and we were honoured to have them share their talents. Music has always played a huge role in our life, and therefore we chose to have music as opposed to readings."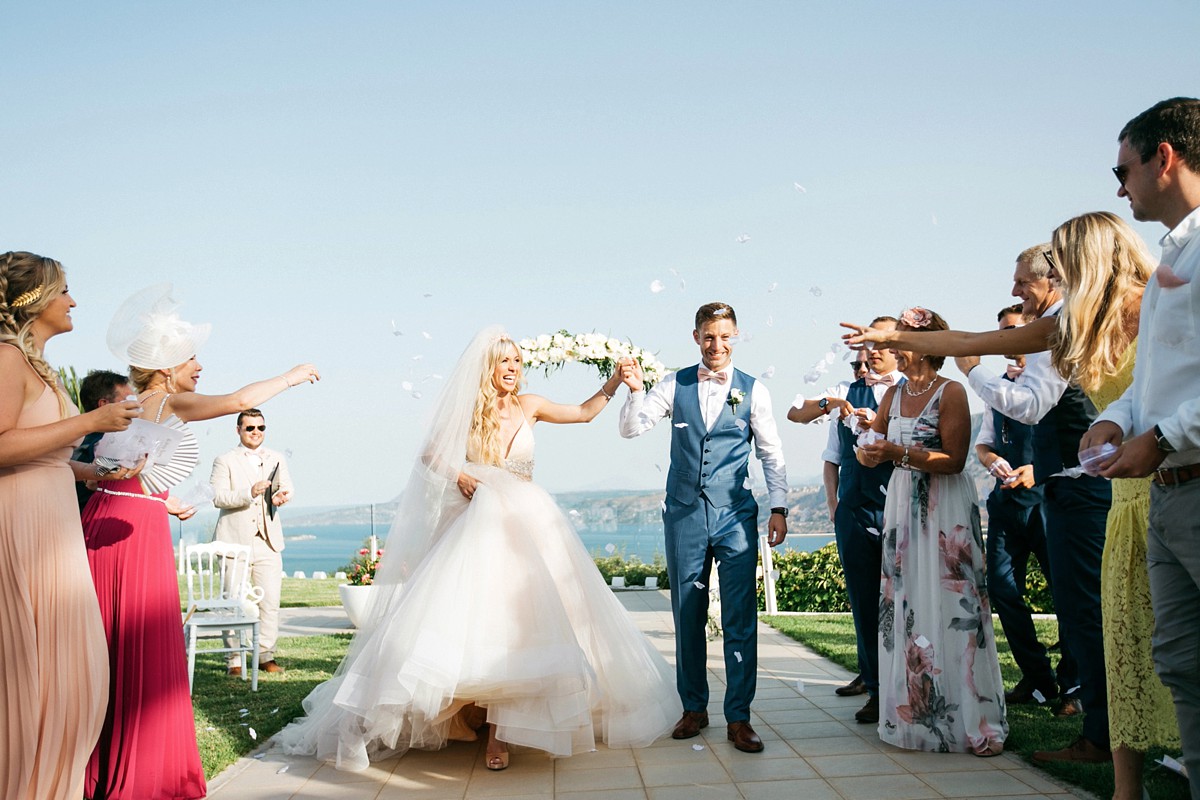 To capture all of the incredible details of all parts of their wedding celebrations, were husband and wife, Crete-based photography duo HannaMonika Photography. It's wonderful to feature their enchanting work for the first time here, filled with sunshine and beautiful coastal light.
"From our initial Skype chat together, I felt a connection with them and knew immediately that they were the perfect photographers for us. We adored them, their passion and enthusiasm for their work, their talent, experience, and above all, they are genuine and caring people."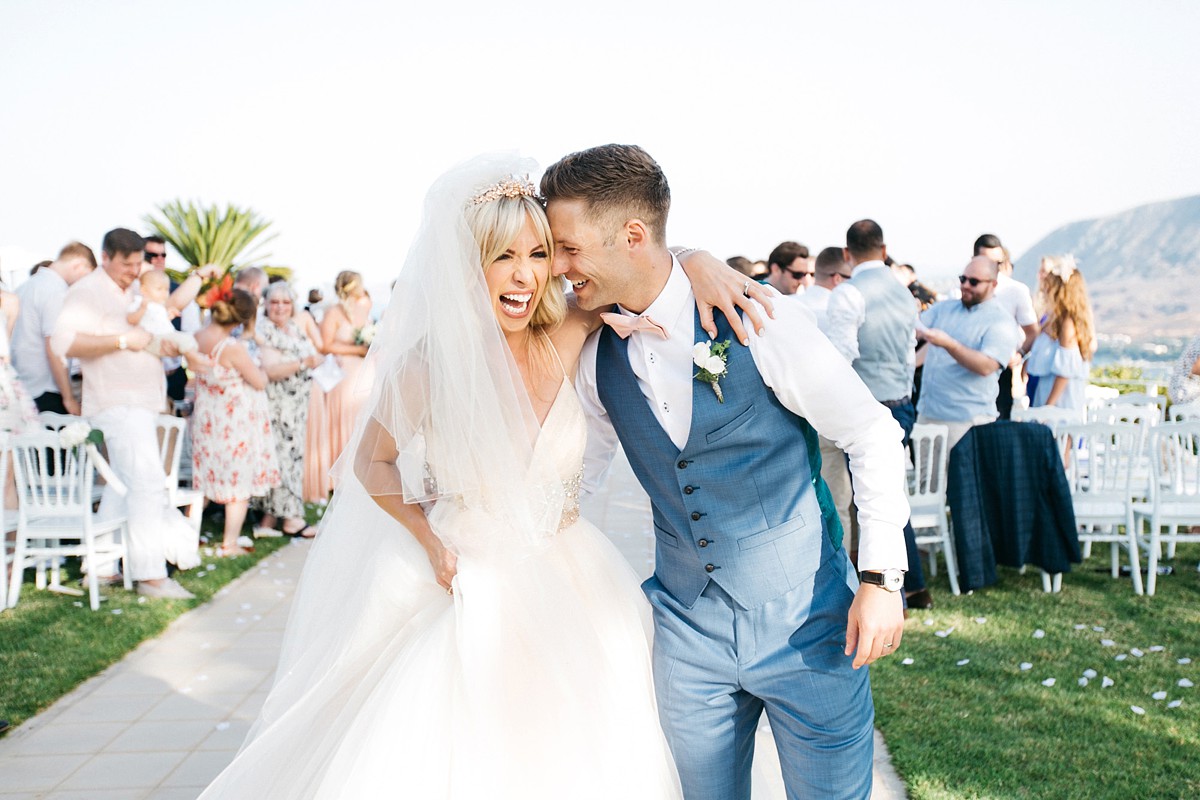 "We first met Hanna and Slavomir at the beach ceremony, and we felt so at ease with them. They made us feel so comfortable, as it was such a surreal but amazing experience for us. Everything flowed really well, and we really enjoyed our time with them. They guided us during the couple portraits and we had great fun with the 'girls' taking some fun photos."
"We were then so excited and pleased they would be with us at the villa wedding. They were so discreet on both days, and it was great to have two people to cover both the bridal party and groomsmen during the day. We absolutely adore our photographs – thank you."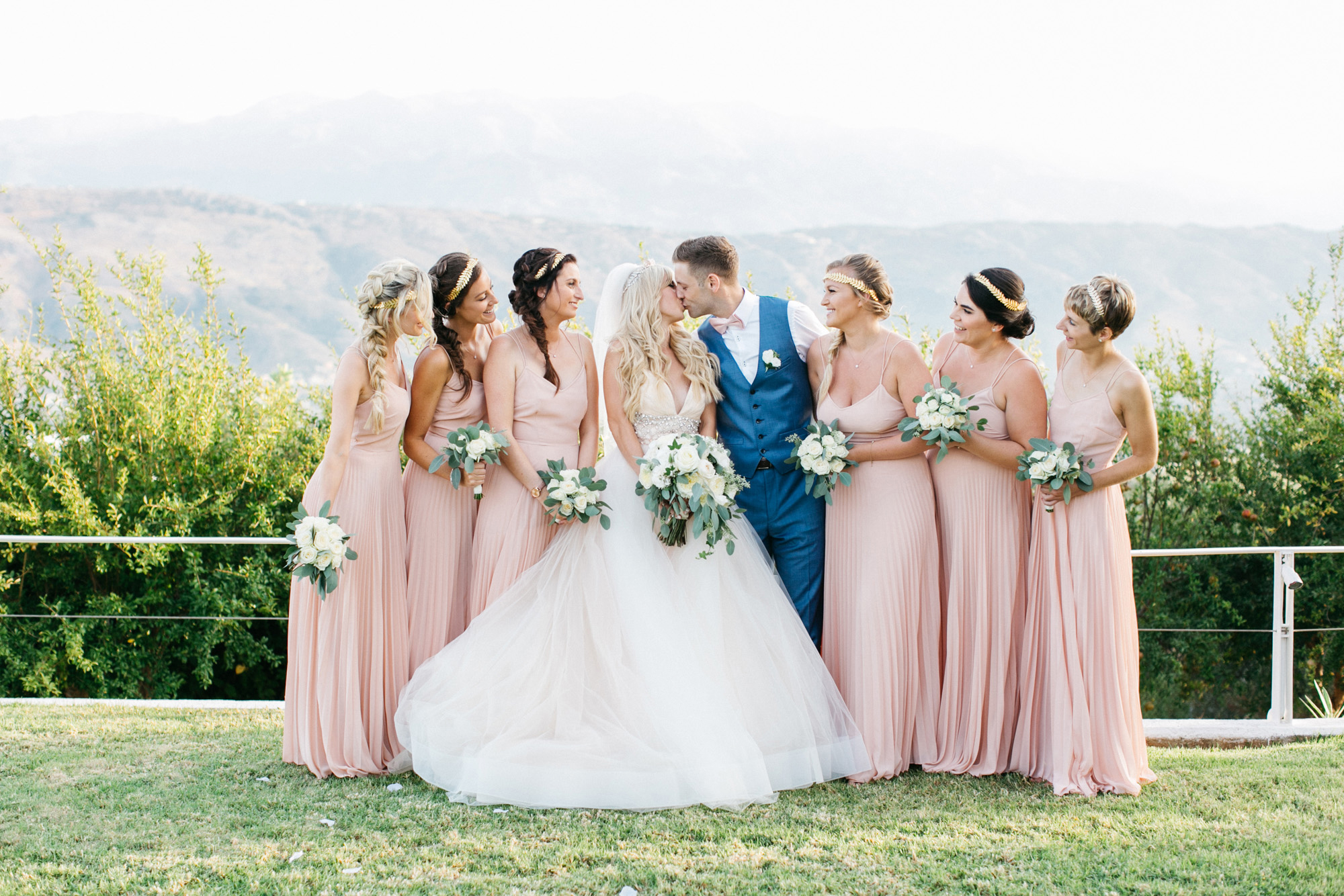 After the ceremony, everyone enjoyed drinks from a bespoke cocktail menu, chosen by Sarah and David, and given names with special significance – Mariah's Margarita, Espresso Mar-D-T, The Blushing Bride, Sunshine Sarah, and Very Berry.
"We hired a saxophone player, Stelios G, to play funky house music during the drinks reception after the ceremony. He stood under a palm tree by the cocktail bar, and it really set the party mood with a chill out vibe in the Cretan sunshine."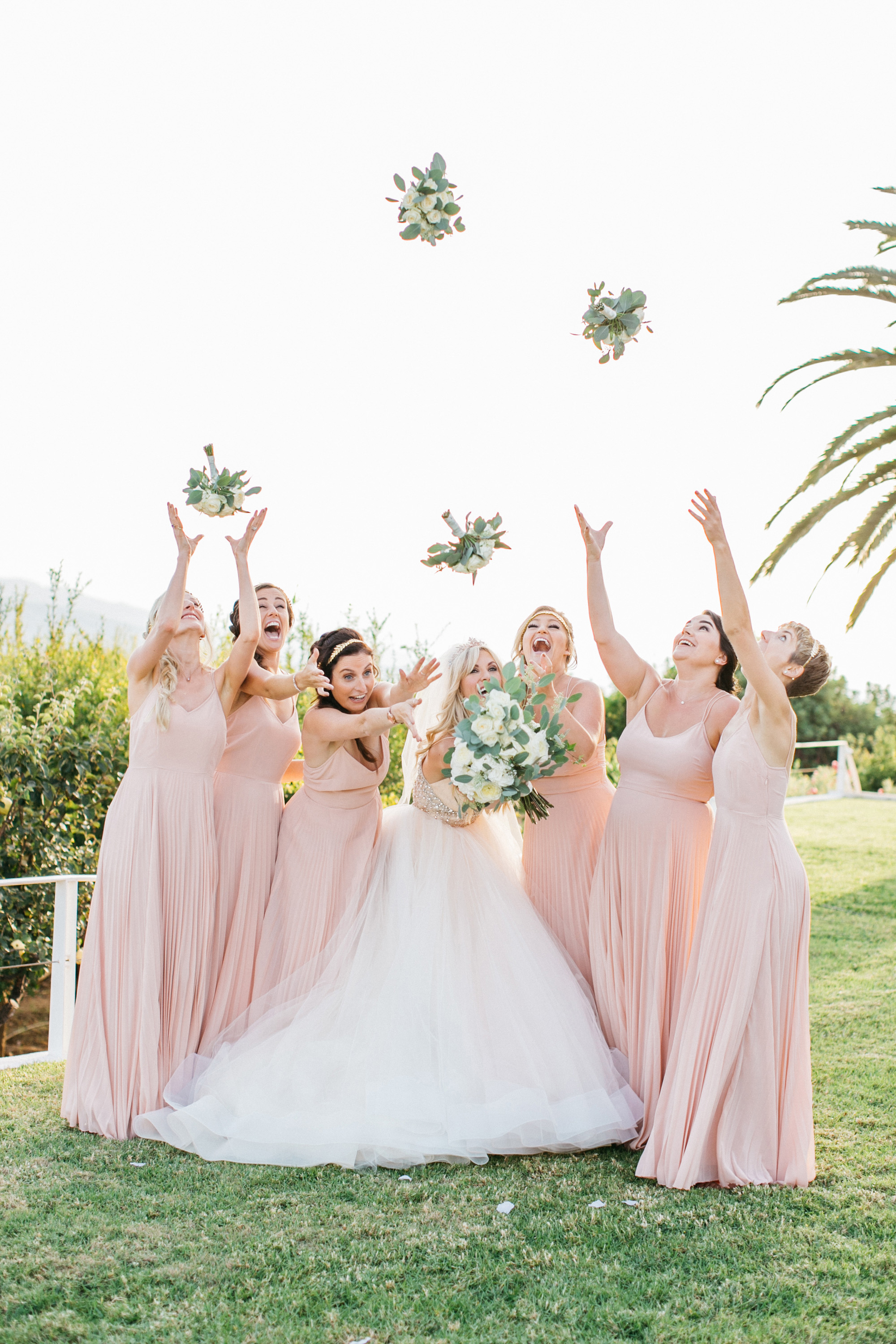 To help keep everyone cool, Sarah and David sourced parasols and paper fans from eBay, and to reflect their love of champagne, the beautifully dressed dining tables were named after different champagnes, which were also drank during the speeches and toasts.
"Instead of a traditional seating plan, I hired a small tree from our wedding planner, and underneath I made a sign, 'The key to your seat'. Each guest had a key hanging on the tree with a name tag, and on the back of their name tag was their champagne table name. Their place cards were placed in champagne corks, which we collected and took with us. I made all of these with the help of my mum and David's mum and sister."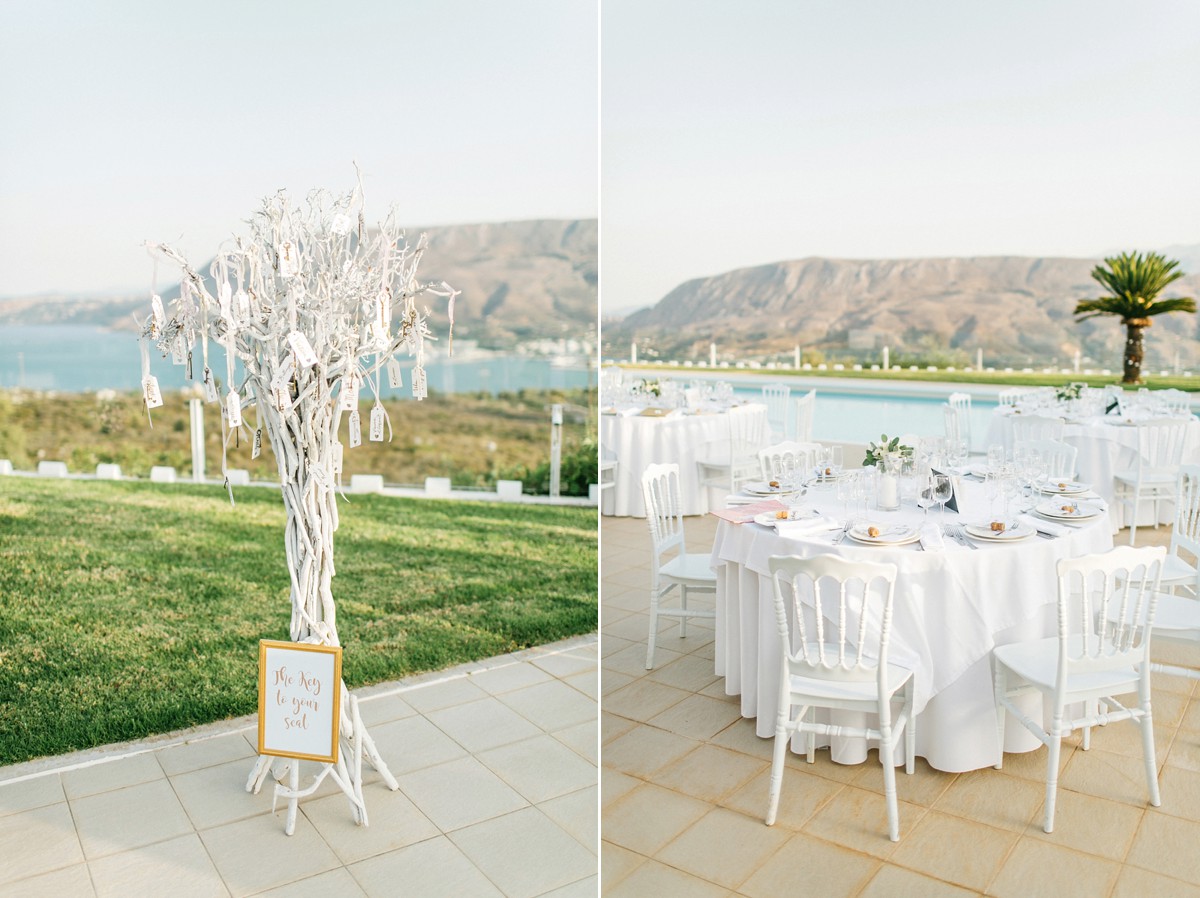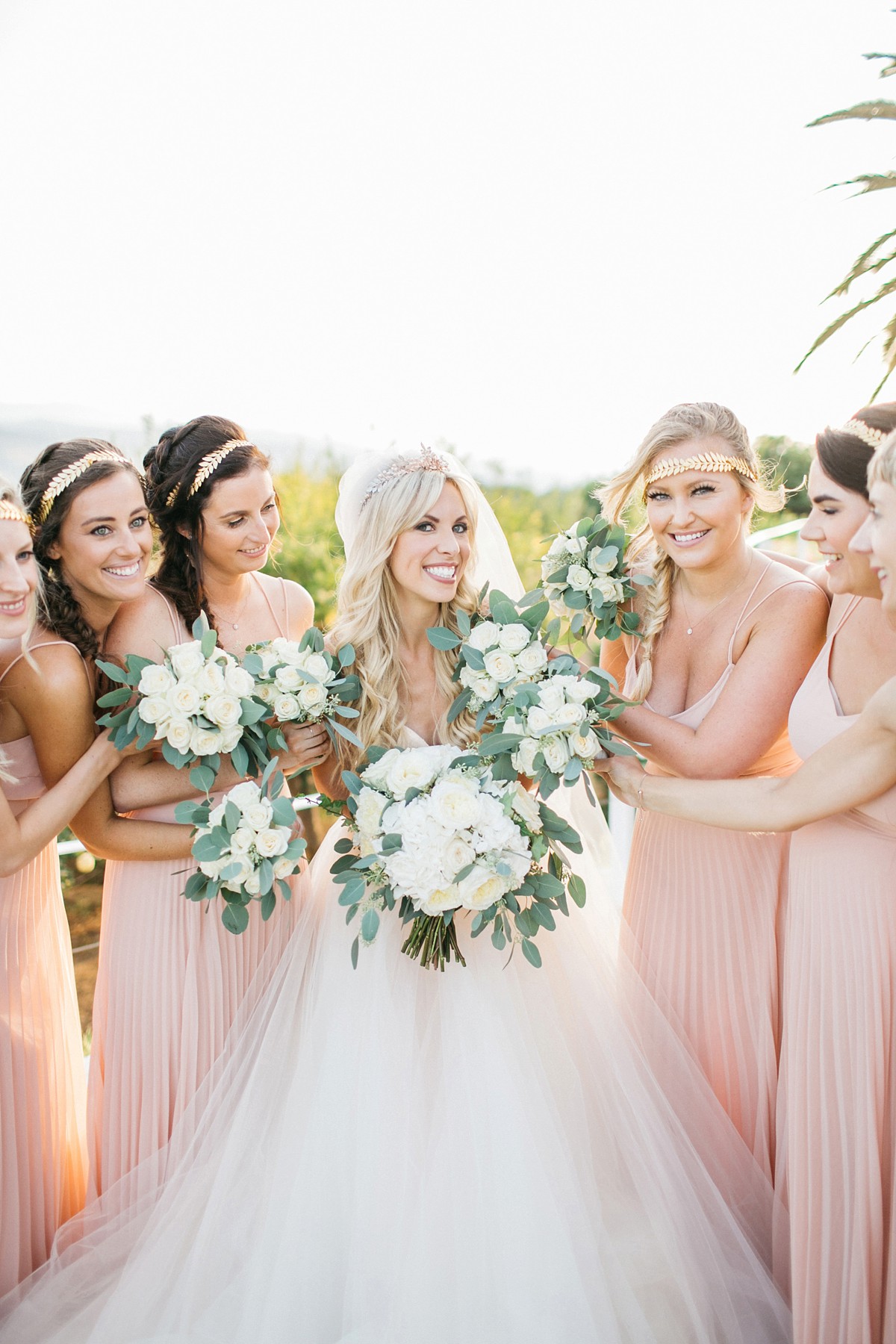 There was a lovely lounge area set up in the shade of the villa's palm trees, with chairs, blankets and cushions, decorated with lanterns and parasols.
"There were 6 babies at the wedding, so this was an area we decided upon for the kids to rest and provide shade.We hired a wheelbarrow from our wedding planner and filled this with beer. We made a chalkboard sign to go with it. This was for our guests to enjoy before and after the ceremony."
What a magnificent backdrop in which to enjoy a celebratory dinner with loved ones – in the evening, with the villa and palm trees lit, and candles and lanterns all around. Everyone enjoyed a relaxed, family style feast cooked by Five Star Catering, including stuffed vine leaves, fava beans, fresh vegetables, salads, barbecued meats and local fish.
"Our guests are still talking about the food now. I could not have asked for anything better. The staff were so attentive, and it all went so smoothly."
"The bar then relocated to the pool bar area after dinner and made cocktails during the party. The cocktails were a huge hit; our friends and family are still talking about them now. They were all made freshly, and we are so happy that we decided to do this."
Instead of a wedding cake, Sarah and David chose to lay on a delicious dessert table, displayed on two recycled beer barrels. There was local baklava, amongst other treats.
"Our guests are still talking about the baklava now. The set up looked amazing underneath a palm tree in the garden, and was decorated beautifully with lots of fairylights."
In keeping with their champagne theme, Sarah and David also had a champagne tower, and as the bubbles flowed, the couple shared glasses with their loved ones.
"I have always wanted to try one of these! The wedding planner admitted she had never seen one of these done before but assured me we could make it work. It could not have been more perfect. As we poured the champagne, we chose the song The Greatest Day by Take That to be played."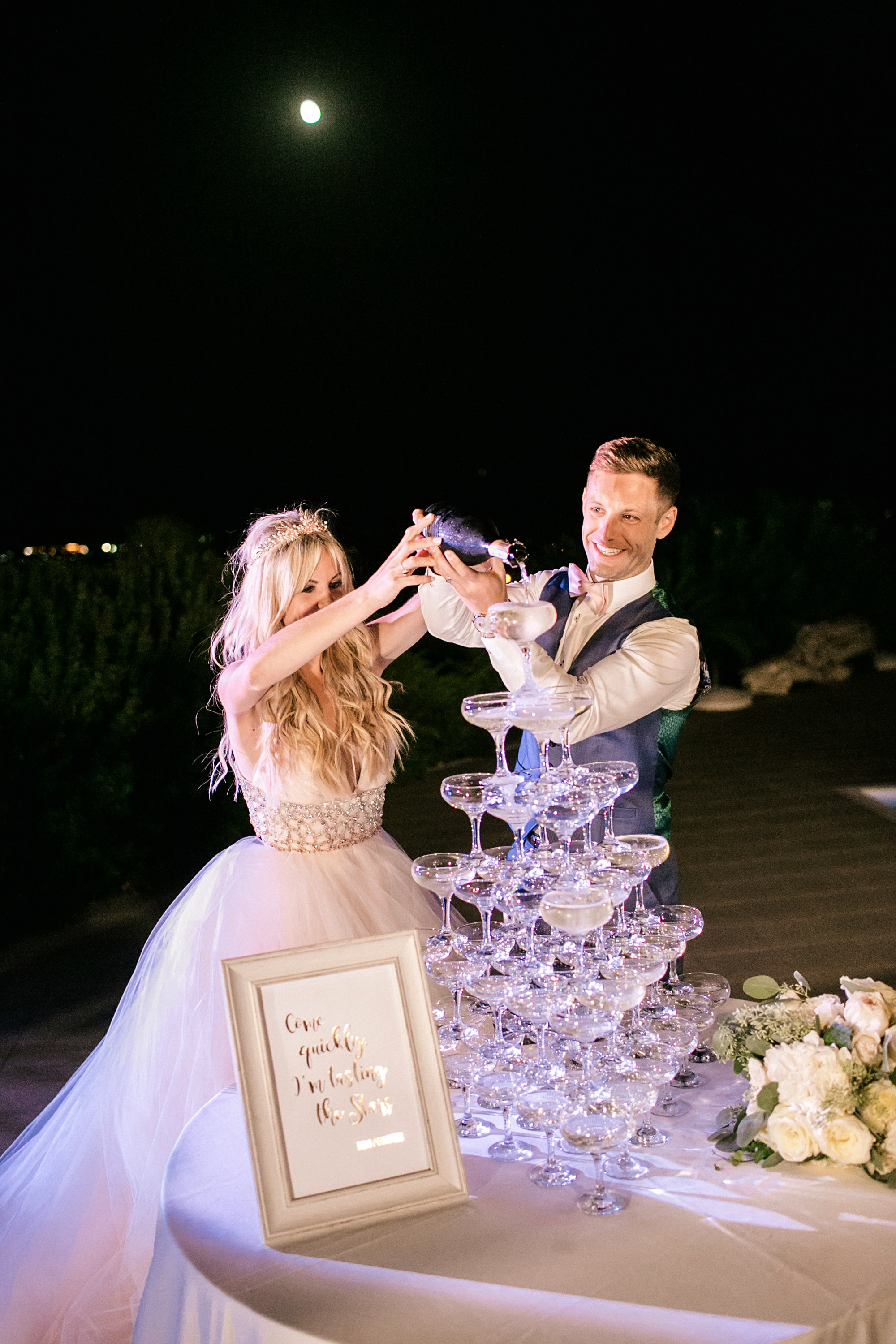 Evening entertainment was provided by Stelios G, who was joined by a band and singer, until 12.30am, when a DJ took over until 5am!
"Our first dance was By The Time this Night is Over by Kenny G and Peabo Bryson. This was the first thing we decided on when planning the wedding. It was an easy choice as it has always been a favourite of both of ours, and we play it a lot at home. It meant a lot to us."
"My dad and I danced to Sara Smile by Daryl Hall and John Oates. This was my parents' favourite songs the year I was born, and they named me after the song. It has always had a special meaning to us, and this was a very special moment."
"Our favourite part was having all of our loved one with us for a whole week in Crete, and sharing this special time with them. We are so glad we got married abroad, and started the planning process 18 months in advance. There is nothing that I would have done differently, apart from try to relax a little more in the week leading up to the actual day."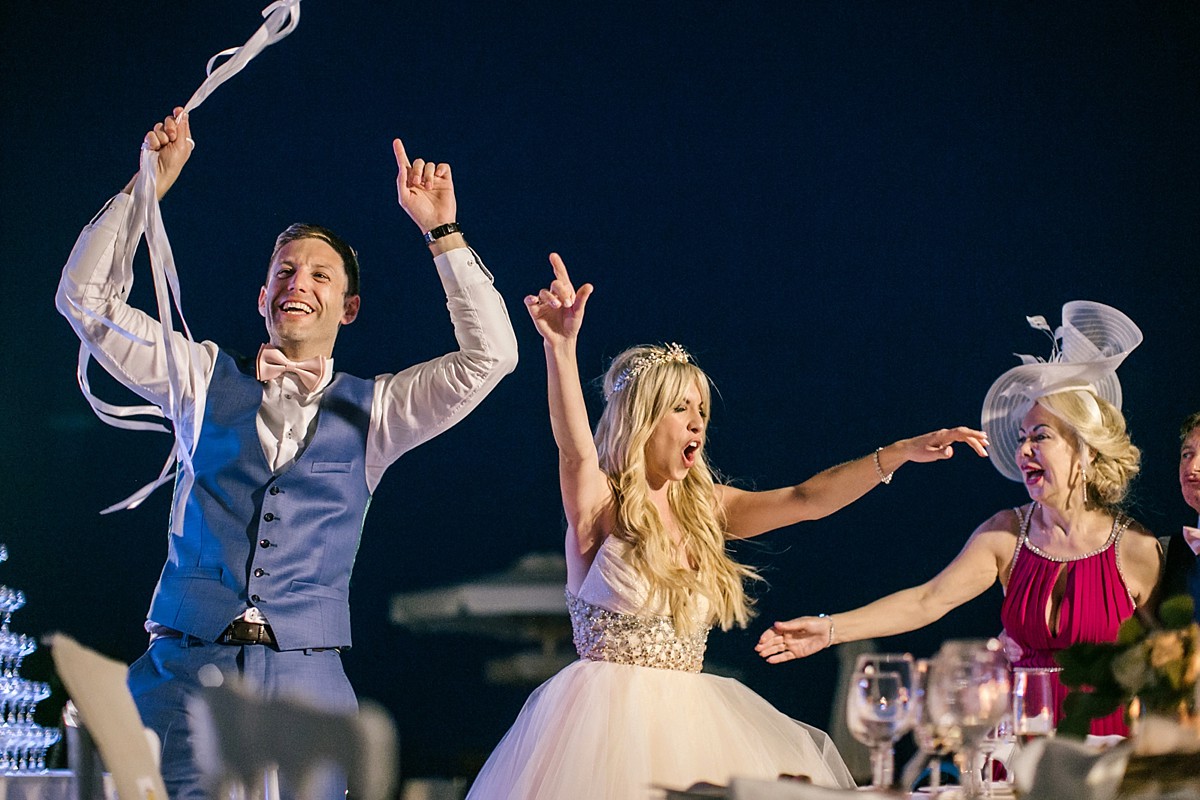 Words of Wedded Wisdom
"This is was the best time of my life. You should not only enjoy the day itself, but the lead up to it the week before, and the whole year or two you spend planning it. Cherish every second. I tried to make every part of the process a special event, including dress shopping with my mum, lunches with the whole family after fittings."
"The more you can do ahead of time, the less stressful it will be leading up to the day. Plan ahead and you can relax and enjoy the few weeks leading up to the wedding."
"Hiring a wedding planner was one of the best decisions we made as well. This took all of the stress out of the day itself, and Caroline from Moments could not have been more helpful with every step of the planning process. She was there to guide me and assure me with any questions or worries we had."
"Don't worry about the small things on the day, just enjoy your wedding day. No-one will notice if you didn't put the guest book out, or some extra lights on a tree."
"Make sure you have a photo list in advance for the family and friend portrait shots. This really will help the photographer and you to get through them all so you can enjoy the night. Elect a bridesmaid or groomsmen to take charge in rounding people up for the photographs."
"Follow your heart and what is special for you and your partner. Don't let anyone else influence your decisions; it's your day after all."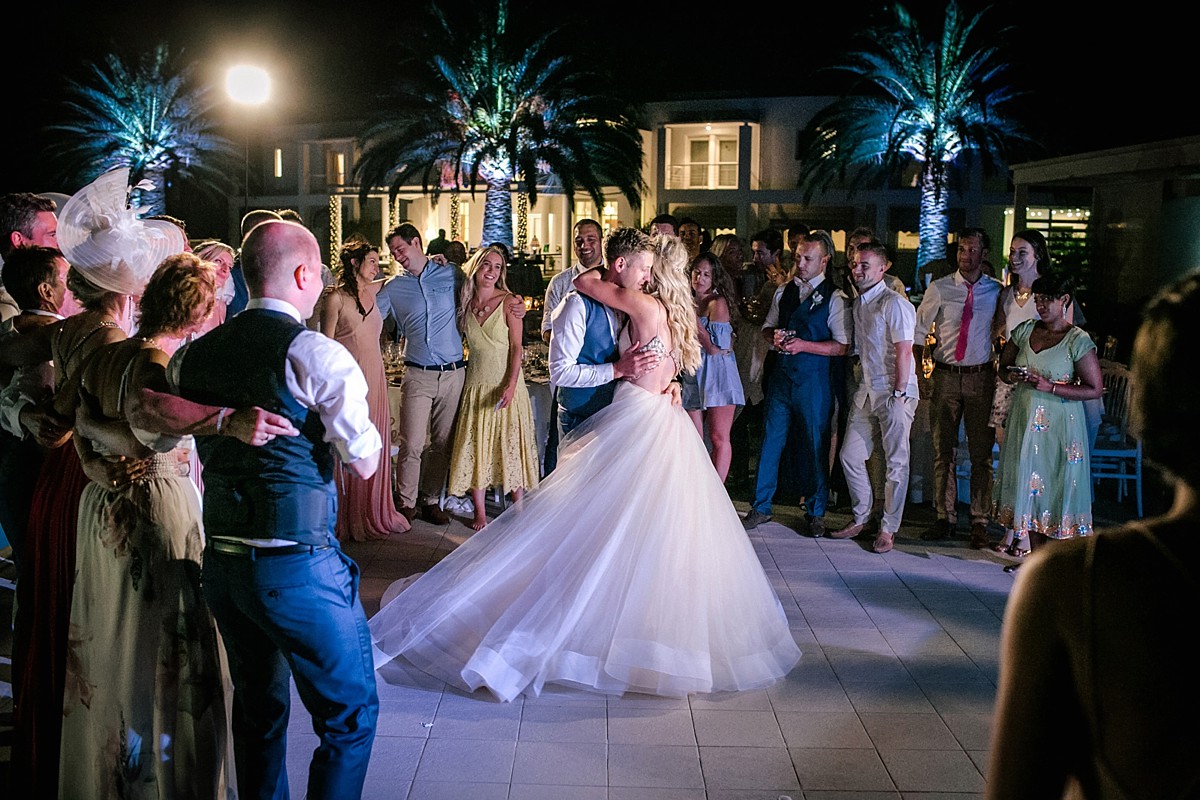 Sarah and David, congratulations, and thank you so much for sharing your incredible destination day with us! Big thanks also go to HannaMonika Photography for their beautiful images, too.
Until next time!
With love,
Laura