Today's wonderful wedding is an absolutely idyllic rural escape – a secret garden come to real and beautiful life.
It all takes place at an exclusive use venue, too, where our couple enjoyed a fun outdoor wedding weekend of celebrations with their loved ones, along with great food and wine.
Let's meet our couple – Roz, an account director for a drinks marketing agency, and Dave, a TV sports producer. They were married on the 9 June 2018 at The Copse, Kidmore End (near Reading). The couple attended the same high school, although didn't really know one another there, but began to see each other more when living in London, and finally got together a friend's murder mystery party!
Images + Videography by Megan Elle Photography
"We were looking for a venue that felt like it was in the country, but had easy access from London, as that was where most of our guests would be coming from. We were also looking for an exclusive hire venue, and loved the fact that The Copse only offered one wedding per weekend, with every booking being for four days / three nights, so both families and best friends could spend time together before the wedding – this felt really special and we have really lovely memories of this time."
Photography by Megan Elle Photography
Roz looked magical in her botanical inspired lace and tulle dress, with a gorgeous puddle train – the 'Frankie' by Made With Love Bridal, from East London based Heart Aflutter Bridal Boutique.
[RELATED]
"I knew I'd like a fitted lace dress, and when I started trying them on, realised quite quickly that I also liked something to keep it a bit sexy, such as a split, or a dramatic back. When I tried the 'Frankie' on I felt great and really comfortable, and mum and bridesmaids said this was the one I kept smiling the most in, which was obviously a huge clue that this was the one!"
"The lace was gorgeous, and I liked the semi-translucent top half. I loved the fact you could customise small things, such as removing the bustle at the back for a more slimline silhouette, adding pockets and having a longer train."
"I felt awesome in the dress, and absolutely loved wearing it! It also hugely helped having time and a lovely shop assistant when trying them on – I found dress appointments actually surprisingly pressured and stressful, but felt really relaxed at Heart Aflutter, as they didn't hurry me to make any decisions."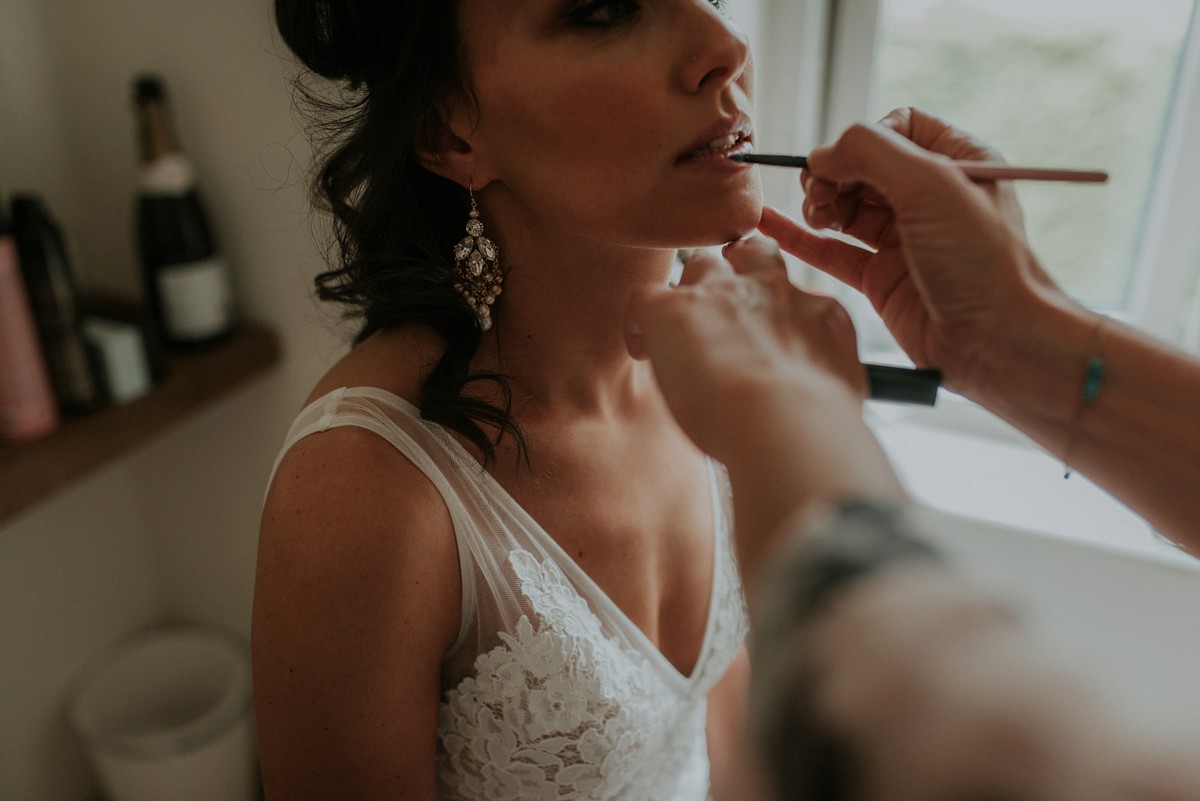 Together with strappy heeled sandals from Carvela, Roz wore pearl anklets from Salita Matthews, along with other pretty pearl pieces – statement earrings from Joanna Reed Bridal, a pearl ring borrowed from her mum, and an engraved Missoma bracelet, which her bridesmaids gifted to her for the wedding day.
"My fragrance was Chanel Chance Eau Fraîche. I wear it every day and love it, so I felt it made complete sense to wear it on my wedding day as it was so familiar. I thought it would feel strange to wear a different fragrance to what I usually do every day!"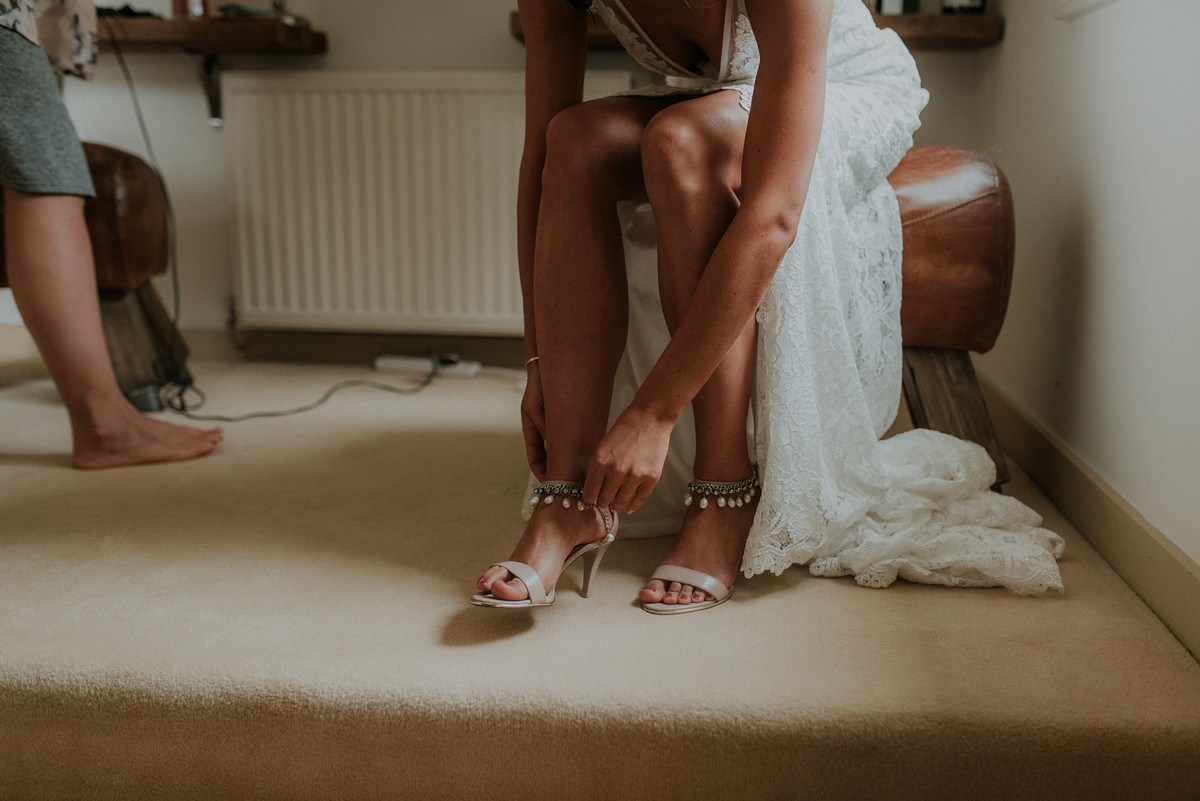 Taking care of Roz's elegant and stylish hair and make-up was Sarah Edwards-Knight, who also added a fresh flower comb from florist Green & Gorgeous.
Green & Gorgeous created a glorious bouquet of seasonal blooms, with exuberant peonies and blush pink garden roses, with greenery and dramatic pops of deep burgundy.
"Green & Gorgeous is a nearby florist who grows all her flowers herself on her farm. I had no idea about flowers, all I knew was I wanted a relaxed, slightly undone bouquet, so we totally relied on Rachel to come up with something with limited direction! The end result was great!"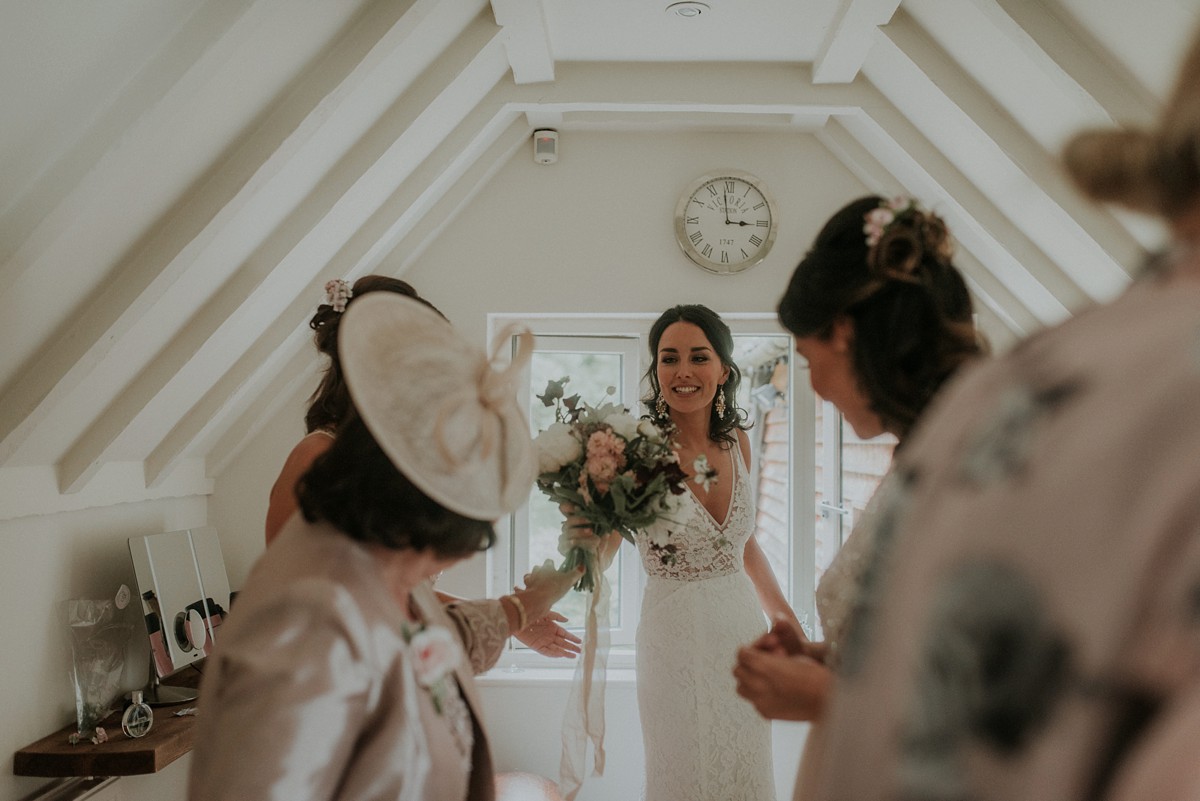 Roz's bridesmaids wore different dresses from Monsoon – a bright cocktail dress, and a blush pink maxi dress embellished with sequins, together with shoes from Kurt Geiger and earrings from Aldo.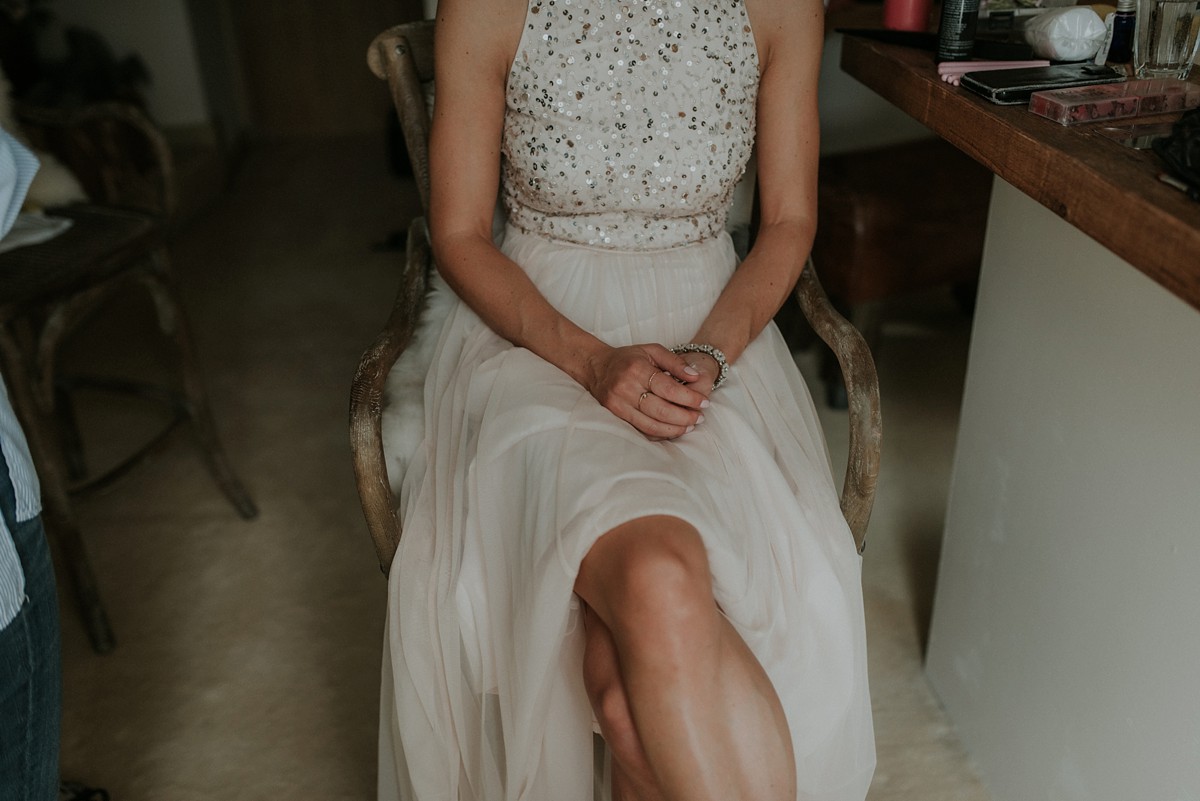 Guests gathered in the lovely, canopied ceremony space at The Copse, and Roz was accompanied down the aisle by her dad, choosing the song Sweet Disposition by the Temper Trap as her entrance music.
Roz's dad had made a beautiful arbour from tree branches, which florist Green & Gorgeous dressed with foxgloves and abundant foliage, and Roz and Dave exchanged their vows in front of it, with the ceremony conducted by a registrar from Berkshire Council.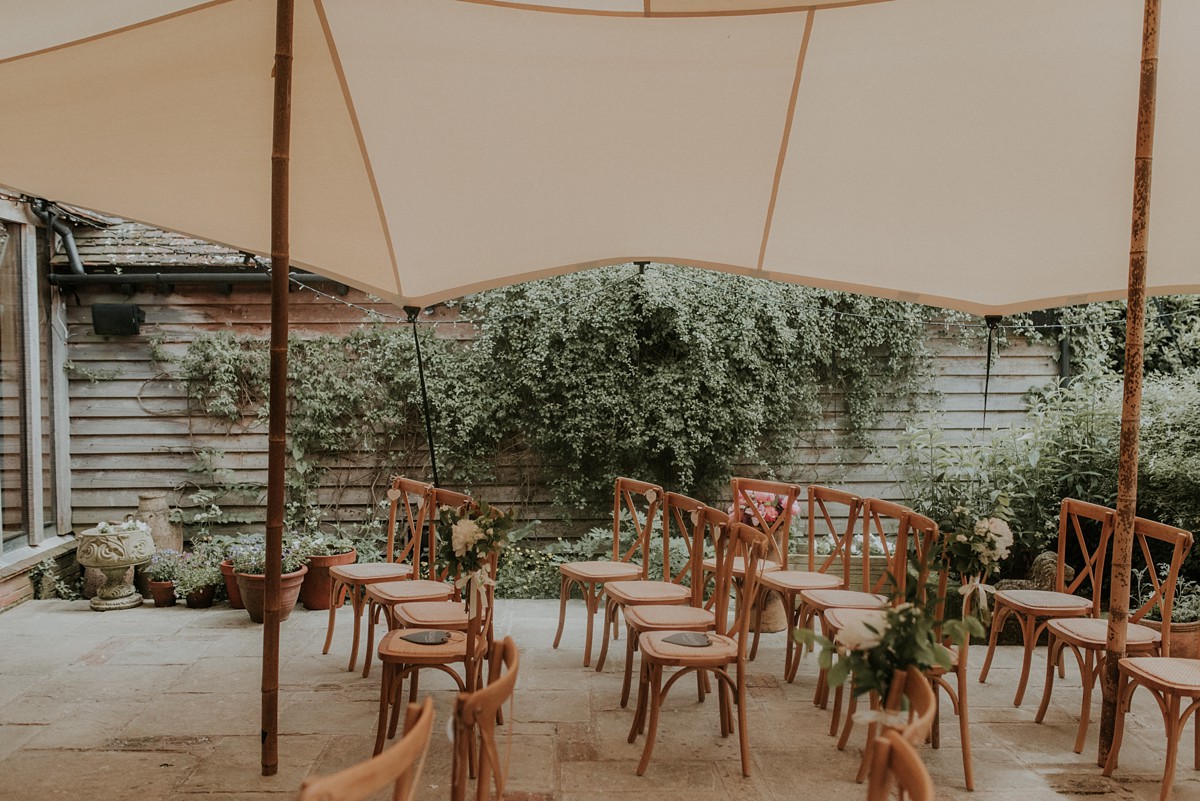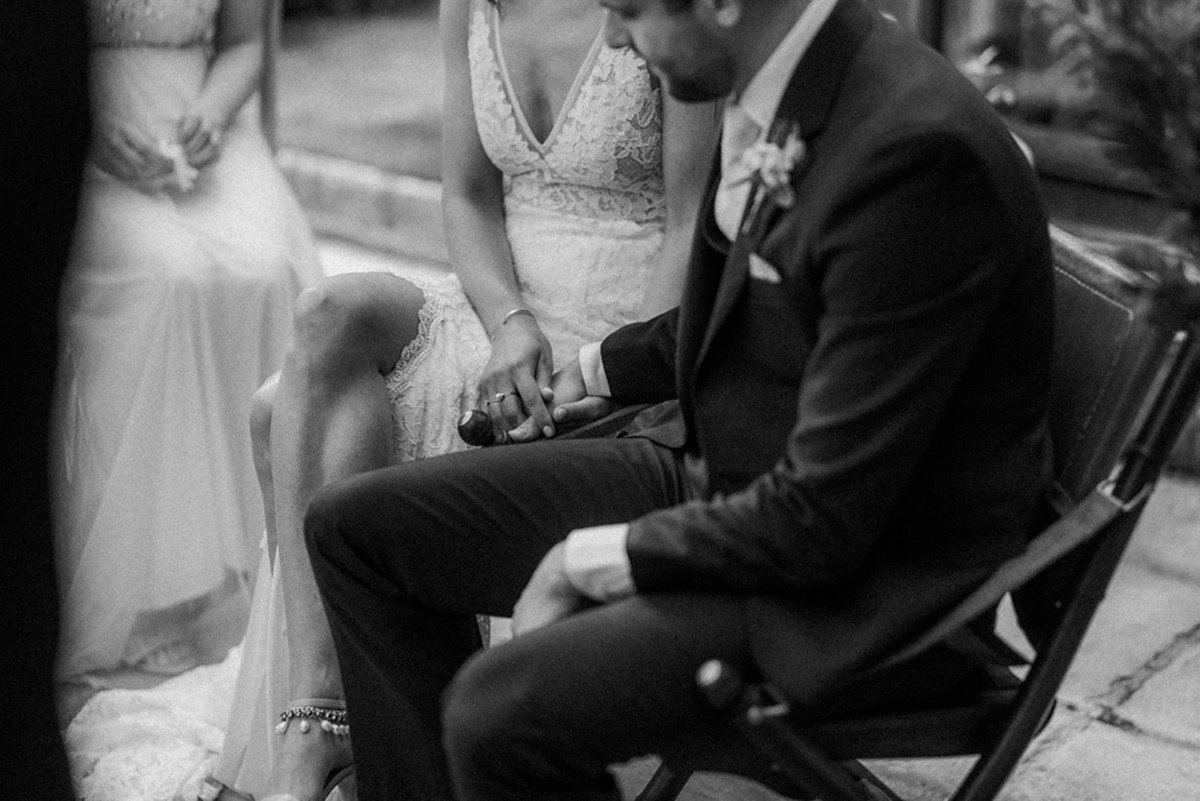 The couple chose readings to include during the ceremony, choosing two that had the perfect balance of sweetness and humour – He's Not Perfect, by Bob Marley, and a piece entitled The Mayonnaise Jar and Two Beers.
"My favourite part of the day was actually the ceremony, as I finally relaxed and stopped feeling nervous! I couldn't believe it was finally happening."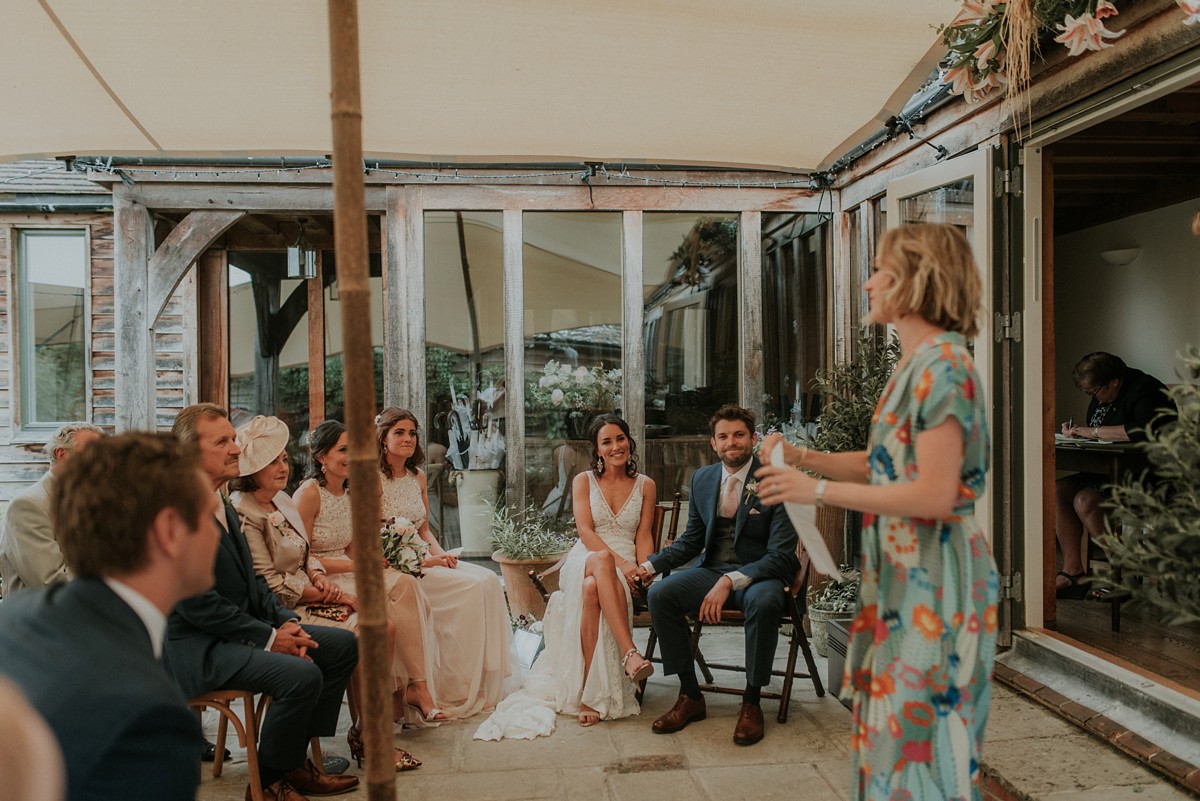 Dave wore a blue suit with contrasting grey waistcoat from T.M. Lewin, together with a pale pink tie and pocket square from John Lewis, with his groomsmen in the same matching outfits as him.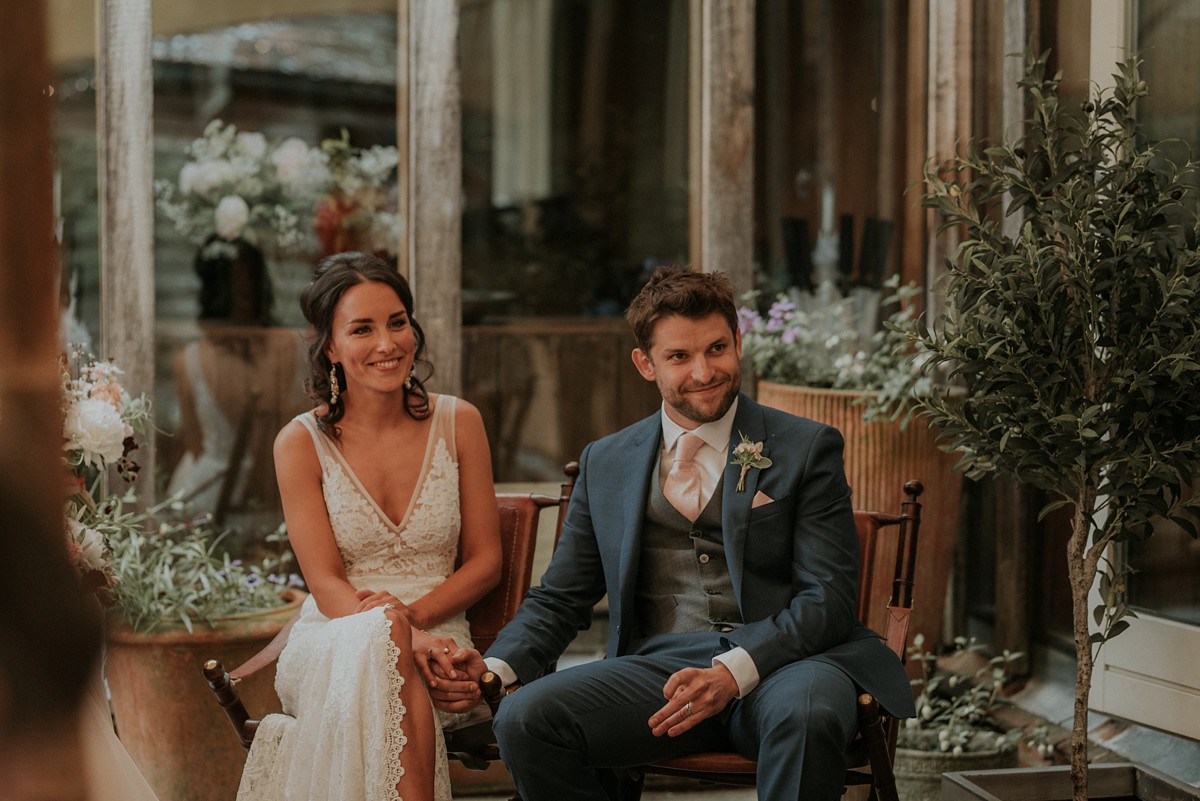 "We bought our rings from Vince Loveland, AKA the Hatton Garden Jeweller, as this was who Dave bought my engagement ring from. Vince makes all the rings from scratch, so they feel totally bespoke. He made my wedding band with a little groove at the top to fit perfectly under my engagement ring."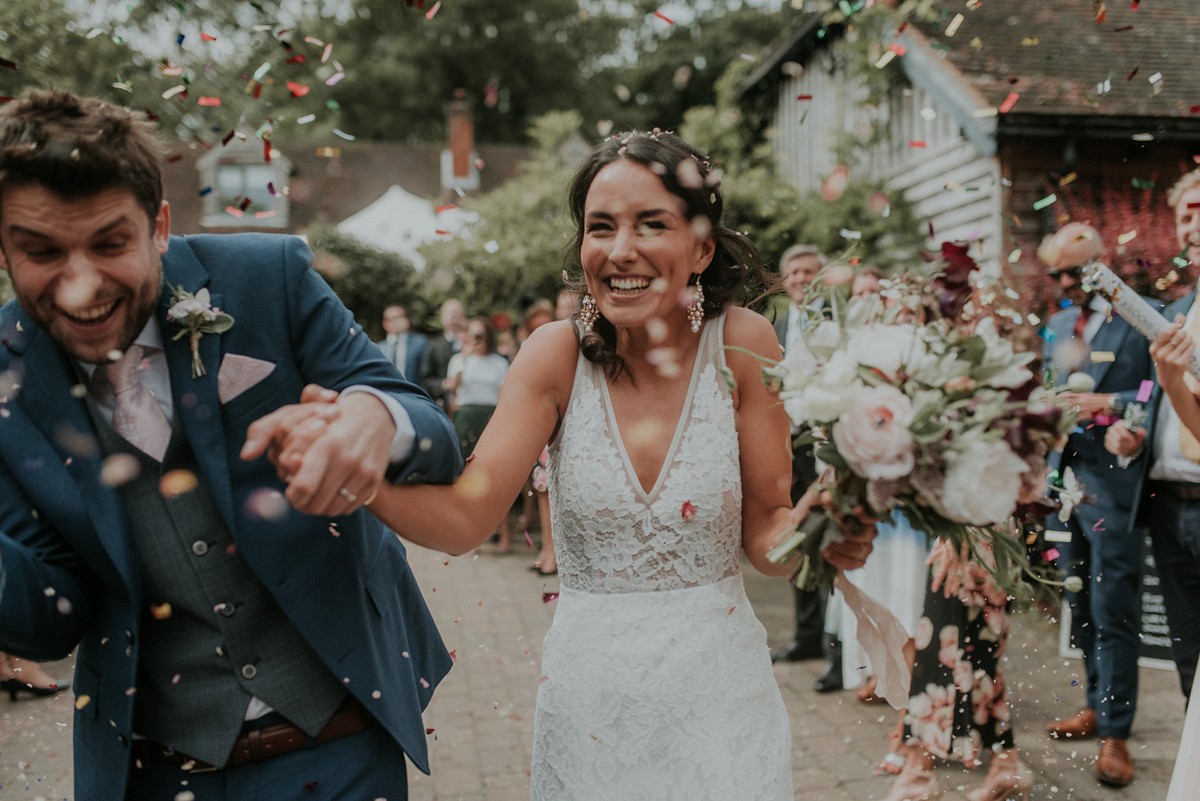 Today we're featuring the work of Megan Elle Photography for the first time, and what a treat these images are to share, not to mention the brilliant highlights film above. Roz and Dave were thrilled with Megan's work, and the finished results.
"Megan was fantastic and is hugely talented – we love our pictures so much. Her style of photography suited our venue perfectly, as it was a garden wedding, so lots of trees and green fields around. She offered a complimentary engagement shoot so we could get comfortable with her, and being in front of the camera, which was really useful."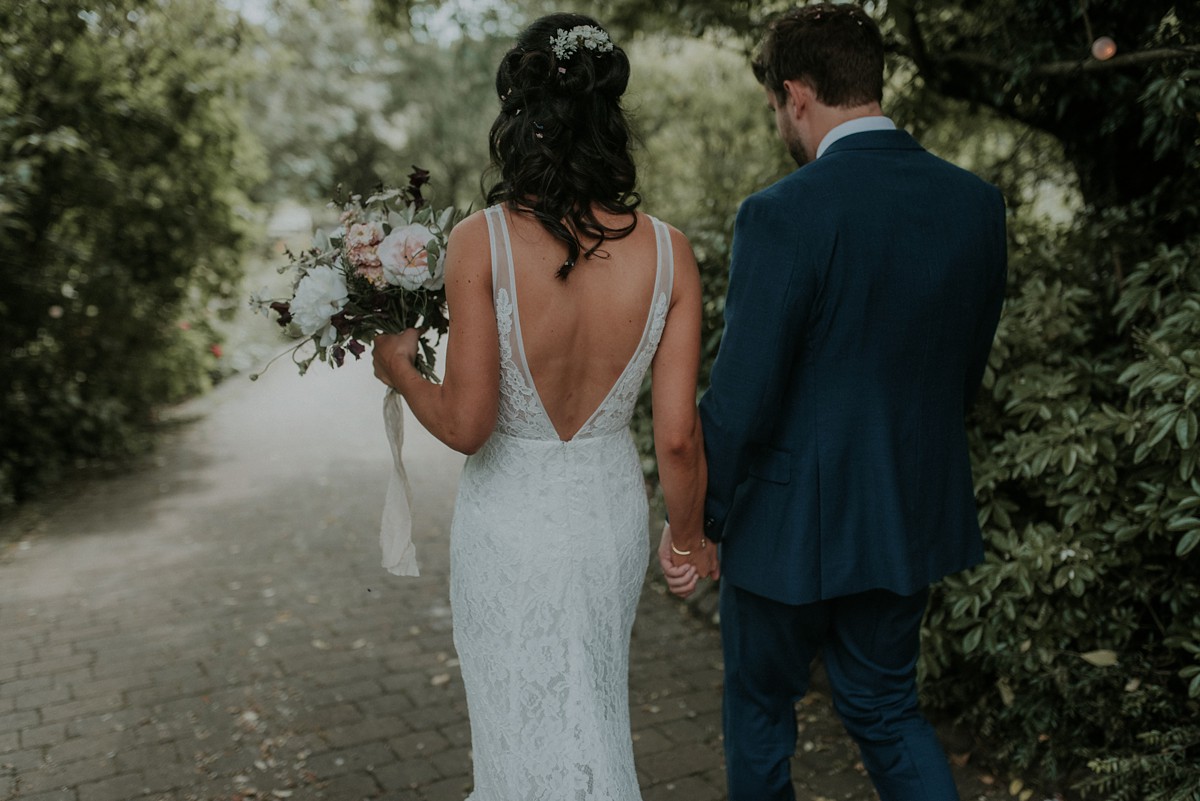 "On the day, she arrived and got stuck in straight away, she wasn't invasive at all and quietly got on with taking some amazing photos. She had an eye on the light and pulled us away to get some couple shots in the evening, and stayed right up until 10pm to capture some crazy dancefloor shots."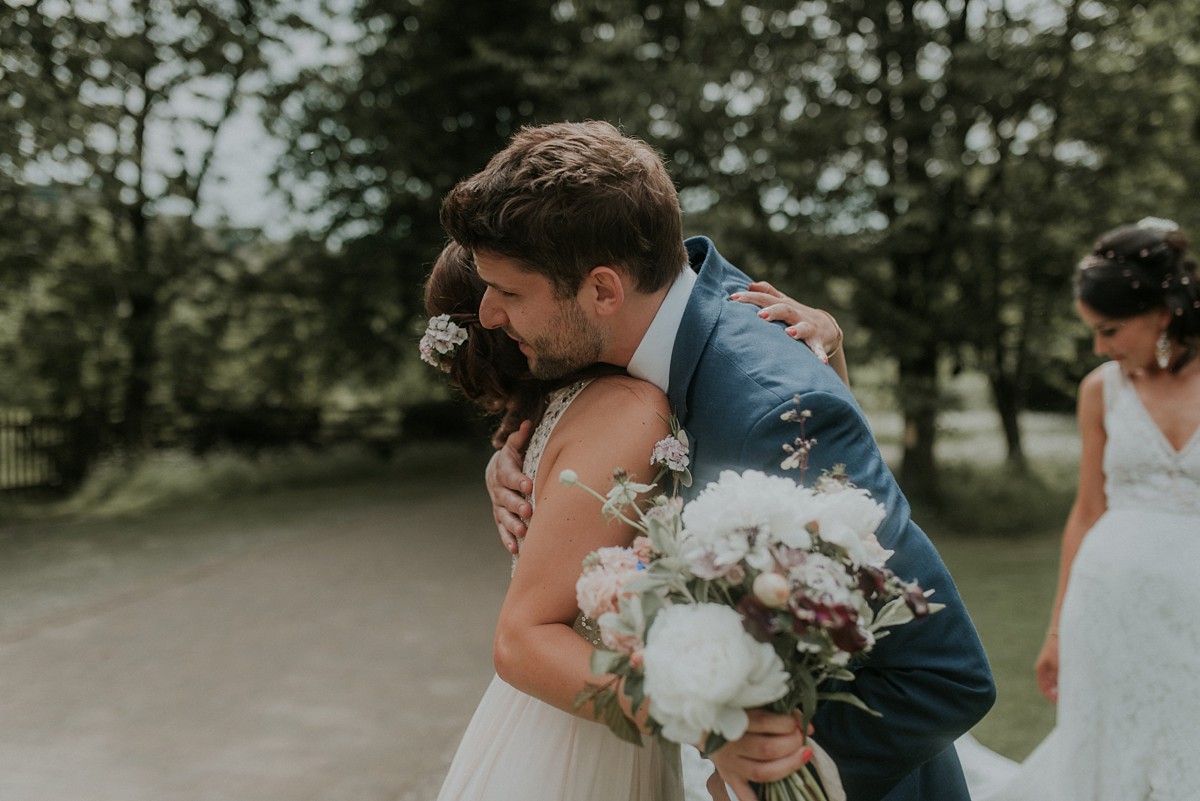 "What was also so nice was that Megan managed to do a super quick edit and send us 40 'best of' pictures the very next day before we headed off on our honeymoon, which was so thoughtful – we can't rave about her enough!"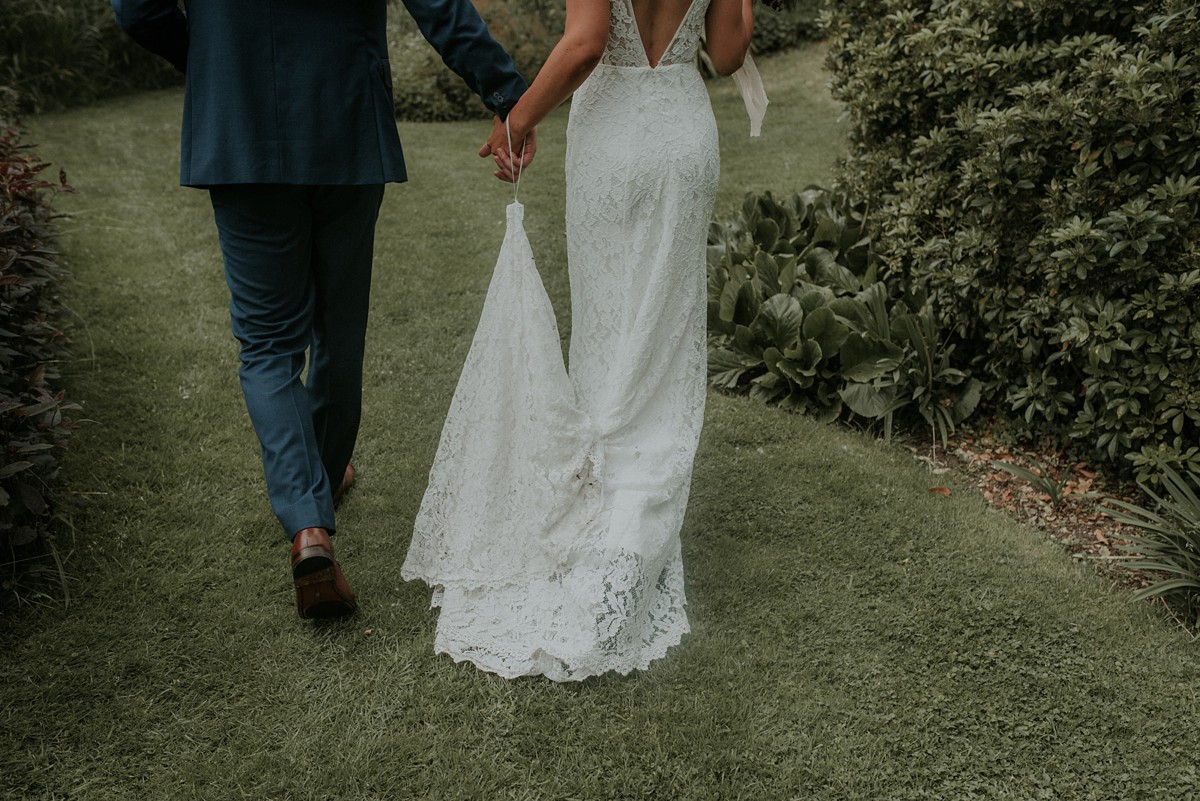 "Megan offers a great, cost-effective package to have a second shooter on the day and create a highlights video from it – I'm so pleased she does this. The video is so special and we will watch it for years to come – such a great way to sum up the day!"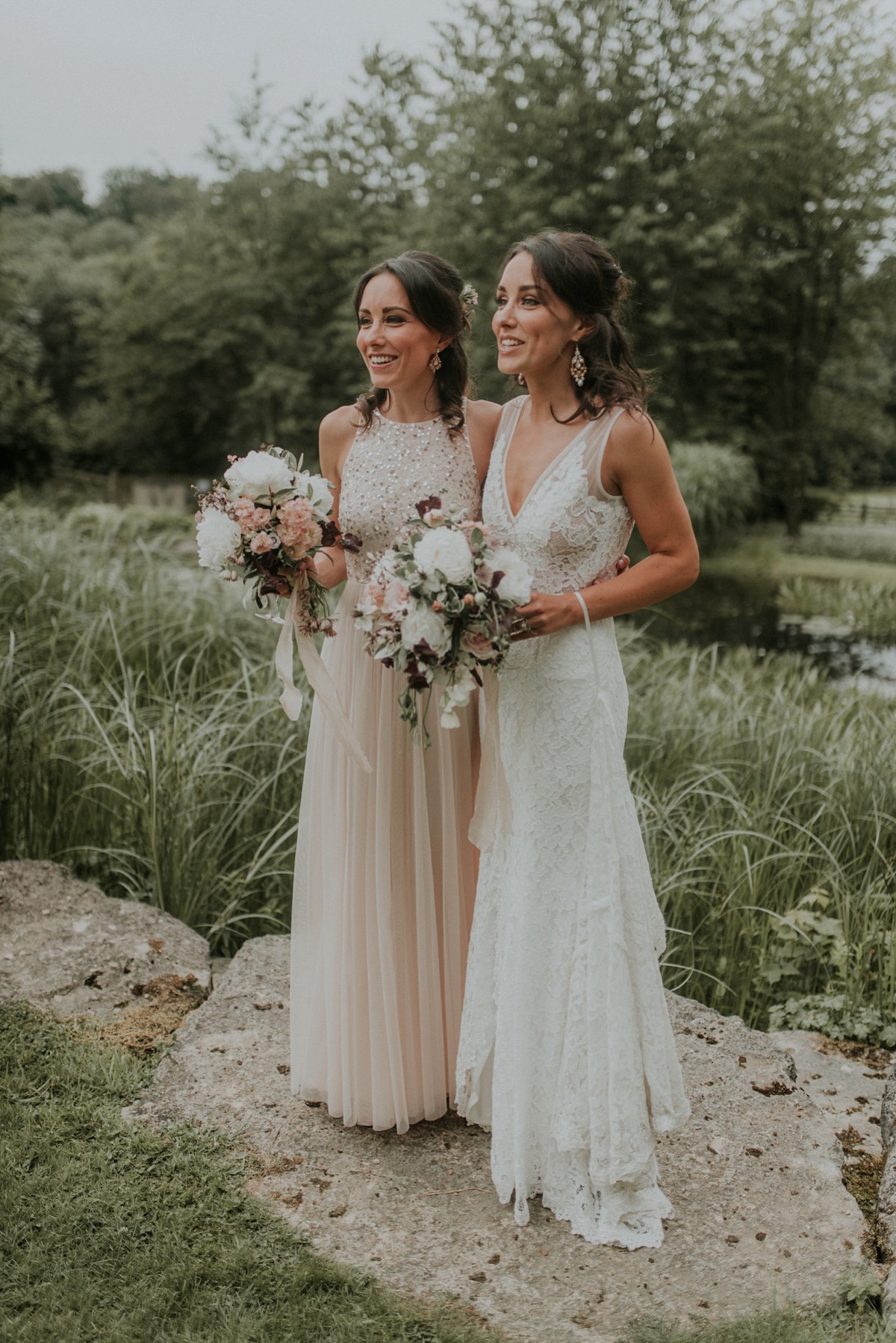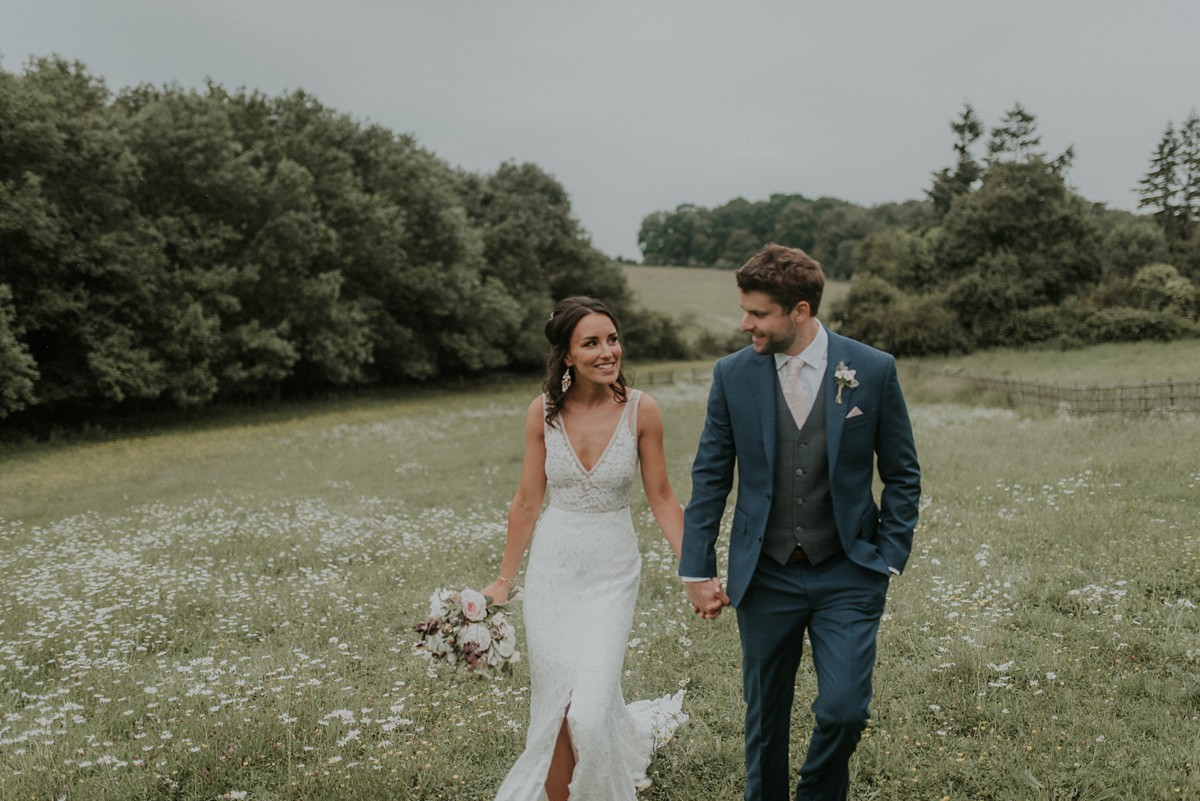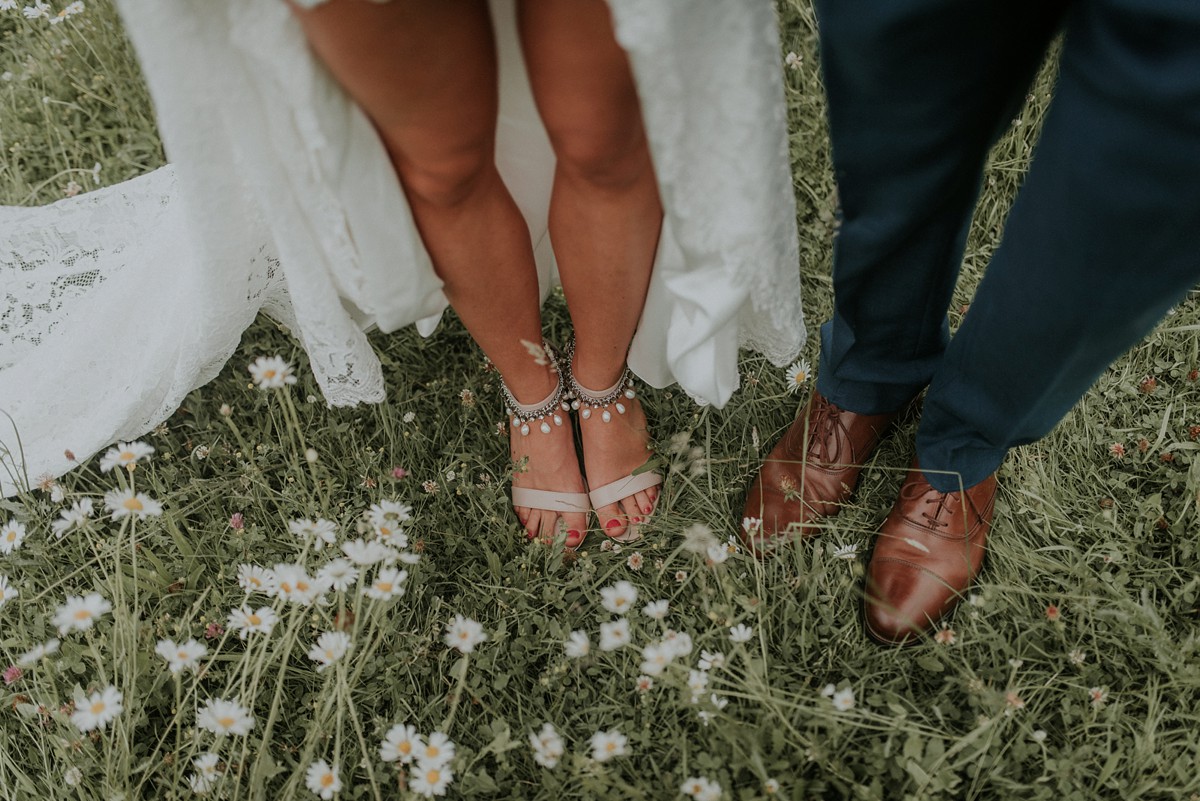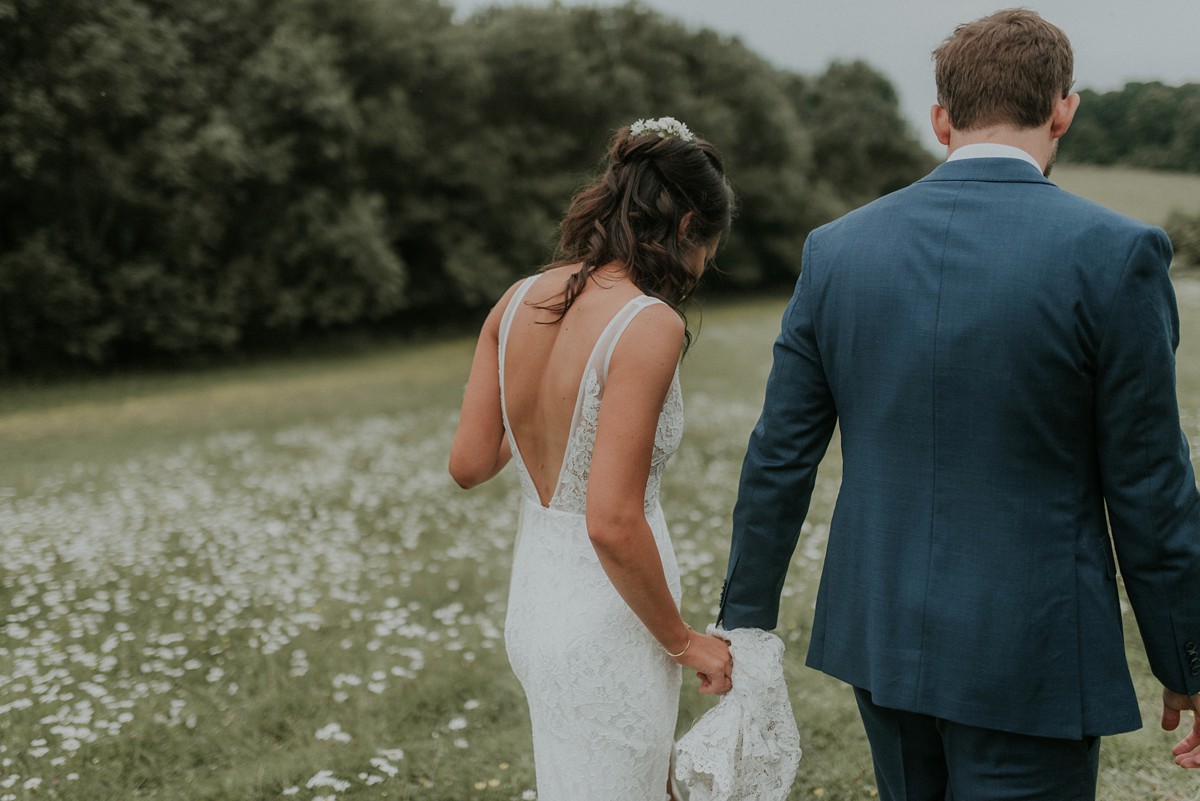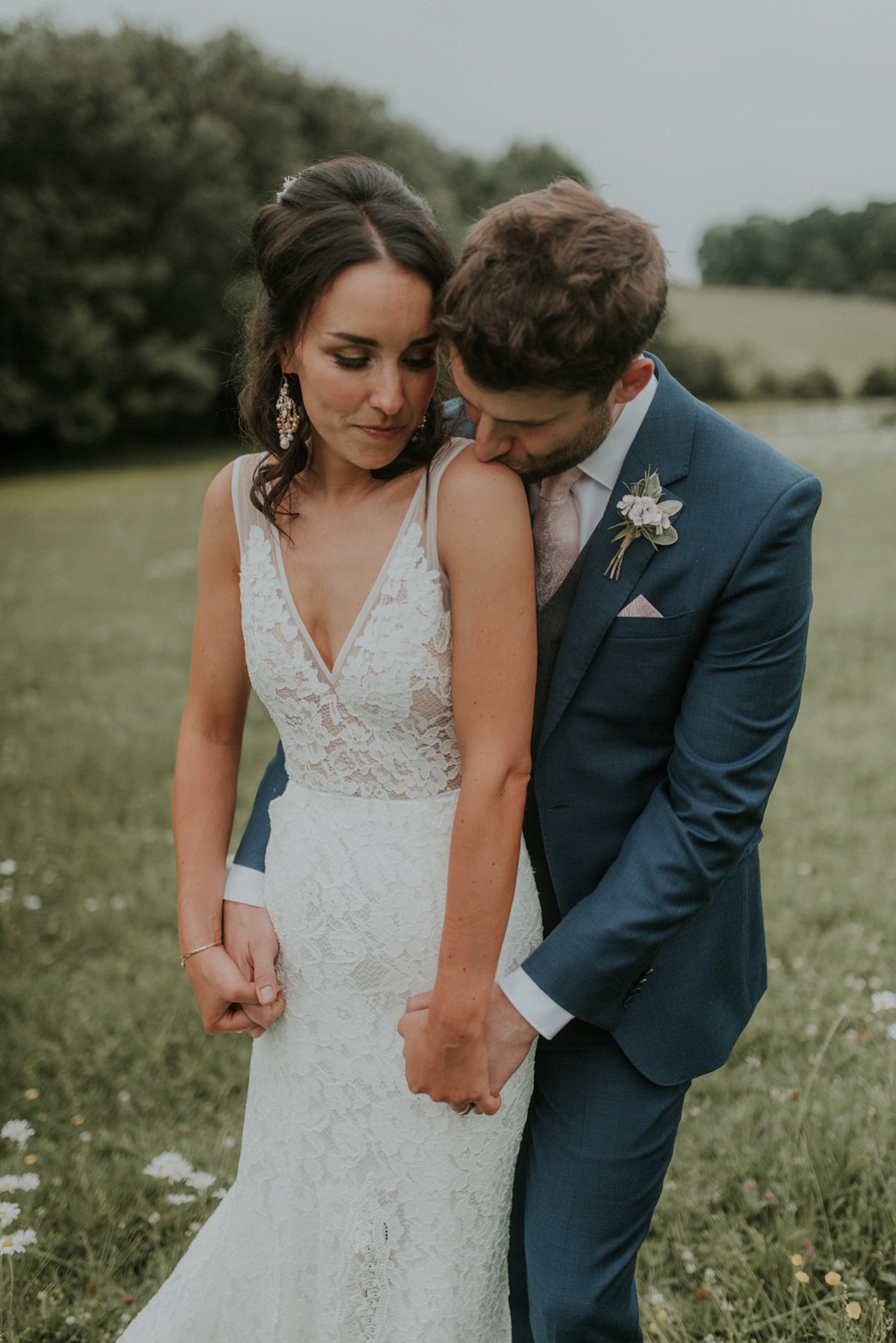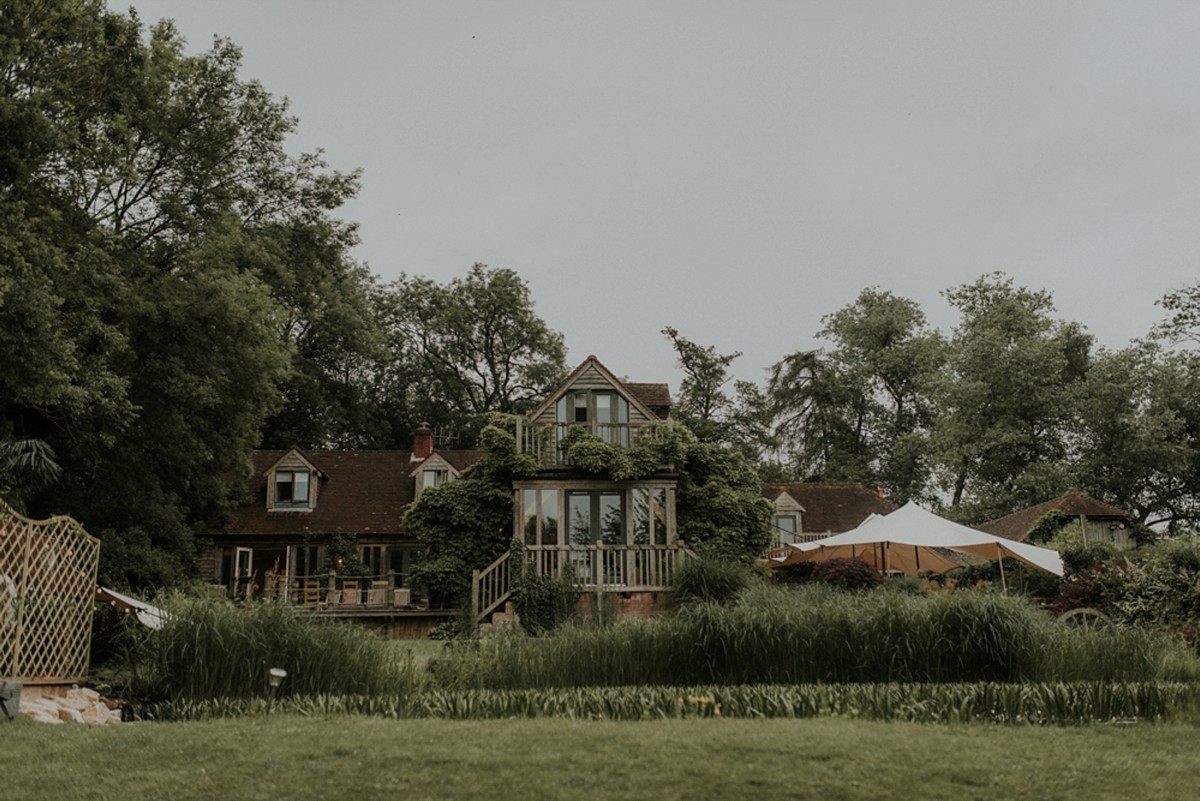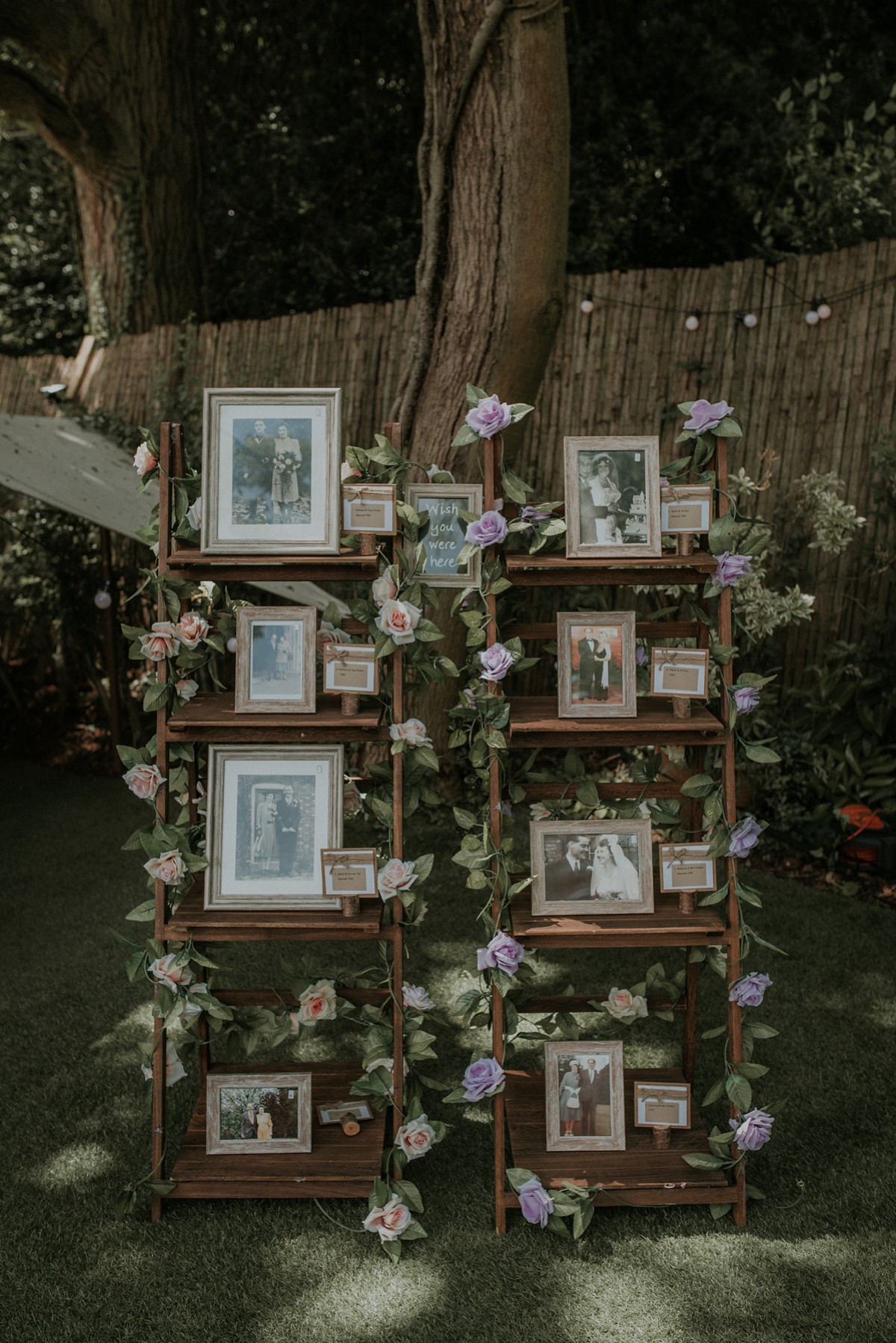 "We didn't have a strong colour theme as such; we were keen to keep it quite natural. I was inspired by boho chic vibes and the setting the wedding would be in, so used green foliage on the tables and kraft paper for the stationery, but with a hints of gold for a touch of glamour to fit the occasion."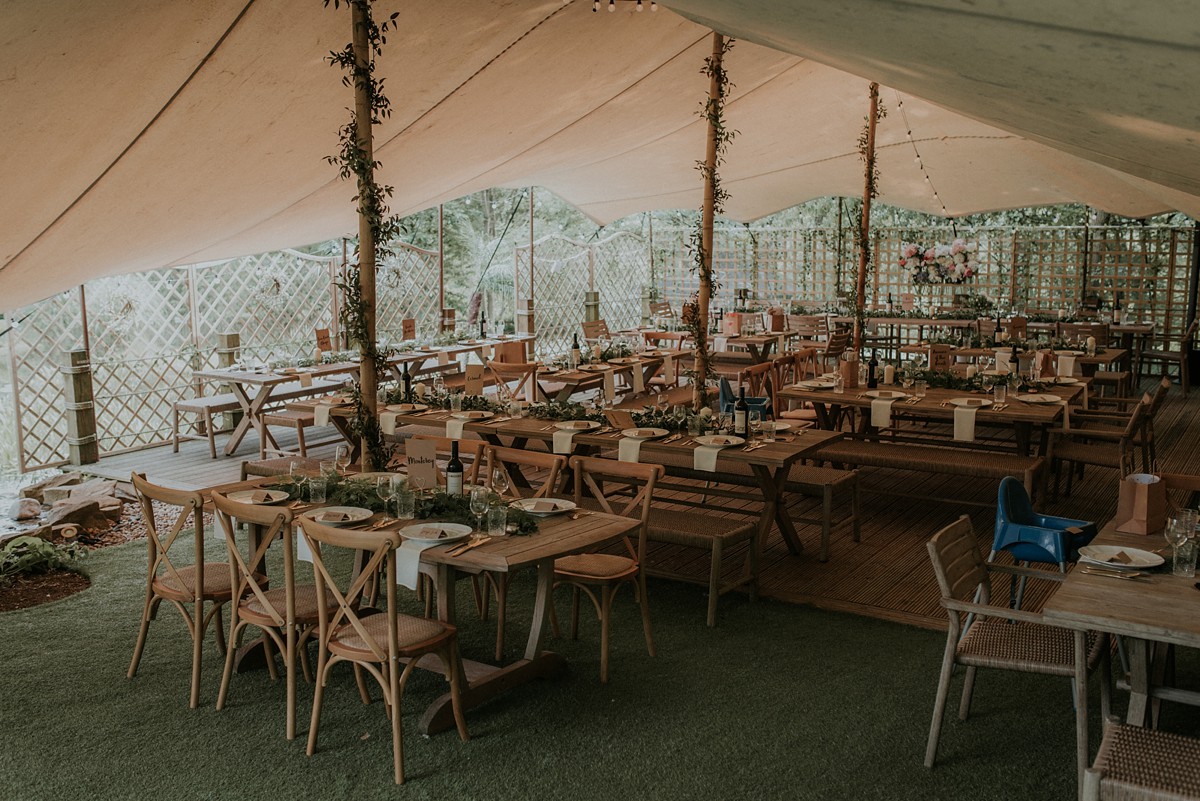 Stylish kraft paper and gold foil stationery for the day was designed and created by Lovestruck Wedding Stationery, whilst friend Elly handwrote guest place cards for the dining tables.
"Luckily for us The Copse is so beautiful it doesn't need much decoration, but they actually had a decoration store on-site with lots of useful things to decorate the venue – candles and candle holders, faux flowers and foliage, wooden boards for the desserts and cheese, and decorative stepladders all came from there."
I love the look of the long, rustic dining tables with mixed benches and chairs, with simple white crockery and napkins, and garlands of greenery woven down the centre of the tables. For favours, Roz sourced mini bottles of Stolichnaya vodka from her place of work.
"The Copse was quite unique in that it offered the chance to bring in your own suppliers (food, wine, booze) which was quite important for us as I work in drinks, and Dave's sister works in wine! The Copse was also just gorgeous, and we fell in love with it immediately. When they said they only had one available date left in 2018 – we took it immediately!"
Tremendous food was laid on by Up In My Grill, with canapes, delicious bavette steak, chicken, grilled halloumi, fries and salads.
"We had so many good comments about the food, and I'm so glad we went with them. Our dessert was made by Rebecca Barrett, a local chef who made some incredible summer berry pavlovas with edible flowers, which looked stunning and tasted divine!"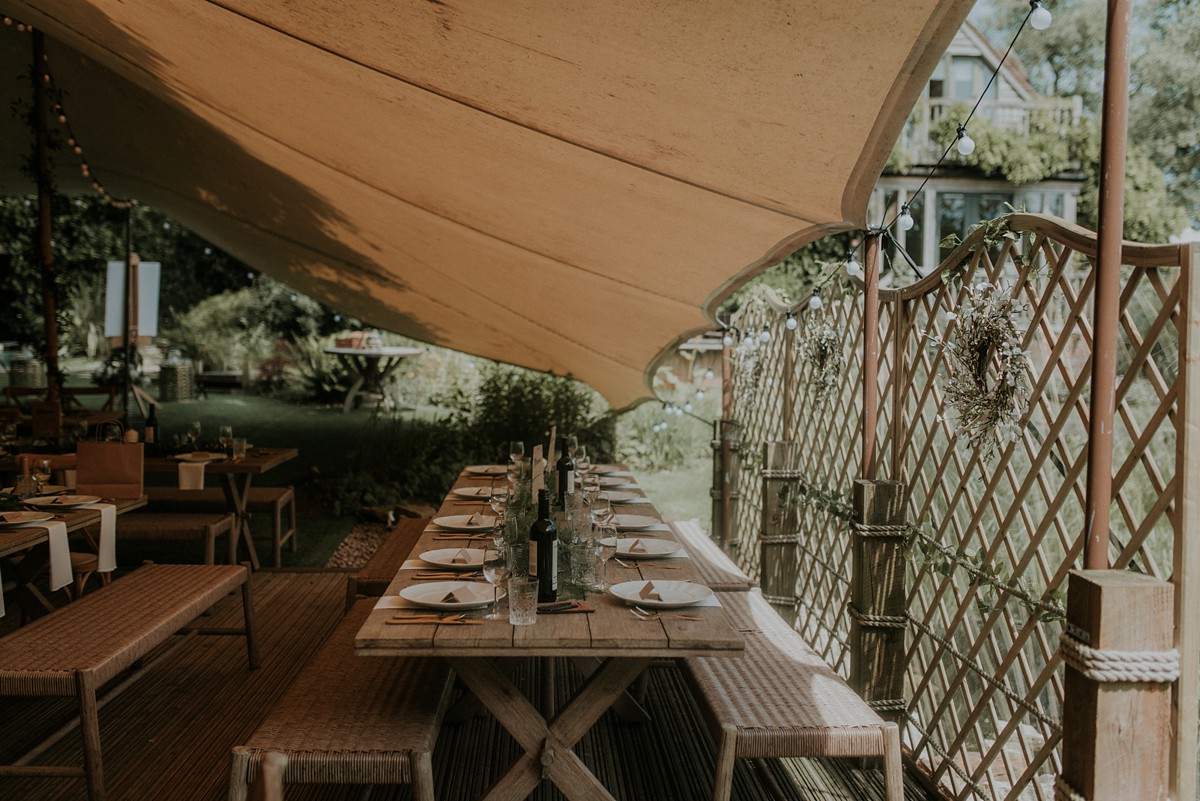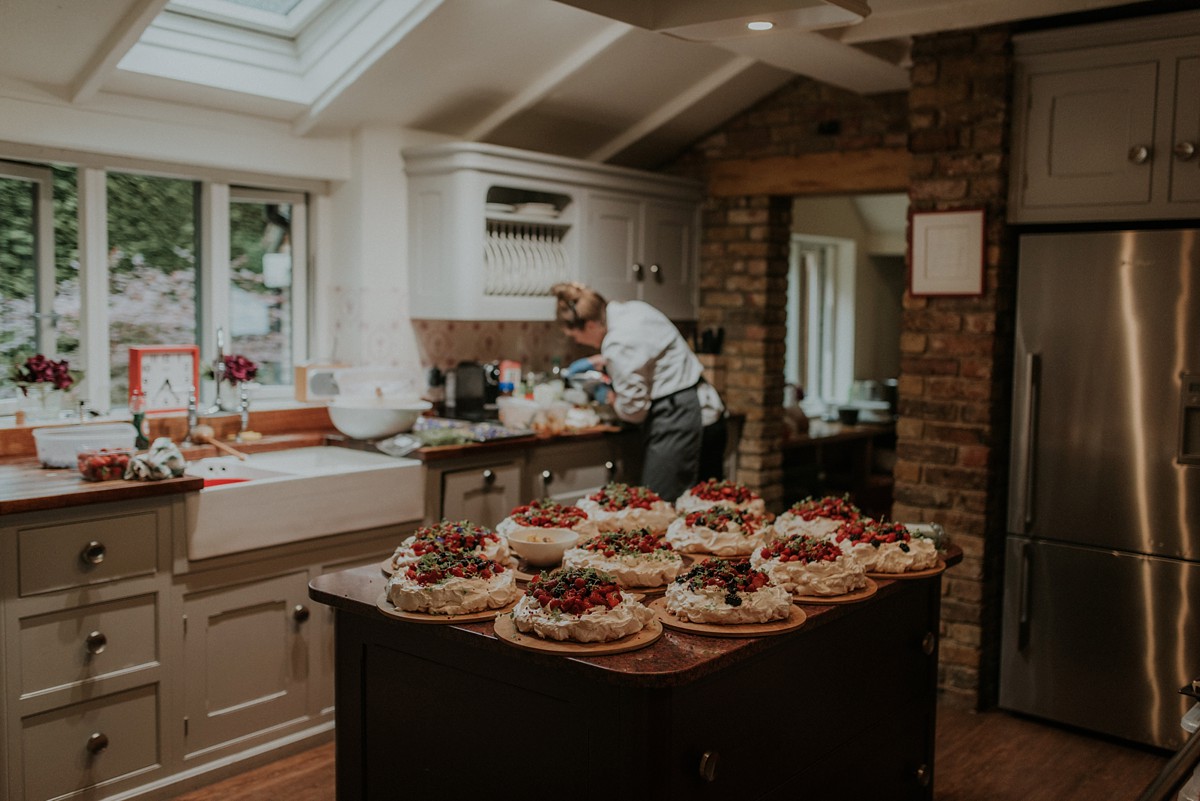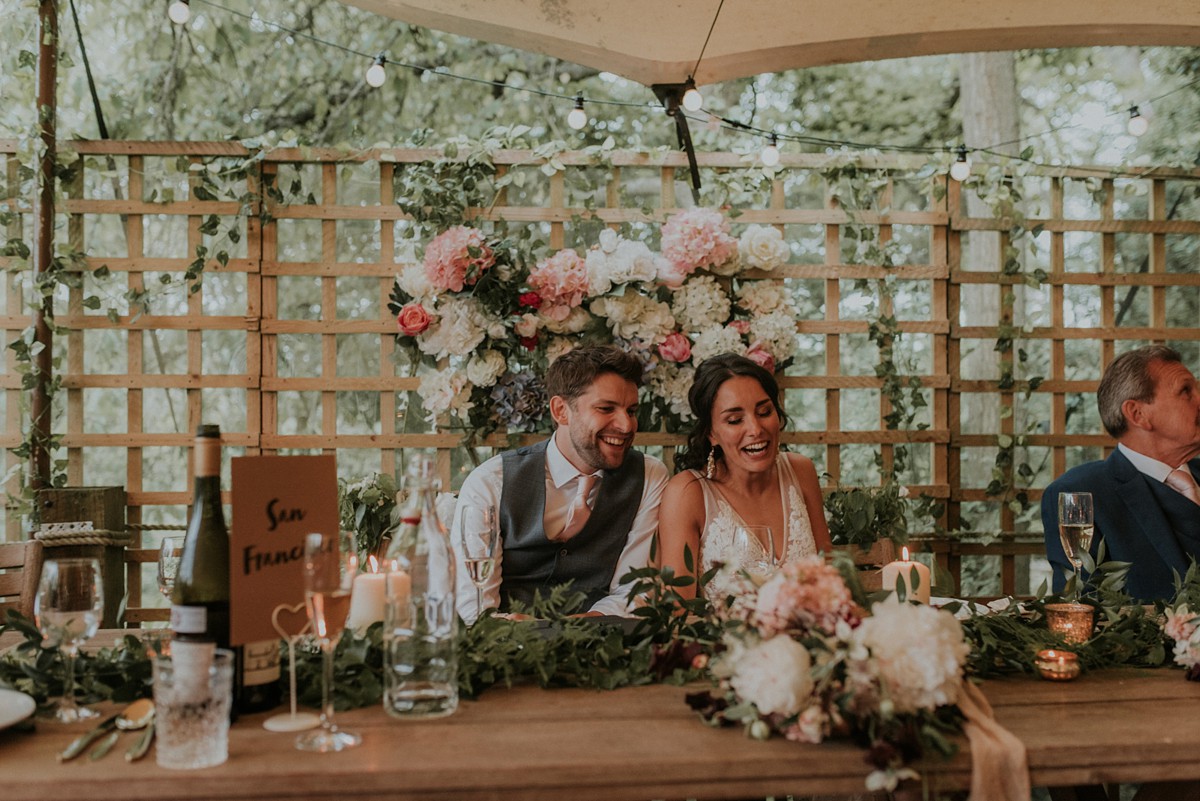 Instead of a wedding cake, cheese-lovers Roz and Dave went with a cheese tower from The Grumpy Goat, served with crackers and fruit.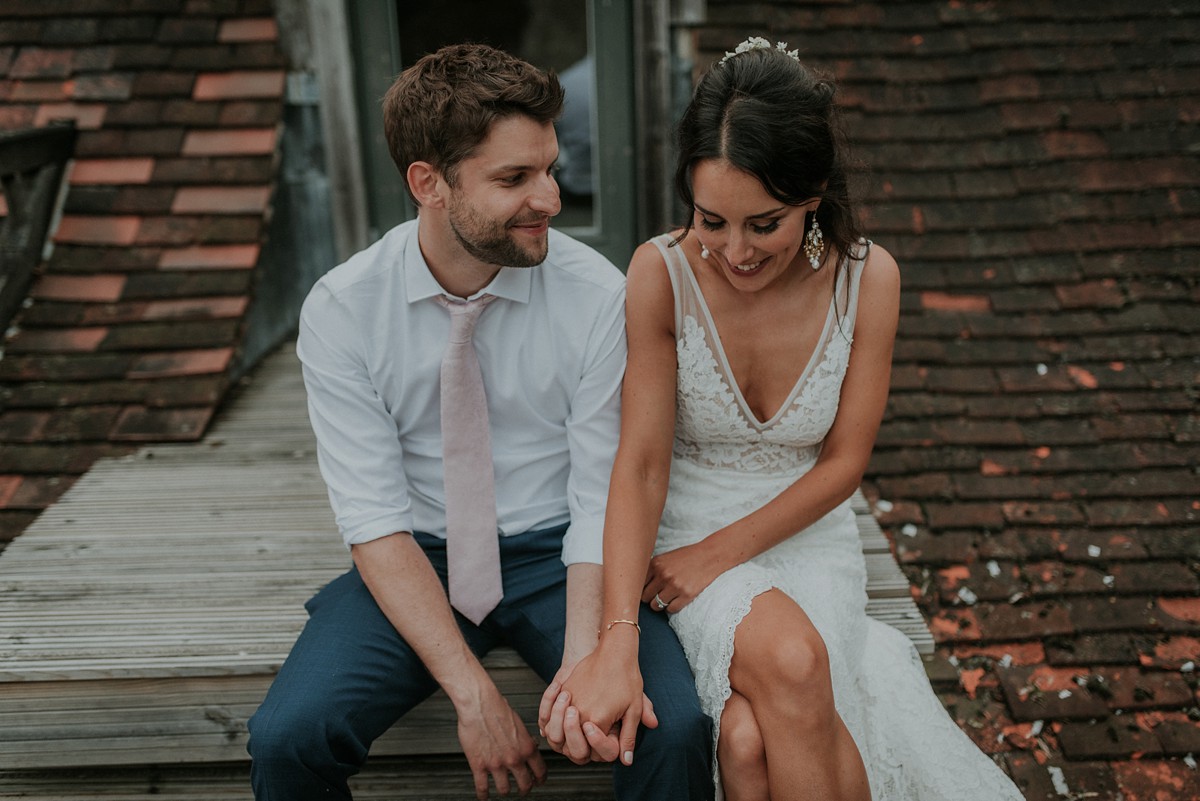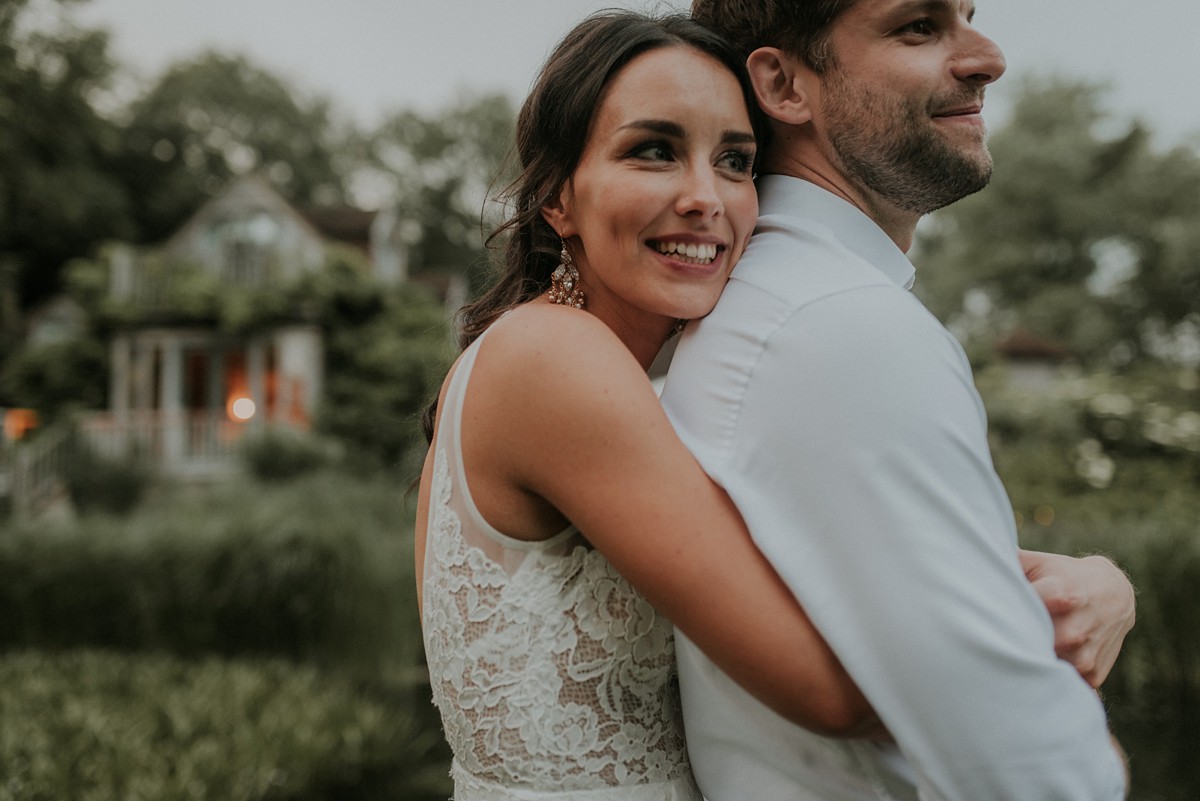 "We had a neon sign made, which says California Dreamin', to remind us of where we got engaged, which we had up on the dancefloor, and are going to put up in our house eventually! This came from Bag & Bones."
Brilliant live music was performed by six piece party band Pop (London), who Roz and Dave booked through Tailored Entertainment.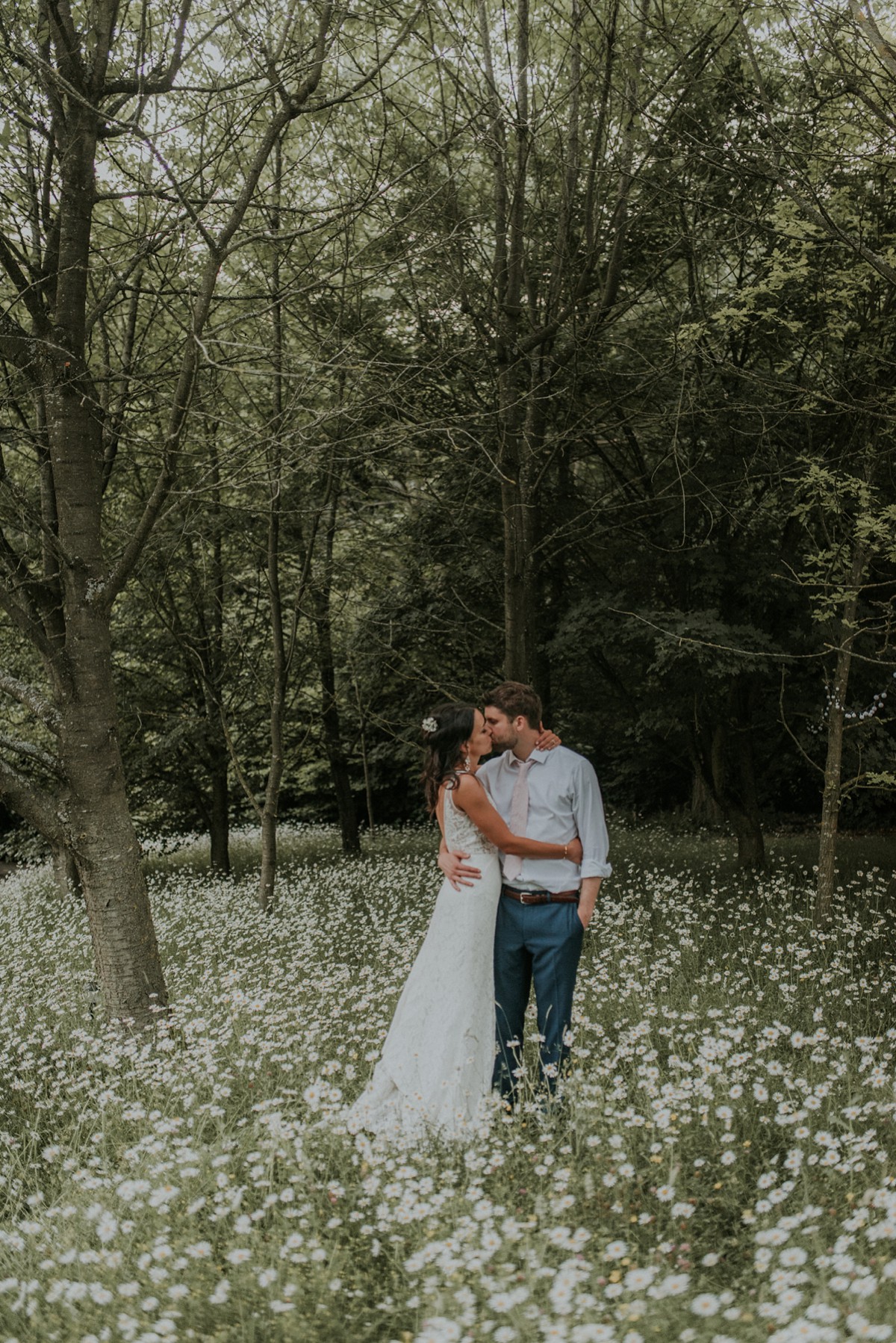 "Our first dance song was Tennessee Whiskey by Chris Stapleton. We had started listening to a lot of Chris Stapleton in the lead up to the wedding in the evenings, as we were wedding planning, drinking wine or whiskey (!) and landed on this song, as it mentions both in the song! His voice is incredible."
"I think if I did it again I'd make sure I got some portrait shots of me and my parents before we went out to the ceremony, as after that it's hard to find a moment! We didn't get a chance as we ended up being rushed to finish getting ready before the ceremony."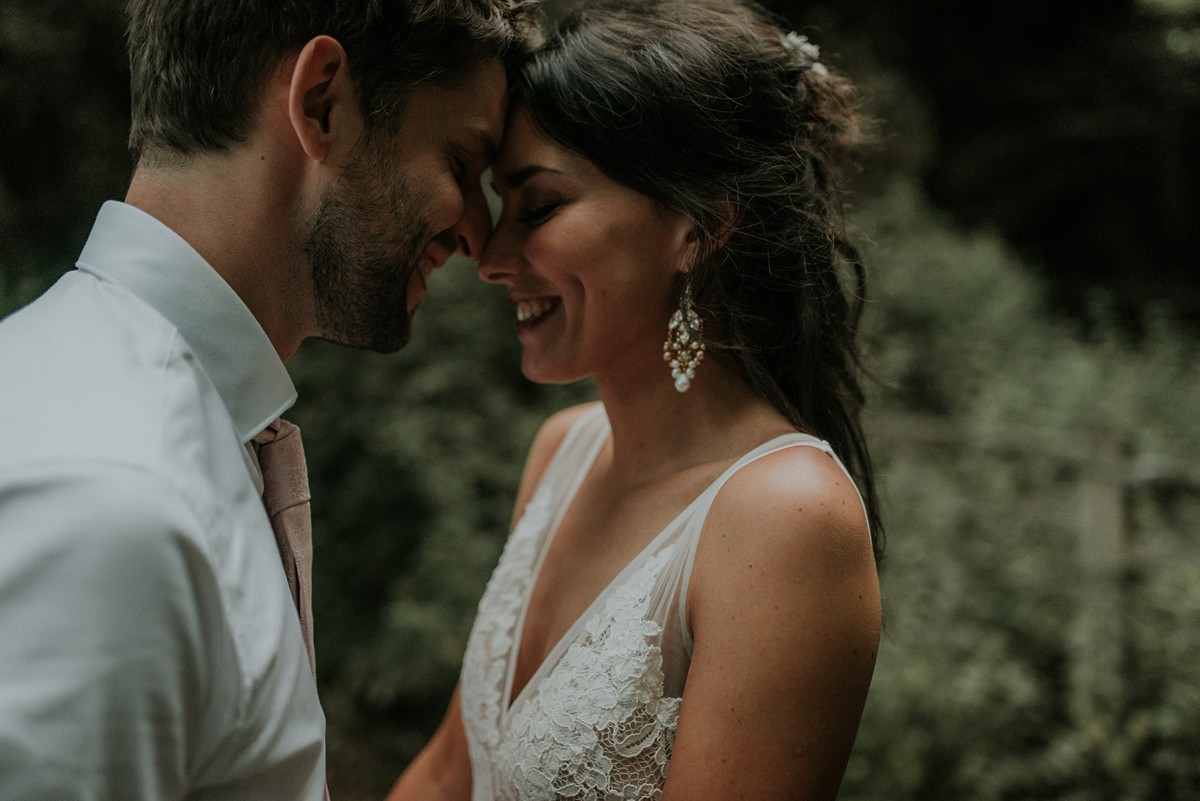 "I would've tried to get round to say hi to more people during the reception drinks, and I also would've ordered less booze! We had so much left over. Obviously this was the one thing you don't want to run out of, but it was an eye-opener!"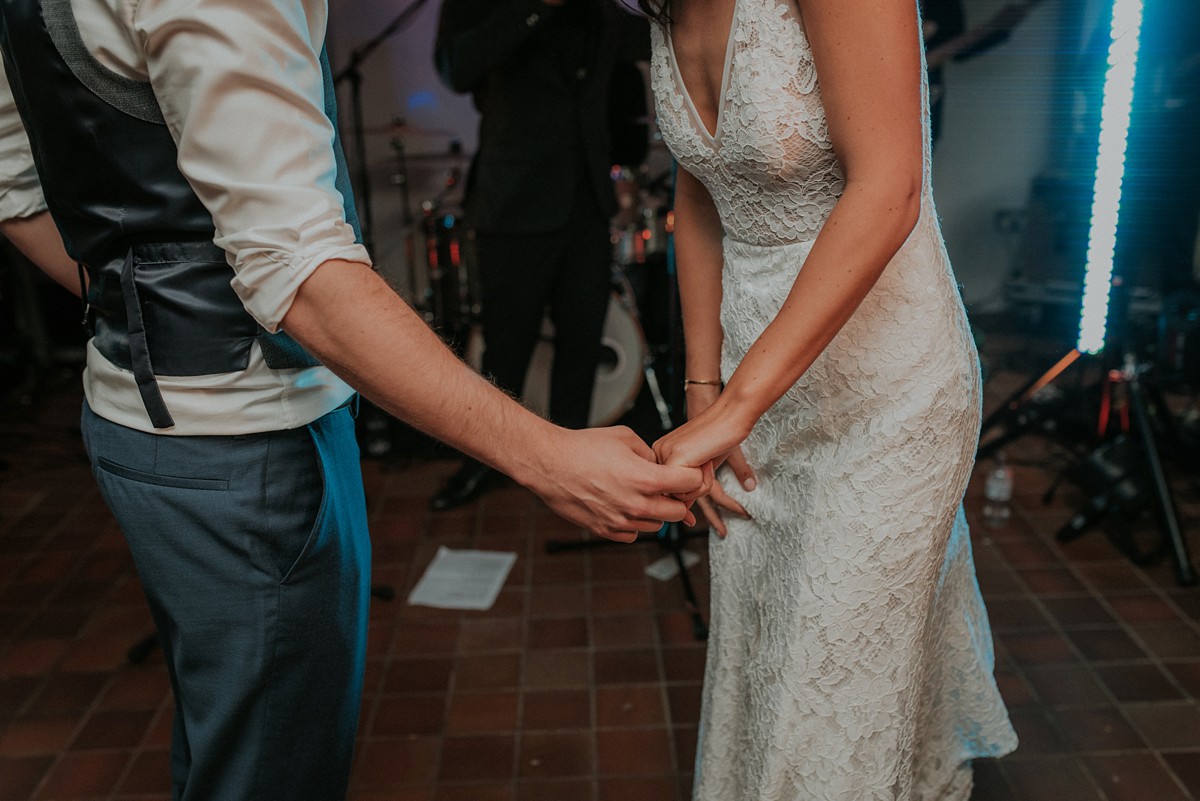 Words of Wedded Wisdom
"If there's something you want to include as part of the wedding, even if it's something other people might think inconsequential or a bit strange / different – don't let anyone tell you you can't have it! You can! Follow your heart and trust your judgement – you will be happy in the end you did."
"Try not to stress out in the lead up to the wedding, as this will partly taint the whole memory you have of the wedding. Make sure you delegate! Family and friends (and your partner!) will want to help, but they often just won't know how, so make lists, and try and delegate tasks to free up some time. Enjoy it!"
"When I was planning our wedding, I read somewhere, 'Make decisions and stick with them'. This was really helpful, as despite making similar decisions in my work life every day, suddenly when it's your own wedding, it's so much harder!"
"There are obviously a 1001 ways to do a wedding, and you could probably choose several different styles / types of wedding and still have a great day, but you have to choose one route and go with it. Once you've got your venue, this will help steer the look and feel of everything else, so go with it."
"Finally on the day – it's so hard to see everyone and it goes by in such a blur, so as well as making time for you and your new spouse to catch a few moments, make a concerted effort to do quick hellos at the reception drinks, or move round the tables during dinner to make sure you can talk to most people. Enjoy the dancing, music, food and drinks you spent months deciding on!"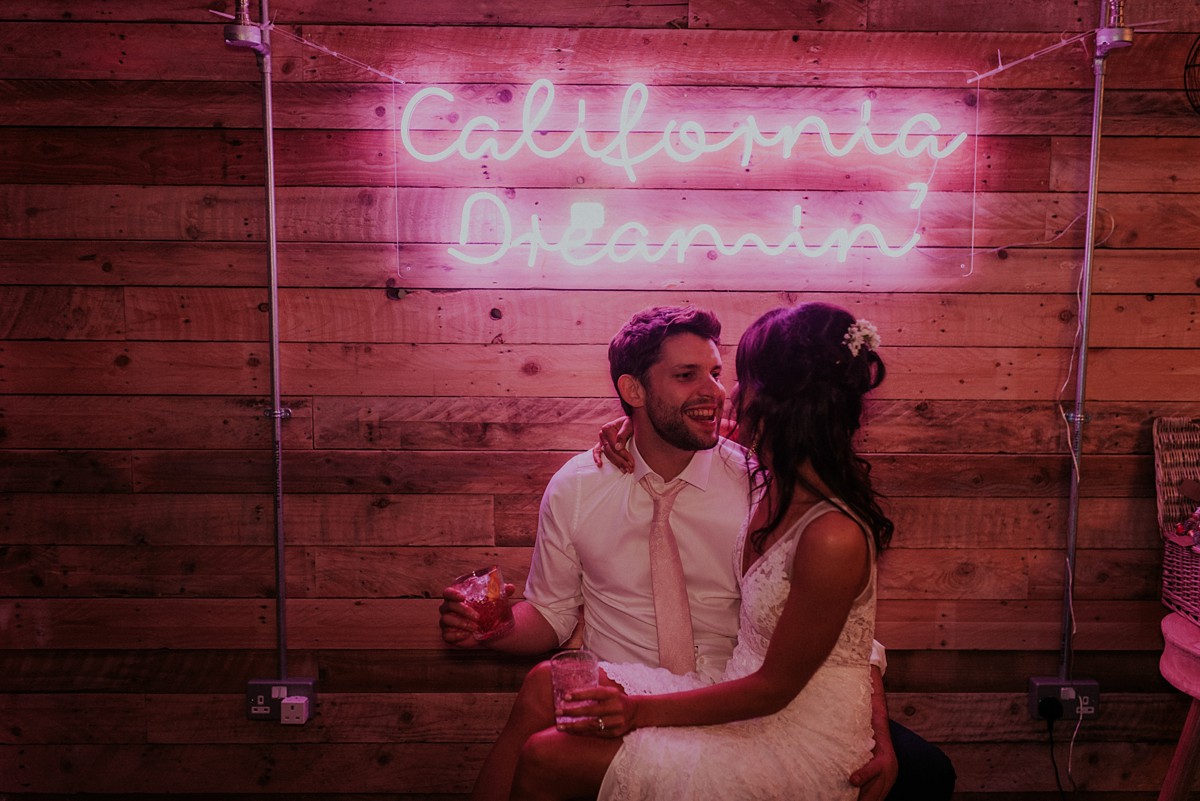 Roz and Dave, thank you so very much, and many congratulations. Readers, I hope you've enjoyed this enchanting secret garden wedding day as much as I have! Huge thanks also go to Megan Elle for her sublime images and film.
If Roz's lacy Made With Love dress has you wanting to see more work by this designer, we have more real weddings to enjoy, here.
With love,
Laura