The photography from today's wedding stopped me in my tracks when I saw it for the first time; the gorgeous soft lighting and rustic colours really captured the mood and emotion of the day and told the story of today's couple beautifully.
The bride's choice in dress is also a head turner and the venue set it off just perfectly. So, shall we find out more? Medicines management technician Michelle and systems engineer Shane tied the knot on 15th September 2018 at the hidden woodlands wedding venue, Voewood, near the wild North Norfolk coast.
Images by Camilla Andrea Photography
"We wanted a relaxed venue for our wedding day; one that we could personalise so that we were able to put our own stamp on it. We also loved that there's so much character to the house at Voewood. We fell in love with it; it's decor and the original features. We wanted to keep the colour scheme fairly neutral as a result, with lots of foliage and neutral flowers with grey for the accents and details."
[RELATED]
"After being unable to find quite the right dress locally, I ended up designing my own and had it made at Camilla Brides in Norwich. My dream style of something ethereal with a flowing skirt was really hard to find so decided to find a seamstress and went from there. I didn't plan on designing the dress myself but it was one way to ensure I had the exact style I had imagined. My dress was light, comfortable and effortless with a gorgeous cascading skirt, backless, with a bow at the top of the skirt. The bodice was also all hand beaded lace with beautiful silver and iridescent sequins."
"Shane and I met when we were very young as children, maybe 3 or 4 years old, as our parents were friends. Obviously at that age we weren't aware of what the future would hold for us. We became good friends after high school as we both went through education without knowing each other. After a while we started dating and have been together ever since and love going on travelling adventures together. After seven years we got engaged in 2017 in one of our favourite spots by the Norfolk Broads. We were engaged for 18 months before we got married."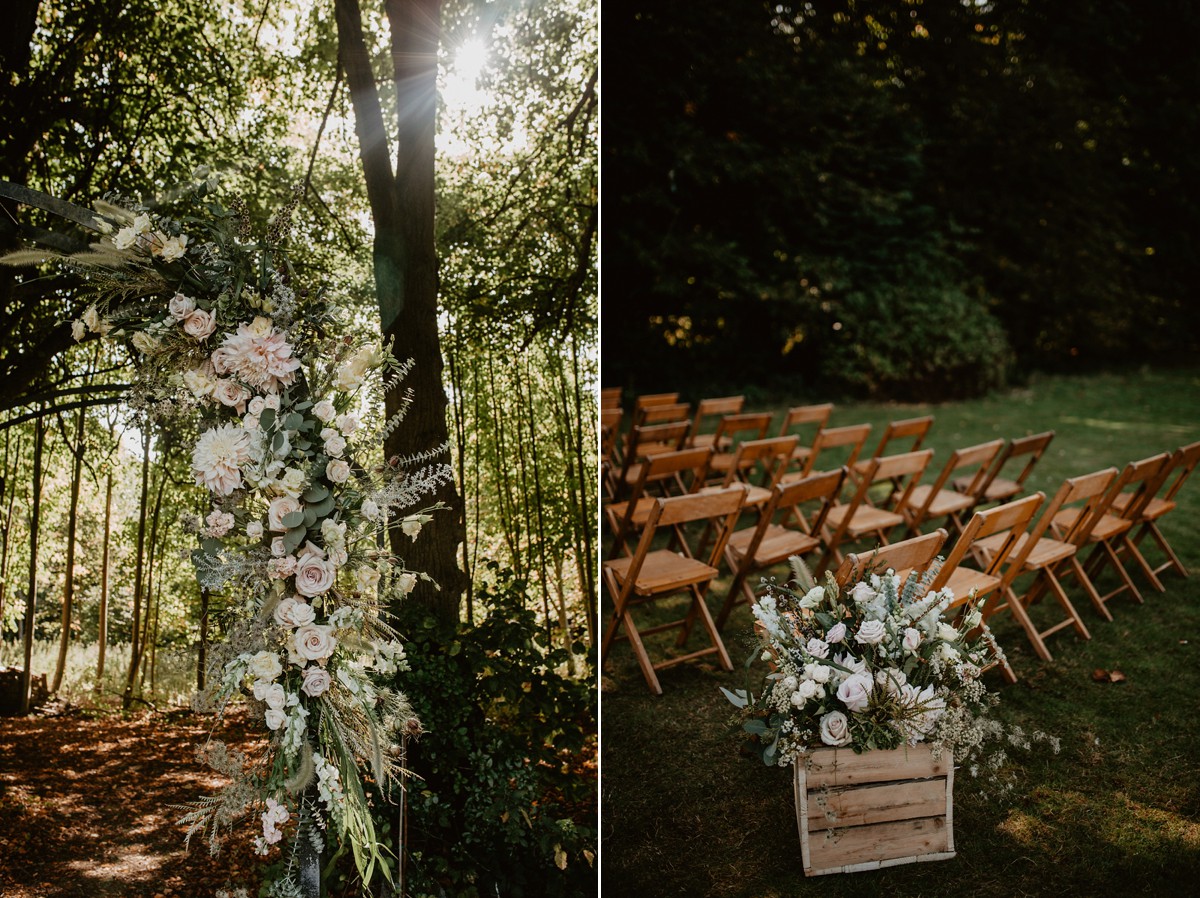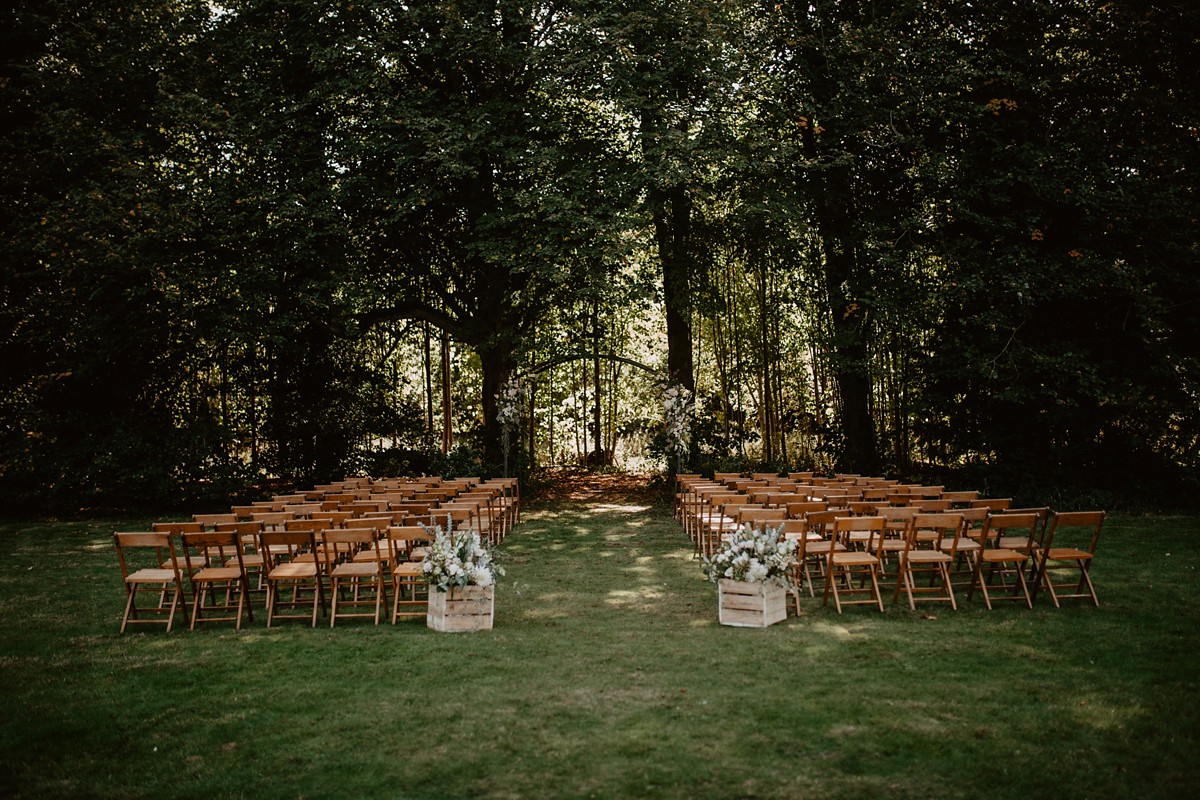 "Katy at Bracken and Twine also created all of our flowers for the wedding and I've never seen another florist like her! Katy's unique style and creativity is unreal. I followed her on Instagram before the wedding and knew she had to do our flowers."
"My shoes were plain white small block heel sandals from Quiz. Camilla Brides also stitched a piece of lace to match my dress on the front bar of the sandal so it all tied in nicely together. My accessories included my engagement ring – a black diamond ring from Anna Sheffield – and a pair of plain studded earrings from Accessorize."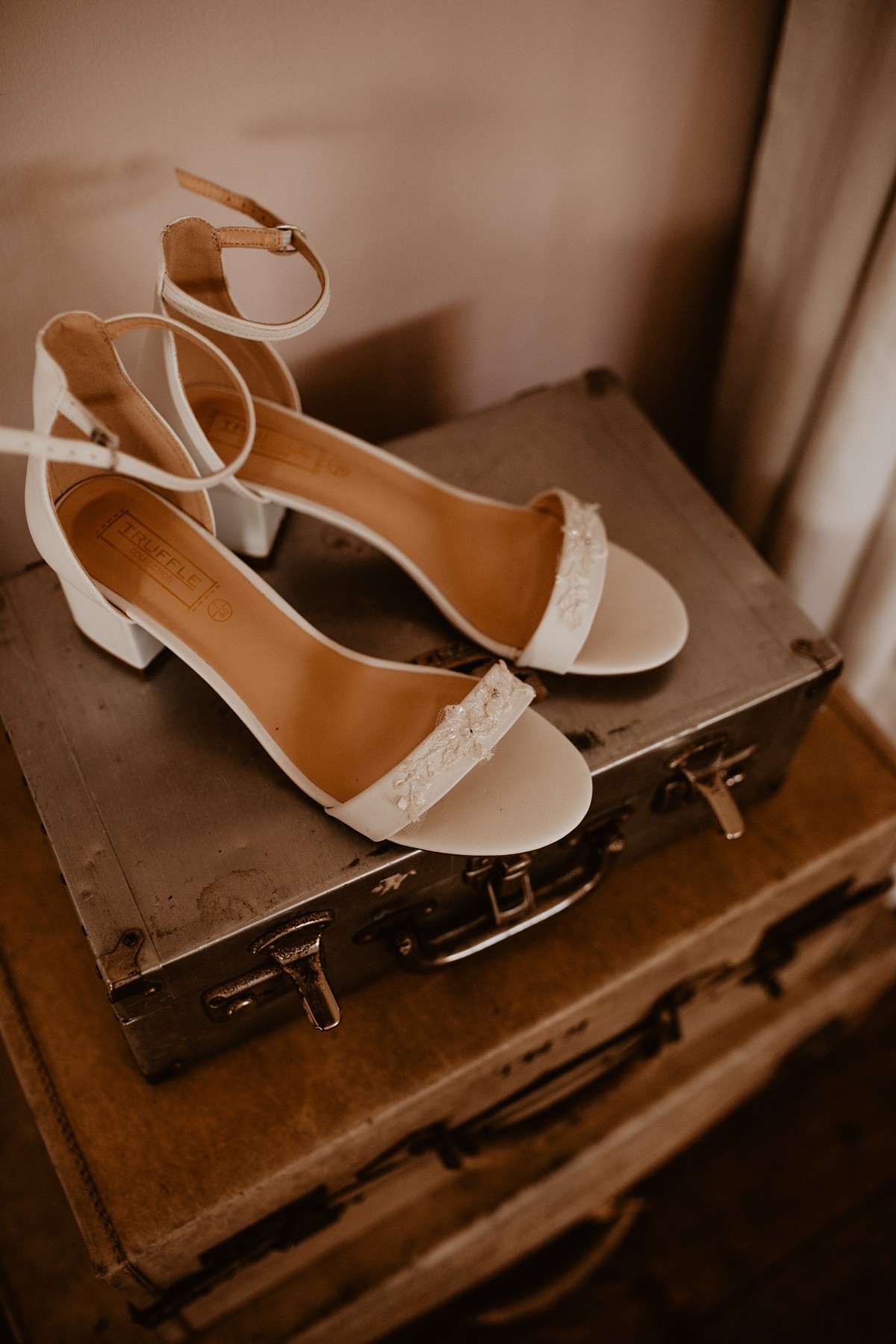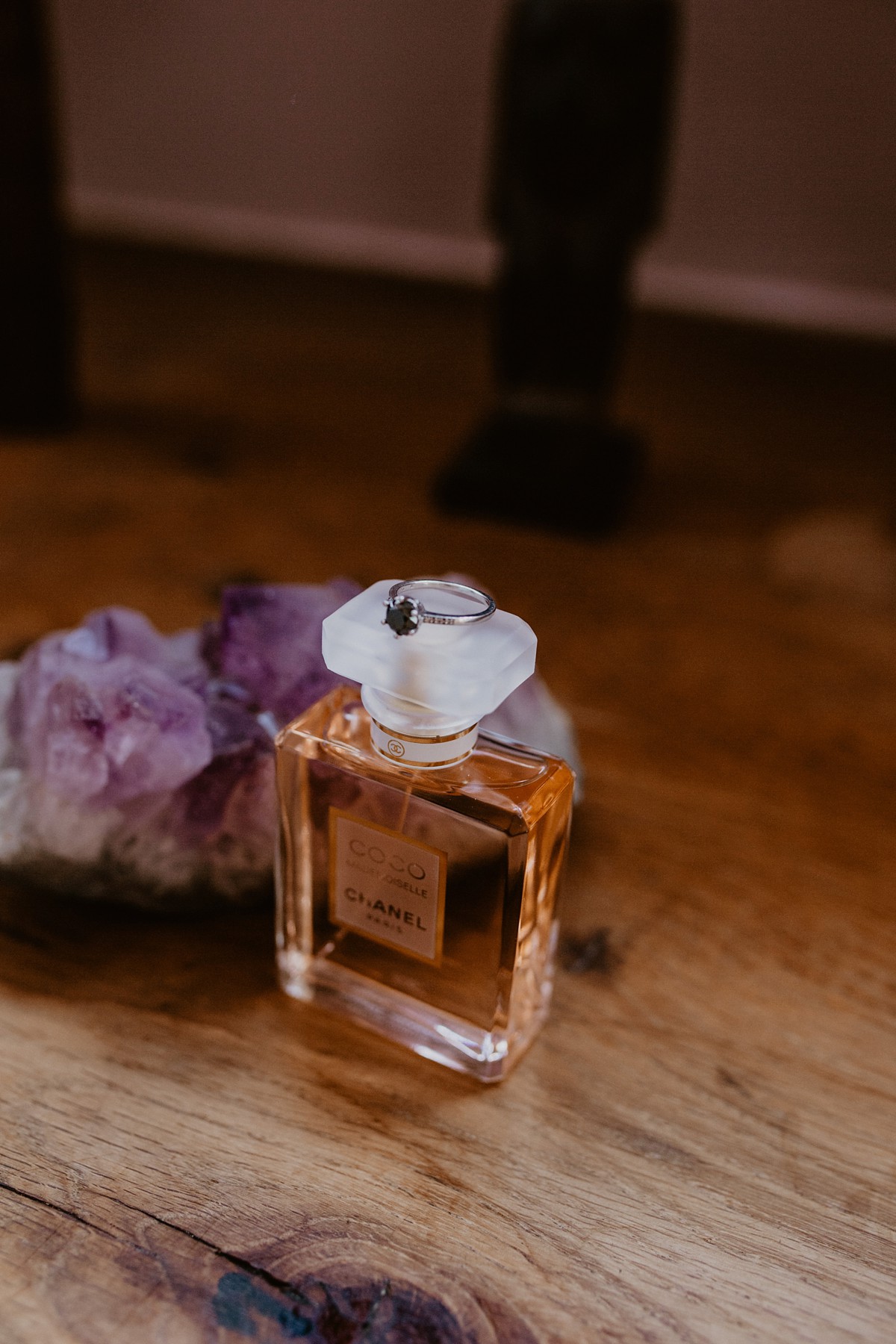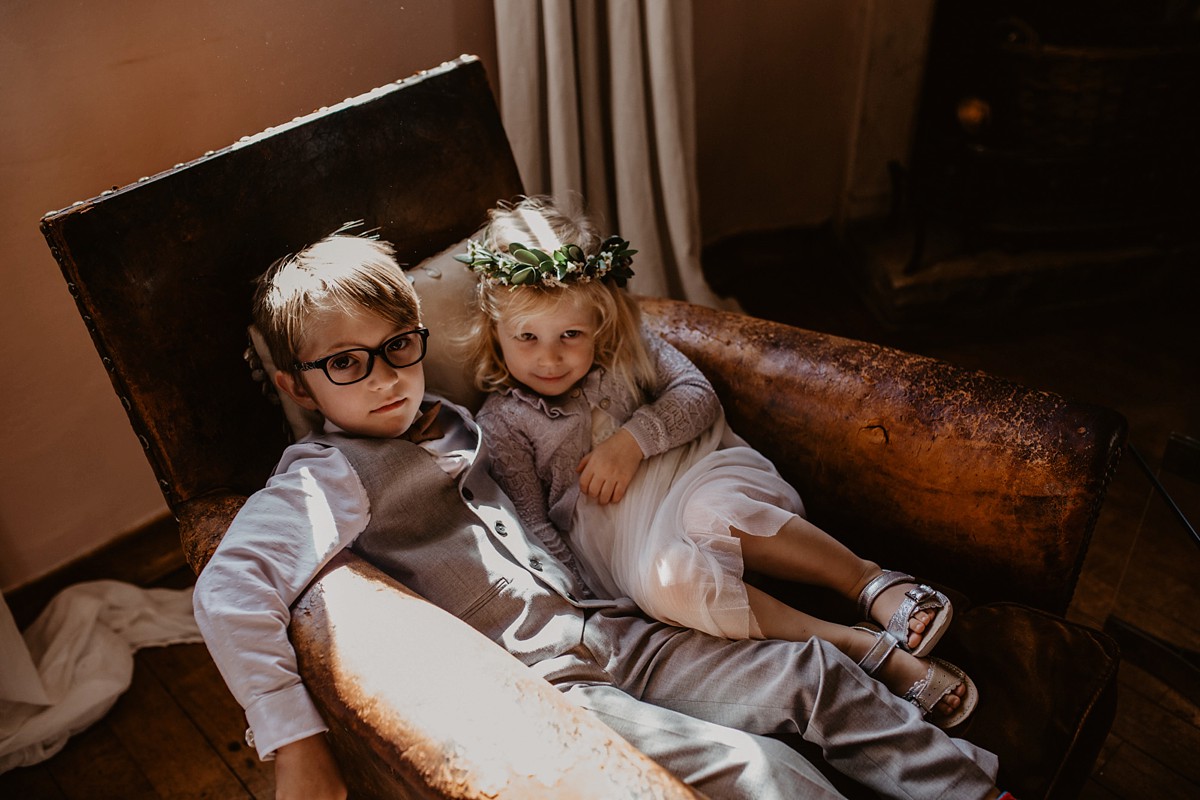 "My bridesmaids all wore beautiful matching full-length dove grey dresses from Oasis, paired with gold block heel sandals from New Look."
"My flower girls wore ivory dresses from Monsoon and page boys wore grey suits from Next. I also had flower crowns made by Bracken and Twine for my bridesmaids."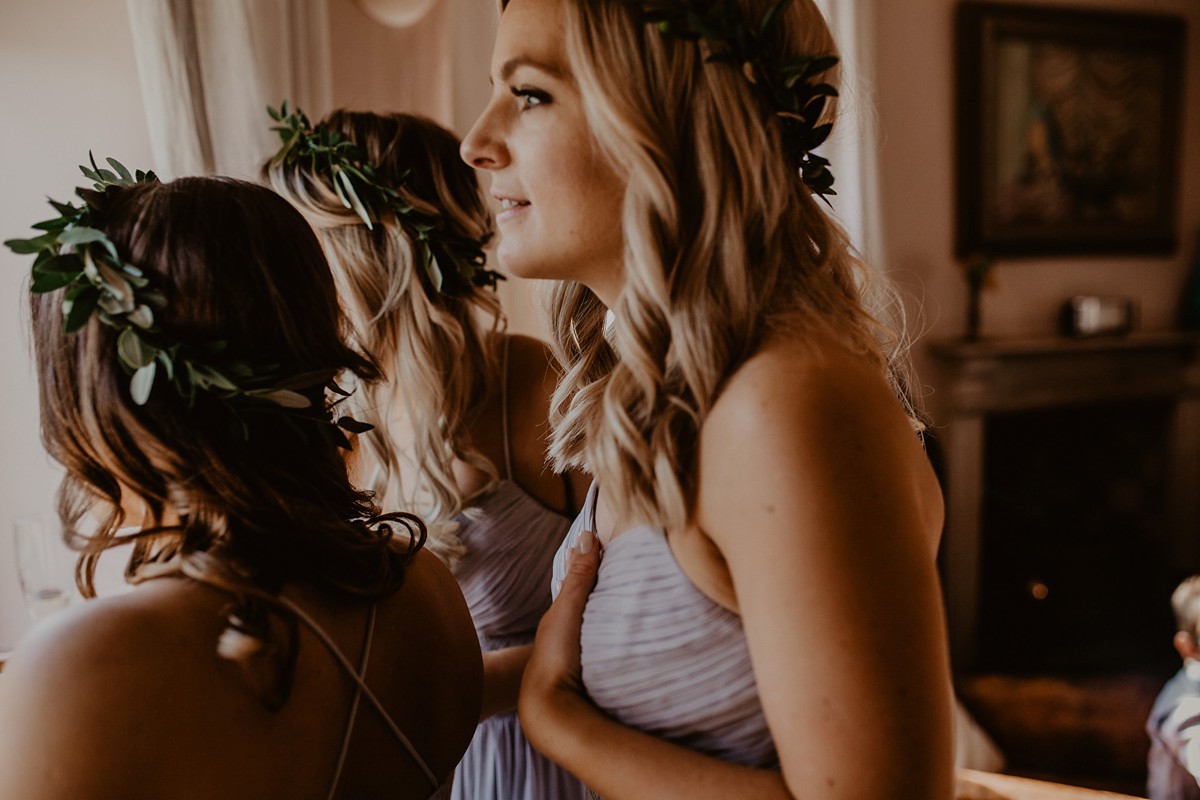 "Shane wore a checked 3-piece brown suit from Slaters in Norwich with a crisp white Next shirt, brown shoes from ASOS and a bow tie from Dickie Bow. All of his groomsmen wore matching suits to the groom too and they look fabulous."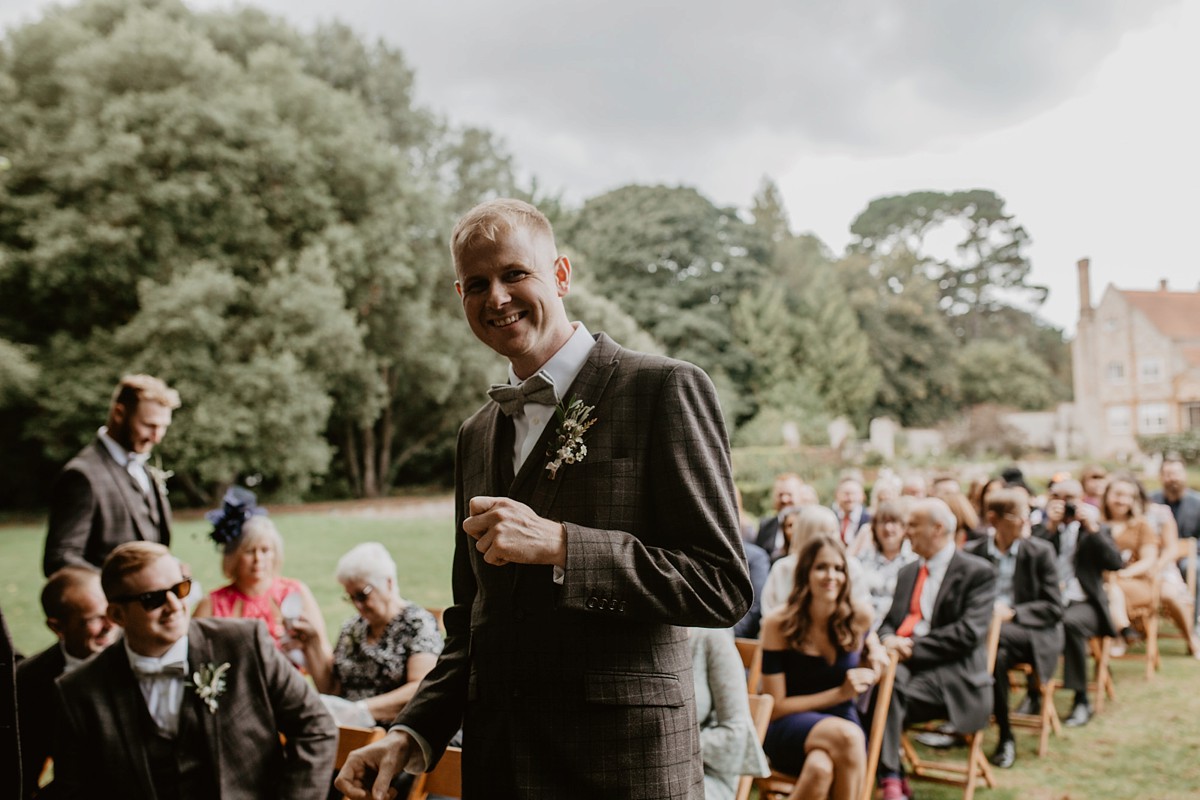 The couple were blessed with good weather, perfect for the outdoor woodland ceremony they had planned. Once guests were seated, the bridesmaids led the way down the aisle, with Michelle following close behind with her father.
"My father walked me down the aisle to Pachelbel's Canon in D and we used Norfolk Registrars to officiate the ceremony. Shane's sister read I Promise You as a reading during the ceremony. It's a poem we found online and loved."
"My wedding ring was made by my favourite jewellery designer Anna Sheffield who also made my engagement ring. I've followed her on Instagram and her portfolio for years. Shane chose a simple plain band engraved on the inside with the wedding date from Goldsmiths in Norwich."
Following the ceremony and the signing of the register, guests were treated to drinks, canapés and lawn games whilst the couple headed off with photographer Camilla and the bridesmaids and groomsmen for their wedding portraits. Once the all important shots had been captured, the bride and groom, along with their guests, headed indoors for a fun-filled wedding breakfast.
"Most of our decor was DIY apart from the beautiful flowers and tons of greenery for the tables and chandeliers. We had large perspex industrial signs to display our hanging table plan and welcome sign, which we then added ribbons behind for texture and depth. We had lots of candles to provide a lovely ambient light and we bought grey scarves for more texture on the tables. We also used a vintage suitcase, which was made into a small table for our friends and families cards as you first entered the main dining room."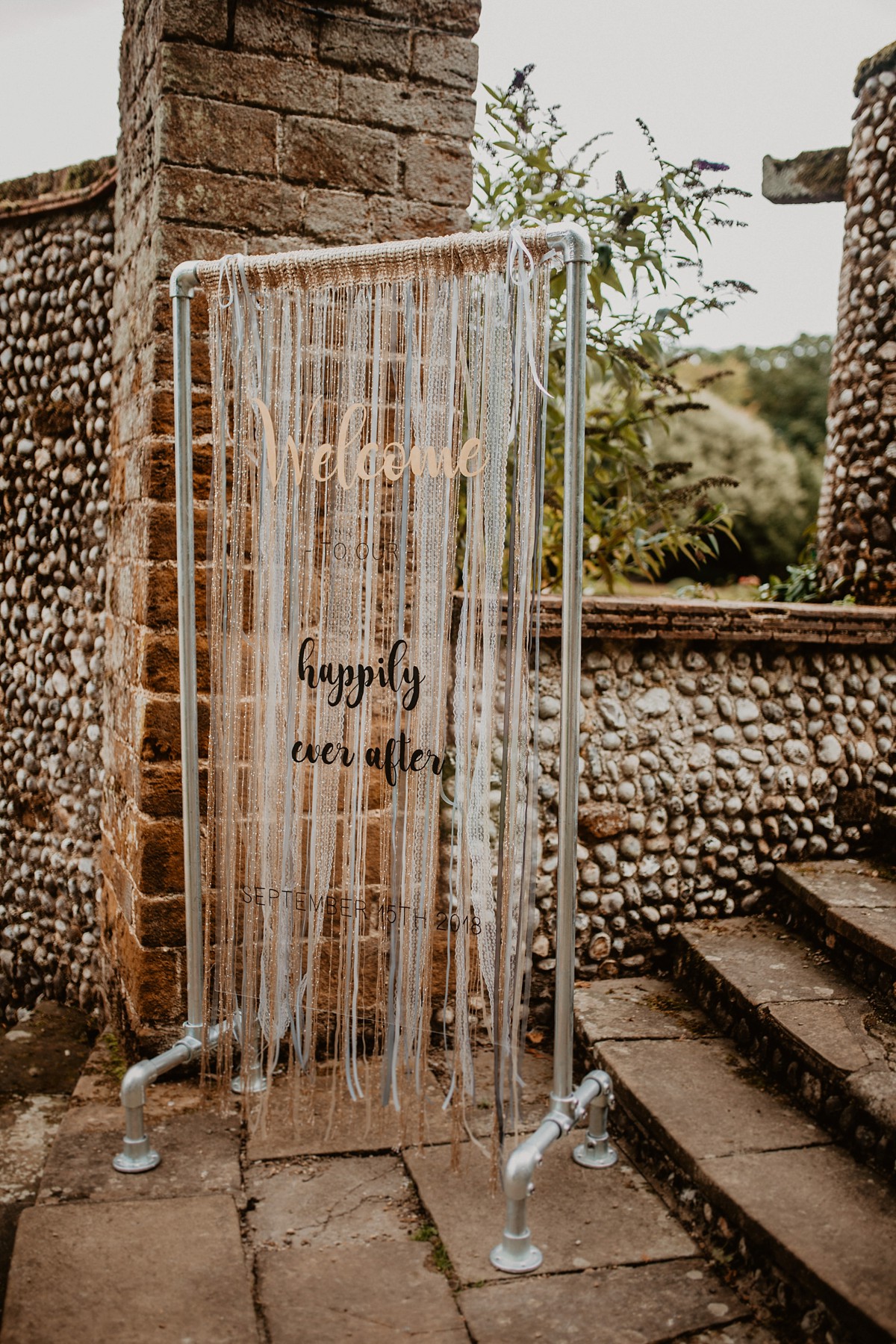 "We used Camilla Andrea Photography as our photographer on the day. Camilla is amazing and we can't recommend her enough. She's super bubbly and so easy to get along with. She made everyone feel comfortable on the day and fitted right in."
"The photographs are superb and we have had so many comments from friends about how great they are."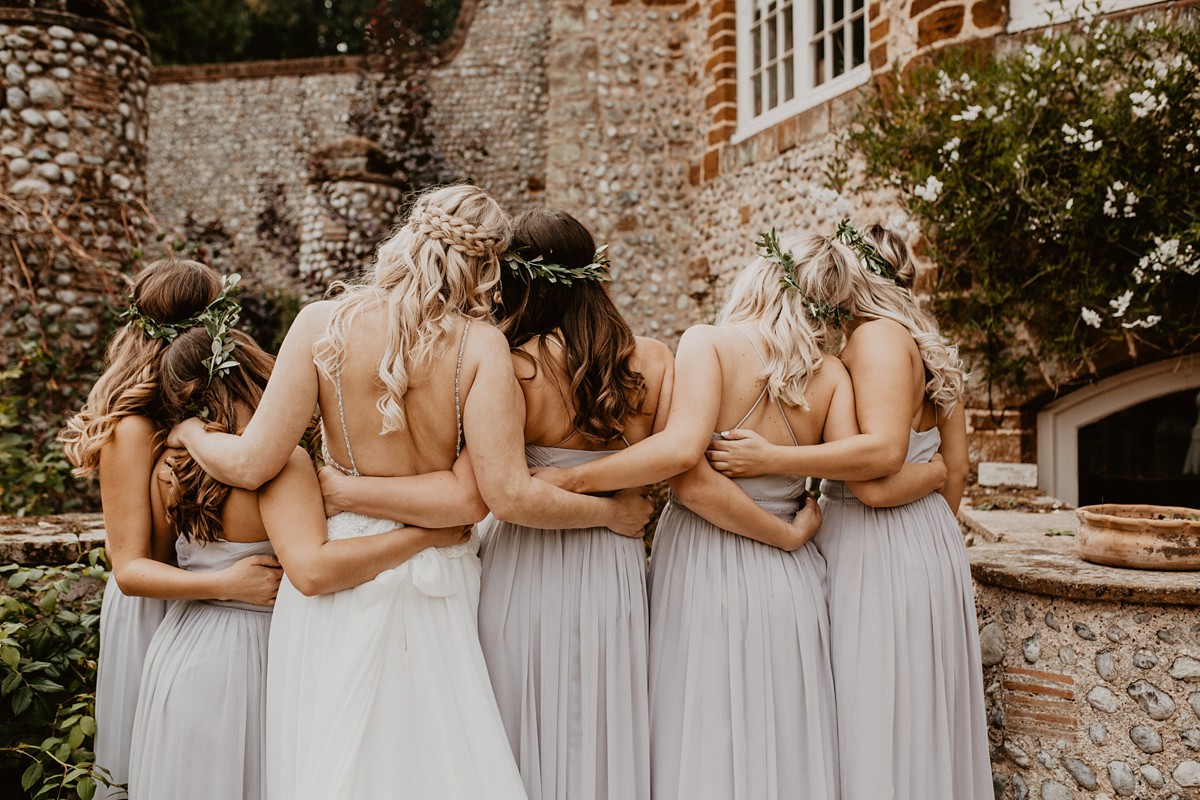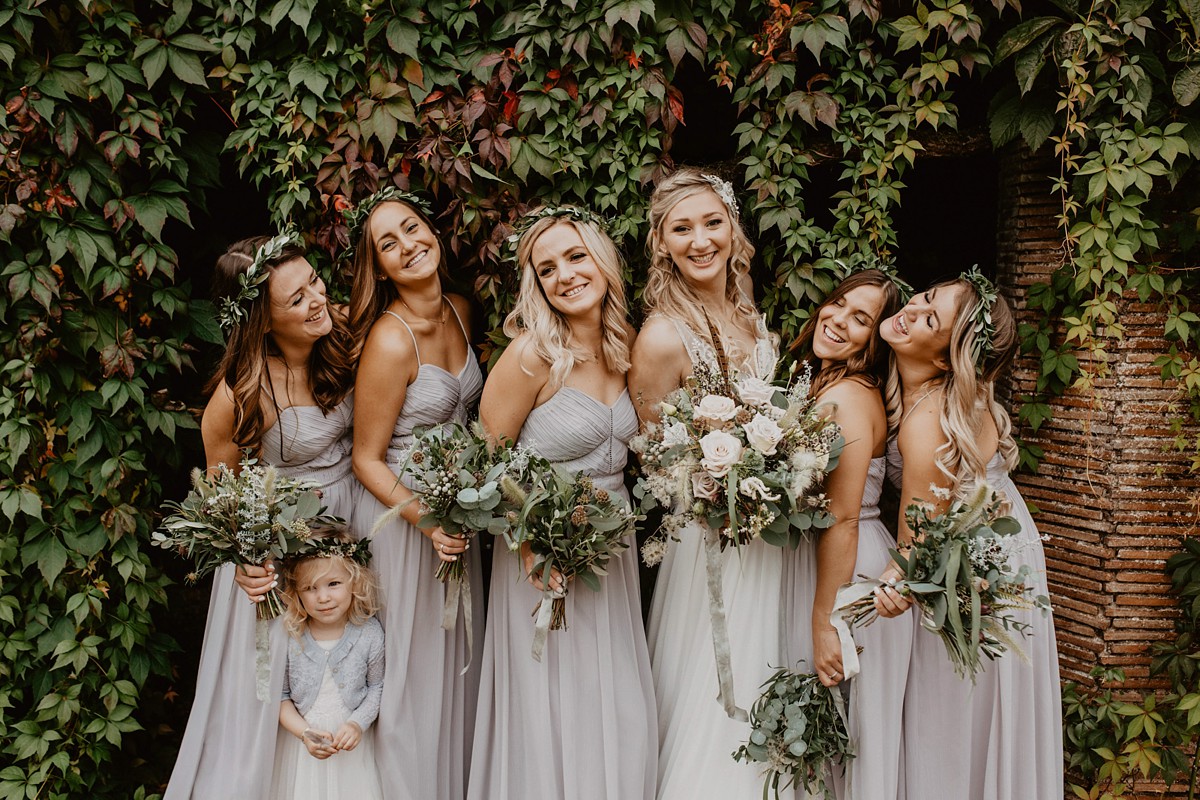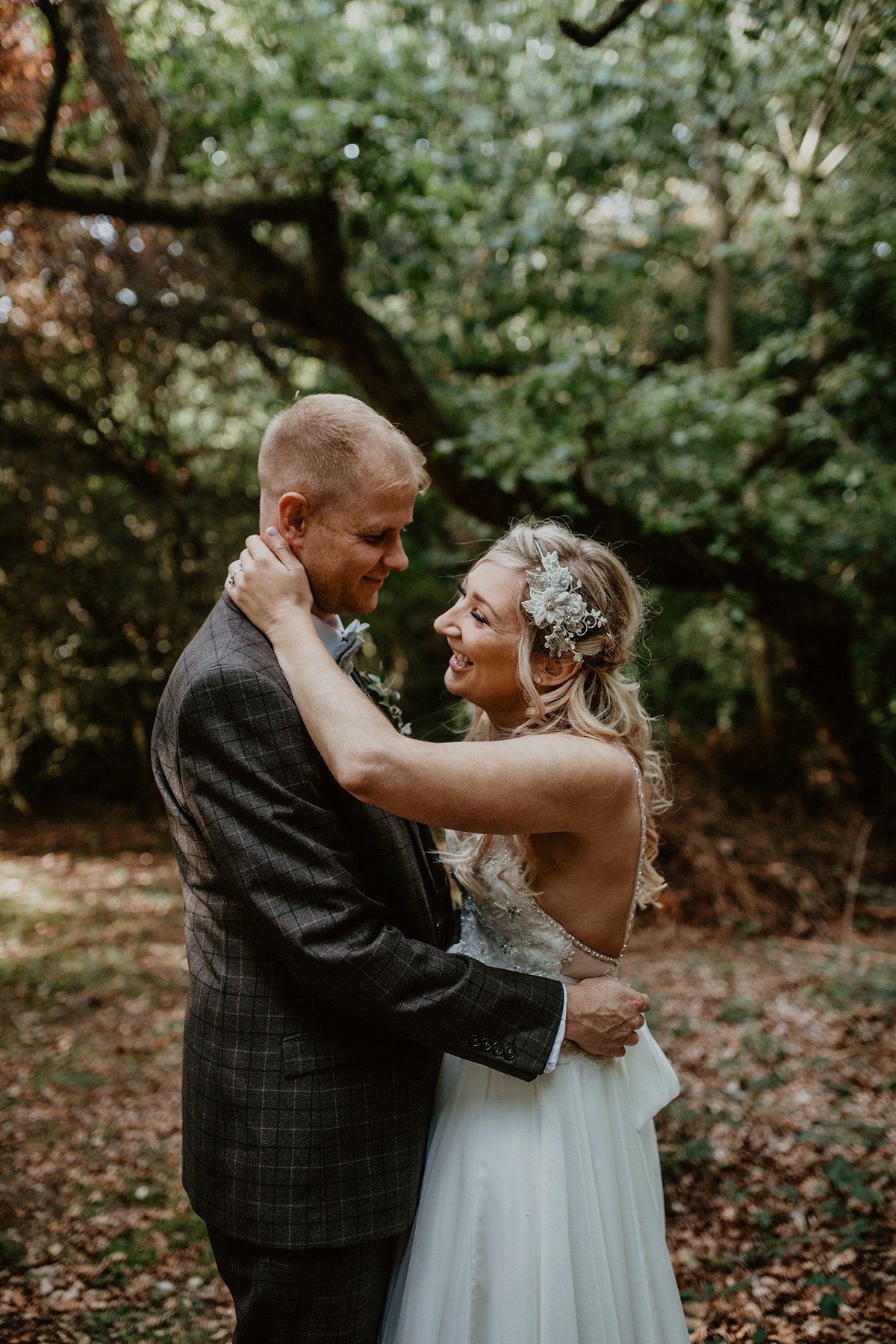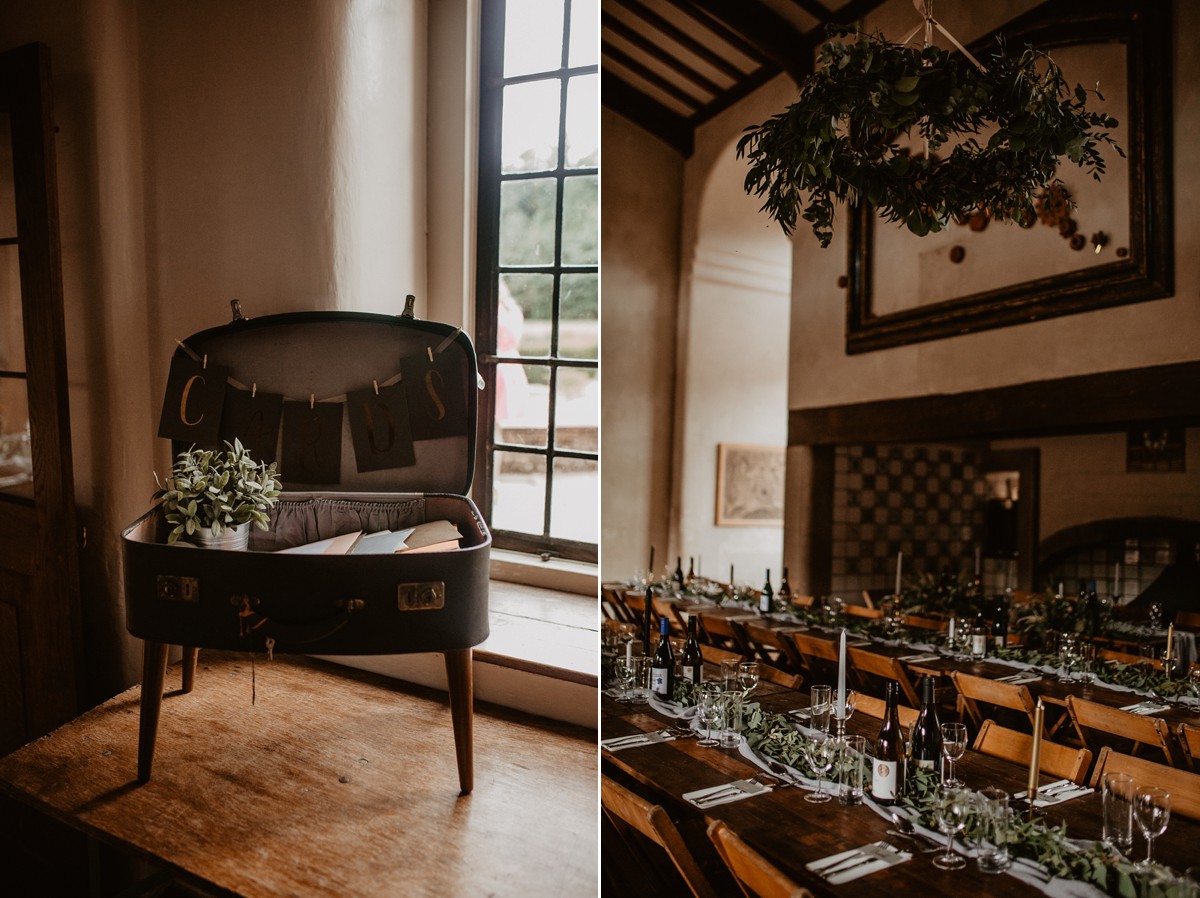 "Myself and my bridesmaid Jennifer designed and made all of the stationery, which were dark grey colours with an elegant gilded front."
"For our wedding breakfast which was served indoors on long wooden tables, we chose delicious authentic Thai dishes by Siam Rice Box."
"Our evening food were stone baked pizzas which were set up and made outside the venue by The Wood Kitchen Pizza. Rustic Hire were in charge of drinks all day and night. They had an awesome, quirky looking bar set up which looked amazing."
"For the wedding cake we decided to go for a grazing table with a range of cakes instead of one traditional one, so there was a flavour to suit everyones tastes."
"We used No 33 in Norwich for the cakes and had a large donut wall that we made with donuts provided by Daddy's Donuts."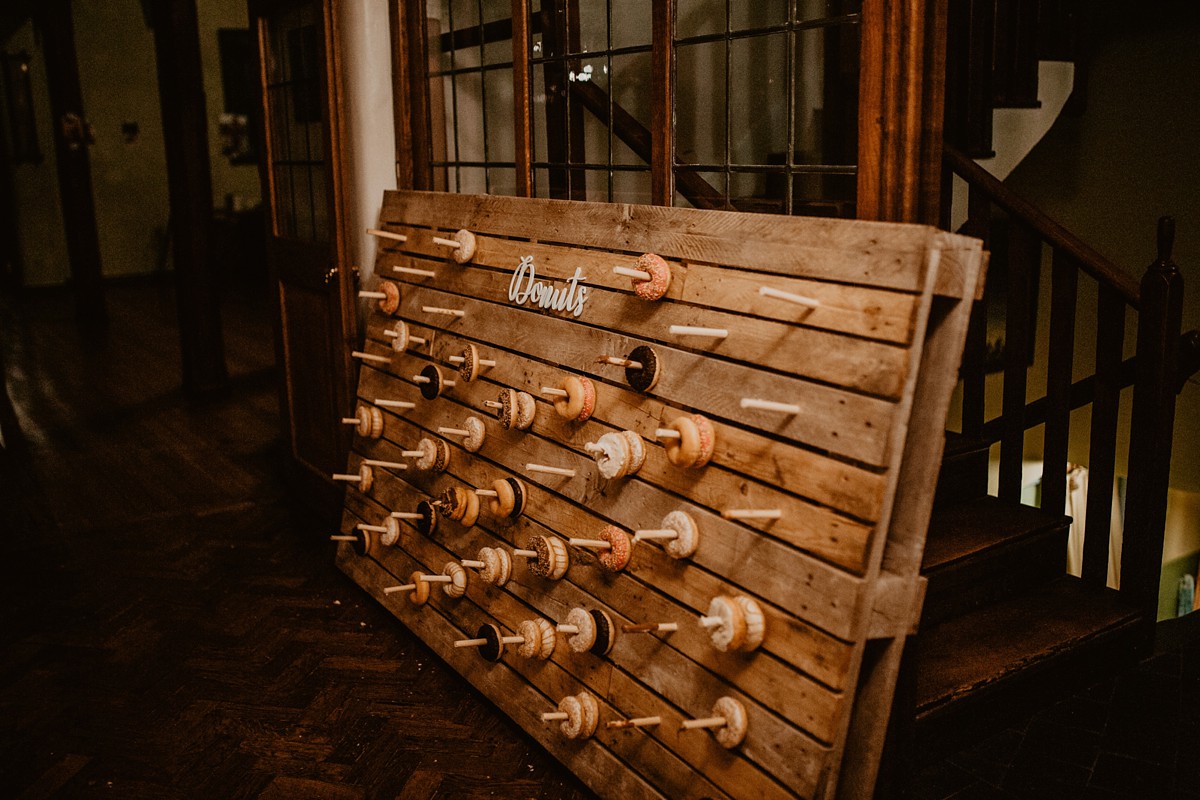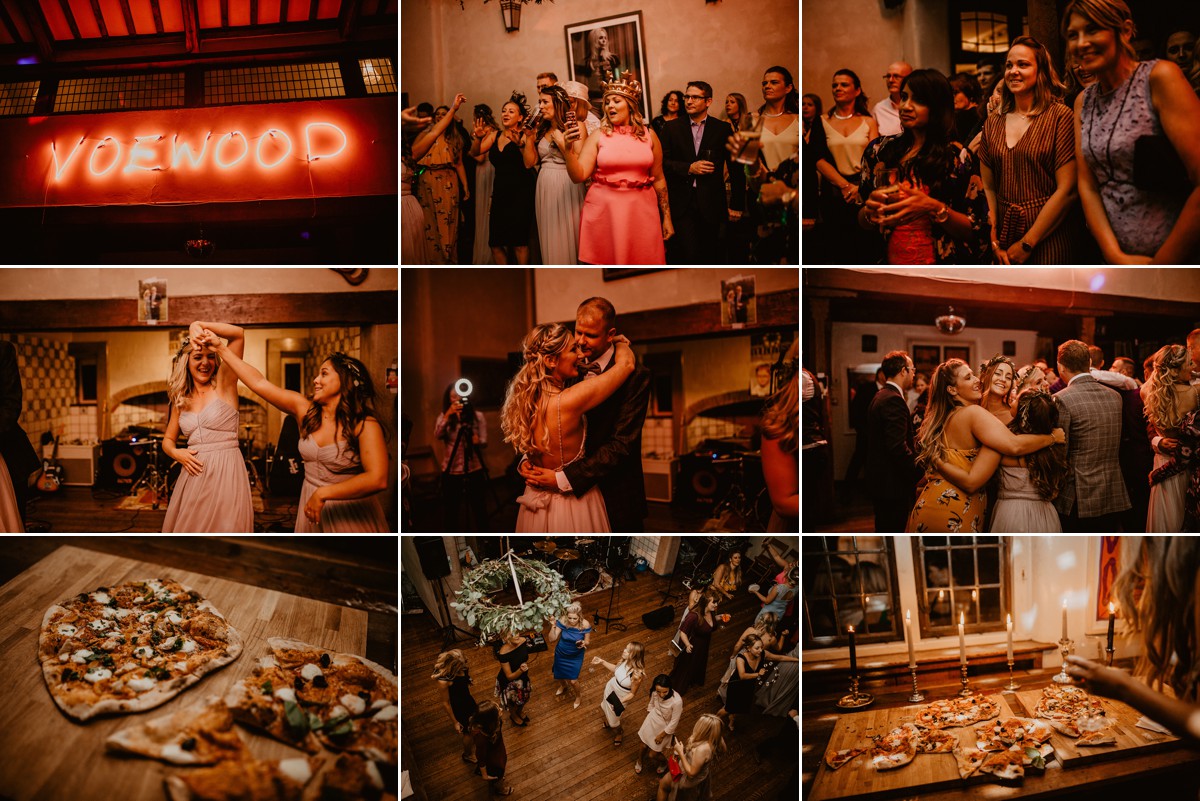 "Our evening entertainment was provided by friends of ours! Gameplan are an awesome Norwich based band who filled the dance floor and Elliot Holman who is a radio presenter and DJ kept it full all night long."
"Our first dance was to Amazed by Lonestar. We danced to this as friends and it was the first song we ever danced to together. After that dance it wasn't long before we started to date!"
The evening ended on a high with a full dance floor and a sparkler send off, waving the newlyweds off on their new journey as husband and wife.
"We loved every single second of our day. We didn't really set a budget, we just tried to be careful and utilise as many of our skills as possible. We're also very lucky to have had our friends and families help put things together with us."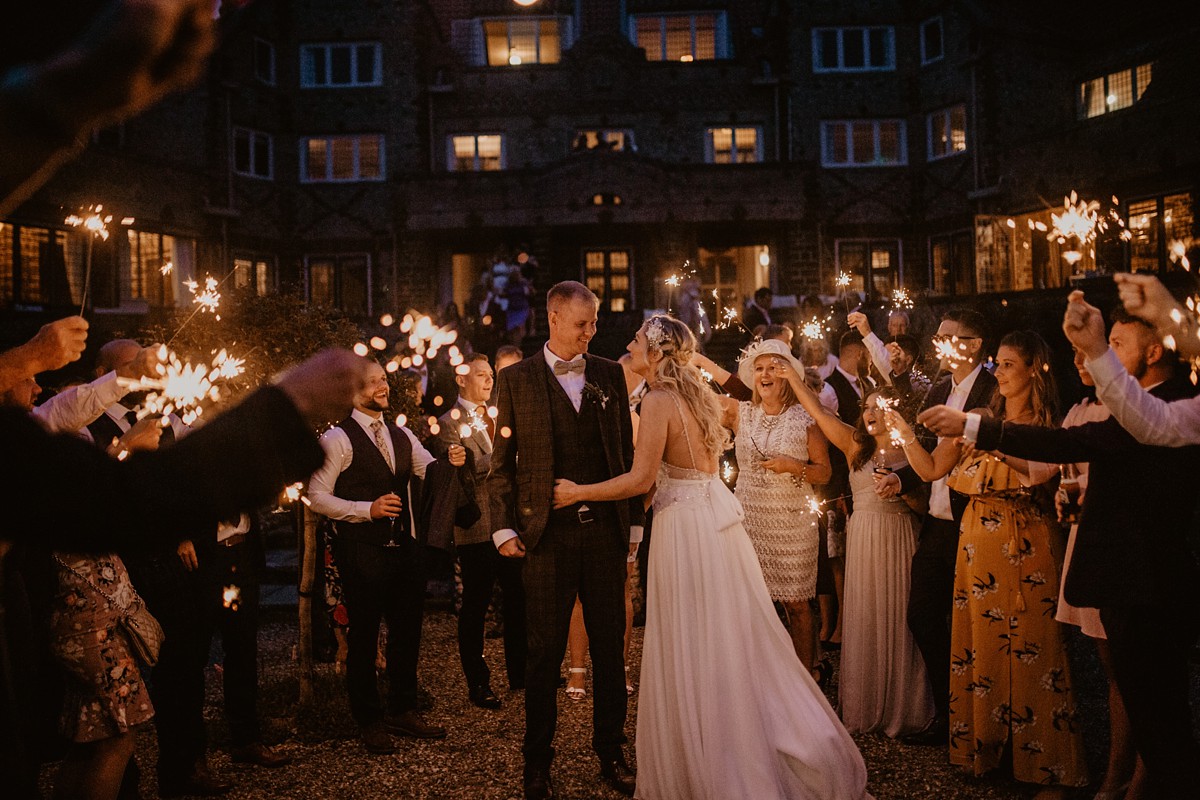 Words Of Wedded Wisdom
"Just enjoy the day and never let the planning of the wedding become a chore or stressful. We had the best time planning the day together!"
What a gorgeous day! A big thank you to Michelle and Shane, and of course the wonderful Camilla Andrea Photography for sharing such gorgeous images with us.
Until next time…
Much love,
Holly x