A couple of months ago a cousin of mine made a spring-time trip to Petersham Nurseries and since then I've been intrigued by this glorious and oh-so beautiful place.
Today I've had the opportunity to find out a bit more about it, and see some wonderful images, which has made me even more keen to pay a trip myself. Come with me to Surrey, for a relaxed wedding celebration with sustainability at its heart.  It's a delight to introduce you to Anna, who works in marketing and advertising, and Jay, a wealth manager, who married on 14 September 2018.
Photography YTZ Weddings
Their ceremony was held in the Octagon Room at Orleans House Gallery, Twickenham before they and their guests travelled down the Thames by ferry to nearby Petersham Nurseries for a reception which really brought the outdoors in. For Anna making her and Jay's wedding as sustainable as possible was key, an ethos which flowed through the day, which was boho, relaxed and low-key in its vibe.
Now lovelies, how do you like Anna's choice of gown for the day?
[RELATED]
This pure white number, with delicate cap sleeves and an exquisite open back and flowing skirt, is 'Tasha' by designer Rime Arodaky, whose gowns always channel a relaxed and boho yet totally bridal feel. In line with her sustainable ethos, Anna bought her gown second-hand.
"I love that it was simple, elegant, modern and chic. I loved the lace detail on the bust and back. It felt like a proper wedding dress but still understated. I bought the dress from StillWhite.com, as I think it's so sad that such beautiful dresses only get worn once and then sit in the attic for thirty years!"
For a very modern feel, the bride added Stella McCartney silver platforms and wore a beaded crown-like headpiece which she found on ASOS. I love the relaxed feel of her hair, which had added height at the crown and was pulled back from her face in loose waves.
As well as wearing her grandmother's vintage pearl and diamond gold ring, she added a spritz of classic Chanel No.5.
"I bought this perfume as a treat on a trip to Paris a year prior."
Both her hair, and her fresh, natural make-up, were done by Polka Dot Hair & Makeup.
"I booked Charlotte quite last minute, opting to pay for her to travel up from Brighton as her website was so good. She and her assistant were a dream on the day and Charlotte nailed exactly what I wanted for hair and make-up. Her demeanour was also very upbeat and calming – exactly what you need to ease the pre-ceremony nerves!"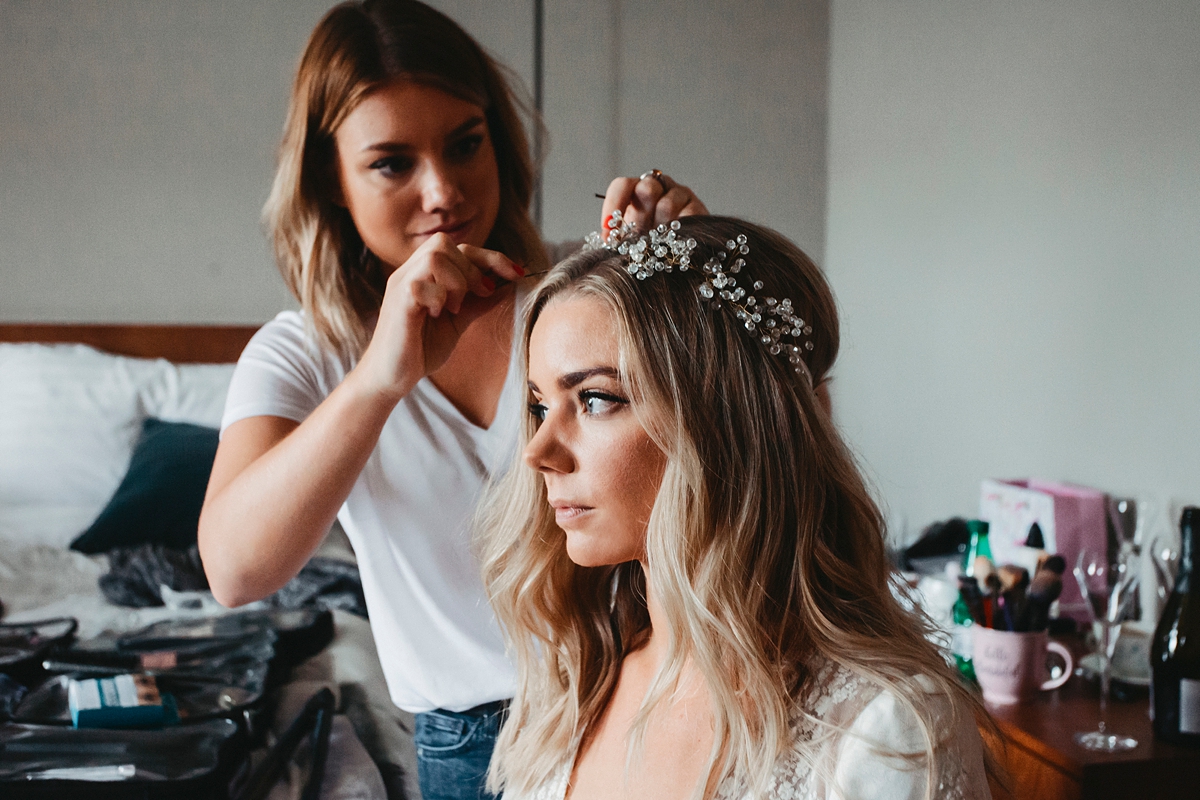 The bridesmaids' below-the-knee, wrap gowns are the perfect complement for Anna's own gown with their lacy fabric and cap sleeves, and that gorgeous blue is so fresh. They were The Teale in Purple Haze from Réalisation Par, and the girls added a necklace from Missoma, fresh flowers for their hair and their own shoes.
For the morning, the bride's friend Claire Anderton made them all bespoke kimonos in a Liberty print fabric, a present from Anna.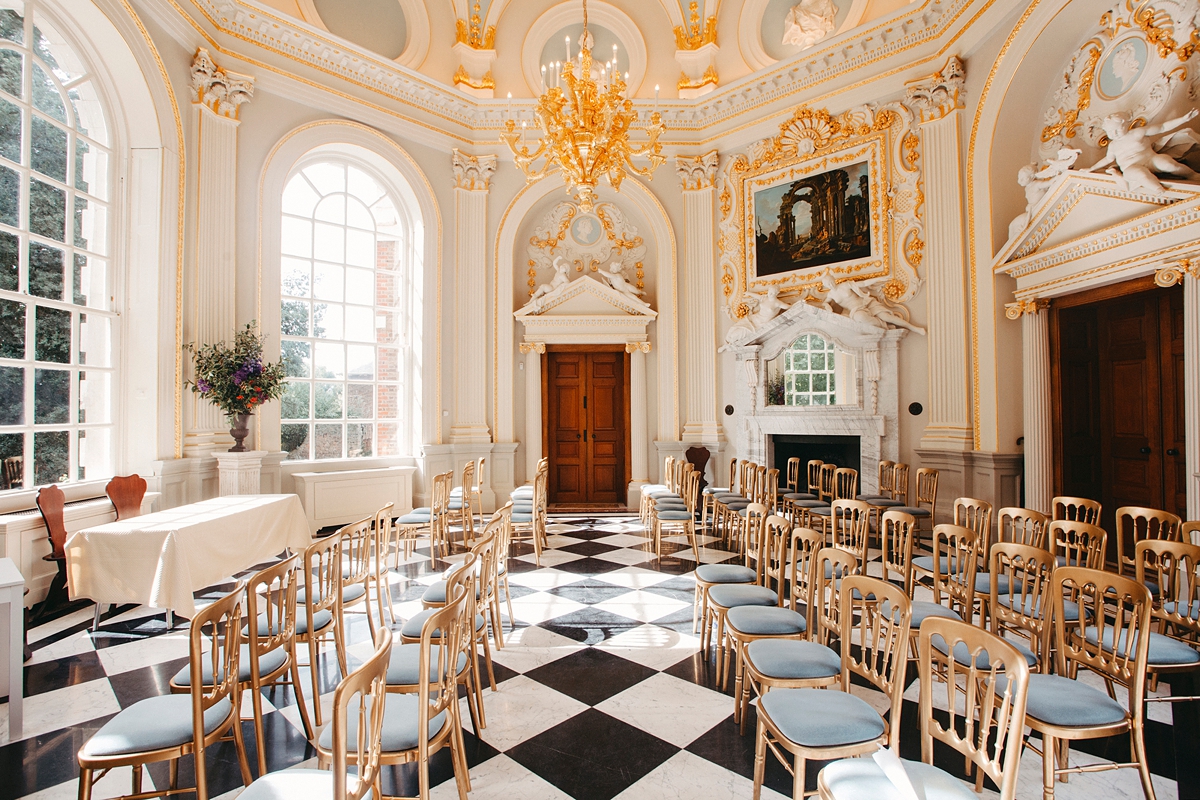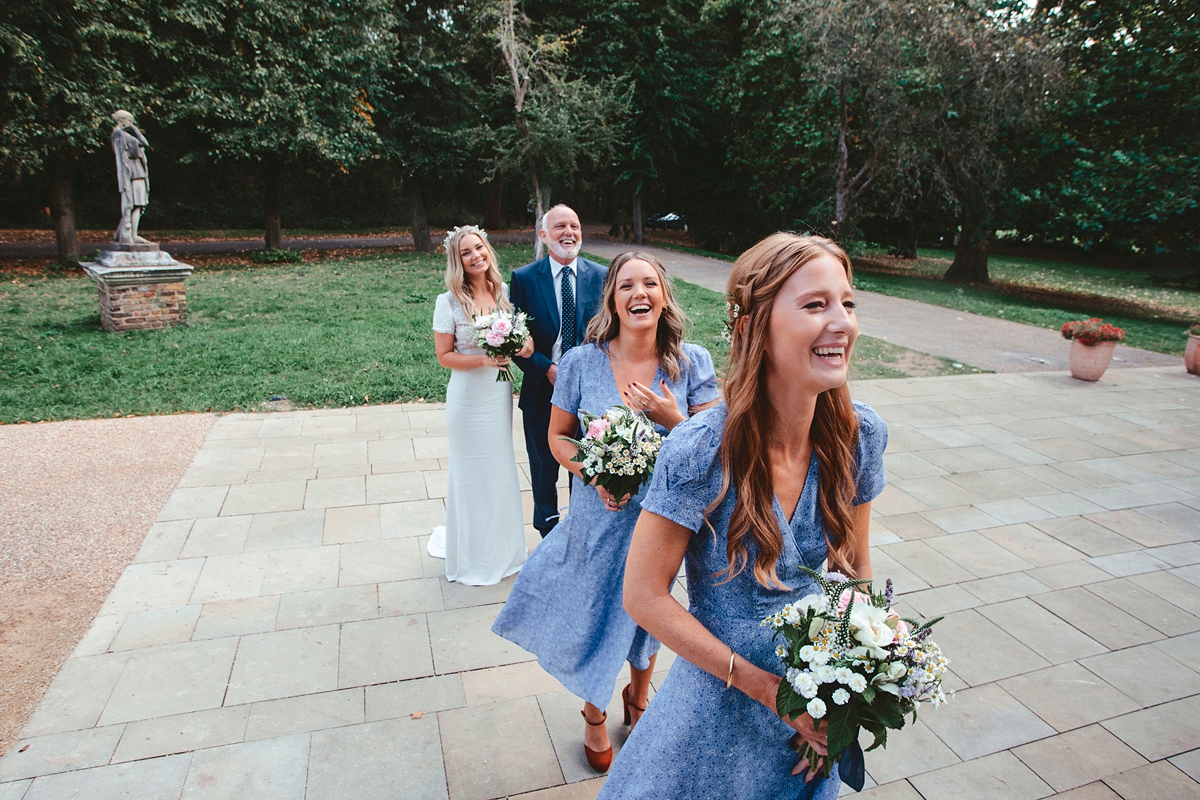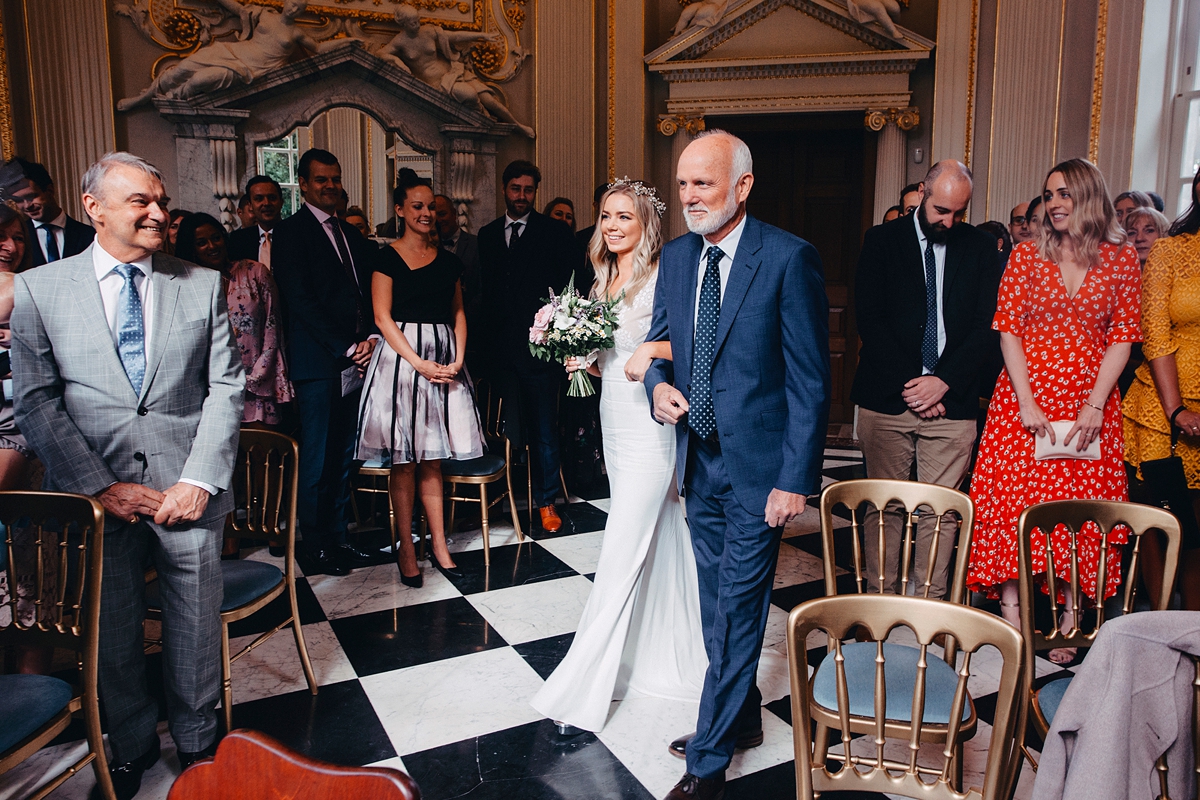 Jay dressed in a dapper, three-piece suit and accessories from Moss Bros. The couple first met at university over ten years ago, and were engaged for a year before their September wedding.
"We met in our early twenties in London through a mutual friend. I went to high school with her in Sydney, Jay did a year of university with her in Barcelona."
Anna and Jay's civil ceremony was held in the Octagon Room at Orleans House Gallery which had been simply decorated with flowers from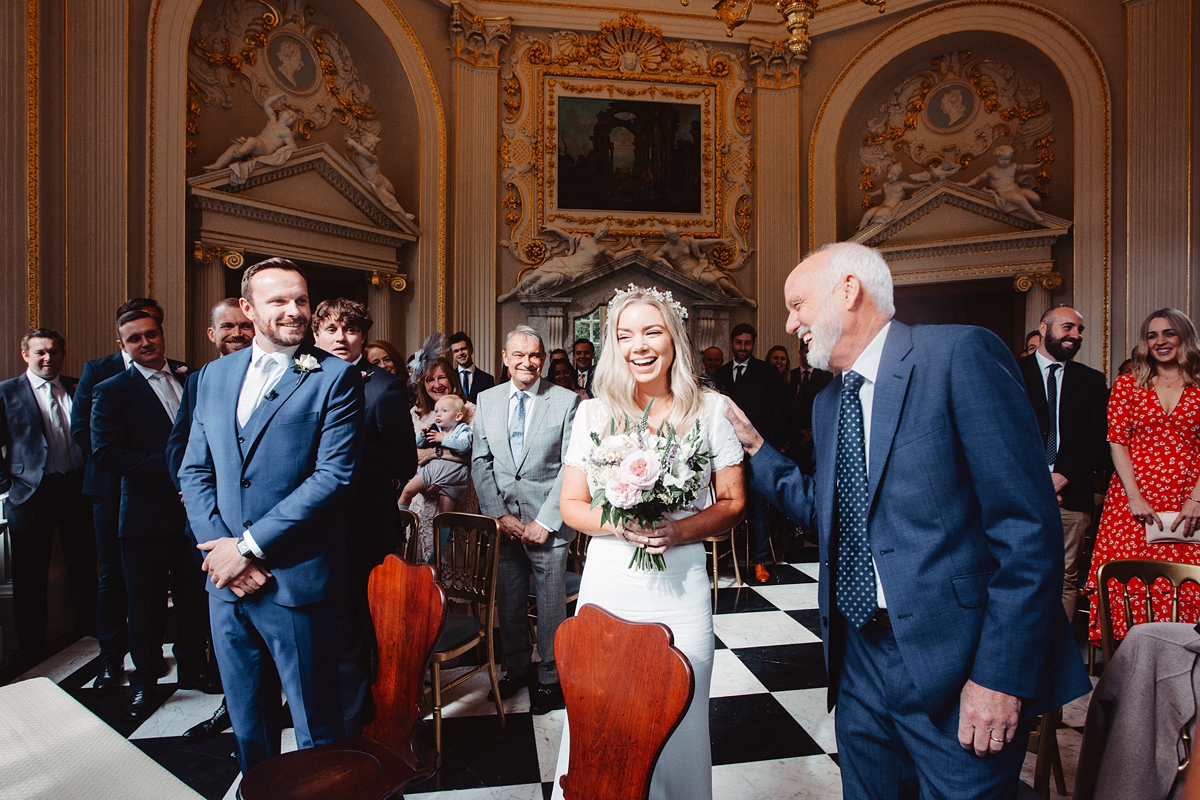 Petersham.
"Both Orleans House and Petersham Nurseries are so beautiful, not much needed to be added. At Orleans I had a wicker basket with flat shoes tied in a thick pink ribbon for guests to change out of heels for the ferry ride if they wanted to, set next to a stand with Champagne and another wicker basket for lavender rose petals."
The bride entered the airy, light-filled ceremony room on the arm of her father, looking tremendously happy. The entrance song was Ben Harper's 'Forever' and the ceremony was led by the council registrar.
"The first reading, 'Love', by Roy Croft was a poem I have liked since I was young."
"The second, 'Epithalamium' by Liz Lochhead, was one we found on Love My Dress which we thought was beautifully written and also focused on the celebratory aspect of the day, being with friends and how important that is."
The bride's ring – a ruby surrounded by diamonds – was sourced from Burma and Jay chose a plain platinum band.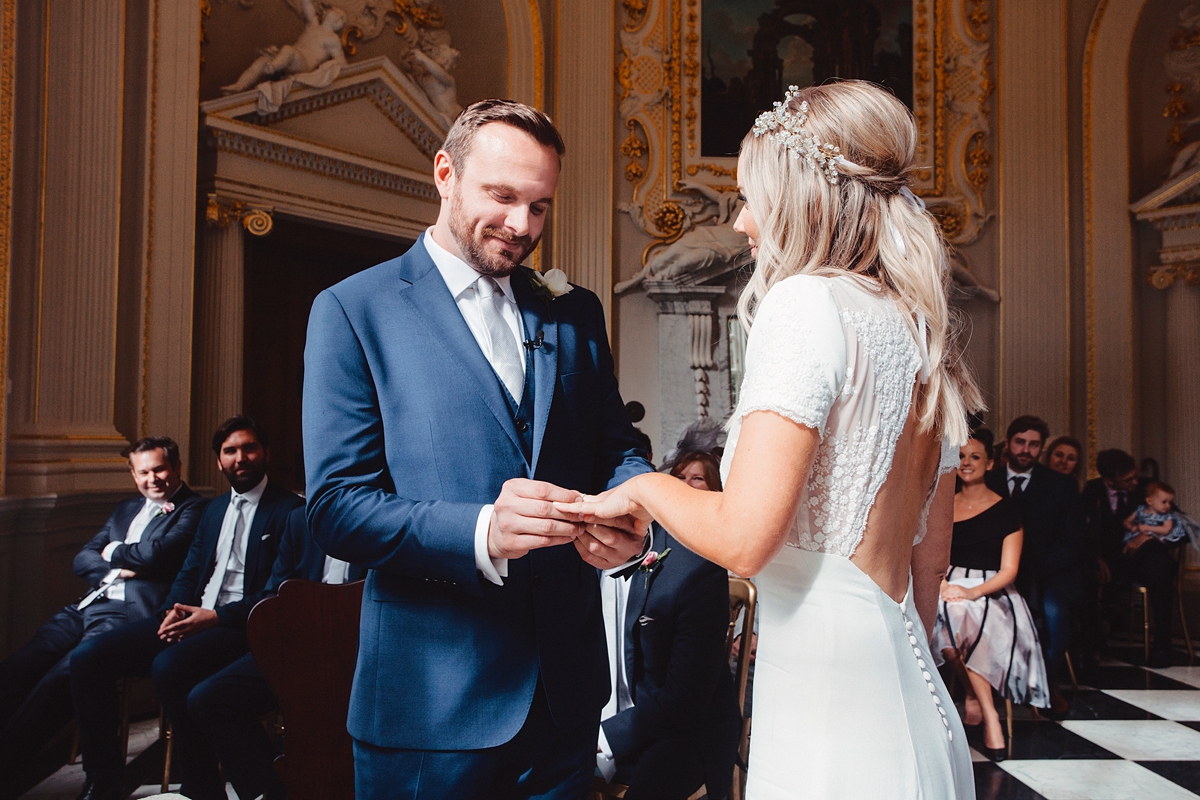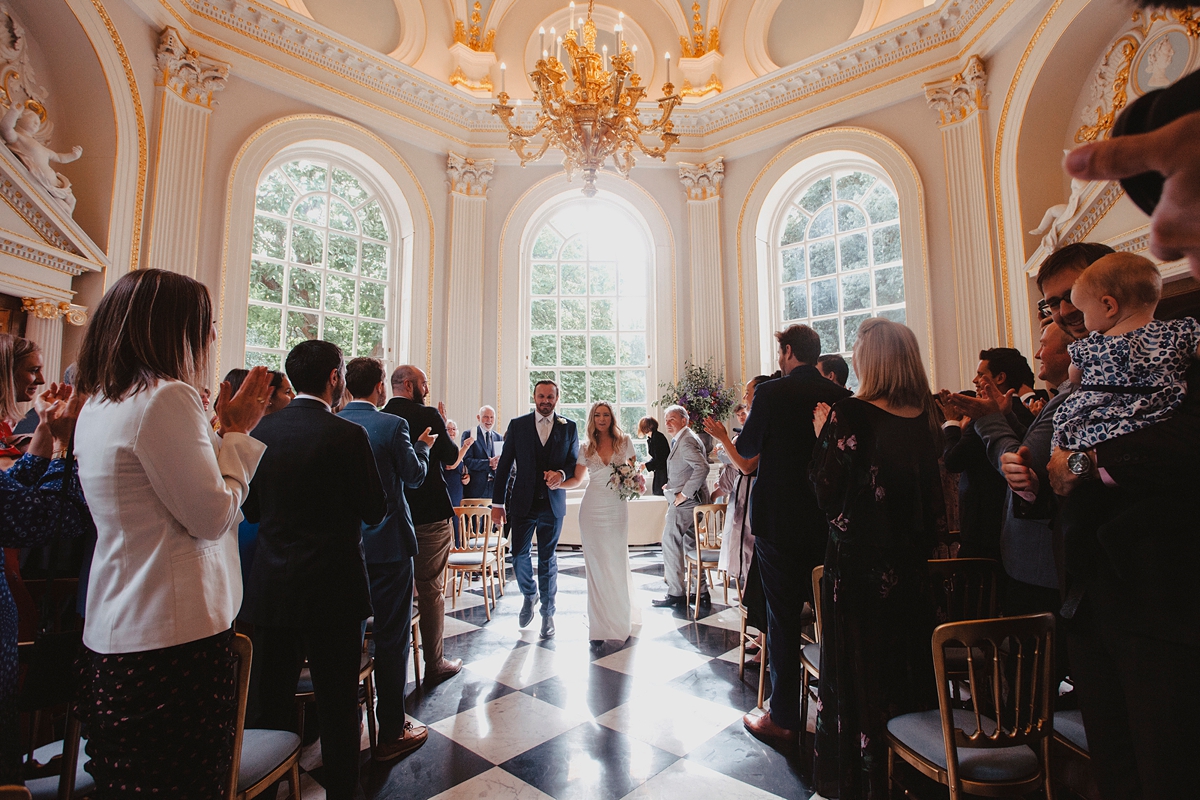 I'm in love with Anna's beautiful bridal bouquet, a combination of garden roses, freesias, limonium, lysimachia, rosemary, mint and taracetum. These, and the venue's flowers, were crafted by Petersham Nurseries' in-house florist.
"I wanted the flowers to be colourful and almost mismatched as if you'd just picked some wildflowers or a range of things from the garden. We had a large vase which was transported from the wedding ceremony to the reception venue where we had posies on the table and several large vases scattered around."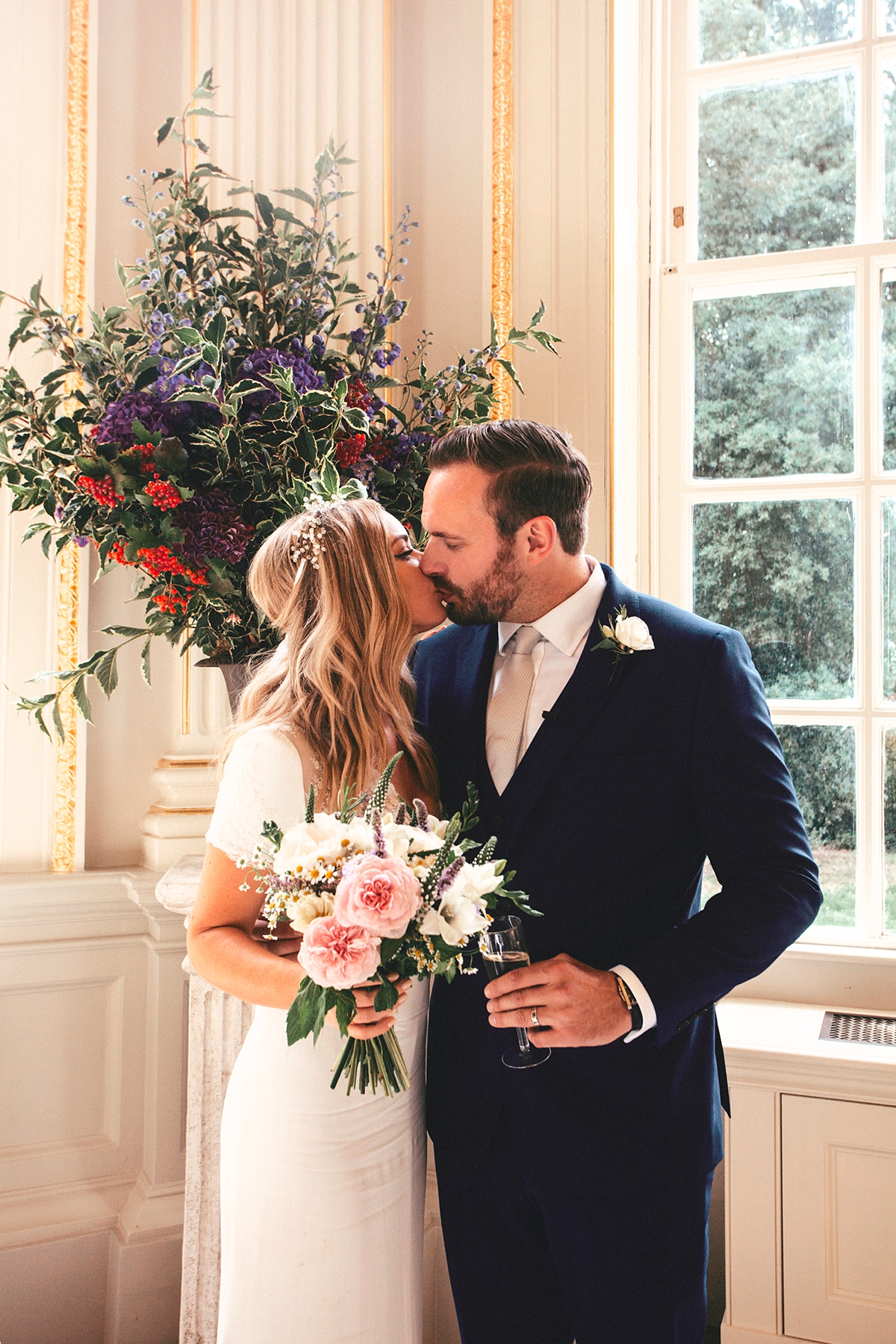 I'm absolutely in love with these wonderful photographs by Yulia of YTZ Weddings, whose informal style and eye for colour has captured this late summer wedding to perfection.
From the relaxed shots of Anna and Jay getting ready to the more emotional ceremony pictures, and not to mention the little details that made the day so personal, these photographs really are beautiful.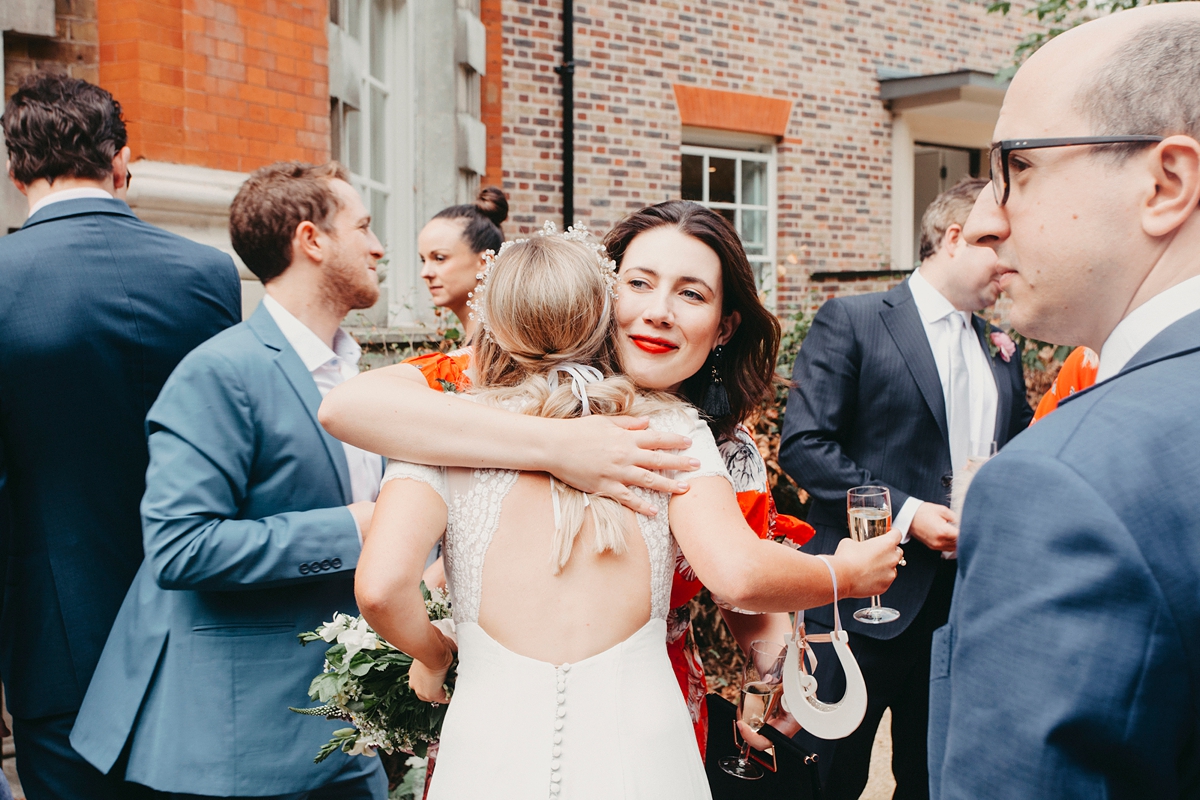 "Yulia has a fantastic eye and captured such subtle and beautiful imagery of our wedding day. She was so professional and made the whole process incredibly easy. The final images really captured the day and the mood."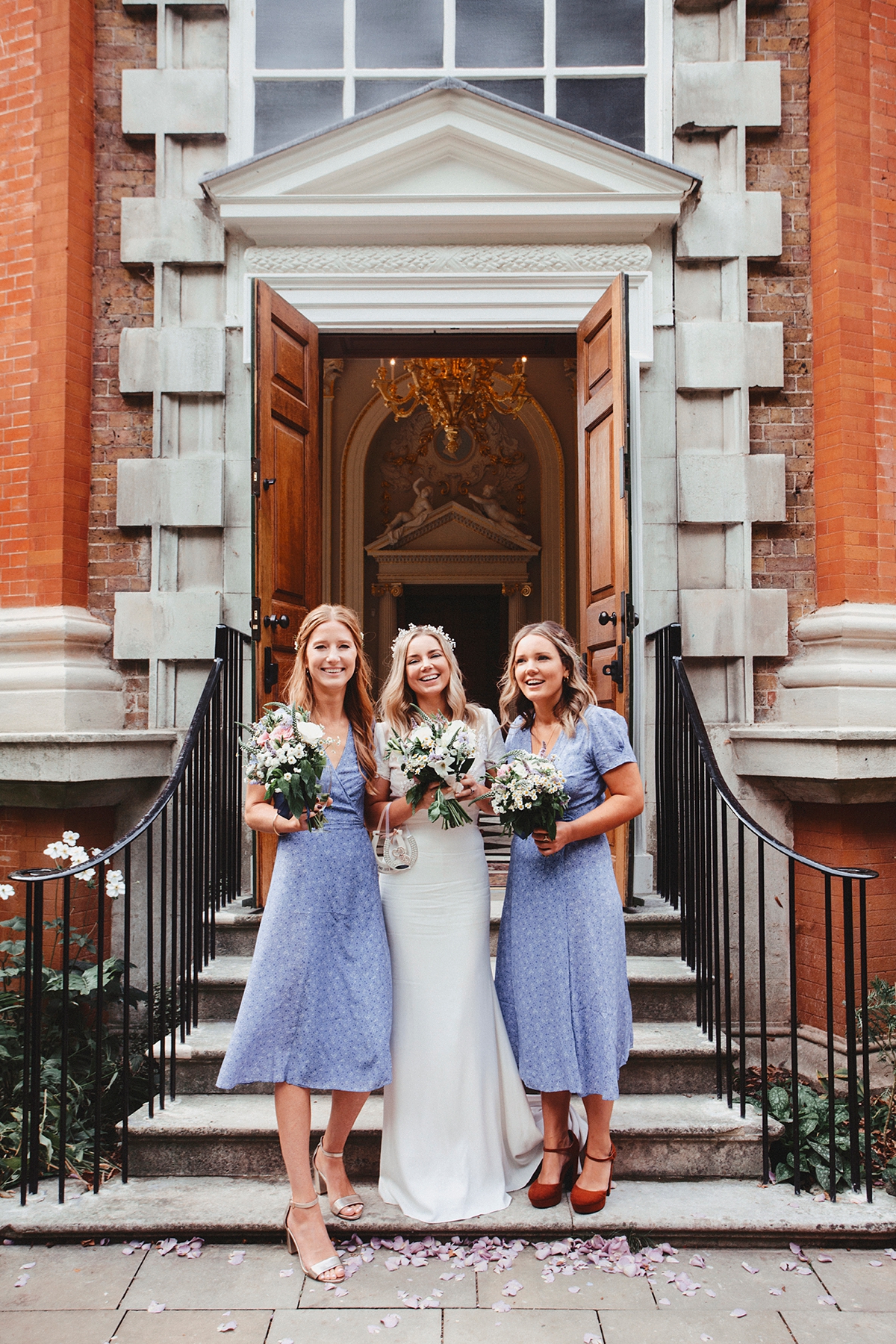 Wedding videographer Honza Barton made a moving picture of the day, too.
"Honza did a great job of the video content and really got into the spirit of the day."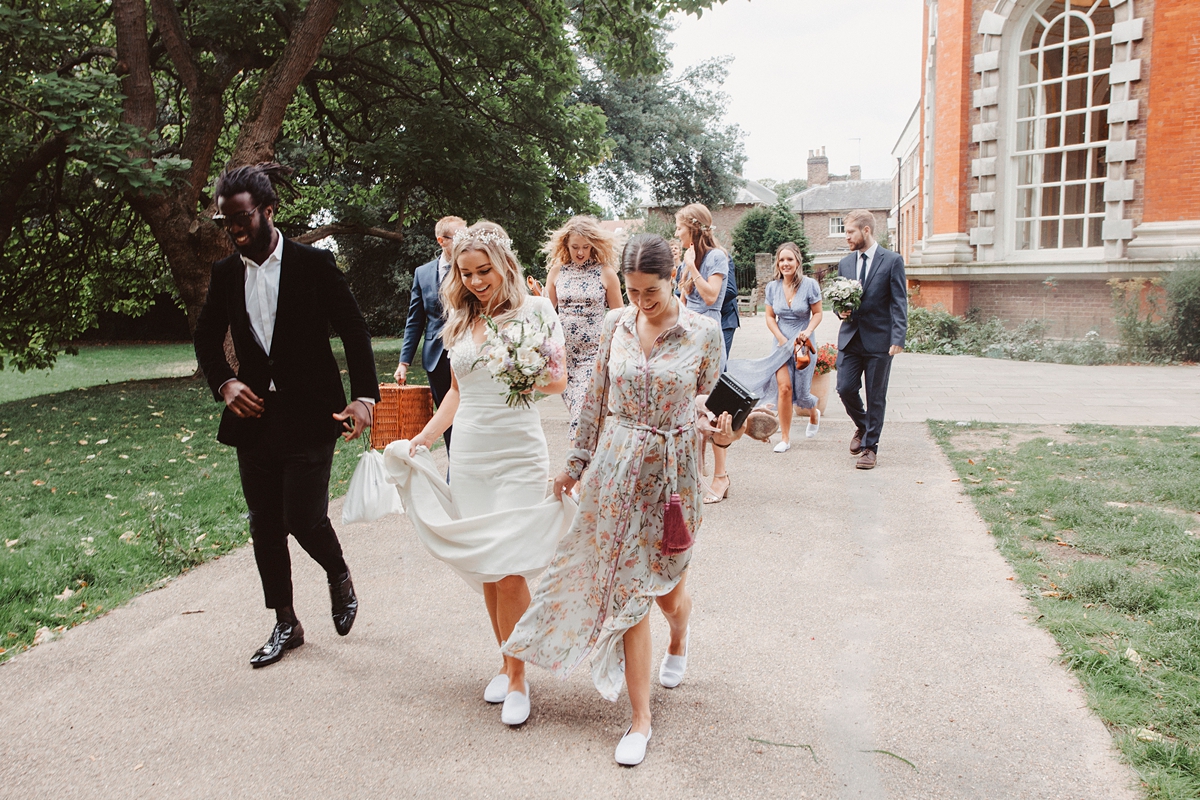 "I'm not sure I could pick a favourite part. The ceremony was emotional, the speeches were fantastic and at the party afterwards it was great to see everyone let their hair down. I really liked the ferry ride / walk between the ceremony and the reception venue. It was lovely to be able to do that."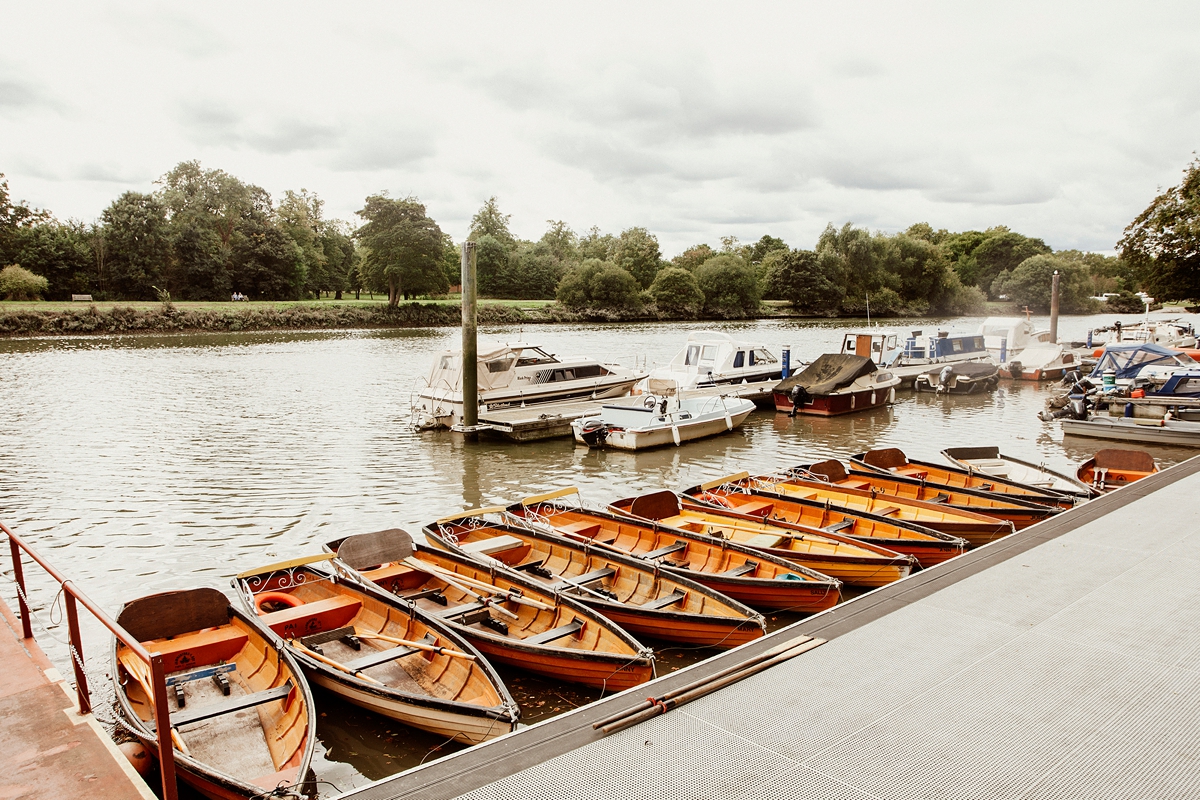 The river-side location meant that the newly-weds and the wedding guests could travel to the reception in total style – by boat on the river Thames. What a way to arrive!
"At Petersham we added some large flower vases and table posies, as well as a Polaroid table with props for the guestbook. We provided props and a Polaroid camera, so guests could stick a picture in the guestbook along with a message."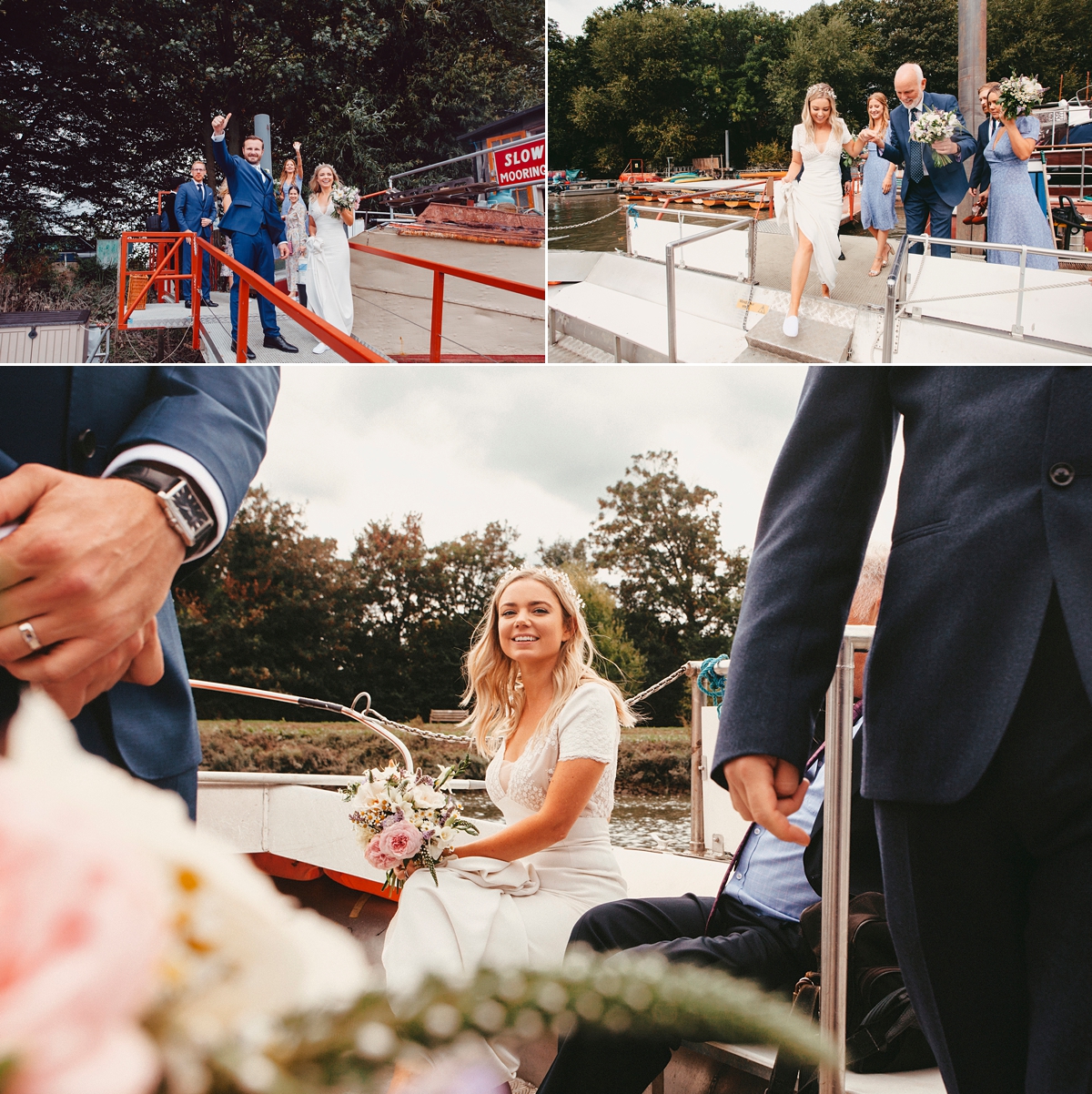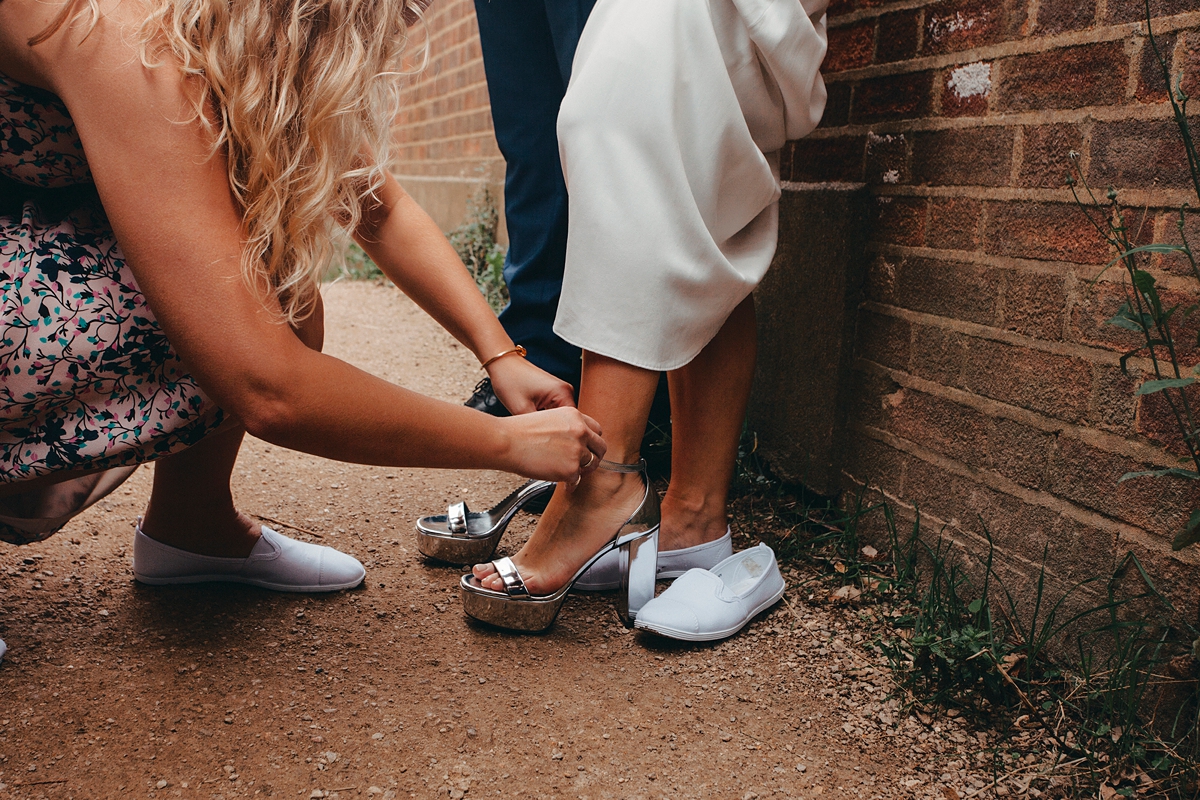 "I am working on a new small business making up-cycled clothes and lifestyle products. Consequently, I'm very interested in sustainability."
"I wanted the wedding to be as sustainable for the environment as possible, without compromising on quality. I also wanted a relaxed atmosphere where people could enjoy and have fun."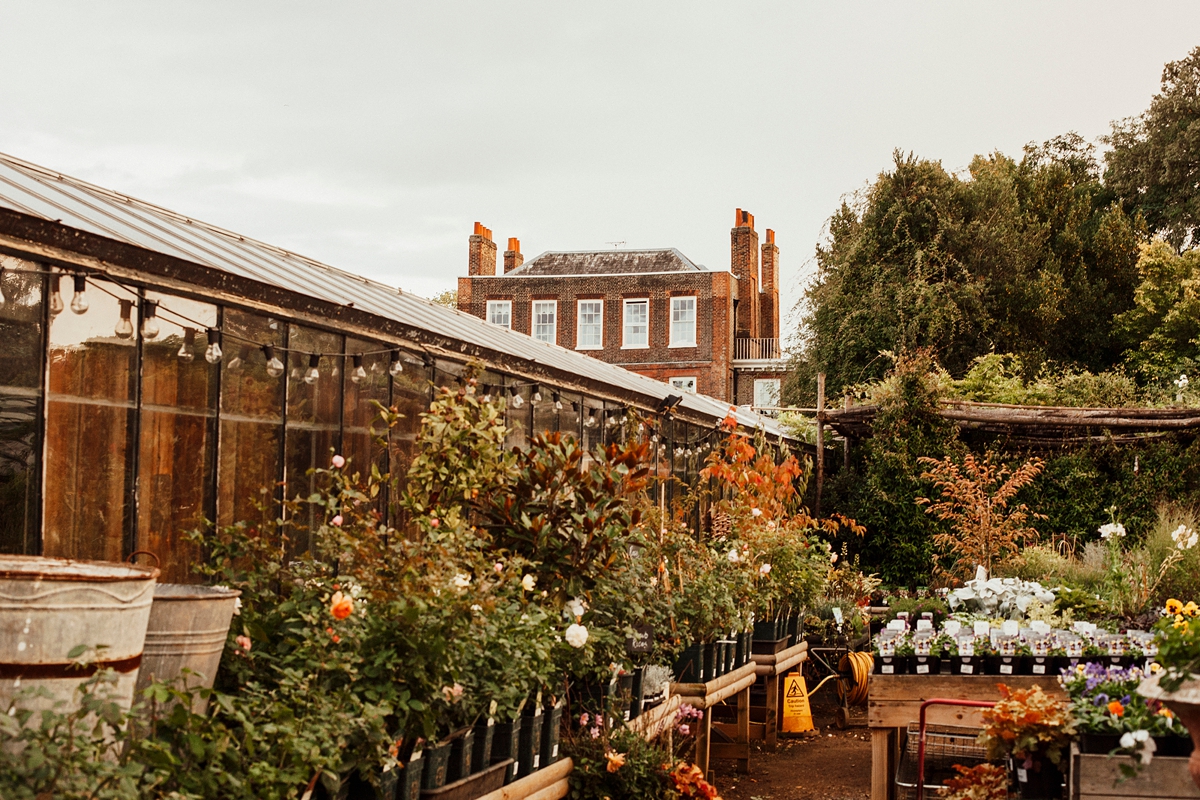 "One of the major reasons I chose Petersham is that they use seasonal locally sourced and organic ingredients for their dishes, with an Italian accent. The venue and food have a bohemian rustic feel to it which I struggled to find elsewhere in London."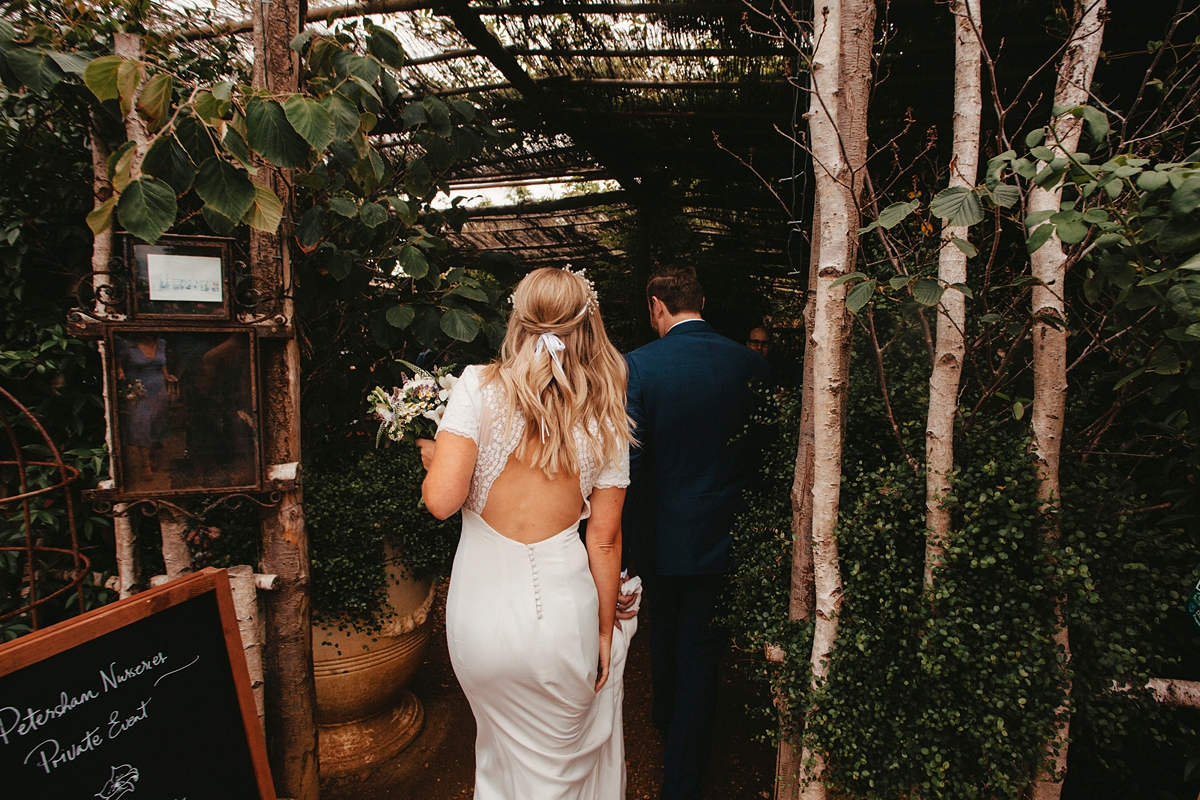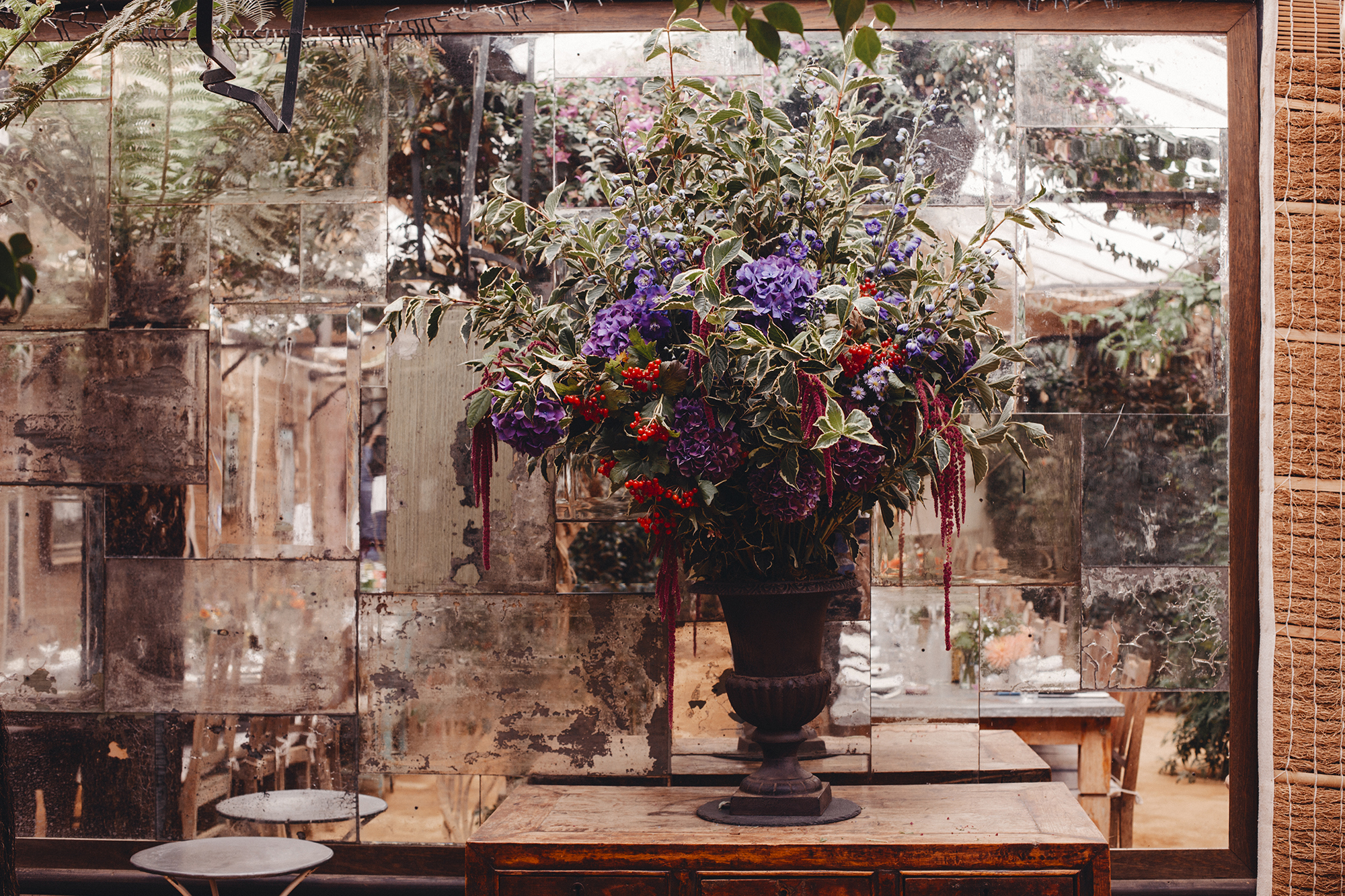 The day had a subtle geographical theme running through it, inspired by the places Anna and Jay have lived. The stylish calligraphy of the place-names and stationery really caught my eye.
"Kate Ridyard Calligraphy handcrafted our invitations and the materials on the day (table names, place cards, seating plan and signs). The tables were named after all the places Jay and I have lived."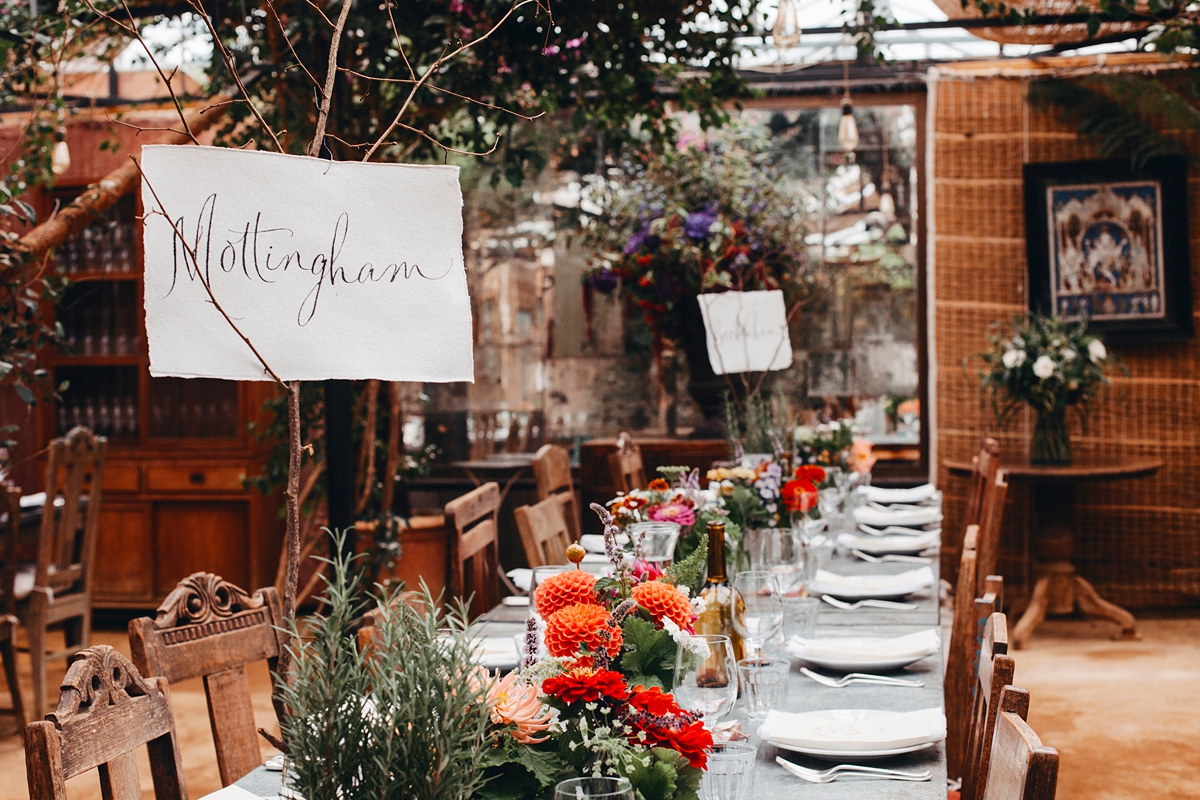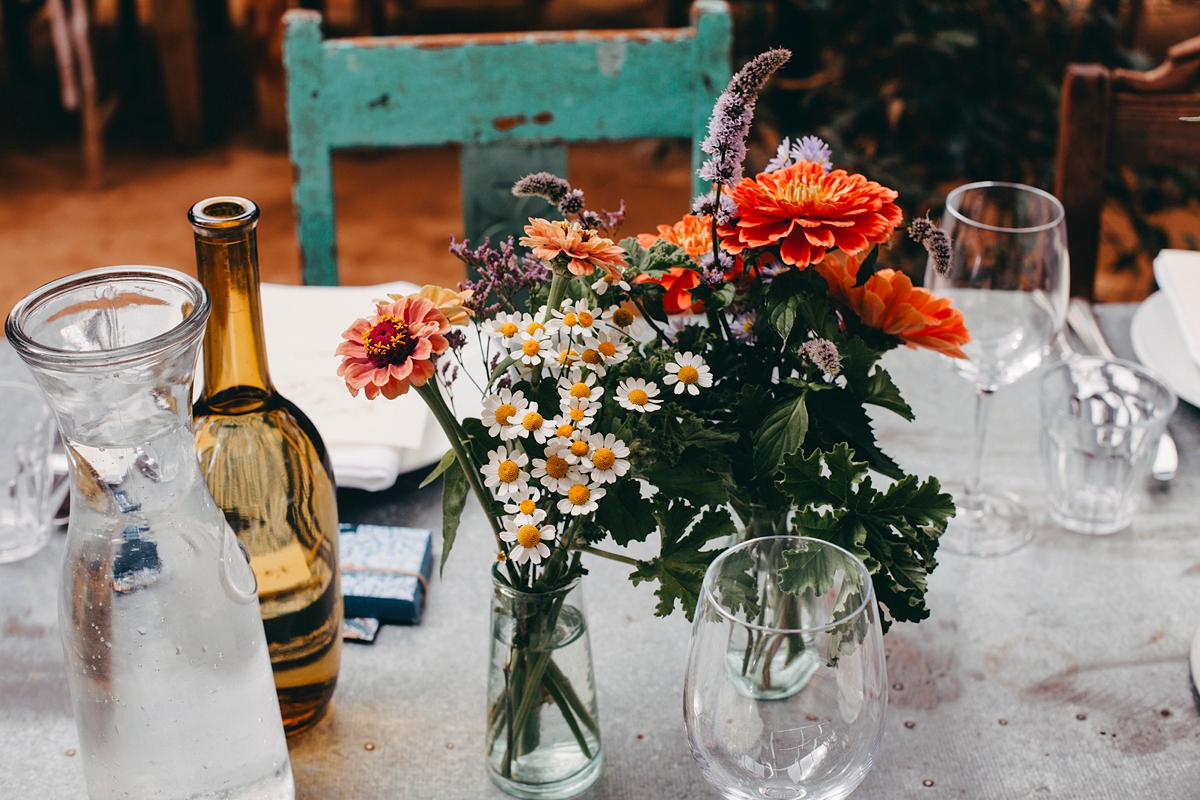 Music for the day came from The Kingston Jazz Trio, and the party continued long in to the night with an after-party at Revolution Richmond.
"At the after-party we decorated with balloons from The London Balloon Lady, which were freestanding, massive silver balloons with some papery 'greenery' added to carry on the nursery theme. On arrival at the after-party waiters offered Negronis and Espresso Martinis."
"We also had gin stations so guest could make their own. At the end of the evening we handed out confetti guns to guests which was a fun finale!"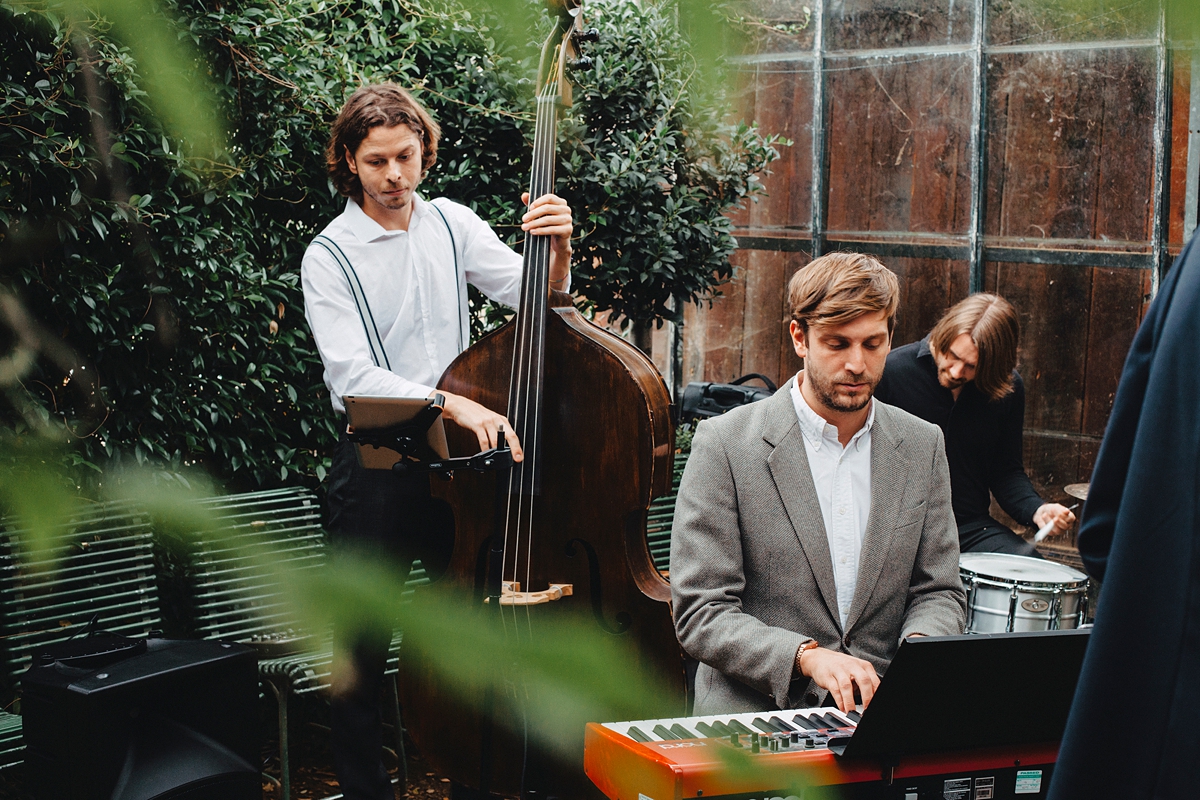 "I wanted the favours to be in keeping with the nursery venue, as well as the wider setting of London. I chose chocolates from the V&A with quintessentially English names like 'Eaton Mess'  & 'Cream Tea', as well as some assorted seeds for guests to grow in their own garden, wrapped in the V&A signature designs."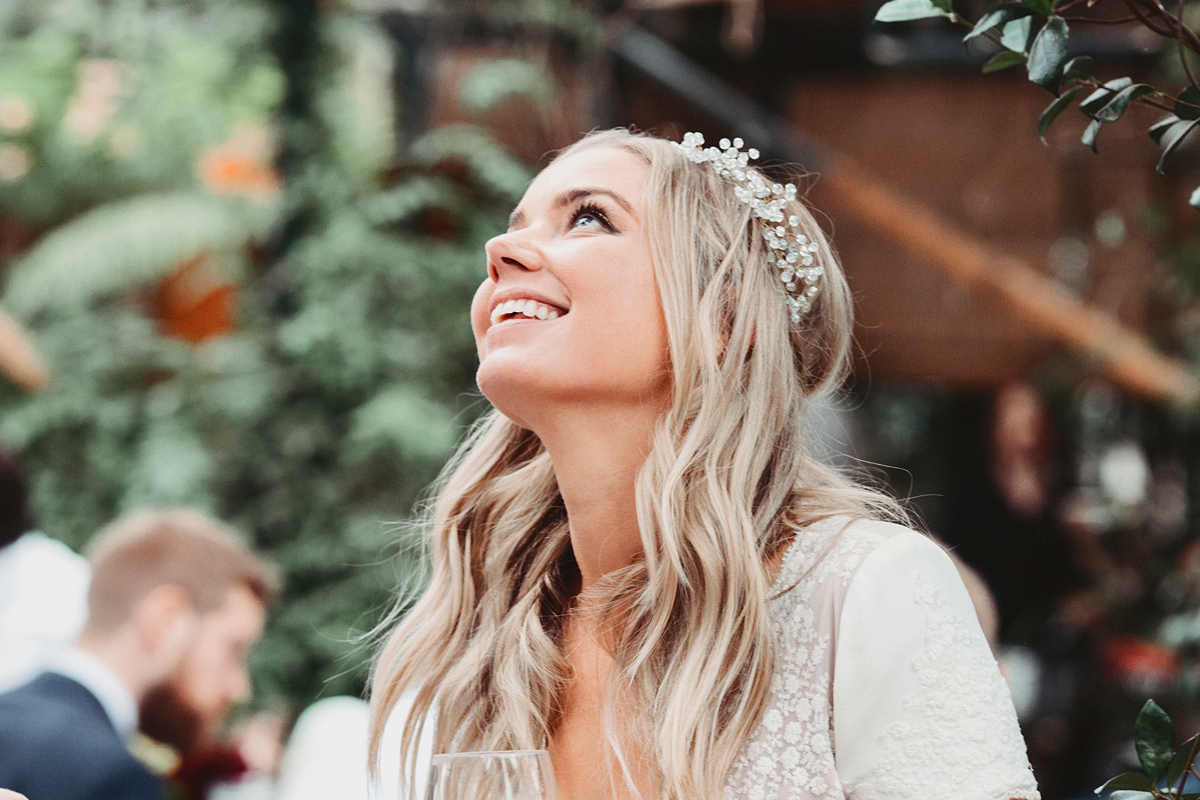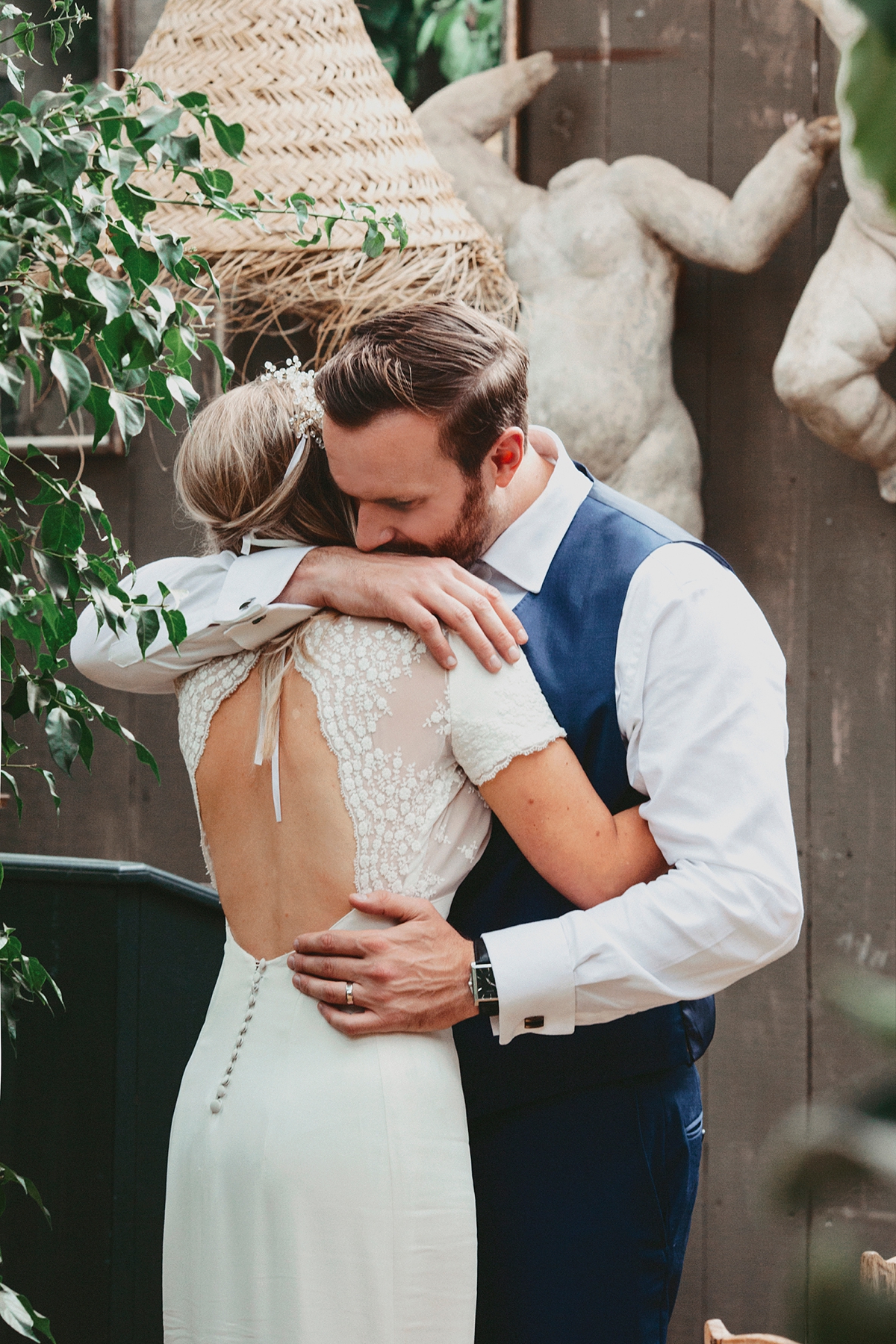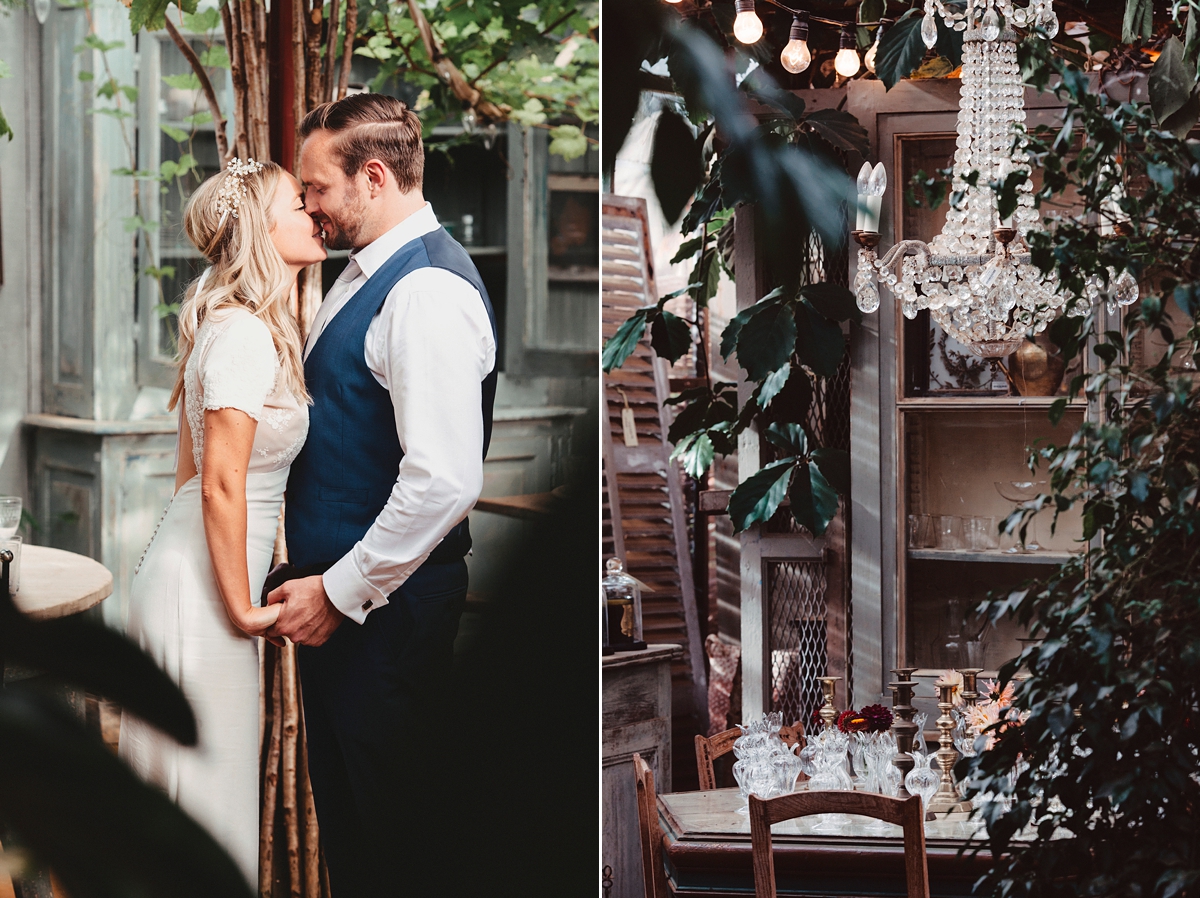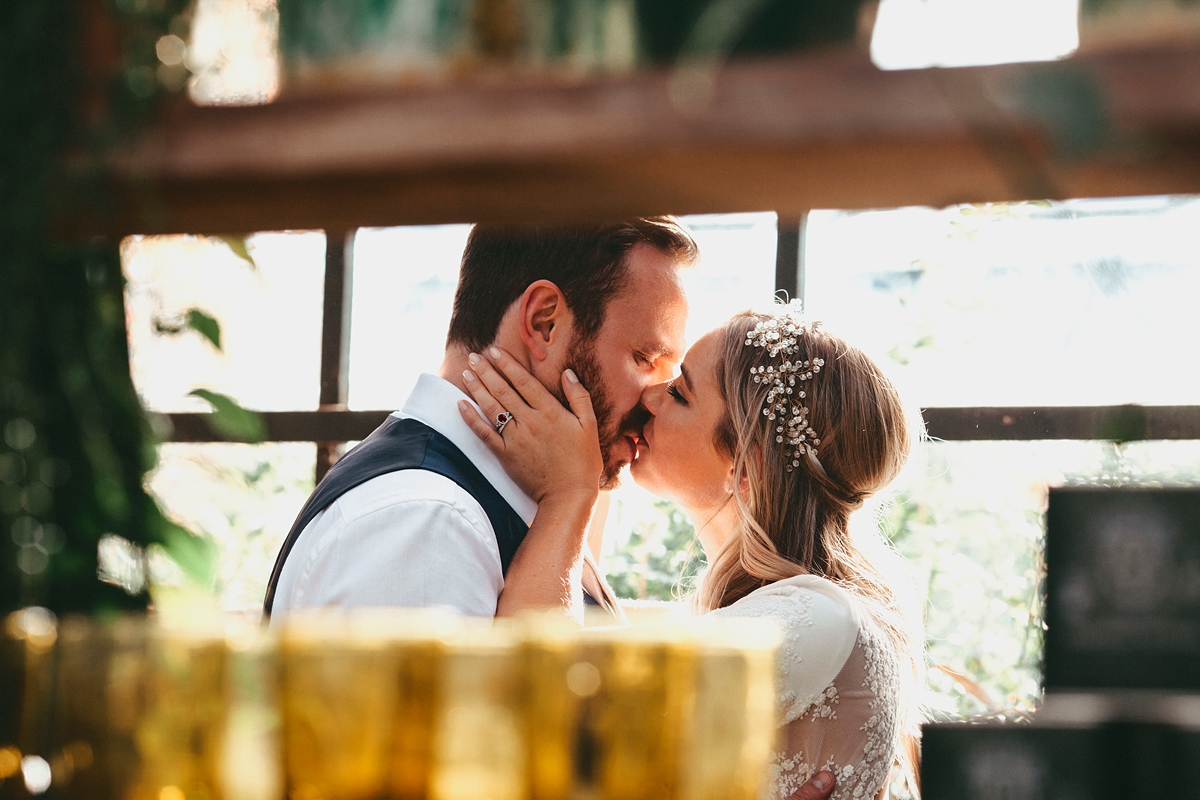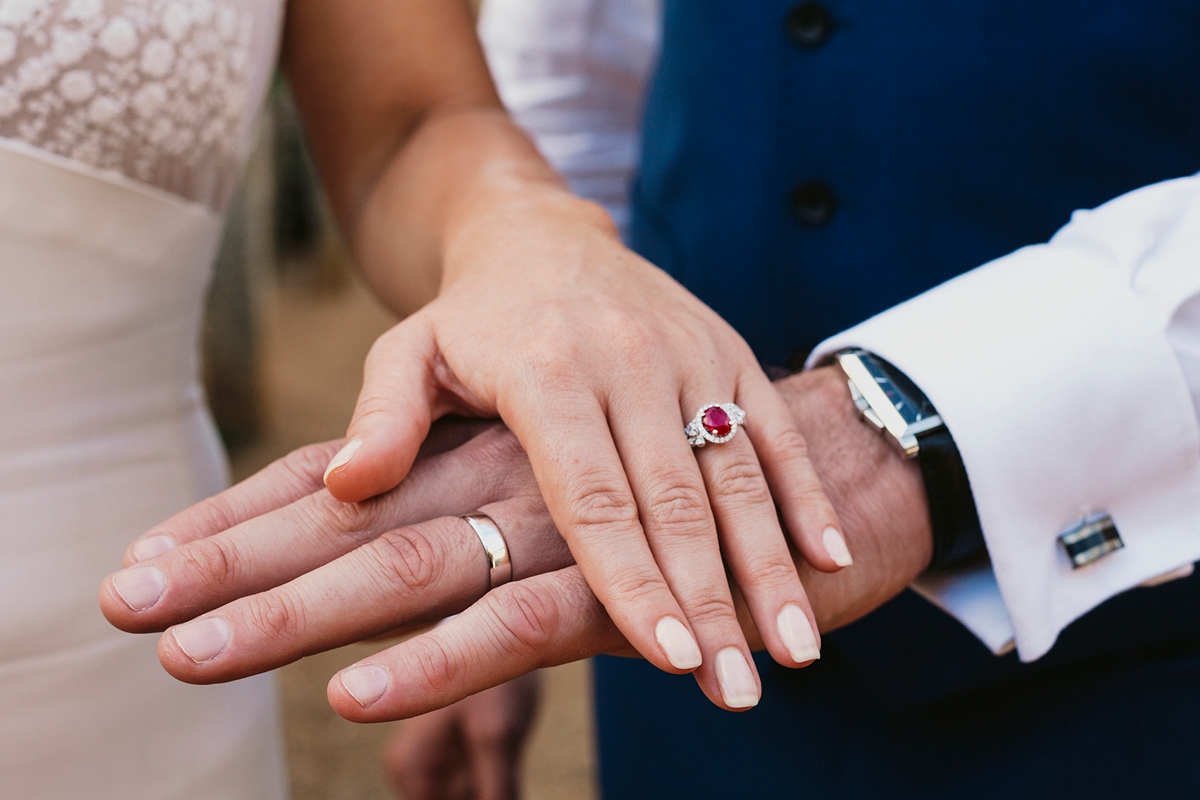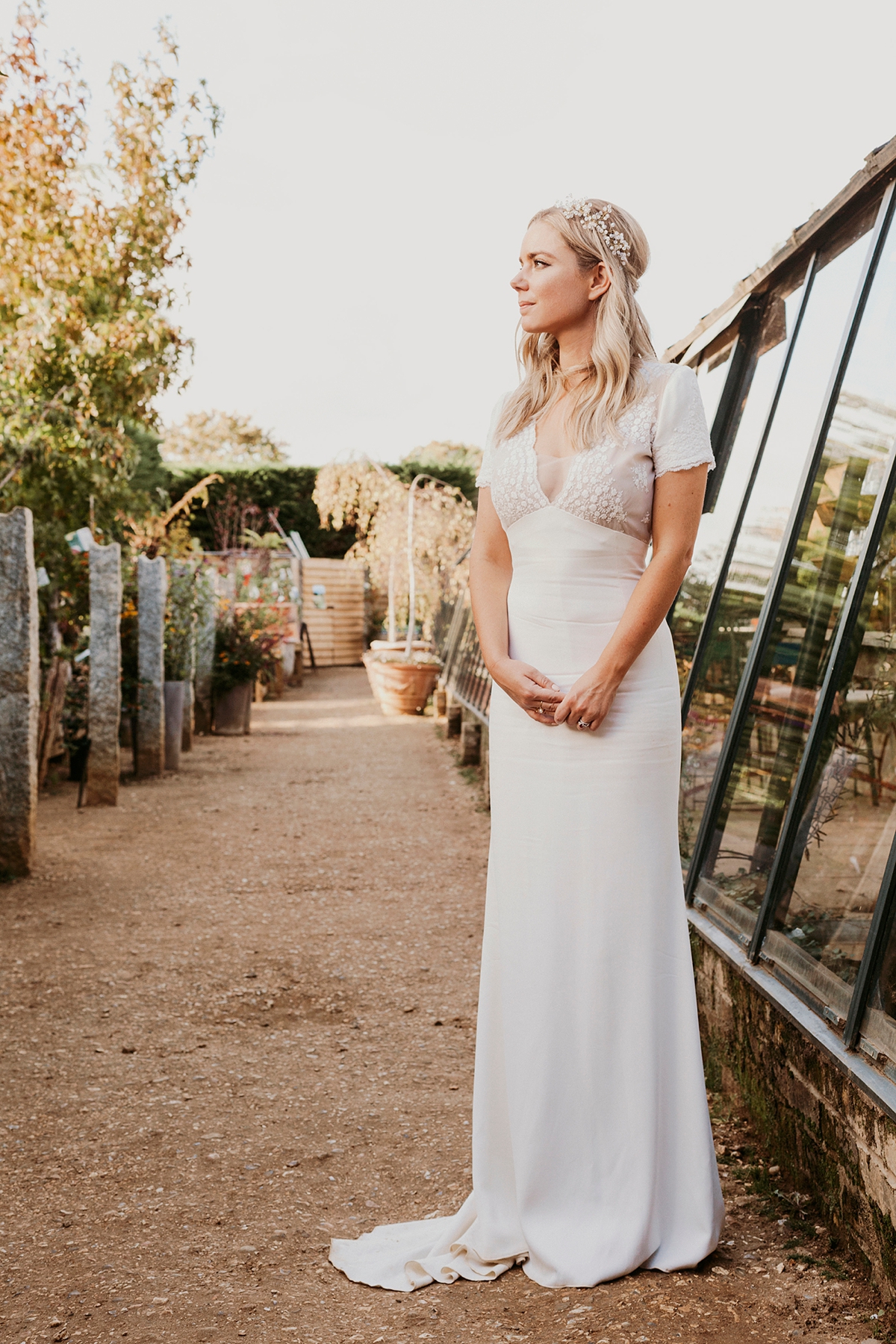 The gorgeous conservatories at Petersham meant that the wedding breakfast was flooded with light, and the wonderful foliage and flowers are just beyond-words beautiful. The dinner had a subtle Italian vibe which extended even to the wedding cake.
"We went for a family-sharing style of serving to keep it informal. There were so many delicious courses and we got so many positive comments on the food afterwards."
"I went for an Amalfi lemon cake decorated in fresh flowers which Petersham Nurseries made."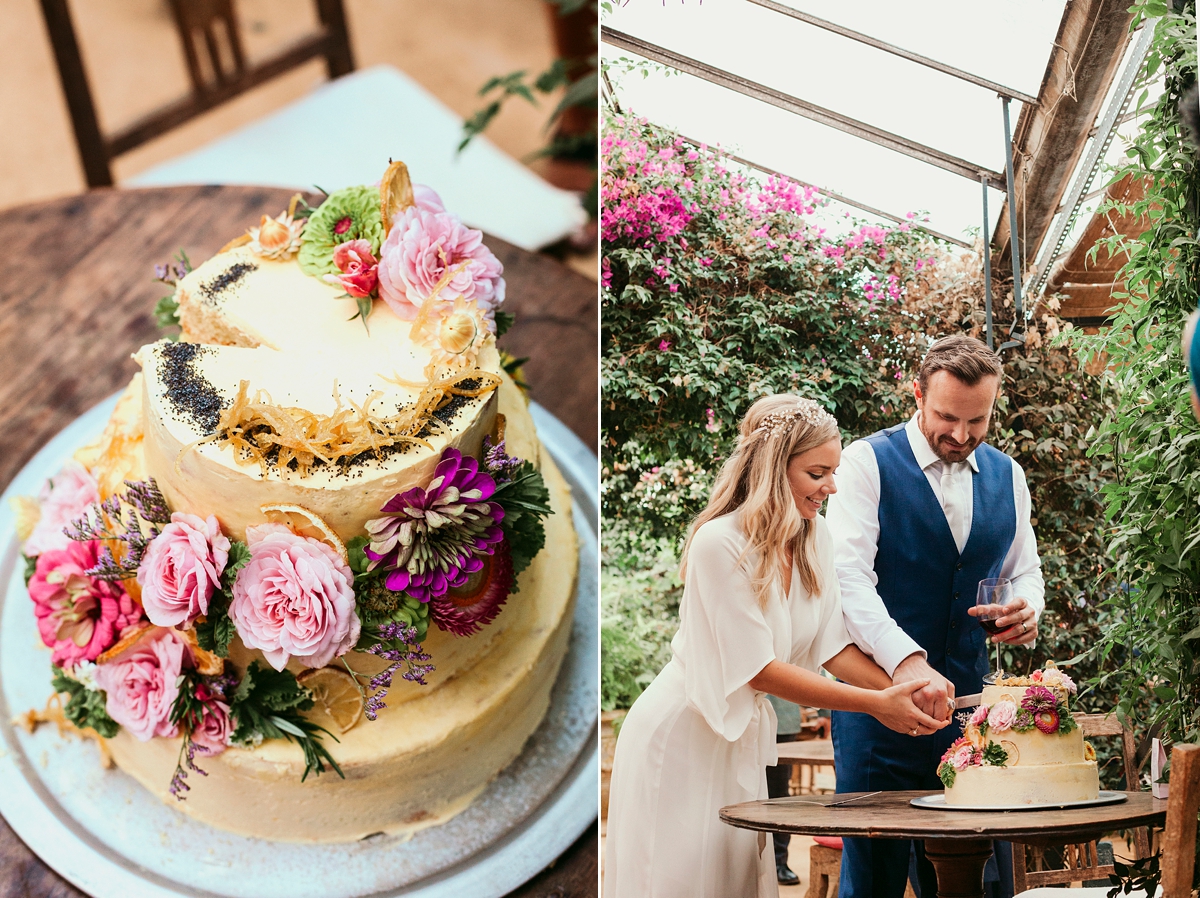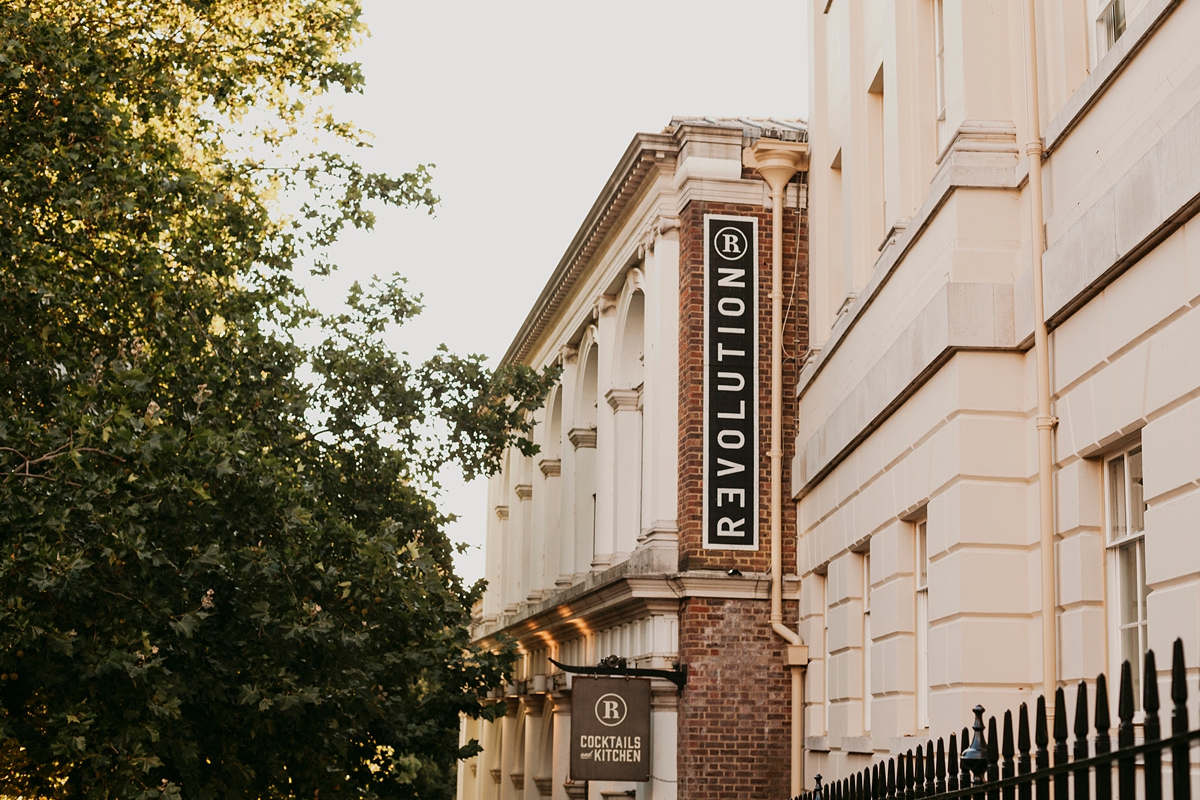 To make dancing easier, Anna changed into a relaxed, bat-wing sleeved gown from Reformation with shoes from Russell & Bromley.  The first dance was to the classic 'At Last' by Etta James.
"I wanted something a bit looser for dancing in the evening, and the Reformation dress I found was perfect. It's a sustainable brand which does wearable party dresses so well."
"Jay picked this song as he's always been fond of it and it's something he used to listen to growing up."
Words of Wedded Wisdom
"I probably would have started it a little later than 10:30am! I was very worried it was such a long day, but in actual fact people were still partying until the DJ stopped playing at midnight."
"In retrospect though I think 11am or 11.30am would have been a better time as I was up pretty early in the morning getting ready!"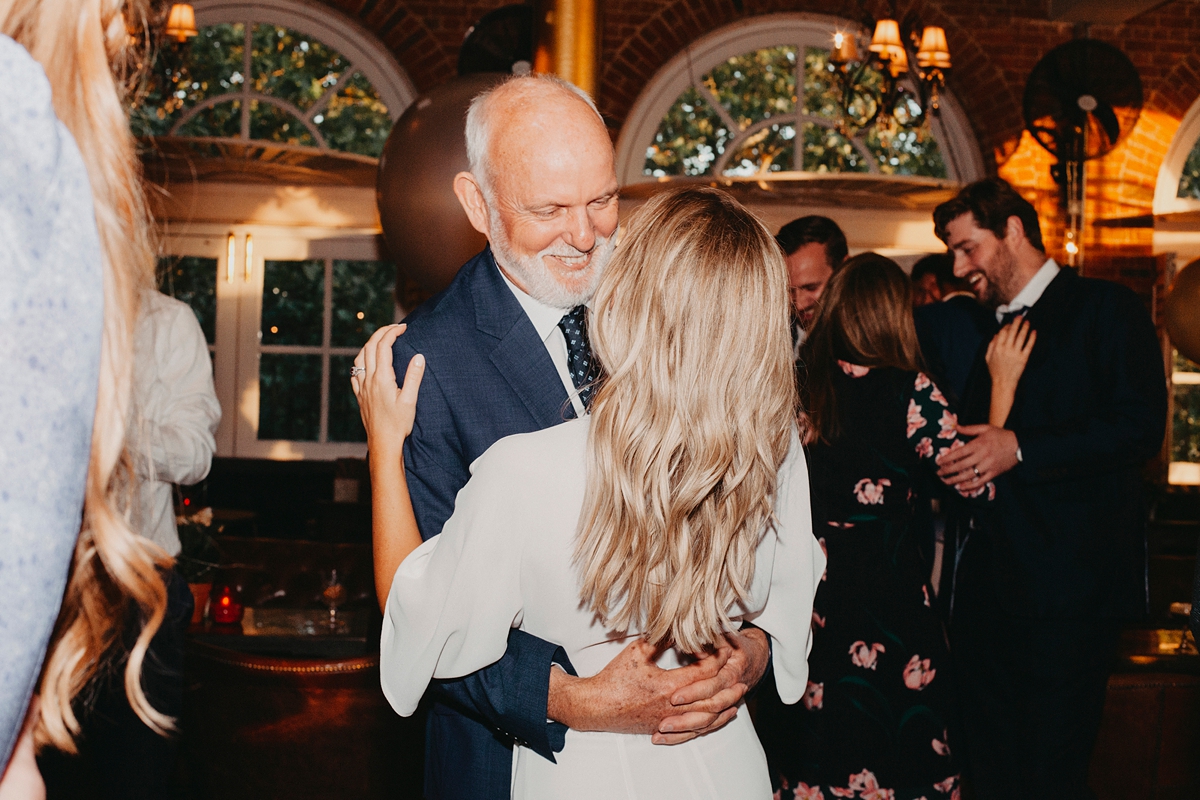 Good golly Anna, what a beautiful day and I love your river ferry to your reception. Wishing you and Jay congratulations and sending thanks for sharing your day on Love My Dress; it's been wonderful to see these photographs by Yulia.
Ele xx