Quite rightly, environmental, ethical and sustainable issues are at the forefront of public debate right now.
From making small swaps to taking huge steps to change lifestyles, I think it's fair to say that we're all trying to make a difference right now in terms of what we buy and what we consume.
I have no doubt that you'll be aware of all the discussions that are going on around the topic of fashion and that impact that it has on the environment and if this is something that you're even remotely interested in, you'll definitely want to make strong ethical choices when it comes to your wedding gown.
We've spoken to leading ethical wedding dress designer, Sanyukta Shrestha to find out more about ethical production and exactly why you should 'go ethical' with your wedding dress.
Image by Carrie Lavers
Thank you so much for talking to us Sanyukta. Firstly, can you explain what you mean when you say that you design 'ethical wedding dresses'?
"Ethical Fashion is about taking into consideration human rights, animal welfare and the environmental impact at every stage of the design process and supply chain that we follow. Sanyukta Shrestha designs are created by a team of artisans, who are the real masters of their craft in Nepal."
"Our brand is much more than creating the perfect wedding dress; it celebrates love for people and communities while minimising the impact on the environment."
"Because of the powerful topic of sustainability we encounter in our lives today, I believe that our brand is a beacon of hope as we move towards a future of ethical wedding dresses." 
Image by Olliver Photography
Why is ethical production so important?
"The truth is that we do not quite understand how important ethical production is until we realise that it affects thousands of people's lives, millions of animals and our homes and the earth."
"The production of clothes is closely connected with waste, water, and toxic chemicals. Over the past few years, social media has created a cult following of consumers that want to have new clothes quickly and constantly.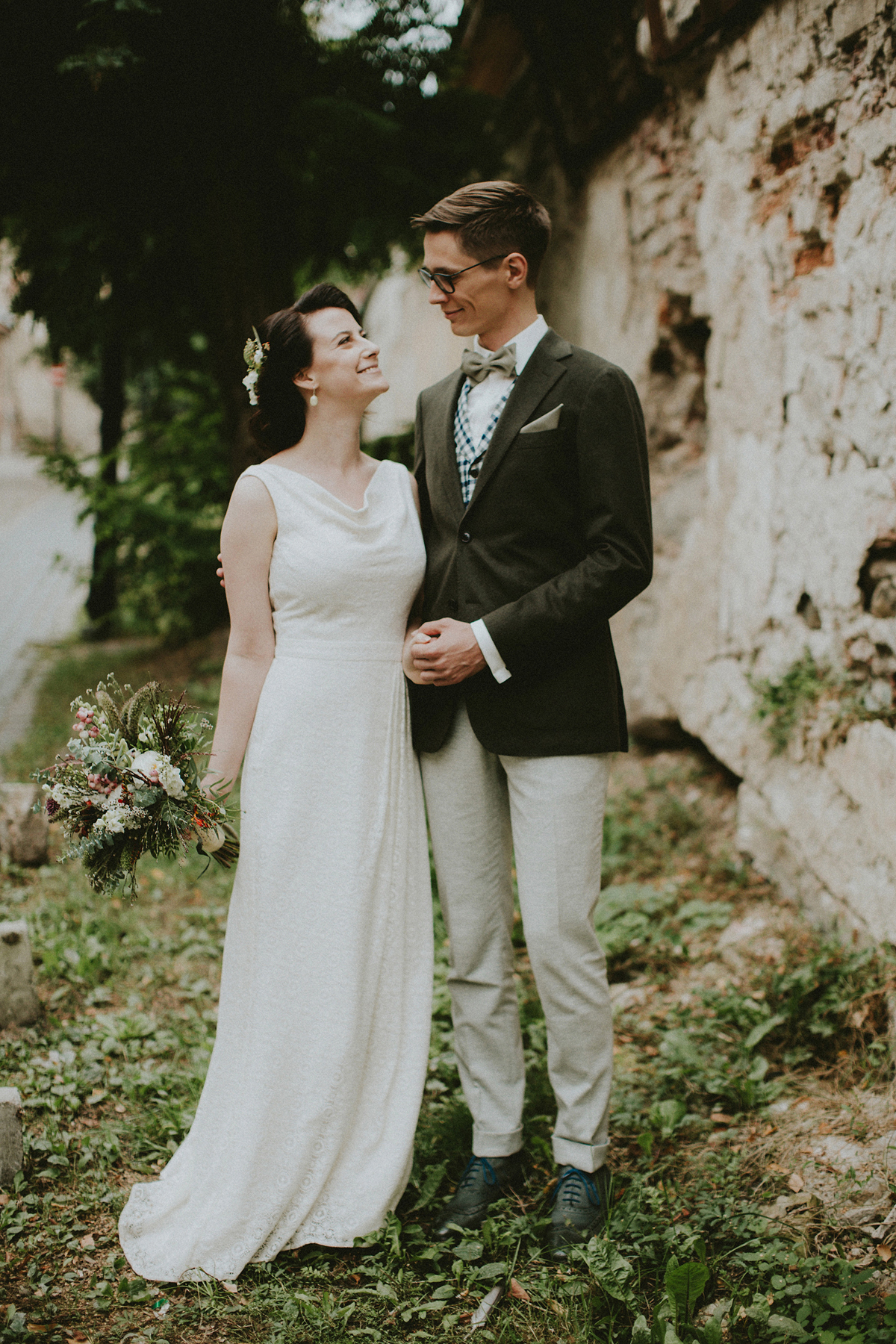 Images by Balti Remeliai
Fast fashion as a phenomenon has grown so rapidly in order to keep up with the demand for disposable clothing and, as an outcome, consumers are now buying outfits that are wearing only once or twice and then getting rid of without thinking of the consequences."
"In addition to this, there are many serious issues like an ever-growing landfill problem, the working conditions of people who made the clothes and the constant rise of cheap synthetic fibres that costing our planet as a whole. These should not be ignored." 
"As a brand, the process of design and creation is so crucial because we want to ultimately create a gown that will empower our clients, giving that power of traceability of where, how and what it is made of."
"Our focus is always on creating a garment that is timeless and comfortable but we are incredibly proud that while we are designing luxurious dresses, we are also pushing further fair trade fashion and traditional craftsmanship as well." 
What are the ethical and environmental issues surrounding traditional wedding dress production that brides need to be aware of?
"Sustainability is a buzzword that needs to be carefully examined in modern production. Not knowing if materials have been properly sourced has created dangers such as fast fashion—where fashion is churned out so quickly that there is no thought into the origin of the materials or the conditions of the workers if the fabrics are being produced in factories.
"Questioning the production of traditional wedding dress covers a range of issues such as working conditions, human rights, fair trade, sustainability, animal welfare and planet earth. On the other hand, creating a custom-made wedding gown does not guarantee that the process of making is ethical and fair trade."
"For example, using the 'made in' label, on the one hand, is a map for the design, yet it does not mean that the guidelines that are used to describe a garment 'ethical' have been followed."
"Every brand that has an ethical and environmentally friendly profile should be able to create a special bond with all the people related to the design process and be transparent when it comes to its supply chain."
"Every bride should be aware that the brand of her choice reflects respect and responsibility from their commitment to the bride to the commitment to their team and artisans."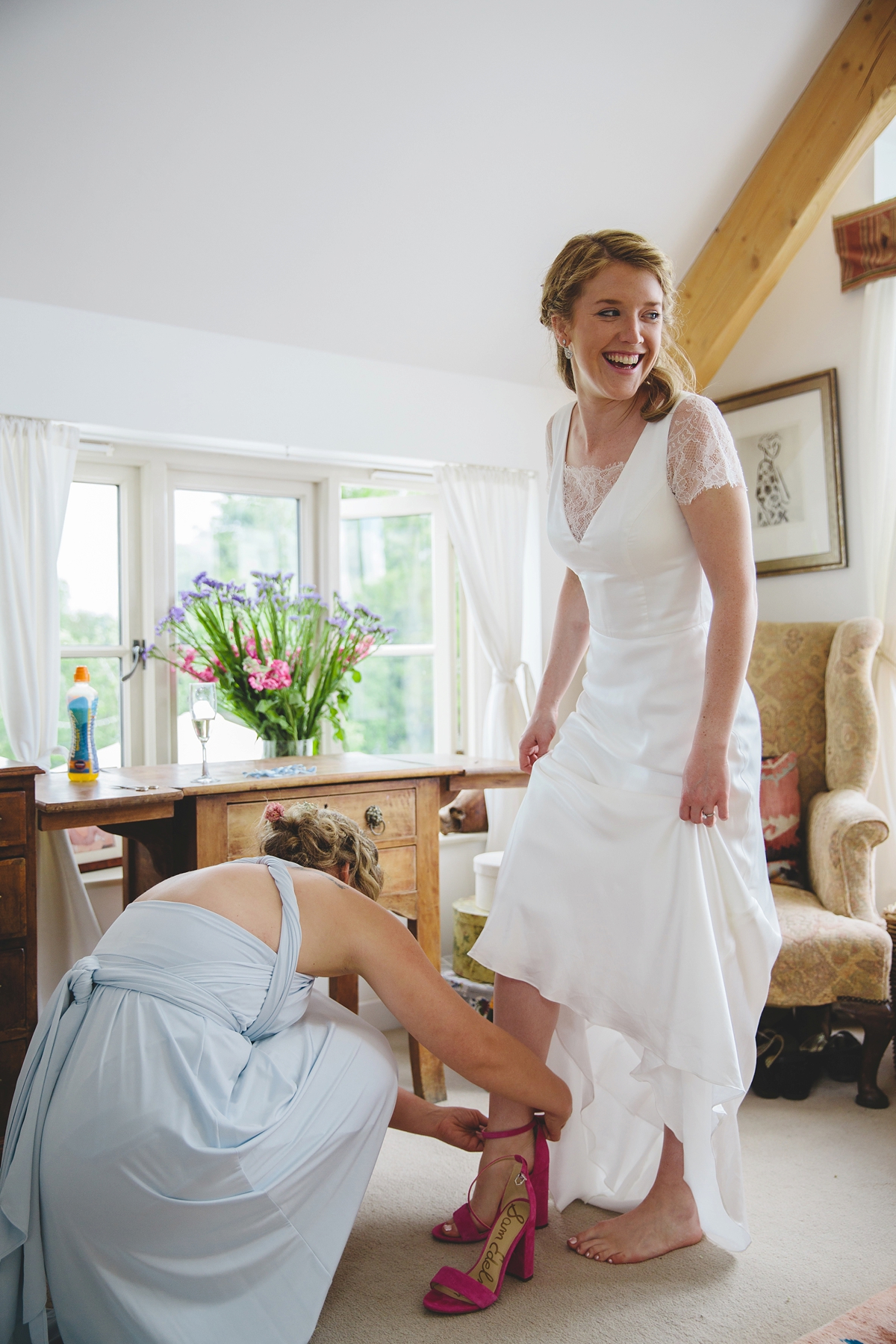 Image by Mark Leonard Photography
This is obviously something that you're really passionate about but why should brides look for an ethical wedding dress? What questions should they ask of boutiques and designers?
"First of all, what we choose to wear should be equally important as what we choose to eat. Ethics and sustainability in fashion is something that the millennial generation has started to talk about more and since the first sustainable bridal collection was launched in 2011, we have seen significant growth in brides that are in a search for a wedding gown that's luxurious yet eco-friendly."
"Each of our wedding dresses is made with the use of ethical and sustainable fabrics like organic silk, hemp silk, bamboo, milk, soya, and organic cotton with skin nourishing, breathable and antibacterial properties."
"The comfort and effortless elegance these ethical wedding dresses gives to our brides will not only make their special day truly unforgettable but it also gives them pride of nurturing the planet in the most gratifying way." 
"Every brand that respects its identity and craftsmanship should be able to inform their clients regarding its process of design, supply chain and philosophy."
Ruth + Nick by Tori Hancock
"Questions that a bride should be able to ask a designer or boutiques could be simply where were the gowns made? What material are the gowns produced from? How are they sourced from and have you considered sustainable options?"
"You should check the label inside the gown to understand what material it is made of and where it came from so don't be afraid to ask if your designer or boutique can provide you with information about the brand and their production background." 
"If you do not feel comfortable with what you have seen or questioned, take the initiative and search for supplier or designer that are transparent to your questions."
"I believe that the power is in the hands of the consumer and if we don't ask and push for these sustainable sources, then we will never move forward in the preservation of our planet." 
Image by Carrie Lavers
For brides wanting to "go ethical", what should they look for from their designer?
"As a designer, my desire has always been to create a design that is in perfect harmony with the personality of the woman wearing it. For us, this is the most important element that every bride should look from their designer."
"Every bride has pictured their perfect wedding in a certain way, and as a designer, we should be the people that will turn this dream into a reality. In our gowns, from looming the yarn to sewing the final gown, everything is done by hand."
"This commitment and loving energy is what every bride deserves and wishes for. The environment and the future of our planet are very important to us but equally our wedding gowns are aimed to be elegant with a gorgeous fit and a soft feel against the skin."
"We believe that beauty only comes through care; for people, for the planet, and for our brides. I call it 'a wheel of luxury entwined with sustainability'."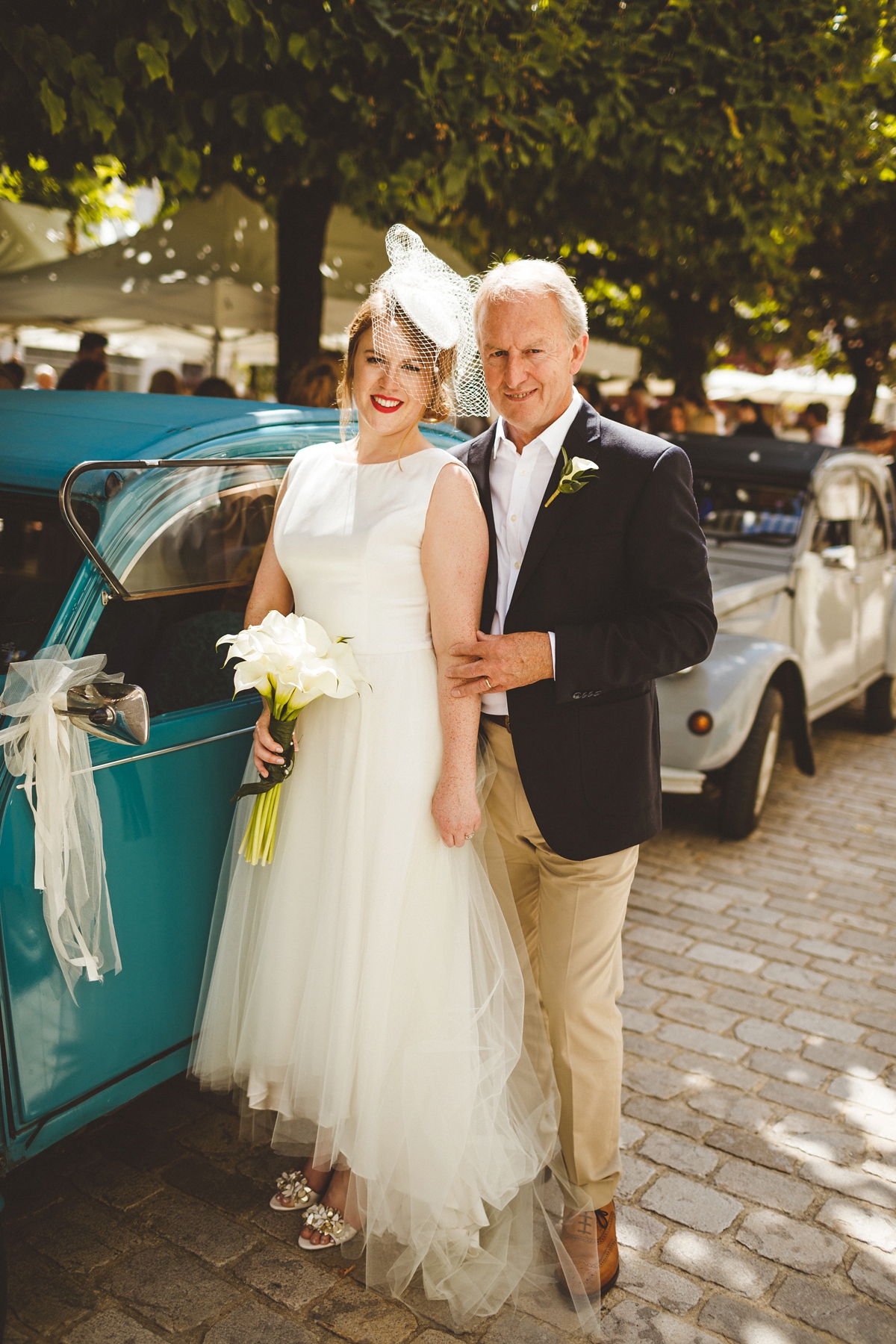 Images by Photography 34
Why do your clients choose ethical wedding dresses? Is it about the design of the dress or your ethical ethos?
"Brides come to Sanyukta Shrestha because we create wedding gowns that are made with love. From the fabric to the luxuriously finished gowns, we believe that our gowns create a circle of happiness."
"Brides wearing a Sanyukta Shrestha gown not only support sustainability, fair trade, women's equality and an ethical workforce, but they are able to feel the impeccable finish – every thread is made with love, every thread has a story behind it."
"Moreover, there are also special benefits like the skin nourishing, breathable and antibacterial properties of the fabrics that make sure that the bride enjoys her day without worrying and compromising comfort."
"Every finished design pays a tribute to every bride, by celebrating their personalities, lifestyles and above everything, their individuality."

Images by Divine Day Photography
Would you like to see more ethical design and production in the wedding dress world?
"There is no Planet B and compassion is the only way we can connect and make the world a better place. Fashion is one of the industries with the most talented and creative people and it is the responsibility of each and every one of us to raise awareness and shape an industry with hope for the future."
"I hope that our brand will be the dawn of a movement which will encourage other brands to strive to be ethical. It is my hope and wish that the bridal world will also join in and practice this movement as it already celebrates love, by  adding the compassion, it can only be better." 
Ruth + Nick by Tori Hancock
I hope that you've found Sanyukta's insight both interesting and super informative. We all know that there is, as Sanyukta says, no Planet B. We have to make a stand to change things and where better to start than with your own wedding?
For more information on ethical wedding dresses by Sanyukta Shrestha, do take a look at the website.
Take a look at all the beautiful dresses by Sanyuka Shrestha that these real brides chose to wear too.
Love,
Annabel x