Happy weekend, lovers!
Seating plans are a practical and often essential element of wedding planning, ensuring the logistics run smoothly, but they're also fabulous to have some fun with, inject your personality and style, and create an interactive, memorable feature for your guests to enjoy and share all over Instagram.
Here are a few of our personal faves to get you inspired.
1. Acrylic
Acrylic is such a versatile material. Whether it's cut into geometric shapes, used to construct podiums or written on in simple sheet form with chalk pen, it can create so many different looks. It also works really well decorated with a bespoke artwork vinyl decal or even etched or laser engraved! We adore two panes sandwiched together to form a flower press and frosted acrylic is great for a softer aesthetic and something a little different to the crystal clear transparent option.
2. Nature
These botanical table plan examples would complement almost any setting and are very easily achieved. Hang leaves as escort cards from ribbon in a tree or work closely with your floral designer to create an installation perfectly in keeping with the rest of your scheme and the surroundings.
3. Raise a Glass
There is nothing we love more than to style a unique food or drinks station for our couples, turning another wedding day essential into a show-stopping, Pinterest-worthy work of art that gets guests talking. Why not double this up as a seating plan? A champagne wall would be a great way of incorporating escort card style, bubble-filled personalised flutes for each guest, directing them to their tables and also lending themselves well as favours for them to take home too. Or how about copper mugs for your Moscow Mules at a festive wedding celebration?
4. Banners
Printing your seating plan on fabric can create a romantic, ethereal affect, whilst bold shapes and strong palettes are perfect for a more contemporary, fresh and edgy wedding design. We are huge fans of large scale displays which dominate the space, also making a wonderful, personal and artistic backdrop for photographs and filling any blank canvases with big voids, such as marquees with high ceilings.
5. Fairground Fun
A great excuse to share one of our all-time favourite seating plans to date, which we designed for our bride and groom's fun-filled fairground wedding day, to be enjoyed later as a beautiful heirloom for their son. Brought to life by Made by Wood & Wood and captured beautifully for Claire Graham Photography, we were genuinely blown away by how these makers were able to execute the vision, proving that the options are endless and there really are no limits to what can be achieved when you work with such creative talent.
6. Leather
Leather is another material we have a bit of a soft spot for due to it's organic-luxe qualities and beautiful tactile texture. We think a great way to use leather would be with personalised embossing on a luggage label style escort card display for a travel-loving couple's wanderlust-themed destination wedding, oozing natural, understated elegance and charm.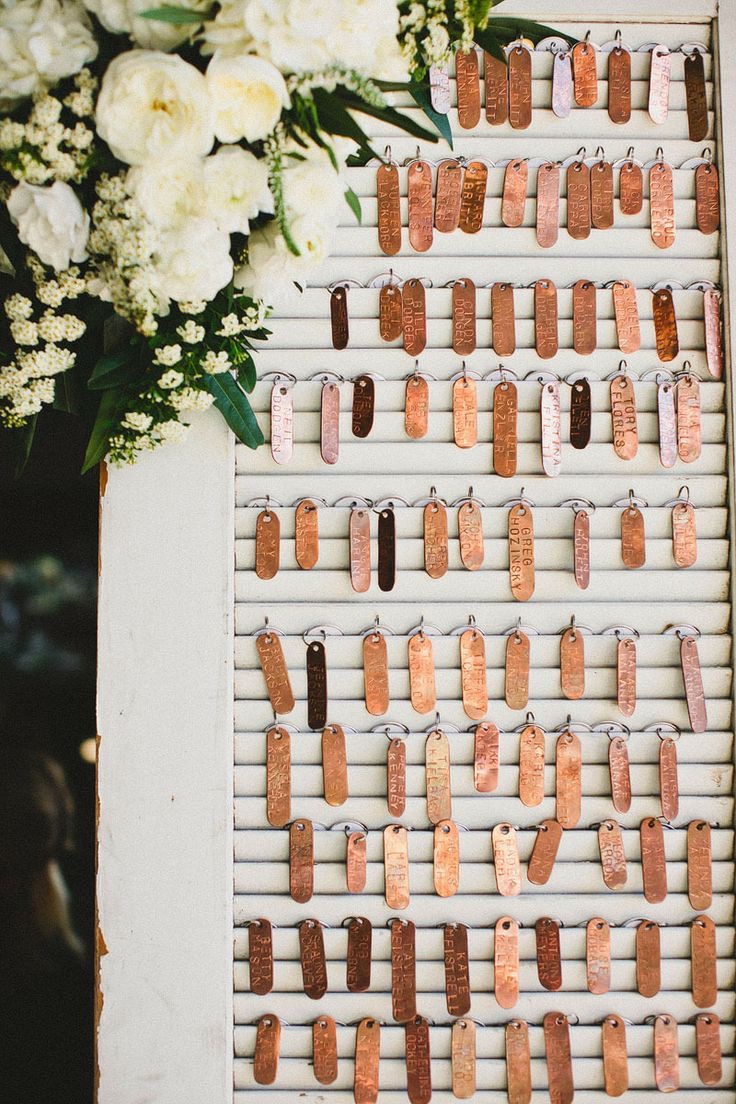 7. Cutting Boards
Seating plans fashioned from wooden cutting boards seems to be a bit of a growing trend and we're here for it! The perfect rustic touch to an al-fresco, countryside farm house wedding.
8. Simple, Modern, Chic
Clean lines, pared-back foliage and monochrome palettes. This aesthetic seems to be favoured in Australian wedding design in particular and is becoming increasingly popular with couples in the U.K. We are big fans of steel frames, minimalist fonts and large open roses in one single nude shade.
9. Festival Vibes
These archery-inspired seating plans are perfect for a laid back, feather-filled, bohemian wedding camp-out. A super simple idea, but with great visual impact.
10. Throw it Back
Another concept which is relatively easy to execute and a great, budget-friendly DIY option. Old photos are a very sweet, personal and nostalgic way of guiding your guests to their seats, whilst guaranteed to have them all chuckling away and feeling a considered part of your celebration.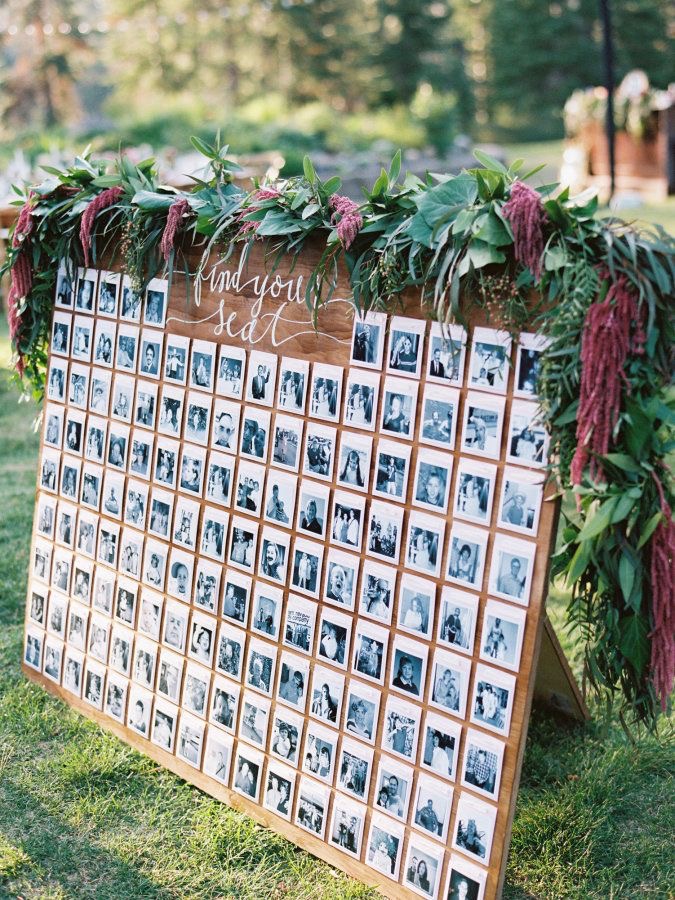 11. Earthy Tones
Don't be afraid to step away from the usual pastel palettes or crisp, monochrome themes and brave a little moodiness. Seating plans are a fabulous opportunity to inject some colour and texture, and these sumptuous, deliciously earthy autumnal tones create depth and interest.