Are you considering having your wedding ceremony officiated by a Wedding Celebrant? We invited the very lovely, Love My Dress recommended Humanist Celebrant, Meg Senior, to share some information for our readers who are looking at hiring a Celebrant.
Meg Senior is a Humanist Celebrant and conducts wedding and naming ceremonies for wonderful humans all over the UK and around the world. She guides couples through the creation and delivery of their wedding ceremonies, and combines her naturally friendly and warm personality with humour, and no small amount of wisdom.
This helpful Q&A session with Meg explains what's so special about Celebrants, and includes some useful tips to help you choose the best celebrant to conduct your wedding.
Meg, can you tell us a bit about yourself and your role as a wedding celebrant?
As a humanist celebrant, my role is to help couples have a wedding ceremony that is truly personal and that celebrates their love and values.
This means working closely with them to understand their love story as well as their views on life and, most importantly, their personalities. I then craft a ceremony that reflects them and their relationship, and I host that section of their wedding day.
Approaching the ceremony this way – rather than having a registrar-led affair – means it sets the tone for an utterly special wedding. Think of your celebrant-led wedding ceremony as the jewel in the crown of your wedding celebration!
Can you explain what a celebrant-led ceremony is and how it differs from a civil ceremony or religious wedding?
Other celebrant-led ceremonies exist but I conduct humanist weddings. A humanist wedding is a non-religious, celebration of love and commitment between two people. Couples have the freedom to include any elements, traditions, readings, music or other personal touches that are meaningful to them.
Unlike civil ceremonies and some religious ceremonies, humanist ceremonies are centred on the couple in the relationship as opposed to the institution of marriage or promises made to a god.
The biggest difference between working with a humanist celebrant and a registrar is the level of personalisation that is possible. Civil ceremonies have set scripts and legal wording to follow, whereas celebrants can create something totally new for each couple.
What makes a celebrant-led wedding so special?
Lots of things make a celebrant ceremony extra-special! One of the best things (in my opinion!) is that couples get to choose who is going to marry them, rather than having a registrar assigned to conduct their wedding.
So many of my lovely couples have said that meeting up during the ceremony planning process, meant that we knew each other like friends by the time the wedding day came round. This brings a special quality to the ceremony – I know what kind of atmosphere my clients would like to create for their guests and they can trust me to deliver.
Other advantages to choosing a celebrant-led wedding are:
the nearly-weds can express their individuality and share their passions
the ceremony is more enjoyable for guests, who get to know the couple deeply through hearing their personal story
the ceremony becomes the best part of the day, instead of the bit to get over and done with before the fun starts and it can be a lot of FUN and easier for couples to relax and enjoy because they've brought their own personalities into it.
Could you tell couples what the process of working with a wedding celebrant is like?
Well, the first step of the process is to find a celebrant that you like on a personal level and can imagine spending time with. Naturally you'll do a bit of website or social media snooping to get an idea of their vibe, but most important is to set up a video call so you can chat about your wedding and check your approaches match.
After that, I'm sure every celebrant works in a slightly different way, but personally I make the planning process as fun as possible. My intention is not to add to any decision-fatigue or wedding-stress, but to have a part of wedding prep that you look forward to and enjoy.
With that in mind I'll send you on a date night to start your ceremony preparation. You'll have lots of inspiration and questions to help draw out what's important to you, and this will start to generate the juicy material for that oh-so-personalised wedding script.
We'll meet up to get to know one another more, talk logistics and explore what your perfect ceremony will be like. Then I'll go away and write a wedding ceremony script for you. We'll have plenty of time to refine it until it reflects you as a couple.
You mentioned humanist ceremonies, but what is the difference between a humanist celebrant and any other celebrant?
This is a question I get asked a lot and luckily the answer is really simple. Humanist celebrants have been trained by Humanists UK and have similar values to one another. In a nutshell humanists believe in reason and evidence, they try to make the most of life, and they respect people and the planet.
If you aren't religious and you try to make ethical choices and to live life to the full, this might sound like you! You don't have to adopt the label "humanist", it's just nice to know that your celebrant has the same outlook on life as you do.
Independent celebrants on the other hand have their own personal values and may have trained with a different body.
Without further ado, what advice do you have for couples who are considering working with a celebrant? What are your top 5 tips for choosing a wedding celebrant?
Tip 1 – Be yourselves
Try to choose someone you will enjoy getting to know and can imagine opening up with. If you are able to relax and be yourselves, your celebrant will have more material to really bring your story and personalities into your ceremony script.
Tip 2 – Do your research
Yes it's obvious, but it really is worth checking out potential-celebrants' online presence. Their Google reviews, social media content and websites will answer a lot of your questions before you meet.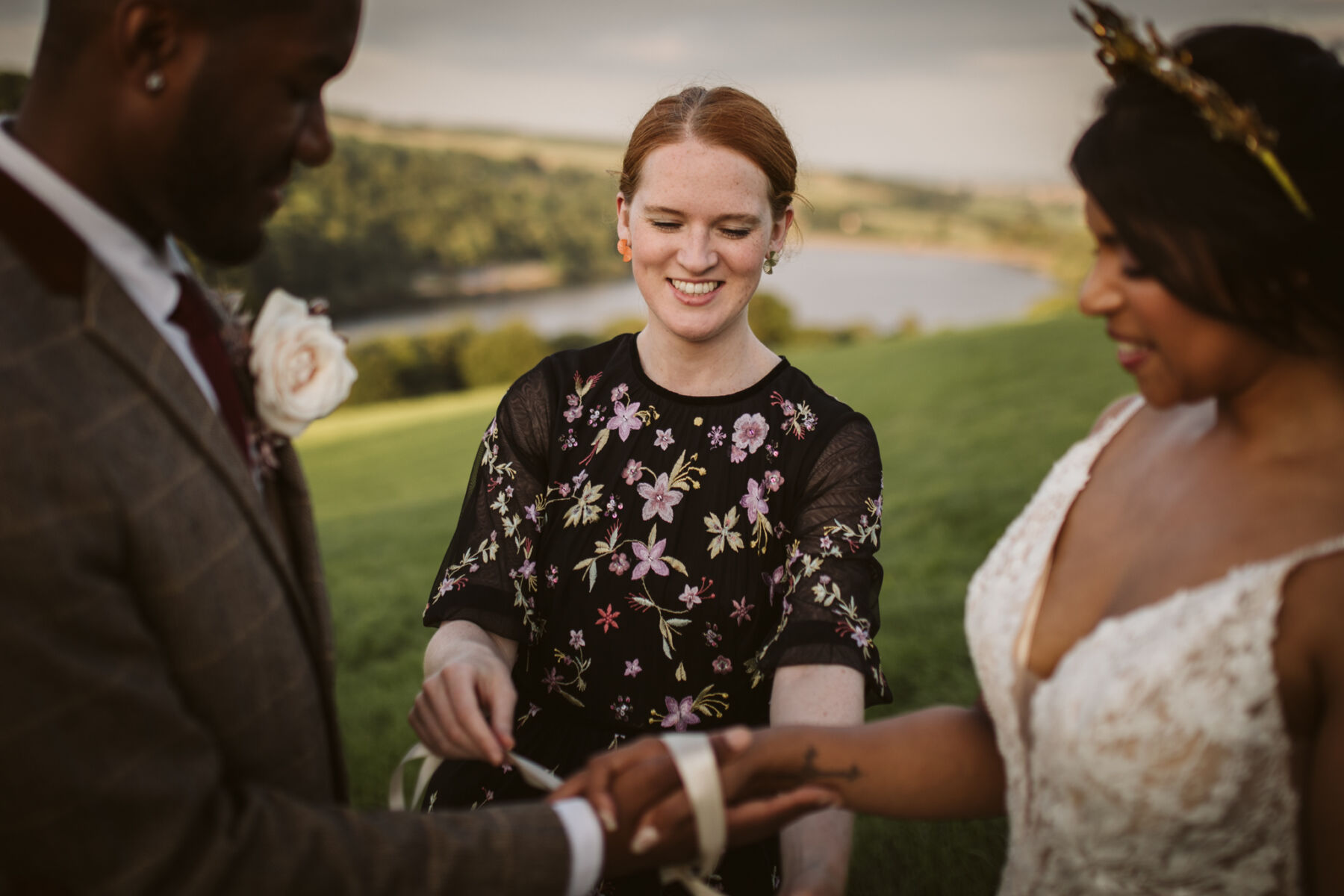 Tip 3 – Allocate budget
Booking a celebrant is a similar investment to booking a photographer. Who you choose is going to have an impact on your wedding experience. You're highly unlikely to save money compared with booking a registrar, so you'll need to run your numbers and allocate budget accordingly.
Tip 4 – Give yourselves plenty of time
Choosing a celebrant whose personality you like, who has good reviews, and whose fee is within your budget is entirely possible… And it will be easy-peasy if you give as much notice as possible to get into their diaries. Plus you'll have lots of time to create your ceremony together.
Tip 5 – Take time to have a break
This is my top tip for all wedding planning! Spend time together, chat through your options, aim for a decision that you are both happy with.
megsenior.com