I do love historic houses; I've spent a great deal of time in a fair number (some for work related purposes too) and what I enjoy most about them is how they are are always filled with stories, and how their interiors and gardens can evoke those stories, and a magical sense of time and place.
Today's country house venue is full of colour and character, and was the perfect weekend retreat for our couple to enjoy a laid back celebration – a lovely juxtaposition of formal setting and an informal wedding. Connie and Ed, both construction project managers were married at the beautiful Walcot Hall, Shropshire on the 7 July 2018.
Images by Lucy Little Photography.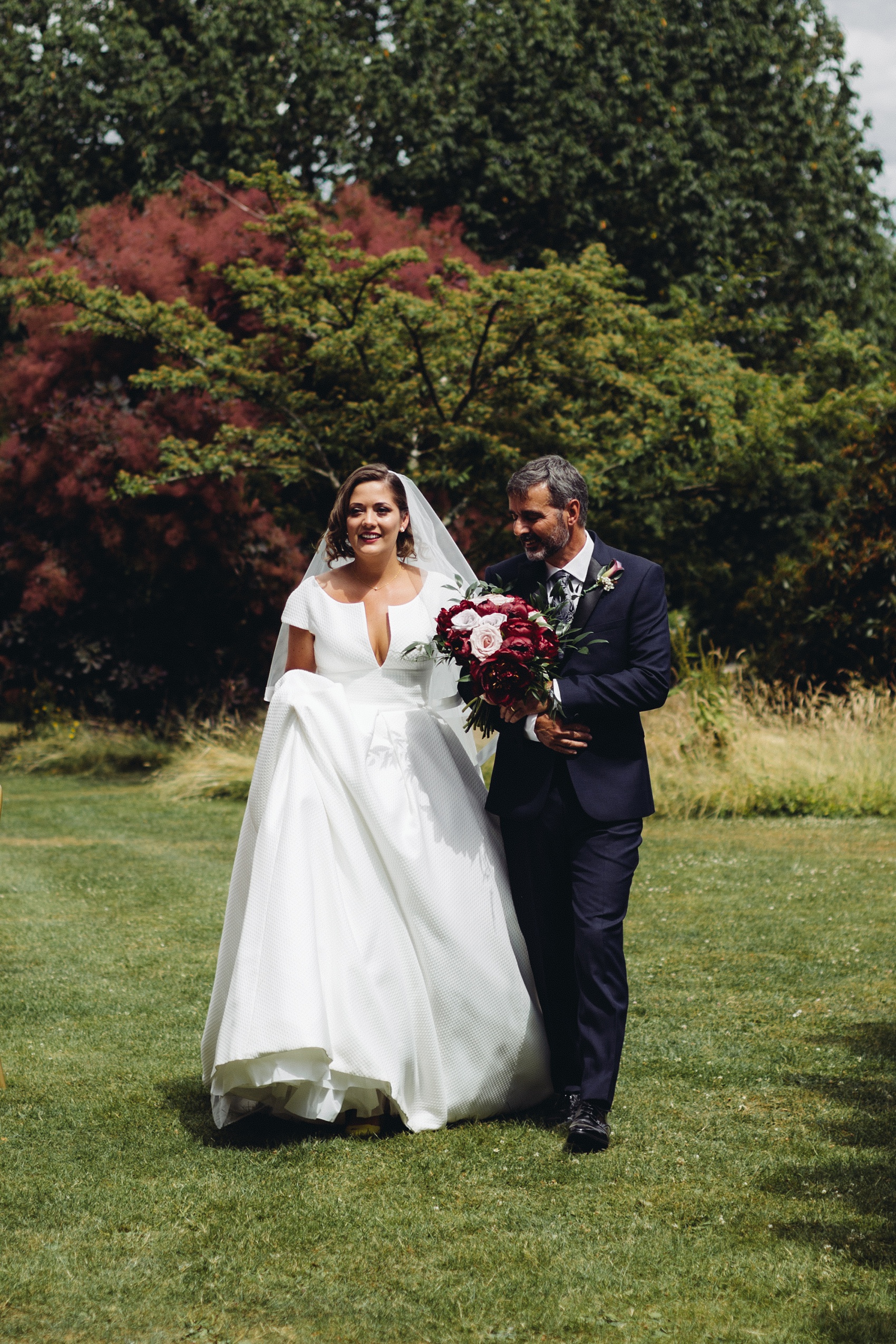 "We wanted somewhere where all our guests could stay for the weekend so that we could have a 'wedding weekend' – meaning we got to spend more time with our family and friends. Walcot Hall is really quirky, and we loved the unusual accommodation, plus the turquoise ballroom and gardens are spectacular."
[RELATED]
Connie's spectacular gown was by Jesus Peiro, and wow, what a dress, with its stylish, clean lines and full skirt in the most amazing textured fabric – a special design by the wonderful Jesus Peiro for Frances Day Bridal.
"I had visited the shop with two dresses in mind. However, Julia, the owner of Frances Day Bridal and I got on very well and she suggested an alternative Jesus Peiro dress, which she thought I would like. She got it spot on and I was sold. The dress was made specifically for FDB – a standard dress but in a unique, textured material, which made it extra special."
As a fresh pop of colour, Connie wore lemon yellow block heeled sandals from Marks & Spencer.
There are further bursts of more dramatic colour (a deep burgundy) in a few of the wedding party outfits, like the pageboy's braces and bow ties paired with white shirts and grey trousers from Howick and H&M.
Wedding hair and make-up artist Jane Forbes did a spectacular job for Connie. I love the beautiful glittery, metallic eyeshadow she used, paired with a rich burgundy shade of lipstick.
The flowergirls wore pretty dresses with applique flowers and blush pink sashes from Matalan, and the bridesmaids wore maxi dresses from ASOS with their own shoes and fresh flowers in their hair.
Sutton Plant and Flower Centre put together beautiful bouquets for Connie, her bridesmaids and flowergirls, with pale pink roses providing a wonderful contrast to the dramatic deep red hue of the huge, blowsy peonies.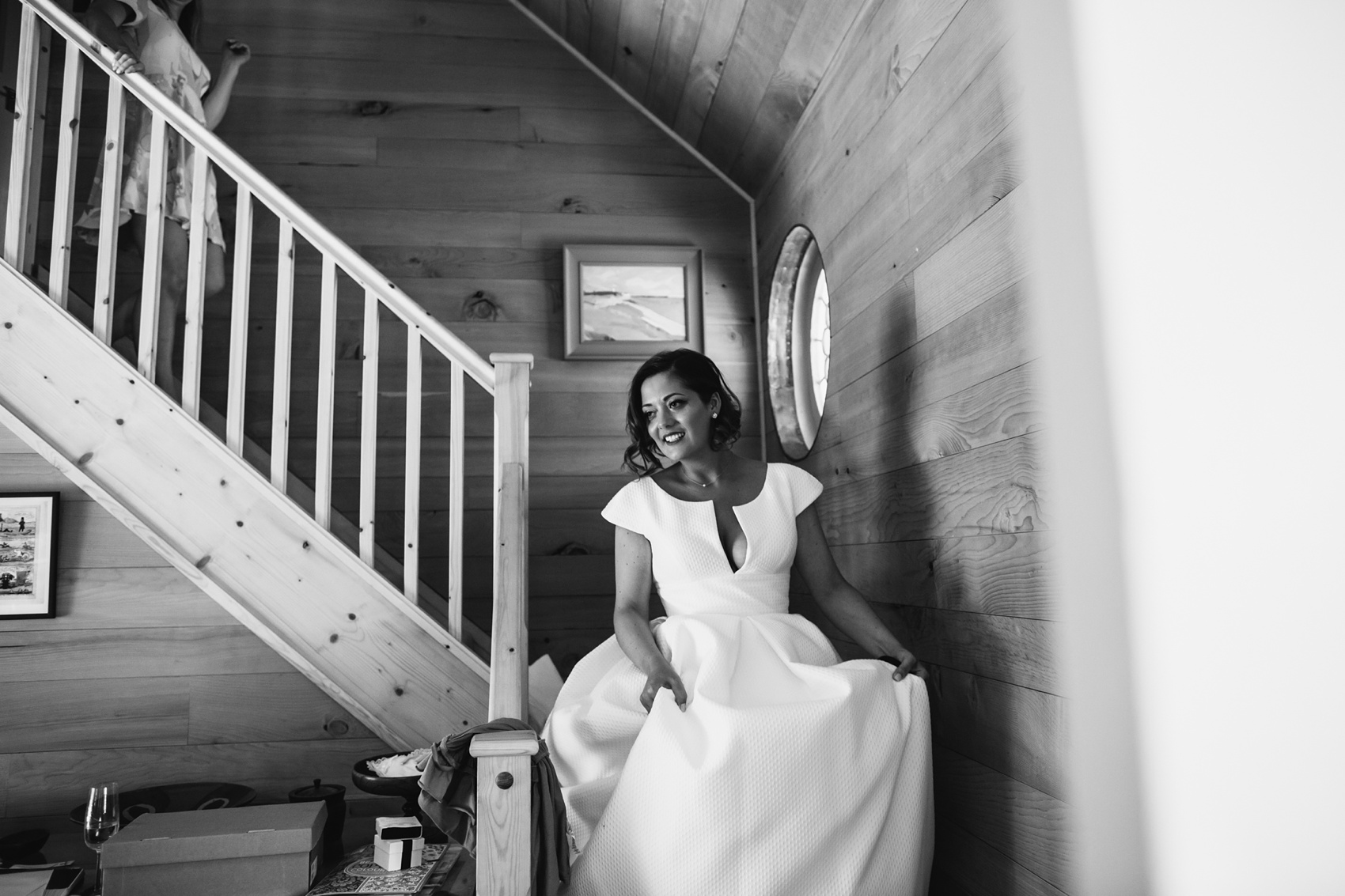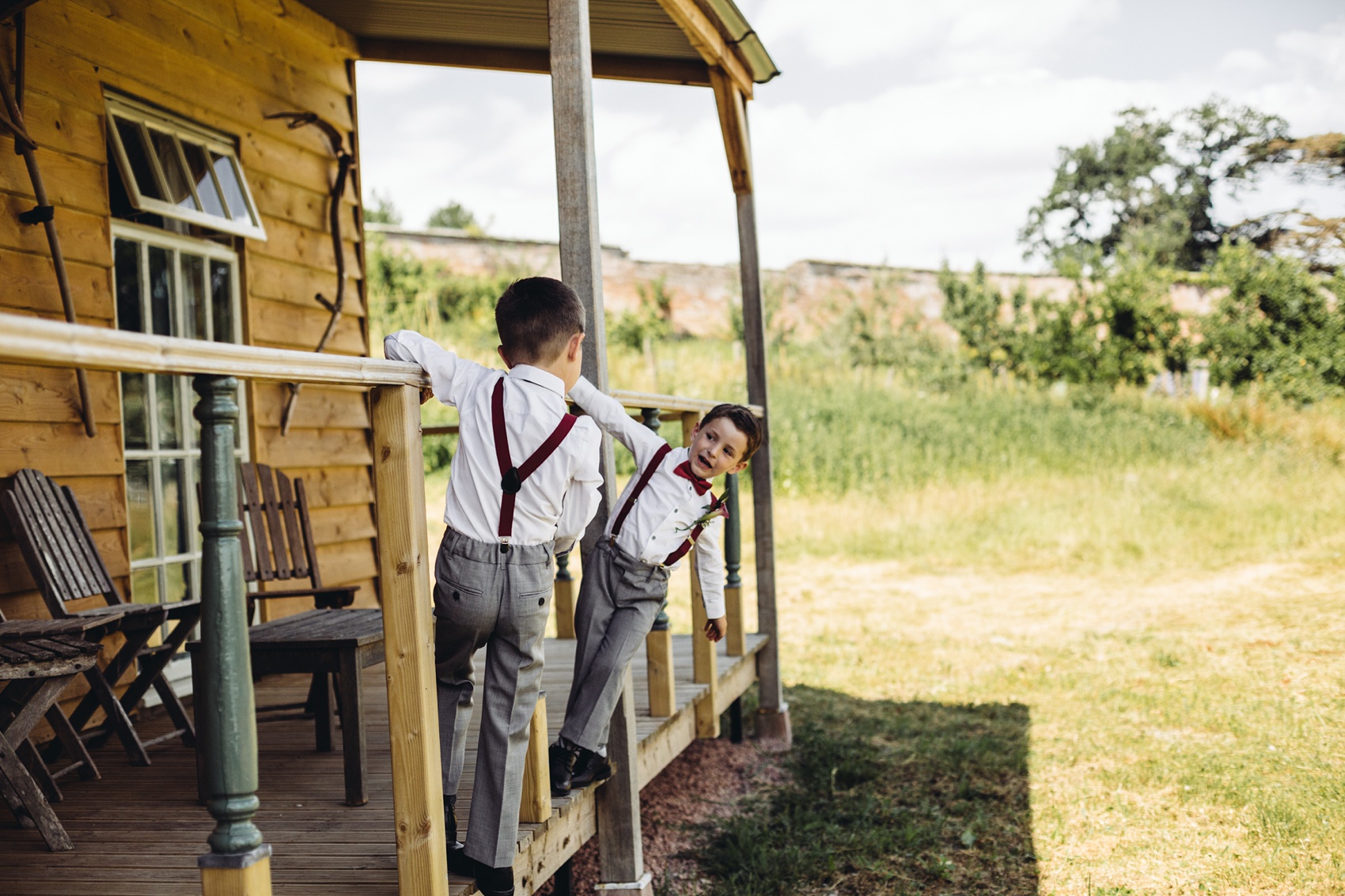 We've featured photographer Lucy Sugden-Smith, of Lucy Little Photography on our  pages before, and it's a delight to add another colourful, glorious selection of images to that body of work.
"We happened across Lucy via a recommendation from another photographer and we are so glad we did. Some photographers perfect what they do with years of practice but the really great ones just have a natural flare for it, which is exactly what Lucy has. She had us complete a questionnaire in advance so she could gauge the sort of photographs we wanted and she was able to guide us in what would work best and when."
"We also had the pleasure of meeting Lucy in advance of the wedding so we could run through the order of the day. We wanted to document the day rather than just follow the traditional wedding party portraits and wall to wall photos of just us."
"Lucy did a wonderful job of that, she really captured the vibe of the day and we have some great memories of our day, and family and friends captured in our photos. We honestly can't speak highly enough of Lucy. If you are lucky enough to get her to photograph your wedding you'll not be disappointed with the results."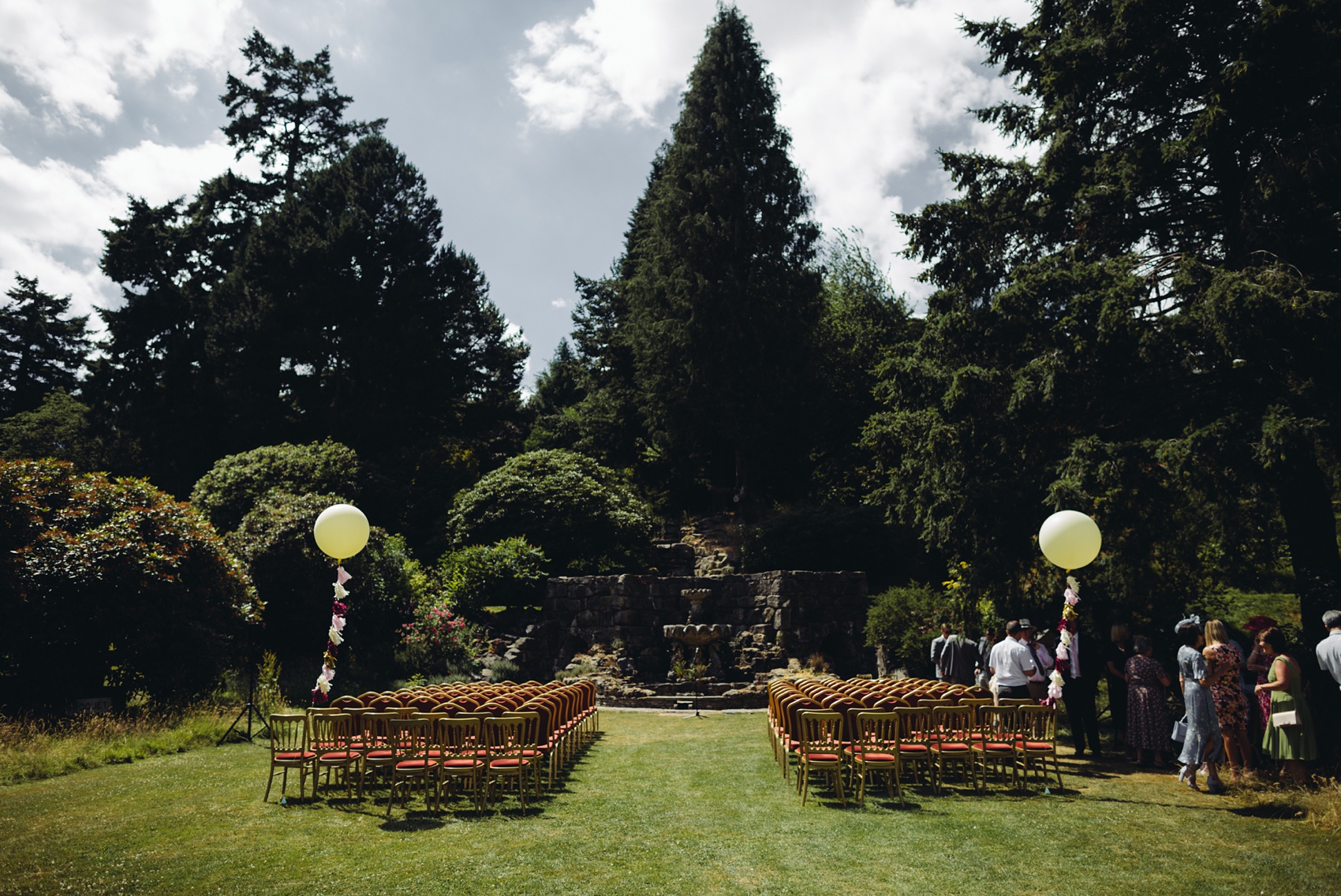 Singer/songwriter Rebecca Kelly serenaded Connie and her dad down the aisle, playing The Cranberries' brilliant song Linger on the violin.
"It might sound cliché but seeing Ed at the end of the aisle waiting for me was the most magical moment – I felt like I could have been at any venue, in any dress and it would have been the perfect moment."
Ed wore a light grey three-piece suit from Burton Menswear together with a burgundy tie and pocket square from Moss Bros, whilst the groomsmen wore complementary grey suits, also from Burton.
"We met at work. We were friends for a few years before we got together. We got engaged overlooking Mont Blanc in Chamonix in France. It was 10 months to the day from our engagement that we got married."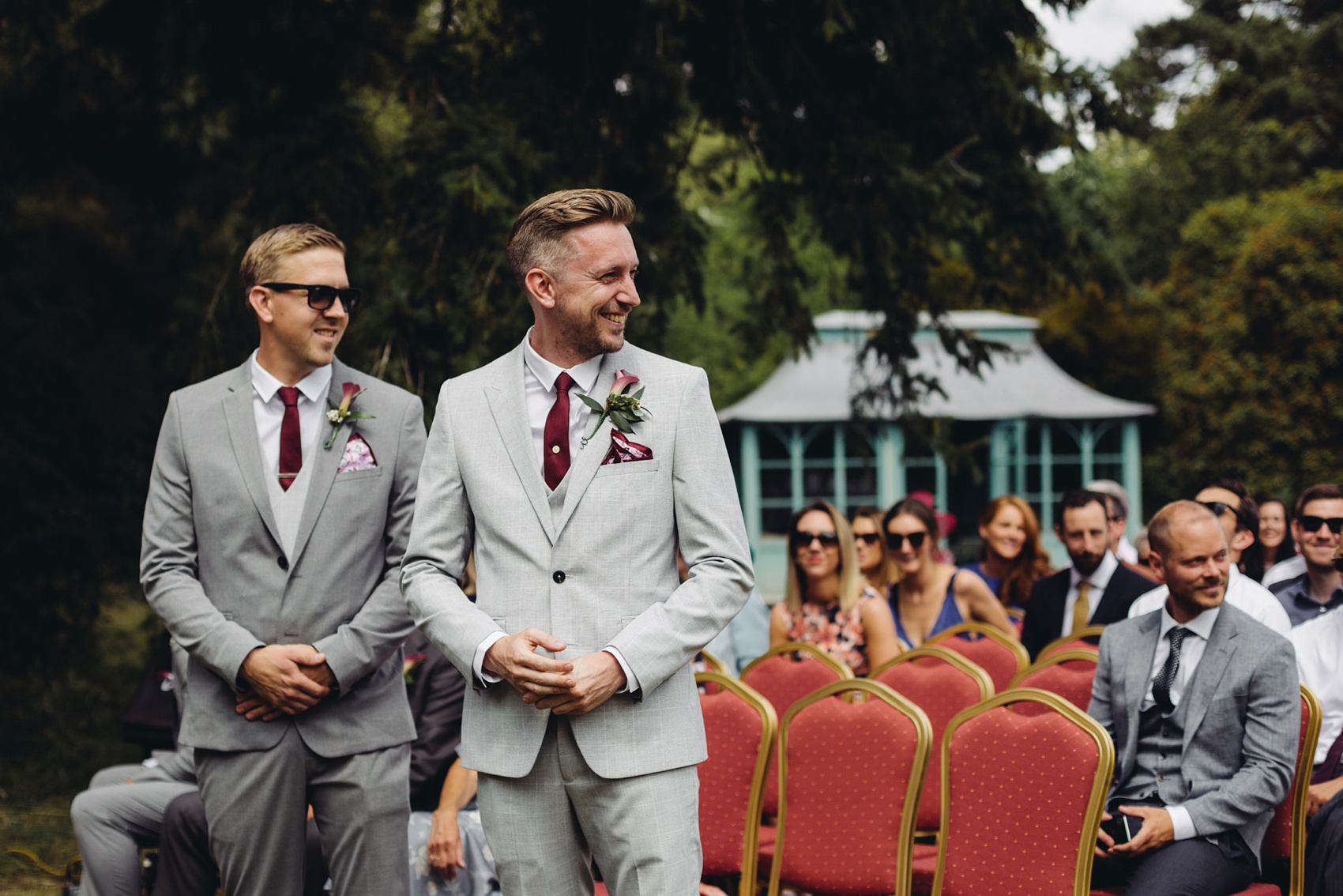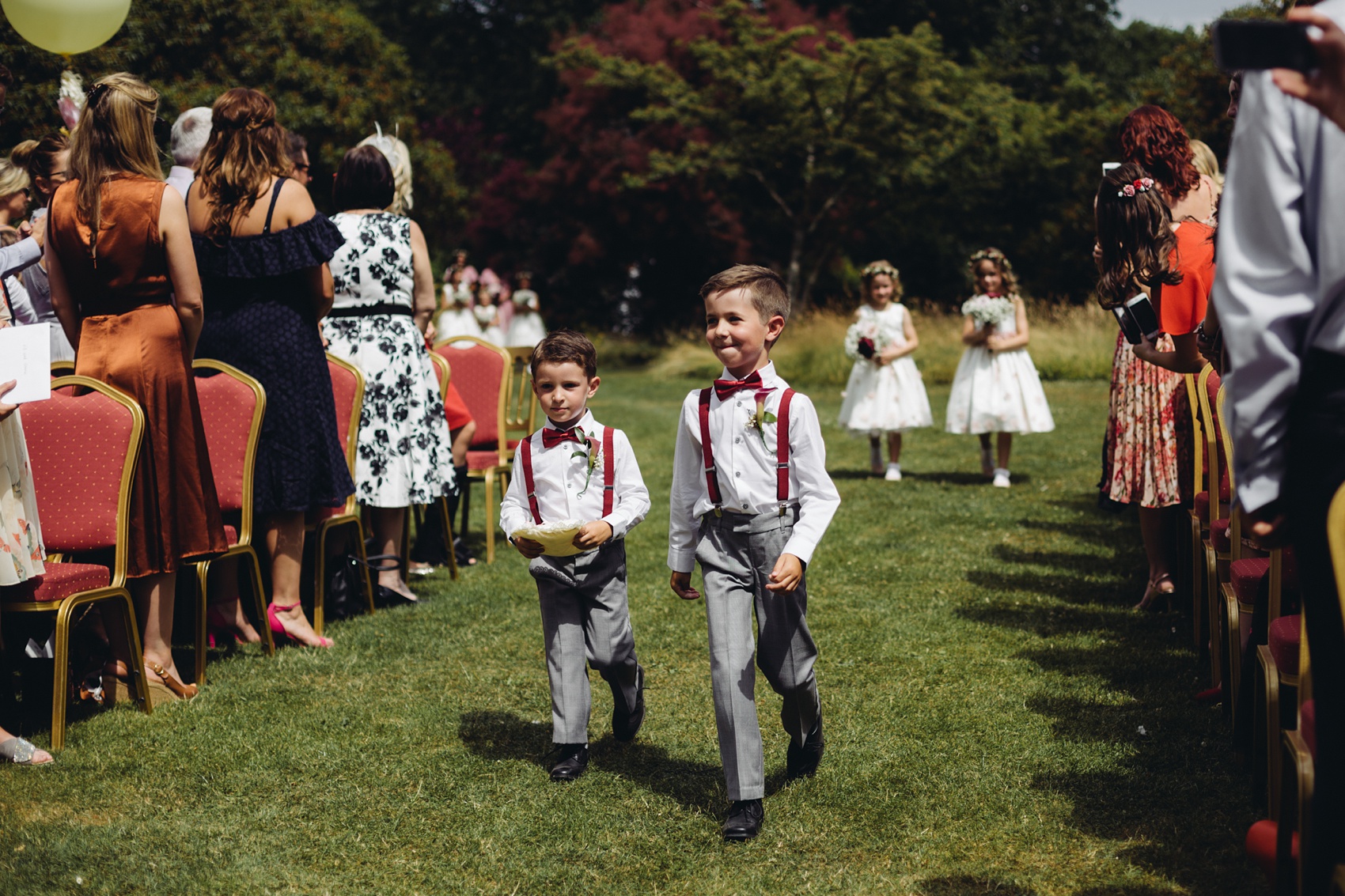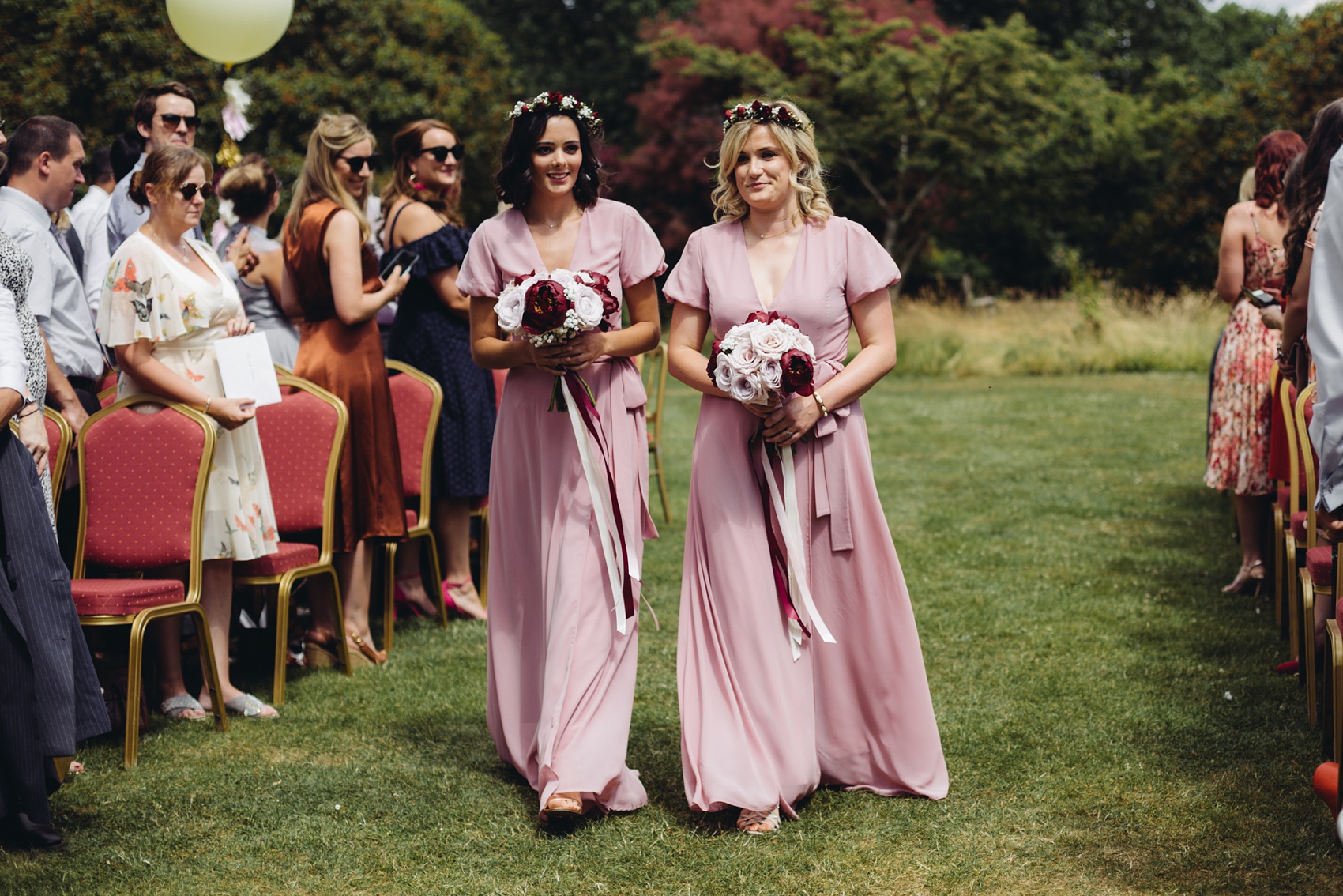 During the ceremony, the couple chose two sweet readings – Always Love Each Other by Larry S. Chengges and Edward Monkton's A Lovely Love Story.
As well as saying their vows to one another, Connie and Ed also gave each another heirloom rings in the shape of their grandparents' wedding bands (what a lovely idea!).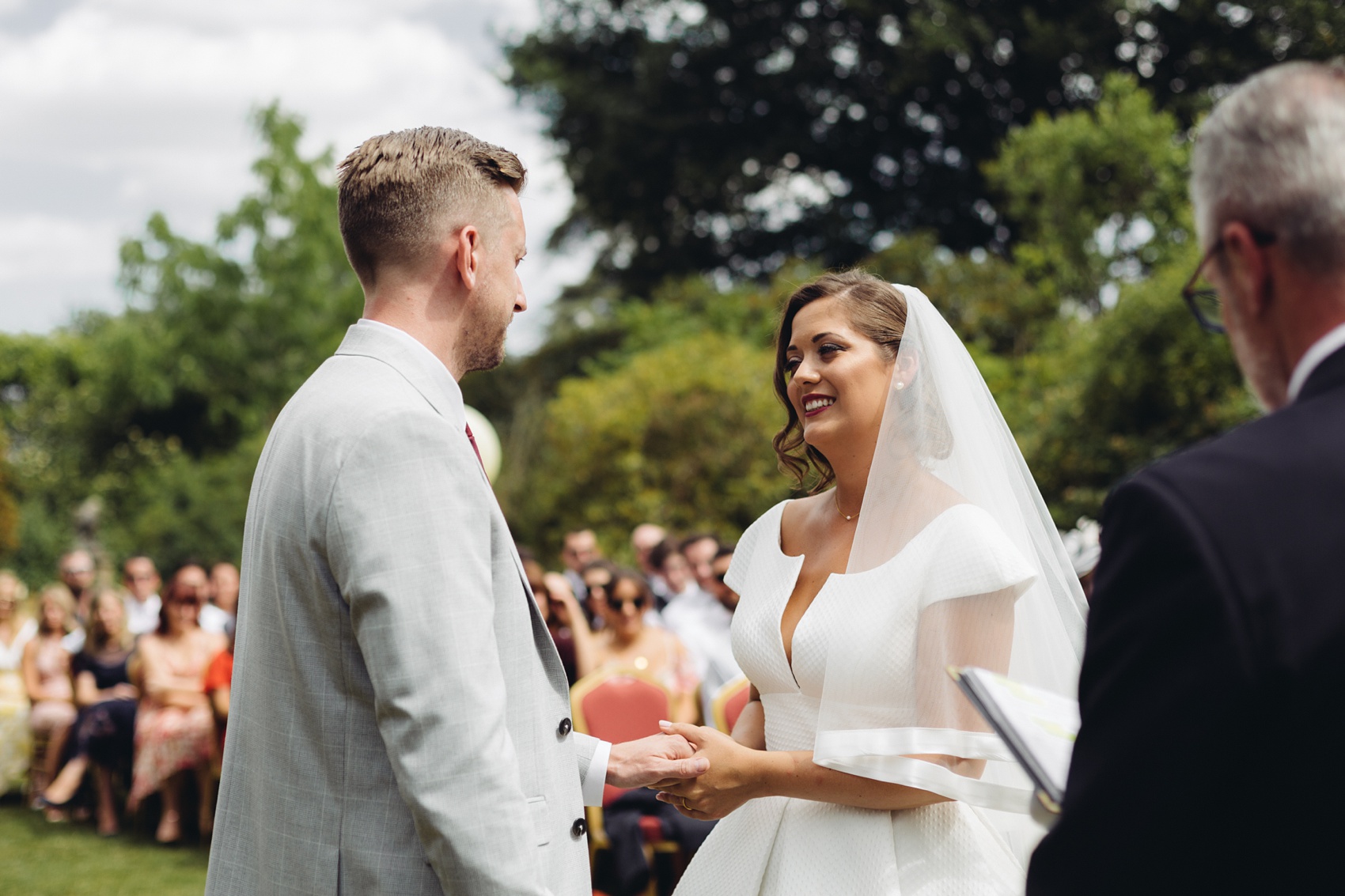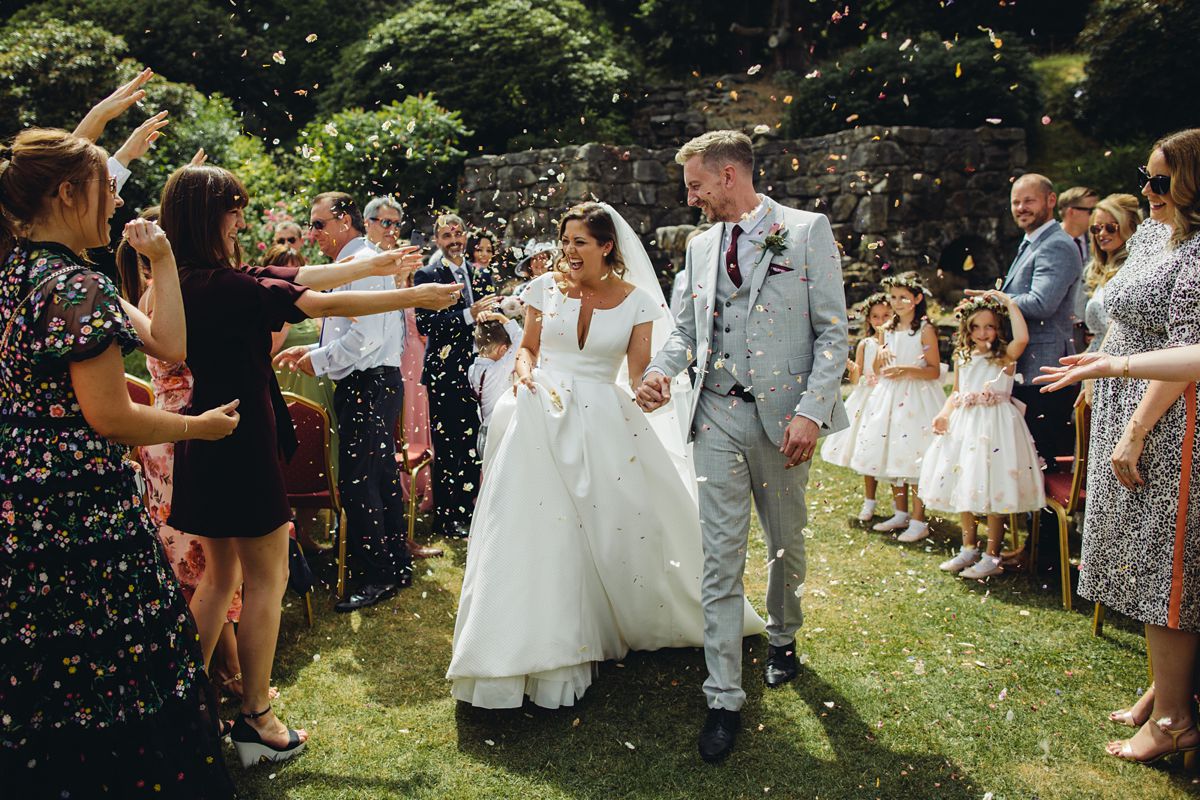 Between the ceremony and the wedding breakfast, there was time spent in the lovely gardens at Walcot Hall, but there was also the chance to catch that vital England / Sweden World Cup match, which was happening that day, too!
"Luckily England won and it didn't run into extra time, so everyone was on great form and the food wasn't spoiled!"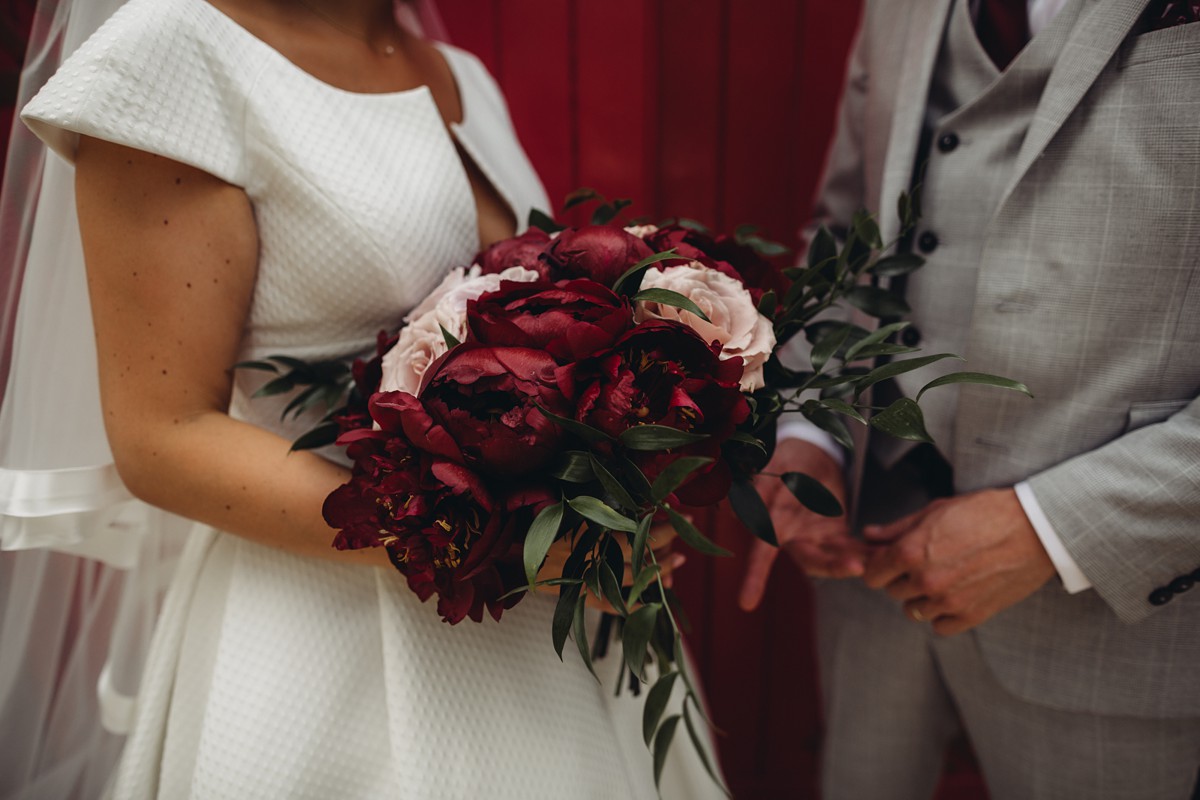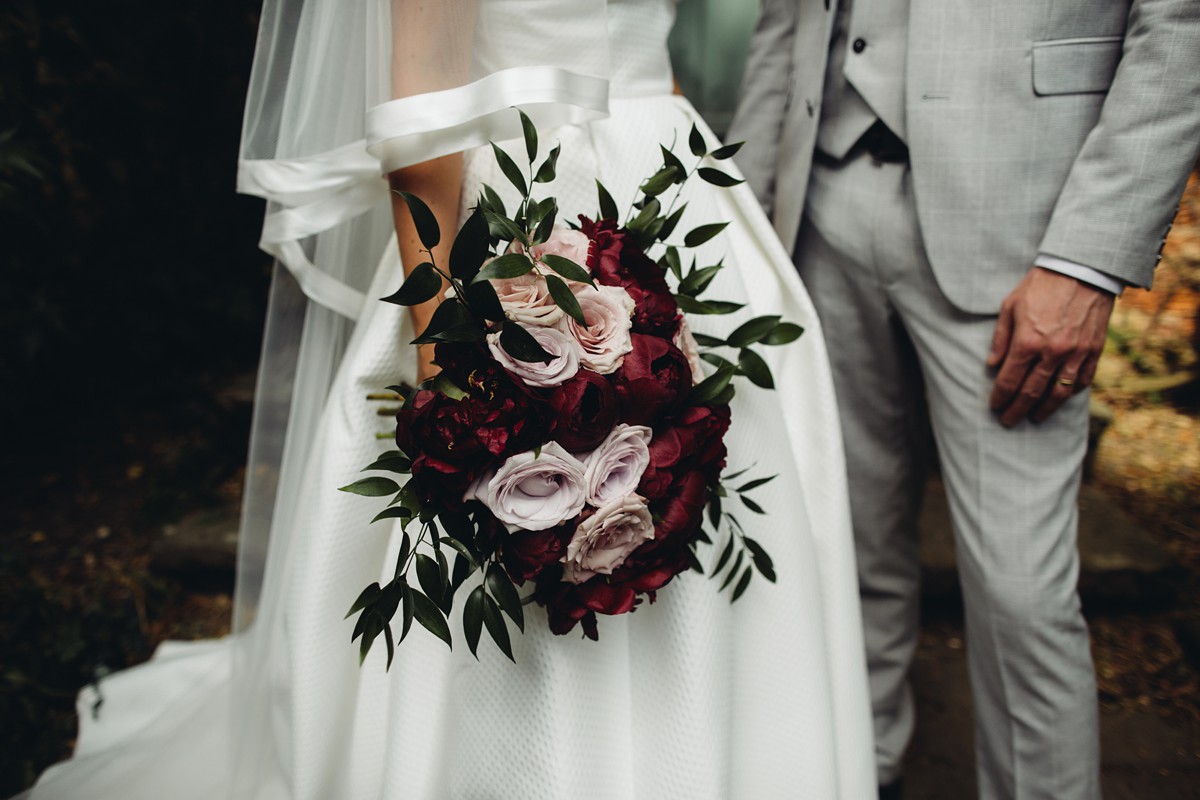 Connie and Ed made all the on-the-day stationery and signage themselves, using boards from Hobbycraft.
"We bought LED string lights and Chinese paper lanterns with battery powered LED lights, which we strung up across the courtyard at Walcot Hall to add some evening mood lighting."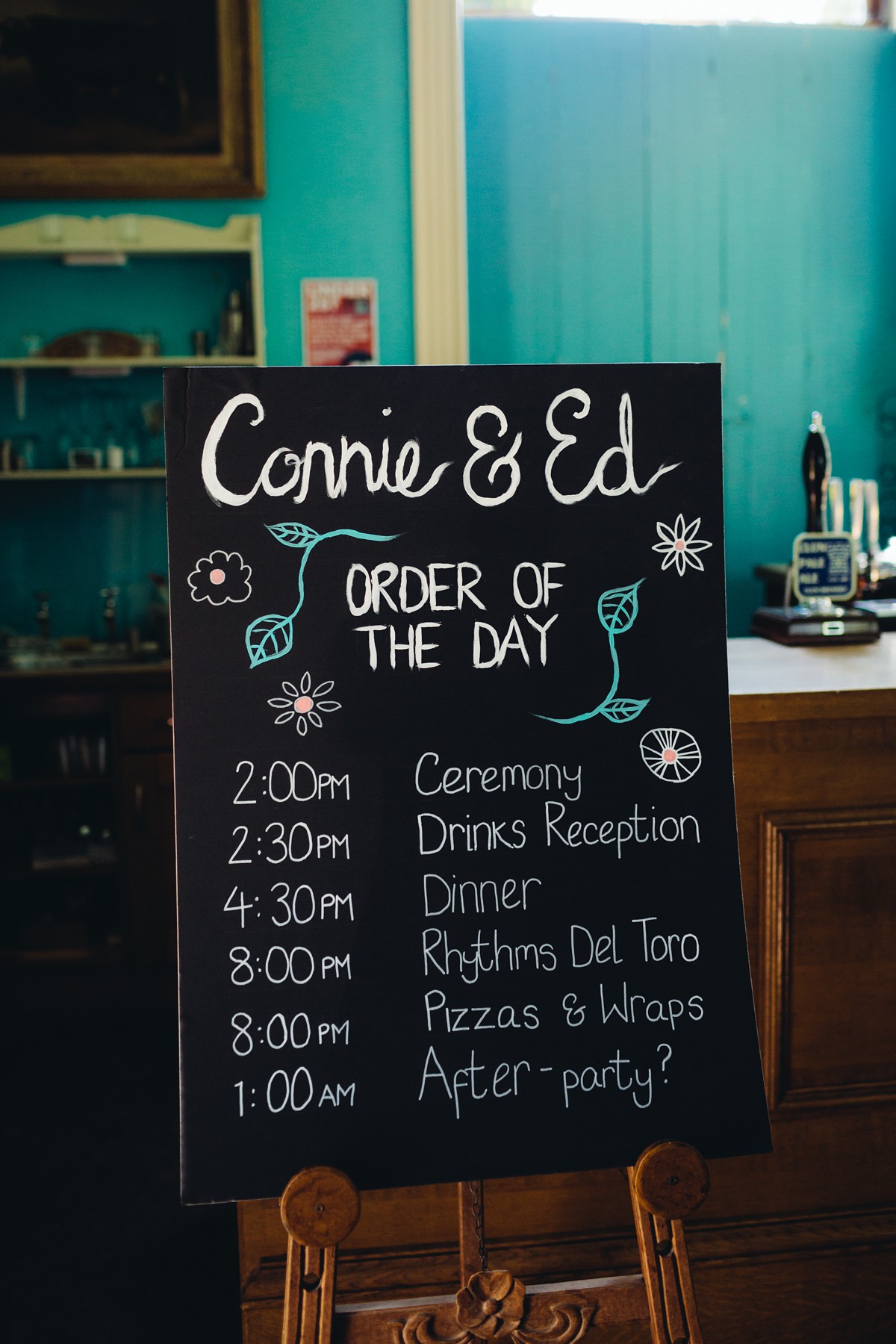 How wonderful the bright turquoise ballroom looked set up for the wedding breakfast, with its huge picture windows and crystal chandeliers.
Glass vases sourced from charity shops were painted with coloured glass stain and filled with more of those amazing peonies as table centrepieces.
"Ed had baked everyone a couple of blondies (white chocolate brownies). We put them in little brown card boxes tied up with string, which had name tags on (sourced from eBay). These doubled up as place settings on each table. We used the same illustration from our invitation to make little stickers for the boxes."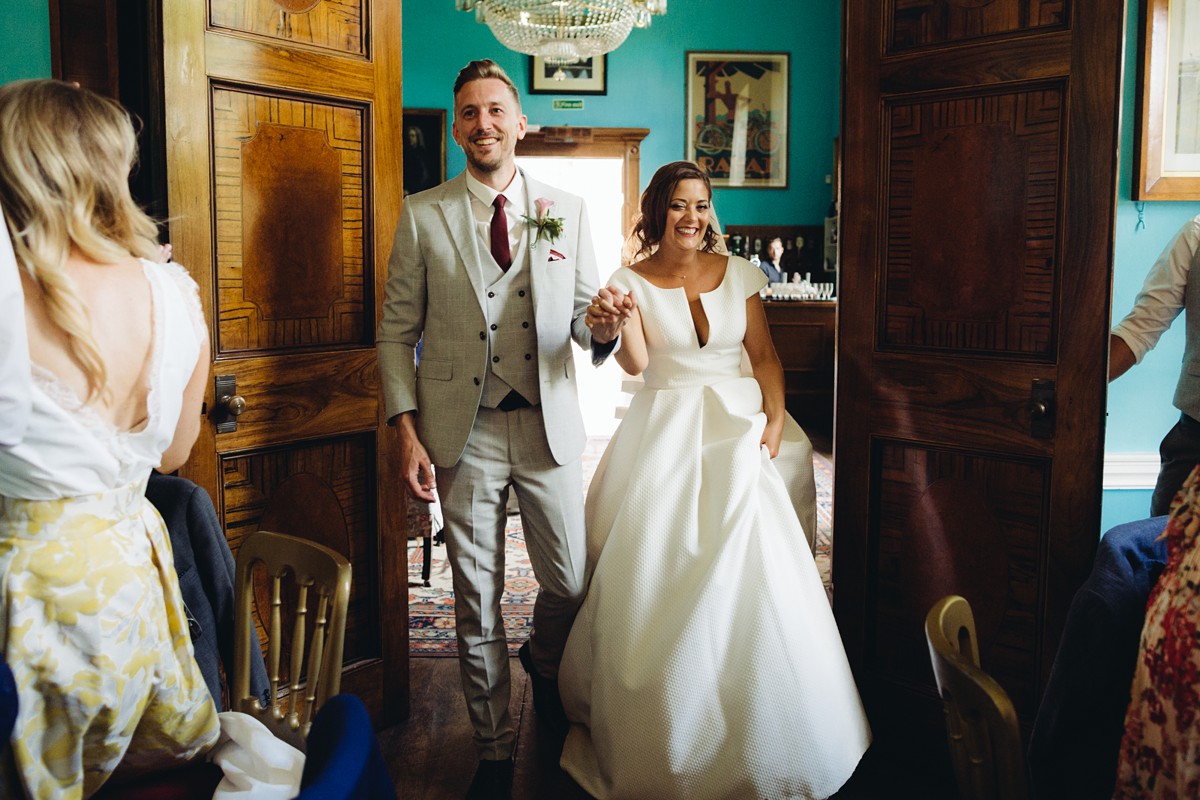 Wedding cake came in the shape of the iconic (and delicious) Connie and Colin the Caterpillar cakes from Marks & Spencer!
"The 'Colin the Caterpillar' cake is a birthday family tradition, and as we weren't too bothered about keeping some of the old wedding traditions, this was a cheap and sentimental nod to our own tradition."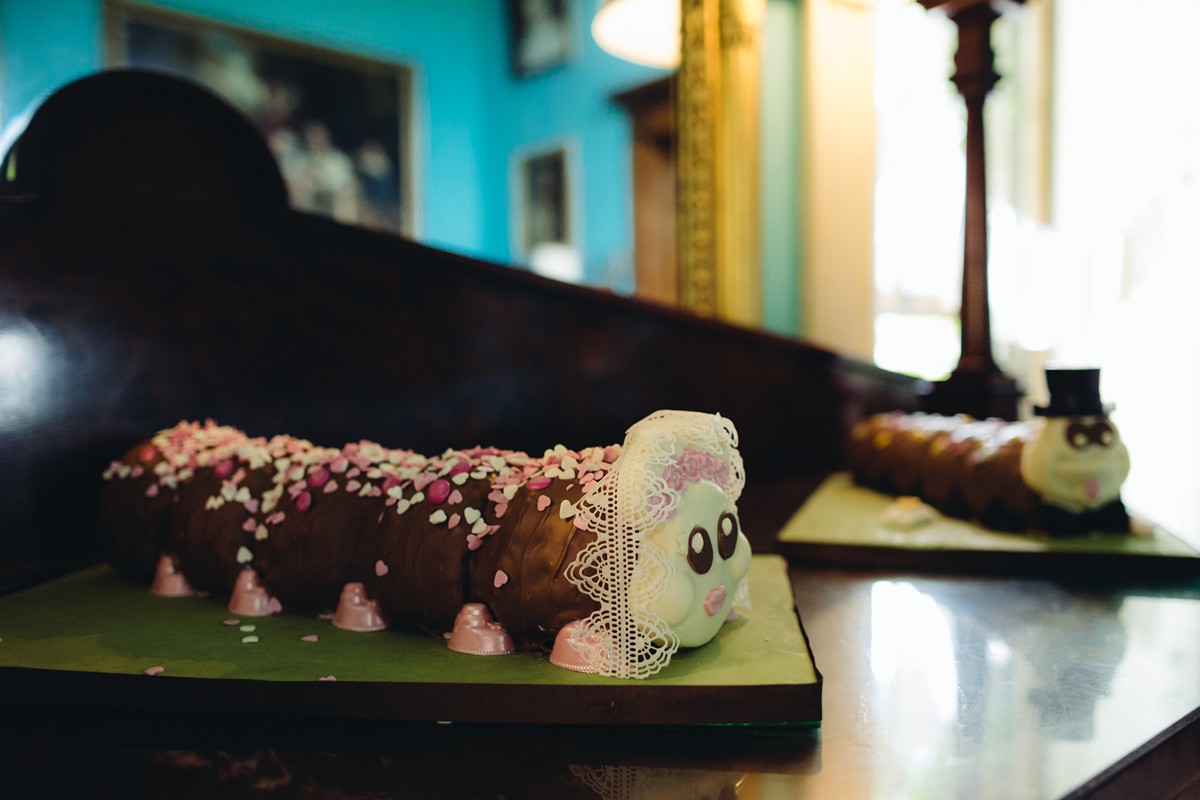 "We loved the relaxed environment of the venue, which suited our style and what we wanted for our wedding, so we followed that. For example, there was no three course meal, and we had delicious barbecue food from Baked In Brick at the table, and then outside, after the speeches our caterers had set up a waffle station for dessert."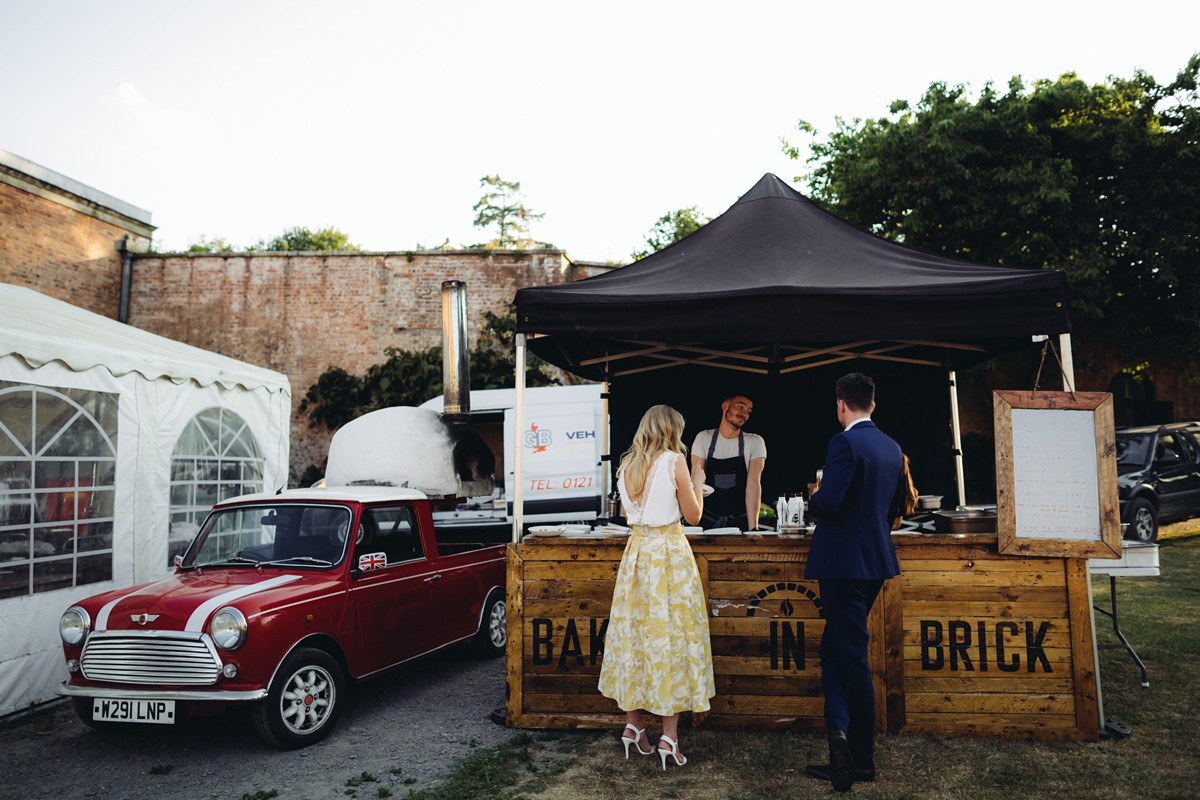 The couple bought ten lemon yellow (say that quickly!) balloons with burgundy tassels, which they made themselves, even holding a tassel party with friends to help make the hundreds that they needed!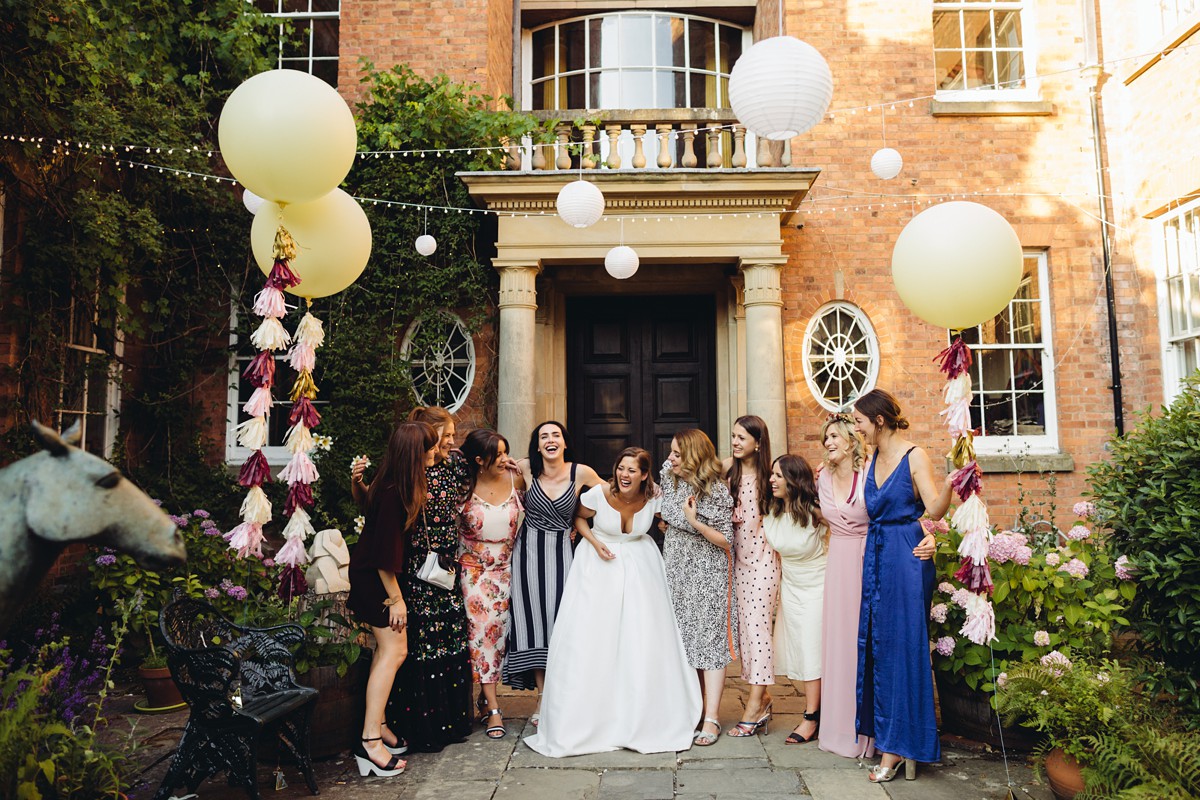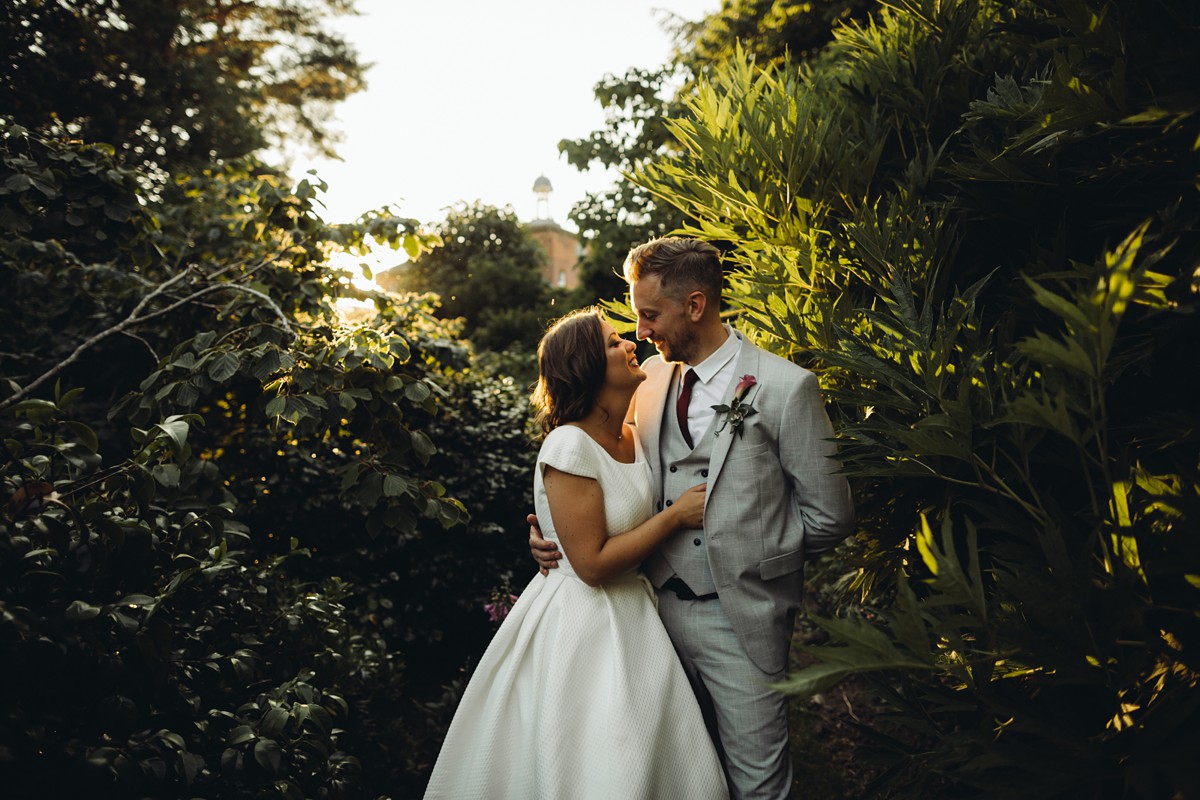 After dinner the tables were cleared away and the ballroom was used for just the right purpose – dancing! Band Rhythms Del Toro began the festivities.
"We didn't choose a first dance song, we decided to dance to whichever song the band played first – which ended up being You Don't Love Me by Dawn Penn – not the most romantic song but quite funny in the end!"
For Ed, the whole weekend could not have been more perfect, and here he shares some lovely words about how it all felt.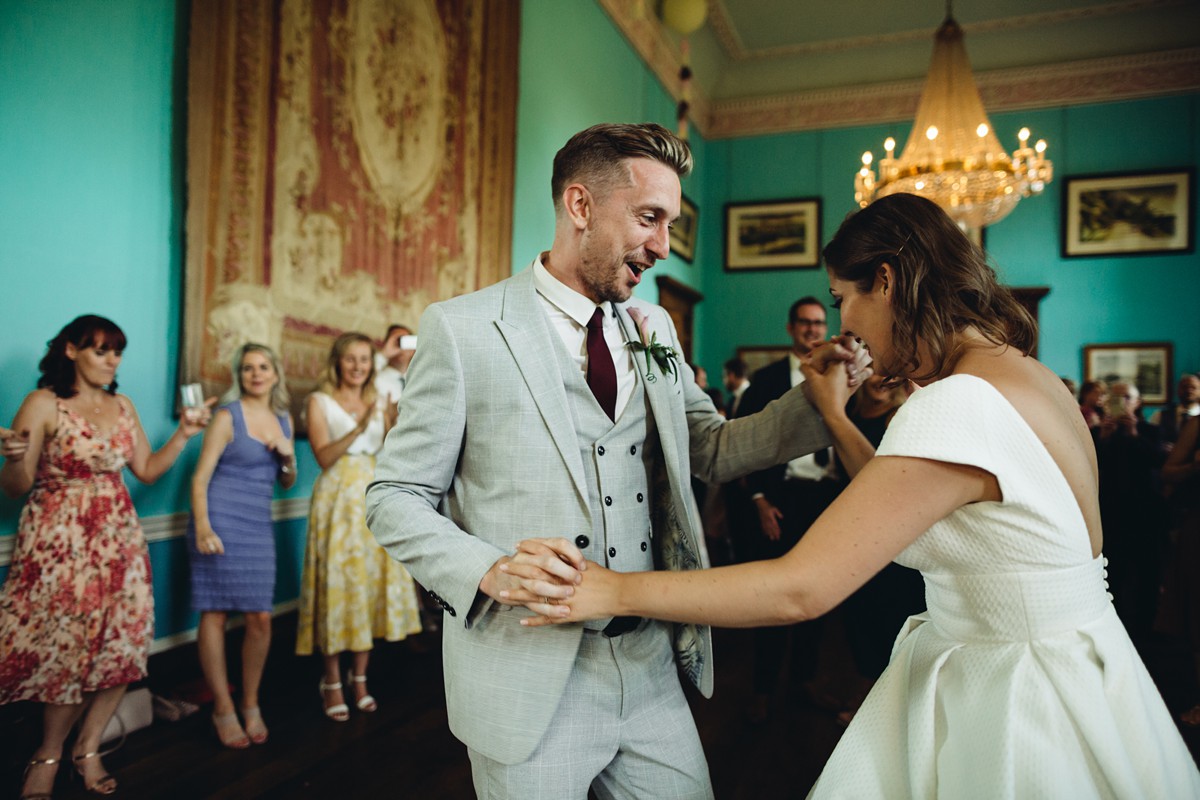 "I'd echo Connie's sentiments; the venue, the glorious countryside, incredible weather and the celebrations just amplified what would still have been the most perfect day without any of them."
"The whole weekend was just perfect from start to finish. Just having all your favourite people in one place at once and seeing them all mingling together was brilliant. We had an entourage of family and friends' children with us as well. and I loved having them there as part of the wedding and seeing how much they enjoyed themselves."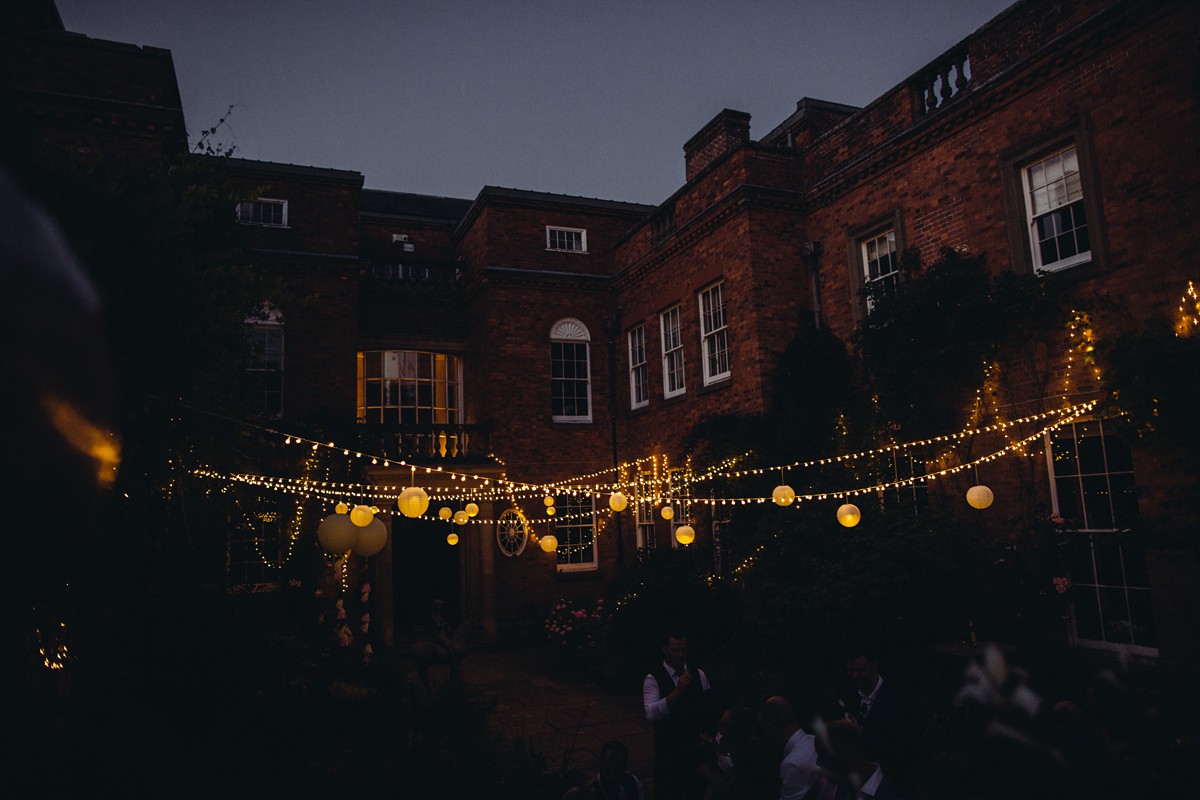 Words of Wedded Wisdom
"Every couple is different, but these are the things that helped the planning of our wedding day:
Make decisions together – Ed and I had a 50/50 share in planning the wedding. This made it feel like 'our' day."
"Don't lose focus on what you are planning for – it was easy to forget that we were getting married to each other and not just planning a big party! Keeping that focus made the planning less stressful." 
"Do what feels right for you – don't feel pressured to submit to traditions or what family and friends expect. We did exactly as we wanted, so had no regrets."
"Go with the flow – I'll admit that I can be a bit of a control freak, so I had to tell myself that on the day I needed to let it all go and whatever happened, happened. I would still be marrying Ed and that was the main thing. I managed to do it, and loved every minute, even the small hiccups!"
"It was important for us to lock in a venue first so that we could start to plan the wedding around that date. After that we sorted a photographer fairly early on as the best ones book very quickly." 
"If people offer to help you, accept their help graciously! If you are planning to organise everything yourself you will need some help and will have to be able to delegate. We were a bit concerned about bothering friends and family but they actually loved being able to be a part of the preparations in some way."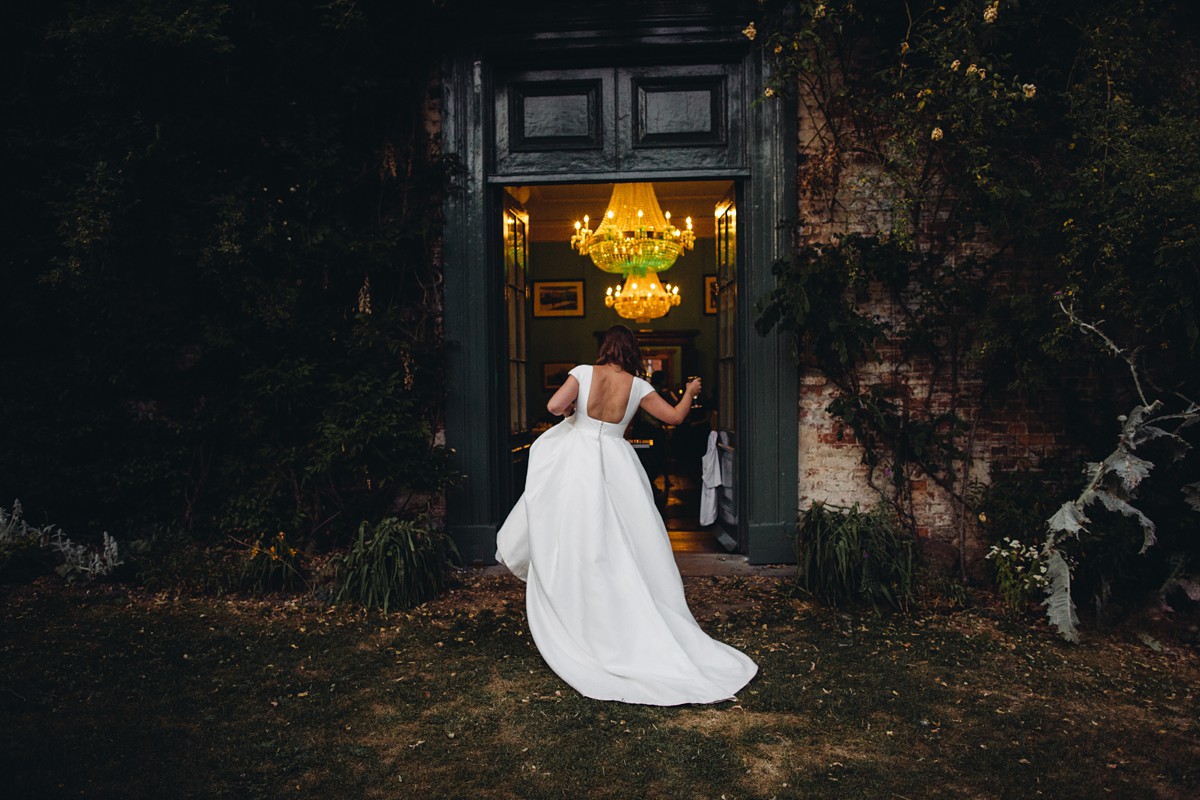 Connie and Ed, what great words of wisdom. Thanks so much for sharing your magical day with us. Massive thanks also go to Lucy Little Photography for her breathtaking images, too.
Until next time!
With love,
Laura